Discover more from 1100 Pennsylvania
"The undisputed expert on the D.C. Trump Hotel" – David Fahrenthold of the Washington Post
Over 3,000 subscribers
$40,842,294
President Trump's 2018 revenue from his D.C. hotel was almost $41 million
President Trump reported $40,842,294 in revenue from the Trump Hotel D.C. in 2018 in his financial disclosures, which the Office of Government Ethics released yesterday.

That figure is up 1 percent compared to what he reported in 2017. It's "a stunning increase, given that 2017 was the year of Trump's inauguration," according to David A. Fahrenthold and Jonathan O'Connell of The Washington Post.
As the internet noticed, Trump largely reported revenue as opposed to profit (that is, we don't know what his expenses were).
Trump also valued his ownership of the hotel at more than $50 million.
Some other observations:
---
Mnuchin won't comply with House subpoena for Trump's tax returns
Late this afternoon, surprising no one, Treasury Sec. (and former Trump Hotel D.C. resident) Steve Mnuchin refused to comply with a subpoena for President Trump's tax returns from House Ways and Means Chairman Richard Neal (D–MA).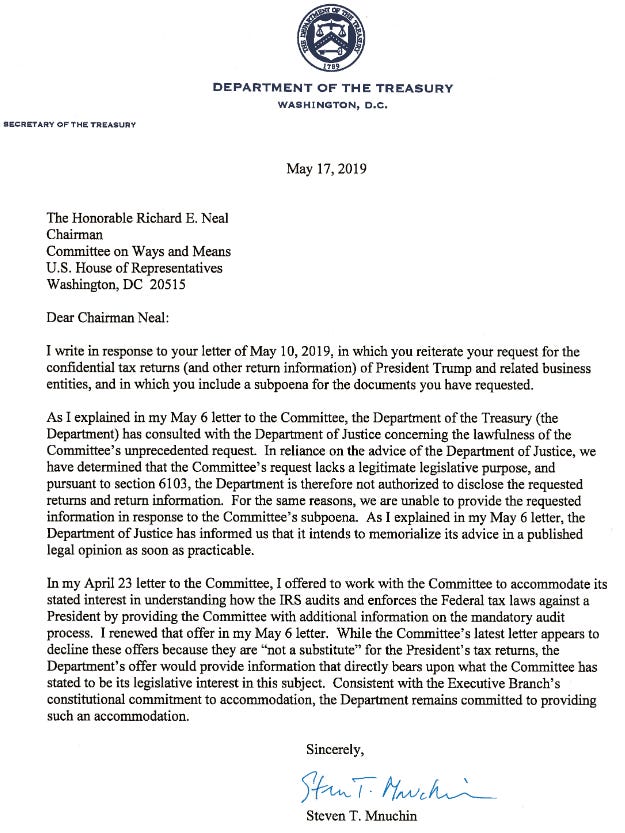 ---
New U.S. military recruits honored at Trump National D.C.
Last night the commander-in-chief's Sterling, Virginia golf course hosted a gala for new U.S. military recruits, according to an invite shared on Instagram. Individuals and businesses reportedly paid for the event.
U.S. Army Major General Scott Dingle addressed these new enlistees.
As 1100 Pennsylvania previously reported, in February 2019 the Army's 3rd U.S. infantry regiment's fourth battalion held its annual ball at the Trump Hotel D.C. A spokesperson said at the time that the troops relied on fundraisers and their own money to party at the commander-in-chief's hotel. And in April a benefit for Navy SEALS was held at Mar-a-Lago.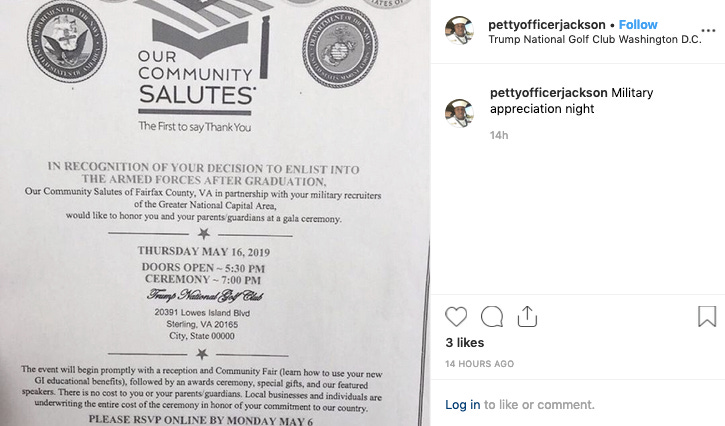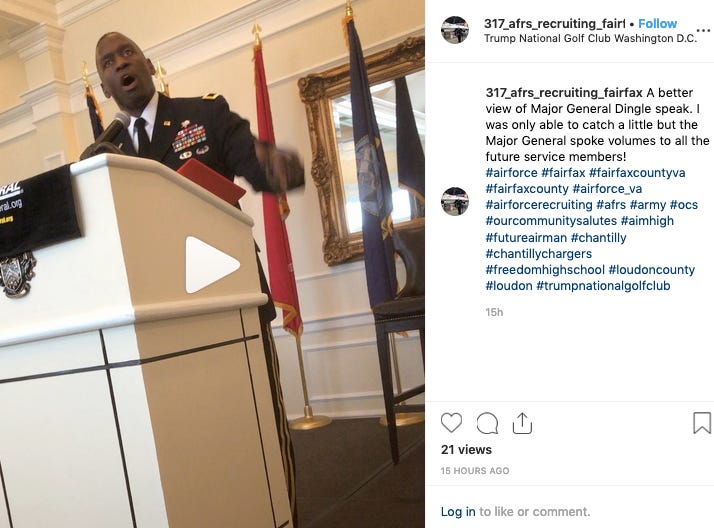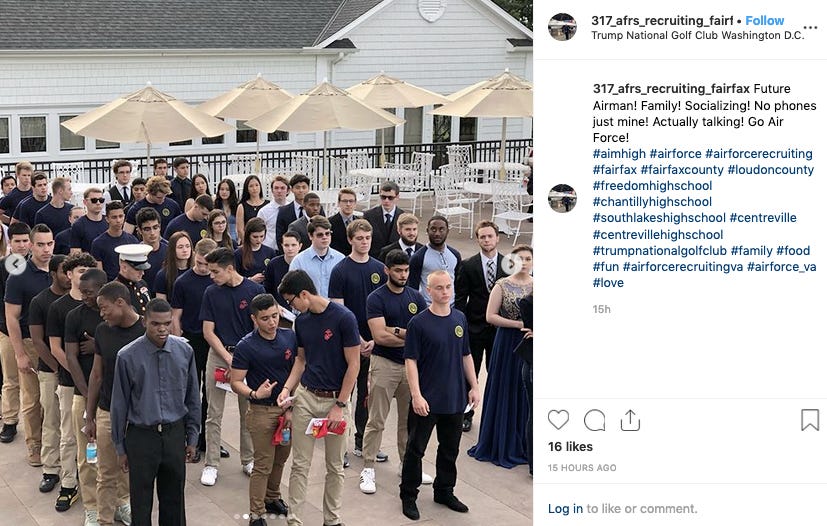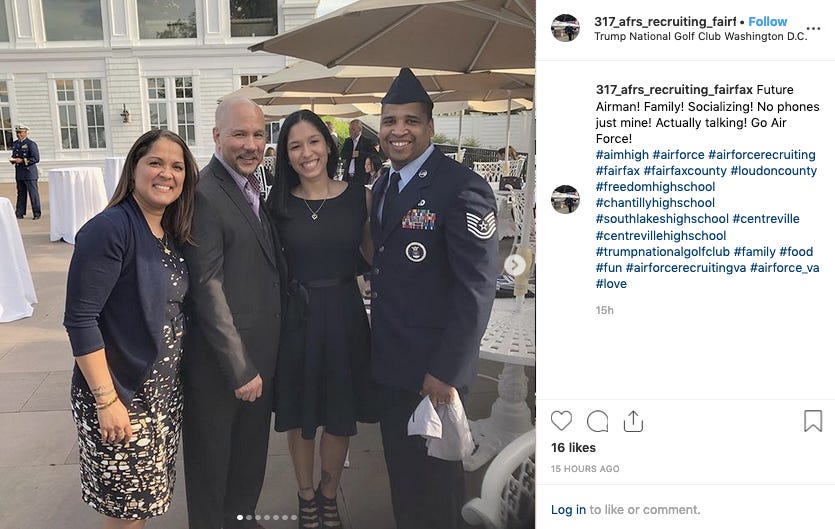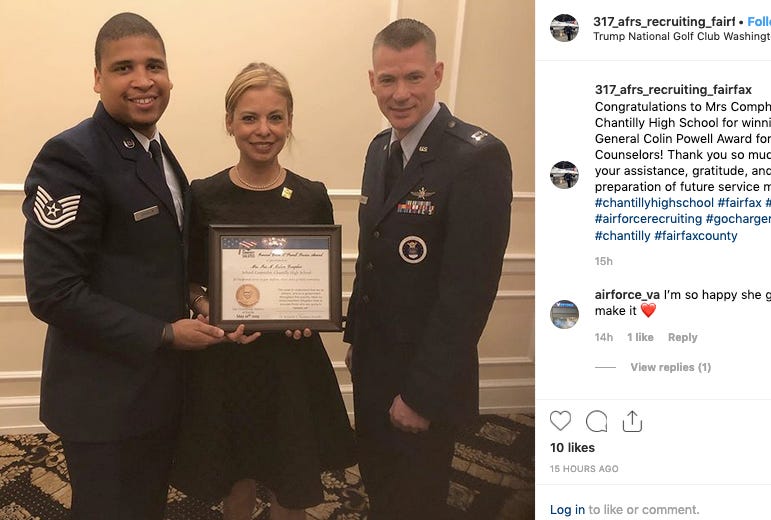 ---
Support 1100 Pennsylvania: never-redacted reporting on President Trump's D.C. hotel
We now know most of what's in the Mueller report. It's time to focus on what happens inside the Trump Hotel D.C. and the president's other businesses. Original, in-depth reporting, of course, takes time. But it's making an impact—and you can help. If you're not an 1100 Pennsylvania member, please become one. Memberships are this newsletter's sole source of revenue. Select the red "Subscribe now" button and become a member by paying just $5 a month or $50 a year. Thank you.
---
Report: Trump's Irish visit in doubt because Taoiseach doesn't want to visit a Trump property
From "Donald Trump trip to Ireland in doubt amid venue disagreement" by Suzanne Lynch for The Irish Times:
The Trump administration had been considering a visit to Ireland between the president's trips to Britain and France in June. But disagreement has emerged over protocol issues.

While the Taoiseach's preference is to meet Mr. Trump in Co Clare, Irish officials are reluctant to meet the U.S. president in his golf course in Doonbeg. Instead, the government has pressed for a meeting in another location, preferably Dromoland Castle, located 50km away.

One White House source told The Irish Times on Thursday that the president was now favouring a visit to Scotland rather than Ireland during his European trip.
Trump already has visited one of his two Scottish golf courses as president; he's yet to play at his club in Ireland during that time.
---
'Commentary' columnist had thoughts on this newsletter
In Commentary's "The Trump Hotel: A safe space" (subscription required, free trial available), Washington Free Beacon editor-in-chief Matthew Continetti dedicated a few paragraphs to 1100 Pennsylvania.
First off, he wrote nice things about this publication's tracking of the court cases, congressional investigations, and groups booking the hotel. Thanks!
Continetti had a couple of pieces of criticism that, while not without some useful feedback, are off-base. For starters:
Sometimes, though, Everson fails to distinguish between the real and pressing questions surrounding the hotel and the subjective attitudes of liberals who condescend to it. He pores over Facebook and Instagram posts of hotel patrons, including dozens of snapshots they take in the atrium with Trump allies like Rudy Giuliani. Who cares if a random dude wanted a selfie with America's Mayor?
When the president profits from a lot of random dudes showing up at his hotel in the hopes of mingling with GOP dignitaries and scoring a selfie, we all should care. As 1100 Pennsylvania documents (as did a Twitter thread before the newsletter launched), selfies with Trump World notables aren't one-offs, they're a regular perk—and draw—for Trump Hotel D.C. patrons. Other D.C. hotels, restaurants, and bars don't—and can't—match that offering (sorry Cafe Milano). This issue is being litigated in Cork wine bar's unfair competition lawsuit. And photos that show foreign and state government officials are relevant to the emoluments suits too. These questions are real and pressing.
That being said, this newsletter probably should contain an explanation why the notable-sightings section exists; starting next week it will.
On to Continetti's next part:
Everson hardly could contain his sneer when an attendee at the Good Friday Prayer Breakfast at the hotel posted photos of her event with the caption, "God is opening up doors!!!" When a Washington Post correspondent sarcastically tweets from the Benjamin Bar that she is "evaluating my life choices," must the public be informed? This isn't reporting. It's voyeurism.
Reporting and voyeurism, of course, aren't mutually exclusive and, yes, this newsletter offers a touch of the latter (in the most nonsexual use of the word).
One of the struggles of producing a daily-ish newsletter on a microbeat is how much context to provide. For example, when there's an update in the General Service Administration's decision not to relocate the FBI's headquarters, do readers need a full explanation every time why it's relevant to a publication focused on the Trump Hotel D.C.? In general, 1100 Pennsylvania operates on the assumption that if you're subscribing, you're familiar with the major issues.
To wit, the standalone "God is opening up doors!!!" Many evangelicals believe god put Trump in power. It's worth investigating if their belief in Trump's divine anointment is leading them to the spend earthly cash at his D.C. hotel. It sure seems that way: the Museum of the Bible, Liberty University, evangelical leaders, and other religious groups regularly hold events there. And it's a rare day not to see love of Jesus mentioned in the Instagram profile of someone who's shared a smiling selfie from the lobby. The hotel's managing director has said, "We have a religious niche."
So when a Trump Hotel D.C. patron writes "God is opening up doors!!!," it's in that context—and it's worth pointing out those doors open up to the U.S. president's for-profit business. That being said, yes, the photo in question possibly could have used a brief explanation as to why it's worth highlighting. (Although sadly in a post-Gawker world, the bar for sneering seems to have been lowered to include paraphrasing a person's own quote.)
Continetti continued:
The liberal response to the Trump hotel is another reminder of how difficult it is to disentangle legitimate complaints about the president from aesthetic disapproval of him and his supporters.
If you can't discern legit concerns about the U.S. president still owning his businesses from ad hominem digs at him and his backers, that's on you.
As for your correspondent's role in "aesthetic disapproval," near the beginning of his piece, Continetti noted, "Condé Nast Traveler praised its service and amenities." That Traveler article also commended the hotel's design, dining, and LEED silver status.
Continetti concluded:
I had entered a Republican safe space. The atmosphere was convivial, peaceful, and civil. And as I tucked in my napkin, and enjoyed tuna tartar and Dover sole, I had the pleasant, fleeting sensation that all of this was normal.
The U.S. president profiting off of a safe space for his partisans should never be considered normal. (Good call with the tartare though, it's delicious.)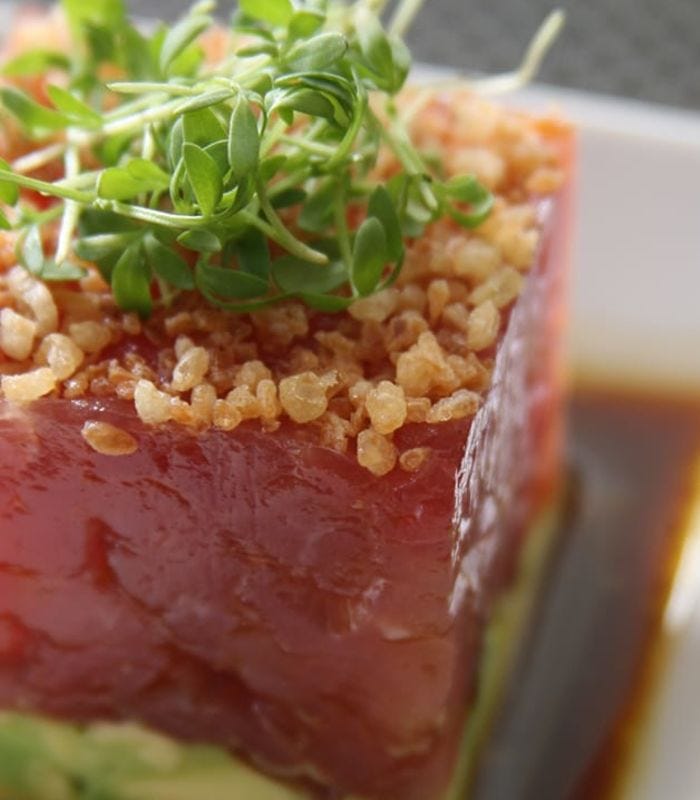 ---
Notable sightings
National Security Advisor John Bolton attended a function at his boss's hotel, just as reports surfaced that Trump's frustrated with Bolton's perceived importance. Also in attendance at this event, Americans for Tax Reform president Grover Norquist and a losing candidate in the 2018 Republican primary for U.S. Senate in Montana, Troy Downing.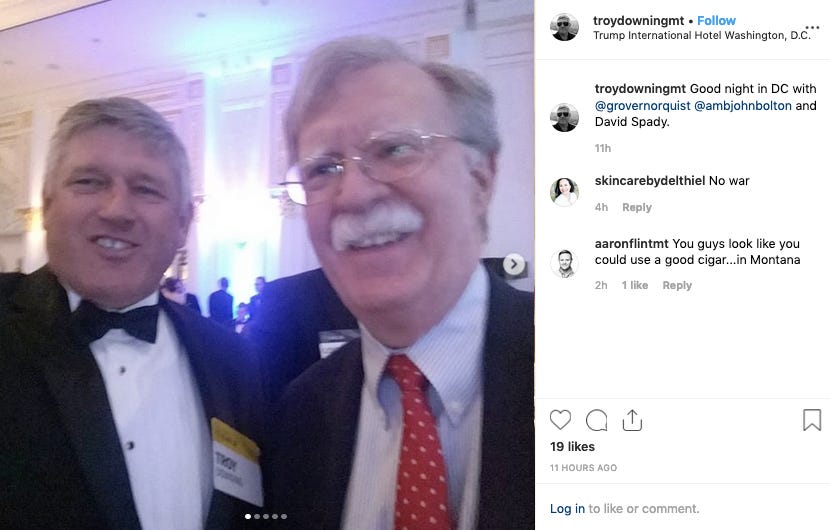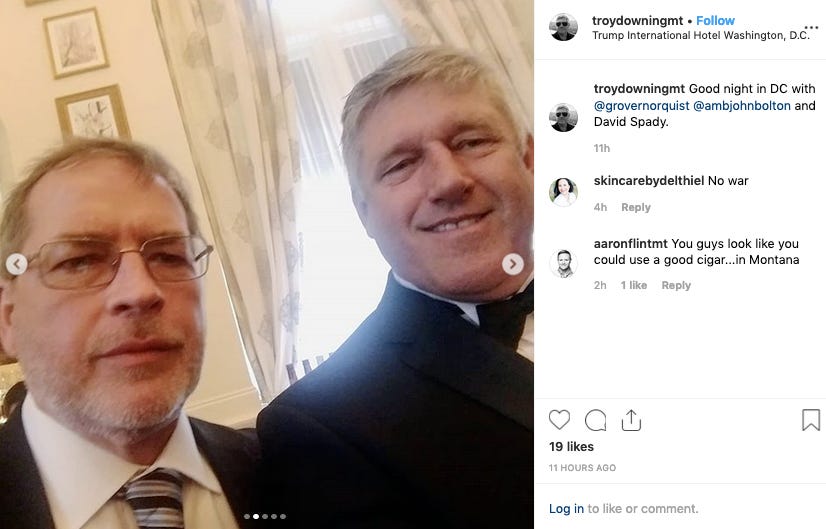 Linda McMahon, the former administrator of the Small Business Administration and current chair of the pro-Trump super PAC America First Action, reportedly held court in her former boss's lobby.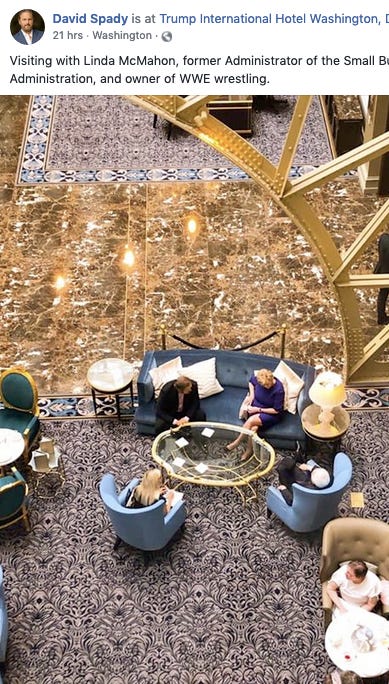 For Commentary's "The Trump Hotel: A safe space" (subscription required, free trial available), Washington Free Beacon editor-in-chief Matthew Continetti dined at the hotel reported seeing the following people
Sen. Tom Cotton (R–AR)

Sen. Ben Sasse (R–NE)

Turning Point USA founder Charlie Kirk

Blaze TV's Eric Bolling

Political consultant, Fox News pundit, and Trump campaign advisory board member Harlan Hill
Also, Continetti reported that friends told him the Republican National Committee and Club for Growth were meeting in the back.
The director of cyber security at U.S. Navy's program executive office, unmanned and small combatants, Weina Dorsky, raved about sushi in the commander-in-chief's hotel.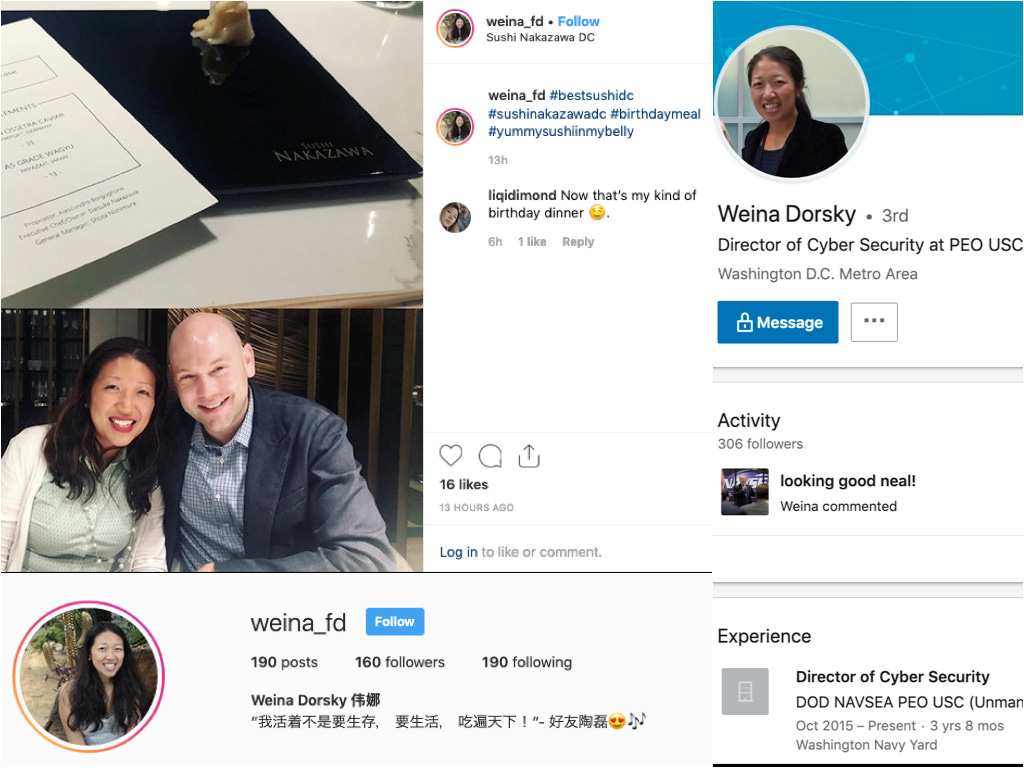 Michael Bluemling Jr. captioned a photo from Mar-a-Lago by sharing that he's considering a run for Congress as a Republican.
This Trump Store customer showed off her new mug that depicts the White House.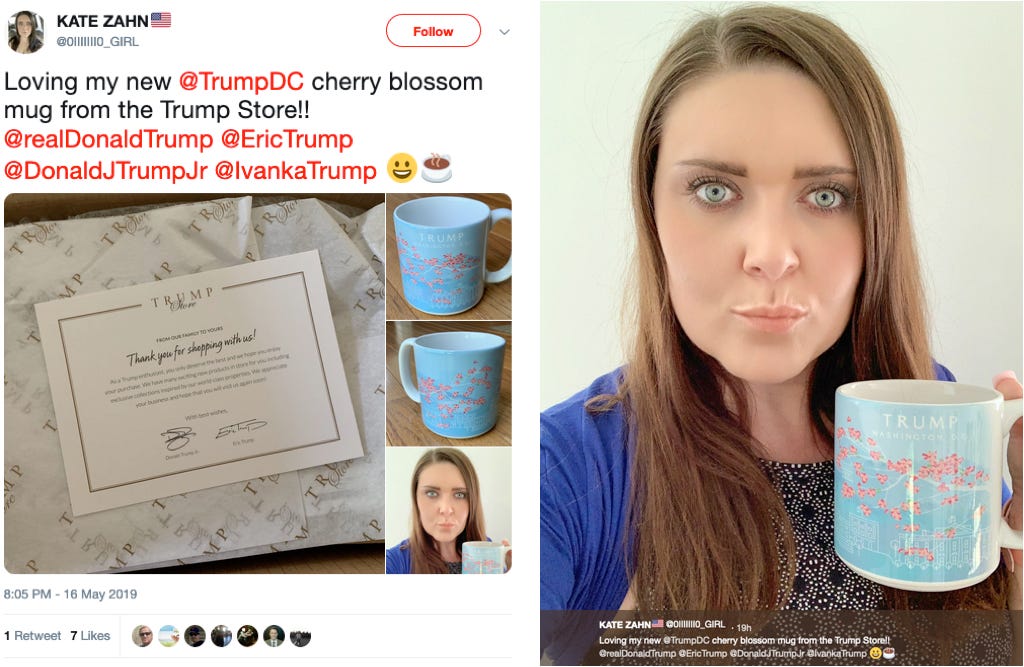 PGA Tour Champions golfer Len Mattiace played at Trump Philadelphia.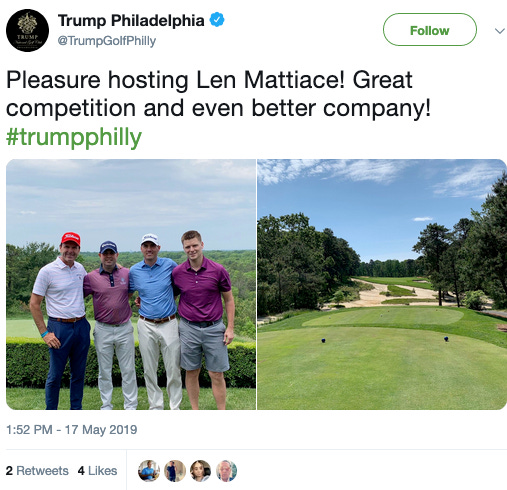 ---
Other Trump Organization news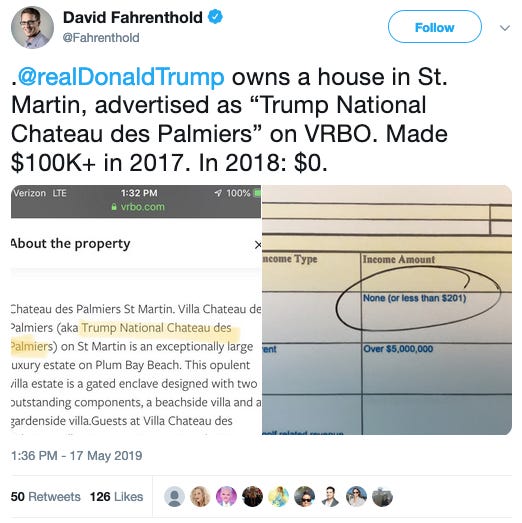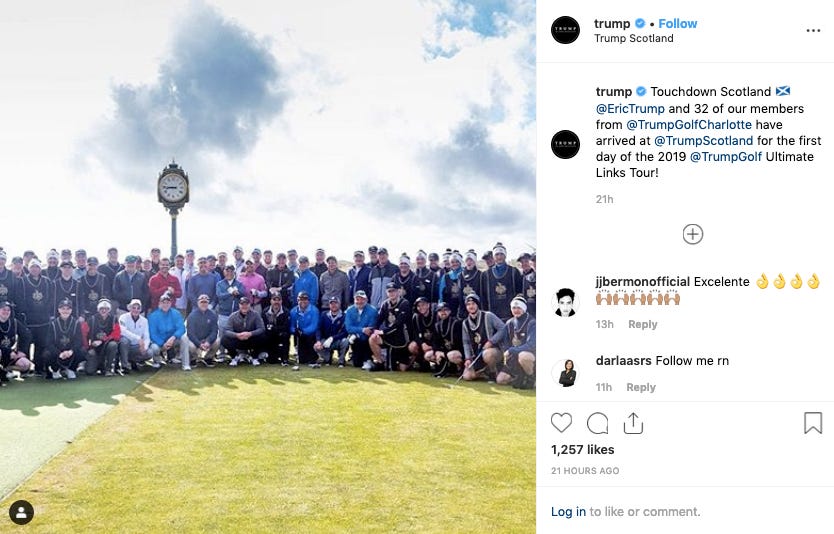 Hotel managing director Mickael Damelincourt plugged the Ivanka Trump suite on LinkedIn, but left out the name. Being the only hotel suite named after a current White House staffer though, it is unique.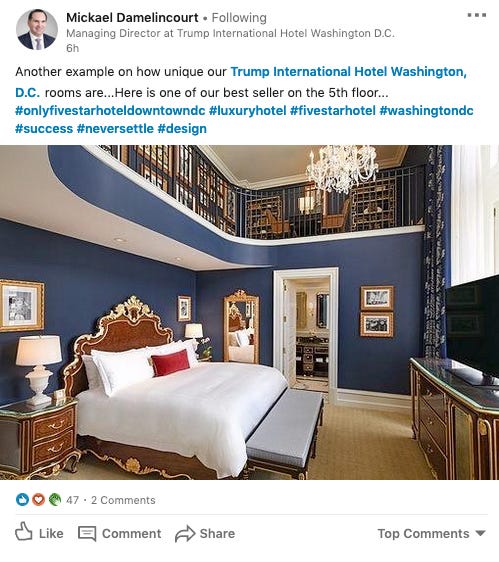 ---
House investigations, current status (latest change, May 17, 2019)
---
President Trump chose not to divest; Americans need to know who's paying him
Unlike his predecessors, Donald Trump did not divest his businesses upon becoming U.S. president. Think that may be a problem? Become an 1100 Pennsylvania member, and support reporting on who's spending money at the president's businesses—and what they may be getting in return. Memberships are this newsletter's sole source of revenue. Select the red "Subscribe now" button and become a member by paying just $5 a month or $50 a year. Thank you.
---
Legal cases, current status (latest change, May 16, 2019)
D.C. and MD attorneys general's emoluments lawsuit (district court docket, appellate court docket)—

Official capacity—On Dec. 20, 2018, the 4th U.S. Circuit Court of Appeals ruled it would hear the president's appeal of district court rulings that allowed the case to proceed to discovery, and the appellate court halted discovery in the case. Discovery had started Dec. 3 and was scheduled to run through Aug. 2, 2019, with the AGs having subpoenaed the Trump Organization, including its Scottish golf courses; the U.S. Departments of Agriculture, Commerce, Defense, and Treasury and the GSA; and the state of Maine. Oral arguments on the appeal occurred on March 19; by all accounts the three-judge panel (all Republican appointees, including one who was a selection of President Trump's) were skeptical of the AGs' case. D.C. AG Karl Racine pledged to take the case to the U.S. Supreme Court if necessary.

Individual capacity—On Dec. 14, Trump's personal attorneys appealed the denial of their motion to dismiss the case, also to the 4th U.S. Circuit Court of Appeals. On Dec. 19, the AGs replied to Trump's motion for a stay pending that appeal by voluntarily dismissing the claims against Trump in his "individual capacity to allow the claims against President Trump in his official capacity to move forward expeditiously." (The AGs only brought suit against Trump in his individual capacity after the judge suggested they do so.) Trump's personal attorneys, on Dec. 21, opposed the motion to dismiss at the district level, saying the appeals court now has jurisdiction and accusing the AGs of "gamesmanship."

Democratic senators and representatives' emoluments lawsuit—On Sept. 28, Judge Emmet G. Sullivan ruled that the legislators have standing to sue. Trump's Justice Department attorneys filed an interlocutory appeal on Oct. 22. On Jan. 30, 2019, the plaintiffs' filed a notice of supplemental authority, notifying the court of the GSA inspector general's report that criticized GSA for failing to consider if the Trump Hotel D.C.'s lease was in compliance with the Constitution after Trump became president. Two days later, the president's attorneys argued that the IG's conclusion was not inconsistent with Trump's argument, but that the judge should ignore that report anyway because the IG has no expertise in interpreting or applying the foreign emoluments clause. On April 30, Sullivan denied Trump's motion to dismiss the suit. While the president's attorneys have a supplemental brief due on May 28, on May 14 they filed a motion to stay the proceedings while they appeal Sullivan's decision.

CREW et. al's emoluments lawsuit—In February 2018, CREW appealed its suit being dismissed for lack of standing to the 2nd U.S. Circuit Court of Appeals. Oral arguments on that motion were held on Oct. 30.

Cork's unfair competition lawsuit—Judge Richard J. Leon dismissed the case on Nov. 26, 2018, writing "Cork has failed to state a claim for unfair competition under D.C. law." On Dec. 10, Cork's attorneys filed a notice of appeal and on Jan. 10, 2019 they submitted a statement of issues to be raised. Cork filed its first appellant brief on May 15, arguing "the District Court failed to recognize the evolving nature of the common law of unfair competition in the District of Columbia and erroneously treated the prior cases as if they were a series of statutes that Appellant had to satisfy to state a claim

Employees' class-action suit alleging racial discrimination—Two of the three plaintiffs did not appear at a status hearing on Jan. 25, 2019; their cases were moved to arbitration. Via email, their attorney, A.J. Dhali, said his clients did not appear at the hearing because their case already had been moved to arbitration last year. The next status hearing is scheduled for Oct. 4.
---
Health inspections, current status (latest change, Aug. 10, 2018)
❌Hotel: five violations on May 7, 2018; two were corrected on site

❌BLT Prime and Benjamin Bar: nine violations on Aug. 10, 2018

❌Sushi Nakazawa: two violations on Aug. 10, 2018

✔️Banquet kitchen: no violations on Aug. 10, 2018

❌Pastry kitchen: two violations on Aug. 10, 2018

✔️Gift shop: no violations on May 7, 2018

❌Employee kitchen and in-room dining: five violations on Aug. 10, 2018; two were corrected on site
---
Is the Trump Organization selling merchandise that depicts the White House? (latest change, March 21, 2019)
Yes.
---
One thing that (probably) has nothing to do with Trump's businesses
The I.M. Pei-designed Museum of Islamic Art in Doha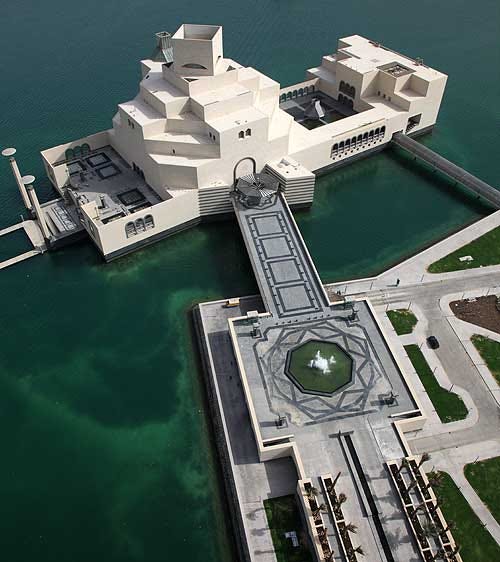 ---
Thanks for reading. If you like what you saw, tell someone—and support this work by becoming a member. If you've been forwarded this newsletter, subscribe for yourself at zacheverson.substack.com. Questions? Read our FAQ/manifesto. Tips or feedback? Contact me, Zach Everson, securely via email at 1100Pennsylvania@protonmail.com or on Signal at 202.804.2744.