Discover more from 1100 Pennsylvania
"The undisputed expert on the D.C. Trump Hotel" – David Fahrenthold of the Washington Post
Over 3,000 subscribers
45 made his 45th visit to a Trump business since first reports of coronavirus
Bedminster hosted Trump, executive order signing last weekend
President Donald J. Trump arrived at his Bedminster golf course Thursday evening and departed Sunday afternoon, bringing his total to 45 visits to Trump businesses since Chinese officials reported a cluster of cases of acute respiratory illness on Dec. 31, 2019.
The club's website boasts that "Members at Trump National Bedminster enjoy exclusive events and celebrations for adults and families, alike." On Saturday, one of those select experiences for Trump customers was getting to witness the U.S. president sign an executive order and three executive memorandums. And maybe scoring a commemorative pen.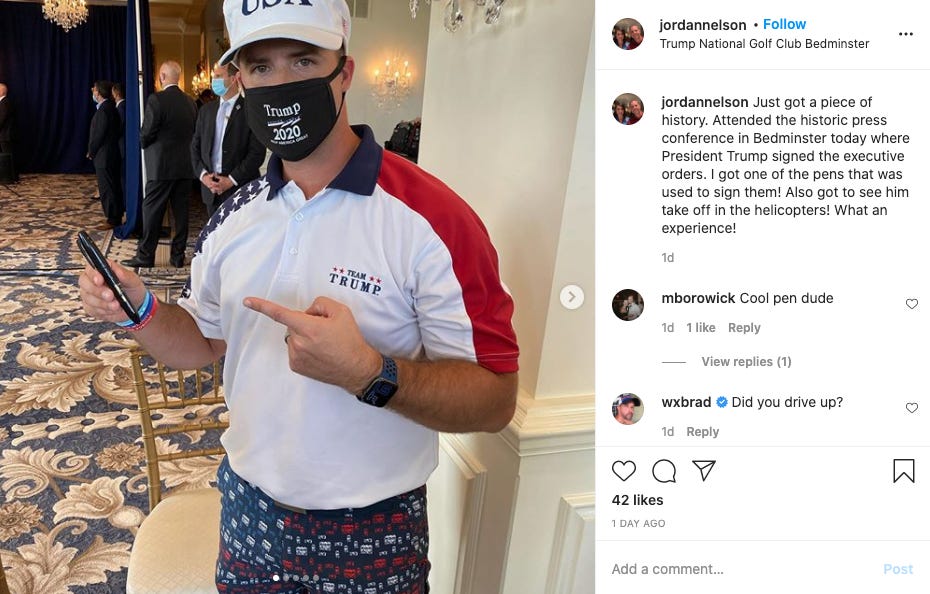 While many onlookers weren't wearing masks or social distancing, the president said his customers were engaging in a "peaceful protest," reported
Toluse Olorunnipa for The Washington Post.
Trump reported more than $17.7 million in revenue from Bedminister last year. It's unclear how much money U.S. taxpayers dished out to his club to host Saturday's event.
[1100 Pennsylvania counts each day of a multi-night stay as a visit.]
---
D.C. insider yo-yo'd between lobbying and administration jobs, patronizing Trump properties all the while
A veteran trade lobbyist who joined the Trump Commerce Department in 2017, left to lobby again in 2019, and is now back in Trump's government as a senior official at the Small Business Administration is also a regular presence at the president's businesses.
Donald Trump—who has reported more than $120 million in revenue from just his D.C. hotel while president—has repeatedly promised to "drain the swamp" that is Washington, D.C.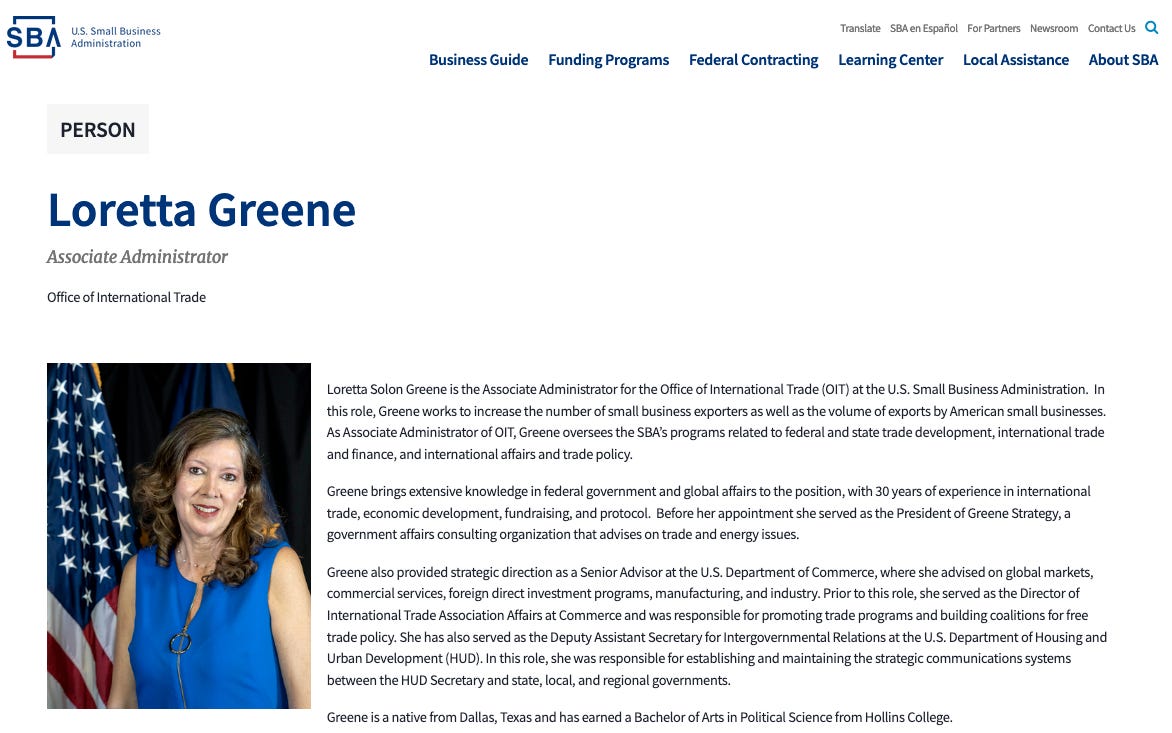 According to her LinkedIn profile, Loretta Solon Greene rejoined the Trump administration in June 2020 as associate administrator for SBA's Office of International Trade after spending 16 months working for her own firm, focusing on government and regulatory affairs regarding trade and energy.
The same month she assumed her second position in the Trump administration, Greene posted photos on Facebook showing her excited to see the Trump Hotel D.C. reopen for her business. And in July Greene had a wonderful day at Trump's Sterling golf course.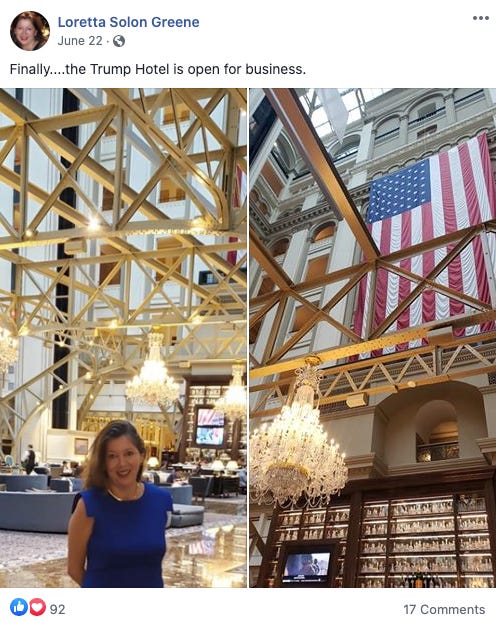 This June marked the second time Greene had done the lobbyist-to-Trump-administration shuffle. In June 2017, she became a senior advisor in the Commerce Department's International Trade Association after a seven-year stint at her government-affairs consultancy.
Some of Greene's other Trump property appearances include
Greene has not replied to an inquiry about the extent of her Trump business patronage, involvement with Trump First Tuesdays and how her career path and Trump property visits square with the president's pledge to "drain the swamp"
---
High Holiday vacation event returning to Doral
For the second straight year, Florida Kosher Vacations is offering the "High Holiday experience of a lifetime"—Rosh Hashana and Yom Kippur programs at the Trump Doral.
And registration has begun ("with full compliance to full CDC guidelines and regulation") according to the Facebook page of the organizers.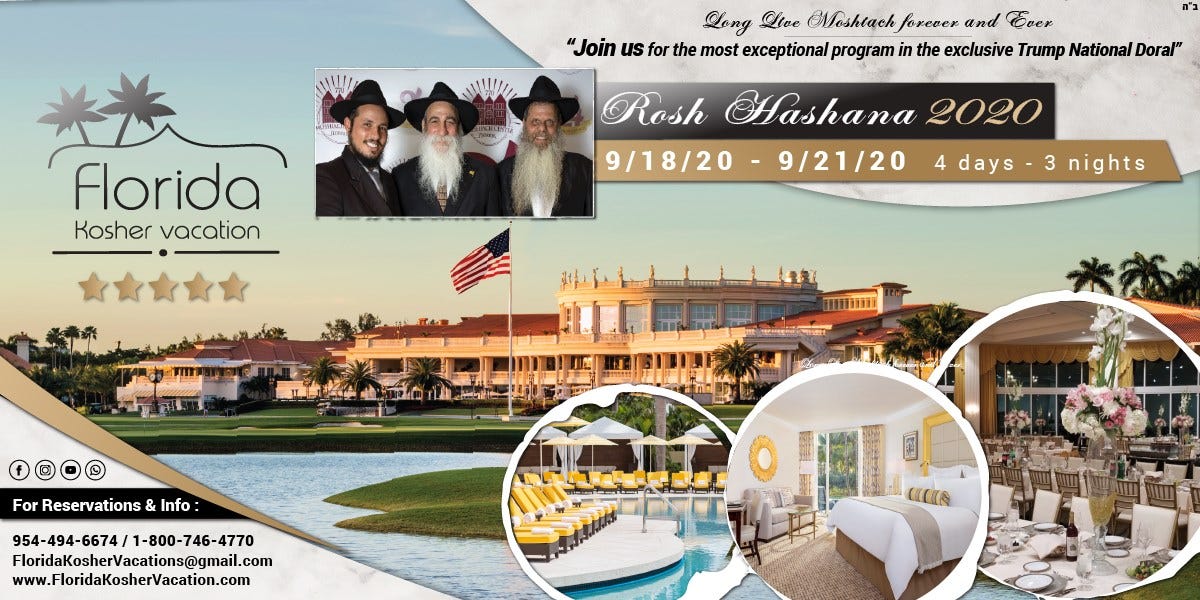 ---
Notable sightings
A glimpse of the foreign officials, government employees, politicians, lobbyists, and the like who patronize or appear at Trump businesses. Most people shown here have reasons to want to influence the Trump administration, rely on its good graces for their livelihoods, or should be providing oversight. Additionally, high-profile guests serve as draws for paying customers.
Leah Trilling, a Trump campaign staffer who gets paid $4,250 every two weeks, was happy to kick back some of those funds to the candidate's business.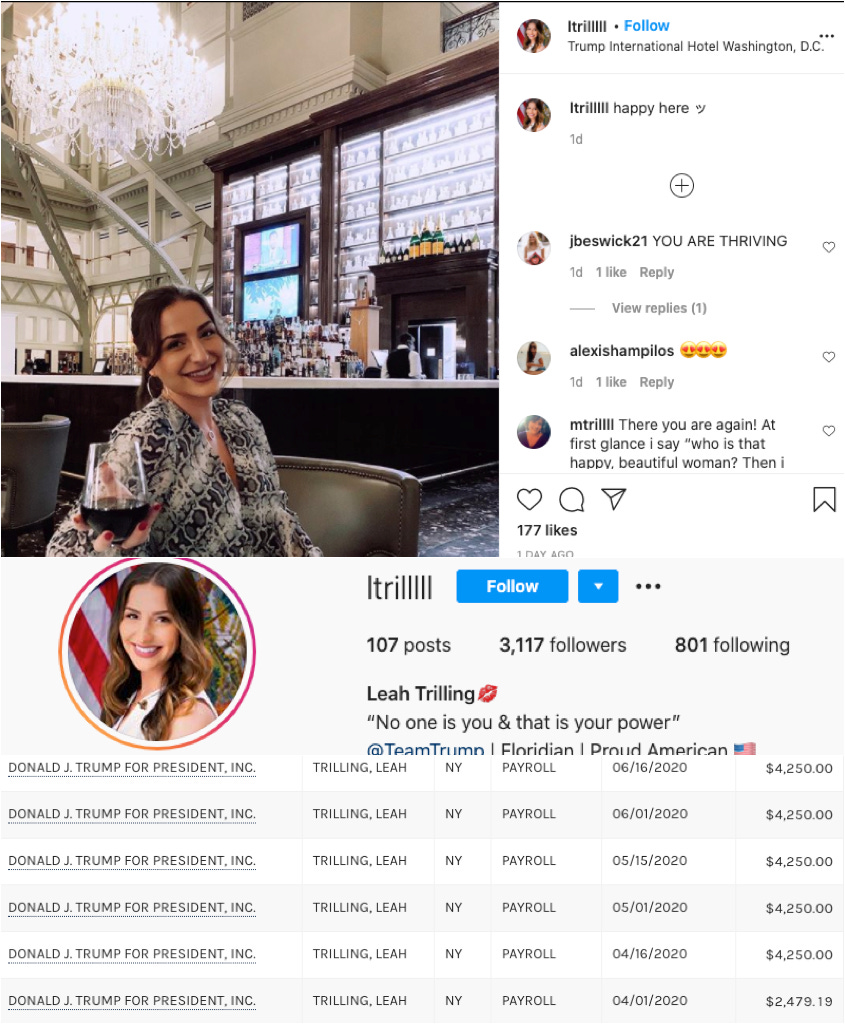 After the last few episodes were shot elsewhere, this week's installment of Prager U's The Candace Owens Show returned to the priciest suite in the Trump Hotel D.C.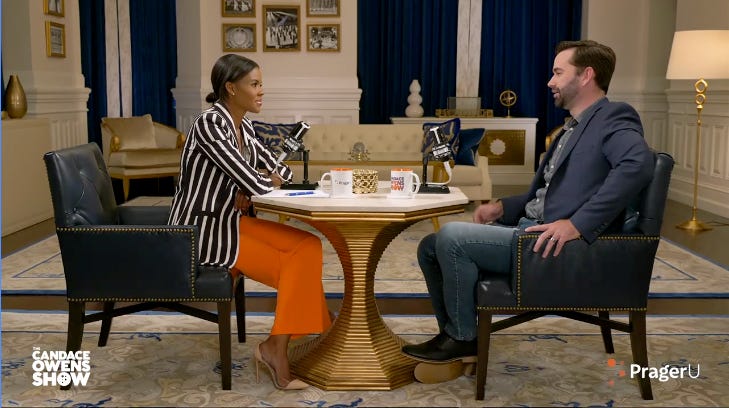 ---
Other Trump Organization news
---
Reference section
Links to rundowns of developments in the House's investigations and lawsuits, reference sheets for some of 1100 Pennsylvania's previous reporting, and articles that provide the background on why all of this matters. The date published or last updated is in parentheses.
Trackers
Notable hotel customers
Summaries
Upcoming key dates
Sept. 23, 2019—House Judiciary Committee hearing "Presidential corruption: Emoluments and profiting off the presidency" (postponed, not yet rescheduled)

Aug. 11, 2020—Scheduling conference before D.C. Superior Court in D.C. attorney general's lawsuit alleging improperly spent nonprofit funds by the Trump Hotel D.C. and Trump's inaugural committee

Aug. 11, 2020—Status conference via telephone on The Washington Post's lawsuit against the Departments of Homeland Security and Defense seeking documents about their spending at Trump properties.

Aug. 21, 2020—In House Ways and Means' lawsuit against the Treasury Department seeking Trump's tax returns, deadline for both sides to file briefings about how an appellate court ruling in a separate case that Congress has standing to enforce subpoenas of White House officials impacts this suit.

Sept. 14, 2020—Discovery ends in a one-time Trump appointee's lawsuit against the Trump Hotel D.C., alleging glass from a sabered bottle of champagne left a gash in her chin
---
Thanks for reading! If you like what you've read, tell someone. If you've been forwarded this newsletter, subscribe at 1100pennsylvania.substack.com. Questions? Read our FAQ. Tips or feedback? Contact Zach Everson at 1100Pennsylvania@protonmail.com (it'll be encrypted if you also use a ProtonMail account, which is free) or via Signal (secure), SMS, or mobile at 202.804.2744.