Discover more from 1100 Pennsylvania
"The undisputed expert on the D.C. Trump Hotel" – David Fahrenthold of the Washington Post
Over 3,000 subscribers
A fortified Trump hotel appears unscathed
With downtown D.C. in turmoil, president's hotel seems to benefit from a dedicated police presence and a lack of interest from rioters
While the Trump Hotel D.C. received plenty of attention from protestors, rioters seem largely to have ignored President Donald J. Trump's Pennsylvania Avenue business.
The Trump Hotel D.C. appears to have come through this weekend's unrest with no new physical damage, despite an abundance of provocative tweets along the lines of "I don't want to encourage the rioters but... Trump International Hotel DC is at Pennsylvania Ave NW x 12th St."
A thorough search of online sources yielded no photos or reports of the Trump Hotel D.C. sustaining harm to anything beyond its bottom line. Representatives from the hotel have not replied to 1100 Pennsylvania's query for details about any possible damages.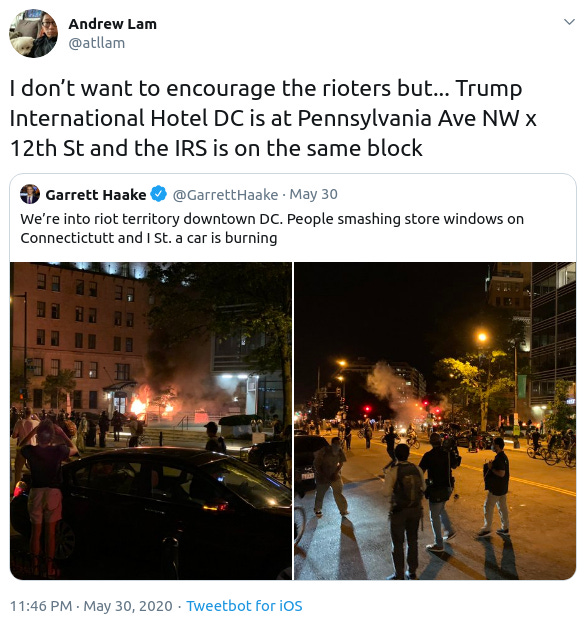 Probably related: throughout the weekend the president's hotel seemed to enjoy a strong visible police presence. Representatives from the Trump Organization and the D.C. police department have not responded to inquiries asking who picked up the tab for the extra protection as well as if the hotel had requested the additional security.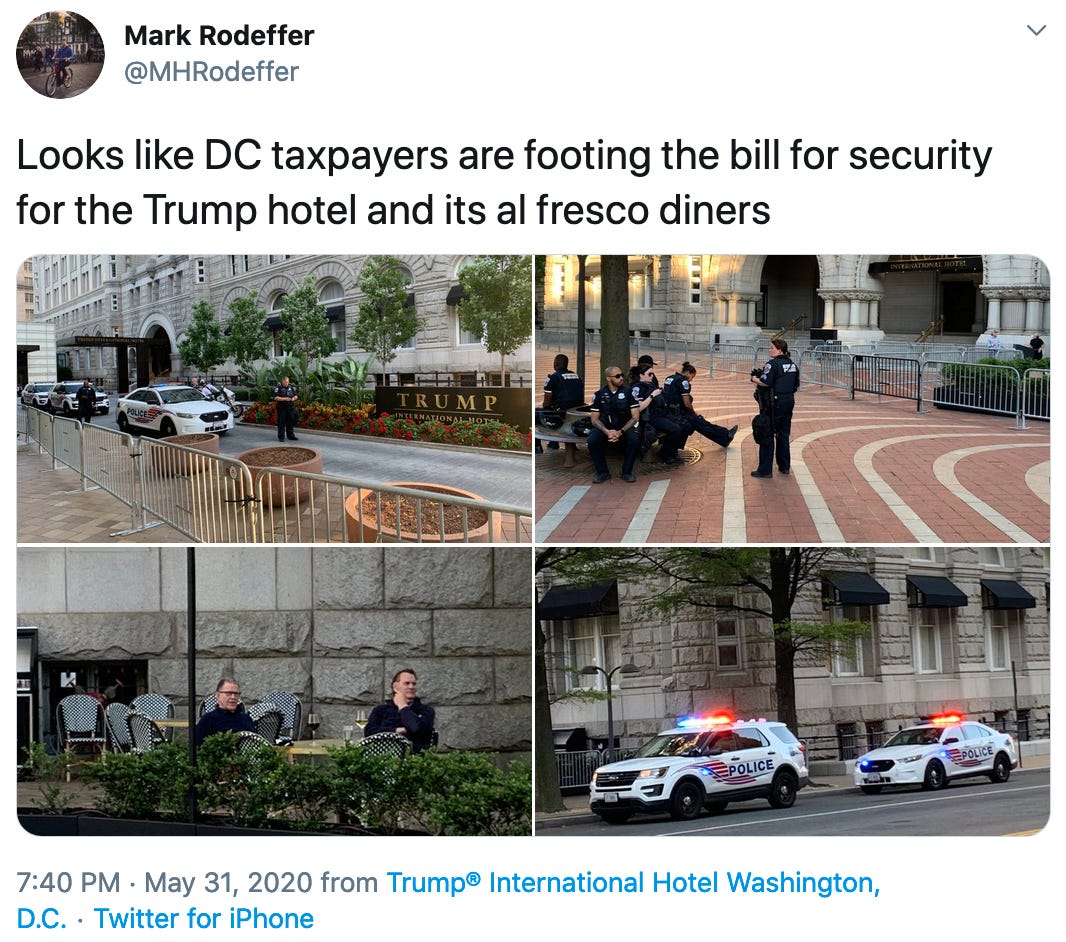 And Monday afternoon marked the first reports of those officers outside the hotel kneeling with protestors.
While providing what appears to be extra protection for a historic U.S. government-owned building—with a tenant who makes it a high-profile target—seems likes sensible policing and a strong deterrent, some Twitter users saw the lack of hostility directed towards the president's D.C. hotel as evidence that pro-Trump factions were behind the violence. (Former USA Today columnist Cheri Jacobs was just one of many Twitter users to put forward that supposition.)
Meanwhile, this weekend's reopening of the hotel's alfresco dining area on Pennsylvania Avenue may have fallen short of expectations for managing director Mickael Damelincourt (at left in the last photo).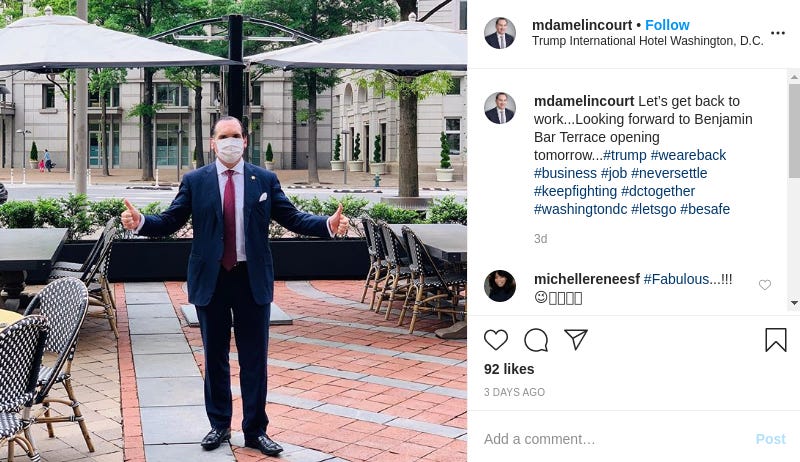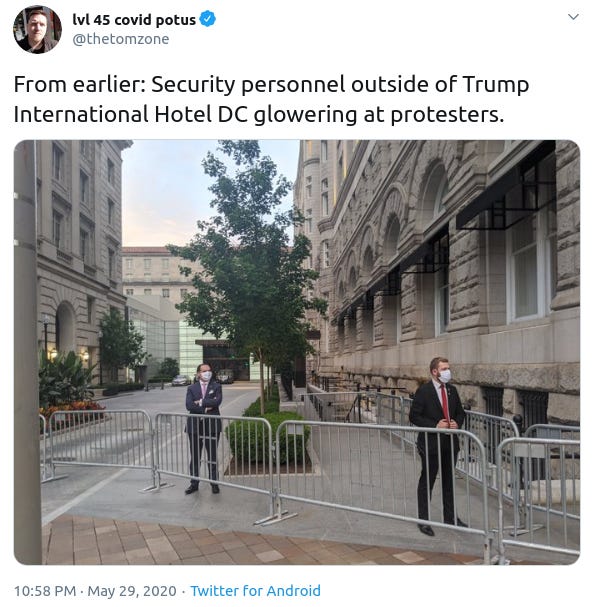 ---
Lawsuit alleging racial discrimination dismissed after arbitrator found hotel broke no laws
On Wednesday, a D.C. Superior Court judge dismissed a lawsuit filed by black employees alleging the Trump Hotel D.C.'s scheduling practices were discriminatory. The move comes after an October 2019 decision from an arbitrator that no laws were broken. That arbitration outcome has not been reported previously.
While the plaintiffs agreed with Superior Court Associate Judge Shana Frost Matini (a Trump appointee) dismissing the case, they plan to appeal the 2018 order that sent the case to arbitration.
In September 2017, two former and one then-current employee at the hotel's steakhouse, BLT Prime, sued Trump Old Post Office LLC and the hotel's managing director, Mickael Damelincourt, alleging they were violating the civil rights of African-American and other minority employees. The plaintiffs claimed the hotel did not allow African-American staff to work the more-lucrative shifts, told them to use back exits, and used "discriminatory hiring, firing, and discipline policies."
"I am unable to get too much into it, other than to simply state, that the arbitrator held that a legal violation did not occur," the plaintiffs' attorney, A.J. Dhali of Dhali PLLC, told 1100 Pennsylvania [bold added]. Dhali said he plans to file an appeal later in June.
The case was transferred between three D.C. Superior Court judges, with Judge Michael Rankin (a Reagan appointee) the one who sent it to arbitration in February 2018.
An attorney for the hotel and its manager, Joseph Schuler of Jackson Lewis, has not responded to a request for comment.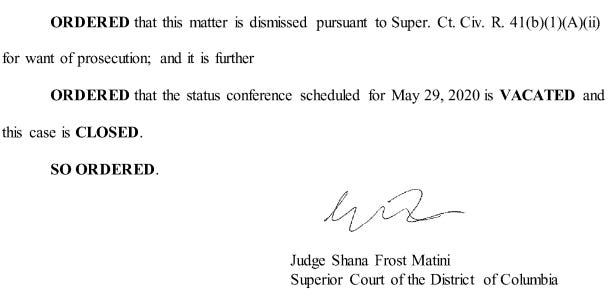 ---
Palm Beach County approved rent deferral for president's golf course
From Palm Beach County Voted to Grant Trump's Golf Club a Rent Deferral by Walker Davis and Linnaea Honl-Stunkel for government watchdog Citizens for Responsibility and Ethics in Washington [bold added]:
The Palm Beach County Board of Commissioners voted to approve a motion to grant a portion of President Trump's West Palm Beach golf resort a rent deferral due to the economic fallout of the coronavirus pandemic, according to a document obtained by CREW. The document suggests that another local office has approved a rent deferral for the course already, raising questions about the president's businesses benefiting from government measures to address the crisis.
Including the Palm Beach course, at least eight of President Donald J. Trump's businesses are eligible or have asked for financial relief due to the COVID-19 pandemic, based on an analysis of 1100 Pennsylvania's and other sources' reporting.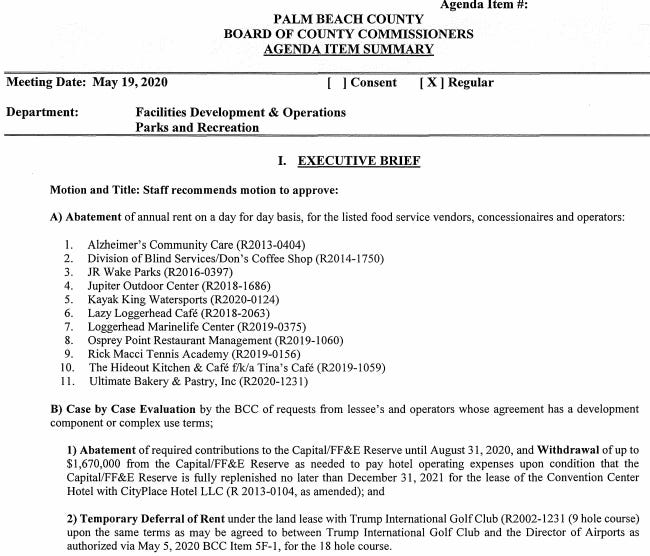 ---
Subscribe to 1100 Pennsylvania: Stay informed, support this reporting, and help restaurant workers in need
During the COVID-19 pandemic, 1100 Pennsylvania is donating 25 percent of all subscription revenue to the Restaurant Workers Relief Program.
The Lee Initiative, founded by James Beard Award winner Edward Lee, and Maker's Mark's Restaurant Workers Relief Program have "turned restaurants across the country into relief centers with local chefs for any restaurant worker who has been laid off or has had a significant reduction in hours and/or pay." It offers help for those in need of food and supplies, packing hundreds of to-go meals a night. Now in 19 cities across the country, the program has served more than 150,000 meals.
You can learn more about The Lee Initiative and donate too at leeinitiative.org.
Thanks to Substack for waiving its cut of 1100 Pennsylvania's subscription revenue to support this program.
Paid subscriptions are 1100 Pennsylvania's sole source of revenue—no ads, no grants. Just $5 a month or $50 a year. Support this reporting, ensure it continues, and now help restaurant workers and their families who need your assistance.
---
Other Trump Organization news
Two police cars reportedly were damaged in front of Trump Hotel and Tower Chicago, leading to police pushing protestors, according to journalist Jesus J. Montero [H/T Associated Press and The Atlanta Journal-Constitution]

"Trump Towers Istanbul partner lobbied president and cabinet on pandemic" by Adam Klasfeld for Courthouse News Service

"Trump Tower's 2010 profits magically grew by $3 million in new loan filings" by Heather Vogell for ProPublca and WNYC's Trump, Inc.

"The Justice Department has had to twist itself in knots to defend Trump on Emoluments" by Jane Chong for The Atlantic

On Thursday, President Trump nominated Ginny Thomas to the Library of Congress Trust Fund Board. At least twice Thomas has thrown awards banquets at the Trump Hotel D.C. And in May Thomas's husband, Supreme Court Justice Clarence Thomas, heard oral arguments in three cases the president brought before the Court regarding his businesses and finances.

On June 13, the president will hold an outdoor fundraiser at his Bedminister golf course reported Alex Isenstadt of Politico.

In May, Trump Organization EVPS Donald Trump Jr. and Eric Trump—businesspeople walled off from their father's administration—sent a combined seven emails solicing funds for the Trump campaign, It brings their total to 83 for the year, reported watchdog Twitter account @TrumpEmail.

"Donald Trump is not a fan of Indian-run casinos. He believed that 'so-called Indians' undercut his casinos in the 1990s. Some of his inner circle and donors are in the casino business and may agree." By The Economist

Trump Winery revealed its new American flag-themed summer apparel.

Memberships are on sale at the money-losing Trump resort in Aberdeen, Scotland.

"This billionaire governor's been sued over unpaid bills. A judge just ordered him to pay more." by Ken Ward Jr., and Alex Mierjerski for ProPublica

In response to COVID-19, the Trump Hotel D.C. introduced a cocktail made from individually packaged ingredients: The Gummy Bear. It's made from vodka, Red Bull, and, yes, gummy bears (and tastes like college).
---
Reference section
Links to rundowns of developments in the House's investigations and lawsuits, reference sheets for some of 1100 Pennsylvania's previous reporting, and articles that provide the background on why all of this matters. The date published or last updated is in parentheses.
Trackers
Notable hotel customers
Summaries
Upcoming key dates
Sept. 23, 2019—House Judiciary Committee hearing "Presidential corruption: Emoluments and profiting off the presidency" (postponed, not yet rescheduled)

June or July 2020—Before postponement of oral arguments due to a coronavirus-related closure, Supreme Court decision due on Trump's appeal of earlier rulings requiring his financial institutions to comply with subpoenas from House Financial Services, Intelligence, and Oversight

Aug. 10, 2020—Scheduling conference before D.C. Superior Court in D.C. attorney general's lawsuit alleging improperly spent nonprofit funds by the Trump Hotel D.C. and Trump's inaugural committee

Oct. 29, 2020—Mediation session in at least a one-time Trump appointee in the Commerce Department's lawsuit against the Trump Hotel D.C., alleging a shard of glass from a sabered bottle of champagne left a gash in her chin
---
Thanks for reading! If you like what you've read, tell someone. If you've been forwarded this newsletter, subscribe at 1100pennsylvania.substack.com. Questions? Read our FAQ. Tips or feedback? Contact Zach Everson at 1100Pennsylvania@protonmail.com (it'll be encrypted if you also use a ProtonMail account, which is free) or via Signal (secure), SMS, or mobile at 202.804.2744.