Discover more from 1100 Pennsylvania
"The undisputed expert on the D.C. Trump Hotel" – David Fahrenthold of the Washington Post
Over 3,000 subscribers
A theory about The MyPillow Guy's Rose Garden address
Guest speaker at president's COVID-19 briefing on Monday is a major GOP donor, Trump customer
Monday in the White House Rose Garden during the daily COVID-19 briefing, President Donald J. Trump turned the podium over to CEOs of major U.S. firms Honeywell, Jockey, Procter & Gamble, and United Technologies. Joining those leaders was Michael Lindell, better known as the MyPillow Guy after the company he steers and relentlessly advertises.
Like the other businesses represented Monday, MyPillow is working to stymie the COVID-19 pandemic. Yet Lindell's appearance behind the presidential seal, where he turned his remarks into a free infomercial, had more than one person wondering—
A theory: Since 2015, Lindell has contributed more than $370,000 combined to 40 different Republican candidates and causes, according to data the Center for Responsive Politics compiled. [UPDATE APRIL 1, 2020, 4:23 P.M. Lindell's GOP contributions actually top $628,000 (H/T Adam Klasfeld of Courthouse News).]
And like an extravagant chandelier, Lindell's a fixture at Mar-a-Lago, the Trump Hotel D.C., and other Trump properties. Some samples from his social media and those of people eager to land a selfie with the celebrated infomercial host—
With Trump in the Trump Hotel D.C.'s priciest suite, the Trump Townhouse (ignore the tagged location, the decor's a match)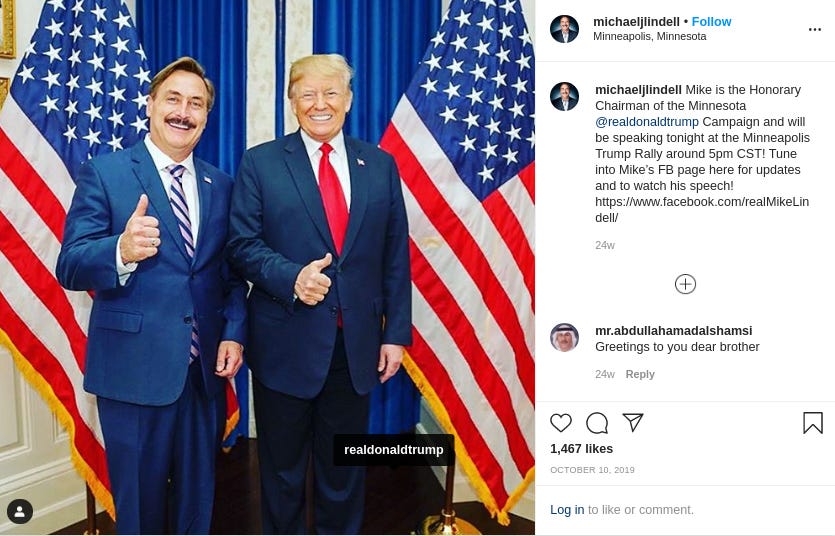 With Trump at one of his golf clubs, which the president retweeted, thanking Lindell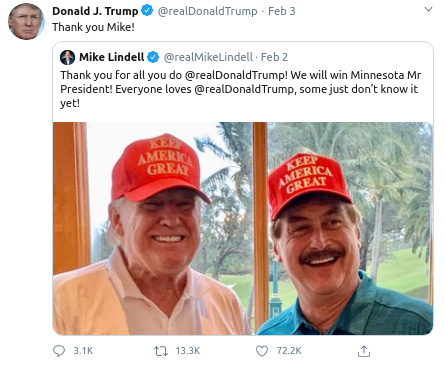 Praising Trump Org EVP's Donald Trump Jr. and Eric Trump—businesspeople walled off from their father's administration—for "everything…you guys do for our country!"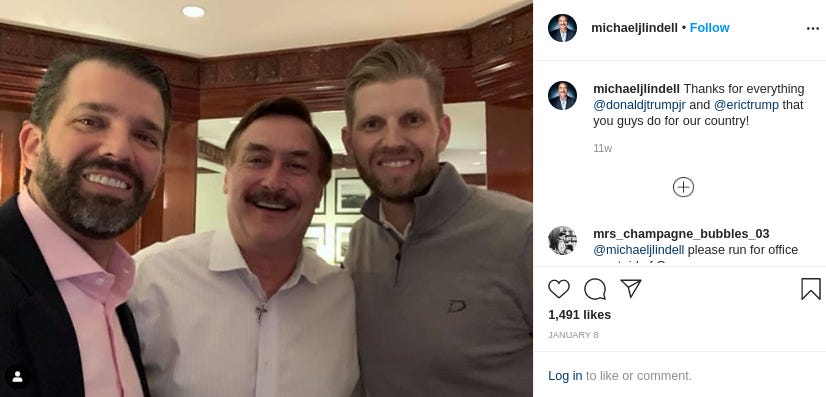 At the Trump Hotel D.C. in February 2018 with Fox News's Gina Loudon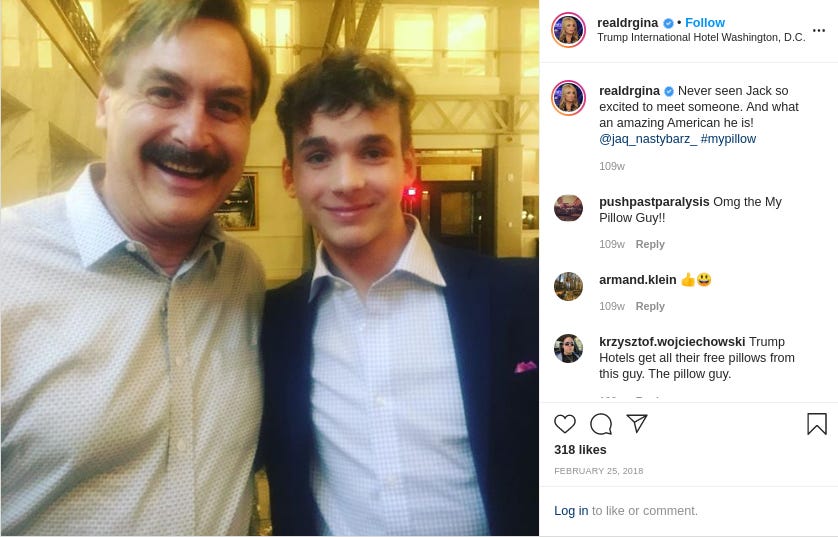 At Mar-a-Lago in April 2018 with Fox News's Jeanine Dipirro and The Hill's James Finkelstein
At the Trump Hotel D.C. in September 2018 after dining with President Trump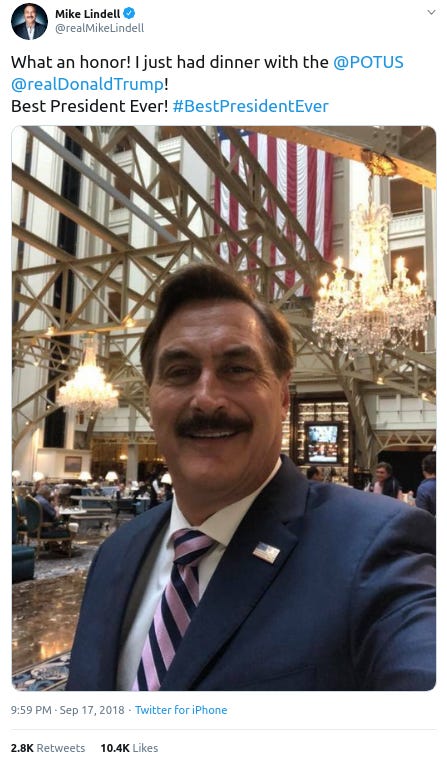 At the Trump Hotel D.C. after the State of the Union in February 2019, with adviser for pro-Trump nonprofit America First Policies and lobbyist for a Kuwaiti firm Martha Boneta and Trump Victory finance chair Kimberly Guilfoyle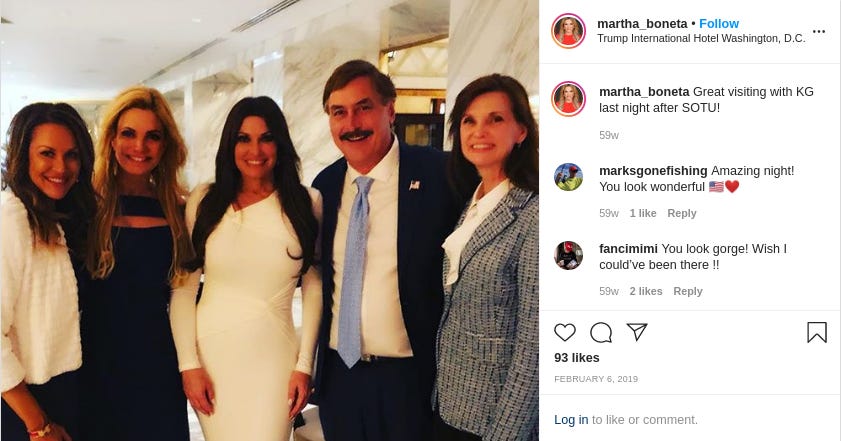 At Mar-a-Lago in February 2019 celebrating Trump with a member of Brazil's Congress and the son of the country's president, Jair Bolsonaro, Eduardo Bolsonaro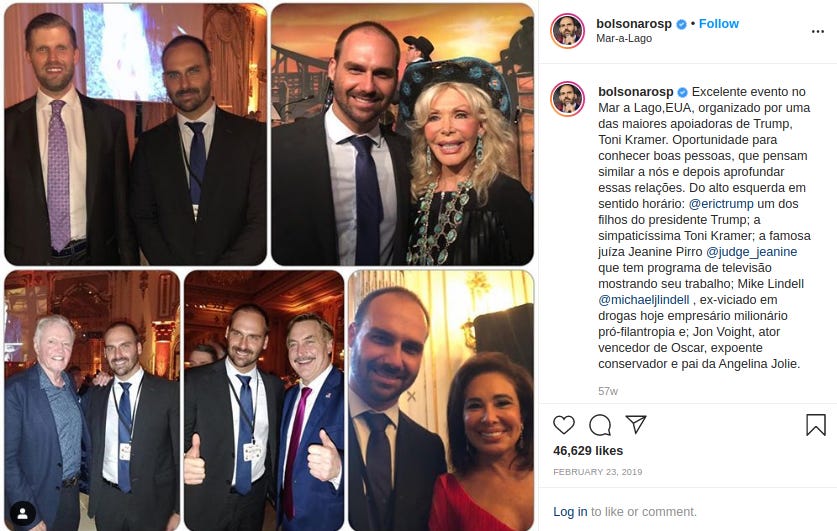 At Mar-a-Lago in March 2019 for a Trump reelection fundraiser with donor Nick Peric, Boneta, tax reform expert Julio Gonzalez, and Rabia Kazan. She's a Turkish national who contributed $2,800 to a pro-Trump committee, as Roger Sollenberger, Kathleen O'Neil, and Amber Jamieson reported for BuzzFeed News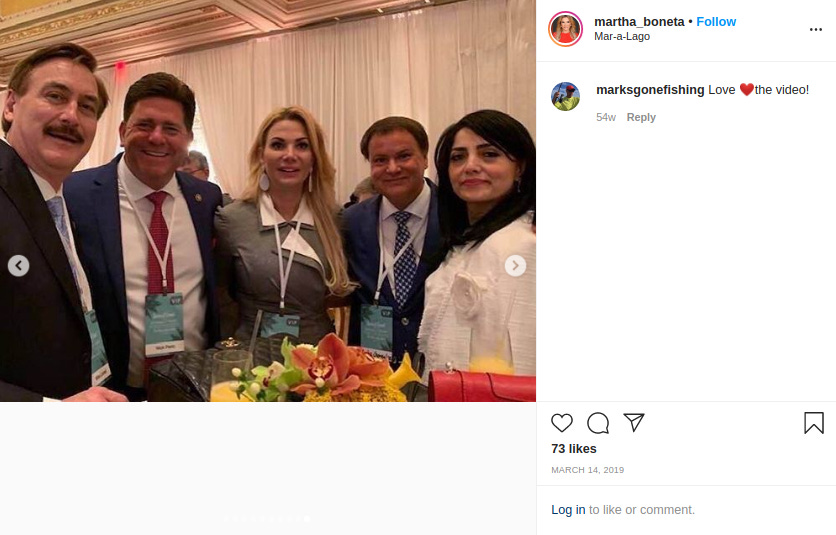 At the Trump Hotel D.C. after a White House holiday party in December 2019 with former Trump White House staffer Sebastian Gorka, PhD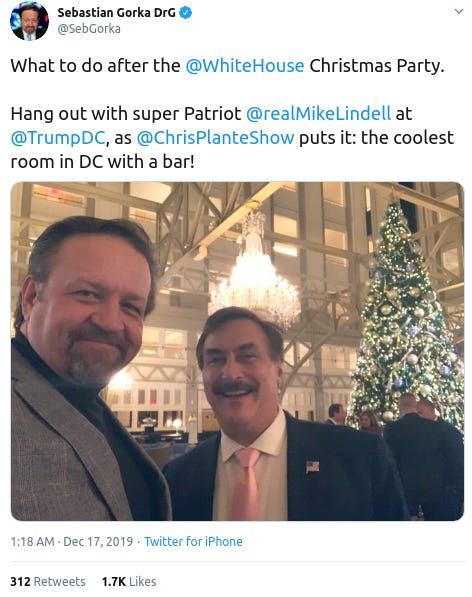 Poolside at Mar-a-Lago in December 2019 with Sen. Lindsey Graham (R–SC)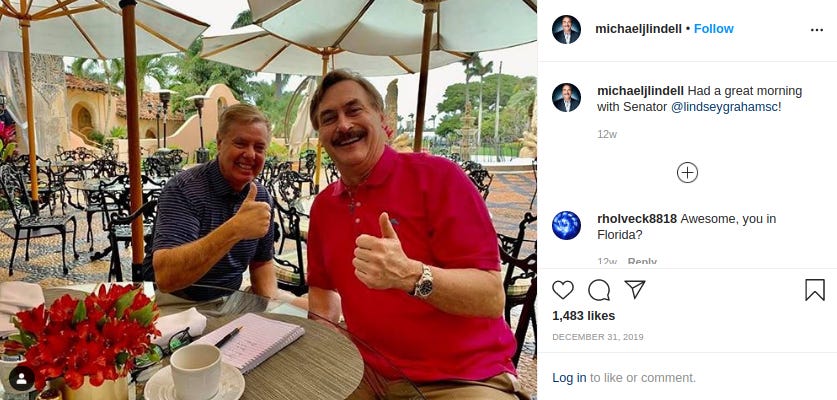 Celebrating New Year's 2020 at Mar-a-Lago with Eric Trump and Loudon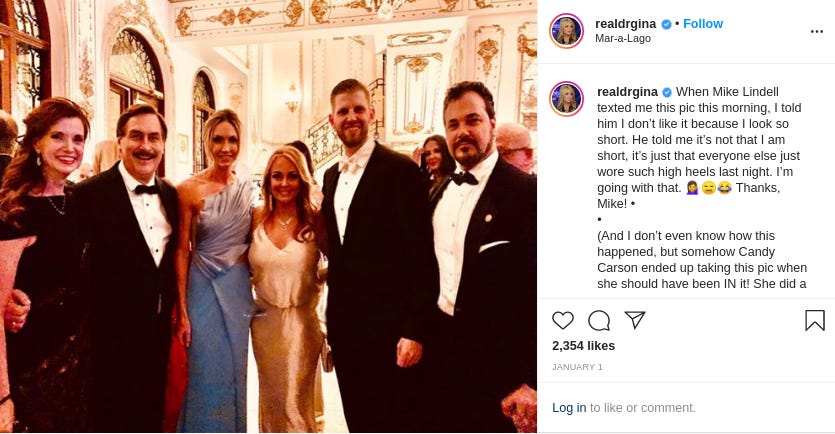 At the Trump Hotel D.C. around the time the city hosted the Conservative Political Action Conference and the American Israel Public Affairs Committee conference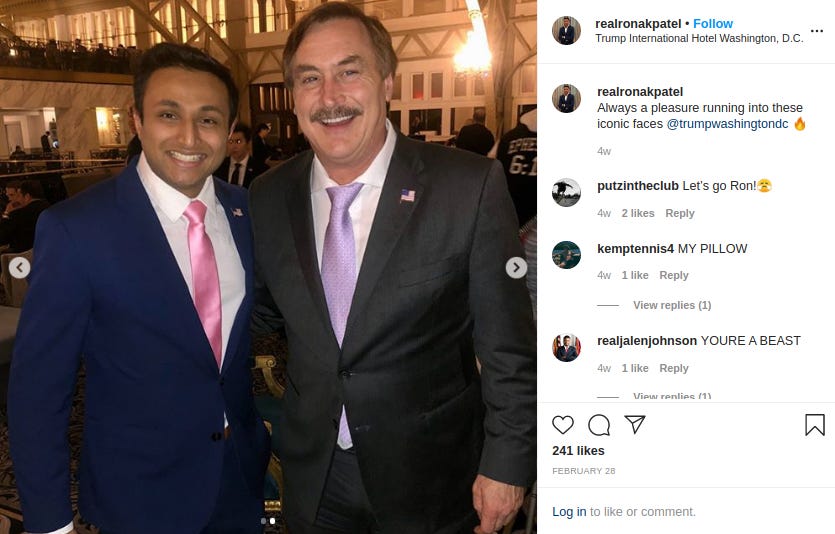 Listed as a speaker at Tea for Trump at the Trump Hotel D.C. in June 2020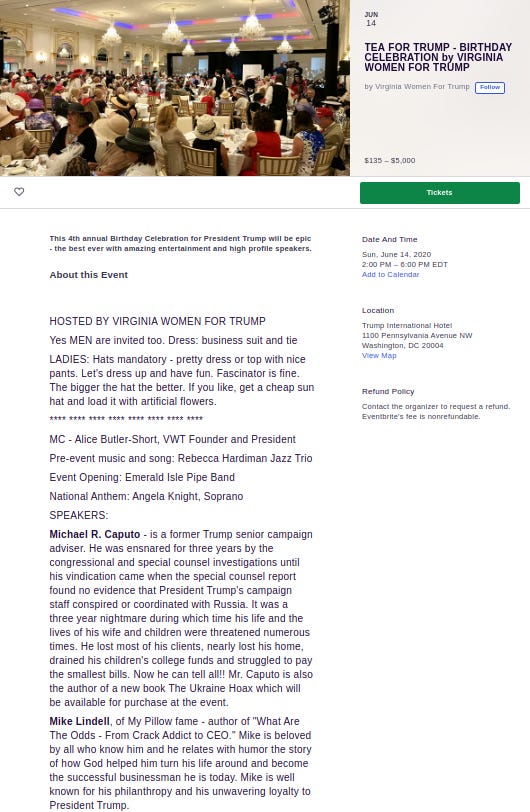 ---
1100 Pennsylvania's reporting reaches millions. Subscribe and ensure it continues.
Recently your correspondent appeared on Inside Edition to share 1100 Pennsylvania's reporting on the Trump Hotel D.C. Additionally, 1100 Pennsylvania has been cited by The Associated Press, The Atlanta Journal Constitution, Business Insider, Capital (French), The Daily Beast, The Daily Mail, The Guardian, The Hartford Courant, MSNBC, Ireland's Newstalk radio, NBC News, The New York Times, The Palm Beach Post, Stern (German), The Wall Street Journal, The Washington Examiner, The Washington Post, Washingtonian, and Yahoo News.
Thanks to 1100 Pennsylvania's paid subscribers who support in-depth reporting on who's paying Donald Trump and what they may want from the president, helping bring this information to a much wider audience. Paid subscriptions are this publication's sole source of revenue—no ads, no grants. Support this reporting and ensure it continues. Just $5 a month or $50 a year.
---
Reference section
Links to rundowns of developments in the House's investigations and lawsuits, reference sheets for some of 1100 Pennsylvania's previous reporting, and articles that provide the background on why all of this matters. The date published or last updated is in parentheses.
Trackers
Notable hotel customers
Summaries
25 unimpeachable examples of Trump profiting from his hotel: Foreign governments, Trump administration, GOP lawmakers, industry all have called on the Trump Hotel D.C. since its owner became president (Sept. 27, 2019)

"Power tripping in the swamp: How Trump's D.C. hotel swallowed Washington
The MAGA social scene is a movable feast, but its dark heart resides within the Old Post Office Building, where the Trump Org operates under a mercenary charter" by your correspondent for Vanity Fair (October 2019)

"Inside the world's most controversial hotel: The hotel that was expected to take its place among the crown jewels of D.C.'s travel scene has become a magnet for protestors, a West Wing Annex, and—possibly—the center of a constitutional crisis." by your correspondent for Condé Nast Traveler (May 2018)
Upcoming key dates
Sept. 23, 2019—House Judiciary Committee hearing "Presidential corruption: Emoluments and profiting off the presidency" (postponed, not yet rescheduled)

March 20, 2020—Status hearing before D.C. Superior Court in former hotel employees' lawsuit alleging racial discrimination, postponed due to coronavirus-related closure

March 31, 2020—Before postponement due to coronavirus-related closure, the Supreme Court was to hear Trump's appeal of earlier rulings requiring his financial institutions to comply with subpoenas from House Financial Services, Intelligence, and Oversight Committees and the New York district attorney's office

April 6, 2020—Deadline for parties to exchange witness lists in lawsuit alleging a shard of glass from a sabered bottle of champagne left a gash in a customer's chin

June 2020—Before postponement or oral arguments due to a coronavirus-related closure, Supreme Court decision due on Trump's appeal of earlier rulings requiring his financial institutions to comply with subpoenas from House Financial Services, Intelligence, and Oversight

Aug. 10, 2020—Scheduling conference before D.C. Superior Court in D.C. attorney general's lawsuit alleging improperly spent nonprofit funds by the Trump Hotel D.C. and Trump's inaugural committee
---
Thanks for reading! If you like what you've read, tell someone. If you've been forwarded this newsletter, subscribe at 1100pennsylvania.substack.com. Questions? Read our FAQ. Tips or feedback? Contact Zach Everson at 1100Pennsylvania@protonmail.com (it'll be encrypted if you also use a ProtonMail account, which is free) or via Signal (secure), SMS, or mobile at 202.804.2744.