Discover more from 1100 Pennsylvania
"The undisputed expert on the D.C. Trump Hotel" – David Fahrenthold of the Washington Post
Over 3,000 subscribers
And now there are six
Welcome to 1100 Pennsylvania, a newsletter devoted to President Donald Trump's Trump International Hotel Washington, D.C. (and his other companies). President Trump, of course, still owns his businesses and can profit from them.
If you like what you see, tell someone—and support this work by becoming a paying member ($5/month or $50/year). If you've been forwarded this newsletter, subscribe for yourself at zacheverson.substack.com. Questions? Read our FAQ/manifesto. Tips or feedback? Contact me, Zach Everson, securely via email at 1100Pennsylvania@protonmail.com or on Signal at 202.804.2744.
Ways and Means subcommittee announces hearings on presidential tax returns
The House Ways and Means subcommittee on Oversight announced yesterday that it's holding a hearing titled "Legislative proposals and tax law related to presidential and vice-presidential tax returns." It marks at least the sixth House committee looking into the president's businesses and finances (read the rundown of all investigation action, as always, towards the end of this newsletter).
Scheduled for Feb. 7, details of the hearing are sparse. First reported by Mike DeBonis for The Washington Post, the witnesses Democrats invited are
Noah Bookbinder, executive director of Citizens for Responsibility and Ethics in Washington (which is involved in two emoluments lawsuits against the president)

Steven M. Rosenthal of the Urban-Brookings Tax Policy Center

Joseph J. Thorndike of the nonprofit publisher Tax Analysts

George K. Yin, a University of Virginia law professor and former senior aide to the Joint Committee on Taxation.
Rep. John Lewis (D–GA) chairs the Oversight subcommittee.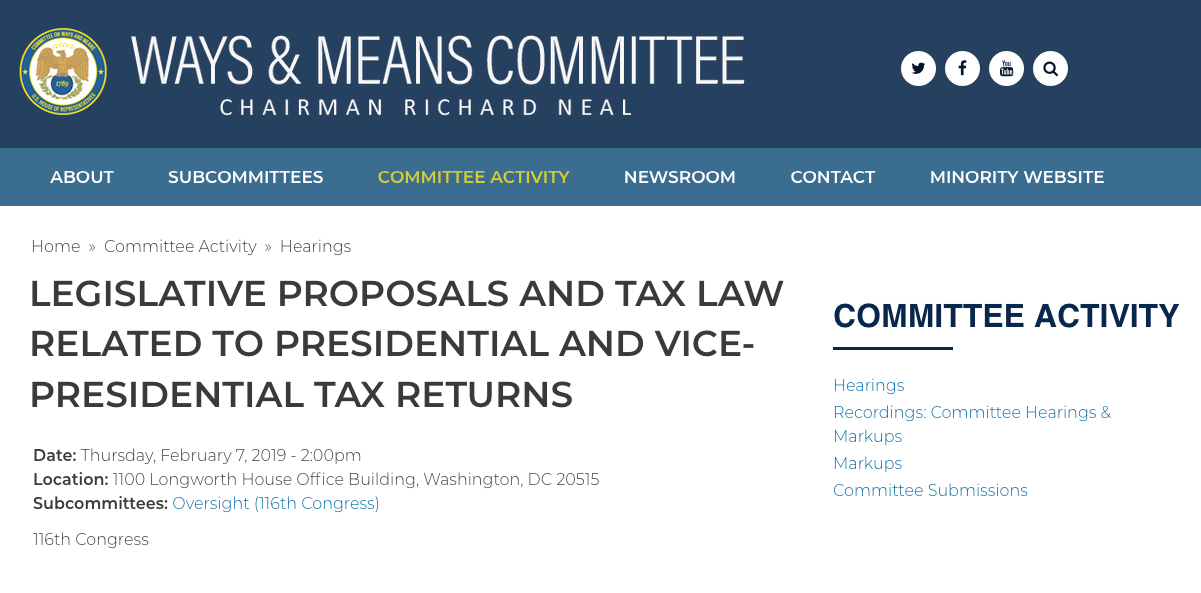 GSA Administrator likely first witness in Transportation subcommittee hearing on lease
GSA Administrator Emily Murphy likely will be the first person called to testify in the Transportation and Infrastructure committee's subcommittee on Economic Development, Public Buildings, and Emergency Management's hearings on the GSA lease, according to a person familiar with the subcommittee's plan.
On Jan. 22, Transportation committee chair Rep. Peter DeFazio (D–OR) and the Economic Development subcommittee chair Dina Titus (D–NV) sent a letter to Murphy on Jan. 22 asking for
all communication between the GSA and the members of the Trump family dating back to 2015

an explanation of how the hotel calculates its profits

profit statements since the hotel opened in 2016

any guidance from the White House regarding the lease

whether or not Ivanka Trump and Jared Kushner are recused from participating in decisions regarding the property.
DeFazio and Titus requested a reply by Feb. 8. A GSA spokesperson did not respond to an inquiry asking if Murphy expected to meet that deadline.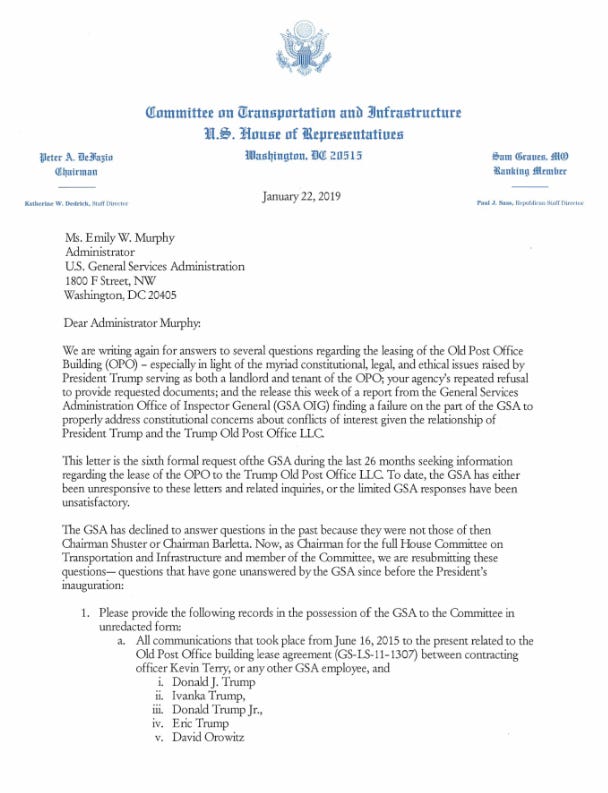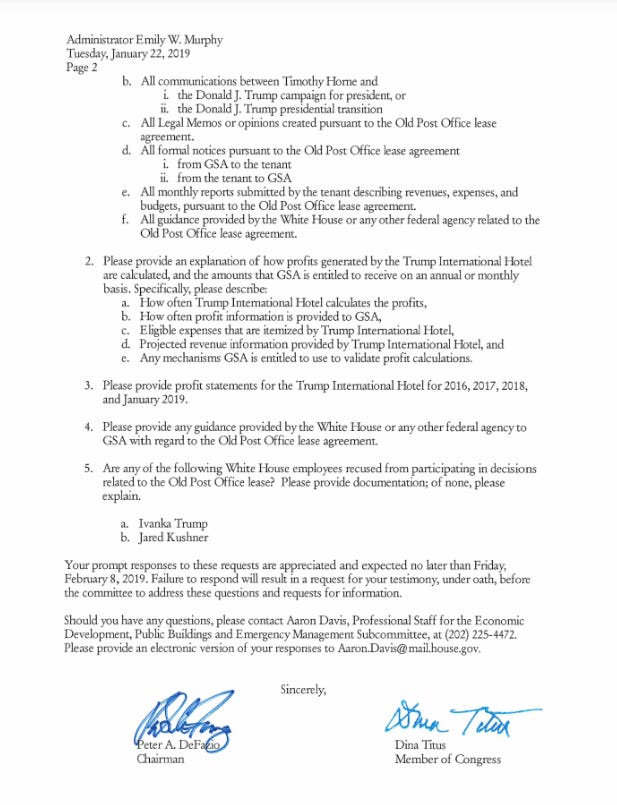 Trump declares presidency a money loser for his businesses, discloses he may know details about who spends money there
From "Trump, in interview, calls wall talks 'waste of time' and dismisses investigations" by Peter Baker and Maggie Haberman for The New York Times:
At one point, he scoffed at the notion that he was making money from the presidency, calling the job a "loser" financially.

"I lost massive amounts of money doing this job," he said. "This is not the money. This is one of the great losers of all time. You know, fortunately, I don't need money. This is one of the great losers of all time. But they'll say that somebody from some country stayed at a hotel. And I'll say, 'Yeah.' But I lose, I mean, the numbers are incredible."
From a news conference on Jan. 11, 2017 that then-President-elect Trump held with his attorney, Sheri Dillon:
Dillon: To further reinforce the wall that we are building between President-elect Trump and the Trump Organization, President-elect Trump has ordered, through his trust agreement, to sharply limit his information rights. Reports will only be available and reflect profit and loss on the company as a whole. There will be no separate business by business accounting.
Whether or not Trump is abiding by his self-imposed guidelines, of course, is unknown—and there's evidence he is not. But even if were trying to stay on his side of that wall, that the media reports on his business and Trump is a media consumer shows just how porous that wall is always going to be.
Hotel cited for selling alcohol to a minor, not checking ID
D.C.'s Alcoholic Beverage Control Board issued two warnings to the Trump Hotel D.C. on Jan. 9 for selling alcohol to a minor and failing to take verify a patron's age.

If judge gags Roger Stone, Virginia Women for Trump has backup plan for headliner
Roger Stone is scheduled to headline the Virginia Women for Trump's 2020 campaign kickoff Saturday night. Standing in the way: a court date this afternoon that might involve U.S. District Judge Amy Berman Jackson slapping him with a gag order.
"We will keep our fingers crossed. I am sure he will still show up," wrote Virginia Women for Trump's founder and president Alice Butler-Short in an email. "He could talk about something not related to the case. The judge can't deny him the right to make his living, and his living is talking."
Should Stone be silenced altogether though, Butler-Short said economist Steven Moore and GOP strategist Michael Caputo would headline.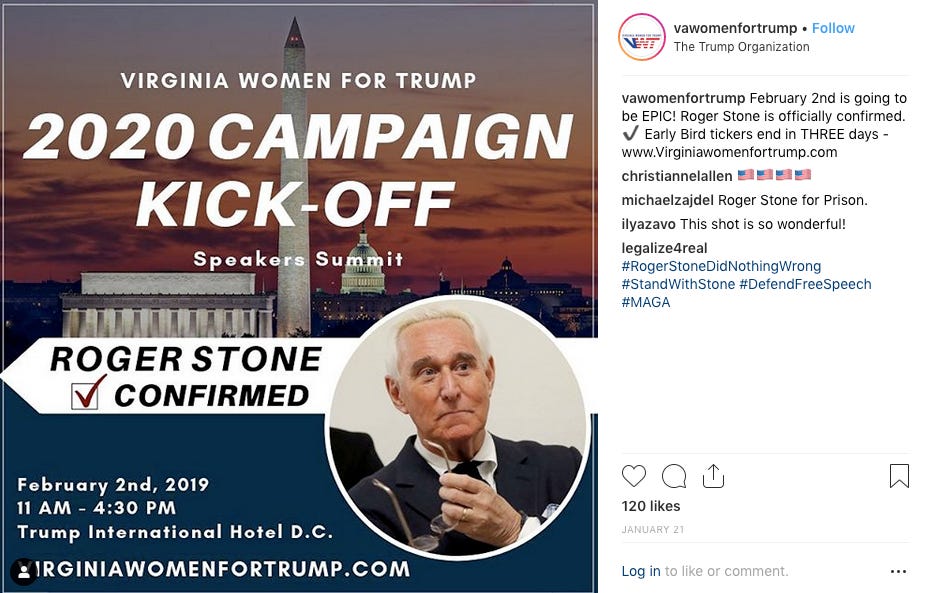 Campaign expenditures
The Republican National Committee spent $8,750.37 at the head of its party's D.C. hotel in December 2018. [h/t Anna Massoglia of Open Secrets]


The Trump campaign paid the Trump Organization $179,000 in the last quarter of 2018 per Kenneth P. Vogel of The New York Times: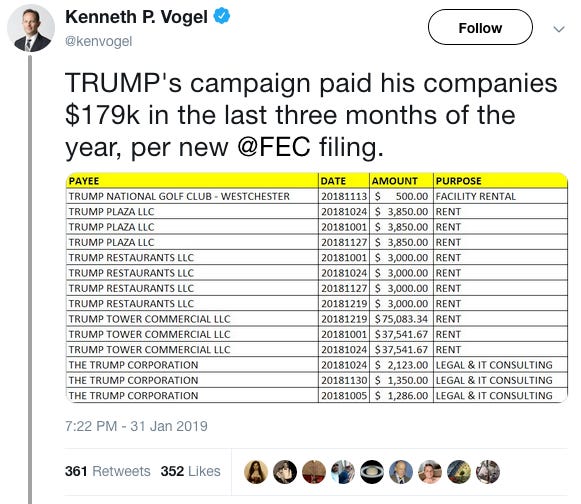 Noteworthy sightings
Sen. John Kennedy (R–LA) chatted at what looks to be a private reception in the Lincoln Library.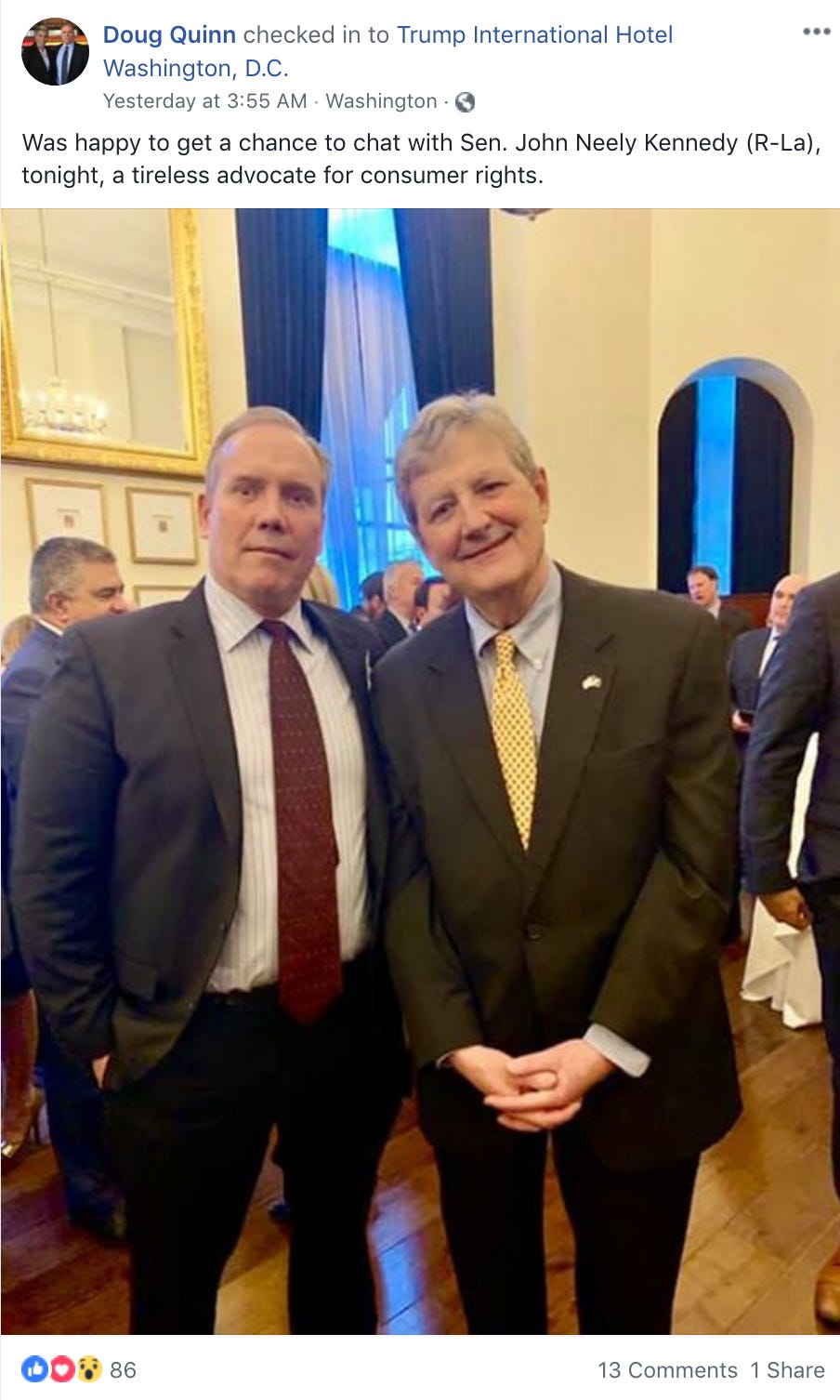 Big League Politics's Luke Rohlfing and a correspondent for Info Wars's War Room shared videos of the hotel being evacuated briefly yesterday evening after the fire alarm went off. [Sorry, because of a formatting limitation, you'll have to select the link and go to Twitter or Facebook to play the videos.]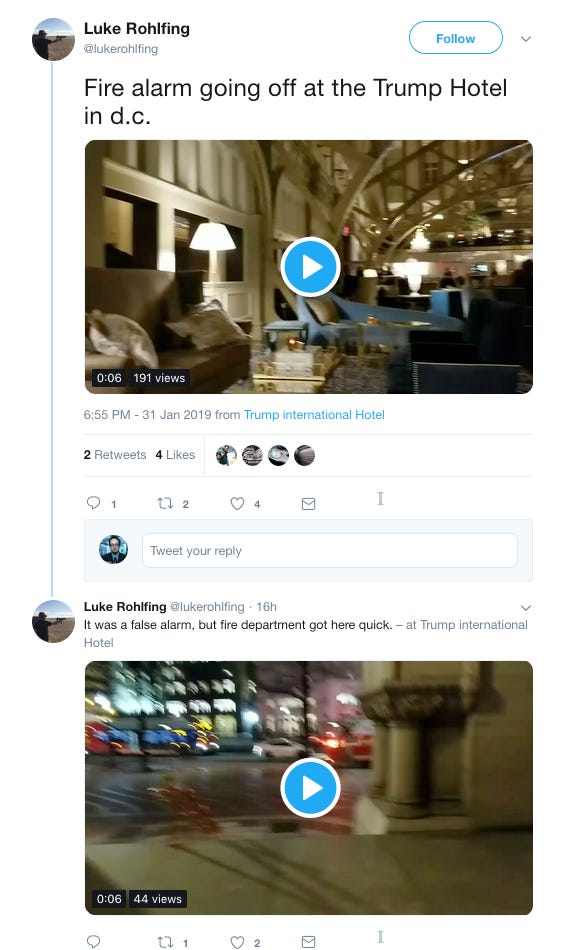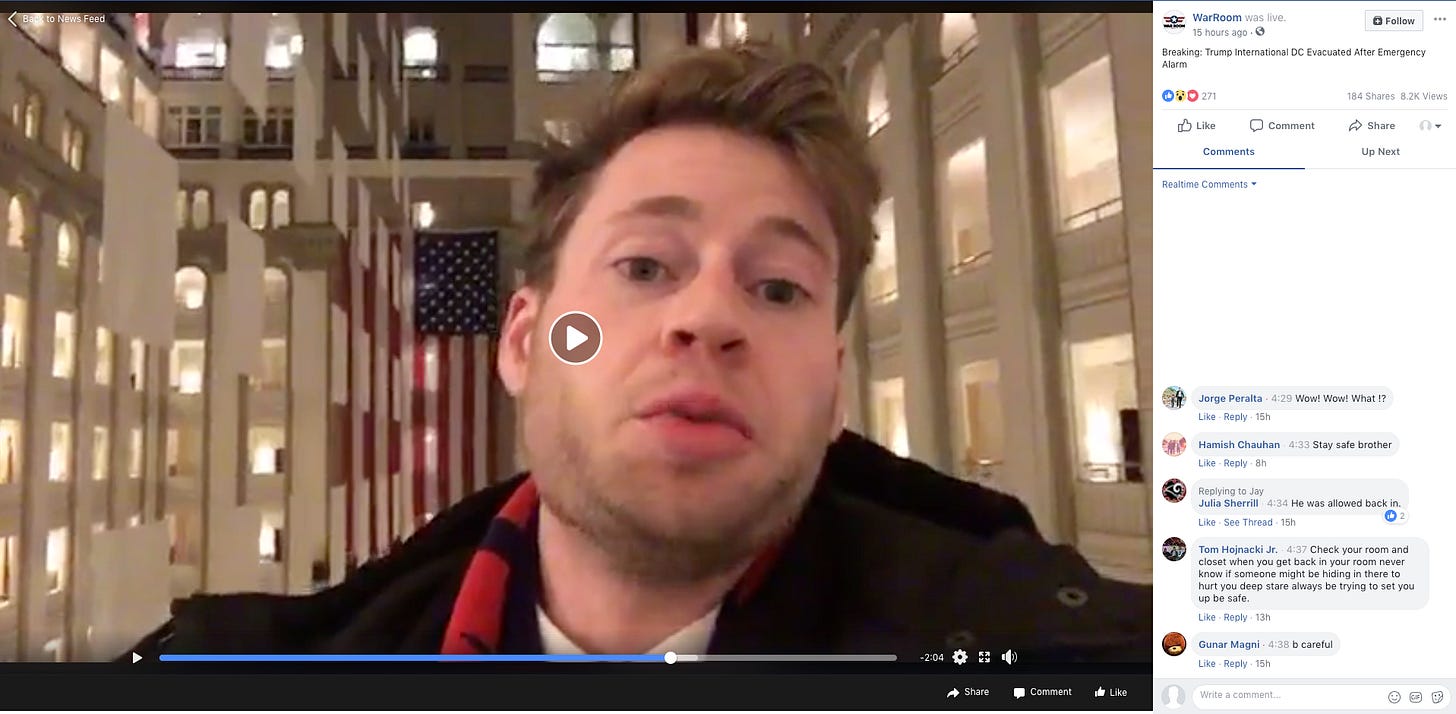 Other Trump Organization news
"Investors in former Trump-branded hotel in Brazil charged with corruption" by Shasta Darlington for The New York Times. (Tuesday's 1100 Pennsylvania linked to an article about this story in the Brazilian press, but as The Times's piece was written in English, it seems worth sharing again.)

From "Travel agents charged with bringing pregnant Chinese women to give birth on U.S. soil" by Brittny Mejia and Joel Rubin for The Los Angeles Times:

You Win USA employees allegedly coached [pregnant Chinese] women on the lies they should write on bogus applications for tourist visas and made sure the women traveled before their bellies swelled too much to conceal.

Fly first to Hawaii to blend in with the hordes of tourists, and list the Trump International Hotel in Honolulu as your destination, the women were told. Then, hop a flight to Los Angeles.

From "Trump returns this weekend to Mar-a-Lago, his gilded comfort zone" by Katie Rogers and Annie Karni for The New York Times:

"You would have to be insensitive not to be touched by how he has stayed there working," said Toni Holt Kramer, the founder of Trumpettes USA, a booster group that is planning to welcome him. "I think people will have tears in their eyes because they're so grateful that he's come back to his home away from home."
House investigations, current status (latest change, Feb. 1, 2019)
Legal cases, current status (latest change, Jan. 31, 2019)
D.C. and MD attorneys general's emoluments lawsuit (district court docket, appellate court docket)—

Official capacity—On Dec. 20, the 4th U.S. Circuit Court of Appeals ruled it would hear the president's appeal of district court rulings that allowed the case to proceed to discovery, and the appellate court halted discovery in the case. (Discovery had started Dec. 3 and was scheduled to run through Aug. 2, 2019, with the AGs already having issued 38 subpoenas, including to the Trump Organization; the U.S. Departments of Agriculture, Commerce, Defense, and Treasury and the GSA; and the state of Maine.) Oral arguments on the appeal are scheduled for March 19.

Individual capacity—On Dec. 14, Trump's personal attorneys appealed the denial of their motion to dismiss the case, also to the 4th U.S. Circuit Court of Appeals. On Dec. 19, the AGs replied to Trump's motion for a stay pending that appeal by voluntarily dismissing the claims against Trump in his "individual capacity to allow the claims against President Trump in his official capacity to move forward expeditiously." (The AGs only brought suit against Trump in his individual capacity after the judge suggested they do so.) Trump's personal attorneys, on Dec. 21, opposed the motion to dismiss at the district level, saying the appeals court now has jurisdiction and accusing the AGs of "gamesmanship."

196 Democratic senators and representatives' emoluments lawsuit—On Sept. 28 judge Emmet G. Sullivan ruled that the legislators have standing to sue. Trump's Justice Department attorneys filed an interlocutory appeal on Oct. 22.And on Jan. 30, 2019 the plaintiff's filed a notice of supplemental authority, notifying the court of the GSA inspector general's report that criticized GSA for failing to consider if the Trump Hotel D.C.'s lease was in compliance with the U.S. Constitution after Donald Trump became president.

CREW et. al's emoluments lawsuit—In February, CREW appealed its suit being dismissed for lack of standing to the 2nd U.S. Circuit Court of Appeals. Oral arguments on that motion were held on Oct. 30.

Cork's unfair competition lawsuit—Judge Richard J. Leon dismissed the case on Nov. 26, writing "Cork has failed to state a claim for unfair competition under D.C. law." On Dec. 10, Cork's attorneys filed a notice of appeal and on Jan. 10 they submitted a statement of issues to be raised. The next steps, which don't yet have a timeline, include a briefing schedule being set and both sides filing appellate briefs.

Employees' class-action suit alleging racial discrimination—Two of the three plaintiffs did not appear at a status hearing on Jan. 25; their cases were moved to arbitration. Via email, their attorney, A.J. Dhali, said his clients did not appear at the hearing because their case already had been moved to arbitration last year. The next status hearing is scheduled for Oct. 4.
Health inspections, current status (latest change, Aug. 10, 2018)
❌Hotel: five violations on May 7, 2018; two were corrected on site

❌BLT Prime and Benjamin Bar: nine violations on Aug. 10, 2018

❌Sushi Nakazawa: two violations on Aug. 10, 2018

✔️Banquet kitchen: no violations on Aug. 10, 2018

❌Pastry kitchen: two violations on Aug. 10, 2018

✔️Gift shop: no violations on May 7, 2018

❌Employee kitchen and in-room dining: five violations on Aug. 10, 2018; two were corrected on site
One thing that has nothing to do with Trump's businesses (I think, tough to tell sometimes!)
"Landmark Caravaggio exhibition shows rough and fleshy 17th century Rome" by Rosslyn Hyams for RFI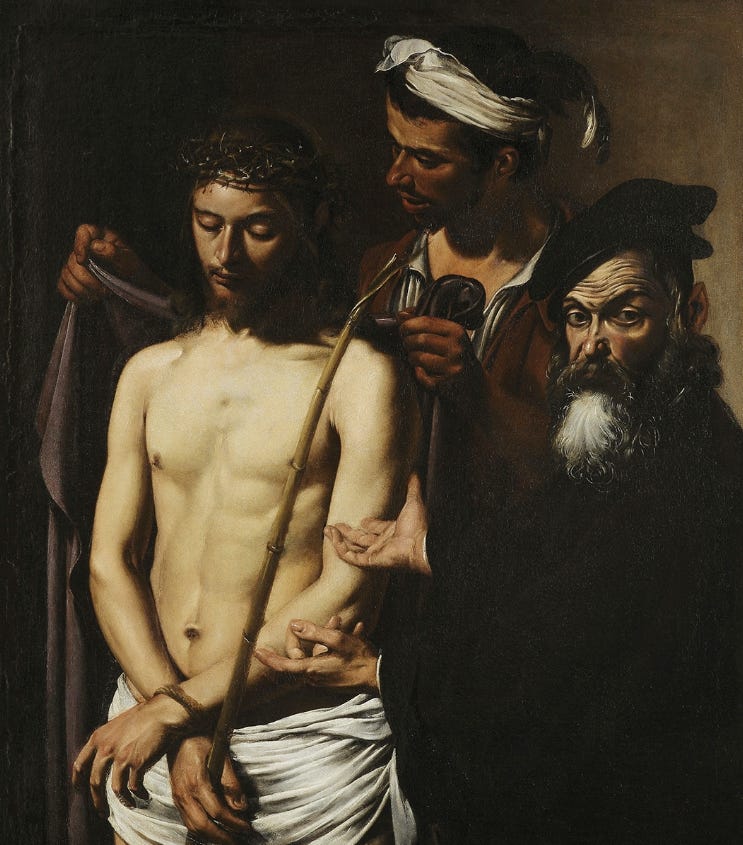 Thanks for reading. If you like what you saw, tell someone—and support this work by becoming a paying member ($5/month or $50/year). If you've been forwarded this newsletter, subscribe for yourself at zacheverson.substack.com. Questions? Read our FAQ/manifesto. Tips or feedback? Contact me, Zach Everson, securely via email at 1100Pennsylvania@protonmail.com or on Signal at 202.804.2744.