Discover more from 1100 Pennsylvania
"The undisputed expert on the D.C. Trump Hotel" – David Fahrenthold of the Washington Post
Over 3,000 subscribers
Behind Trump Hotels lectern, Trump addressed apparently undisclosed event
Five takeaways from a very busy night at the Trump Hotel D.C.
1. Trump Org attorney must have misspoken at a pre-inauguration press conference
"President-elect Trump wants there to be no doubt in the minds of the American public that he is completely isolating himself from his business interests. He instructed us to take all steps realistically possible to make it clear that he is not exploiting the office of the presidency for his personal benefit…President-elect Trump as well as Don, Eric, and Allen [Weisselberg the Trump Org CFO] are committed to ensuring that the activities of the Trump organization are beyond reproach and cannot be perceived to be exploitive of the office of the presidency."
— Trump Organization attorney Sherri Dillon, Jan 11, 2017 [bold added]
Wednesday night President Donald J. Trump addressed supporters at the Trump Hotel D.C. from behind a Trump Hotels lectern. It marks the first time your correspondent can recall seeing Trump as president at a lectern promoting his brand.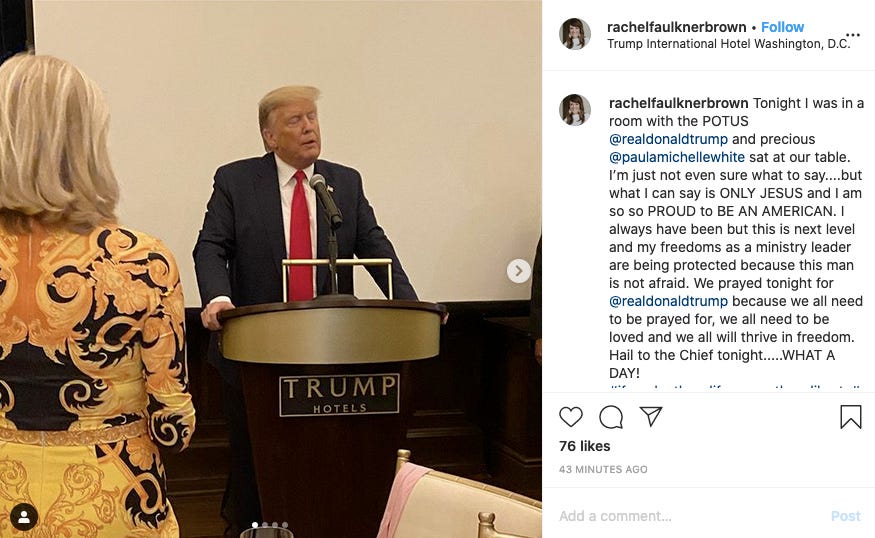 Representatives from the Trump campaign and the Trump Hotel D.C. have not replied to inquiries asking if the presidential seal was unavailable yesterday. A spokesperson for America First Action, which hosted a reception at the hotel that evening, said this photo was not taken at its event (more on that later). The White House did not comment.
2. It appears the president met with a group not previously disclosed at his hotel last night
The White House press office's schedule for yesterday said the president was at his hotel only to deliver "remarks at a Fundraising Committee Reception." CBS News's White House correspondent Mark Knoller provided more details, reporting the reception was "for the Pro-Trump America First Action SuperPAC."
But, as mentioned, an America First Action spokesperson said the previous photo was not from its event. So…
It appears President Trump met with a second group of customers at his hotel last night.
Based on the caption and videos of prosperity-gospel preacher cum White House adviser Paula White describing Trump's relationship with God and attendees (all female) laying hands on the president, it seems likely this event was a gathering of evangelical women. (Due to a formatting constraint, select the link to watch the videos.)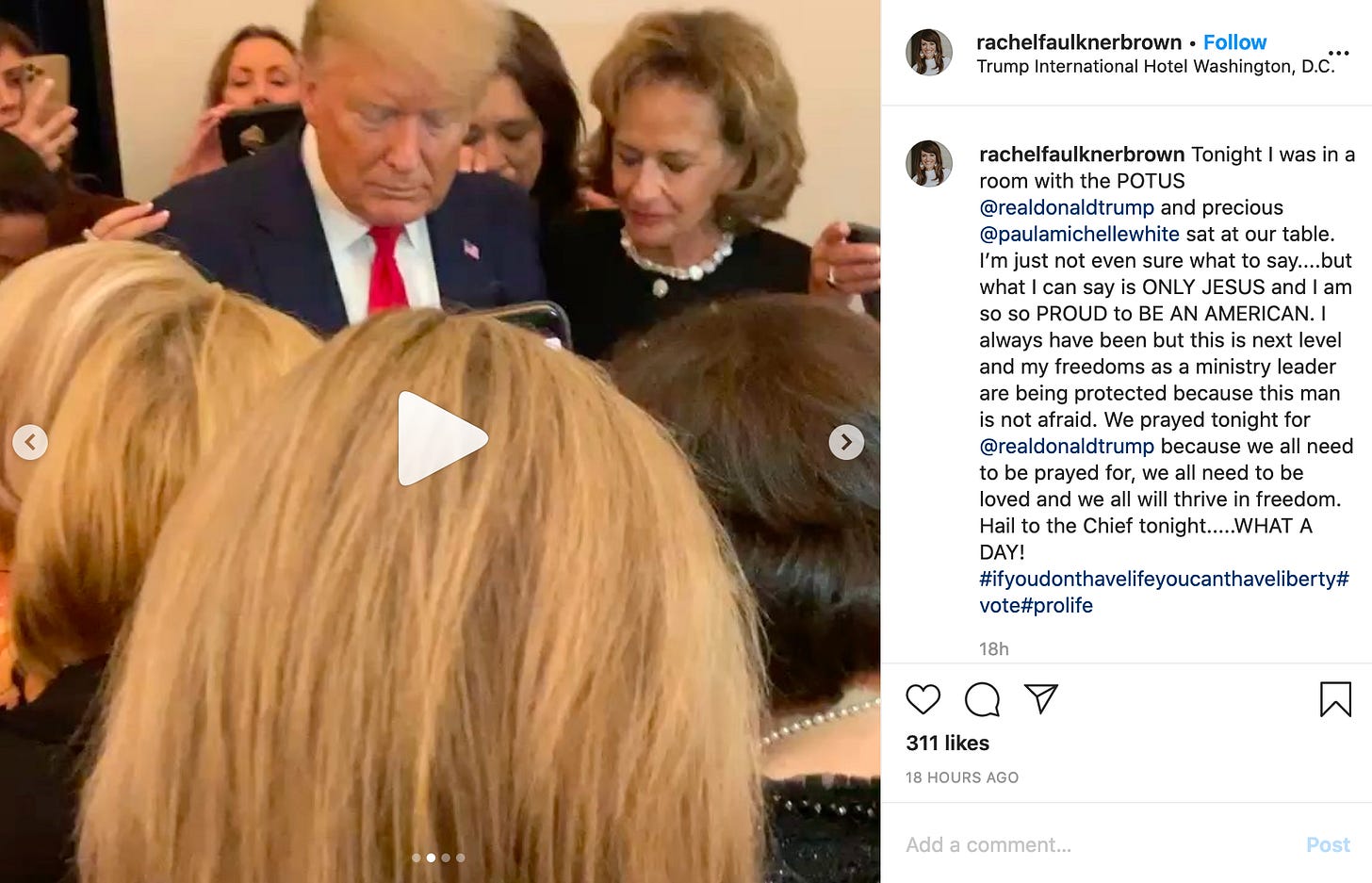 This appearance underscores concerns about the president having unannounced meetings with his customers at his businesses—namely Americans don't know who is paying our president and what his customers may be getting in return.
1100 Pennsylvania was unable to find news reports or other social media posts of this event. If you have any information, please email 1100Pennsylvania@protonmail.com (it'll be encrypted if you also use a ProtonMail account, which is free) or via Signal (secure), SMS, or mobile at 202.804.2744.
3. America First Action is running up the score
Pro-Trump super PAC America First Action—the Trump campaign's "one approved outside non-campaign group"—already has reported spending $509,196.40 at the Trump Hotel D.C., making it appear to be the first election campaign or committee to report spending more than a half-million dollars there.
After hosting a reception at the hotel last night, that figure seems set to increase.
4. Trump admin's supporters in Congress continue to boost Trump Organization's bottom line
Joining the president last night for a "family dinner" at BLT Prime were House Minority Leader Kevin McCarthy (R–CA), and Reps. Jim Jordan (R–OH) and Mark Meadows (R–NC). This information is public because McCarthy promoted the steakhouse in the president's hotel by posting a photo of it on Instagram and asking users to alert their friends about his restaurant choice. (McCarthy also shared the photo on Facebook.)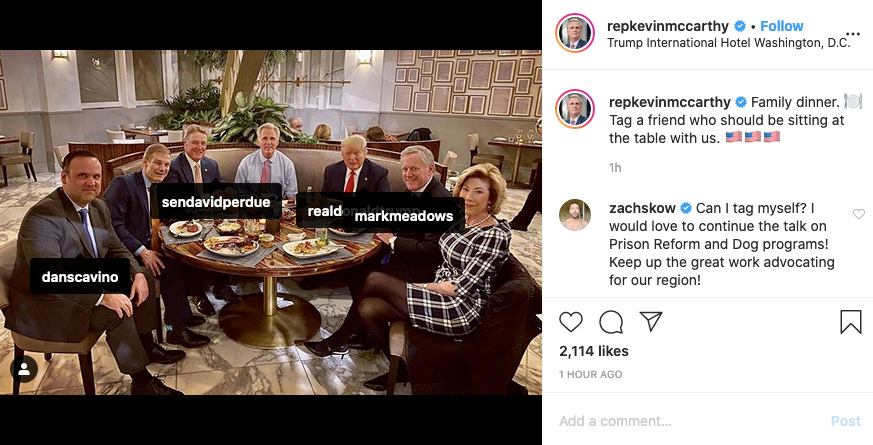 These three legislators are among the Trump Hotel D.C.'s biggest boosters in Congress:
5. Thirty-one GOP Senators are now known to have supported the Trump Hotel D.C. (Spoiler: That figure will rise later in this newsletter.)
Sen. David Perdue (R–GA) was also shown dining with the president at BLT prime in McCarthy's marketing photo. Perdue hadn't previously been spotted at the chief executive's D.C. hotel, nor had his campaign reported spending funds there.
So now 31 of 53 GOP Senators have supported the Trump Hotel D.C.
---
Board member of nonprofit that hosted a cocktail reception for political appointees at hotel named to presidential commission by Trump
In December, 1100 Pennsylvania reported that the 45 Alliance—a non-profit, social-welfare organization "established to support Executive Branch appointees during your public service"—threw a cocktail reception for Trump administration staffers and alumni at the Trump Hotel D.C.
Yesterday President Trump announced his intent to appoint Joshua Pitcock to the President's Commission on White House Fellowships. A former chief of staff for Vice President Mike Pence, Pitcock is also one of the 45 Alliance's two board members.

---
1100 Pennsylvania's reporting reaches millions. Subscribe and ensure it continues.
Your correspondent recently appeared on MSNBC's "All In with Chris Hayes" to share 1100 Pennsylvania's reporting on the Trump Hotel D.C. with a prime time audience.
Additionally, 1100 Pennsylvania's reporting recently was cited by The Atlanta Journal Constitution, The Daily Beast, The Hartford Courant, Inside Edition,The New York Times, The Palm Beach Post, Stern, The Wall Street Journal, The Washington Examiner, The Washington Post, Washingtonian, and Yahoo News.
Thanks to 1100 Pennsylvania's paid subscribers who support in-depth reporting on who's paying Donald Trump and what they may want from the president, and help bring this information to a much wider audience. Paid subscriptions are this publication's sole source of revenue—no ads, no grants. Support this reporting and help ensure it continues. Just $5 a month or $50 a year.
---
Campaign expenditures
The campaign for Sen. Bill Cassidy (R–LA) spent $2,000 for a venue rental on Dec. 13 at the D.C. hotel owned by the head of the executive branch. He hadn't previously been spotted at the hotel nor had his campaign reported disbursing funds there. Now 32 of 53 GOP Senators have supported the Trump Hotel D.C. via campaigns or committees that disbursed money there or by appearing at the hotel themselves.
---
Other notable sightings
A glimpse of the foreign officials, government employees, politicians, lobbyists, and the like who patronize or appear at Trump businesses. Most people shown here have reasons to want to influence the Trump administration, rely on its good graces for their livelihoods, or should be providing oversight. Additionally, high-profile guests serve as draws for paying customers.
Curetivity—the former Eric Trump Foundation from which Eric "cease[d] all direct fundraising efforts" during the duration of his father's presidency in 2016—held another event at a Trump property. Eric attended. Despite Eric's claim that "We get to use our assets 100 percent free of charge," the Trumps have profited from holding events for this charity, reported Dan Alexander for Forbes in 2017.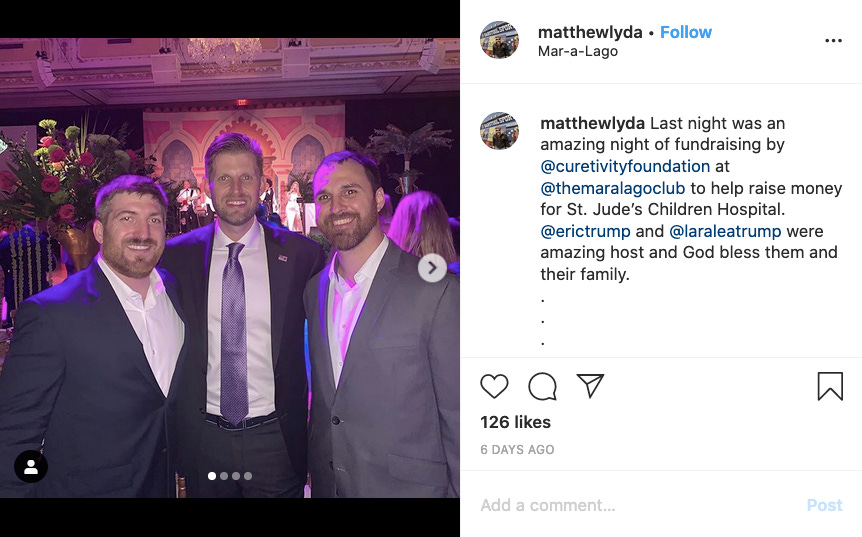 ---
Other Trump Organization news
---
Reference section
Links to rundowns of developments in the House's investigations and lawsuits, reference sheets for some of 1100 Pennsylvania's previous reporting, and articles that provide the background on why all of this matters. The date published or last updated is in parentheses.
Trackers
Notable hotel customers
Summaries
25 unimpeachable examples of Trump profiting from his hotel: Foreign governments, Trump administration, GOP lawmakers, industry all have called on the Trump Hotel D.C. since its owner became president (Sept. 27, 2019)

"Power tripping in the swamp: How Trump's D.C. hotel swallowed Washington
The MAGA social scene is a movable feast, but its dark heart resides within the Old Post Office Building, where the Trump Org operates under a mercenary charter" by your correspondent for Vanity Fair (October 2019)

"Inside the world's most controversial hotel: The hotel that was expected to take its place among the crown jewels of D.C.'s travel scene has become a magnet for protestors, a West Wing Annex, and—possibly—the center of a constitutional crisis." by your correspondent for Condé Nast Traveler (May 2018)
Upcoming key dates
Sept. 23, 2019—House Judiciary Committee hearing "Presidential corruption: Emoluments and profiting off the presidency" (postponed, not yet rescheduled)

Jan. 23, 2020—Trump Organization's deadline to bid for the lease rights to its D.C. hotel.

Feb. 21, 2020—Deadline for the General Services Administration to respond to questions about the possible sale of the hotel's lease from House Committee on Transportation and Infrastructure Chair Peter DeFazio (D–OR) and Subcommittee on Economic Development, Public Buildings, and Emergency Management Chair Dina Titus (D–NV)

March 3, 2020—Status hearing with D.C. Superior Court in former hotel employees' lawsuit alleging racial discrimination

March 31, 2020—Supreme Court hears Trump's appeal of earlier rulings requiring his financial institutions to comply with subpoenas from House Financial Services, Intelligence, and Oversight Committees and the New York district attorney's office

April 6, 2020—Deadline for parties to exchange witness lists in lawsuit alleging a shard of glass from a sabered bottle of champagne left a gash in a customer's chin

June 2020—Supreme Court decision due on Trump's appeal of earlier rulings requiring his financial institutions to comply with subpoenas from House Financial Services, Intelligence, and Oversight
---
Thanks for reading! If you like what you've read, tell someone. If you've been forwarded this newsletter, subscribe at 1100pennsylvania.substack.com. Questions? Read our FAQ. Tips or feedback? Contact Zach Everson at 1100Pennsylvania@protonmail.com (it'll be encrypted if you also use a ProtonMail account, which is free) or via Signal (secure), SMS, or mobile at 202.804.2744.