Discover more from 1100 Pennsylvania
"The undisputed expert on the D.C. Trump Hotel" – David Fahrenthold of the Washington Post
Over 3,000 subscribers
Bolsonaro's son, a congressman in Brazil, celebrated Trump at Mar-a-Lago
Welcome to 1100 Pennsylvania, a newsletter devoted to President Donald Trump's Trump International Hotel Washington, D.C. (and his other companies). President Trump, of course, still owns his businesses and can profit from them.
If you like what you see, tell someone—and support this work by becoming a paying member ($5/month or $50/year). If you've been forwarded this newsletter, subscribe for yourself at zacheverson.substack.com. Questions? Read our FAQ/manifesto. Tips or feedback? Contact me, Zach Everson, securely via email at 1100Pennsylvania@protonmail.com or on Signal at 202.804.2744.
Brazilian lawmaker/president's son celebrates U.S. president with U.S. president's son at U.S. president's private club
A member of Brazil's Congress and the son of the country's right-wing president, Jair Bolsonaro, Eduardo Bolsonaro was at Mar-a-Lago Saturday night for a party celebrating President Trump's second year in office. In the last election, Eduardo received more votes than any other candidate for Brazil's congress, according to Reuters.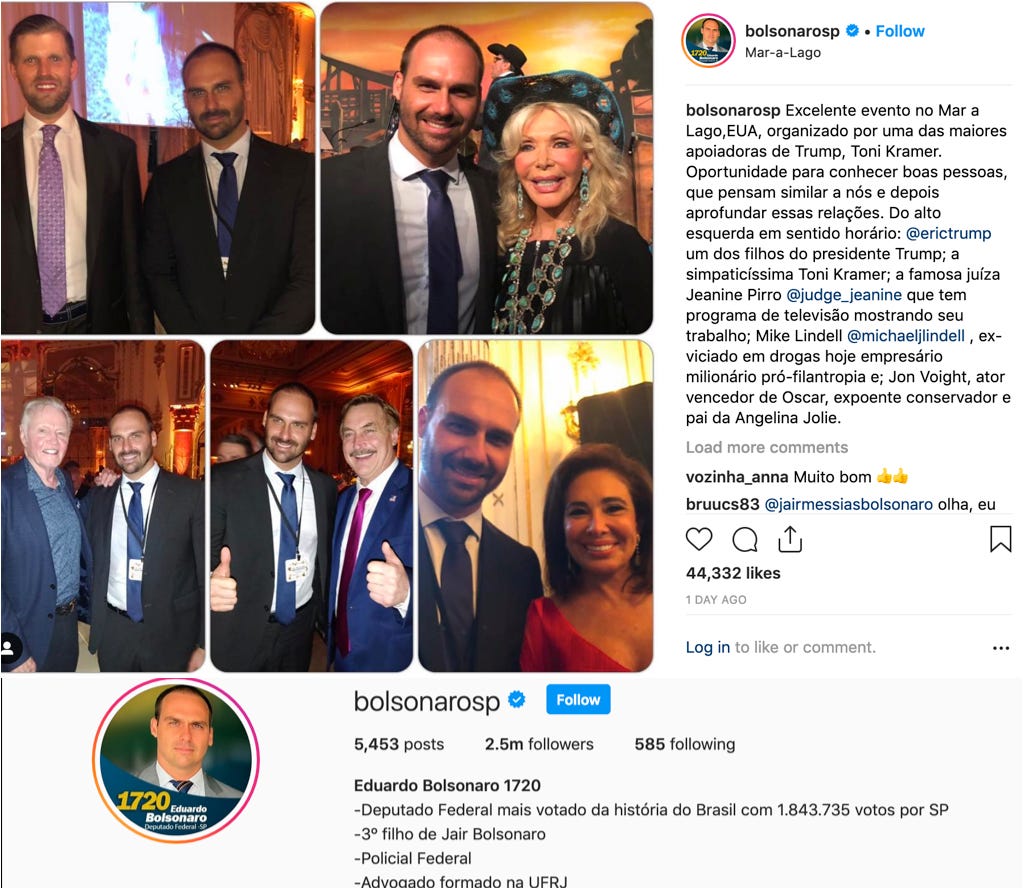 Per Bolsonaro's Instagram post, via Google Translate:
Great event at Sea to Lake, USA, hosted by one of Trump's biggest supporters, Toni Kramer. Opportunity to meet good people, who think similar to us and then deepen these relationships. From the upper left clockwise: @ one of the children of President Trump [Eric]; the very sympathetic Toni Kramer; the famous judge Jeanine Pirro @judge_jeanine who has television program showing his work; Mike Lindell @michaeljlindell, former drug addict today millionaire pro-philanthropy entrepreneur; Jon Voight, Oscar-winning actor, conservative exponent and father of Angelina Jolie.
After Kramer's mention of his father got a round of applause, the younger Bolsonaro took the stage and told the crowd, "Build that wall! Brazilians are supporting you!"
According to Alexandra Clough for The Daily Commercial:
Bolsonaro was one of 700 people at Mar-a-Lago Saturday night

tickets ranged from $500 per person to $20,000 for a table, with most around $1,000

Bolsonaro "told a reporter his father would be making a trip to Washington in mid-March to meet with Trump"
High-paying Trump Hotel D.C. VIP/brand ambassador nominated to be U.N. ambassador too
From "Trump announces nomination of Kelly Knight Craft to be ambassador to United Nations" by Philip Rucker and Anne Gearan for The Washington Post:
The Crafts [Kelly Knight and her husband, Joe, the president and chief executive of coal producer Alliance Resource Partners] also have been repeat, high-paying customers at Trump's hotel in Washington, according to a list of "VIP Arrivals" distributed to hotel staff on June 19, 2018. That list, obtained by The Washington Post, was intended to help staff identify the Trump International Hotel's most important customers as they checked in.

The Crafts were listed as gold-level members of the Trump Card rewards program when they checked in for a three-day stay. They were also described as "high-rate" customers, and their listing bore the notation R(20), which former Trump Hotels employees have said indicates customers who've stayed at least 20 times. That was an unusually high number among the hundreds of Trump hotel guests whose VIP listings have been reviewed by The Post.
Kelly Knight Craft also seems to be an unofficial brand ambassador for her boss's hotel too:
The Crafts are the third set of Trump Hotel D.C. VIPs that The Post has shared from its stash of the hotel's arrivals lists, joining T-Mobile CEO John Legere (along with his fellow executives) and coal mogul Bob Murray. While Trump has not publicly weighed in on T-Mobile's proposed merger with Sprint, he endorsed Murray's move to keep open an aging coal plant. The Tennessee Valley Authority, however, disagreed with Trump and thwarted Murray.
Diamond and Silk kick off Chit Chat Live tour; hours later president tweets his affection
Just hours after Diamond and Silk kicked off their Chit Chat Live tour Saturday afternoon at the Trump Hotel D.C., the hotel's owner tweeted his affection for the duo.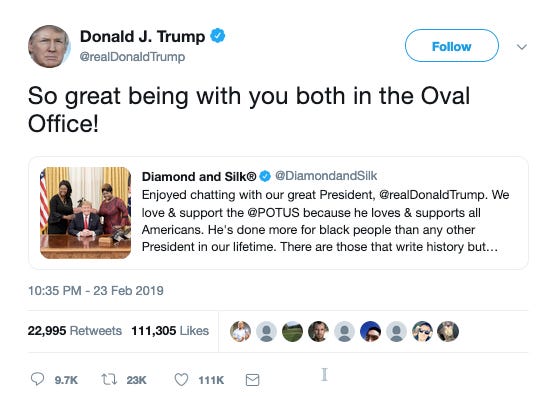 And in case you're wondering who pays $90 to $200 to see Diamond and Silk in person…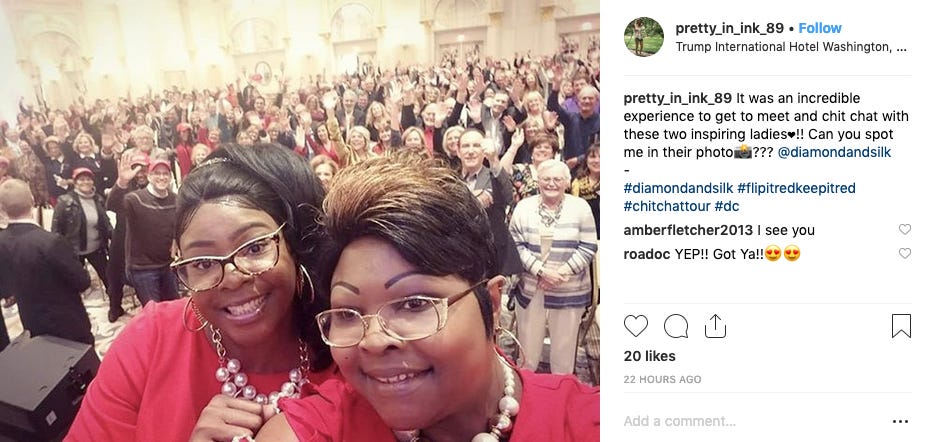 (Must-read: "Laughing with Diamond and Silk: What the success of a pair of political entrepreneurs reveals about voting and race" by Lexington for The Economist.)
The 11-date Chit Chat Live tour also includes a stop at Trump's Doral golf course in June. And back in October 2018, they held the world premier of their opus, Dummycrats, at the Trump Hotel D.C.
Congresswoman takes to House floor to decline Kuwaiti embassy invite
Rep. Marcy Kaptur (D–OH) is one of the 196 Democratic lawmakers from the last Congress to sue President Trump for violating the Constitution's emoluments clauses. That complaint cited the president's ownership of the Trump Hotel D.C. Kuwait invited her to its national day celebration at that very same hotel. From the House floor, Kaptur declined the invite. (Because of a formatting limitation, select the link to watch the video.)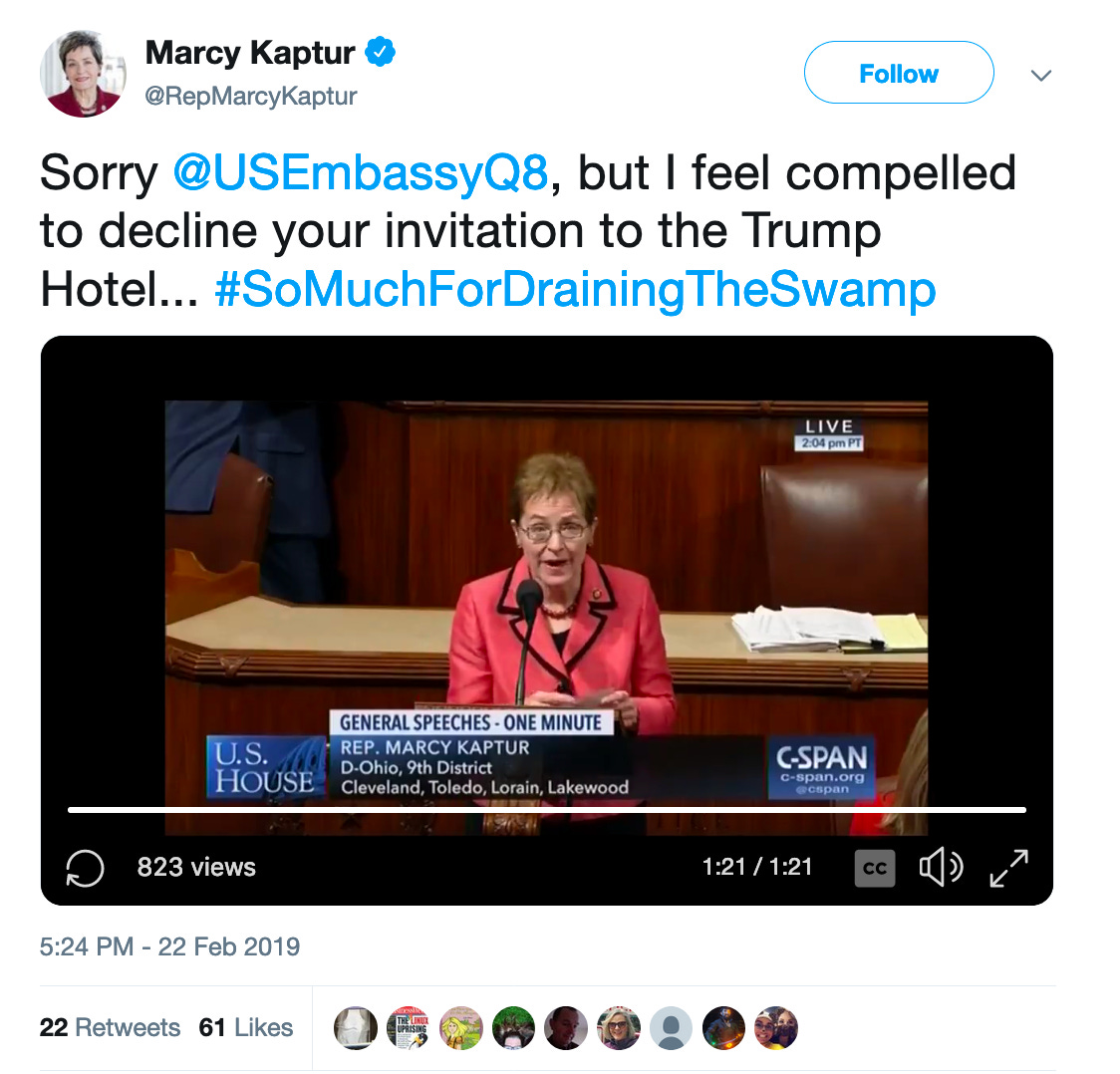 Kaptur is at least the second plaintiff the Kuwaitis invited to their celebration, joining Rep. Steve Cohen (D–TN). He also declined.
Sorry, president's hotel already sold out for president's Fourth of July celebration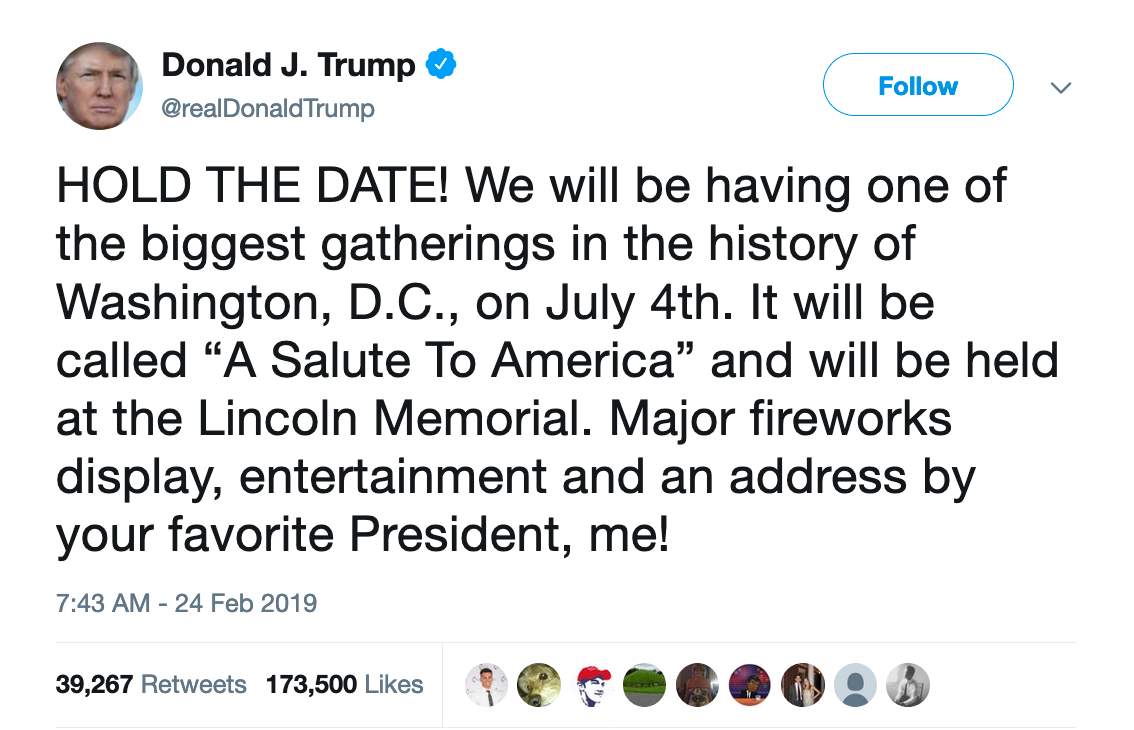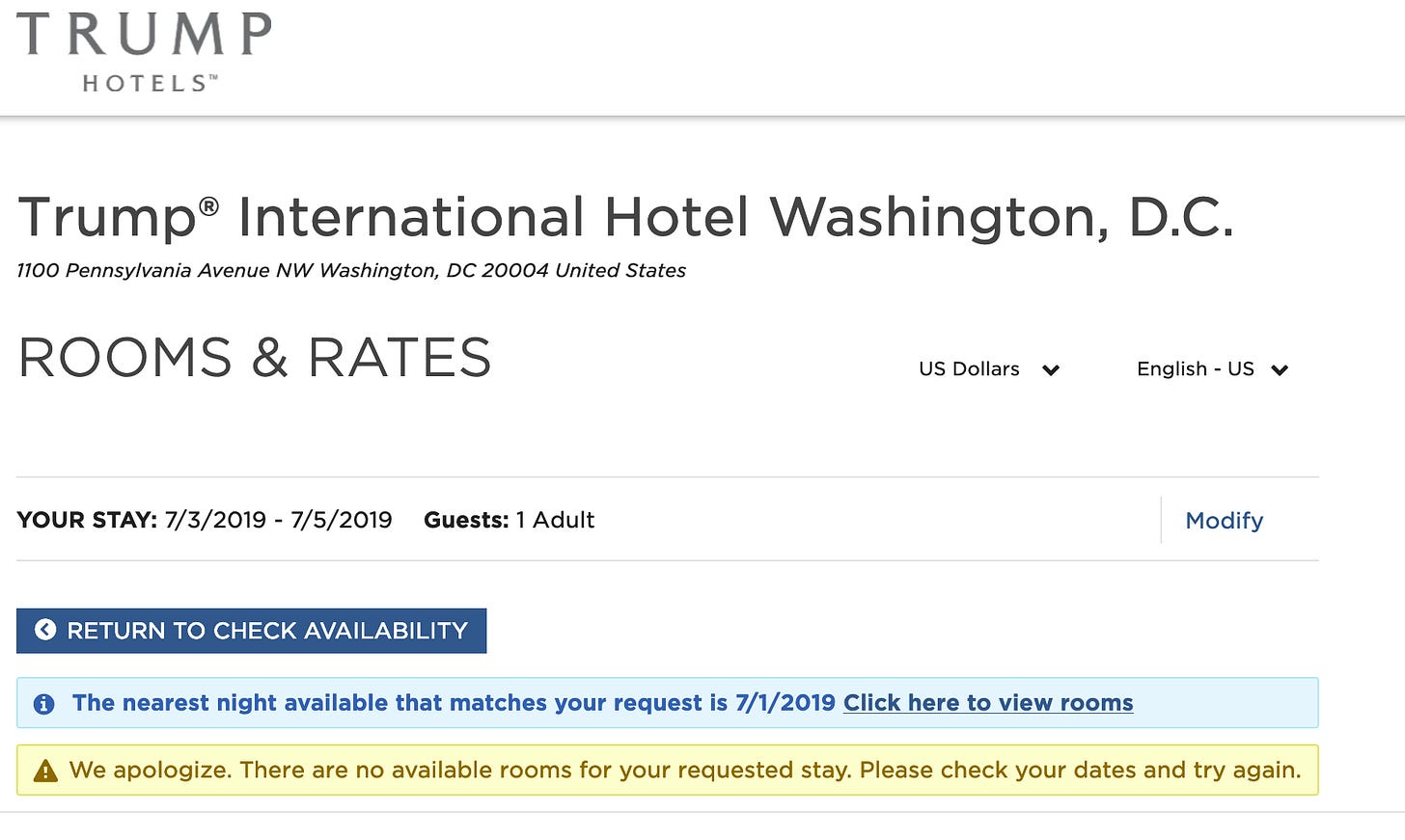 Noteworthy sightings
Visiting D.C. to sing the National Anthem at the White House, Sharon Baggett Anderson wrote on Facebook that if she'd told the Trump Hotel D.C. what brought her to town, she would have received a discount there. Representatives from the hotel and the Trump Organization have not responded to an inquiry asking if the hotel offers discounts to guests at the White House.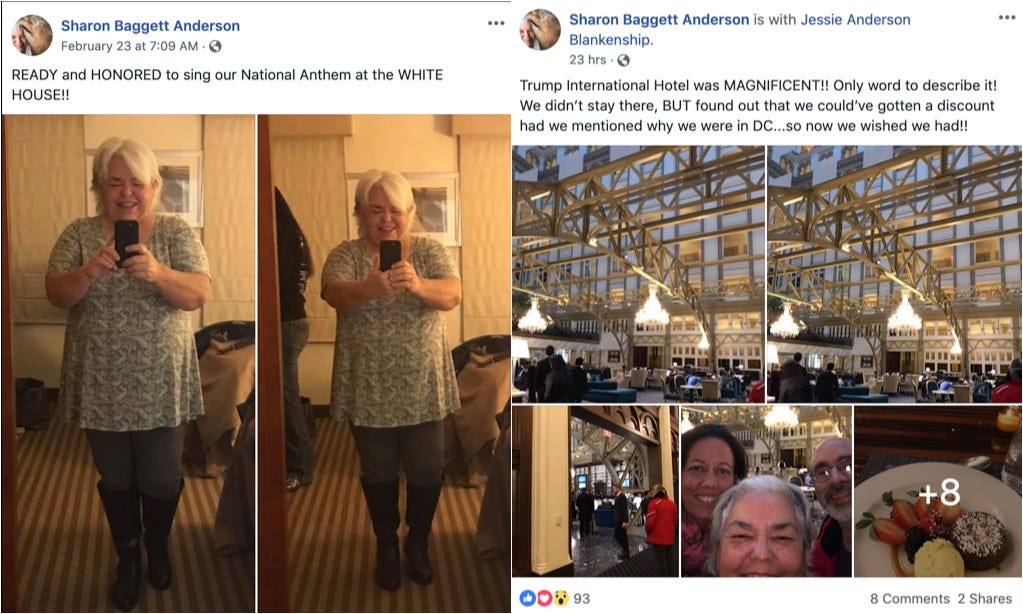 The owner of a manufacturer rep/consulting services firm in the defense industry, Heather Elliott, just booked tea for a group at the commander-in-chief's hotel. She made sure to let the hotel's managing director know.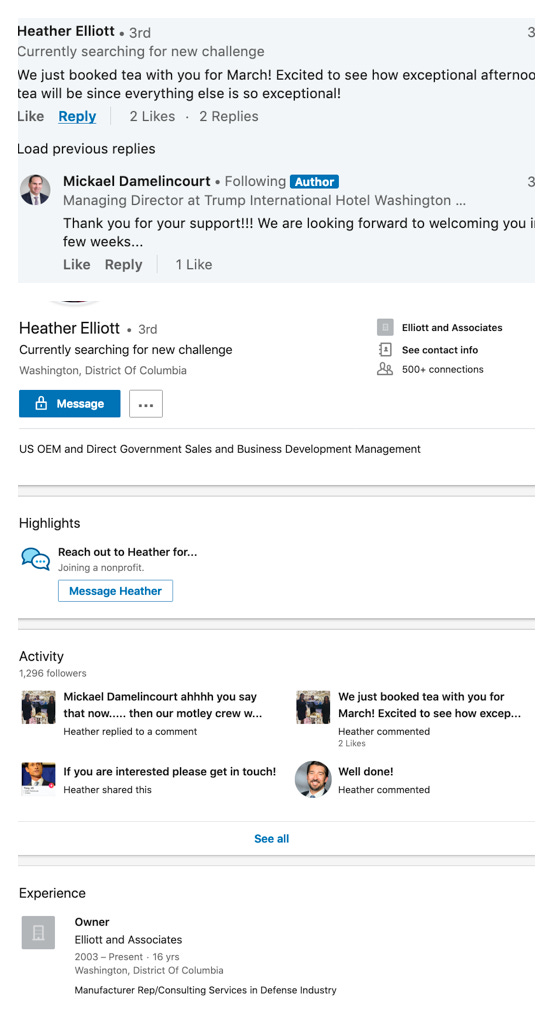 The president of the Harford County [Maryland] Republican Women, Linda Stine Flint, was at the head of her party's hotel to see Diamond and Silk and spent money on food and drinks beforehand.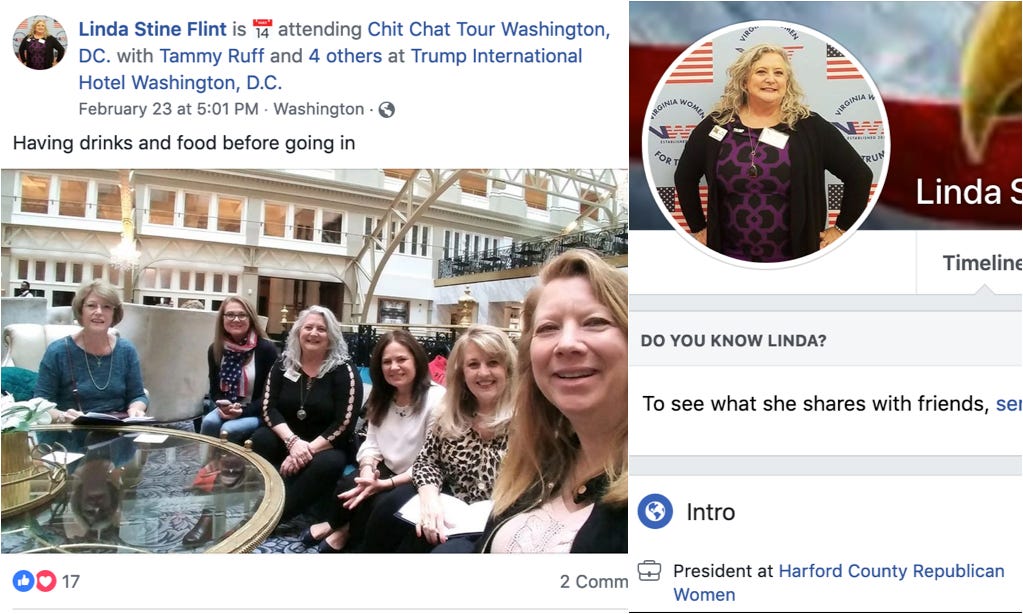 The Family Research Council's digital research director, John Wesley Reid, ate dessert at the president's hotel.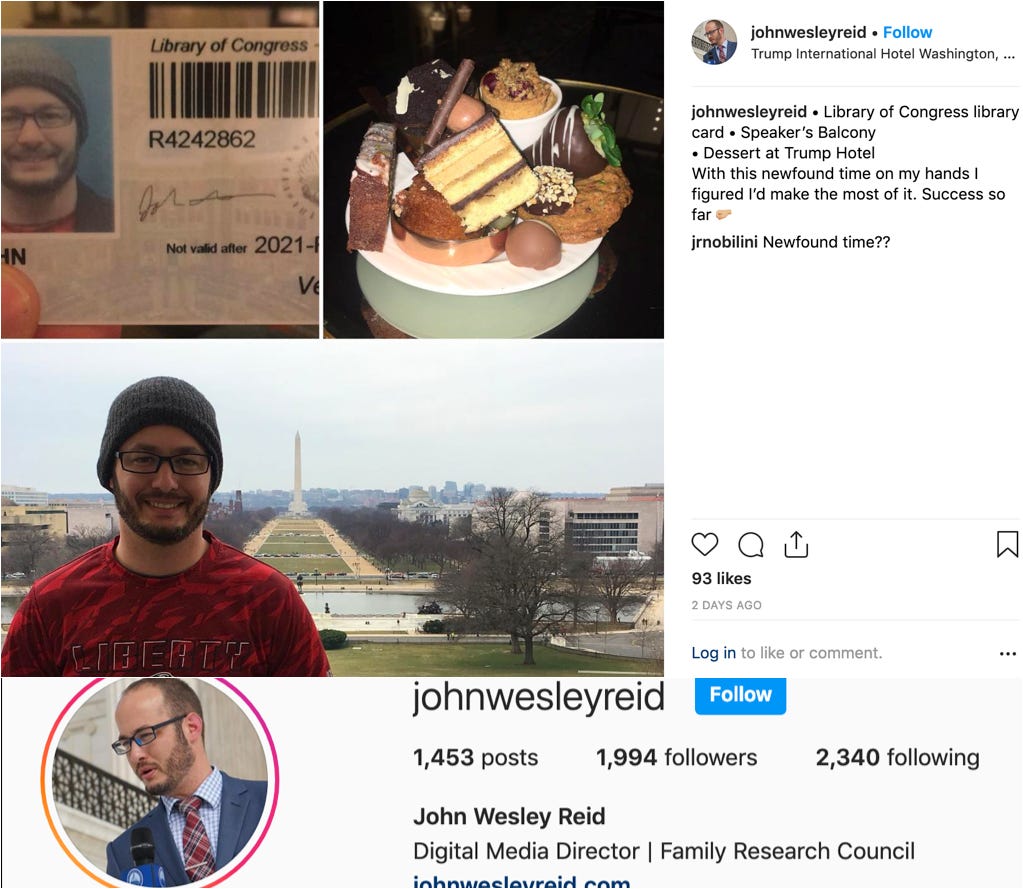 Other Trump Organization news
House investigations, current status (latest change, Feb. 21, 2019)
Legal cases, current status (latest change, Feb. 22, 2019)
D.C. and MD attorneys general's emoluments lawsuit (district court docket, appellate court docket)—

Official capacity—On Dec. 20, 2018, the 4th U.S. Circuit Court of Appeals ruled it would hear the president's appeal of district court rulings that allowed the case to proceed to discovery, and the appellate court halted discovery in the case. Discovery had started Dec. 3 and was scheduled to run through Aug. 2, 2019, with the AGs having subpoenaed the Trump Organization, including its Scottish golf courses; the U.S. Departments of Agriculture, Commerce, Defense, and Treasury and the GSA; and the state of Maine. Oral arguments on the appeal are scheduled for March 19. The AGs filed their brief opposing the president's appeal on Feb. 6, stating, "The President is not entitled to an order requiring the district court to certify for interlocutory review its denial of his motion to dismiss. No court has ever issued such relief." Trump's DOJ attorneys replied on Feb. 21: "Plaintiffs fundamentally err, substantively and procedurally."

Individual capacity—On Dec. 14, Trump's personal attorneys appealed the denial of their motion to dismiss the case, also to the 4th U.S. Circuit Court of Appeals. On Dec. 19, the AGs replied to Trump's motion for a stay pending that appeal by voluntarily dismissing the claims against Trump in his "individual capacity to allow the claims against President Trump in his official capacity to move forward expeditiously." (The AGs only brought suit against Trump in his individual capacity after the judge suggested they do so.) Trump's personal attorneys, on Dec. 21, opposed the motion to dismiss at the district level, saying the appeals court now has jurisdiction and accusing the AGs of "gamesmanship."

196 Democratic senators and representatives' emoluments lawsuit—On Sept. 28, Judge Emmet G. Sullivan ruled that the legislators have standing to sue. Trump's Justice Department attorneys filed an interlocutory appeal on Oct. 22. On Jan. 30, 2019, the plaintiffs' filed a notice of supplemental authority, notifying the court of the GSA inspector general's report that criticized GSA for failing to consider if the Trump Hotel D.C.'s lease was in compliance with the Constitution after Donald Trump became president. Two days later, the president's attorneys argued that the IG's conclusion was not inconsistent with Trump's argument, but that the judge should ignore that report anyway because the IG has no expertise in interpreting or applying the foreign emoluments clause.

CREW et. al's emoluments lawsuit—In February 2018, CREW appealed its suit being dismissed for lack of standing to the 2nd U.S. Circuit Court of Appeals. Oral arguments on that motion were held on Oct. 30.

Cork's unfair competition lawsuit—Judge Richard J. Leon dismissed the case on Nov. 26, 2018, writing "Cork has failed to state a claim for unfair competition under D.C. law." On Dec. 10, Cork's attorneys filed a notice of appeal and on Jan. 10, 2019 they submitted a statement of issues to be raised. The next steps, which don't yet have a timeline, include setting a briefing schedule and both sides filing appellate briefs.

Employees' class-action suit alleging racial discrimination—Two of the three plaintiffs did not appear at a status hearing on Jan. 25, 2019; their cases were moved to arbitration. Via email, their attorney, A.J. Dhali, said his clients did not appear at the hearing because their case already had been moved to arbitration last year. The next status hearing is scheduled for Oct. 4.
Health inspections, current status (latest change, Aug. 10, 2018)
❌Hotel: five violations on May 7, 2018; two were corrected on site

❌BLT Prime and Benjamin Bar: nine violations on Aug. 10, 2018

❌Sushi Nakazawa: two violations on Aug. 10, 2018

✔️Banquet kitchen: no violations on Aug. 10, 2018

❌Pastry kitchen: two violations on Aug. 10, 2018

✔️Gift shop: no violations on May 7, 2018

❌Employee kitchen and in-room dining: five violations on Aug. 10, 2018; two were corrected on site
One thing that has nothing to do with Trump's businesses (I think, tough to tell sometimes!)
"Eight Ole Miss players kneel during anthem in response to Confederacy rally" by ESPN
Thanks for reading. If you like what you see, tell someone—and support this work by becoming a paying member ($5/month or $50/year). If you've been forwarded this newsletter, subscribe for yourself at zacheverson.substack.com. Questions? Read our FAQ/manifesto. Tips or feedback? Contact me, Zach Everson, securely via email at 1100Pennsylvania@protonmail.com or on Signal at 202.804.2744.