Cindy Yang's boss at a sleepy PAC enjoyed access to GOP officials too
Cindy Yang's boss at a sleepy PAC enjoyed access to high-ranking GOP officials too
Like his staffer—who founded an allegedly illicit Palm Beach day spa, peddled Chinese businessmen access to President Trump and his family, and reportedly is an officer in groups connected to China's communist government—the executive director of the National Committee of Asian American Republicans, Cliff Zhonggang Li, has enjoyed access to senior GOP elected officials.
Since it was organized as a PAC in 2016, the National Committee of Asian American Republicans, has donated $0.00 to candidates and other committees.
A series of scoops from The Miami Herald and Mother Jones over the past four days reported:
That last article noted that Yang said she works for the National Committee of Asian American Republicans, a PAC, whose executive director is Cliff Zhonggang Li.
While Li's social-media trail pales in comparison with Yang's (who's pictured with the president, Don Jr., Eric Trump, and several GOP elected and party officials, as well as having attended a meeting in the White House), Li's Facebook profile and other social media posts do show him posing with
Li also stood with Yang after President Trump's December 2017 Republican National Committee fundraiser speech; it's the same event that Yang helped Chinese businessmen attend.
Additionally, Li was invited to sit in the President's box at Trump's inauguration, (although the tickets arrived three months after the swearing in). Li did receive his passes in time to attend the 2017 White House Easter egg roll though. (Your correspondent first spotted Li in the Trump Hotel D.C.'s lobby "before the #MAGA meeting" in July 2017.)
While Li's access isn't out of the ordinary for a political fundraiser, it does stand out given that Li personally has donated just $2,290 to campaigns and committees according to FEC filings and that the PAC he runs has not donated to any candidates or other committees since its inception in 2016.
Li has not replied to an inquiry about his relationship Yang, his PAC's work, and why he received tickets to the president's box at the Trump inauguration.
According to his bio on the National Committee of Asian American Republicans' website, Li also "is the founder and CEO of eLaws.us/CommerNet, Inc since December 1997. He is the architect of e-Regulations platform of State of Florida, State of Montana, District of Columbia, and many local governments."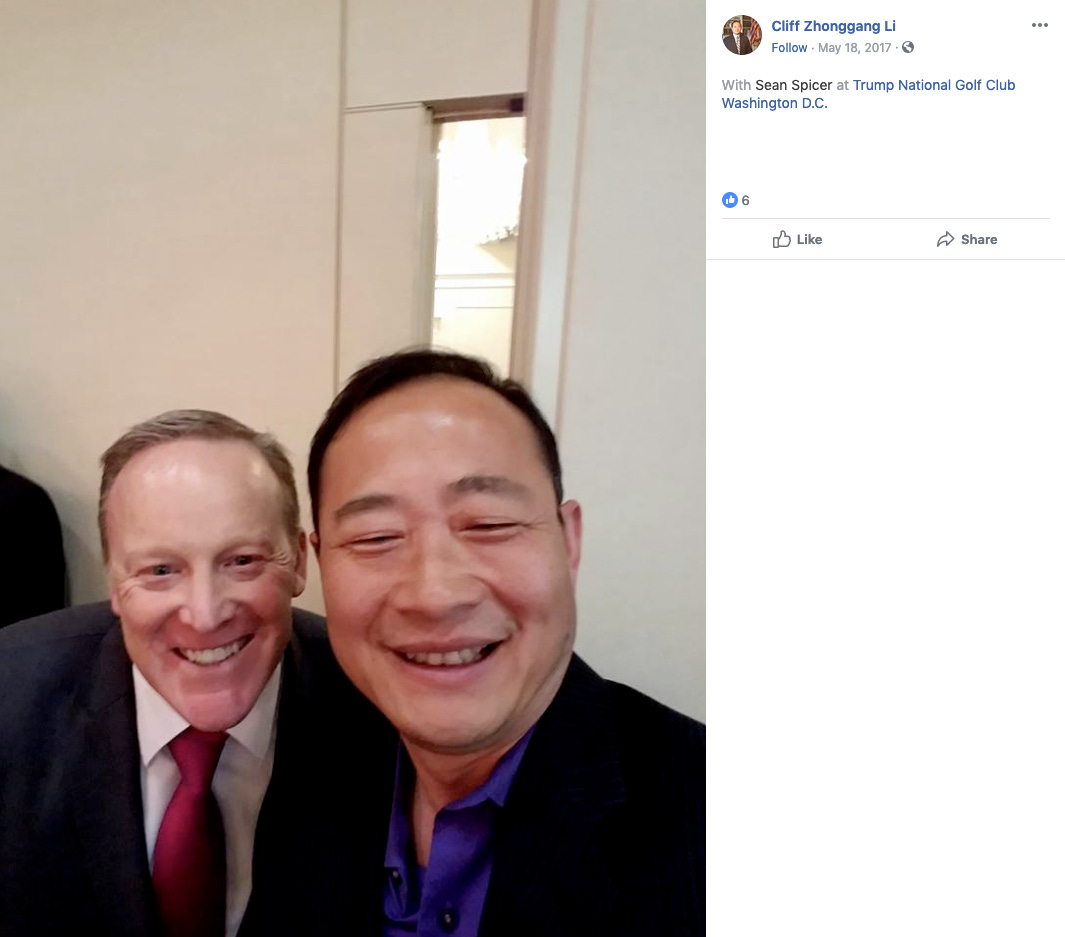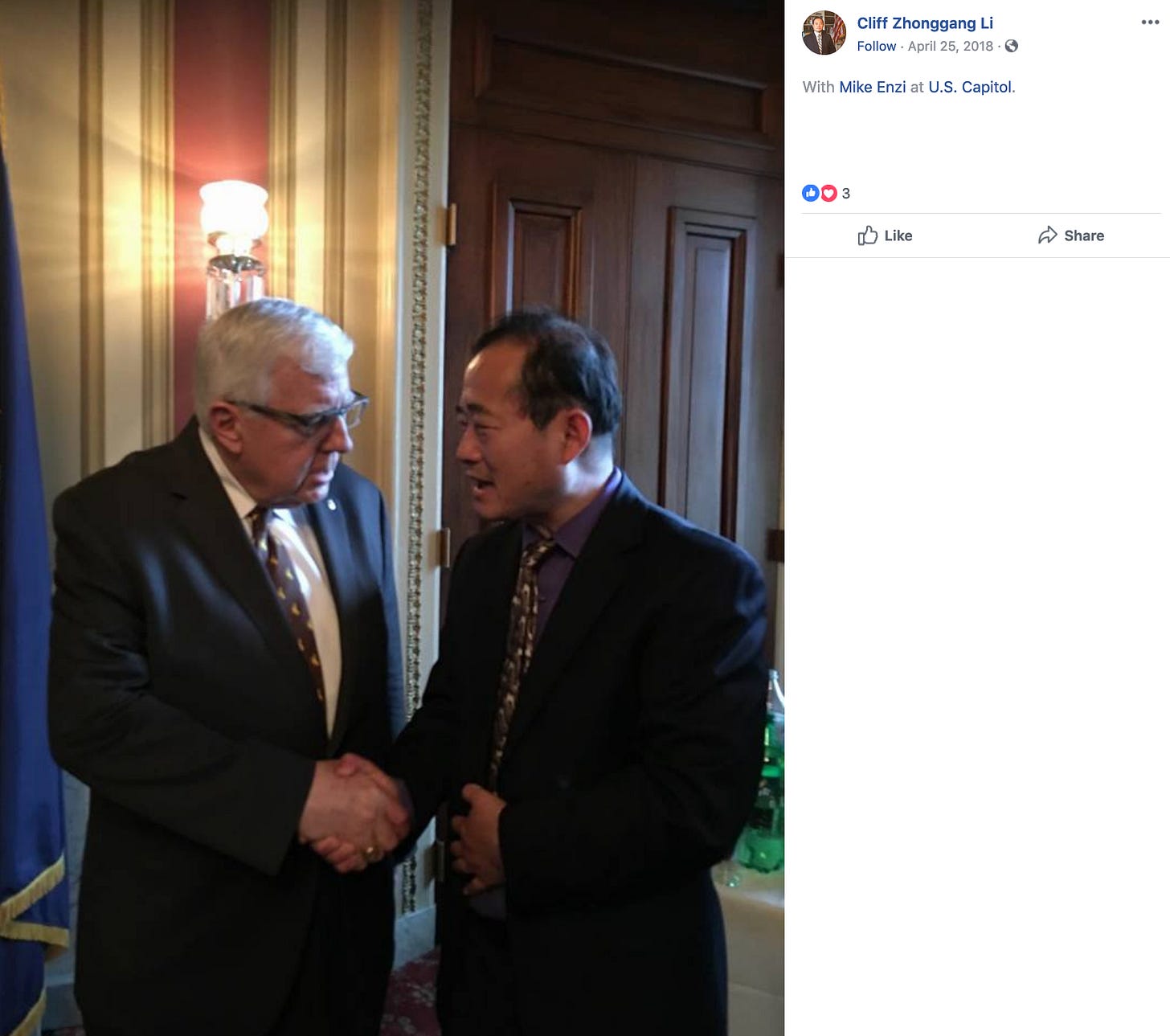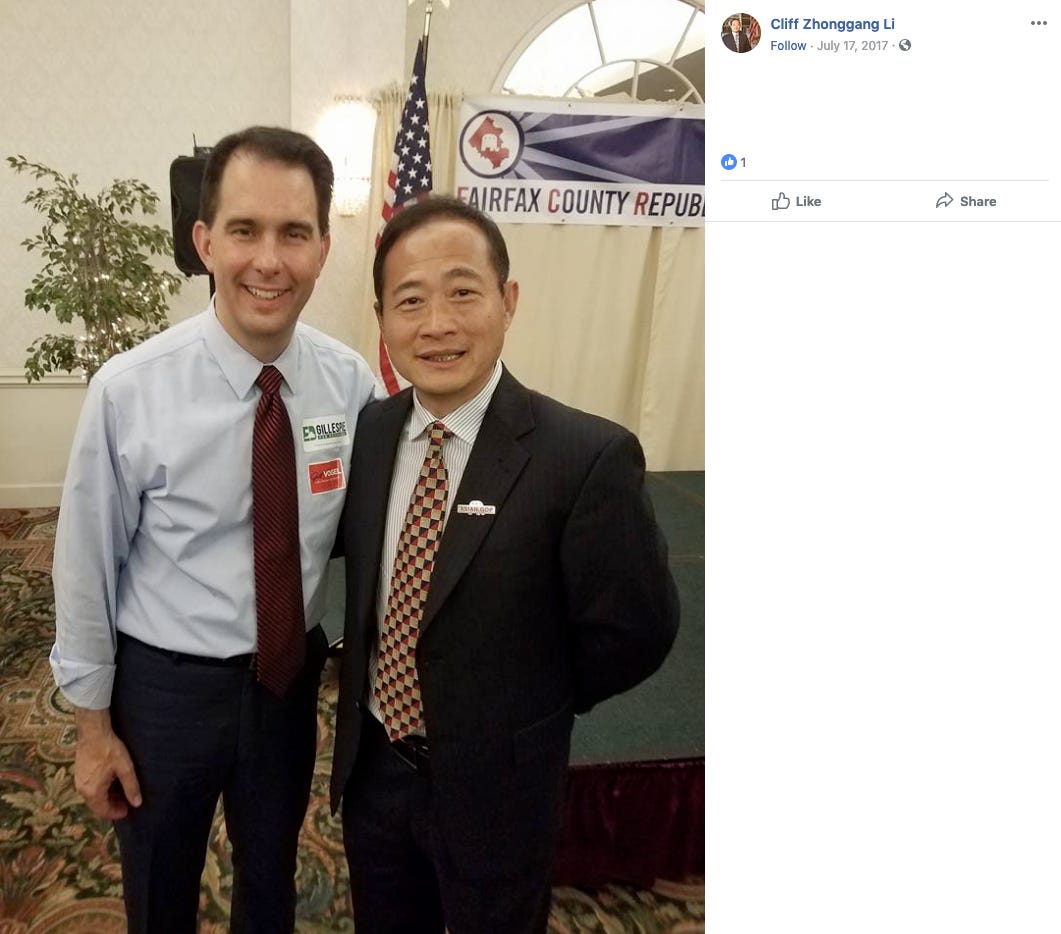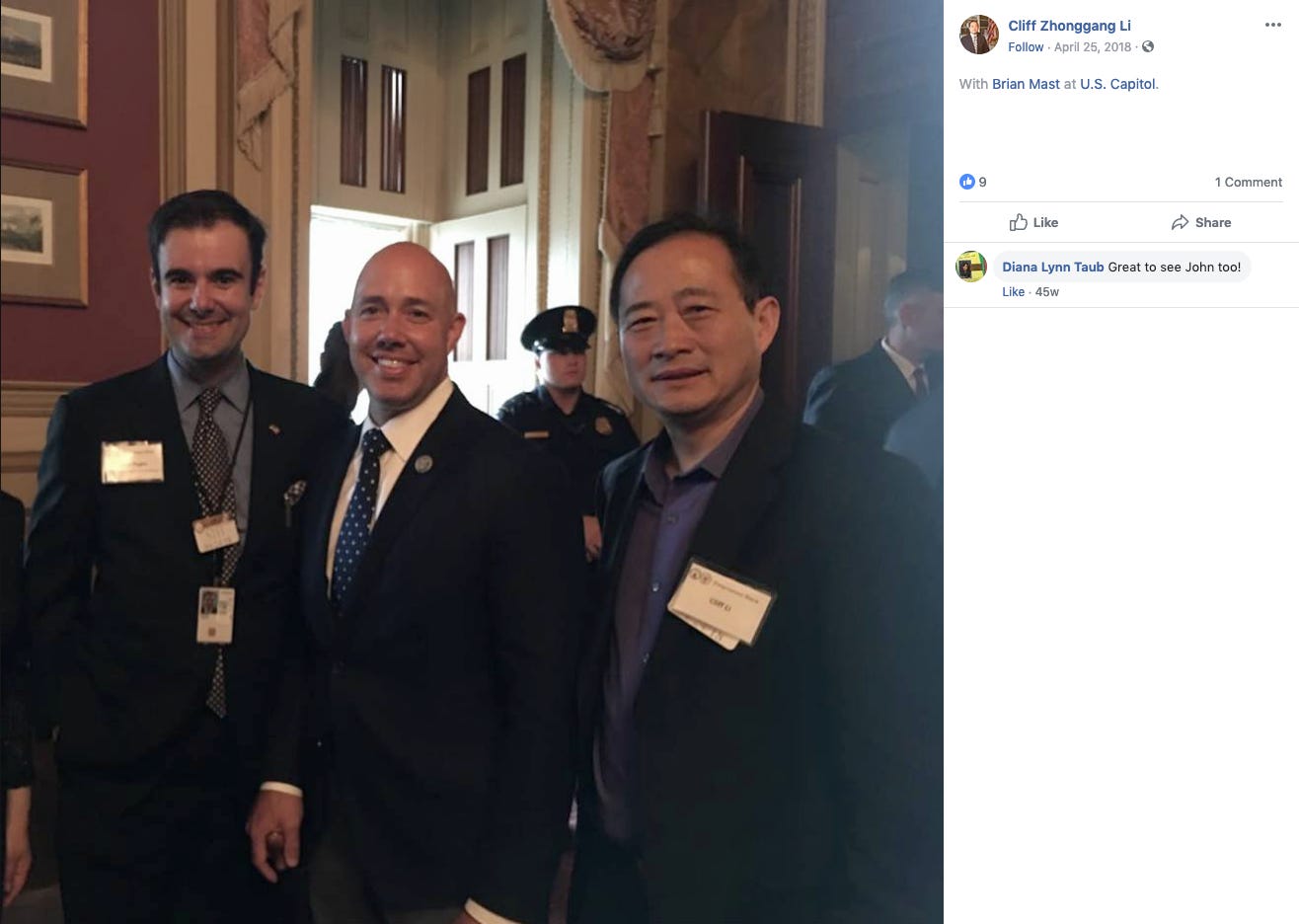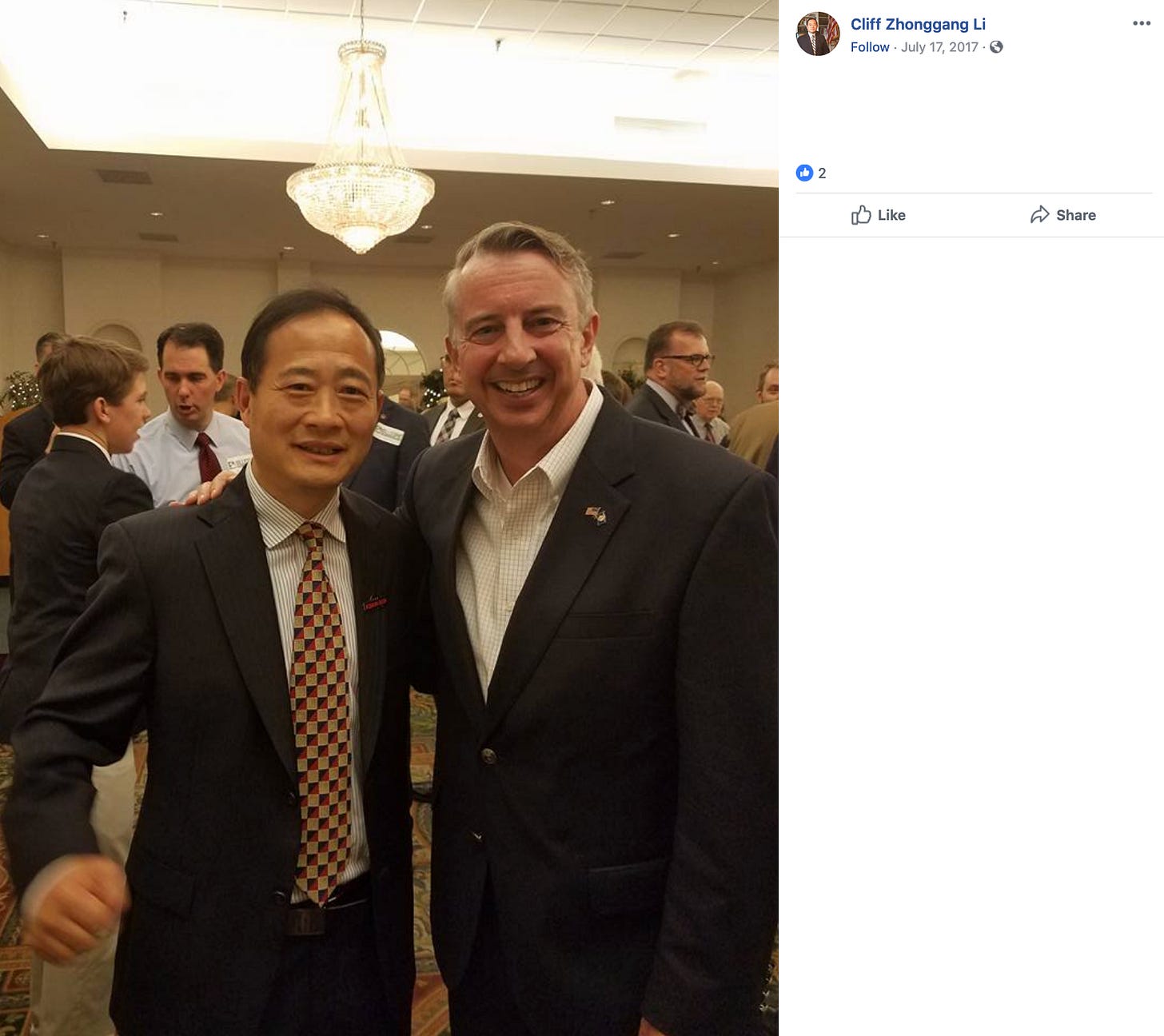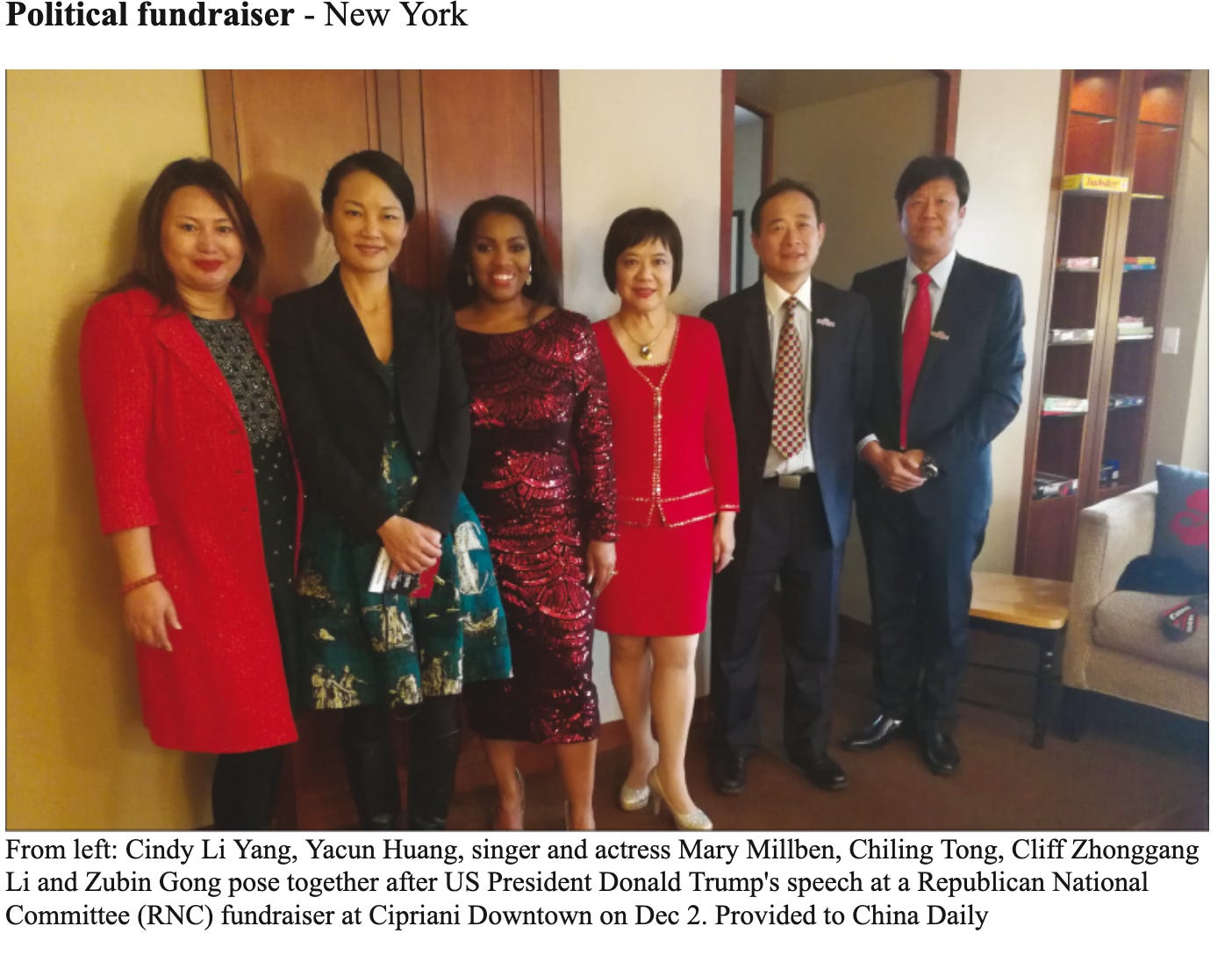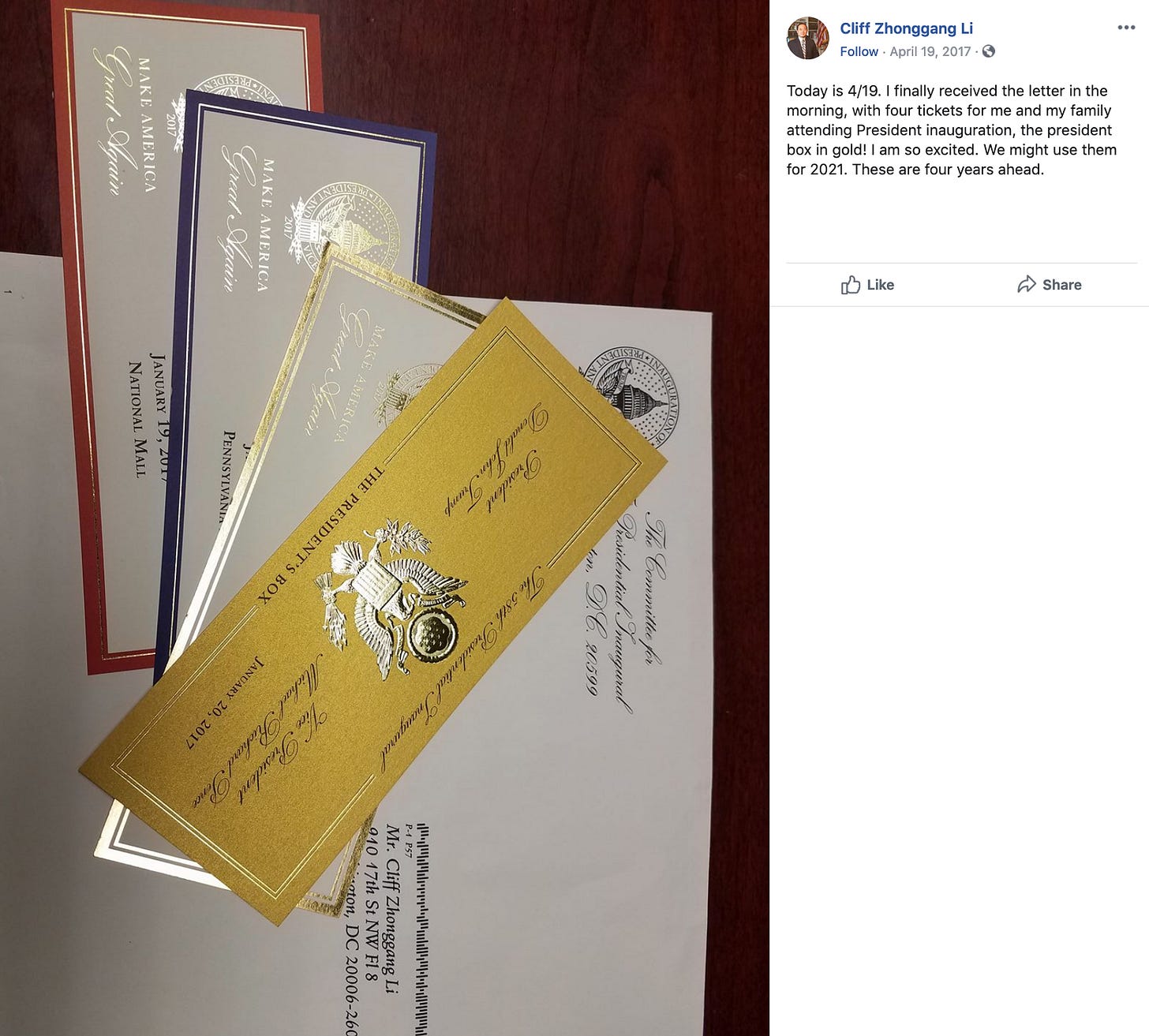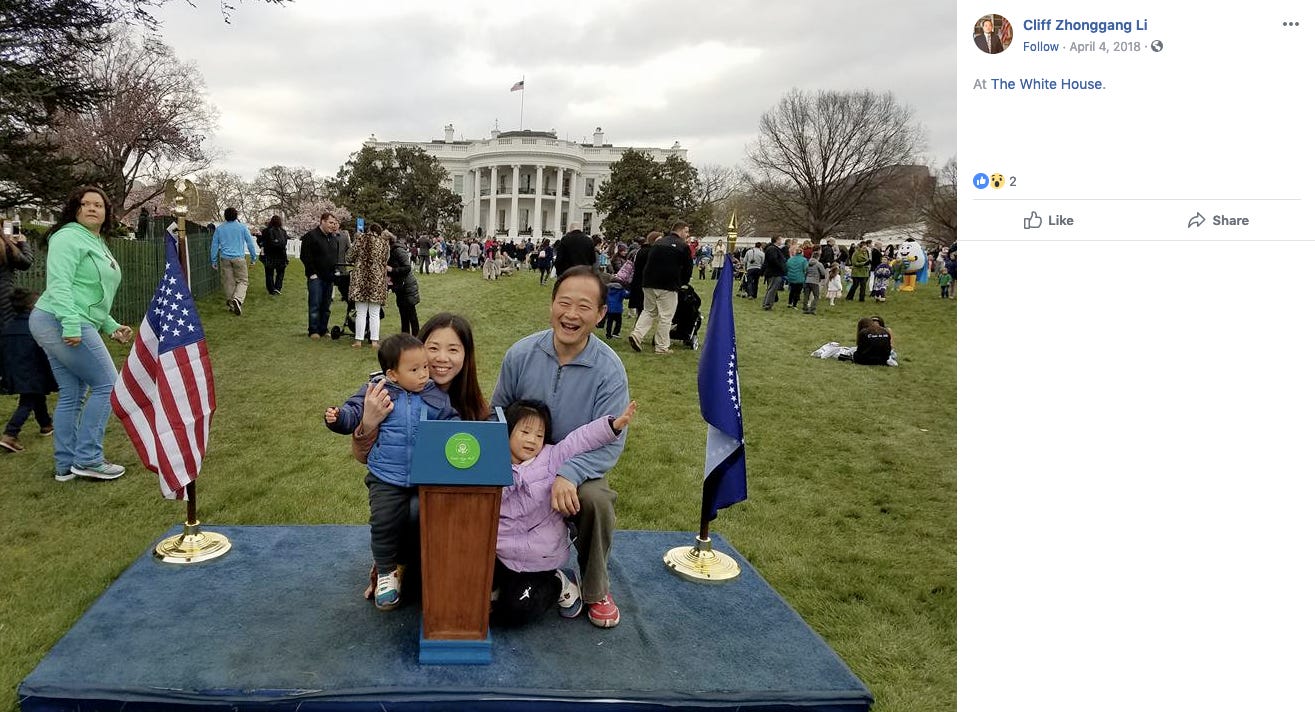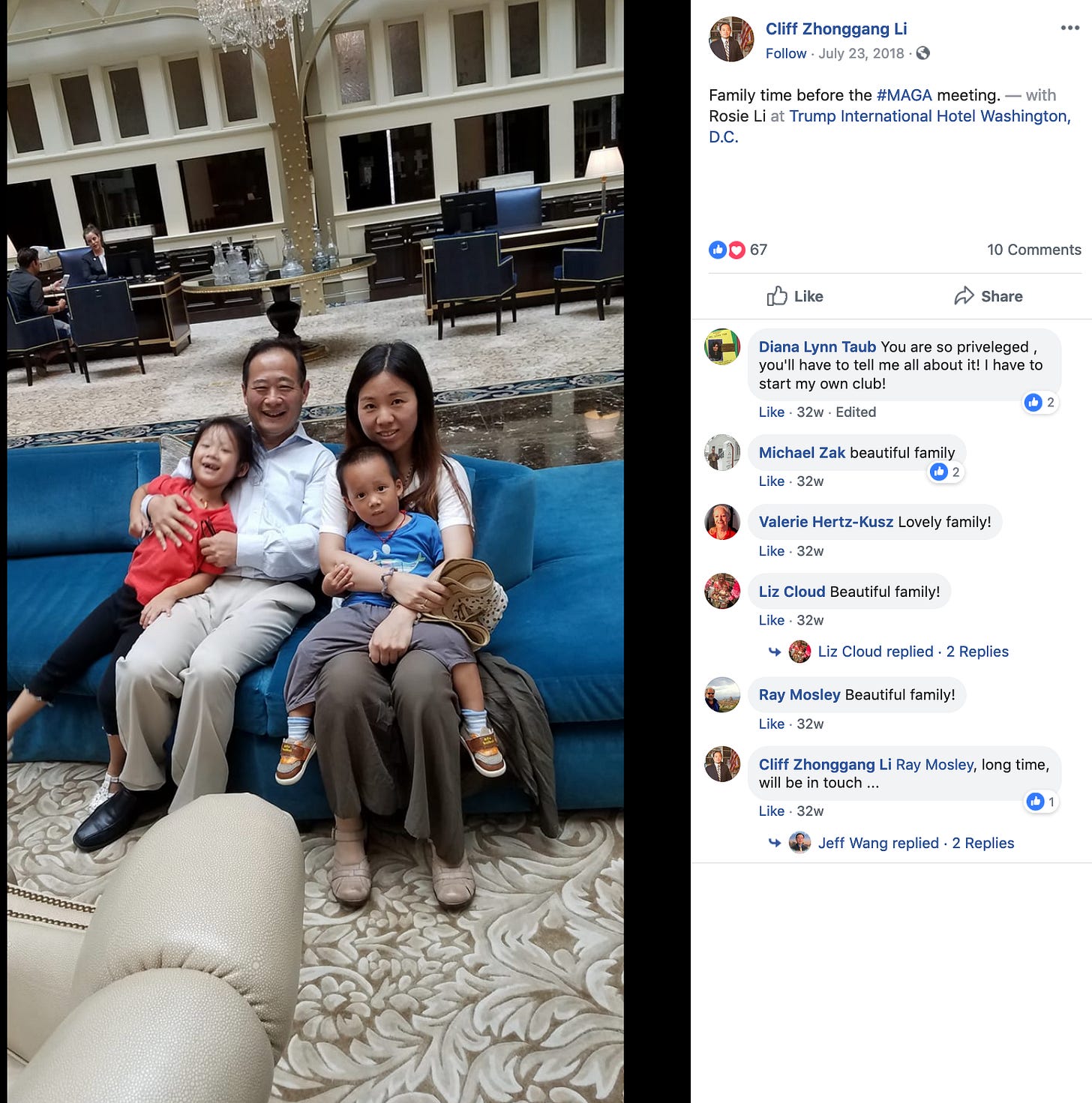 GSA mulling appeal of ruling requiring it to turn over unredacted FBI HQ document
The General Services Administration and the Department of Justice are considering appealing a district court's ruling last week that required GSA to turn over an unredacted document related to its cancelling plans to relocate the FBI's headquarters.
The FBI's current main office is diagonally across Pennsylvania Avenue from the Trump Hotel D.C. Moving it would free up that lot for redevelopment, possibly as a luxury hotel that would compete with the president's business (the Trump Hotel D.C. often promotes itself as downtown D.C.'s only five-star hotel). Last year, Democrats on the House Oversight committee alleged the president intervened in the GSA's decision-making process.
Information about this possible appeal came to light in a joint status report GSA filed with the plaintiff, government watchdog Citizens for Responsibility and Ethics in Washington:
Additionally, the parties received this Court's Memorandum Opinion and Order of March 5, 2019 (ECF No. 28), which determined that the information redacted by GSA in a document entitled "Findings and Determination" was not exempt under FOIA and ordered GSA to produce an unredacted version of that document to CREW.A t present, GSA and the Department of Justice are diligently reviewing the Court's interlocutory decision to determine whether the United States will pursue an appeal or otherwise seek reconsideration of the Court's decision pursuant to applicable and standard Department of Justice procedures and guidelines.
Another joint-status report is due by April 8.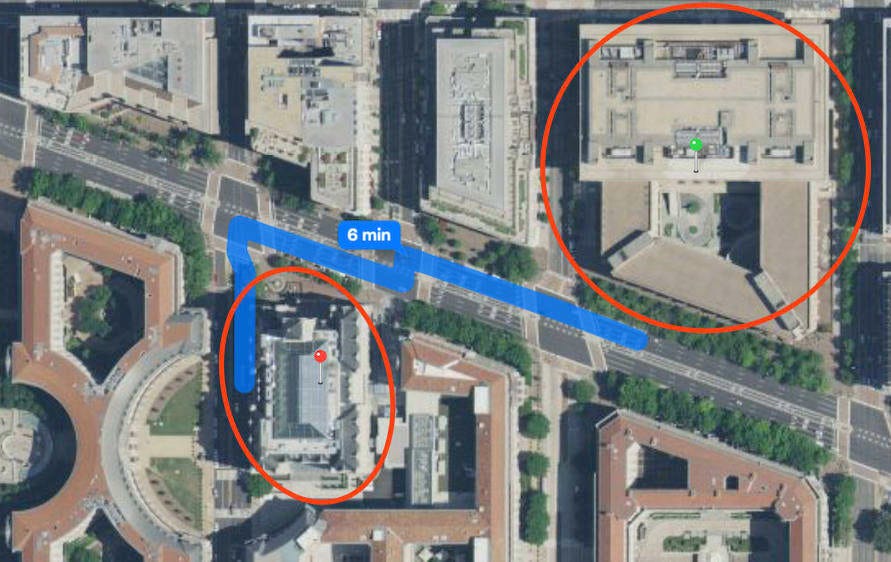 Noteworthy sightings
In just a five-day stretch, the president of the pro-Trump Middle Eastern Women's Coalition, Rabia Kazan live-streamed from the Trump Hotel D.C., entered the White House on an official visit, and pitched her cause to the U.S. president at Mar-a-Lago. It appears senior policy advisor for the pro-Trump nonprofit America First Policies, Martha Boneta, facilitated Kazan's access at Mar-a-Lago.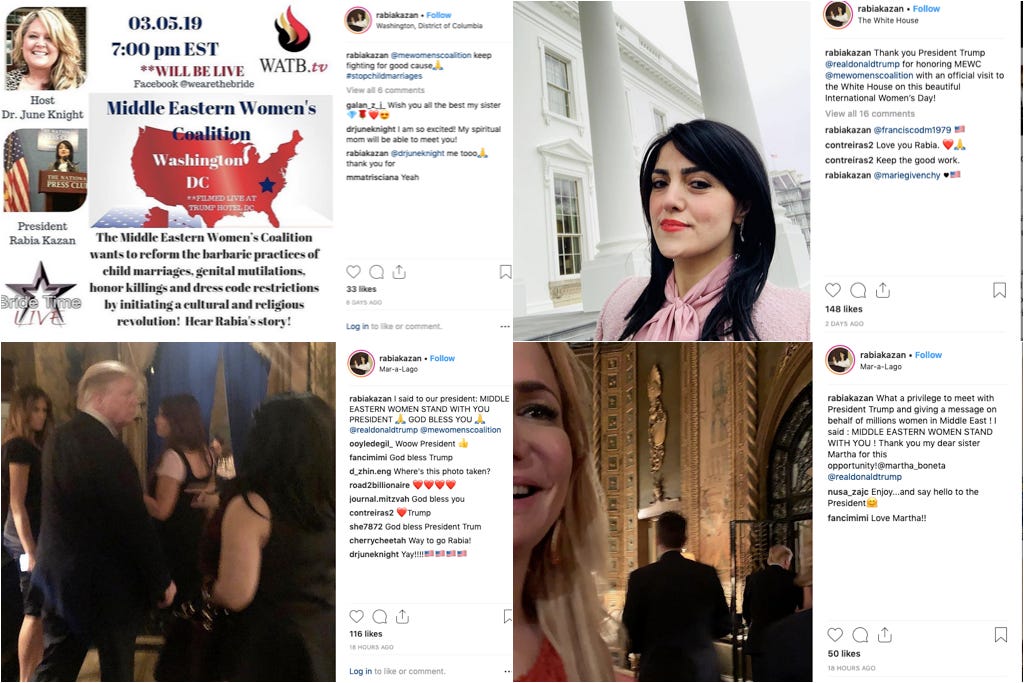 "Not the best video but President Trump stopped in to thank all our guest for attending Big Dog Ranch Rescue's biggest fundraiser of the year!" (Due to a formatting limitation, select the link to watch the video. And there's more video here and here.) For more info on this event, check out "Trump in Palm Beach: Pooches, politics mix as Trump drops in on Big Dog event" by Chris Persaud and Christine Stapleton for The Palm Beach Post).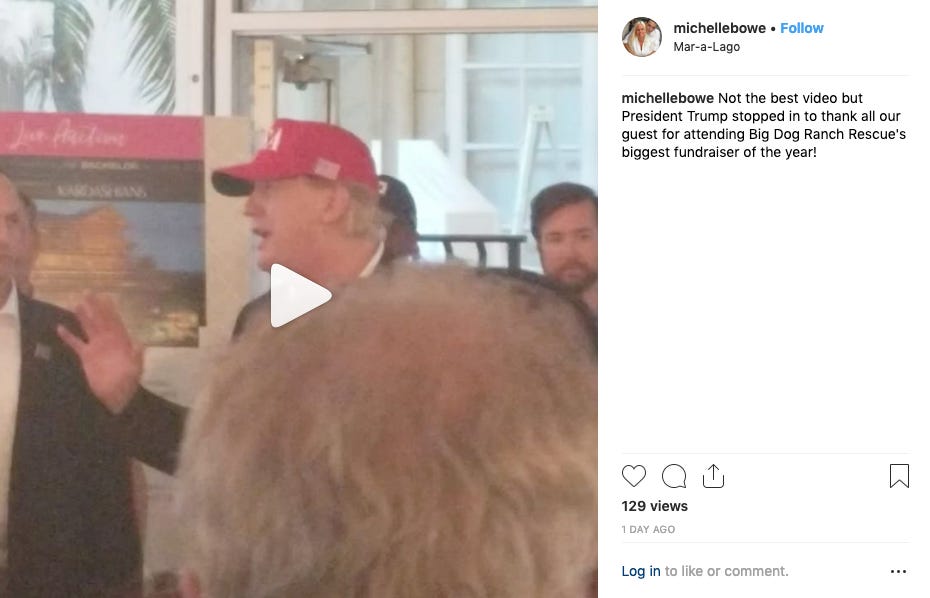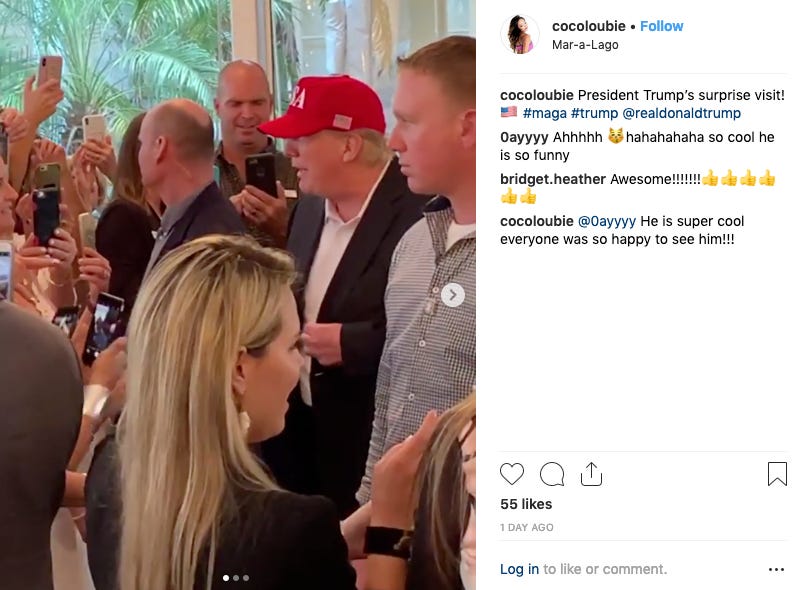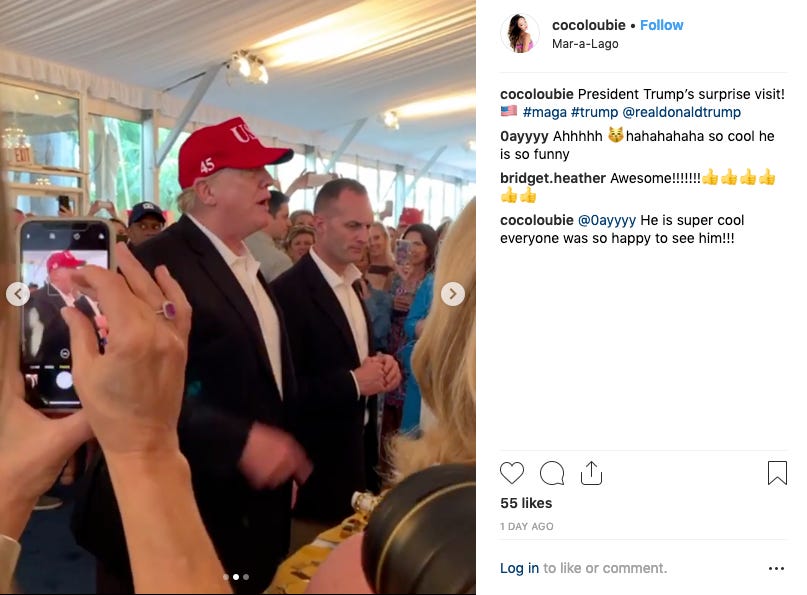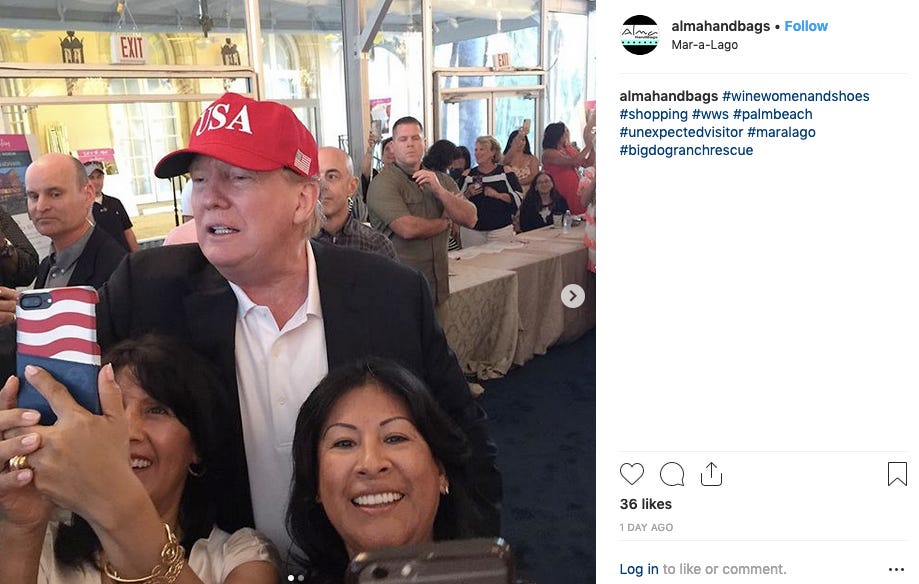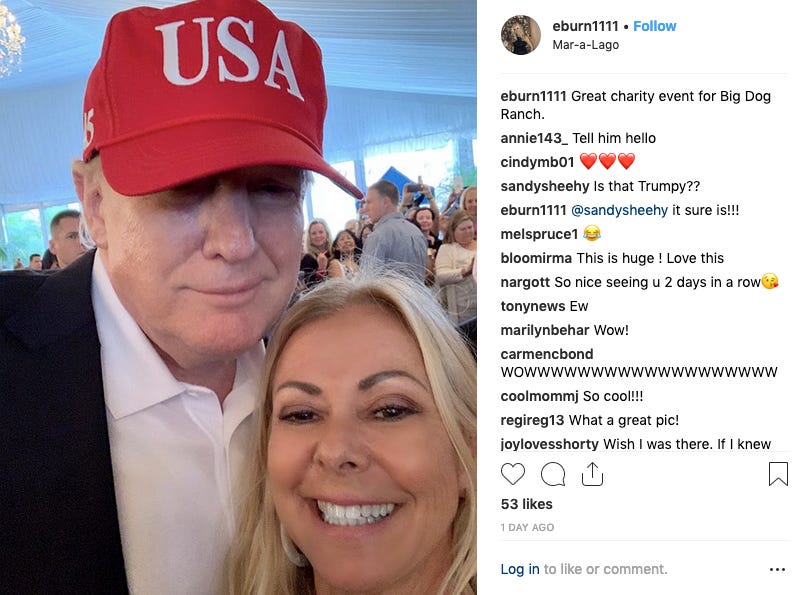 The president's attorney, Rudy Giuliani, apparently made it to both Trump Hotel D.C. and Mar-a-Lago over the weekend.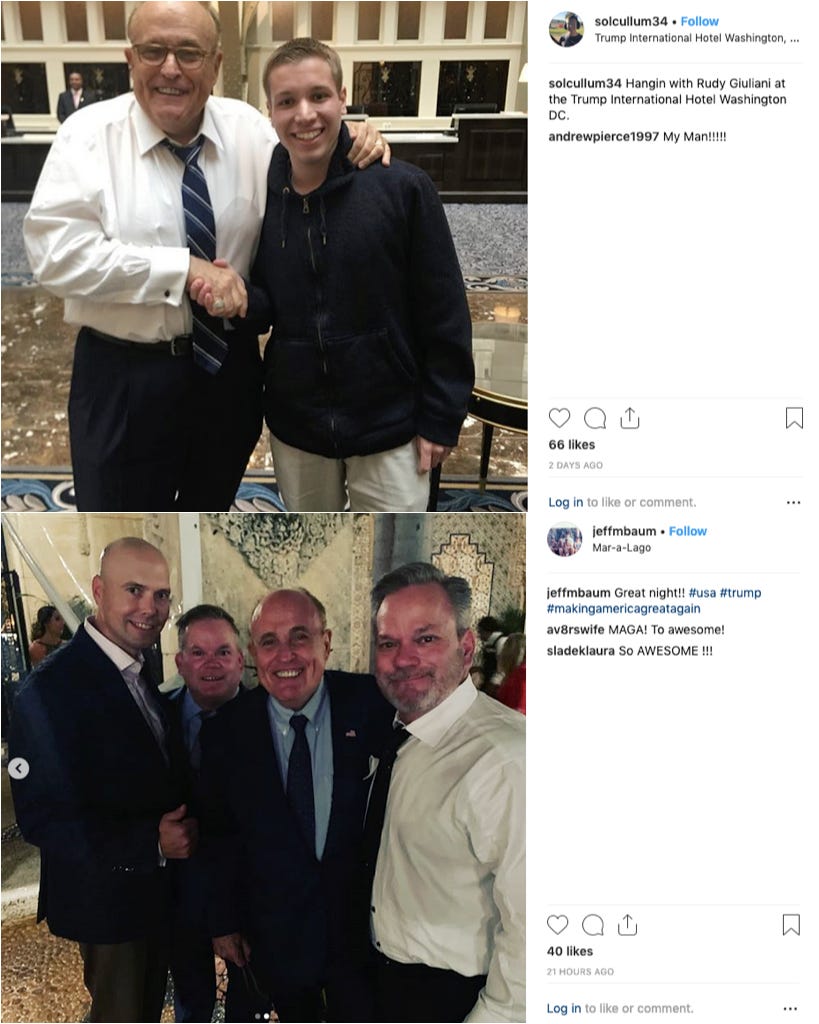 Two members of the president's cabinet (Ben Carson and Linda McMahon); a White House staffer (Ivanka); two RNC executives (Ronna McDaniel and Tommy Hicks); a Trump joint fundraising committee staffer (Todd Ricketts); Giuliani Partners' managing director (Roy Bailey); Donald Trump's longtime lobbyist in Florida who's also rep'd Turkey, Kosovo, the Dominican Republic and the Democratic Republic of Congo, and Amazon (Brian Ballard); and the founder of a lobbying firm recently hired by the country of Georgia (David Tamasi) heard the president deliver an impromptu speech at his private club, per Politico Playbook.
First lady Melania Trump joined the president at Mar-a-Lago.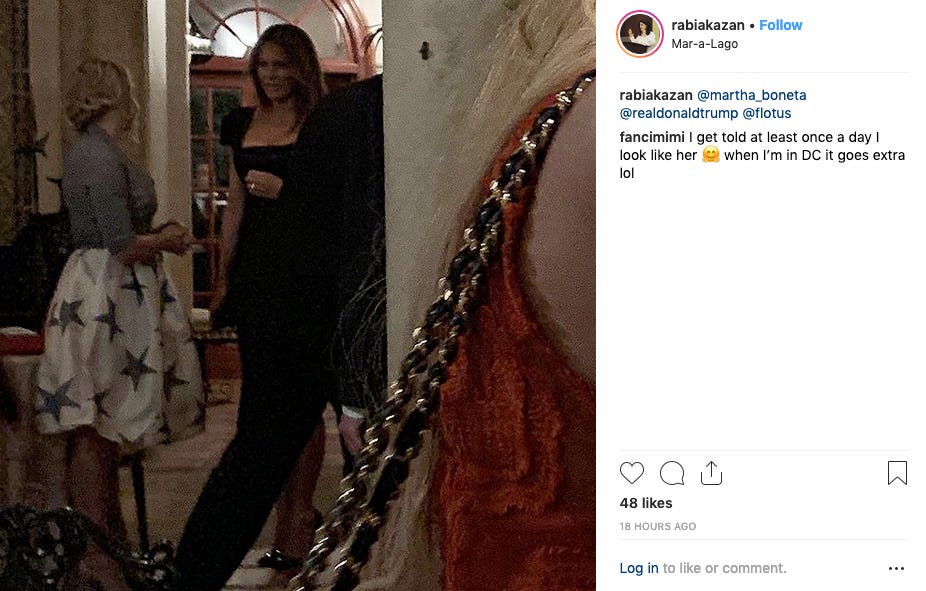 The CEO of Premier Rare Coins, Jeffrey Behan, attended a special event with the president at the president's private club…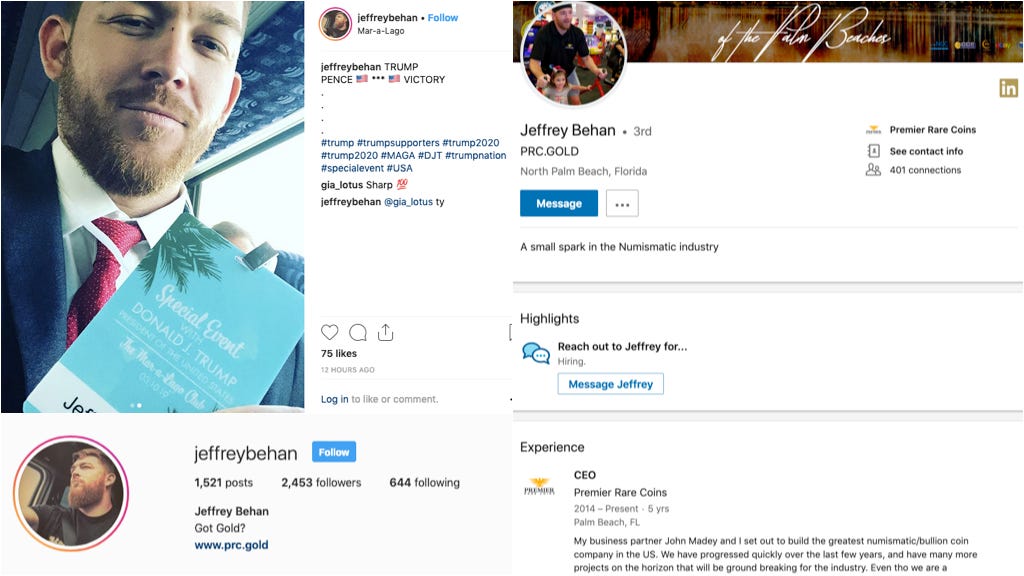 …as did some guy name Jacob Lee (or Li). Not sure who he is or what he does (although "#wealthy"), but he had VIP access too.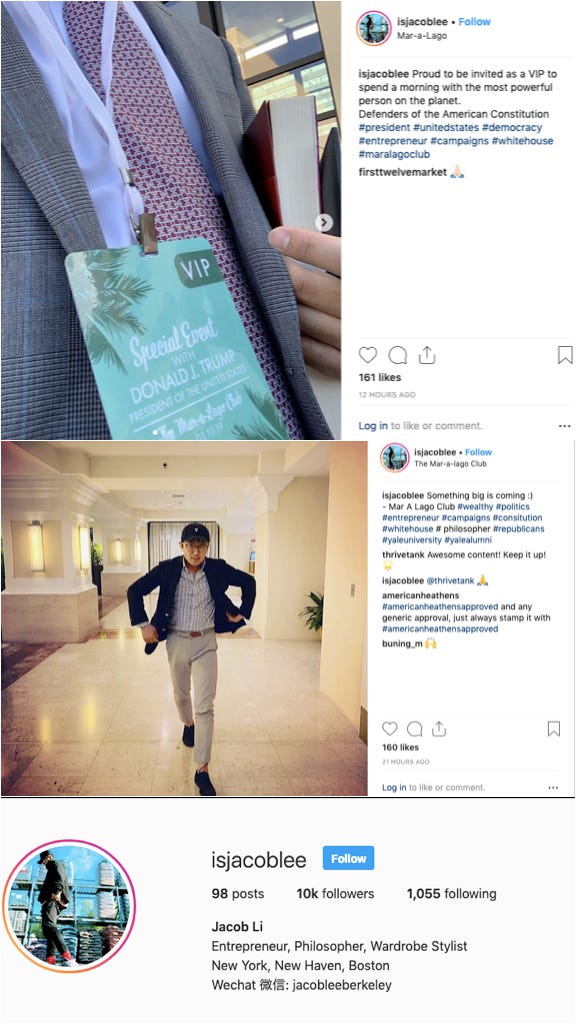 Pro–Trump super PAC America First Polices' vice chair, Kimberly Guilfoyle, celebrated her 50th birthday over the weekend at that very same Trump's private club. Joining Guilfoyle were her boyfriend/the president's son, Donald Trump Jr.; Fox News's Gina Loudon; and the CEO of BANG Energy drink, Jack Owoc.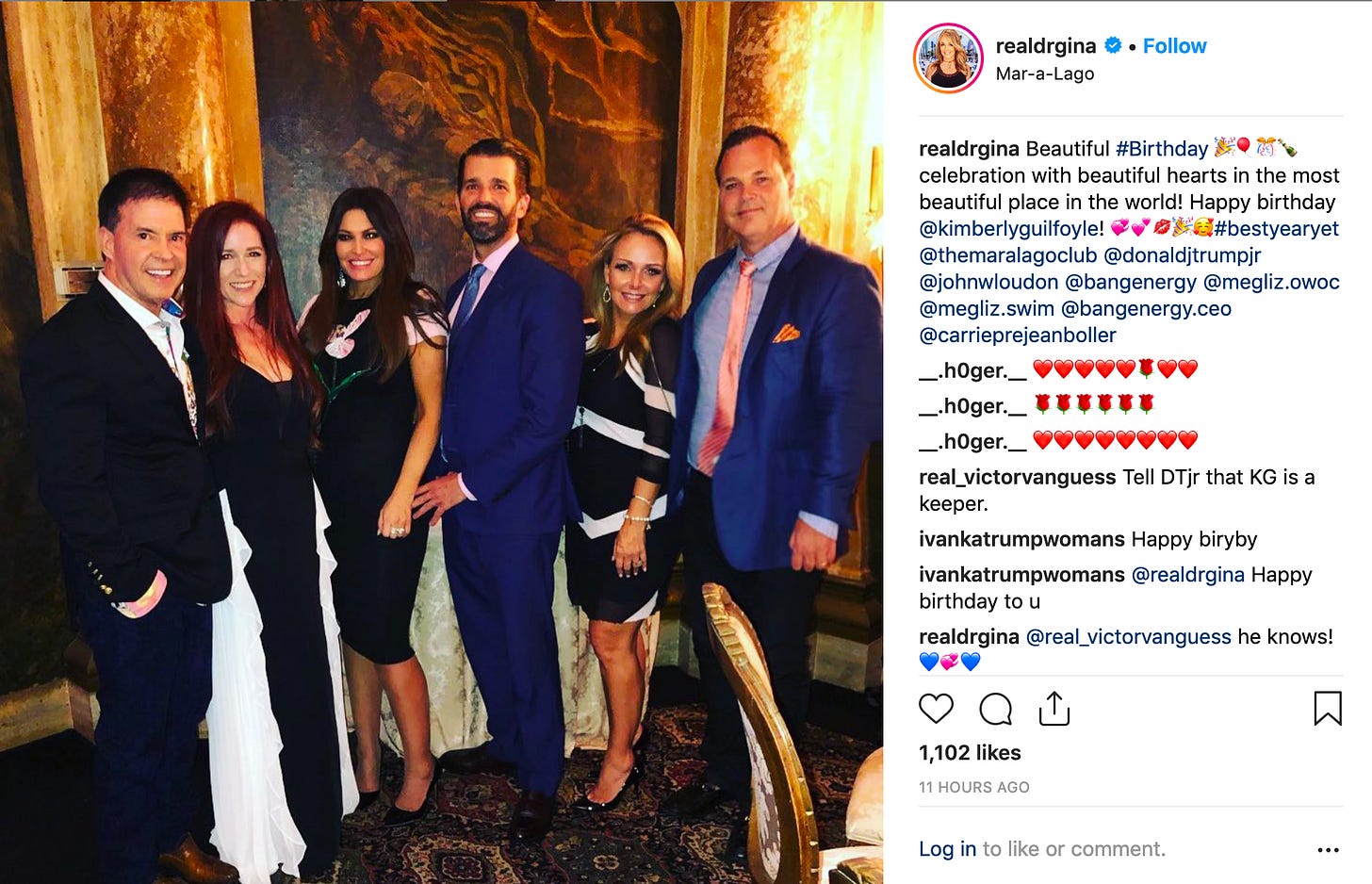 Fox News's Gina Loudon plugged Mar-a-Lago and its diversity. Turning Point USA's founder and president, Charlie Kirk, is in this photo with Loudon.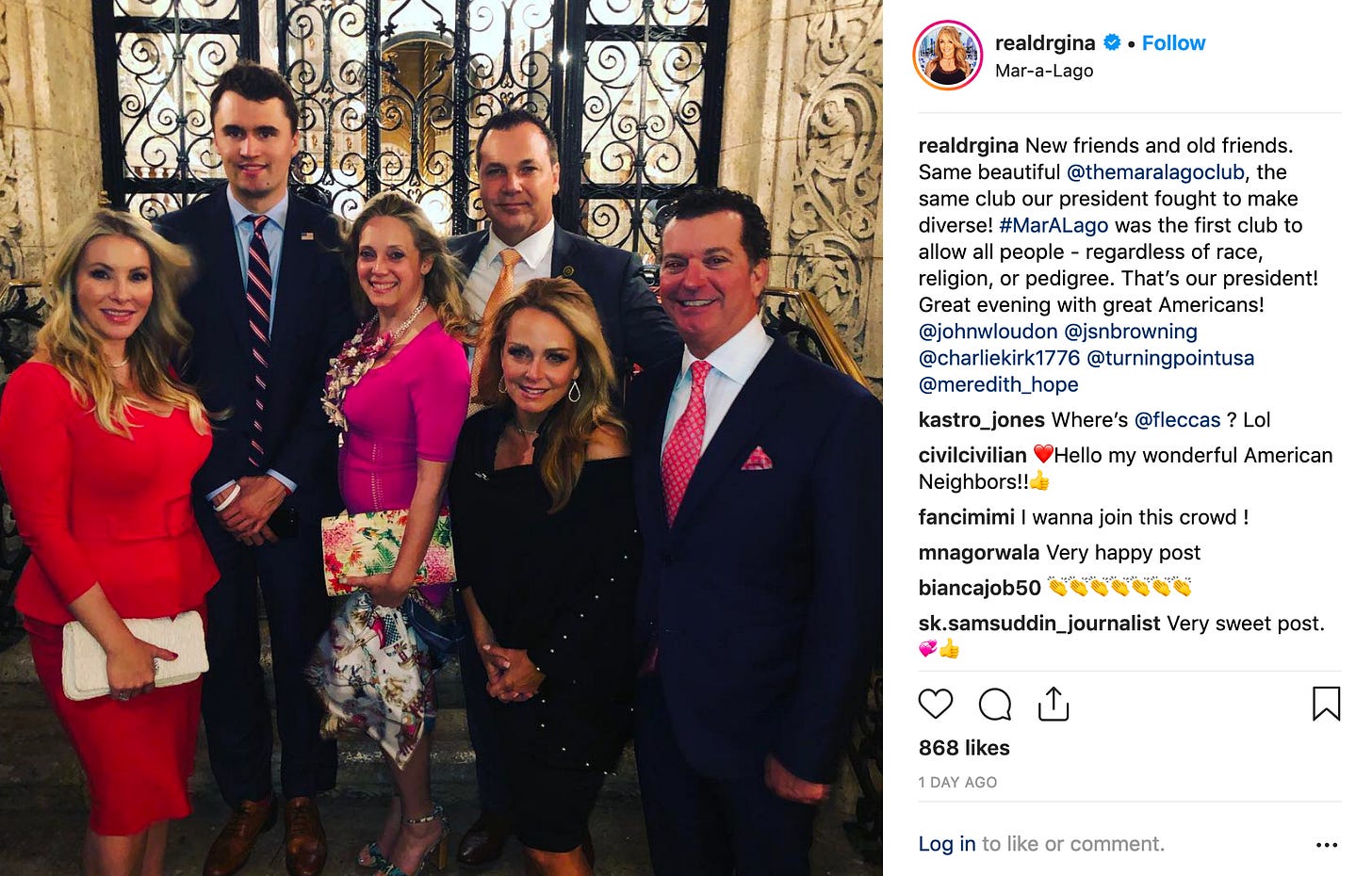 Turning Point's Charlie Kirk also posted a photo of him seated with the president, Don Jr., and Kimberly Guilfoyle at Mar-a-Lago.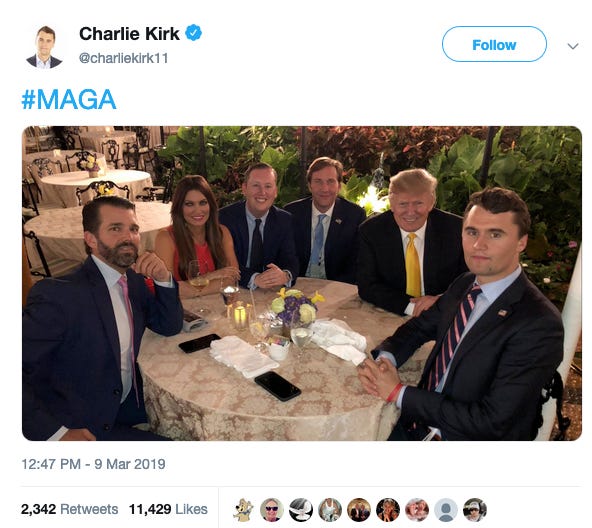 While the president was in Mar-a-Lago, so too were Trump property regulars senior policy advisor for the pro-Trump nonprofit America First Policies, Martha Boneta, and major GOP donor and Fox News advertiser, the My Pillow Guy, Mike Lindell.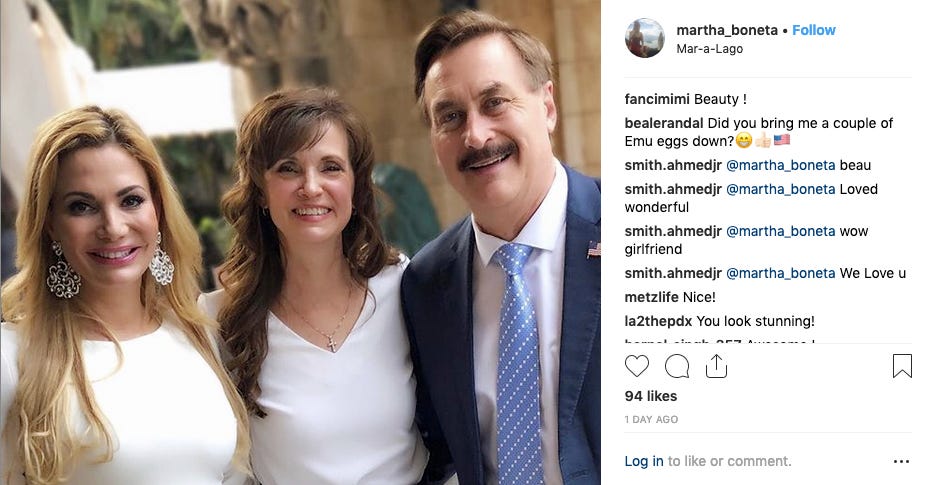 Singer and National Diversity Coalition for Trump ambassador Kaya Jones served as a brand ambassador for the president's private club.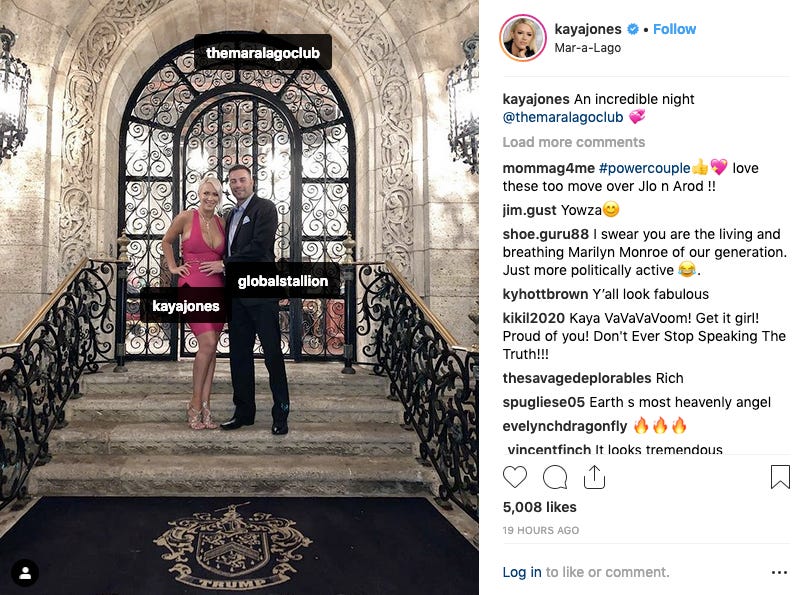 As for the Trump Hotel D.C…
…a Department of Homeland Security employee, Eric Duke, raved about the hotel's service.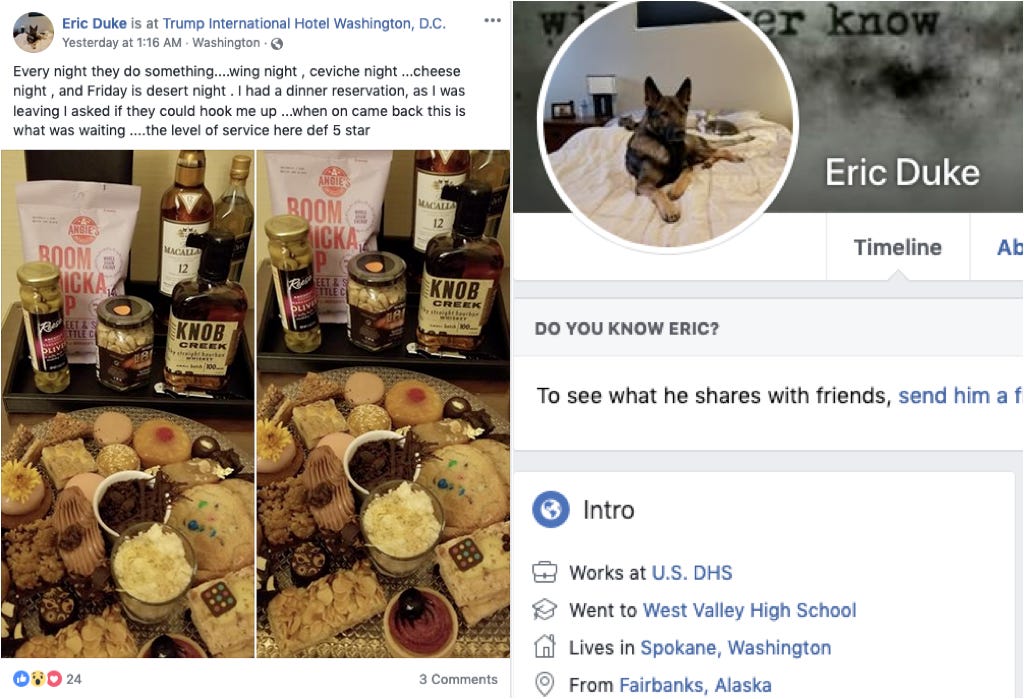 A senior advisor at U.S. Department of Health and Human Services, Mark Basil Vafiades, was at the Trump Hotel D.C. Again. Vafiades is a political appointee of the hotel's owner. Also pictured is Lee Reynolds, a strategic communications officer at the U. S. Army Center of Military History.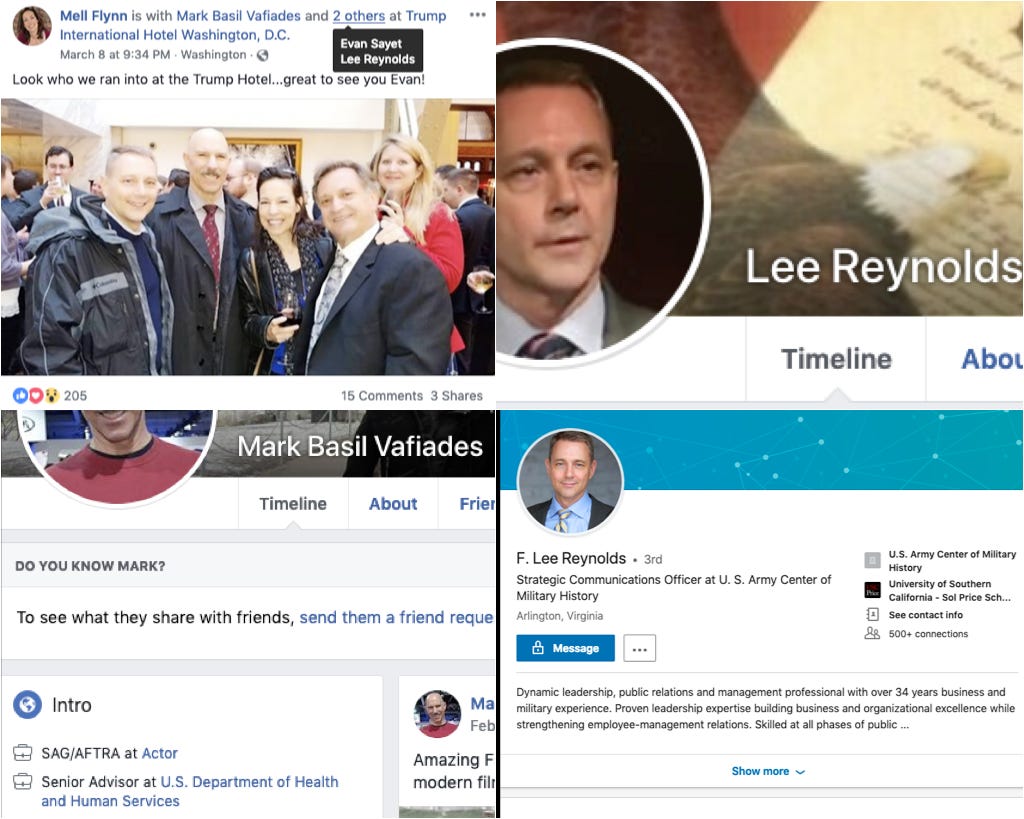 A PR intern at strategic communications and political consulting firm Squared Communications, John McCarthy IV, posed in the hotel's lobby.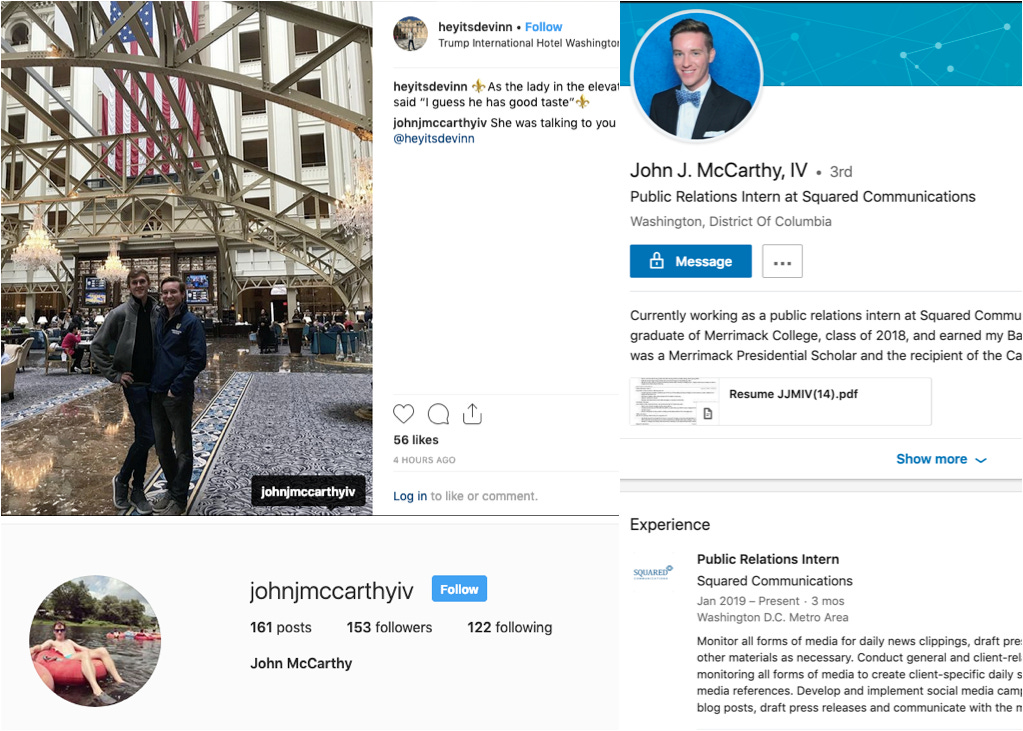 An energy staffer at utilities company ITC Holdings, Emily Fehsenfeld, noted that she regularly finds herself taking Trump Hotel mirror selfies.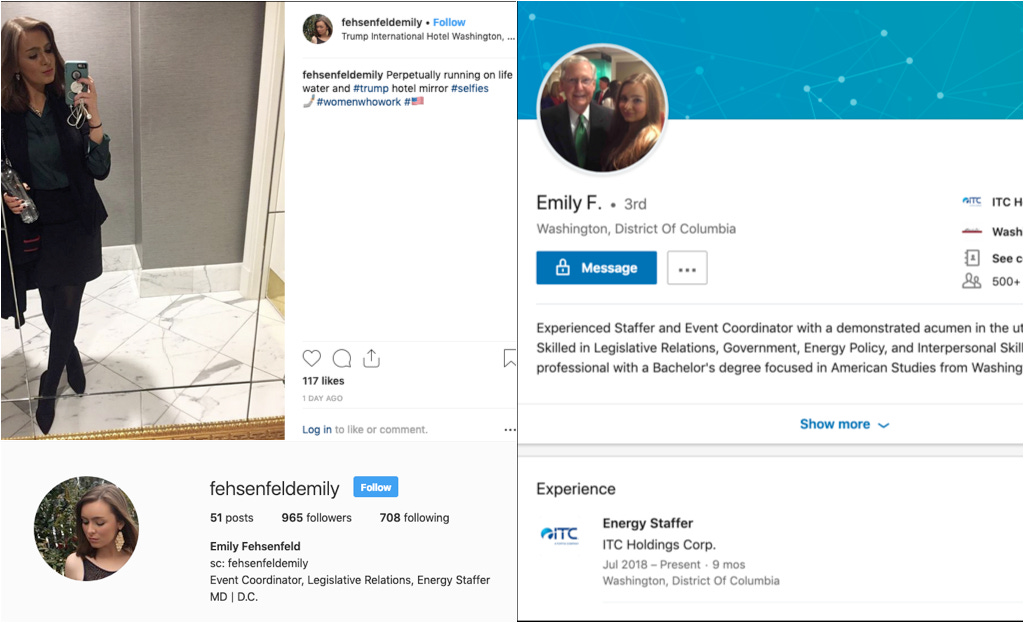 The founder of the Florida chapter of far-right men's organization the Proud Boys, Tyler Whyte, wants it noted he was back at the Trump Hotel D.C. ✔️ In court documents, Roger Stone listed Whyte as a volunteer who handles his social media and communications.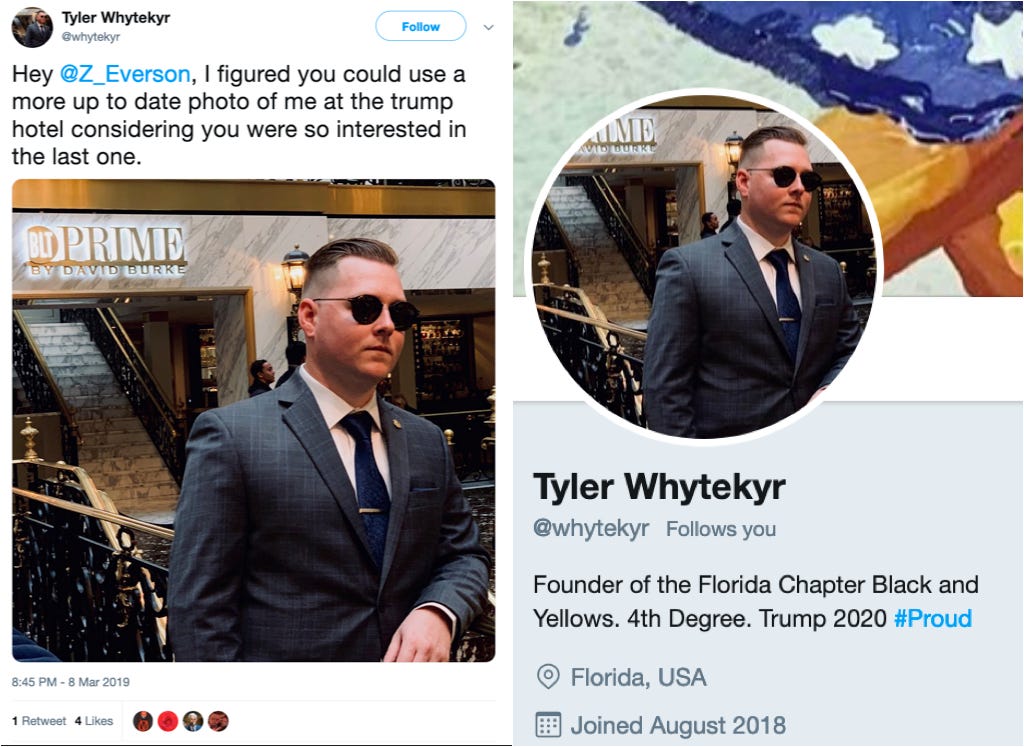 Right-wing provocateur Jacob Wohl had claimed he hung out with White House communications director Bill Shine at the latter's boss's hotel after CPAC. Now there's a photo (via Jon Levine of The Wrap).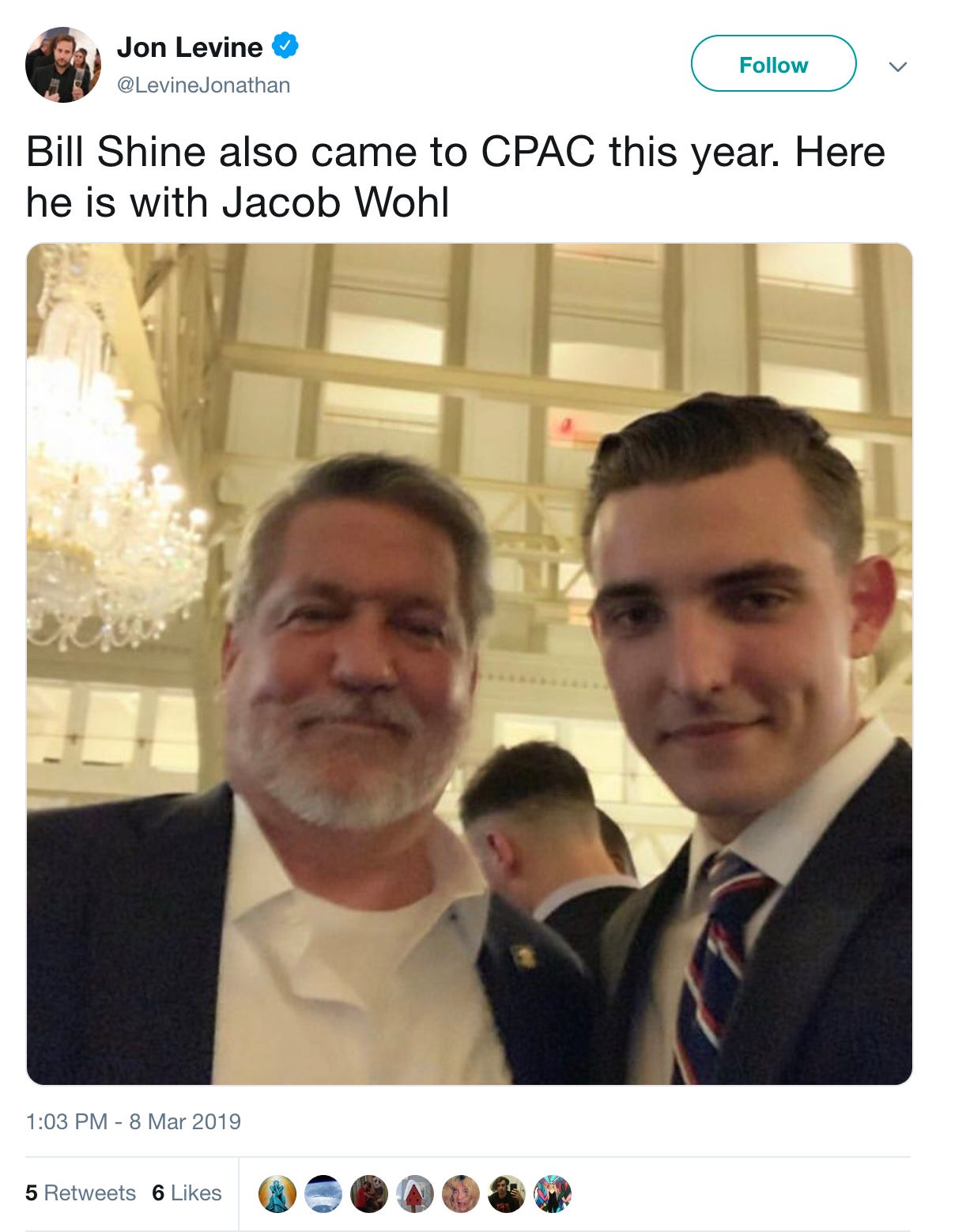 Other Trump Organization news
House investigations, current status (latest changes, March 6, 2019)
Legal cases, current status (latest change, March 6, 2019)
D.C. and MD attorneys general's emoluments lawsuit (district court docket, appellate court docket)—

Official capacity—On Dec. 20, 2018, the 4th U.S. Circuit Court of Appeals ruled it would hear the president's appeal of district court rulings that allowed the case to proceed to discovery, and the appellate court halted discovery in the case. Discovery had started Dec. 3 and was scheduled to run through Aug. 2, 2019, with the AGs having subpoenaed the Trump Organization, including its Scottish golf courses; the U.S. Departments of Agriculture, Commerce, Defense, and Treasury and the GSA; and the state of Maine. Oral arguments on the appeal are scheduled for March 19. The AGs filed their brief opposing the president's appeal on Feb. 6, stating, "The President is not entitled to an order requiring the district court to certify for interlocutory review its denial of his motion to dismiss. No court has ever issued such relief." Trump's DOJ attorneys replied on Feb. 21: "Plaintiffs fundamentally err, substantively and procedurally."

Individual capacity—On Dec. 14, Trump's personal attorneys appealed the denial of their motion to dismiss the case, also to the 4th U.S. Circuit Court of Appeals. On Dec. 19, the AGs replied to Trump's motion for a stay pending that appeal by voluntarily dismissing the claims against Trump in his "individual capacity to allow the claims against President Trump in his official capacity to move forward expeditiously." (The AGs only brought suit against Trump in his individual capacity after the judge suggested they do so.) Trump's personal attorneys, on Dec. 21, opposed the motion to dismiss at the district level, saying the appeals court now has jurisdiction and accusing the AGs of "gamesmanship."

196 Democratic senators and representatives' emoluments lawsuit—On Sept. 28, Judge Emmet G. Sullivan ruled that the legislators have standing to sue. Trump's Justice Department attorneys filed an interlocutory appeal on Oct. 22. On Jan. 30, 2019, the plaintiffs' filed a notice of supplemental authority, notifying the court of the GSA inspector general's report that criticized GSA for failing to consider if the Trump Hotel D.C.'s lease was in compliance with the Constitution after Donald Trump became president. Two days later, the president's attorneys argued that the IG's conclusion was not inconsistent with Trump's argument, but that the judge should ignore that report anyway because the IG has no expertise in interpreting or applying the foreign emoluments clause.

CREW et. al's emoluments lawsuit—In February 2018, CREW appealed its suit being dismissed for lack of standing to the 2nd U.S. Circuit Court of Appeals. Oral arguments on that motion were held on Oct. 30.

Cork's unfair competition lawsuit—Judge Richard J. Leon dismissed the case on Nov. 26, 2018, writing "Cork has failed to state a claim for unfair competition under D.C. law." On Dec. 10, Cork's attorneys filed a notice of appeal and on Jan. 10, 2019 they submitted a statement of issues to be raised. A briefing schedule was set on March 5 with Cork's brief due on April 15, the president's brief due on May 15, and Cork's reply to the president's brief due on June 5.

Employees' class-action suit alleging racial discrimination—Two of the three plaintiffs did not appear at a status hearing on Jan. 25, 2019; their cases were moved to arbitration. Via email, their attorney, A.J. Dhali, said his clients did not appear at the hearing because their case already had been moved to arbitration last year. The next status hearing is scheduled for Oct. 4.
Health inspections, current status (latest change, Aug. 10, 2018)
❌Hotel: five violations on May 7, 2018; two were corrected on site

❌BLT Prime and Benjamin Bar: nine violations on Aug. 10, 2018

❌Sushi Nakazawa: two violations on Aug. 10, 2018

✔️Banquet kitchen: no violations on Aug. 10, 2018

❌Pastry kitchen: two violations on Aug. 10, 2018

✔️Gift shop: no violations on May 7, 2018

❌Employee kitchen and in-room dining: five violations on Aug. 10, 2018; two were corrected on site
One thing that has nothing to do with Trump's businesses (I think, tough to tell sometimes!)
It appears Donald Trump Jr. just copied and pasted a GOP tweet and posted it as his own.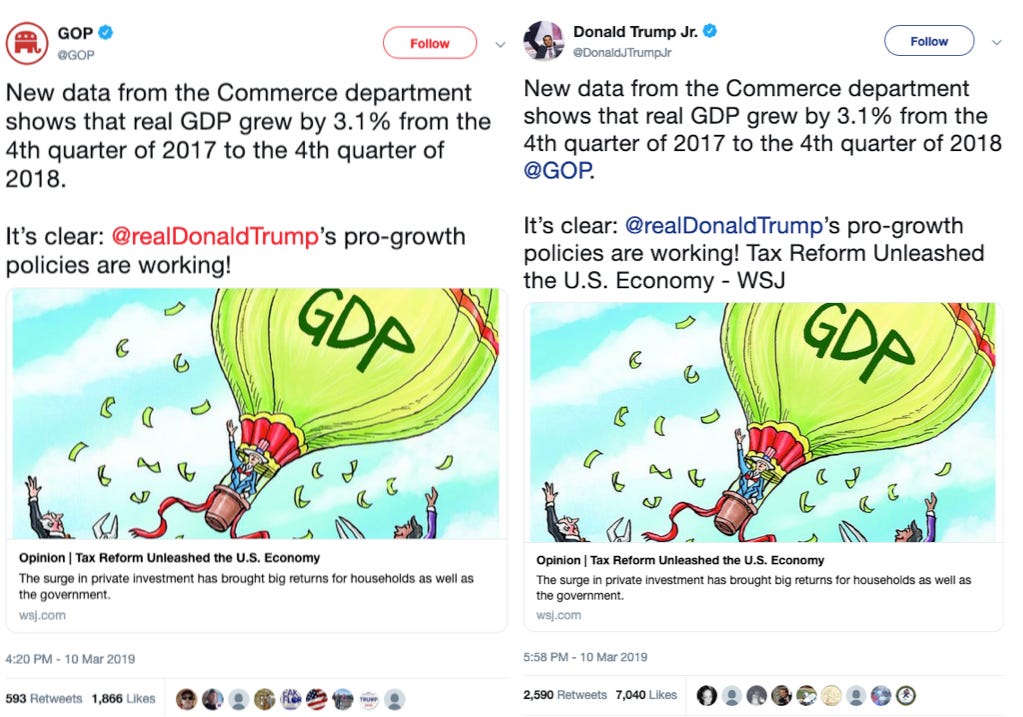 He later went back and liked the original GOP tweet.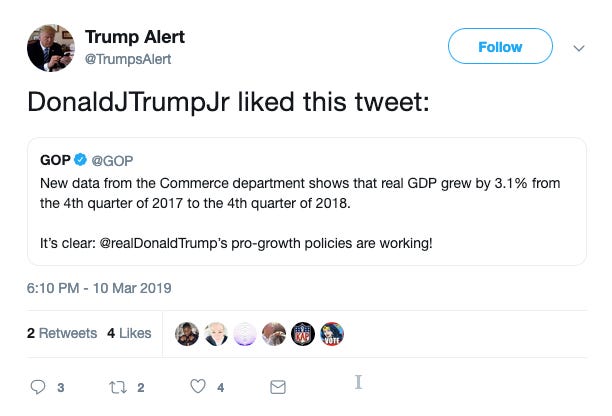 Thanks for reading. If you like what you see, tell someone—and support this work by becoming a paying member ($5/month or $50/year). If you've been forwarded this newsletter, subscribe for yourself at zacheverson.substack.com. Questions? Read our FAQ/manifesto. Tips or feedback? Contact me, Zach Everson, securely via email at 1100Pennsylvania@protonmail.com or on Signal at 202.804.2744.