Discover more from 1100 Pennsylvania
"The undisputed expert on the D.C. Trump Hotel" – David Fahrenthold of the Washington Post
Over 3,000 subscribers
Cindy Yang's spox is a frequent Mar-a-Lago guest too
Karyn Turk said she's not a member though—and that the FBI hadn't notified Yang's attorney about its investigation
Like her client, the spokesperson for Li "Cindy" Yang has shared multiple photos from Mar-a-Lago. It's Yang's selfie with President Trump at his private Palm Beach club, of course, that led to increased scrutiny of the Republican donor and spa founder who allegedly also peddled access to the U.S. president.
Karyn Turk said that she's not a member of the president's club though and that her representation of Yang and frequent visits to the president's private club are just emblematic of Palm Beach's social scene.
"We feel very fortunate and blessed to have friends and be able to go to Mar-a-Lago," Turk said.
Yesterday's Miami Herald article "Feds open foreign-money investigation into Trump donor Cindy Yang" identified Turk as Yang's spokesperson. An Instagram post and other media accounts confirm that relationship. (Yes, Turk, to Yang's left in the photo, is also Mrs. Florida 2016.) Turk's husband, Evan, is Yang's attorney. Karyn works for his firm, Palm Beach Law Offices.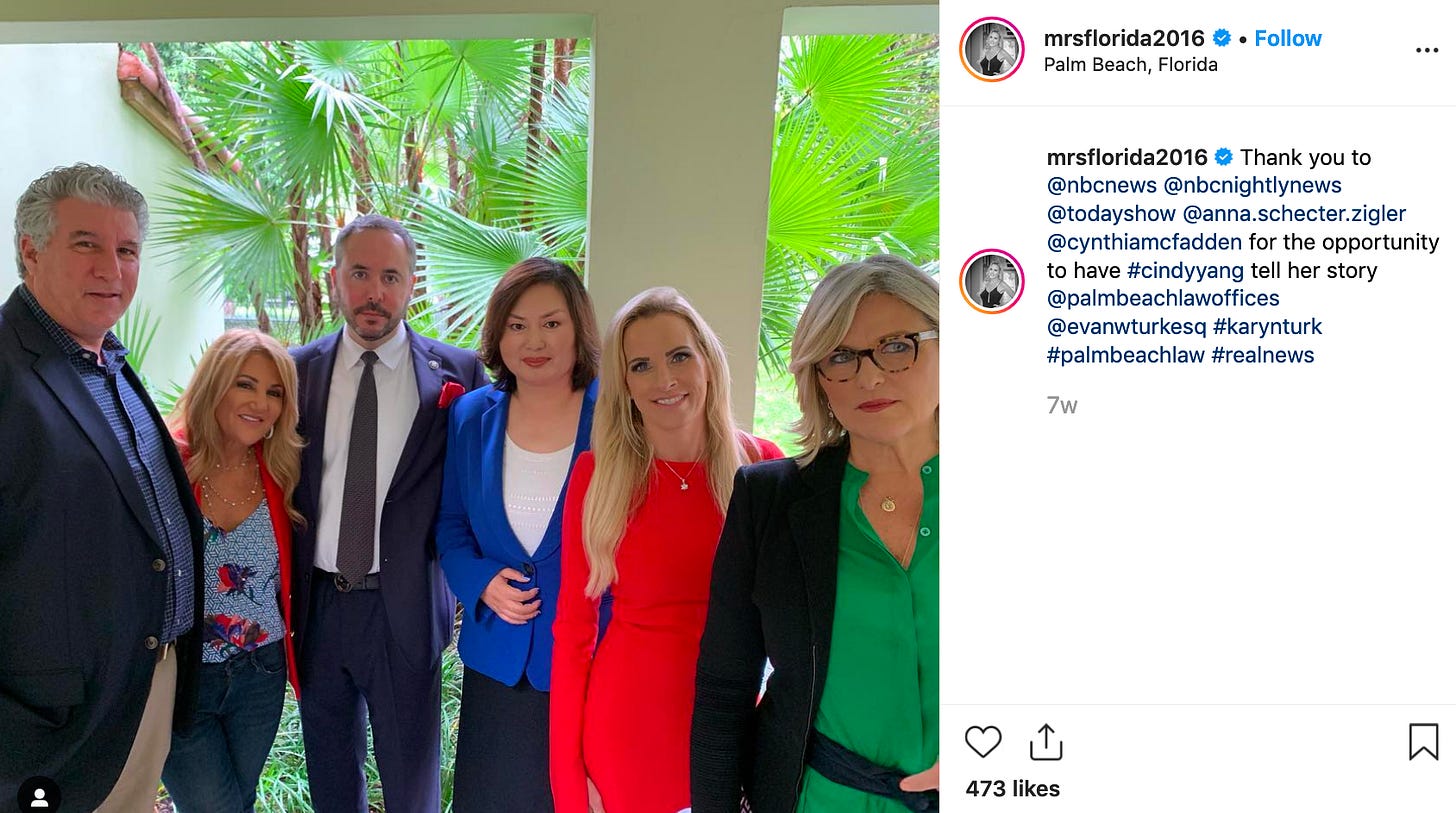 Facebook and Instagram accounts belonging to Karyn and Evan showed photos of Karyn geotagged to Mar-a-Lago on eight different dates going back through December 2017. (No photos show the Turks with Yang or President Trump.) Additionally, in a Jan. 31, 2019 New York Times article, Karyn Turk is quoted describing what life is like for the president when he retreats to his private club. And a March 2017 Politico article on Mar-a-Lago showed Turk there in its lead photo.
Photos on social media of Turk at Mar-a-Lago show her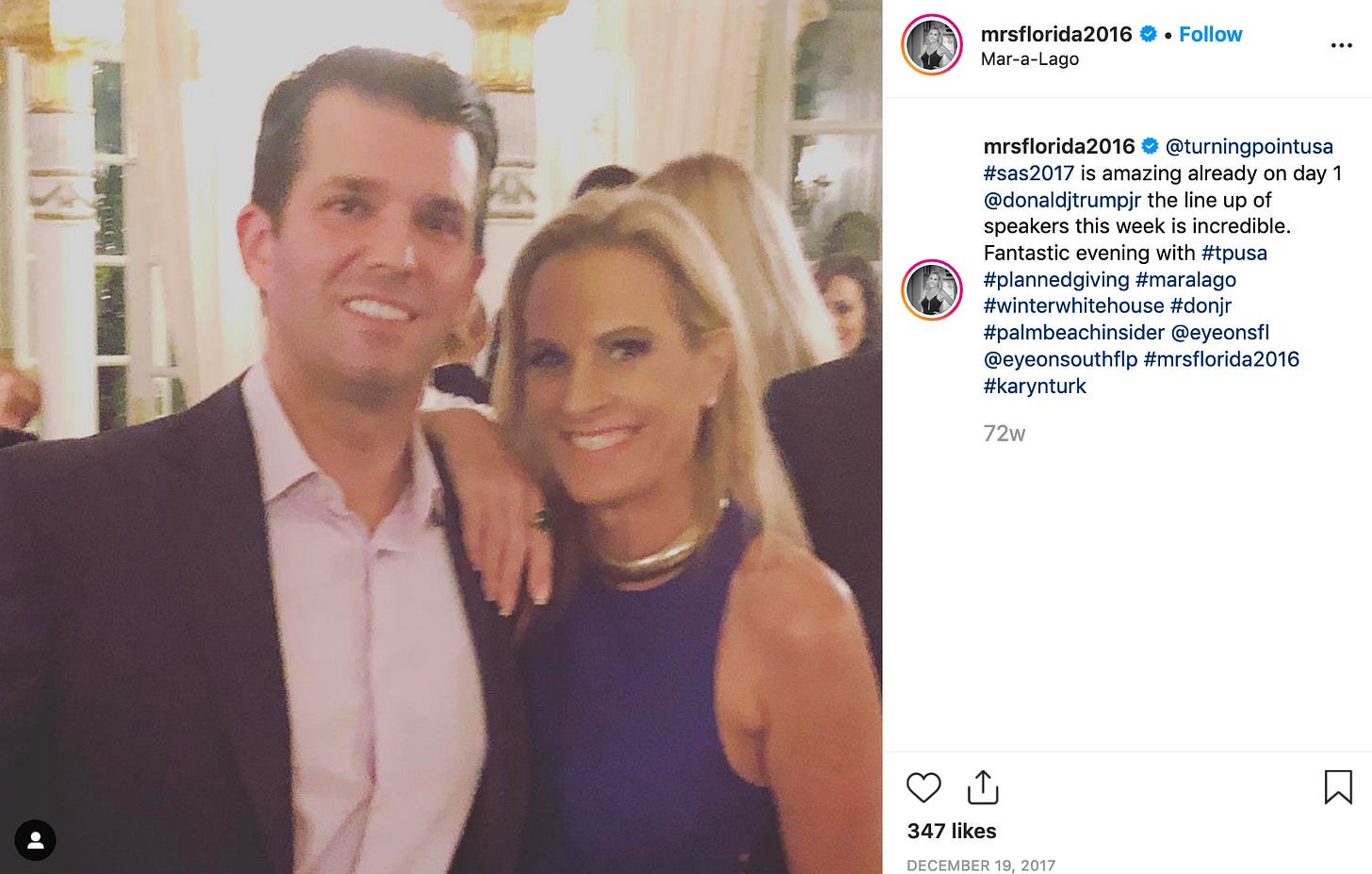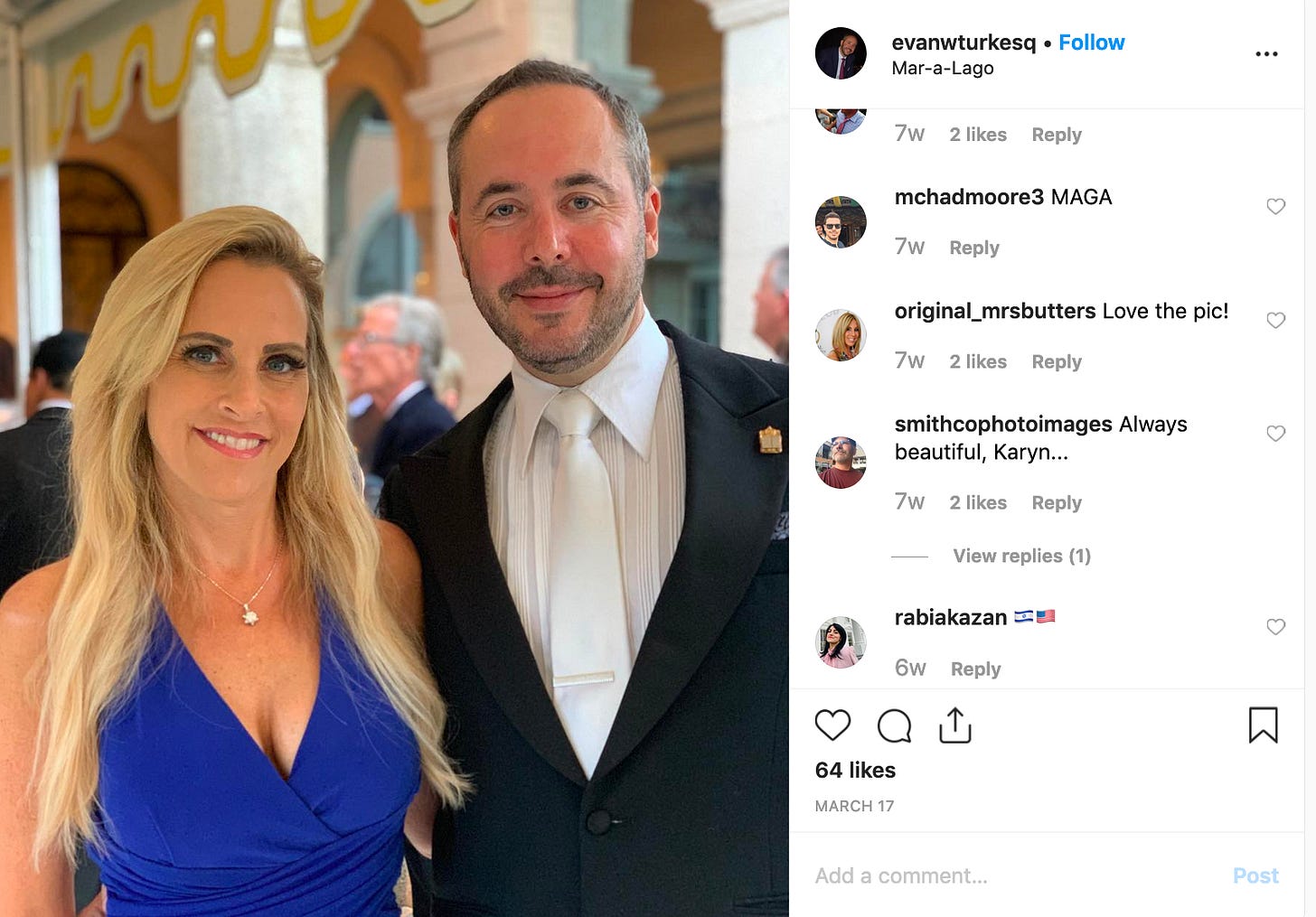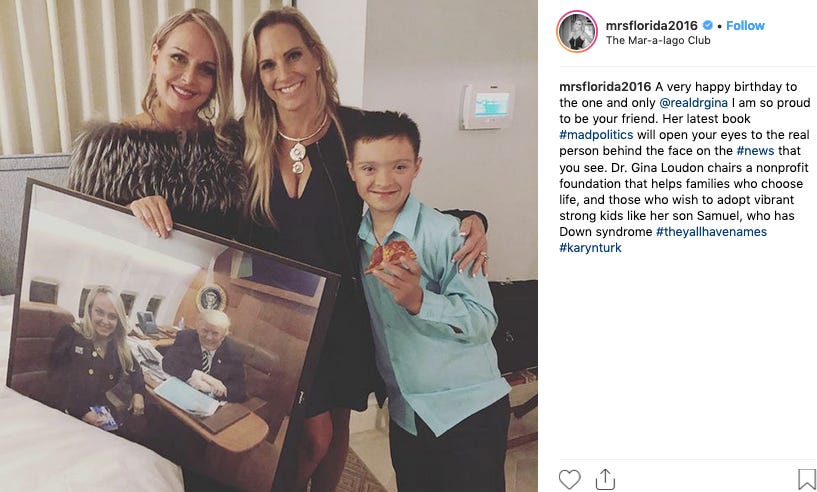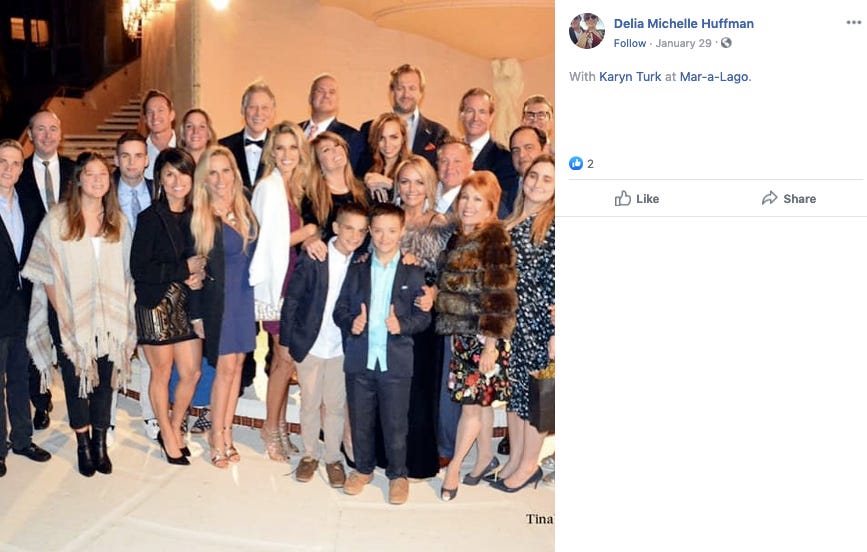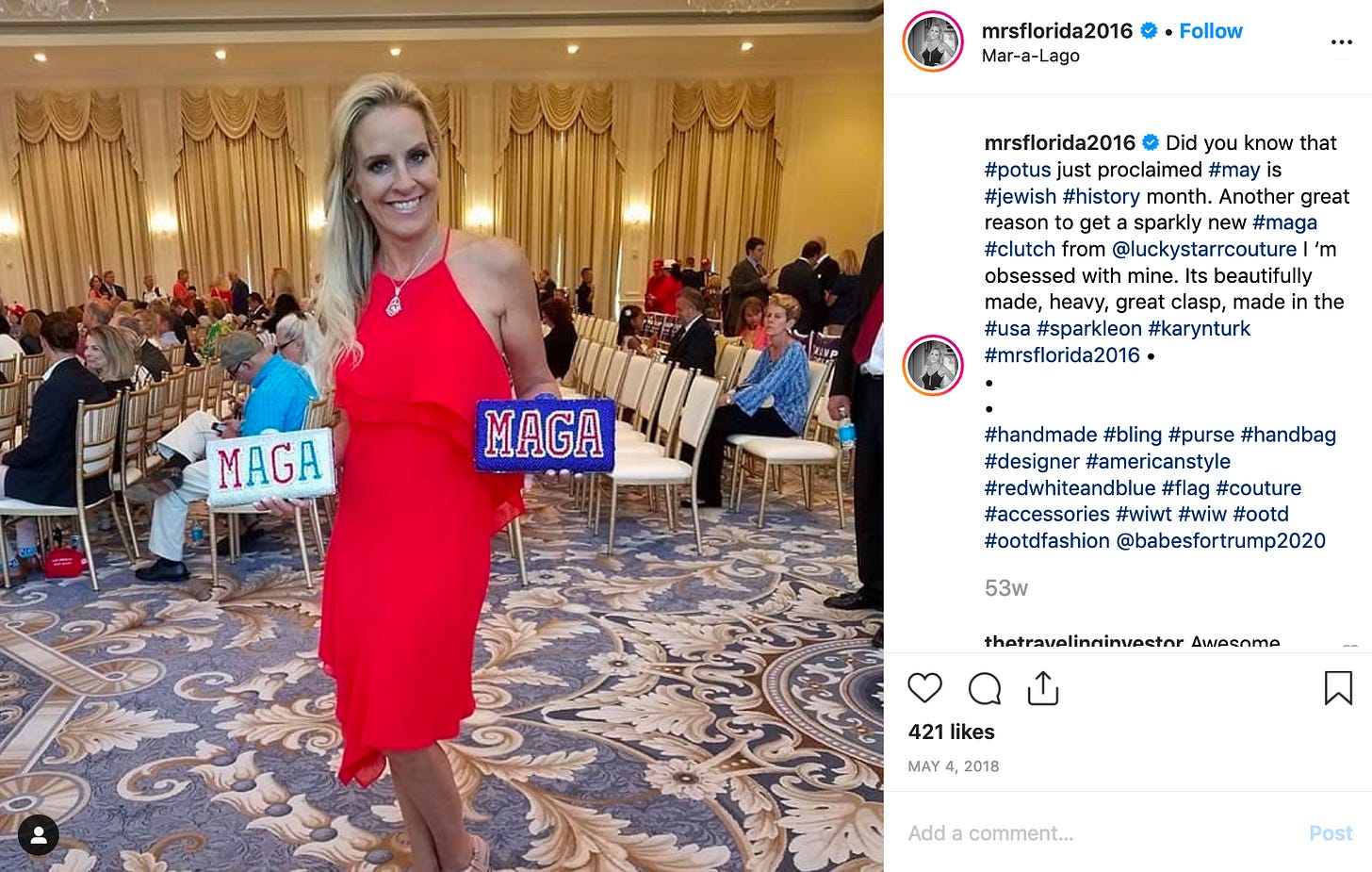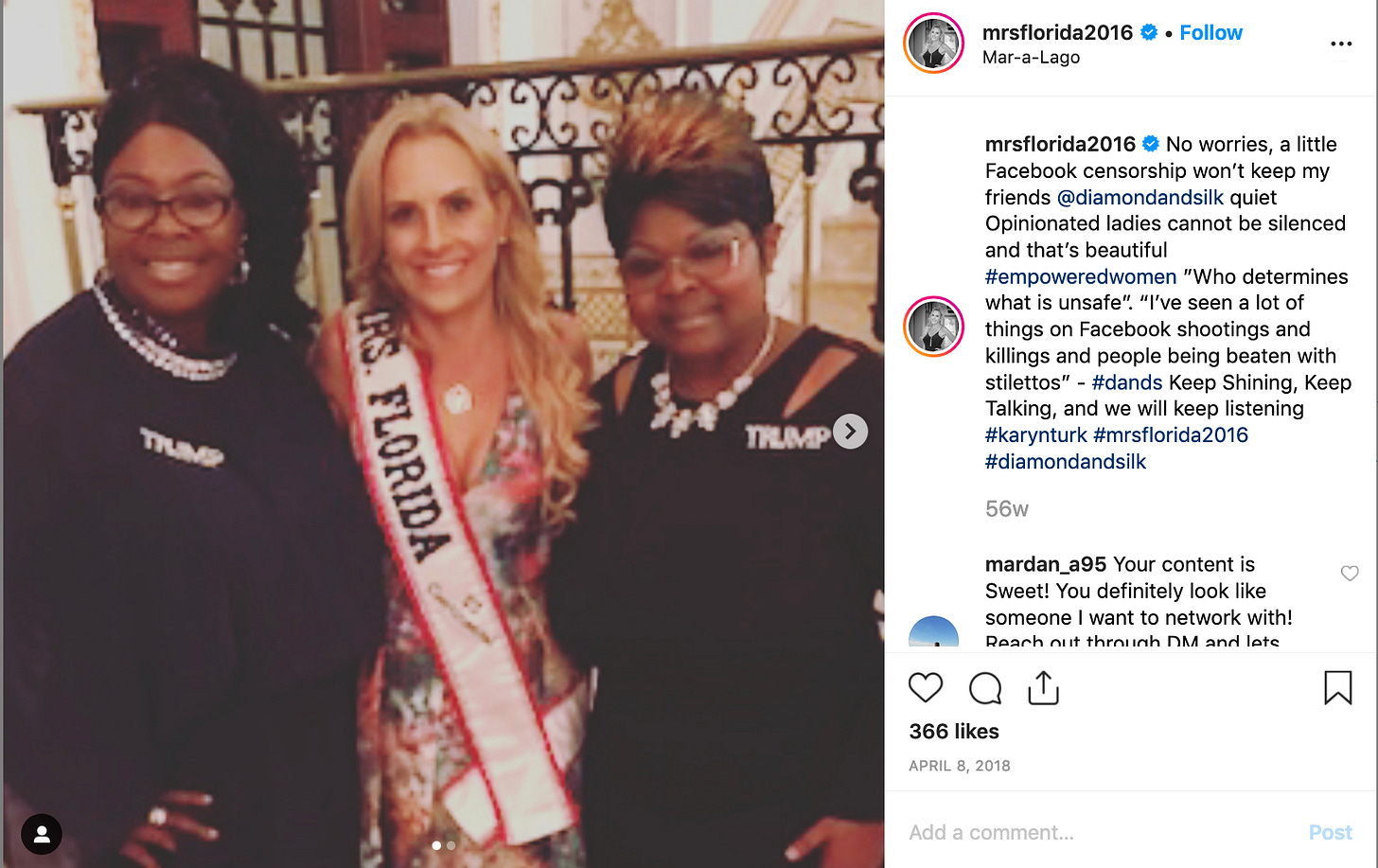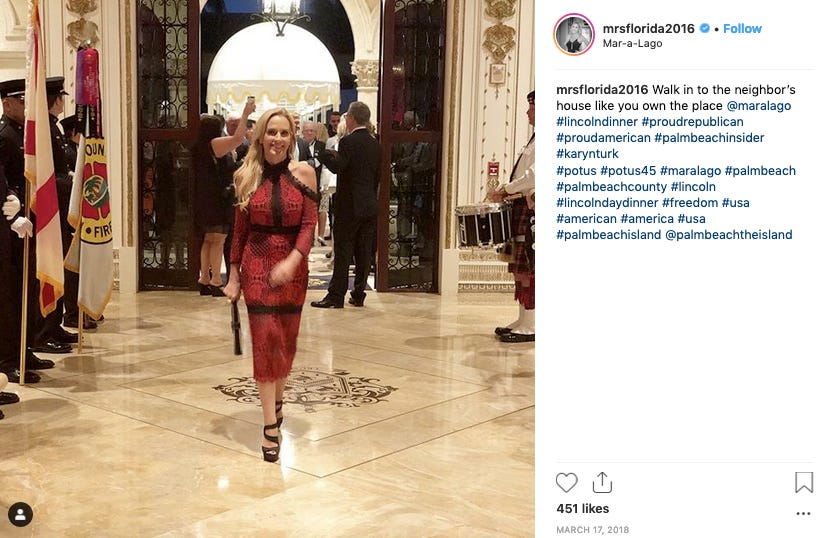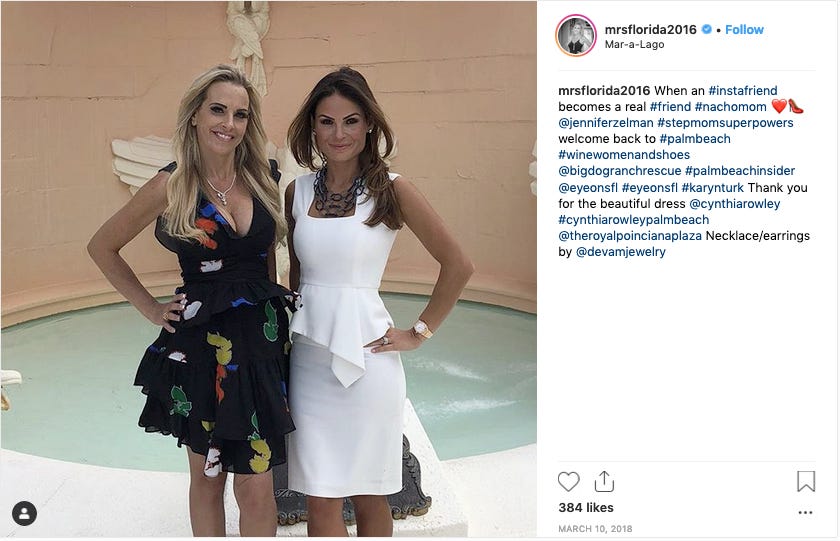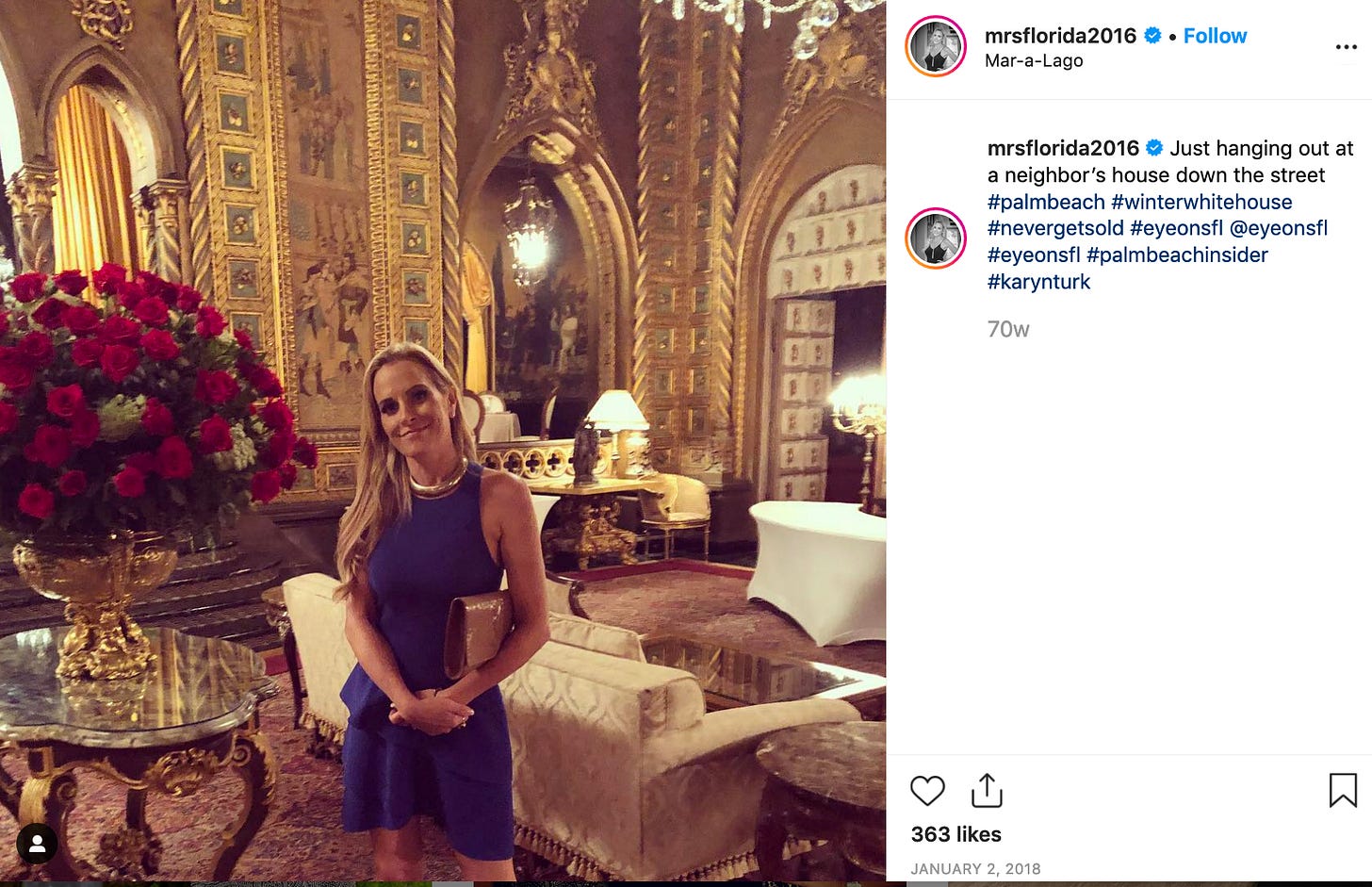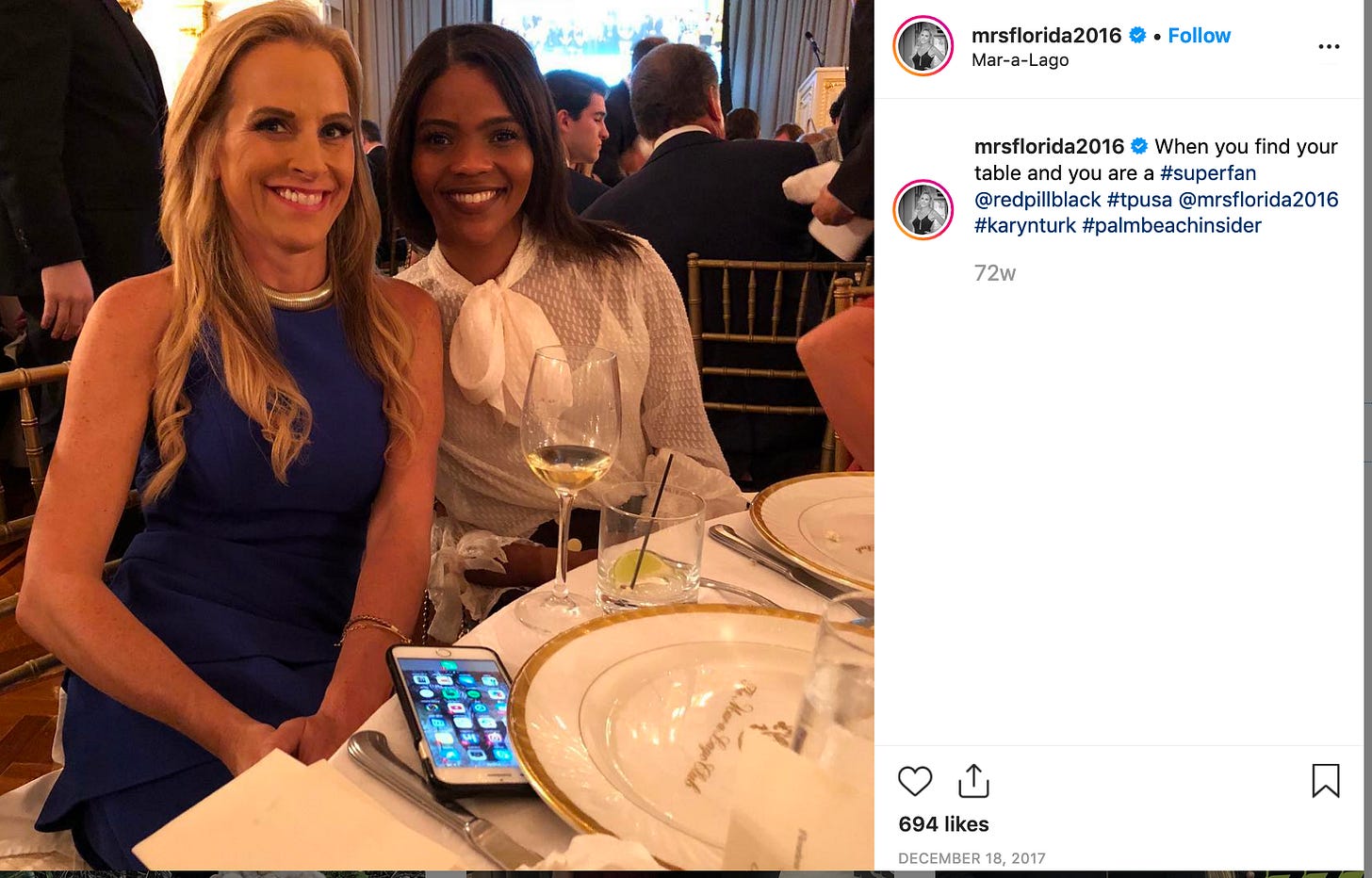 As for the Palm Beach Law Office's client, Turk said the FBI had not informed the firm that it was looking into whether or not Yang violated campaign-finance laws. [Update June 15, 2019: The original version of this story reported that Yang was the sole client of the Palm Beach Las Office; that's not the case. Rather she's that firm's only client involved in the allegations involving Chinese business people gaining access to President Trump's circle.]
"Although The Miami Herald is reporting that there's an FBI investigation, we have no reason to believe she's under investigation," she said. "And she's had no charges or anything filed against her. So the firm knows nothing about this FBI investigation."
Turk said that no one is paying Yang's legal fees on her behalf.
Turk and her husband ended up representing Yang because they ran in the same Republican social circles. "She's like one of these people I had talked to a couple of times but really didn't know, because there was kind of a language barrier," Turk said. "She's a very nice Chinese woman that I'd see out, we'd say hello, and we have lots of mutual friends and she seems to be doing great things for the community."
"When this whole thing went down, we were extremely fortunate that she picked up the phone and thought of us."
---
Support 1100 Pennsylvania: never-redacted reporting on President Trump's D.C. hotel
We now know most of what's in the Mueller report. It's time to focus on what happens inside the Trump Hotel D.C. and the president's other businesses. Original, in-depth reporting, of course, takes time. But it's making an impact—and you can help. If you're not an 1100 Pennsylvania member, please become one. Memberships are this newsletter's sole source of revenue. Select the red "Subscribe now" button and become a member by paying just $5 a month or $50 a year. Thank you.
---
Filing deadlines set for GSA's appeal regarding FBI headquarters documents
Yesterday a series of filing deadlines were set for the General Services Administration's appeal of a district court ruling that required GSA to turn over an unredacted document related to its cancelling plans to relocate FBI headquarters. For a rundown on the case—and why it's relevant to the Trump Hotel D.C.—read the May 3 edition of 1100 Pennsylvania.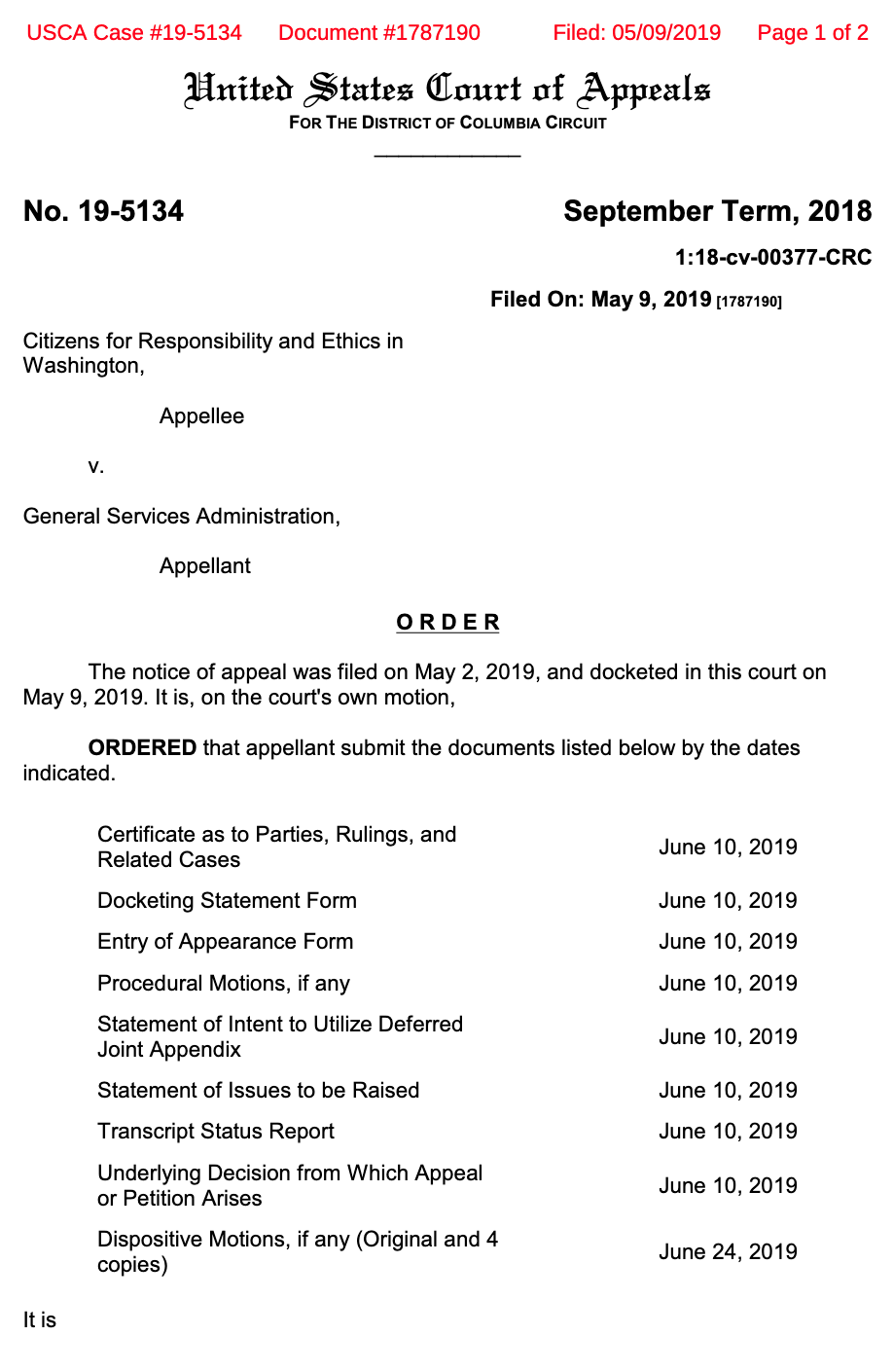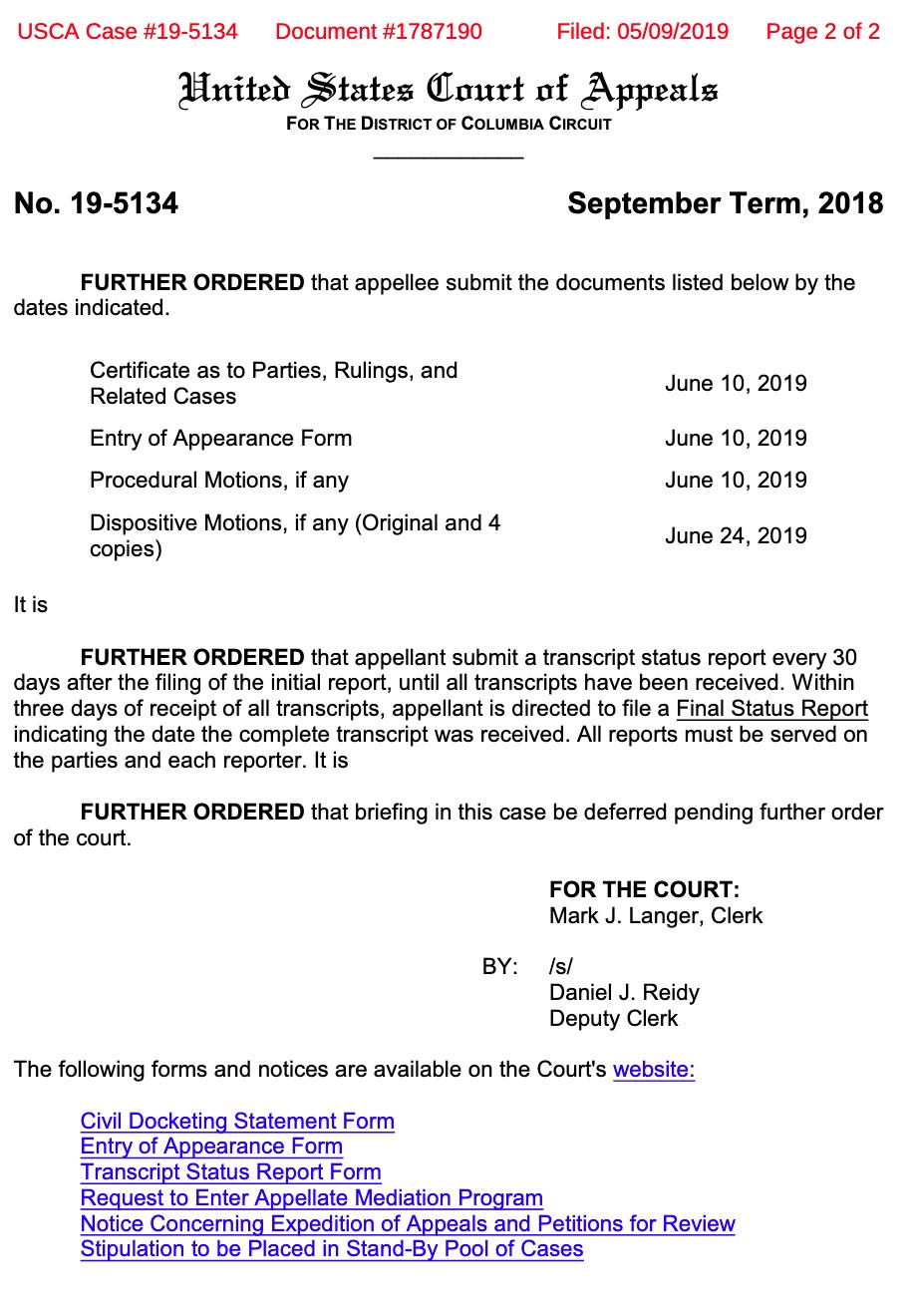 ---
Baptist Health South Florida celebrated nurses week at Doral
Baptist Health South Florida booked Trump National Doral for its two-day Robert B. Cole Distinguished Nursing Lecture Series this week. Doral has hosted the event previously.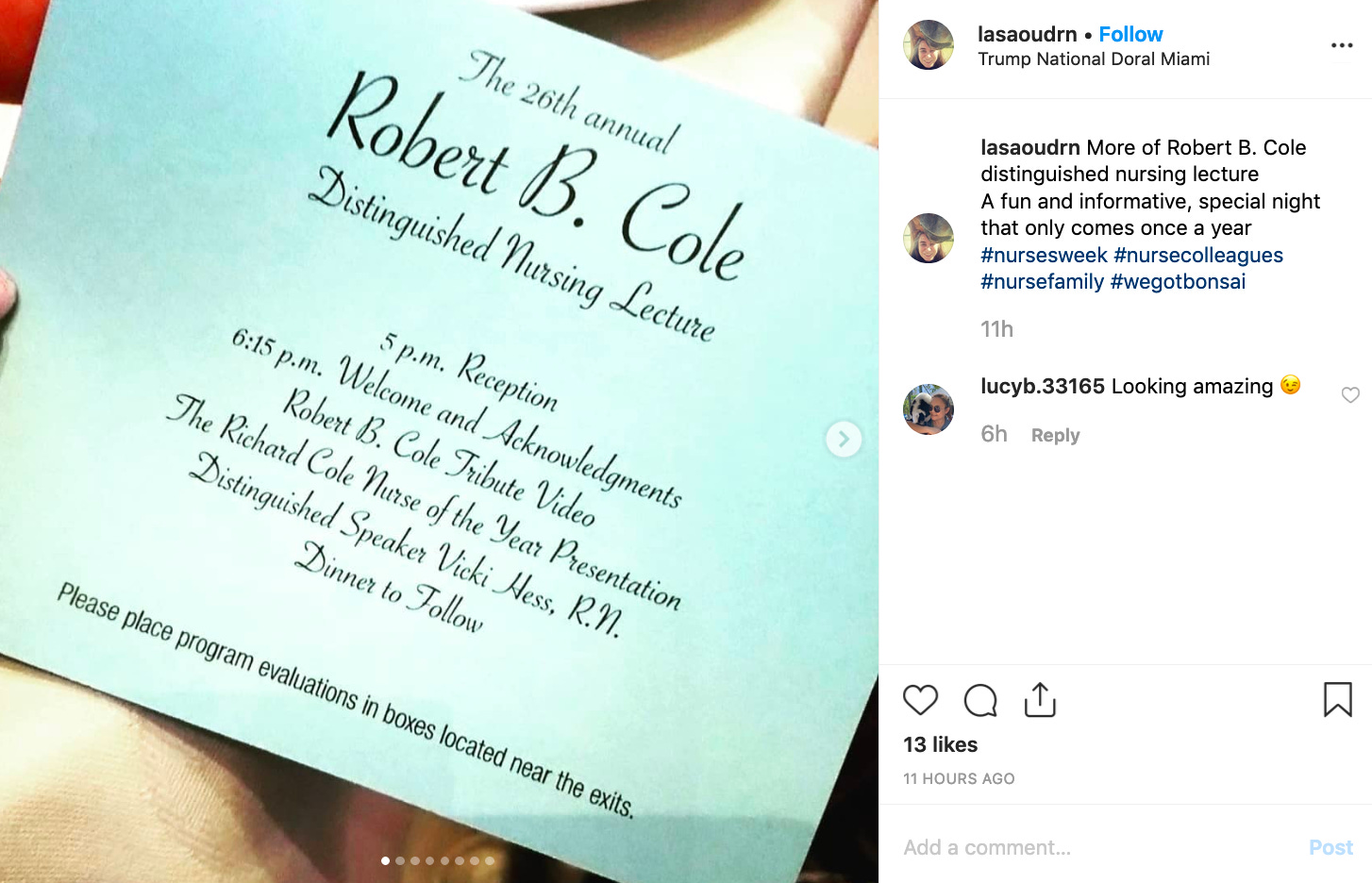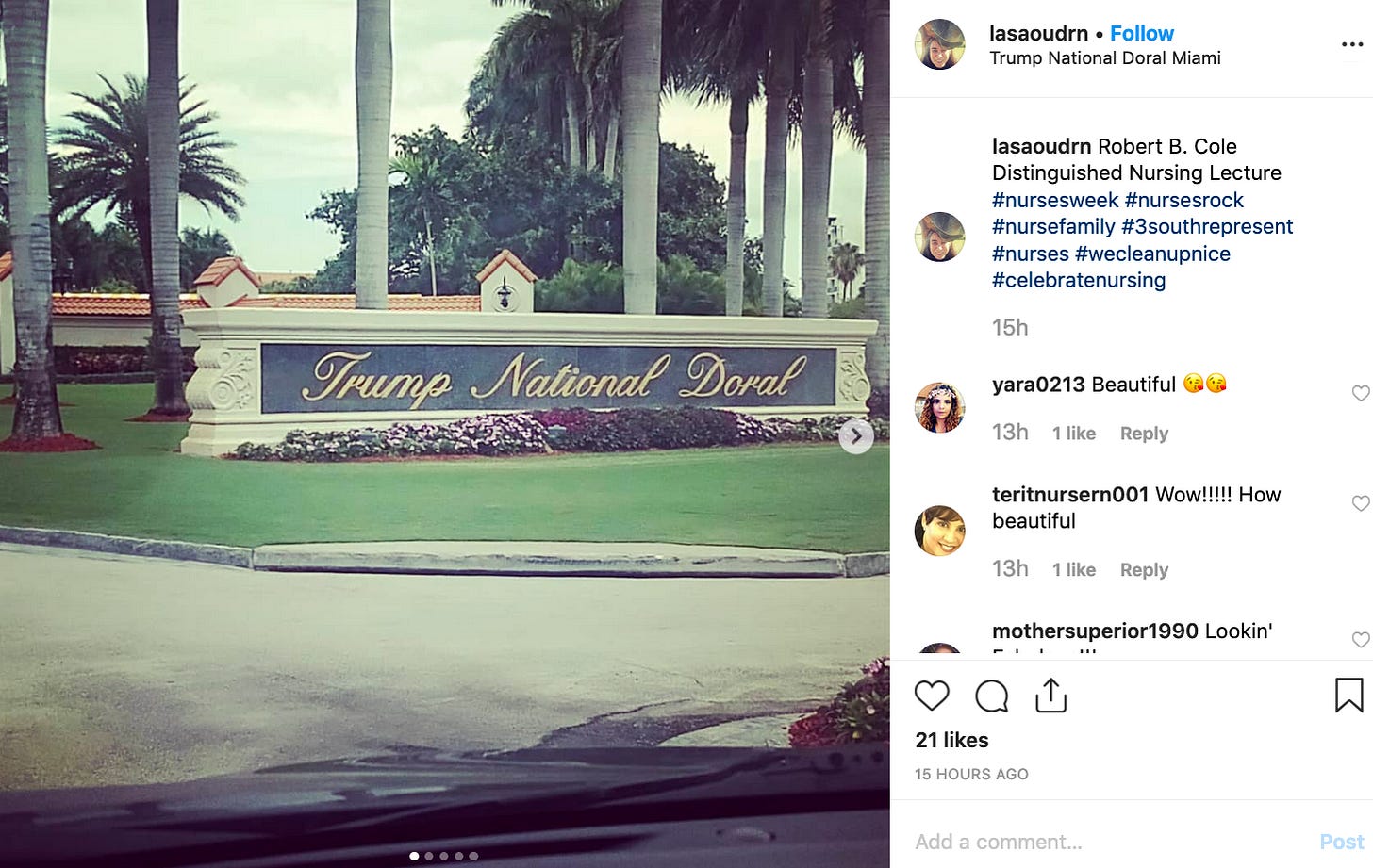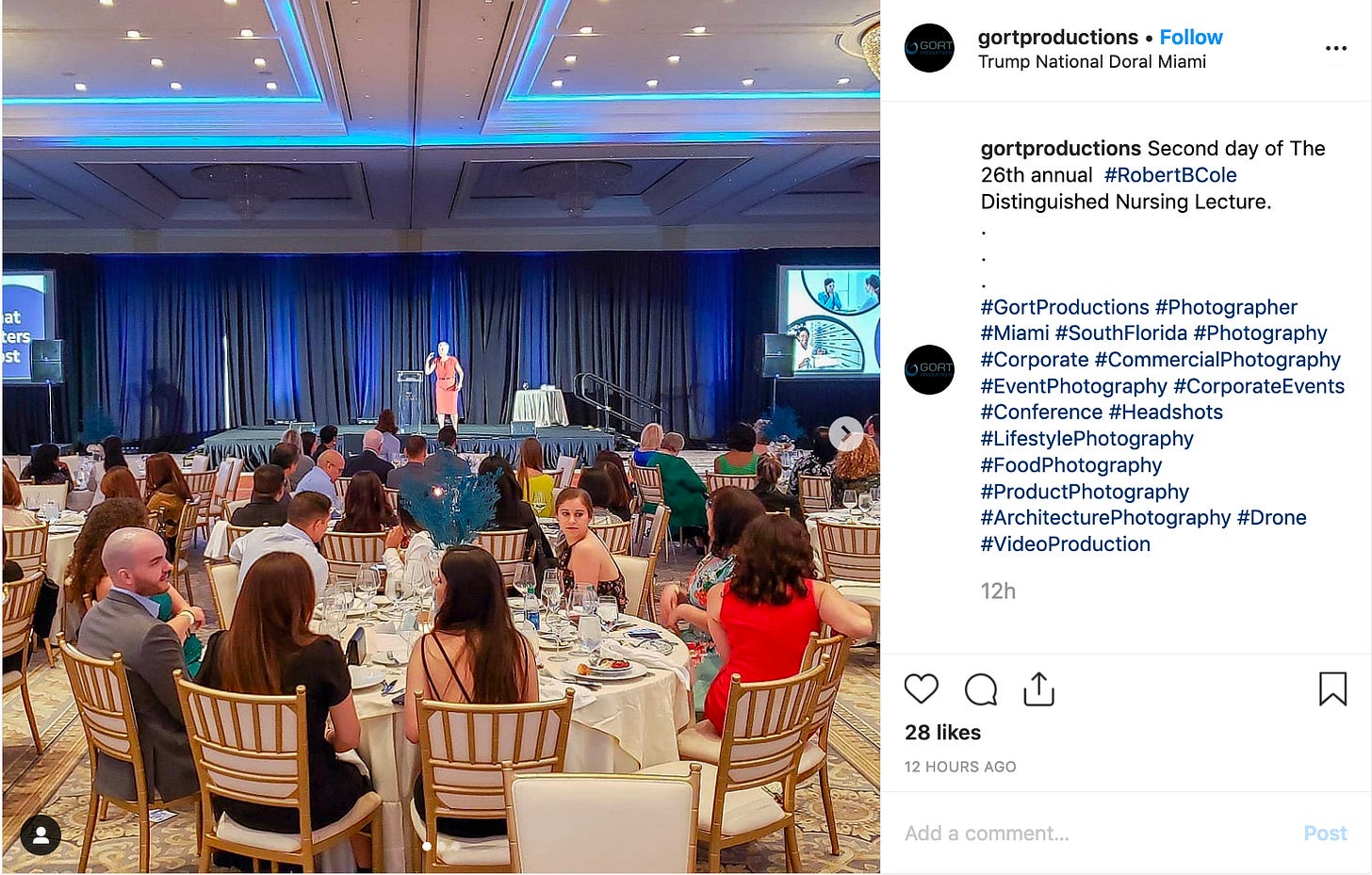 ---
Clarification
Wednesday afternoon's 1100 Pennsylvania reported that a group of clergy members had asked the D.C. Alcoholic Beverage Control Board not to renew the Trump Hotel D.C.'s liquor license. We neglected to mention that some judges also are involved in that request. We regret the omission and have updated the web version of the newsletter.
---
Notable sightings
Rudy and Fox News's Gina Loudon—two Trump business regulars—smoked cigars on a balcony. Apparently Giuliani is there so often, it's now called The Rudy Room.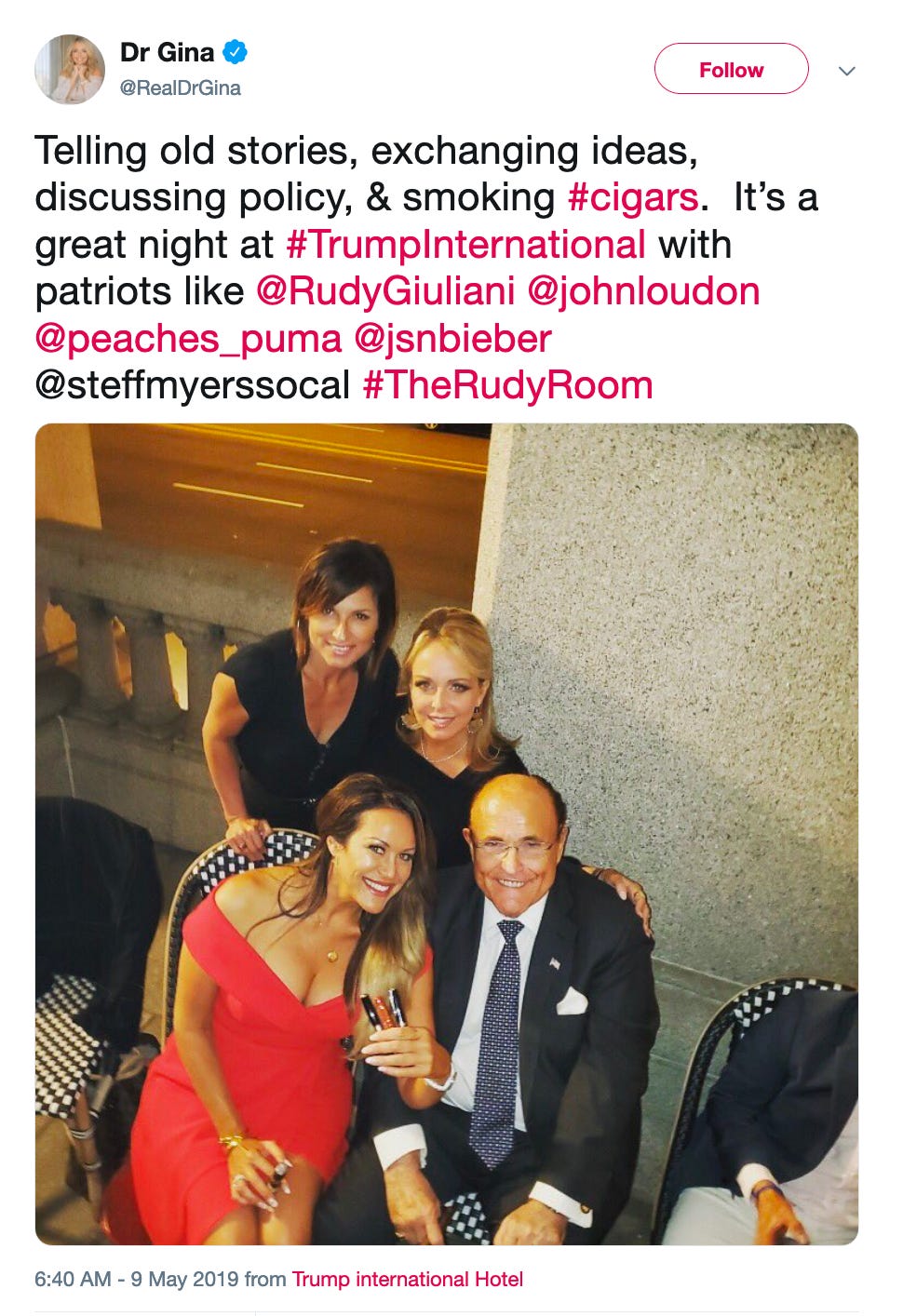 Rep. Dan Crenshaw (R–TX) was back at a Trump property, as were hotel regulars Fox News pundit and Trump campaign advisor Harlan Hill and political publicist Sarah Selip. Crenshaw posted with several other Trump patrons too. "So awesome." (The gala mentioned in the captions took place at a different venue.)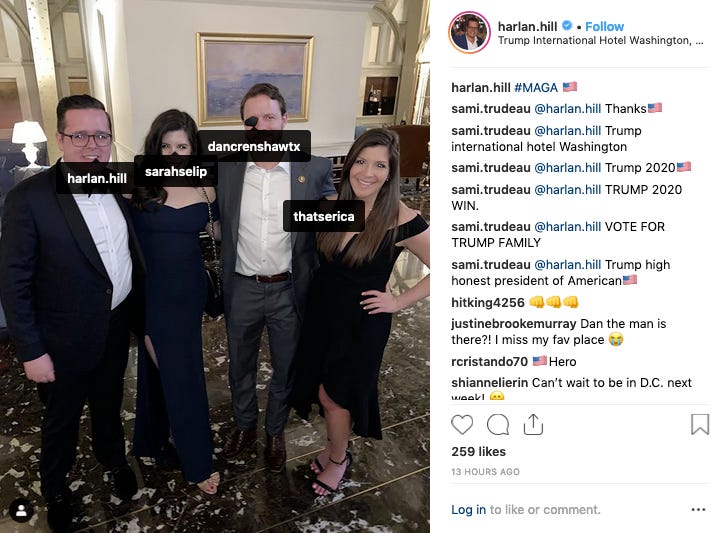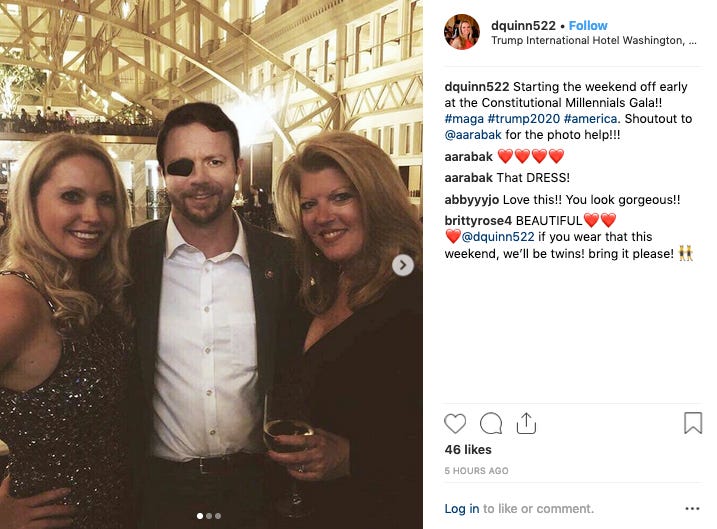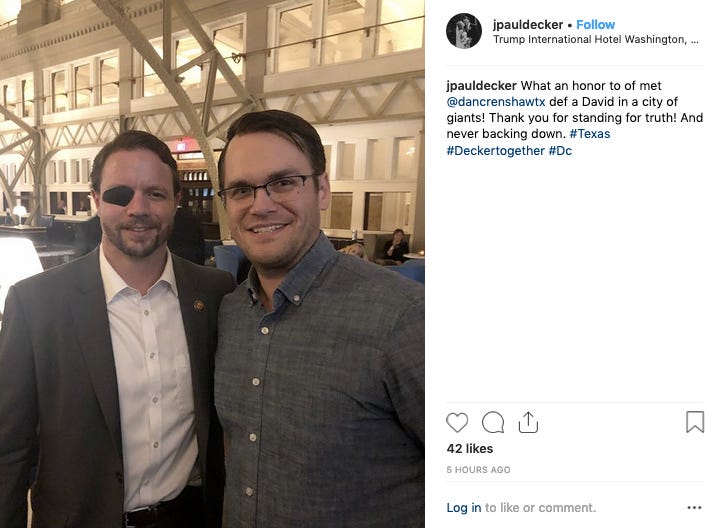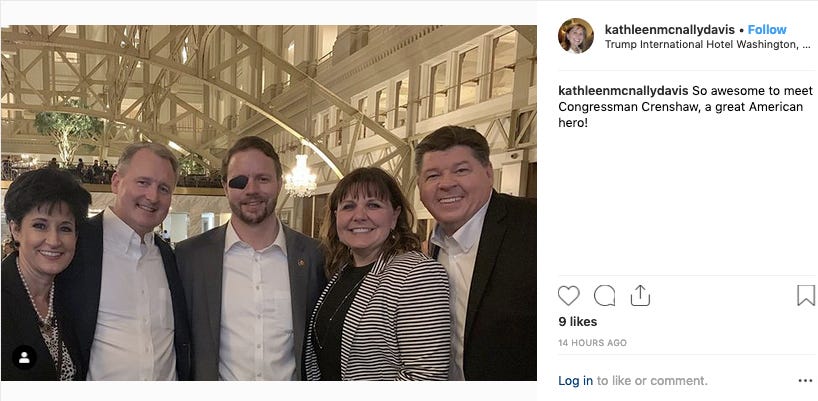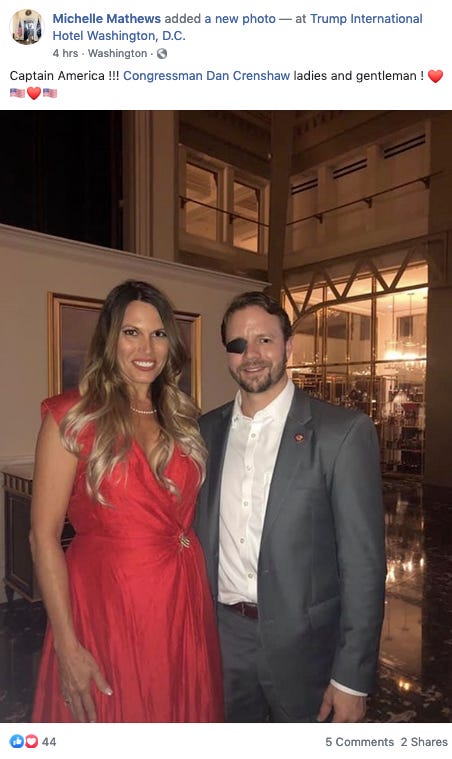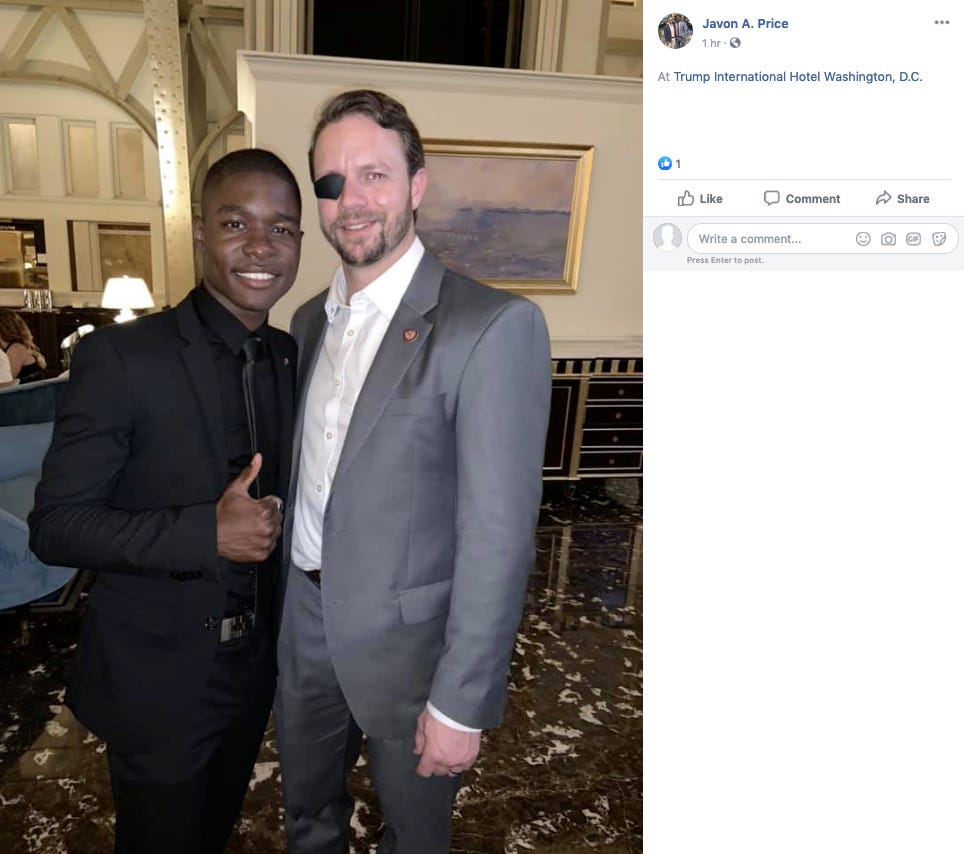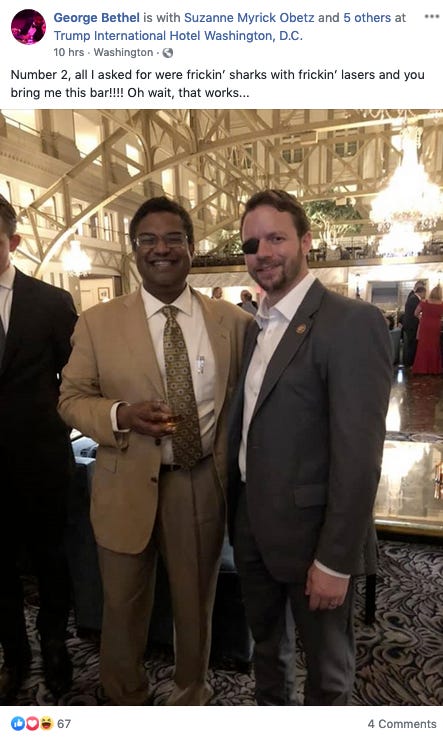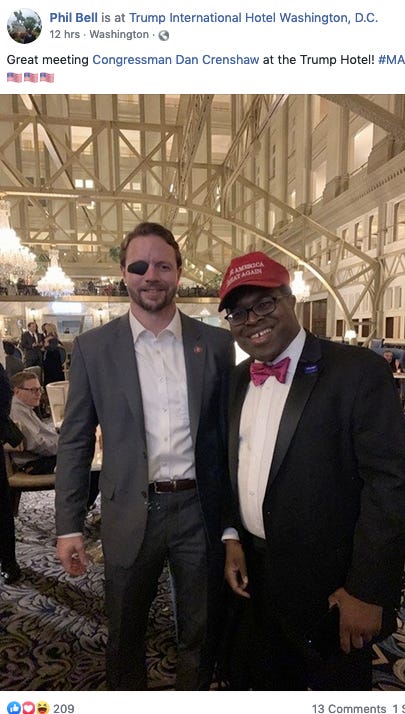 Former White House staffer Sebastian Gorka also was back at the Trump Hotel D.C. As was his car.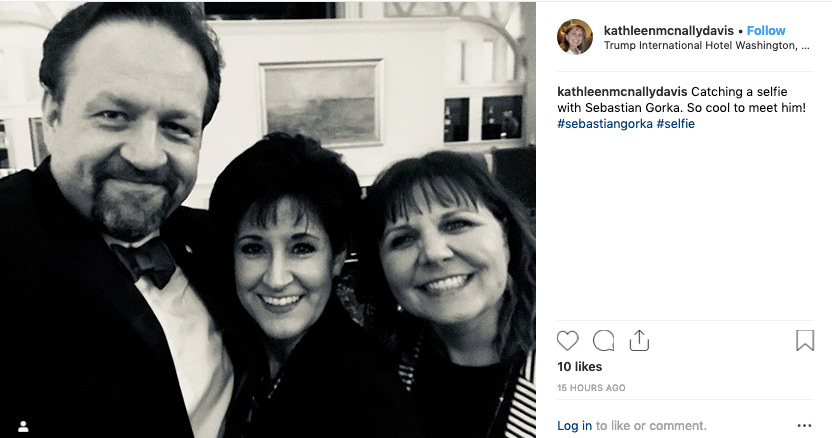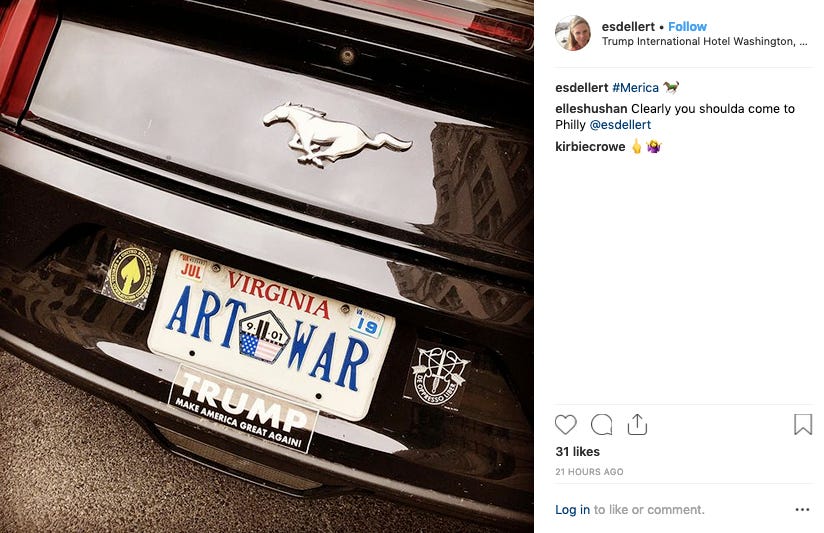 Exploratory candidate for California lieutenant governor in 2022, Errol Webber fortuitously saw Trump campaign manager Brad Parscale and Blaze TV's Eric Bolling.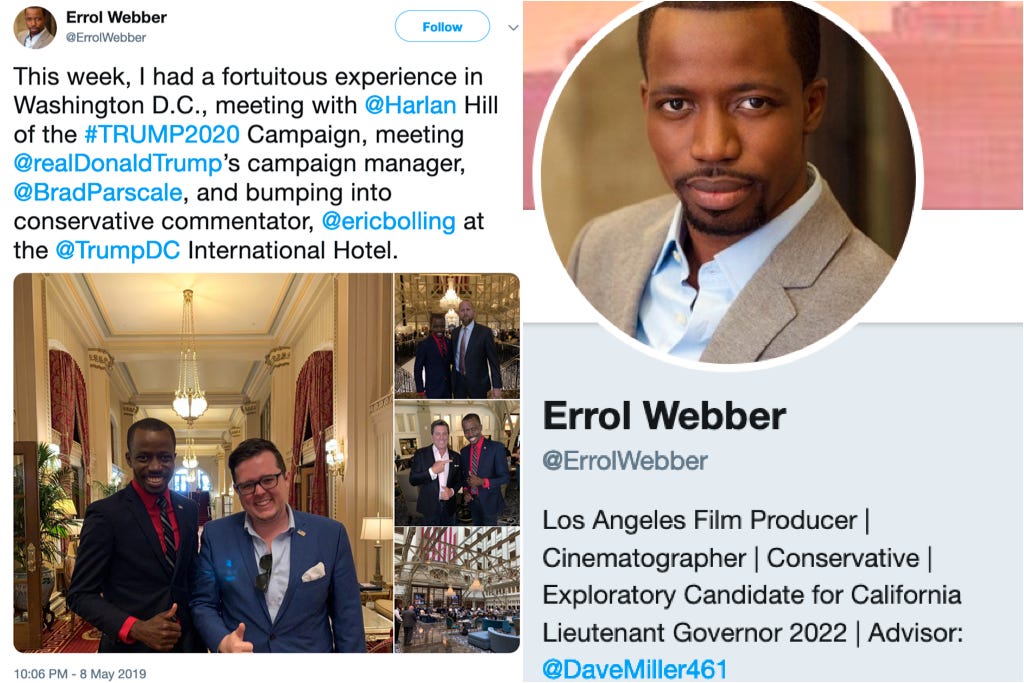 Judson Sapp, the CEO of W.J. Sapp Railroad Contractor who tried to primary Rep. Ted Yoho (R–FL), is honored to be a fundraiser for the Trump campaign. Wednesday he shared this photo of him meeting the president at the president's private club.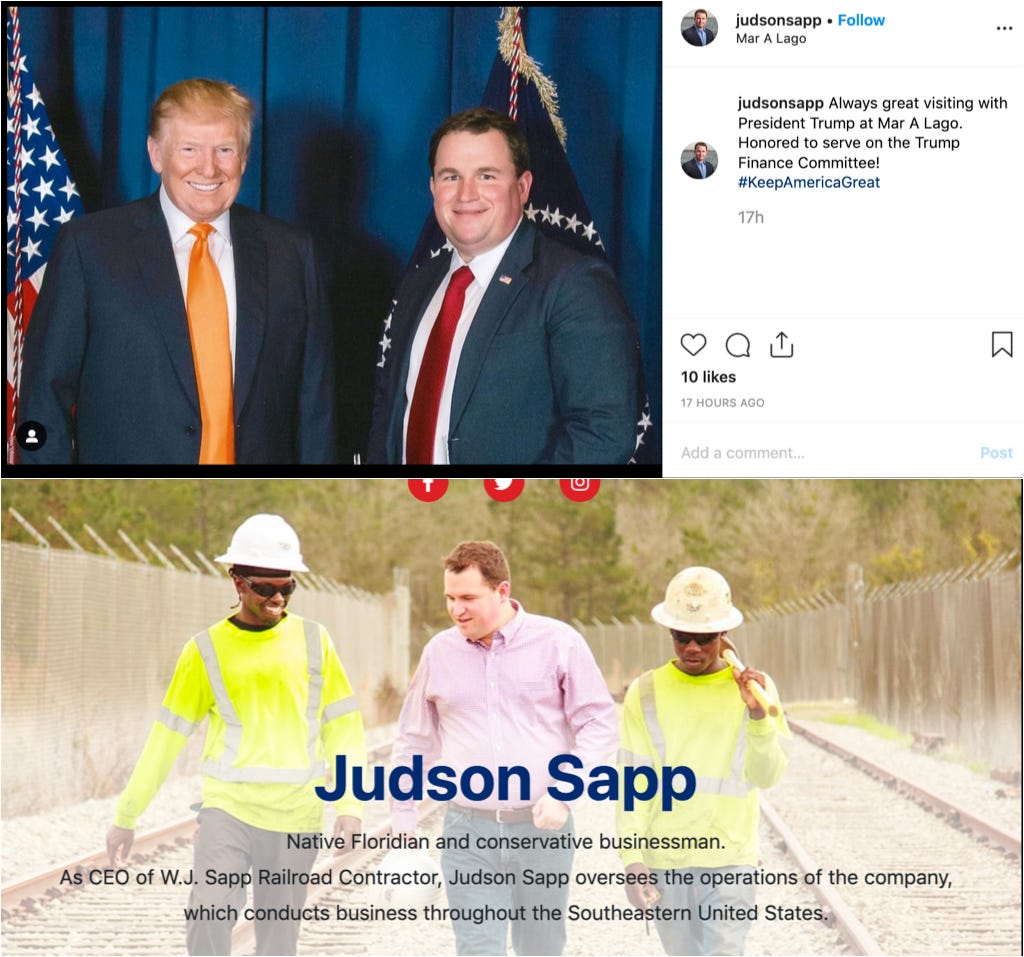 Trump First Tuesdays regular and partner at lobbying firm Barnes & Thornburg, John Willding, promoted the president's hotel's six-star award. That six-star diamond award comes was bestowed by the American Academy of Hospitality Sciences, a group headed by Trump associate/felon Joseph "Joey No Socks" Cinque. Most North American properties it honors are Trump's (or were—the website still lists Trump SoHo). And Anthony Scaramucci and two Trump Hotels execs are listed as board members. "🏆🏆🏆"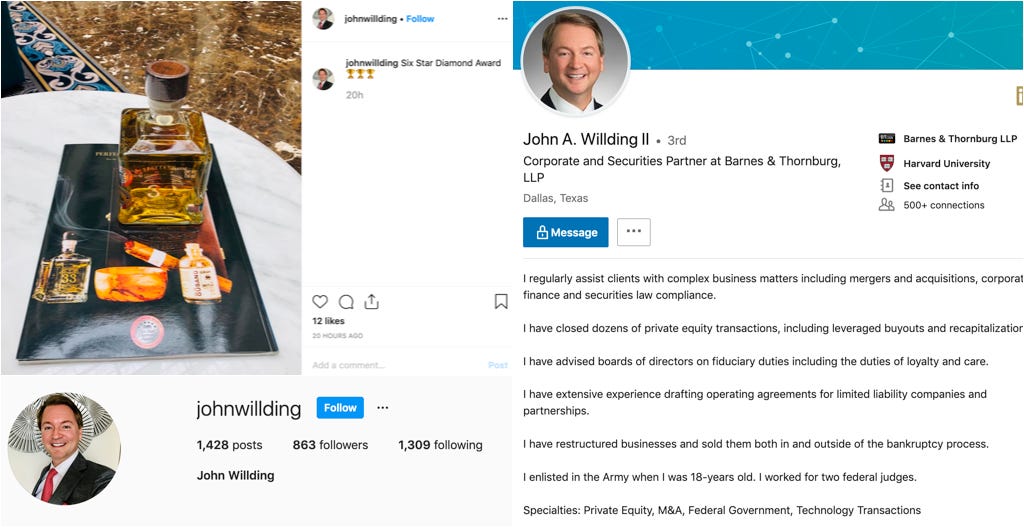 Avenue Strategies "understands what it takes to navigate the challenging political and policy landscape." Its chief operations, Ryan Newsome, had a good night at the president's hotel. Also pictured in one of the photos: Blaze TV's Eric Bolling.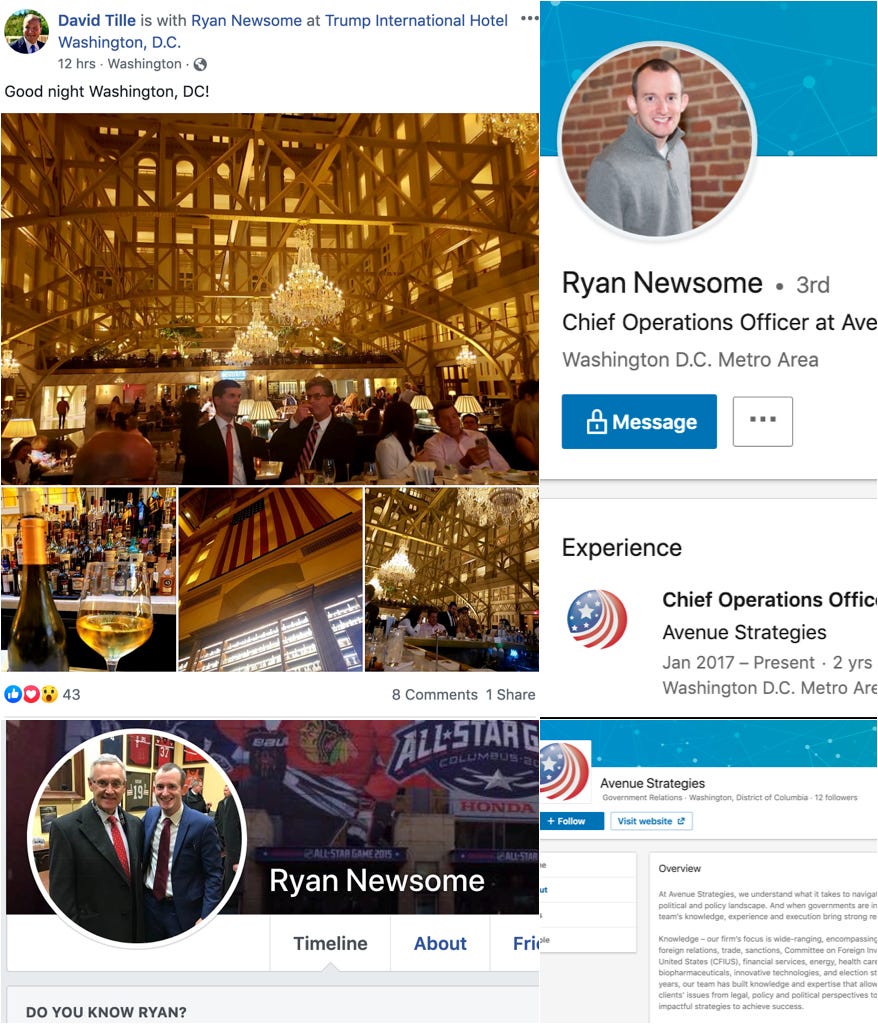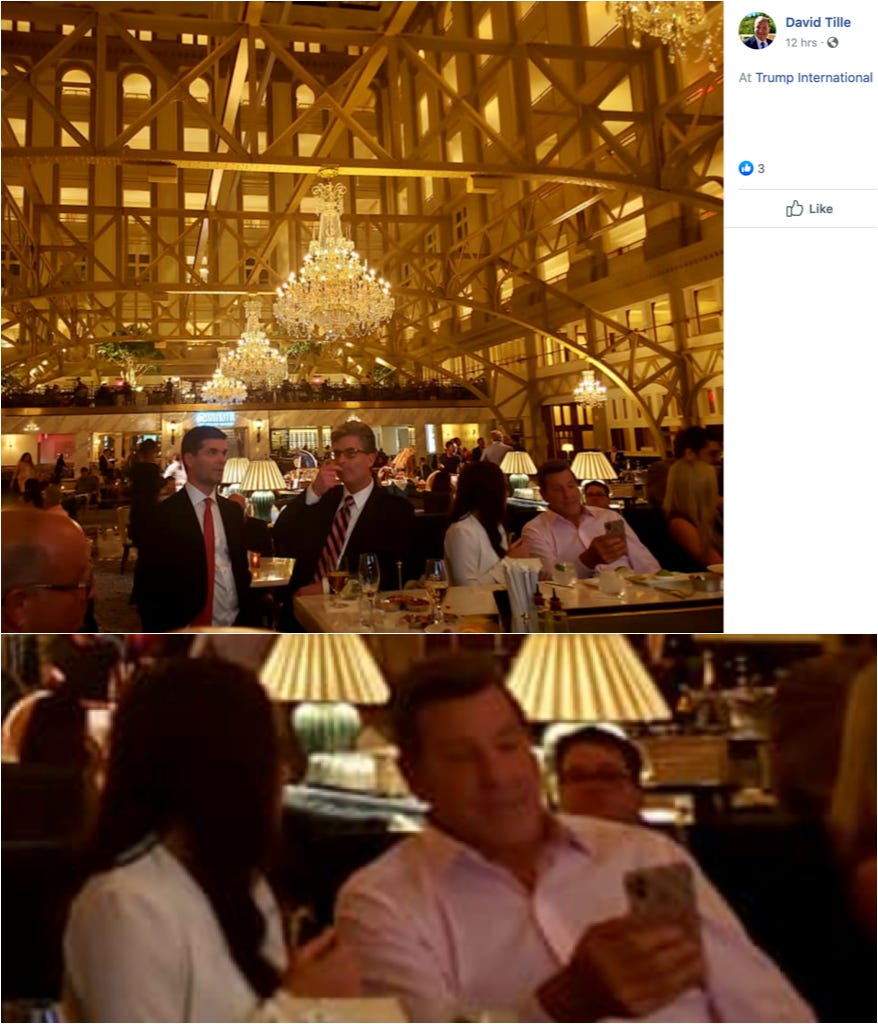 Nick Peric and Michael B. Alfaro participated in the Trump Victory Finance Committee kickoff for high-dollar bundlers at the Trump Hotel D.C. on May 7.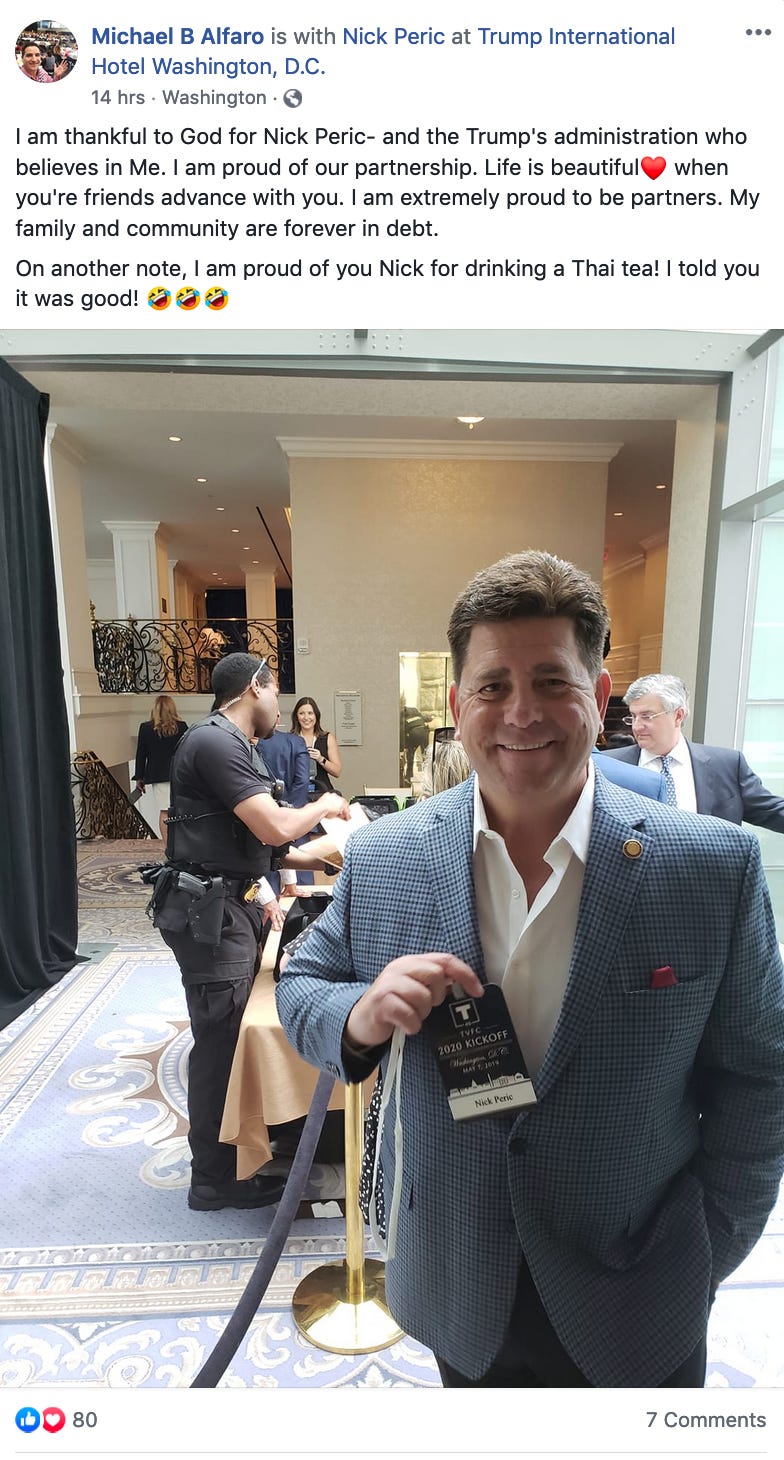 The Hill's Buck Sexton reportedly "likes women in red."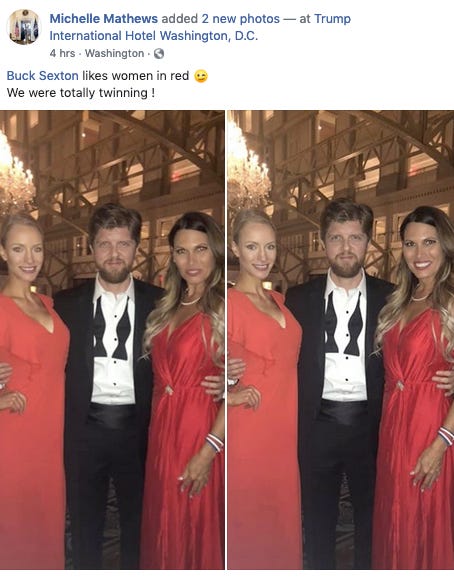 A pastor was honored to meet televangelist Jentezen Franklin in the hotel's lobby.
U.S. Marine Devon Irribarren was on a floor of the commander-in-chief's hotel that requires a room key to access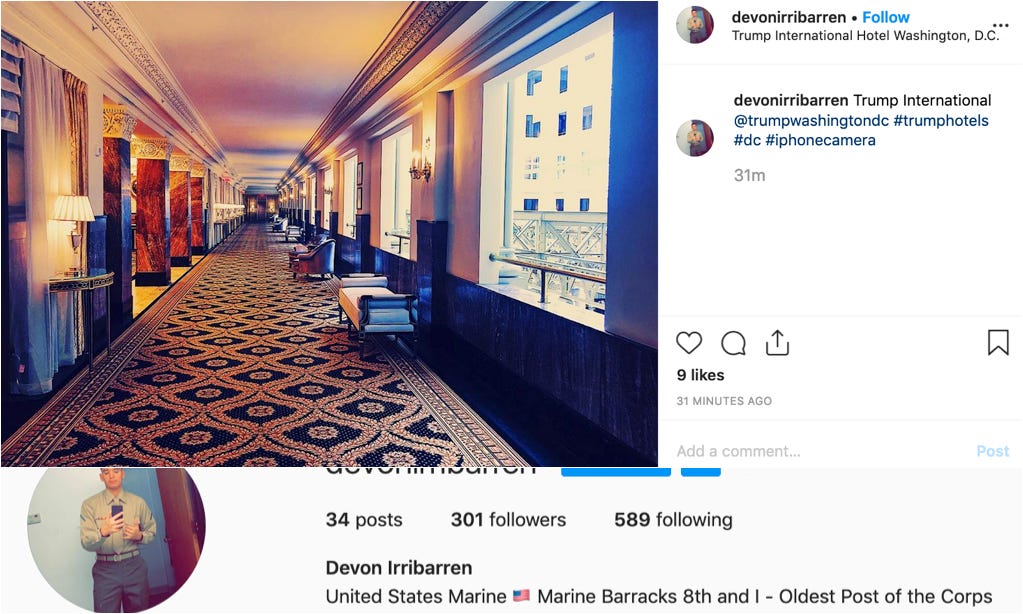 2019 RNC Rising Star and executive team staffer at the office of the Utah attorney general, Becca Olea, posed for another plandid.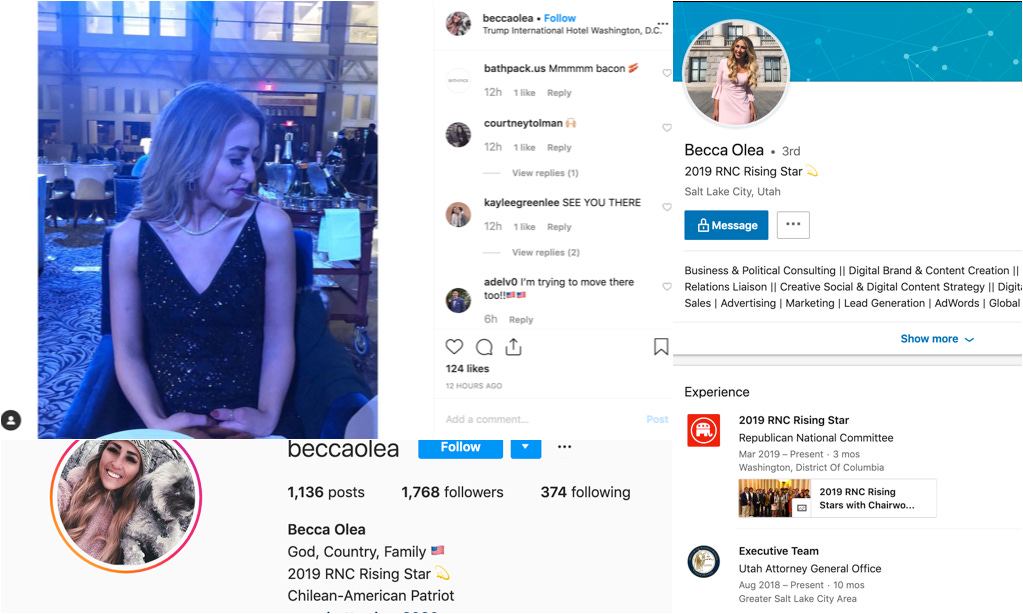 A former advisor to both Nigel Farage and Steve Bannon, Raheem Kassam was back.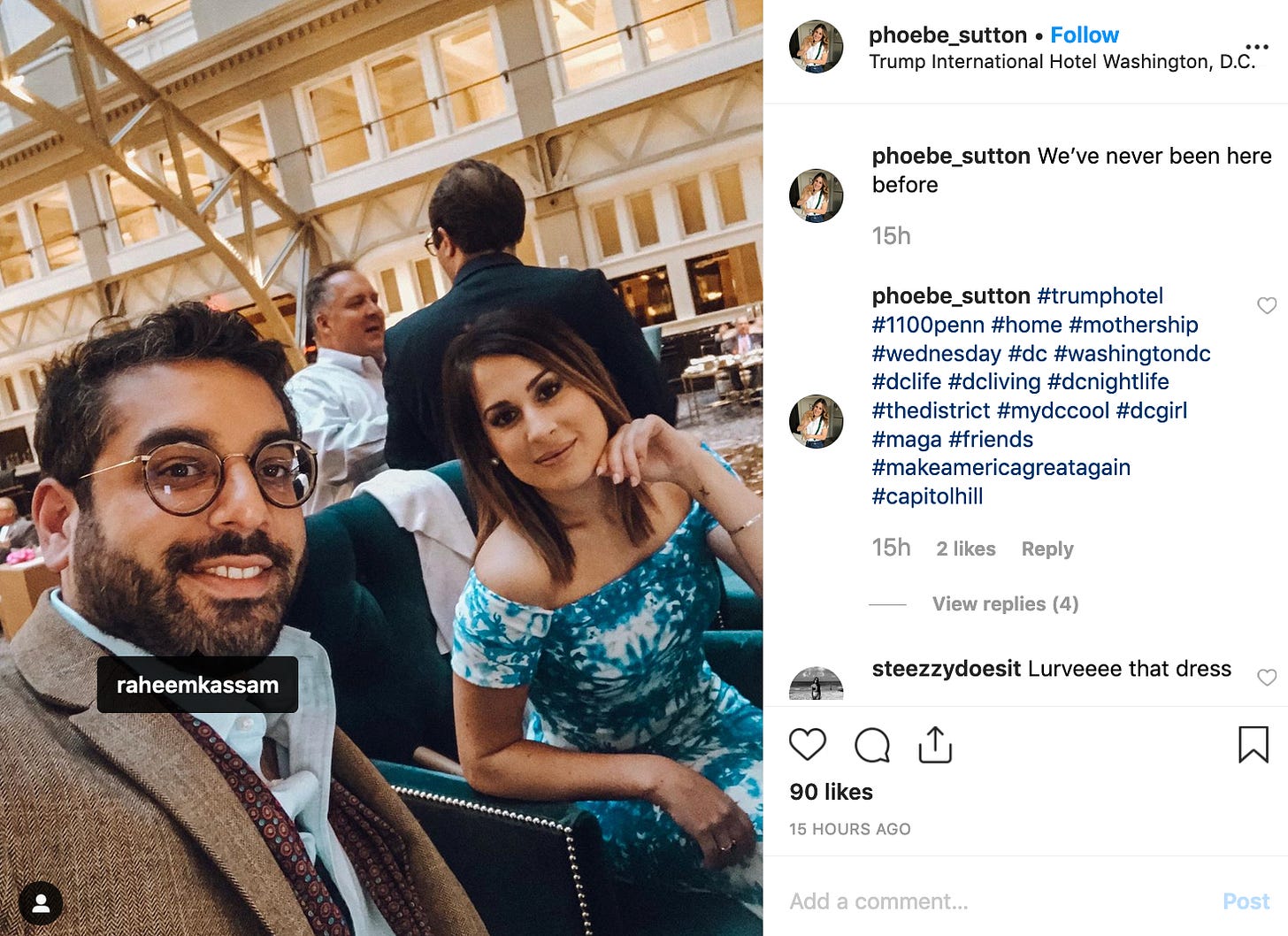 Designer of the MAGA dress, Andre Soriano, found inspiration from Christianne' L. Allen, "founder of Constitutional Millennials, president at D.C. Digital, and former intern and spokeswoman to the 2016 Donald J. Trump Presidential Campaign.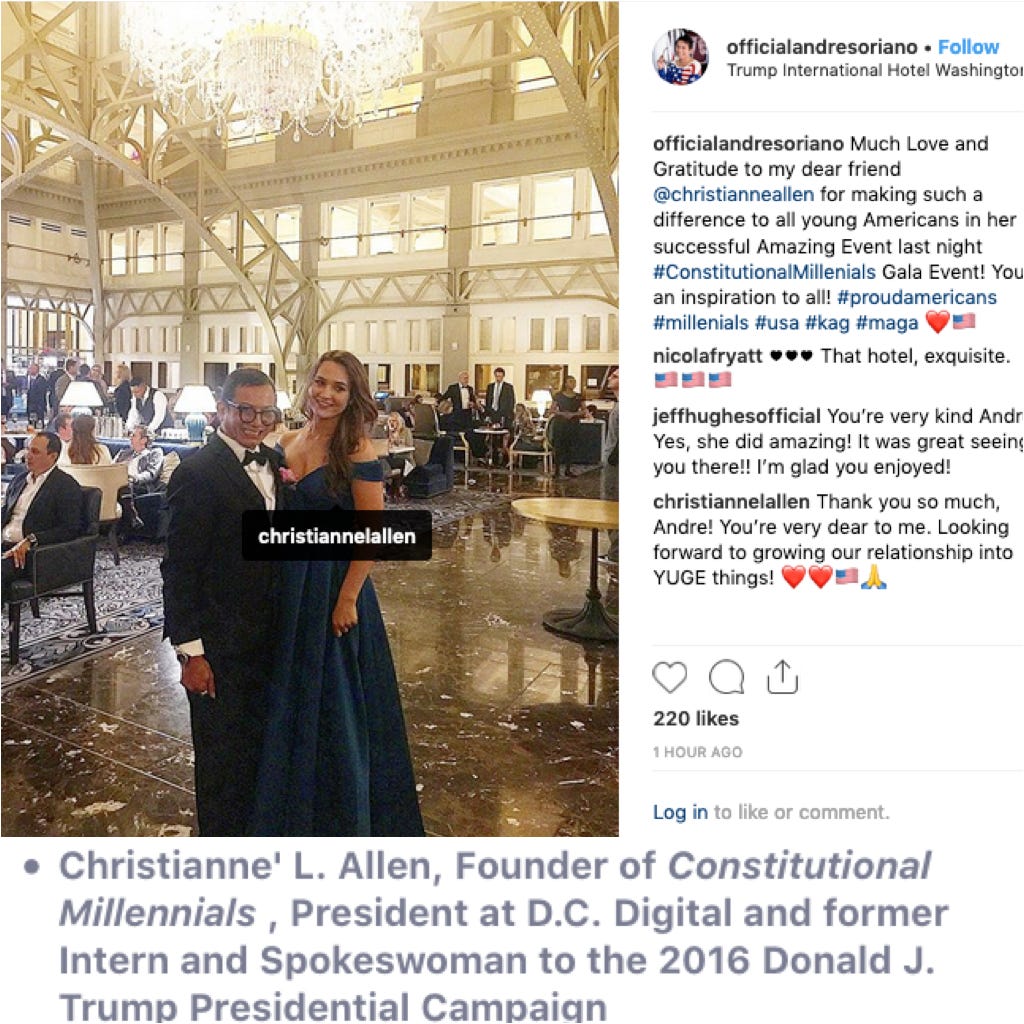 At Trump Bedminster, a lawyer co-hosted "a #KentuckyDerby Event, tying in longstanding #AmericanTraditions with the celebration of both #Poland's and #Korea's centennial milestone of business, growth, and collaboration with the United States."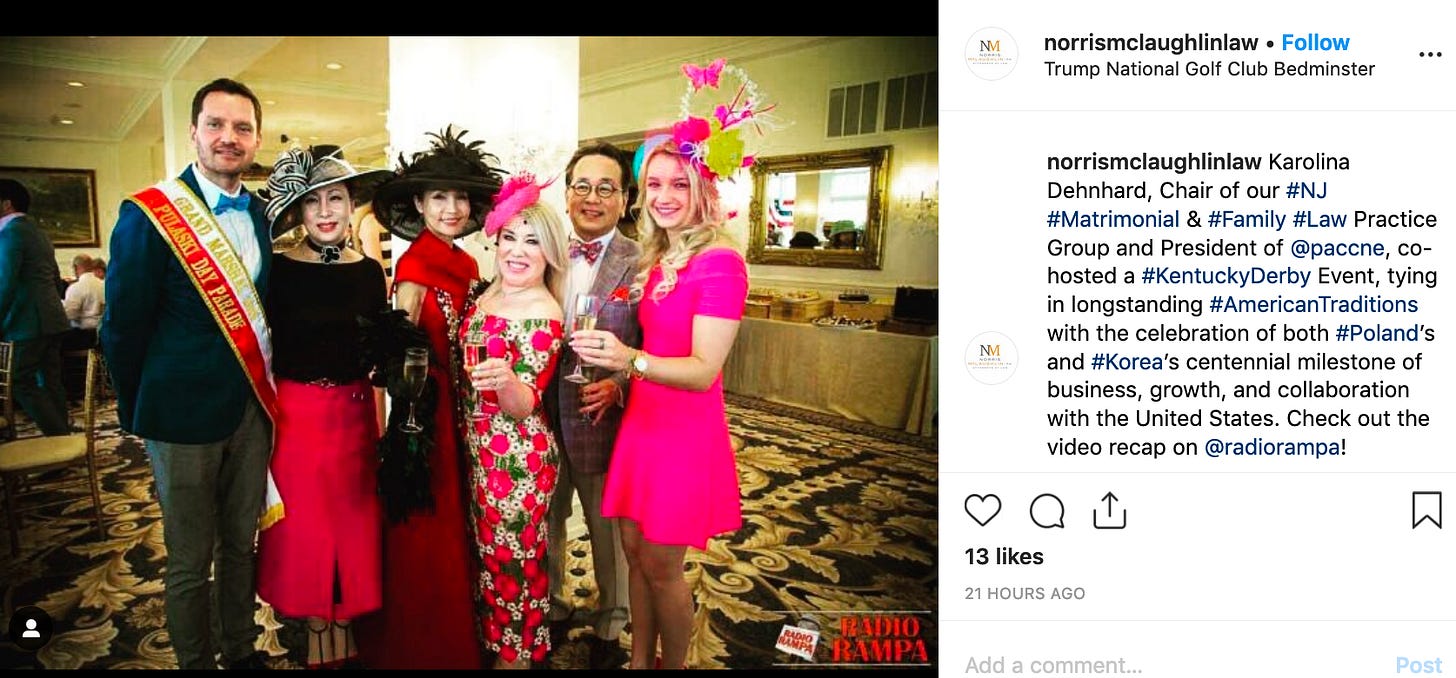 Hotel managing director Mickael Damelincourt wants you to be scared of Ernie Wojciech, the hotel's director of security. The day before Damelincourt's tweet, a gun with a "high-capacity magazine" was confiscated from a car at the hotel—but only after the owner told the Secret Service about it when entering an event.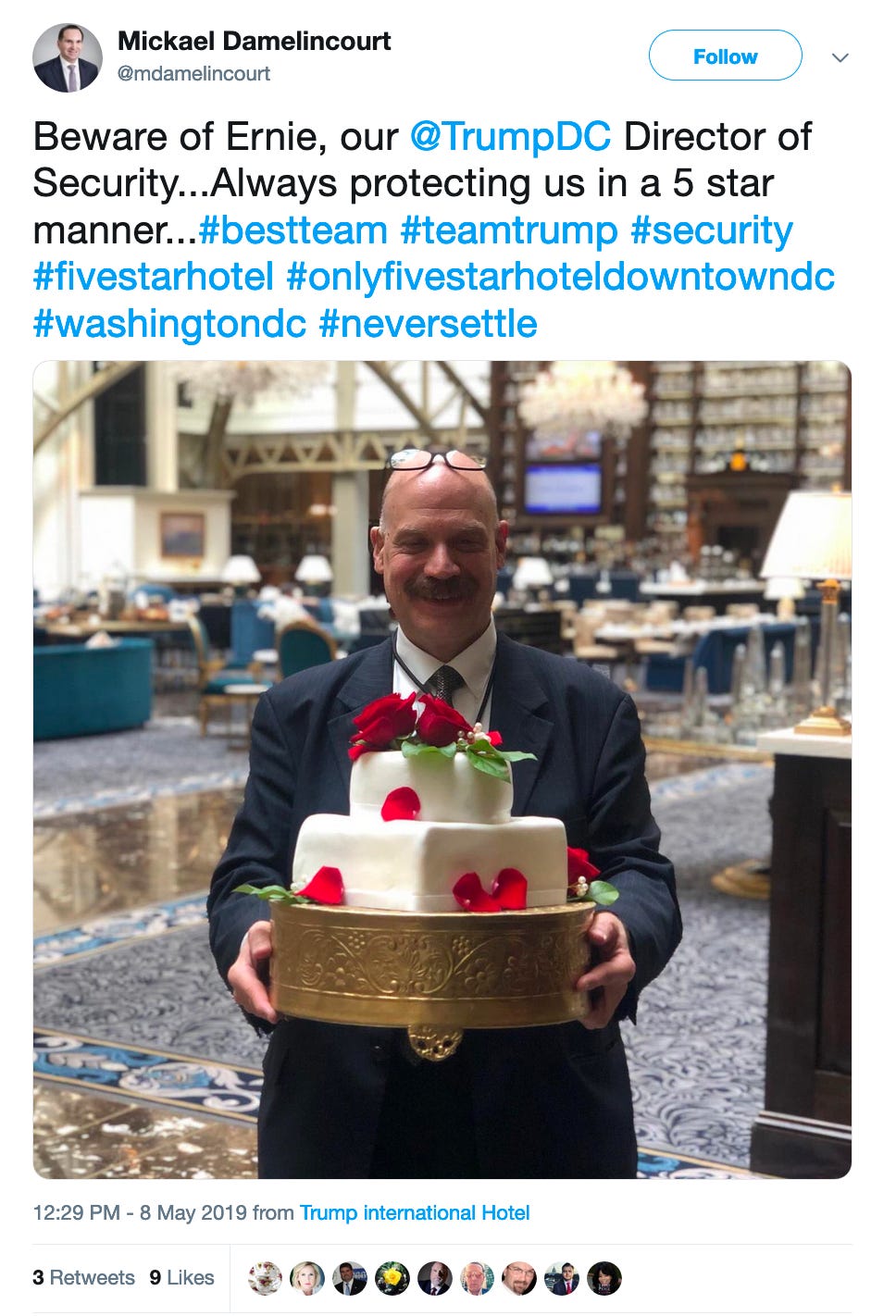 ---
Other Trump Organization news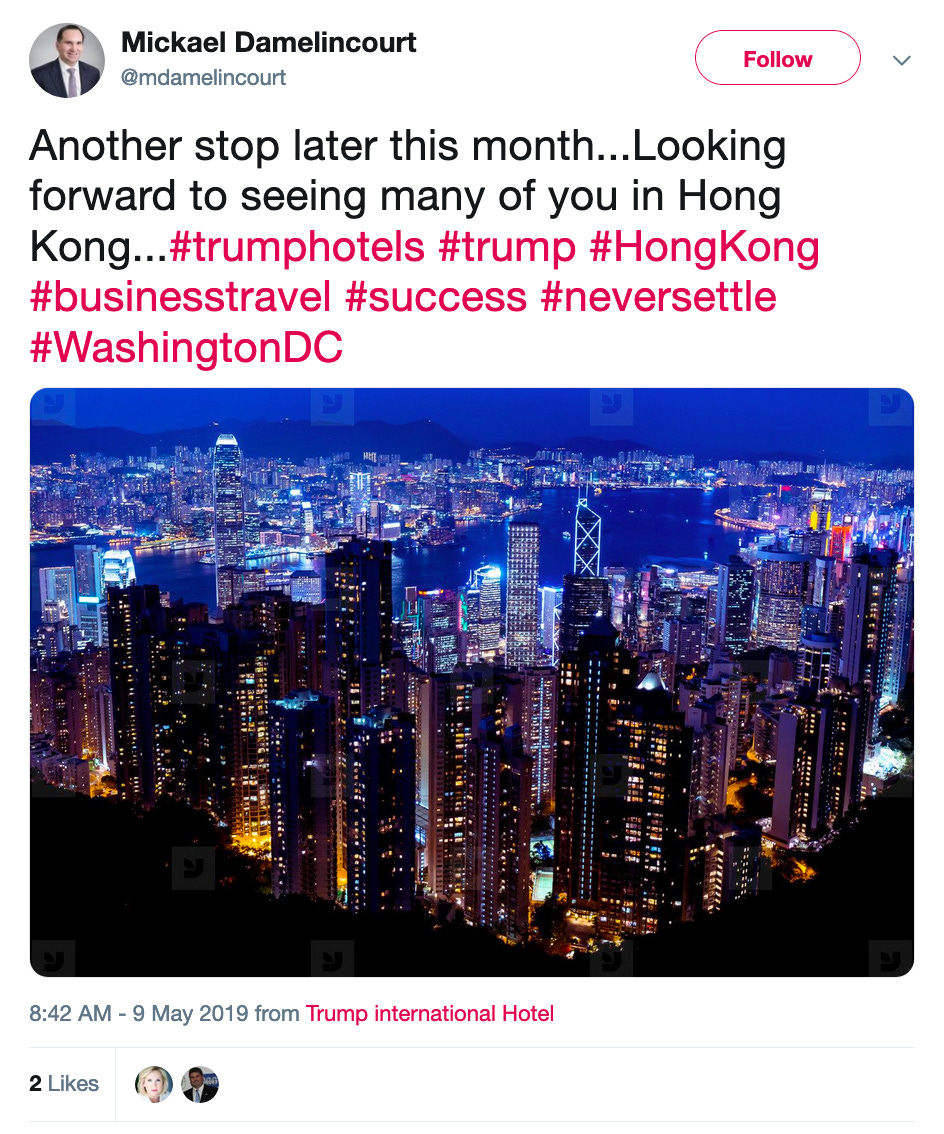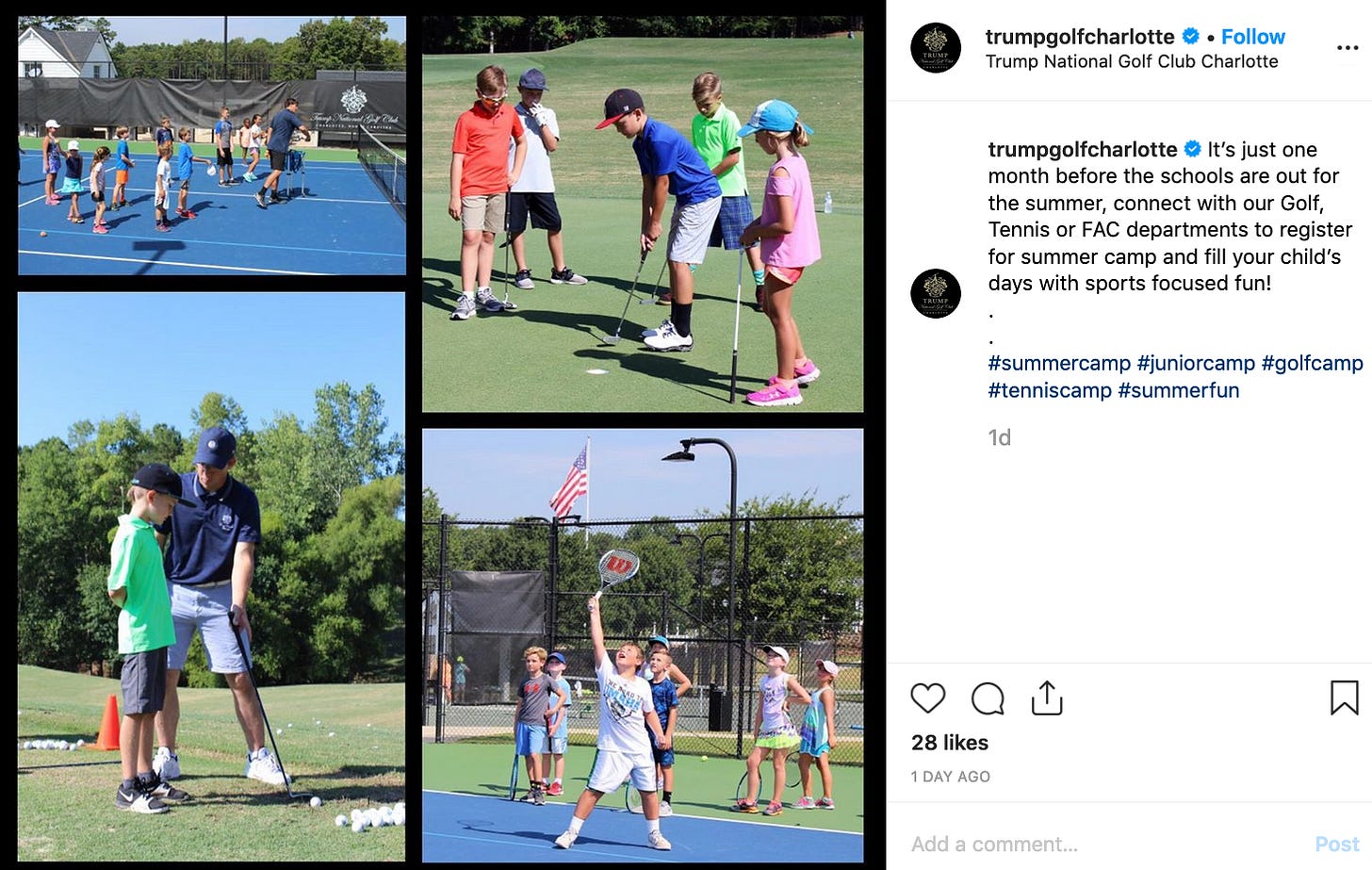 ---
House investigations, current status (latest change, May 10, 2019)
---
President Trump chose not to divest; Americans need to know who's paying him
Unlike his predecessors, Donald Trump did not divest his businesses upon becoming U.S. president. Think that may be a problem? Become an 1100 Pennsylvania member, and support reporting on who's spending money at the president's businesses—and what they may be getting in return. Memberships are this newsletter's sole source of revenue. Select the red "Subscribe now" button and become a member by paying just $5 a month or $50 a year. Thank you.
---
Legal cases, current status (latest change, May 8, 2019)
D.C. and MD attorneys general's emoluments lawsuit (district court docket, appellate court docket)—

Official capacity—On Dec. 20, 2018, the 4th U.S. Circuit Court of Appeals ruled it would hear the president's appeal of district court rulings that allowed the case to proceed to discovery, and the appellate court halted discovery in the case. Discovery had started Dec. 3 and was scheduled to run through Aug. 2, 2019, with the AGs having subpoenaed the Trump Organization, including its Scottish golf courses; the U.S. Departments of Agriculture, Commerce, Defense, and Treasury and the GSA; and the state of Maine. Oral arguments on the appeal occurred on March 19; by all accounts the three-judge panel (all Republican appointees, including one who was a selection of President Trump's) were skeptical of the AGs' case. D.C. AG Karl Racine pledged to take the case to the U.S. Supreme Court if necessary.

Individual capacity—On Dec. 14, Trump's personal attorneys appealed the denial of their motion to dismiss the case, also to the 4th U.S. Circuit Court of Appeals. On Dec. 19, the AGs replied to Trump's motion for a stay pending that appeal by voluntarily dismissing the claims against Trump in his "individual capacity to allow the claims against President Trump in his official capacity to move forward expeditiously." (The AGs only brought suit against Trump in his individual capacity after the judge suggested they do so.) Trump's personal attorneys, on Dec. 21, opposed the motion to dismiss at the district level, saying the appeals court now has jurisdiction and accusing the AGs of "gamesmanship."

Democratic senators and representatives' emoluments lawsuit—On Sept. 28, Judge Emmet G. Sullivan ruled that the legislators have standing to sue. Trump's Justice Department attorneys filed an interlocutory appeal on Oct. 22. On Jan. 30, 2019, the plaintiffs' filed a notice of supplemental authority, notifying the court of the GSA inspector general's report that criticized GSA for failing to consider if the Trump Hotel D.C.'s lease was in compliance with the Constitution after Trump became president. Two days later, the president's attorneys argued that the IG's conclusion was not inconsistent with Trump's argument, but that the judge should ignore that report anyway because the IG has no expertise in interpreting or applying the foreign emoluments clause. On April 30, Sullivan denied Trump's motion to dismiss the suit. The president's attorneys have a supplemental brief due on May 28.

CREW et. al's emoluments lawsuit—In February 2018, CREW appealed its suit being dismissed for lack of standing to the 2nd U.S. Circuit Court of Appeals. Oral arguments on that motion were held on Oct. 30.

Cork's unfair competition lawsuit—Judge Richard J. Leon dismissed the case on Nov. 26, 2018, writing "Cork has failed to state a claim for unfair competition under D.C. law." On Dec. 10, Cork's attorneys filed a notice of appeal and on Jan. 10, 2019 they submitted a statement of issues to be raised. A briefing schedule was set on March 5 with Cork's brief due on April 15, the president's brief due on May 15, and Cork's reply to the president's brief due on June 5. On April 11, however, Cork's attorneys requested a 30-day extension, to which Trump's attorneys consented—as did the court the following day.

Employees' class-action suit alleging racial discrimination—Two of the three plaintiffs did not appear at a status hearing on Jan. 25, 2019; their cases were moved to arbitration. Via email, their attorney, A.J. Dhali, said his clients did not appear at the hearing because their case already had been moved to arbitration last year. The next status hearing is scheduled for Oct. 4.
---
Health inspections, current status (latest change, Aug. 10, 2018)
❌Hotel: five violations on May 7, 2018; two were corrected on site

❌BLT Prime and Benjamin Bar: nine violations on Aug. 10, 2018

❌Sushi Nakazawa: two violations on Aug. 10, 2018

✔️Banquet kitchen: no violations on Aug. 10, 2018

❌Pastry kitchen: two violations on Aug. 10, 2018

✔️Gift shop: no violations on May 7, 2018

❌Employee kitchen and in-room dining: five violations on Aug. 10, 2018; two were corrected on site
---
Is the Trump Organization selling merchandise that depicts the White House? (latest change, March 21, 2019)
Yes.
---
One thing that (probably) has nothing to do with Trump's businesses

"Opinion: It's time to break up Facebook" by Chris Hughes for The New York Times
---
Thanks for reading. If you like what you saw, tell someone—and support this work by becoming a member. If you've been forwarded this newsletter, subscribe for yourself at zacheverson.substack.com. Questions? Read our FAQ/manifesto. Tips or feedback? Contact me, Zach Everson, securely via email at 1100Pennsylvania@protonmail.com or on Signal at 202.804.2744.