Discover more from 1100 Pennsylvania
"The undisputed expert on the D.C. Trump Hotel" – David Fahrenthold of the Washington Post
Over 3,000 subscribers
Clergy, judges ask D.C. alcohol board not to renew Trump Hotel D.C.'s liquor license
Board punted on earlier request, saying time to address 'character' qualification was when license was up for renewal; that time is now
Today a group of clergy and judges asked the D.C. Alcoholic Beverage Control Board not to renew the Trump Hotel D.C.'s liquor license. D.C. law requires license holders be "of good character"—a criterion these religious leaders and judges claim the U.S. president does not meet, according to a letter from the group's attorney to the D.C. control board.
In June 2018, this same group asked the control board to revoke the hotel's liquor license. The board punted on the issue in September, saying that the appropriate time to reflect on the character requirement was when the license came up for renewal, not during the middle of the licensing period.
Well, as the sign on a barricade in front of the Trump Hotel D.C. shows, that time is now: a hearing on the liquor license application is scheduled for May 28 at 10 a.m.
Information about the complainants can be found on their website, Make Integrity Great Again.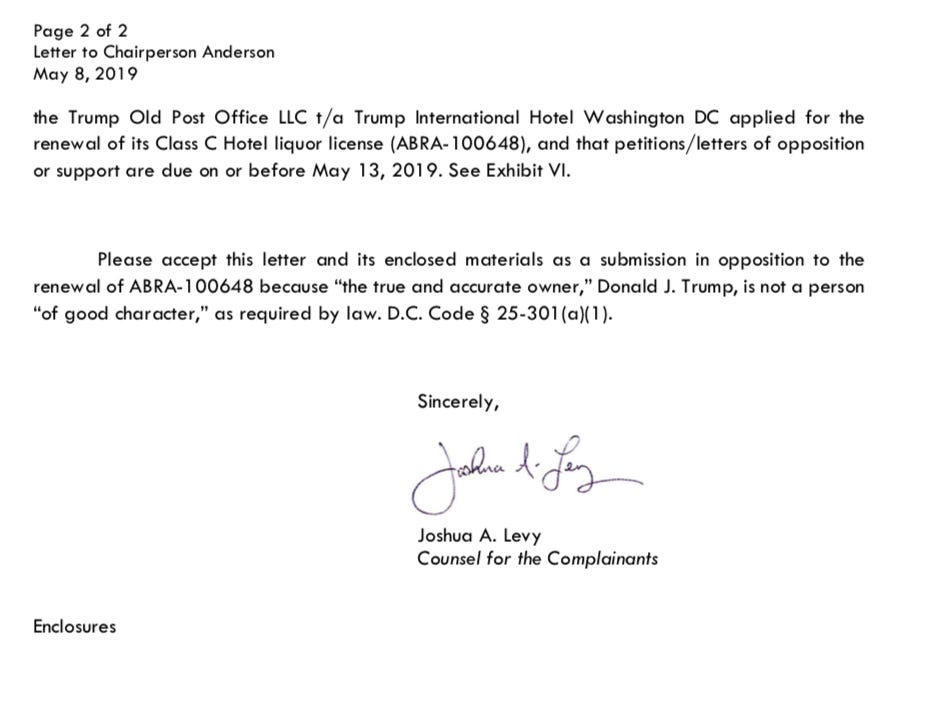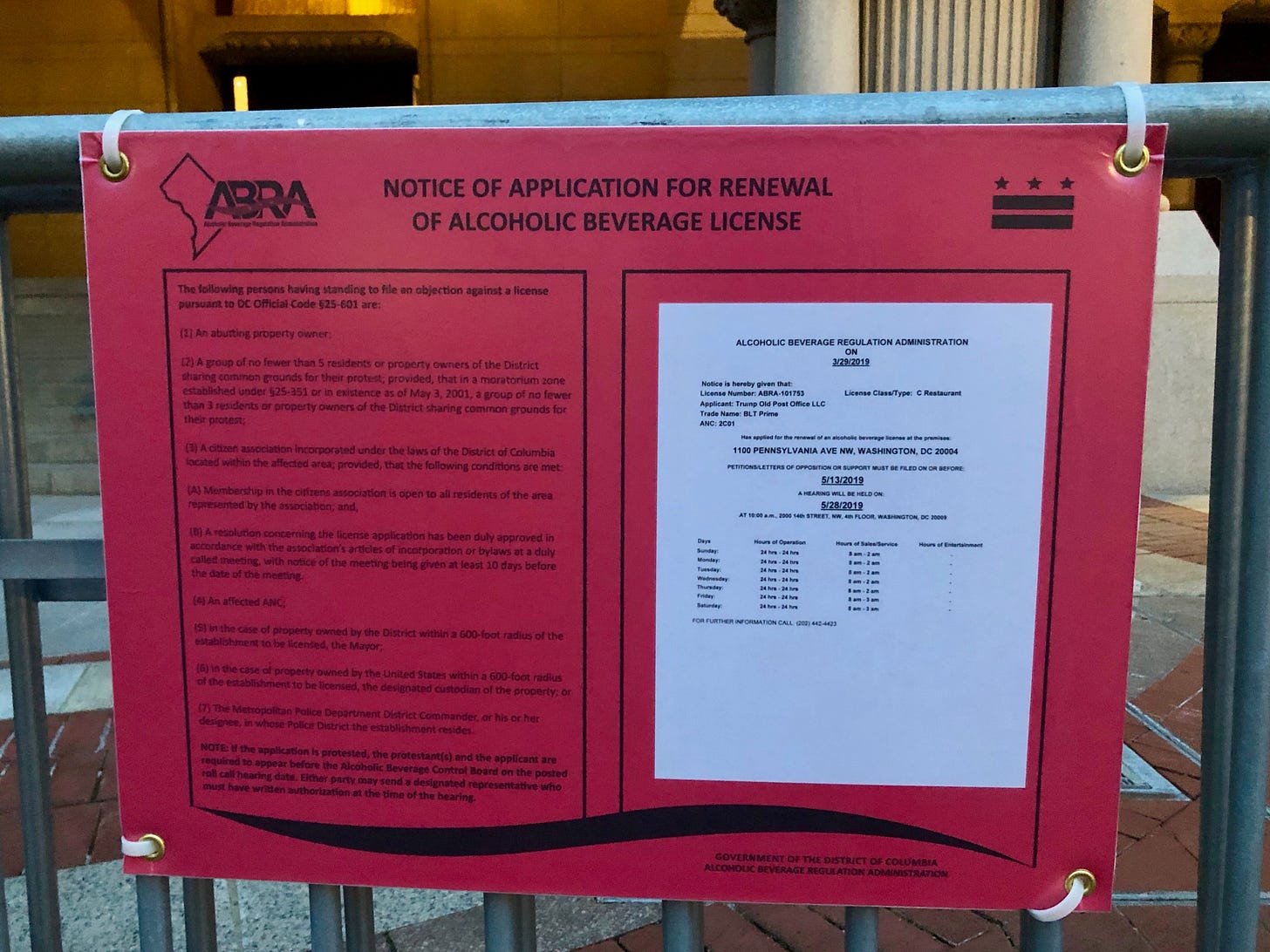 ---
Read today's regular issue of 1100 Pennsylvania
This morning, 1100 Pennsylvania published its regular edition:
"Fundraising kickoff, lobbyists drew yuge crowd"
Don't miss it for the rundown of Trump Victory Finance Committee kickoff, the Trump First Tuesday lobbyist happy hour, and JEXIT rally attendees—as well as the day's other Trump Hotel D.C. news.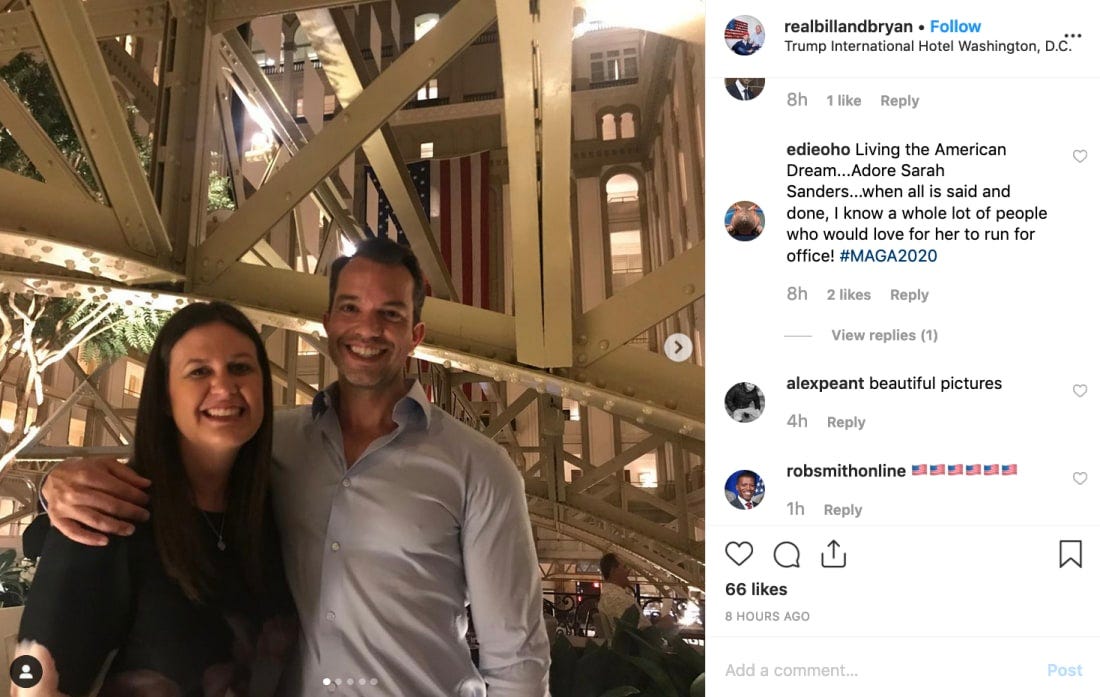 ---
Support 1100 Pennsylvania: never-redacted reporting on President Trump's D.C. hotel
We now know most of what's in the Mueller report. It's time to focus on what happens inside the Trump Hotel D.C. and the president's other businesses. Original, in-depth reporting, of course, takes time. But it's making an impact—and you can help. If you're not an 1100 Pennsylvania member, please become one. Memberships are this newsletter's sole source of revenue. Select the red "Subscribe now" button and become a member by paying just $5 a month or $50 a year. Thank you.
---
Thanks for reading. If you like what you saw, tell someone—and support this work by becoming a member. If you've been forwarded this newsletter, subscribe for yourself at zacheverson.substack.com. Questions? Read our FAQ/manifesto. Tips or feedback? Contact me, Zach Everson, securely via email at 1100Pennsylvania@protonmail.com or on Signal at 202.804.2744.