Discover more from 1100 Pennsylvania
"The undisputed expert on the D.C. Trump Hotel" – David Fahrenthold of the Washington Post
Over 3,000 subscribers
Dark money shines for loyal customers
Congressmen loyal to Trump Hotel D.C. benefit from pro–Trump dark-money group's ad buys
From "Pro-Trump group launching ads supporting Meadows, Jordan" by Betsy Klein for CNN:
The pro-Trump America First Policies group is launching two television ads this week in support of Reps. Jim Jordan of Ohio and Mark Meadows of North Carolina, the group tells CNN. Both are ardent supporters of the President on Capitol Hill and on the cable news circuit.

The $100,000 ad buy is a sign that Trump-aligned groups are rewarding those loyal to the President.
Jordan's campaign has spent $10,572.29 at the president's hotel; Meadows's total is $9,196.99. Each campaign even spent exactly the same amount ($1,461.79) on food at the hotel on Nov. 16, 2018 (they went Dutch?!).
And just last month, Meadows and Jordan criticized a GSA inspector general report that raised question on the legality of the hotel's lease.
Here's Jordan mugging at the Trump Hotel D.C. in July 2018 with Martha Boneta—a policy advisor for America First Policies. Yep, that's the same group that's behind the ad buy. (The other guy is reportedly a member of the NRA's board of directors.)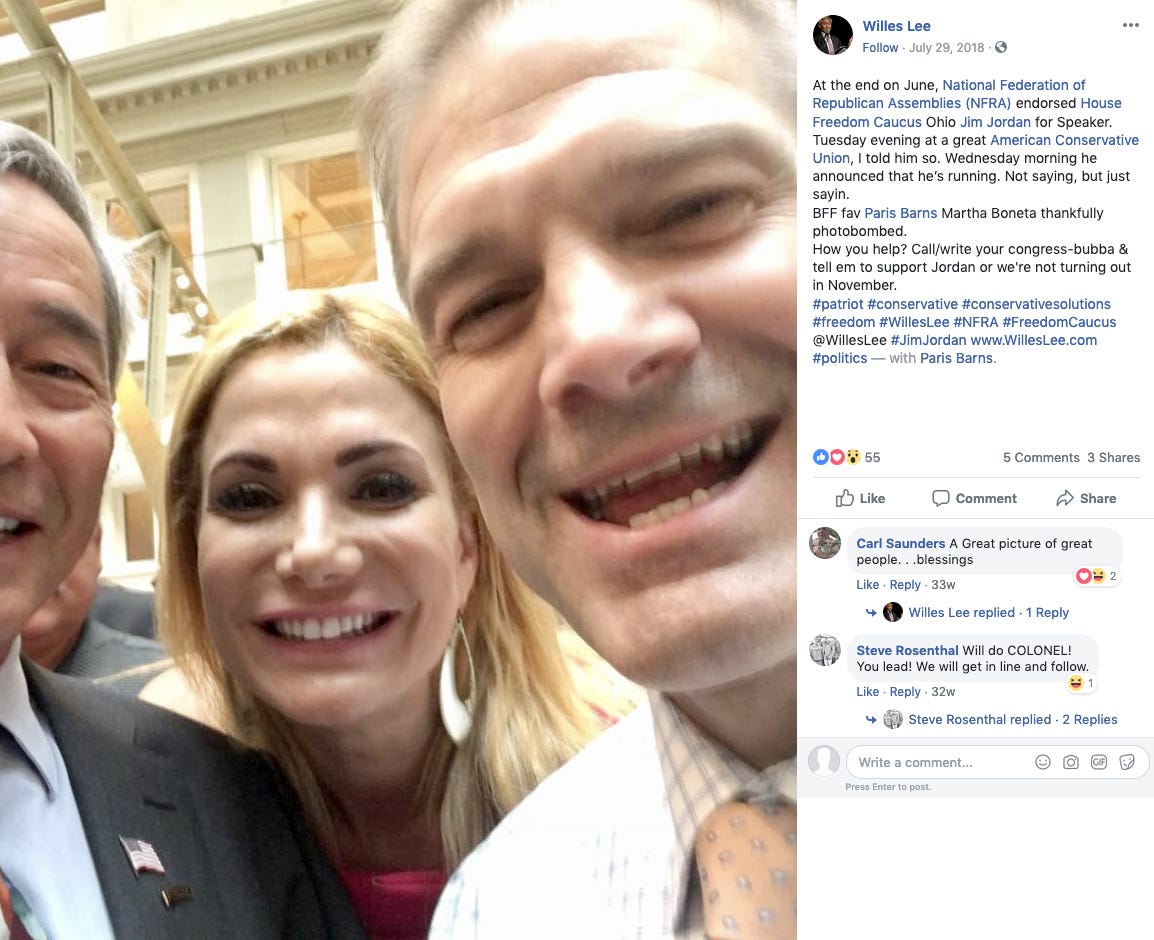 ---
Consensus: Yesterday's emoluments hearing did not go well for the DC and MD attorneys general
---
Support this reporting, become a 1100 Pennsylvania member
Reporting on the Trump Hotel D.C. and the president's other businesses takes time. A lot of time. But it's making an impact—and you can help. If you're not already an 1100 Pennsylvania member, become one and help us continue to report on who's spending money at the president's hotel—and what they might be getting in return. Select the red "Subscribe now" button and become a member by paying $5 a month or $50 a year. Thank you.
---
Lobbyist happy hour sets date for April meetup
The next Trump First Tuesday, a "business networking happy hour for government relations professionals [lobbyists] and friends" has been scheduled for April 2. This event now will have facilitated lobbyists mingling at the president's hotel in 11 of the last 13 months.
Separately, the Arlington [Virginia] Republican party will have a meetup at the Trump Hotel D.C., in conjunction with a D.C. MAGA meetup, the following Tuesday.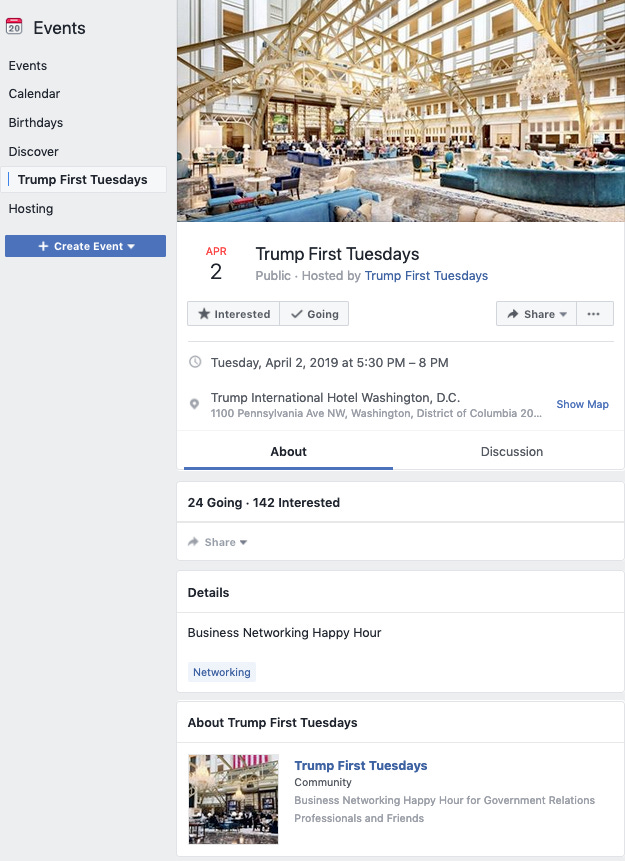 ---
'Wall Street Journal' incorrectly listed as sponsor of Mar-a-Lago event
Yesterday's 1100 Pennsylvania reported that The Wall Street Journal was listed as a sponsor for the motorsports celebration The Palm Event, which will be held at Mar-a-Lago this weekend. In response to an inquiry from 1100 Pennsylvania, both the event's organizer and a Wall Street Journal spokesperson said the paper is not involved with the festivities.
"That sponsorship was under a previous owner," wrote Scott Shrader, president of The Palm Event. "They haven't been on any of our credentials in well over a year.  I believe that there was a logo on one of our pages, which I just removed."
"WSJ is not a sponsor of this event and the organizers have removed our logo from their site (which wasn't our current branding to begin with)," wrote Steve Severinghaus, a senior director of communications at Dow Jones, The Wall Street Journal's parent company.
The old list of sponsors from The Palm Event's website is on the left; an updated one, showing which companies are actually supporting an event at the president's business, is at right.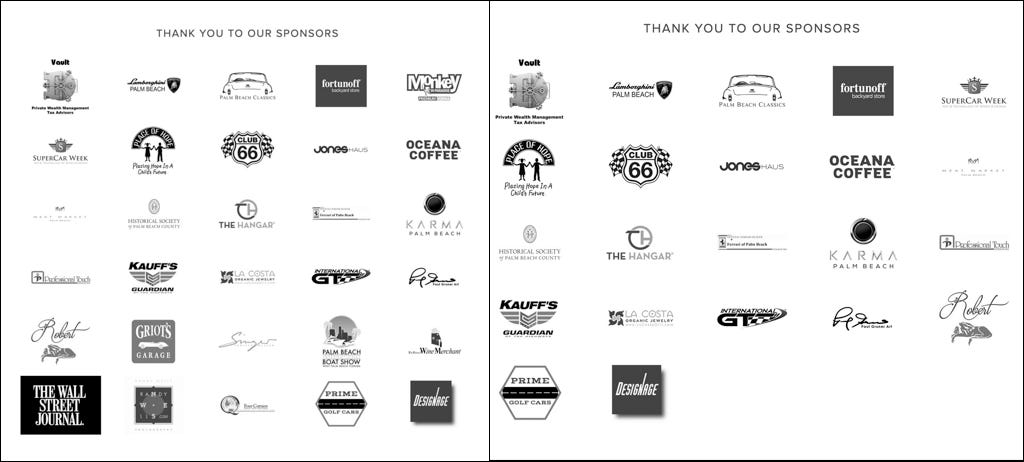 ---
Campaign expenditures
Mike Pence's Great America Committee spent another $55,105.51 at his boss's hotel in February 2019 (first noted by Dave Levinthal of The Center for Public Integrity). That brings Pence's PAC's total spending at the Trump Hotel D.C. up to at least $221,043.23.
Trump reportedly has told his advisors he wants to keep Pence on the ticket.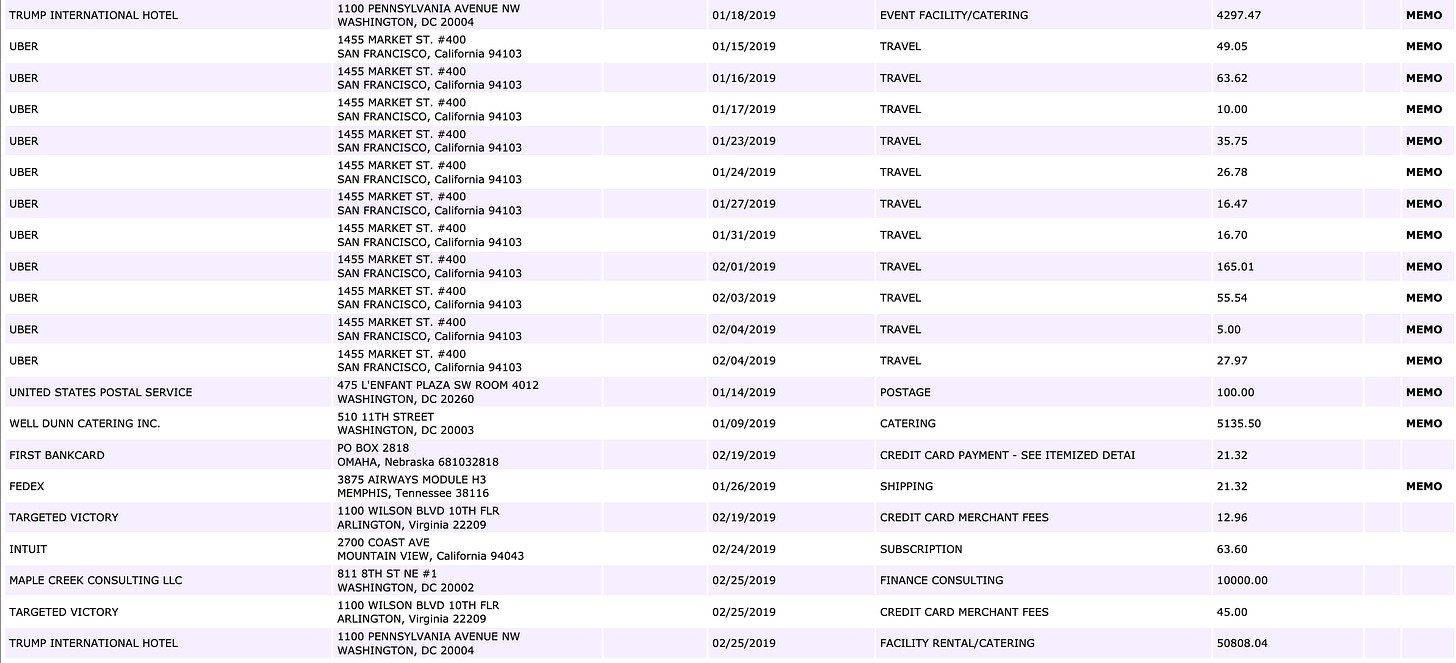 ---
Noteworthy sightings
Antony Liu, the CEO of Blue Ocean Capital Group, dined with someone who appears to be a member of a religious order and enjoys lobster. In a lawsuit filed last month, a Chinese citizen residing in California alleged that Liu and Blue Ocean Capital unlawfully sold him $2 million worth of a cryptocurrency. (Due to a formatting limitation, please select this link to watch the video.)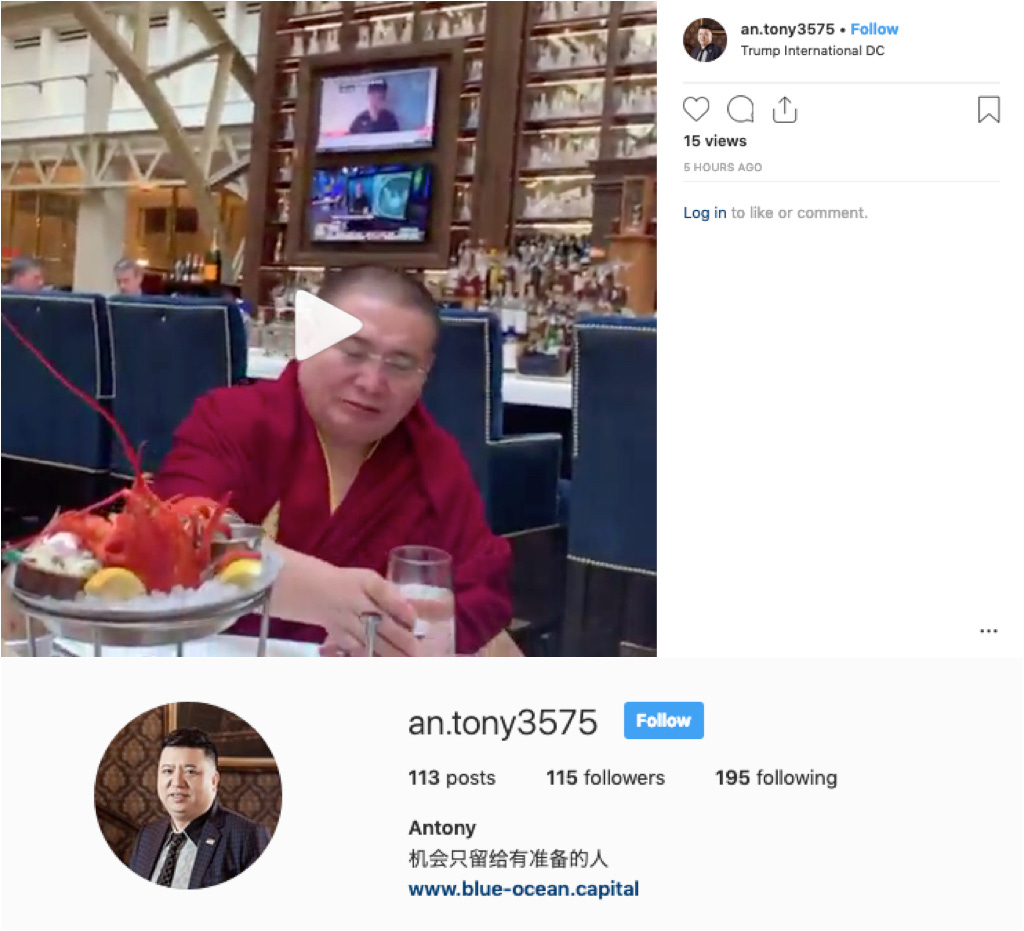 Rabia Kazan, the president of the pro-Trump Middle Eastern Women's Coalition and a director of the National Diversity Coalition for Trump was back at the Trump Hotel D.C. In the past two weeks, Kazan has live-streamed from the Trump Hotel D.C., entered the White House on an official visit, pitched her cause to the U.S. president at Mar-a-Lago, and now returned to the Trump Hotel D.C.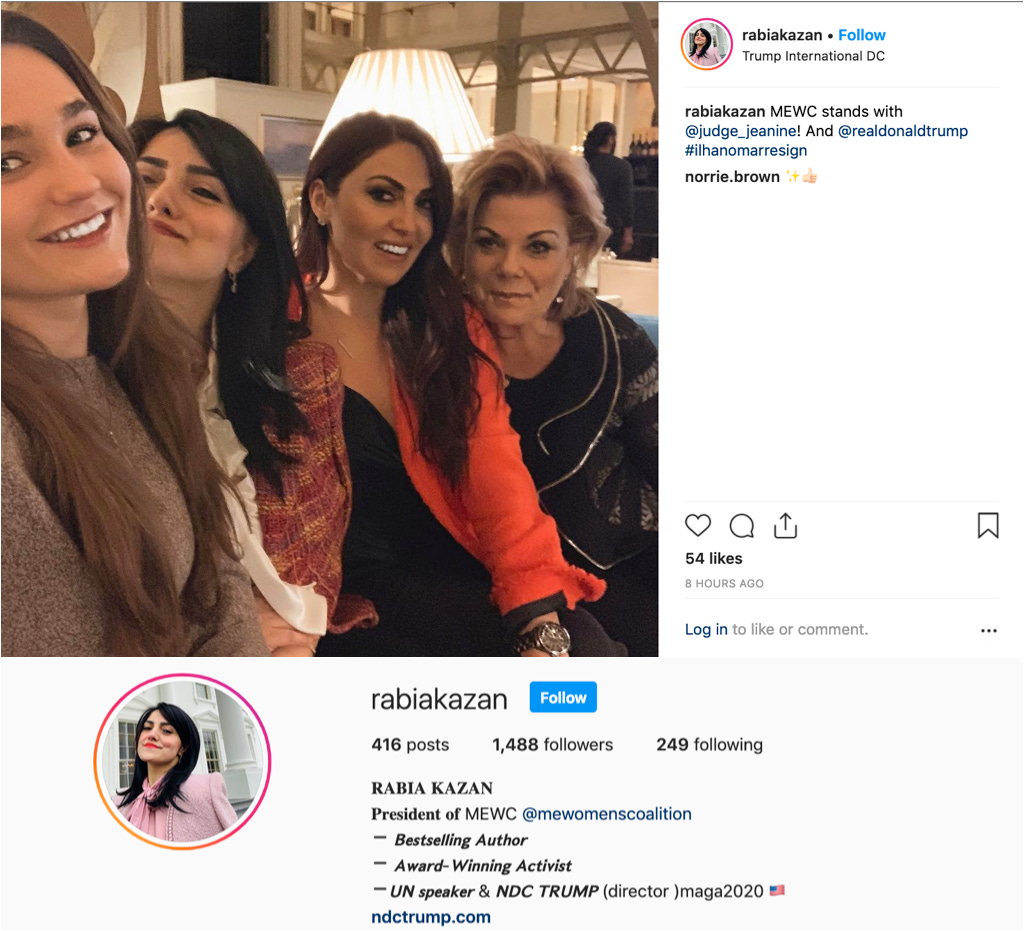 ---
Other Trump Organization news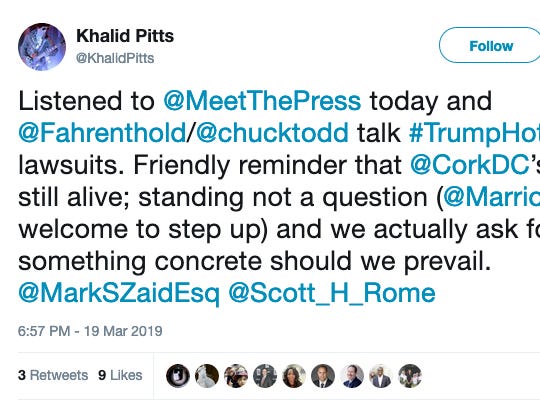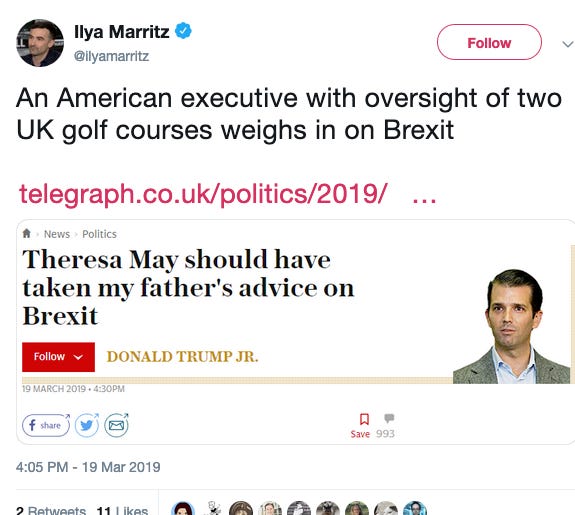 ---
House investigations, current status (latest changes, March 20, 2019)
---
Legal cases, current status (latest change, March 20, 2019)
D.C. and MD attorneys general's emoluments lawsuit (district court docket, appellate court docket)—

UPDATED Official capacity—On Dec. 20, 2018, the 4th U.S. Circuit Court of Appeals ruled it would hear the president's appeal of district court rulings that allowed the case to proceed to discovery, and the appellate court halted discovery in the case. Discovery had started Dec. 3 and was scheduled to run through Aug. 2, 2019, with the AGs having subpoenaed the Trump Organization, including its Scottish golf courses; the U.S. Departments of Agriculture, Commerce, Defense, and Treasury and the GSA; and the state of Maine. Oral arguments on the appeal occurred on March 19; by all accounts the three-judge panel (all Republican appointees, including one who was a selection of President Trump's) were skeptical of the AGs' case. D.C. AG Karl Racine pledged to take the case to the U.S. Supreme Court if necessary.

Individual capacity—On Dec. 14, Trump's personal attorneys appealed the denial of their motion to dismiss the case, also to the 4th U.S. Circuit Court of Appeals. On Dec. 19, the AGs replied to Trump's motion for a stay pending that appeal by voluntarily dismissing the claims against Trump in his "individual capacity to allow the claims against President Trump in his official capacity to move forward expeditiously." (The AGs only brought suit against Trump in his individual capacity after the judge suggested they do so.) Trump's personal attorneys, on Dec. 21, opposed the motion to dismiss at the district level, saying the appeals court now has jurisdiction and accusing the AGs of "gamesmanship."

Democratic senators and representatives' emoluments lawsuit—On Sept. 28, Judge Emmet G. Sullivan ruled that the legislators have standing to sue. Trump's Justice Department attorneys filed an interlocutory appeal on Oct. 22. On Jan. 30, 2019, the plaintiffs' filed a notice of supplemental authority, notifying the court of the GSA inspector general's report that criticized GSA for failing to consider if the Trump Hotel D.C.'s lease was in compliance with the Constitution after Trump became president. Two days later, the president's attorneys argued that the IG's conclusion was not inconsistent with Trump's argument, but that the judge should ignore that report anyway because the IG has no expertise in interpreting or applying the foreign emoluments clause.

CREW et. al's emoluments lawsuit—In February 2018, CREW appealed its suit being dismissed for lack of standing to the 2nd U.S. Circuit Court of Appeals. Oral arguments on that motion were held on Oct. 30.

Cork's unfair competition lawsuit—Judge Richard J. Leon dismissed the case on Nov. 26, 2018, writing "Cork has failed to state a claim for unfair competition under D.C. law." On Dec. 10, Cork's attorneys filed a notice of appeal and on Jan. 10, 2019 they submitted a statement of issues to be raised. A briefing schedule was set on March 5 with Cork's brief due on April 15, the president's brief due on May 15, and Cork's reply to the president's brief due on June 5.

Employees' class-action suit alleging racial discrimination—Two of the three plaintiffs did not appear at a status hearing on Jan. 25, 2019; their cases were moved to arbitration. Via email, their attorney, A.J. Dhali, said his clients did not appear at the hearing because their case already had been moved to arbitration last year. The next status hearing is scheduled for Oct. 4.
---
Health inspections, current status (latest change, Aug. 10, 2018)
❌Hotel: five violations on May 7, 2018; two were corrected on site

❌BLT Prime and Benjamin Bar: nine violations on Aug. 10, 2018

❌Sushi Nakazawa: two violations on Aug. 10, 2018

✔️Banquet kitchen: no violations on Aug. 10, 2018

❌Pastry kitchen: two violations on Aug. 10, 2018

✔️Gift shop: no violations on May 7, 2018

❌Employee kitchen and in-room dining: five violations on Aug. 10, 2018; two were corrected on site
---
One thing that has nothing to do with Trump's businesses (I think, tough to tell sometimes!)
From "Preparing for conflicts by cyber-means" by The Economist:
"When Latvia conducted its biggest-ever national military exercise last August, which mobilised more than 10,000 people, a group of researchers discovered that using only open-source information they could identify about 10% of the individuals involved—and use that knowledge to track the exercise in real time. They also found they could make a soldier leave his post, against orders. Janis Sarts, director of NATO's Strategic Communications Centre of Excellence, which ran the experiment, said it was very simple.
Thanks for reading. If you like what you see, tell someone—and support this work by becoming a paying member ($5/month or $50/year). If you've been forwarded this newsletter, subscribe for yourself at zacheverson.substack.com. Questions? Read our FAQ/manifesto. Tips or feedback? Contact me, Zach Everson, securely via email at 1100Pennsylvania@protonmail.com or on Signal at 202.804.2744.