Discover more from 1100 Pennsylvania
"The undisputed expert on the D.C. Trump Hotel" – David Fahrenthold of the Washington Post
Over 3,000 subscribers
Deutsche Bank turning over financial documents
Trump's lender of choice complying with New York state's attorney general's subpoena
From "Deutsche Bank begins process of providing Trump financial records to New York's attorney general" by Cristina Alesci for CNN:
Deutsche Bank has begun the process of providing financial records to New York state's attorney general in response to a subpoena for documents related to loans made to President Donald Trump and his business, according to a person familiar with the production….

The bank is in the process of turning over documents, including emails and loan documents, related to Trump International Hotel in Washington, D.C.; the Trump National Doral Miami; the Trump International Hotel and Tower in Chicago; and the unsuccessful effort to buy the NFL's Buffalo Bills.
The German financial institution loaned the Trump Organization $170 million in 2014 to renovate D.C.'s Old Post Office into a hotel.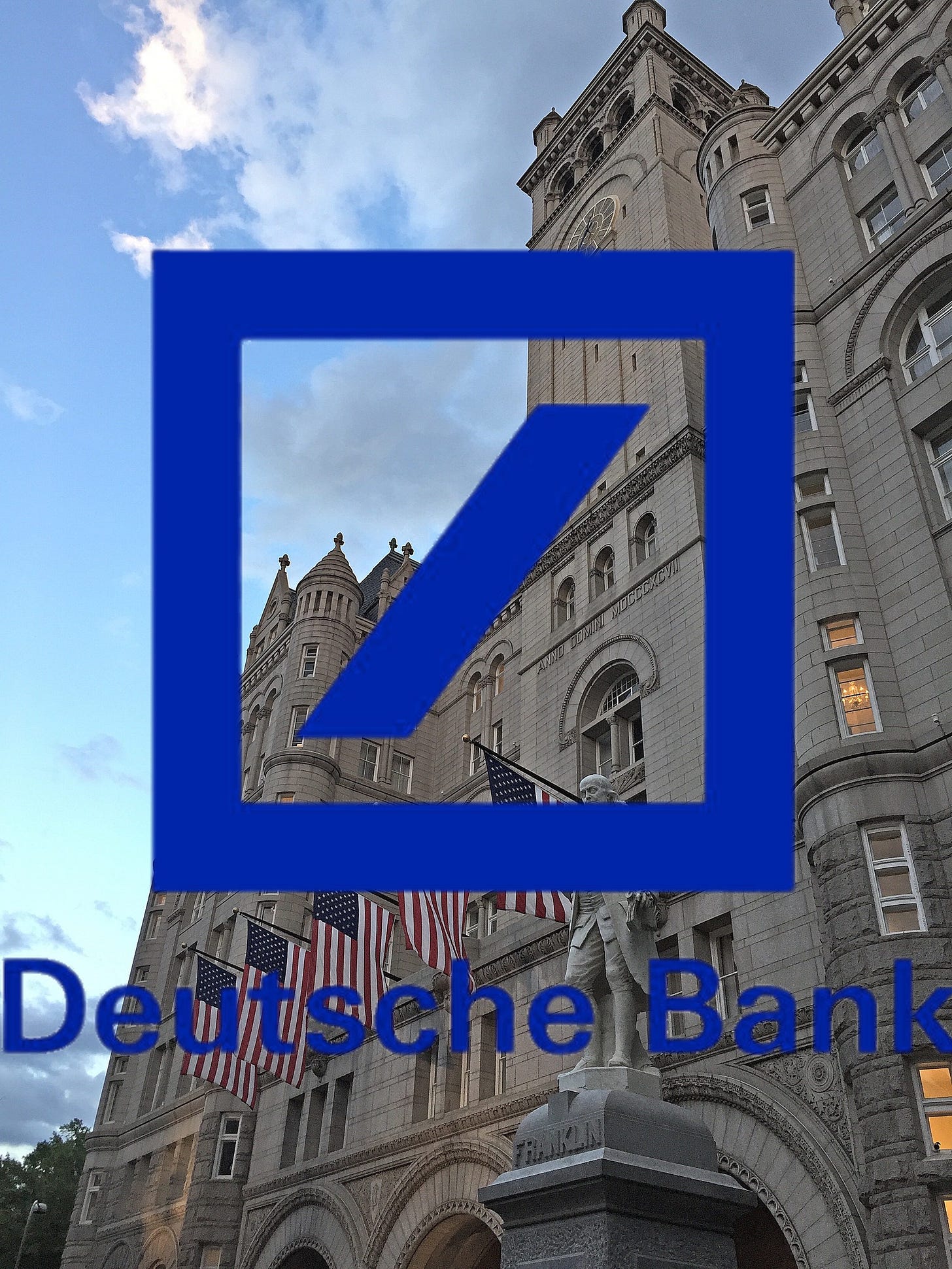 ---
Amazon-sponsored conference for gov't employees, contractors not returning to Trump Hotel D.C.
The Alfresco Government Summit is not returning to the Trump Hotel D.C. in 2019, instead opting for the Renaissance Washington, D.C. Downtown Hotel.
The 2018 summit—co-sponsored by Amazon Web Services—took place at the Trump Hotel D.C. with three U.S. government career employees speaking on stage. Amazon's patronage coincided with a temporary reprieve in Trump's tweets criticizing the company. An organizer has not replied to an email asking why the summit picked another venue this year.
FOIA requests inquiring if the three government employees spent taxpayer funds last year at the president's hotel yielded no responsive records—although we did learn that a contractor walked off with a Trump Hotels umbrella.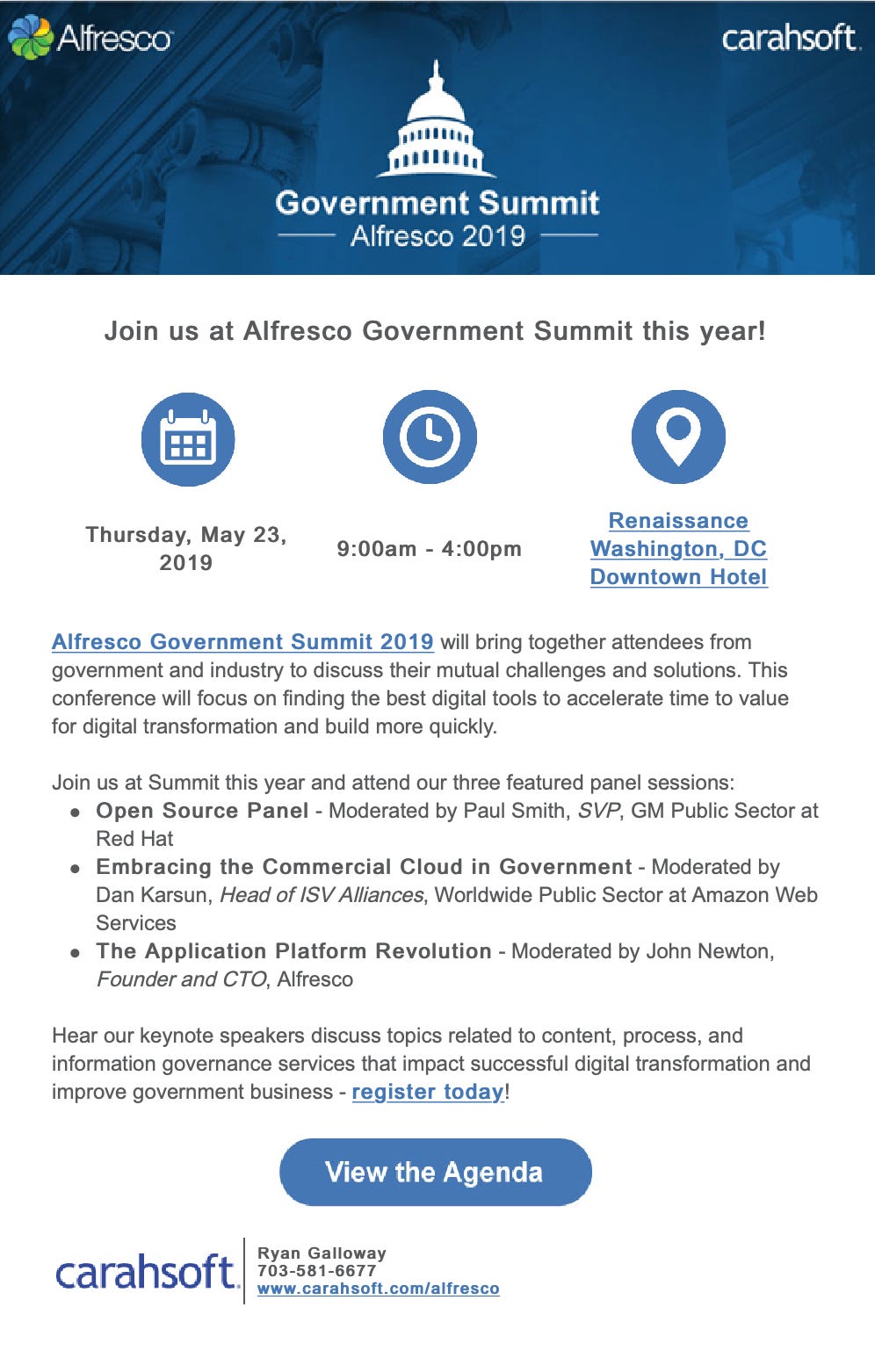 ---
Support 1100 Pennsylvania: never-redacted reporting on President Trump's D.C. hotel
We now know most of what's in the Mueller report. It's time to focus on what happens inside the Trump Hotel D.C. and the president's other businesses. Original, in-depth reporting, of course, takes time. But it's making an impact—and you can help. If you're not an 1100 Pennsylvania member, please become one. Memberships are this newsletter's sole source of revenue. Select the red "Subscribe now" button and become a member by paying just $5 a month or $50 a year. Thank you.
---
Chamber of Commerce says it plans shift away from GOP; last week its CEO keynoted a conference at the Trump Hotel D.C.
From "The Daily 202: The U.S. Chamber wants to disentangle its brand from the GOP and hopes to rebuild the center" by James Hohmann for The Washington Post:
The U.S. Chamber of Commerce, navigating dramatic cultural change that's transforming the worlds of politics and business, plans to become less aligned with the Republican Party than it has been for decades…

Tom Donohue, the Chamber's longtime president and chief executive, compares it to making substitutions during a basketball game. "It's very unfortunate that the far right has gone very far right, and the far left has gone very far left. If you think about this, there is a hole in the middle," he said. "So what we're doing—and this is critical—is adjusting and responding to the new politics. We're adjusting and responding to the new Congress and the way the administration operates."
Last week Donohue delivered the keynote to the 37th Annual Conference on U.S.-Turkey Relations—at the Trump Hotel D.C. The head of the GOP owns that hotel and can profit from conferences held there.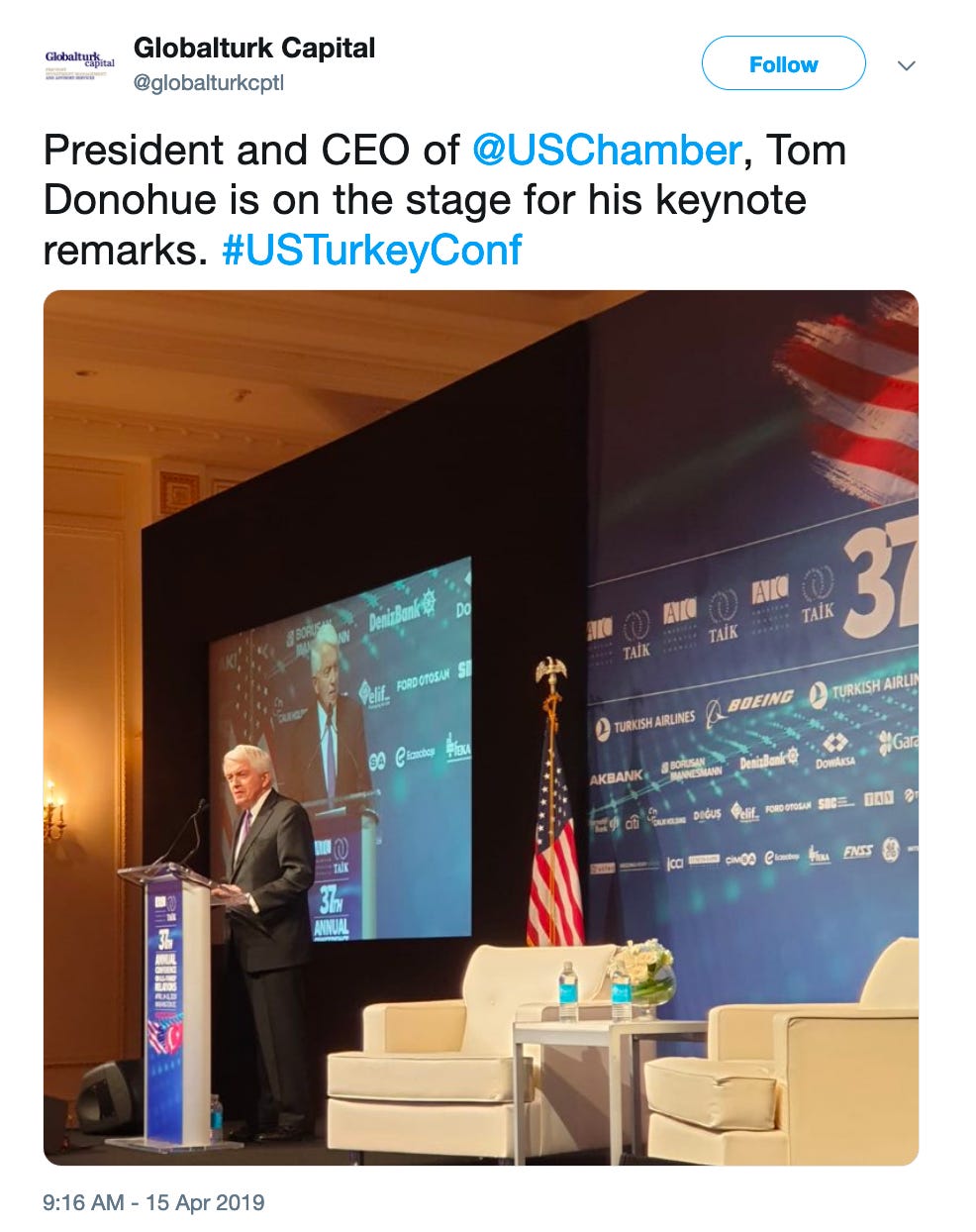 ---
Other notable sightings
Former Trump campaign adviser Michael Caputo and his family patronized the Trump Hotel D.C. yesterday afternoon, per Ali Dukakis of ABC News. Also yesterday, Caputo met with the hotel's owner in the Oval Office.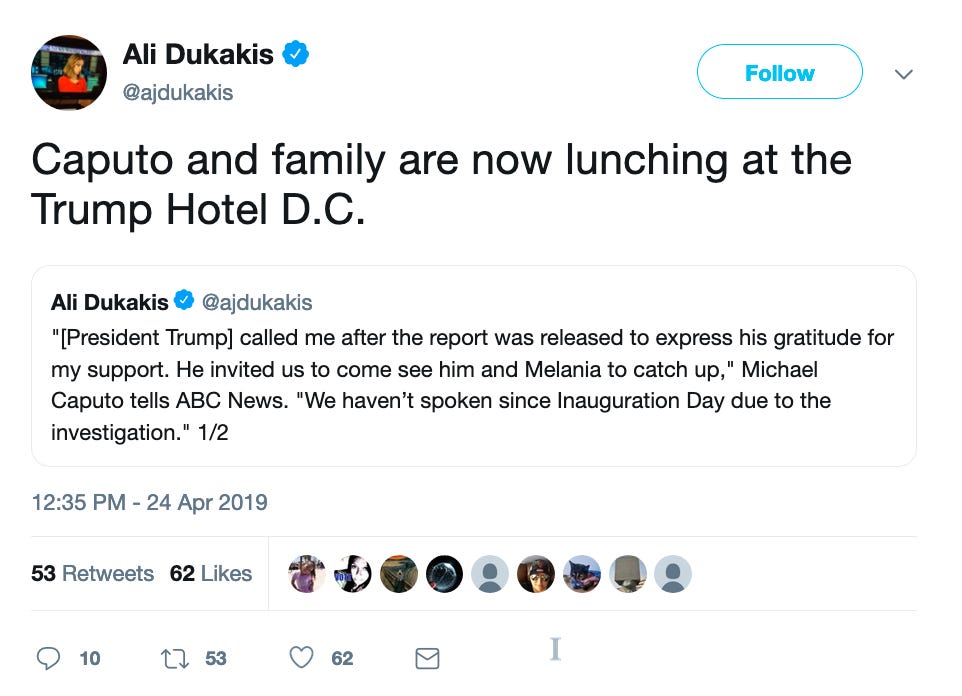 Rudy.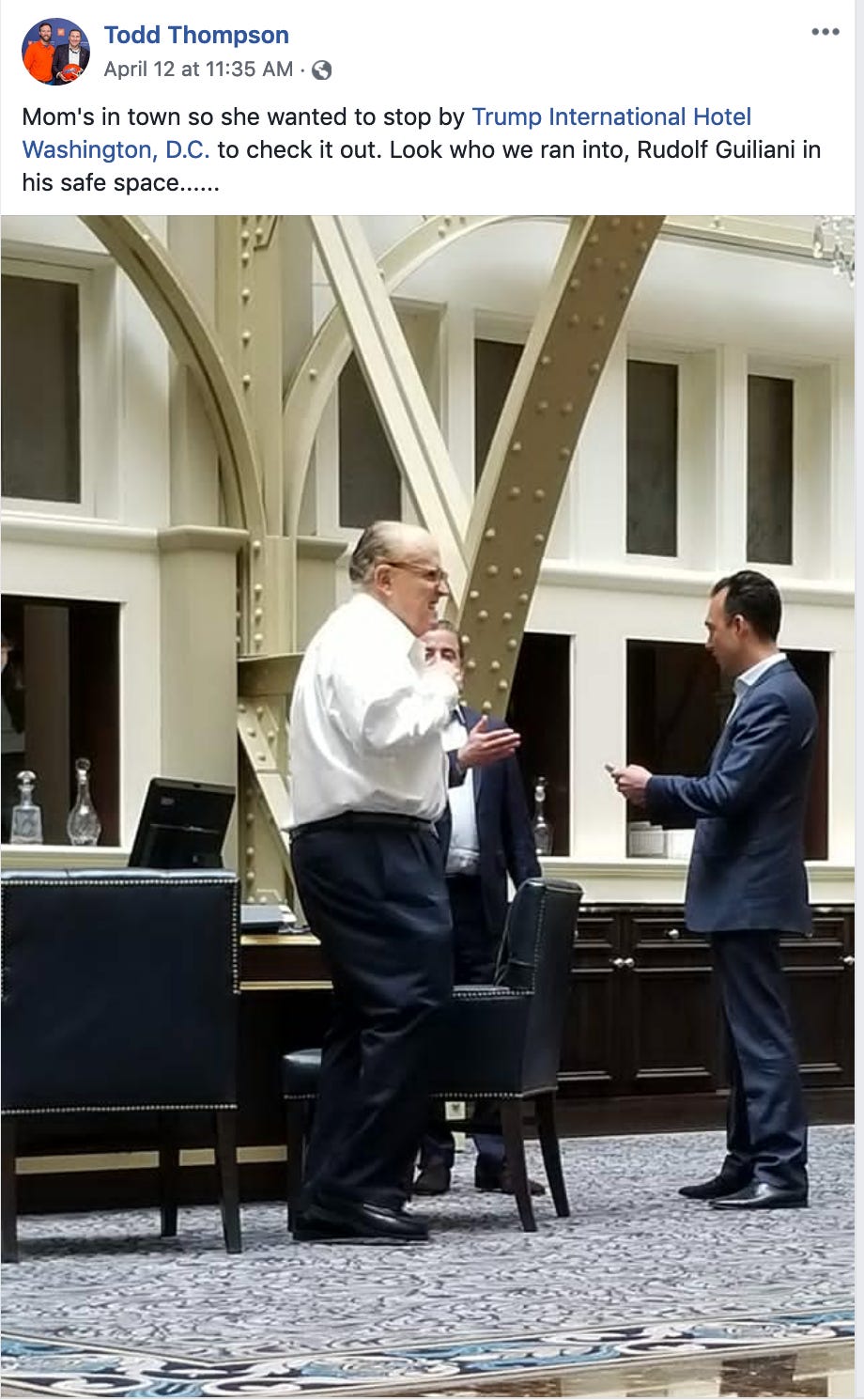 Rudy.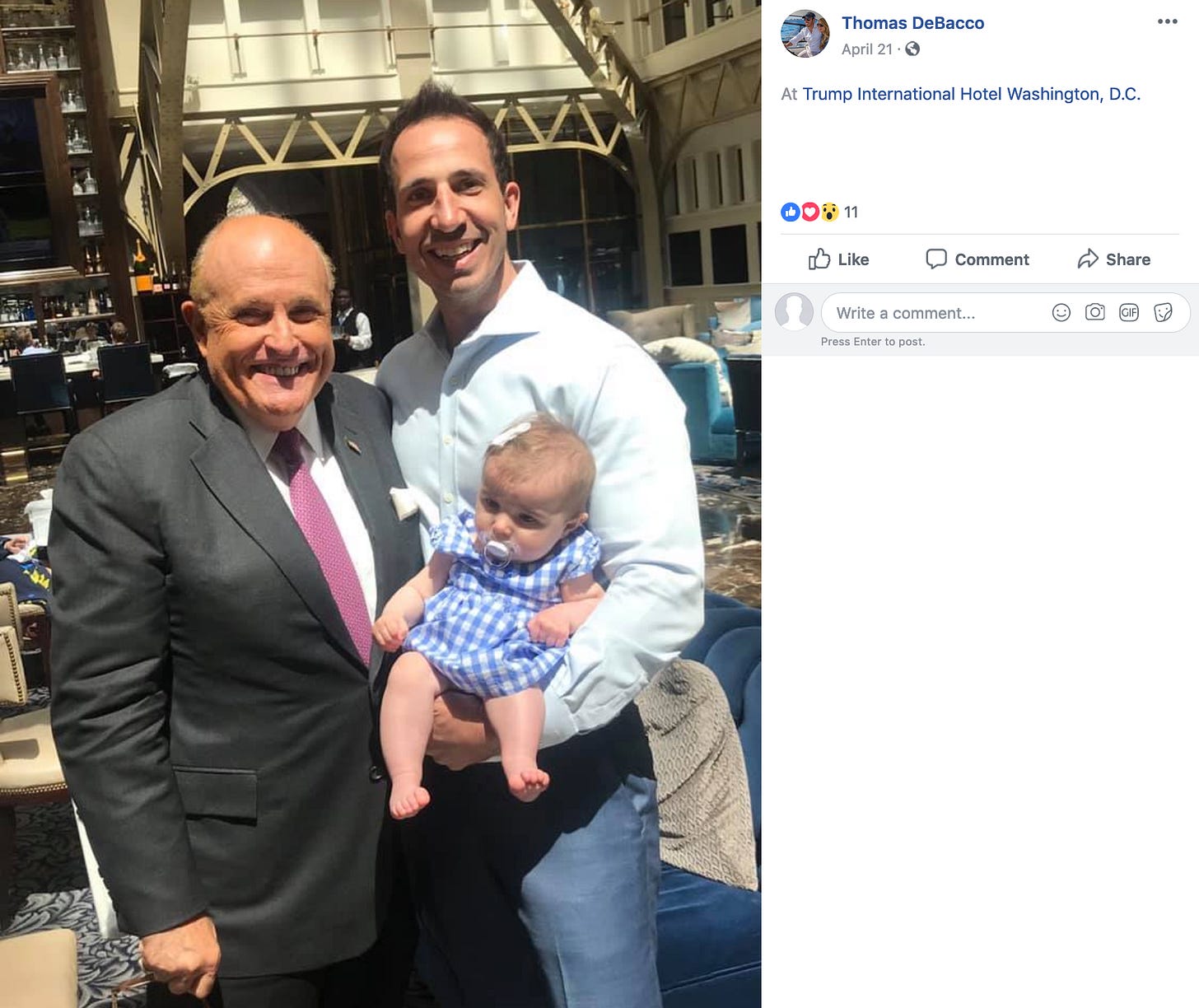 God opened up the doors of the Trump Hotel D.C. for this attendee of the "nonpartisan" Good Friday Prayer Breakfast for the office of the presidency.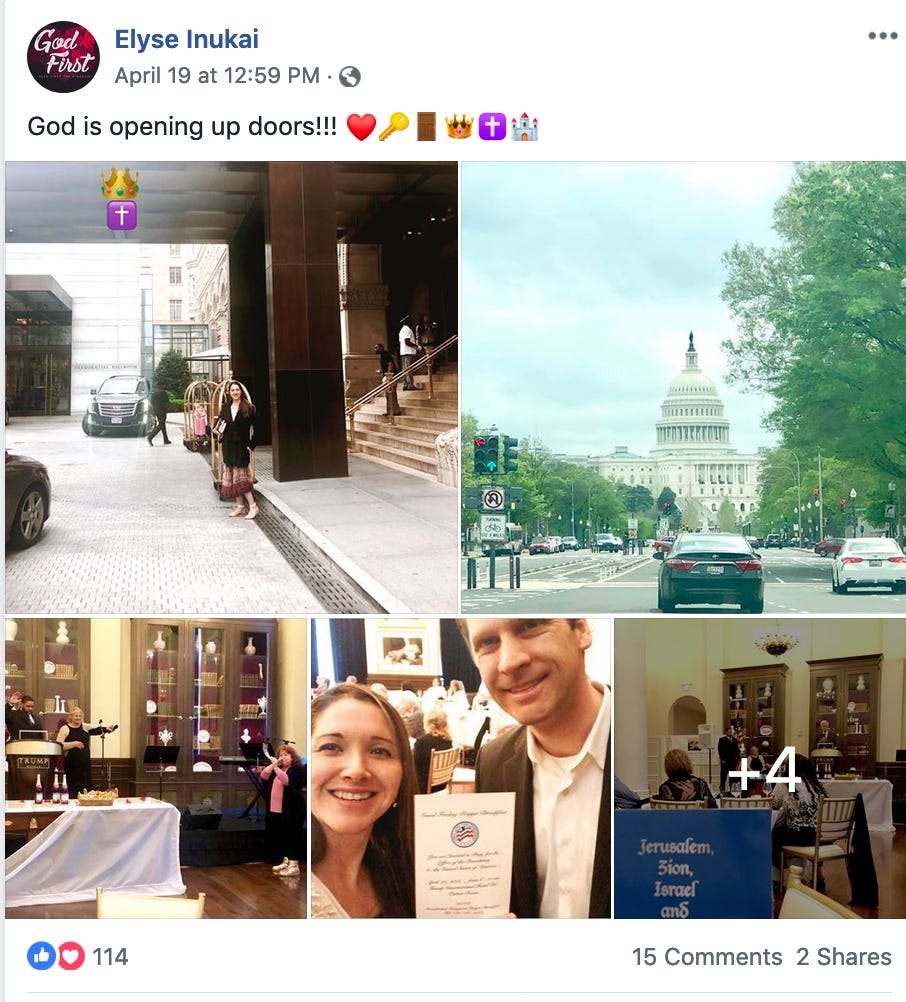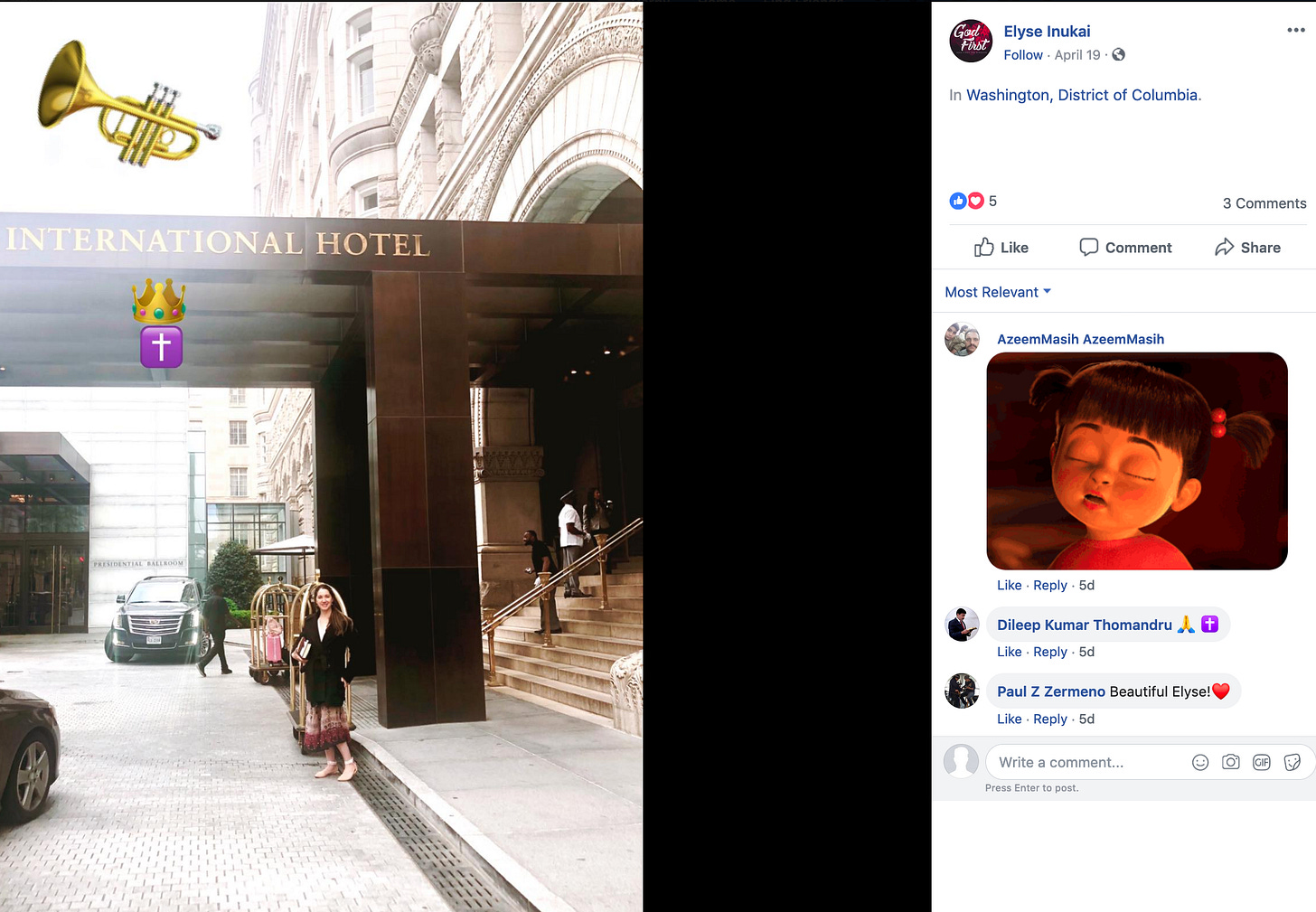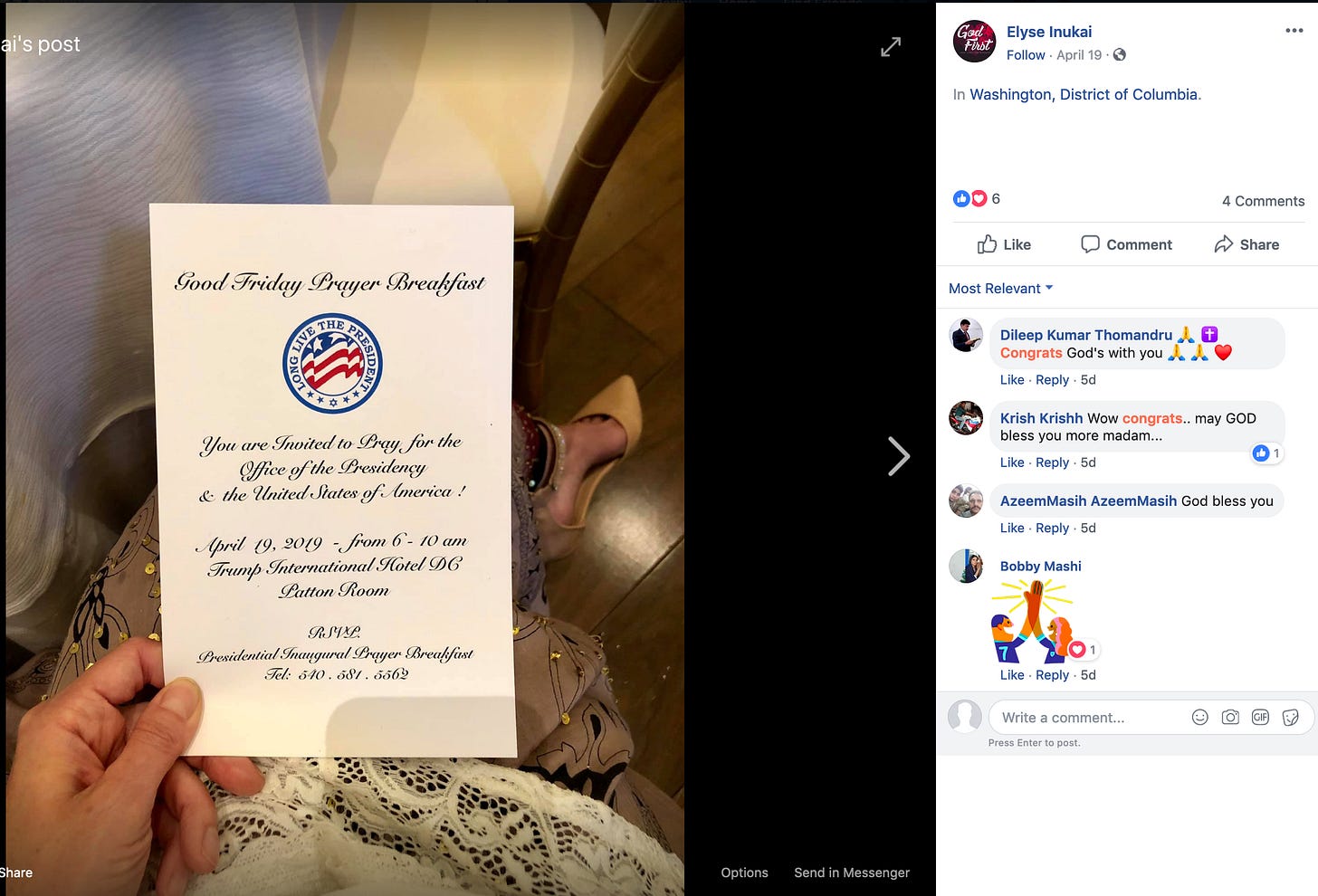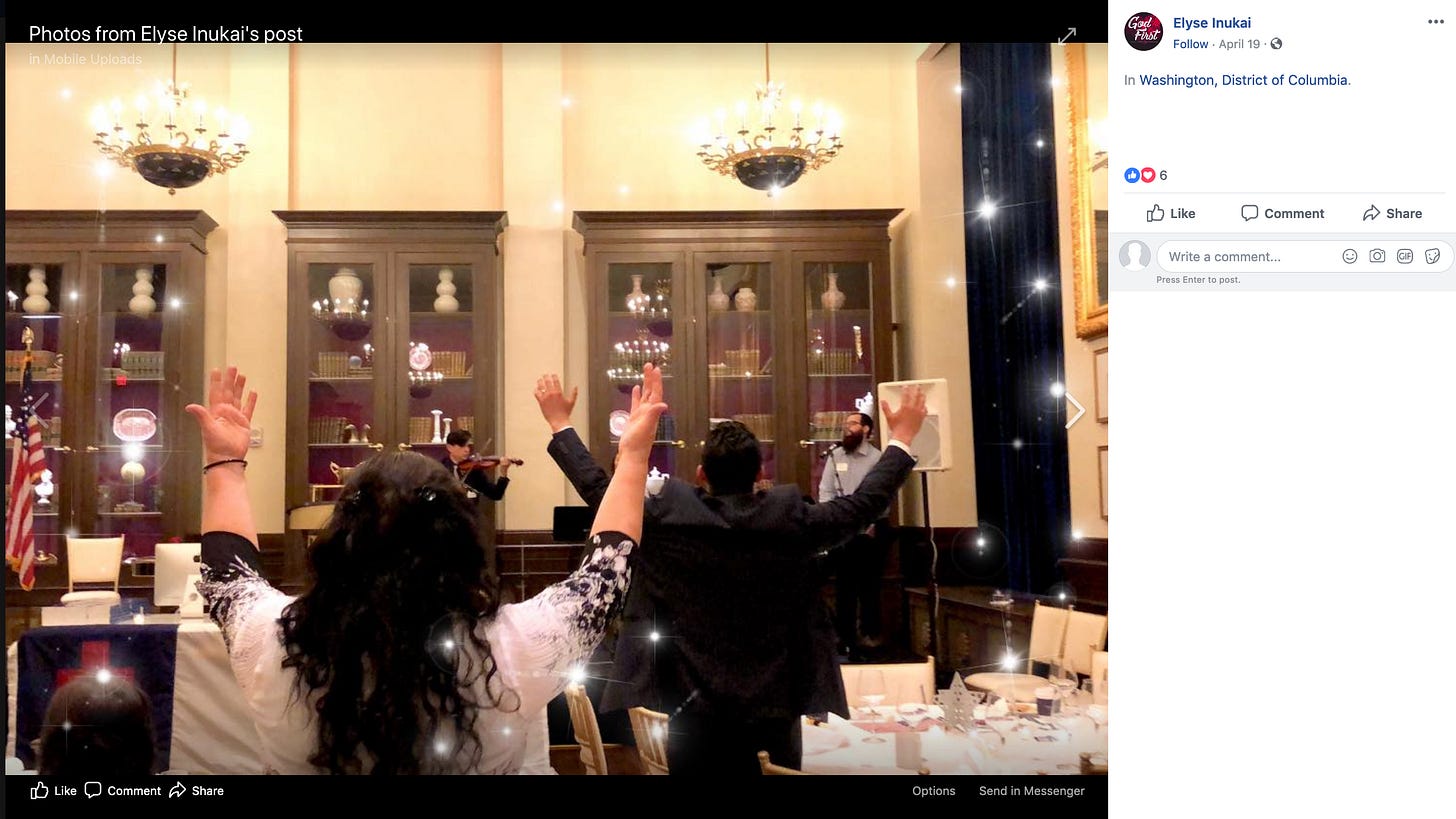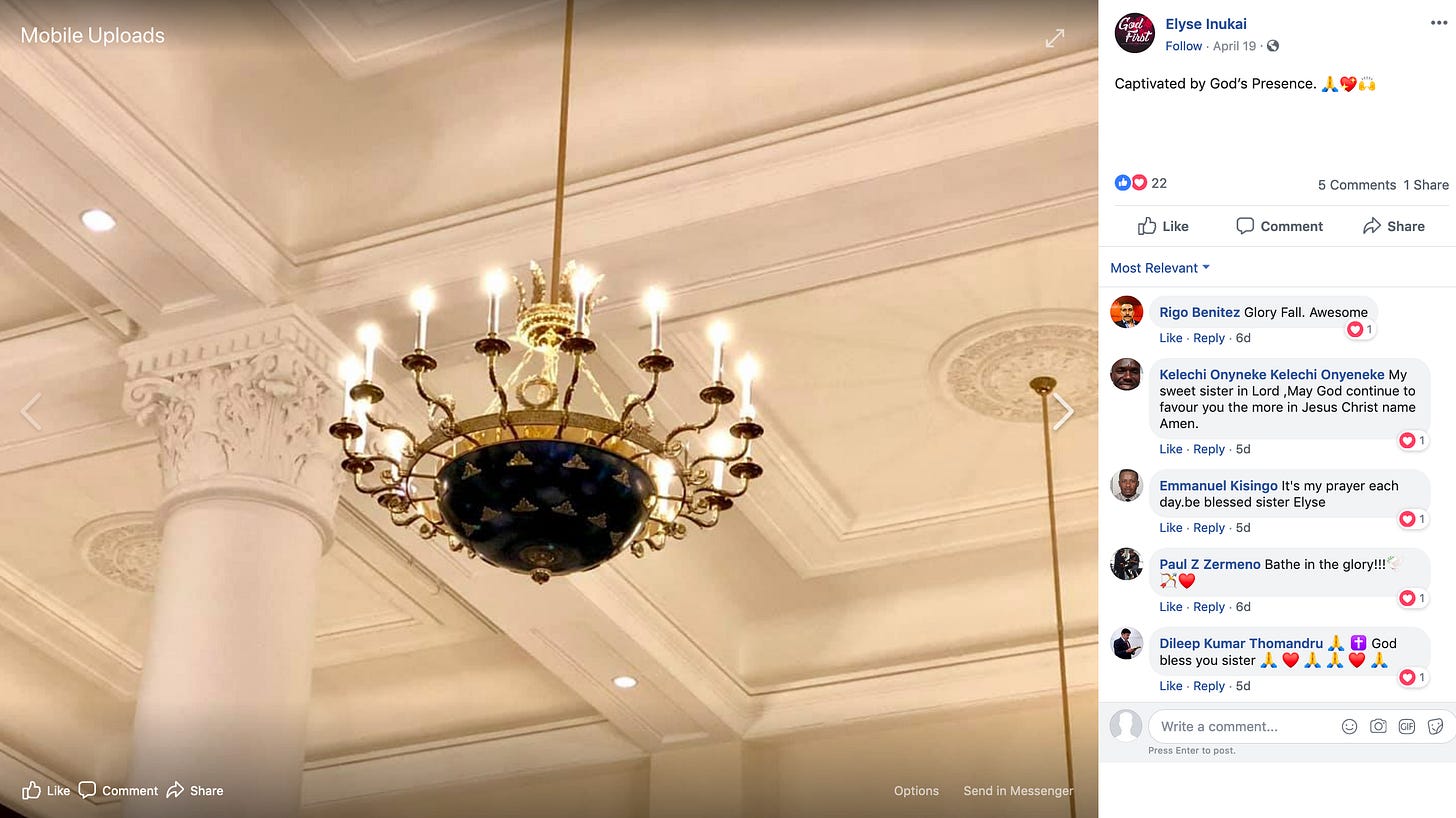 ---
Other Trump Organization news
---
House investigations, current status (latest changes, April 24, 2019)
---
President Trump chose not to divest; Americans need to know who's paying him
Unlike his predecessors, Donald Trump did not divest his businesses upon becoming U.S. president. Think that may be a problem? Become an 1100 Pennsylvania member, and support reporting on who's spending money at the president's businesses—and what they may be getting in return. Memberships are this newsletter's sole source of revenue. Select the red "Subscribe now" button and become a member by paying just $5 a month or $50 a year. Thank you.
---
Legal cases, current status (latest change, April 22, 2019)
D.C. and MD attorneys general's emoluments lawsuit (district court docket, appellate court docket)—

Official capacity—On Dec. 20, 2018, the 4th U.S. Circuit Court of Appeals ruled it would hear the president's appeal of district court rulings that allowed the case to proceed to discovery, and the appellate court halted discovery in the case. Discovery had started Dec. 3 and was scheduled to run through Aug. 2, 2019, with the AGs having subpoenaed the Trump Organization, including its Scottish golf courses; the U.S. Departments of Agriculture, Commerce, Defense, and Treasury and the GSA; and the state of Maine. Oral arguments on the appeal occurred on March 19; by all accounts the three-judge panel (all Republican appointees, including one who was a selection of President Trump's) were skeptical of the AGs' case. D.C. AG Karl Racine pledged to take the case to the U.S. Supreme Court if necessary.

Individual capacity—On Dec. 14, Trump's personal attorneys appealed the denial of their motion to dismiss the case, also to the 4th U.S. Circuit Court of Appeals. On Dec. 19, the AGs replied to Trump's motion for a stay pending that appeal by voluntarily dismissing the claims against Trump in his "individual capacity to allow the claims against President Trump in his official capacity to move forward expeditiously." (The AGs only brought suit against Trump in his individual capacity after the judge suggested they do so.) Trump's personal attorneys, on Dec. 21, opposed the motion to dismiss at the district level, saying the appeals court now has jurisdiction and accusing the AGs of "gamesmanship."

Democratic senators and representatives' emoluments lawsuit—On Sept. 28, Judge Emmet G. Sullivan ruled that the legislators have standing to sue. Trump's Justice Department attorneys filed an interlocutory appeal on Oct. 22. On Jan. 30, 2019, the plaintiffs' filed a notice of supplemental authority, notifying the court of the GSA inspector general's report that criticized GSA for failing to consider if the Trump Hotel D.C.'s lease was in compliance with the Constitution after Trump became president. Two days later, the president's attorneys argued that the IG's conclusion was not inconsistent with Trump's argument, but that the judge should ignore that report anyway because the IG has no expertise in interpreting or applying the foreign emoluments clause.

CREW et. al's emoluments lawsuit—In February 2018, CREW appealed its suit being dismissed for lack of standing to the 2nd U.S. Circuit Court of Appeals. Oral arguments on that motion were held on Oct. 30.

Cork's unfair competition lawsuit—Judge Richard J. Leon dismissed the case on Nov. 26, 2018, writing "Cork has failed to state a claim for unfair competition under D.C. law." On Dec. 10, Cork's attorneys filed a notice of appeal and on Jan. 10, 2019 they submitted a statement of issues to be raised. A briefing schedule was set on March 5 with Cork's brief due on April 15, the president's brief due on May 15, and Cork's reply to the president's brief due on June 5. On April 11, however, Cork's attorneys requested a 30-day extension, to which Trump's attorneys consented—as did the court the following day.

Employees' class-action suit alleging racial discrimination—Two of the three plaintiffs did not appear at a status hearing on Jan. 25, 2019; their cases were moved to arbitration. Via email, their attorney, A.J. Dhali, said his clients did not appear at the hearing because their case already had been moved to arbitration last year. The next status hearing is scheduled for Oct. 4.
---
Health inspections, current status (latest change, Aug. 10, 2018)
❌Hotel: five violations on May 7, 2018; two were corrected on site

❌BLT Prime and Benjamin Bar: nine violations on Aug. 10, 2018

❌Sushi Nakazawa: two violations on Aug. 10, 2018

✔️Banquet kitchen: no violations on Aug. 10, 2018

❌Pastry kitchen: two violations on Aug. 10, 2018

✔️Gift shop: no violations on May 7, 2018

❌Employee kitchen and in-room dining: five violations on Aug. 10, 2018; two were corrected on site
---
Is the Trump Organization selling merchandise that depicts the White House? (latest change, March 21, 2019)
Yes.
---
One thing that (probably) has nothing to do with Trump's businesses
One of the 640 Twitter accounts deputy assistant to the president and principal deputy press secretary Hogan Gidley follows belongs to Faith Goldy. She's been a guest on a podcast hosted by the neo-Nazi Daily Stormer.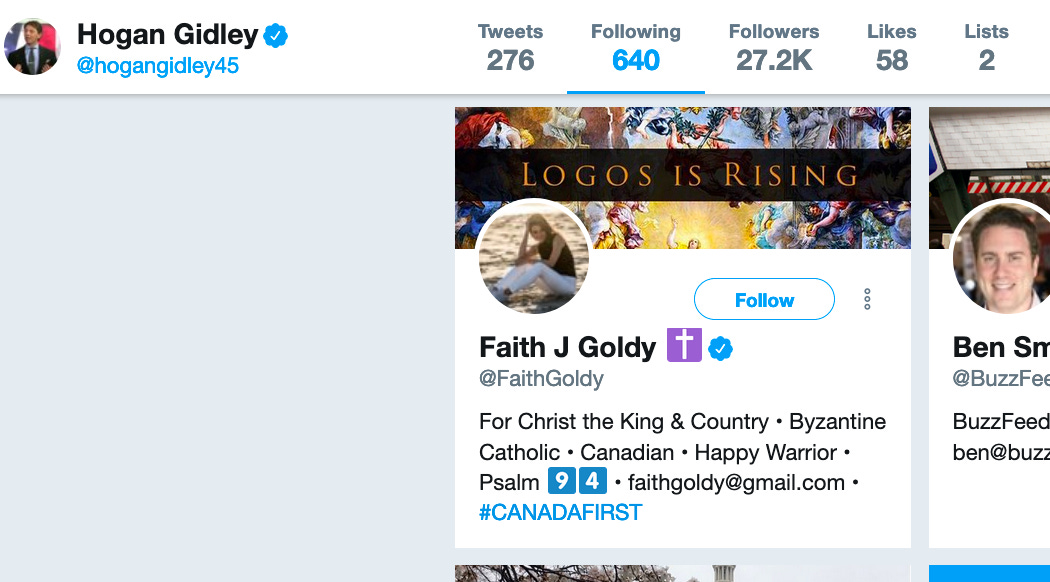 ---
Thanks for reading. If you like what you saw, tell someone—and support this work by becoming a member. If you've been forwarded this newsletter, subscribe for yourself at zacheverson.substack.com. Questions? Read our FAQ/manifesto. Tips or feedback? Contact me, Zach Everson, securely via email at 1100Pennsylvania@protonmail.com or on Signal at 202.804.2744.