Discover more from 1100 Pennsylvania
"The undisputed expert on the D.C. Trump Hotel" – David Fahrenthold of the Washington Post
Over 3,000 subscribers
DHS spent $1,600 on dinner with foreign officials at Trump Hotel D.C.'s steakhouse
Dinner with representatives of unidentified country among $5,500 in payments Departments of Homeland Security, Defense made to president's businesses
The Department of Homeland Security paid more than $1,600 for a dinner at the Trump Hotel D.C.'s steakhouse in February 2019, according to documents released last month to ethics watchdog American Oversight. The then-senior DHS official who incurred the charge told 1100 Pennsylvania it was for a dinner with foreign government representatives and believed the amount the department paid covered the meals of everyone present.
That payment was one of 10 the Departments of Homeland Security and Defense made at Trump properties totaling more than $5,500 between January 2017 and March 2019, which were detailed in DHS's response to a Freedom of Information Act request American Oversight filed in November 2019.
These disbursements do not appear to have been reported previously.
U.S. government spending at Trump properties already totaled at least $970,000, David A. Fahrenthold and Joshua Partlow reported for The Washington Post in May. There's no full public accounting of how much taxpayers have paid the Trump Organization since its boss's election.
President Donald J. Trump still owns his businesses and can profit when the government spends taxpayer money at them.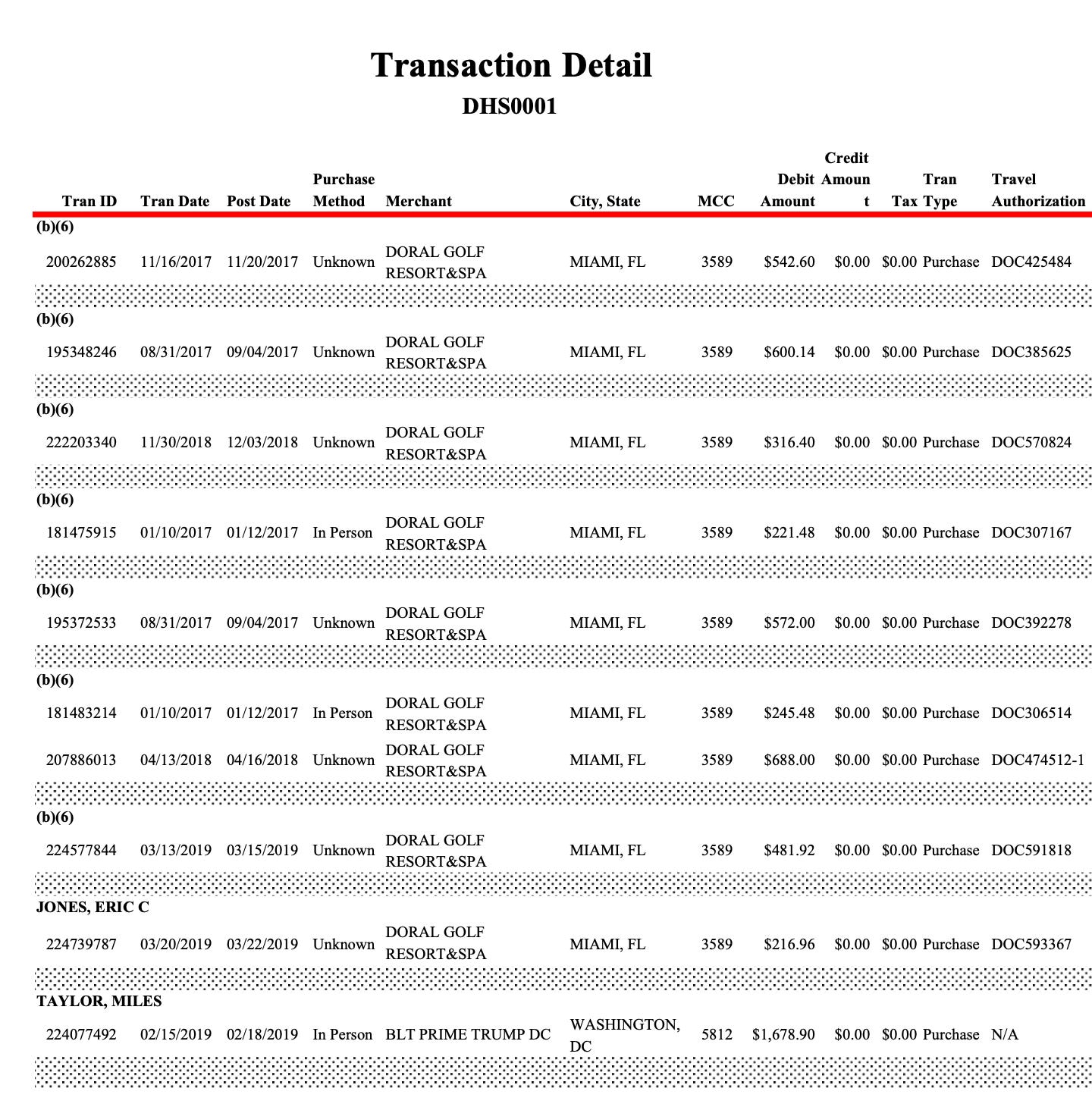 Miles Taylor, who held several senior positions at DHS, culminating as chief of staff to Secretary Kirstjen Nielsen, spent $1,678 at the Trump Hotel D.C.'s steakhouse on Feb. 15, 2019. Reached through Signal, Taylor wrote, "The DHS dinner was with representatives of a foreign government related to ongoing policy discussions."
Taylor, who's now head of national security policy engagement for Google, didn't think he was allowed to identify the foreign government, citing the sensitives of ongoing discussions. But he did write, "It wouldn't be a country that would surprise you though, ie one we work with closely."
(The day of that dinner, Trump declared a National Emergency Concerning the Southern Border of the United States.)
When asked, "Did that $1,600 cover everyone at the dinner (that is, the US and foreign officials)?" Taylor replied, "Yes I believe so."
Taylor also declined to identify the other DHS officials in attendance.
Taylor said DHS chose BLT Prime because of its proximity to the department's offices in the Ronald Reagan Building, where related policy discussions were taking place.
The other nine charges DHS reported were for stays at Trump Doral. Details were provided about seven of them; they show average nightly room rates ranging from $119 to $192. All were greater than the "like 50 bucks" a night Eric Trump said his company charges taxpayers for U.S. government stays, but they were exactly the maximum the government allowed, according to the General Service Administration's per diem rate lookup.


(DHS split its spreadsheet into images spanning several pages, which is why the information is broken up here.)
Coast Guard Rear Admiral Eric Jones, commander of the Seventh District based in Miami, was one of two DHS employees named in the documents as having booked a room at Doral. The stay occurred before Jones was installed as the head of that district though and he did not live in the area at the time according to a Coast Guard public affairs officer.
The other official DHS named was Karl Rohr, a deputy director in the Office of Operations Coordination. Rohr, a career government employee who stayed at Doral for two nights in November 2018, said he was in Miami to attend meetings at U.S. Southern Command, 1.5 miles from Doral. "I was in the Office of Policy at the time," Rohr said. "Their travel office chose that location because it was on our approved list of government rate hotels and it was close by."
DHS redacted the names of six other employees who incurred charges at Doral, claiming, "The privacy interests of the individuals in the records you have requested outweigh any minimal public interest in disclosure of the information."
"The way to Donald Trump's heart is through his wallet, whether you're a foreign dignitary or a member of his administration," said Austin Evers, executive director at American Oversight. "Taxpayers should pay for the costs of diplomacy when it serves the national interest, not when officials have a hankering for an overpriced meal or to show the president they are loyal."
"While employees can book personal travel via the government's reservation system, DHS provided no information about any such repayments. Additionally for four of the seven trips DHS detailed, the stays at Doral encompassed the entirety of the travel—meaning they were not personal days an employee tacked to on a business trip and later reimbursed the government for.
According to a comment accompanying DHS's response, the Department of the Defense's Southern Command ended up covering one of the charges ($688 at Doral in April 2018).
---
Subscribe to 1100 Pennsylvania: Stay informed, support this reporting, and help restaurant workers in need
During the COVID-19 pandemic, 1100 Pennsylvania is donating 25 percent of all subscription revenue to the Restaurant Workers Relief Program.
The Lee Initiative, founded by James Beard Award winner Edward Lee, and Maker's Mark's Restaurant Workers Relief Program have "turned restaurants across the country into relief centers with local chefs for any restaurant worker who has been laid off or has had a significant reduction in hours and/or pay." It offers help for those in need of food and supplies, packing hundreds of to-go meals a night. Now in 19 cities across the country, the program has served more than 150,000 meals.
You can learn more about The Lee Initiative and donate too at leeinitiative.org.
Paid subscriptions are 1100 Pennsylvania's sole source of revenue—no ads, no grants. Just $5 a month or $50 a year. Support this reporting, ensure it continues, and now help restaurant workers and their families who need your assistance.
---
Trump's now visited his businesses 39 times since first reports of what's now known as coronavirus
President Trump stayed at his Bedminster golf course Friday through Sunday. The president has now made 39 visits to Trump businesses since Chinese officials reported a cluster of cases of acute respiratory illness on Dec. 31, 2019.
[1100 Pennsylvania counts each day of a multi-night stay as a visit, as just tallying days visited wouldn't reflect dates when the president stops by more than one of his properties.]
Anyway. Saturday night, Trump's "one approved outside non-campaign group," America First Action, held a fundraiser for the president at his resort, according to the White House. That super PAC already has spent more than $557,000 at Trump properties.
Trump also golfed both days, including with Brett Favre on Sunday. The president promoted his course on social media.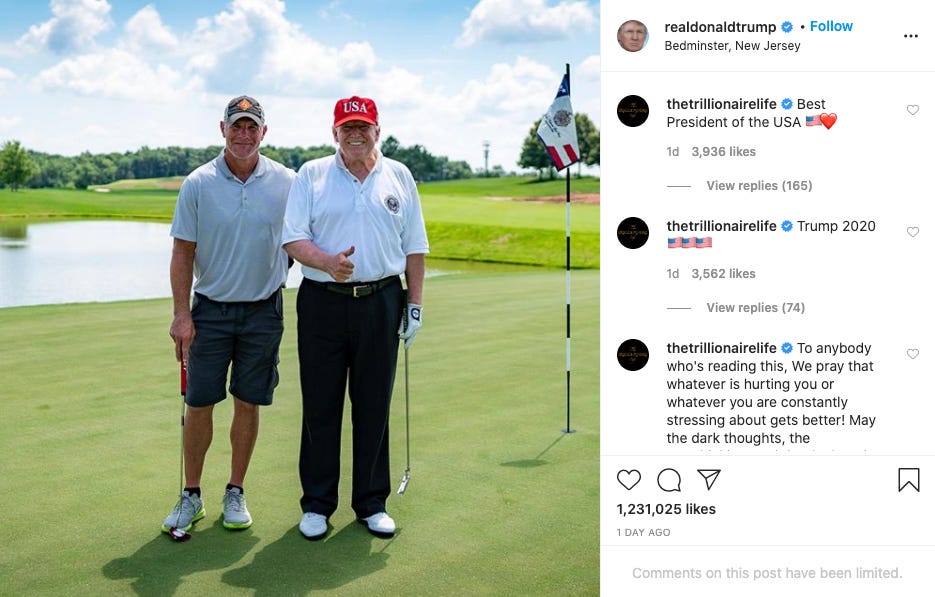 ---
GOP lawmakers slated to participate in Christian summit at Trump Hotel D.C. this week
A Liberty University group with "the purpose of educating, inspiring, and mobilizing Christians in the battle to preserve American liberty" is hosting a conference featuring Republican lawmakers Monday and Tuesday at the Trump Hotel D.C., according to its press release and social media posts.
The summit will take place in person, although seating is limited because of COVID-19.
According to the release, moderators and participants will include White House Director of Trade and Manufacturing Policy Peter Navarro, Senators Tom Cotton (R-AK) and Ted Cruz (R-TX), and members of the House Conservative Caucus.
Sen. Marsha Blackburn (R-TN), Reps. Jim Banks (R-IN) and Dan Crenshaw (R-TX) and former Trump advisor Steve Bannon already have taken to the stage.
The Falkirk Center for Faith and Liberty's first-ever Freedom Summit is "an action conference to preserve and restore the rule of law, free-market economics, and Judeo-Christian principles." The center was founded by Liberty University president Jerry Falwell Jr. and Turning Point USA head Charlie Kirk.
Former Rep. Dave Brat (R-VA) is co-hosting the event.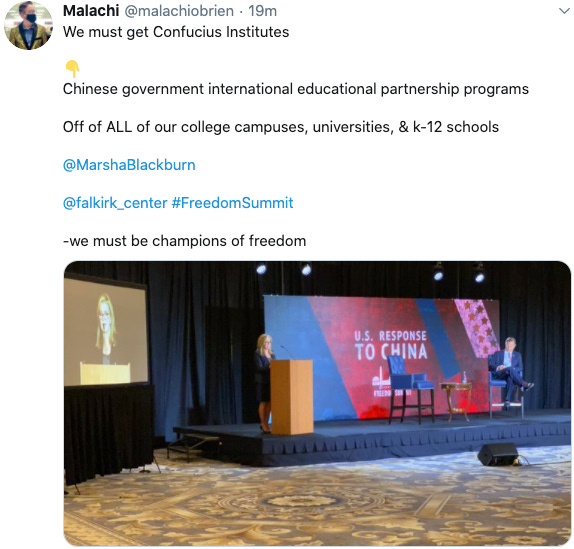 ---
Campaign expenditures
From "House GOP's pleas to Republican National Committee for financial help go unanswered" by Rachael Bade, Josh Dawsey, and Michelle Ye Hee Lee for The Washington Post on Saturday [bold added]:
Senior House Republicans are pleading with the deep-pocketed Republican National Committee and the Trump campaign to provide financial help as Democrats vastly outraise the GOP, but top campaign officials are so far declining to commit.

But senior [Trump advisor Jared] Kushner, who oversees such decisions and has a greater say than RNC Chairwoman Ronna McDaniel, has refused thus far, the officials say. While the Trump campaign and the RNC have brought in record amounts of money, some Trump officials see donating to the House as a wasteful investment as the GOP's chances of reclaiming the majority sharply deteriorate. Their decline in fortunes can largely be attributed to Trump's sagging support over his handling of the coronavirus pandemic and the sliding economy.
More than $2 million of RNC donors' money, however, has made it to Trump properties.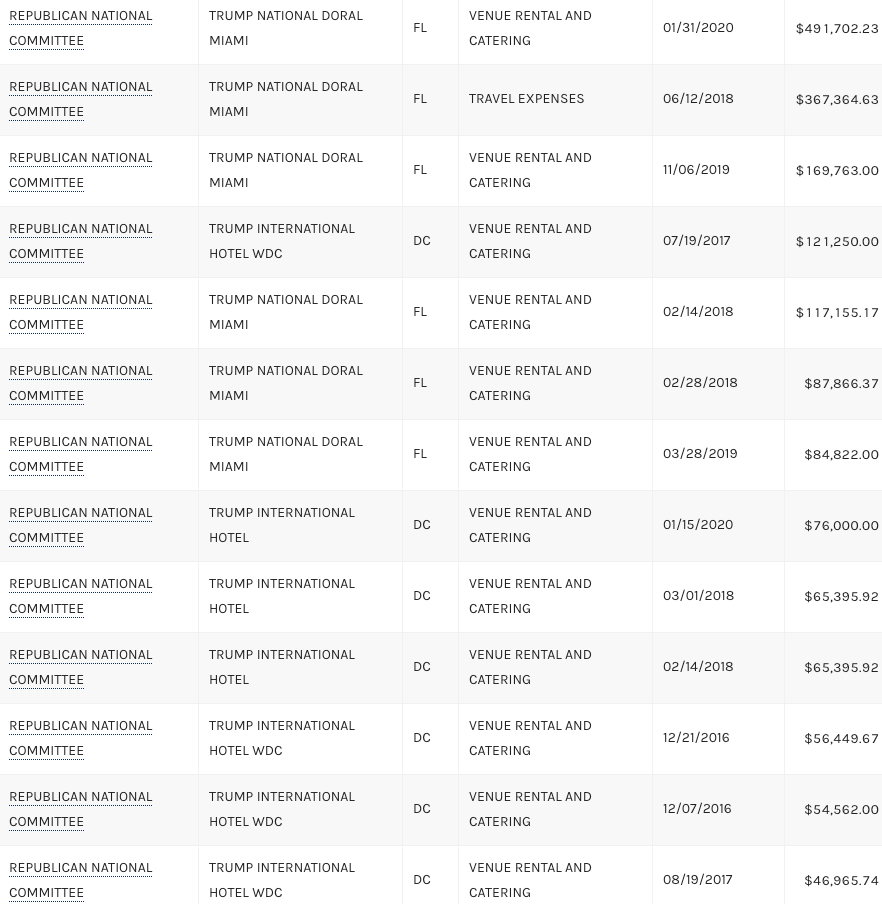 ---
Notable sighting
A glimpse of the foreign officials, government employees, politicians, lobbyists, and the like who patronize or appear at Trump businesses. Most people shown here have reasons to want to influence the Trump administration, rely on its good graces for their livelihoods, or should be providing oversight. Additionally, high-profile guests serve as draws for paying customers.
Erinn Izykowski, a policy analyst with the Navy working on sexual assault prevention and response, celebrated her 10-year wedding anniversary with a stay in the D.C. hotel owned by the commander in chief (who 25 women have accused of sexual assault).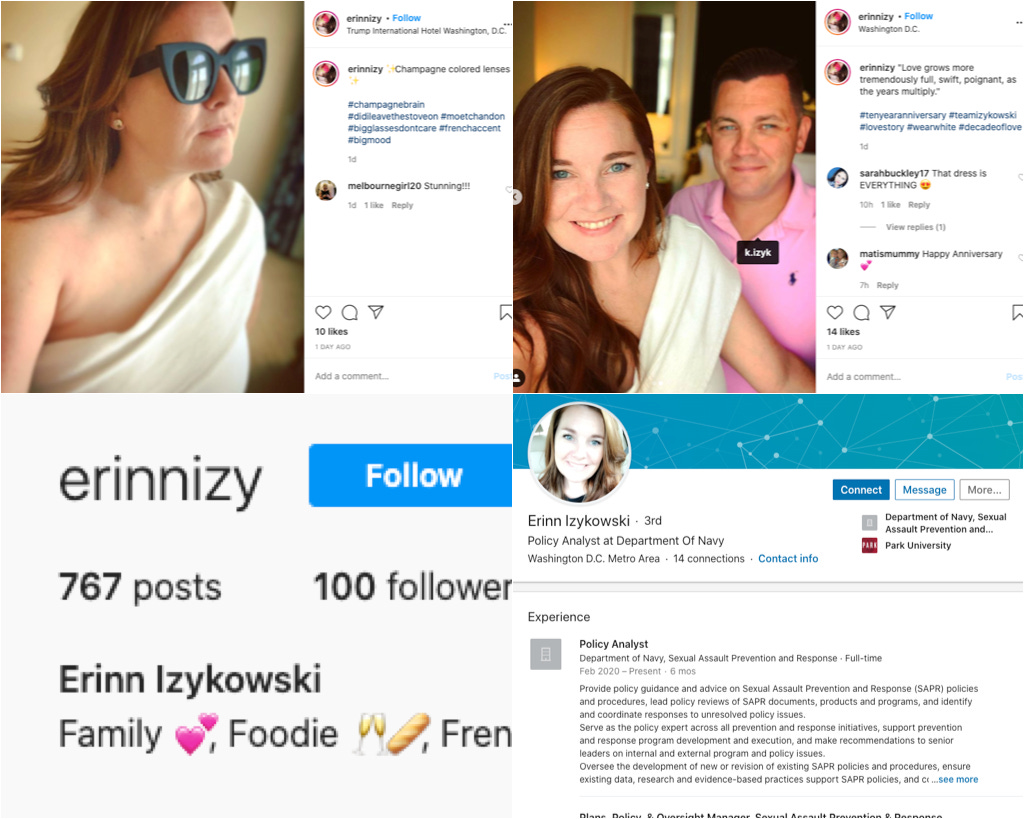 ---
Other Trump Organization news
"Playing host at a small dinner on Tuesday night in honor of Secretary of State Mike Pompeo, the American ambassador to Britain, Robert Wood Johnson IV, told his guests that the wine was from President Trump's vineyard in Virginia. He was serving it, he joked, even though it might be ethically improper." Reported Mark Landler, Lara Jakes and Maggie Haberman for The New York Times

Twice last week, the Trump campaign sent supporters emails offering signed copies of Donald Trump Jr.s' new self-published book in exchange for donations, according to @TrumpEmails.
---
Reference section
Links to rundowns of developments in the House's investigations and lawsuits, reference sheets for some of 1100 Pennsylvania's previous reporting, and articles that provide the background on why all of this matters. The date published or last updated is in parentheses.
Trackers
Notable hotel customers
Summaries
Upcoming key dates
Sept. 23, 2019—House Judiciary Committee hearing "Presidential corruption: Emoluments and profiting off the presidency" (postponed, not yet rescheduled)

July 29, 2020—Deadline for joint status reports in the The Washington Post's lawsuit alleging the Departments of State and Homeland Security have failed to share records responsive to Freedom of Information Act requests seeking information on government spending at Trump properties

Aug. 10, 2020—Scheduling conference before D.C. Superior Court in D.C. attorney general's lawsuit alleging improperly spent nonprofit funds by the Trump Hotel D.C. and Trump's inaugural committee

Aug. 25, 2020—Discovery requests are due in a one-time Trump appointee's lawsuit against the Trump Hotel D.C., alleging a glass from a sabered bottle of champagne left a gash in her chin
---
Thanks for reading! If you like what you've read, tell someone. If you've been forwarded this newsletter, subscribe at 1100pennsylvania.substack.com. Questions? Read our FAQ. Tips or feedback? Contact Zach Everson at 1100Pennsylvania@protonmail.com (it'll be encrypted if you also use a ProtonMail account, which is free) or via Signal (secure), SMS, or mobile at 202.804.2744.