Discover more from 1100 Pennsylvania
"The undisputed expert on the D.C. Trump Hotel" – David Fahrenthold of the Washington Post
Over 3,000 subscribers
Dinner with a side of diplomacy
Welcome to 1100 Pennsylvania, a newsletter devoted to President Donald Trump's Trump International Hotel Washington, D.C. (and his other companies). President Trump, of course, still owns his businesses and can profit from them.
If you like what you see, tell someone—and support this work by paying for a subscription. If you've been forwarded this newsletter, subscribe for yourself at zacheverson.substack.com. Questions? Read our FAQ/manifesto. Tips or feedback? Contact me, Zach Everson, securely via email at 1100Pennsylvania@protonmail.com or on Signal at 202.804.2744.
Dinner with a side of diplomacy
Yesterday's 1100 Pennsylvania reported, "Trump reportedly made a foreign-policy proclamation, telling Ilham Ehmed of the Syrian Democratic Council, the political wing of the Kurdish fighters in Syria, "Don't worry, I love the Kurds."
Later in the day, CNN verified the exchange and reported it out. From "Trump tells worried ally 'I love the Kurds' in hotel meeting" by Kylie Atwood for CNN:
"I love the Kurds," Trump told Kurdish Leader Ilham Ahmed in an unconventional diplomatic meeting at the Trump International Hotel in Washington on Monday night.

Ahmed asked Trump if he would leave the Kurds in Syria to be slaughtered by Turkish President Recep Tayyip Erdogan. Trump promised them he would not.

"We felt much better, but we are still looking for more meetings," explained Ahmed, a Syrian-Kurdish politician and the head of the Executive Committee of the Syrian Democratic Council (SDC), on Tuesday.

Ahmed is in Washington this week meeting with Trump administration officials and members of Congress. She was dining with congressional leadership on Monday night at the hotel when the President stopped by her table to say hello and stayed for a 10-minute conversation. Trump was there for a political fundraiser.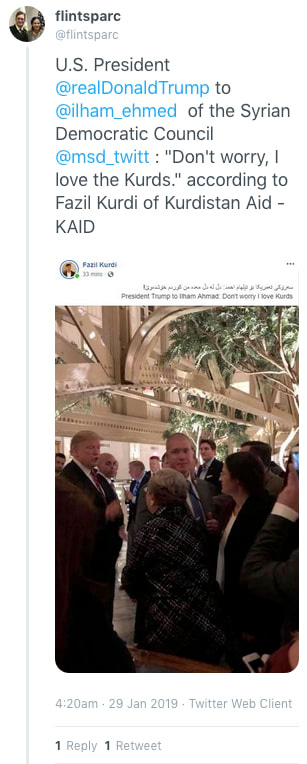 Ehmed, of course, is not the first foreign politician to receive a positive reception from Trump when pitching their country's interest to him at his hotel. From "GOP leans on rainmaker who courts controversy on two continents" by Ben Wieder and Peter Stone for McClatchy:
One week before Trump's inauguration—for which he had been a high-level fundraiser—[Elliott] Broidy invited two powerful but controversial Romanian politicians to be his guests at several exclusive inaugural events: Liviu Dragnea, head of the Social Democratic Party and speaker of the lower house in Parliament, and then-Prime Minister Sorin Grindeanu. While Grindeanu has the title, Dragnea is "the de-facto head of the government," said Caterina Preda, a political science professor at the University of Bucharest.

The pair met Trump, with Broidy at the table [in BLT Prime]. As Dragnea recounted on Facebook, Trump responded enthusiastically to his call for stronger ties between Romania and the United States.

"We will make it happen! Romania is important for us!" Trump said, according to Dragnea's Facebook post.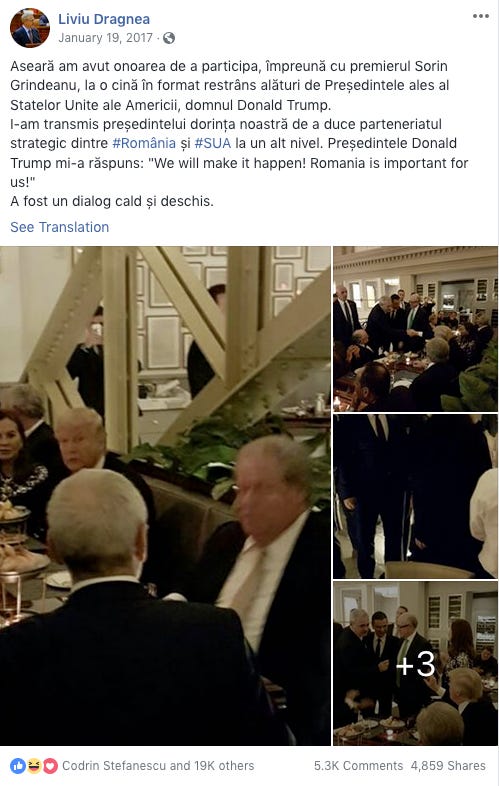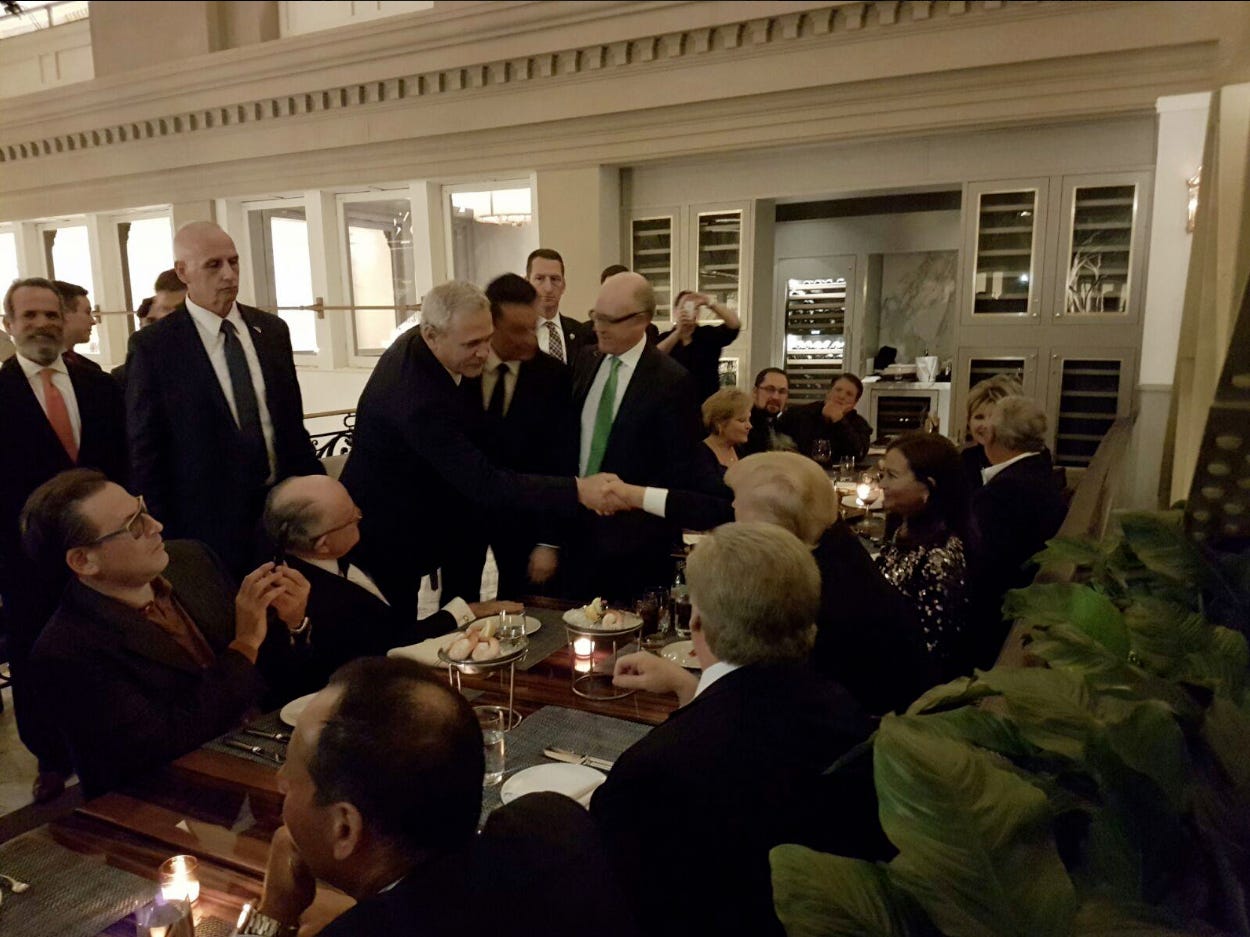 Study analyzes meaning of 'emoluments' 'based on 138 million words written between 1760 and 1799'
From "A big Trump case hinges on the definition of 'emoluments.' A new study has bad news for him." by Aaron Blake for The Washington Post:
Perhaps most importantly the study, which was not submitted on behalf of either party in the case, found these coordinated noun phrases often used the word "other" before emoluments. (In fact, the phrase "other emoluments" accounted for one out of every 40 uses of the word, which is far more common than for other nouns.) This suggests many of the words that would proceed "other emoluments" were understood themselves to be forms of emoluments. This would include words like "bounties," "fees," "contracts," "lands," "pay," "clothing," "privileges" and "places."

Taken together, this research suggests that many things constitute an emolument and that Trump's continued acceptance of basically anything from foreign states could be interpreted as accepting emoluments.
Will the Trump Hotel D.C. get Roger Stone on Saturday?
Roger Stone still plans to headline Virginia Women for Trump's 2020 campaign kickoff dinner on Saturday, according to Ali Dukakis of ABC News (the go-to journalist for Roger Stone news):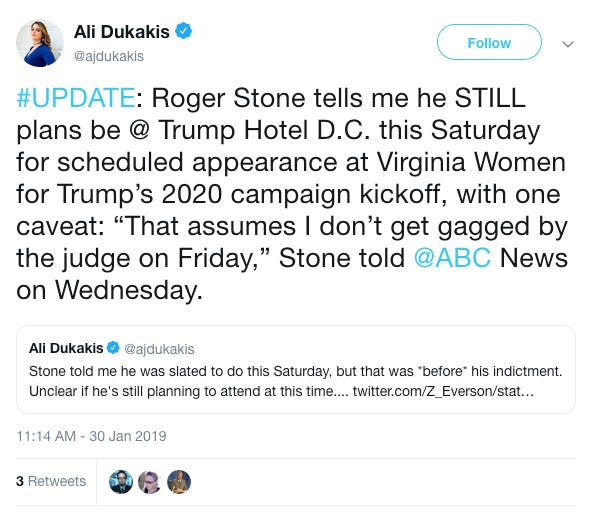 And Virginia Women for Trump is still selling tickets around his appearance (which, per the event's Eventbrite page, has not sold out).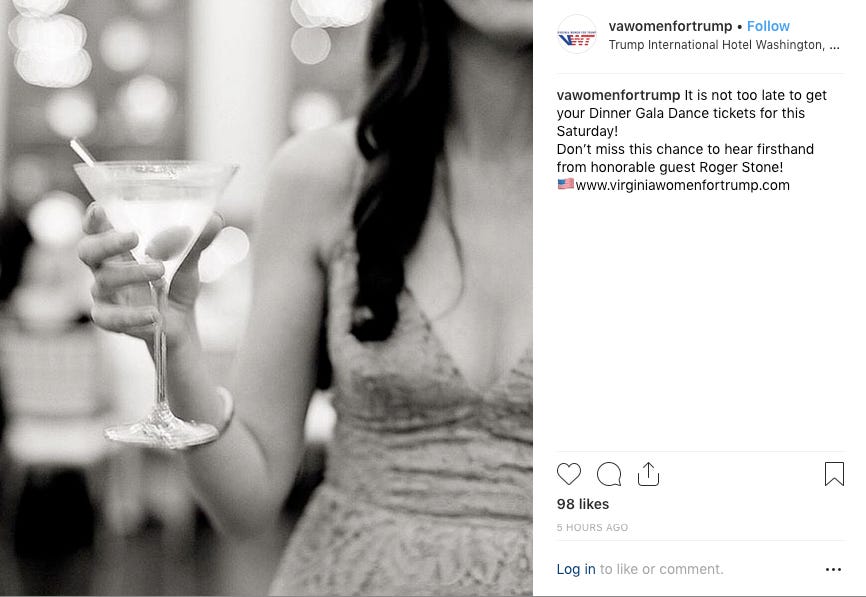 Noteworthy sightings
Donald Trump Jr. shared a picture of his dad addressing donors at their hotel Monday night.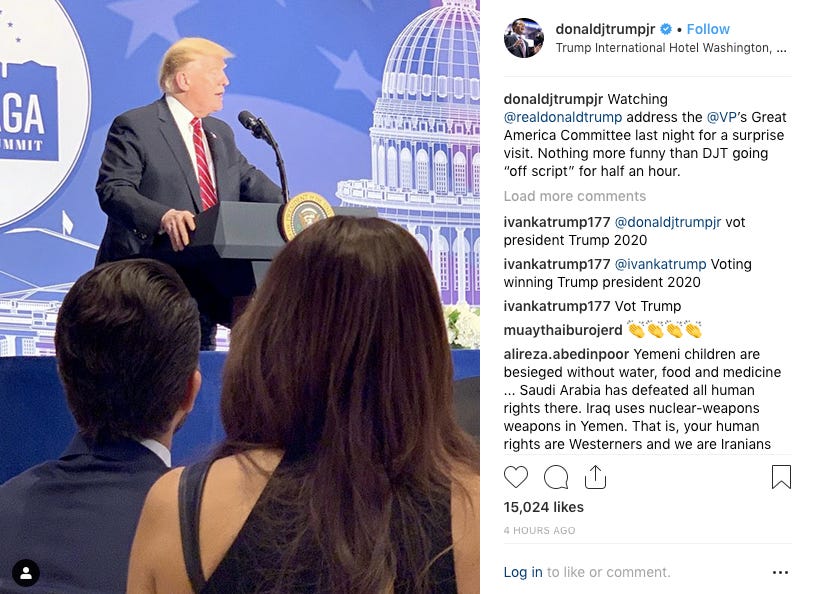 The president of the Second Amendment Institute, Tyler Yzaguirre's, dreams came true when he saw Trump and VP Mike Pence at the hotel Monday night.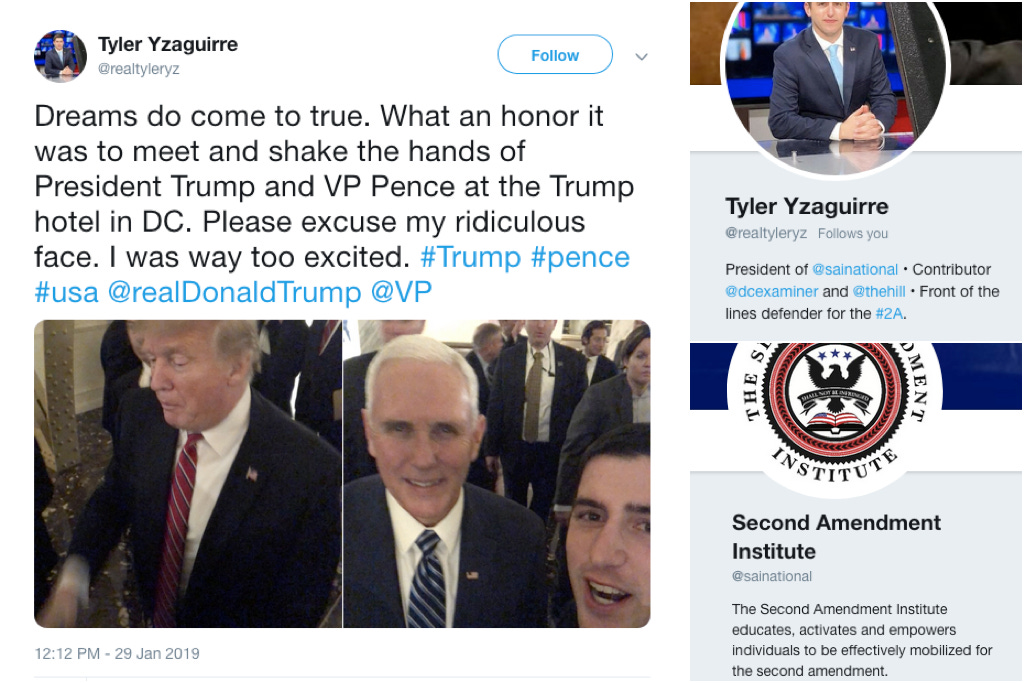 Rep. Jim Jordan (R–OH), Trump campaign manager Brad Parscale, hotel co-owner/first son Donald Trump Jr, and vice chairwoman of America First Policies/girlfriend of hotel co-owner Kimberly Guilfoyle were photographed at the hotel. Politico Playbook reported that Corey Lewandowski, David Bossie, Nick Ayers, Sen. John Cornyn (R-TX), and Jason Miller also were there. (Don Jr., of course, is a businessman walled off from his father's administration.)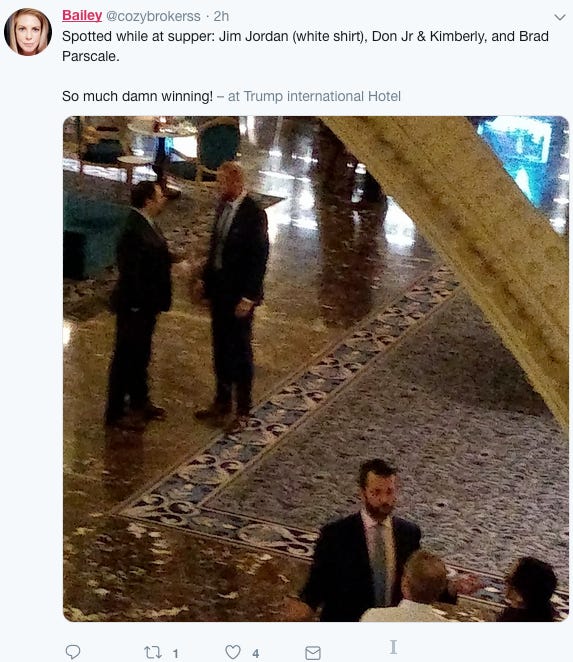 Guilfoyle also posed in the lobby with a man in a Trump-branded shirt. Yesterday this same Trump fan landed a photo with Trump's former campaign manager, Corey Lewandowski. "Never know who you'll run into @TrumpDC." (Only you kind of do.)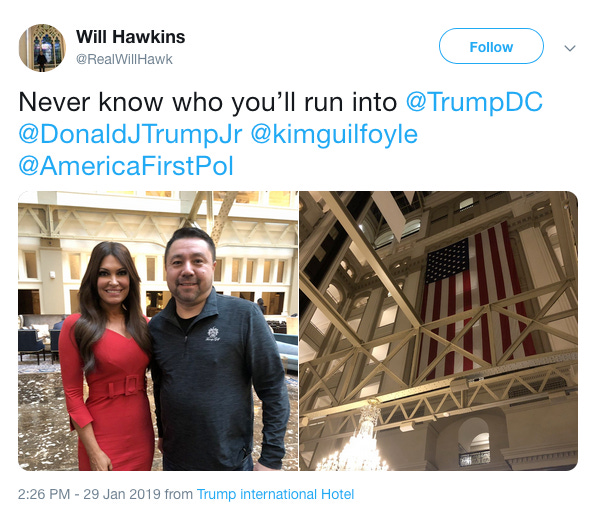 Other Trump Organization news
"President Trump's company plans to institute E-Verify, a federal program that allows employers to check whether new hires are legally eligible to work in the United States, in every one of its golf clubs, hotels and resorts, following a Washington Post report that its club in Westchester County, N.Y., employed undocumented immigrants for years." By Jonathan O'Connell, Elise Viebeck and Tracy Jan for The Washington Post

Trump Org EVP Eric Trump called that Washington Post article hypocritical, pointing out that The Post's owner's other company doesn't use E-Verify for all of its employees. Twitter's 240-character limit must have prevented Eric from going on to acknowledge that Jeff Bezos didn't get elected president by pledging to build a wall to keep out Mexican "rapists."

"Inspectors find serious health violations at Trump Tower Waikiki's upscale steak house" by Hawaii News Now. Read the report.

Trump's money-losing Aberdeen golf club is hosting a free golf clinic—for taxi drivers.

"Starbucks, built by Trump challenger Howard Schultz, rents space from president in three buildings" by Dan Alexander for Forbes

In 2014, Ivanka Trump was a big fan of the Trump Tower Starbucks. [h/t @Dennis_vdo]
House investigations, current status (latest change, Jan. 25, 2019)
Financial Services—Sent an inquiry to Deutsche Bank AG on its ties to Trump, according to the bank on Jan. 24.

Foreign Affairs—Chair Elliot Engel (D–NY) "plans to investigate whether President Donald Trump's businesses are driving foreign policy decisions, including whether Trump violated the emoluments clause of the Constitution in the process" per CNN on Jan 23.

Intelligence—Sent an inquiry to Deutsche Bank AG on its ties to Trump, according to the bank on Jan. 24.

Oversight and Reform—Chair Elijah Cummings's (D–MD) staff "has already sent out 51 letters to government officials, the White House, and the Trump Organization asking for documents related to investigations that the committee may launch," according to CBS News on Jan. 13.

Transportation and Infrastructure subcommittee on Economic Development, Public Buildings, and Emergency Management—Chair Dina Titus (D–NV) announced plans to investigate "Donald Trump's attempts to prevent the relocation of the F.B.I headquarters and to profit from his presidency at his D.C. hotel" on Jan. 24.
Legal cases, current status (latest change, Jan. 30, 2019)
D.C. and MD attorneys general's emoluments lawsuit (district court docket, appellate court docket)—

Official capacity—On Dec. 20, the 4th U.S. Circuit Court of Appeals ruled it would hear the president's appeal of district court rulings that allowed the case to proceed to discovery, and the appellate court halted discovery in the case. (Discovery had started Dec. 3 and was scheduled to run through Aug. 2, 2019, with the AGs already having issued 38 subpoenas, including to the Trump Organization; the U.S. Departments of Agriculture, Commerce, Defense, and Treasury and the GSA; and the state of Maine.) Oral arguments on the appeal are scheduled for March 19.

Individual capacity—On Dec. 14, Trump's personal attorneys appealed the denial of their motion to dismiss the case, also to the 4th U.S. Circuit Court of Appeals. On Dec. 19, the AGs replied to Trump's motion for a stay pending that appeal by voluntarily dismissing the claims against Trump in his "individual capacity to allow the claims against President Trump in his official capacity to move forward expeditiously." (The AGs only brought suit against Trump in his individual capacity after the judge suggested they do so.) Trump's personal attorneys, on Dec. 21, opposed the motion to dismiss at the district level, saying the appeals court now has jurisdiction and accusing the AGs of "gamesmanship."

196 Democratic senators and representatives' emoluments lawsuit—On Sept. 28 judge Emmet G. Sullivan ruled that the legislators have standing to sue. Trump's Justice Department attorneys filed an interlocutory appeal on Oct. 22.

CREW et. al's emoluments lawsuit—In February, CREW appealed its suit being dismissed for lack of standing to the 2nd U.S. Circuit Court of Appeals. Oral arguments on that motion were held on Oct. 30.

Cork's unfair competition lawsuit—Judge Richard J. Leon dismissed the case on Nov. 26, writing "Cork has failed to state a claim for unfair competition under D.C. law." On Dec. 10, Cork's attorneys filed a notice of appeal and on Jan. 10 they submitted a statement of issues to be raised. The next steps, which don't yet have a timeline, include a briefing schedule being set and both sides filing appellate briefs.

UPDATED Employees' class-action suit alleging racial discrimination—Two of the three plaintiffs did not appear at a status hearing on Jan. 25; their cases were moved to arbitration. Via email, their attorney, A.J. Dhali, said his clients did not appear at the hearing because their case already had been moved to arbitration last year. The next status hearing is scheduled for Oct. 4.
Health inspections, current status (latest change, Aug. 10, 2018)
❌Hotel: five violations on May 7, 2018; two were corrected on site

❌BLT Prime and Benjamin Bar: nine violations on Aug. 10, 2018

❌Sushi Nakazawa: two violations on Aug. 10, 2018

✔️Banquet kitchen: no violations on Aug. 10, 2018

❌Pastry kitchen: two violations on Aug. 10, 2018

✔️Gift shop: no violations on May 7, 2018

❌Employee kitchen and in-room dining: five violations on Aug. 10, 2018; two were corrected on site
One thing that has nothing to do with Trump's businesses (I think, tough to tell sometimes!)
Rep. Thomas Massie (R–KY) shares his thoughts on gun control. "#sassywithmassie"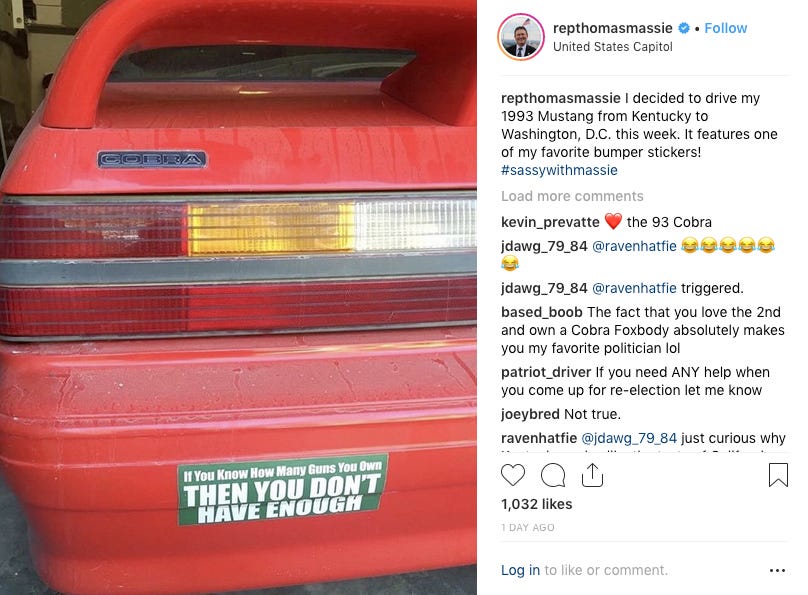 Thanks for reading. If you like what you saw, tell someone—and support this work by paying for a subscription. If you've been forwarded this newsletter, subscribe for yourself at zacheverson.substack.com. Questions? Read our FAQ/manifesto. Tips or feedback? Contact me, Zach Everson, securely via email at 1100Pennsylvania@protonmail.com or on Signal at 202.804.2744.