Discover more from 1100 Pennsylvania
"The undisputed expert on the D.C. Trump Hotel" – David Fahrenthold of the Washington Post
Over 3,000 subscribers
Doral loses G7, Mulvaney drops pretense
Trump stands down on hosting world leaders at his resort; Mulvaney continues to display admirable candor
Saturday night, President Trump tweeted that his Doral club would no longer hold the 2020 G7 summit. The following morning, Acting White House Chief of Staff Mick Mulvaney told Fox News's Chris Wallace, "[Trump] was honestly surprised at the level of pushback. At the end of the day he still considers himself to be in the hospitality business." (The comment is at the 13:54 mark.)
Both The New York Times and The Washington Post reported Trump caved after getting pushback from Republicans. And for The Daily Beast, your correspondent wrote about how, even without hosting world leaders at Doral, Trump will continue to profit from his presidency:
Trump's D.C. hotel is set to host an evening of prayers for the Kurds in the president's presidential ballroom next Sunday (allowing him to profit off a foreign policy crisis he ignited); a $3,000-a-plate gala to benefit the Marines Corps' special-ops community at which the National Security Advisor to the Vice President, Keith Kellog, will be an honored guest; and a two-day "Save the Senate" retreat in November, in which nine sitting GOP Senators and one candidate will join our innkeeper-in-chief.
---
We knew Giuliani dined feet away from Romania's prime minister; now it looks like Lev Parnas did too
This March, Rudy Giuliani dined within an arm's reach of Romania's prime minister at the Trump Hotel D.C. Turns out, his now-indicted associate Lev Parnas may have been there too.
On the weekend of March 23–24, your correspondent—separately—saw Viorica Dancila and Rudy Giuliani at the U.S. president's hotel (reported by Ilya Marritz, Justin Elliot, and me for ProPublica and WNYC's Trump, Inc.). At the time, Giuliani's spokesperson and the Romanian embassy in D.C. did not reply when asked if the two interacted.
A few days later, however, Giuliani tweeted a photo that confirmed he was within arm's reach of Dancila, as 1100 Pennsylvania reported at the time (see that issue for the explanation of how her identity was confirmed).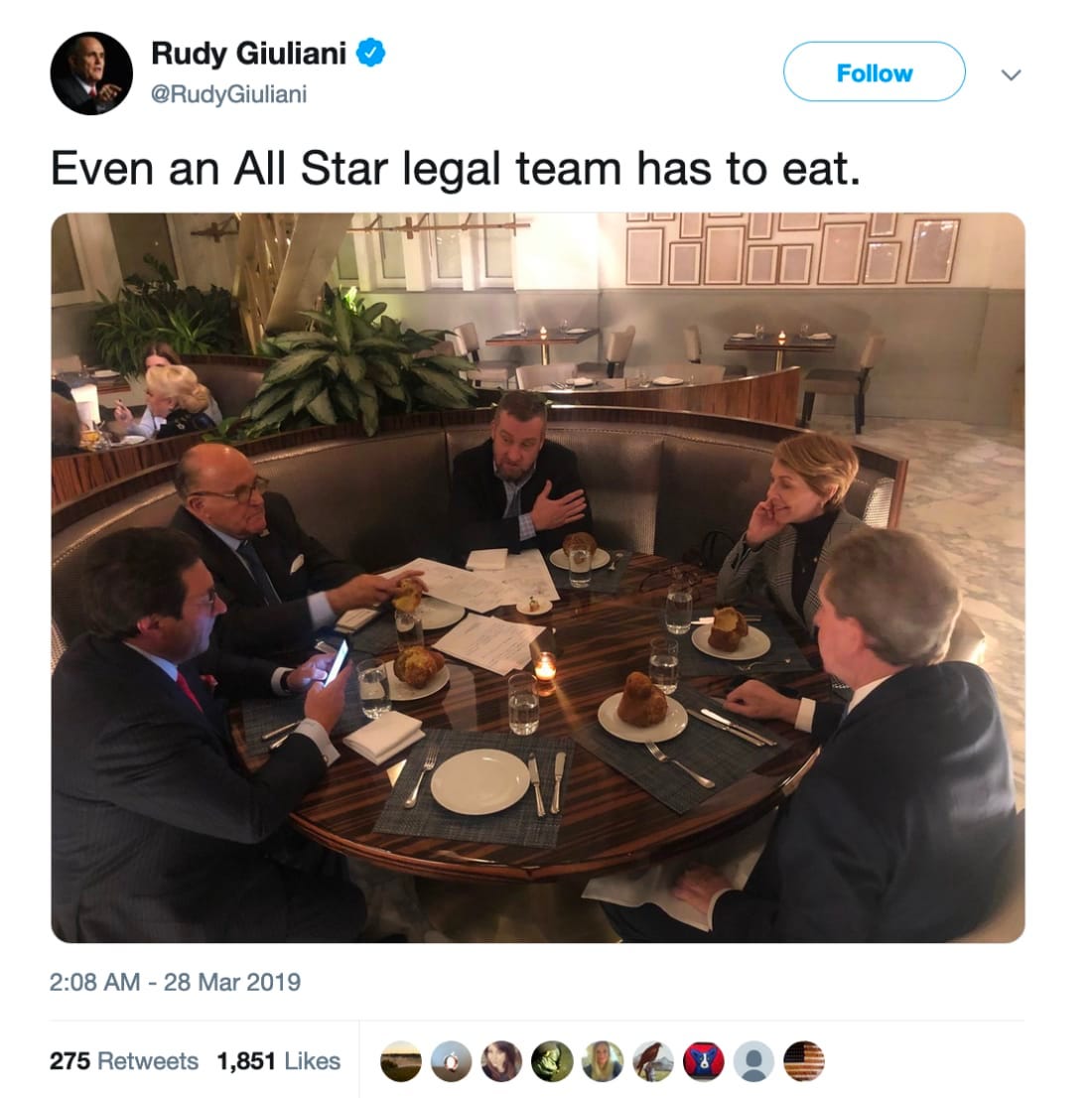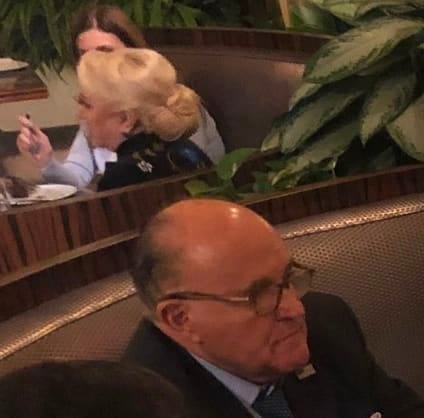 Turns out Lev Parnas appears to also have shared a photo from that meal, according to his Parnas's private Instagram account, reported this morning by Shelby Holliday of The Wall Street Journal. Giuliani is next to Trump's then-personal lawyer, Jay Sekulow, in both photos and they are wearing the same clothes in each picture. The table layouts are similar with popovers on the table and menus scattered are about. And while only five people are shown in Rudy's photo, there are six place settings.
---
Judiciary still hasn't rescheduled its postponed hearing on 'profiting off the presidency'
Scheduled for Sept. 23, the House Judiciary committee postponed a hearing titled "Presidential corruption: Emoluments and profiting off the presidency" because of the death of a Congressman's wife. At the time a committee spokesperson said the session likely would be rescheduled for mid-October.
On Friday, the committee published its calendar through Oct. 27. The hearing is not on it. A spokesperson for the panel has not replied to multiple inquires about when or if the hearing will be held.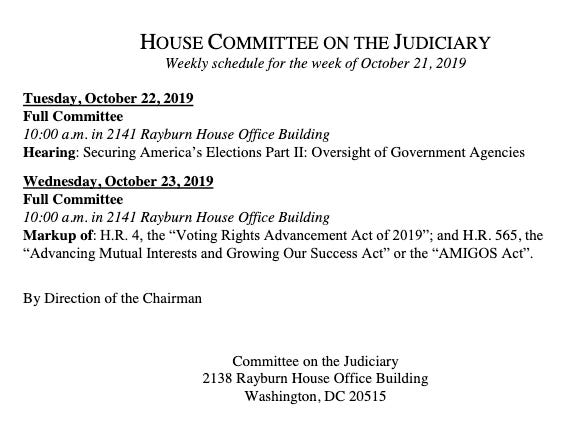 ---
Campaign expenditures
House Minority Leader Kevin McCarthy's (R–CA) campaign spent $220 for meal expenses at the Trump Hotel D.C. on Sept. 24. McCarthy's campaign, leadership PAC, and joint fundraising committees now have reported spending $246,446.04 at Trump properties since Trump became the head of the executive branch. (According to 1100 Pennsylvania's analysis, during McCarthy's 10 years in Congress before Trump won the 2016 election, McCarthy's campaign, leadership PAC, and joint fundraising committees reported spending $743.93 at Trump's businesses.)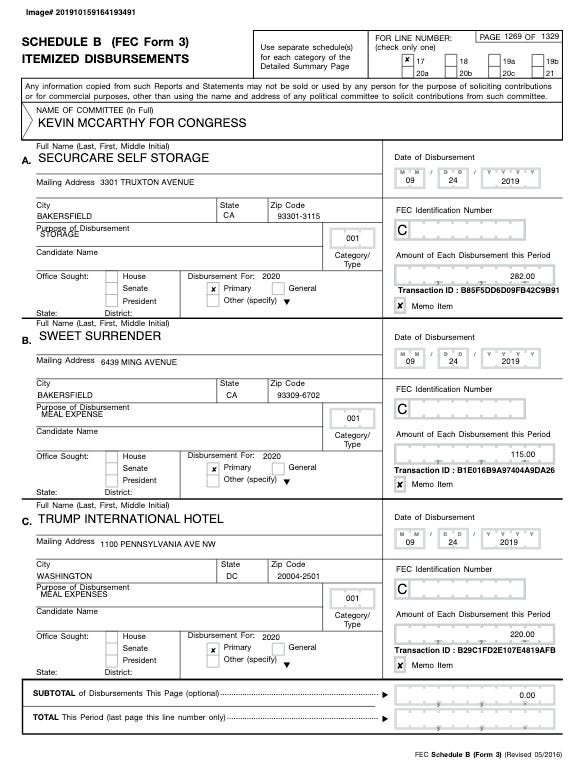 ---
Notable sightings
A glimpse of the foreign officials, government employees, politicians, lobbyists, and the like who patronize or appear at Trump businesses. Most people shown here have reasons to want to influence the Trump administration, rely on its good graces for their livelihoods, or should be providing oversight. Additionally, high-profile guests serve as draws for paying customers.
Indicted Trump confidant Roger Stone was back to headline another event at a business owned by man who could pardon him.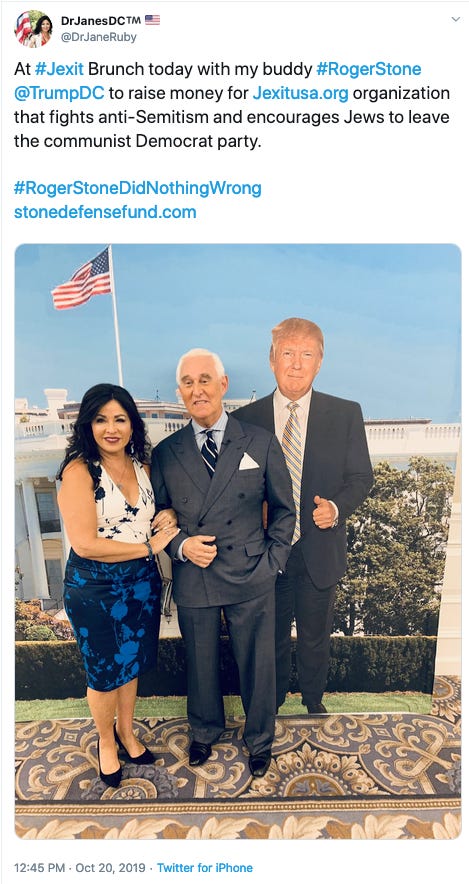 Far-right commentator Milo Yiannopoulos returned and posed with pro-Trump fashion designer Andre Soriano.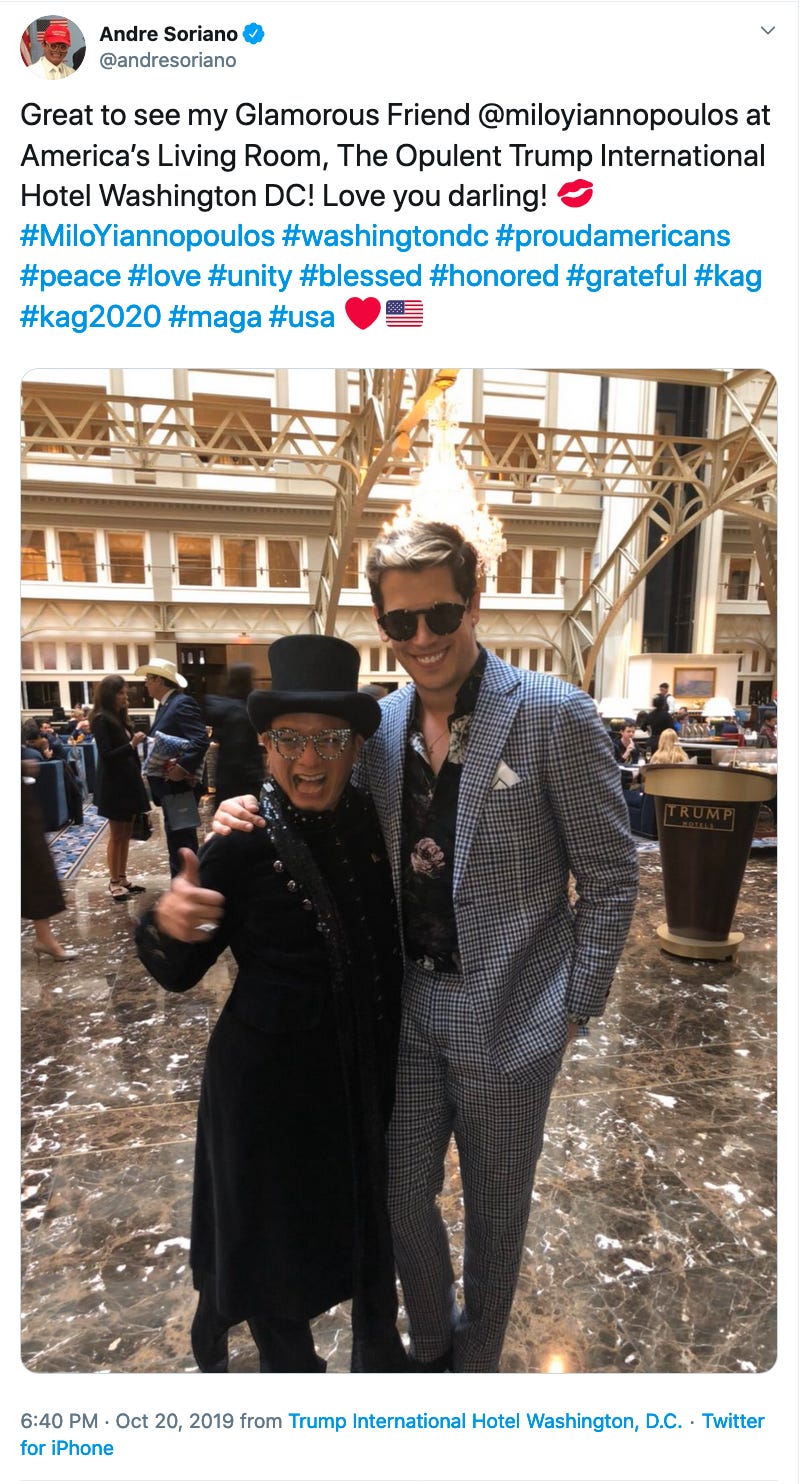 Enthusiastic Trump supporters Jacob Wohl and Jack Burman were back at the Trump Hotel D.C., tweeted Zachary Petrizzo, who covers politics and the internet. Petrizzo said he was kicked out of the hotel for trying to interview the two, along with Yiannopoulos. Petrizzo later deleted both tweets.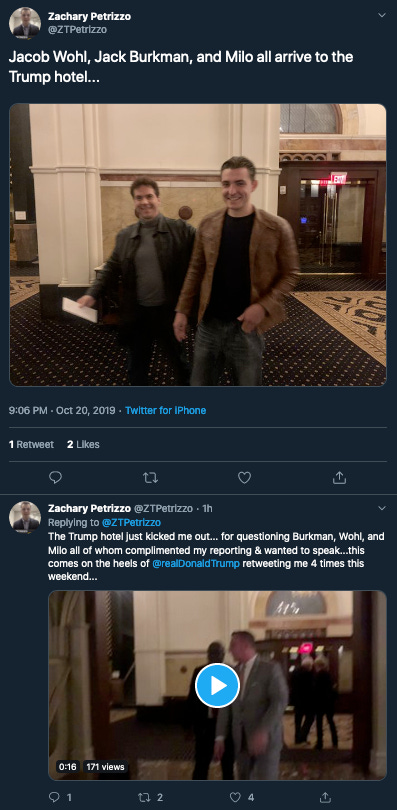 Author Ivan Throne, whom the Southern Poverty Law Center described as an "alt-right misogynist," praised the president's D.C. hotel on a repeat visit.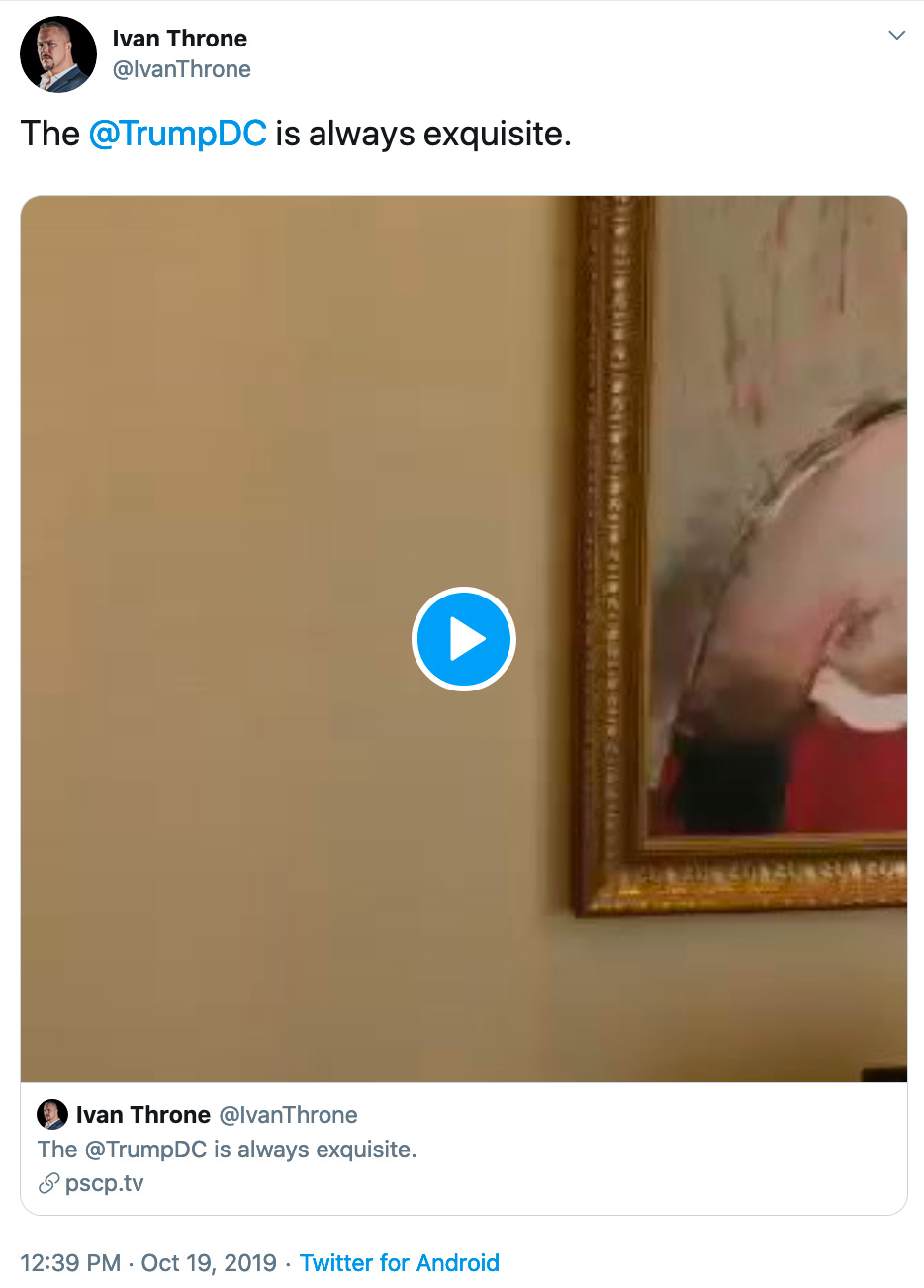 ---
Other Trump Organization news
"'Had I not been there, I wouldn't have met Rudy': The tale of the Arabian princess and the Trump International Hotel" By Dalton Bennett, Beth Reinhard and Josh Dawsey for The Washington Post

"Jim Justice promised West Virginians he would focus on public service, and not his businesses, once he was elected. But he's frequently used his power as governor to promote his own corporate entities while running the state." by Ken Ward Jr., for The Charleston Gazette-Mail

"Donald Trump golf course hit by vandalism, theft and threatening message since President took office" by James Walker for Newsweek
---
Reference section
Links to rundowns of developments in the House's investigations and lawsuits, reference sheets for some of 1100 Pennsylvania's previous reporting, and articles that provide the background on why all of this matters. The date published or last updated is in parentheses.
Trackers
Notable hotel customers
Summaries
---
Thanks for reading! If you like what you've read, tell someone. If you've been forwarded this newsletter, subscribe at 1100pennsylvania.substack.com. Questions? Read our FAQ. Tips or feedback? Contact Zach Everson at 1100Pennsylvania@protonmail.com (it'll be encrypted if you also use a ProtonMail account, which is free) or via Signal (secure), SMS, or mobile at 202.804.2744.