Discover more from 1100 Pennsylvania
"The undisputed expert on the D.C. Trump Hotel" – David Fahrenthold of the Washington Post
Over 3,000 subscribers
Evangelicals congregate at Trump hotel
National Day of Prayer seems to be good business for the presidential collection plate that is the Trump Hotel D.C.
From "Evangelical leaders meet to discuss upcoming 2020 presidential election, prepare for National Day of Prayer" by Steve Warren CBN News:
Around 20 evangelical leaders met Wednesday at Trump Hotel in Washington, D.C. discussing ways to help re-elect President Donald Trump. 

They prayed for the president and discussed 2020 and the issue of immigration policy….

Wednesday's gathering wasn't an official meeting of the president's faith advisory board, but many who were there serve in that group.
Based on social media posts, the president's hotel, the White House, and the Museum of the Bible have formed a holy trinity of sorts for National Day of Prayer pilgrims.
Some highlights of the "divine encounters" that have taken place at the Trump Hotel D.C. so far during National Day of Prayer celebrations:
Paula White-Cain, Trump's personal pastor who delivered the invocation at his inauguration and preaches the prosperity gospel, posed in her congregant's hotel.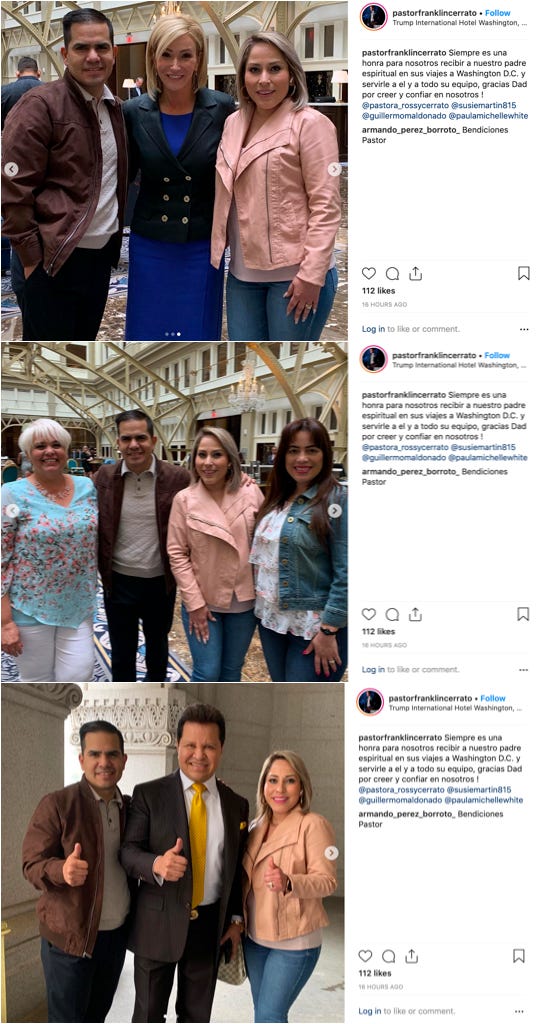 On the eve of a briefing at the White House, a group of Latino Christians were all smiles.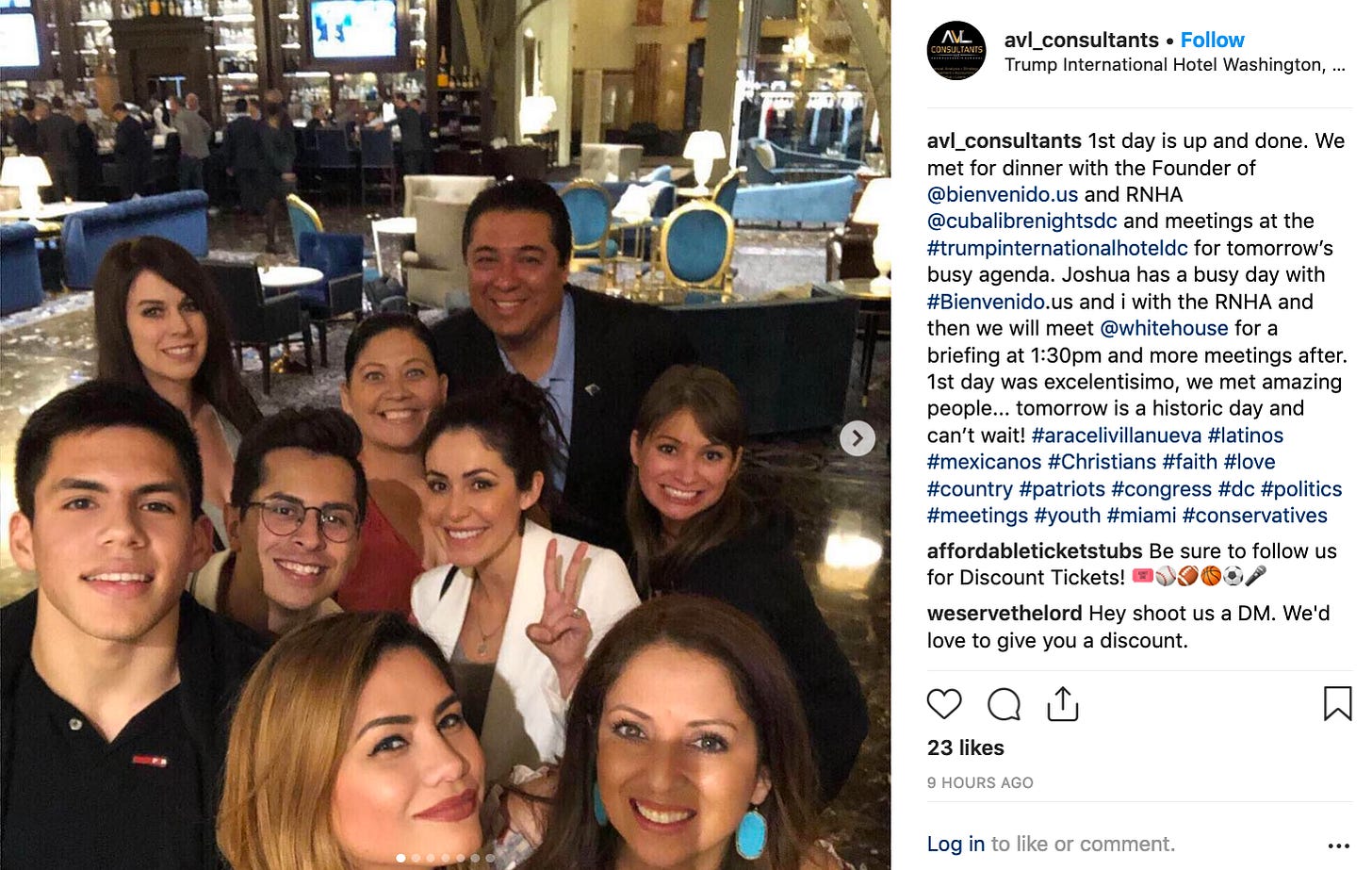 An executive producer shared a plandid to promote his new show about Jesus.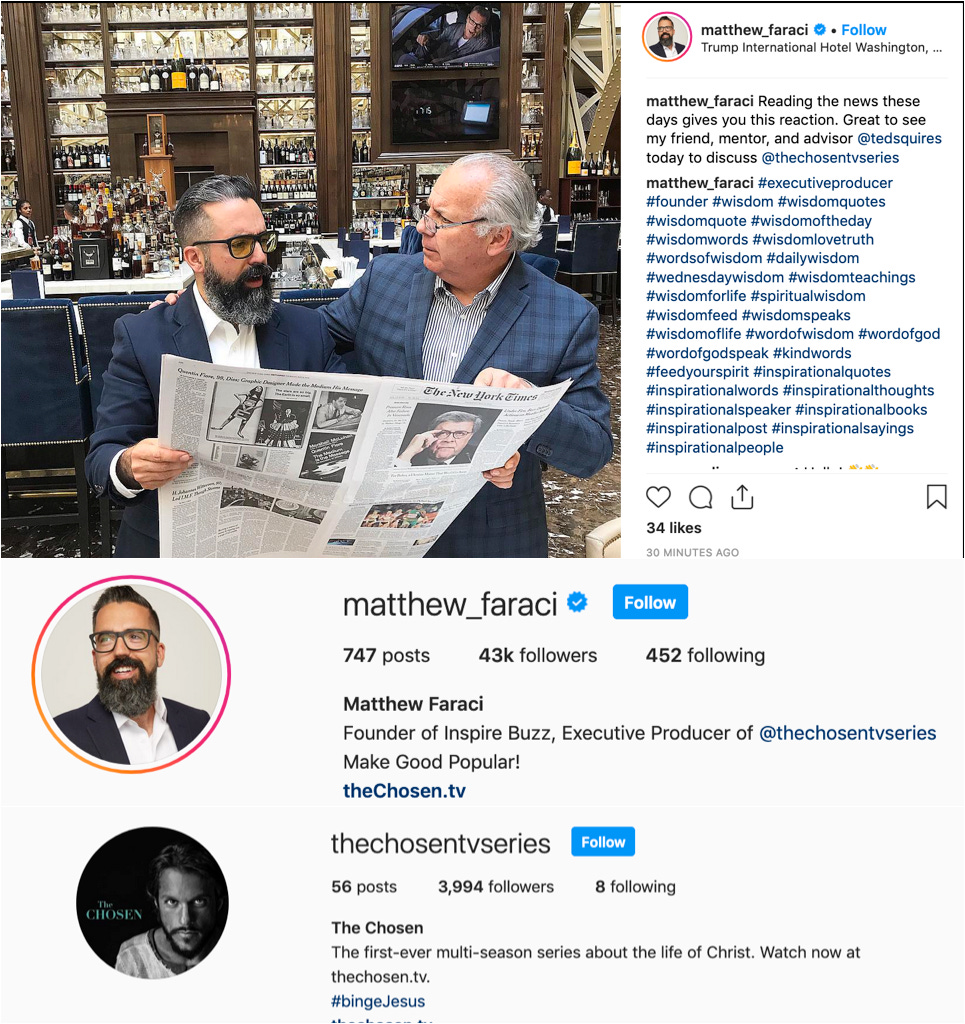 A fellow at the American Civil Rights Union (a conservative counter to the ACLU), Kerri Toloczko, was at the Trump's hotel "working to promote freedom in countries where Christians are at risk. It's a good day."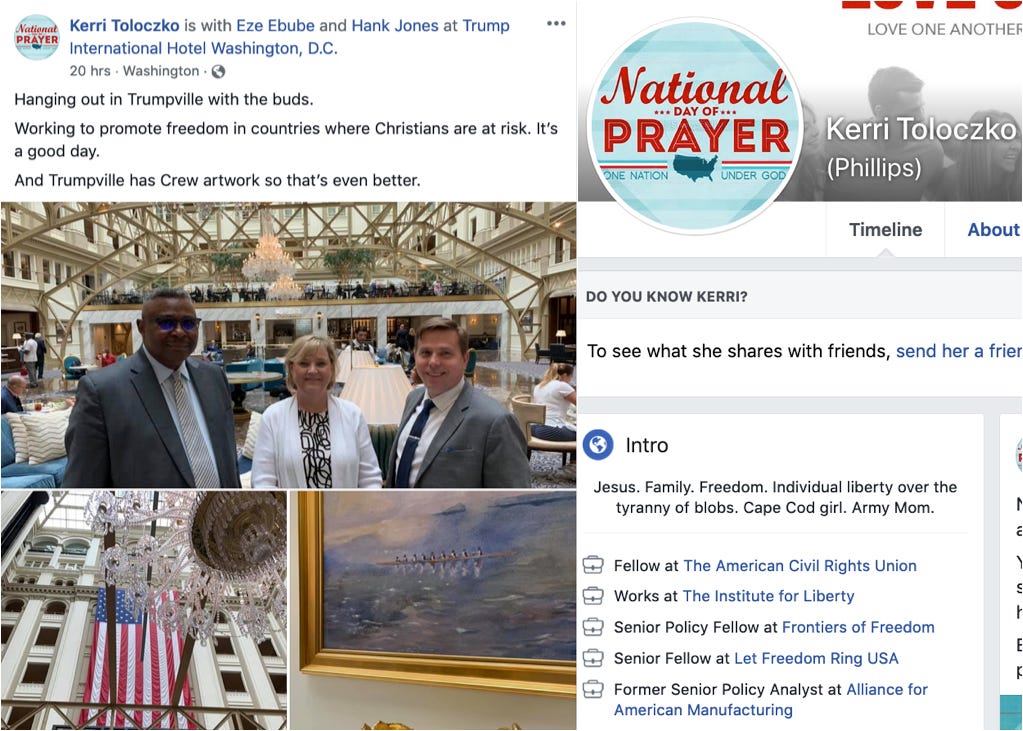 God introduced the White House correspondent for a Christian news outlet, June Dawn Knight, to an attorney on President Trump's faith-based team.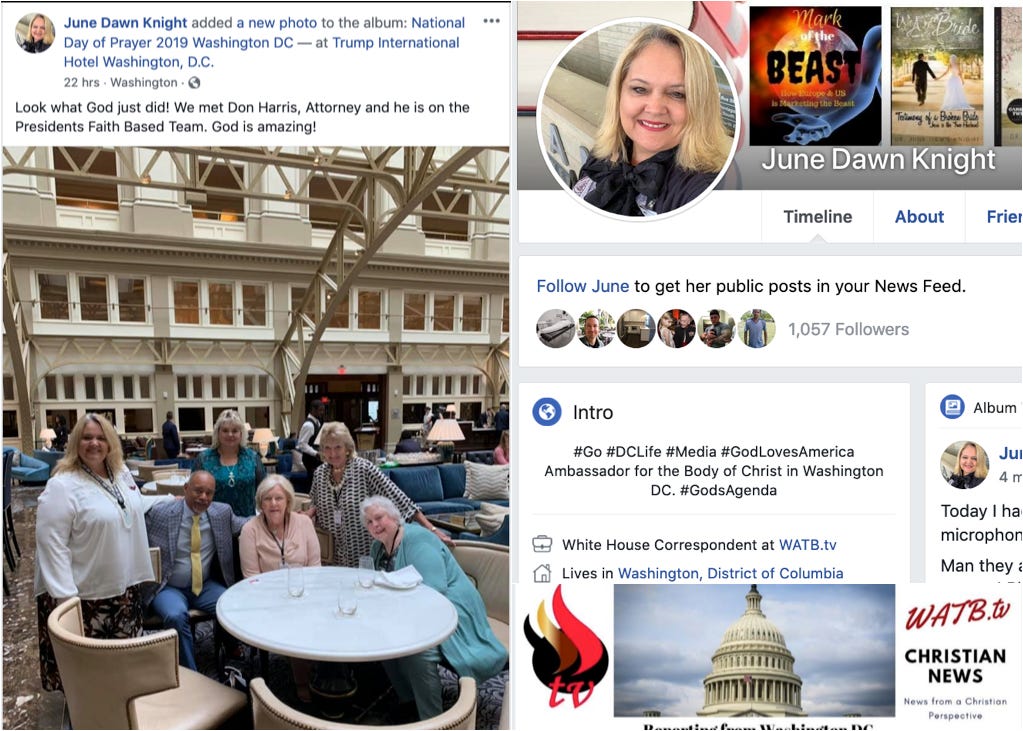 Knight had a second divine encounter at the Trump Hotel D.C.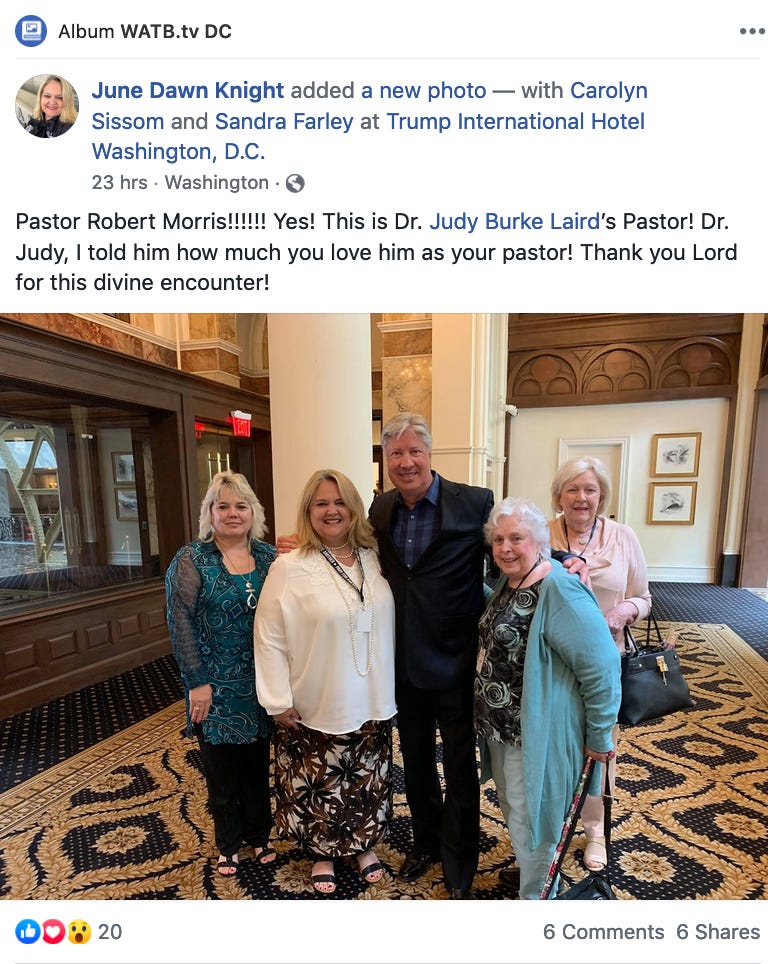 All told, it was good times with great friends.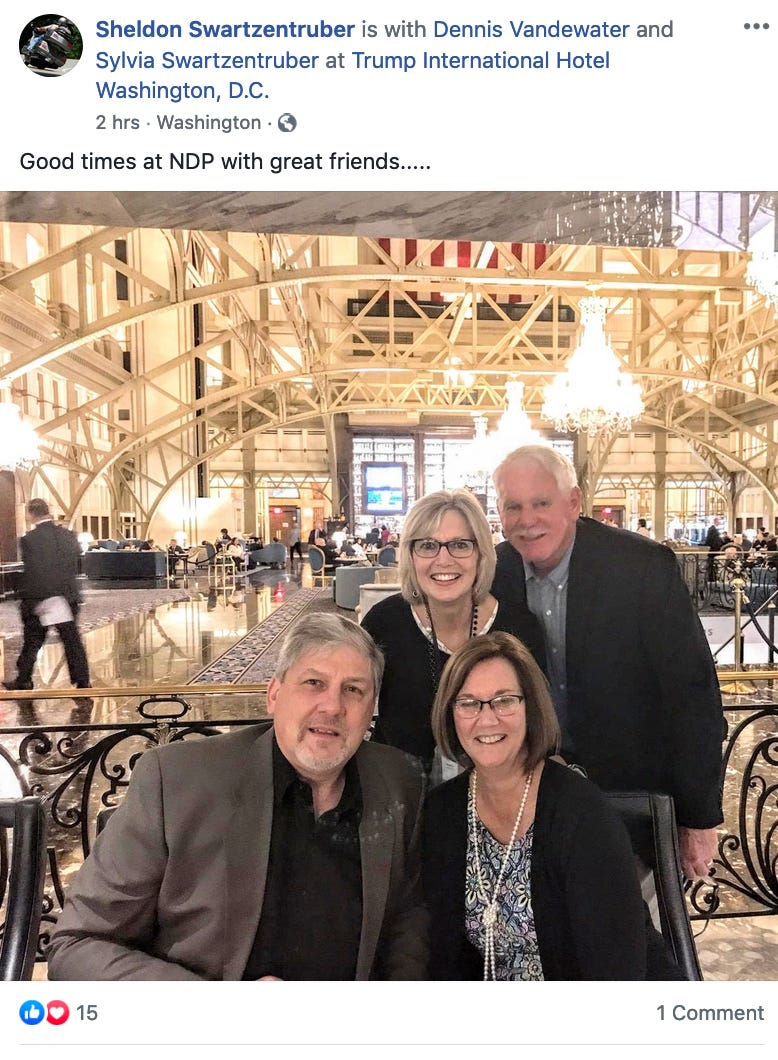 ---
Support 1100 Pennsylvania: never-redacted reporting on President Trump's D.C. hotel
We now know most of what's in the Mueller report. It's time to focus on what happens inside the Trump Hotel D.C. and the president's other businesses. Original, in-depth reporting, of course, takes time. But it's making an impact—and you can help. If you're not an 1100 Pennsylvania member, please become one. Memberships are this newsletter's sole source of revenue. Select the red "Subscribe now" button and become a member by paying just $5 a month or $50 a year. Thank you.
---
Tycoons who've gone bust set to battle it out with luxury Pennsylvania Avenue spaces
From "What to watch at the Milken Institute conference" by Danielle Wiener-Bronner and Lydia DePillis for CNN:
Milken is planning something it calls the "Center for the American Dream," a museum and conference center devoted to free enterprise, that will be located in an historic bank building that the Institute owns located directly across from the Treasury Department on Pennsylvania Avenue in Washington D.C…The tenant for the top five floors will be an exclusive retreat called Ned's Club…

That will make it even more exclusive than other expensive-but-still-accessible hotels in the neighborhood, including the W, the Willard InterContinental, and the President's own Trump Hotel.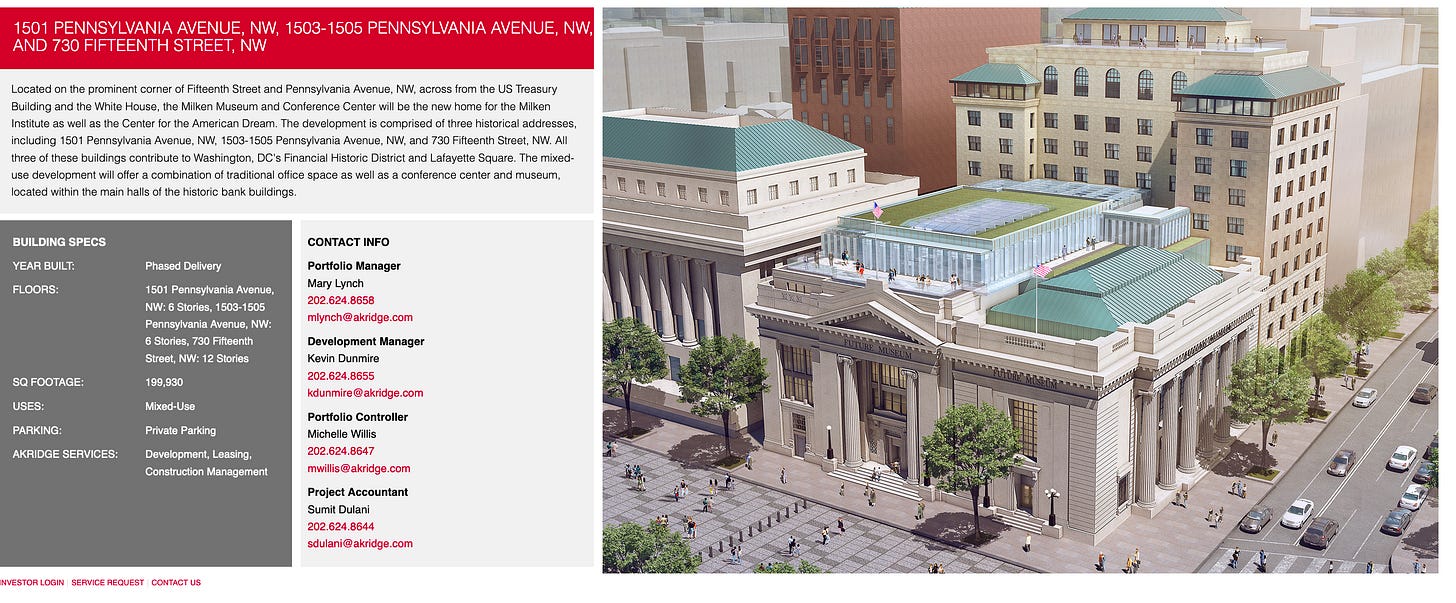 ---
Notable sightings
The "principal civilian executive and advisor to the Director, Quality and Safety, the MEDCOM Chief of Staff and the Office of the Surgeon General, Office of the Secretary of Defense (OSD)," Lorie Khatod, got makeup tips.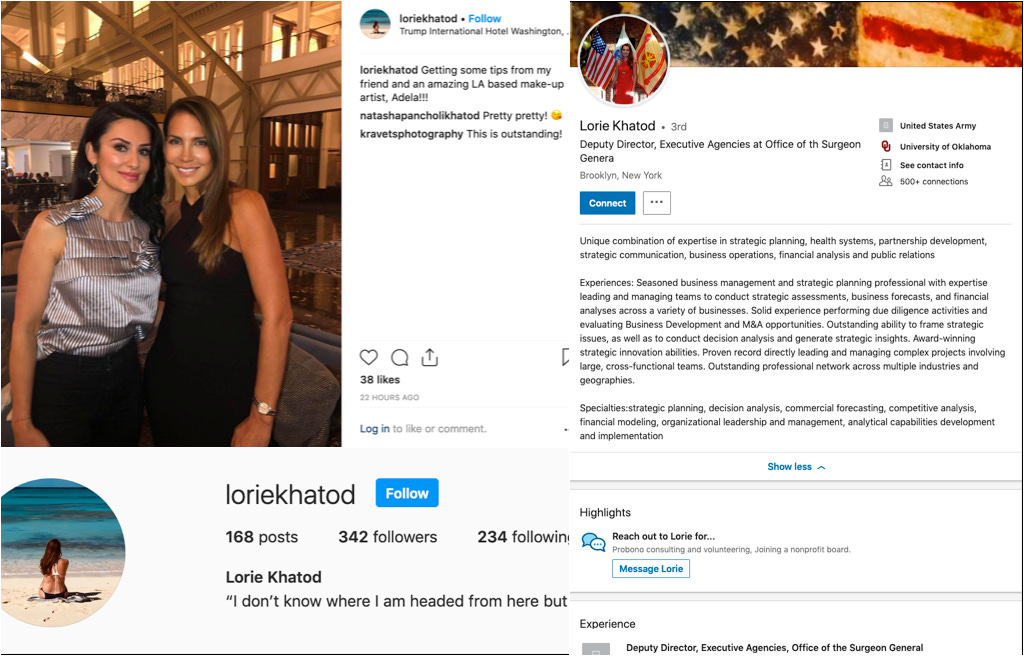 A court deputy at the Lake County [Florida] sheriff's office, Jay C. Pelton, promoted the president's hotel with this video tour.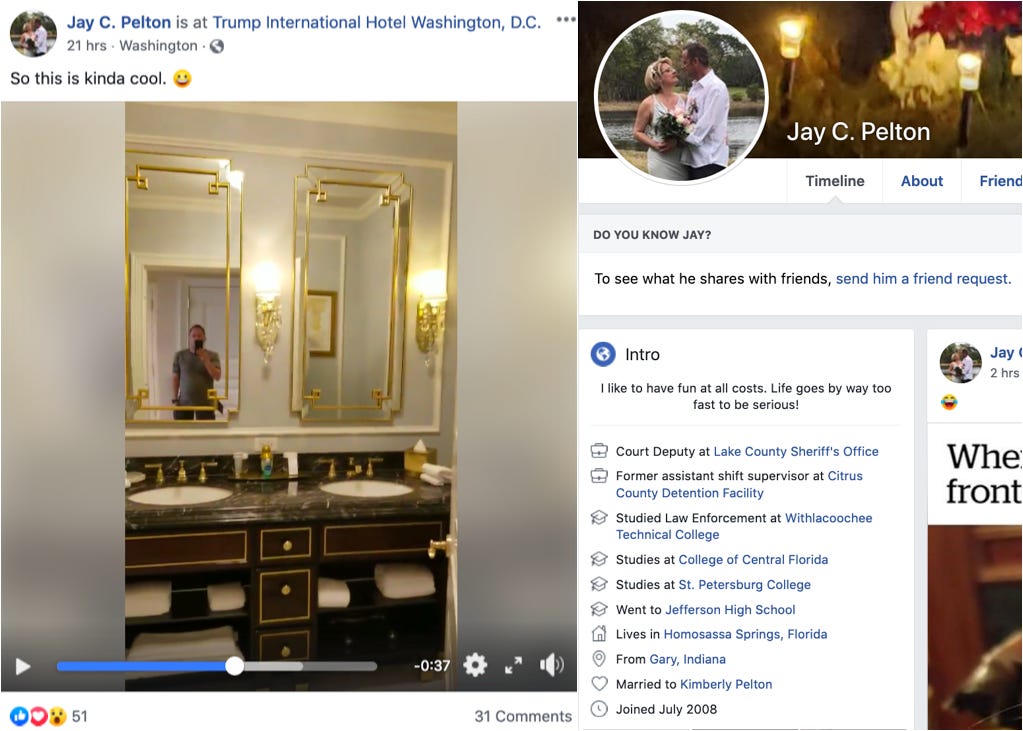 The co-founder of the #LEXIT movement, David Basulto, posed with the director of Hispanic engagement at Turning Point USA, Anna Paulina. (She's fresh off confronting presidential candidate Sen. Kamala Harris (D–CA) at an airport.)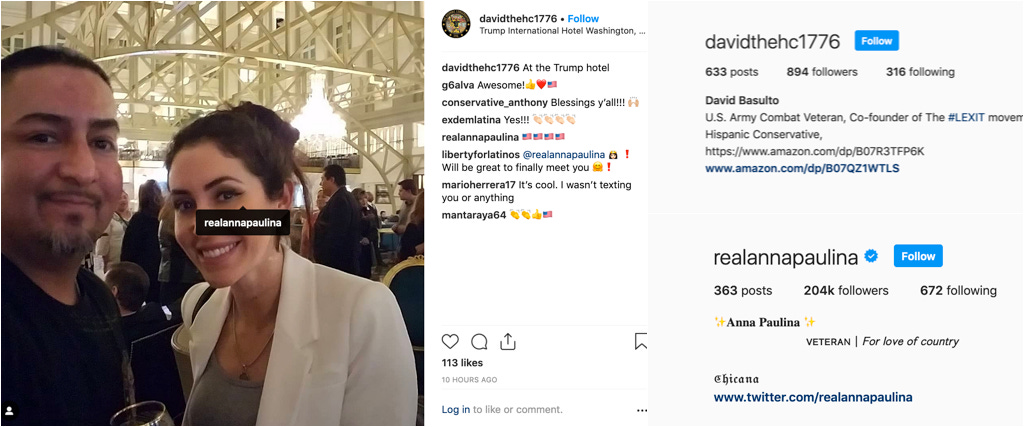 Public intellectual and 5D chess master Jacob Wohl posed with conservative radio host Mark Levin.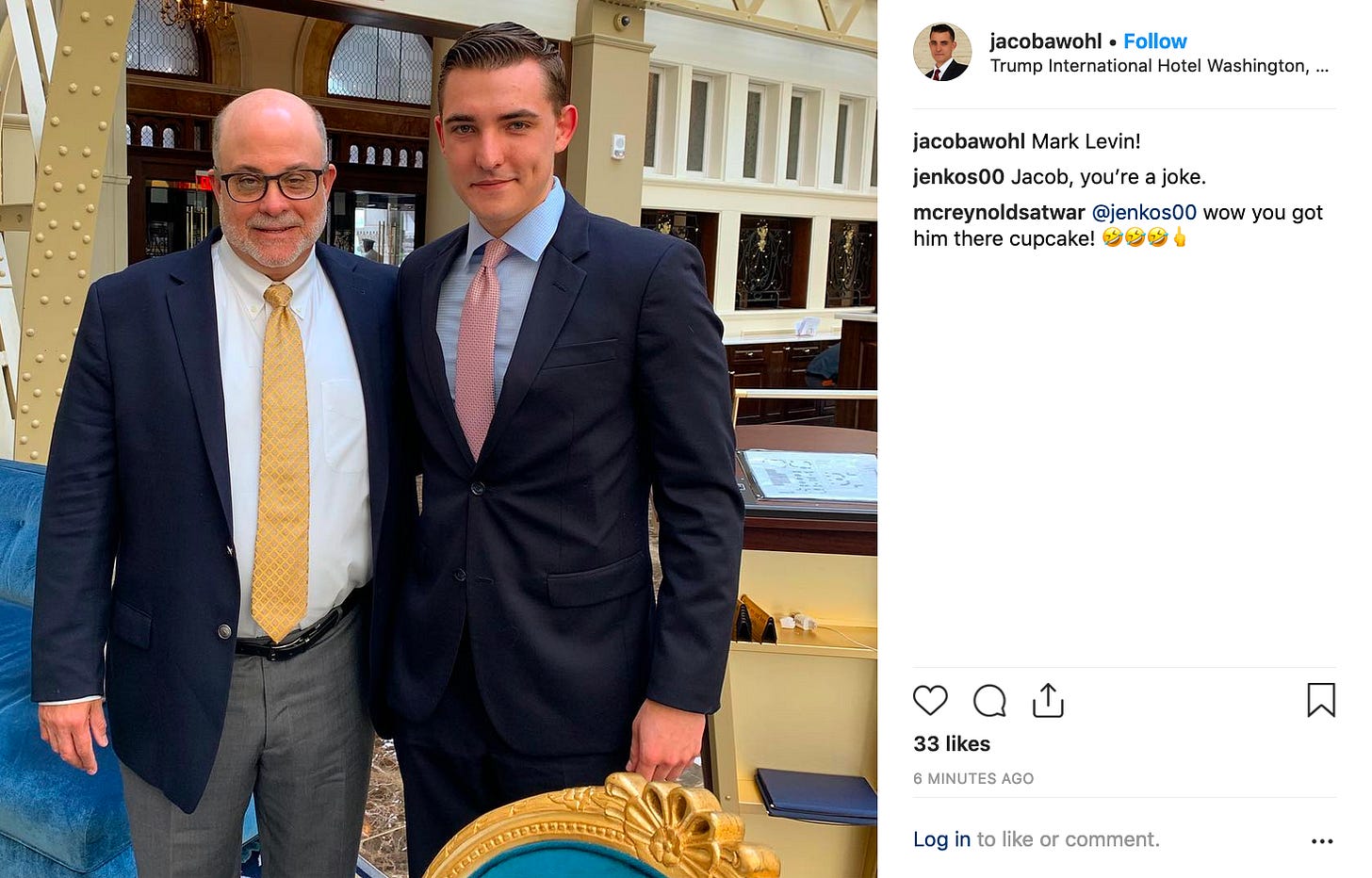 No photos corroborate this account, but it's also entirely believable that Rep. Kevin McCarthy (R–CA) and Sen. Rand Paul (R–KY) were at the Trump Hotel D.C. last night.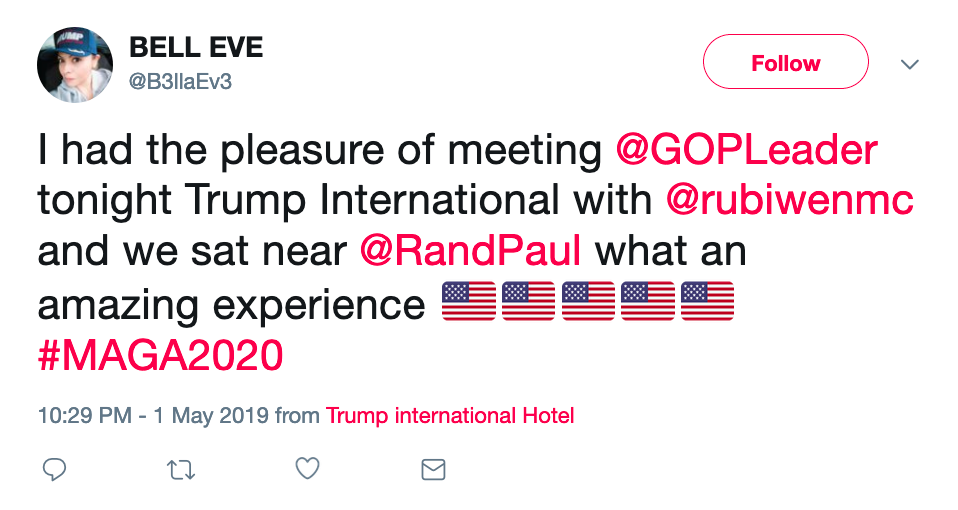 ---
Other Trump Organization news
---
House investigations, current status (latest change, May 1, 2019)
---
President Trump chose not to divest; Americans need to know who's paying him
Unlike his predecessors, Donald Trump did not divest his businesses upon becoming U.S. president. Think that may be a problem? Become an 1100 Pennsylvania member, and support reporting on who's spending money at the president's businesses—and what they may be getting in return. Memberships are this newsletter's sole source of revenue. Select the red "Subscribe now" button and become a member by paying just $5 a month or $50 a year. Thank you.
---
Legal cases, current status (latest change, May 2, 2019)
D.C. and MD attorneys general's emoluments lawsuit (district court docket, appellate court docket)—

Official capacity—On Dec. 20, 2018, the 4th U.S. Circuit Court of Appeals ruled it would hear the president's appeal of district court rulings that allowed the case to proceed to discovery, and the appellate court halted discovery in the case. Discovery had started Dec. 3 and was scheduled to run through Aug. 2, 2019, with the AGs having subpoenaed the Trump Organization, including its Scottish golf courses; the U.S. Departments of Agriculture, Commerce, Defense, and Treasury and the GSA; and the state of Maine. Oral arguments on the appeal occurred on March 19; by all accounts the three-judge panel (all Republican appointees, including one who was a selection of President Trump's) were skeptical of the AGs' case. D.C. AG Karl Racine pledged to take the case to the U.S. Supreme Court if necessary.

Individual capacity—On Dec. 14, Trump's personal attorneys appealed the denial of their motion to dismiss the case, also to the 4th U.S. Circuit Court of Appeals. On Dec. 19, the AGs replied to Trump's motion for a stay pending that appeal by voluntarily dismissing the claims against Trump in his "individual capacity to allow the claims against President Trump in his official capacity to move forward expeditiously." (The AGs only brought suit against Trump in his individual capacity after the judge suggested they do so.) Trump's personal attorneys, on Dec. 21, opposed the motion to dismiss at the district level, saying the appeals court now has jurisdiction and accusing the AGs of "gamesmanship."

UPDATED: Democratic senators and representatives' emoluments lawsuit—On Sept. 28, Judge Emmet G. Sullivan ruled that the legislators have standing to sue. Trump's Justice Department attorneys filed an interlocutory appeal on Oct. 22. On Jan. 30, 2019, the plaintiffs' filed a notice of supplemental authority, notifying the court of the GSA inspector general's report that criticized GSA for failing to consider if the Trump Hotel D.C.'s lease was in compliance with the Constitution after Trump became president. Two days later, the president's attorneys argued that the IG's conclusion was not inconsistent with Trump's argument, but that the judge should ignore that report anyway because the IG has no expertise in interpreting or applying the foreign emoluments clause. On April 30, Sullivan denied Trump's motion to dismiss the suit. The president's attorneys have a supplemental brief due on May 14.

CREW et. al's emoluments lawsuit—In February 2018, CREW appealed its suit being dismissed for lack of standing to the 2nd U.S. Circuit Court of Appeals. Oral arguments on that motion were held on Oct. 30.

Cork's unfair competition lawsuit—Judge Richard J. Leon dismissed the case on Nov. 26, 2018, writing "Cork has failed to state a claim for unfair competition under D.C. law." On Dec. 10, Cork's attorneys filed a notice of appeal and on Jan. 10, 2019 they submitted a statement of issues to be raised. A briefing schedule was set on March 5 with Cork's brief due on April 15, the president's brief due on May 15, and Cork's reply to the president's brief due on June 5. On April 11, however, Cork's attorneys requested a 30-day extension, to which Trump's attorneys consented—as did the court the following day.

Employees' class-action suit alleging racial discrimination—Two of the three plaintiffs did not appear at a status hearing on Jan. 25, 2019; their cases were moved to arbitration. Via email, their attorney, A.J. Dhali, said his clients did not appear at the hearing because their case already had been moved to arbitration last year. The next status hearing is scheduled for Oct. 4.
---
Health inspections, current status (latest change, Aug. 10, 2018)
❌Hotel: five violations on May 7, 2018; two were corrected on site

❌BLT Prime and Benjamin Bar: nine violations on Aug. 10, 2018

❌Sushi Nakazawa: two violations on Aug. 10, 2018

✔️Banquet kitchen: no violations on Aug. 10, 2018

❌Pastry kitchen: two violations on Aug. 10, 2018

✔️Gift shop: no violations on May 7, 2018

❌Employee kitchen and in-room dining: five violations on Aug. 10, 2018; two were corrected on site
---
Is the Trump Organization selling merchandise that depicts the White House? (latest change, March 21, 2019)
Yes.
---
One thing that (probably) has nothing to do with Trump's businesses
"Death of a racehorse" by W.C. Heinz
---
Thanks for reading. If you like what you saw, tell someone—and support this work by becoming a member. If you've been forwarded this newsletter, subscribe for yourself at zacheverson.substack.com. Questions? Read our FAQ/manifesto. Tips or feedback? Contact me, Zach Everson, securely via email at 1100Pennsylvania@protonmail.com or on Signal at 202.804.2744.