Discover more from 1100 Pennsylvania
"The undisputed expert on the D.C. Trump Hotel" – David Fahrenthold of the Washington Post
Over 3,000 subscribers
Florida governor, Miami officials partied at Doral
Gov. DeSantis addressed Miami's mayor, judges, and police at Dade County PBA's black-tie gala
Florida Governor Ron DeSantis (R), an ally of President Trump's, spoke at the Dade County Police Benevolent Association's black-tie awards gala at Trump's Doral golf course on Saturday night.
It was a return visit to Doral for the PBA's annual event. According to the group, a thousand people typically attend the celebration. (Documents from the Trump Organization reported that business at the venue has decreased dramatically, per David Fahrenthold and Jonathan O'Connell last week for The Washington Post.)
Among the Miami-Dade County officials spotted (in addition to the police officers) were
Other notables included State Rep. Ana Maria Rodriguez (R), and Doral Councilwoman Digna Cabral.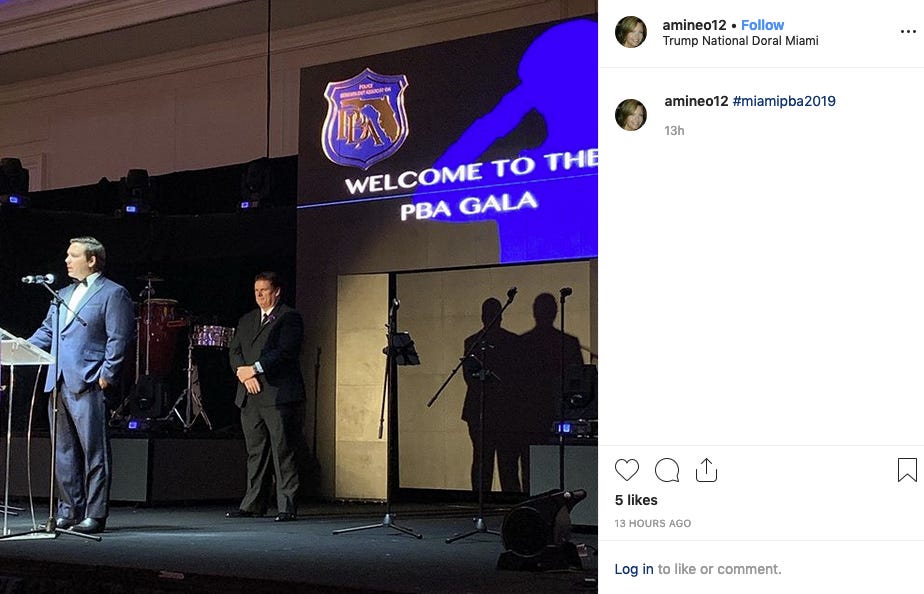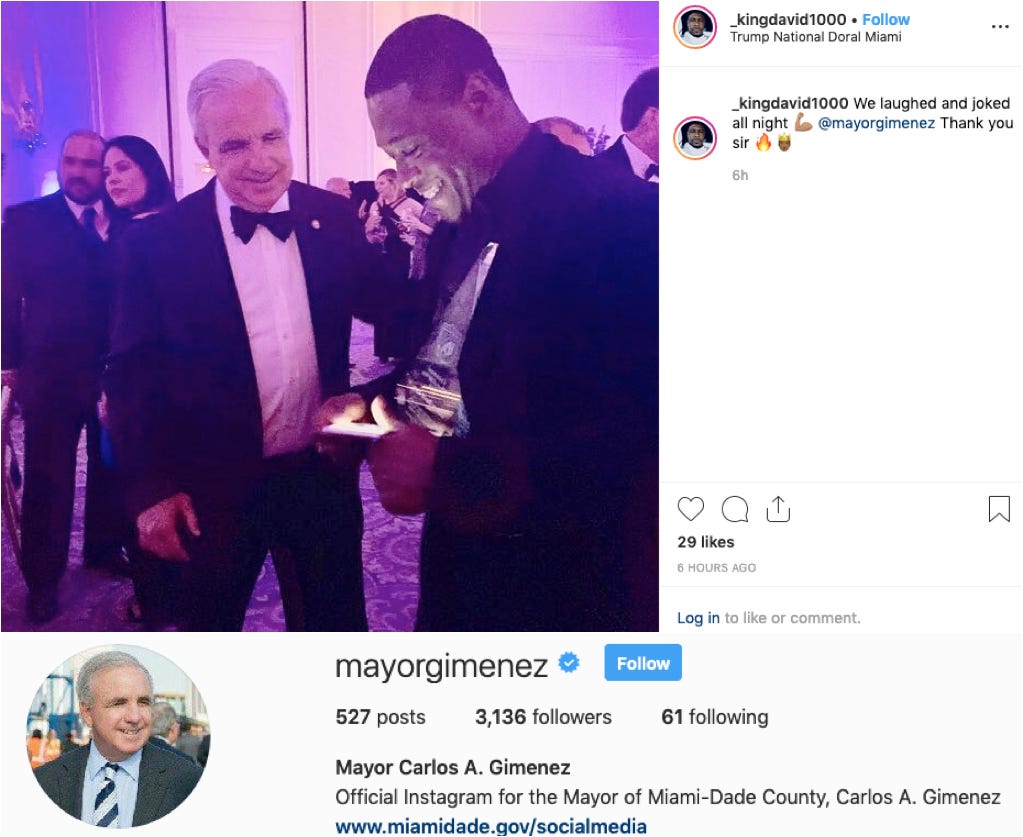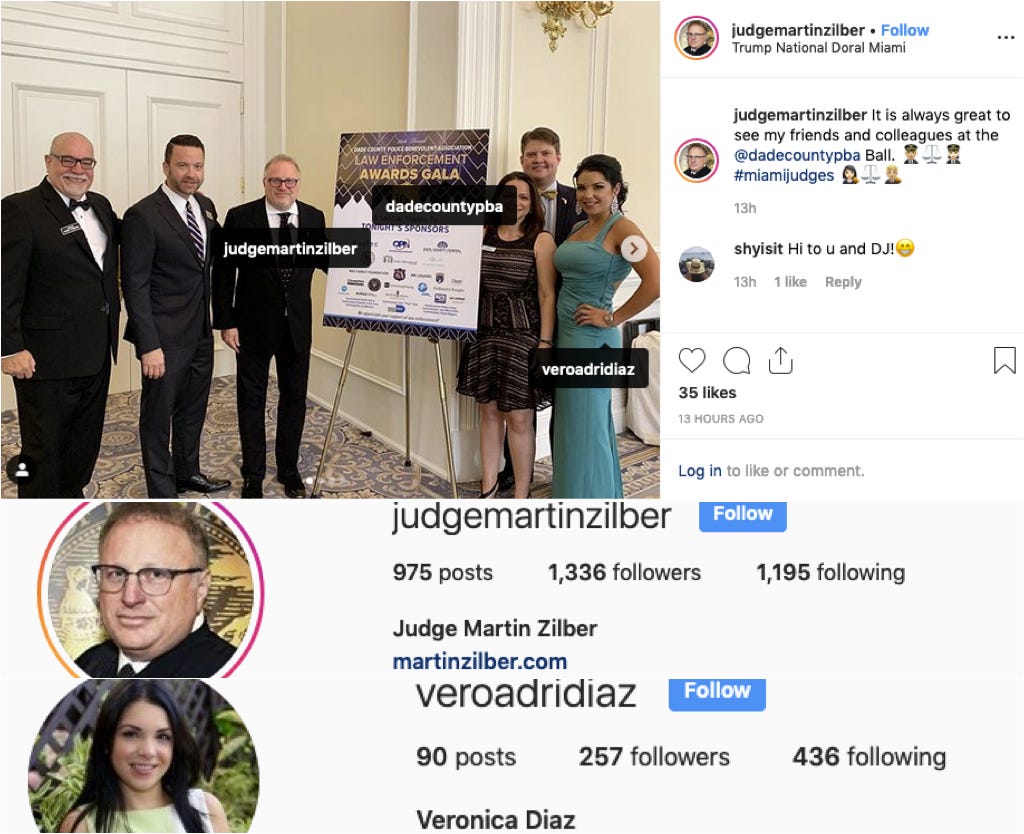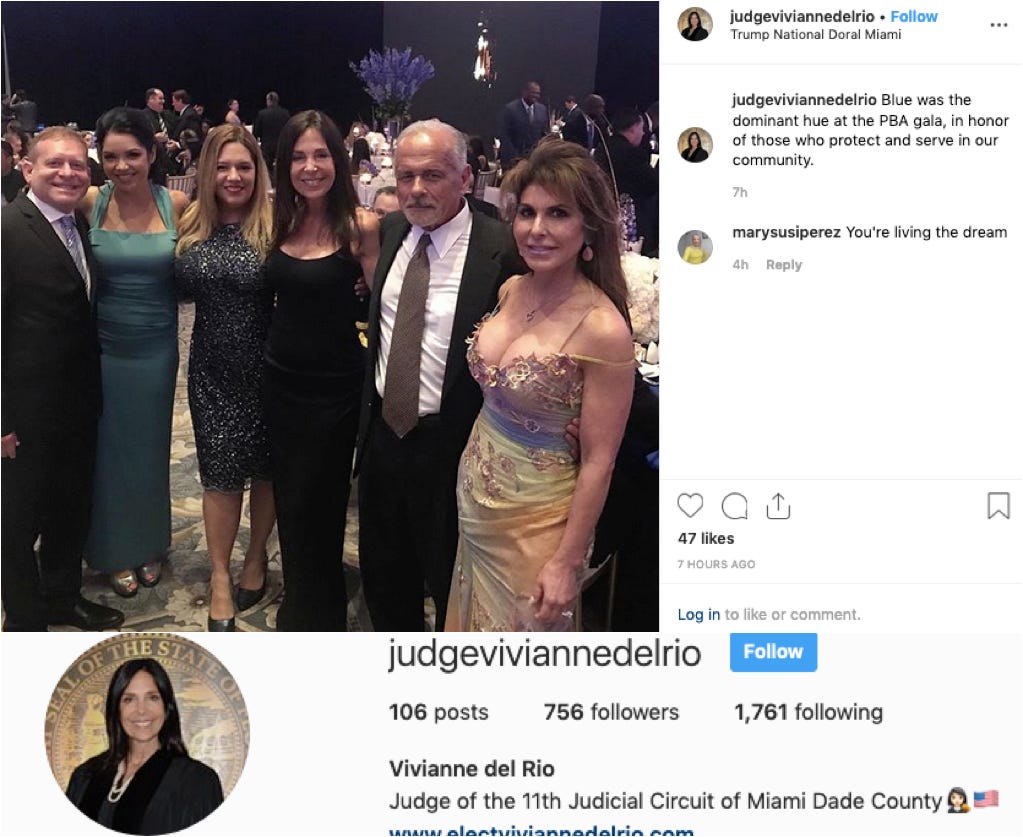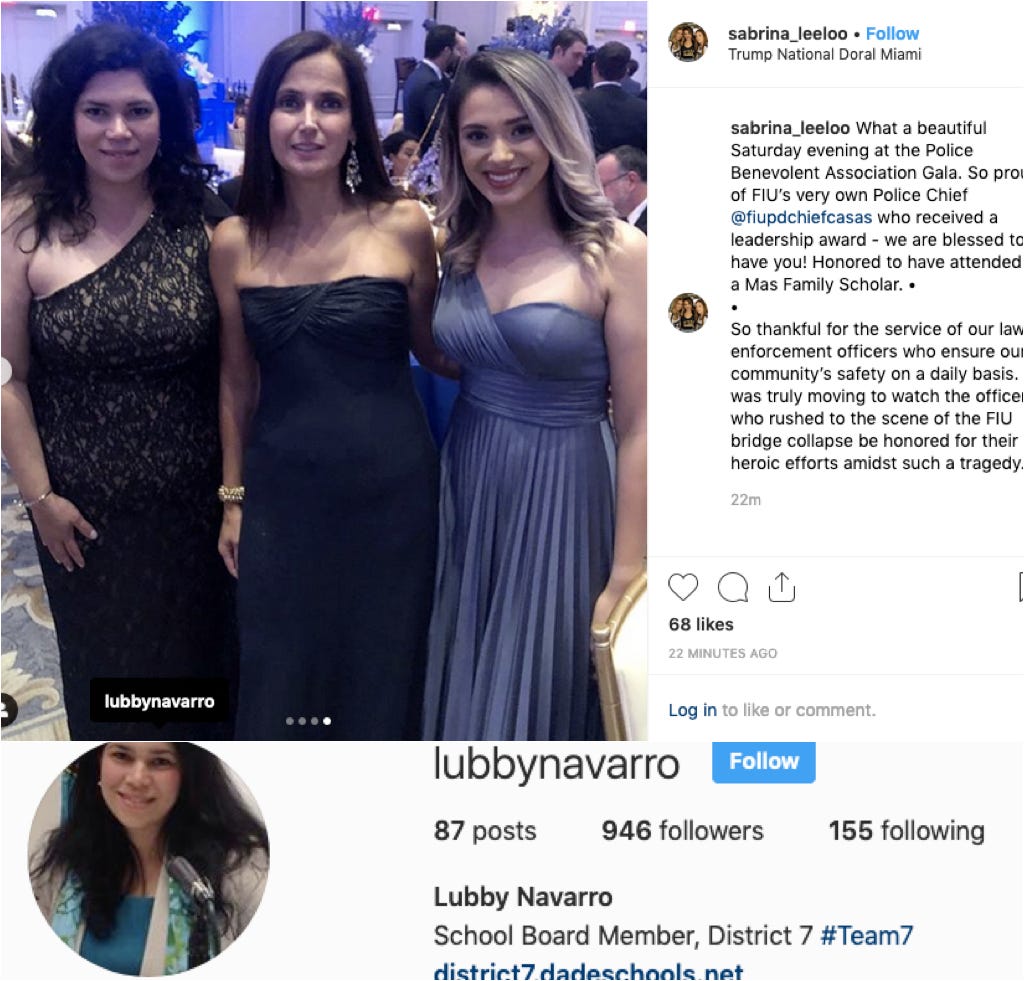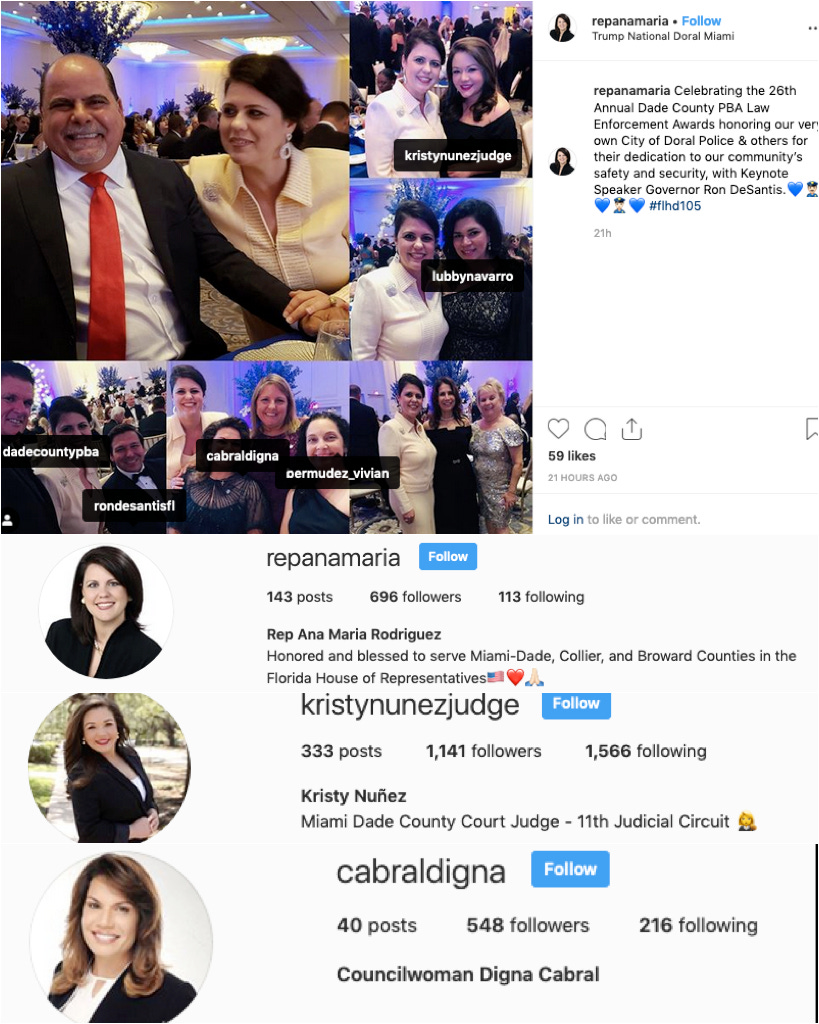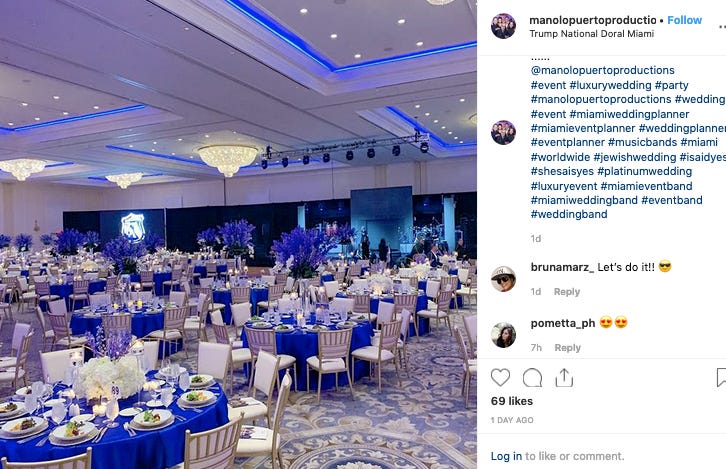 ---
Trump transactions raised money-laundering concerns at Deutsche Bank
From "Deutsche Bank staff saw suspicious activity in Trump and Kushner accounts" by David Enrich for The New York Times:
Anti-money laundering specialists at Deutsche Bank recommended in 2016 and 2017 that multiple transactions involving legal entities controlled by Donald J. Trump and his son-in-law, Jared Kushner, be reported to a federal financial-crimes watchdog…

But executives at Deutsche Bank, which has lent billions of dollars to the Trump and Kushner companies, rejected their employees' advice. The reports were never filed with the [U.S.] government.
The German financial institution loaned the Trump Organization $170 million in 2014 to transform D.C.'s Old Post Office into a hotel.
President Trump responded to the piece this morning with a tweet storm—that didn't specifically dispute the money-laundering charges in the Times article, but rather challenged the report that banks were unwilling to lend to him. "This is not true," replied Enrich, the article's author, to Trump's retort.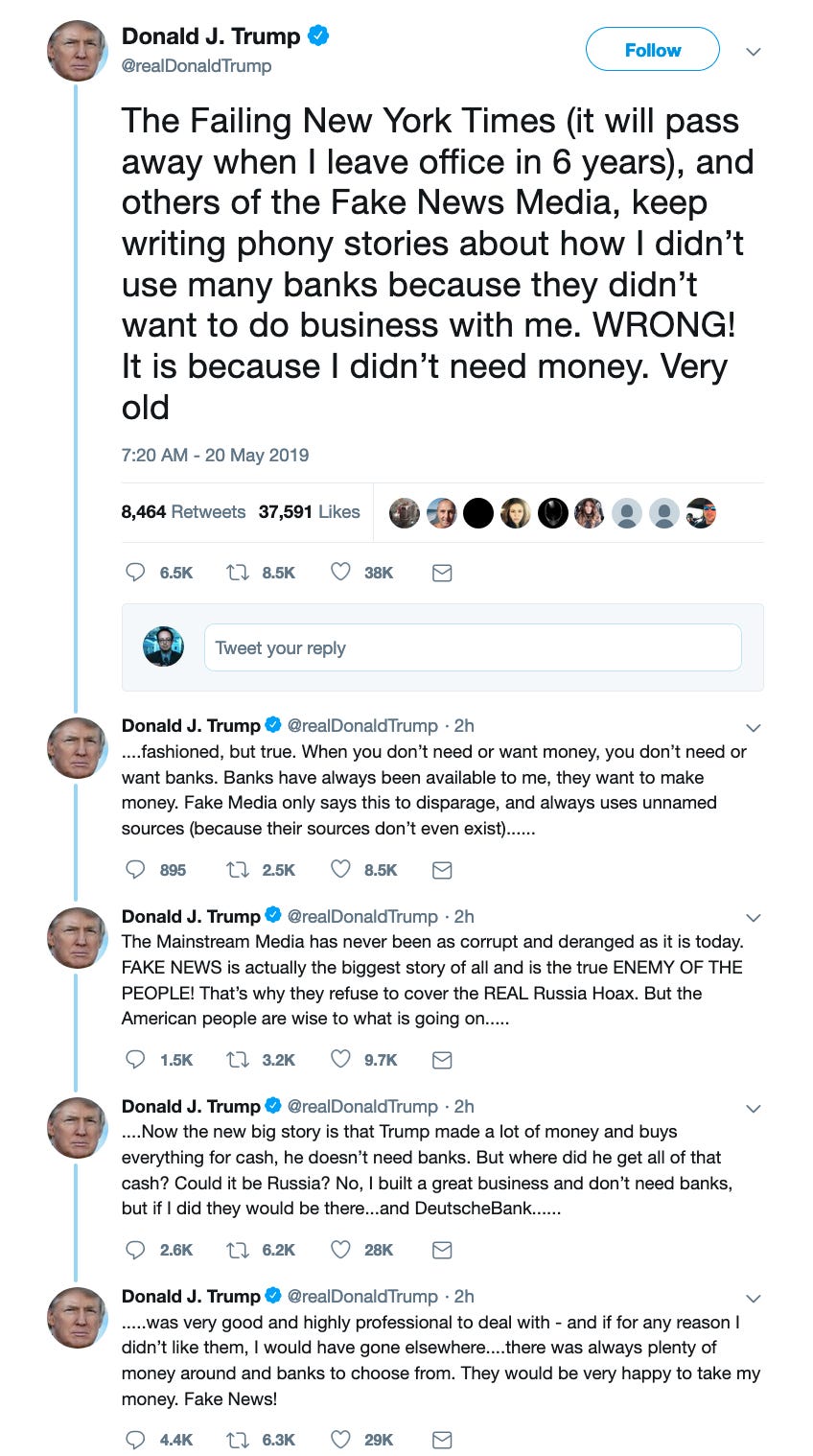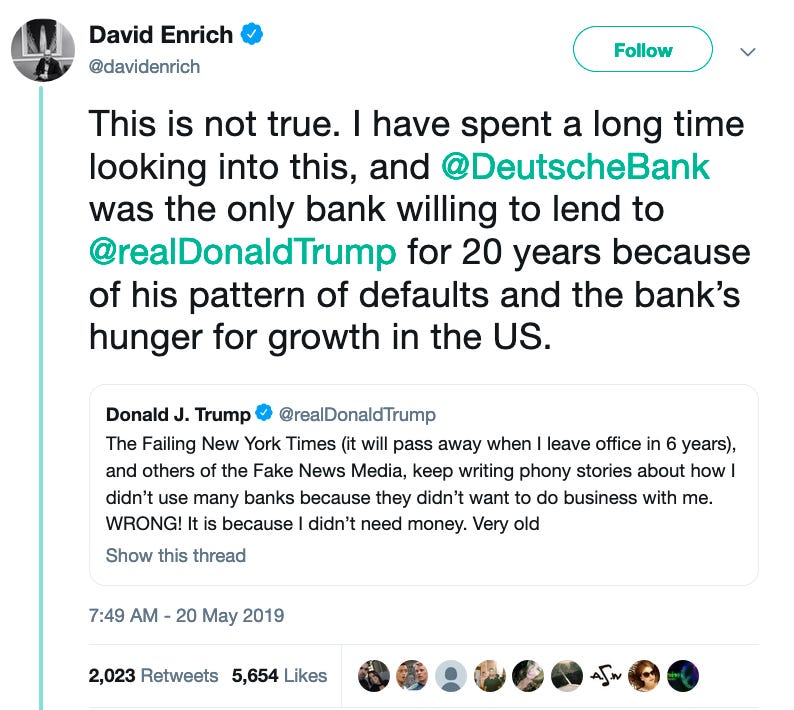 ---
Support 1100 Pennsylvania: never-redacted reporting on President Trump's D.C. hotel
We now know most of what's in the Mueller report. It's time to focus on what happens inside the Trump Hotel D.C. and the president's other businesses. Original, in-depth reporting, of course, takes time. But it's making an impact—and you can help. If you're not an 1100 Pennsylvania member, please become one. Memberships are this newsletter's sole source of revenue. Select the red "Subscribe now" button and become a member by paying just $5 a month or $50 a year. Thank you.
---
FCC chair endorses T-Mobile's merger plans; company execs had spent $195,000 at Trump's D.C. hotel
This morning Federal Communications Commission Chair Ajit Pai announced he is supporting T-Mobile's proposed merger with Sprint.
T-Mobile executives spent approximately $195,000 at the Trump Hotel D.C. after announcing a merger that required U.S. government approval. A photo of T-Mobile CEO John Legere mingling with other hotel guests appeared on Facebook the day after merger plans were shared. Nine T-Mobile execs stayed at the hotel that day in fact, according to the hotel's VIP arrivals lists, obtained by David Fahrenthold and Jonathan O'Connell of The Washington Post.
Legere sightings at the hotel became so common for a while that they merited a collage. Your correspondent also spotted Legere chatting in the lobby with former Trump campaign manager Corey Lewandowski, who advised T-Mobile on the merger.
The telecommunications firm later acknowledged that it wasn't a big Trump customer before needing the federal government to support its merger.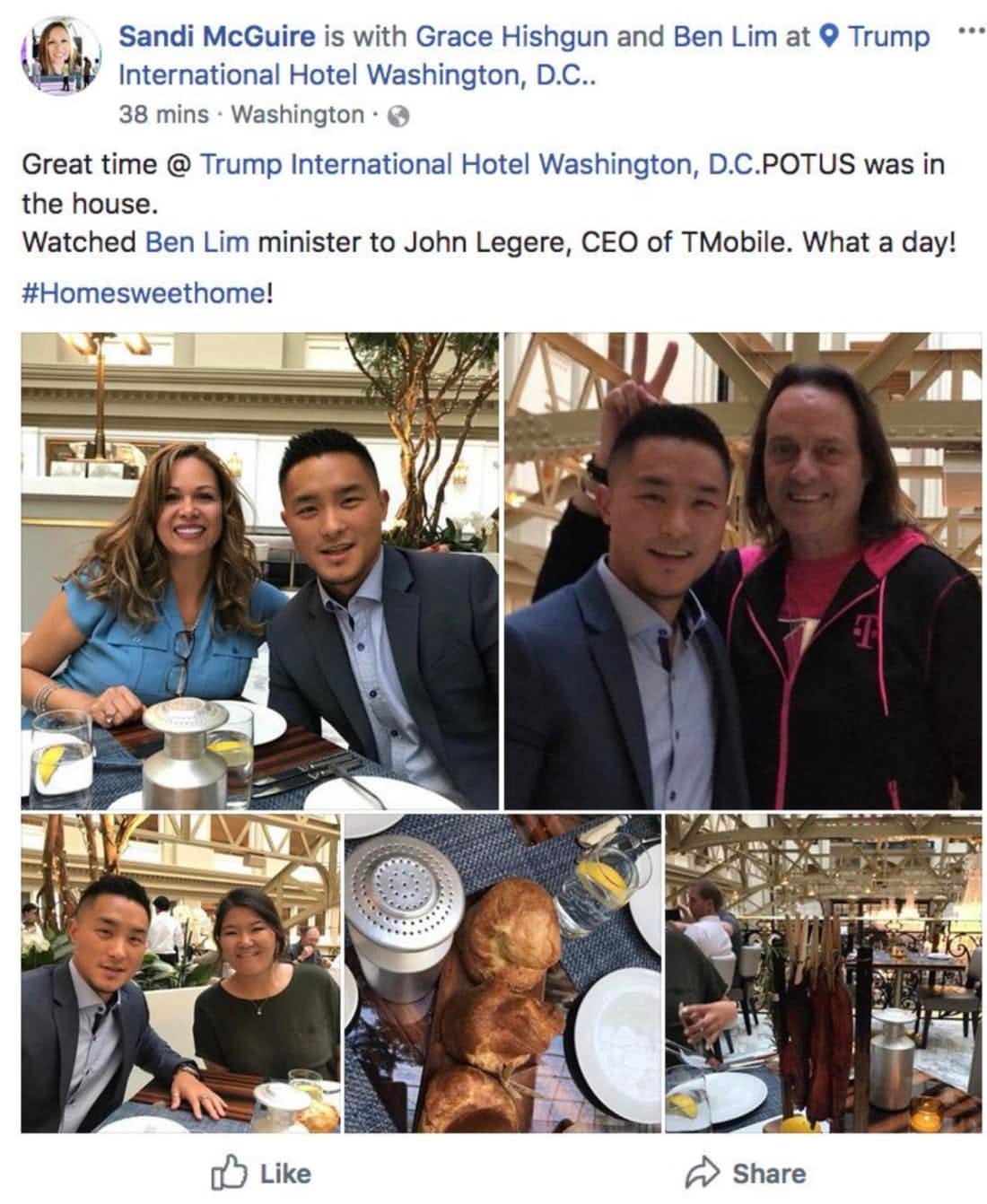 In a statement, Pai, a Republican, cited T-Mobile and Sprint's commitment to improve broadband, especially to rural areas, and their willingness to address regulators' concerns about the marketplace in the United States going from four to three major cellular carriers:
In light of the significant commitments made by T-Mobile and Sprint as well as the facts in the record to date, I believe that this transaction is in the public interest and intend to recommend to my colleagues that the FCC approve it. This is a unique opportunity to speed up the deployment of 5G throughout the United States and bring much faster mobile broadband to rural Americans. We should seize this opportunity."
In December, T-Mobile landed a lucrative contact with the Department of Veterans Affairs.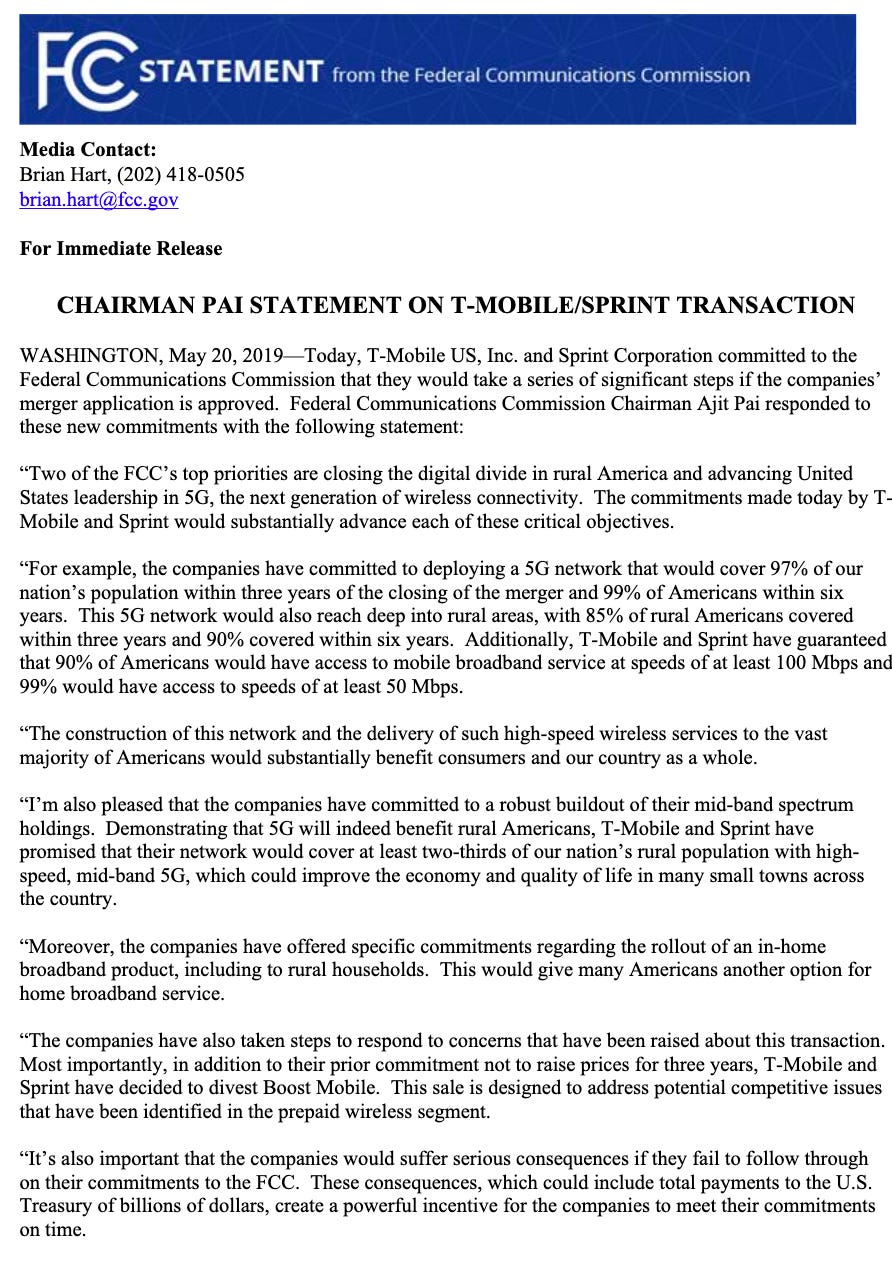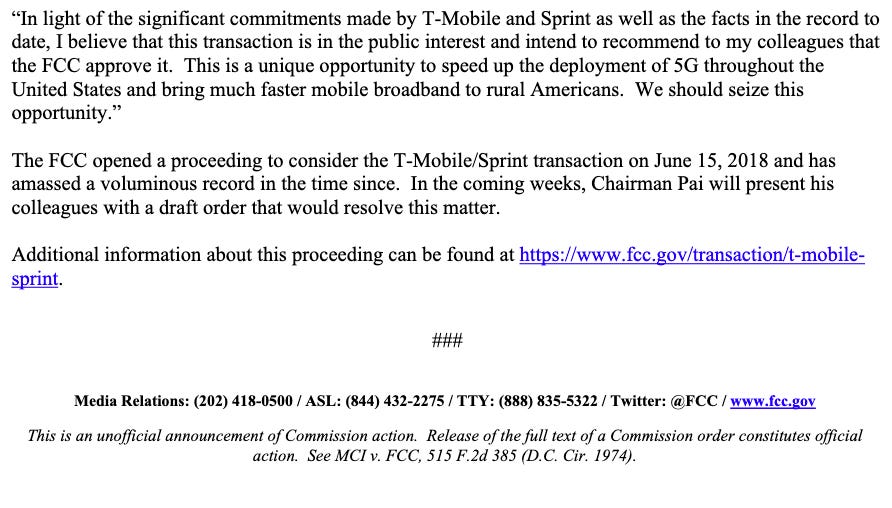 ---
Independence Day weekend looking profitable
The Fourth of July is looking like a profitable stretch for the U.S. president's hotel according to Google (which was unable to find prices at all for July 3–5).

---
Notable sightings
A glimpse at the foreign officials, government employees, politicians, lobbyists, and the like who patronize or appear at Trump businesses. The people shown here have reasons to want to influence the Trump administration, rely on its good graces for their livelihoods, or should be providing oversight. Additionally, high-profile guests serve as draws for paying customers.
From today's Politico Playbook: "U.S. Ambassador to Germany Ric Grenell chatting with Monica Crowley at the Trump Hotel on Sunday. Crowley was at the hotel for a welcome-to-D.C. dinner. Crowley is joining Treasury in the top comms job."
Lexi Effron is a professional staffer for the U.S. Senate Committee on Banking, Housing, and Urban Affairs. It appears part of her wedding-weekend festivities took place in the hotel owned by the head of the executive branch.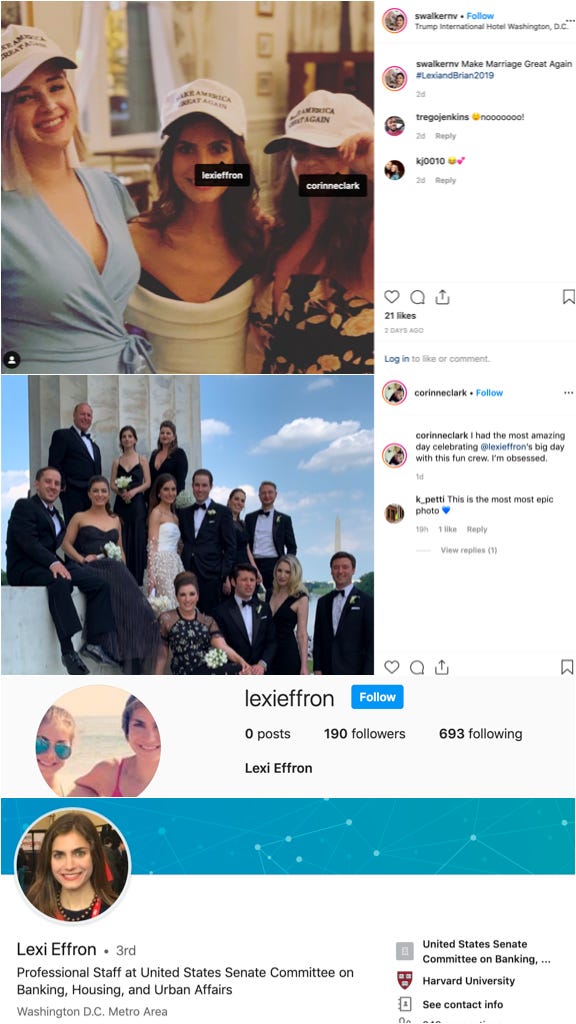 A child welfare program specialist at the Department of Health and Human Services's children's bureau, Beth Claxon, had a "fantastic evening" at a hotel the head of the executive branch owns.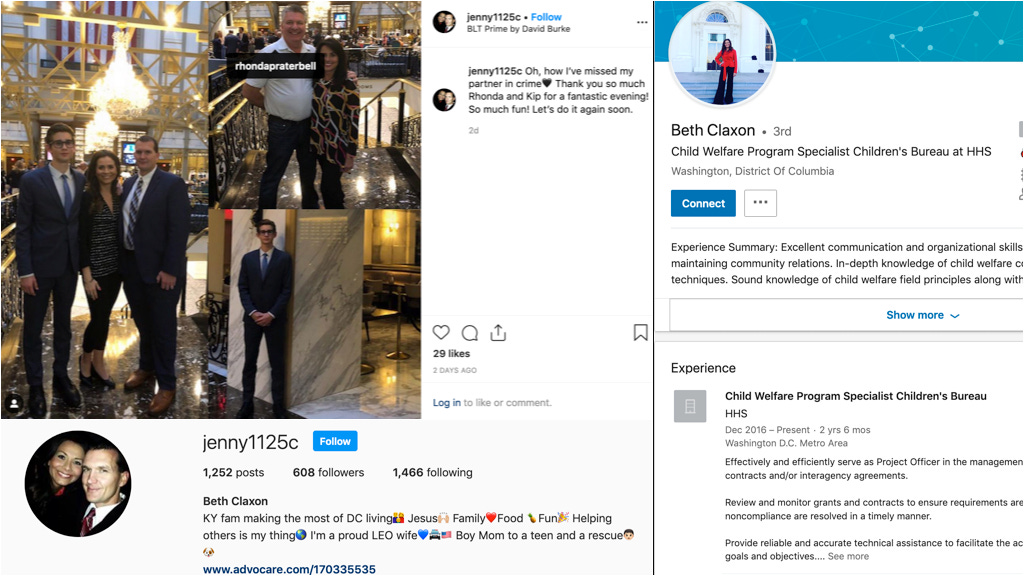 "When you're in D.C. you stay at Trump International Hotel Washington, D.C.," wrote Diego Morales. An advisor to Mike Pence when he was Indiana's governor, Morales lost in the 2018 GOP primary for a U.S. House seat in Indiana.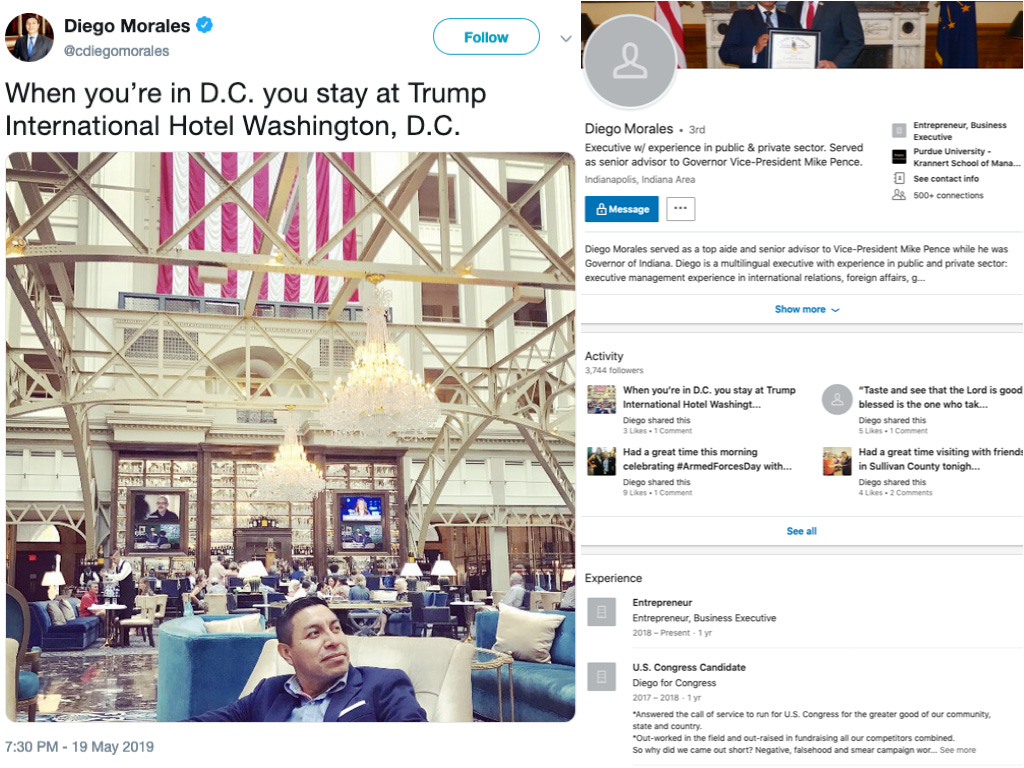 Lobbyist Bruce Starr celebrated Brooke Starr's accomplishments in D.C. She's an executive assistant for Rep. Greg Walden (R–OR).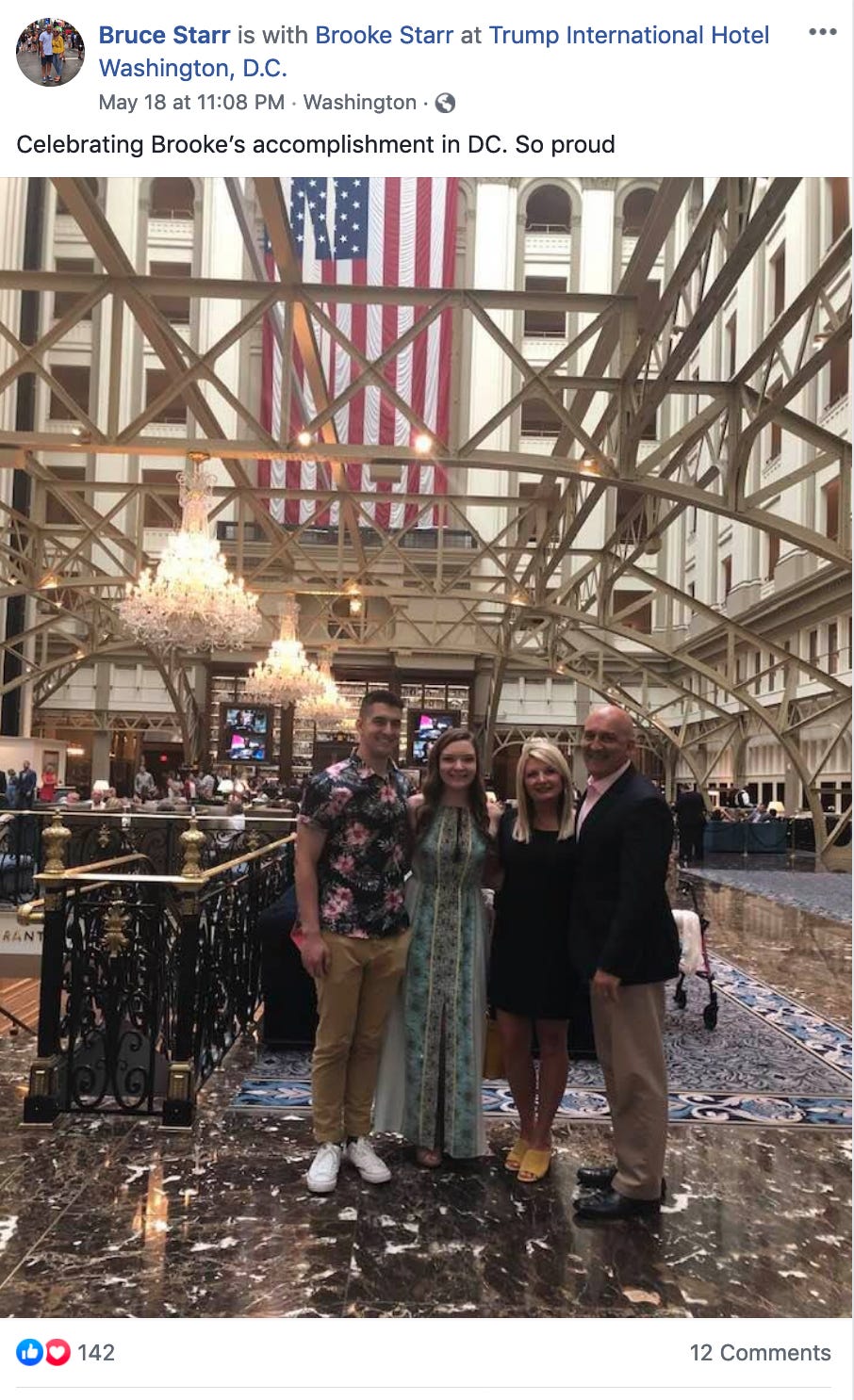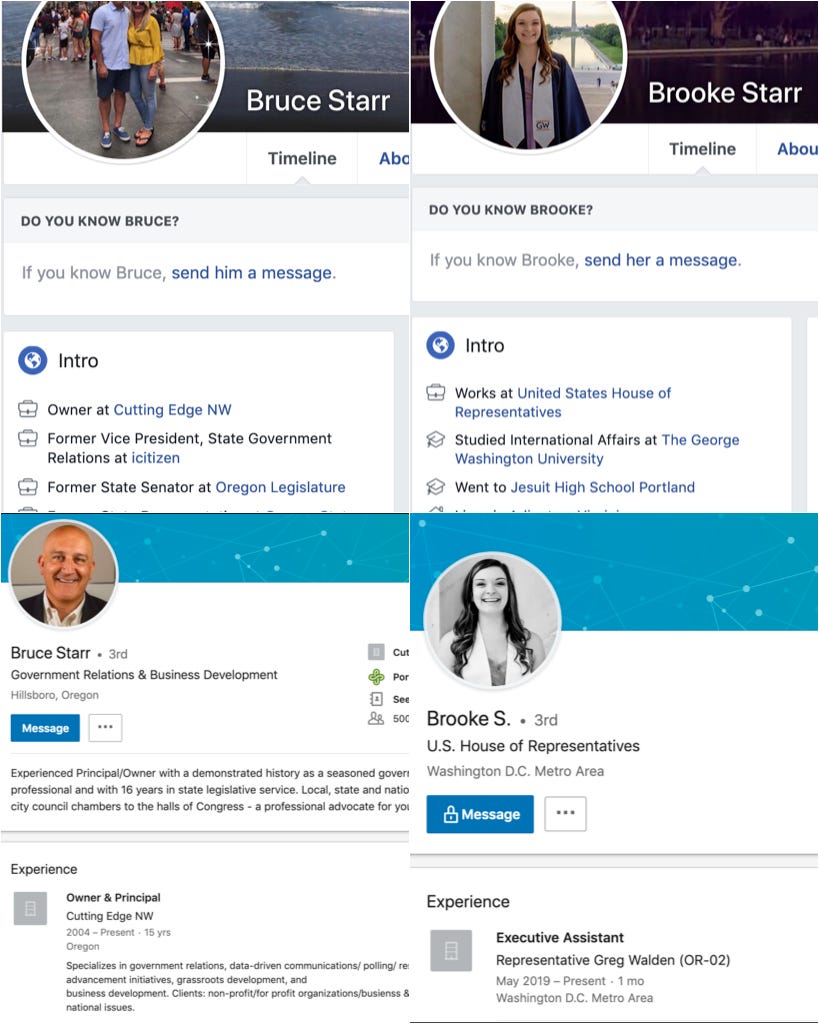 ---
Other Trump Organization news
---
President Trump chose not to divest; Americans need to know who's paying him
Unlike his predecessors, Donald Trump did not divest his businesses upon becoming U.S. president. Think that may be a problem? Become an 1100 Pennsylvania member, and support reporting on who's spending money at the president's businesses—and what they may be getting in return. Memberships are this newsletter's sole source of revenue. Select the red "Subscribe now" button and become a member by paying just $5 a month or $50 a year. Thank you.
---
House investigations, current status (latest change, May 17, 2019)
---
Legal cases, current status (latest change, May 16, 2019)
D.C. and MD attorneys general's emoluments lawsuit (district court docket, appellate court docket)—

Official capacity—On Dec. 20, 2018, the 4th U.S. Circuit Court of Appeals ruled it would hear the president's appeal of district court rulings that allowed the case to proceed to discovery, and the appellate court halted discovery in the case. Discovery had started Dec. 3 and was scheduled to run through Aug. 2, 2019, with the AGs having subpoenaed the Trump Organization, including its Scottish golf courses; the U.S. Departments of Agriculture, Commerce, Defense, and Treasury and the GSA; and the state of Maine. Oral arguments on the appeal occurred on March 19; by all accounts the three-judge panel (all Republican appointees, including one who was a selection of President Trump's) were skeptical of the AGs' case. D.C. AG Karl Racine pledged to take the case to the U.S. Supreme Court if necessary.

Individual capacity—On Dec. 14, Trump's personal attorneys appealed the denial of their motion to dismiss the case, also to the 4th U.S. Circuit Court of Appeals. On Dec. 19, the AGs replied to Trump's motion for a stay pending that appeal by voluntarily dismissing the claims against Trump in his "individual capacity to allow the claims against President Trump in his official capacity to move forward expeditiously." (The AGs only brought suit against Trump in his individual capacity after the judge suggested they do so.) Trump's personal attorneys, on Dec. 21, opposed the motion to dismiss at the district level, saying the appeals court now has jurisdiction and accusing the AGs of "gamesmanship."

Democratic senators and representatives' emoluments lawsuit—On Sept. 28, Judge Emmet G. Sullivan ruled that the legislators have standing to sue. Trump's Justice Department attorneys filed an interlocutory appeal on Oct. 22. On Jan. 30, 2019, the plaintiffs' filed a notice of supplemental authority, notifying the court of the GSA inspector general's report that criticized GSA for failing to consider if the Trump Hotel D.C.'s lease was in compliance with the Constitution after Trump became president. Two days later, the president's attorneys argued that the IG's conclusion was not inconsistent with Trump's argument, but that the judge should ignore that report anyway because the IG has no expertise in interpreting or applying the foreign emoluments clause. On April 30, Sullivan denied Trump's motion to dismiss the suit. While the president's attorneys have a supplemental brief due on May 28, on May 14 they filed a motion to stay the proceedings while they appeal Sullivan's decision.

CREW et. al's emoluments lawsuit—In February 2018, CREW appealed its suit being dismissed for lack of standing to the 2nd U.S. Circuit Court of Appeals. Oral arguments on that motion were held on Oct. 30.

Cork's unfair competition lawsuit—Judge Richard J. Leon dismissed the case on Nov. 26, 2018, writing "Cork has failed to state a claim for unfair competition under D.C. law." On Dec. 10, Cork's attorneys filed a notice of appeal and on Jan. 10, 2019 they submitted a statement of issues to be raised. Cork filed its first appellant brief on May 15, arguing "the District Court failed to recognize the evolving nature of the common law of unfair competition in the District of Columbia and erroneously treated the prior cases as if they were a series of statutes that Appellant had to satisfy to state a claim

Employees' class-action suit alleging racial discrimination—Two of the three plaintiffs did not appear at a status hearing on Jan. 25, 2019; their cases were moved to arbitration. Via email, their attorney, A.J. Dhali, said his clients did not appear at the hearing because their case already had been moved to arbitration last year. The next status hearing is scheduled for Oct. 4.
---
Health inspections, current status (latest change, Aug. 10, 2018)
❌Hotel: five violations on May 7, 2018; two were corrected on site

❌BLT Prime and Benjamin Bar: nine violations on Aug. 10, 2018

❌Sushi Nakazawa: two violations on Aug. 10, 2018

✔️Banquet kitchen: no violations on Aug. 10, 2018

❌Pastry kitchen: two violations on Aug. 10, 2018

✔️Gift shop: no violations on May 7, 2018

❌Employee kitchen and in-room dining: five violations on Aug. 10, 2018; two were corrected on site
---
Is the Trump Organization selling merchandise that depicts the White House? (latest change, March 21, 2019)
Yes.
---
One thing that (probably) has nothing to do with Trump's businesses
From "Trade can no longer anchor America's relationship with China" by The Economist:
The American president is as much a symptom as a cause of a change in the way that America thinks about its openness to the world. Voters elected a might-makes-right leader who scorns alliances, who is cynical about the rule of law and universal values and who believes that national interests always come first. Amid espionage fears, visa rules for Chinese students of science and technology have tightened. FBI agents have quizzed scholars visiting from Chinese state-backed think-tanks about government links, and cancelled the visas of some. Rather than China becoming more Western, America is becoming more Chinese.
---
Thanks for reading. If you like what you saw, tell someone—and support this work by becoming a member. If you've been forwarded this newsletter, subscribe for yourself at zacheverson.substack.com. Questions? Read our FAQ/manifesto. Tips or feedback? Contact me, Zach Everson, securely via email at 1100Pennsylvania@protonmail.com or on Signal at 202.804.2744.