Discover more from 1100 Pennsylvania
"The undisputed expert on the D.C. Trump Hotel" – David Fahrenthold of the Washington Post
Over 3,000 subscribers
Flying shard of champagne bottle lands hotel $350,000 lawsuit
Plaintiff alleges flying fragment of a sabered champagne bottle opened a gash in her chin
Last month President Donald Trump's D.C. hotel was sued for negligence, with the plaintiff alleging a shard of glass flew off a sabered champagne bottle and opened a gash on her chin. She is asking D.C. Superior Court to award her $350,000 in damages.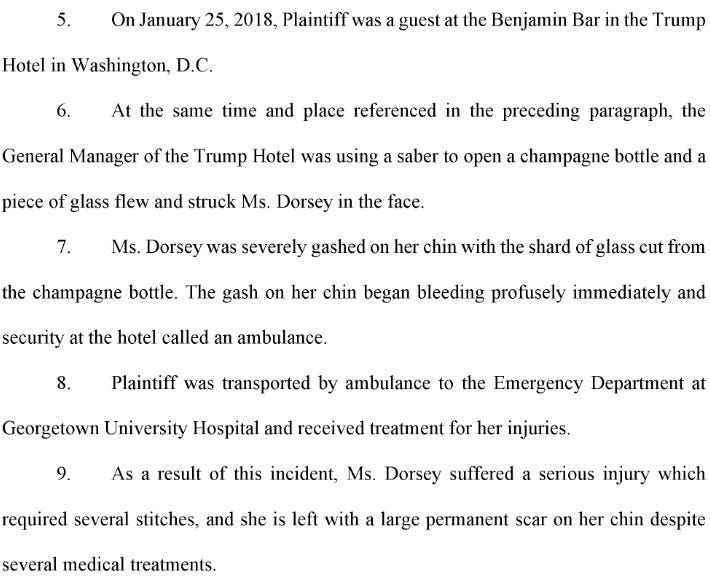 In her complaint, Cameron Dorsey's attorneys allege that on Jan. 25, 2018 she was struck on the chin by a piece of glass that flew off a sabered bottle of champagne. "The gash on her chin began gushing blood immediately and security at the hotel called an ambulance," which took her to Georgetown University Hospital according to the filing. Her attorneys claim that the incident required stitches, left her with a large scar on her chin, caused her to suffer post-traumatic stress disorder, and cost her financially via lost wages and medical expenses.
Dorsey's attorney, Patrick Regan of Regan Zambri Long, a firm specializing in personal injury, has not replied to multiple requests for comment. Representatives from the hotel and the Trump Organization also did not respond.
The initial court hearing is scheduled for Feb. 7, 2020 before Associate Judge Florence Pan (an Obama nominee). The hotel was served with a summons on Nov. 12.
Sabering open a bottle of champagne (called sabrage and done elsewhere) is one of the Trump Hotel D.C.'s signature moves, and it usually delights. The hotel's food and beverage director, Daniel Mahdavian, demonstrated the process in this 2016 video, saying it came about after the Trump family challenged him to come up with something engaging.
---
Judge declared case closed after GSA turned over unredacted FBI HQ appraisal to CREW
Thursday, U.S. District Judge Christopher R. Cooper (appointed by President Obama) closed Citizens for Responsibility and Ethics in Washington's lawsuit vs. the General Services Administration over a document pertaining to the FBI headquarters relocation. The order came after GSA complied with CREW's Freedom of Information Act request seeking documents about the agency reversing its previous decision to relocate the FBI headquarters.
Such a move would allow that property, located across Pennsylvania Avenue from the Trump Hotel D.C., to be redeveloped, possibly as a competing luxury hotel. Democrats on the House Oversight committee have alleged the president himself intervened in GSA's decision-making process. The GSA and FBI heads have denied that charge.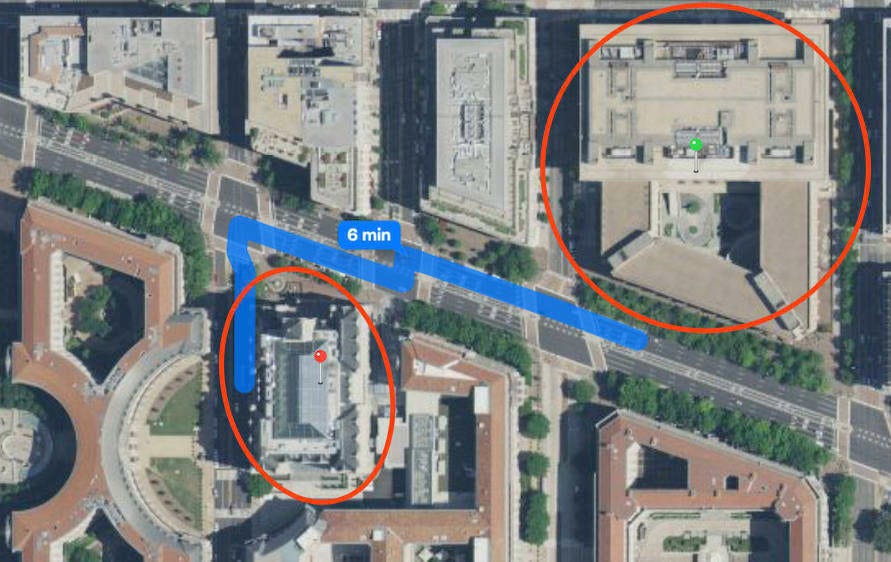 In March 2019, Cooper ruled that GSA impermissibly redacted information in its FOIA response that "included appraised values of the Hoover Building, and the value of offers it received for the property—from a document titled 'Findings and Determination' ('F&D') that explained the agency's decision to cancel the swap-relocation project."
The big reveal—GSA's appraisal valued the J. Edgar Hoover building and land at $610 million, while the land alone was $488 million. (Copies of the unredacted and redacted info are available on DocumentCloud.)

---
Hotel regular lands gig lobbying for Kuwaiti firm
Last month, hotel regular Martha Boneta, whose LinkedIn profile says she's a senior advisor for pro-Trump dark money group America First Policies, reportedly added a new gig—lobbyist for a Kuwaiti firm.
From Nov. 11's Politico Influence by Theodoric Meyer:
The law firm Crowell & Moring has hired Martha Boneta of Victory Coalition Strategies as a subcontractor to lobby on behalf of KGL Investment Company, the Kuwaiti company that's spent millions of dollars on Washington lobbying this year in an effort to help one of its executives, who's fighting embezzlement charges in Kuwait. Among the notable names who have lobbied on KGL Investment Company's behalf: former Sen. Trent Lott (R-Miss.) of Squire Patton Boggs, former Florida Attorney General Pam Bondi of Ballard Partners and Louis Freeh, the former FBI director.
While Boneta's name may seem out of place alongside two longtime D.C. power brokers and an attorney elected to statewide office in the country's third most-populous state, Boneta's Instagram posts—often set in the president's hotel and other businesses—position her as the ultimate insider in Trump's D.C. Her photos show a meteoric rise to the top of Trump World for the Paris, Virginia small farmer, who claims a law degree from George Mason.
At the Trump Hotel D.C., Boneta has repeatedly appeared behind a Trump Hotels lectern and addressed the president's customers. She celebrated her birthday in 2018 with a party at the hotel. And she apparently attended events such as the president's speech to donors of the America First Action PAC, a fundraiser for Kevin McCarthy's Take Back the House PAC, and meetings of the Trump Victory finance committee (the Trump campaign and the Republican National Committee's joint fundraising committee).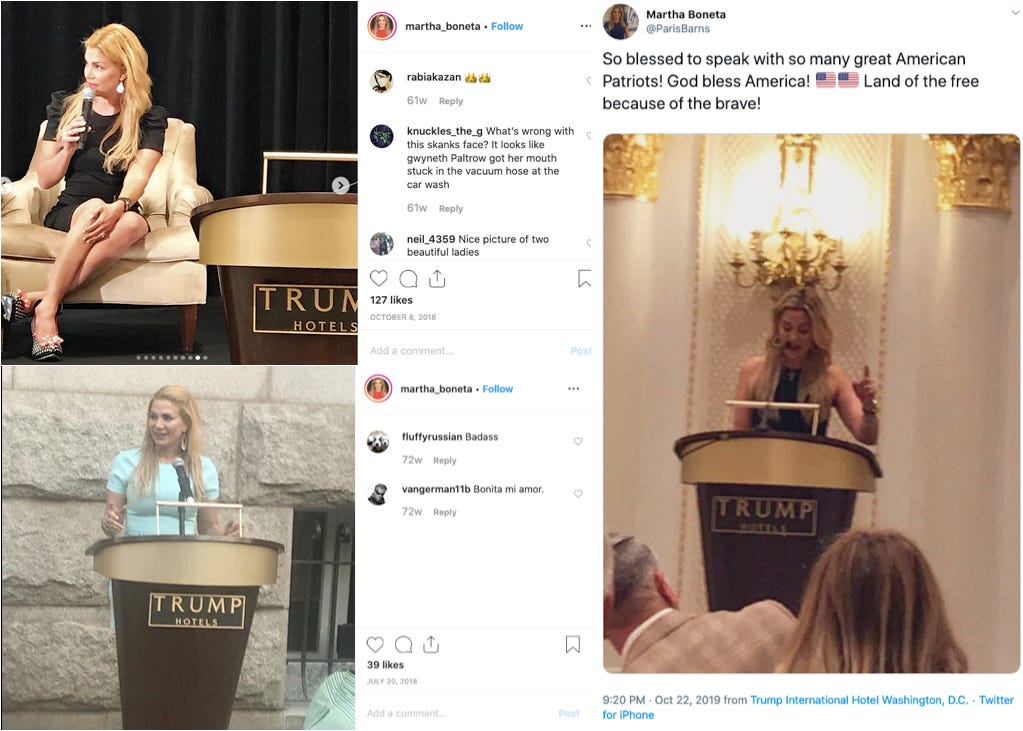 And at the Trump Hotel DC, Boneta's posed for photos with President Trump, Kellyanne Conway, David Bossie, Greg Pence, Corey Lewandowski, Brad Parscale, Sarah Huckabee Sanders, Sean Spicer, Reince Preibus, Kevin McCarthy, Jim Jordan and NRA board member Willes Lee, Kimberly Guilfoyle and the My Pillow Guy, Don Jr., Charlie Kirk, Betsy DeVos, Ben Carson, Jerry Falwell Jr., Sebastian Gorka, Ryan Zinke, Lara Trump, Ron DeSantis, Rand Paul, Louis Gohmert, Anthony Scaramucci and the lawyer Charles Gucciardo, who once invested $500,000 into a company owned by Rudy Giuliani's associates Lev Parnas and Igor Fruman.
If you publish a daily newsletter reporting on the president's D.C. hotel, Boneta's Instagram page is a must-read.
Boneta also has visited Mar-a-Lago, where—with the president at the club—she facilitated access for the head of the Middle Eastern Women's Coalition. And this spring Boneta stayed at the Trump Hotel and Tower Chicago and plugged it on Instagram.
Her Instagram posts include plenty of other photos with high-profile people outside of Trump properties— such as frequent visits to the WhiteHouse, as recently as yesterday, for events ranging from meetings to bowling. She's taken least nine photos with Vice President Pence. In Qatar she shook hands with that nation's deputy prime minister and minister of foreign affairs, Sheikh Mohammed bin Abdulrahman bin Jassim Al Thani. And she had her arm around Turkish billionaire Rahmi Koç
Now lobbying the U.S. government on behalf of a Kuwaiti, hopefully this policy advisor for a pro-Trump dark money group's Instagram page will continue to provide insight into whom she's meeting with.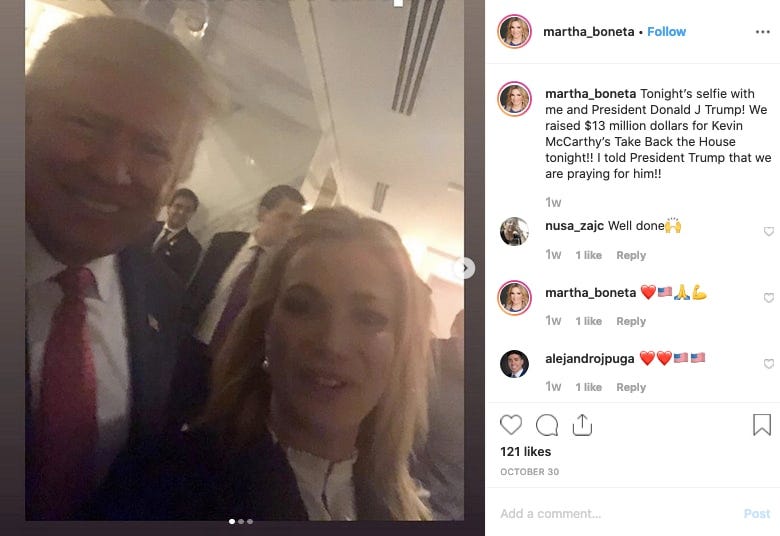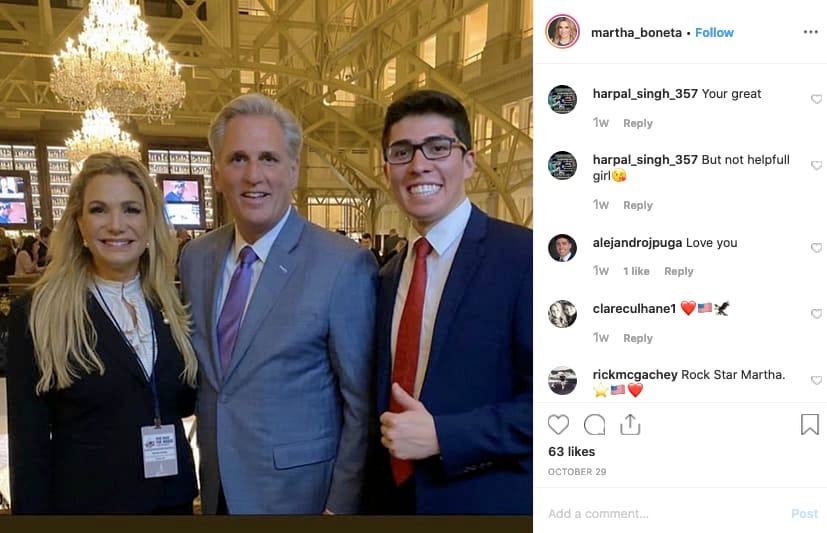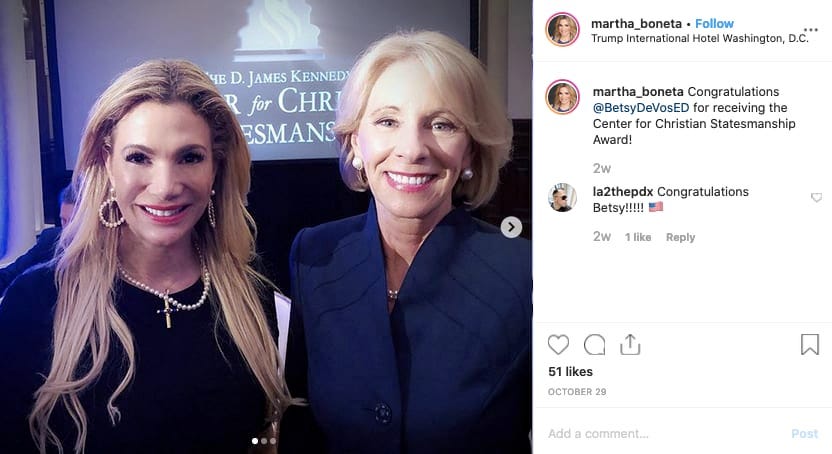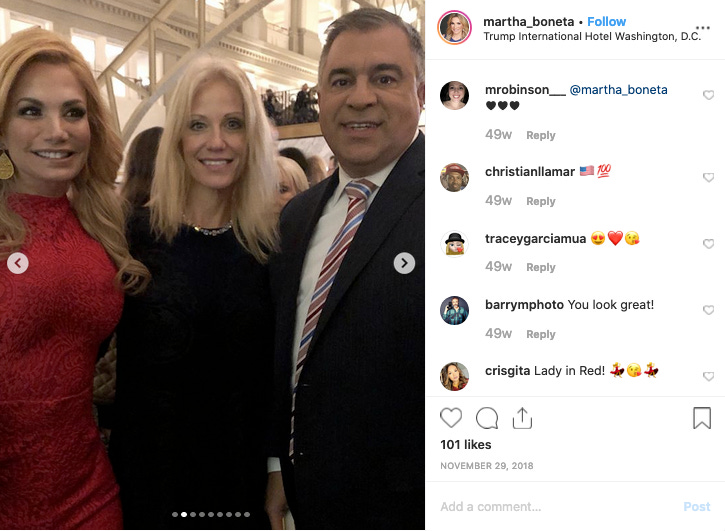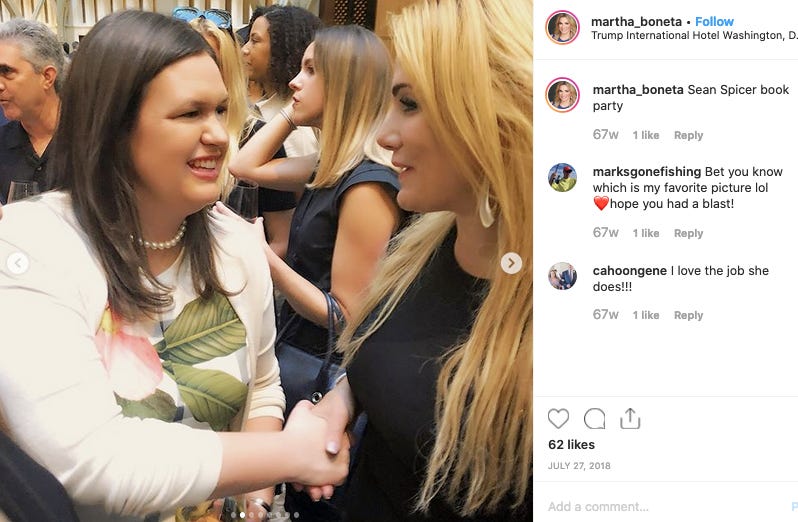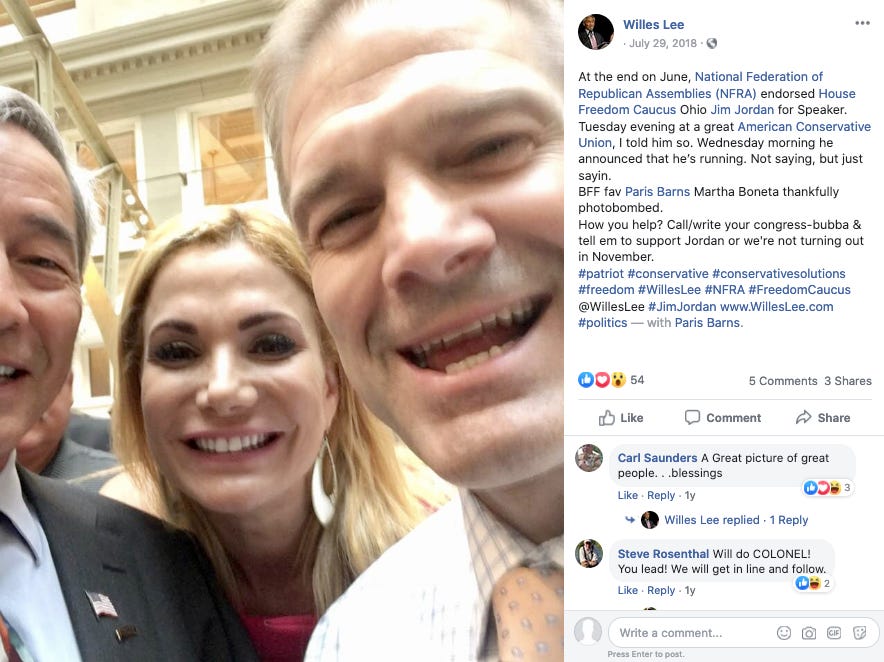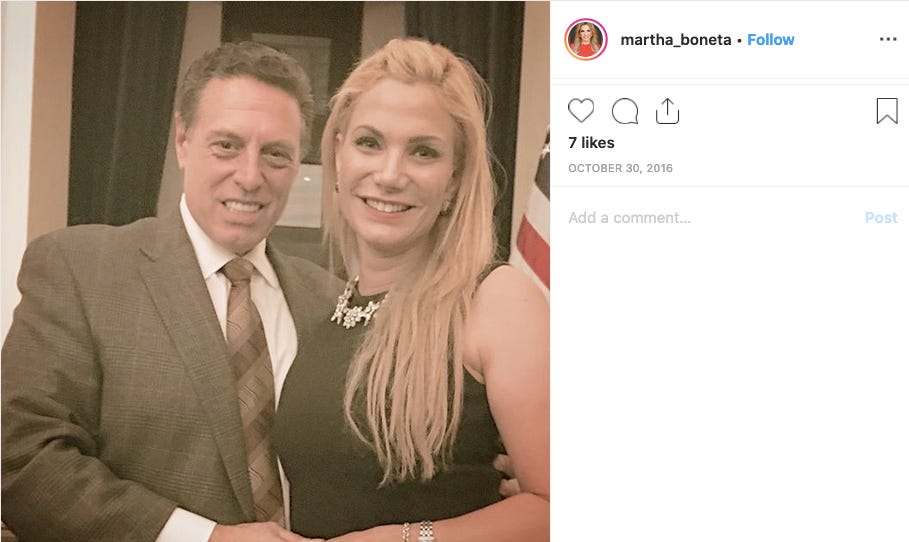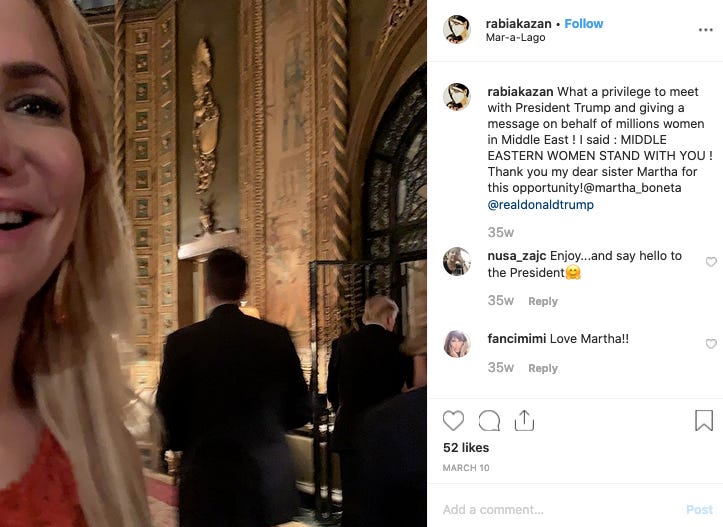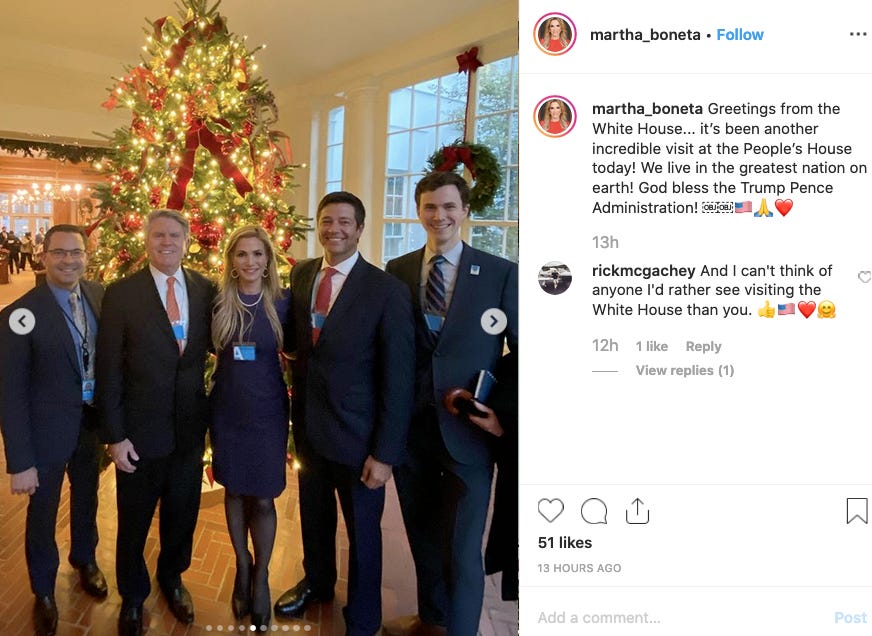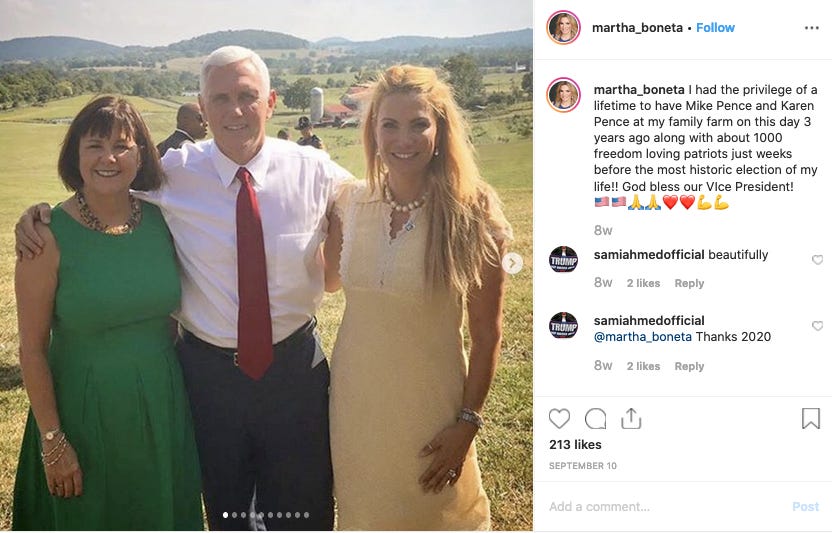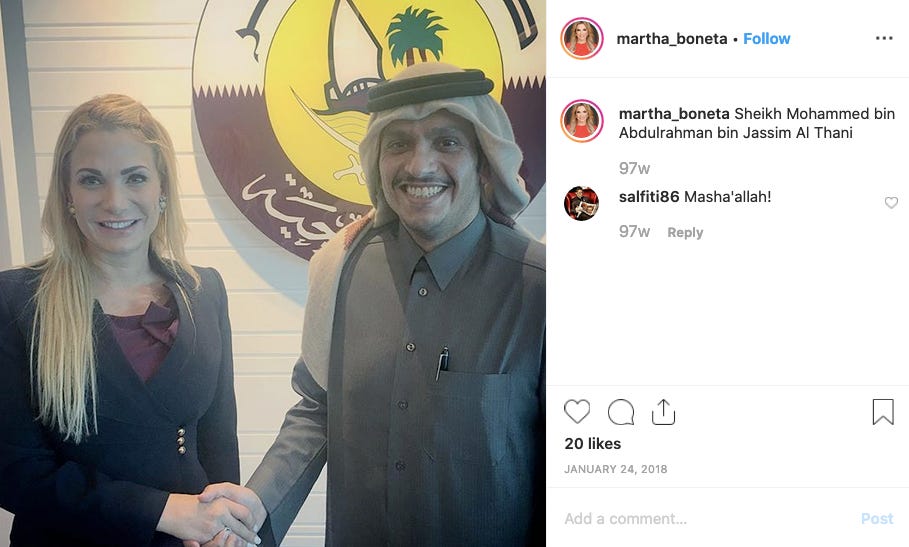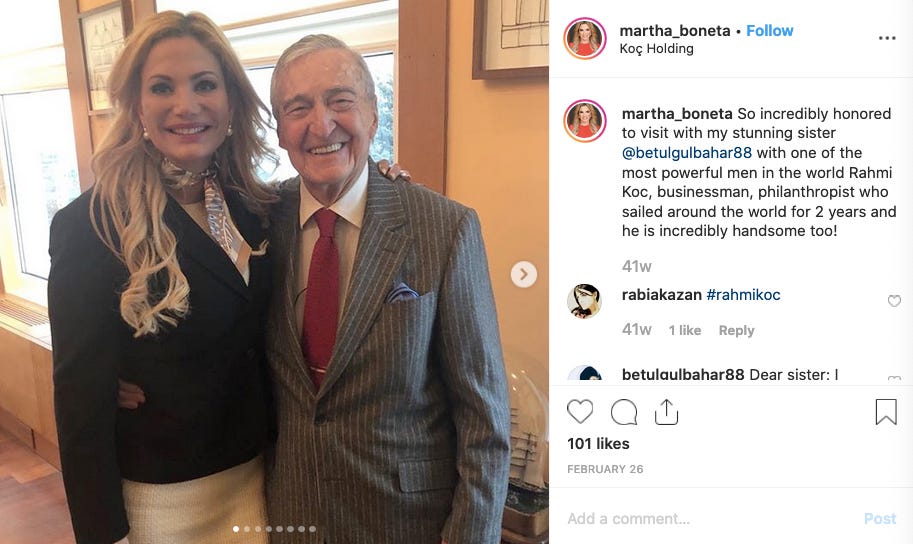 ---
Give a 1100 Pennsylvania gift subscription
Help your loved ones stay informed and support vital reporting read by House investigators, other journalists, government watchdogs, and voters. 1100 Pennsylvania makes a great holiday gift for anyone who'd appreciate—or benefit from—seeing how President Trump is profiting from his presidency. Just $5/month or $50 a year.
---
Campaign expenditures
The National Republican Congressional Committee spent $15,742.20 for a facility rental and catering on Oct. 15, 2019 at the D.C. hotel owned by the party's head. The NRCC now has reported spending a total of $74,872.10 at the Trump Hotel D.C.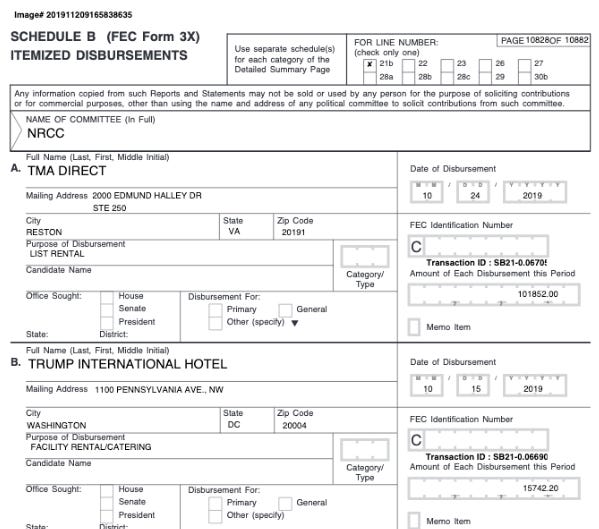 ---
Notable sightings
A glimpse of the foreign officials, government employees, politicians, lobbyists, and the like who patronize or appear at Trump businesses. Most people shown here have reasons to want to influence the Trump administration, rely on its good graces for their livelihoods, or should be providing oversight. Additionally, high-profile guests serve as draws for paying customers.
The co-founder of the Japanese cryptocurrency Liberty and the chair of the Japanese Conservative Union, Jikido "Jay" Aeba, posed with Rep. Matt Gaetz (R–FL) at what appears to be Jeanine Pirro's book signing in late November.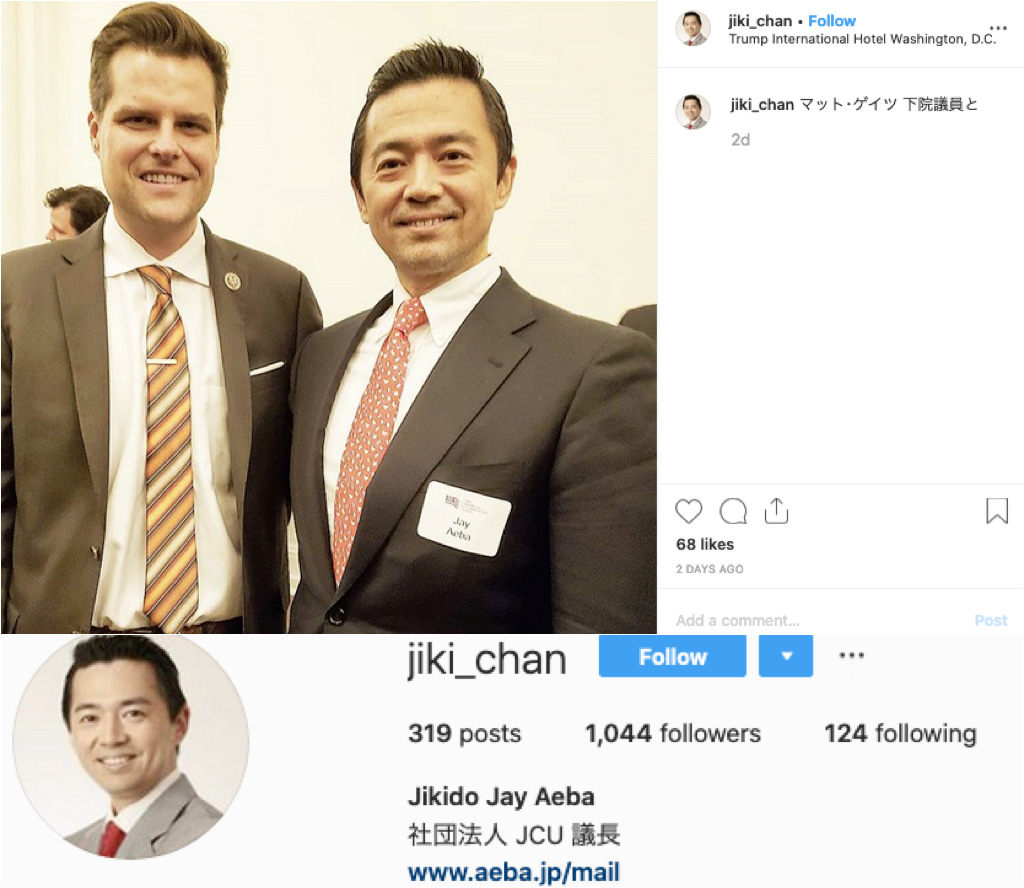 GOP candidate for Congress in South Carolina and founder of Bikers for Trump, Chris Cox, posed with supporters by the lobby's Christmas tree.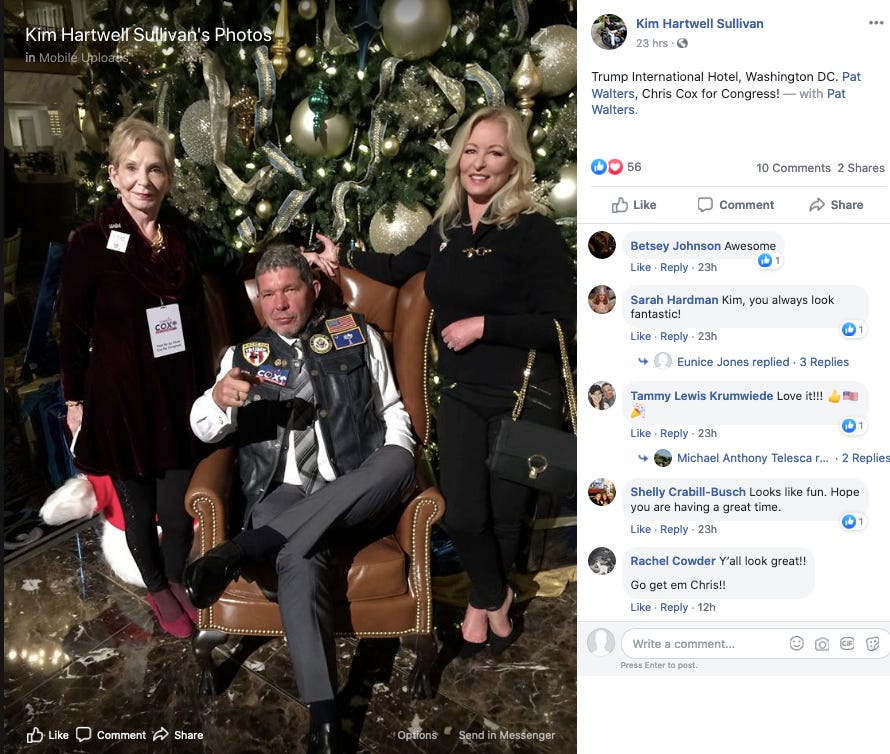 Unsuccessful candidate for U.S. senate and the chair of the Arizona GOP, Kelli Ward (who recently advocated for an electoral college at the state level to stem GOP loses), got in the holiday spirit at the D.C. hotel owned by her party's leader.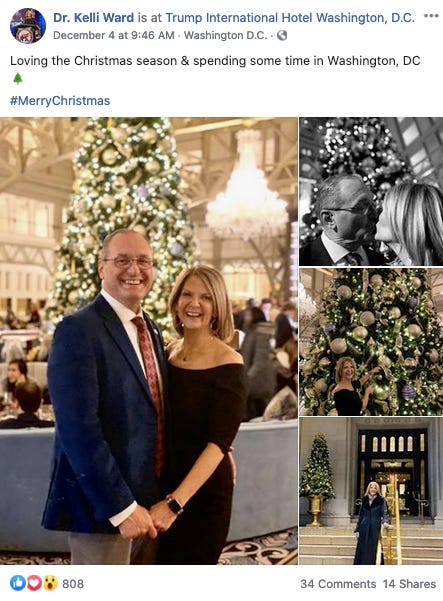 Hannah Salem, a special assistant to the president and director of press advance at the White House, appears to have attended a D.C. police union group's holiday party at her boss's hotel on Saturday night.
While staying at the president's D.C. hotel around the time a federal judge halted his efforts to construct a border wall, the founder of the GoFundMe-supported We Build the Wall, Brian Kolfage, and his wife, influencer Ashley Kolfage, had some decisions to make.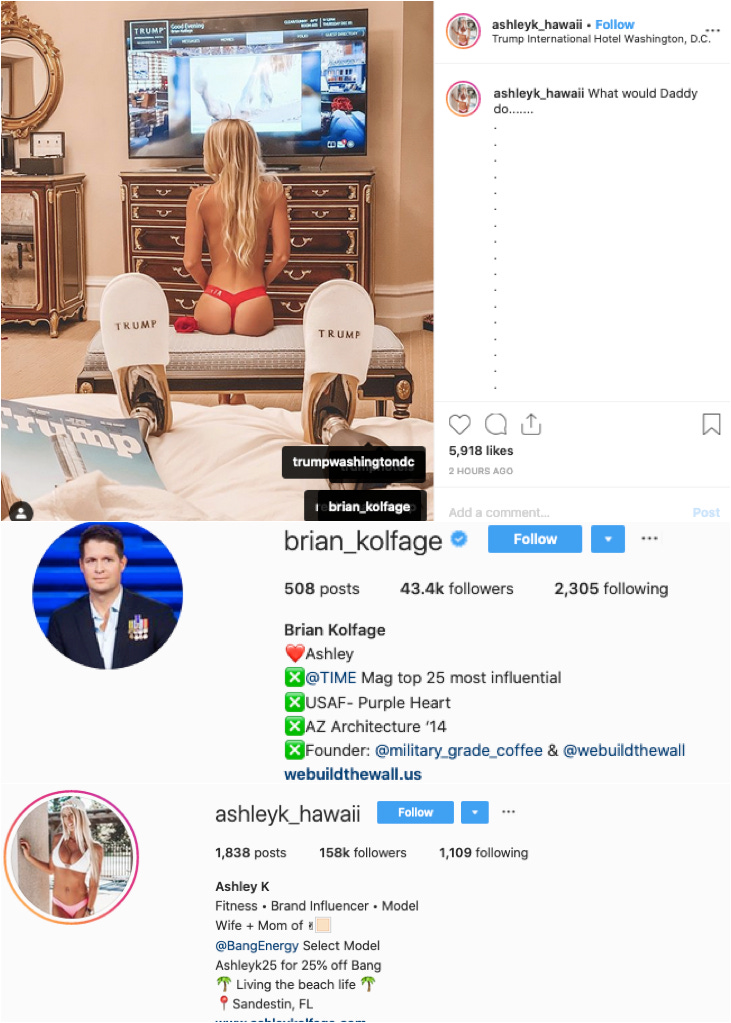 Noted video splicer James O'Keefe of Project Veritas and conservative pundit Michelle Malkin posed together at the Impact Awards, hosted Wednesday at the Trump Hotel D.C. by the wife of a Supreme Court justice, Ginny Thomas. Malkin was honored at this year's luncheon, while O'Keefe was an award recipient at the 2017 ceremony (also held at the president's D.C. hotel).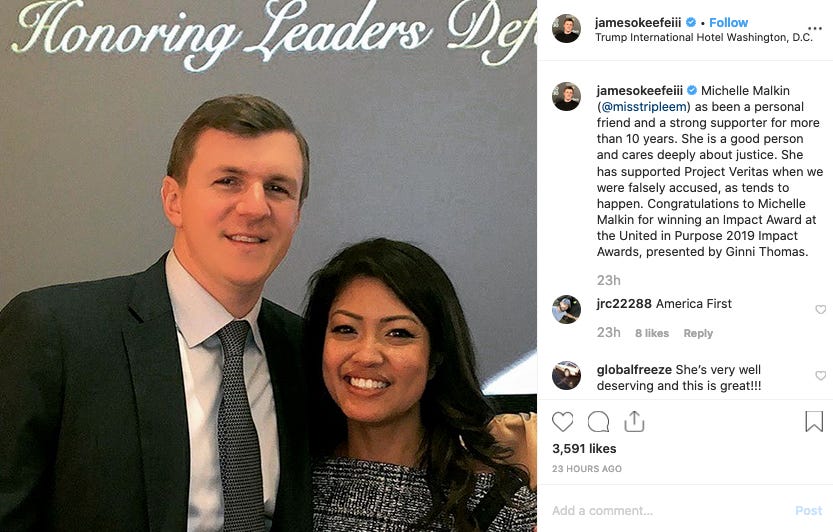 Two weeks ago, 1100 Pennsylvania reported Andrii Telizhenko, the ex Ukrainian diplomat pushing the story that his country interfered in 2016 U.S. election on behalf of Hillary Clinton's behalf, was at Trump Hotel D.C., sitting near Rudy Giuliani's usual spot. Last week the two men hung out in Kyiv.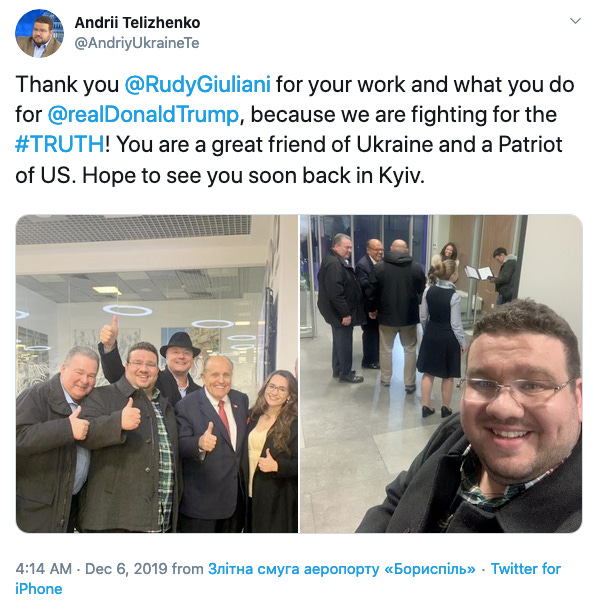 ---
Other Trump Organization news
---
Reference section
Links to rundowns of developments in the House's investigations and lawsuits, reference sheets for some of 1100 Pennsylvania's previous reporting, and articles that provide the background on why all of this matters. The date published or last updated is in parentheses.
Trackers
Notable hotel customers
Summaries
Upcoming key dates
Sept. 23—House Judiciary Committee hearing "Presidential corruption: Emoluments and profiting off the presidency" (postponed, not yet rescheduled)

Nov. 4—House Transportation Committee chair's subpoena deadline seeking documents related to hotel's lease (response came a week late and was deemed insufficient)

Dec. 8—Attorney General William Barr's $30,000 private holiday party (rescheduled to unknown date)

Dec. 11—Deadline for Trump to file his appeal to the Supreme Court of lower courts' rulings declining to block House Financial Services and Intelligence Committees' subpoenas for financial records from Deutsche Bank and Capital One

Dec. 12—Oral arguments before full 4th Circuit Court of Appeals in D.C. and Maryland attorneys general's emoluments suit

Jan. 23—Status hearing with D.C. Superior Court in former hotel employees' lawsuit alleging racial discrimination

Jan. 25—Diamond and Silk's "Say yes to LIFE Pro-Life brunch" to benefit their nonprofit, S.I.S.T.A.S. (Stepping into Self Truth Awareness and Success)
---
Thanks for reading! If you like what you've read, tell someone. If you've been forwarded this newsletter, subscribe at 1100pennsylvania.substack.com. Questions? Read our FAQ. Tips or feedback? Contact Zach Everson at 1100Pennsylvania@protonmail.com (it'll be encrypted if you also use a ProtonMail account, which is free) or via Signal (secure), SMS, or mobile at 202.804.2744.