Discover more from 1100 Pennsylvania
"The undisputed expert on the D.C. Trump Hotel" – David Fahrenthold of the Washington Post
Over 3,000 subscribers
Foreign emoluments clause violated?
Welcome to 1100 Pennsylvania, a newsletter devoted to President Donald Trump's Trump Hotel International Washington, D.C. (and his other companies). President Trump, of course, still owns his businesses and can profit from them.
If you like what you see, tell someone. If you've been forwarded this newsletter, subscribe for yourself at zacheverson.substack.com. Tips or feedback? Contact me, Zach Everson, securely via email at 1100Pennsylvania@protonmail.com or on Signal at 202.804.2744.
U.N. ambassador for Dominica among Mar-a-Lago's NYE celebrants
United Nations ambassador for the Commonwealth of Dominica, Paolo Zampolli, rang in the new year at Mar-a-Lago. Zampolli has not responded to an email asking if he, his country, or a third party paid for ticket to the celebration, which reportedly cost $1,000. If the Commonwealth of Dominica covered it, it could violate the U.S. Constitution's foreign emoluments clause:
No Person holding any Office of Profit or Trust under them, shall, without the Consent of the Congress, accept of any present, Emolument, Office, or Title, of any kind whatever, from any King, Prince, or foreign State.
UPDATED Jan. 2, 4:35 p.m: Reached via telephone, Zampolli said as a longtime family friend, he was there as a guest of the Trumps and the Commonwealth of Dominica did not pay Mar-a-Lago for him to attend. Which means that the president of the United States's business gave a ticket to a private event valued $1,000 to a foreign ambassador.
The Commonwealth of Dominica is 751-square-mile island nation in the Caribbean with a population of 74,000 per the CIA World Factbook.
While Zampolli "truly missed" the U.S. president/club owner's presence, he reported that "all friends & family respected POTUS unconditional commitment for AMERICA." Zampolli did get to spend time with First Lady Melania Trump, whom he kindly labeled. According to Page Six (the best way to start any sentence), Zampolli introduced Donald and Melania when she worked for his modeling agency, and he also was the Trump Organization's director of international development.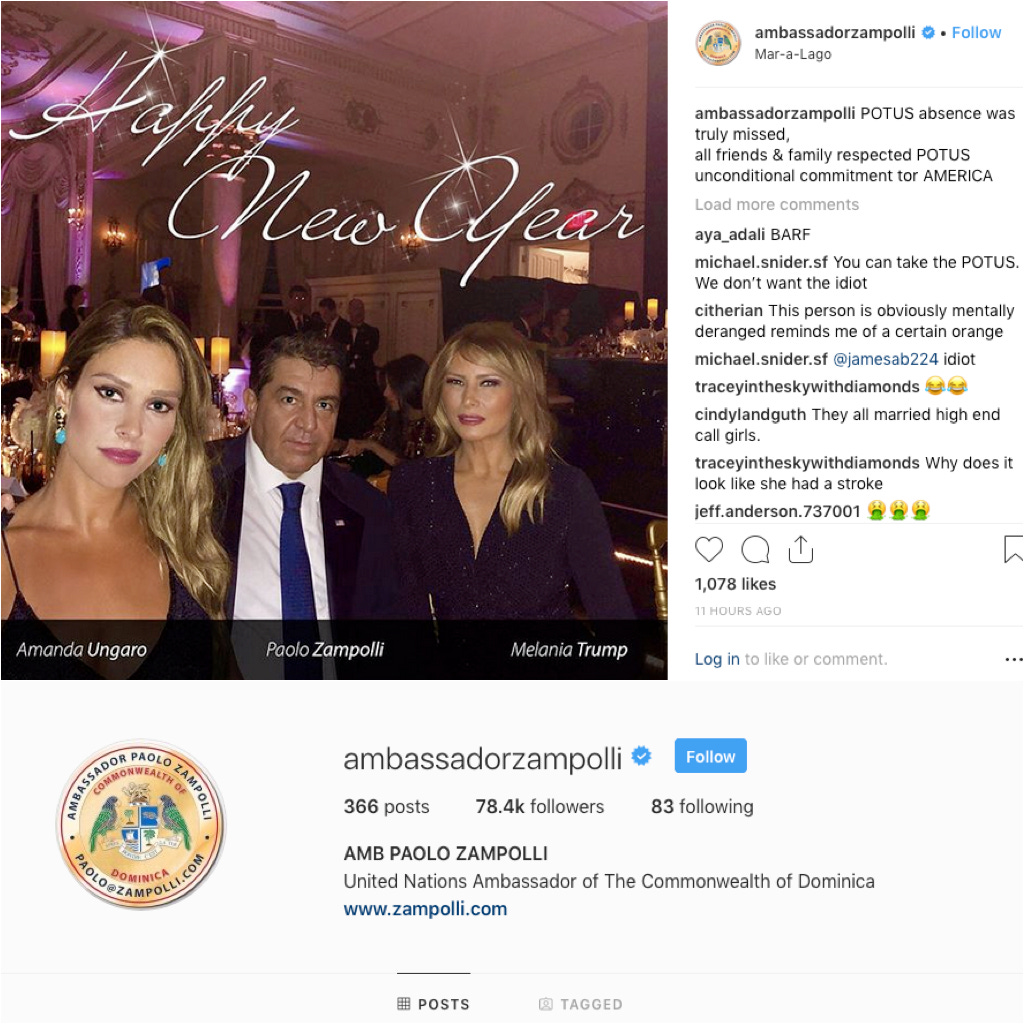 Other notable guests at the U.S. president's private club on New Year's Eve included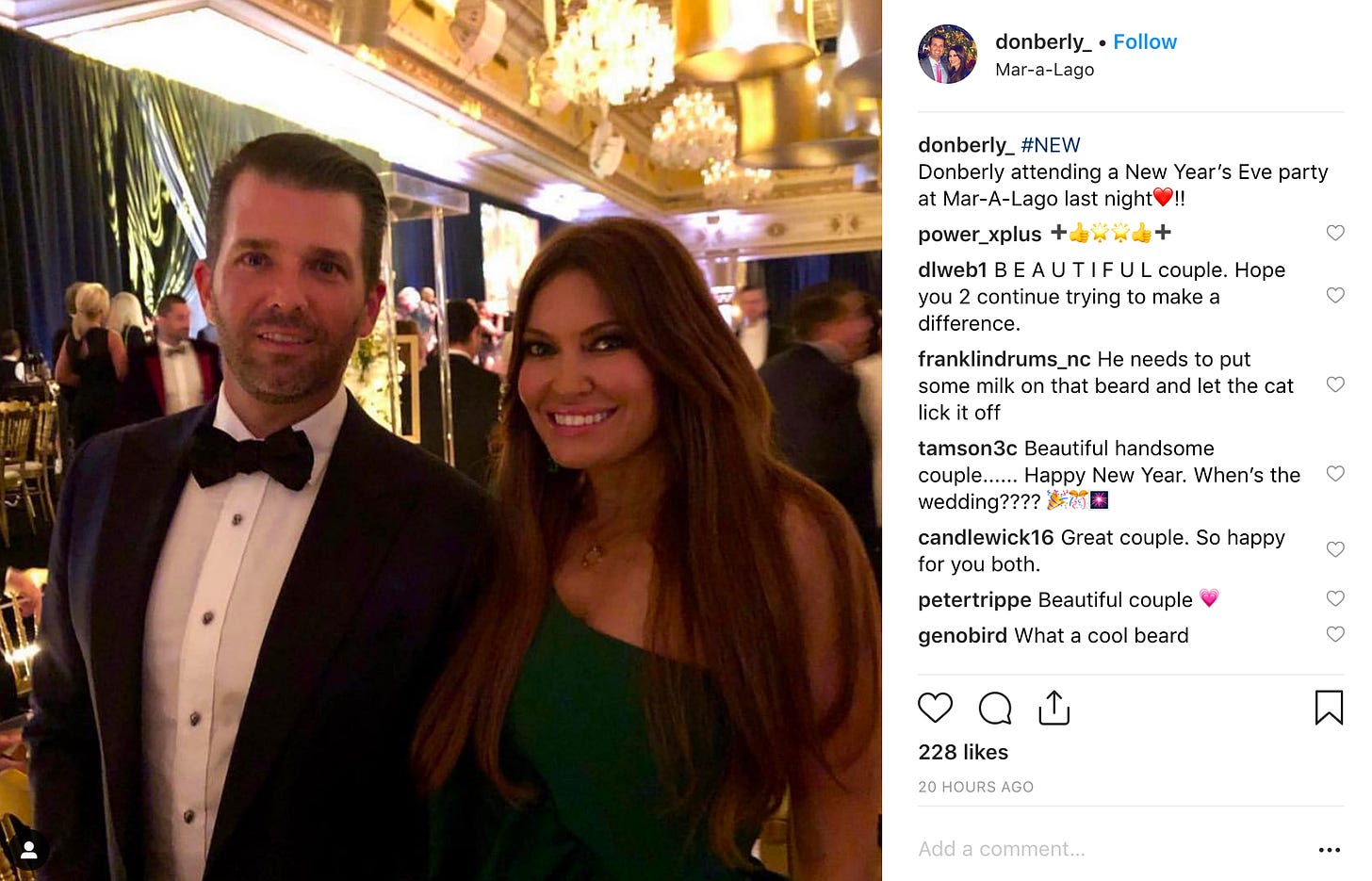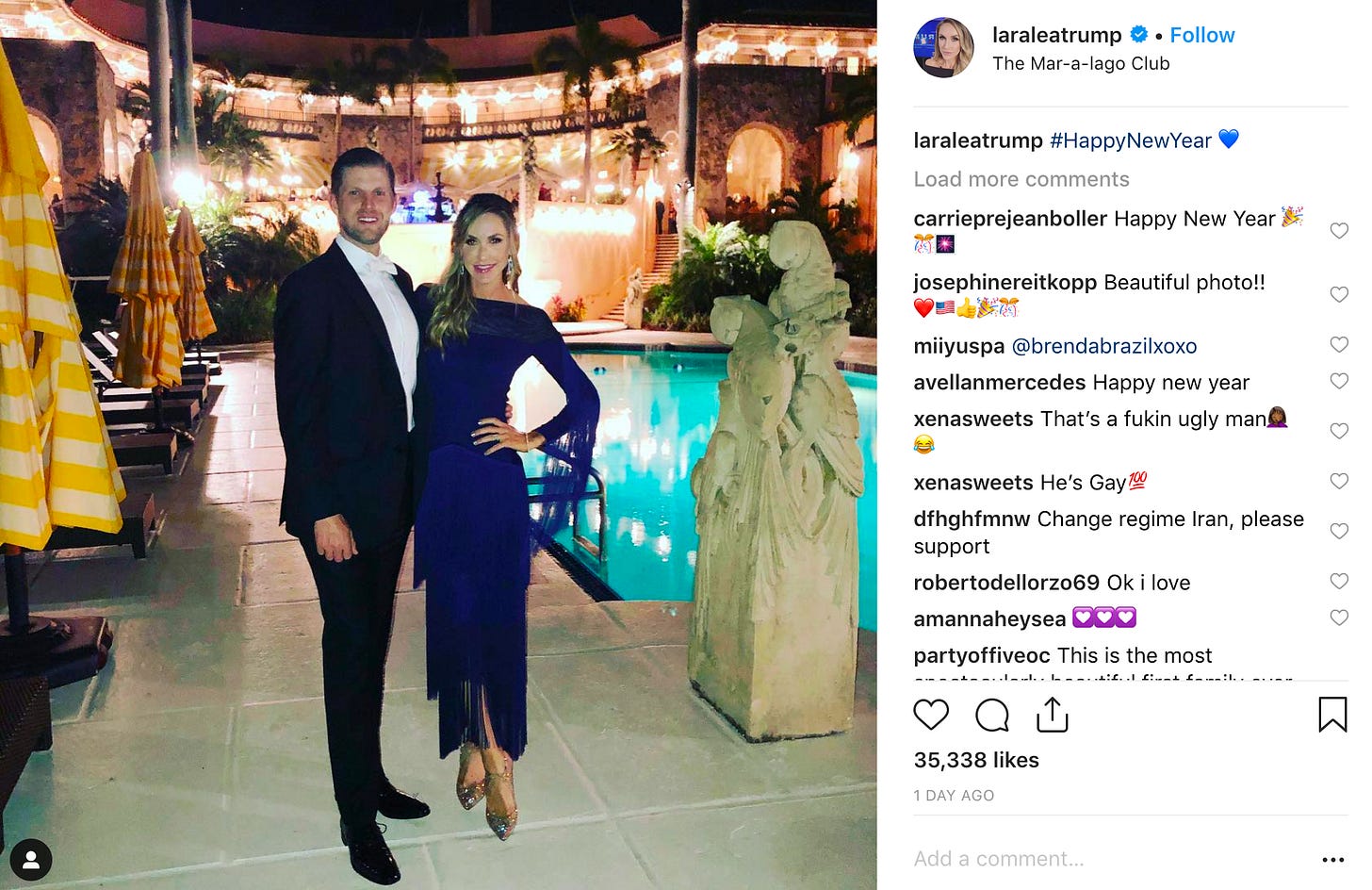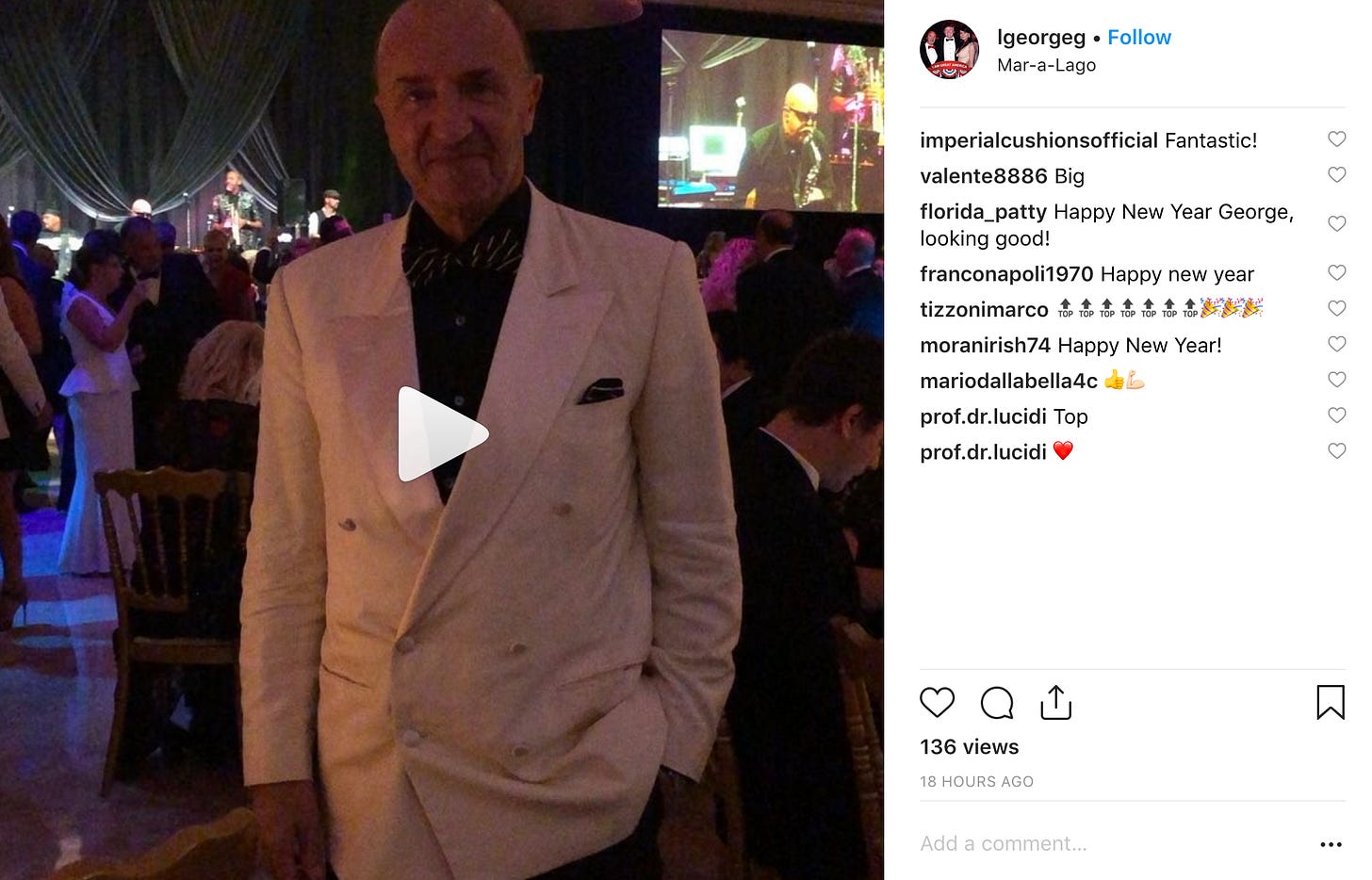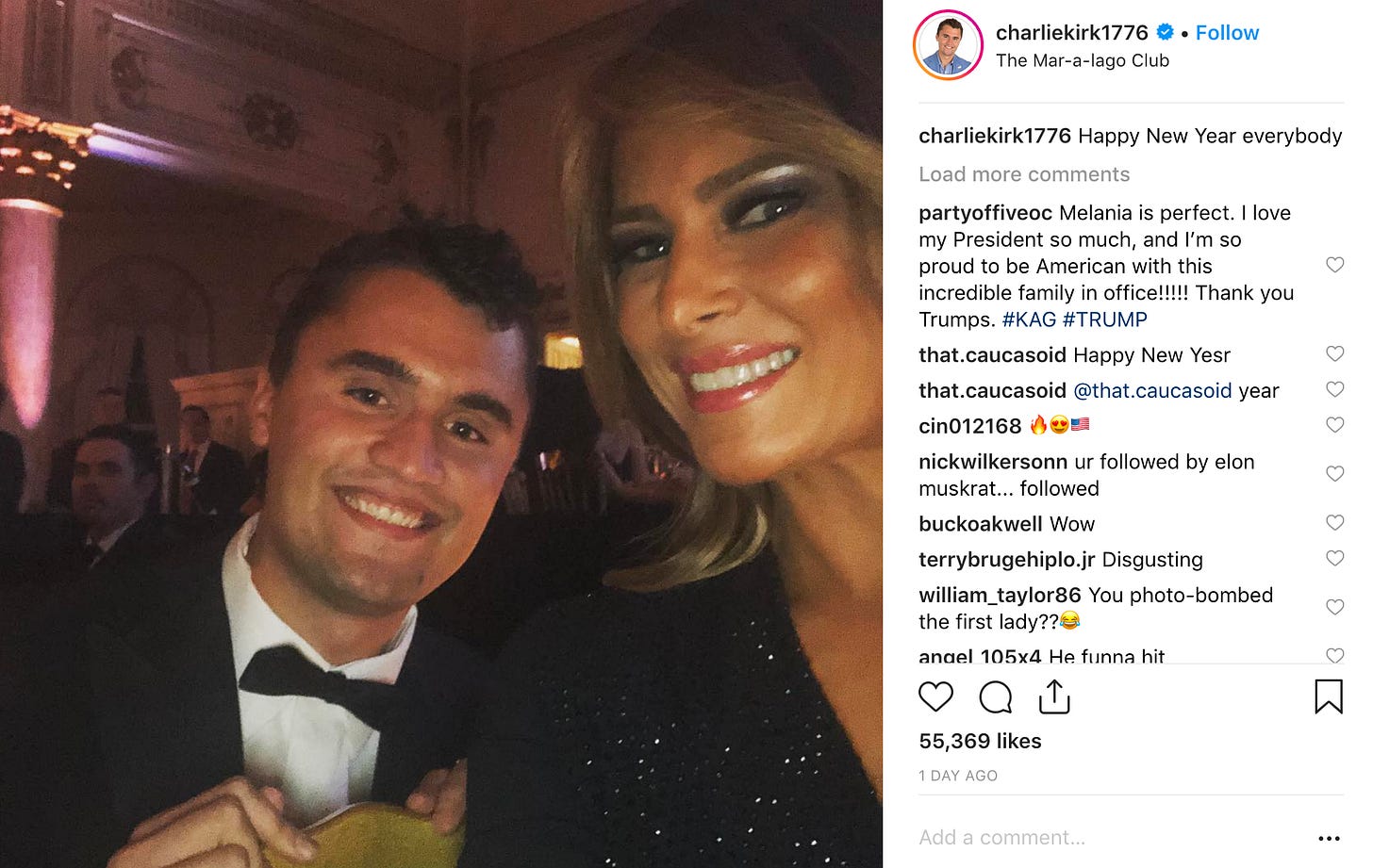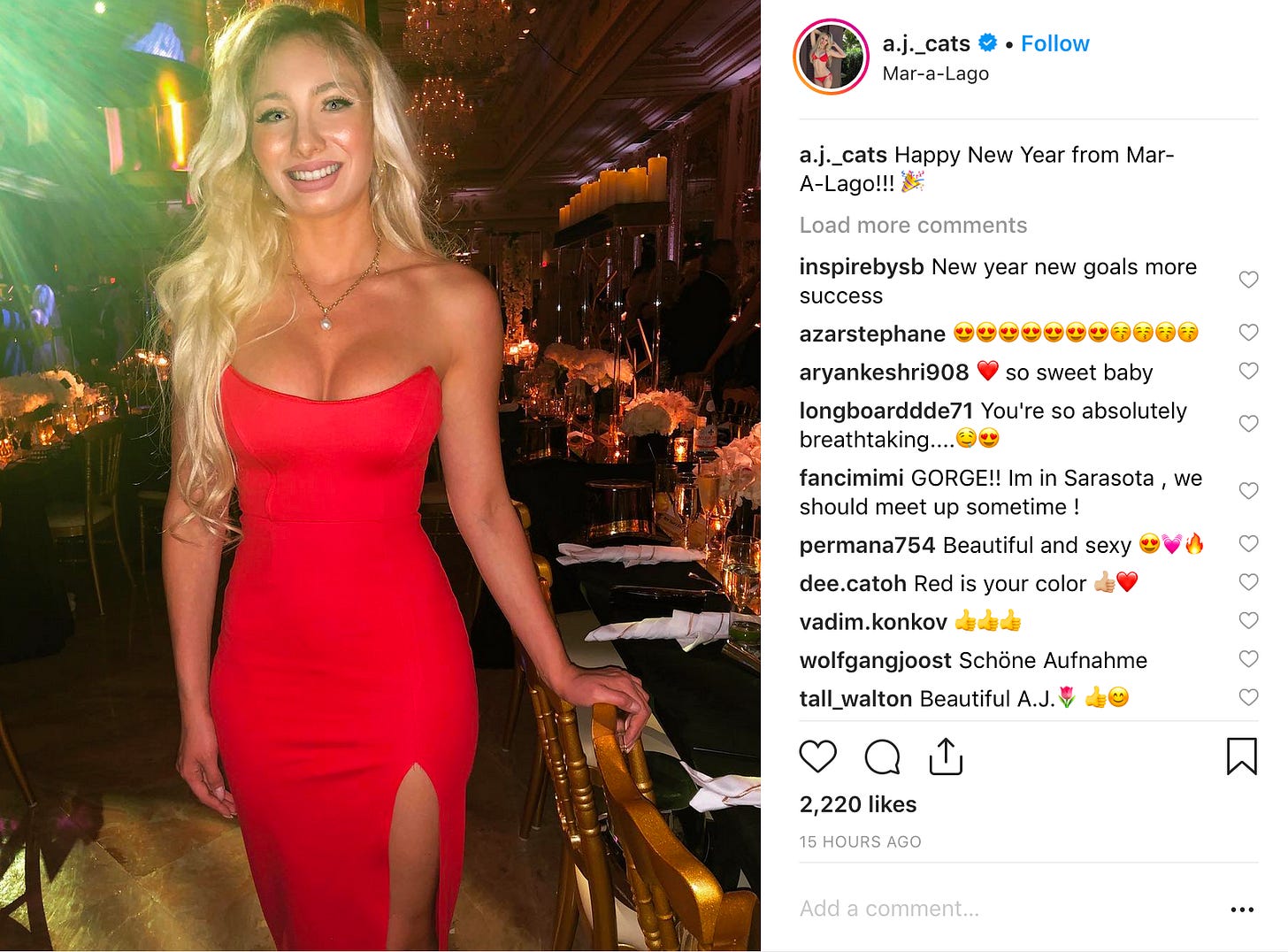 Alabama electric lobby books president's hotel
The Electric Cities of Alabama is holding its 2019 D.C. Legislative Rally Feb. 26–27 at the U.S. president's hotel. The ECA "represent[s] Alabama's municipally owned electric utilities."
In addition to having arranged for a room block, ECA will be holding a member briefing, reception, and dinner at the hotel. Room rates have not been finalized.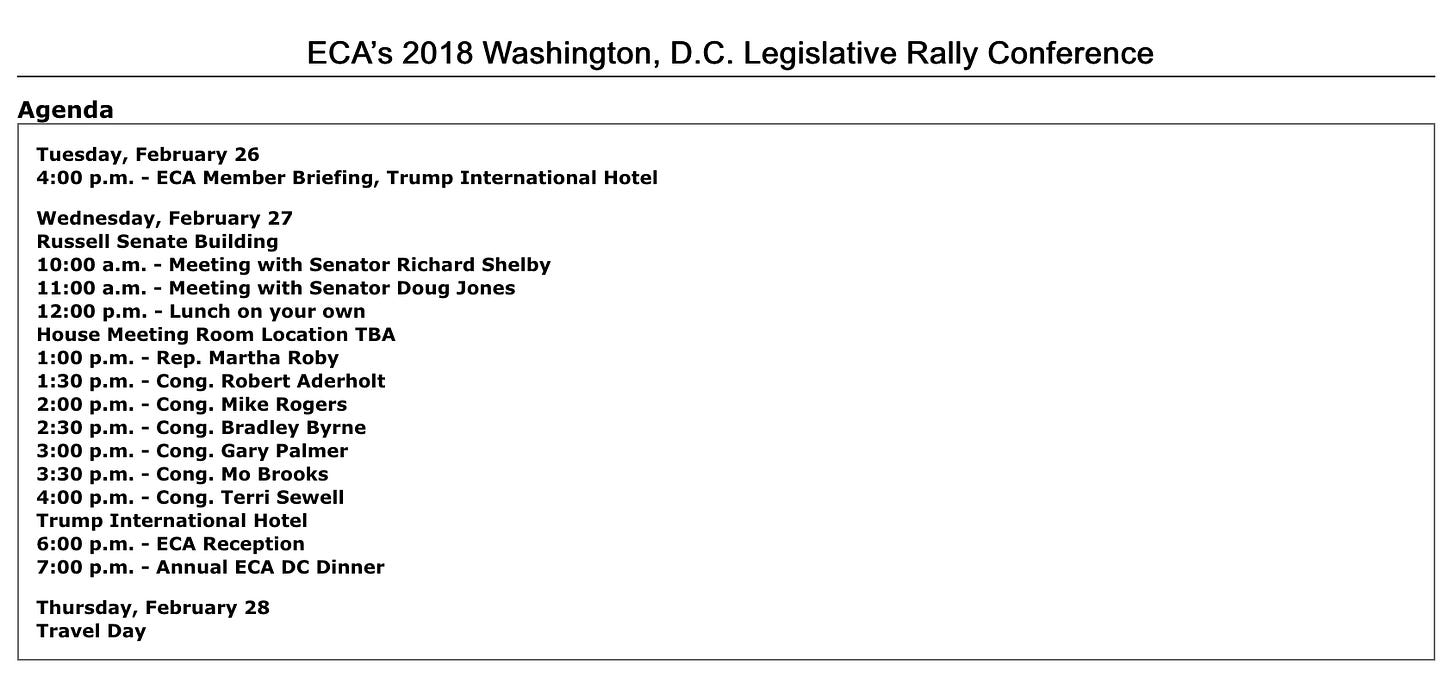 Pro-Trump group holding campaign kickoff at Trump's hotel
Virginia Women for Trump is returning to the Trump Hotel D.C. on Feb. 2, 2019 for its 2020 campaign kickoff, which combines an afternoon summit and an evening black-tie gala. The group is best known for throwing the Tea for Trump Birthday Extravaganza (coincidentally also at the Trump Hotel D.C.), which featured the Keep America Great Again dress; then GOP U.S. Senate candidate from Virginia, Corey Stewart, disavowing racism; and a playing of North Korea's national anthem.
The summit's agenda features pastor Mark Burns and economist Steven Moore with Corey Lewandowski, Katrina Pierson, and Rep. Louie Gohmert (R–TX) invited but yet to confirm. The gala's keynote speaker is to be announced. Tickets for the summit are currently $35 to $45, gala tickets are $165 to $280, and 20 hotel rooms are available at $295/night (among the lowest rates seen at the hotel).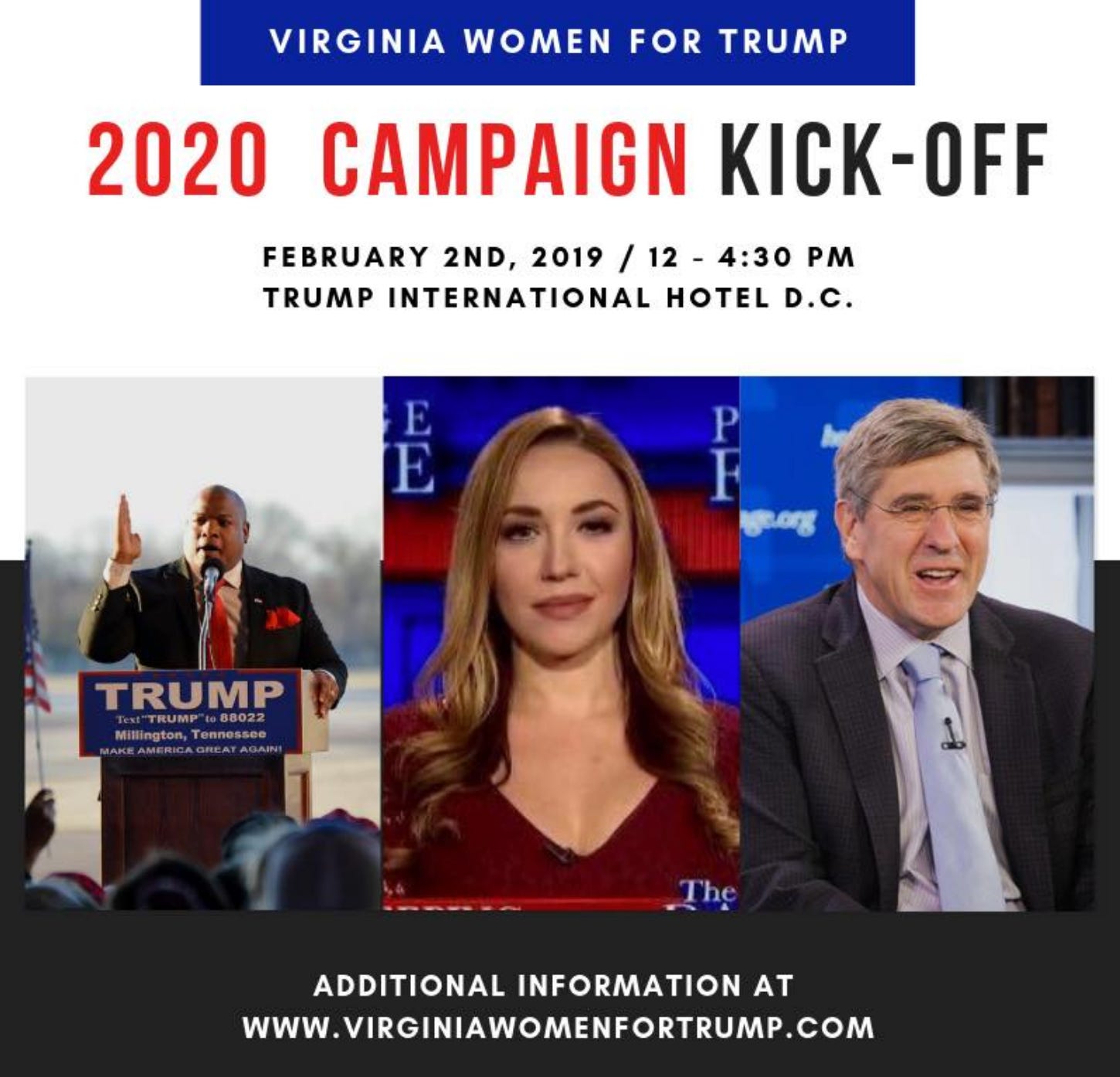 Next lobbyist happy hour scheduled for February
The next Trump First Tuesday, a "business networking happy hour for government relations professionals [lobbyists] and friends" has been scheduled for Feb. 5, 2019. (It appears January's gathering of lobbyists patronizing the president's hotel was canceled with the month's first Tuesday falling on New Year's Day.)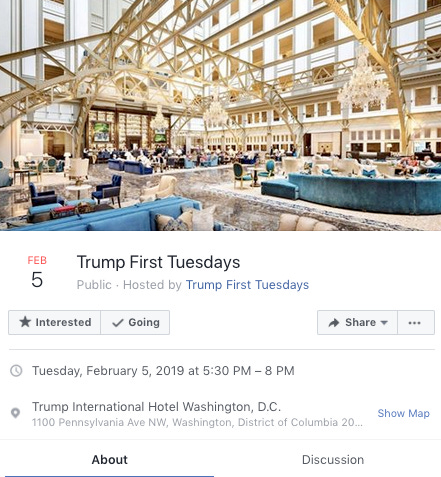 Trump mocks Pruitt's used-mattress hunt
From "Scott Pruitt: After the high life, a job hunt" by Juliet Eilperin, Brady Dennis, and Josh Dawsey for The Washington Post:
The president once viewed him as a loyal soldier and confidante, brainstorming on policy in the Oval Office and commiserating about Democratic attack dogs by phone. But Trump also has joked about some of Pruitt's missteps, according to senior administration officials. On more than one occasion, they said, the president congratulated Wheeler for not attempting to buy a used mattress from the Trump Hotel, a move Pruitt once tried.
Noteworthy sightings
New Year's Eve brought out notable Republicans to the head of their party's hotel. Like Wheel of Fortune's Pat Sajak! Here he posed with the hotel's executives and a woman wearing a champagne-flute dress. (Fun fact: Sajak has argued that in some instances government employees should lose their right to vote because it could be a conflict of interest). Sajak and his wife also were celebrating their 29th wedding anniversary, a detail he shared when he plugged the hotel on Twitter.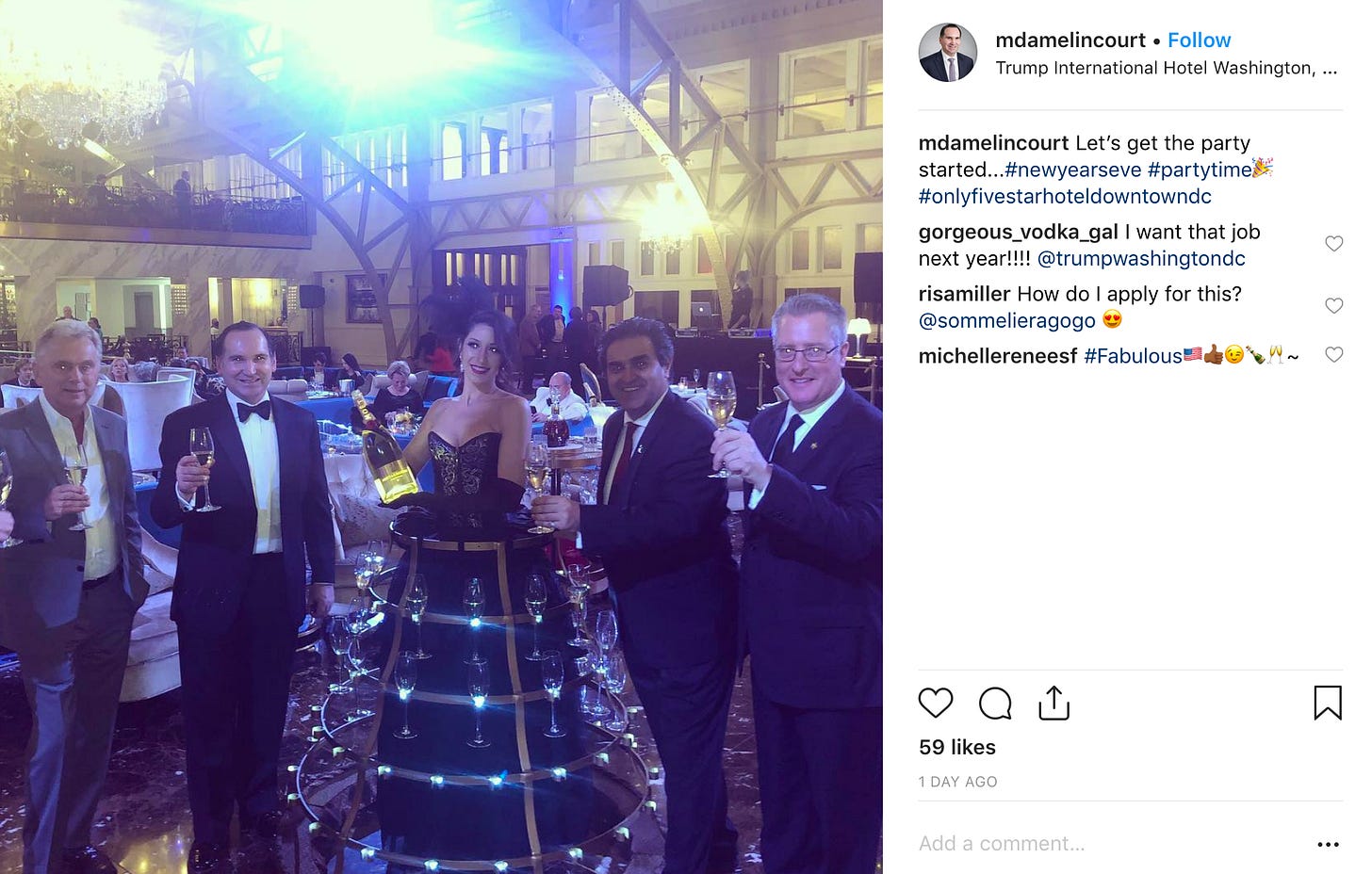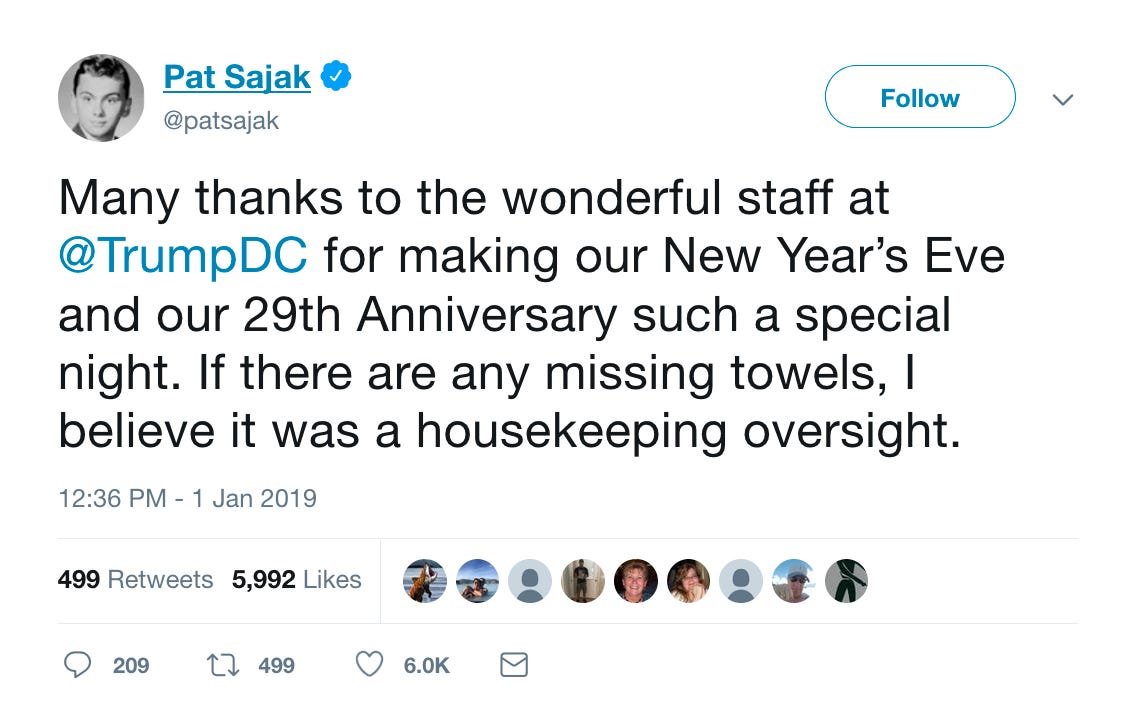 Former White House advisor Seb Gorka promoted his new radio show again while posing with WMAL radio hosts Larry O'Connor and Chris Plante. (The next morning, President Trump tweeted praise for Gorka's book.)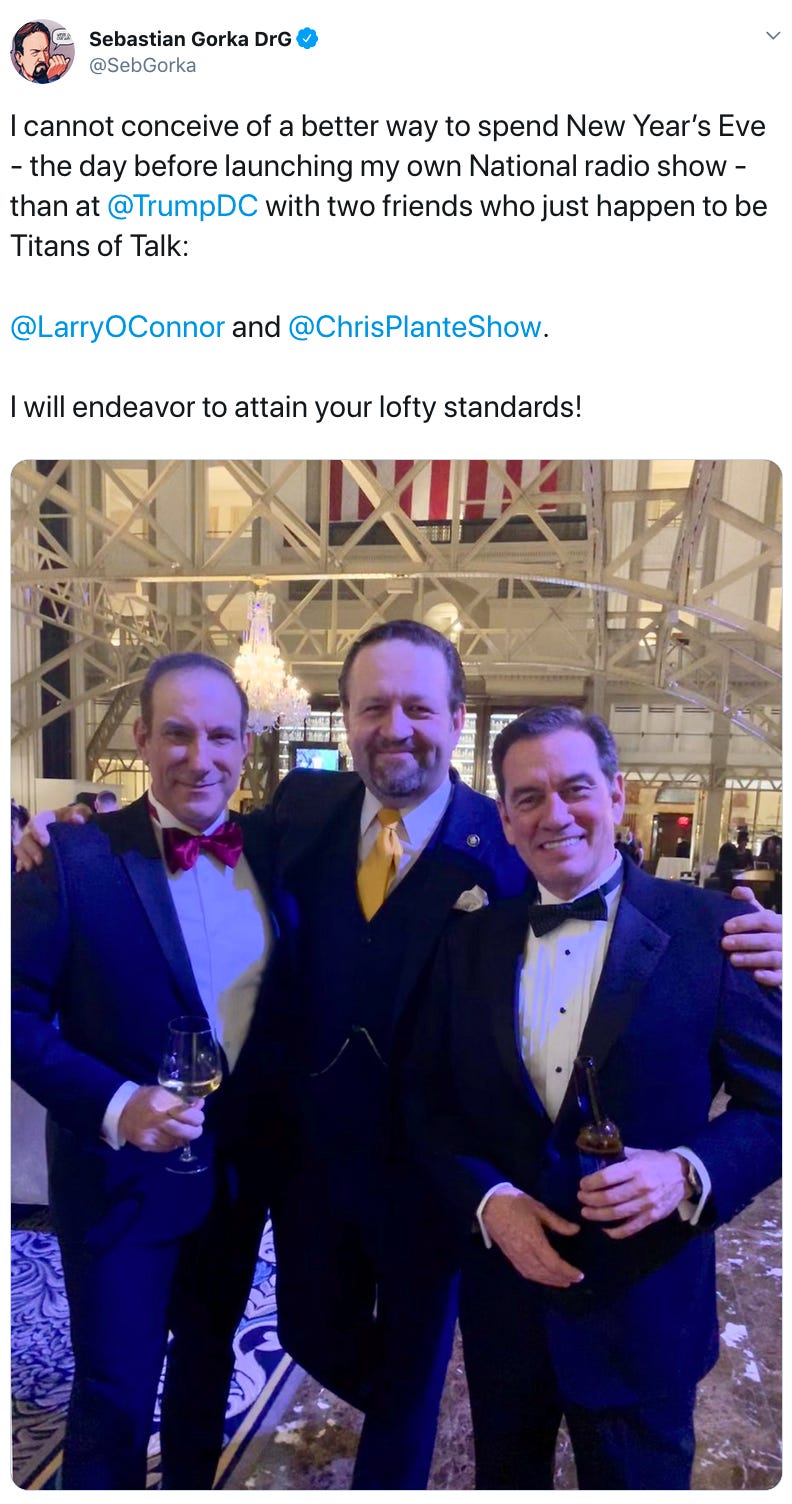 Fox News pundit and Trump campaign advisor Harlan Hill had no idea who half the people were in his picture. Harlan—DM me, we can work this out! They include pro-Trump commentator Will Chamberlain; alt-right Pizzagate pusher Jack Posobiec and his wife; and former Breitbart London editor-in-chief and current ally of Nigel Farage and Steve Bannon, Raheem Kassam.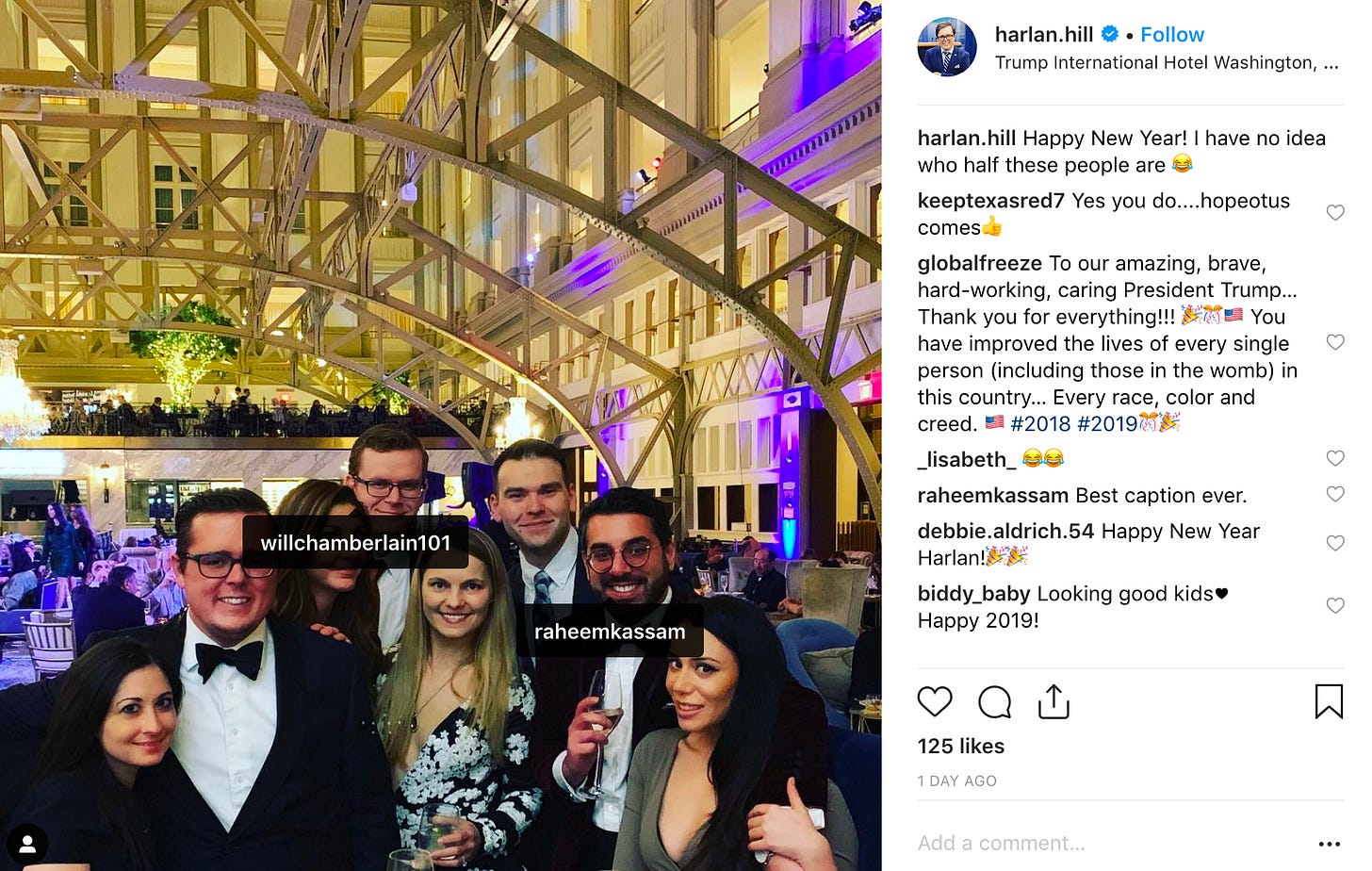 Other sightings include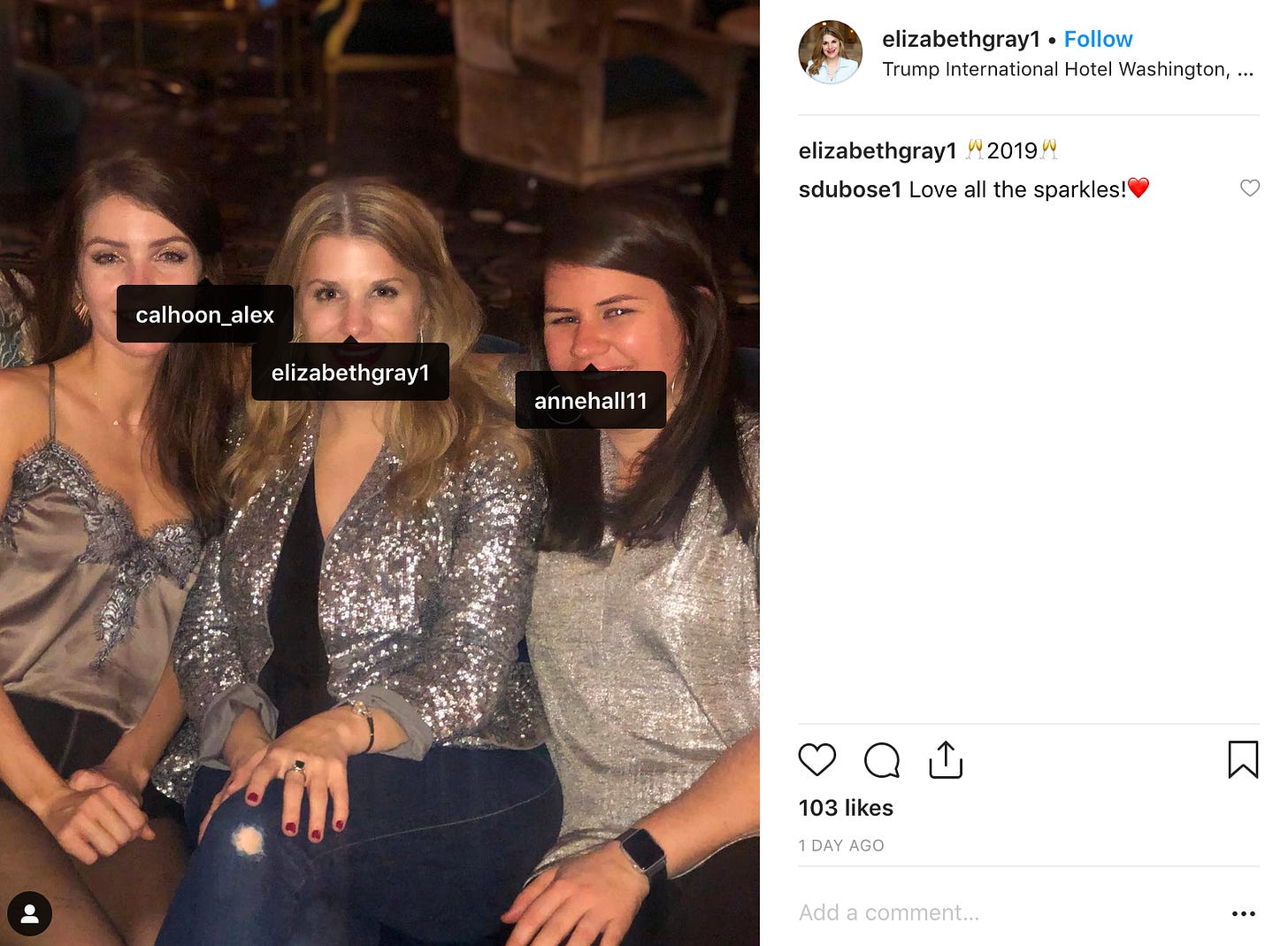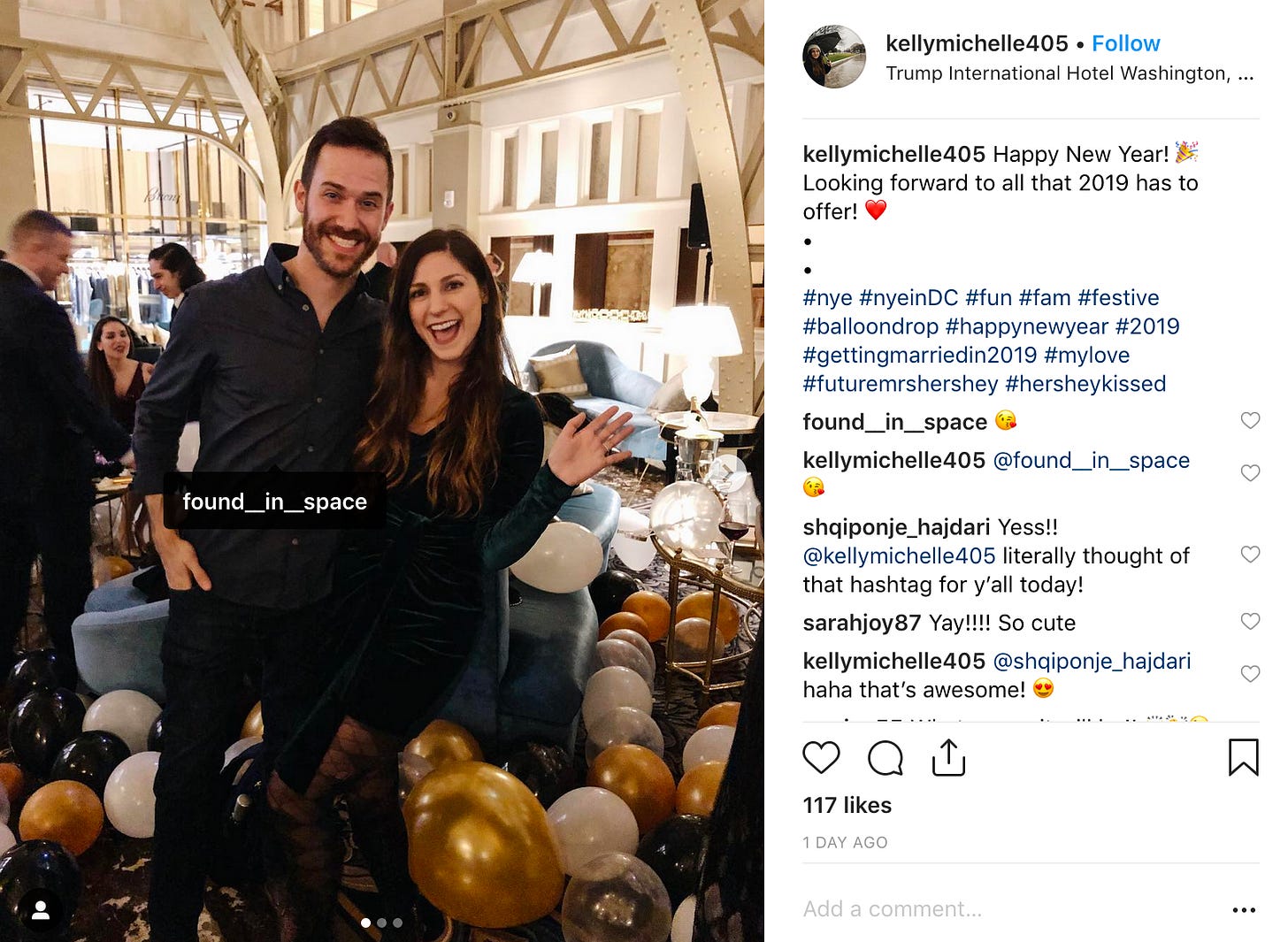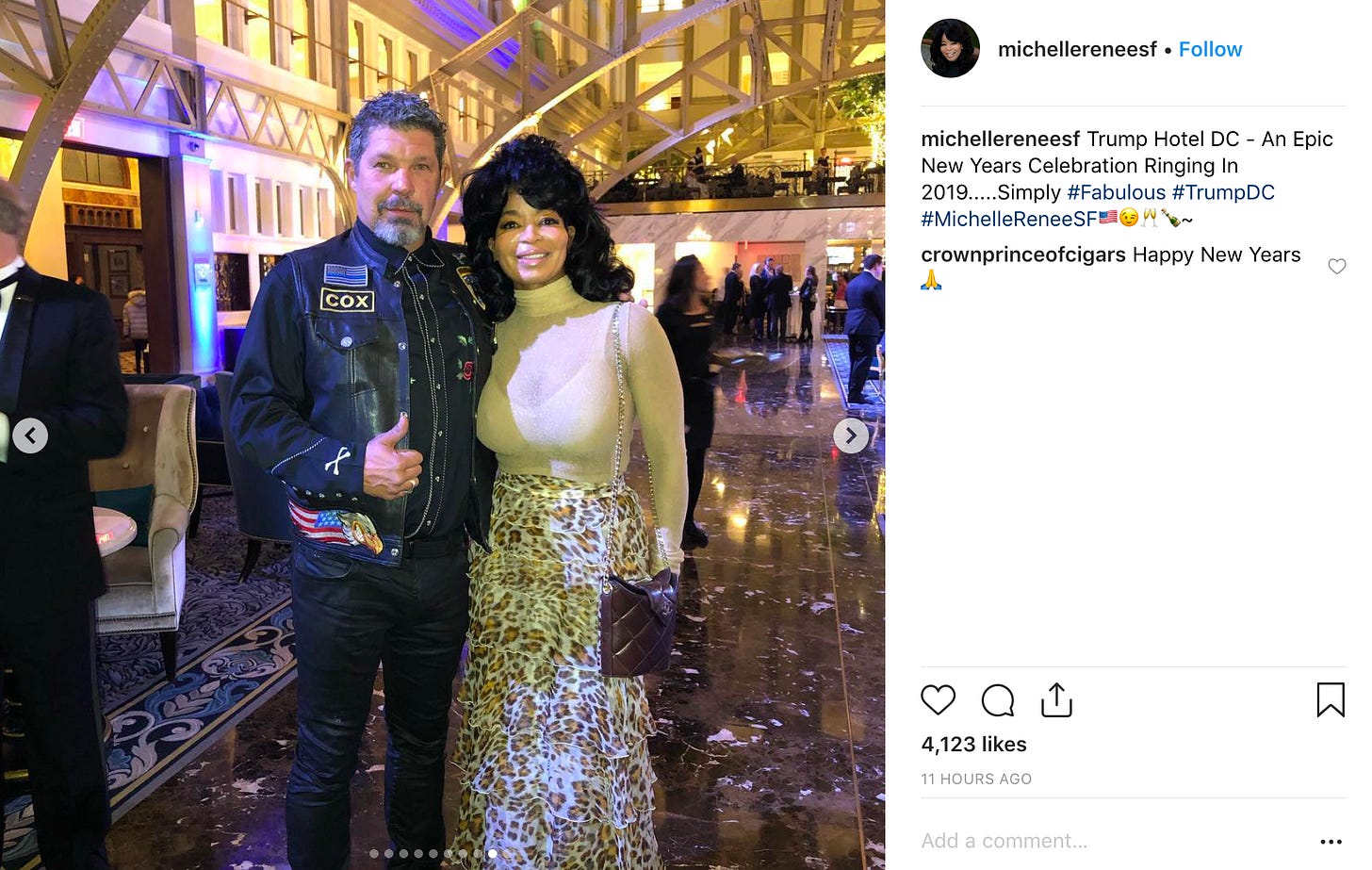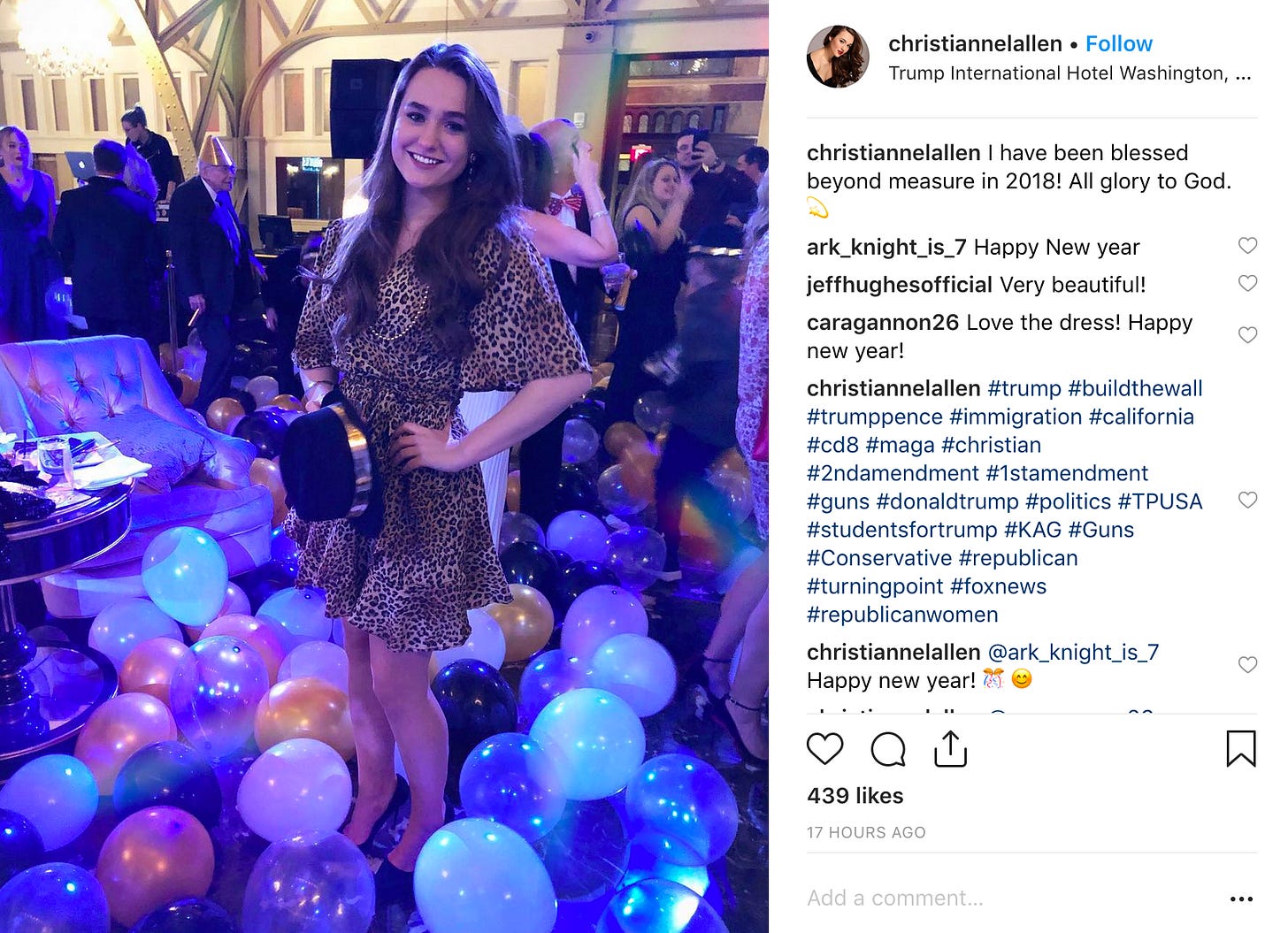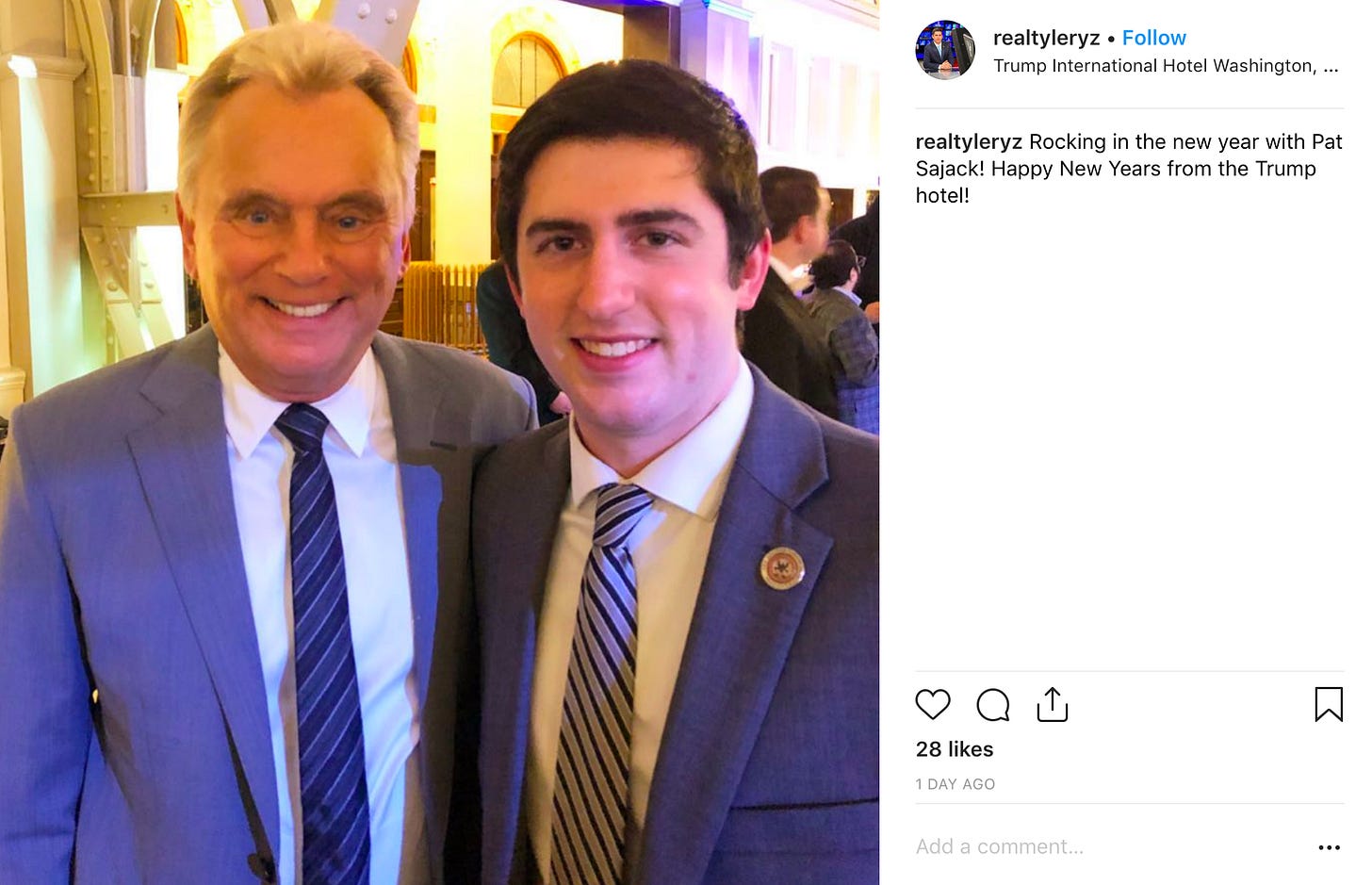 As for some non NYE posts, YouTubers KanD Adventures stayed at the hotel and "ran into some political celebs"—namely Diamond and Silk, Sean Spicer, and Don Jr.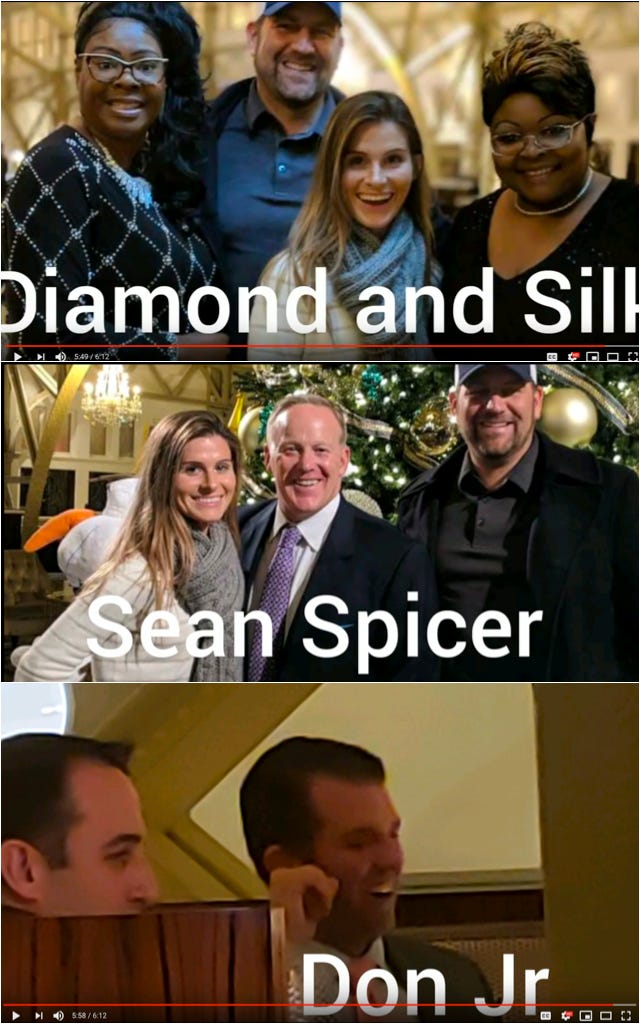 It got crazy for Hill.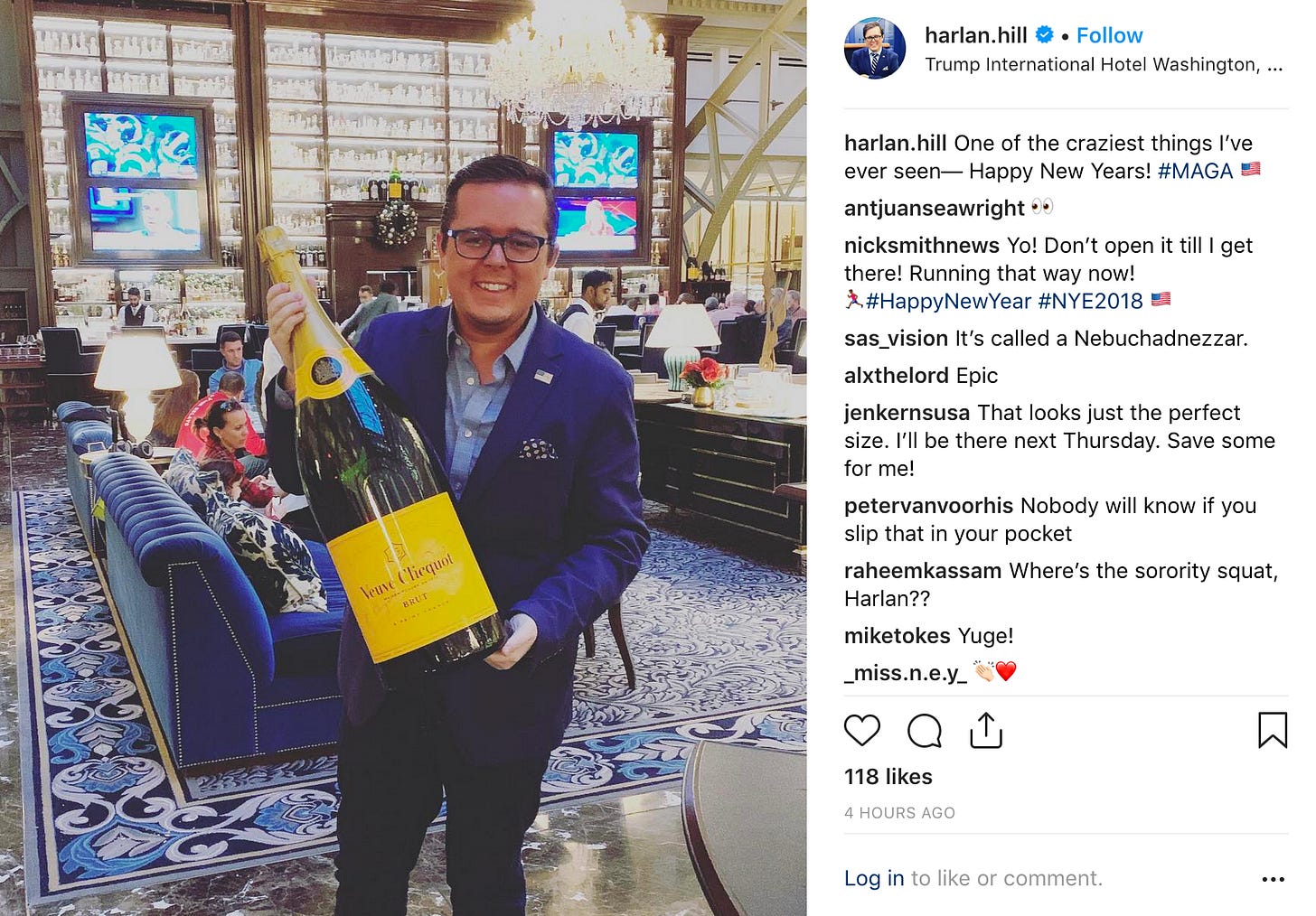 The director of strategic partnerships and faith engagement for the Republican National Committee, Mike Mears, dined with his favorite people at BLT Prime.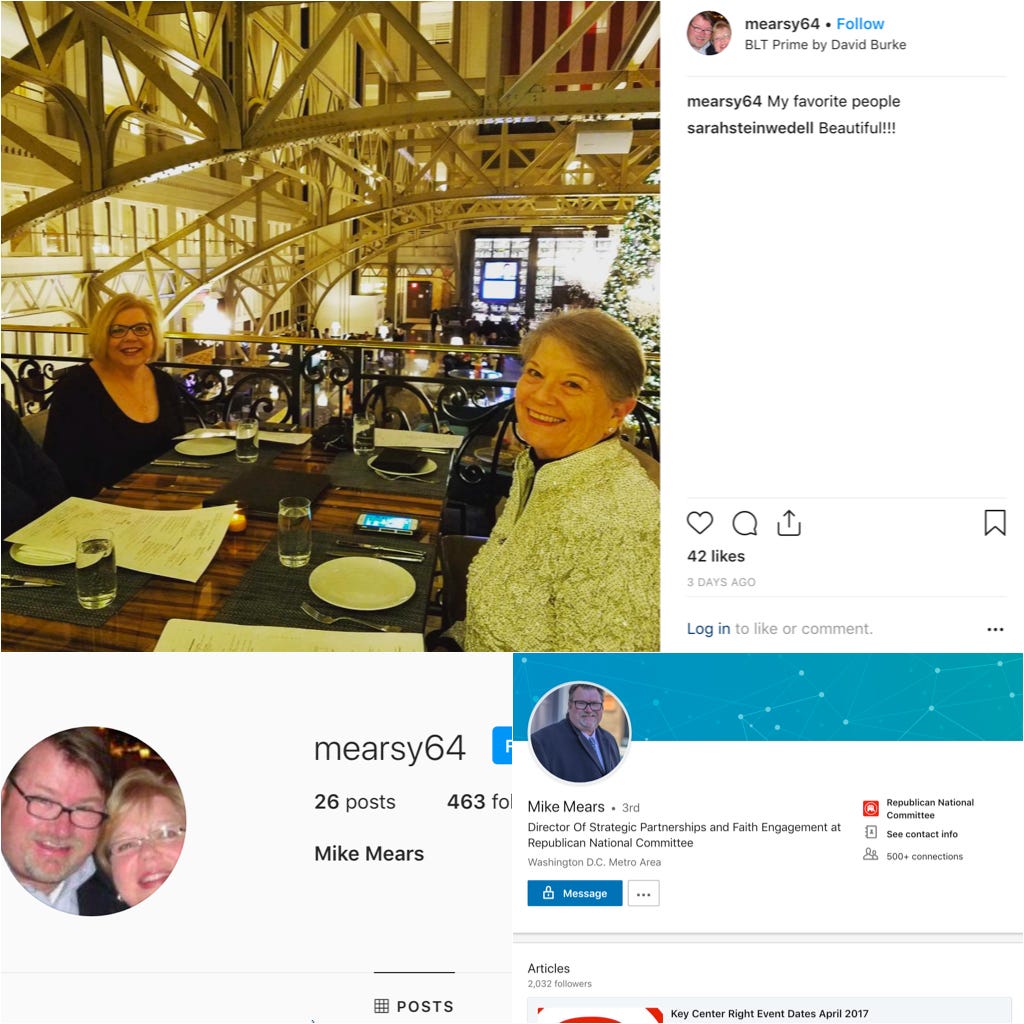 Staff assistant for the lobbying department of energy producer the Southern Company, Raley Wright, celebrated Christmas with the Trumps.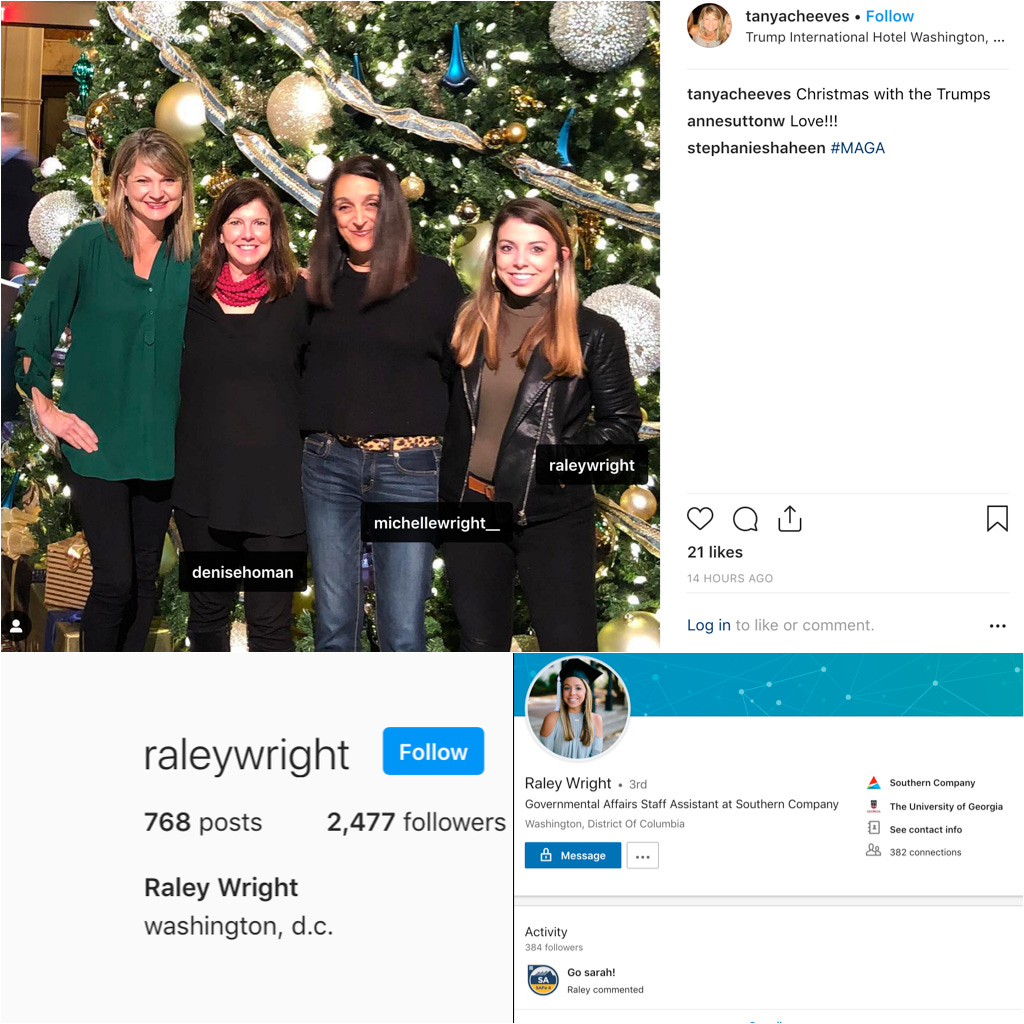 Conservative pundit Paris Dennard, whom CNN suspended after The Washington Post reported that he'd been fired from his previous jobs because of sexual harassment allegations, awarded the hotel five stars. Congrats?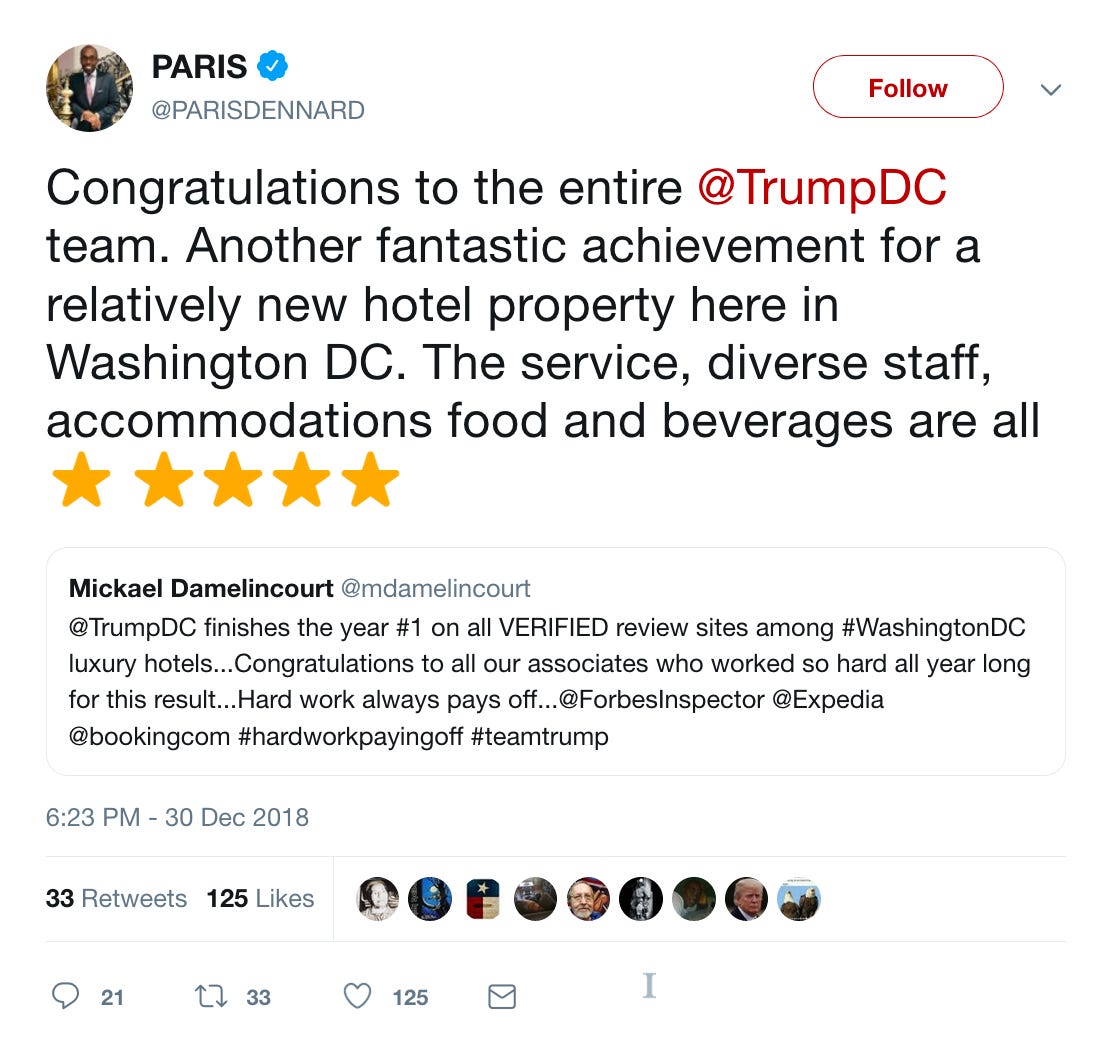 Vice president Mike Pence gave a thumbs up for the wall a couple weeks back with military legislative assistant for Sen. Richard Burr (R–NC), Cole Lyle, and legislative assistant for Rep. Scott DesJarlais (R–TN), Hannah Russell. Seems safe to assume they were talking about the wall Trump promised to build with Mexico's money along the U.S. southern border rather than the wall Trump promised to build between his administration and his businesses. The vice president's Great America Committee has spent $129,986.20 at Trump properties.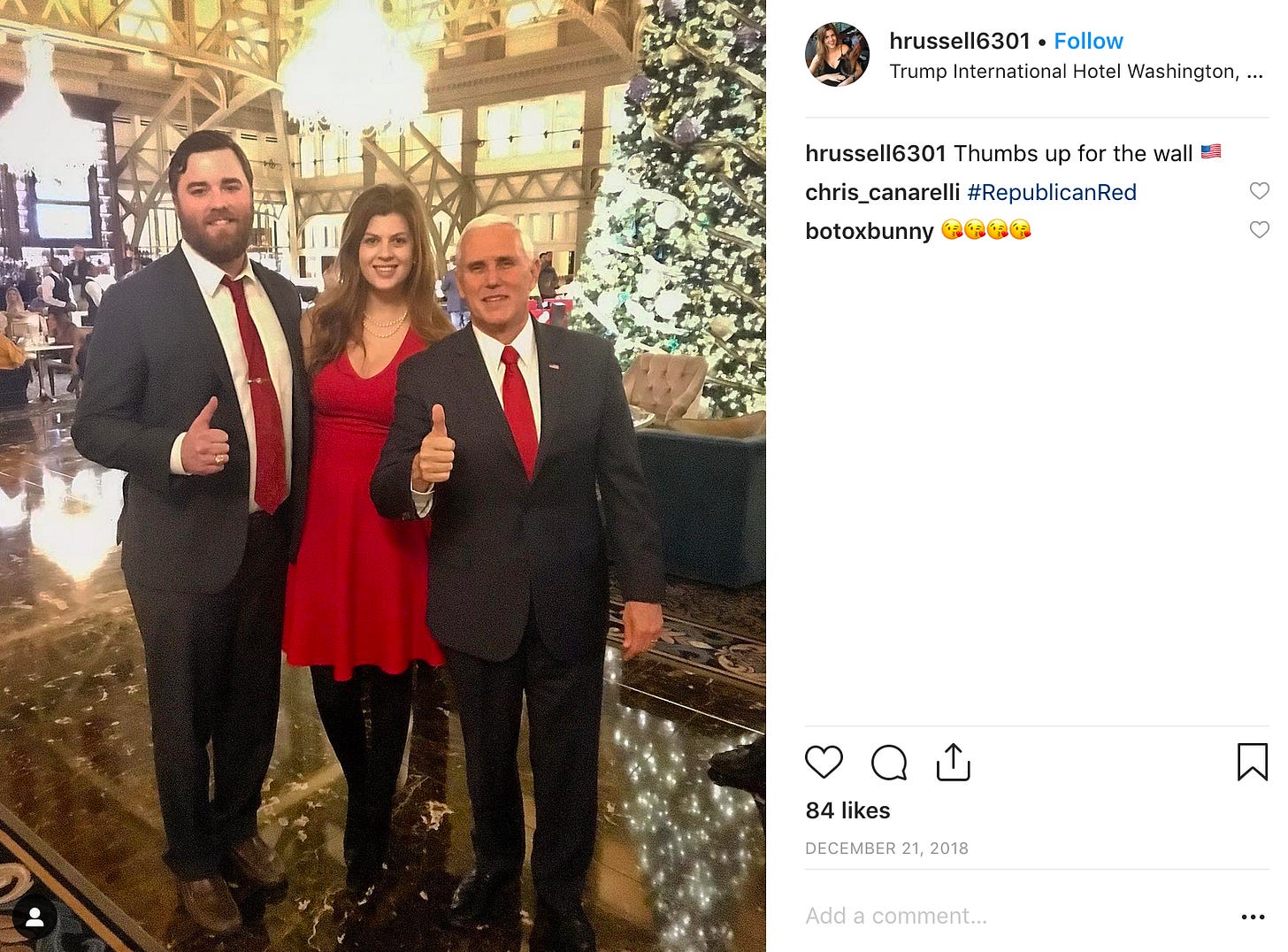 Legal cases, current status (latest change, Dec. 27, 2018)
D.C. and MD attorneys general's emoluments lawsuit (district court docket, appellate court docket)—

Official capacity—On Dec. 20, the 4th U.S. Circuit Court of Appeals ruled it would hear the president's appeal of district court rulings that allowed the case to proceed to discovery, and the appellate court halted discovery in the case. Oral augments on the appeal were scheduled for March 19–21, but on Dec. 26 the briefing schedule was suspended until further notice after Trump's DoJ attorneys asked for a stay because of the federal government shutdown. (Discovery had started Dec. 3 and was scheduled to run through Aug. 2, 2019, with the AGs already having issued 38 subpoenas, including to the Trump Organization; the U.S. Departments of Agriculture, Commerce, Defense, and Treasury and the GSA; and the state of Maine.)

Individual capacity—On Dec. 14, Trump's personal attorneys appealed the denial of their motion to dismiss the case, also to the 4th U.S. Circuit Court of Appeals. On Dec. 19, the AGs replied to Trump's motion for a stay pending that appeal by voluntarily dismissing the claims against Trump in his "individual capacity to allow the claims against President Trump in his official capacity to move forward expeditiously." (The AGs only brought suit against Trump in his individual capacity after the judge suggested they do so.) Trump's personal attorneys, on Dec. 21, opposed the motion to dismiss at the district level, saying the appeals court now has jurisdiction and accusing the AGs of "gamesmanship."

196 Democratic senators and representatives' emoluments lawsuit—On Sept. 28 judge Emmet G. Sullivan ruled that the legislators have standing to sue. Trump's Justice Department attorneys filed an interlocutory appeal on Oct. 22.

CREW et. al's emoluments lawsuit—In February, CREW appealed its suit being dismissed for lack of standing to the 2nd U.S. Circuit Court of Appeals. Oral arguments on that motion were held on Oct. 30.

Cork's unfair competition lawsuit—Judge Richard J. Leon dismissed the case on Nov. 26, writing "Cork has failed to state a claim for unfair competition under D.C. law." On Dec. 10, Cork's attorneys filed a notice of appeal.

Employees' class-action suit alleging racial discrimination—A status hearing on arbitration is scheduled for Jan. 25, 2019.
Health inspections, current status (latest change, Aug. 10, 2018)
❌Hotel: five violations on May 7, 2018; two were corrected on site

❌BLT Prime and Benjamin Bar: nine violations on Aug. 10, 2018

❌Sushi Nakazawa: two violations on Aug. 10, 2018

✔️Banquet kitchen: no violations on Aug. 10, 2018

❌Pastry kitchen: two violations on Aug. 10, 2018

✔️Gift shop: no violations on May 7, 2018

❌Employee kitchen and in-room dining: five violations on Aug. 10, 2018; two were corrected on site
Other Trump Organization news
One thing that has nothing to do with Trump's businesses (I think, tough to tell sometimes!)
From Hunter S. Thompson's Fear and Loathing on the Campaign Trail '72:
The root of the [Alabama Gov. George] Wallace magic was a cynical, showbiz instinct for knowing exactly which issues would whip a hall full of beer-drinking factory workers into a frenzy—and then doing exactly that, by howling down from the podium that he had an instant, overnight cure for all their worst afflictions: Taxes? Nigras? Army worms killing the turnip crop? Whatever it was, Wallace assured his supporters that the solution was actually real simple, and that the only reason they had any hassle with the government at all was because those greedy bloodsuckers in Washington didn't want the problems solved, so they wouldn't be put out of work. The ugly truth is that Wallace had never even bothered to understand the problems—much less come up with any honest solutions—but "the Fighting Little Judge" has never lost much sleep from guilt feelings about his personal credibility gap. Southern politicians are not made that way. Successful con men are treated with considerable respect in the South.
Thanks for reading. If you like what you saw, tell someone. If you've been forwarded this newsletter, subscribe for yourself at zacheverson.substack.com. Tips or feedback? Contact me, Zach Everson, securely via email at 1100Pennsylvania@protonmail.com or on Signal at 202.804.2744.