Discover more from 1100 Pennsylvania
"The undisputed expert on the D.C. Trump Hotel" – David Fahrenthold of the Washington Post
Over 3,000 subscribers
Foreign official received free Mar-a-Lago NYE ticket
Welcome to 1100 Pennsylvania, a newsletter devoted to President Donald Trump's Trump Hotel International Washington, D.C. (and his other companies). President Trump, of course, still owns his businesses and can profit from them.
If you like what you see, tell someone—and support this work by paying for a subscription. If you've been forwarded this newsletter, subscribe for yourself at zacheverson.substack.com. Tips or feedback? Contact me, Zach Everson, securely via email at 1100Pennsylvania@protonmail.com or on Signal at 202.804.2744.
Dominica's United Nations ambassador received a free Mar-a-Lago NYE ticket
The Commonwealth of Dominica's ambassador to the United Nations, Paolo Zampolli, said he attended Mar-a-Lago's New Year's Eve celebration as a guest of the Trump family and his country's government did not pay the president's private club for his ticket. A photo Zampolli posted on Instagram, which 1100 Pennsylvania reported about yesterday, showed him seated with the First Lady and lamenting the U.S. president's absence.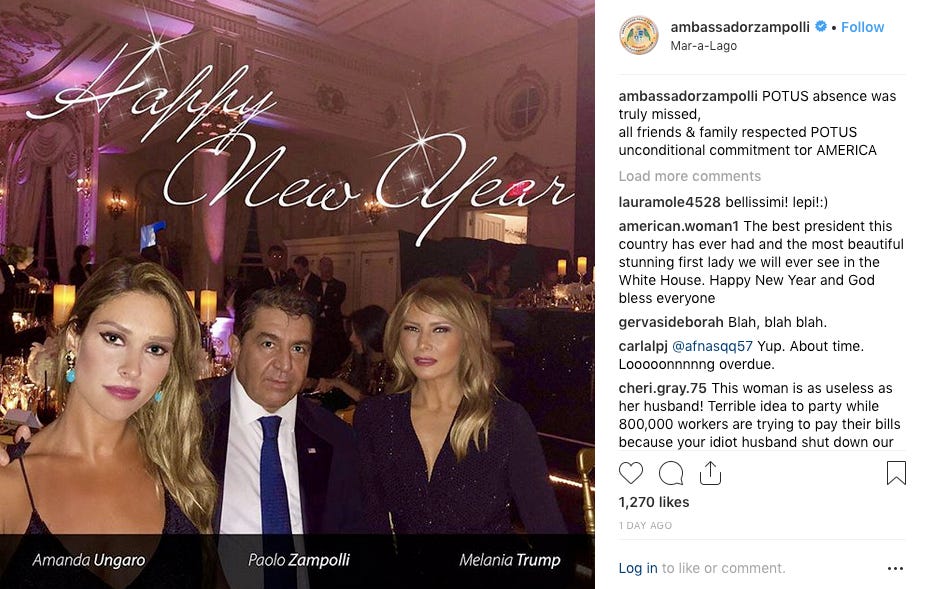 "I'm friends with the president 25 years," Zampolli said via the phone Wednesday afternoon. "It's not like we paid to go there. I was asked as a guest at a family table the last three years."
When asked specifically if Dominica paid Mar-a-Lago for his ticket, Zampolli said, "Absolutely not, it had nothing to do with my position."
Zampolli's wife, Amanda Ungaro, also attended the event. She too is an U.N. ambassador. Unlike her husband though, she represents Grenada. [h/t @DerWouter]
As Zampolli introduced Trump to his now wife (who worked for Zampolli's modeling agency at the time) and Zampolli once was the Trump Organization's director of international development, his explanation is quite plausible. A Trump Organization spokesperson, however, did not reply to a request to verify Zampolli's account.
Of course, in the scenario Zampolli described, the U.S. president or his business gifted a ticket worth a reported $1,000 to a foreign government official.
That arrangement concerns the executive director of Citizens for Responsibility and Ethics in Washington, Noah Bookbinder (CREW is a watchdog involved in two emoluments lawsuits against President Trump):
My best sense is that this gift does not violate laws or ethics rules, largely because several conflict of interest laws and rules don't apply to the President. Nonetheless, it clearly creates a significant conflict of interest to have the President and his business conferring gifts on a foreign official whose country almost certainly has interests that affect the United States. This once again illustrates the perils of the President continuing to own his businesses.

This also raises some other questions. If the Trump Organization gave the tickets to the President, then that is a gift the President will need to report on his financial disclosure. If the President paid the Trump Organization for the tickets, he would not need to report it. If the Trump Organization gave the tickets directly to the President's friend, did it do so at the President's direction? That would seem to contradict the President's assertion that he is not involved in the day to day management of the company.
Old Post Office tower to reopen—despite gov't shutdown
From "Old Post Office Tower at Trump hotel to open during shutdown" by Jennifer Yachnin for E&E News (subscription required):
The Old Post Office Tower, which shares facilities with the Trump International Hotel on Pennsylvania Avenue, is slated to reopen by Friday thanks to funding from the General Services Administration….

It is not clear whether the Trump Organization attempted to pay to reopen the facility itself. Multiple telephone calls and emails to representatives of Trump Hotels were not returned.

According to the GSA lease for the facility, while Trump Hotels must maintain public access to the tower, the business is responsible for the entire Post Office site.
In response to 1100 Pennsylvania's inquiry how the decision was reached to reopen the tower and where the funds came from, a GSA spokesperson explained:
The referenced facility remains open as the funds needed to operate the Old Post Office tower are not associated with the current fiscal year's (FY 2019) appropriations bill.

The overall operation of the tower was a part of the government's lease signed in August 2013, and in response to the "Old Post Office Building Redevelopment Act of 2008."
The spokesperson has not yet replied to a follow-up asking if that is the case, why was the tower closed in the first place.
Upon news of the tower re-opening, Rep. Bill Pascrell Jr. (D–N.J.) accused the president of using taxpayers' money to benefit his personal business: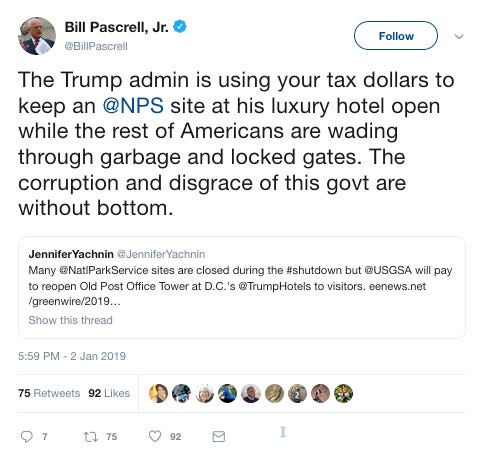 White House deputy press secretary Lindsey Walters didn't reply when asked if President Trump advocated for reopening of the tower. Similarly, the D.C. hotel's managing director, Mickael Damelincourt, and spokespeople for both the Trump Organization and its D.C. hotel didn't respond when asked if they lobbied for the tower to be funded during the shutdown or if the Trump Organization funded re-opening the tower itself.
1100 Pennsylvania has submitted a FOIA request to the GSA asking for additional information about how the decision to reopen the tower was reached and specifics about its funding.
The partial government shutdown is in its 13th day and an estimated 800,000 workers have been furloughed or are working without pay.
Noteworthy sightings
Fox News pundit and Trump campaign advisor Harlan Hill was back at the hotel, posing here with former Trump 2016 staffer Healy Baumgardner. Post campaign, Baumgardner's became a lobbyist for foreign clients; Open Secrets reported that her company received $250,000 from Malaysia.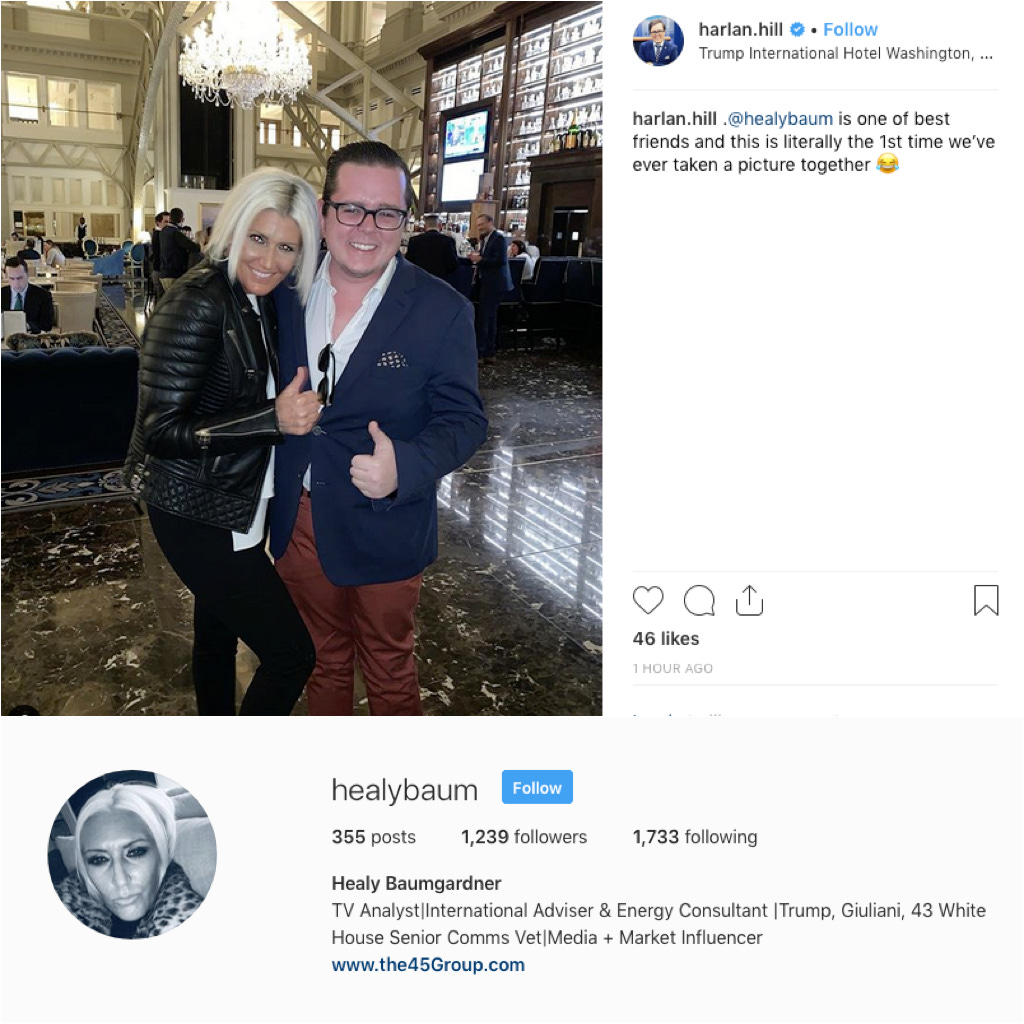 A U.S. Navy Commander rang in the new year at the commander-in-chief's private business.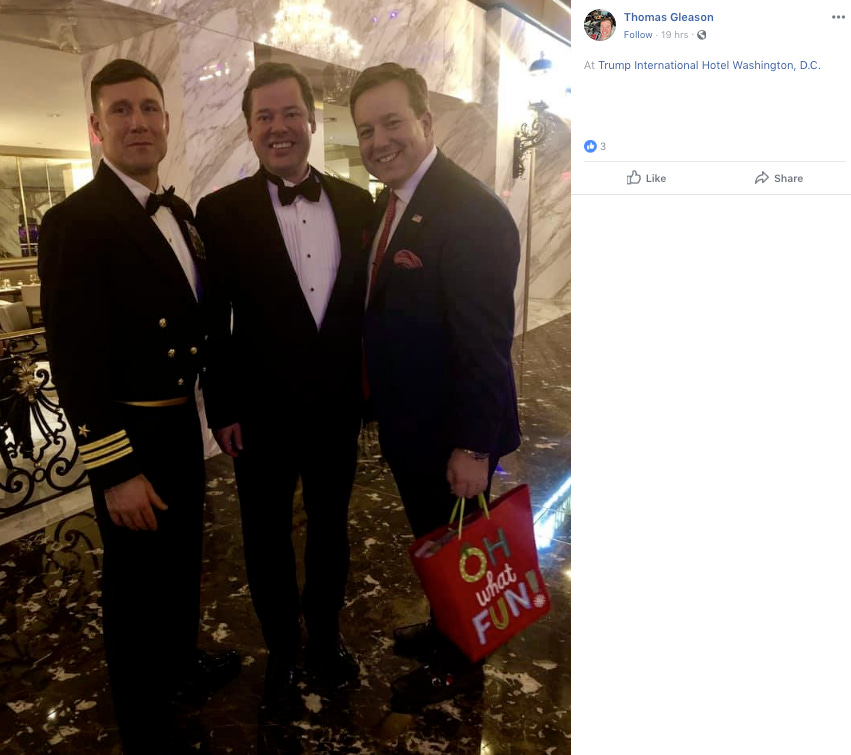 Legal cases, current status (latest change, Dec. 27, 2018)
D.C. and MD attorneys general's emoluments lawsuit (district court docket, appellate court docket)—

Official capacity—On Dec. 20, the 4th U.S. Circuit Court of Appeals ruled it would hear the president's appeal of district court rulings that allowed the case to proceed to discovery, and the appellate court halted discovery in the case. Oral augments on the appeal were scheduled for March 19–21, but on Dec. 26 the briefing schedule was suspended until further notice after Trump's DoJ attorneys asked for a stay because of the federal government shutdown. (Discovery had started Dec. 3 and was scheduled to run through Aug. 2, 2019, with the AGs already having issued 38 subpoenas, including to the Trump Organization; the U.S. Departments of Agriculture, Commerce, Defense, and Treasury and the GSA; and the state of Maine.)

Individual capacity—On Dec. 14, Trump's personal attorneys appealed the denial of their motion to dismiss the case, also to the 4th U.S. Circuit Court of Appeals. On Dec. 19, the AGs replied to Trump's motion for a stay pending that appeal by voluntarily dismissing the claims against Trump in his "individual capacity to allow the claims against President Trump in his official capacity to move forward expeditiously." (The AGs only brought suit against Trump in his individual capacity after the judge suggested they do so.) Trump's personal attorneys, on Dec. 21, opposed the motion to dismiss at the district level, saying the appeals court now has jurisdiction and accusing the AGs of "gamesmanship."

196 Democratic senators and representatives' emoluments lawsuit—On Sept. 28 judge Emmet G. Sullivan ruled that the legislators have standing to sue. Trump's Justice Department attorneys filed an interlocutory appeal on Oct. 22.

CREW et. al's emoluments lawsuit—In February, CREW appealed its suit being dismissed for lack of standing to the 2nd U.S. Circuit Court of Appeals. Oral arguments on that motion were held on Oct. 30.

Cork's unfair competition lawsuit—Judge Richard J. Leon dismissed the case on Nov. 26, writing "Cork has failed to state a claim for unfair competition under D.C. law." On Dec. 10, Cork's attorneys filed a notice of appeal.

Employees' class-action suit alleging racial discrimination—A status hearing on arbitration is scheduled for Jan. 25, 2019.
Health inspections, current status (latest change, Aug. 10, 2018)
❌Hotel: five violations on May 7, 2018; two were corrected on site

❌BLT Prime and Benjamin Bar: nine violations on Aug. 10, 2018

❌Sushi Nakazawa: two violations on Aug. 10, 2018

✔️Banquet kitchen: no violations on Aug. 10, 2018

❌Pastry kitchen: two violations on Aug. 10, 2018

✔️Gift shop: no violations on May 7, 2018

❌Employee kitchen and in-room dining: five violations on Aug. 10, 2018; two were corrected on site
Other Trump Organization news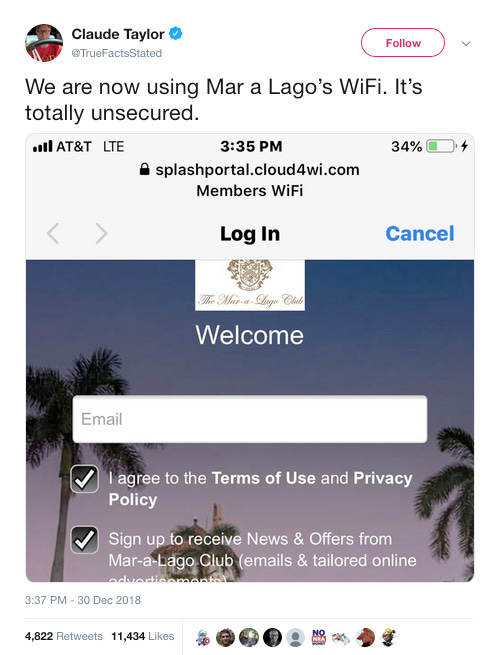 One thing that has nothing to do with Trump's businesses (I think, tough to tell sometimes!)
It appears Twitter suspended an account belonging Rep. Greg Gianforte (R–MT) back in November 2018. (Gianforte, of course, is best known for assaulting a reporter.) The Gianforte account's suspension has been lifted [h/t @alexlitel].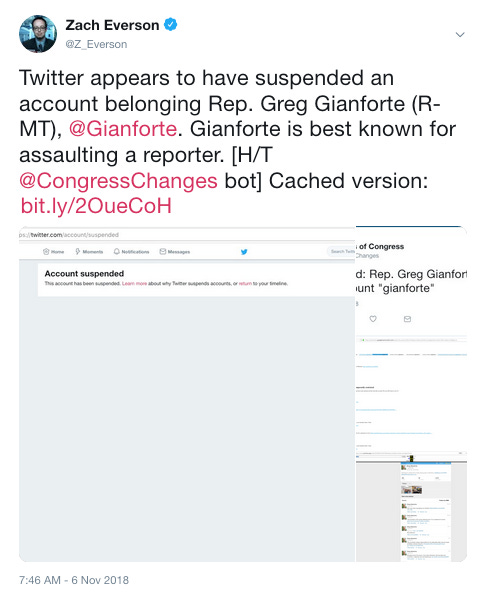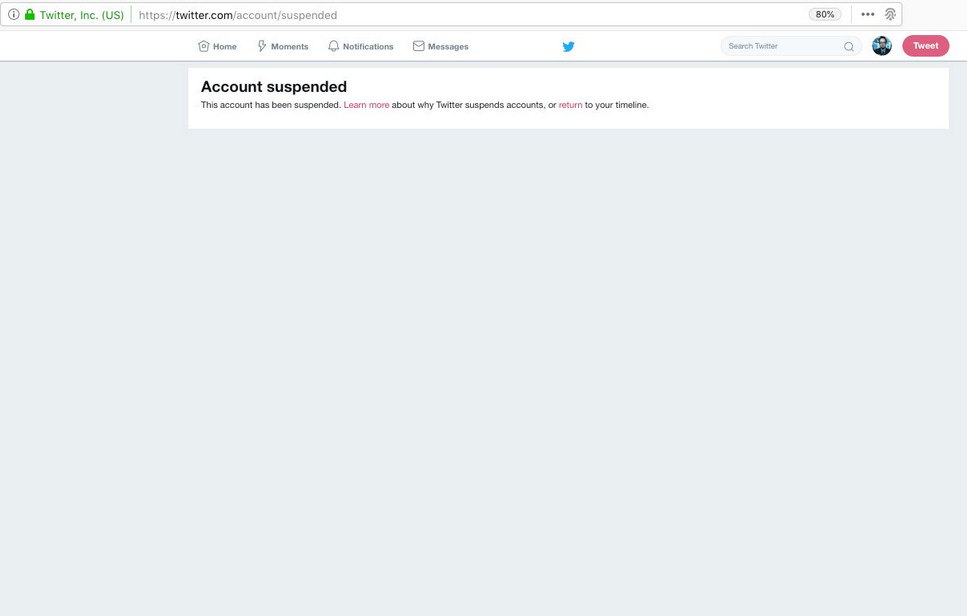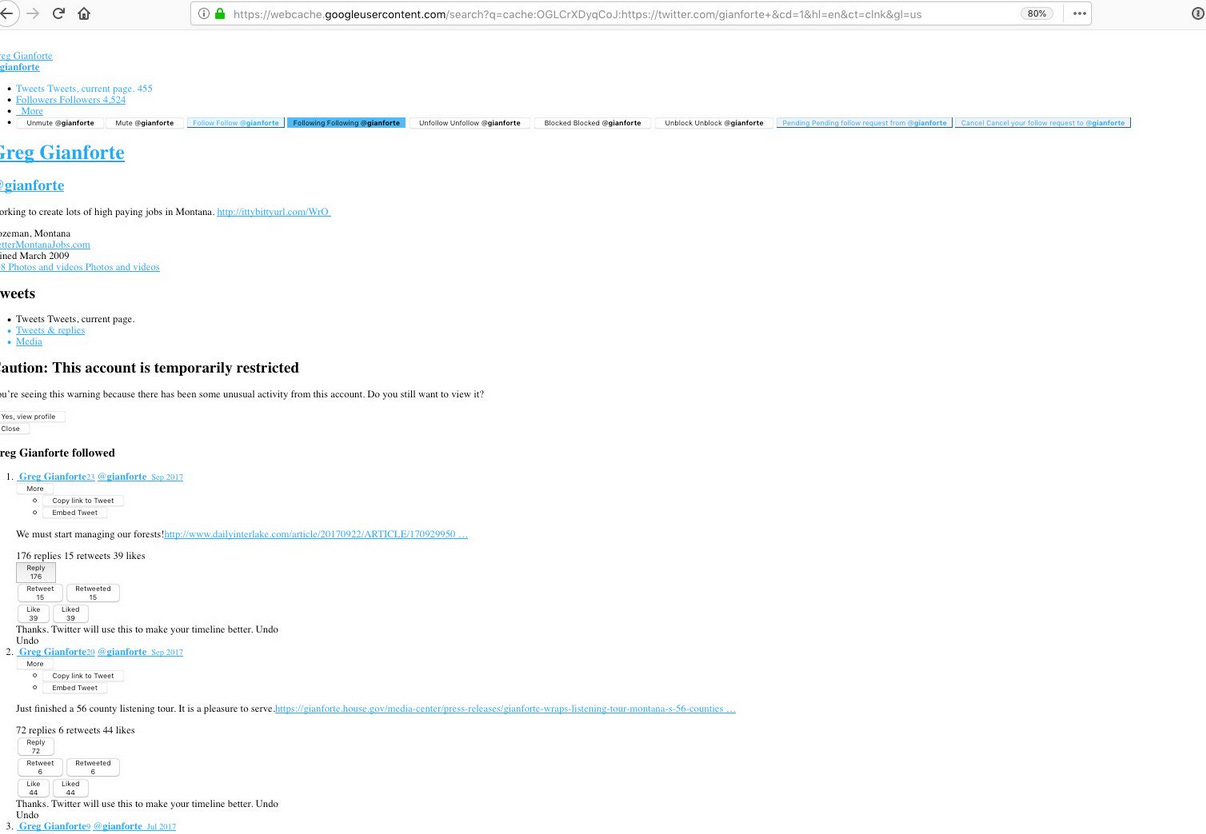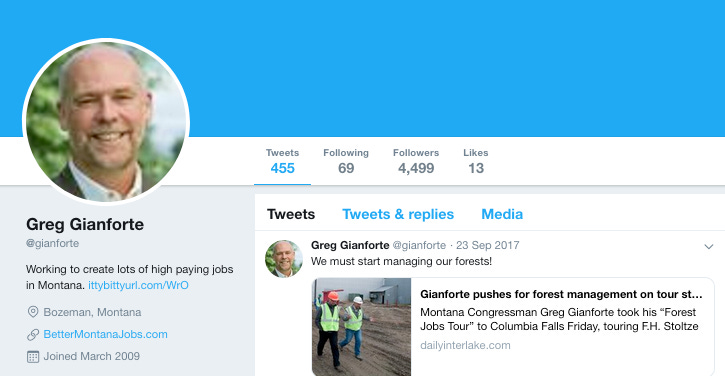 Thanks for reading. If you like what you saw, tell someone—and support this work by paying for a subscription. If you've been forwarded this newsletter, subscribe for yourself at zacheverson.substack.com. Tips or feedback? Contact me, Zach Everson, securely via email at 1100Pennsylvania@protonmail.com or on Signal at 202.804.2744.