Discover more from 1100 Pennsylvania
"The undisputed expert on the D.C. Trump Hotel" – David Fahrenthold of the Washington Post
Over 3,000 subscribers
Four federal departments to present at firearms conference
Reps from Commerce, Justice, State, and Treasury Departments to address firearms import/export industry
Representatives from at least four U.S. government departments are scheduled to address the annual Firearms Import/Export Conference (IM/EX) July 30–Aug. 1 at the Trump Hotel D.C.
According to new information on the conference's registration website, representatives from the Commerce Department; the Treasury Department's Alcohol and Tobacco Tax and Trade Bureau; the State Department's Directorate of Defense Trade Controls; and the Justice Department's Bureau of Alcohol, Tobacco, Firearms, and Explosives will make presentations to attendees, along with "others within the enforcement and compliance areas."
Registration fees for the conference range from $550 to $900.
In addition to the Firearms and Ammunition Import/Export Roundtable, registration info shows that the conference is also sponsored by the National Shooting Sports Foundation. It's based in Newtown, Connecticut.
While 1100 Pennsylvania previously reported that IM/EX would take place at President Trump's D.C. hotel, the aforementioned details are new.
After this firearms import/export group booked the Trump Hotel D.C., the president announced "he would pull out of the Arms Trade Treaty, a global 2014 pact designed to regulate the sale of conventional weapons, from guns to battle tank."
While the conference itinerary is not yet public, details about add-on events may provide some insight into what the executive branch staffers will be discussing at the head of the executive branch's hotel:
Representatives from the U.S. Department of the Treasury, Alcohol and Tobacco Tax and Trade Bureau (TTB) will conduct a seminar on how to complete TTB Form 5300.26, Federal Firearms and Ammunition Excise Tax Return. Experts will provide line-by-line guidance on how to complete the return, calculate tax, and pay quarterly taxes due on the sale or use of firearms and ammunition. The seminar will also review tax exceptions and exemptions, and other matters of compliance. This two-hour seminar will be of value to all manufacturers and importers of firearms and ammunition and is sure to fill up quickly.
That session is an optional add-on, requiring an additional $225 registration fee.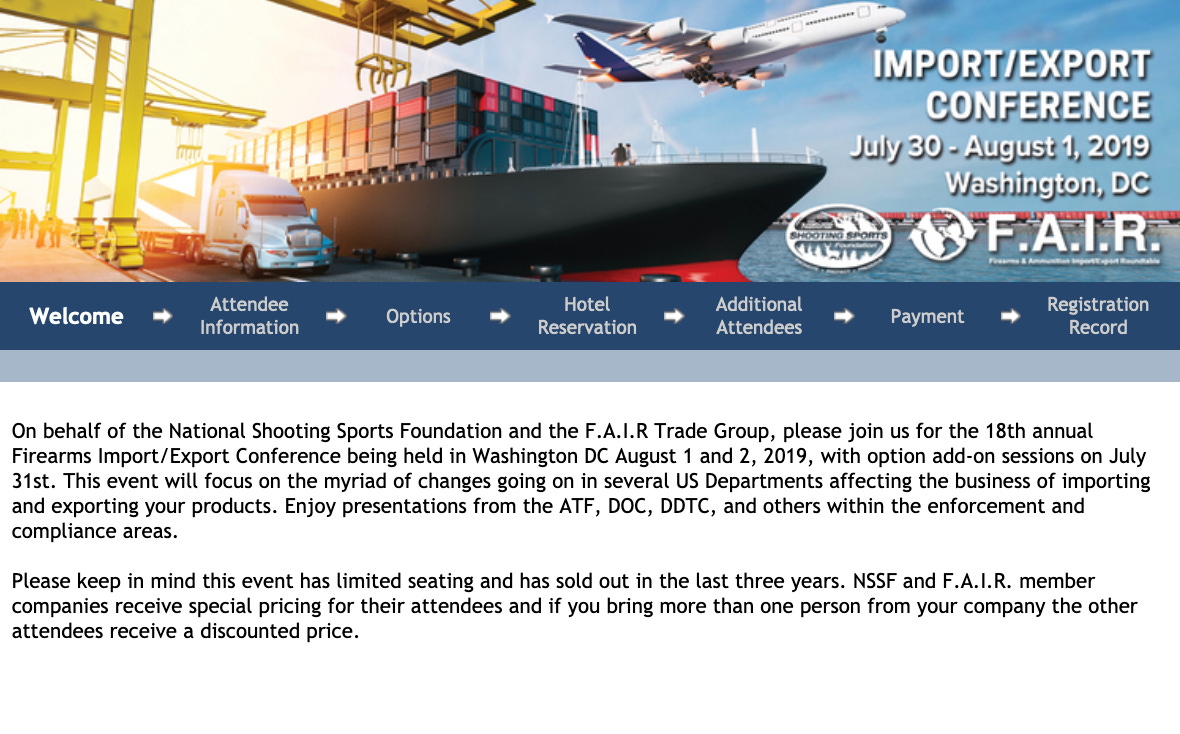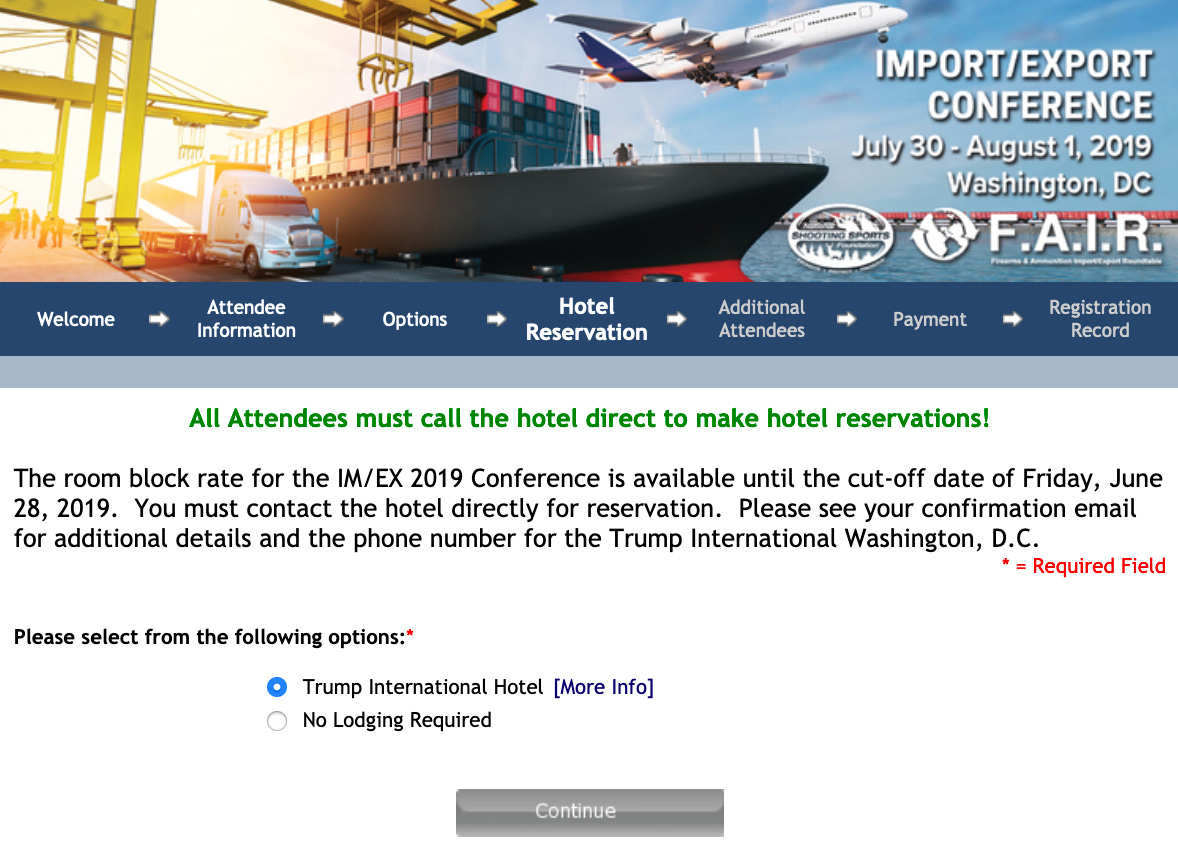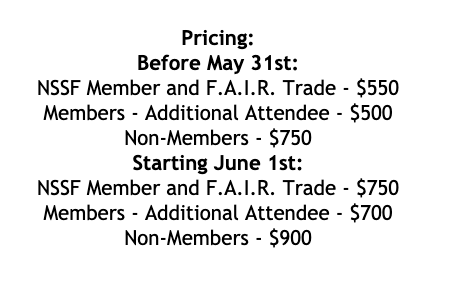 ---
Support 1100 Pennsylvania: never-redacted reporting on President Trump's D.C. hotel
We now know most of what's in the Mueller report. It's time to focus on what happens inside the Trump Hotel D.C. and the president's other businesses. Original, in-depth reporting, of course, takes time. But it's making an impact—and you can help. If you're not an 1100 Pennsylvania member, please become one. Memberships are this newsletter's sole source of revenue. Select the red "Subscribe now" button and become a member by paying just $5 a month or $50 a year. Thank you.
---
Options industry, sponsored by Bank of America and Goldman Sachs, met at Doral to discuss regulatory issues
The 2019 Options Industry Conference took place at Trump National Doral May 1–3, with "regulatory issues" a featured topic.
According to a prospectus presented to potential exhibitors and corporate backers, sponsorships ranged from $2,500 to $30,000. Companies partaking in that opportunity included Bank of America and Goldman Sachs (both were in the $15,000–$30,000 range). NASDAQ and the New York Stock Exchange each ponied up at least $30,000 to be platinum sponsors.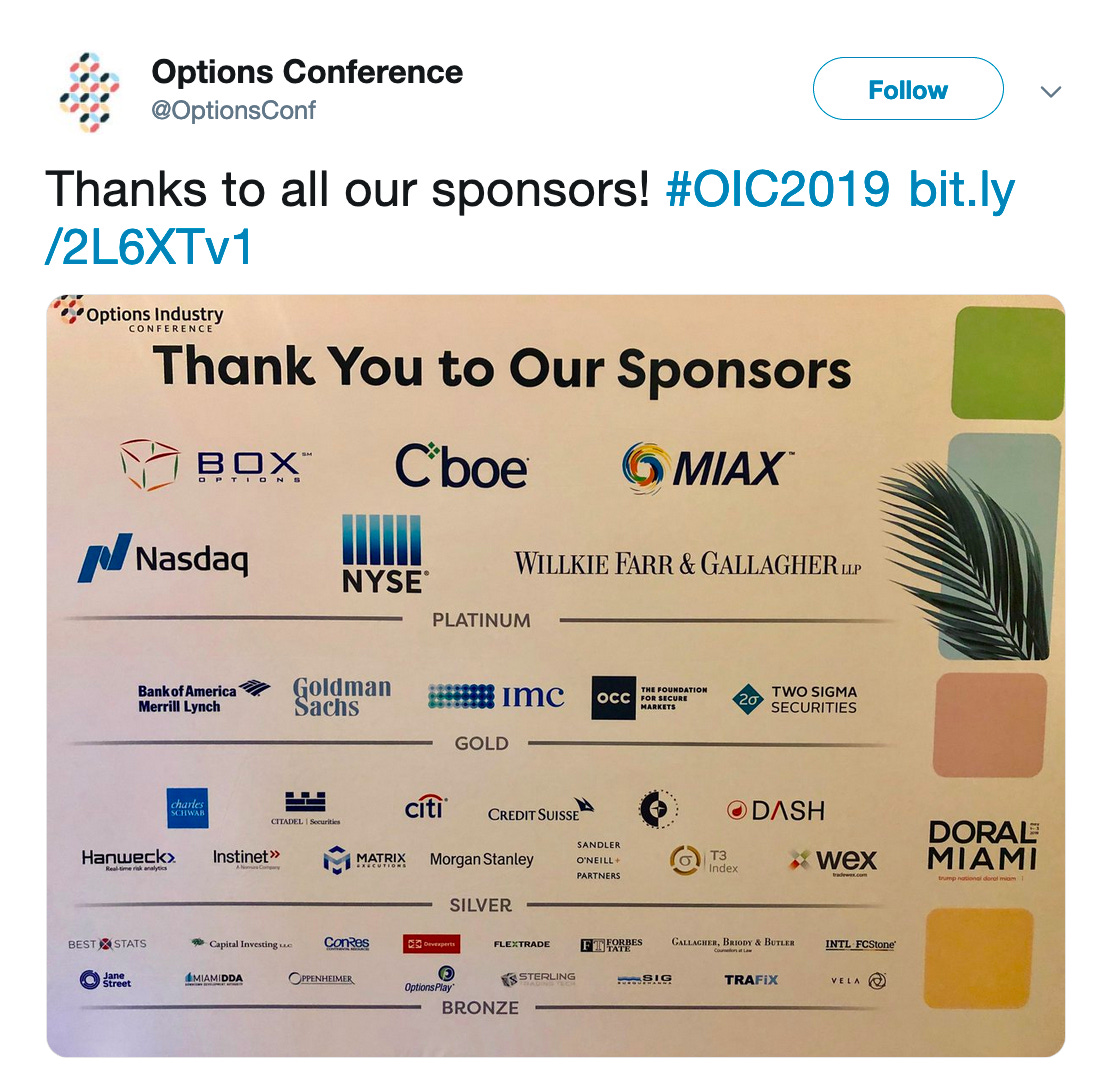 Previous conferences drew an average of 425 attendees, many of whom were senior-level executives, per that same prospectus. It also read, "The 2019 conference will be held at the beautiful Trump National Doral Miami from May 1-3, 2019. Discussions will focus on the most relevant topics facing our industry today including trading issues, regulatory impacts and technology solutions."
Notable attendees included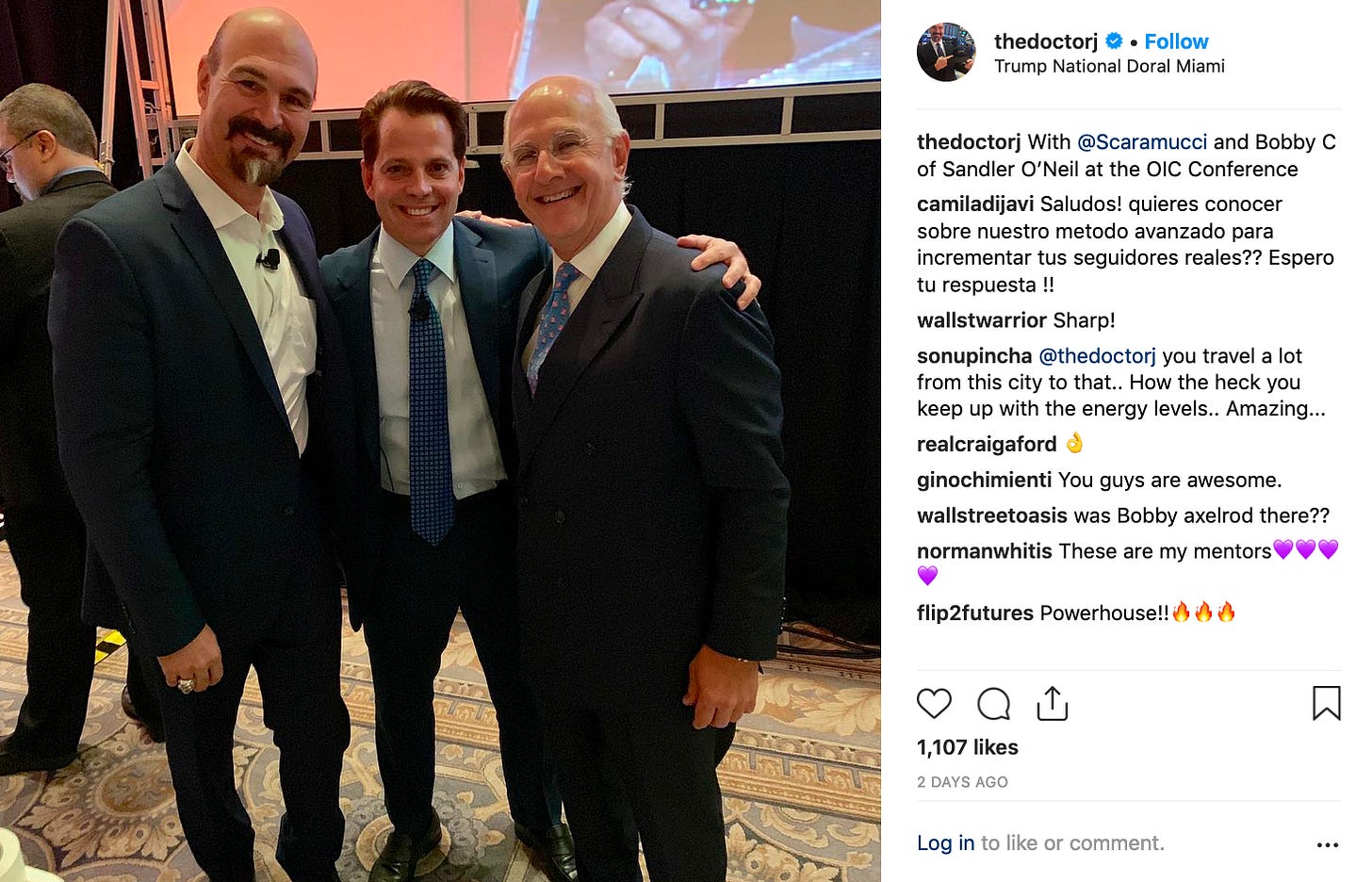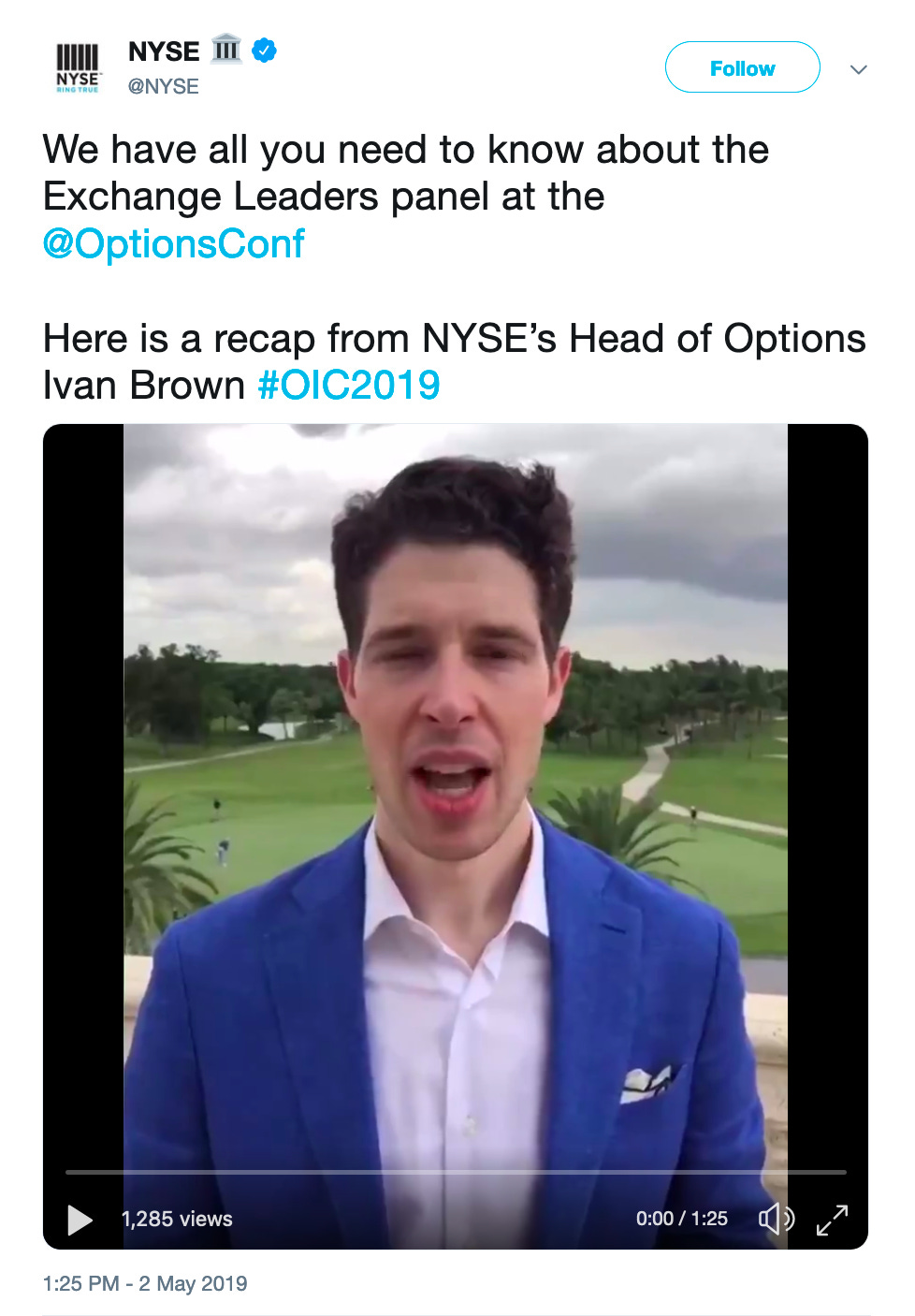 The event also had no shortage of media partners: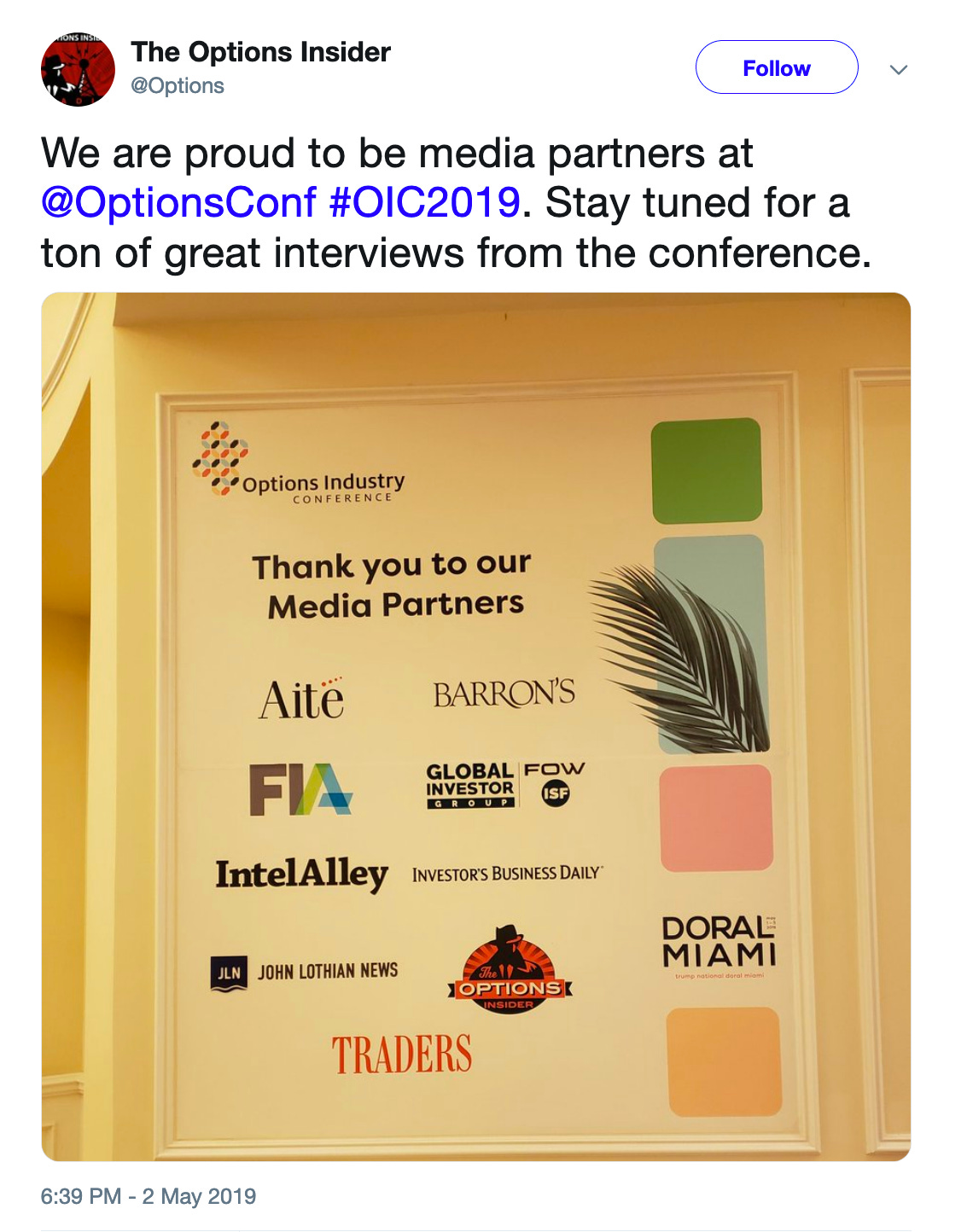 ---
Hispanic conservatives pay tribute to President Trump at his hotel
Bienvenido, "an organization promoting conservatism in the Hispanic community," threw a tribute to President Trump at the Trump Hotel D.C. this weekend, according to multiple attendees' social-media posts.
The event was part of Bienvenido's national meetup—which also included a briefing at the White House.
Giovanni Triana, a staffer at the Koch brothers-funded American Legislative Exchange Council, was among the attendees at the tribute.
And despite President Trump being walled off from the Trump Organization, the most popular spot for a photo seemed to be behind a Trump Hotels lectern.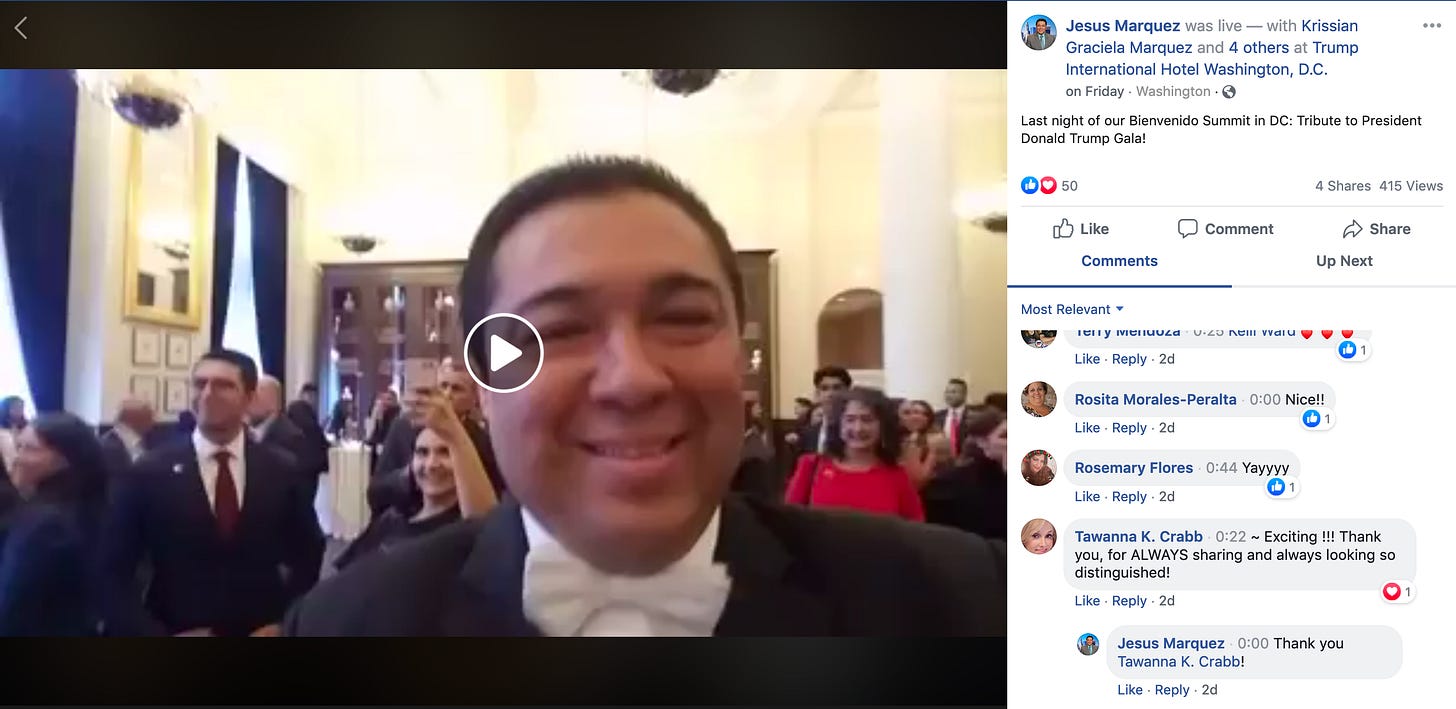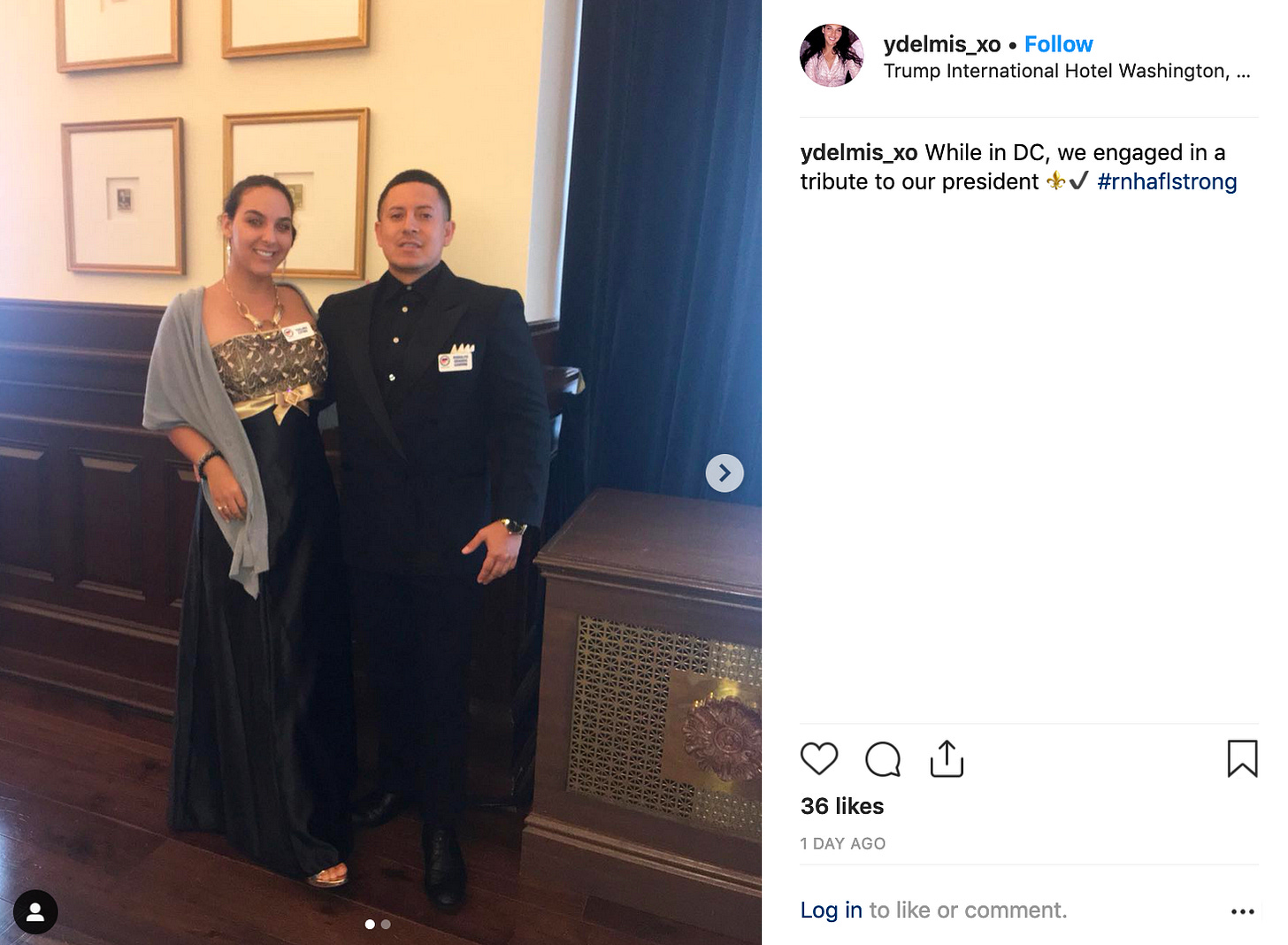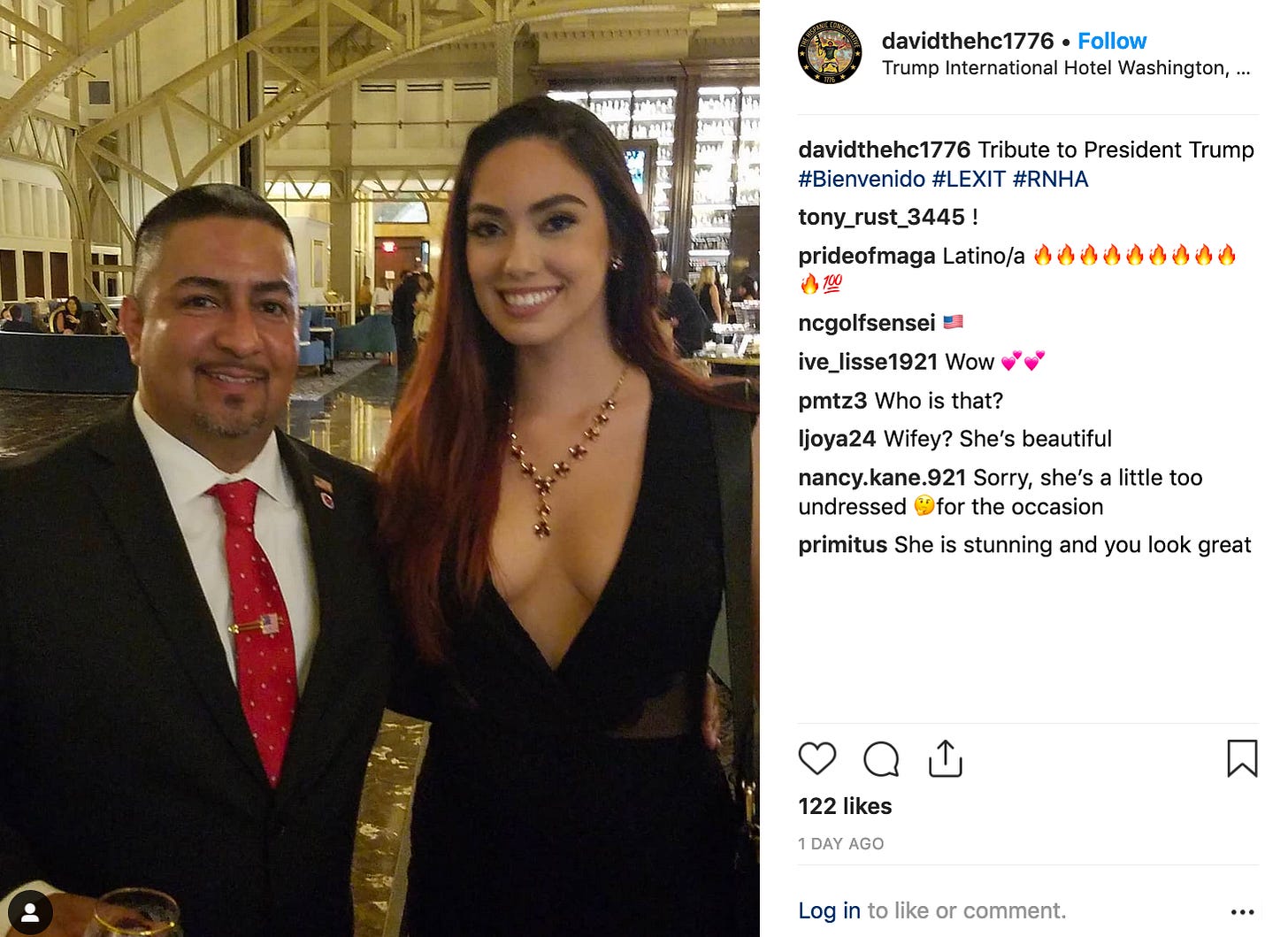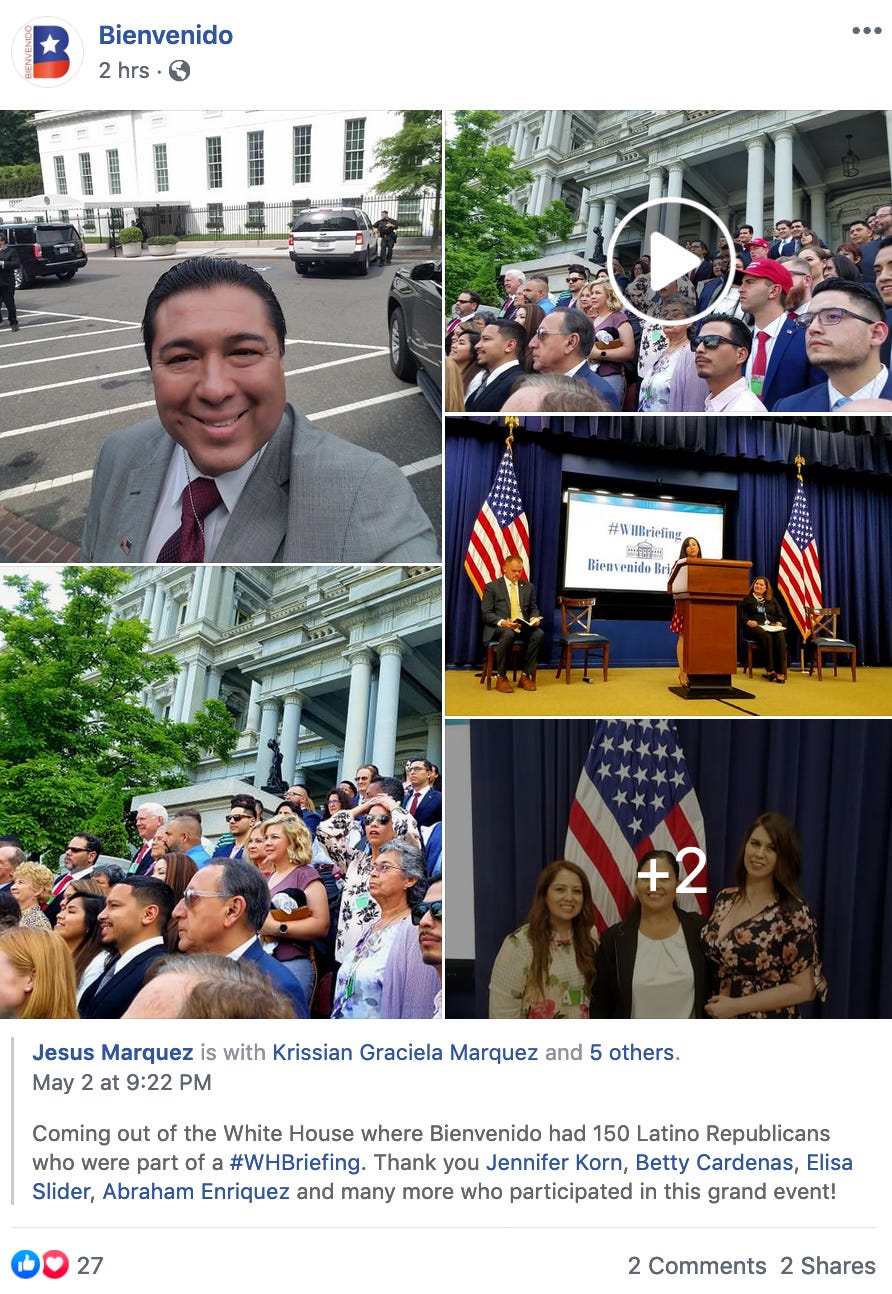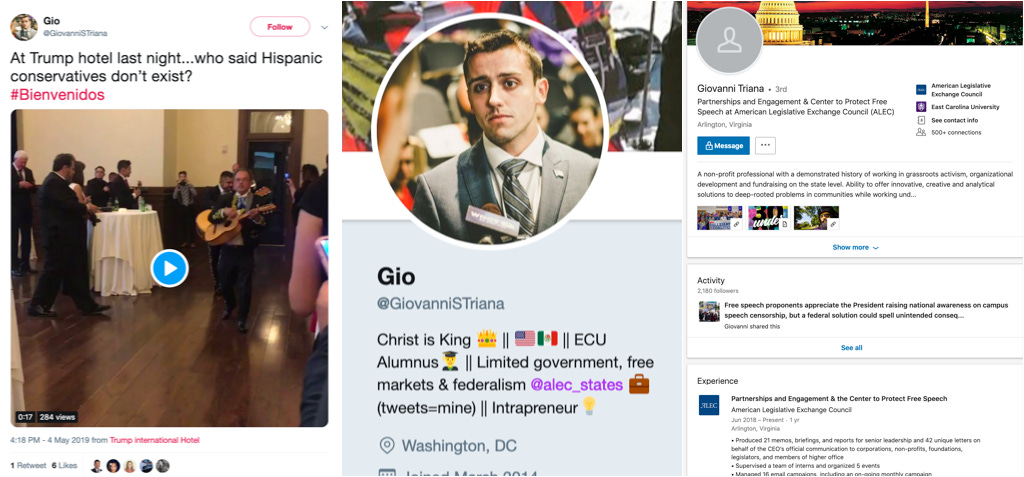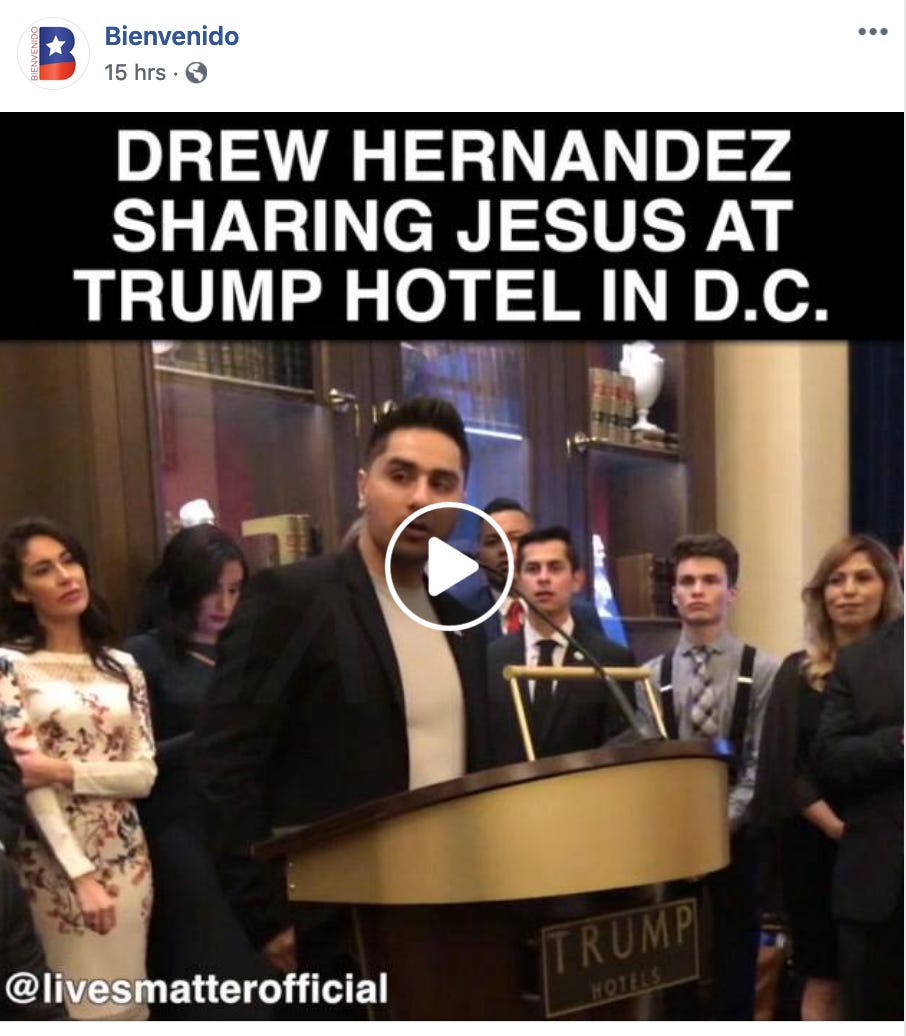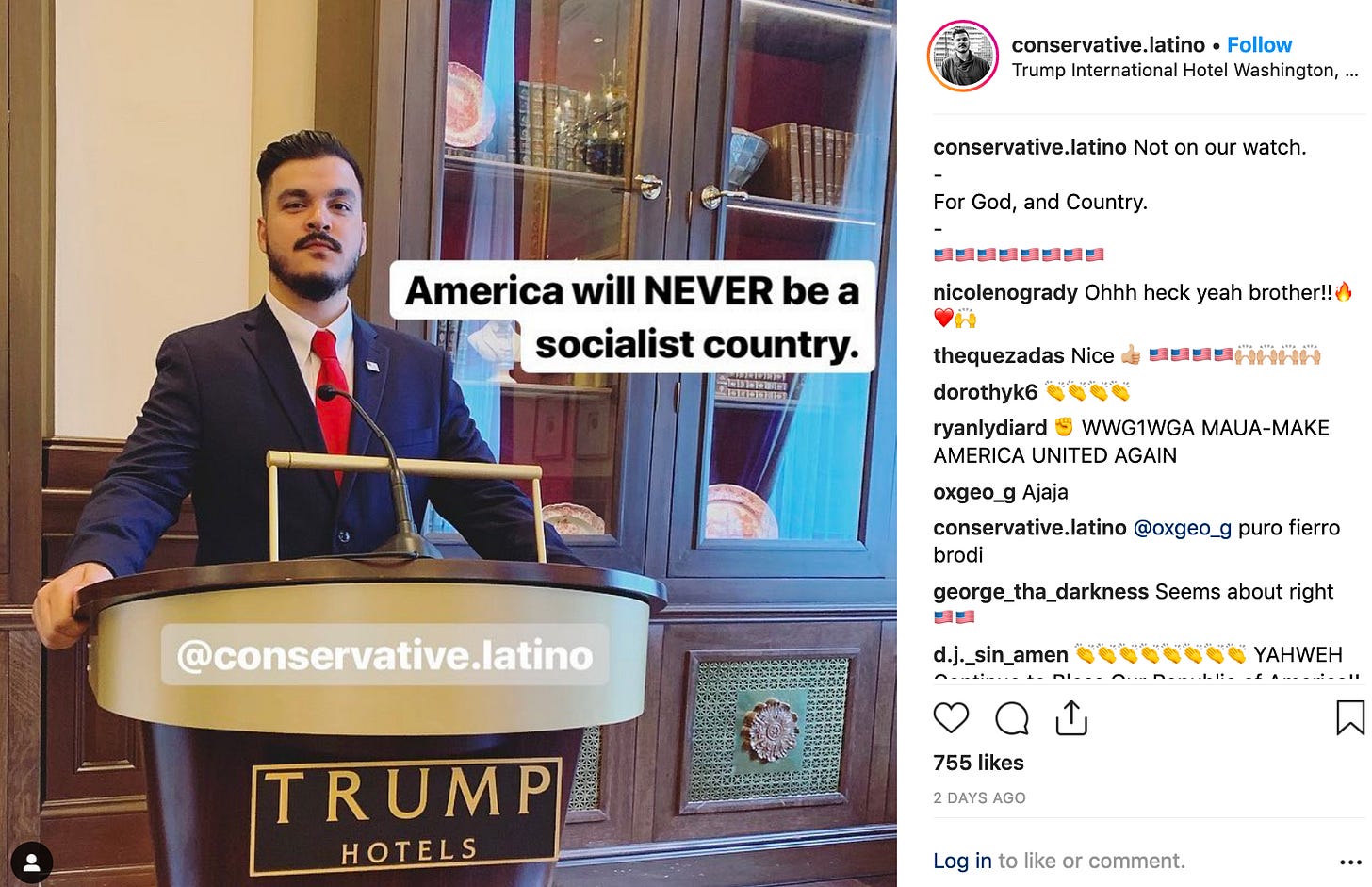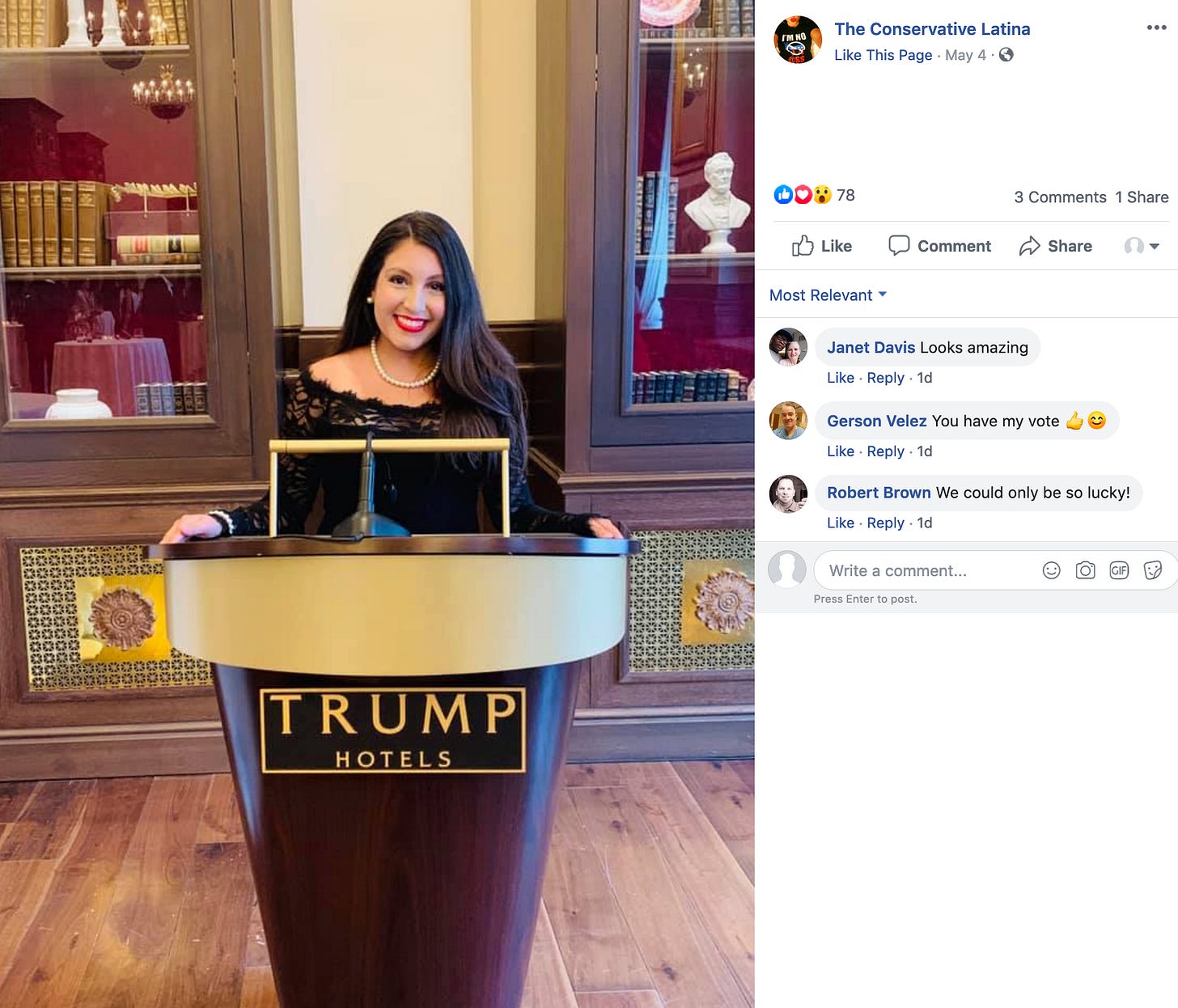 ---
Trump campaign kickoff for big-money bundlers scheduled for Trump Hotel D.C.
From "For 2020, Trump campaign woos big donors who spurned it in 2016" by Tamara Keith for NPR:
Lapel pins, exclusive retreats, private conference calls with party leaders, special invitations to leadership dinners. Those are just a few of the perks that President Trump's re-election campaign is offering to supporters who help gather donations from others, a practice known as bundling.

Raise $25,000 get invited to join the "Trump Train." Raise $45,000 and you can join "Club 45." Those who raise $100,000 get to be part of "The Builders Club." A kickoff event for bundlers is set for Tuesday at the Trump hotel in Washington, D.C.
---
GSA staffers concerned about appearance of re-opening Old Post Office tower during shutdown
From "Emails show GSA's shutdown struggle over Trump Hotel site" by Jennifer Yachnin and Kevin Bogardus for E&E News:
Frustrations mounted in the General Services Administration earlier this year as the agency struggled to explain why it reopened a National Park Service unit inside the Trump International Hotel Washington, D.C., during the partial government shutdown, with some officials worrying the agency's slow response could make the decision "look suspicious," according to newly disclosed documents.
---
Notable sighting
Actor and Trump-supporter Jon Voight returned to the Trump Hotel D.C. He posed with BLT Prime's executive chef Bill Williamson and several patrons of the president;' hotel.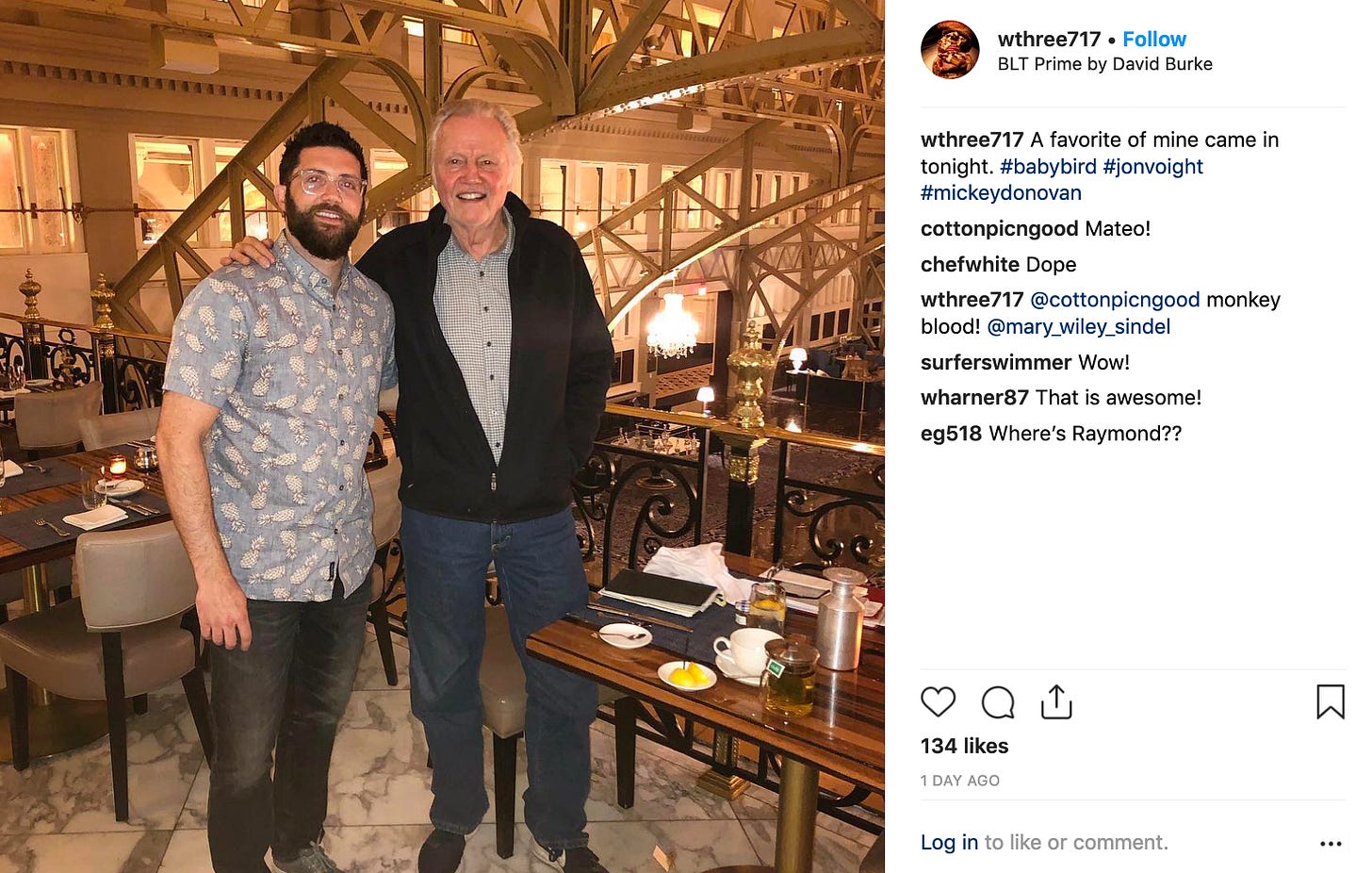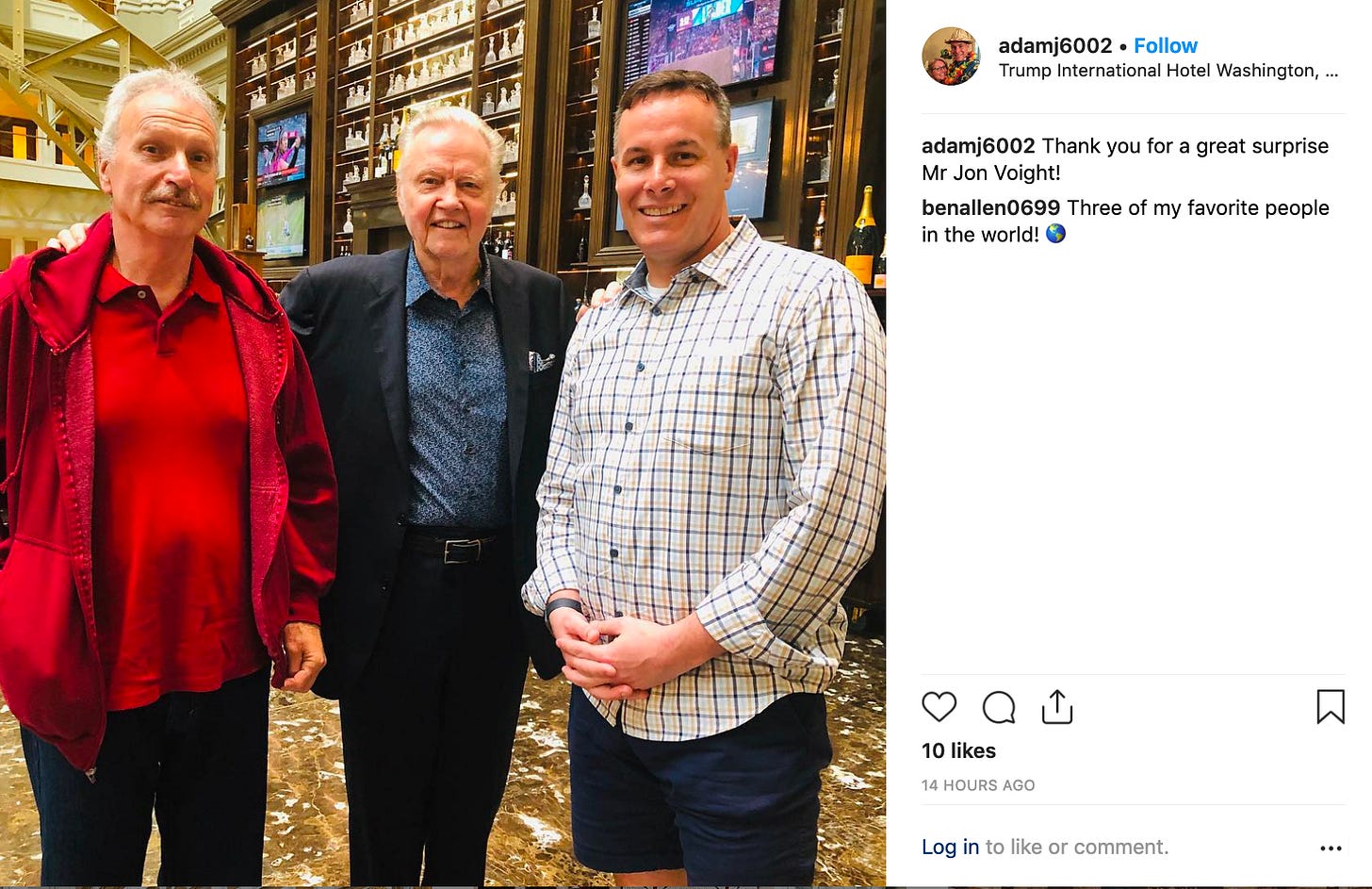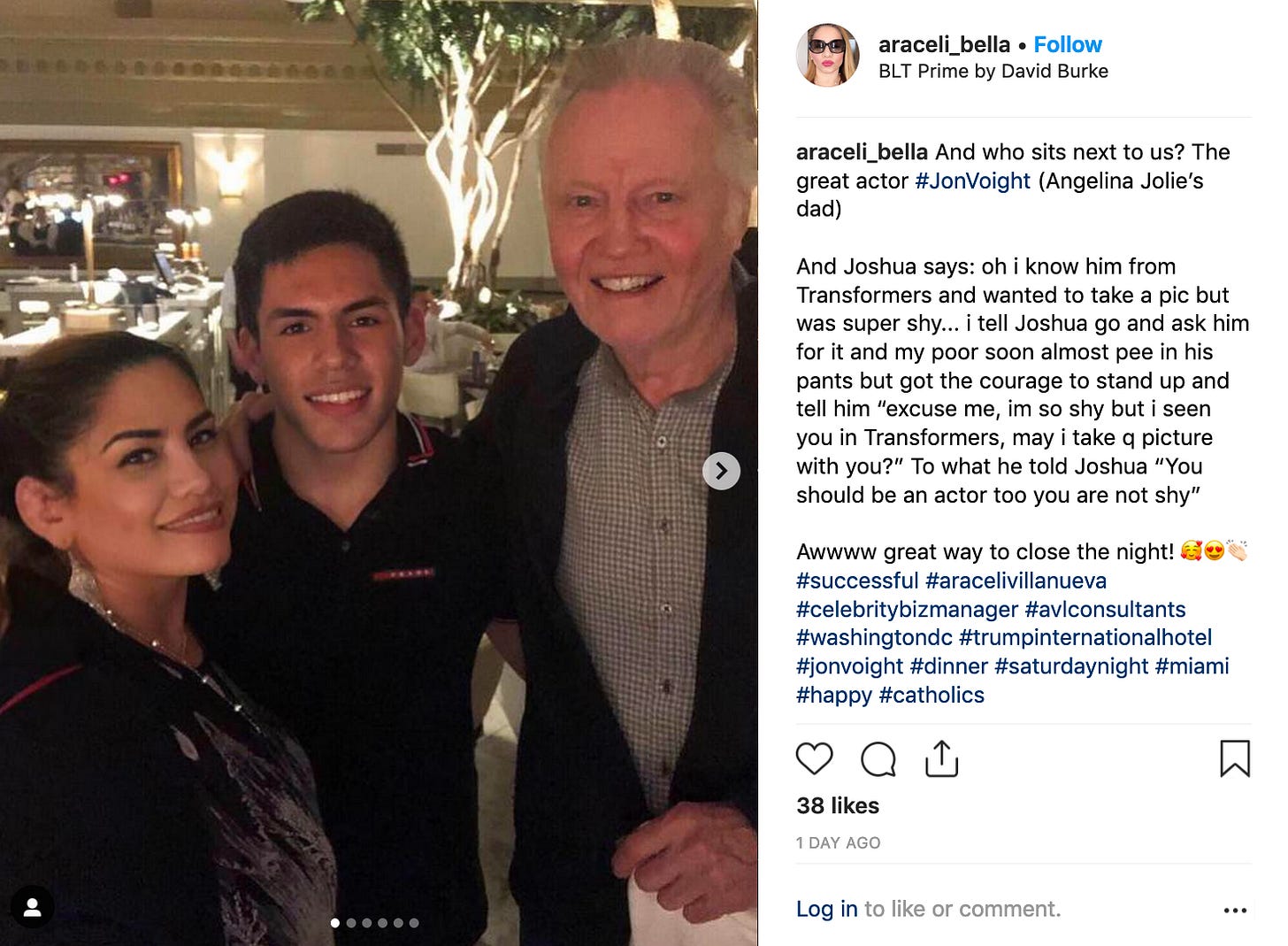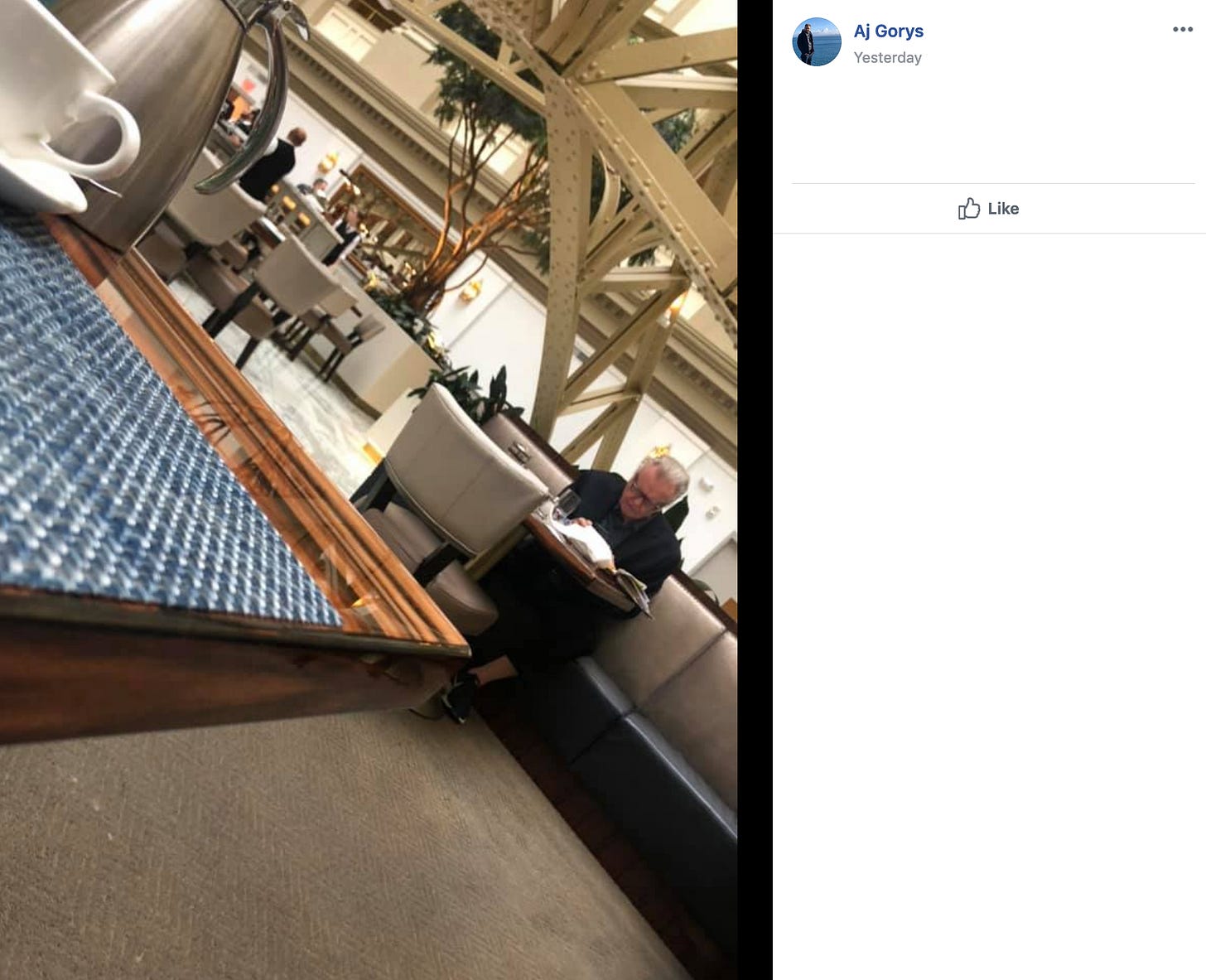 ---
Other Trump Organization news
---
House investigations, current status (latest change, May 6, 2019)
---
President Trump chose not to divest; Americans need to know who's paying him
Unlike his predecessors, Donald Trump did not divest his businesses upon becoming U.S. president. Think that may be a problem? Become an 1100 Pennsylvania member, and support reporting on who's spending money at the president's businesses—and what they may be getting in return. Memberships are this newsletter's sole source of revenue. Select the red "Subscribe now" button and become a member by paying just $5 a month or $50 a year. Thank you.
---
Legal cases, current status (latest change, May 6, 2019)
D.C. and MD attorneys general's emoluments lawsuit (district court docket, appellate court docket)—

Official capacity—On Dec. 20, 2018, the 4th U.S. Circuit Court of Appeals ruled it would hear the president's appeal of district court rulings that allowed the case to proceed to discovery, and the appellate court halted discovery in the case. Discovery had started Dec. 3 and was scheduled to run through Aug. 2, 2019, with the AGs having subpoenaed the Trump Organization, including its Scottish golf courses; the U.S. Departments of Agriculture, Commerce, Defense, and Treasury and the GSA; and the state of Maine. Oral arguments on the appeal occurred on March 19; by all accounts the three-judge panel (all Republican appointees, including one who was a selection of President Trump's) were skeptical of the AGs' case. D.C. AG Karl Racine pledged to take the case to the U.S. Supreme Court if necessary.

Individual capacity—On Dec. 14, Trump's personal attorneys appealed the denial of their motion to dismiss the case, also to the 4th U.S. Circuit Court of Appeals. On Dec. 19, the AGs replied to Trump's motion for a stay pending that appeal by voluntarily dismissing the claims against Trump in his "individual capacity to allow the claims against President Trump in his official capacity to move forward expeditiously." (The AGs only brought suit against Trump in his individual capacity after the judge suggested they do so.) Trump's personal attorneys, on Dec. 21, opposed the motion to dismiss at the district level, saying the appeals court now has jurisdiction and accusing the AGs of "gamesmanship."

UPDATED Democratic senators and representatives' emoluments lawsuit—On Sept. 28, Judge Emmet G. Sullivan ruled that the legislators have standing to sue. Trump's Justice Department attorneys filed an interlocutory appeal on Oct. 22. On Jan. 30, 2019, the plaintiffs' filed a notice of supplemental authority, notifying the court of the GSA inspector general's report that criticized GSA for failing to consider if the Trump Hotel D.C.'s lease was in compliance with the Constitution after Trump became president. Two days later, the president's attorneys argued that the IG's conclusion was not inconsistent with Trump's argument, but that the judge should ignore that report anyway because the IG has no expertise in interpreting or applying the foreign emoluments clause. On April 30, Sullivan denied Trump's motion to dismiss the suit. The president's attorneys have a supplemental brief due on May 14, although they've requested an extension to May 28.

CREW et. al's emoluments lawsuit—In February 2018, CREW appealed its suit being dismissed for lack of standing to the 2nd U.S. Circuit Court of Appeals. Oral arguments on that motion were held on Oct. 30.

Cork's unfair competition lawsuit—Judge Richard J. Leon dismissed the case on Nov. 26, 2018, writing "Cork has failed to state a claim for unfair competition under D.C. law." On Dec. 10, Cork's attorneys filed a notice of appeal and on Jan. 10, 2019 they submitted a statement of issues to be raised. A briefing schedule was set on March 5 with Cork's brief due on April 15, the president's brief due on May 15, and Cork's reply to the president's brief due on June 5. On April 11, however, Cork's attorneys requested a 30-day extension, to which Trump's attorneys consented—as did the court the following day.

Employees' class-action suit alleging racial discrimination—Two of the three plaintiffs did not appear at a status hearing on Jan. 25, 2019; their cases were moved to arbitration. Via email, their attorney, A.J. Dhali, said his clients did not appear at the hearing because their case already had been moved to arbitration last year. The next status hearing is scheduled for Oct. 4.
---
Health inspections, current status (latest change, Aug. 10, 2018)
❌Hotel: five violations on May 7, 2018; two were corrected on site

❌BLT Prime and Benjamin Bar: nine violations on Aug. 10, 2018

❌Sushi Nakazawa: two violations on Aug. 10, 2018

✔️Banquet kitchen: no violations on Aug. 10, 2018

❌Pastry kitchen: two violations on Aug. 10, 2018

✔️Gift shop: no violations on May 7, 2018

❌Employee kitchen and in-room dining: five violations on Aug. 10, 2018; two were corrected on site
---
Is the Trump Organization selling merchandise that depicts the White House? (latest change, March 21, 2019)
Yes.
---
One thing that (probably) has nothing to do with Trump's businesses
"Inside the most controversial and surreal Kentucky Derby ever" by Pat Forde for Yahoo Sports
---
Thanks for reading. If you like what you saw, tell someone—and support this work by becoming a member. If you've been forwarded this newsletter, subscribe for yourself at zacheverson.substack.com. Questions? Read our FAQ/manifesto. Tips or feedback? Contact me, Zach Everson, securely via email at 1100Pennsylvania@protonmail.com or on Signal at 202.804.2744.