Discover more from 1100 Pennsylvania
"The undisputed expert on the D.C. Trump Hotel" – David Fahrenthold of the Washington Post
Over 3,000 subscribers
Four GOP House Intelligence members have boosted Trump's D.C. hotel
44 percent of Republicans on a key committee in the impeachment inquiry have supported the Trump Hotel D.C.
The Trump Hotel D.C. has been a subject of questioning during the House's impeachment inquiry. A lawyer for the House Intelligence Committee's Democrats asked former special envoy to Ukraine Kurt Volker why a top official from that country stayed at the Trump Hotel D.C. The attorney also asked Volker why that venue was picked for his meeting with Rudy Giuliani and Lev Parnas
The questions could be evidence that the impeachment inquiry will look at whether or not the president is violating the Constitution's emoluments clauses, one of which bars officeholders from receiving payments from foreign governments. Some Democratic lawmakers previously have claimed the president's business interests do in fact break the law.
But while Democrats on that panel are inquiring about the Trump Hotel D.C., at least four of the nine Republicans on the committee have helped the president profit from his Pennsylvania Avenue business (the list on the committee's website does not reflect Rep. Jim Jordan (R–OH) temporarily replacing Rep. Rick Crawford (R–AR)).
These four lawmakers have spent thousands of dollars in campaign funds at the venue, served as featured guests for paying customers, and taken official actions in Congress on behalf of the president's D.C. business.
That 1100 Pennsylvania wasn't able to find proof of the remaining five Intelligence Committee members having visited the Trump Hotel D.C. doesn't mean they haven't been there, of course (well, the Republicans anyway). A list of those officials appears at the end of this section. If you have evidence they've called on the president's D.C. hotel, please contact 1100 Pennsylvania via 1100Pennsylvania@protonmail.com (it'll be encrypted if you also use a ProtonMail account, which is free) or Signal (secure), SMS, or mobile at 202.804.2744.
Here's a rundown of how these four House Intelligence Committee members have helped the U.S. president profit.
Ranking member Rep. Devin Nunes (R–CA) attended a breakfast with Michael Flynn and dozens of foreign government officials at the hotel two days before Trump's inauguration (which the Mueller probe scrutinized), The Daily Beast reported. Nunes dined with the president and other congressmen at the hotel's steakhouse in October 2019. And sometime before mid-August 2019 Nunes also posed with one of the president's customers in the lobby.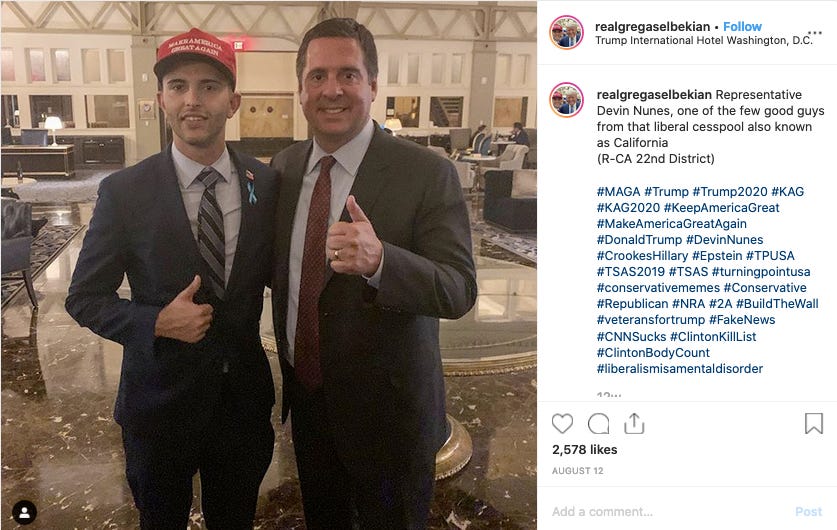 Rep. Will Hurd (R–TX) joined the Lincoln Club of Ocean City, California when it rented out the hotel's Franklin Study in October 2019.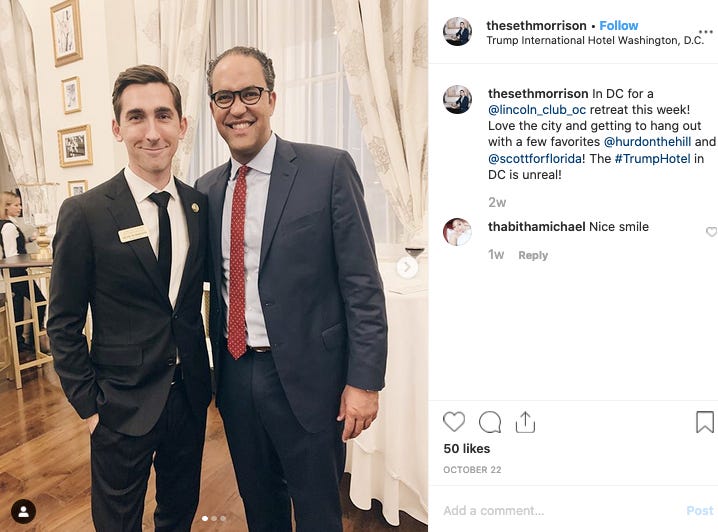 Rep. Jim Jordan's (R–OH) campaign has reported spending $22,459.68 at the Trump Hotel D.C. Jordan held a fundraiser there earlier in June, criticized a General Services Administration inspector general's report that questioned the agency's handling of the hotel's lease, let Capital One know he was concerned about his colleagues' request for Trump Organization financial documents, came to the hotel's defense during an Oversight Committee hearing on D.C. statehood, and has been seen at the hotel on other occasions. (Also, a PAC paid Trump Hotel Chicago almost $4,000 to host a lunch Jordan headlined.)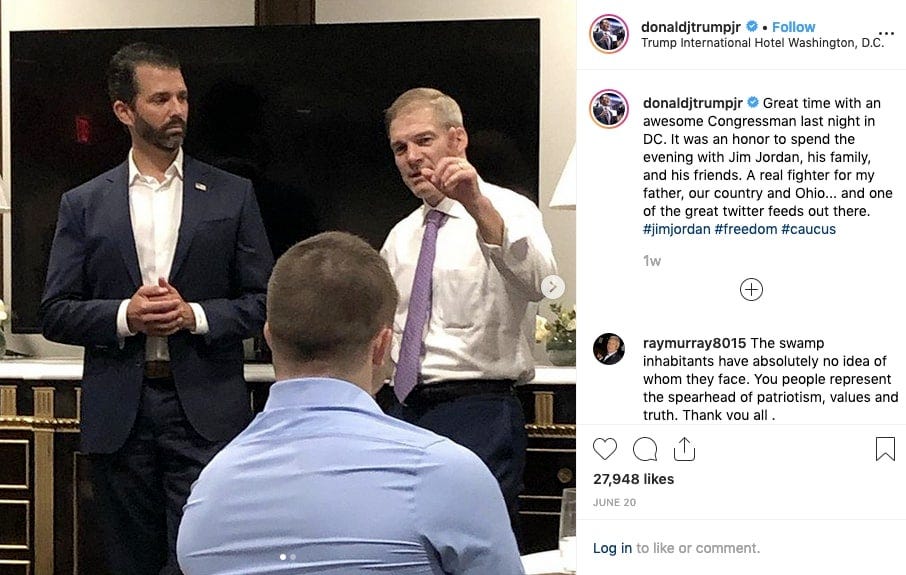 Rep. Michael Turner's (R–OH) campaign has spent $1,942.30 at the hotel across seven different dates in 2016, 2017, 2018, and 2019.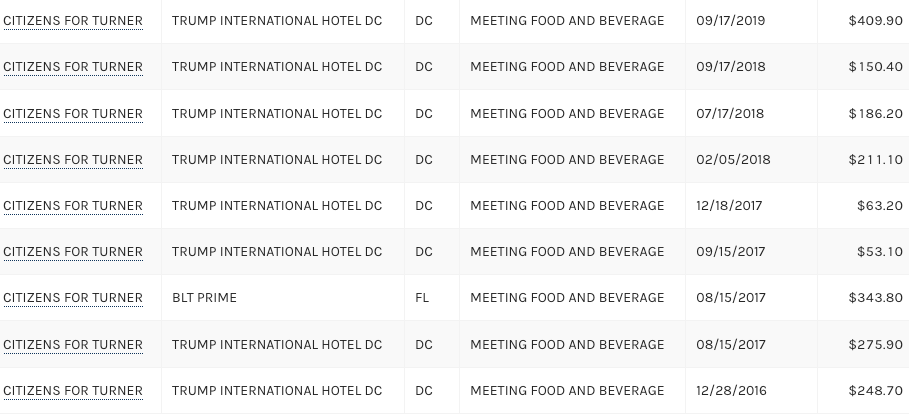 Haven't reported spending campaign funds or been spotted at the Trump Hotel D.C.
---
Complete access to 1100 Pennsylvania now free for U.S. government employees and military
Full access to 1100 Pennsylvania is now free for U.S. government employees and members of the military. If you signed up using a .gov or .mil email address, your subscription already has been upgraded. If you signed up via a personal email account, please get in touch: 1100Pennsylvania@protonmail.com.
---
Notable sightings
A glimpse of the foreign officials, government employees, politicians, lobbyists, and the like who patronize or appear at Trump businesses. Most people shown here have reasons to want to influence the Trump administration, rely on its good graces for their livelihoods, or should be providing oversight. Additionally, high-profile guests serve as draws for paying customers.
Sen. Lindsey Graham (R–SC) spoke to paying customers of the head of the executive branch last night at the American Spectator's annual gala. Graham has made more visits to Trump properties than any other member of Congress, according to Citizens for Responsibility and Ethics and Washington.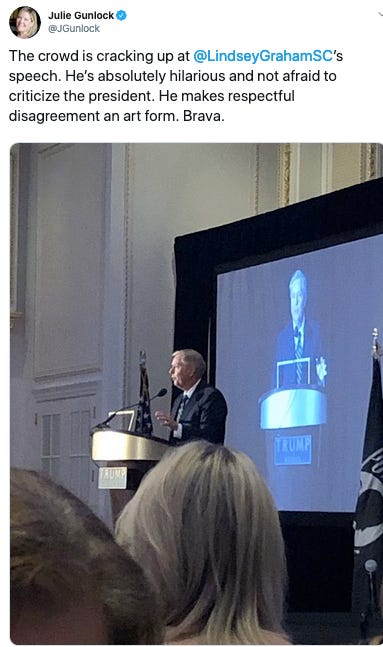 Liberal super PAC American Bridge has video it says shows Sen. Thom Tillis (R–NC) entering the Trump Hotel D.C. last night. Tillis was there for the Save the Senate retreat and reportedly enjoyed an awkward exchange with the president
Wall Street Journal columnist Kimberly Strassel also spoke to the president's customers at the American Spectator event.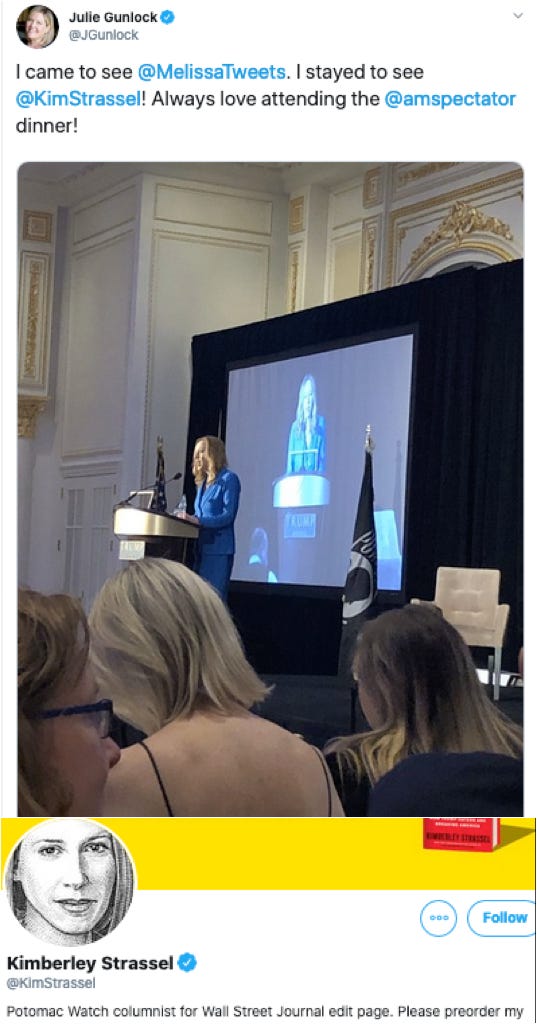 Alaska State Senator David Wilson (R) let his Facebook friends know he had a good cup of coffee at the U.S. president's D.C. hotel. [H/T The Alaska Landmine]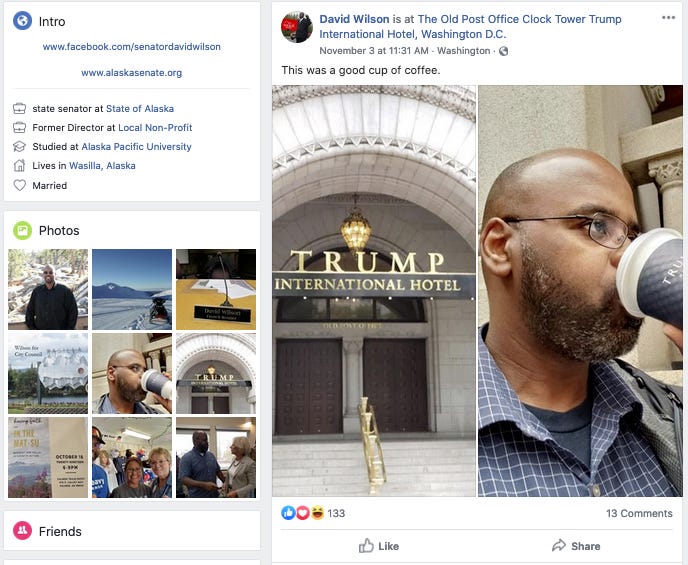 Right wing radio host Todd Starnes, whom Fox News ousted after he suggested Democrats worship the pagan god moloch, had a great night with dear friends.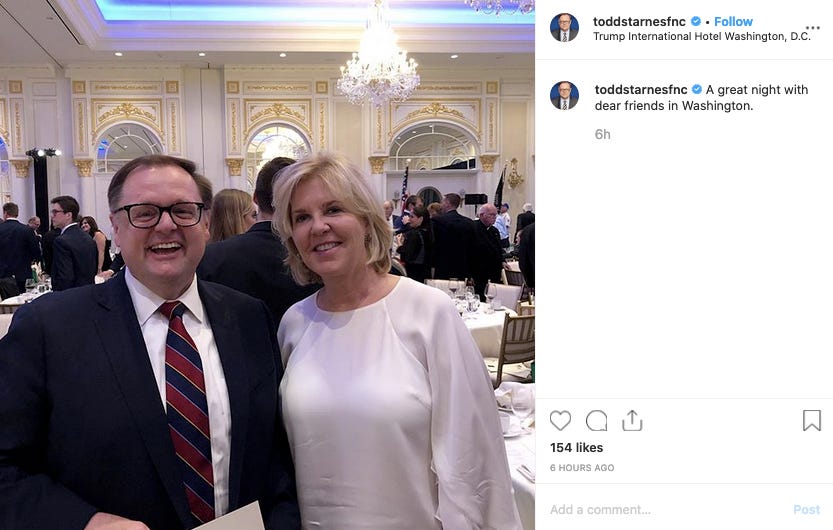 Remove Trump claimed its protest last night forced the president to enter his D.C. hotel via a back door. Meanwhile Gateway Pundit contributor Jacob Engels cclaimed a woman assaulted him.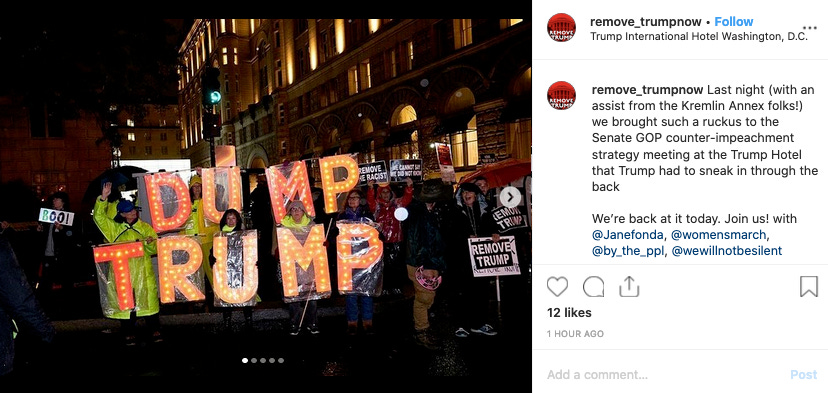 Reportedly, in town to attend a Q&A about Christianity and the gospel at the U.S. Supreme Court with a sitting justice, Lisa "J" Johnson shared a video from a room at the Trump Hotel D.C. (Because of a formatting constraint, select the link to watch her video.)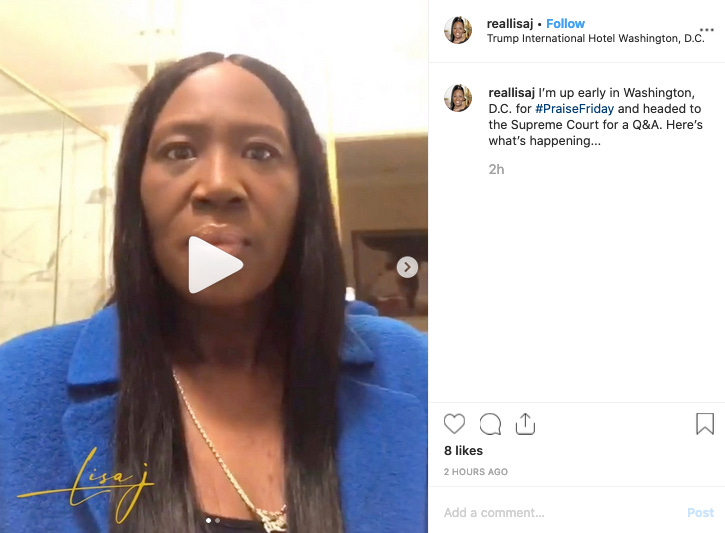 ---
Other Trump Organization news
President Trump commented on a New York judge ordering him to pay $2 million in damages for musing funds from the now-shuttered Trump Foundation. (Trump also agreed to submit to monitoring of any potential charitable endeavors.) Executive summary: He was not happy.
---
Reference section
Links to rundowns of developments in the House's investigations and lawsuits, reference sheets for some of 1100 Pennsylvania's previous reporting, and articles that provide the background on why all of this matters. The date published or last updated is in parentheses.
Trackers
Notable hotel customers
Summaries
Upcoming key dates
Sept. 23 —House Judiciary Committee hearing "Presidential corruption: Emoluments and profiting off the presidency" (postponed, not yet rescheduled)

Nov. 7–8—President Trump and nine GOP senators attend Save the Senate retreat at the Trump Hotel D.C.

Nov. 11—GSA's promised (past due) reply to the House Transportation Committee chair's subpoena seeking documents related to hotel's lease

Nov. 12—Donald Trump Jr.'s book signing at the Trump Hotel D.C.

Nov. 22—Oral arguments before D.C. Circuit Court of Appeals in Cork wine bar's unfair competition suit

Dec. 7—D.C. Fraternal Order of Police Lodge #1's holiday party at the Trump Hotel D.C.

Dec. 9—Oral arguments before D.C. Circuit Court of Appeals in Democratic lawmakers emoluments suit

Dec. 12—Oral arguments before full 4th Circuit Court of Appeals in D.C. and Maryland attorneys general's emoluments suit

Jan. 23—Status hearing with D.C. Superior Court in former hotel employees hearing alleging racial discrimination
---
Thanks for reading! If you like what you've read, tell someone. If you've been forwarded this newsletter, subscribe at 1100pennsylvania.substack.com. Questions? Read our FAQ. Tips or feedback? Contact Zach Everson at 1100Pennsylvania@protonmail.com (it'll be encrypted if you also use a ProtonMail account, which is free) or via Signal (secure), SMS, or mobile at 202.804.2744.