Discover more from 1100 Pennsylvania
"The undisputed expert on the D.C. Trump Hotel" – David Fahrenthold of the Washington Post
Over 3,000 subscribers
Fundraiser for Navy SEALs thrown at Mar-a-Lago
Benefit evening for Navy SEAL Foundation, museum held at commander-in-chief's club
President Trump's Mar-a-Lago hosted a benefit for the Navy SEAL Foundation on Monday. The event was organized by the nonprofit Palm Beach Navy Seal Evening of Tribute. A representative from that group has not replied to an inquiry asking how much it paid the commander-in-chief's club to host the gathering.
Per social media posts, the evening included the opportunity for a military contractor to "provide airborne assets" in support of an event at the president's business and for at least two other Mar-a-Lago guests to pose with the SEALs' gear.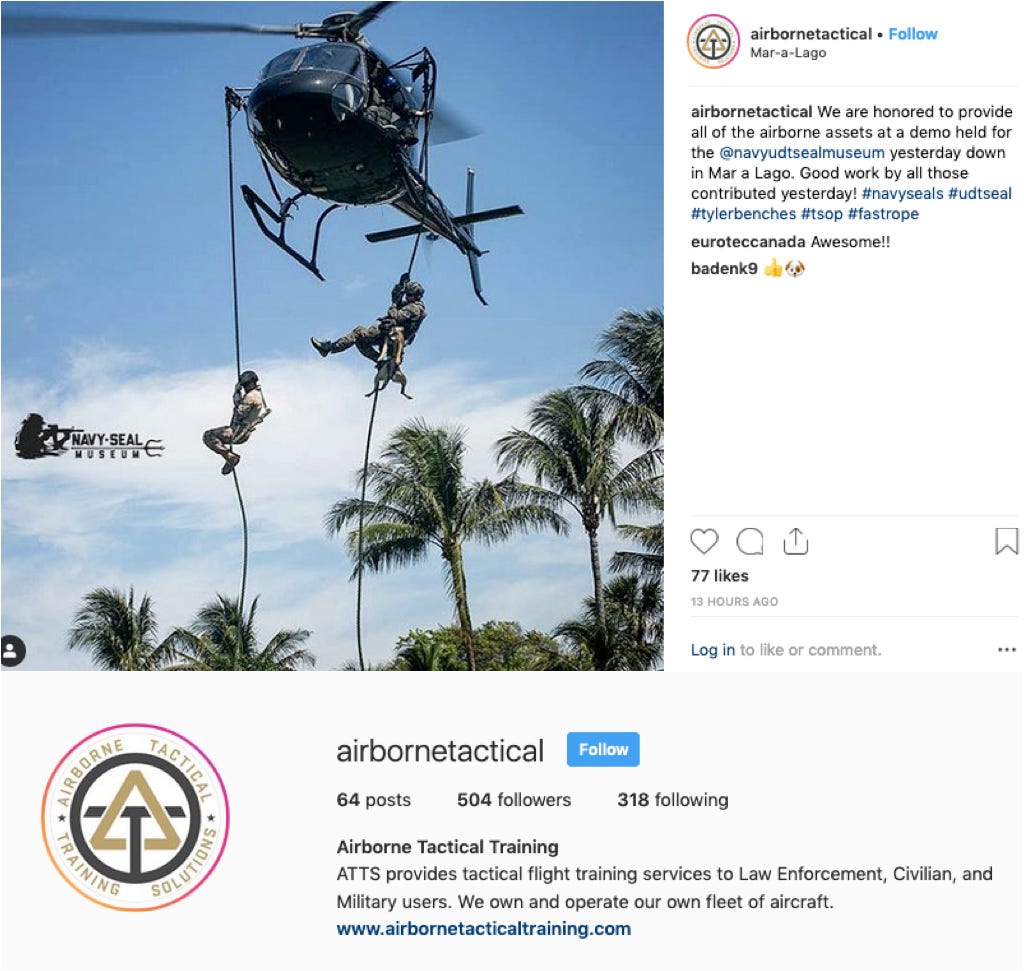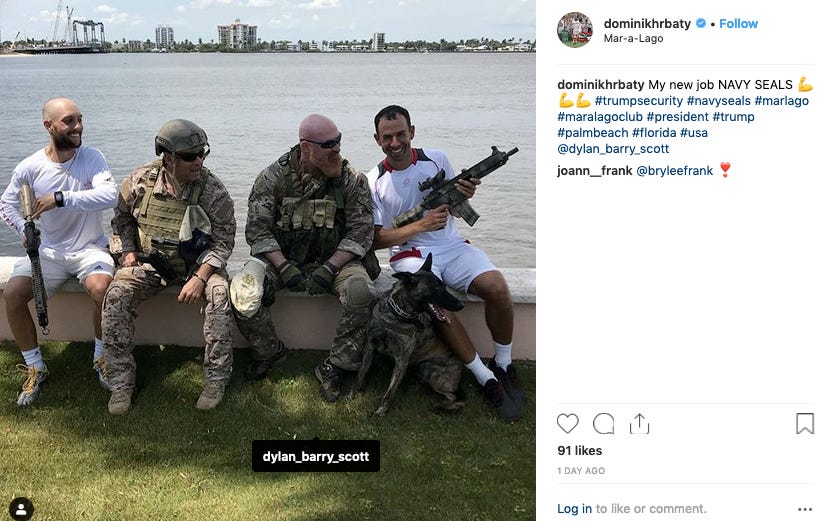 According to an attendee, the event raised more than $1.6 million for the Navy SEAL Foundation and the National UDT-SEAL Museum. The foundation, a 501(c)(3) non-profit, "provides immediate and ongoing support and assistance to the Naval Special Warfare community and its families." According to its director of marketing and communication, Sara Berry, the biannual event has taken place at Mar-a-Lago since at least 2015; that is, before the club's owner became commander-in-chief.
This event is not the first time active-duty members of the military participated in an function at a Trump property. This February the Army's 3rd U.S. infantry regiment's fourth battalion held its annual ball at the Trump Hotel D.C.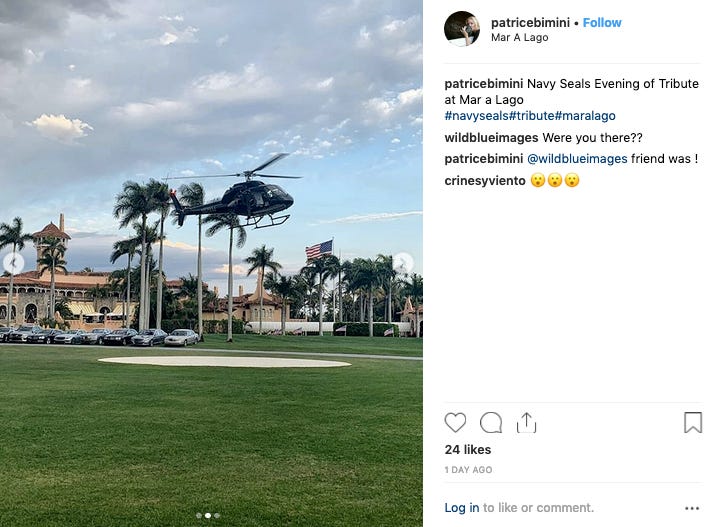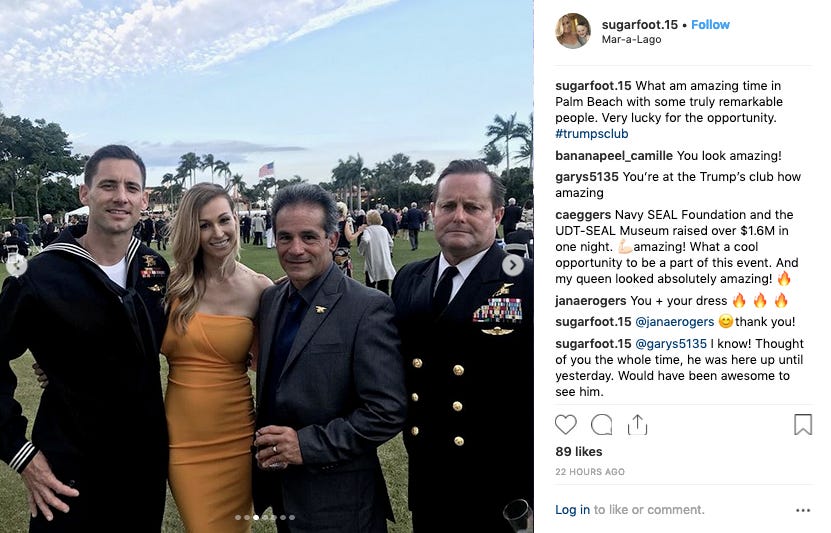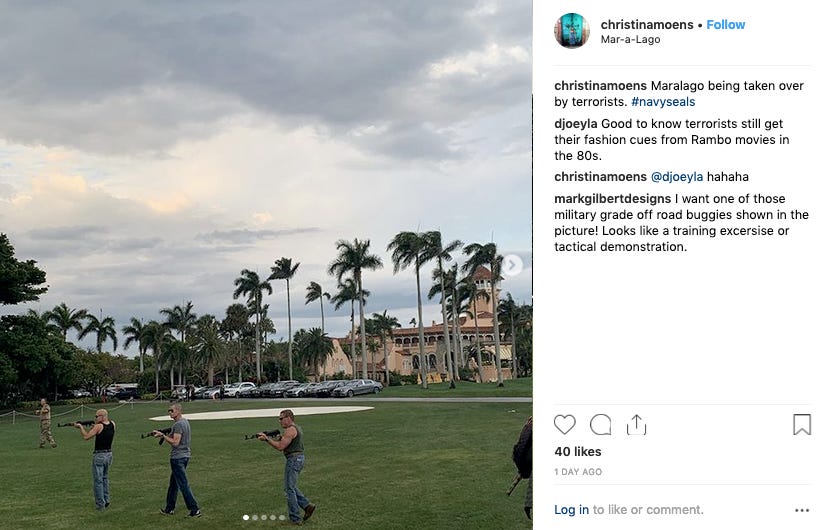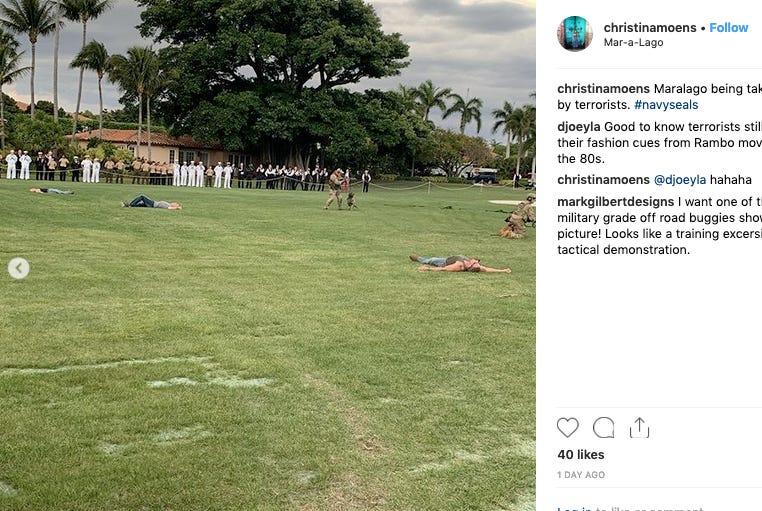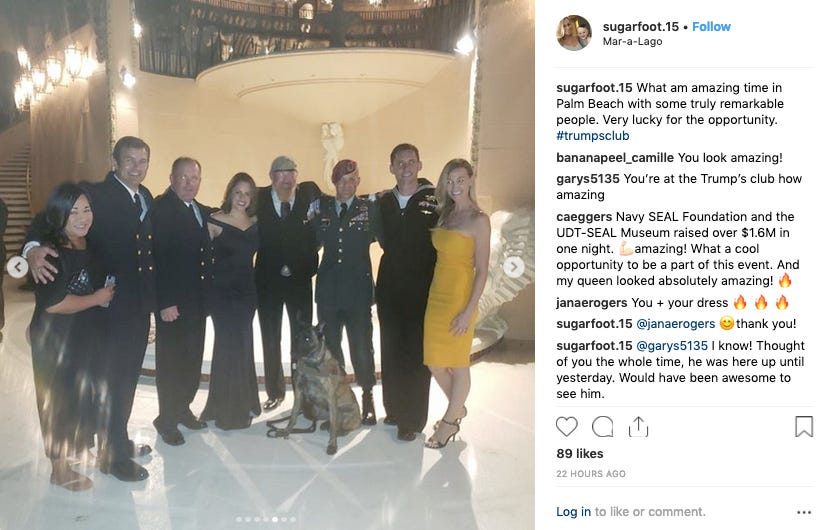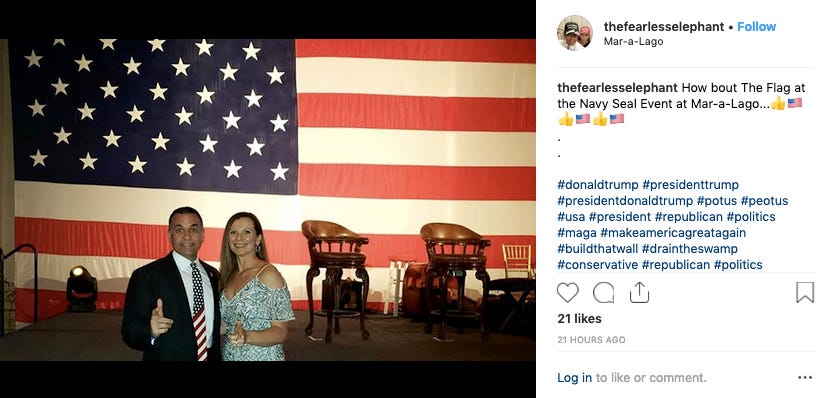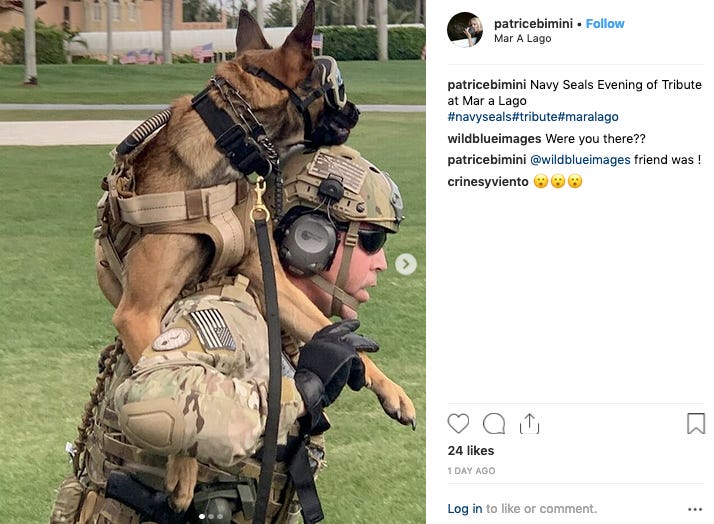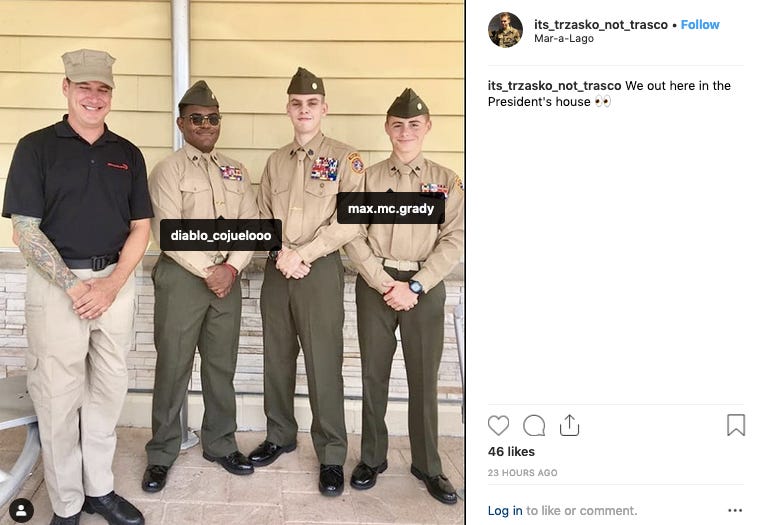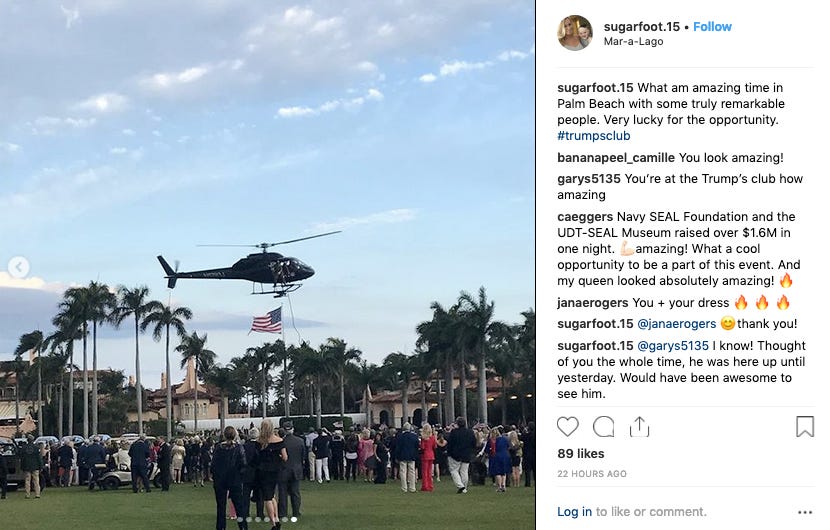 ---
Firearms import/exporters looking for 'access to government regulators' book Trump Hotel D.C.
The Firearms and Ammunition Import/Export Roundtable is hosting its annual Firearms Import/Export Conference (IM/EX) July 30–Aug. 1 at the Trump Hotel D.C.
From the event's webpage:
IM/EX offers valuable access to government regulators in charge of licensing, enforcement, and policy from the U.S. Departments of State, Commerce, Treasury, Homeland Security, Justice, and the Bureau of Alcohol, Tobacco, Firearms and Explosives.
The group's executive director, Johanna Reeves, has not replied to an inquiry asking why the group chose the Trump Hotel D.C.
Registration info for the conference is not yet available.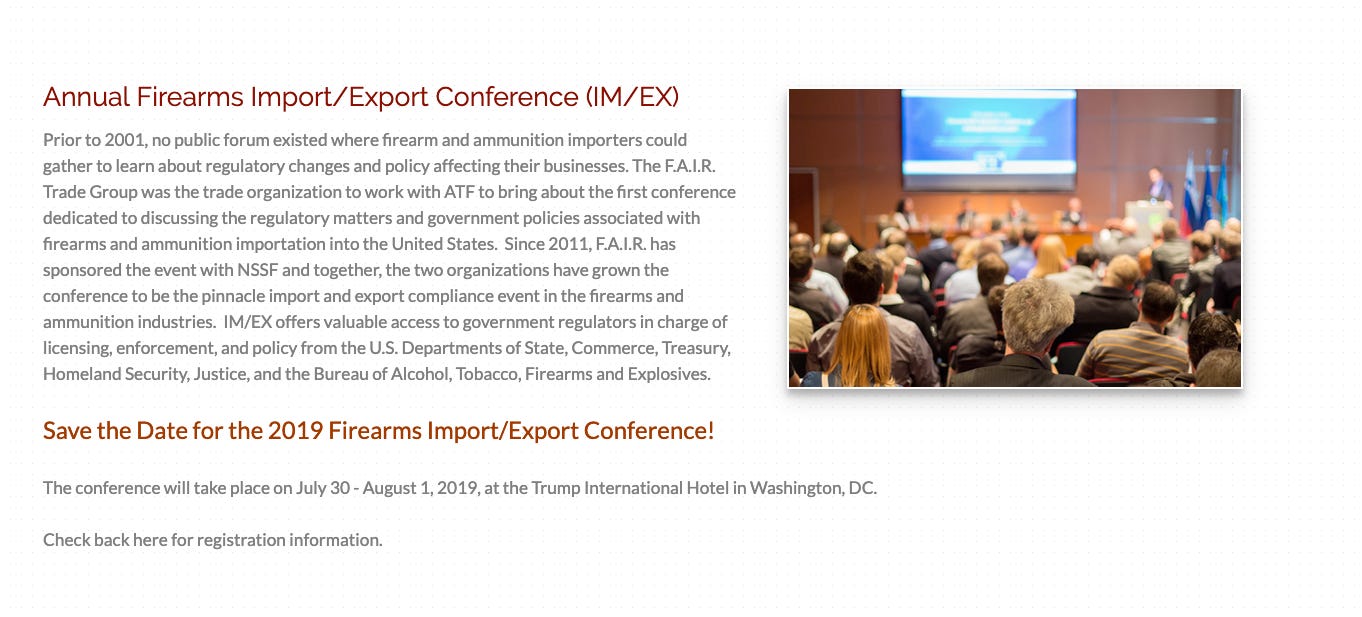 ---
Support this reporting, become a 1100 Pennsylvania member
Reporting on the Trump Hotel D.C. and the president's other businesses takes time. But it's making an impact—and you can help. If you're not an 1100 Pennsylvania member, please become one and help us continue to report on who's spending money at the president's hotel—and what they might be getting in return. Memberships are this newsletter's sole source of income. Select the red "Subscribe now" button and become a member by paying just $5 a month or $50 a year. Thank you.
---
Chinese women connected to Cindy Yang arrested at Mar-a-Lago; Asian GOP head says he'd never heard of her previously
From "Chinese woman carrying 'malware' arrested at Mar-a-Lago heading to a Cindy Yang event" by Sarah Blaskey, Nicholas Nehamas, and Caitlin Ostroff for The Miami Herald:
A Chinese woman carrying a thumb drive loaded with malware was detained at Mar-a-Lago Saturday after trying to gain access to events advertised on Chinese-language social media by Li "Cindy" Yang, the South Florida massage parlor entrepreneur who also ran a business selling access to President Donald Trump and his family.

The woman, Yujing Zhang, has been charged with two federal crimes: making false statements to a federal officer and entering restricted property.
Yang had been a high-ranking volunteer with the National Committee of Asian American Republicans, referred to often the Asian GOP. Yesterday afternoon, that group's executive director, Cliff Zhonggang Li, told 1100 Pennsylvania that he'd never previously heard of Zhang and that she was either not associated with the Asian GOP or at least not at a high enough level that he'd be aware of her involvement.
---
Noteworthy sightings
Yesterday a realtor for DAMAC properties, a business partner of the Trump Organization, used archival video of Donald Trump to promote properties at Trump Dubai. (Due to a formatting limitation, select the link to watch the video).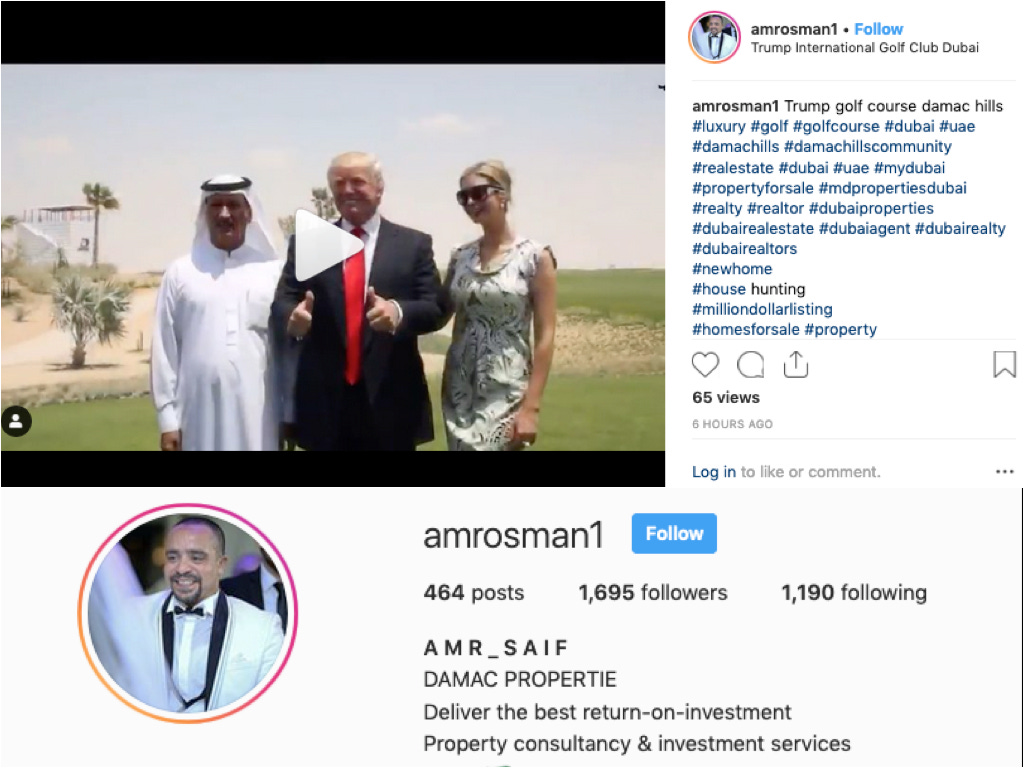 Stephen Moore was back at the Trump Hotel D.C., according to Alan Rappeport of The New York Times. While it's the first time Moore's been spotted at the hotel since its owner nominated him to a seat on the Federal Reserve Board, it was at least Moore's fifth visit to the president's hotel. He previously headlined three events there and attended ALEC's 45th anniversary gala.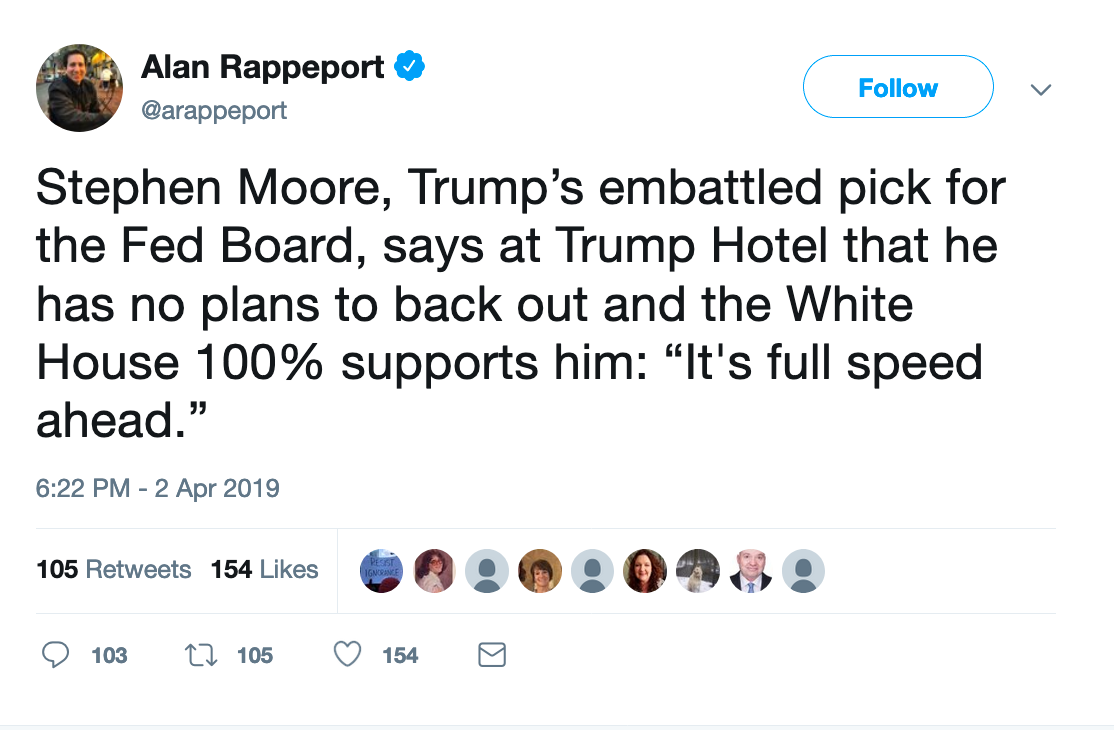 A former candidate for the GOP's presidential nomination, Steve Forbes, debuted his new documentary, "In Money We Trust?," at a hotel owned by the current Republican president. It appears Moore addressed the gathering. (Ximena Barreto posted these next two photos from the Trump Hotel D.C.; she's a former Trump political appointee in the Department of Health and Human Services who resigned after CNN and Media Matters reported she'd "spread conspiracies and made anti-Muslim comments.")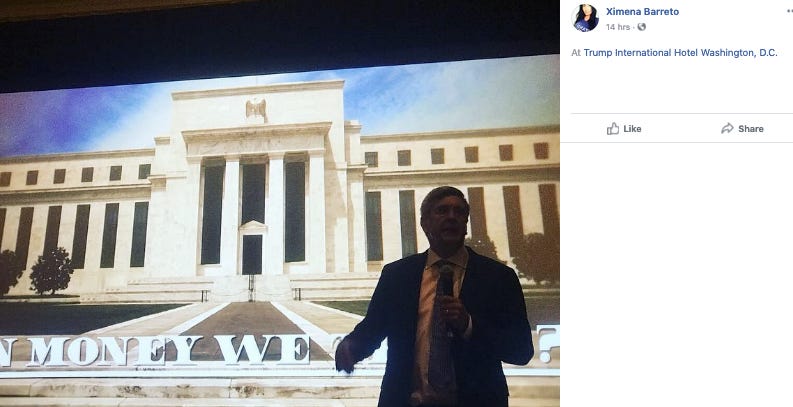 The director of the National Economic Council, Larry Kudlow, also was a featured guest at his boss's hotel.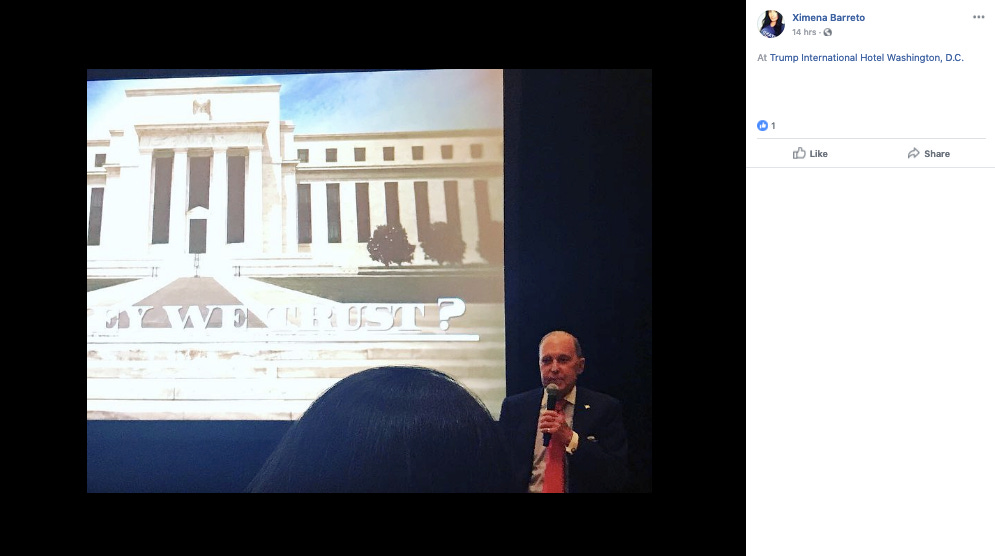 An advocate group "for smaller government, lower taxes, free markets, personal liberty, and the rule of law, Freedom Work—where Stephen Moore is a senior economic contributor—held a live stream from the event. Guests included the hotel owner's one-time campaign manager Corey Lewandowski.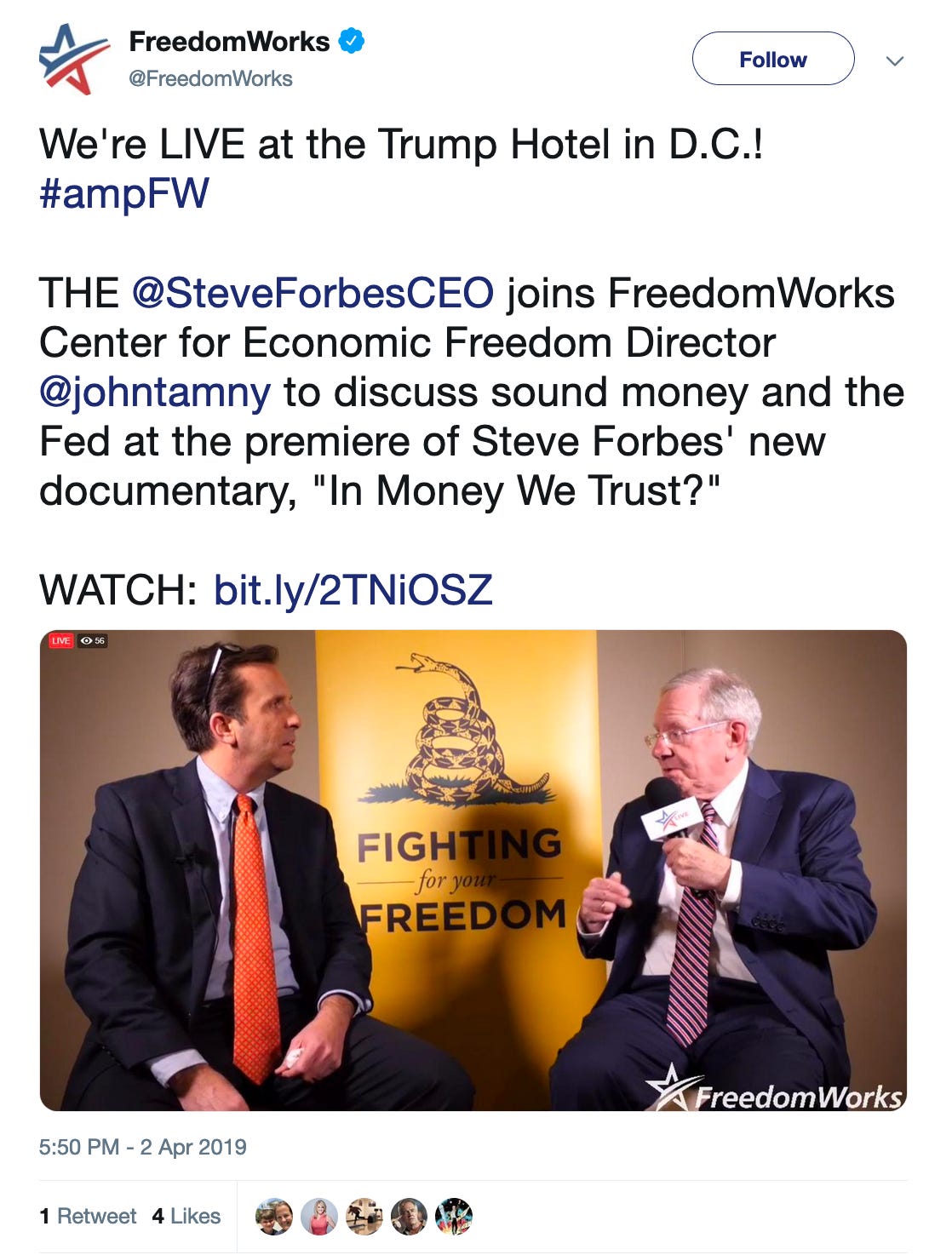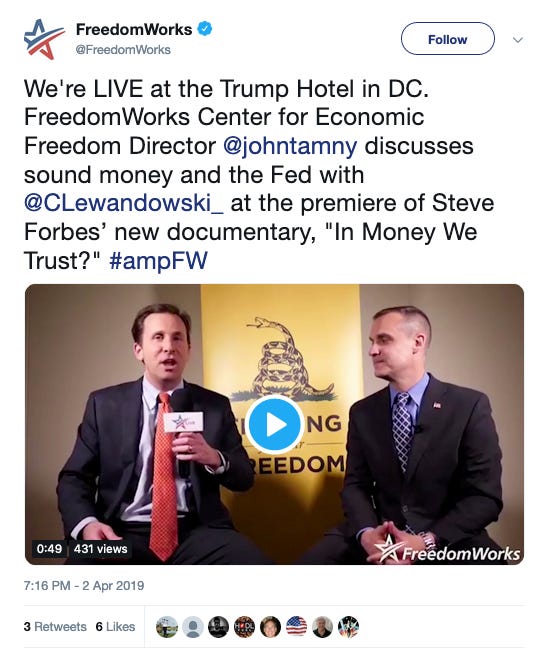 Conservative CNN commentator Alice Stewart caught up with political consultant Peggy Ellis after watching Forbes's documentary.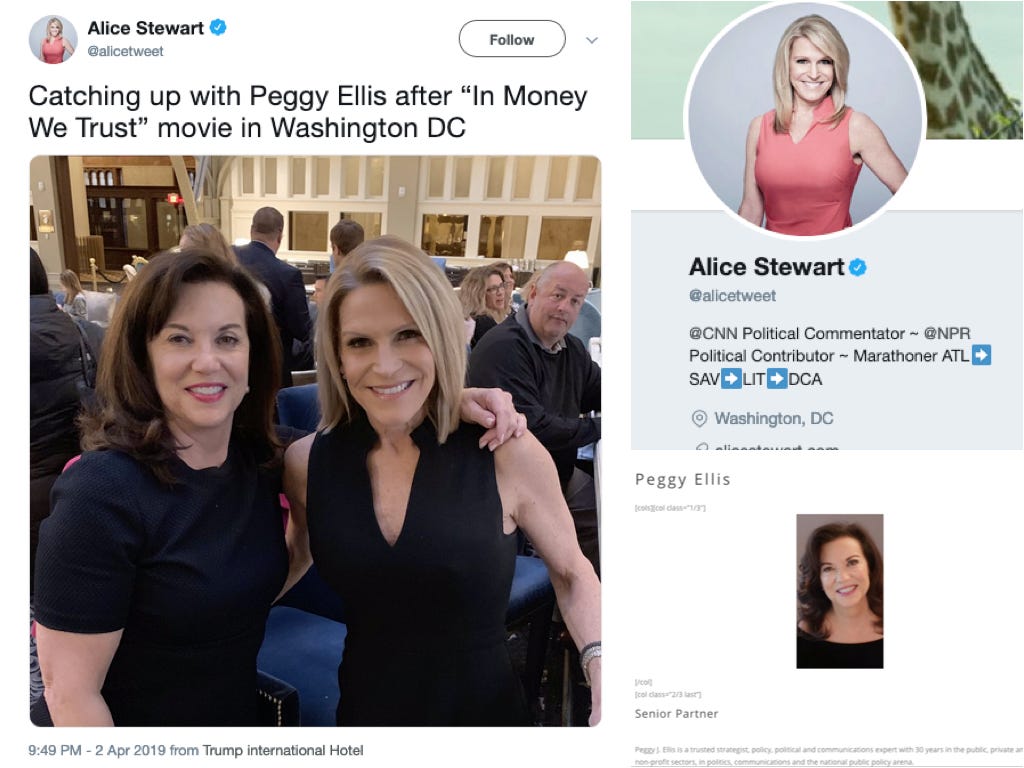 It's rare to see anyone else sit in President Trump's table at his hotel's steakhouse. So who got that honor last night? John Willding, a partner at lobbying firm Barnes & Thornburg. Willding appears to be an organizer of Trump First Tuesdays, even coming up from Dallas almost every month for the event. Trump First Tuesdays, of course, are a "business networking happy hour for government relations professionals and friends."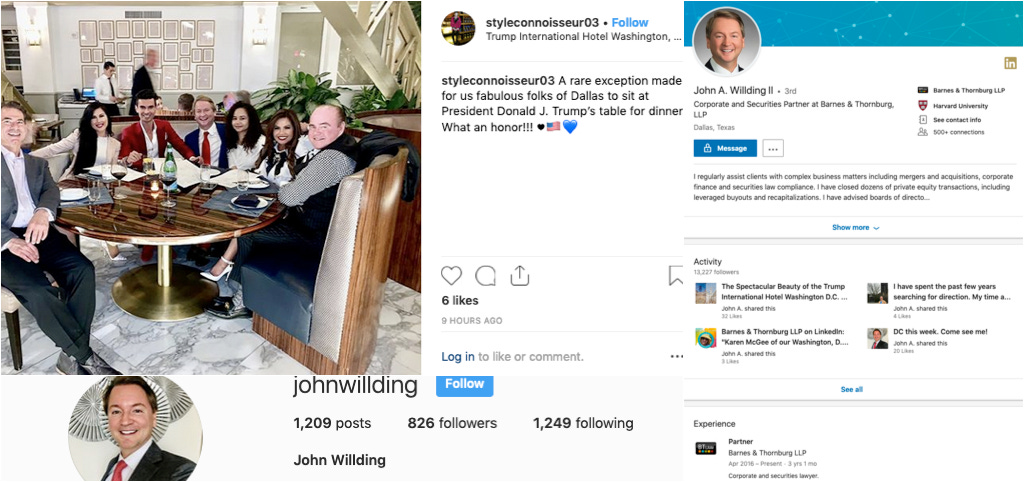 Fox News pundit and Trump campaign advisor, Harlan Hill, was back at his safe place.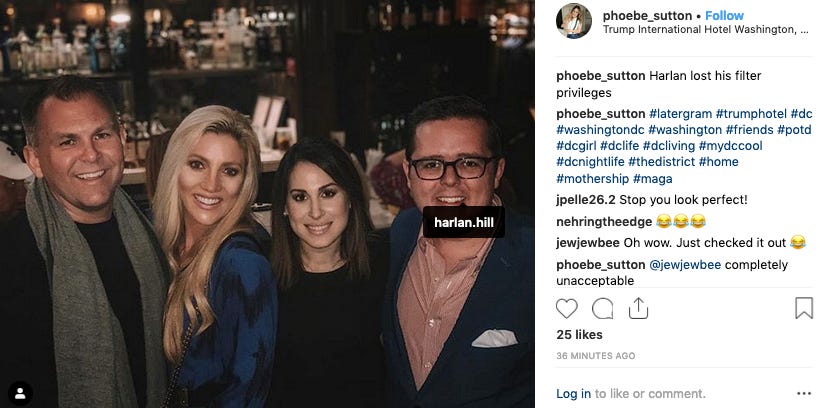 The founder and president of the Black Conservative Federation, Diante Johnson, also returned to the conservative president's hotel.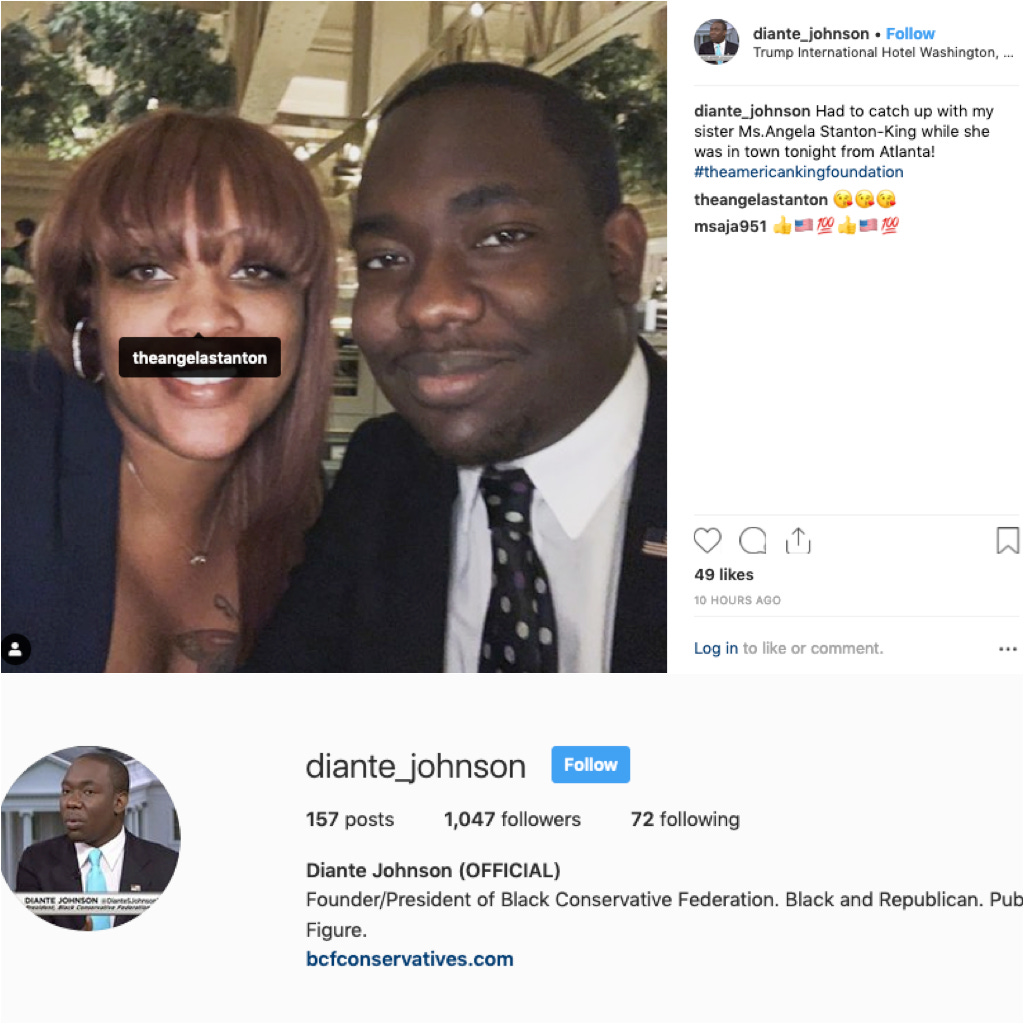 A senior consultant for government and industry relations at Allstate, Chelsea Caulfield, shared a latergram from the lobby.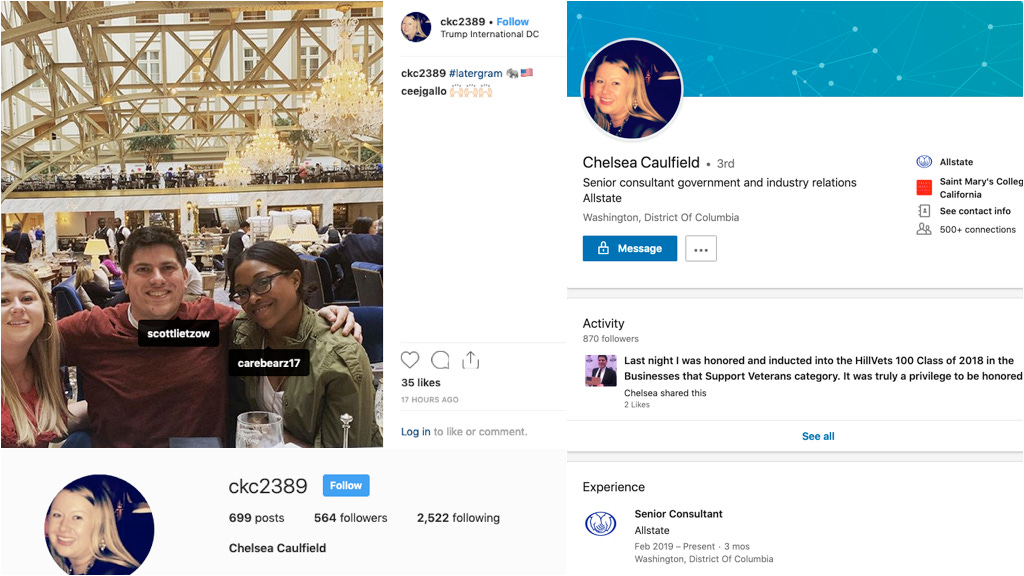 ---
Other Trump Organization news
---
House investigations, current status (latest changes, March 29, 2019)
---
Legal cases, current status (latest change, March 20, 2019)
D.C. and MD attorneys general's emoluments lawsuit (district court docket, appellate court docket)—

Official capacity—On Dec. 20, 2018, the 4th U.S. Circuit Court of Appeals ruled it would hear the president's appeal of district court rulings that allowed the case to proceed to discovery, and the appellate court halted discovery in the case. Discovery had started Dec. 3 and was scheduled to run through Aug. 2, 2019, with the AGs having subpoenaed the Trump Organization, including its Scottish golf courses; the U.S. Departments of Agriculture, Commerce, Defense, and Treasury and the GSA; and the state of Maine. Oral arguments on the appeal occurred on March 19; by all accounts the three-judge panel (all Republican appointees, including one who was a selection of President Trump's) were skeptical of the AGs' case. D.C. AG Karl Racine pledged to take the case to the U.S. Supreme Court if necessary.

Individual capacity—On Dec. 14, Trump's personal attorneys appealed the denial of their motion to dismiss the case, also to the 4th U.S. Circuit Court of Appeals. On Dec. 19, the AGs replied to Trump's motion for a stay pending that appeal by voluntarily dismissing the claims against Trump in his "individual capacity to allow the claims against President Trump in his official capacity to move forward expeditiously." (The AGs only brought suit against Trump in his individual capacity after the judge suggested they do so.) Trump's personal attorneys, on Dec. 21, opposed the motion to dismiss at the district level, saying the appeals court now has jurisdiction and accusing the AGs of "gamesmanship."

Democratic senators and representatives' emoluments lawsuit—On Sept. 28, Judge Emmet G. Sullivan ruled that the legislators have standing to sue. Trump's Justice Department attorneys filed an interlocutory appeal on Oct. 22. On Jan. 30, 2019, the plaintiffs' filed a notice of supplemental authority, notifying the court of the GSA inspector general's report that criticized GSA for failing to consider if the Trump Hotel D.C.'s lease was in compliance with the Constitution after Trump became president. Two days later, the president's attorneys argued that the IG's conclusion was not inconsistent with Trump's argument, but that the judge should ignore that report anyway because the IG has no expertise in interpreting or applying the foreign emoluments clause.

CREW et. al's emoluments lawsuit—In February 2018, CREW appealed its suit being dismissed for lack of standing to the 2nd U.S. Circuit Court of Appeals. Oral arguments on that motion were held on Oct. 30.

Cork's unfair competition lawsuit—Judge Richard J. Leon dismissed the case on Nov. 26, 2018, writing "Cork has failed to state a claim for unfair competition under D.C. law." On Dec. 10, Cork's attorneys filed a notice of appeal and on Jan. 10, 2019 they submitted a statement of issues to be raised. A briefing schedule was set on March 5 with Cork's brief due on April 15, the president's brief due on May 15, and Cork's reply to the president's brief due on June 5.

Employees' class-action suit alleging racial discrimination—Two of the three plaintiffs did not appear at a status hearing on Jan. 25, 2019; their cases were moved to arbitration. Via email, their attorney, A.J. Dhali, said his clients did not appear at the hearing because their case already had been moved to arbitration last year. The next status hearing is scheduled for Oct. 4.
---
Health inspections, current status (latest change, Aug. 10, 2018)
❌Hotel: five violations on May 7, 2018; two were corrected on site

❌BLT Prime and Benjamin Bar: nine violations on Aug. 10, 2018

❌Sushi Nakazawa: two violations on Aug. 10, 2018

✔️Banquet kitchen: no violations on Aug. 10, 2018

❌Pastry kitchen: two violations on Aug. 10, 2018

✔️Gift shop: no violations on May 7, 2018

❌Employee kitchen and in-room dining: five violations on Aug. 10, 2018; two were corrected on site
---
Is the Trump Organization selling merchandise that depicts the White House? (latest change, March 21, 2019)
Yes.
---
One thing that (probably) has nothing to do with Trump's businesses
Senior policy advisor for the pro-Trump nonprofit America First Policies, Martha Boneta, sported a MAGA hat while posing with a U.S. Customs and Border Patrol officer.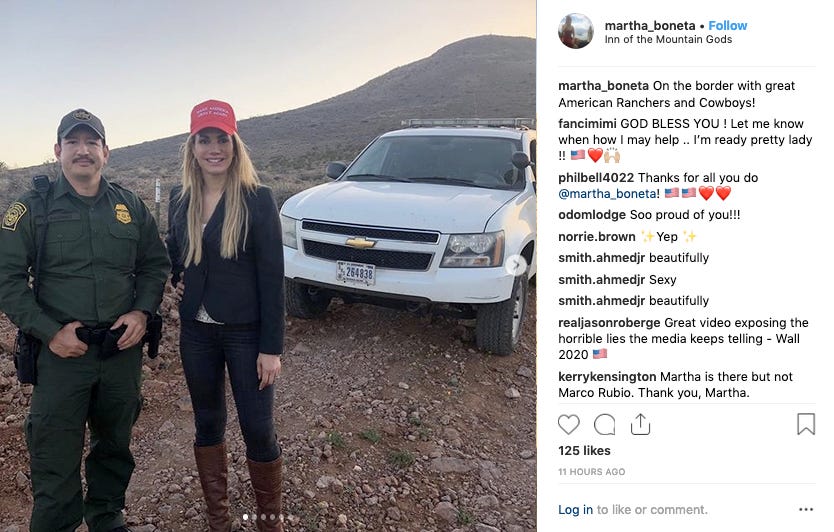 ---
Thanks for reading. If you like what you see, tell someone—and support this work by becoming a paying member ($5/month or $50/year). If you've been forwarded this newsletter, subscribe for yourself at zacheverson.substack.com. Questions? Read our FAQ/manifesto. Tips or feedback? Contact me, Zach Everson, securely via email at 1100Pennsylvania@protonmail.com or on Signal at 202.804.2744.