Discover more from 1100 Pennsylvania
"The undisputed expert on the D.C. Trump Hotel" – David Fahrenthold of the Washington Post
Over 3,000 subscribers
Fundraising kickoff, lobbyists drew yuge crowd
White House staffers, campaign executives, lobbyists, and, yes, Rudy pictured at president's hotel
Yesterday the Trump Hotel D.C. hosted the Trump Victory Finance Committee kickoff, the Trump First Tuesday lobbyist happy hour, and JEXIT rally attendees.
Based on social-media posts, attendees at the three events may have mingled.
Also yesterday afternoon, the Secret Service arrested a hotel visitor who, while trying to enter an event, said that he had a gun in his car. Police said he made no threats and there are no reports of anyone being harmed.
Anyway, Trump administration members, Trump campaign staff, Trump fundraisers, Trump supporters, and lobbyists spotted at the Trump Hotel D.C. include
White House press secretary Sarah Huckabee Sanders

former Fox News co-president, former White House communications director, and current Trump campaign advisor Bill Shine

Trump campaign senior advisor and girlfriend of the hotel's co-owner/son of the president, Kimberly Guilfoyle

MAGA dress designer Andre Soriano (pictured with Guilfoyle)

White House digital coordinator Noelle Garnier (who celebrated her birthday at her boss's hotel)

former advisor to Nigel Farage and Steve Bannon, Raheem Kassam (pictured with Garnier)

a congressional liaison at the U.S. Customs and Border Protection's office of congressional affairs, Remo Williams

Ximena Barreto, a former Trump political appointee in the Department of Health and Human Services who resigned after CNN and Media Matters reported she'd "spread conspiracies and made anti-Muslim comments"

Rabia Kazan, the president of the pro-Trump Middle Eastern Women's Coalition and a director of the National Diversity Coalition for Trump (pictured with Barreto)

Jarely Parada, a staff assistant with America First Action (pictured with Barreto)

Bikers for Trump's Chris Cox (pictured with Bolling)

a partner at lobbying firm Barnes & Thornburg and Trump First Tuesdays regular John Wilding

Trump Victory Finance Committee kickoff attendees Nick Langworthy, Anthony H. Gioia, and Erin Baker

Trump Victory Finance Committee kickoff attendees Armand Verdone, and Shiree Verdone

Trump's attorney in the Mueller probe, Rudy Giuliani—who, of course, is always there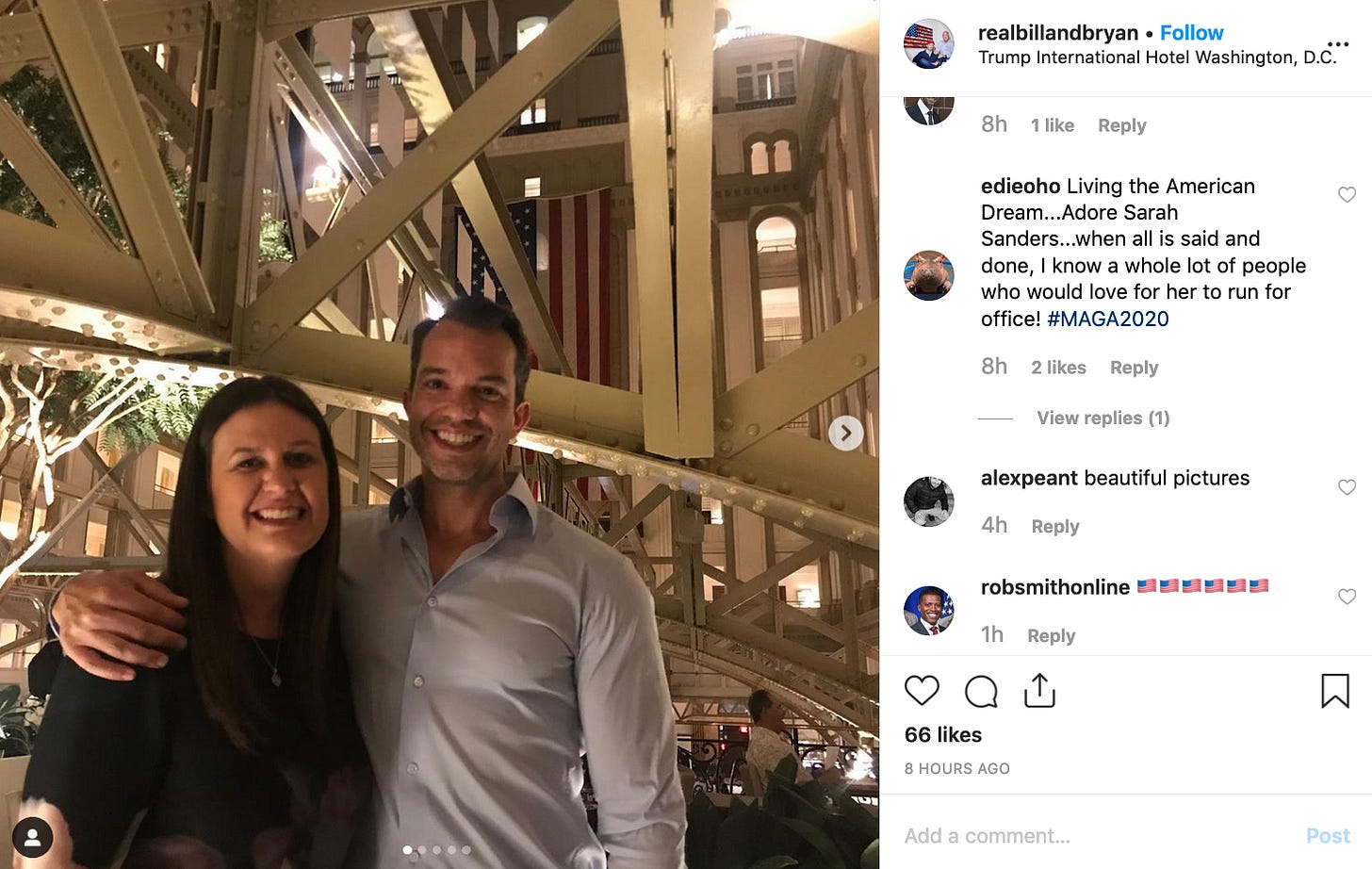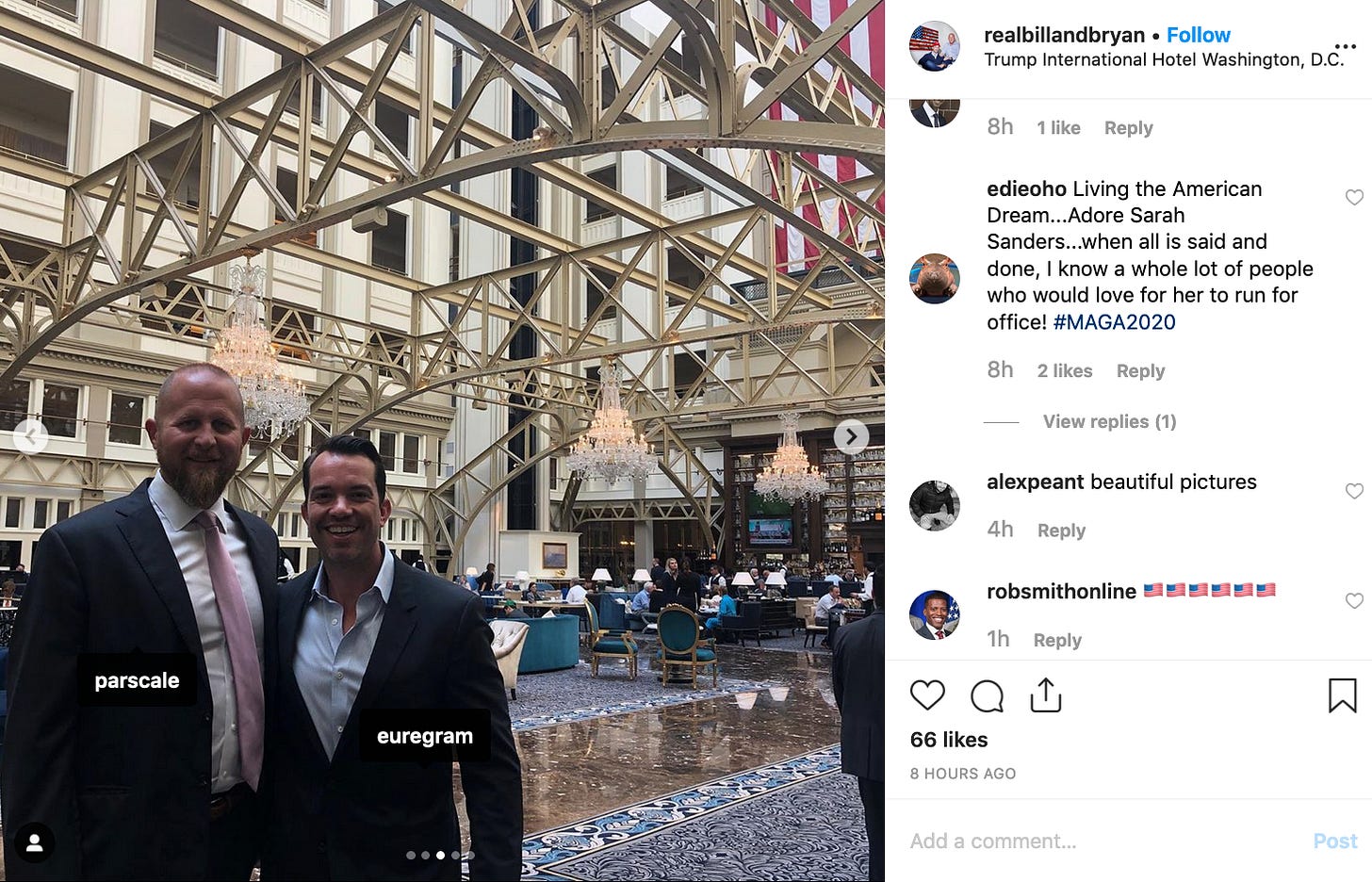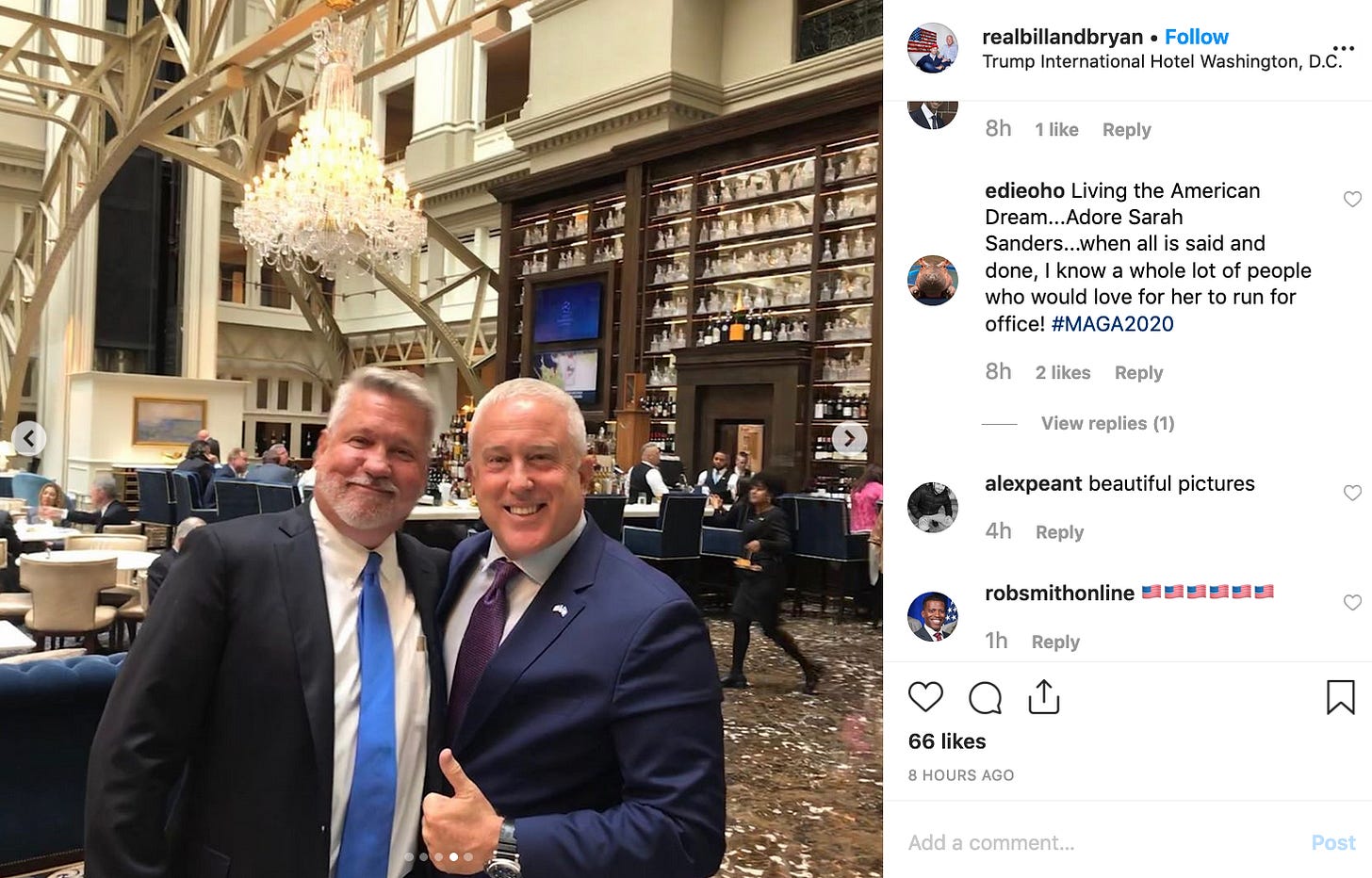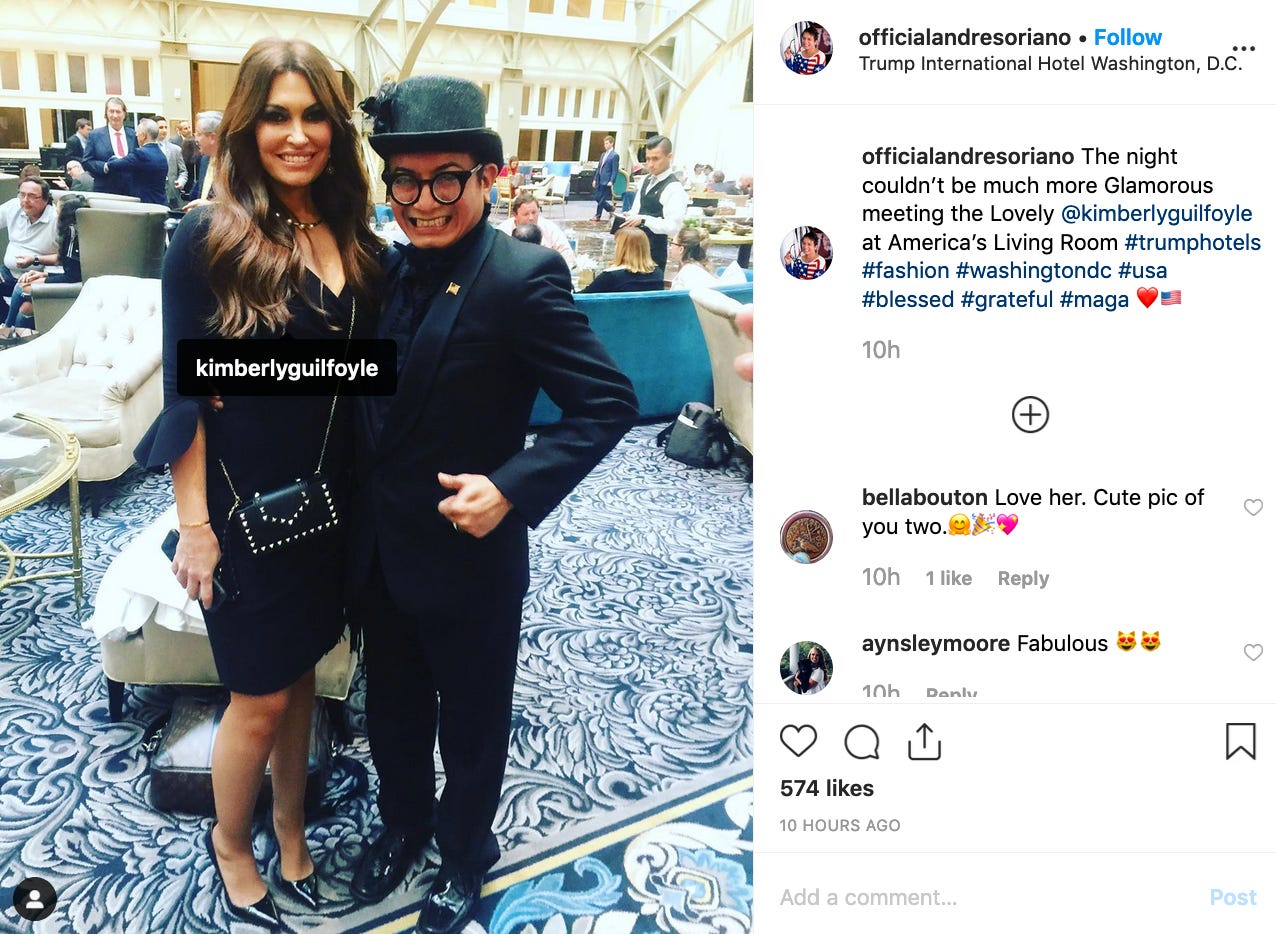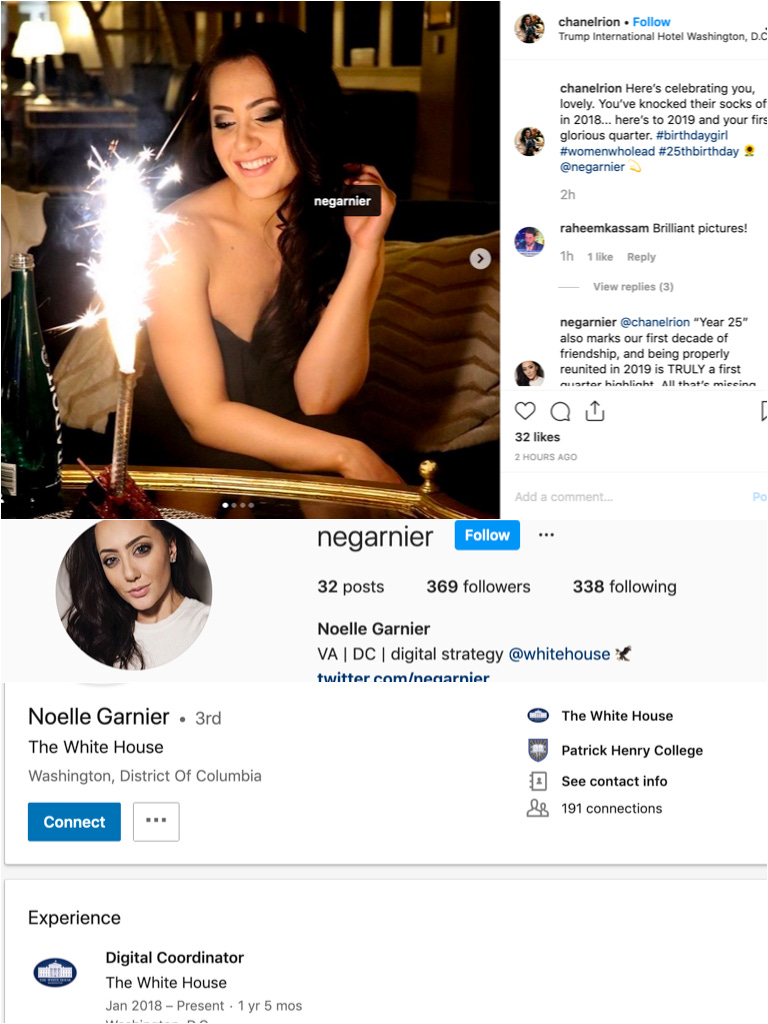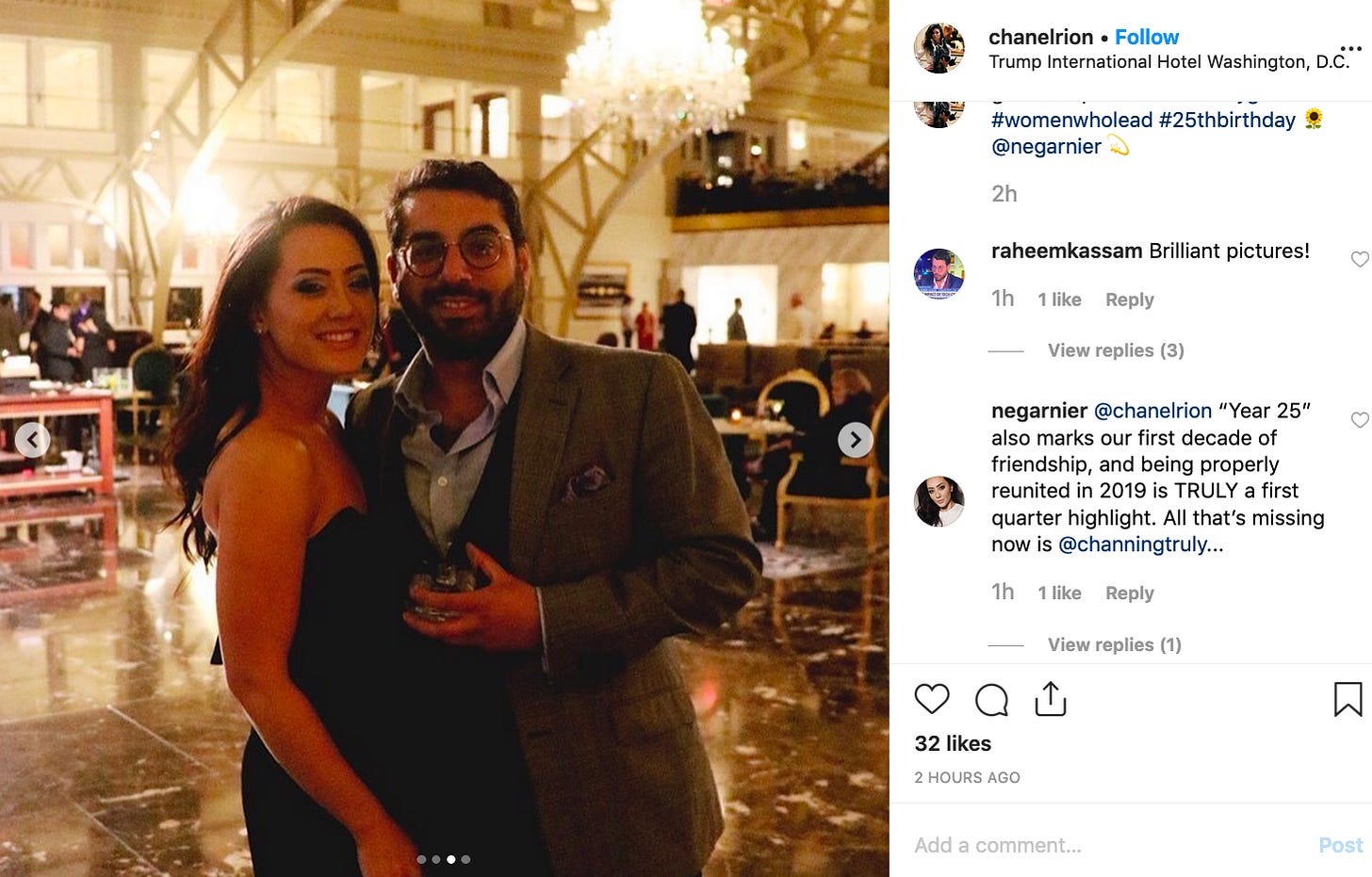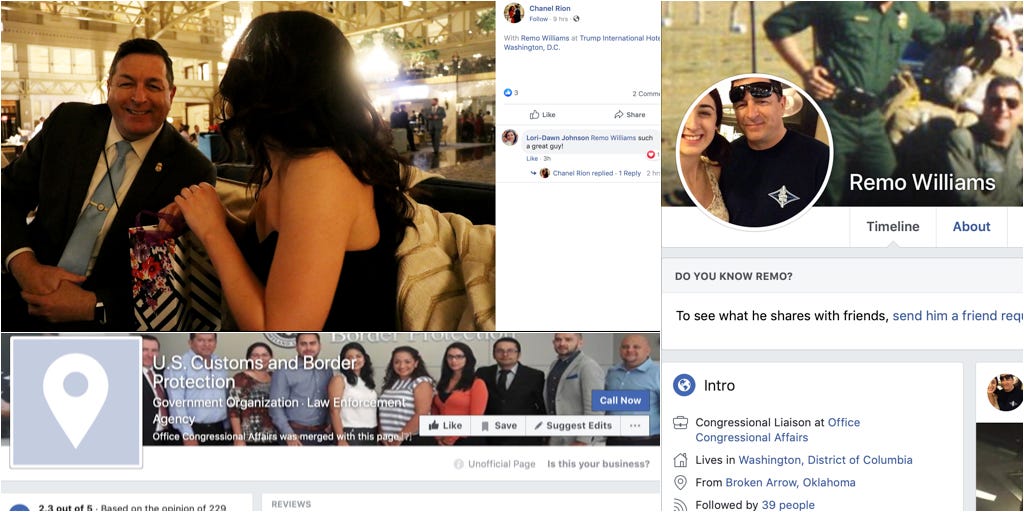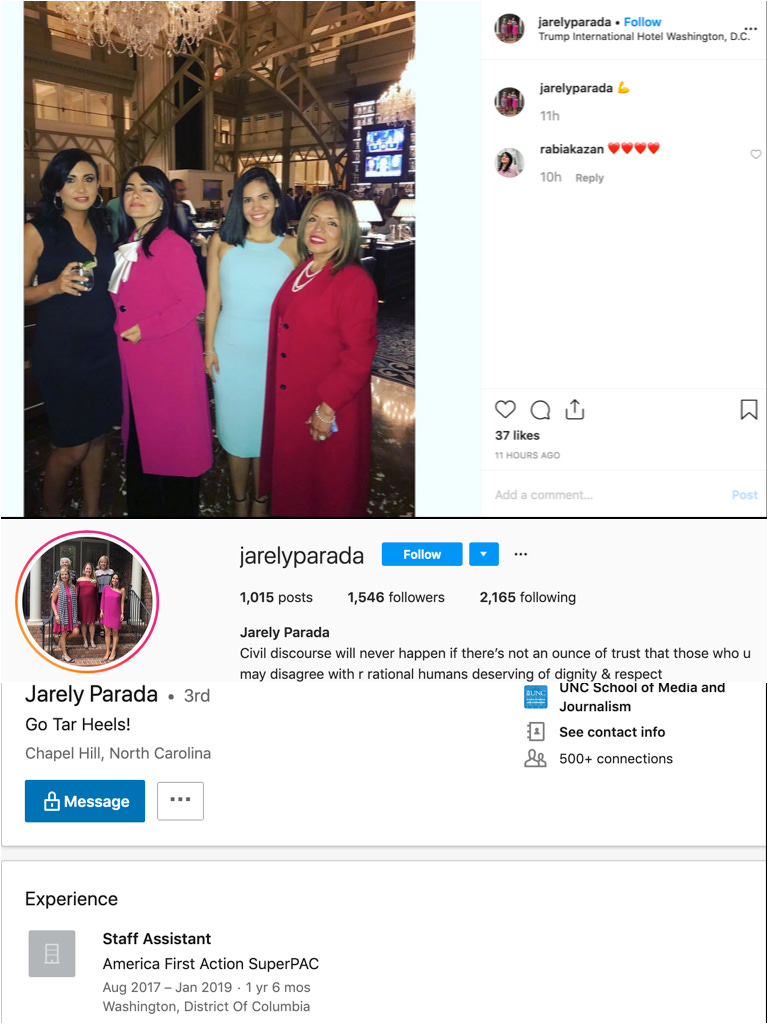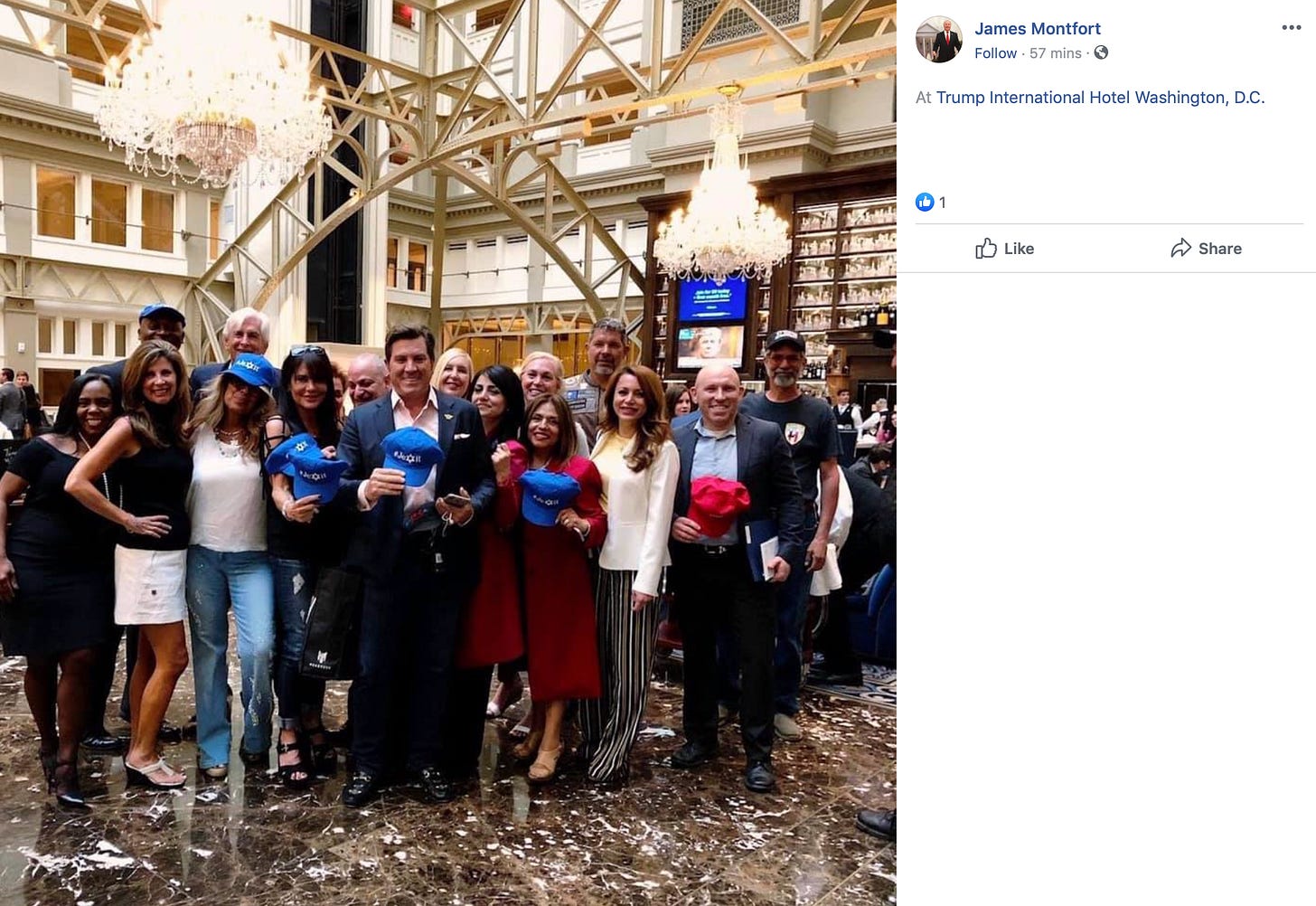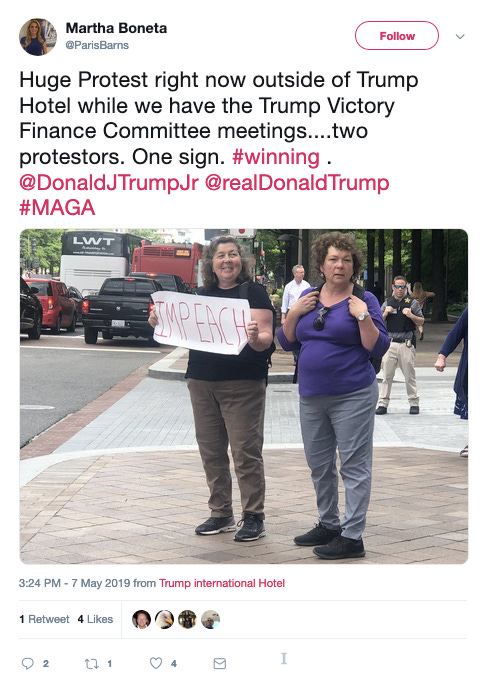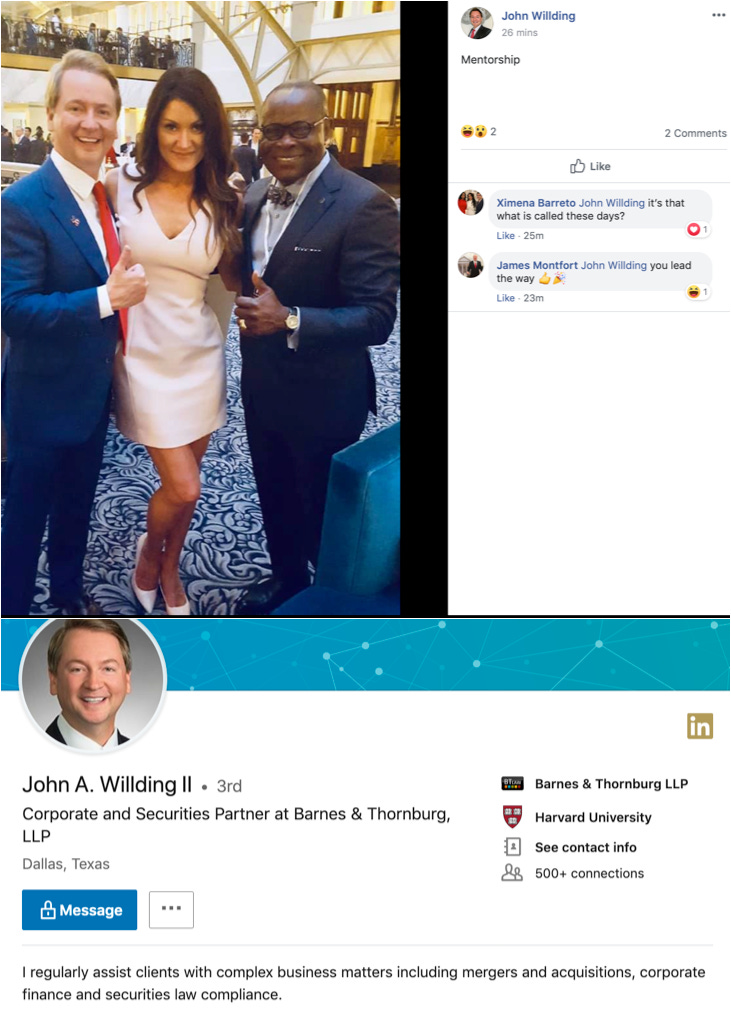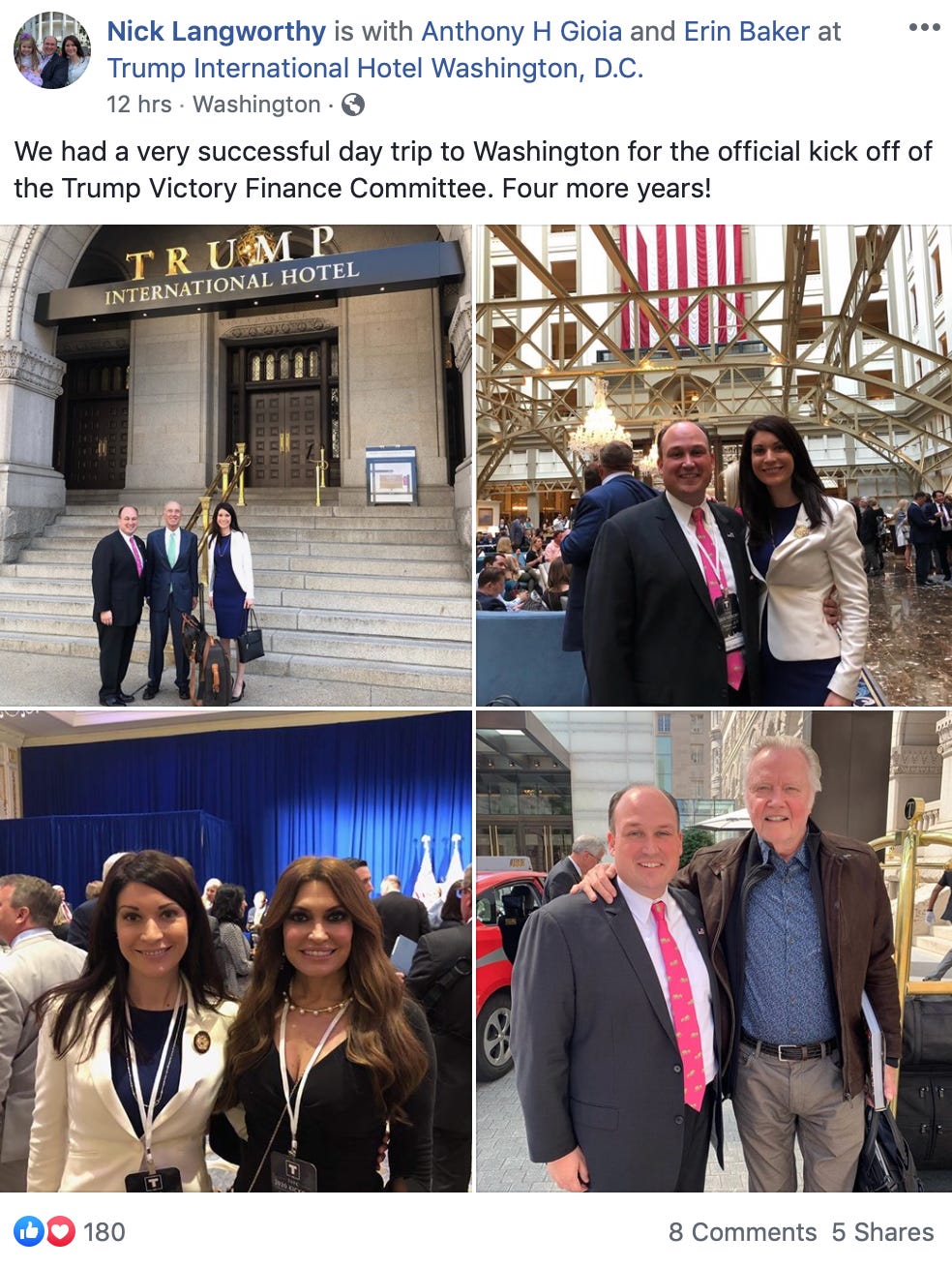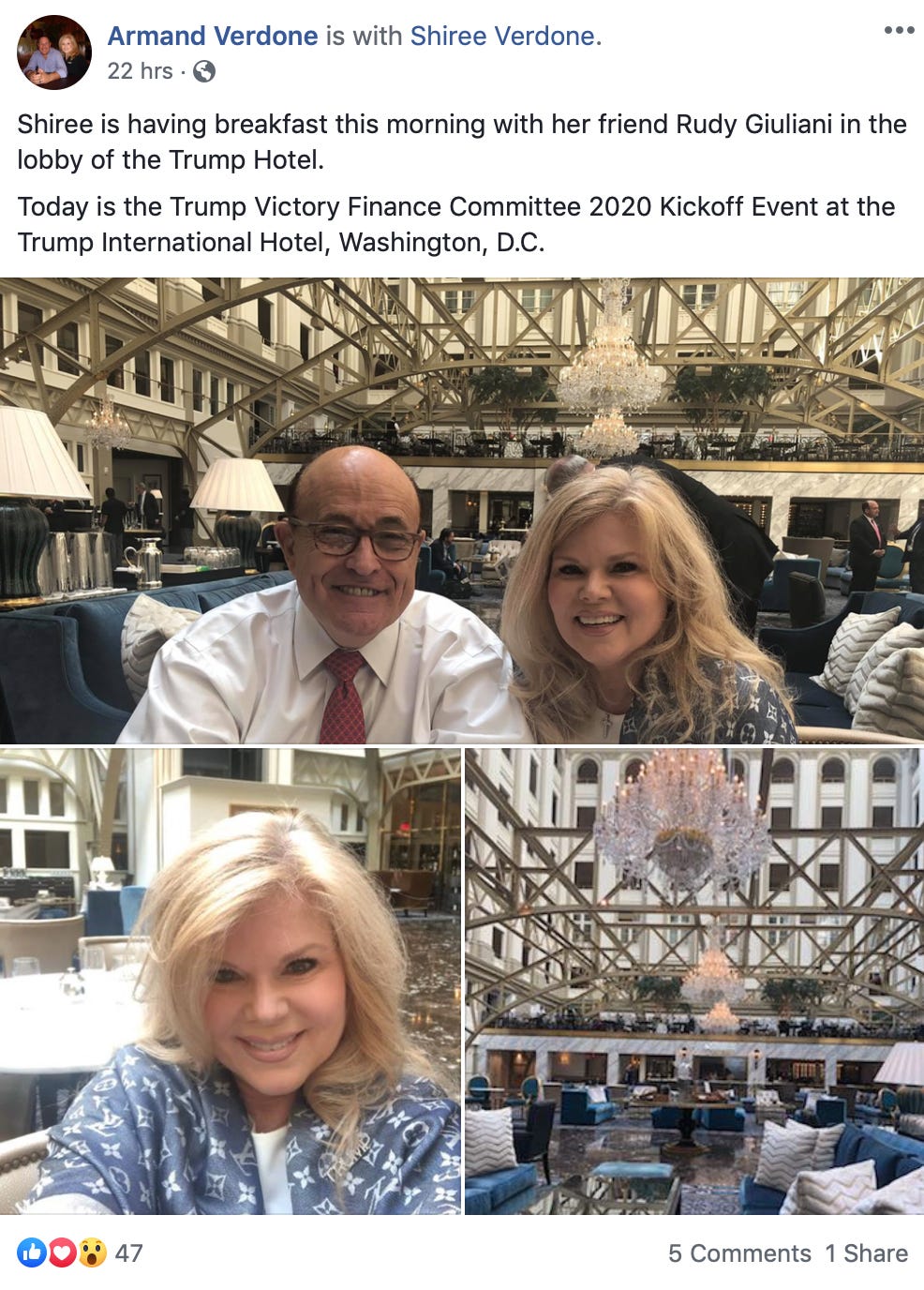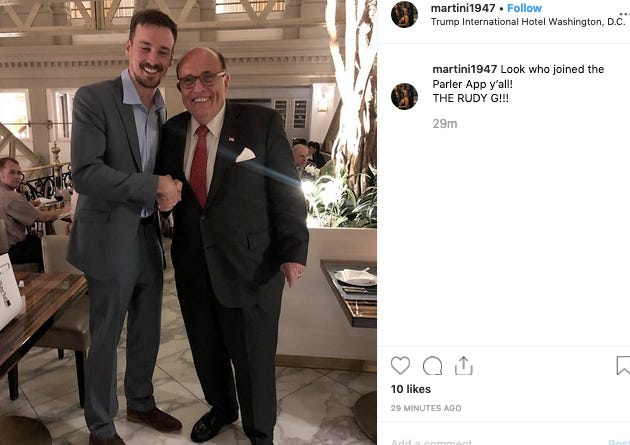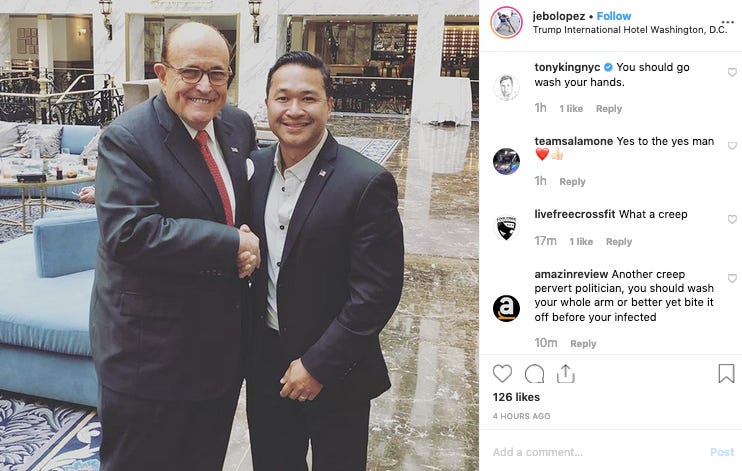 An agenda for yesterday's Trump Victory Finance Committee kickoff, obtained by The Washington Post, reveals other notables slated to attend—most significantly Vice President Mike Pence and White House counselor Kellyanne Conway. Also at the event, "Treasury Secretary Steven Mnuchin addressed a group of top donors backing President Trump's reelection Tuesday evening, making an unusual political appearance at a gathering that included industry executives his agency is tasked with regulating," according to Michelle Ye Hee Lee, Josh Dawsey, and Damian Paletta of The Washington Post.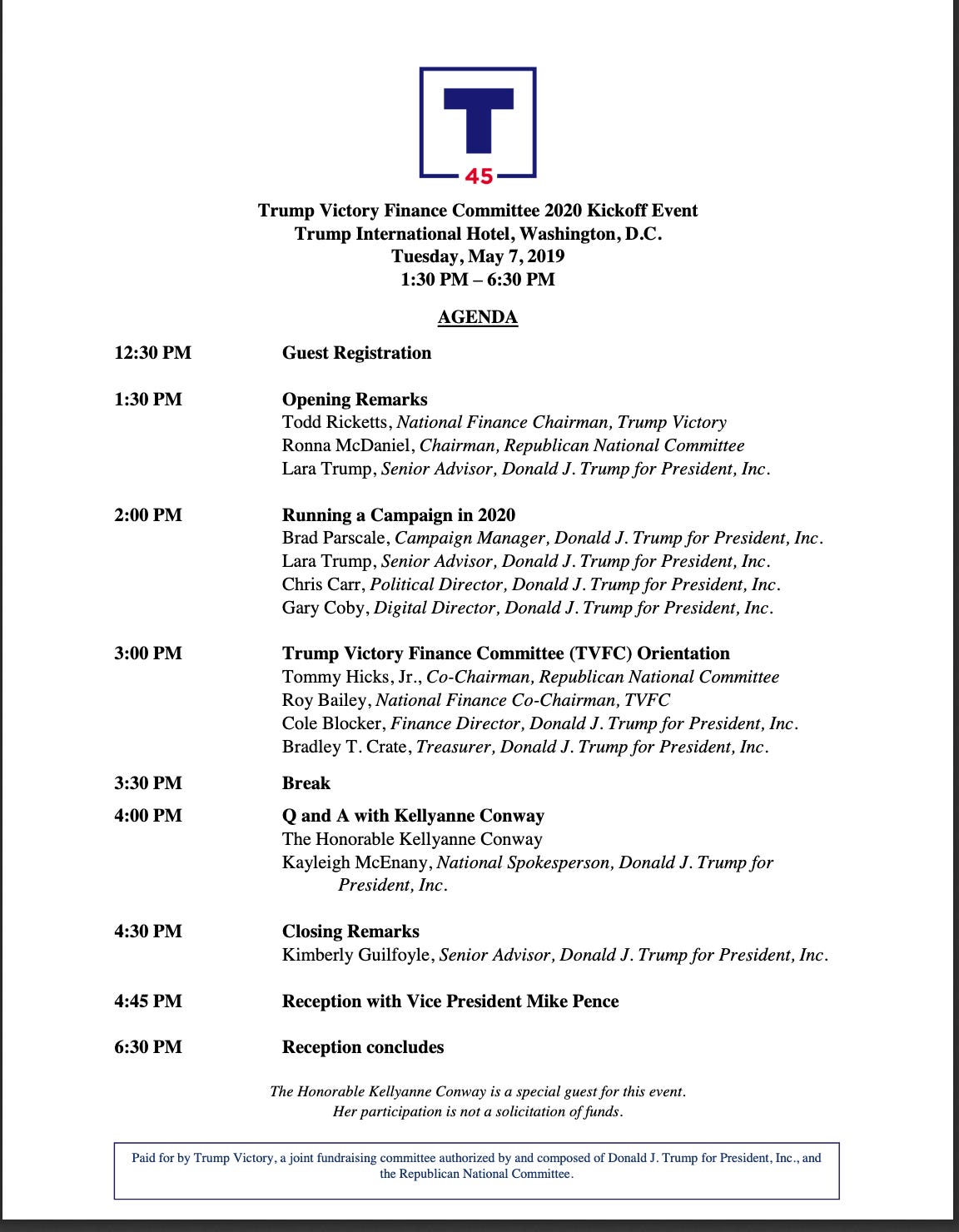 ---
Trump campaign's sole approved outside fundraising group has spent $448,000 at Trump's D.C. hotel
Yesterday, the Trump campaign released a statement identifying "four official fundraising organizations authorized by President Trump or the RNC" and "one approved outside non-campaign group, America First Action, which is run by allies of the President and is a trusted supporter of President Trump's policies and agendas."
The sole outside group that earned the president's endorsement has spent $448,783.80 at the Trump Hotel D.C.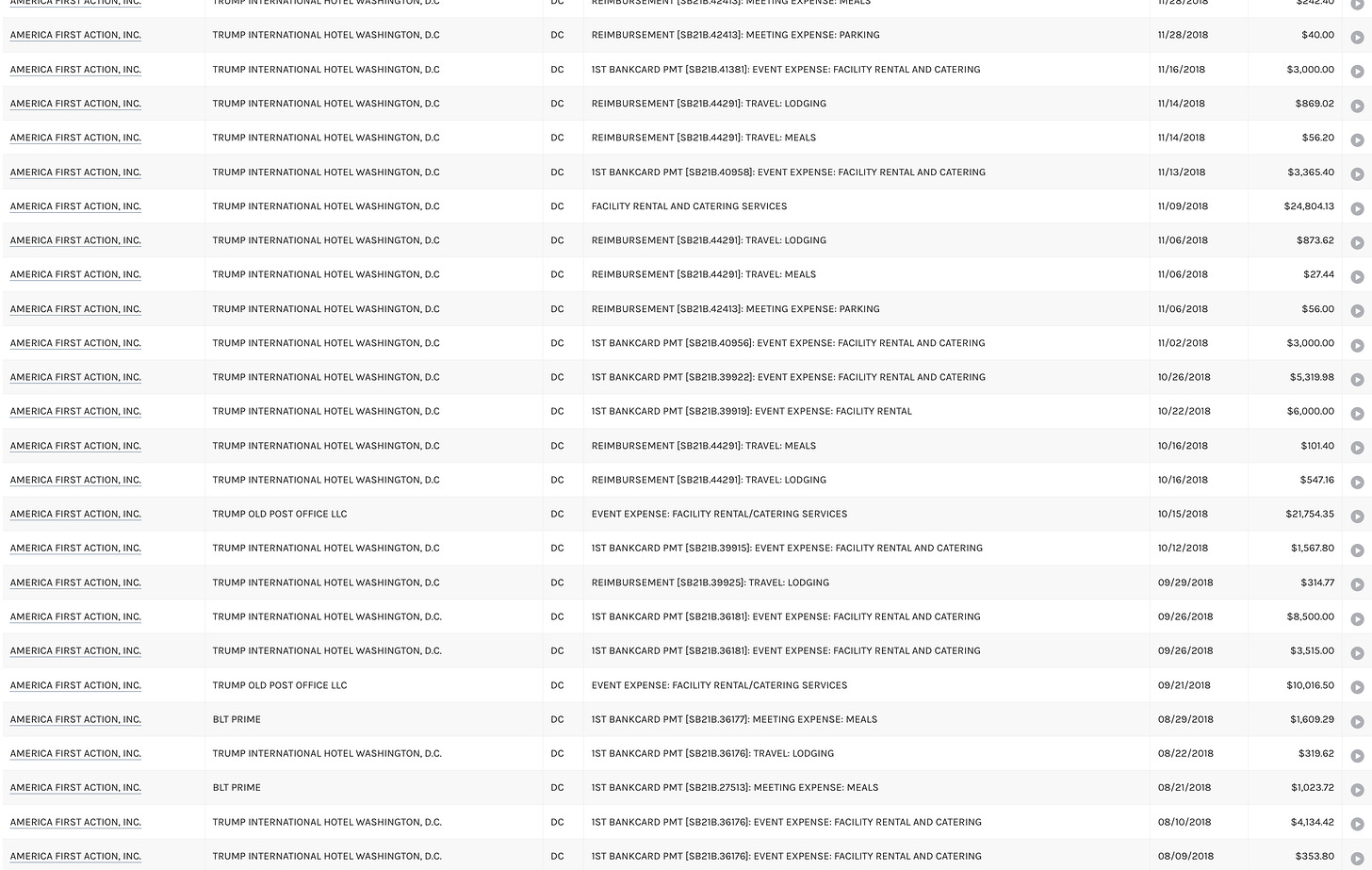 ---
Support 1100 Pennsylvania: never-redacted reporting on President Trump's D.C. hotel
We now know most of what's in the Mueller report. It's time to focus on what happens inside the Trump Hotel D.C. and the president's other businesses. Original, in-depth reporting, of course, takes time. But it's making an impact—and you can help. If you're not an 1100 Pennsylvania member, please become one. Memberships are this newsletter's sole source of revenue. Select the red "Subscribe now" button and become a member by paying just $5 a month or $50 a year. Thank you.
---
Trump's tax data show massive losses in 1984–1995
From "Decade in the red: Trump tax figures show over $1 billion in business losses" by Russ Buettner and Susanne Craig for The New York Times:
The data—printouts from Mr. Trump's official Internal Revenue Service tax transcripts, with the figures from his federal tax form, the 1040, for the years 1985 to 1994—represents the fullest and most detailed look to date at the president's taxes, information he has kept from public view. Though the information does not cover the tax years at the center of an escalating battle between the Trump administration and Congress, it traces the most tumultuous chapter in a long business career—an era of fevered acquisition and spectacular collapse.

The numbers show that in 1985, Mr. Trump reported losses of $46.1 million from his core businesses—largely casinos, hotels and retail space in apartment buildings. They continued to lose money every year, totaling $1.17 billion in losses for the decade.
In hindsight, it's not clear if this 2012 tweet from Trump was a complaint or a confession. [H/T Astead Herndon of The New York Times]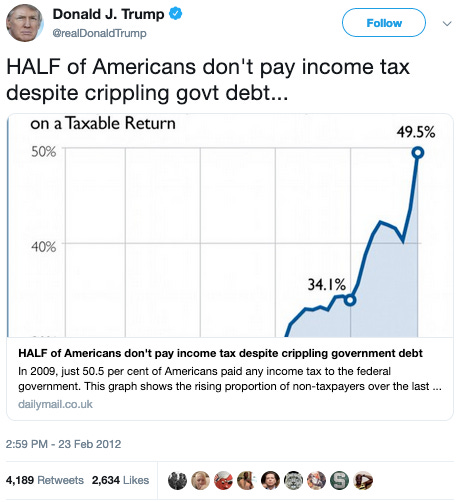 ---
Other notable sightings
A guest at Trump Palm Beach just shared a closeup video of President Trump and Jack Nicklaus. (Because of a formatting limitation, please select the link to watch the video.)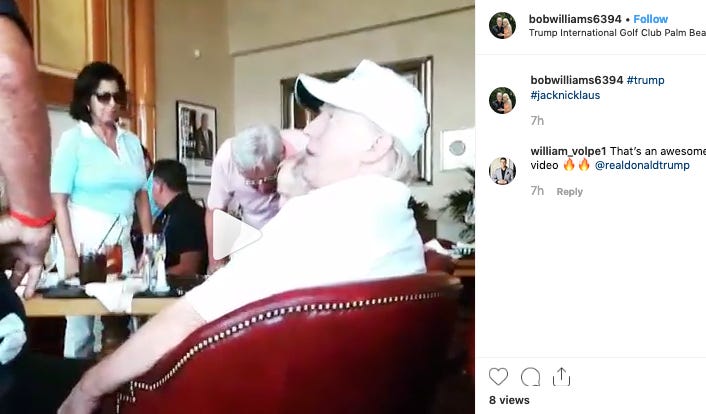 "At a beautiful Trump International Hotel's restaurant in Washington DC, a significant discussion with the U.S. nuclear expert partners on challenges and problems of ROK-US nuclear cooperation." – Professor at Korea National Defense University; International Senior Fellow, the U.S. Army Foreign Military Studies Office, Youngjun Kim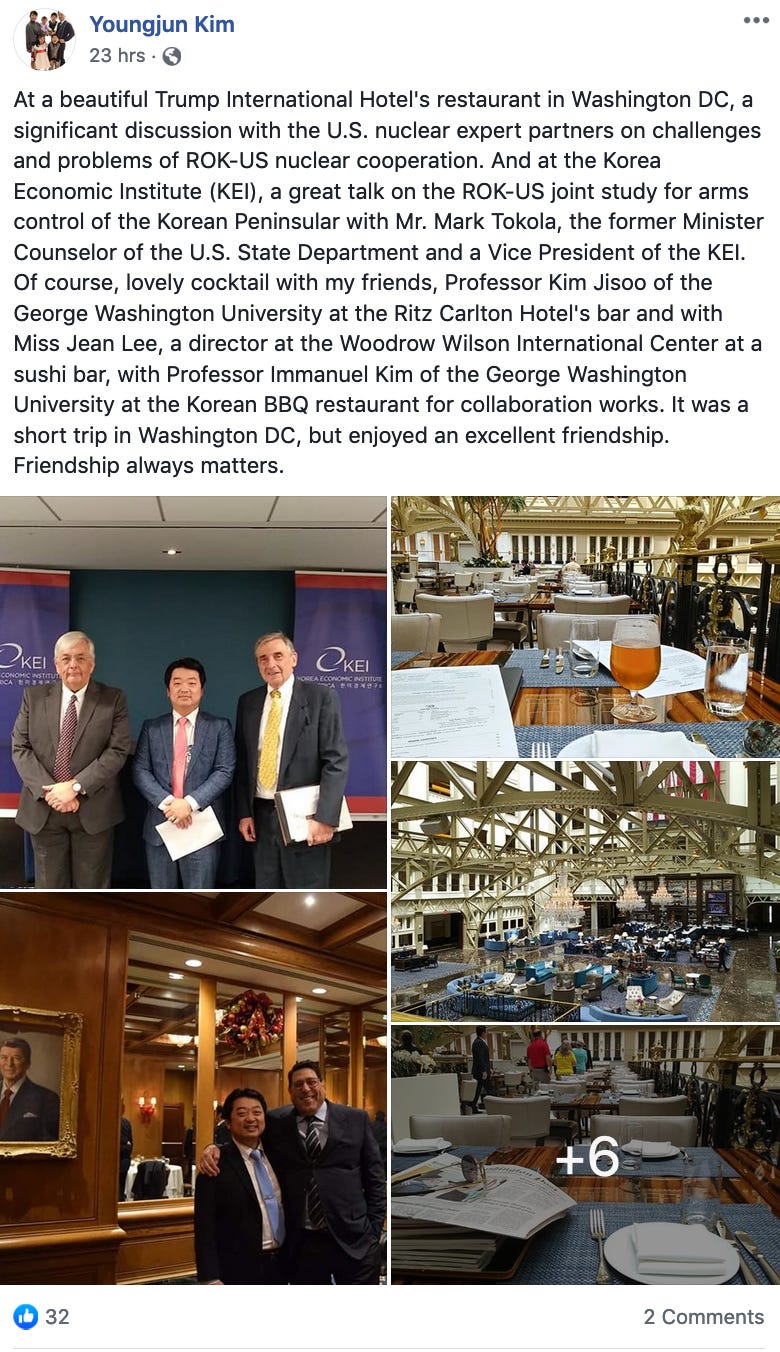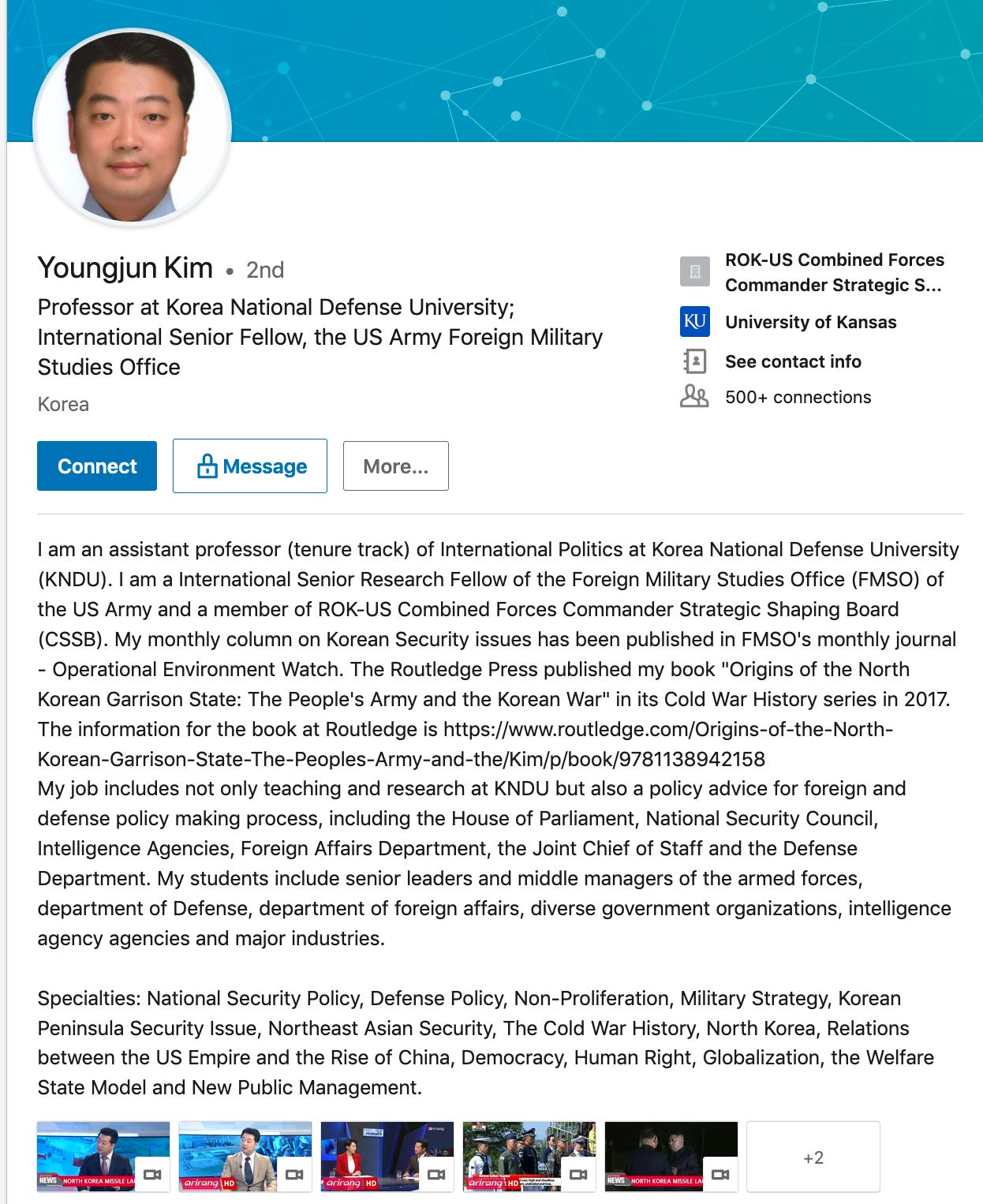 Former national deputy director of the Department of Commerce's Minority Business Development Agency (a Trump political appointee) who's currently the CEO of Vicar Financial, Chris Garcia, made connections.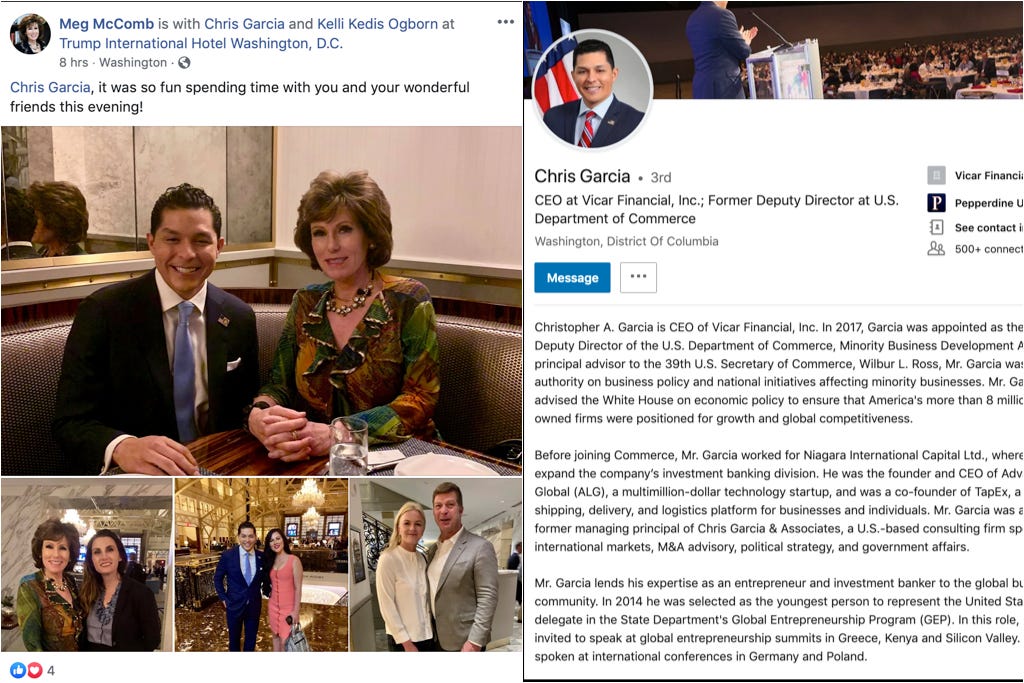 Hours after Twitter banned his Alexandria Ocasio-Cortez (D–N.Y) parody account and his real one, Mike Morrison (aka @officeofmike) was at the Trump Hotel D.C. with former advisor to Nigel Farage and Steve Bannon, Raheem Kassam.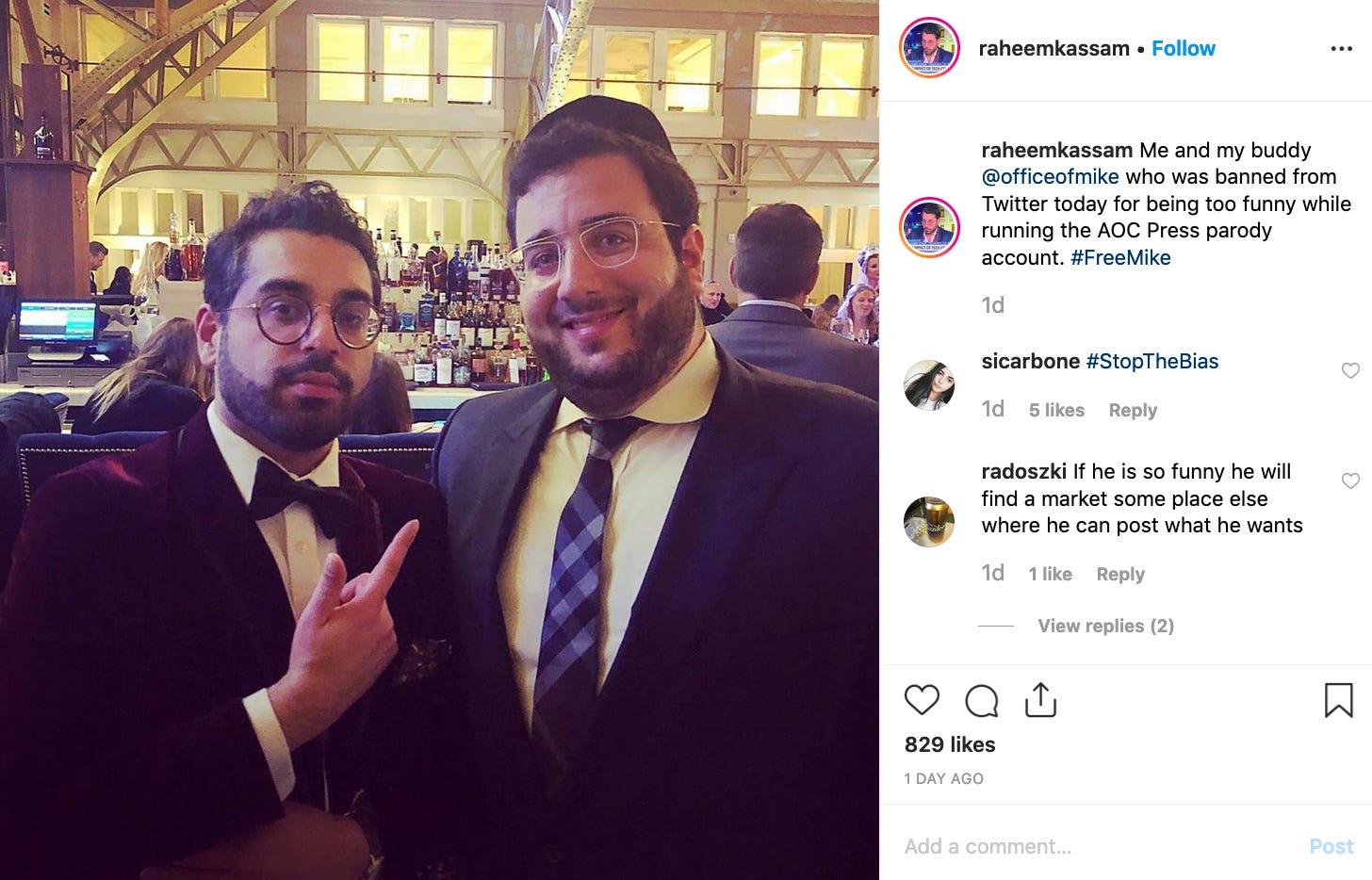 Conservative columnist Julio Rivera declared "Obstruction of Nothing 😂😂🤣😏🐒."
---
Other Trump Organization news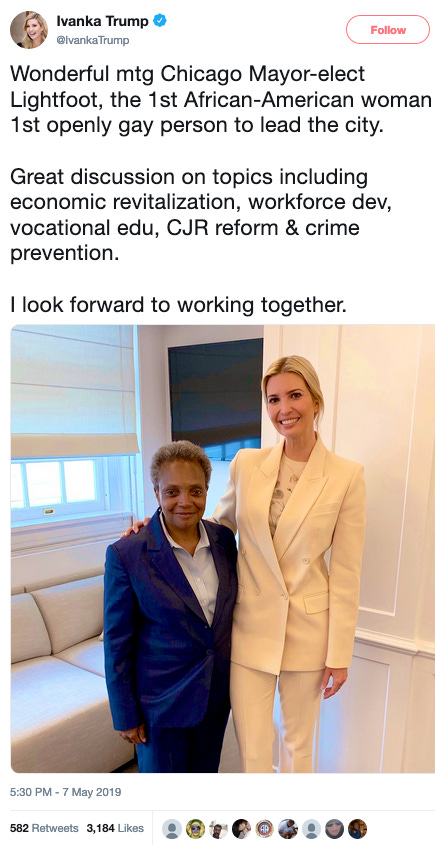 ---
House investigations, current status (latest change, May 8, 2019)
---
President Trump chose not to divest; Americans need to know who's paying him
Unlike his predecessors, Donald Trump did not divest his businesses upon becoming U.S. president. Think that may be a problem? Become an 1100 Pennsylvania member, and support reporting on who's spending money at the president's businesses—and what they may be getting in return. Memberships are this newsletter's sole source of revenue. Select the red "Subscribe now" button and become a member by paying just $5 a month or $50 a year. Thank you.
---
Legal cases, current status (latest change, May 8, 2019)
D.C. and MD attorneys general's emoluments lawsuit (district court docket, appellate court docket)—

Official capacity—On Dec. 20, 2018, the 4th U.S. Circuit Court of Appeals ruled it would hear the president's appeal of district court rulings that allowed the case to proceed to discovery, and the appellate court halted discovery in the case. Discovery had started Dec. 3 and was scheduled to run through Aug. 2, 2019, with the AGs having subpoenaed the Trump Organization, including its Scottish golf courses; the U.S. Departments of Agriculture, Commerce, Defense, and Treasury and the GSA; and the state of Maine. Oral arguments on the appeal occurred on March 19; by all accounts the three-judge panel (all Republican appointees, including one who was a selection of President Trump's) were skeptical of the AGs' case. D.C. AG Karl Racine pledged to take the case to the U.S. Supreme Court if necessary.

Individual capacity—On Dec. 14, Trump's personal attorneys appealed the denial of their motion to dismiss the case, also to the 4th U.S. Circuit Court of Appeals. On Dec. 19, the AGs replied to Trump's motion for a stay pending that appeal by voluntarily dismissing the claims against Trump in his "individual capacity to allow the claims against President Trump in his official capacity to move forward expeditiously." (The AGs only brought suit against Trump in his individual capacity after the judge suggested they do so.) Trump's personal attorneys, on Dec. 21, opposed the motion to dismiss at the district level, saying the appeals court now has jurisdiction and accusing the AGs of "gamesmanship."

UPDATED Democratic senators and representatives' emoluments lawsuit—On Sept. 28, Judge Emmet G. Sullivan ruled that the legislators have standing to sue. Trump's Justice Department attorneys filed an interlocutory appeal on Oct. 22. On Jan. 30, 2019, the plaintiffs' filed a notice of supplemental authority, notifying the court of the GSA inspector general's report that criticized GSA for failing to consider if the Trump Hotel D.C.'s lease was in compliance with the Constitution after Trump became president. Two days later, the president's attorneys argued that the IG's conclusion was not inconsistent with Trump's argument, but that the judge should ignore that report anyway because the IG has no expertise in interpreting or applying the foreign emoluments clause. On April 30, Sullivan denied Trump's motion to dismiss the suit. The president's attorneys have a supplemental brief due on May 28.

CREW et. al's emoluments lawsuit—In February 2018, CREW appealed its suit being dismissed for lack of standing to the 2nd U.S. Circuit Court of Appeals. Oral arguments on that motion were held on Oct. 30.

Cork's unfair competition lawsuit—Judge Richard J. Leon dismissed the case on Nov. 26, 2018, writing "Cork has failed to state a claim for unfair competition under D.C. law." On Dec. 10, Cork's attorneys filed a notice of appeal and on Jan. 10, 2019 they submitted a statement of issues to be raised. A briefing schedule was set on March 5 with Cork's brief due on April 15, the president's brief due on May 15, and Cork's reply to the president's brief due on June 5. On April 11, however, Cork's attorneys requested a 30-day extension, to which Trump's attorneys consented—as did the court the following day.

Employees' class-action suit alleging racial discrimination—Two of the three plaintiffs did not appear at a status hearing on Jan. 25, 2019; their cases were moved to arbitration. Via email, their attorney, A.J. Dhali, said his clients did not appear at the hearing because their case already had been moved to arbitration last year. The next status hearing is scheduled for Oct. 4.
---
Health inspections, current status (latest change, Aug. 10, 2018)
❌Hotel: five violations on May 7, 2018; two were corrected on site

❌BLT Prime and Benjamin Bar: nine violations on Aug. 10, 2018

❌Sushi Nakazawa: two violations on Aug. 10, 2018

✔️Banquet kitchen: no violations on Aug. 10, 2018

❌Pastry kitchen: two violations on Aug. 10, 2018

✔️Gift shop: no violations on May 7, 2018

❌Employee kitchen and in-room dining: five violations on Aug. 10, 2018; two were corrected on site
---
Is the Trump Organization selling merchandise that depicts the White House? (latest change, March 21, 2019)
Yes.
---
One thing that (probably) has nothing to do with Trump's businesses

"Obituary: Lyra McKee died on April 18th" by The Economist
---
Thanks for reading. If you like what you saw, tell someone—and support this work by becoming a member. If you've been forwarded this newsletter, subscribe for yourself at zacheverson.substack.com. Questions? Read our FAQ/manifesto. Tips or feedback? Contact me, Zach Everson, securely via email at 1100Pennsylvania@protonmail.com or on Signal at 202.804.2744.