Discover more from 1100 Pennsylvania
"The undisputed expert on the D.C. Trump Hotel" – David Fahrenthold of the Washington Post
Over 3,000 subscribers
Georgia's governor took a bite out of Trump's burger (and maybe the Constitution)
If taxpayer funds were used, Brian Kemp's spending at the Trump Hotel D.C. could violate the Constitution's domestic emoluments clause
Brian Kemp became the fourth incumbent governor spotted at the Trump Hotel D.C. since its owner's inauguration, after the Georgia Republican took to Instagram and Twitter recently to plug the president's cheeseburgers. If Georgia taxpayers covered the governor's bill, this burger could end up working its way through the courts (in addition to Kemp's innards).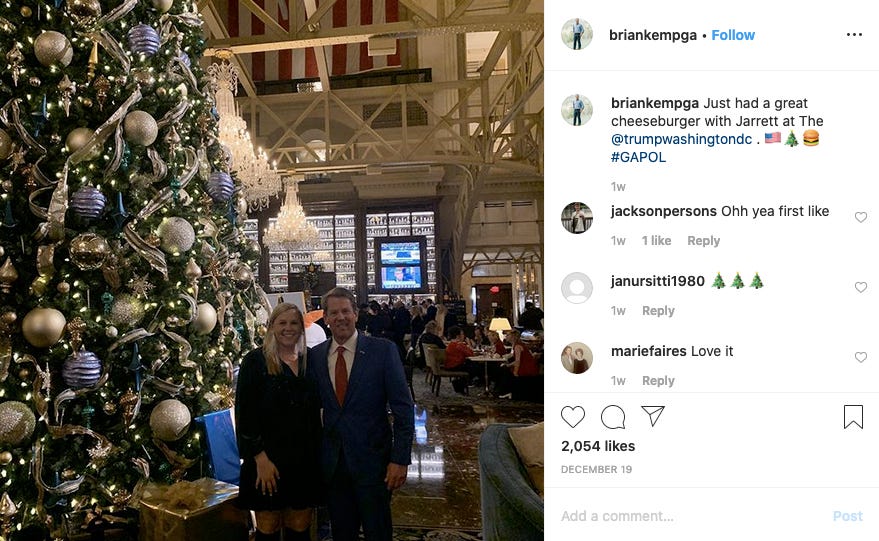 UPDATE: Dec. 31, 2019, 12:20 p.m.: According to a spokesperson for Kemp, the governor did not spend any state funds at the hotel. Per standard protocol, however, a security officer accompanied Gov. Kemp. While that officer was on a taxpayer-funded per diem, it's not clear if he or she spent any money at the president's hotel. 1100 Pennsylvania has filed a request for additional information via Georgia's open records act.
[WHAT THE PREVIOUS PARAGRAPH ORIGINALLY SAID: Kemp's office has not replied to an inquiry asking who picked up the governor's check; if any state employees accompanied him; and if his spending there transcended the $26 dry-aged burger with aged cheddar, steakhouse mayo, and fries.]
In March 2018, a district court judge cited repeated stays at the hotel by then-Maine Gov. Paul LePage (R) when ruling that the Maryland and D.C. attorneys general had standing to sue the president for allegedly violating the Constitution by receiving "emoluments" from a state. And although Kentucky's Republican Party later picked up the tab for then-Kentucky Gov. Matt Bevin's (R) two-night stay at the hotel this January, that "Kentucky taxpayers initially footed the $686 bill," means that stay is likely to appear in a court filing as well, Jonathan O'Connell and David A. Fahrenthold reported for The Washington Post.
On the same day Kemp shared his photo from the Trump Hotel D.C., he also posted a picture from the White House.
Incoming Senator Kelly Loeffler (R–GA), whom Kemp appointed to assume Johnny Isakson's seat when he retires at the end of 2019, was spotted with the governor at the Trump Hotel D.C. Isakson was among the minority of GOP senators not to have been spotted at the president's D.C. hotel or spent campaign funds there. So as soon as Loeffler is sworn in, it will be 30 of 53 current Republican senators who have helped Trump profit from his D.C. hotel since his election. (Also pictured with Kemp and Loeffler: former chief of staff to Vice President Mike Pence, Nick Ayers, and the CEO of Constellations Group, a strategic consultancy, Bill White.)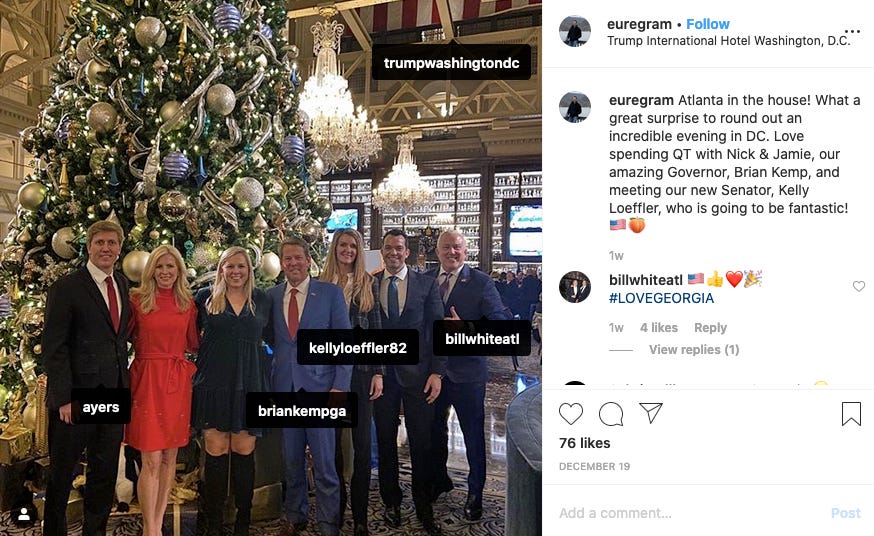 In addition to Kemp, LePage, and Bevin, Terry McAuliffe is the only other governor spotted at the Trump Hotel D.C. while in office. While serving as Virginia's chief executive, McAuliffe appeared at the hotel at a benefit for veterans with disabilities, making him one of the rare Democratic elected officials seen at the president's business.
This October at Trump Doral, Florida Gov. Ron DeSantis (R) co-headlined a conference for conservative activists.
---
Hotel director boasts of attending to 'world leaders, ambassadors, royal families' and working with Trump campaign and inaugural committee
While Trump Org EVP Eric Trump has insisted his family "go[es] to great lengths to discourage foreign government patronage at our properties," a top executive at their D.C. hotel's LinkedIn profile trumpets that he's served top foreign government officials.
On LinkedIn, the hotel's food and beverage director, Daniel Mahdavian, describes his job as "catering to individual needs of world leaders, ambassadors, royal families, and global movers & shakers." President Trump still owns his businesses and can profit from them. Article I, Section 9 of the Constitution, known as the foreign emoluments clause, reads "no Person holding any Office of Profit or Trust under them, shall, without the Consent of the Congress, accept of any present, Emolument, Office, or Title, of any kind whatever, from any King, Prince, or foreign State." Three major lawsuits alleging the president is violating the foreign emoluments clause are at various stages in the courts.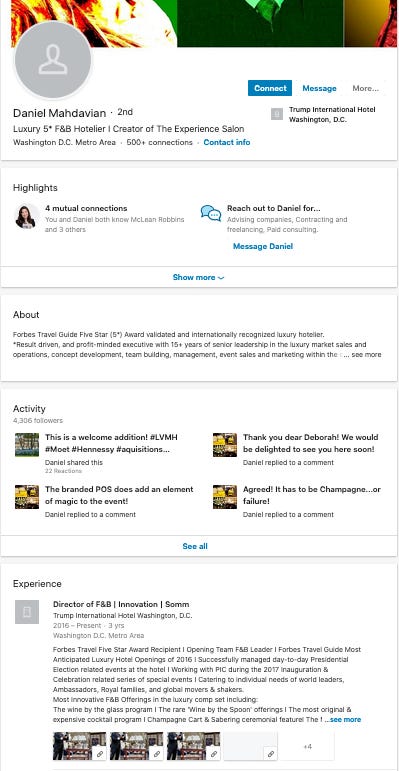 In 2018 and 2019, the Trump Organization donated more than $343,000 to the U.S. Treasury, which the company claims represents its profits over that span from foreign governments. But the president's business relies on foreign officials to self-report to hotel staff, acknowledges that its calculation is flawed, and has not replied to repeated inquiries asking if its figures were independently audited.
Mahdavian also mentions that his work at the Trump Hotel D.C. has supported both the Trump campaign and inaugural committee: "Successfully managed day-to-day Presidential Election related events at the hotel I Working with PIC during the 2017 Inauguration & Celebration related series of special events." While it's already been reported that both entities patronized the Trump Hotel D.C., Mahdavian's job description further reinforces that the Trump Organization contimues to violate its attorney Sheri Dillon's pre-inauguration pledge that there'd be a wall between the president and the Trump Organization:
In sum, all of these actions—complete relinquishment of management, no foreign deals, ethics adviser approval of deals, sharply limited information rights—will sever President-elect Trump's presidency from the Trump Organization.
Additionally, Mahdavian noted that he oversees "the most original & expensive cocktail program."
---
Seven weeks after GSA failed to comply with subpoena, Transportation chair threatens agency's boss with a hearing
On Dec. 20, House Transportation and Infrastructure Committee Chair Peter DeFazio (D–OR) continued his correspondence with the General Services Administration, seeking documents and financial statements regarding the Trump Hotel D.C.'s lease.
Writing that the agency "has engaged in a pattern of obstruction and obstiance that is unacceptable and damaging to GSA's ability to manage taxpayer funds in a transparent manner," DeFazio and the chair of a subcommittee with oversight of GSA, Rep. Dina Titus (D–NV), threatened to ask Administrator Emily Murphy why she's "chosen to abrogate [her] legal responmsbility" at a hearing in early 2020. (GSA supervises the Trump Organization's lease of the Old Post Office building from the U.S. government; Titus's subcommittee oversees GSA.)
In October, DeFazio subpoenaed GSA, after he and Titus already had requested information on the hotel's lease via three letters to the agency sent after Democrats took control of the House. But GSA missed the subpoena's deadline and a person with knowledge of the situation told 1100 Pennsylvania that the agency's late reply "unfortunately falls short."
GSA's noncompliance with the subpoena follows the trend of the Trump administration refusing to cooperate with House investigations involving the president's finances.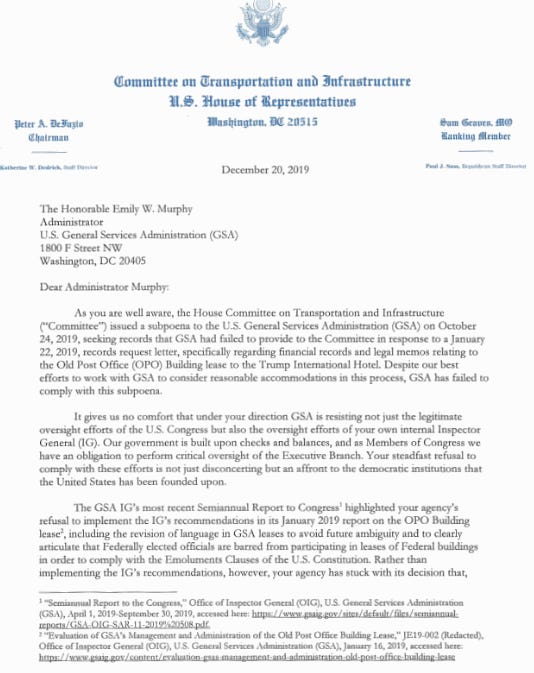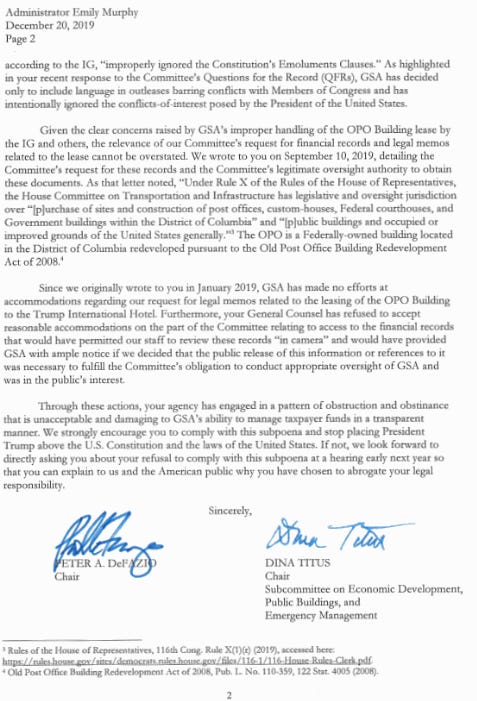 Separately, DeFazio recently told Rachel McDonald of KLCC that "his investigation into the Trump Hotel D.C. could lead to new articles of impeachment":
"We very well could find impeachable offences is any of our ongoing litigation or our ongoing investigations and nothing would restrain us or constrain us from passing additional articles of impeachment with that proof."
---
Turning Point USA threw a $2,500 per person black-tie gala at Mar-a-Lago. Again.
On Dec. 18, conservative nonprofit Turning Point USA returned to Mar-a-Lago for its second annual winter gala. As with 2018's event, tickets for the black-tie gala at the president's Palm Beach resort started at $2,500 per person.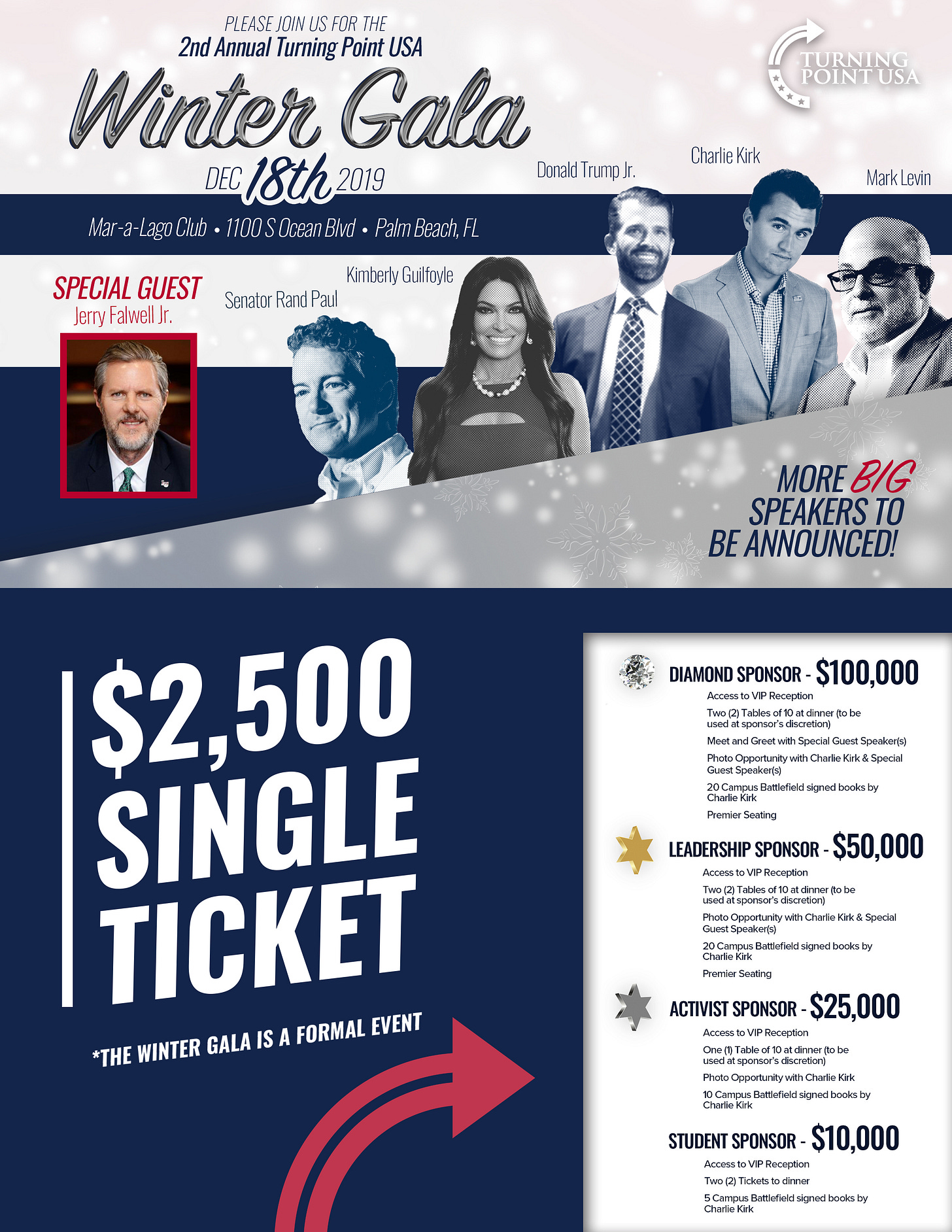 The 2019 honoree was Liberty University president Jerry Falwell Jr. Like Turning Point and Kirk, Falwell and his organization are both regular customers of the president's.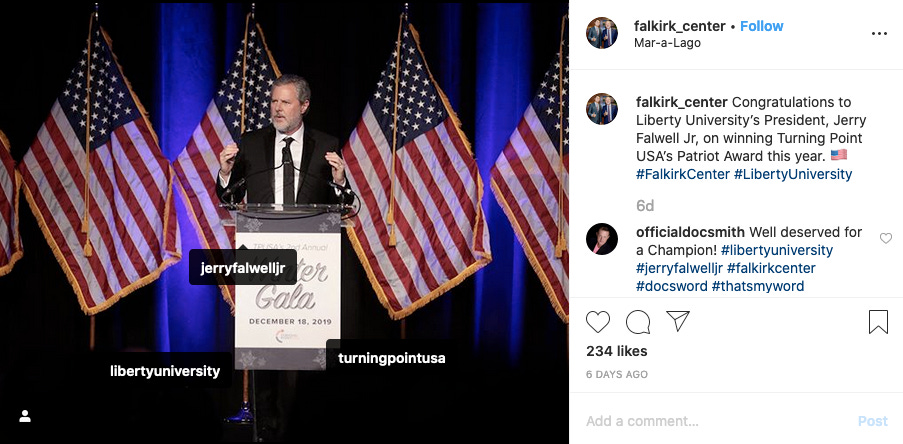 Notable attendees at the 2019 winter gala appeared to include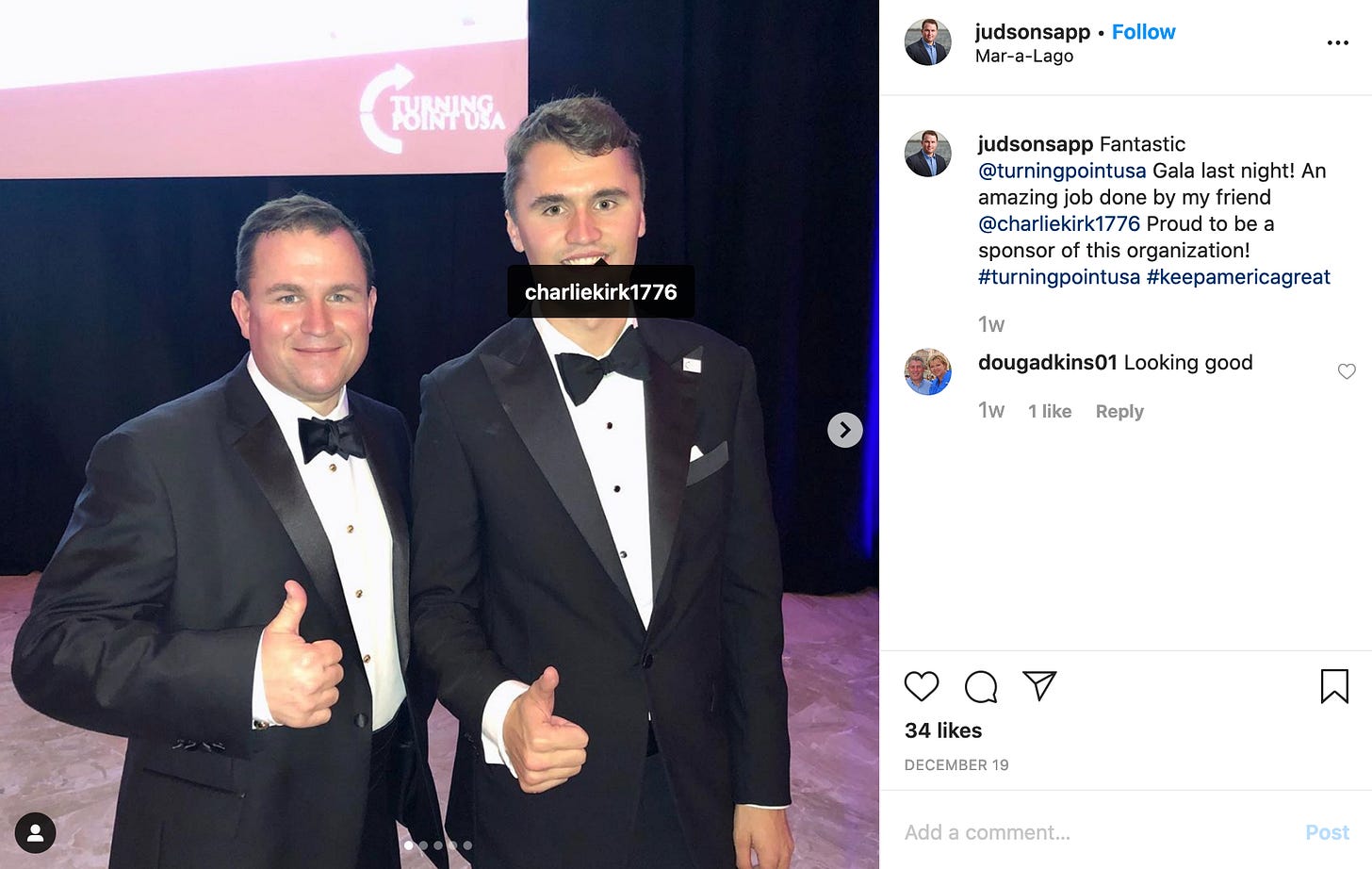 ---
Resolve to stay informed and support reporting on who's paying President Trump
For more than a year, 1100 Pennsylvania has provided in-depth reporting on who's paying Donald Trump and what they may want from the president in return. The facts published in this newsletter have reached a far greater audience than just its subscribers: The New York Times, The New Yorker, MSNBC, and The Washington Post are among the media outets to have cited 1100 Pennsylvania's reporting, as have government watchdogs like Citizens for Responsibility and Ethics in Washington and Public Citizen.
Paid subscriptions are this publication's sole source of income—no ads, no grants, no payments from George Soros (unless he's a subscriber). Support this reporting and help ensure it continues. Just $5 a month or $50 a year.
---
Hosting Trump Victory Committee's retreat was a windfall for the Trump Hotel D.C.
Room rates at the Trump Hotel D.C. spiked earlier this month when the president's hotel hosted a retreat for donors to the Trump campaign and Republican National Committee's joint fundraising committee, according to an analysis by a government watchdog.
From "Trump Hotel room prices spiked 13x last weekend. We finally know why." by Linnaea Honl-Stuenkel and Lauren White for Citizens for Responsibility and Ethics in Washington:
In November, we noticed a mysterious spike in the price of available rooms at Trump's DC hotel for a Saturday night in December. The minimum cost was 13 times the average, but we couldn't identify a reason for the spike, until photos surfaced of the Trump Victory Committee's winter retreat at Trump's Hotel on that exact night, which appears to have sold out much of the venue. While the least expensive room for a one-night stay at the hotel was around $500 on surrounding days, the cheapest room on December 14 was a whopping $6,719. With access to Trump, Pence, and other top officials, and a bonus invitation to the White House holiday party for donors, we no longer have to wonder why.
In addition to confirming information about the Trump Victory Committee's winter retreat that 1100 Pennsylvania first reported on Dec. 13 and Dec. 17, the Associated Press later tracked down a few more details about the event.
From Dec. 18's "Trump speaks at swank GOP fundraiser, his DC hotel profits" by Michael Biesecker, Brian Slodysko, and Ashraf Khalil:
"All 263 guest rooms and suites were booked," with more than 600 people attending the retreat.

One attendee said a block of rooms had been set aside for retreat attendees, with rates "as low as $375 a night."

"Those attending the Trump Victory retreat said they were discouraged from posting about it on social media and those at the Saturday night gala had their phones locked in individual bags by security personnel to prevent them from taking photos or making recordings."
Despite those precautions, at least one photo of lunchtime speaker Vice President Mike Pence made it to Instagram.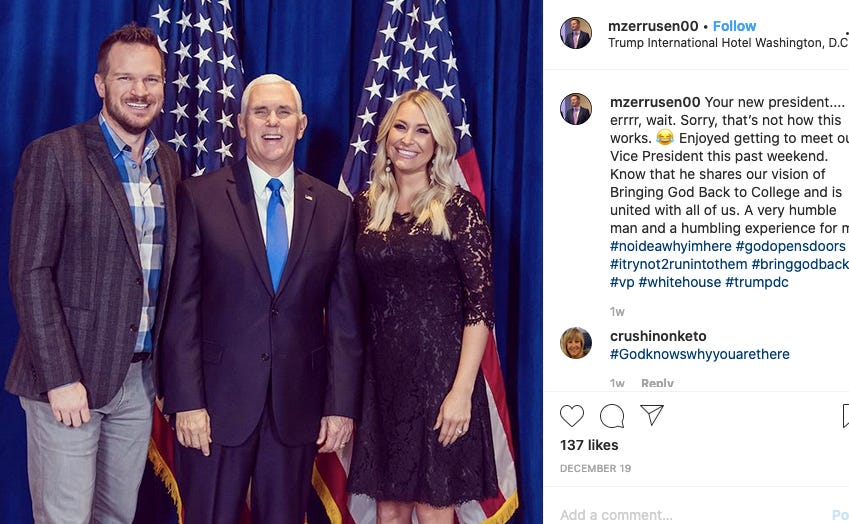 ---
Update: Almost 2 percent of Kentucky's incoming secretary of state's campaign spending was at the Trump Hotel D.C. (which is not in Kentucky)
The campaign for Kentucky's secretary of state-elect, Michael G. Adams (R), spent 1.9 percent of its total disbursements for the 10 month-long campaign at the president's D.C. hotel, according to the campaign's post-election filing with the Kentucky Registry of Election Finance.
In September, Vice President Mike Pence and Senate Majority Leader Mitch McConnell (R–KY) co-headlined a fundraiser at the Trump Hotel D.C. for Adams, as 1100 Pennsylvania reported. Over two installments, the candidate's campaign paid the president's hotel almost $5,000 to host the event (which was more than 10 percent of the campaign's total spending at that point). Transportation Secretary Elaine Chao and Sen. Rand Paul (R–KY) also attended the fundraiser.
The election is over, Adams won, and earlier this month his campaign filed its 30-day post-election report with the Kentucky Registry of Election Finance. The campaign reported almost $214,000 in additional disbursements, none of which were to a Trump property. So as of Dec. 5, Adams's $4,972.45 evening at the president's D.C. hotel comprised 1.9 percent of his campaign's total spending of $260,651.19.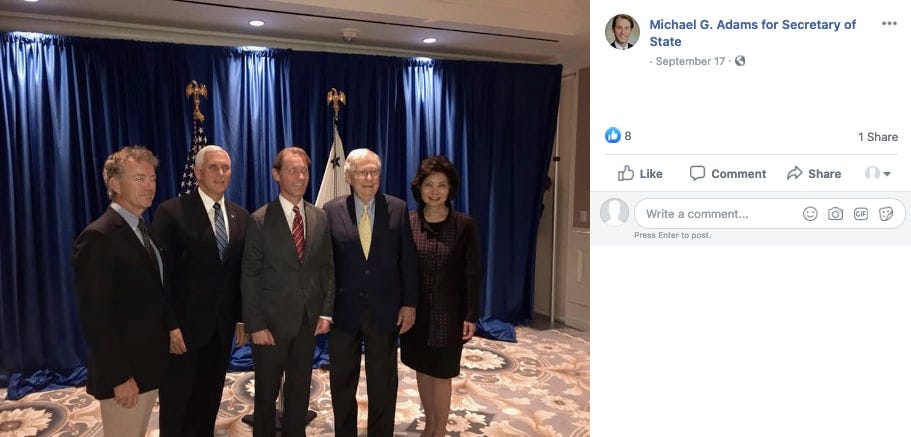 ---
Notable sightings
A glimpse of the foreign officials, government employees, politicians, lobbyists, and the like who patronize or appear at Trump businesses. Most people shown here have reasons to want to influence the Trump administration, rely on its good graces for their livelihoods, or should be providing oversight. Additionally, high-profile guests serve as draws for paying customers.
Yesterday at the president's Palm Beach, Florida resort, Secretary of State Mike Pompeo and Secretary of Defense Mark Esper briefed the media on U.S. military strikes in Iraq and Syria, reported freelance journalist Abraham Mahshie. (Because of a formatting constraint, please select the link to watch the video.)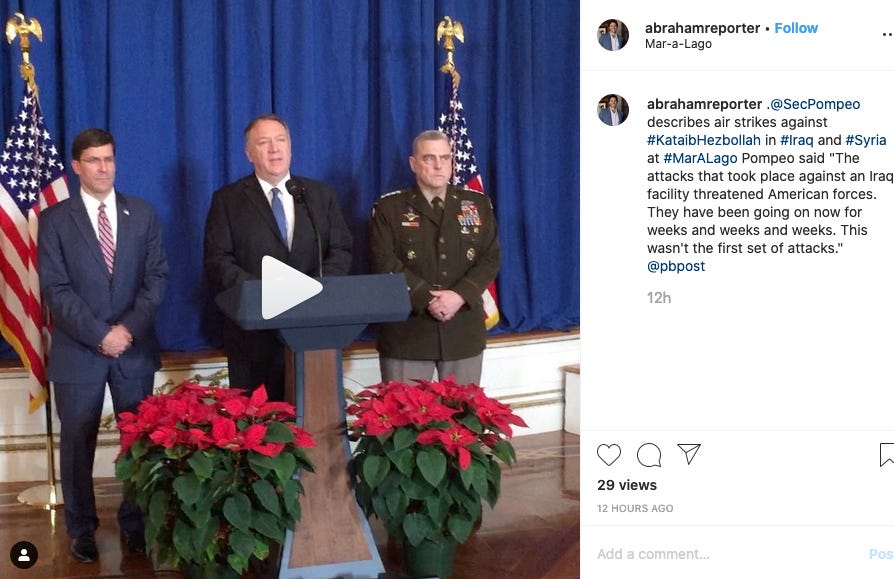 Navy Special Operations Chief Edward Gallagher, who was convicted in July of posing for photos with a teenage prisoner's corpse but President Trump ensured remained in the SEALs, visited Mar-a-Lago and gave the president a gift. Gallagher also appeared to dine with Eric Trump, Rudy Giuliani, Giuliani's spokesperson Christianné Allen, and Fox News's Gina Loudon. Fellow SEALs have called Gallagher "freaking evil" and "toxic" reported Dave Philipps for The New York Times.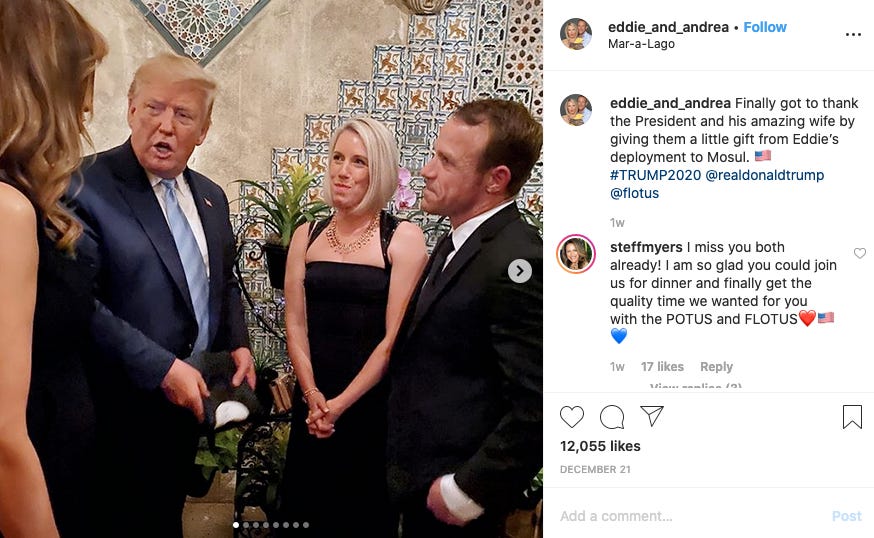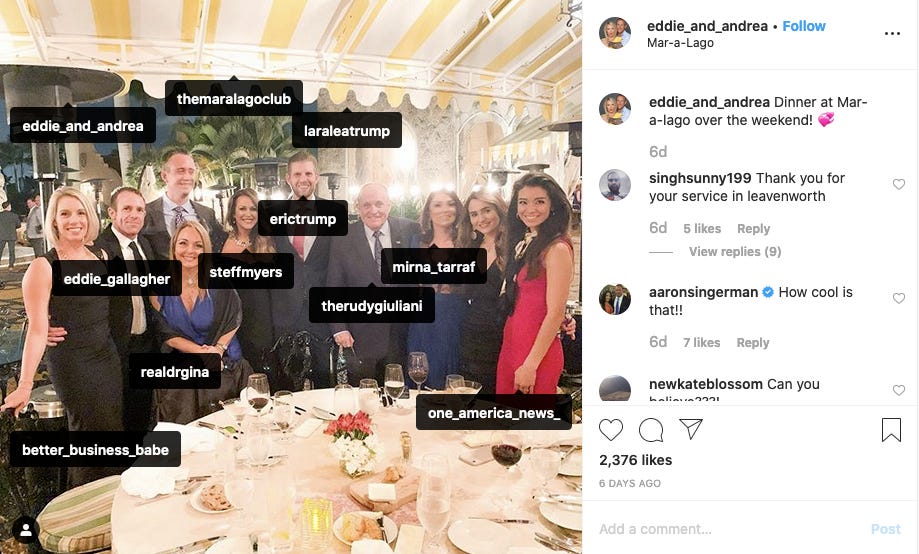 A spray-tan company promoted itself with this photo of its reported customer Becki Falwell, posing with her husband, Liberty University head honcho Jerry Falwell Jr.; President Trump; and Trump's campaign advisor/son's girlfriend Kimberly Guilfoyle at Mar-a-Lago.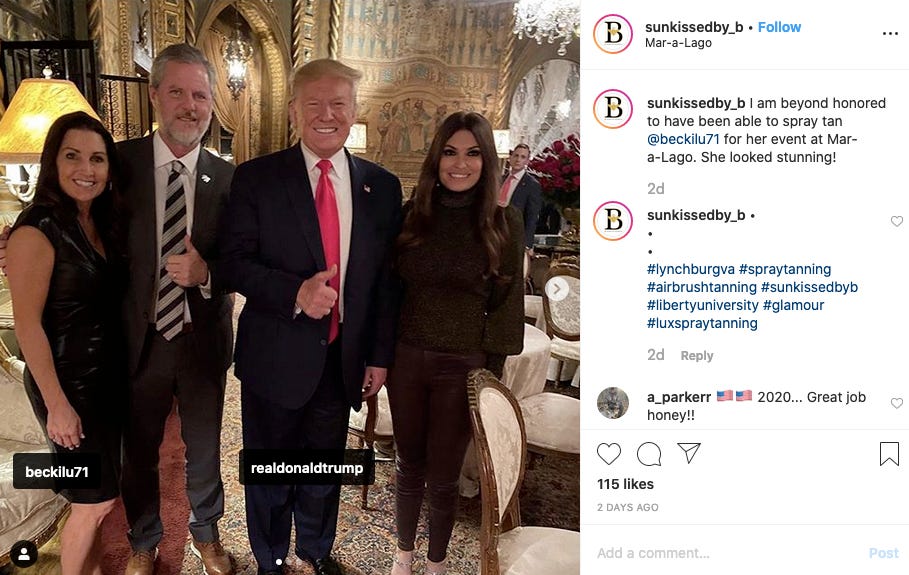 Trump Org EVP Donald Trump Jr., a businessman walled off from his father's administration, shared his Christmas greetings with a photo of himself and Kimberly Guilfoyle, taken at Mar-a-Lago by the White House photo office.
---
Other Trump Organization news
---
Reference section
Links to rundowns of developments in the House's investigations and lawsuits, reference sheets for some of 1100 Pennsylvania's previous reporting, and articles that provide the background on why all of this matters. The date published or last updated is in parentheses.
Trackers
Notable hotel customers
Summaries
25 unimpeachable examples of Trump profiting from his hotel: Foreign governments, Trump administration, GOP lawmakers, industry all have called on the Trump Hotel D.C. since its owner became president (Sept. 27, 2019)

"Power tripping in the swamp: How Trump's D.C. hotel swallowed Washington
The MAGA social scene is a movable feast, but its dark heart resides within the Old Post Office Building, where the Trump Org operates under a mercenary charter" by your correspondent for Vanity Fair (October 2019)

"Inside the world's most controversial hotel: The hotel that was expected to take its place among the crown jewels of D.C.'s travel scene has become a magnet for protestors, a West Wing Annex, and—possibly—the center of a constitutional crisis." by your correspondent for Condé Nast Traveler (May 2018)
Upcoming key dates
Sept. 23—House Judiciary Committee hearing "Presidential corruption: Emoluments and profiting off the presidency" (postponed, not yet rescheduled)

Nov. 4—House Transportation Committee chair's subpoena deadline seeking documents related to hotel's lease (response came a week late and was deemed insufficient)

Dec. 8—Attorney General William Barr's $30,000 private holiday party (rescheduled to unknown date)

Jan. 24, 2020—Status hearing with D.C. Superior Court in former hotel employees' lawsuit alleging racial discrimination

Jan. 25, 2020—Diamond and Silk's "Say yes to LIFE Pro-Life brunch" to benefit their nonprofit, S.I.S.T.A.S. (Stepping into Self Truth Awareness and Success)

March 2020—Supreme Court hears Trump's appeal of earlier rulings requiring his financial institutions to comply with subpoenas from House Financial Services, Intelligence, and Oversight Committees and the New York district attorney's office

June 2020—Supreme Court decision due on Trump's appeal of earlier rulings requiring his financial institutions to comply with subpoenas from House Financial Services, Intelligence, and Oversight
---
Thanks for reading! If you like what you've read, tell someone. If you've been forwarded this newsletter, subscribe at 1100pennsylvania.substack.com. Questions? Read our FAQ. Tips or feedback? Contact Zach Everson at 1100Pennsylvania@protonmail.com (it'll be encrypted if you also use a ProtonMail account, which is free) or via Signal (secure), SMS, or mobile at 202.804.2744.