Discover more from 1100 Pennsylvania
"The undisputed expert on the D.C. Trump Hotel" – David Fahrenthold of the Washington Post
Over 3,000 subscribers
Giuliani brushed up on Trump's interview with Lester Holt
Consensus: Photo shows president's attorney's notes about much-scrutinized interview
Yesterday 1100 Pennsylvania asked readers if they could make out what was on Rudy Giuliani's notepad in a recent picture of him at the Trump Hotel D.C.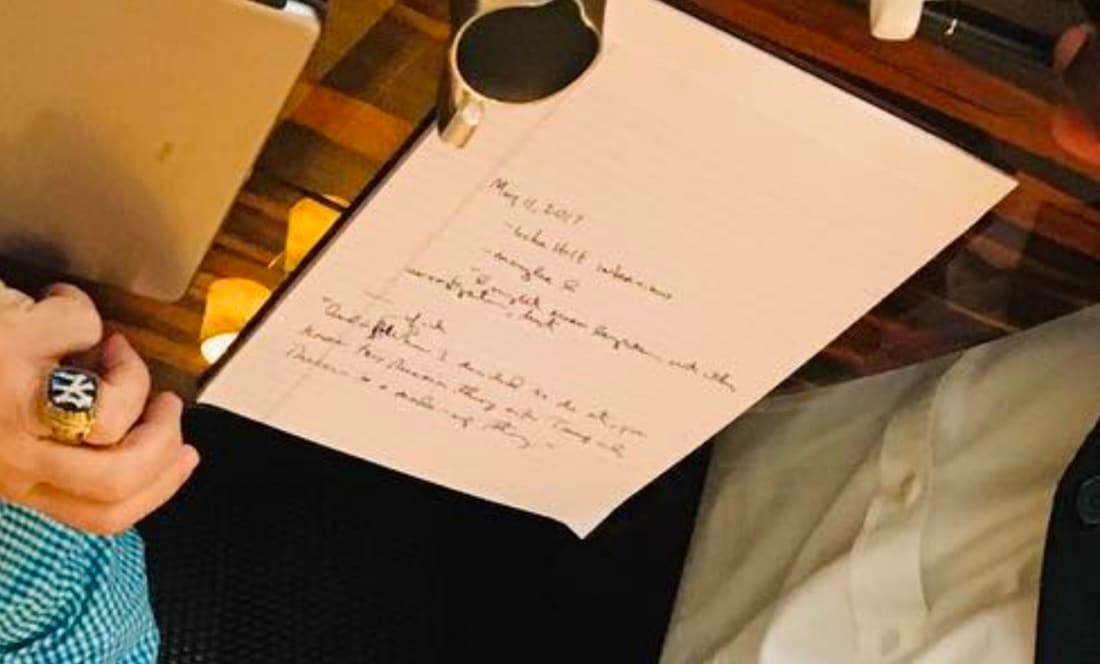 A few people with higher-resolution monitors and/or eyeballs than your correspondent replied that Giuliani seemed to be writing about President Trump's May 11, 2017 interview with Lester Holt on NBC News. (Thanks @Flemking, @katiebelle, and everyone else who replied.)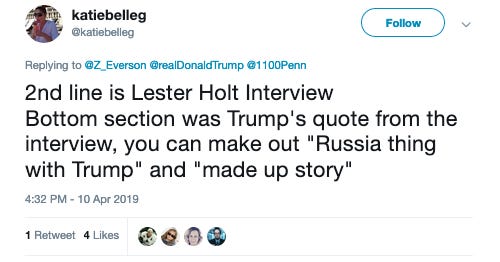 In that interview, Trump said he'd asked then FBI director James Comey if he was under investigation for his alleged ties to Russia. Trump, of course, later fired Comey. As Brian Stelter of CNN reported back in September 2018, "President Trump's legal team knows that his May 2017 interview with NBC's Lester Holt makes him more vulnerable to claims that he obstructed justice."
So even though President Trump declared Robert Mueller's report found "No Obstruction," it seems Giuliani thinks it's worth reviewing an interview that led some viewers to believe Trump admitted to obstructing justice.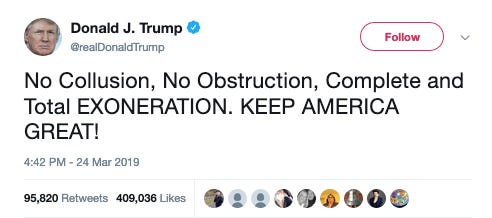 ---
DoD spent $300,000 at commander-in-chief's businesses
From "Defense Department charged $300,000 at Trump properties since 2017" by Curt Devine for CNN:
Defense Department personnel have charged more than $300,000 at Trump-branded properties since the start of Donald Trump's presidency through last November, according to internal agency documents obtained by CNN.

The transactions range from lodging expenses at the Trump National Golf Club in Bedminster, New Jersey, to restaurant tabs at the Trump International Hotel in Washington to parking fees at the Trump National Doral Golf Club in Miami.
That figure doesn't include what military members have spent in their personal capacities at Trump's businesses, either as individuals or at group events—like the Army's 3rd U.S. infantry regiment's fourth battalion's annual ball at the Trump Hotel D.C. this February.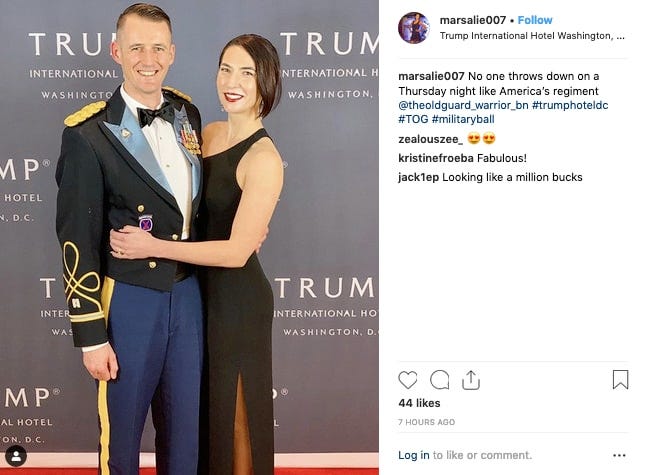 ---
Support this reporting, become a 1100 Pennsylvania member
Reporting on the Trump Hotel D.C. and the president's other businesses takes time. But it's making an impact—and you can help. If you're not an 1100 Pennsylvania member, please become one and help us continue to report on who's spending money at the president's hotel—and what they might be getting in return. Memberships are this newsletter's sole source of revenue. Select the red "Subscribe now" button and become a member by paying just $5 a month or $50 a year. Thank you.
---
Rundown: Other recent and upcoming events at Trump properties
A look at the Instagram location pages for Trump golf courses in Charlotte and Los Angeles shows they appeared to have hosted proms, allowing the U.S. president to profit from high school students.
The Far Hills–Bedminster N.J. fire department held its annual fire dinner at Trump Bedminister on April 6.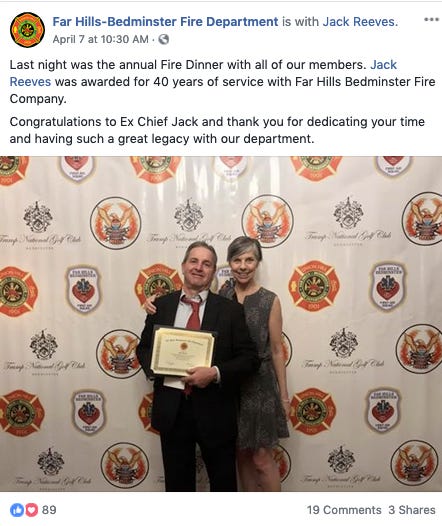 The BlueStar Latin America tech summit at Trump National Doral April 8–9 included an "interactive solutions experience" that taught attendees how to grow their business by focusing on the government (via Google Translate).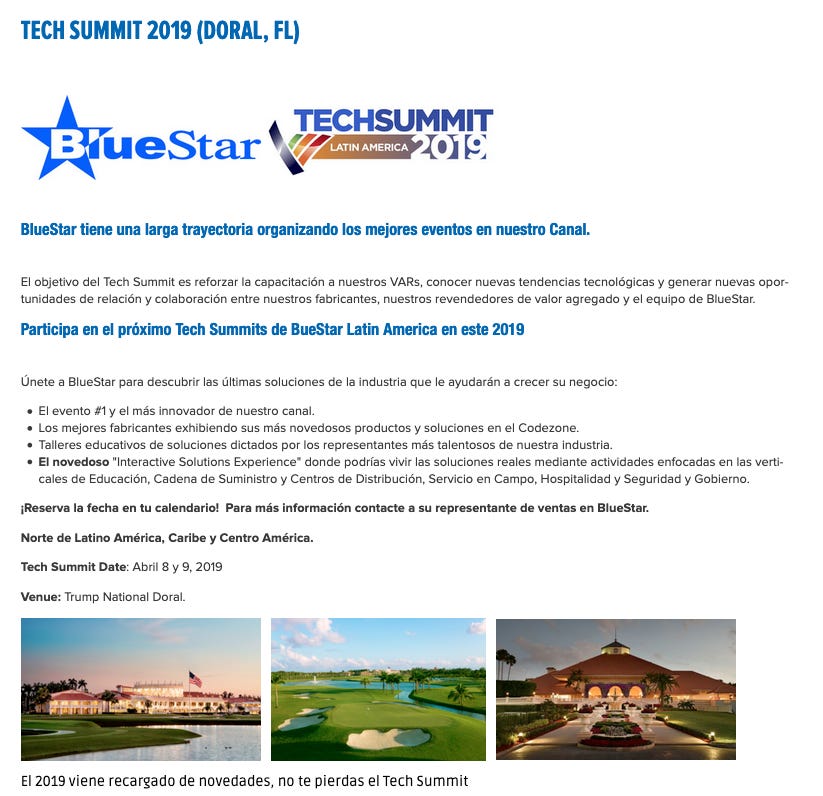 On April 9, DC MAGA reportedly held another meetup at the Trump Hotel D.C.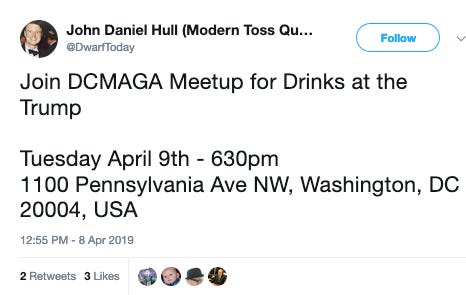 The Deplorables Tour with Alexander Davis is this Saturday at the Trump Hotel D.C. Tickets are $100. One of the speakers, Dylan Wheeler, is "a major QAnon follower," according to Alex Kaplan of Media Matters for America.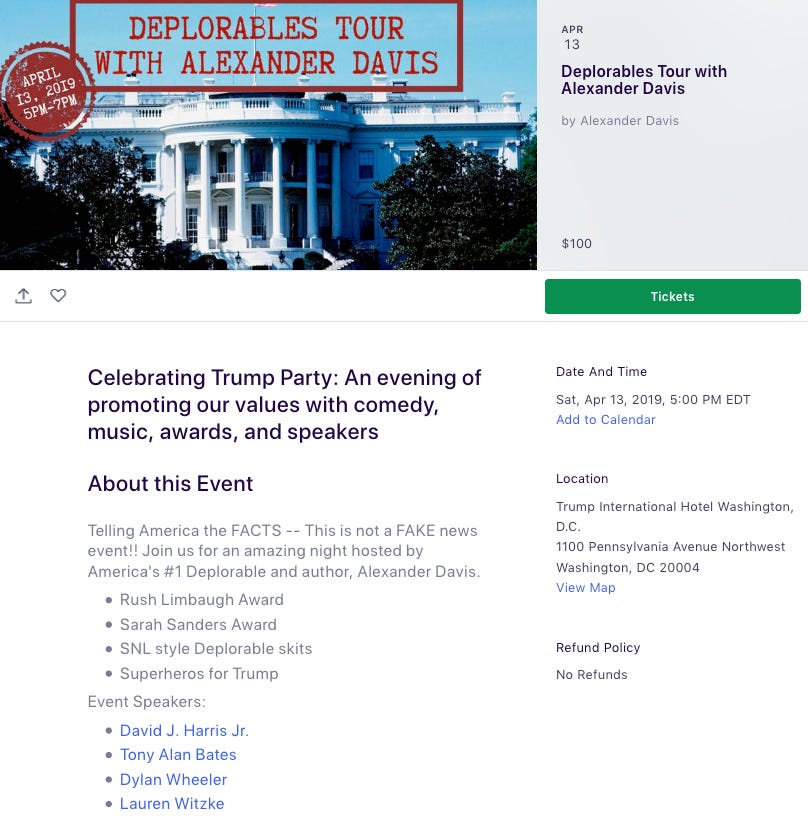 The #WalkAway movement, which encourages Democrats to leave their party, is holding a roaring-20s-themed anniversary celebration at the Trump Hotel D.C. on May 18. Tickets start at $250.
---
Notable sightings
Belinda Kenley, a vice president of business development at Energy Optimizers, USA (she has experience in government relations and specializes as a government liaison), dined at the president's hotel and raved about the experience.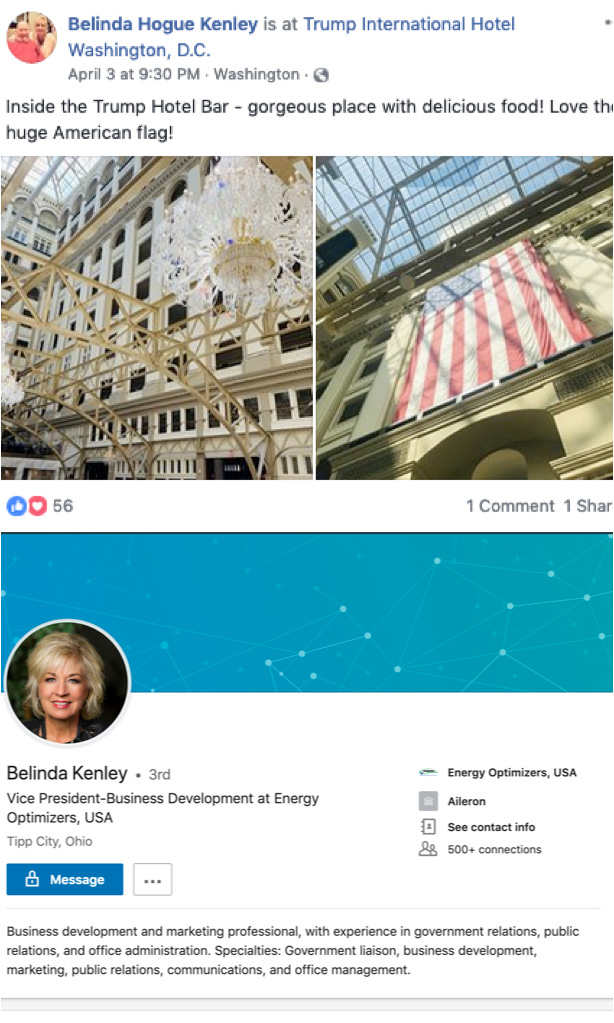 Trump Chicago resident R Kelly smoked a cigar with friends in front of the building.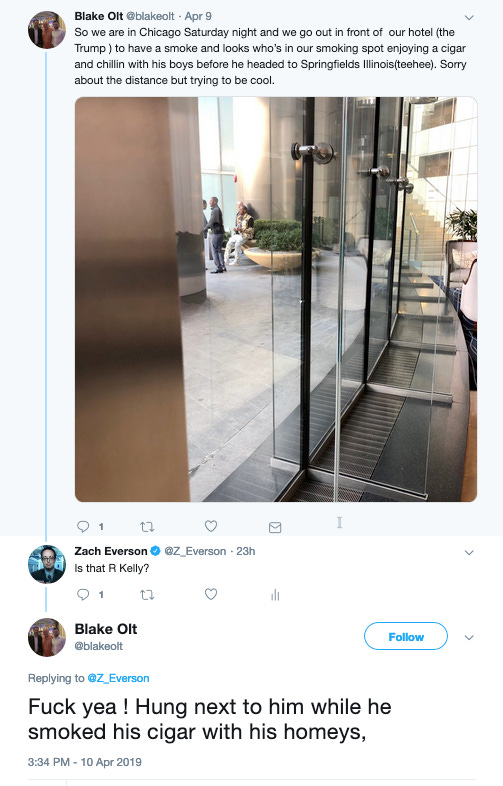 ---
Other Trump Organization news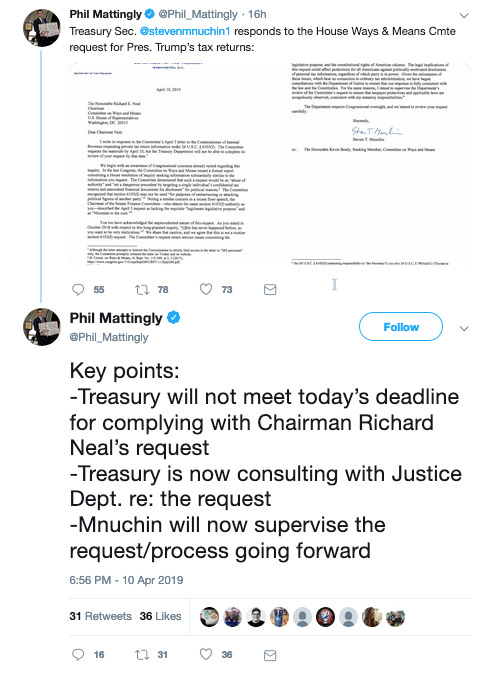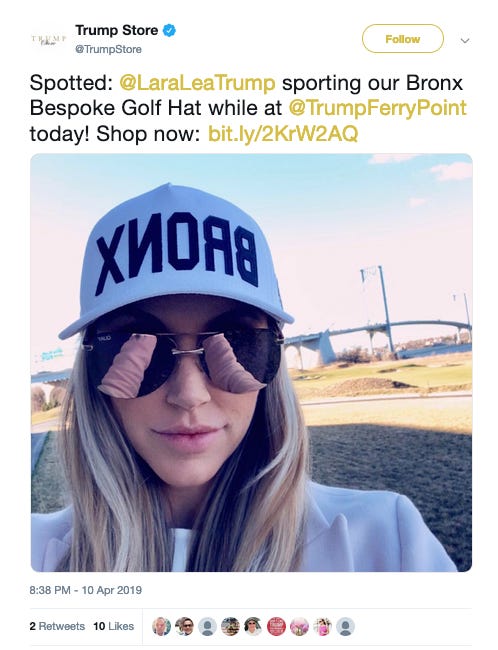 ---
House investigations, current status (latest changes, April 5, 2019)
---
Legal cases, current status (latest change, March 20, 2019)
D.C. and MD attorneys general's emoluments lawsuit (district court docket, appellate court docket)—

Official capacity—On Dec. 20, 2018, the 4th U.S. Circuit Court of Appeals ruled it would hear the president's appeal of district court rulings that allowed the case to proceed to discovery, and the appellate court halted discovery in the case. Discovery had started Dec. 3 and was scheduled to run through Aug. 2, 2019, with the AGs having subpoenaed the Trump Organization, including its Scottish golf courses; the U.S. Departments of Agriculture, Commerce, Defense, and Treasury and the GSA; and the state of Maine. Oral arguments on the appeal occurred on March 19; by all accounts the three-judge panel (all Republican appointees, including one who was a selection of President Trump's) were skeptical of the AGs' case. D.C. AG Karl Racine pledged to take the case to the U.S. Supreme Court if necessary.

Individual capacity—On Dec. 14, Trump's personal attorneys appealed the denial of their motion to dismiss the case, also to the 4th U.S. Circuit Court of Appeals. On Dec. 19, the AGs replied to Trump's motion for a stay pending that appeal by voluntarily dismissing the claims against Trump in his "individual capacity to allow the claims against President Trump in his official capacity to move forward expeditiously." (The AGs only brought suit against Trump in his individual capacity after the judge suggested they do so.) Trump's personal attorneys, on Dec. 21, opposed the motion to dismiss at the district level, saying the appeals court now has jurisdiction and accusing the AGs of "gamesmanship."

Democratic senators and representatives' emoluments lawsuit—On Sept. 28, Judge Emmet G. Sullivan ruled that the legislators have standing to sue. Trump's Justice Department attorneys filed an interlocutory appeal on Oct. 22. On Jan. 30, 2019, the plaintiffs' filed a notice of supplemental authority, notifying the court of the GSA inspector general's report that criticized GSA for failing to consider if the Trump Hotel D.C.'s lease was in compliance with the Constitution after Trump became president. Two days later, the president's attorneys argued that the IG's conclusion was not inconsistent with Trump's argument, but that the judge should ignore that report anyway because the IG has no expertise in interpreting or applying the foreign emoluments clause.

CREW et. al's emoluments lawsuit—In February 2018, CREW appealed its suit being dismissed for lack of standing to the 2nd U.S. Circuit Court of Appeals. Oral arguments on that motion were held on Oct. 30.

Cork's unfair competition lawsuit—Judge Richard J. Leon dismissed the case on Nov. 26, 2018, writing "Cork has failed to state a claim for unfair competition under D.C. law." On Dec. 10, Cork's attorneys filed a notice of appeal and on Jan. 10, 2019 they submitted a statement of issues to be raised. A briefing schedule was set on March 5 with Cork's brief due on April 15, the president's brief due on May 15, and Cork's reply to the president's brief due on June 5.

Employees' class-action suit alleging racial discrimination—Two of the three plaintiffs did not appear at a status hearing on Jan. 25, 2019; their cases were moved to arbitration. Via email, their attorney, A.J. Dhali, said his clients did not appear at the hearing because their case already had been moved to arbitration last year. The next status hearing is scheduled for Oct. 4.
---
Health inspections, current status (latest change, Aug. 10, 2018)
❌Hotel: five violations on May 7, 2018; two were corrected on site

❌BLT Prime and Benjamin Bar: nine violations on Aug. 10, 2018

❌Sushi Nakazawa: two violations on Aug. 10, 2018

✔️Banquet kitchen: no violations on Aug. 10, 2018

❌Pastry kitchen: two violations on Aug. 10, 2018

✔️Gift shop: no violations on May 7, 2018

❌Employee kitchen and in-room dining: five violations on Aug. 10, 2018; two were corrected on site
---
Is the Trump Organization selling merchandise that depicts the White House? (latest change, March 21, 2019)
Yes.
---
Correction
Yesterday's 1100 Pennsylvania reported that Trump Hotel D.C. customer Sarah Selip works for Shirley & Banister Public Affairs. Per her LinkedIn profile, she ceased working for that company in March. We regret the error.
---
One thing that (probably) has nothing to do with Trump's businesses
"Katie Bouman: The woman behind the first black hole image" by the BBC
---
Thanks for reading. If you like what you see, tell someone—and support this work by becoming a paying member ($5/month or $50/year). If you've been forwarded this newsletter, subscribe for yourself at zacheverson.substack.com. Questions? Read our FAQ/manifesto. Tips or feedback? Contact me, Zach Everson, securely via email at 1100Pennsylvania@protonmail.com or on Signal at 202.804.2744.