Discover more from 1100 Pennsylvania
"The undisputed expert on the D.C. Trump Hotel" – David Fahrenthold of the Washington Post
Over 3,000 subscribers
GSA head declines to disclose Trump's FBI HQ input, if any
GSA administrator refuses to disclose Trump's input, if any, on scrapped FBI HQ relocation
Yesterday General Services Administration head Emily Murphy testified before the House Committee on Appropriations' Subcommittee on Financial Services and General Government about the decision not to relocate FBI headquarters.
From "GSA chief declines to disclose what she discussed with Trump regarding FBI HQ" by Eric Katz for Government Executive:
Asked whether anyone in the White House communicated their own preferences regarding the location of the FBI headquarters, the administrator said she wanted to be "very careful" about her response and told the committee she would "respectfully decline to answer." When pressed, Murphy noted that she was not formally exerting any specific executive privilege, but relying on precedent that agency heads not disclose conversations with the president.

Murphy was later asked whether she was specifically aware of Trump's preference on the location of the FBI headquarters.

"I'm going to decline to discuss conversations that I may or may not have had with the president or his advisers," Murphy responded. She added she was authorized by White House counsel to discuss final decisions made as a result of her meetings with Trump and his staff, but not the deliberative discussions that took place during them.
Why this testimony matters: the FBI's current headquarters is diagonally across Pennsylvania Avenue from the Trump Hotel D.C. Moving it would free up that lot for redevelopment, possibly as a luxury hotel that would compete with the president's business (the Trump Hotel D.C. promotes itself as downtown D.C.'s only five-star hotel). Last year, Democrats on the House Oversight committee alleged the president intervened in the General Services Administration decision-making process, when it reversed course and decided not to relocate FBI headquarters.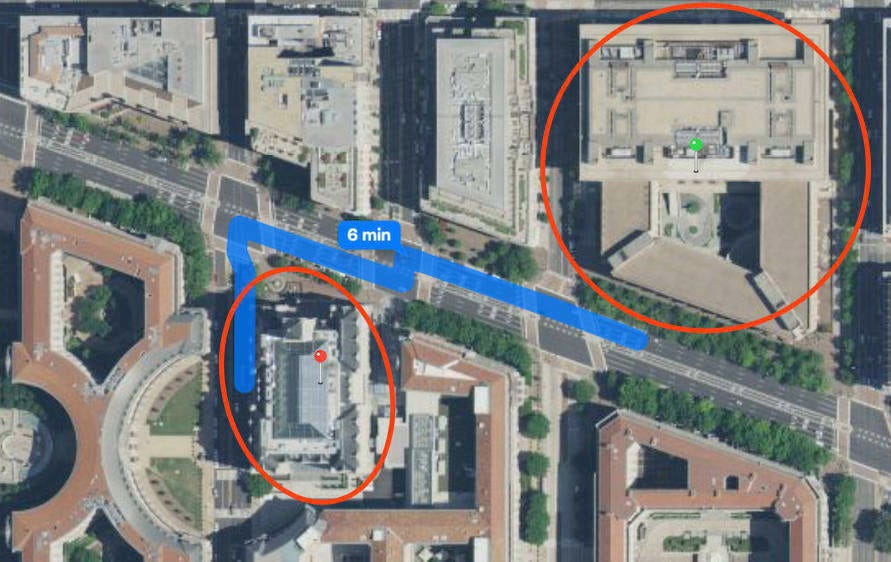 Also, Murphy's full 100-minute testimony is on YouTube.
Bannon and 'Bolsonaro's personal Jordan Peterson' screening a film at Trump's D.C. hotel
"[Brazil's far-right president Jair] Bolsonaro's personal Jordan Peterson is having a schmooze-fest evening with [Steve] Bannon, at the DC Trump hotel, a few days ahead of the Trump-Bolsonaro summit" reports Cleuci de Oliveira, a journalist who's covered Brazil for The New York Times, The Guardian, and Foreign Policy: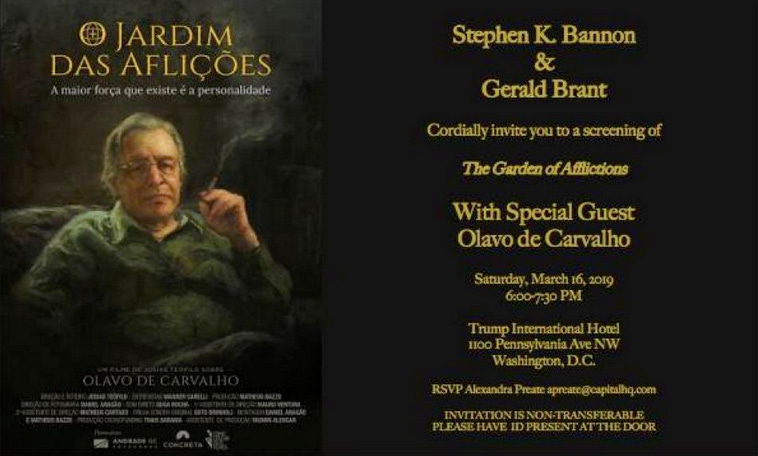 National Agriculture Day flashback
In honor of National Agriculture Day 2019, let's look back at the 2018 celebration: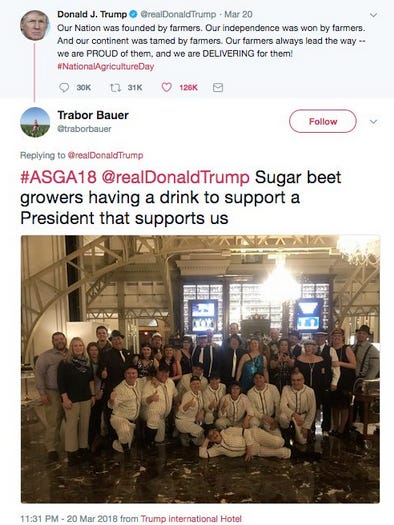 (In D.C. for the American Sugar Beets Association's annual meeting, the farmers stopped by the Trump Hotel D.C. in February 2018.)
Noteworthy sighting
Editor's note: Facebook and Instagram were down yesterday, which likely prevented many Trump Hotel D.C. patrons from sharing the details of their visits.
A staff assistant for Rep. Jodey Arrington (R–TX), Jessica Weiner, met up with her former college roommate.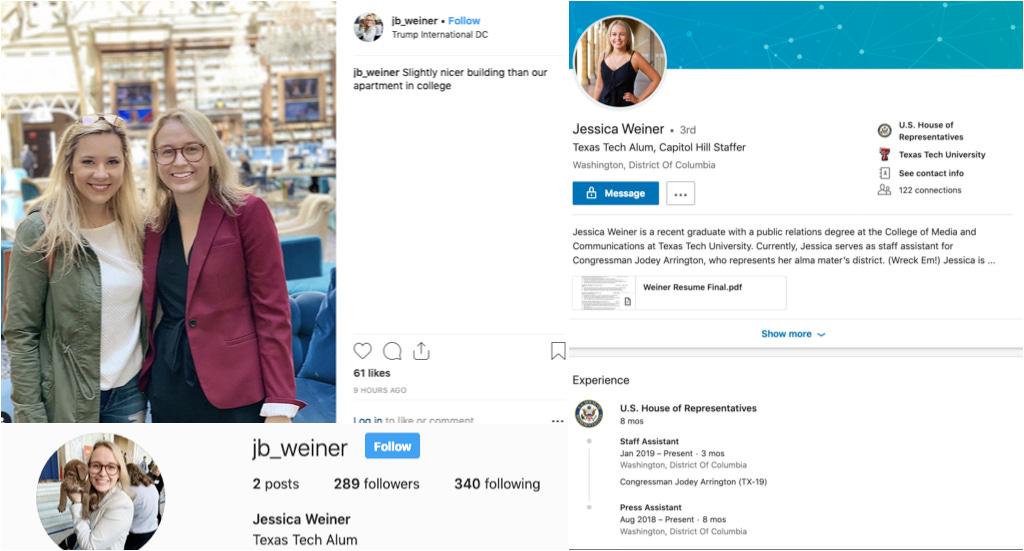 Other Trump Organization news
"Former acting Attorney General Matthew Whitaker was involved in conversations about the scope of New York federal prosecutors' investigation into Michael Cohen, President Trump's former lawyer, and about whether to fire one or more U.S. attorneys, the chairman of the House Judiciary Committee said Wednesday." By Rebecca Ballhaus and Dustin Volz for the Wall Street Journal.

"Giuliani ally Bob Costello: We weren't dangling a pardon to Michael Cohen. We were referencing Garth Brooks lyrics." By Asawin Suebsaeng for The Daily Beast.

Trump Org EVP Eric Trump cancelled an interview today with Martyn McLaughlin of The Scotsman. McLaughlin has broken a ton of stories about the Trump's Scottish golf courses, including that the U.S. government paid Trump Turnberry £50,000, Eric was linked to the State Department paying Turnberry £10,000, and Turnberry pays women less than men.

"Li Yang, former massage spa owner, attended Trumpettes bash [at Mar-a-Lago]" by Alexandra Clough for The Palm Beach Post

"Meet the D.C. reporter who's made the Trump hotel his beat." Hi. By Brittany Shepherd for Washingtonian.

U.S. taxpayers now own property in Trump Tower (via Brad Heath of USA Today):
House investigations, current status (latest changes, March 11, 2019)
Legal cases, current status (latest change, March 6, 2019)
D.C. and MD attorneys general's emoluments lawsuit (district court docket, appellate court docket)—

Official capacity—On Dec. 20, 2018, the 4th U.S. Circuit Court of Appeals ruled it would hear the president's appeal of district court rulings that allowed the case to proceed to discovery, and the appellate court halted discovery in the case. Discovery had started Dec. 3 and was scheduled to run through Aug. 2, 2019, with the AGs having subpoenaed the Trump Organization, including its Scottish golf courses; the U.S. Departments of Agriculture, Commerce, Defense, and Treasury and the GSA; and the state of Maine. Oral arguments on the appeal are scheduled for March 19. The AGs filed their brief opposing the president's appeal on Feb. 6, stating, "The President is not entitled to an order requiring the district court to certify for interlocutory review its denial of his motion to dismiss. No court has ever issued such relief." Trump's DOJ attorneys replied on Feb. 21: "Plaintiffs fundamentally err, substantively and procedurally."

Individual capacity—On Dec. 14, Trump's personal attorneys appealed the denial of their motion to dismiss the case, also to the 4th U.S. Circuit Court of Appeals. On Dec. 19, the AGs replied to Trump's motion for a stay pending that appeal by voluntarily dismissing the claims against Trump in his "individual capacity to allow the claims against President Trump in his official capacity to move forward expeditiously." (The AGs only brought suit against Trump in his individual capacity after the judge suggested they do so.) Trump's personal attorneys, on Dec. 21, opposed the motion to dismiss at the district level, saying the appeals court now has jurisdiction and accusing the AGs of "gamesmanship."

196 Democratic senators and representatives' emoluments lawsuit—On Sept. 28, Judge Emmet G. Sullivan ruled that the legislators have standing to sue. Trump's Justice Department attorneys filed an interlocutory appeal on Oct. 22. On Jan. 30, 2019, the plaintiffs' filed a notice of supplemental authority, notifying the court of the GSA inspector general's report that criticized GSA for failing to consider if the Trump Hotel D.C.'s lease was in compliance with the Constitution after Donald Trump became president. Two days later, the president's attorneys argued that the IG's conclusion was not inconsistent with Trump's argument, but that the judge should ignore that report anyway because the IG has no expertise in interpreting or applying the foreign emoluments clause.

CREW et. al's emoluments lawsuit—In February 2018, CREW appealed its suit being dismissed for lack of standing to the 2nd U.S. Circuit Court of Appeals. Oral arguments on that motion were held on Oct. 30.

Cork's unfair competition lawsuit—Judge Richard J. Leon dismissed the case on Nov. 26, 2018, writing "Cork has failed to state a claim for unfair competition under D.C. law." On Dec. 10, Cork's attorneys filed a notice of appeal and on Jan. 10, 2019 they submitted a statement of issues to be raised. A briefing schedule was set on March 5 with Cork's brief due on April 15, the president's brief due on May 15, and Cork's reply to the president's brief due on June 5.

Employees' class-action suit alleging racial discrimination—Two of the three plaintiffs did not appear at a status hearing on Jan. 25, 2019; their cases were moved to arbitration. Via email, their attorney, A.J. Dhali, said his clients did not appear at the hearing because their case already had been moved to arbitration last year. The next status hearing is scheduled for Oct. 4.
Health inspections, current status (latest change, Aug. 10, 2018)
❌Hotel: five violations on May 7, 2018; two were corrected on site

❌BLT Prime and Benjamin Bar: nine violations on Aug. 10, 2018

❌Sushi Nakazawa: two violations on Aug. 10, 2018

✔️Banquet kitchen: no violations on Aug. 10, 2018

❌Pastry kitchen: two violations on Aug. 10, 2018

✔️Gift shop: no violations on May 7, 2018

❌Employee kitchen and in-room dining: five violations on Aug. 10, 2018; two were corrected on site
One thing that has nothing to do with Trump's businesses (I think, tough to tell sometimes!)
"Court is one of those places where facts still matter." – Federal court judge Amy Berman Jackson
Thanks for reading. If you like what you see, tell someone—and support this work by becoming a paying member ($5/month or $50/year). If you've been forwarded this newsletter, subscribe for yourself at zacheverson.substack.com. Questions? Read our FAQ/manifesto. Tips or feedback? Contact me, Zach Everson, securely via email at 1100Pennsylvania@protonmail.com or on Signal at 202.804.2744.