GSA to appeal FBI HQ ruling
Judge had ordered GSA to turn over unredacted document with appraisal values of Hoover Building
Yesterday the General Service Administration notified a U.S. district court that it will appeal a ruling requiring it tun over to an unredacted document related to its cancelling plans to relocate FBI headquarters.
To recap: The FBI's current headquarters is diagonally across Pennsylvania Avenue from the Trump Hotel D.C., a six-minute walk (per Apple Maps). Moving the FBI's main office, as had been in the works for years, would free up its current location for redevelopment, possibly as a luxury hotel that would compete with the president's business. (The Trump Hotel D.C. often promotes itself as downtown D.C.'s only five-star hotel.) The Trump administration reversed longstanding plans to relocate FBI HQ. Last year Democrats on the House Oversight committee alleged the president himself intervened in GSA's decision-making process. The GSA and FBI heads have denied that charge.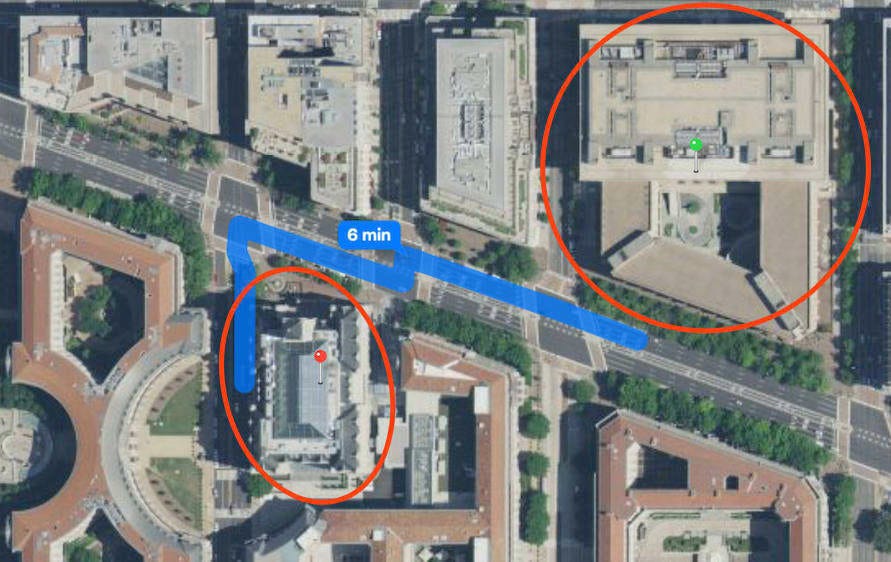 In June 2018, government watchdog Citizens for Responsibility and Ethics in Washington filed a Freedom of Information Act request for documents regarding GSA reversing its earlier decision to move the FBI's main office. Three months later, CREW sued after GSA failed to reply.
GSA turned over some documents, but CREW deemed the response inadequate. In December 2018, D.C. district court judge Christopher Cooper agreed, ordering GSA to perform "a more comprehensive" search.
In March 2019, Cooper ruled that GSA impermissibly redacted information in its FOIA response that "included appraised values of the Hoover Building, and the value of offers it received for the property—from a document titled 'Findings and Determination' ('F&D') that explained the agency's decision to cancel the swap-relocation project."
Cooper's order to release that document is what GSA is now appealing.
Whew.
---
Support 1100 Pennsylvania: never-redacted reporting on President Trump's D.C. hotel
We now know most of what's in the Mueller report. It's time to focus on what happens inside the Trump Hotel D.C. and the president's other businesses. Original, in-depth reporting, of course, takes time. But it's making an impact—and you can help. If you're not an 1100 Pennsylvania member, please become one. Memberships are this newsletter's sole source of revenue. Select the red "Subscribe now" button and become a member by paying just $5 a month or $50 a year. Thank you.
---
President officially nominated 'repeat, high-paying customer' to be U.S. ambassador to the United Nations
Yesterday, President Trump officially nominated Kelly Craft to be the U.S. ambassador to the United Nations. As Philip Rucker and Anne Gearan reported for The Washington Post in February:
The Crafts [Kelly Knight and her husband, Joe, the president and chief executive of coal producer Alliance Resource Partners] also have been repeat, high-paying customers at Trump's hotel in Washington, according to a list of "VIP Arrivals" distributed to hotel staff on June 19, 2018…

The Crafts were listed as gold-level members of the Trump Card rewards program when they checked in for a three-day stay. They were also described as "high-rate" customers, and their listing bore the notation R(20), which former Trump Hotels employees have said indicates customers who've stayed at least 20 times. That was an unusually high number among the hundreds of Trump hotel guests whose VIP listings have been reviewed by The Post.
And, as 1100 Pennsylvania has previously reported:
Kelly Knight Craft also seems to be an unofficial brand ambassador for her boss's hotel too: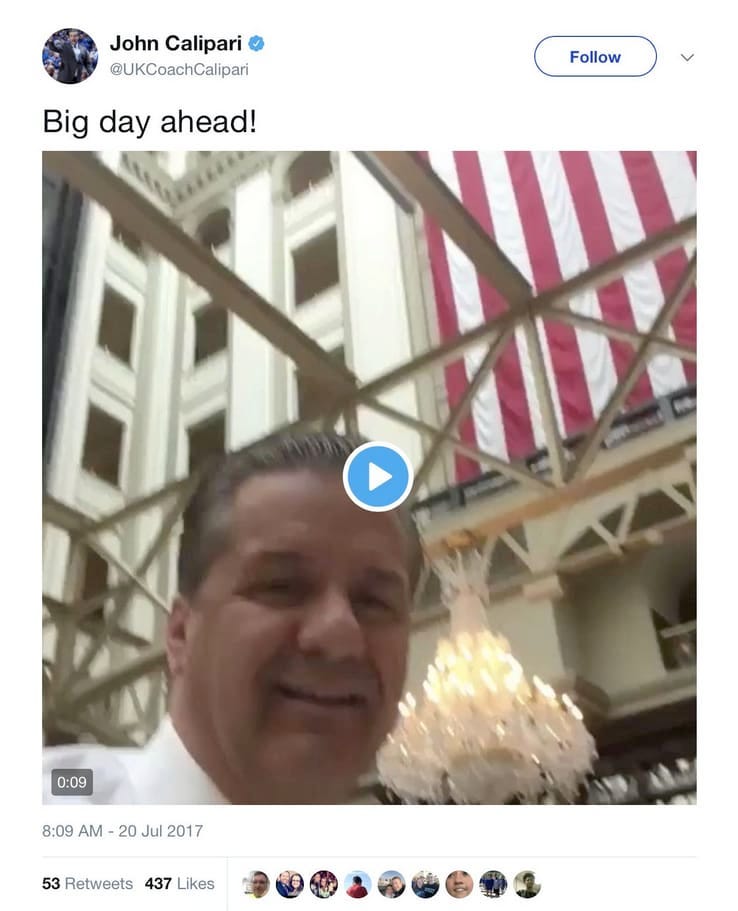 ---
Notable sightings
A U.S. attorney general under President Reagan, Ed Meese, was honored at a hotel owned by the current Republican president. In attendance were hotel regular and policy advisor for the pro-Trump nonprofit America First Policies Martha Boneta and conservative radio host Mark Levin.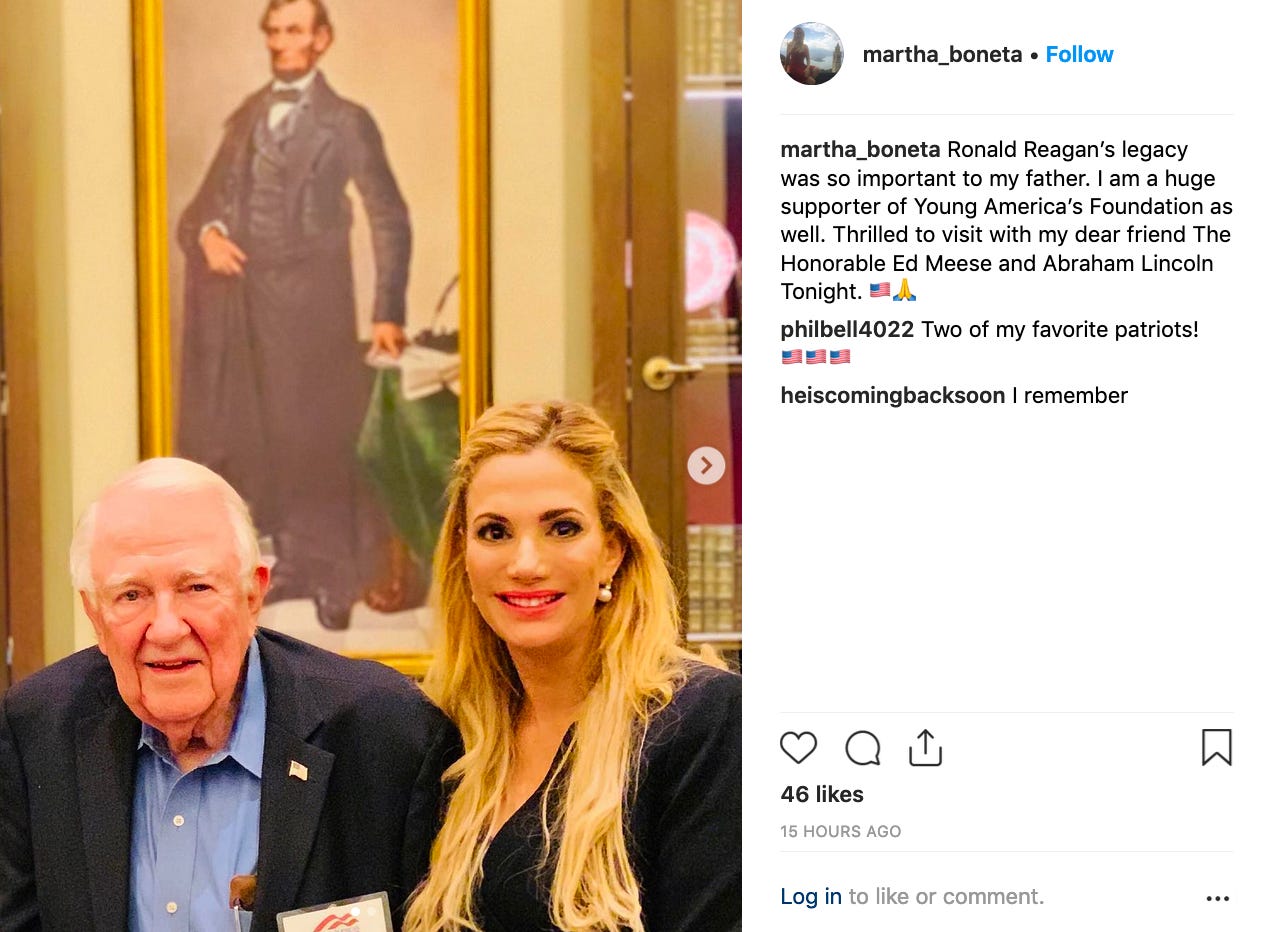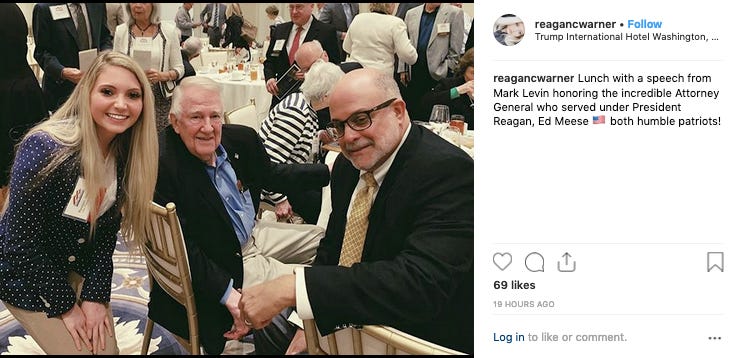 BLT Prime showed off its new $45 hamburger. Happy national burger month!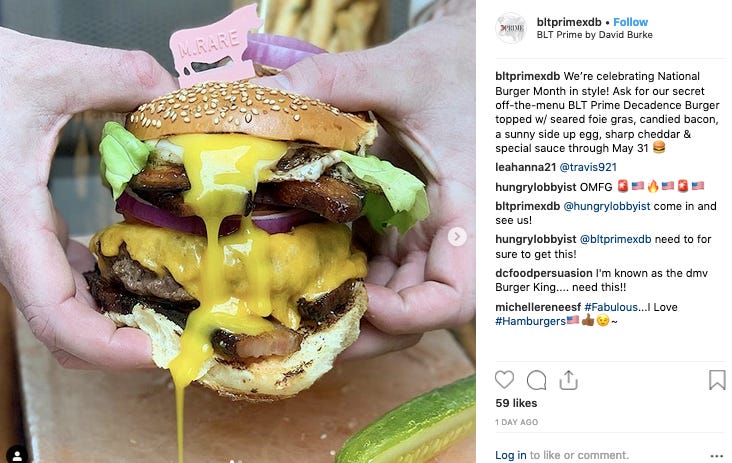 A group of at least 114 people booked one of the Trump Hotel D.C.'s ballrooms, per the hotel's executive chef Oliver Beckert.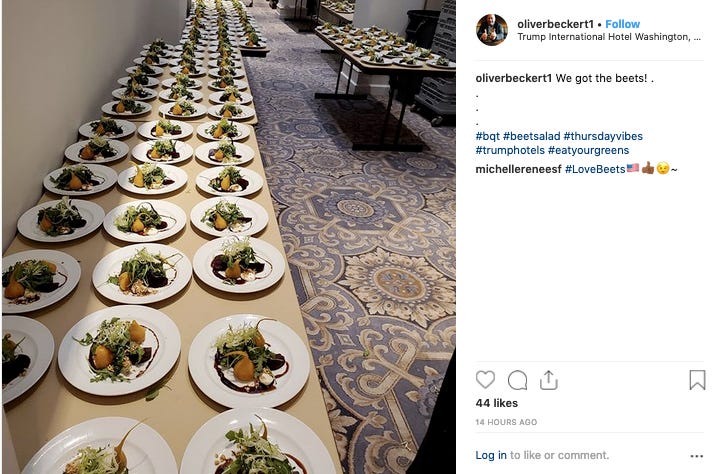 ---
Other Trump Organization news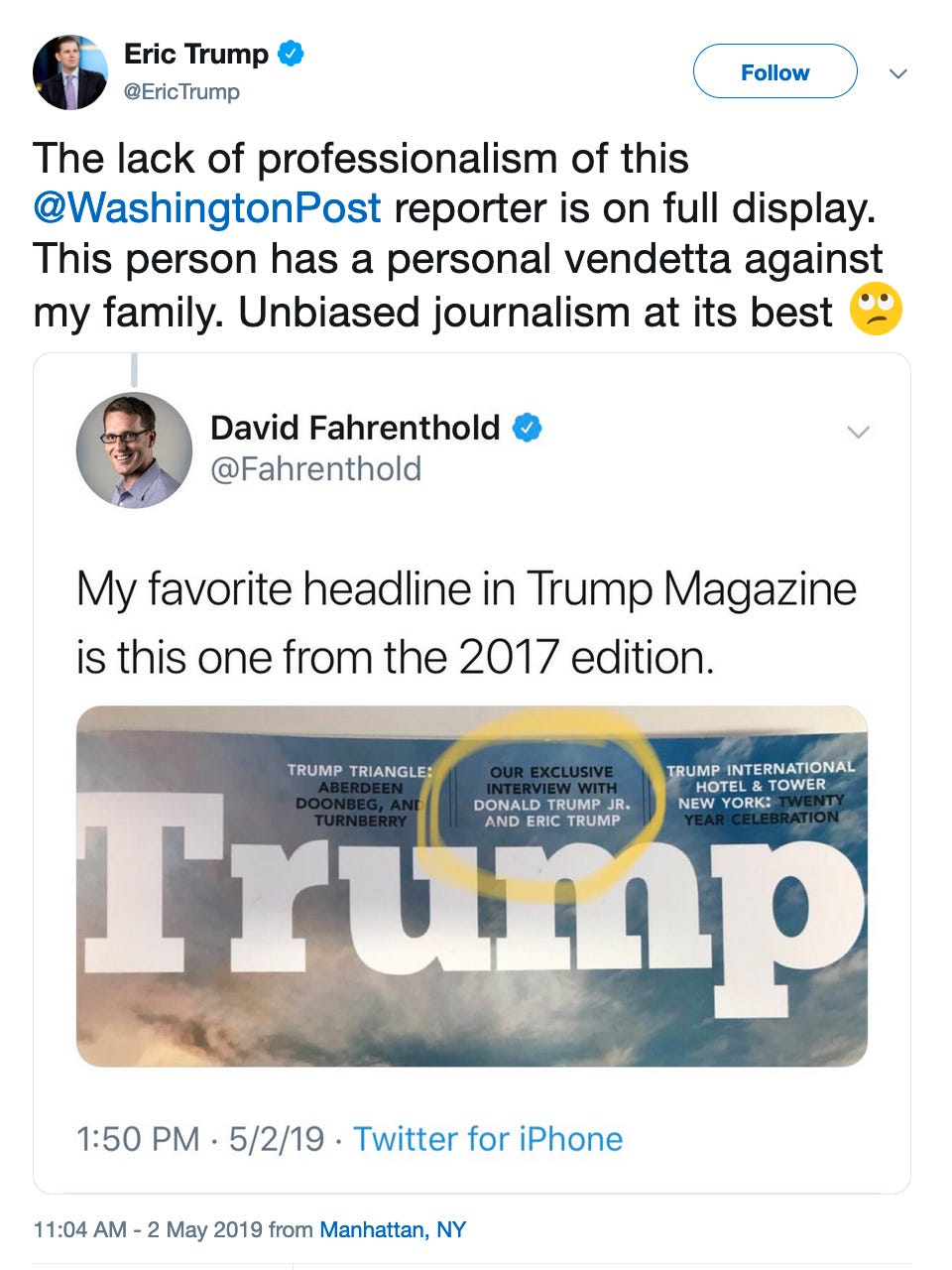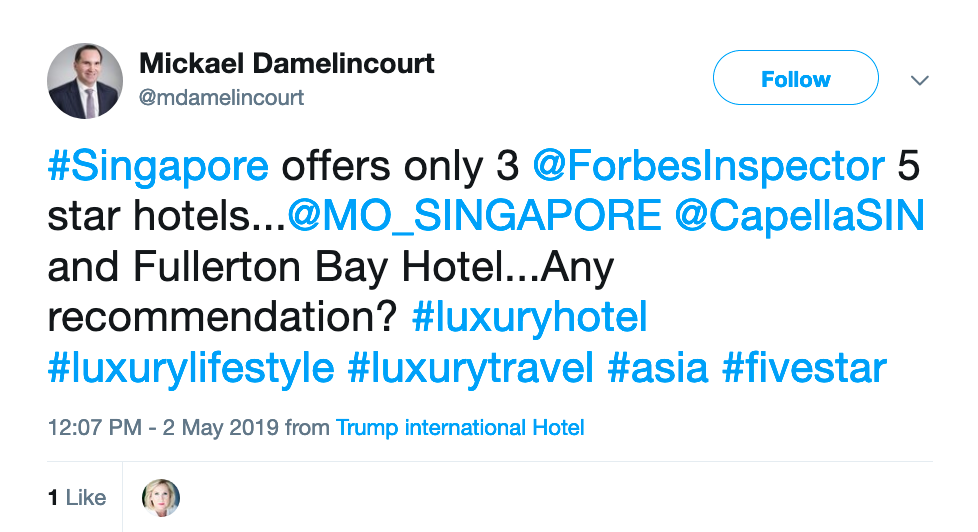 ---
House investigations, current status (latest change, May 1, 2019)
---
President Trump chose not to divest; Americans need to know who's paying him
Unlike his predecessors, Donald Trump did not divest his businesses upon becoming U.S. president. Think that may be a problem? Become an 1100 Pennsylvania member, and support reporting on who's spending money at the president's businesses—and what they may be getting in return. Memberships are this newsletter's sole source of revenue. Select the red "Subscribe now" button and become a member by paying just $5 a month or $50 a year. Thank you.
---
Legal cases, current status (latest change, May 2, 2019)
D.C. and MD attorneys general's emoluments lawsuit (district court docket, appellate court docket)—

Official capacity—On Dec. 20, 2018, the 4th U.S. Circuit Court of Appeals ruled it would hear the president's appeal of district court rulings that allowed the case to proceed to discovery, and the appellate court halted discovery in the case. Discovery had started Dec. 3 and was scheduled to run through Aug. 2, 2019, with the AGs having subpoenaed the Trump Organization, including its Scottish golf courses; the U.S. Departments of Agriculture, Commerce, Defense, and Treasury and the GSA; and the state of Maine. Oral arguments on the appeal occurred on March 19; by all accounts the three-judge panel (all Republican appointees, including one who was a selection of President Trump's) were skeptical of the AGs' case. D.C. AG Karl Racine pledged to take the case to the U.S. Supreme Court if necessary.

Individual capacity—On Dec. 14, Trump's personal attorneys appealed the denial of their motion to dismiss the case, also to the 4th U.S. Circuit Court of Appeals. On Dec. 19, the AGs replied to Trump's motion for a stay pending that appeal by voluntarily dismissing the claims against Trump in his "individual capacity to allow the claims against President Trump in his official capacity to move forward expeditiously." (The AGs only brought suit against Trump in his individual capacity after the judge suggested they do so.) Trump's personal attorneys, on Dec. 21, opposed the motion to dismiss at the district level, saying the appeals court now has jurisdiction and accusing the AGs of "gamesmanship."

Democratic senators and representatives' emoluments lawsuit—On Sept. 28, Judge Emmet G. Sullivan ruled that the legislators have standing to sue. Trump's Justice Department attorneys filed an interlocutory appeal on Oct. 22. On Jan. 30, 2019, the plaintiffs' filed a notice of supplemental authority, notifying the court of the GSA inspector general's report that criticized GSA for failing to consider if the Trump Hotel D.C.'s lease was in compliance with the Constitution after Trump became president. Two days later, the president's attorneys argued that the IG's conclusion was not inconsistent with Trump's argument, but that the judge should ignore that report anyway because the IG has no expertise in interpreting or applying the foreign emoluments clause. On April 30, Sullivan denied Trump's motion to dismiss the suit. The president's attorneys have a supplemental brief due on May 14.

CREW et. al's emoluments lawsuit—In February 2018, CREW appealed its suit being dismissed for lack of standing to the 2nd U.S. Circuit Court of Appeals. Oral arguments on that motion were held on Oct. 30.

Cork's unfair competition lawsuit—Judge Richard J. Leon dismissed the case on Nov. 26, 2018, writing "Cork has failed to state a claim for unfair competition under D.C. law." On Dec. 10, Cork's attorneys filed a notice of appeal and on Jan. 10, 2019 they submitted a statement of issues to be raised. A briefing schedule was set on March 5 with Cork's brief due on April 15, the president's brief due on May 15, and Cork's reply to the president's brief due on June 5. On April 11, however, Cork's attorneys requested a 30-day extension, to which Trump's attorneys consented—as did the court the following day.

Employees' class-action suit alleging racial discrimination—Two of the three plaintiffs did not appear at a status hearing on Jan. 25, 2019; their cases were moved to arbitration. Via email, their attorney, A.J. Dhali, said his clients did not appear at the hearing because their case already had been moved to arbitration last year. The next status hearing is scheduled for Oct. 4.
---
Health inspections, current status (latest change, Aug. 10, 2018)
❌Hotel: five violations on May 7, 2018; two were corrected on site

❌BLT Prime and Benjamin Bar: nine violations on Aug. 10, 2018

❌Sushi Nakazawa: two violations on Aug. 10, 2018

✔️Banquet kitchen: no violations on Aug. 10, 2018

❌Pastry kitchen: two violations on Aug. 10, 2018

✔️Gift shop: no violations on May 7, 2018

❌Employee kitchen and in-room dining: five violations on Aug. 10, 2018; two were corrected on site
---
Is the Trump Organization selling merchandise that depicts the White House? (latest change, March 21, 2019)
Yes.
---
One thing that (probably) has nothing to do with Trump's businesses
"2019 Kentucky Derby selections and analysis by Ellis Starr"
---
Thanks for reading. If you like what you saw, tell someone—and support this work by becoming a member. If you've been forwarded this newsletter, subscribe for yourself at zacheverson.substack.com. Questions? Read our FAQ/manifesto. Tips or feedback? Contact me, Zach Everson, securely via email at 1100Pennsylvania@protonmail.com or on Signal at 202.804.2744.