Discover more from 1100 Pennsylvania
"The undisputed expert on the D.C. Trump Hotel" – David Fahrenthold of the Washington Post
Over 3,000 subscribers
GSA was ready to pony up $576,000 for Old Post Office tours during shutdown
GSA would have spent $576,000 to keep Old Post Office tower tours running for a year if shutdown had continued
From "GSA planned to keep Trump Hotel site open a year, if needed" by Jennifer Yachnin and Kevin Bogardus for E&E News:
The General Services Administration inked a deal late last year to spend nearly $600,000 to continue operations at the Old Post Office Tower inside the Trump International Hotel Washington, D.C.—enough to keep the site open for up to a year in the event of a continuous government shutdown—according to newly released documents.
Read the National Park Service's entire FOIA response on its website.
To state what should be obvious: while the Old Post Office tower offers first-rate views, it's a second-tier tourist spot (if that). So it's curious that money wasn't allocated to a site more people would want to visit.
To recap, here's what we already knew about that decision-making process, from "A shutdown-era visit to Park Service ops at Trump's D.C. hotel" by Charles S. Clark for Government Executive:
GSA closed the tower at the start of the shutdown.

Several days later, it realized that it did not need to do so because "balances within the Federal Buildings Fund remain available to operate federal facilities, as needed, until they are expended, notwithstanding a lapse in appropriations."

Except—GSA's statement also said, "In this process, it was discovered that the interagency agreement required by the 1983 law had expired earlier in the year. GSA and NPS subsequently renewed the interagency agreement, and NPS resumed operation of the tower as required by law."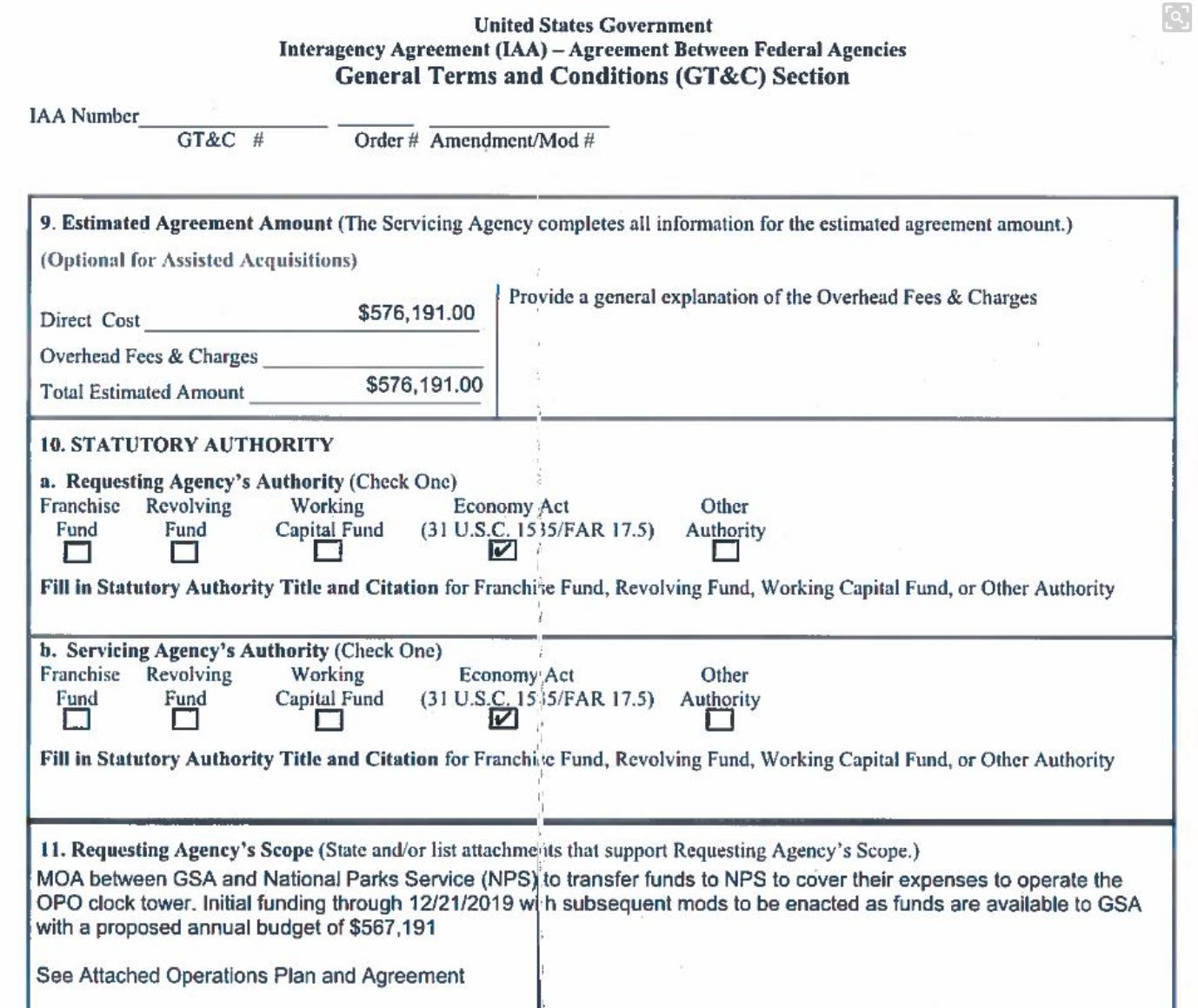 ---
Trump Org marketing items depicting the White House breaks Trump Org's promise to not do that
Yesterday's 1100 Pennsylvania reported that the official online Trump Store is now selling merchandise depicting the White House. The Trump Org's promotion of those items runs afoul of its promise not to reference the presidency, noted Steve Reilly of USA Today: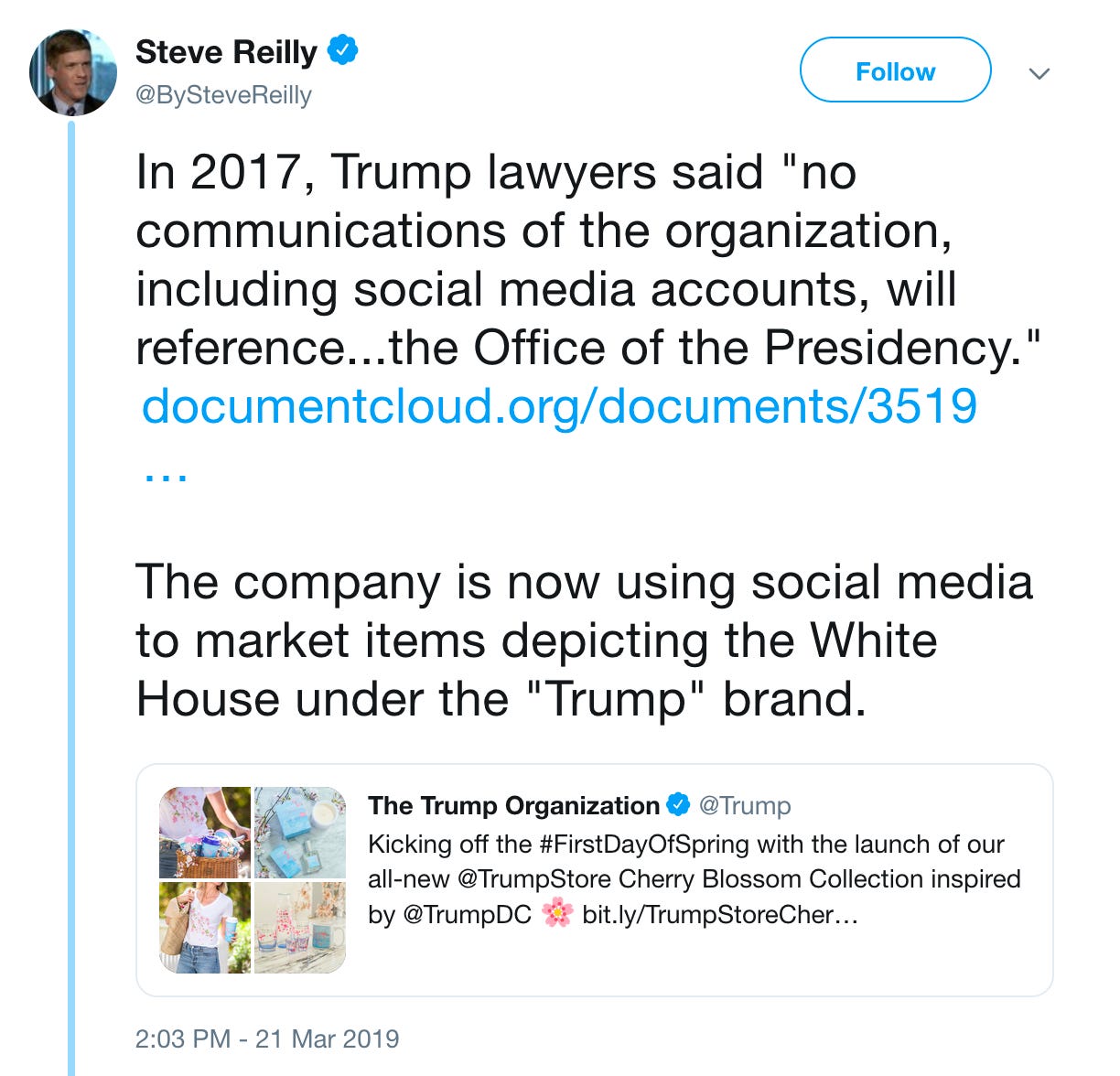 ---
Support this reporting, become a 1100 Pennsylvania member
Reporting on the Trump Hotel D.C. and the president's other businesses takes time. But it's making an impact—and you can help. If you're not an 1100 Pennsylvania member, please become one and help us continue to report on who's spending money at the president's hotel—and what they might be getting in return. Memberships are this newsletter's sole source of income. Select the red "Subscribe now" button and become a member by paying $5 a month or $50 a year. Thank you.
---
House general counsel hires DOJ attorney who defended Trump in emoluments lawsuits
From "Senior DOJ appellate lawyer jumps to U.S. House general counsel's office" by C. Ryan Barber for The National Law Journal:
The U.S. House of Representatives has hired a senior U.S. Justice Department appellate lawyer to work under general counsel Douglas Letter, boosting his team's litigation prowess as the Democratic majority braces for court battles with the Trump administration…

In recent months, [Meghan] Barbero had served on Justice Department teams defending President Donald Trump against lawsuits claiming his continued ownership of his Washington hotel violates the Constitution's anti-corruption clauses.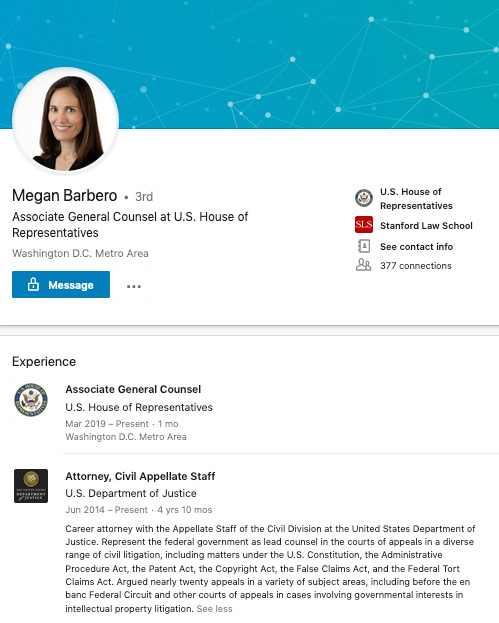 ---
Report: Trump considering repeat featured speaker at Trump Hotel for spot on Federal Reserve board
From "Trump said to consider Stephen Moore for Federal Reserve Board" by Saleha Mohsin and Jennifer Jacobs for Bloomberg:
Stephen Moore, a visiting fellow at the Heritage Foundation and a long-time supporter of Donald Trump, is being considered by the president for a seat on the Federal Reserve Board, according to two people familiar with the matter.

Moore, 59, was the founder of the conservative Club for Growth and served on the editorial board of the Wall Street Journal. He was a senior economist on the Congressional Joint Economic Committee and was an economic analyst for CNN.
At least three events at the Trump Hotel D.C. have featured Moore as a speaker, advertising his appearance in advance to draw people to the president's hotel:
---
Campaign expenditures
Ed Rollins's pro-Trump Great America PAC spent $772.88 at the Trump Hotel D.C. in February 2019.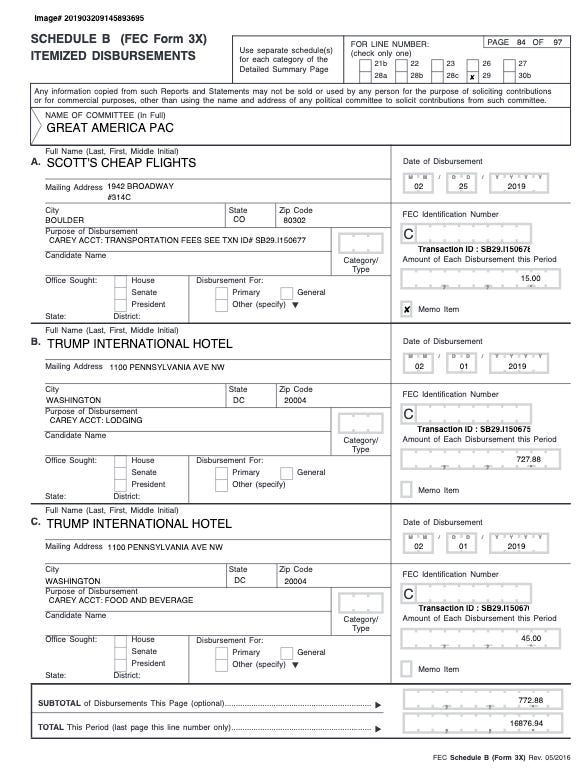 ---
Noteworthy sightings
GOP political strategist Karl Rove delivered the keynote address to the payday lenders assembled for the Community Financial Services Association of America's annual conference at Trump Doral. It's the second straight year this group has convened there.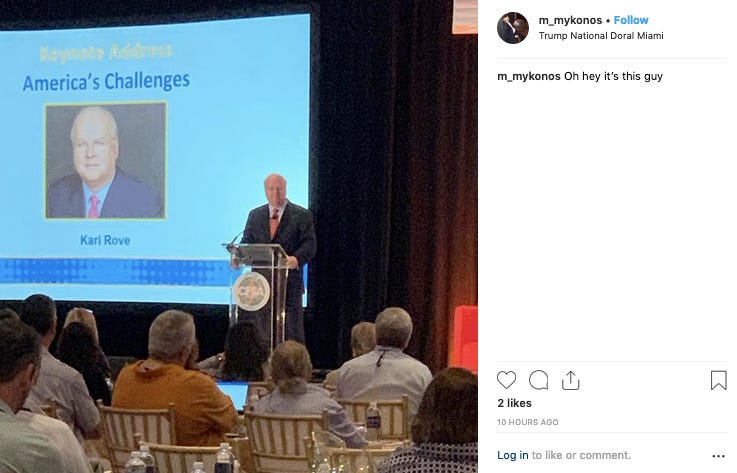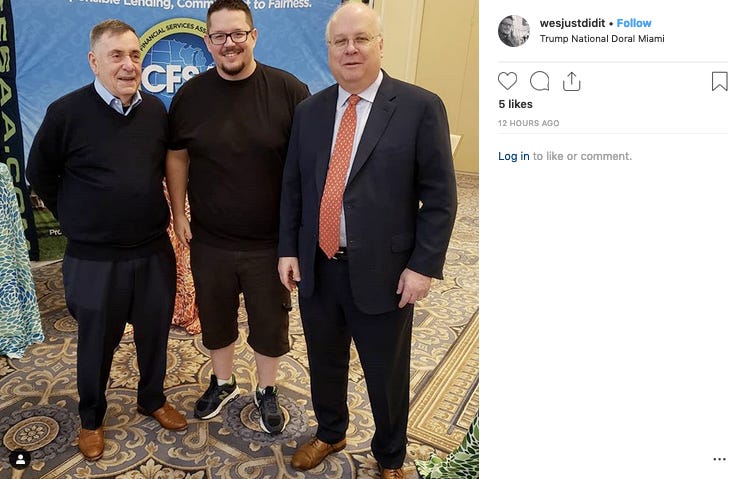 Democratic candidate for president, South Bend, Ind. Mayor Pete Buttigieg reportedly attended a fundraiser held at the Trump International Hotel and Tower New York–Central Park. (A spokesperson for his campaign has not yet responded to an inquiry to verify the photo's authenticity.) Buttigieg joins President Trump in the list of 2020 presidential candidates known to take part in a fundraiser at a Trump property.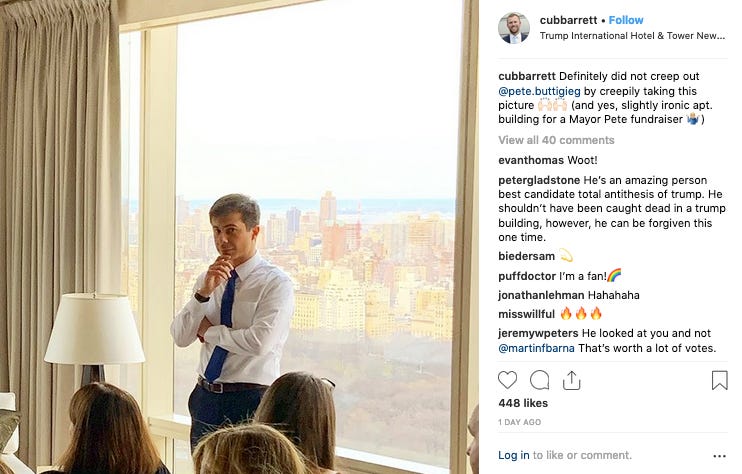 Blaze TV's Eric Bolling reported he was harassed Wednesday night at the Trump Hotel D.C. (Due to a formatting limitation, select the link to watch the video.)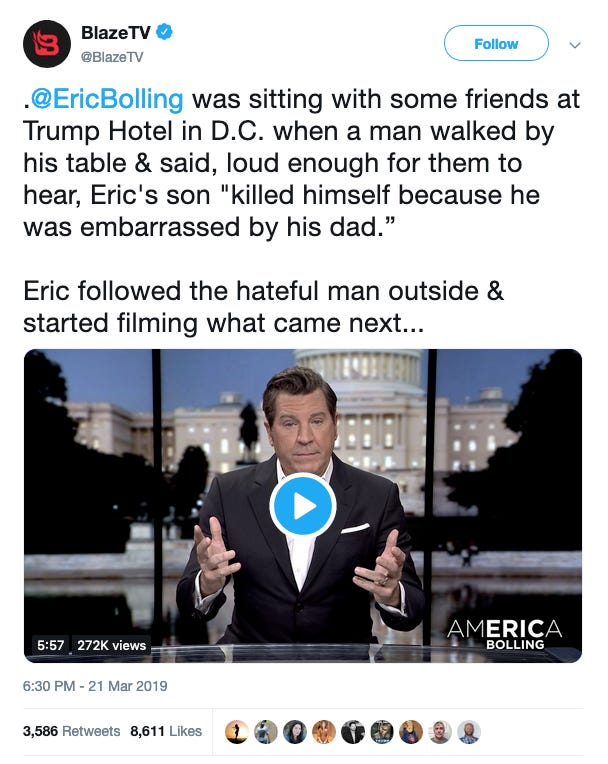 ---
Other Trump Organization news
---
House investigations, current status (latest changes, March 22, 2019)
---
Legal cases, current status (latest change, March 20, 2019)
D.C. and MD attorneys general's emoluments lawsuit (district court docket, appellate court docket)—

Official capacity—On Dec. 20, 2018, the 4th U.S. Circuit Court of Appeals ruled it would hear the president's appeal of district court rulings that allowed the case to proceed to discovery, and the appellate court halted discovery in the case. Discovery had started Dec. 3 and was scheduled to run through Aug. 2, 2019, with the AGs having subpoenaed the Trump Organization, including its Scottish golf courses; the U.S. Departments of Agriculture, Commerce, Defense, and Treasury and the GSA; and the state of Maine. Oral arguments on the appeal occurred on March 19; by all accounts the three-judge panel (all Republican appointees, including one who was a selection of President Trump's) were skeptical of the AGs' case. D.C. AG Karl Racine pledged to take the case to the U.S. Supreme Court if necessary.

Individual capacity—On Dec. 14, Trump's personal attorneys appealed the denial of their motion to dismiss the case, also to the 4th U.S. Circuit Court of Appeals. On Dec. 19, the AGs replied to Trump's motion for a stay pending that appeal by voluntarily dismissing the claims against Trump in his "individual capacity to allow the claims against President Trump in his official capacity to move forward expeditiously." (The AGs only brought suit against Trump in his individual capacity after the judge suggested they do so.) Trump's personal attorneys, on Dec. 21, opposed the motion to dismiss at the district level, saying the appeals court now has jurisdiction and accusing the AGs of "gamesmanship."

Democratic senators and representatives' emoluments lawsuit—On Sept. 28, Judge Emmet G. Sullivan ruled that the legislators have standing to sue. Trump's Justice Department attorneys filed an interlocutory appeal on Oct. 22. On Jan. 30, 2019, the plaintiffs' filed a notice of supplemental authority, notifying the court of the GSA inspector general's report that criticized GSA for failing to consider if the Trump Hotel D.C.'s lease was in compliance with the Constitution after Trump became president. Two days later, the president's attorneys argued that the IG's conclusion was not inconsistent with Trump's argument, but that the judge should ignore that report anyway because the IG has no expertise in interpreting or applying the foreign emoluments clause.

CREW et. al's emoluments lawsuit—In February 2018, CREW appealed its suit being dismissed for lack of standing to the 2nd U.S. Circuit Court of Appeals. Oral arguments on that motion were held on Oct. 30.

Cork's unfair competition lawsuit—Judge Richard J. Leon dismissed the case on Nov. 26, 2018, writing "Cork has failed to state a claim for unfair competition under D.C. law." On Dec. 10, Cork's attorneys filed a notice of appeal and on Jan. 10, 2019 they submitted a statement of issues to be raised. A briefing schedule was set on March 5 with Cork's brief due on April 15, the president's brief due on May 15, and Cork's reply to the president's brief due on June 5.

Employees' class-action suit alleging racial discrimination—Two of the three plaintiffs did not appear at a status hearing on Jan. 25, 2019; their cases were moved to arbitration. Via email, their attorney, A.J. Dhali, said his clients did not appear at the hearing because their case already had been moved to arbitration last year. The next status hearing is scheduled for Oct. 4.
---
Health inspections, current status (latest change, Aug. 10, 2018)
❌Hotel: five violations on May 7, 2018; two were corrected on site

❌BLT Prime and Benjamin Bar: nine violations on Aug. 10, 2018

❌Sushi Nakazawa: two violations on Aug. 10, 2018

✔️Banquet kitchen: no violations on Aug. 10, 2018

❌Pastry kitchen: two violations on Aug. 10, 2018

✔️Gift shop: no violations on May 7, 2018

❌Employee kitchen and in-room dining: five violations on Aug. 10, 2018; two were corrected on site
---
One thing that has nothing to do with Trump's businesses (I think, tough to tell sometimes!)
Facebook Live is delivering just as Mark Zuckerberg promised, notes Will Oremus of Slate: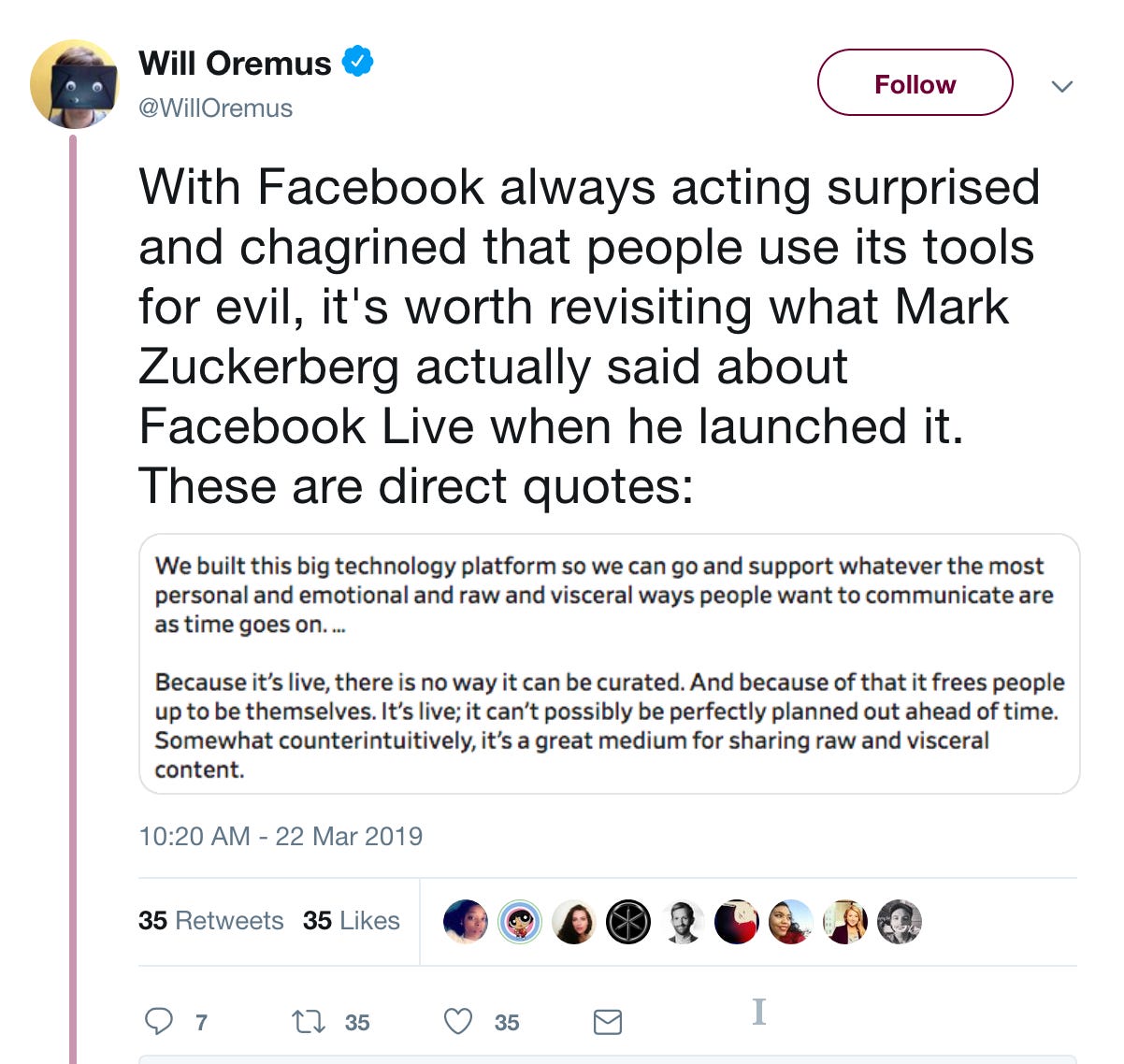 ---
Thanks for reading. If you like what you see, tell someone—and support this work by becoming a paying member ($5/month or $50/year). If you've been forwarded this newsletter, subscribe for yourself at zacheverson.substack.com. Questions? Read our FAQ/manifesto. Tips or feedback? Contact me, Zach Everson, securely via email at 1100Pennsylvania@protonmail.com or on Signal at 202.804.2744.