Discover more from 1100 Pennsylvania
"The undisputed expert on the D.C. Trump Hotel" – David Fahrenthold of the Washington Post
Over 3,000 subscribers
GSA's reply to Transportation chair's subpoena 'falls short'
Committee will continue 'to engage with GSA' in an attempt to see profit statements and communication involving Trump's D.C. hotel
The General Service Administration's late response to House Transportation Committee Chair Peter DeFazio's (D–OR) subpoena for financial statements on the Trump Hotel D.C.'s lease "unfortunately falls short," a source with knowledge of the situation told 1100 Pennsylvania.
At the advice of House counsel, this person said the committee is "continuing to engage with GSA to see if a reasonable accommodation can be made to ensure the committee gets the information it is seeking."
GSA's noncompliance with the subpoena follows the trend of the Trump administration refusing to cooperate with House investigations involving the president's finances.
DeFazio subpoenaed GSA after the agency didn't comply with multiple requests from him and Subcommittee on Economic Development, Public Buildings, and Emergency Management Chair Dina Titus (D–NV) seeking profit statements, communication, and legal memos regarding the Trump Hotel D.C.'s lease. (GSA supervises the Trump Organization's lease of the Old Post Office building from the U.S. government; that Transportation subcommittee oversees GSA.)
In addition to a monthly rent of $250,000, the lease calls for the Trump Hotel D.C. to pay GSA a cut of its gross revenues if it reaches certain performance thresholds. In a contentious hearing in September, GSA's public buildings commissioner Daniel Mathews, a political appointee of Trump's, testified that the hotel did not pay GSA any funds beyond its base rent last year. The president, however, reported more than $40 million in revenue from the hotel in 2018 (he didn't share his profit).
GSA did not meet the subpoena's Nov. 4 deadline, but said it would provide information to DeFazio by Nov. 11.
"Once again the Trump Administration is defying the law and stonewalling Congress in its Constitutional duty to conduct oversight of the executive branch," DeFazio said to 1100 Pennsylvania after his initial cutoff date was missed.
Late last week, DeFazio and Titus introduced a bill that would require GSA to conduct audits of federal properties that have been leased to private parties. Right now, the Trump Hotel D.C.'s financial statements are only audited by a firm chosen by the Trump Organization.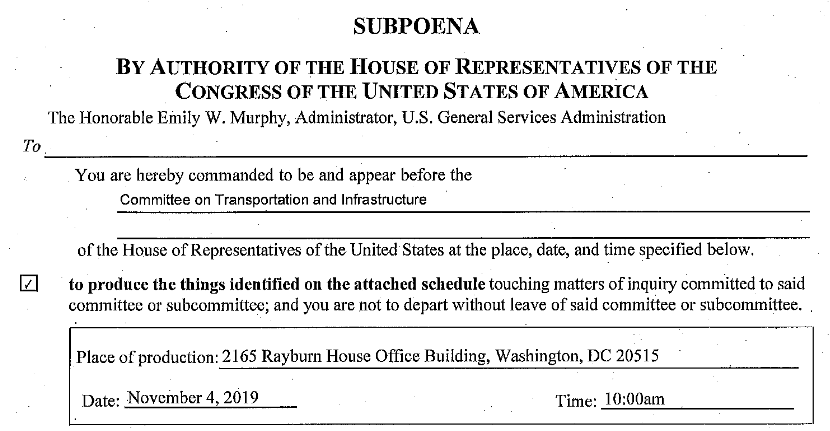 ---
Appeals court ruled Congress can subpoena Trump's tax records; judges largely sided with party of the president who appointed them (again)
On Wednesday the full U.S. Court of Appeals for the D.C. Circuit denied Trump's request for the entire circuit to review an earlier ruling that allowed the House Oversight Committee to subpoena the president's tax records.
In a statement, Trump attorney Jay Seklow said they'd be asking the Supreme Court to review the case.
Judges in the 8–3 decision largely voted along the lines of the parties of the president's who appointed them:
all seven Democrat-appointed jurists sided with the House Oversight Committee, as did one GOP-appointed judge

all three of the dissenting judges were Republican appointees (two of whom got the nod from the plaintiff in this case)
The split follows the trend in the emoluments, unfair competition, and House investigation lawsuits, according to 1100 Pennsylvania's analysis. Only twice have judges appointed by GOP presidents ruled against President Trump in signed decisions. Meanwhile, decisions from jurists appointed by Democratic presidents largely have gone against Trump, with a few notable exceptions.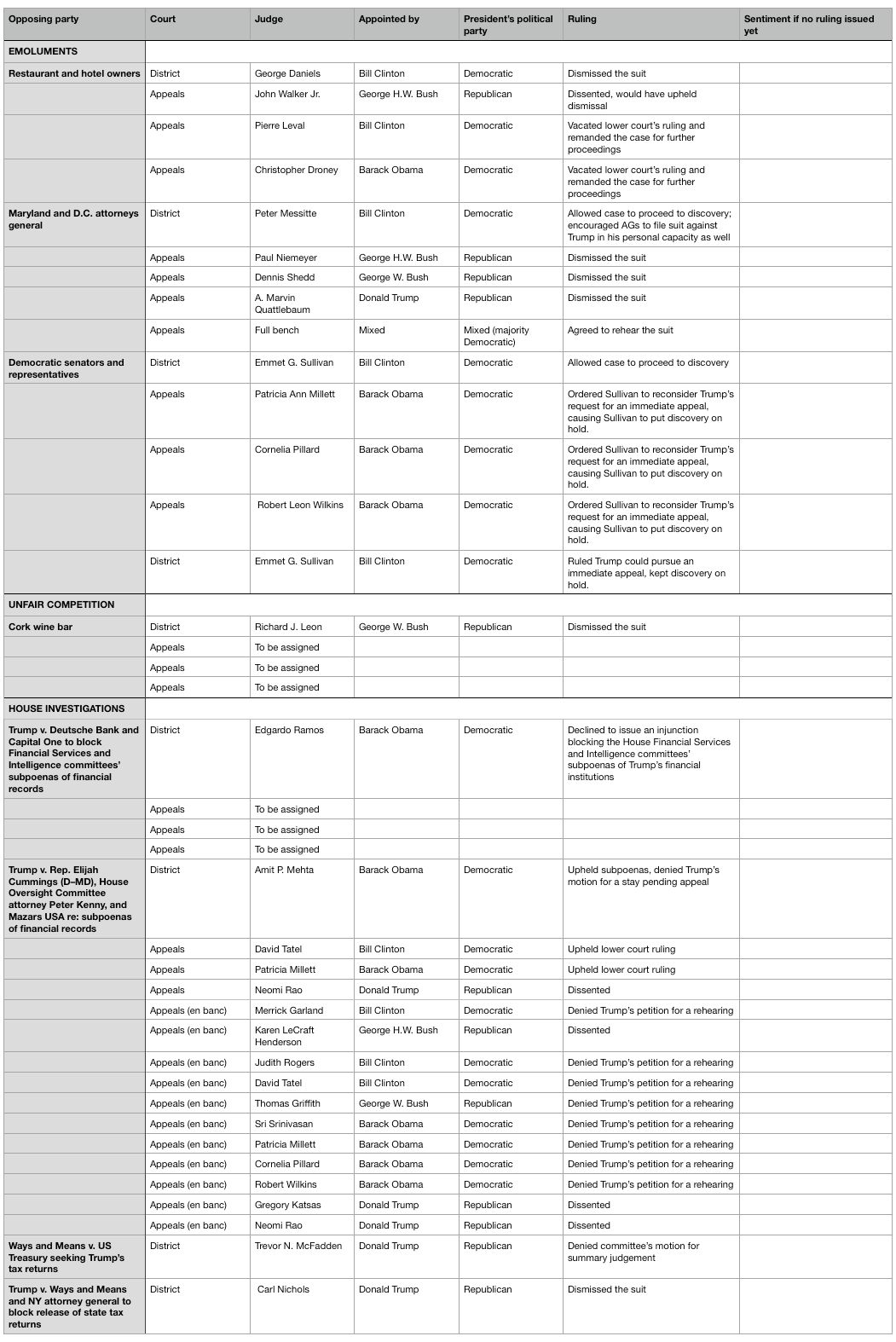 ---
Hotel sales pitch: Trumps have turned away $9 million by refusing to seek foreign government business (which they are still getting)
From "Exclusive: Trump D.C. hotel sales pitch boasts of millions to be made from foreign governments" by Kara Scannell and Gloria Borger for CNN:
The hotel's biggest selling point though, according to a copy of the brochure seen by CNN, is the one thing that the Trump family insists it didn't take advantage of: profiting off foreign governments.

"Tremendous upside potential exists for a new owner to fully capitalize on government related business upon rebranding of the asset," reads the 46-page investor pitch.

The Trump Organization insists that its refusal to solicit foreign business has cost it more than $9 million. According to the brochure, those "sacrifices" include turning away 17,100 room nights in 2019, resulting in $5.3 million in lost room revenue and $3.9 million in lost food and beverage revenue.
It's not clear how the Trump Org calculated those lost opportunities. While the Trumps claim to not be pursuing foreign business, they are still landing it. Per 1100 Pennsylvania's analysis, representatives from at least 29 foreign governments have visited the Trump Hotel D.C. since its owner was elected president.
The hotel, of course, employed a "director of transient and diplomatic sales" through April 2018, according to that employee's LinkedIn profile. And while the title on Heidi Kirby social media profile has changed (but only after a tweet pointing out that said position was inconsistent with organization's official position got traction), Kirby still appears to be employed at the hotel.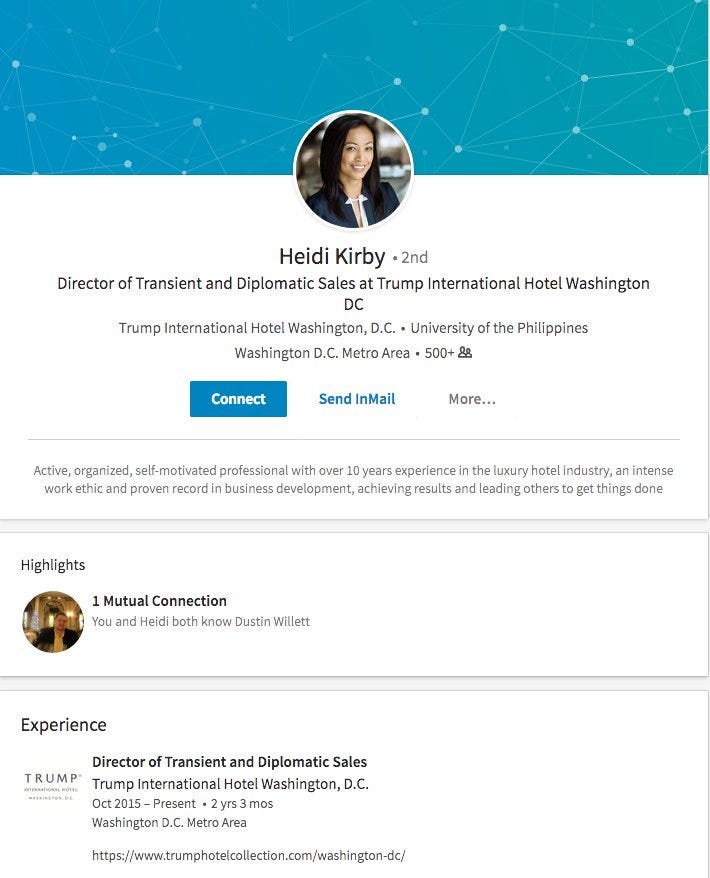 Over the past two years, the Trump Org has donated more than $340,000 to the U.S. Treasury, which it claims represents its profits from foreign governments. But that figure isn't independently audited and requires officials to identify their positions to hotel staff.
According to CNN, the brochure did not specify how much the hotel had made from foreign government businesses or the financial data the House Transportation Committee is seeking.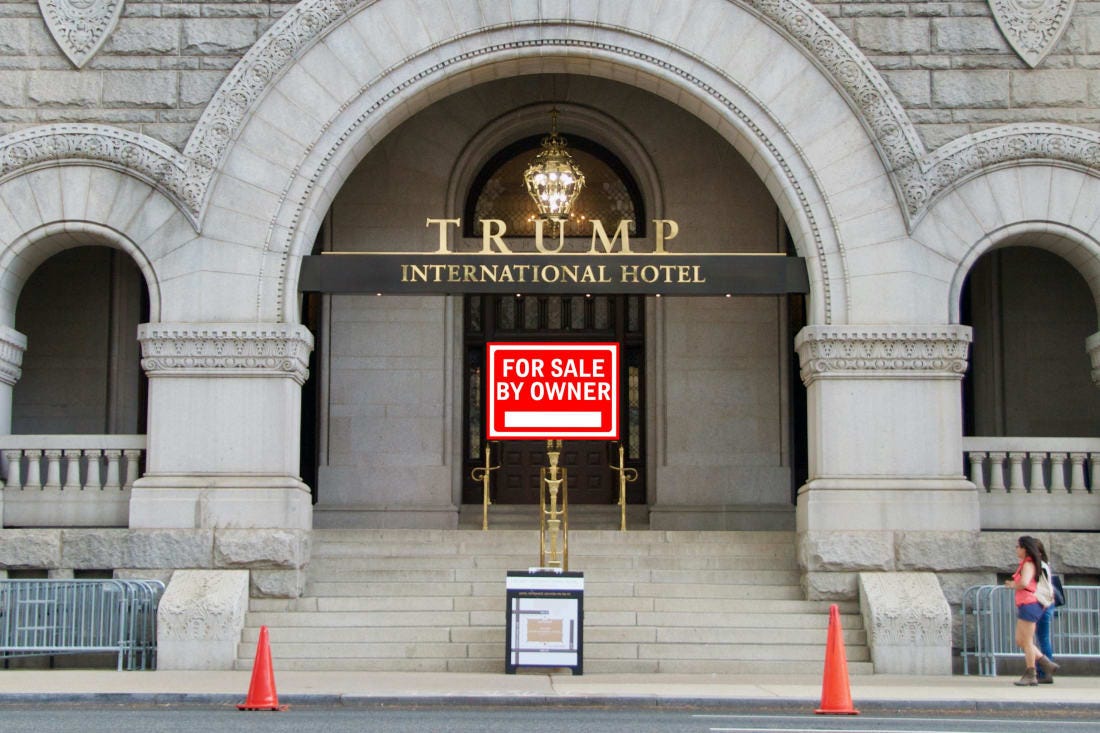 ---
Notable sightings
A glimpse of the foreign officials, government employees, politicians, lobbyists, and the like who patronize or appear at Trump businesses. Most people shown here have reasons to want to influence the Trump administration, rely on its good graces for their livelihoods, or should be providing oversight. Additionally, high-profile guests serve as draws for paying customers.
The book signing for Trump Org EVP Donald Trump Jr. was at the Trump Hotel D.C. Tuesday night, bringing a wealth of customers to purchase food, drinks, and the political musings of a man who shares the president's name and business interests but is walled off from the administration. In addition to the author and his girlfriend, Trump campaign staffer Kimberly Guilfoyle, notable guests spotted that evening at the president's D.C. hotel include Sen. Tim Scott (R–SC); GOP operative Arthur Schwartz; Sen. Rand Paul's (R-KY) deputy chief of staff Sergio Gor; GOP strategist and former White House staffer Andrew Surabian; and senior advisor for the Trump campaign Katrina Pierson. Politico Playbook also reported seeing Rep. Mark Walker (R-N.C.), Trump campaign manager Brad Parscale, and a new White House aide hired to assist in anti-impeachment efforts, Tony Sayegh.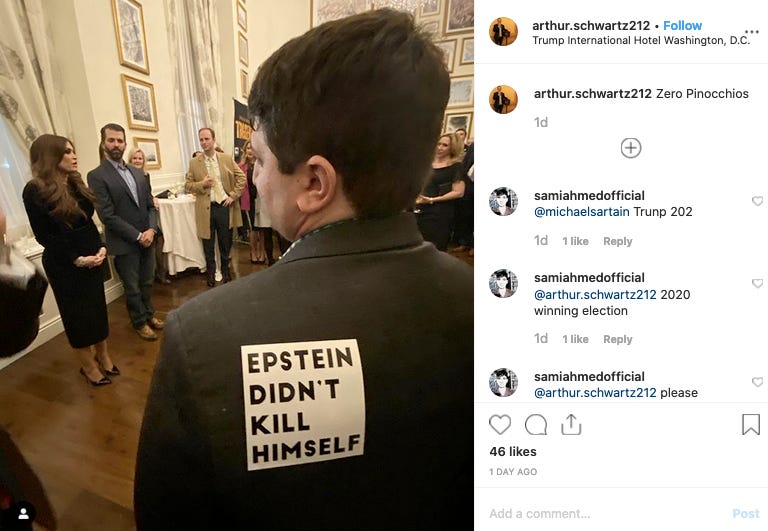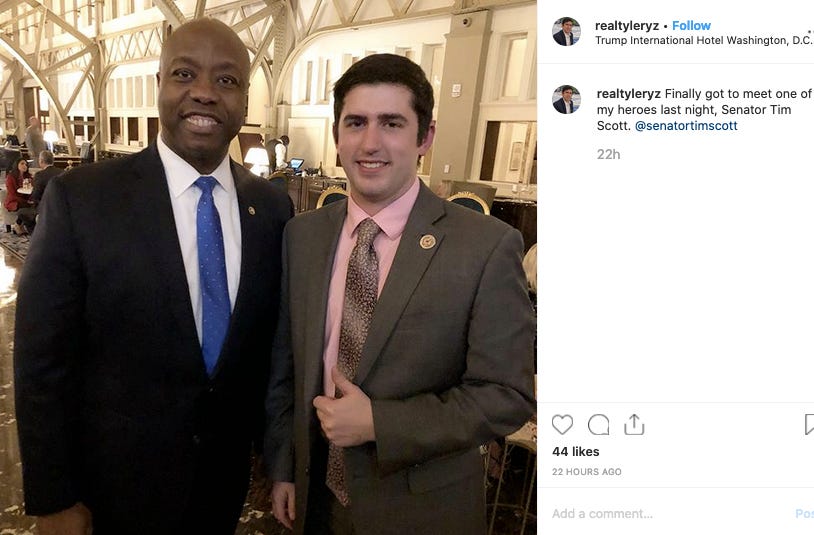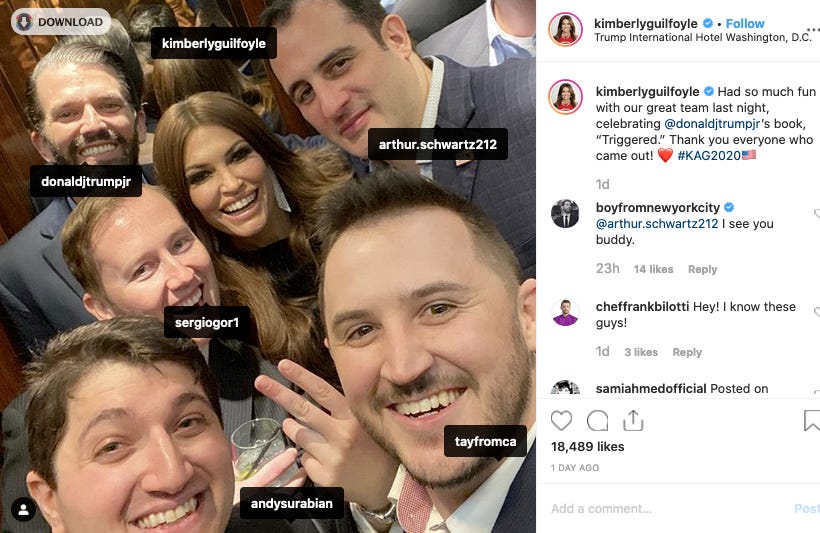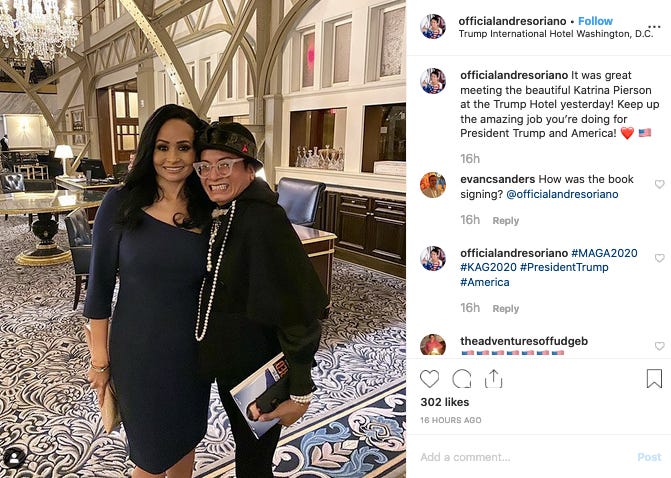 ---
Other Trump Organization news
---
Reference section
Links to rundowns of developments in the House's investigations and lawsuits, reference sheets for some of 1100 Pennsylvania's previous reporting, and articles that provide the background on why all of this matters. The date published or last updated is in parentheses.
Trackers
Notable hotel customers
Summaries
Upcoming key dates
Sept. 23 —House Judiciary Committee hearing "Presidential corruption: Emoluments and profiting off the presidency" (postponed, not yet rescheduled)

Nov. 4—House Transportation Committee chair's subpoena deadline seeking documents related to hotel's lease (response came a week late and was deemed insufficient)

Nov. 22—Oral arguments before D.C. Circuit Court of Appeals in Cork wine bar's unfair competition suit

Dec. 7—D.C. Fraternal Order of Police Lodge #1's holiday party at the Trump Hotel D.C.

Dec. 9—Oral arguments before D.C. Circuit Court of Appeals in Democratic lawmakers emoluments suit

Dec. 12—Oral arguments before full 4th Circuit Court of Appeals in D.C. and Maryland attorneys general's emoluments suit

Jan. 23—Status hearing with D.C. Superior Court in former hotel employees hearing alleging racial discrimination
---
Thanks for reading! If you like what you've read, tell someone. If you've been forwarded this newsletter, subscribe at 1100pennsylvania.substack.com. Questions? Read our FAQ. Tips or feedback? Contact Zach Everson at 1100Pennsylvania@protonmail.com (it'll be encrypted if you also use a ProtonMail account, which is free) or via Signal (secure), SMS, or mobile at 202.804.2744.