Discover more from 1100 Pennsylvania
"The undisputed expert on the D.C. Trump Hotel" – David Fahrenthold of the Washington Post
Over 3,000 subscribers
Here's why you won't see Trump's financials before the election
Obstructionist president, sluggish courts, flaccid House investigations mean Election Day 2020 likely to pass before voters might be able to see Trump's financial info
Last week separate rulings by the Supreme Court and an appellate court likely ensured that President Donald J. Trump's financial records won't become public until after the November election (if at all).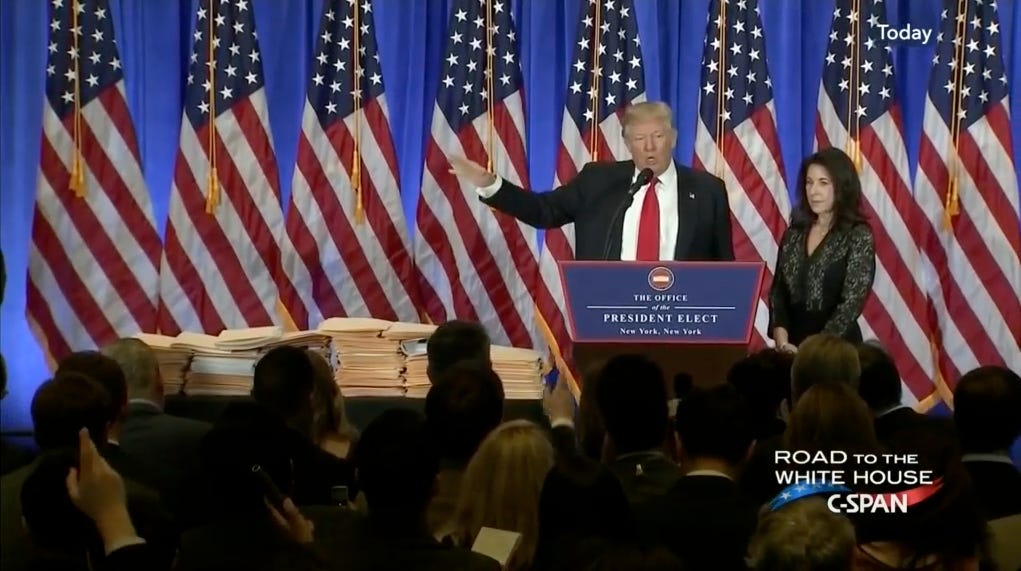 Trump's spectacular success in shielding these records from the public for an entire term is a combination of his personal and Justice Department lawyers playing the system brilliantly, a leisurely judicial system that enables litigants of means to delay final verdicts, an obstructionist White House, complicit Republican lawmakers, and a dash of Democratic legislators' impotence mixed with a shift in focus to impeachment proceedings and COVID-19 pandemic.
(This analysis does not include the Manhattan district attorney's pursuit of Trump's tax returns, as they're for a grand jury and are not supposed to be made public.)
Here's how—despite three major lawsuits alleging his business interests violate the Constitution and at least seven House committees investigating his finances—Trump has been able to keep private his tax returns, business dealings, and even the revenue of a hotel housed in a U.S. government-owned building.
Lawsuits alleging Trump's business interests violate the Constitution's Foreign and Domestic Emoluments clauses
Plaintiffs: Restaurant and hotel owners
Plaintiffs: D.C. and Maryland attorneys general
Plaintiffs: ~200 Democratic Senators and Representatives
House committee investigations into Trump's financial interests
Caveat: It's possible committees took actions that are not known publicly. That being said, multiple panels have been pursuing their investigations in the courts, the House has impeached this president, and 2020 is an election year—so it seems likely any major developments would have come to light.
Financial Services—Chair Maxine Waters (D-CA)
Foreign Affairs—Chair Eliot Engel (D–NY)
Judiciary—Chair Jerrold Nadler (D-NY)
Intelligence—Chair Adam Schiff (D-CA)
Oversight and Reform—Chair Elijah Cummings (D–MD) until his death on Oct. 17 2019, then Carolyn Maloney (D-NY)
Transportation and Infrastructure—Chair Peter DeFazio (D-OR)
Ways and Means—Chair Richard Neal (D-MA)
Other financial disclosures
Since 2016, Trump has refused to follow precedent and release his tax returns, claiming it was because the IRS was auditing them. As of mid-July 2013, all of the audits were complete except for "one or two," according to Trump's attorney, Rudy Giuliani (reported Roger Sollenberger for Salon).

As president, Trump submitted his mandatory public financial disclosure reports in 2017, 2018, and 2019. Trump's 2020 disclosures, however, are well past due.
Know any developments that were not included? Please Contact Zach Everson at 1100Pennsylvania@protonmail.com (it'll be encrypted if you also use a ProtonMail account, which is free) or via Signal (secure), SMS, or mobile at 202.804.2744.
---
Trump administration moves benefit Trump Organization customers (again)
In the past week or so, the federal government made three decisions that were advantageous to entities that have helped the president profit from his businesses while in office.
Exporters of gun silencers
Payday loan industry
Roger Stone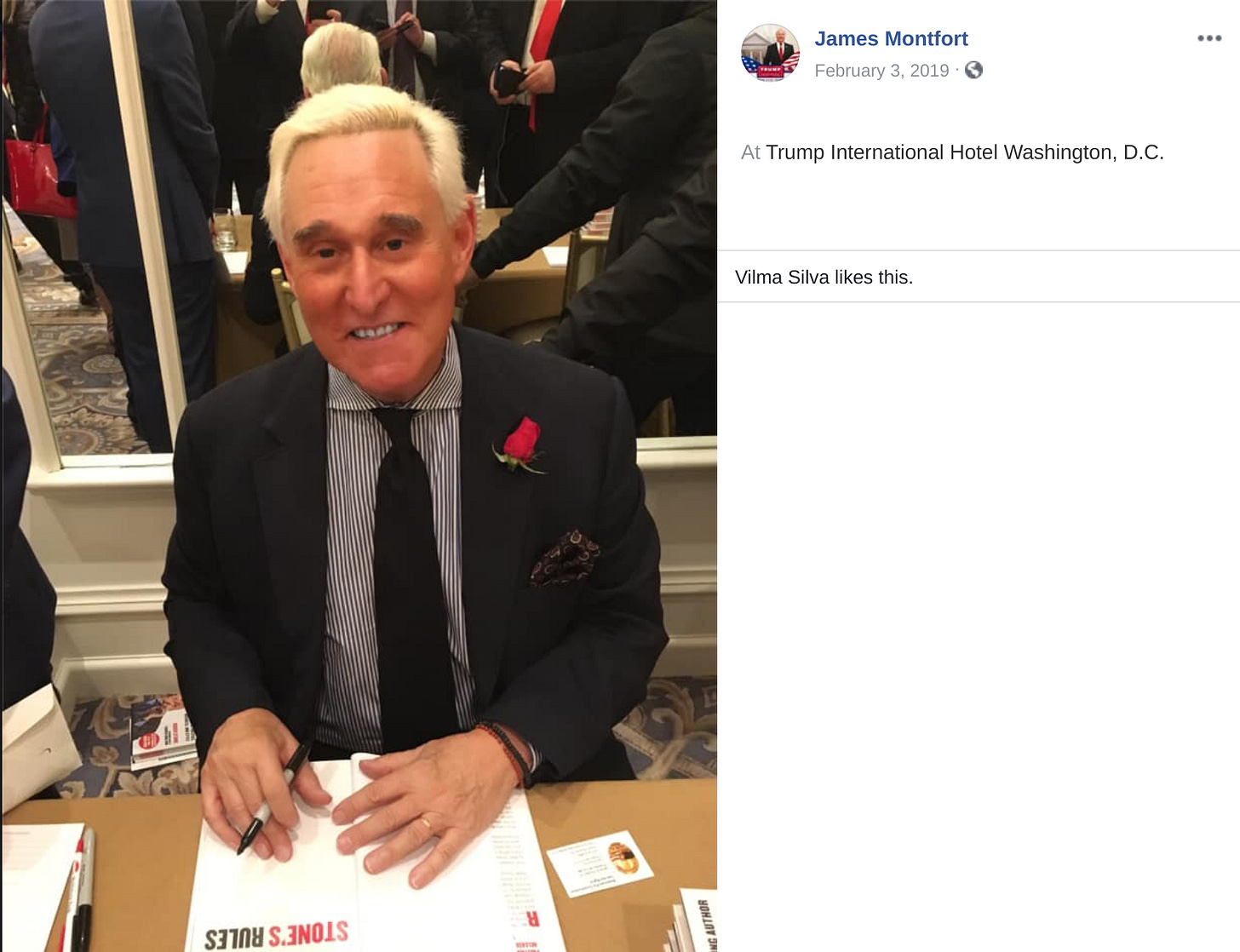 ---
At her uncle's D.C. hotel, Mary Trump 'grabbed a split of TRUMP white wine, and poured it down my Trump throat'
If you want to know Mary L. Trump's thoughts on her uncle's D.C. hotel., you'll have to wait until page one of the prologue in "Too Much and Never Enough: How My Family Created the World's Most Dangerous Man" [bold added]:
I took a cab to the Trump International Hotel, which was comping my family for one night. After checking in, I walked through the atrium and looked up at the glass ceiling and the blue sky beyond. The three-tiered crystal chandeliers that hung from the central beam of interconnected girders arching overhead cast a soft light. On one side, armchairs, settees, and couches—royal blue, robin's-egg blue, ivory—were arranged in small groups; on the other, tables and chairs circled a large bar where I was later scheduled to meet my brother. I had expected the hotel to be vulgar and gilded. It wasn't.

My room was also tasteful. But my name was plastered everywhere, on everything: TRUMP shampoo, TRUMP conditioner, TRUMP slippers, TRUMP shower cap, TRUMP shoe polish, TRUMP sewing kit, and TRUMP bathrobe. I opened the refrigerator, grabbed a split of TRUMP white wine, and poured it down my Trump throat so it could course through my Trump bloodstream and hit the pleasure center of my Trump brain.
---
Subscribe to 1100 Pennsylvania: Stay informed, support this reporting, and help restaurant workers in need
During the COVID-19 pandemic, 1100 Pennsylvania is donating 25 percent of all subscription revenue to the Restaurant Workers Relief Program.
The Lee Initiative, founded by James Beard Award winner Edward Lee, and Maker's Mark's Restaurant Workers Relief Program have "turned restaurants across the country into relief centers with local chefs for any restaurant worker who has been laid off or has had a significant reduction in hours and/or pay." It offers help for those in need of food and supplies, packing hundreds of to-go meals a night. Now in 19 cities across the country, the program has served more than 150,000 meals.
You can learn more about The Lee Initiative and donate too at leeinitiative.org.
Paid subscriptions are 1100 Pennsylvania's sole source of revenue—no ads, no grants. Just $5 a month or $50 a year. Support this reporting, ensure it continues, and now help restaurant workers and their families who need your assistance.
---
Notable sightings
A glimpse of the foreign officials, government employees, politicians, lobbyists, and the like who patronize or appear at Trump businesses. Most people shown here have reasons to want to influence the Trump administration, rely on its good graces for their livelihoods, or should be providing oversight. Additionally, high-profile guests serve as draws for paying customers.
PragerU's The Candace Owens Show returned to the Trump Hotel D.C.'s priciest suite, the Trump Townhouse, for its July 12 episode. The previous installment also was shot there, as 1100 Pennsylvania reported last week. According to the hotel's managing director, Mickael Damelincourt, in a 2019 interview, a night in the hotel's presidential suite, which is smaller than the Trump Townhouse, started at $17,500.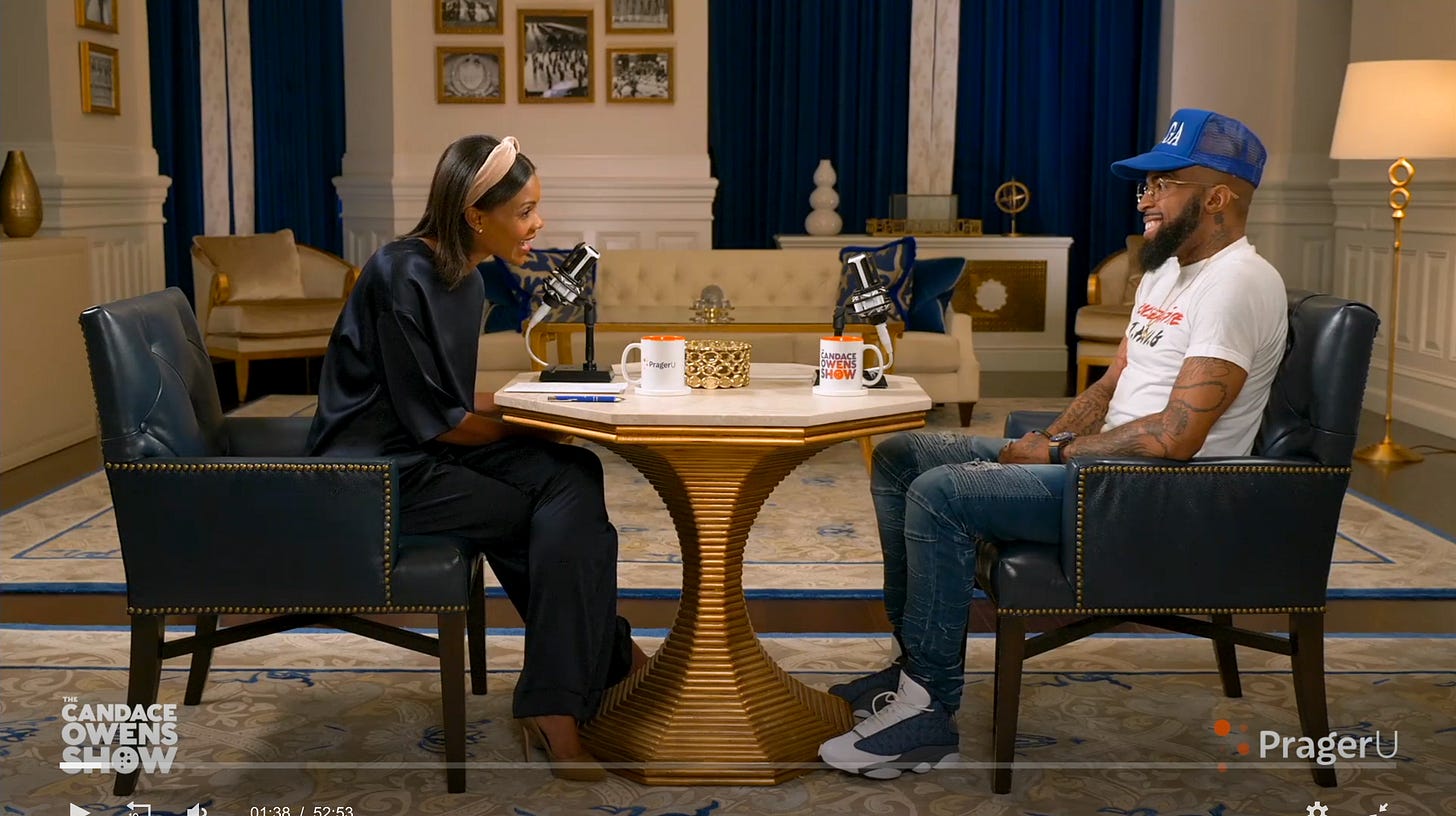 On his way out of D.C., Lee Stranahan, a host for Russia-backed Sputnik radio, toasted Andrii Telizhenko by drinking a white Russian (but calling it a white Ukrainian) at the Trump Hotel D.C. Telizhenko is ex Ukrainian diplomat who's been pushing the story that his country interfered in the 2016 U.S. presidential election on behalf of the Clinton campaign. He's also popped up at the Trump Hotel D.C.
Sunny Aggarwal, a legislative aide to Florida State Rep. Rene Plasencia (R), enjoyed Sunday night shenanigans recently that included a glass of wine at the president's hotel.
Andre Soriano, designer of the MAGA gown, demonstrated not social distancing with two other Trump supporters.
Edmund Kozak, an "experienced Anglo-American political journalist and commentator with a demonstrated history of right-wing rabble-rousing," was glad to return to his "sweet home away from home."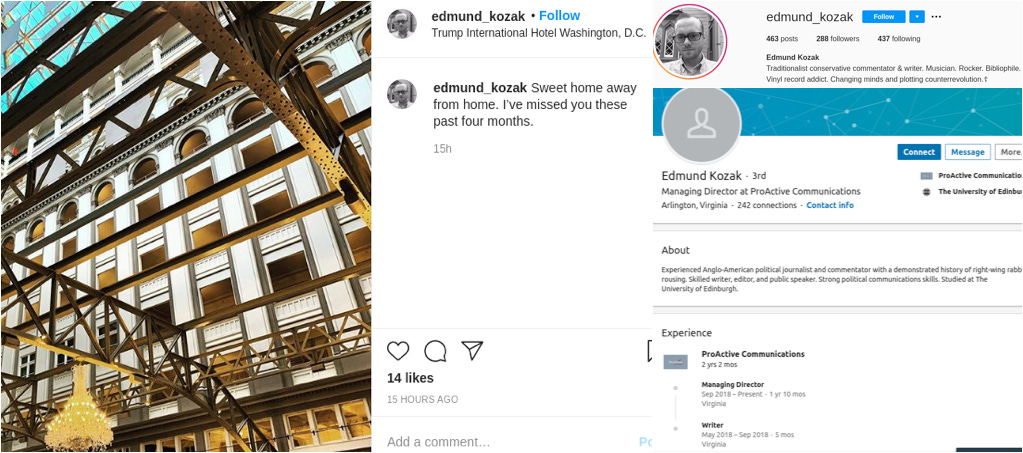 New York City modified Trump Tower's view.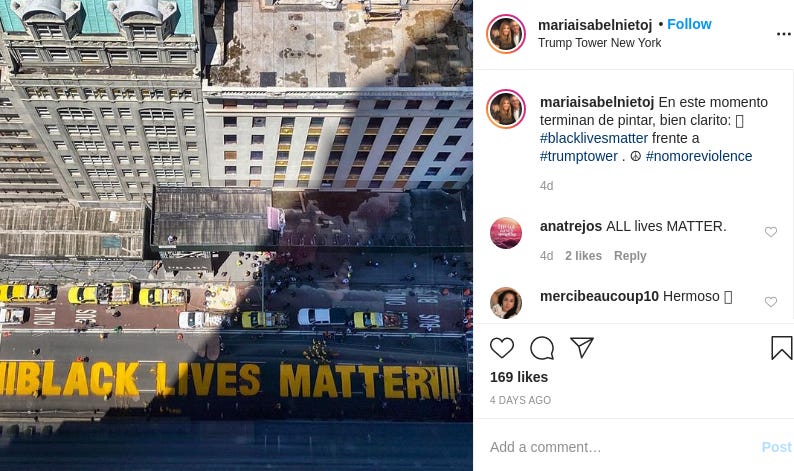 ---
Other Trump Organization news
---
Reference section
Links to rundowns of developments in the House's investigations and lawsuits, reference sheets for some of 1100 Pennsylvania's previous reporting, and articles that provide the background on why all of this matters. The date published or last updated is in parentheses.
Trackers
Notable hotel customers
Summaries
Upcoming key dates
Sept. 23, 2019—House Judiciary Committee hearing "Presidential corruption: Emoluments and profiting off the presidency" (postponed, not yet rescheduled)

July 29, 2020—Deadline for joint status reports in the The Washington Post's lawsuit alleging the Departments of State and Homeland Security have failed to share records responsive to Freedom of Information Act requests seeking information on government spending at Trump properties

Aug. 10, 2020—Scheduling conference before D.C. Superior Court in D.C. attorney general's lawsuit alleging improperly spent nonprofit funds by the Trump Hotel D.C. and Trump's inaugural committee

Oct. 29, 2020—Mediation session in at least a one-time Trump appointee in the Commerce Department's lawsuit against the Trump Hotel D.C., alleging a shard of glass from a sabered bottle of champagne left a gash in her chin
---
Thanks for reading! If you like what you've read, tell someone. If you've been forwarded this newsletter, subscribe at 1100pennsylvania.substack.com. Questions? Read our FAQ. Tips or feedback? Contact Zach Everson at 1100Pennsylvania@protonmail.com (it'll be encrypted if you also use a ProtonMail account, which is free) or via Signal (secure), SMS, or mobile at 202.804.2744.