He's back (and on a tear)
President visited his D.C. hotel after a five-month hiatus as his trips to Trump properties surge
Last night President Donald J. Trumped visited his D.C. hotel for the first time since White House advisor Stephen Miller's wedding on Feb. 16.
After a record-breaking 74-day hiatus from calling on his businesses while in office, the president has resumed his torrid pace during the early days of the coronavirus when he dropped in on four different properties a total of 20 times in a 12 week-stretch. Since resuming his go-sees on May 23, Trump has made it to four of his properties a total of 17 times.
His Sterling, Virginia golf course has received most of his attention, save last night's trip to the Trump Hotel D.C., a weekend at Bedminster, and a 10-minute stint at Doral on July 10 (if you know what the heck that was about, please share).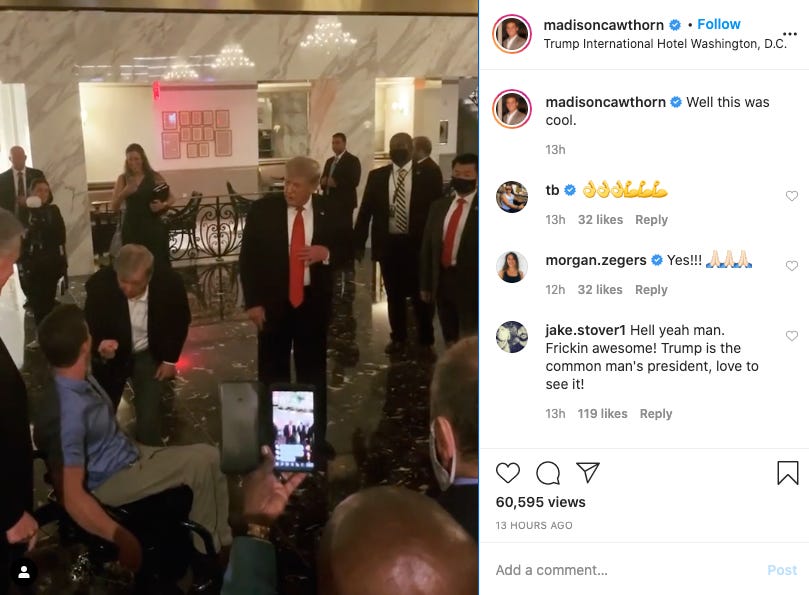 Per the White House, Trump was at the hotel for a campaign fundraiser. And according to a spokesperson for the Republican National Committee, last night's event would bring in $5 million for Trump Victory, the RNC and Trump campaign's joint fundraising committee. Trump Victory already had reported spending more than $253,000 at the Trump Hotel D.C. and $2 million at all Trump properties—a figure that now seems set to rise further.
Ignoring both his own advice from hours earlier and the Trump Hotel D.C.'s rules, which require face coverings in all common areas, Trump was not wearing a mask per video from last night (because of a formatting constraint, select the link to watch it).
Also seen in the Instagram post from the president's visit are Trump Hotel D.C. regulars Chief of Staff Mark Meadows, Sen. Lindsey Graham (R-SC), GOP candidate for U.S. House in North Carolina Madison Cawthorn (who just beat Trump's preferred candidate in a primary), and Rudy Giuliani. The president's attorney was the only one of the five sporting a face covering.
The visit marked Graham's third straight day at a Trump property, having golfed with the president at Sterling on Saturday and Sunday.
And the president already has at least one return visit to a Trump business on his schedule: he's set to attend a July 31 fundraiser at Doral, reported David Smiley for The Miami Herald.
---
White House official, president's personal attorney plugged a Trump golf course on Twitter
Andrew Giuliani, "Special Assistant to President Donald J. Trump until January 20, 2025" per his Twitter account, called his boss's Bronx golf club "one of the greatest courses in the world." One of the president's personal attorneys and the father of the aforementioned White House staffer, Rudy Giuliani, echoed the praise and made sure Eric Trump knew about it.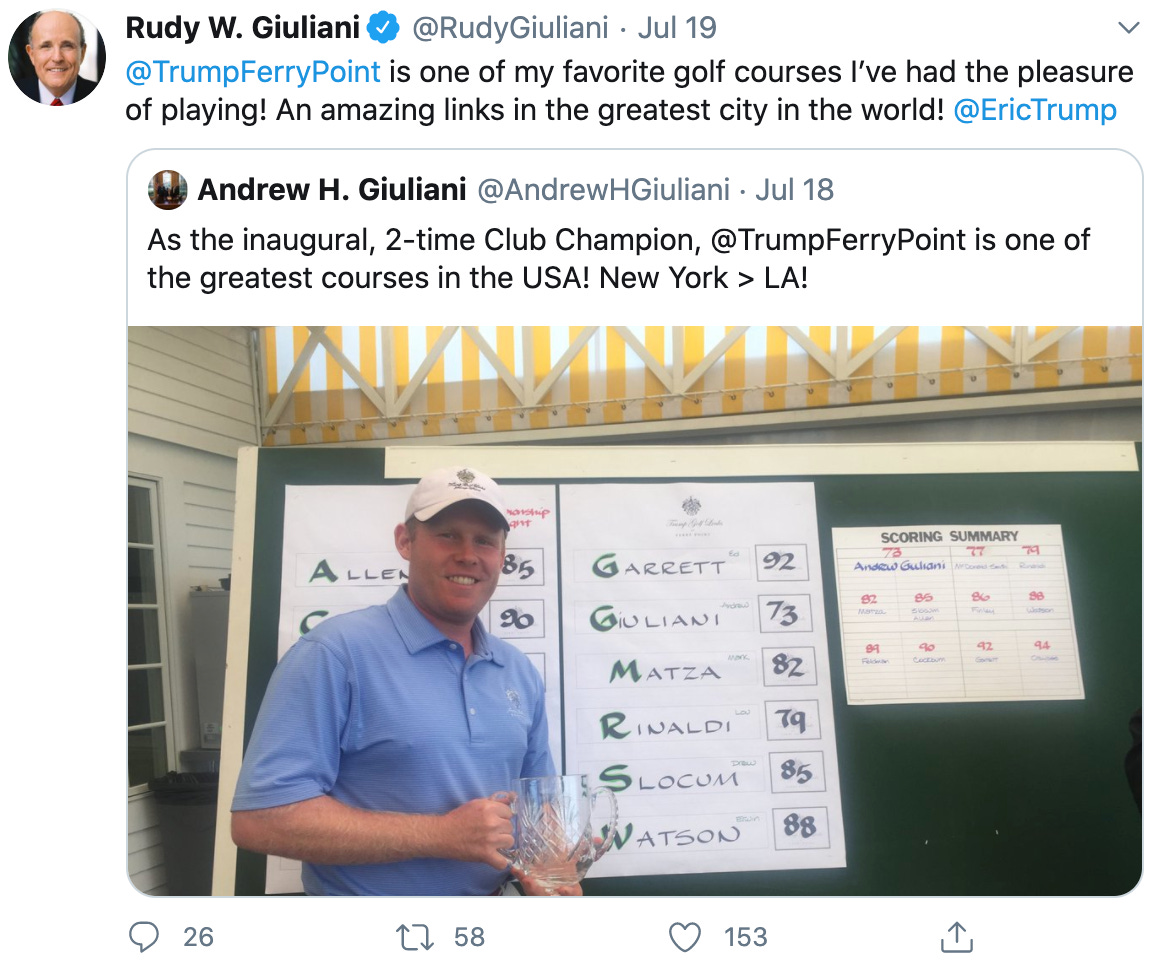 ---
Subscribe to 1100 Pennsylvania: Stay informed, support this reporting, and help restaurant workers in need
During the COVID-19 pandemic, 1100 Pennsylvania is donating 25 percent of all subscription revenue to the Restaurant Workers Relief Program.
The Lee Initiative, founded by James Beard Award winner Edward Lee, and Maker's Mark's Restaurant Workers Relief Program have "turned restaurants across the country into relief centers with local chefs for any restaurant worker who has been laid off or has had a significant reduction in hours and/or pay." It offers help for those in need of food and supplies, packing hundreds of to-go meals a night. Now in 19 cities across the country, the program has served more than 150,000 meals.
You can learn more about The Lee Initiative and donate too at leeinitiative.org.
Paid subscriptions are 1100 Pennsylvania's sole source of revenue—no ads, no grants. Just $5 a month or $50 a year. Support this reporting, ensure it continues, and now help restaurant workers and their families who need your assistance.
---
Campaign expenditures
The campaign for Rep. Clay Higgins (R-LA) spent $1,992.16 for lodging at the head of the executive branch's D.C. hotel on June 1. It marked his campaign's first reported expenditure at the Trump Hotel D.C. Higgins appeared to be staying at the hotel in April when he was in town to protest COVID-19-related shutdowns, as 1100 Pennsylvania reported at the time.

---
Notable sightings
A glimpse of the foreign officials, government employees, politicians, lobbyists, and the like who patronize or appear at Trump businesses. Most people shown here have reasons to want to influence the Trump administration, rely on its good graces for their livelihoods, or should be providing oversight. Additionally, high-profile guests serve as draws for paying customers.
Newsmax TV host John Cardillo had a great time with his D.C. crew at the president's hotel. Per Cardillo's reply on the Facebook post, he appears to have spent at least three nights at the Trump Hotel D.C.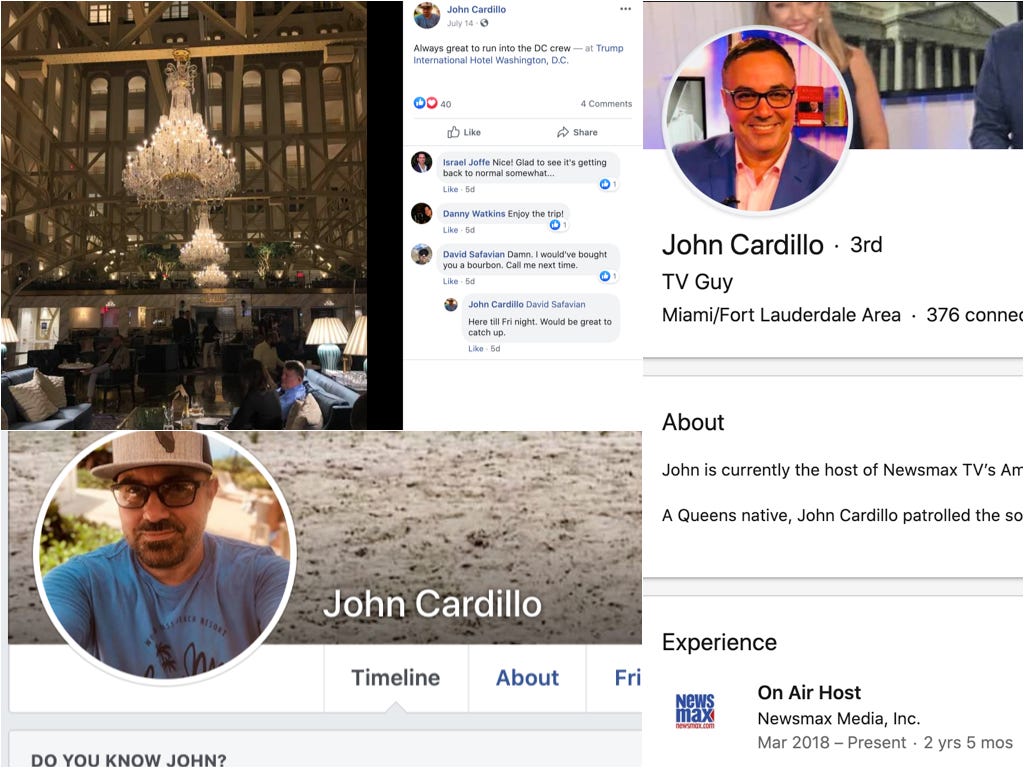 Miami-based realtor Manny Bouza flashed back to when top brokers were invited to both the Trump Hotel D.C. and the White House. Bouza's White House badge has an "A" on it too, meaning he had an appointment with someone.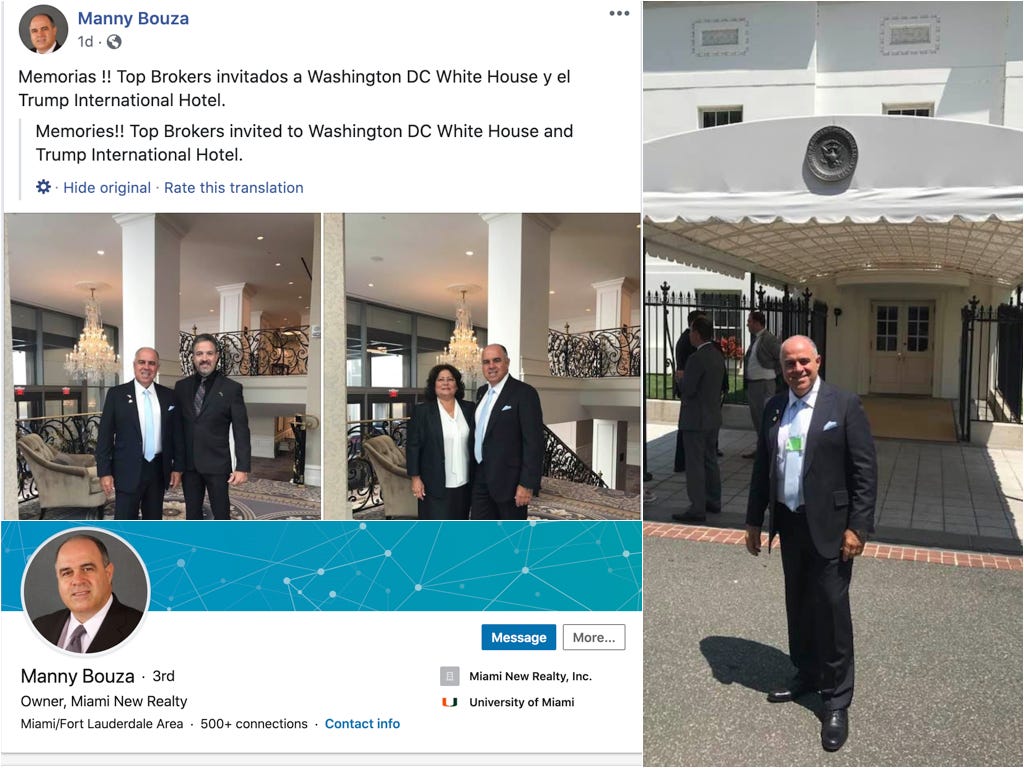 Live statues of the president appeared in front of his D.C. hotel on Friday as part of the Trump Statue Initiative (which is a protest and unrelated to Trump's plan for a new statue garden.)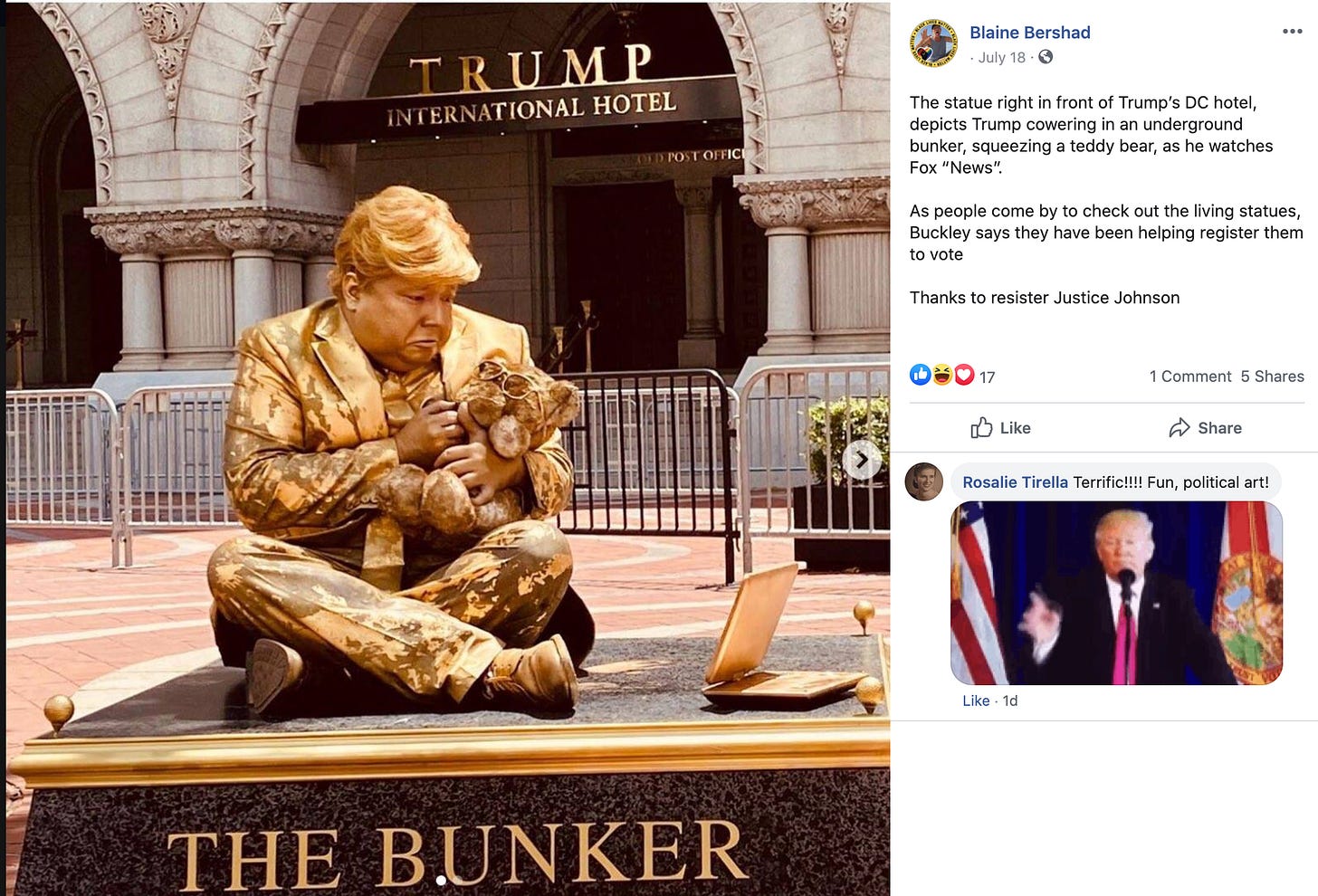 Outside of Trump International Hotel and Tower in New York on Monday, workers protested against racism, police brutality, and the impact of COVID-19 on communities of color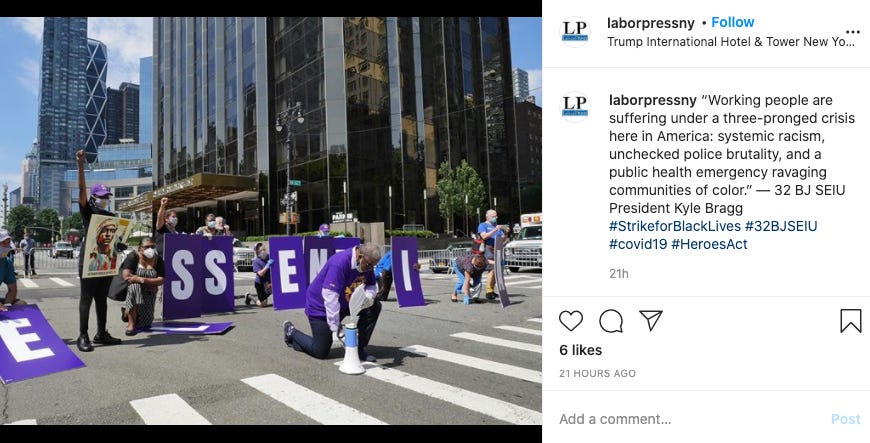 ---
Other Trump Organization news
---
Reference section
Links to rundowns of developments in the House's investigations and lawsuits, reference sheets for some of 1100 Pennsylvania's previous reporting, and articles that provide the background on why all of this matters. The date published or last updated is in parentheses.
Trackers
Notable hotel customers
Summaries
Upcoming key dates
Sept. 23, 2019—House Judiciary Committee hearing "Presidential corruption: Emoluments and profiting off the presidency" (postponed, not yet rescheduled)

July 29, 2020—Deadline for joint status reports in the The Washington Post's lawsuit alleging the Departments of State and Homeland Security have failed to share records responsive to Freedom of Information Act requests seeking information on government spending at Trump properties

Aug. 10, 2020—Scheduling conference before D.C. Superior Court in D.C. attorney general's lawsuit alleging improperly spent nonprofit funds by the Trump Hotel D.C. and Trump's inaugural committee

Aug. 25, 2020—Discovery requests are due in a one-time Trump appointee's lawsuit against the Trump Hotel D.C., alleging a glass from a sabered bottle of champagne left a gash in her chin
---
Thanks for reading! If you like what you've read, tell someone. If you've been forwarded this newsletter, subscribe at 1100pennsylvania.substack.com. Questions? Read our FAQ. Tips or feedback? Contact Zach Everson at 1100Pennsylvania@protonmail.com (it'll be encrypted if you also use a ProtonMail account, which is free) or via Signal (secure), SMS, or mobile at 202.804.2744.