Discover more from 1100 Pennsylvania
"The undisputed expert on the D.C. Trump Hotel" – David Fahrenthold of the Washington Post
Over 3,000 subscribers
High-spending Saudi lobbyist returned
Saudi lobbyist who booked 500 rooms—at a cost of $270,000—for U.S. veterans returned to the hotel
Yesterday's 1100 Pennsylvania reported that at least two lobbyists who advocate for veterans patronized the Trump Hotel D.C. just hours after the president signed an executive order to empower veterans and end veteran suicide on Tuesday.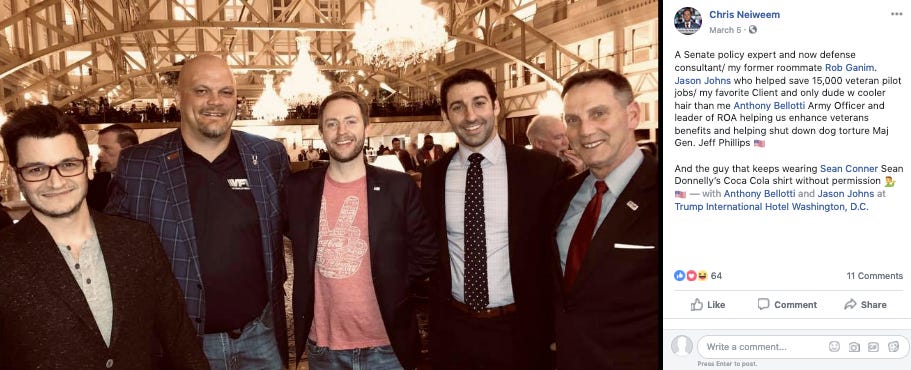 Turns out one of the lobbyists in that photograph—Jason Johns—is the same guy who, while working for Saudi Arabia, booked about 500 nights for U.S. veterans at the Trump Hotel D.C.—spending more than $270,000 at the hotel. This connection was made by David Fahrenthold of The Washington Post, who co-wrote the scoop about the Saudi's patronage with Jonathan O'Connell: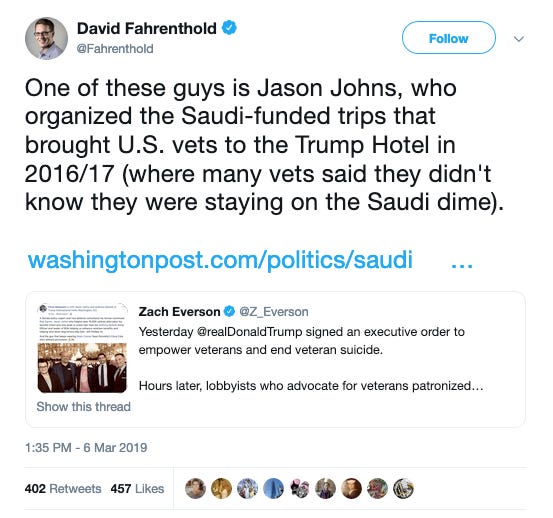 Five House committee and subcommittee chairs demand FBI HQ docs from GSA
Yesterday, the chairs of five House committees and subcommittees wrote to the General Services Administration "demanding documents that are currently being withheld by the Trump Administration relating to the decision to block the longstanding plan to relocate the Federal Bureau of Investigation (FBI) headquarters to a suburban location—which would have allowed commercial developers to acquire the existing site and compete directly with the Trump Hotel across the street on Pennsylvania Avenue—and instead raze and rebuild at the existing location," according to a statement from the House Oversight Committee.
The letter points out the House Democrats' repeated and unsuccessful attempts to gather this information when they were in the minority: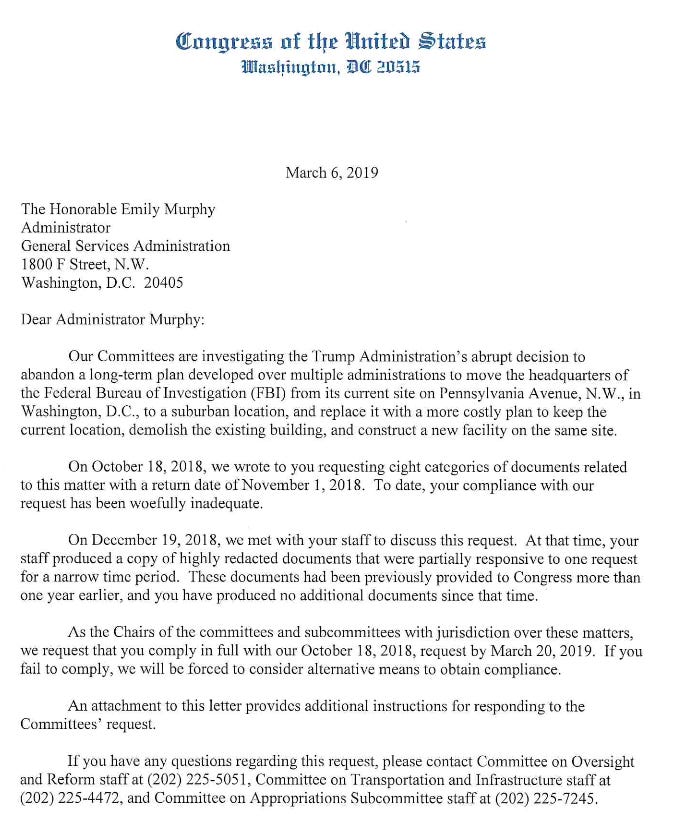 The lawmakers who signed the letter lead the
Oversight and Government Reform Committee

Transportation and Infrastructure Committee

Subcommittee on Economic Development, Public Buildings, and Emergency Management

Subcommittee on Government Operations

Subcommittee on Financial Services and General Government of the Committee on Appropriations
The first three panels already announced plans to investigate the president's ownership of the D.C. hotel.
The chairs' request came one day after a district court judge ruled, for the second time, that GSA needed to be more forthcoming with information about its FBI HQ decision in response to government watchdog Citizens for Responsibility and Ethics in Washington's Freedom of Information Act request. (CREW also is involved in two emoluments lawsuits against the president.)
Busy weekend ahead at Mar-a-Lago
This weekend, Mar-a-Lago is hosting the RNC's donor retreat with President Trump, Florida Gov. Ron DeSantis, Jared Kushner, Ronna McDaniel, and Brad Parscale slated to speak, according to Alex Isenstadt of Politico: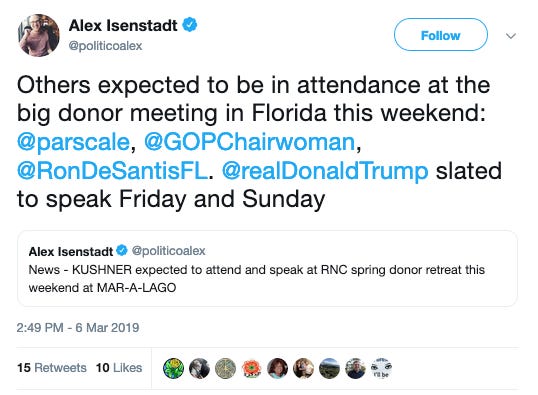 And Saturday night, the president's private Palm Beach Club also is welcoming the Sixth Annual Wine, Women, and Shoes for Big Dog Ranch Rescue. Tables start at $5,000. Last year's event, also at Mar-a-Lago, sold out and was co-hosted by Trump campaign staffer Lara Trump.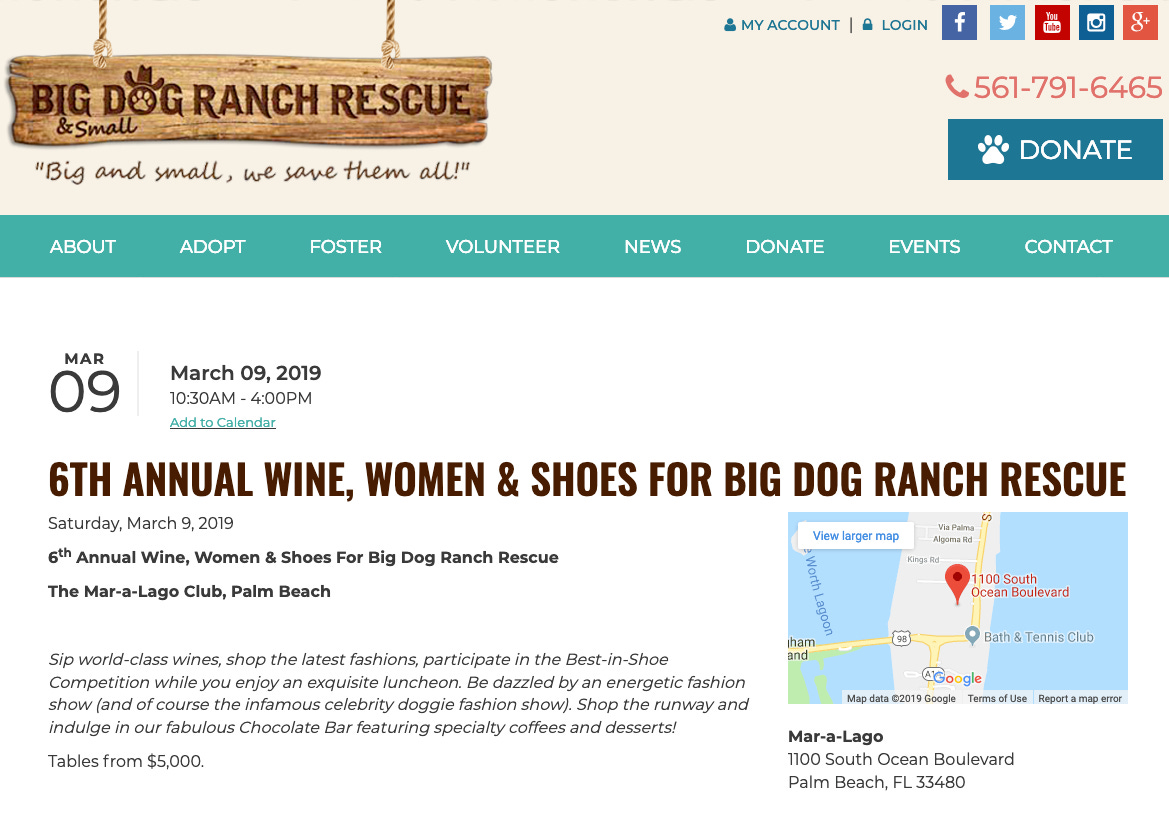 Grocers head to Doral to honor students
The National Supermarket Association's Scholarship Foundation's award ceremony will be at the Trump National Doral on April 24, 2019. The venue is keeping at least one person from attending.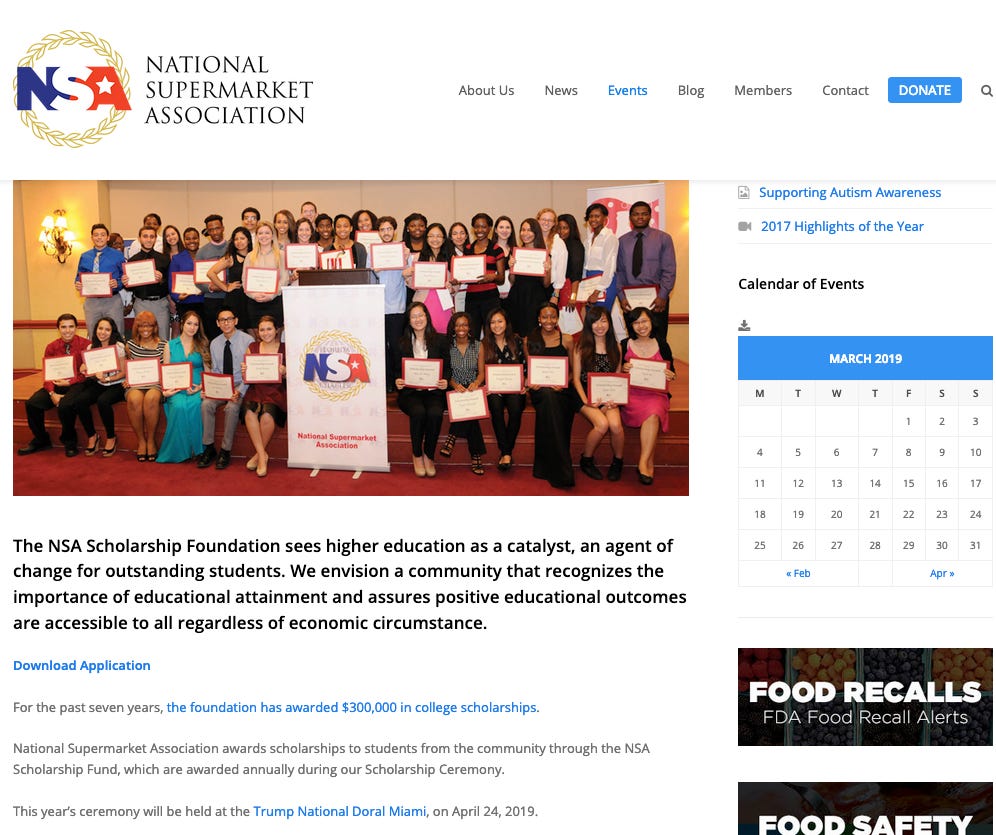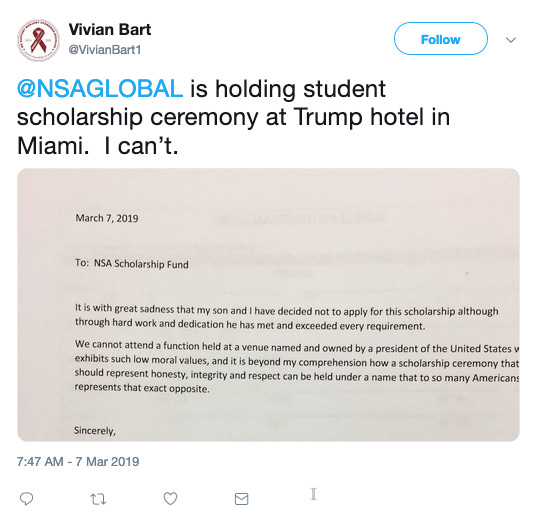 Noteworthy sightings
For the second time in a week, former Rep. Pete Sessions (R–TX) was pictured at BLT Prime in the president's hotel. He posed here with a partner at Barnes & Thornburg who "often work[s] on matters involving the federal government," John Willding.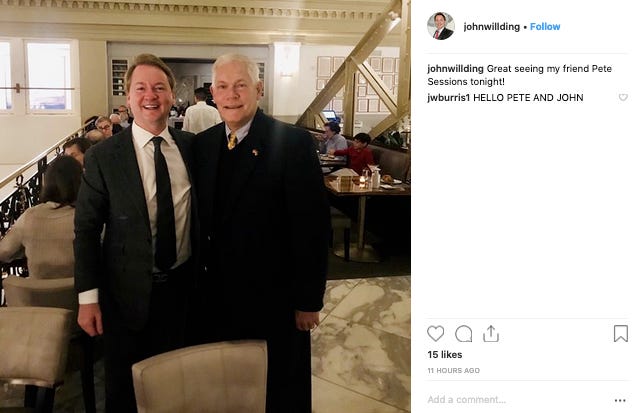 Willding often comes up from Texas for the Trump First Tuesdays lobbyist-networking happy hours. Yesterday he posed with the hotel's managing director, Mickael Damelincourt, and its director of food and beverage, Daniel Mahdavian. Willding also had a great day at the White House, where he attended a prayer luncheon.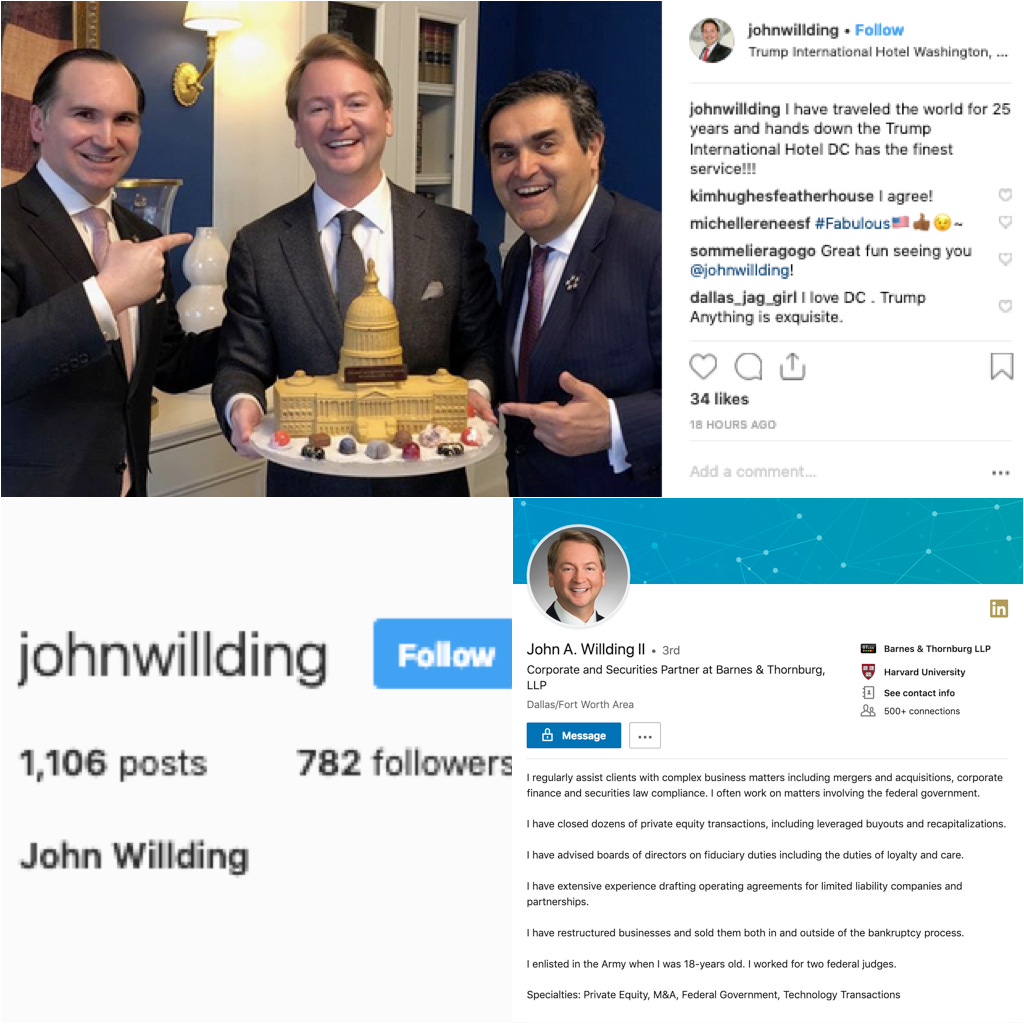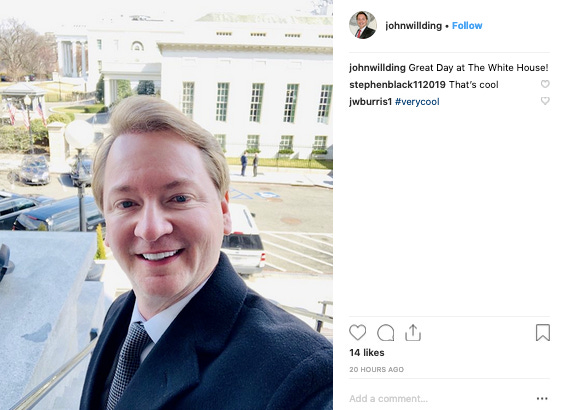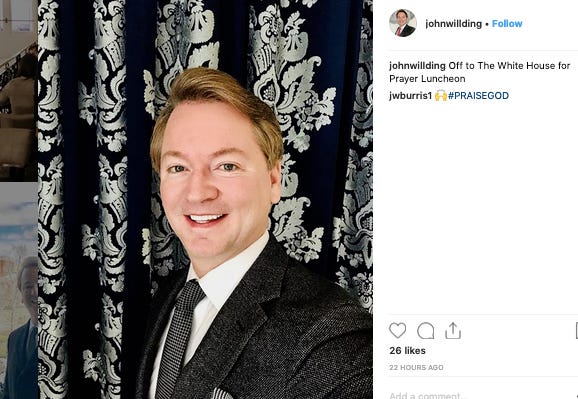 An entrepreneur who specializes in the coffee business, international consultant services, medical sales, and solar energy solutions, Roberto Conti showed off his #fashion by the bar. He's also a Trump First Tuesdays regular from Texas.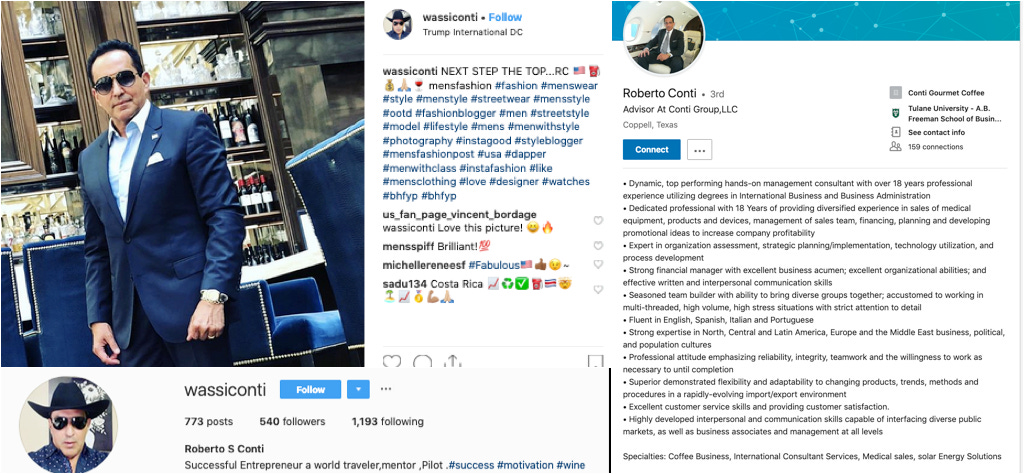 John Milton Peterson, the special projects director of the International Association of Counterterrorism and Security Professionals, attended Trump First Tuesday and found it a "cool gathering of patriots."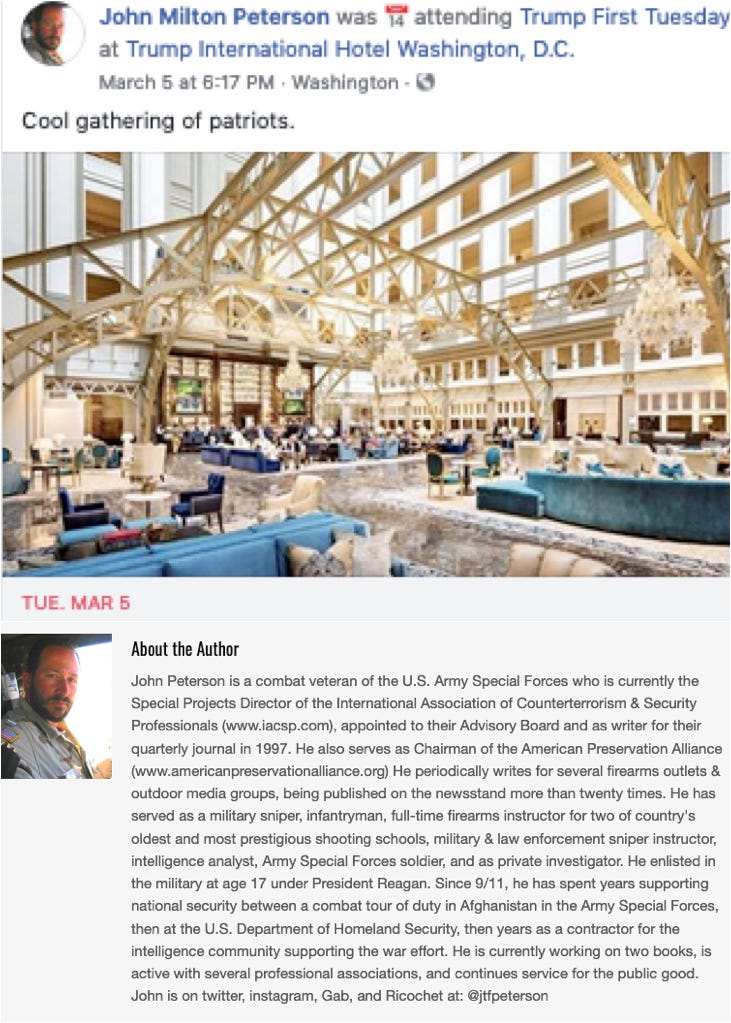 The wife of Armenia's ambassador to the United States, Narine Malkhasyan, posed with a Fox News national security analyst at the U.S. president's hotel while celebrating Kuwait last week.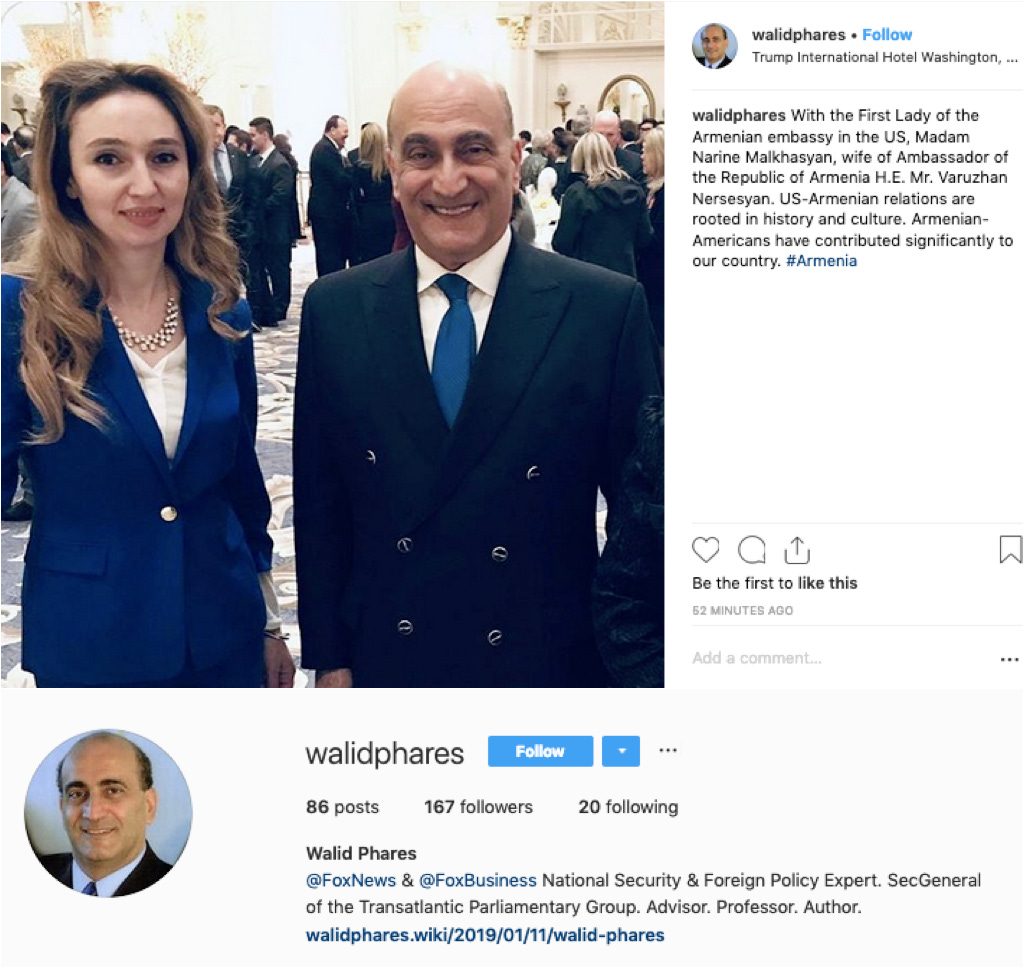 The CEO of the National Diversity Coalition for Trump and a member of Trump's transition team, pastor Darrell Scott, and Fox News pundit and Trump campaign advisor Harlan Hill reconnected at the Trump Hotel D.C.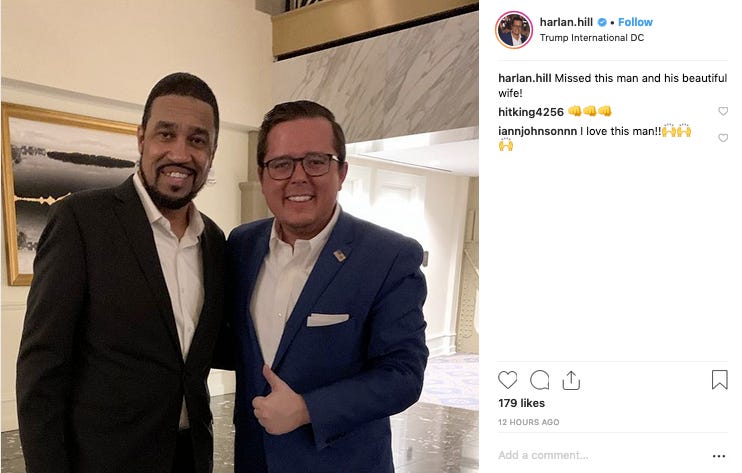 The executive director for Look Ahead America (which registers, educates, and enfranchises rural and blue-collar patriots) and the former data chief and strategist for Trump for President, Matt Braynard, wants it known that he likes his former boss's hotel and dined there last month with his wife.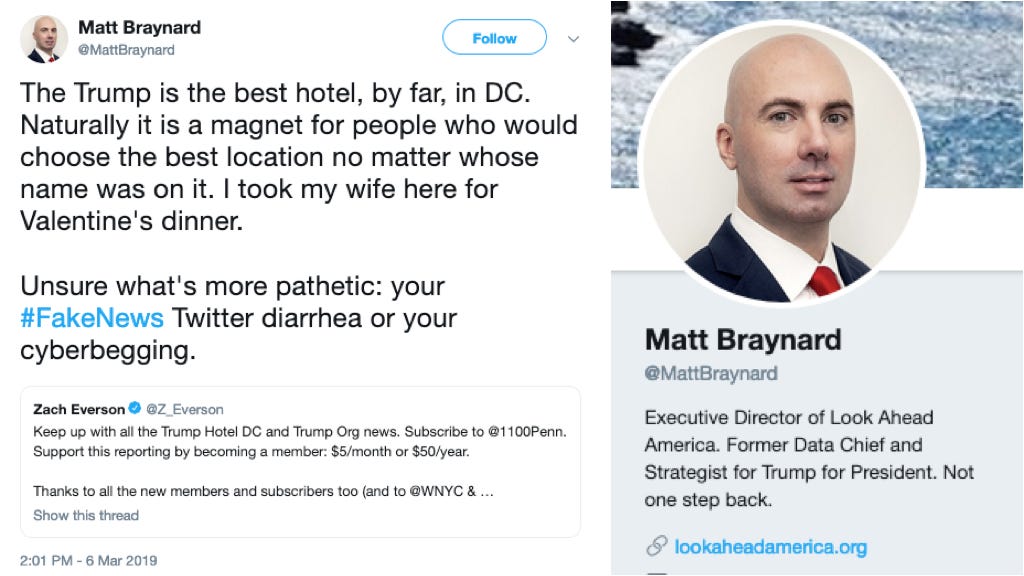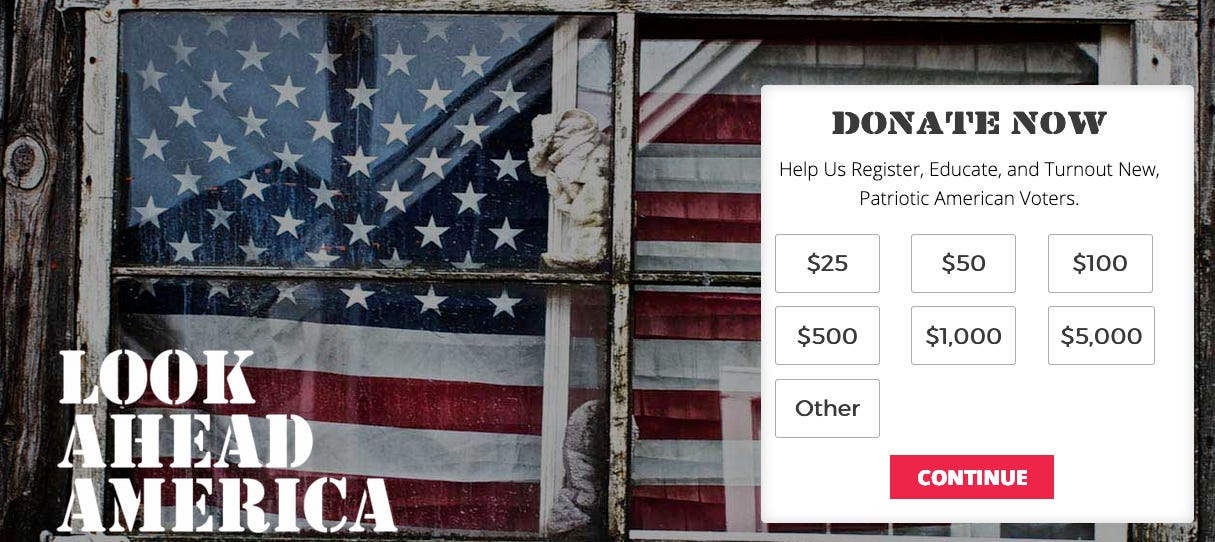 Other Trump Organization news
House investigations, current status (latest changes, March 6, 2019)
Legal cases, current status (latest change, March 6, 2019)
D.C. and MD attorneys general's emoluments lawsuit (district court docket, appellate court docket)—

Official capacity—On Dec. 20, 2018, the 4th U.S. Circuit Court of Appeals ruled it would hear the president's appeal of district court rulings that allowed the case to proceed to discovery, and the appellate court halted discovery in the case. Discovery had started Dec. 3 and was scheduled to run through Aug. 2, 2019, with the AGs having subpoenaed the Trump Organization, including its Scottish golf courses; the U.S. Departments of Agriculture, Commerce, Defense, and Treasury and the GSA; and the state of Maine. Oral arguments on the appeal are scheduled for March 19. The AGs filed their brief opposing the president's appeal on Feb. 6, stating, "The President is not entitled to an order requiring the district court to certify for interlocutory review its denial of his motion to dismiss. No court has ever issued such relief." Trump's DOJ attorneys replied on Feb. 21: "Plaintiffs fundamentally err, substantively and procedurally."

Individual capacity—On Dec. 14, Trump's personal attorneys appealed the denial of their motion to dismiss the case, also to the 4th U.S. Circuit Court of Appeals. On Dec. 19, the AGs replied to Trump's motion for a stay pending that appeal by voluntarily dismissing the claims against Trump in his "individual capacity to allow the claims against President Trump in his official capacity to move forward expeditiously." (The AGs only brought suit against Trump in his individual capacity after the judge suggested they do so.) Trump's personal attorneys, on Dec. 21, opposed the motion to dismiss at the district level, saying the appeals court now has jurisdiction and accusing the AGs of "gamesmanship."

196 Democratic senators and representatives' emoluments lawsuit—On Sept. 28, Judge Emmet G. Sullivan ruled that the legislators have standing to sue. Trump's Justice Department attorneys filed an interlocutory appeal on Oct. 22. On Jan. 30, 2019, the plaintiffs' filed a notice of supplemental authority, notifying the court of the GSA inspector general's report that criticized GSA for failing to consider if the Trump Hotel D.C.'s lease was in compliance with the Constitution after Donald Trump became president. Two days later, the president's attorneys argued that the IG's conclusion was not inconsistent with Trump's argument, but that the judge should ignore that report anyway because the IG has no expertise in interpreting or applying the foreign emoluments clause.

CREW et. al's emoluments lawsuit—In February 2018, CREW appealed its suit being dismissed for lack of standing to the 2nd U.S. Circuit Court of Appeals. Oral arguments on that motion were held on Oct. 30.

Cork's unfair competition lawsuit—Judge Richard J. Leon dismissed the case on Nov. 26, 2018, writing "Cork has failed to state a claim for unfair competition under D.C. law." On Dec. 10, Cork's attorneys filed a notice of appeal and on Jan. 10, 2019 they submitted a statement of issues to be raised. A briefing schedule was set on March 5 with Cork's brief due on April 15, the president's brief due on May 15, and Cork's reply to the president's brief due on June 5.

Employees' class-action suit alleging racial discrimination—Two of the three plaintiffs did not appear at a status hearing on Jan. 25, 2019; their cases were moved to arbitration. Via email, their attorney, A.J. Dhali, said his clients did not appear at the hearing because their case already had been moved to arbitration last year. The next status hearing is scheduled for Oct. 4.
Health inspections, current status (latest change, Aug. 10, 2018)
❌Hotel: five violations on May 7, 2018; two were corrected on site

❌BLT Prime and Benjamin Bar: nine violations on Aug. 10, 2018

❌Sushi Nakazawa: two violations on Aug. 10, 2018

✔️Banquet kitchen: no violations on Aug. 10, 2018

❌Pastry kitchen: two violations on Aug. 10, 2018

✔️Gift shop: no violations on May 7, 2018

❌Employee kitchen and in-room dining: five violations on Aug. 10, 2018; two were corrected on site
One thing that has nothing to do with Trump's businesses (I think, tough to tell sometimes!)
"What do graffiti and fine cuisine have in common? Chef Edward Lee Explains" by Edward Lee for The New York Times
Thanks for reading. If you like what you see, tell someone—and support this work by becoming a paying member ($5/month or $50/year). If you've been forwarded this newsletter, subscribe for yourself at zacheverson.substack.com. Questions? Read our FAQ/manifesto. Tips or feedback? Contact me, Zach Everson, securely via email at 1100Pennsylvania@protonmail.com or on Signal at 202.804.2744.