Discover more from 1100 Pennsylvania
"The undisputed expert on the D.C. Trump Hotel" – David Fahrenthold of the Washington Post
Over 3,000 subscribers
Hotel appears eligible to apply for government bailout funds
Trump Hotel D.C.'s staff size likely qualifies it to apply for up to $10 million in government-backed small business loans that could convert to grants
According to multiple sources, the Trump Hotel D.C. most likely has 500 or fewer employees, which would qualify it to apply for a small-business loan of up to $10 million under the stimulus package President Donald J. Trump signed last week.
Trump still owns his hotel and can profit from it.
Unlike the CARES Act's $500 billion slush fund doled out by the Treasury Department (and former Trump Hotel D.C. resident Steve Mnuchin), this $349 billion pot does not bar the president and his family's businesses from partaking—although funds are obliged to cover expenses like payroll, healthcare benefits, and interest on pre-existing debt.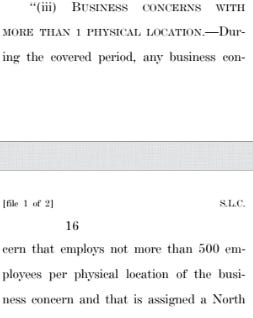 While applicants need documentation to prove their loan eligibility, demonstrating that they plan to spend the funds in the prescribed manner requires just "a good faith certification." And if a borrower doesn't reduce its workforce, the loan will be forgiven, with the recipients only needing to pay back accrued interest. Borrowers do not need to provide a personal guarantee or collateral. While banks and other lenders are providing the loans, the Small Business Administration, currently led by Trump-appointee Jovita Carranza, will guarantee them.
This part of the article seems like a good place to point out that Donald Trump has a long history of stiffing his business's creditors.
Anyway, a borrower's payroll determines the maximum amount of a loan, which top out at $10 million. Interest rates can be no higher than 4 percent.
Three travel industry sources told 1100 Pennsylvania that the hotel likely has fewer than 500 employees, which means it qualifies to apply for the loans. Additionally the Trump Hotel D.C.'s official LinkedIn page states it has 201 to 500 employees. And in a 2018 interview with Mary Gostelow of Hotels magazine, managing director Mickael Damelincourt said his business had 450 associates.

The Trump Hotel New York on Central Park also appears to qualify to apply for a stimulus small-business loan, based on its number of employees as reported last week by David A. Fahrenthold, Joshua Partlow, and Jonathan O'Connell for The Washington Post. And according to managing director Gabriel Constantin's LinkedIn profile, the Trump Hotel Chicago also falls beneath the 500-employee threshold.
Representatives from the Trump Organization have not responded to an inquiry asking which of its properties have 500 or fewer employees and if the company plans to pursue bailout funds. At a March 22 press briefing, however, the president refused to rule out doing so.
---
President follows his hotel's lead and scratches his Easter plans
On Friday, hours after deleting a March 10 tweet advertising its Easter brunch, the Trump Hotel D.C. confirmed that it had cancelled its annual buffet, reported Jake Sherman, Anna Palmer, Garrett Ross, and Eli Okun for Politico. Two days later, President Trump backed away from his hope to have the country "opened up and just raring to go by Easter" and extended social-distancing guidelines through the end of April.
In 2019, the hotel's buffet cost $130 per adult and enjoyed "record numbers," at least coming close to selling out according to the hotel's managing director, Mickael Damelincourt.
The hotel deleted the tweet advertising its Easter brunch buffet after the promotion attracted an abundance of negative feedback from social-media users (the kids call it "being ratioed AF").
Damelincourt's March 24 tweet promising "a huge celebration in a few weeks" was similarly panned, but it—and the 140-plus replies to it—remain online and available for self-quarantine time-killing (but watch "Tiger King" first).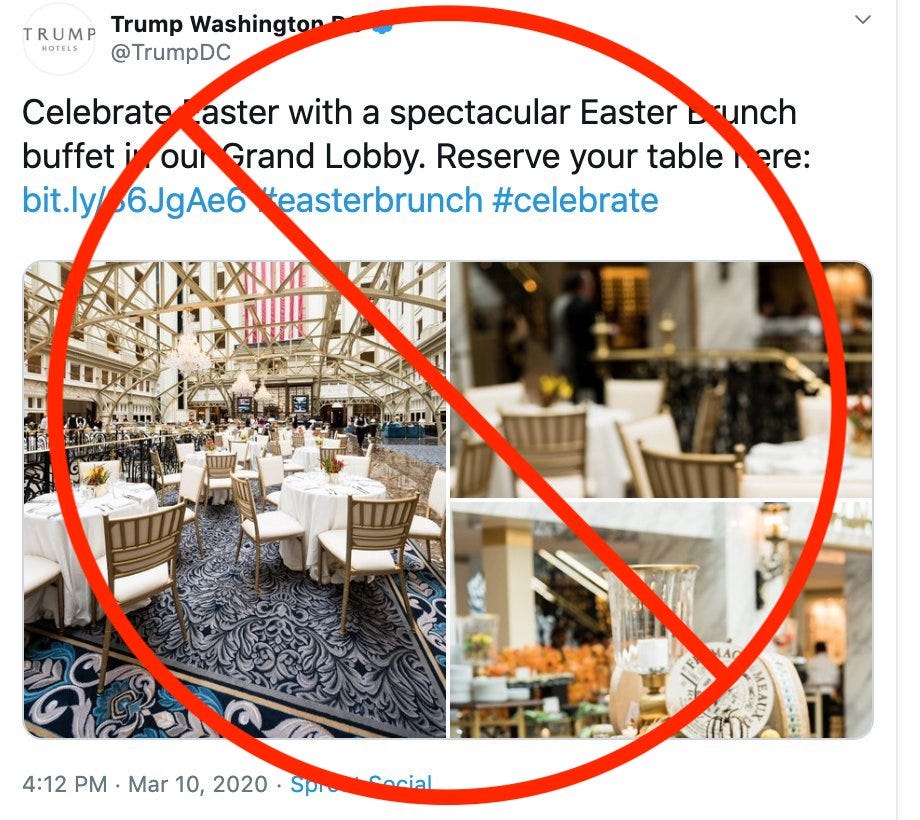 ---
Downtown D.C. luxury hotel occupancy rate nosedives to 6 percent for week of March 15
The COVID-19 pandemic caused the occupancy rate for hotels in the same market segment as the Trump Hotel D.C. to plummet to just 6.3 percent the week of March 15, according to data global hospitality benchmarking firm STR provided 1100 Pennsylvania. That's a decline of more than 91 percent for downtown D.C. luxury hotels compared with the same week in 2019.
The average daily rate at those same hotels fell too, dropping $40 from the week before to $288. That's 10 percent lower than the same period 2019.
Nationwide, STR reported the occupancy rate for hotels the week of March 15 was 30.3 percent, down 56 percent compared with the previous year.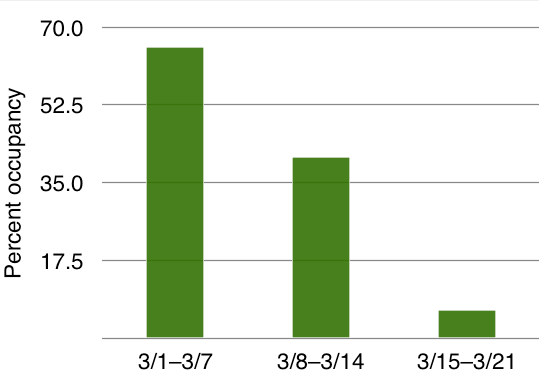 ---
1100 Pennsylvania's reporting reaches millions. Subscribe and ensure it continues.
Recently your correspondent appeared on Inside Edition to share 1100 Pennsylvania's reporting on the Trump Hotel D.C. Additionally, 1100 Pennsylvania has been cited by The Associated Press, The Atlanta Journal Constitution, Business Insider, Capital (French), The Daily Beast, The Daily Mail, The Guardian, The Hartford Courant, MSNBC, Ireland's Newstalk radio, NBC News, The New York Times, The Palm Beach Post, Stern (German), The Wall Street Journal, The Washington Examiner, The Washington Post, Washingtonian, and Yahoo News.
Thanks to 1100 Pennsylvania's paid subscribers who support in-depth reporting on who's paying Donald Trump and what they may want from the president, helping bring this information to a much wider audience. Paid subscriptions are this publication's sole source of revenue—no ads, no grants, no checks from George Soros. Support this reporting and ensure it continues. Just $5 a month or $50 a year.
---
Campaign expenditures
The campaign for Trump-endorsed Rep. Randy Weber (R-TX) spent $230 for "putting up staff" on Feb. 10 at the head of the executive branch's D.C. hotel. The disbursement was the first Weber's campaign has reported at the Trump Hotel D.C.

---
Notable sightings
A glimpse of the foreign officials, government employees, politicians, lobbyists, and the like who patronize or appear at Trump businesses. Most people shown here have reasons to want to influence the Trump administration, rely on its good graces for their livelihoods, or should be providing oversight. Additionally, high-profile guests serve as draws for paying customers.
Earlier this month, U.S. ambassador to Israel David Friedman mingled in the Trump Hotel D.C. with his boss's customers. Friedman visited that hotel at least twice around the time D.C. hosted the American Israel Public Affairs Committee policy conference.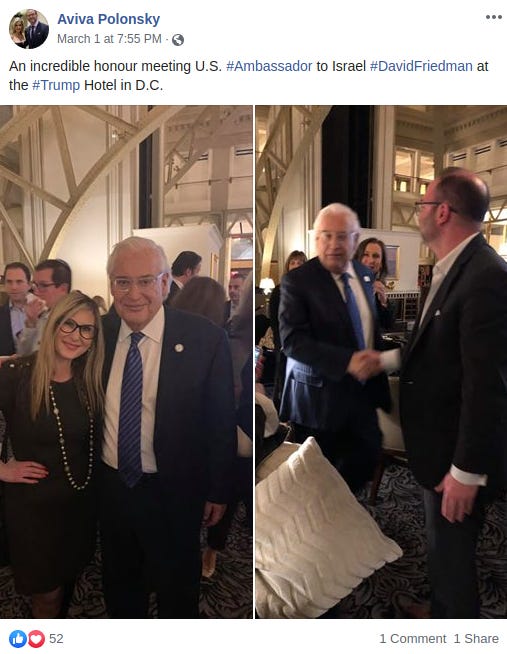 ---
Other Trump Organization coronavirus news
---
Reference section
Links to rundowns of developments in the House's investigations and lawsuits, reference sheets for some of 1100 Pennsylvania's previous reporting, and articles that provide the background on why all of this matters. The date published or last updated is in parentheses.
Trackers
Notable hotel customers
Summaries
25 unimpeachable examples of Trump profiting from his hotel: Foreign governments, Trump administration, GOP lawmakers, industry all have called on the Trump Hotel D.C. since its owner became president (Sept. 27, 2019)

"Power tripping in the swamp: How Trump's D.C. hotel swallowed Washington
The MAGA social scene is a movable feast, but its dark heart resides within the Old Post Office Building, where the Trump Org operates under a mercenary charter" by your correspondent for Vanity Fair (October 2019)

"Inside the world's most controversial hotel: The hotel that was expected to take its place among the crown jewels of D.C.'s travel scene has become a magnet for protestors, a West Wing Annex, and—possibly—the center of a constitutional crisis." by your correspondent for Condé Nast Traveler (May 2018)
Upcoming key dates
Sept. 23, 2019—House Judiciary Committee hearing "Presidential corruption: Emoluments and profiting off the presidency" (postponed, not yet rescheduled)

Jan. 23, 2020—Trump Organization's deadline to bid for the lease rights to its D.C. hotel.

March 20, 2020—Status hearing before D.C. Superior Court in former hotel employees' lawsuit alleging racial discrimination, postpone due to coronavirus-related closure

March 31, 2020—Before postponement due to coronavirus-related closure, the Supreme Court was to hear Trump's appeal of earlier rulings requiring his financial institutions to comply with subpoenas from House Financial Services, Intelligence, and Oversight Committees and the New York district attorney's office

April 6, 2020—Deadline for parties to exchange witness lists in lawsuit alleging a shard of glass from a sabered bottle of champagne left a gash in a customer's chin

June 2020—Before postponement or oral arguments due to a coronavirus-related closure, Supreme Court decision due on Trump's appeal of earlier rulings requiring his financial institutions to comply with subpoenas from House Financial Services, Intelligence, and Oversight

Aug. 10, 2020—Scheduling conference before D.C. Superior Court in D.C. attorney general's lawsuit alleging improperly spent nonprofit funds by the Trump Hotel D.C. and Trump's inaugural committee
---
Thanks for reading! If you like what you've read, tell someone. If you've been forwarded this newsletter, subscribe at 1100pennsylvania.substack.com. Questions? Read our FAQ. Tips or feedback? Contact Zach Everson at 1100Pennsylvania@protonmail.com (it'll be encrypted if you also use a ProtonMail account, which is free) or via Signal (secure), SMS, or mobile at 202.804.2744.