Discover more from 1100 Pennsylvania
"The undisputed expert on the D.C. Trump Hotel" – David Fahrenthold of the Washington Post
Over 3,000 subscribers
Hotel guests served Trump for dinner, Pence for lunch
Trump administration and campaign officials turned out to wow donors during retreat at president's D.C. hotel
While photography reportedly was banned from events at a retreat for campaign donors this weekend, an agenda posted to Facebook shows that on Saturday President Donald Trump, Vice President Mike Pence, and Secretary of the Interior David Bernhardt were scheduled to meet with the president's customers at the Trump Hotel D.C.
The event was the winter 2019 retreat for the Trump Victory Committee, the Trump campaign and the Republican National Committee's joint fundraising committee. The RNC already has spent almost $560,000 at the hotel since its owner was elected president in 2016, while Trump Victory has reported disbursing more than $250,000 there. Those figures are set to increase after this weekend.
Per the program, the president's donors-cum-patrons also heard from White House counselor Kellyanne Conway, former White House spokesperson Sarah Huckabee Sanders, Republican National Committee chair Ronna McDaniel, businessmen walled off from their father's administration Donald Trump Jr. and Eric Trump, Fox News pundit turned Trump campaign advisor Kimberly Guilfoyle, and RNC co-chair Tommy Hicks Jr. Photos from the event showed Trump campaign manager Brad Parscale and advisor Lara Lea Trump addressing the group as well.
As 1100 Pennsylvania reported Friday, donors and hotel guests also enjoyed invites to the White House holiday open house (and quite possibly a copy of Donald Trump Jr.'s "Triggered" from the RNC's $94,800 stockpile). In addition to raising money for the president's personal accounts, the retreat included a day of making fundraising calls for his committee per an Instagram post from Judson Sapp, a GOP candidate for Congress in Florida.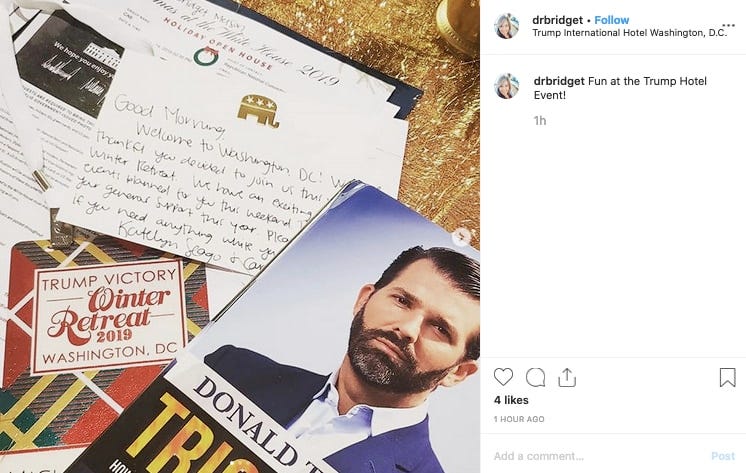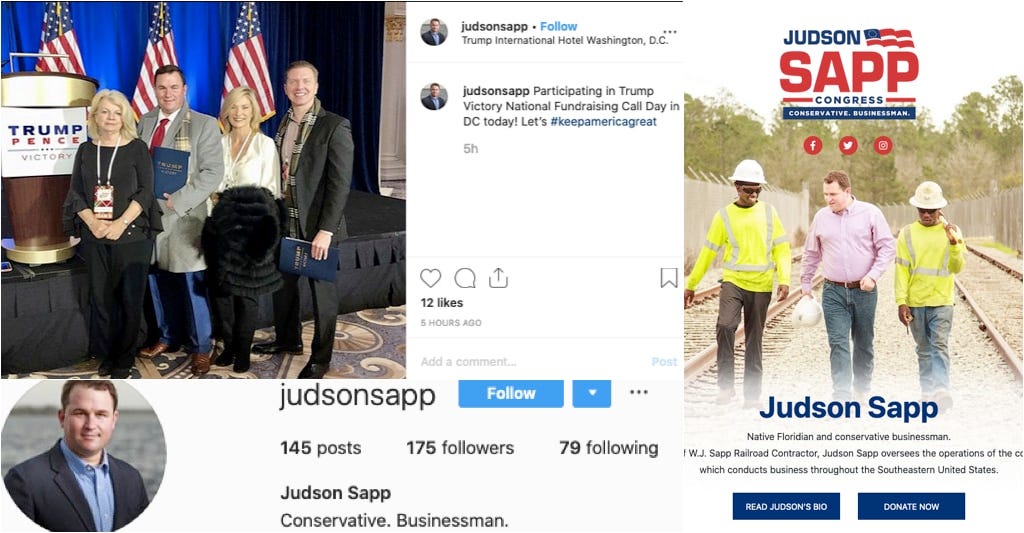 According to multiple guests, donors were not allowed to take photographs inside events. And if that rule was broken, 1100 Pennsylvania didn't see it. White House press pool reports confirm Trump's visit to the hotel, however, while an attendee posted on Facebook that the vice president did in fact attend. Social-media posts attest to appearances by all of the other special guests, with the exception of Bernhardt and Hicks Jr.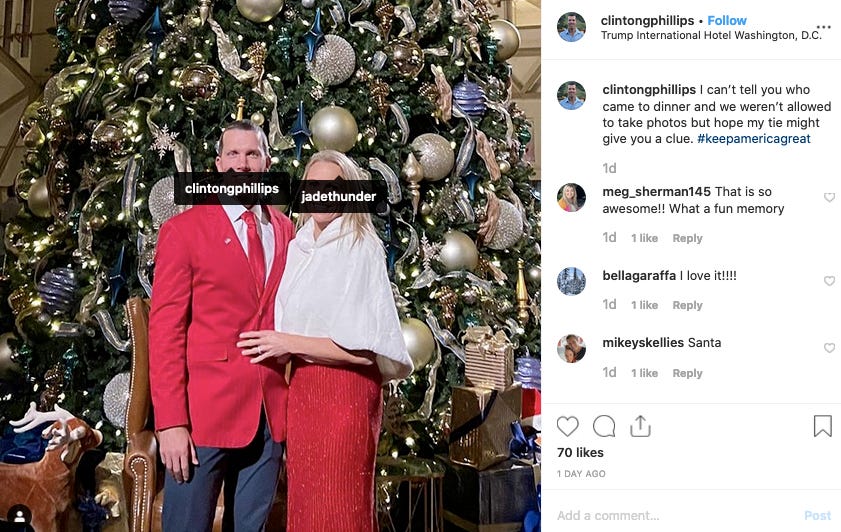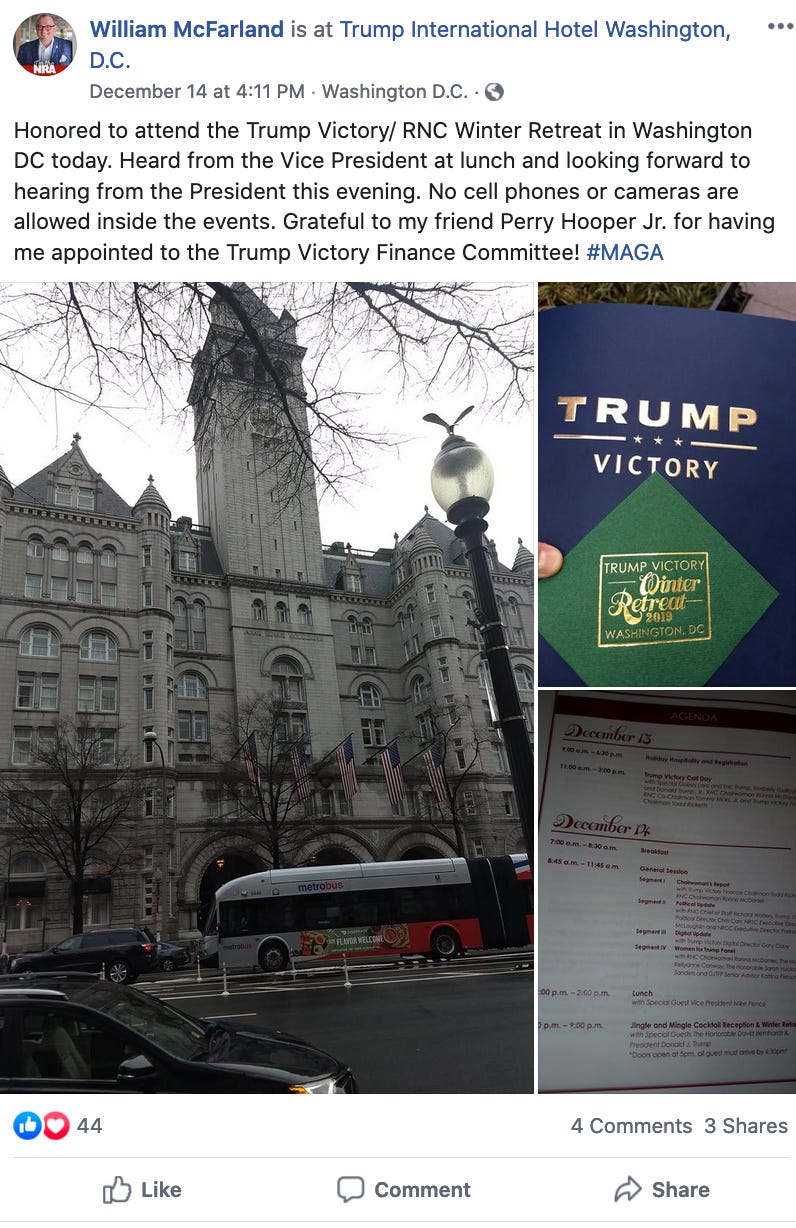 But pictures taken in other parts of the hotel or after an event, however, afford a glimpse at the many campaign donors who paid the president's business this weekend —or the speakers who served as a draw for his fundraiser.
For example, Parscale, who gladly posed with some of his boss's customers.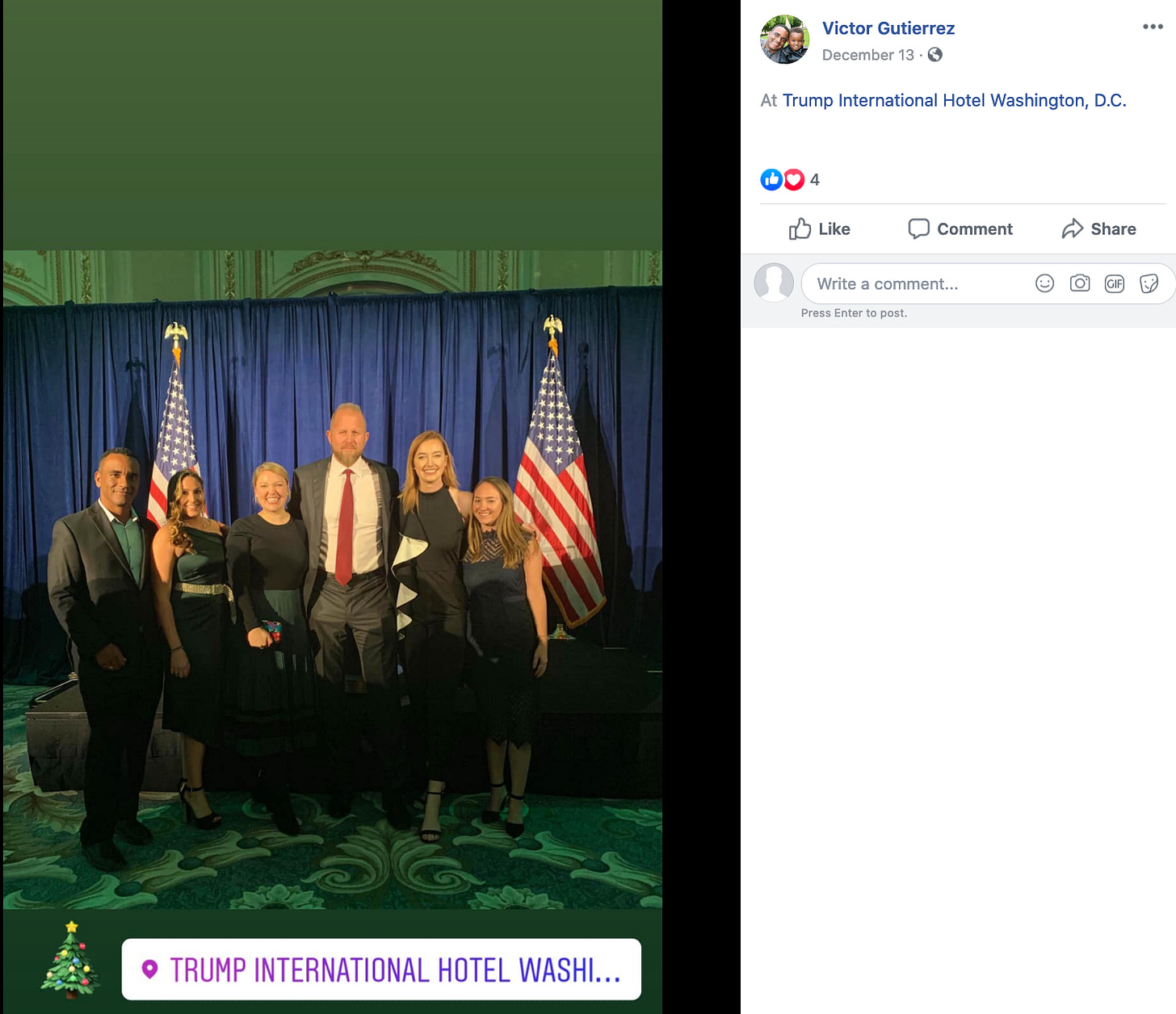 The host of Real News Update and a campaign advisor to her father-in-law, Lara Lea Trump, addressed the president's customers from behind a Trump Hotels-branded lectern.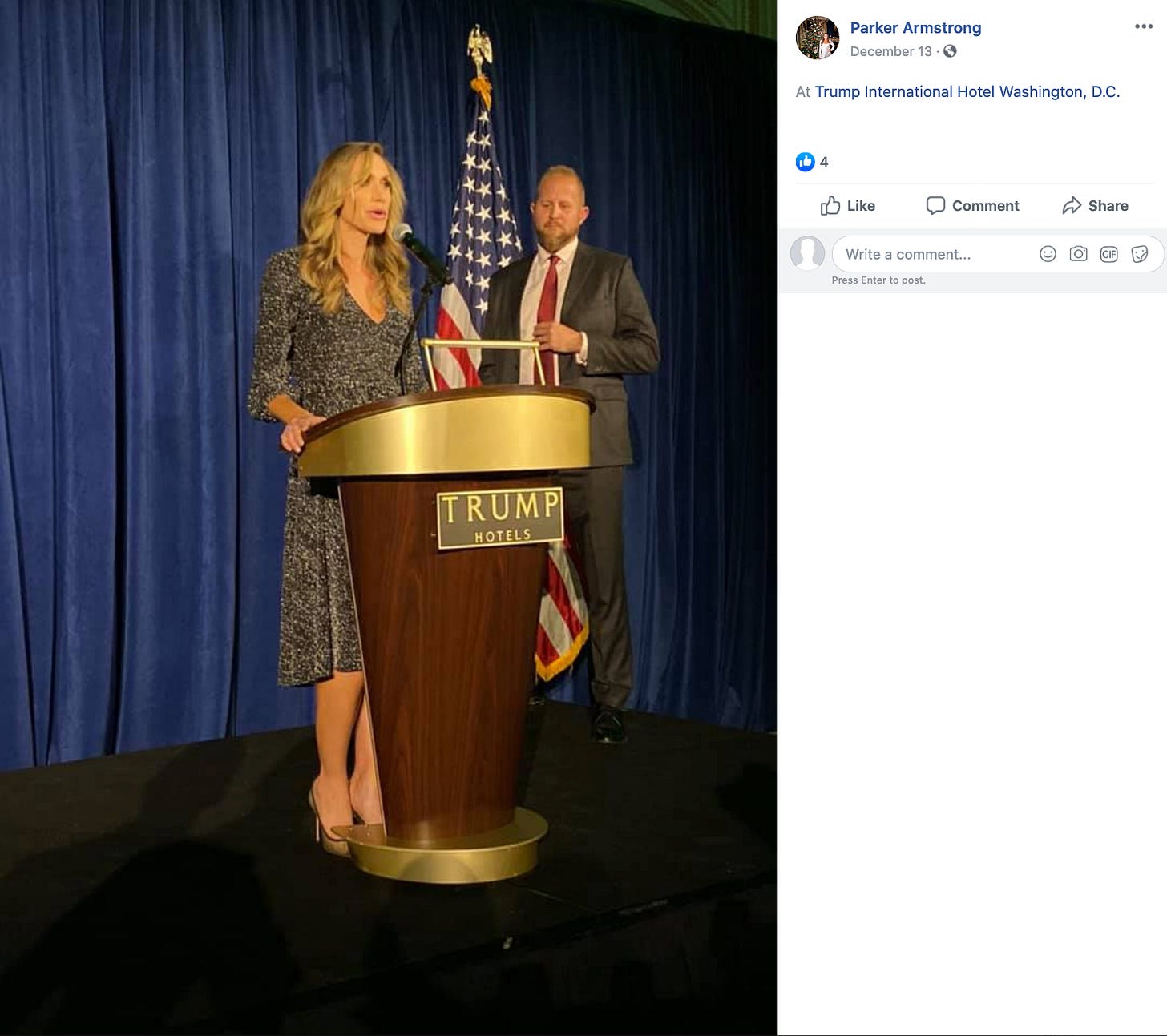 This guest of the president's had the best night at his business. She met the founder of bikers for Trump and a GOP candidate for Congress in South Carolina, Chris Cox, as well as the designer of the MAGA dress, Andre Soriano.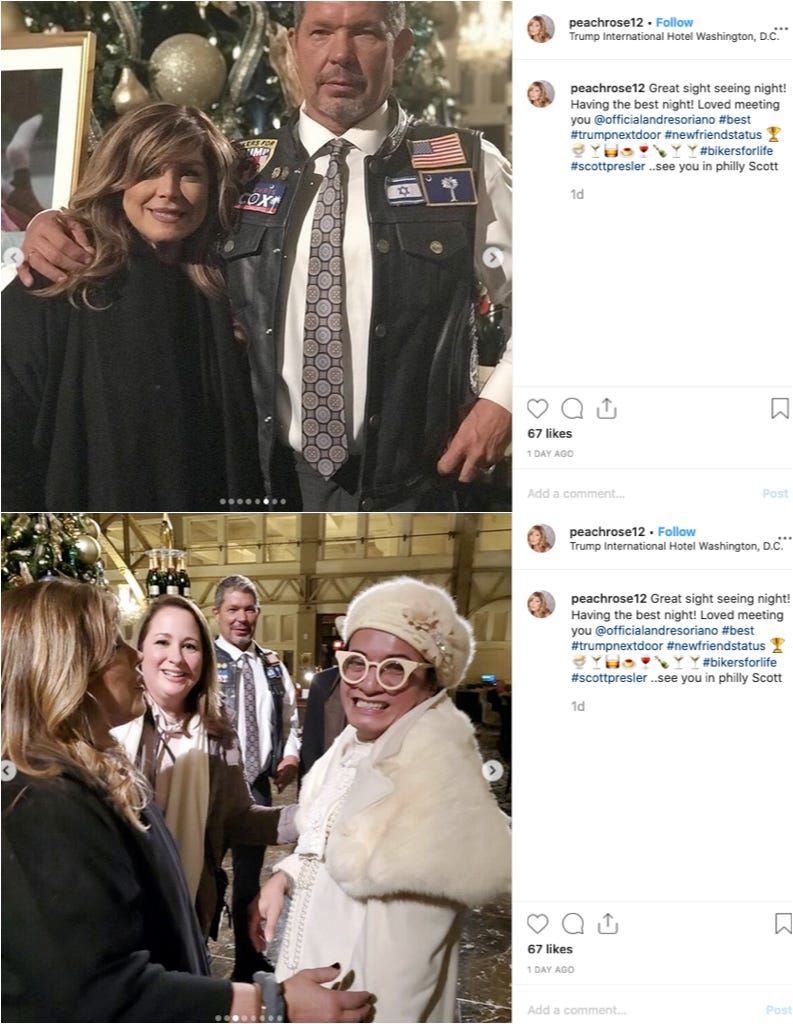 Fox News's Jeanine Pirro posed with Greg Aselbekian, whose Instagram profile says he's a Marine, at the commander-in-chief's D.C. hotel. (Pirro appeared in photos of confirmed attendees, although it's not clear if she was at the hotel for the Trump Victory retreat.)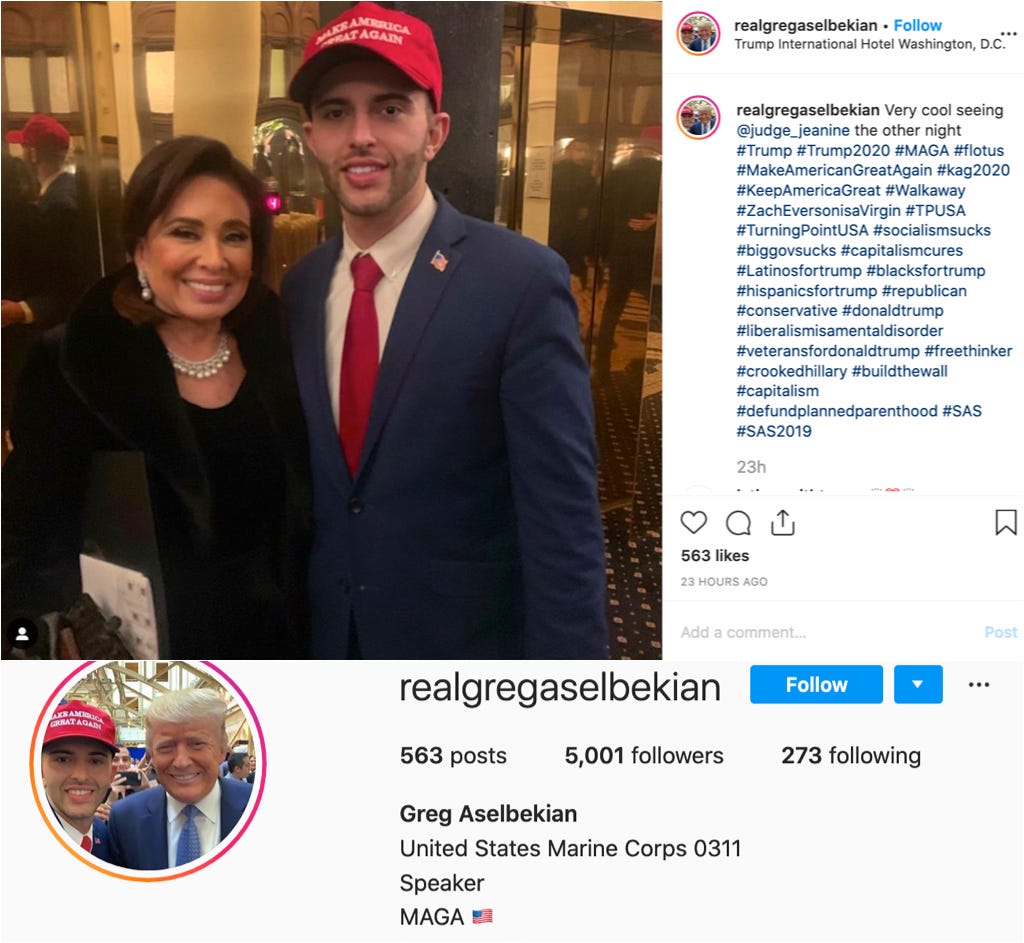 Madison Stewart, an assistant to the GOP leadership of the West Virginia House of Delegates, attended the Trump Victory retreat.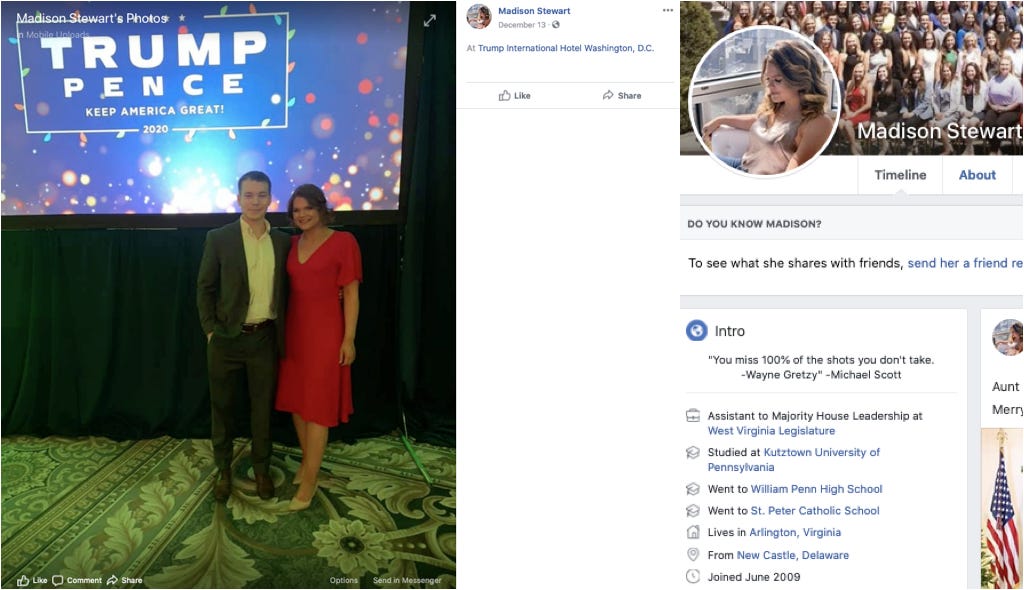 The president's attorney and shadow Assistant Secretary of State for European and Eurasian Affairs Rudy Giuliani was back at his usual place, this time posing with a Trump Victory fundraiser.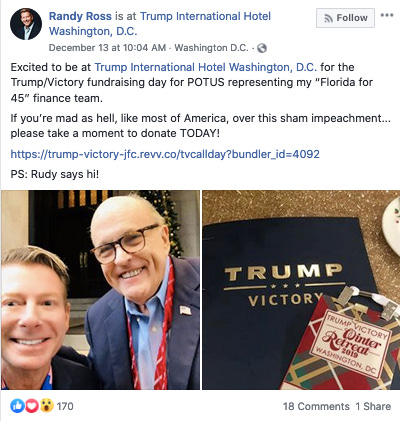 Former White House press secretary Sarah Huckabee Sanders was—again—a featured speaker for her ex-boss's customers.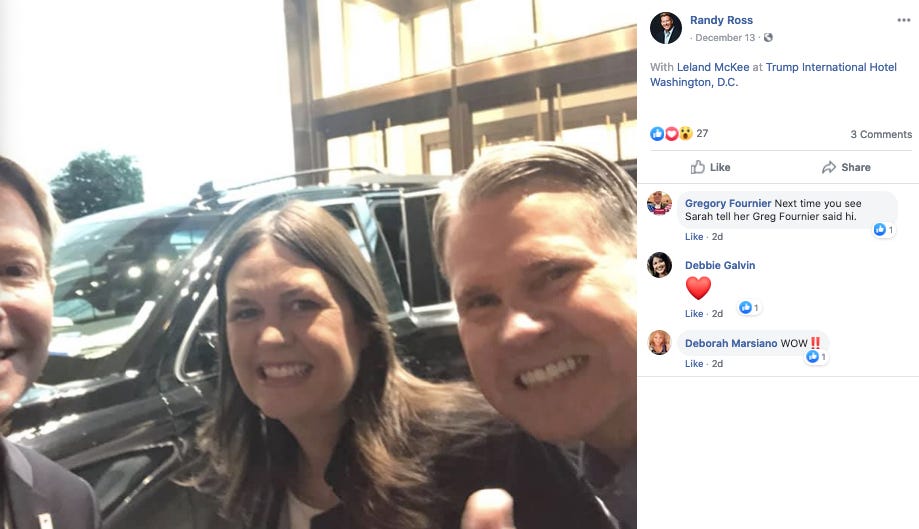 French master butcher Marc Pauvert was "so happy to cook for the President of United States of America" and his donors at the Trump Hotel D.C.
Turning Point USA boss Charlie Kirk struck one of the hotel owner's favorite poses.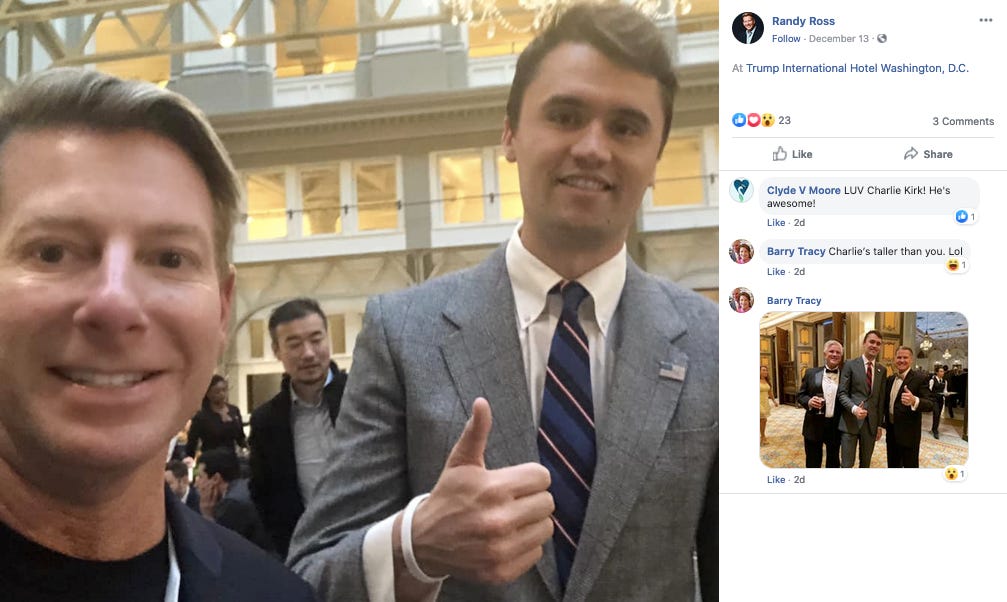 Natalie Harp, an ambassador for Liberty University's Falkirk Center and member of the Donald J. Trump for President advisory board, plugged the candidate's hotel.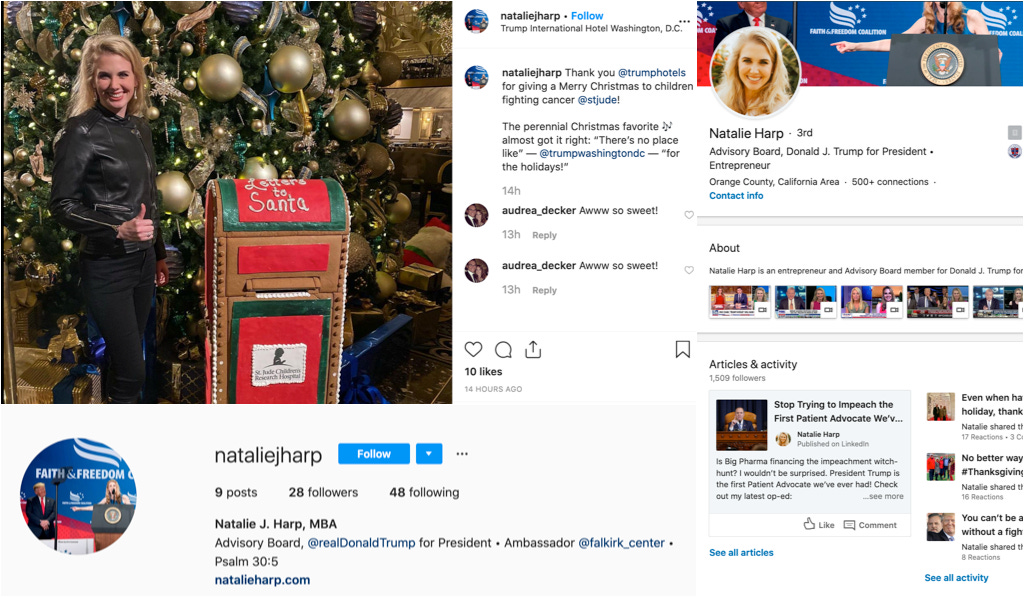 The son of billionaire Xerox investor Darwin Dawson, Doug Deason, whose job is managing his family's wealth—including large stakes in a gas and oil company and a global tax-services firm—promoted the president's D.C. hotel. He was with Jacki Pick, host of a radio program on Glen Beck's The Blaze.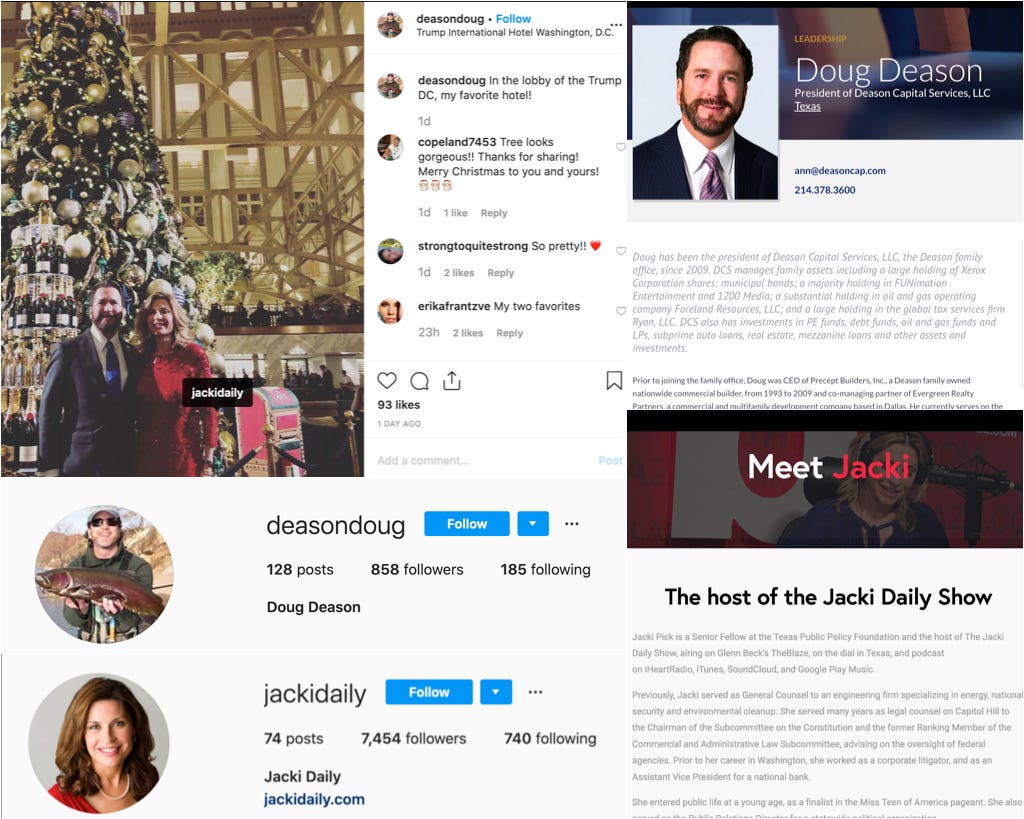 Lobbyist and Trump Hotel D.C. customer Brian Trascher made no apologies about living a life that's a little extra.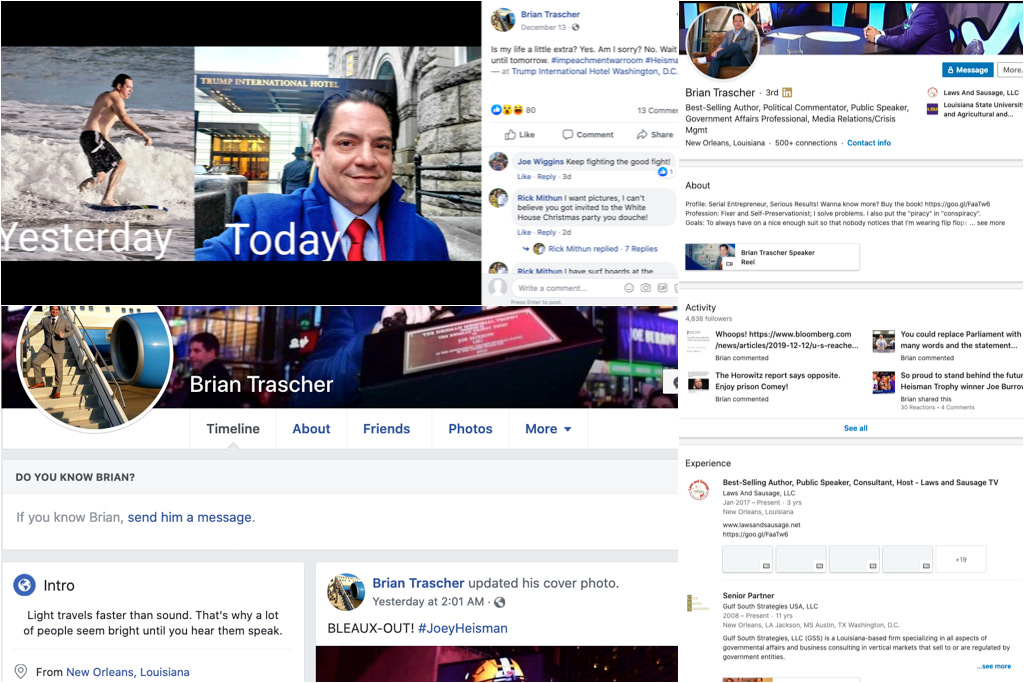 Fox News regular turned Trump campaign legal advisor Jenna Ellis seemed to enjoy herself at her boss's hotel.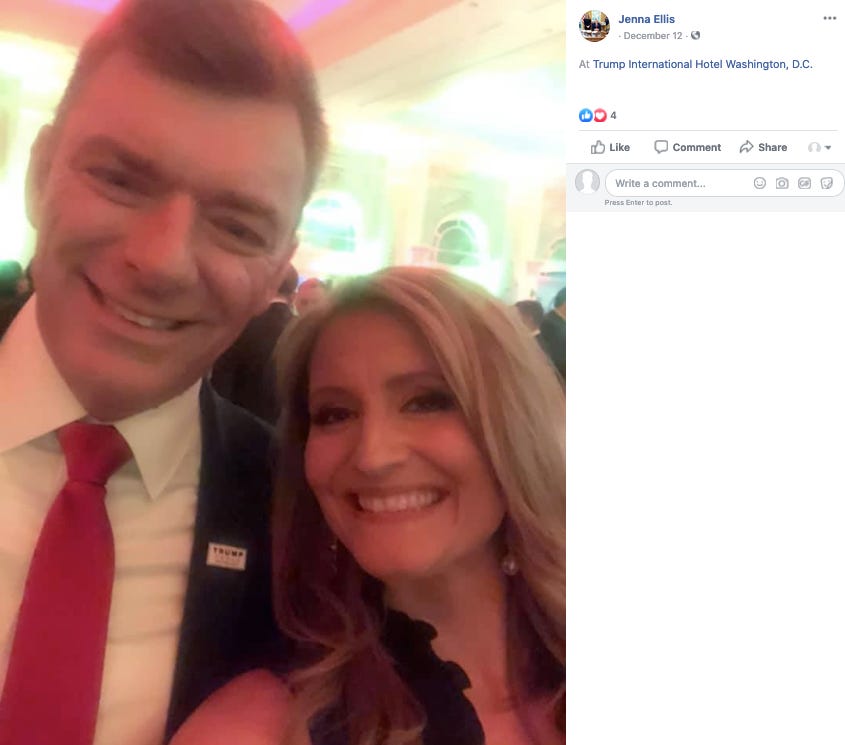 Noted pro-wall DACA beneficiary Hilario Yanez had an amazing time at the pro-wall president's D.C. hotel.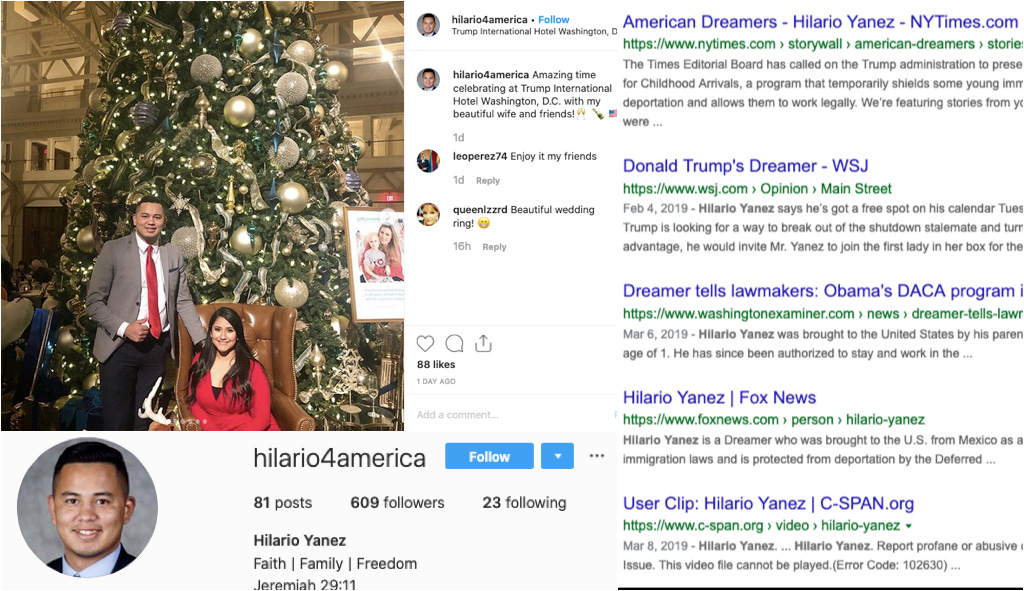 The president's large adult sons, Eric and Don Jr., mingled with their guests.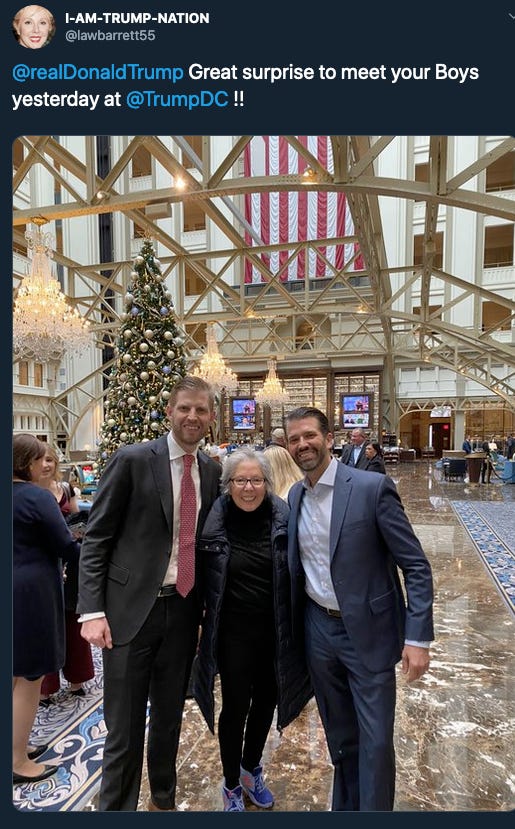 And the Moet champagne flute dress made a repeat visit, keepping the donors and other customers of the president's well hydrated.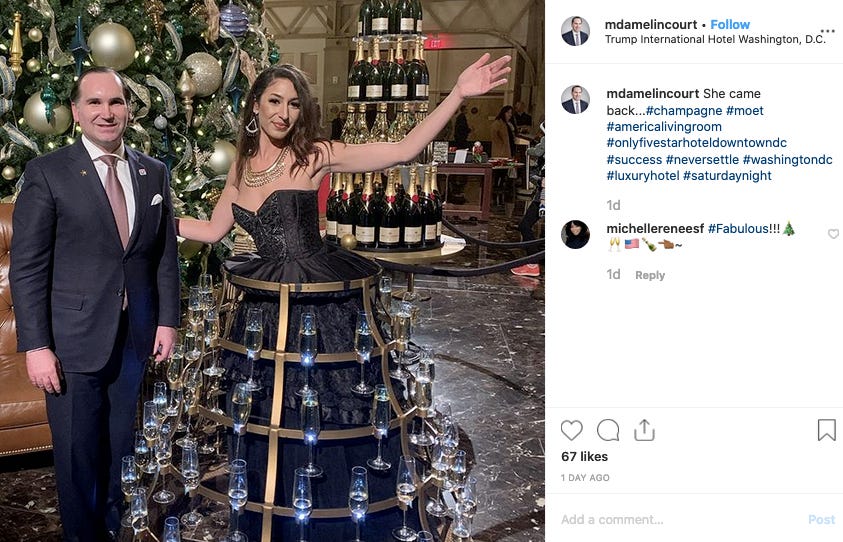 ---
Give a 1100 Pennsylvania gift subscription
Help your loved ones stay informed and support vital reporting read by House investigators, other journalists, government watchdogs, and voters. 1100 Pennsylvania makes a great holiday gift for anyone who'd appreciate—or benefit from—seeing how President Trump is profiting from his presidency. Just $5/month or $50 a year.
---
Other notable sightings
A glimpse of the foreign officials, government employees, politicians, lobbyists, and the like who patronize or appear at Trump businesses. Most people shown here have reasons to want to influence the Trump administration, rely on its good graces for their livelihoods, or should be providing oversight. Additionally, high-profile guests serve as draws for paying customers.
Brigitte Gabriel—the founder and chair of ACT! for America, which The Southern Poverty Law Center designated as a hate group—returned to the president's D.C. hotel. The Trump Organization cancelled ACT! for America's $1,500 and up gala at Mar-a-Lago this fall after media reports drew attention to it. Gabriel is a frequent guest at the president's hotel, and she landed a photo with fellow customer Attorney General William Barr there this spring.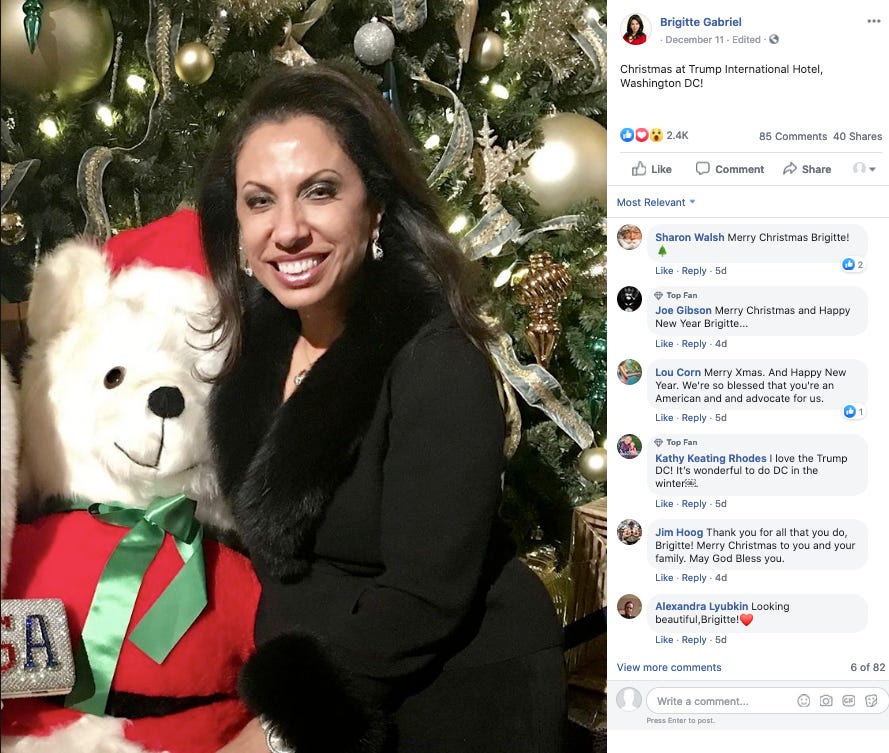 Jason Lawrence, an NRA lobbyist turned chief of staff for Rep. Austin Scott (R–GA) and Courtney Lawrence, a lobbyist for the health-insurance industry who became a Trump political appointee in the Department of Health and Human Services but now works for the health-insurance industry again, celebrated their anniversary by dining at the head of the executive branch's hotel.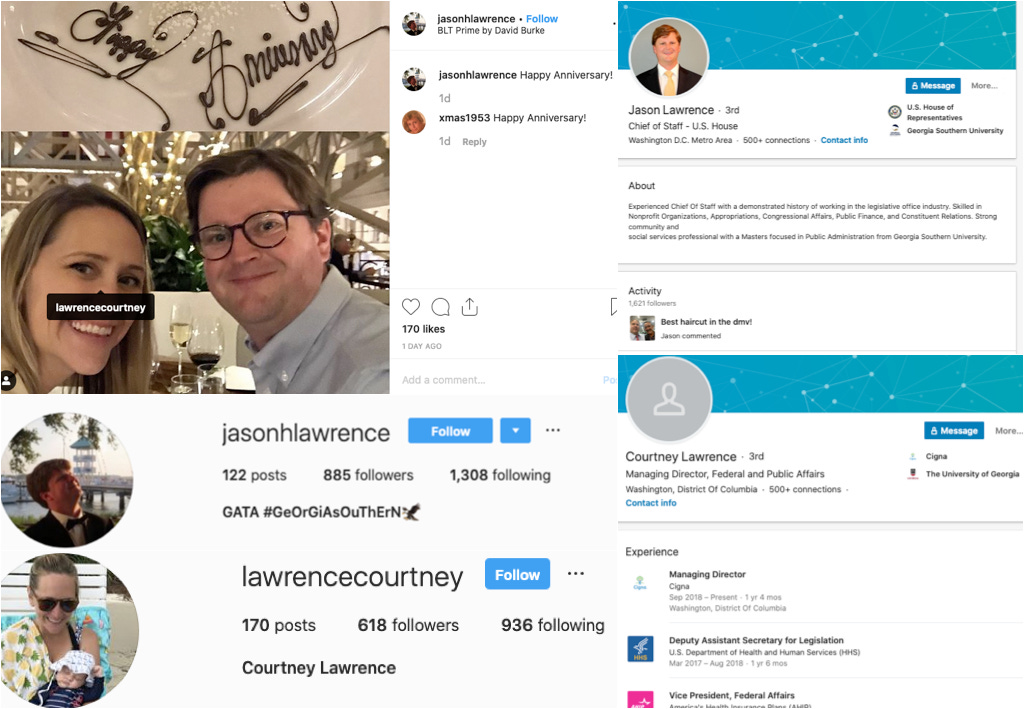 Congressional staffer turned lobbyist Stephanie Walker dined with congressional staffer turned political fundraiser Connie Clark at the president's D.C. hotel.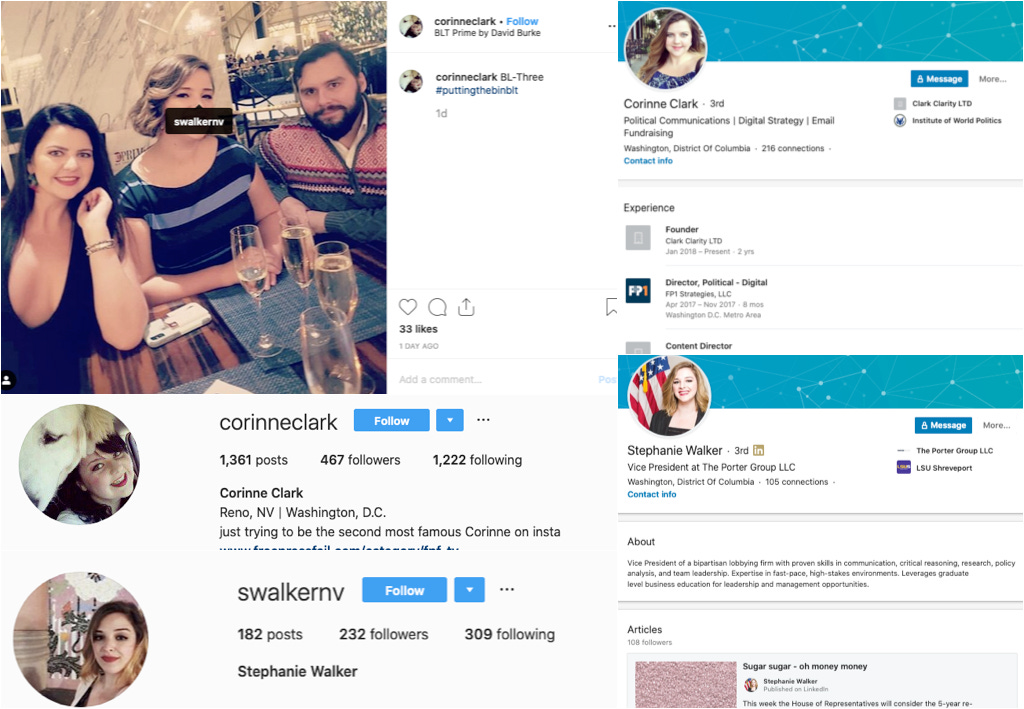 Alexandra Baker, the managing director of Penn Strategies, which advocates for the state of Pennsylvania, enjoyed a little holly jolly with conservative pundit Paris Dennard.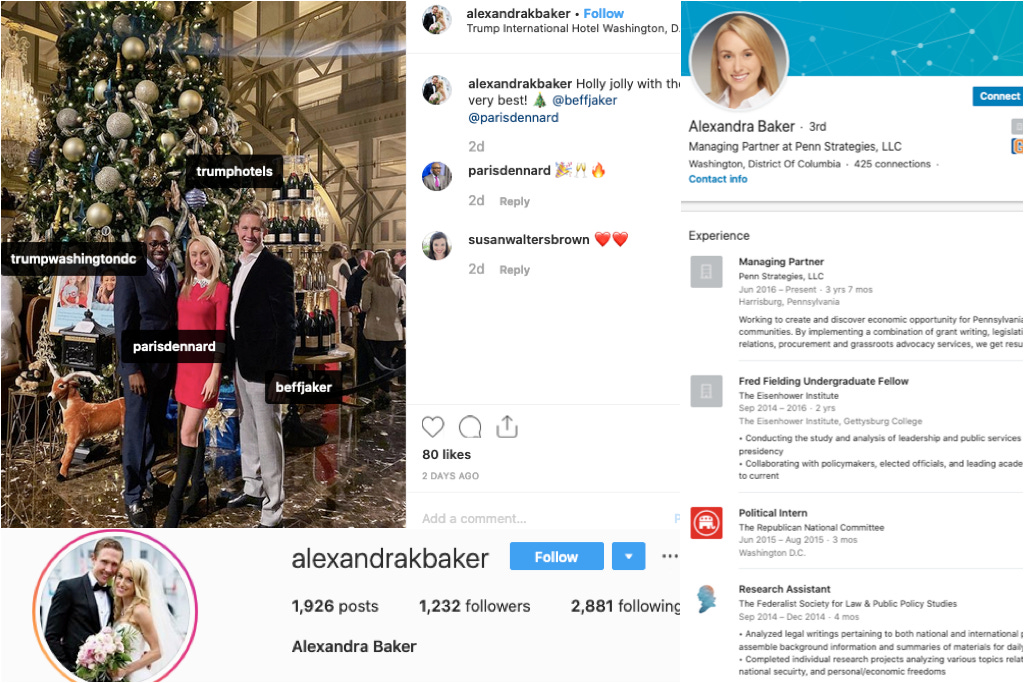 Molly Ann Jacob, a Congressional staffer turned event manager for The Council of Insurance Agents and Brokers, made Christmas great again at the president's D.C. hotel with Jordan Crenshaw. He was an attorney at the NRA before becoming policy council for the U.S. Chamber of Commerce.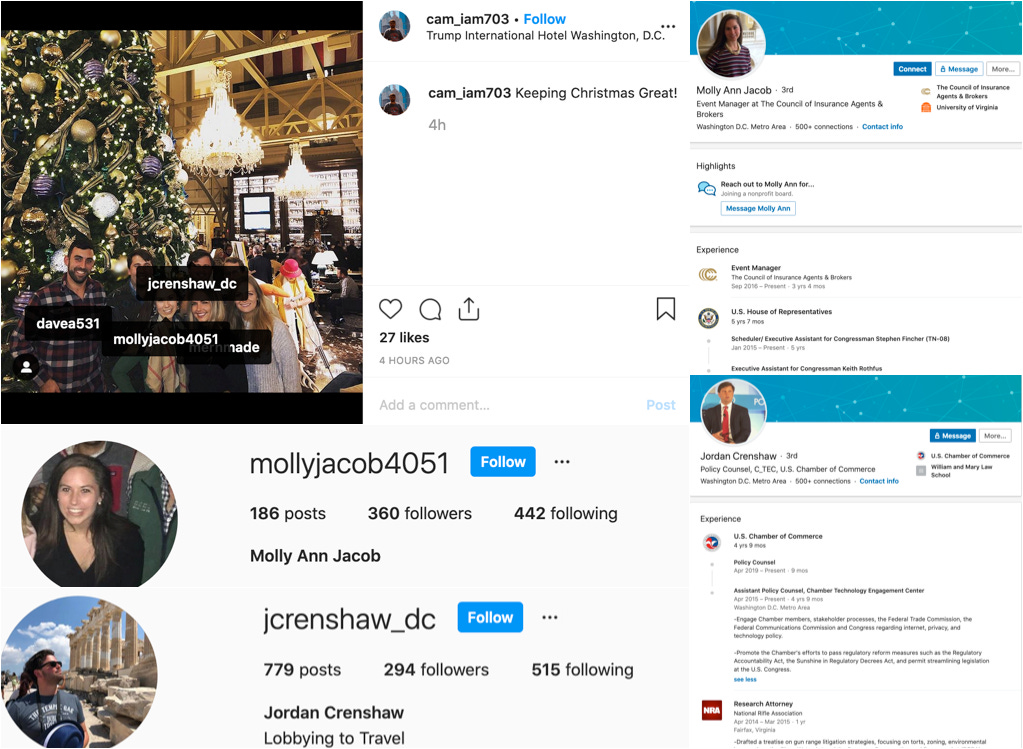 Allyson Brackett, an auditor for the state of Wyoming, checked an item off her bucket list when she dined at the Michelin-starred restaurant in the president's D.C. hotel.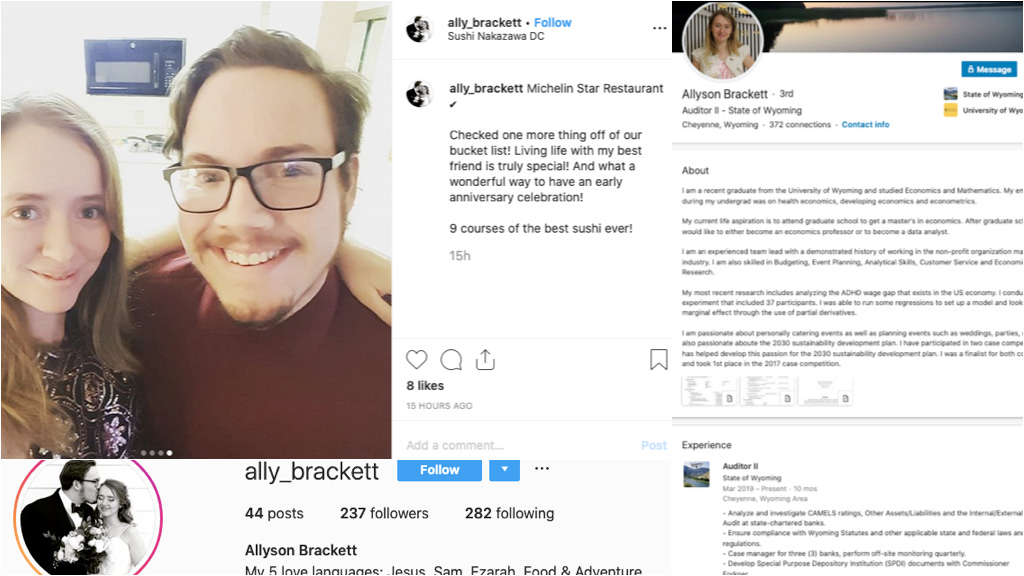 An "experienced director of government relations with a demonstrated history of working in the oil & energy industry," Jeff Bailey of S&B Engineers and Constructors, Ltd. had a date night at the president's business.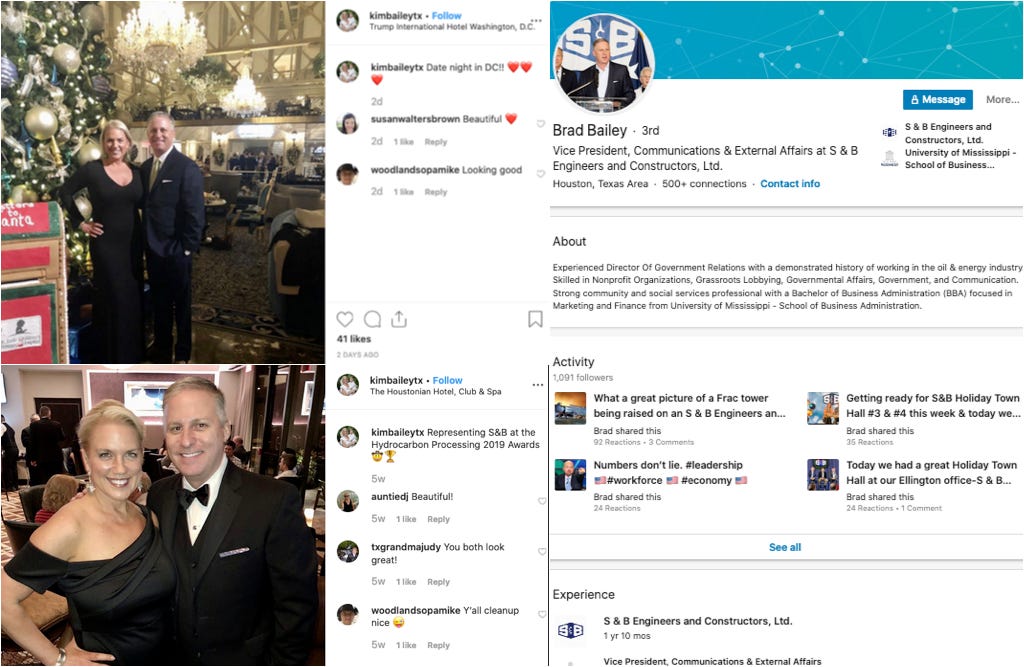 ---
Other Trump Organization news
---
Reference section
Links to rundowns of developments in the House's investigations and lawsuits, reference sheets for some of 1100 Pennsylvania's previous reporting, and articles that provide the background on why all of this matters. The date published or last updated is in parentheses.
Trackers
Notable hotel customers
Summaries
Upcoming key dates
Sept. 23—House Judiciary Committee hearing "Presidential corruption: Emoluments and profiting off the presidency" (postponed, not yet rescheduled)

Nov. 4—House Transportation Committee chair's subpoena deadline seeking documents related to hotel's lease (response came a week late and was deemed insufficient)

Dec. 8—Attorney General William Barr's $30,000 private holiday party (rescheduled to unknown date)

Jan. 24, 2020—Status hearing with D.C. Superior Court in former hotel employees' lawsuit alleging racial discrimination

Jan. 25, 2020—Diamond and Silk's "Say yes to LIFE Pro-Life brunch" to benefit their nonprofit, S.I.S.T.A.S. (Stepping into Self Truth Awareness and Success)

March 2020—Supreme Court hears Trump's appeal of earlier rulings requiring his financial institutions to comply with subpoenas from House Financial Services, Intelligence, and Oversight Committees and the New York district attorney's office

June 2020—Supreme Court decision due on Trump's appeal of earlier rulings requiring his financial institutions to comply with subpoenas from House Financial Services, Intelligence, and Oversig
---
Thanks for reading! If you like what you've read, tell someone. If you've been forwarded this newsletter, subscribe at 1100pennsylvania.substack.com. Questions? Read our FAQ. Tips or feedback? Contact Zach Everson at 1100Pennsylvania@protonmail.com (it'll be encrypted if you also use a ProtonMail account, which is free) or via Signal (secure), SMS, or mobile at 202.804.2744.