Discover more from 1100 Pennsylvania
"The undisputed expert on the D.C. Trump Hotel" – David Fahrenthold of the Washington Post
Over 3,000 subscribers
Hotel trashed on Yelp in wake of Claudia Conway's TikTok video
Trump properties slammed with poor ratings after video went viral of Kellyanne Conway's daughter suggesting one-star reviews
The Trump Hotel D.C.'s been getting slammed on Yelp ever since a TikTok video of Kellyanne Conway's daughter encouraging one-star reviews for Trump businesses went viral in late June.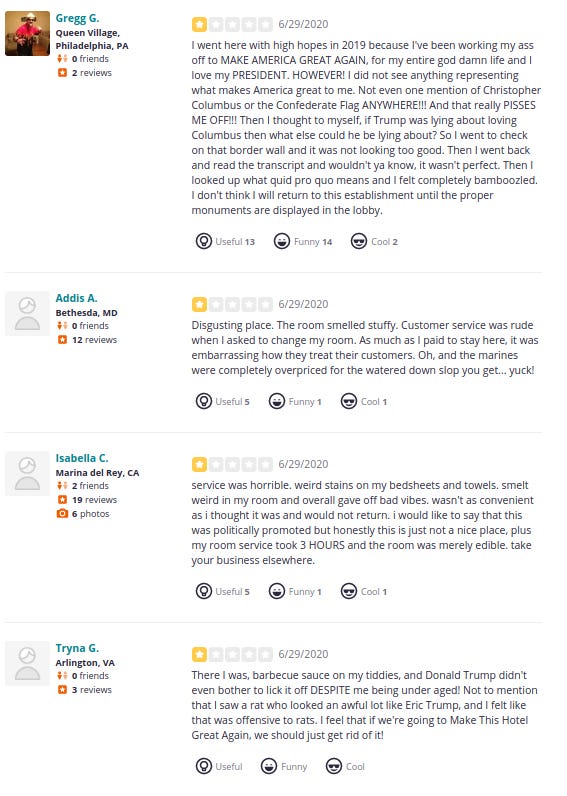 High schooler and noted Trump-critic Claudia Conway posted a video on TikTok of her dancing under the text "would be shame if we all left one star reviews on all of trumps restaurants, hotels and golf courses 🥺". While the date she published it isn't clear as her account is now private, New York Times reporter Taylor Lorenz shared Conway's video on June 29. Lorenz's tweet has since been retweeted more than 2,200 times.
Since that date, the Trump Hotel D.C. has received 46 one-star reviews on Yelp.
During that period the hotel has received just one review that wasn't the lowest possible option: five stars from Kilgore T. who wrote, "Make sure to whisper Heil Hitler to the front desk to make sure you get complimentary Big Macs sent to your room."
As probably the only non-Trump employee who regularly checks the hotel's Yelp score, your correspondent can attest that such an onslaught is unusual.
Other properties hit by this reversible, virtual carnage apparently inspired by the daughter of one of the president's closest advisers include Doral, Mar-a-Lago, and Trump Tower.
Yelp, of course, does not verify that reviewers patronized a business before sharing their opinion of it.
For her part, Kellyanne Conway seems to be a fan of her boss's hotel.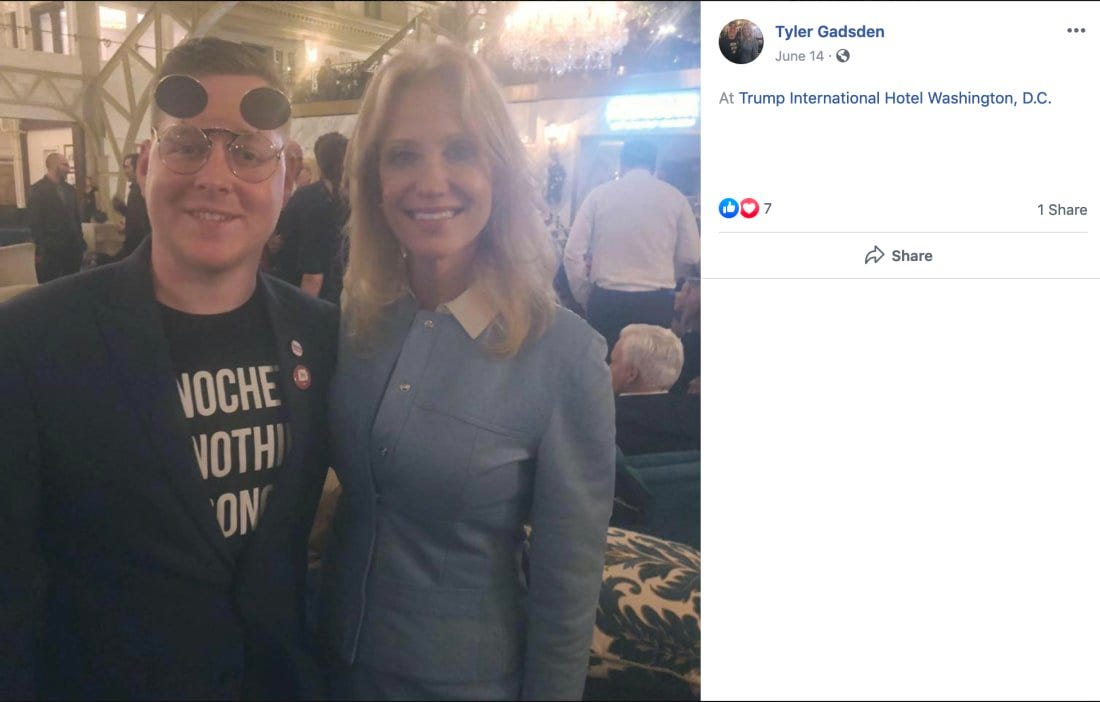 ---
Trump Townhouse hosted latest episode of PragerU's Candace Owens Show
The priciest suite in the Trump Hotel D.C. served as the studio for the latest episode of PragerU's Candace Owens Show, according to 1100 Pennsylvania's analysis.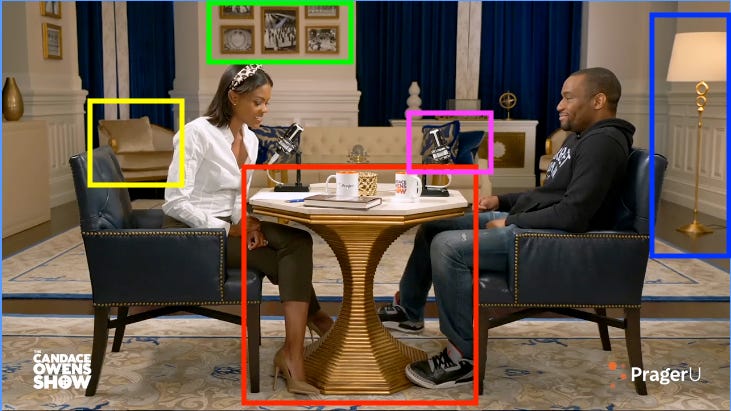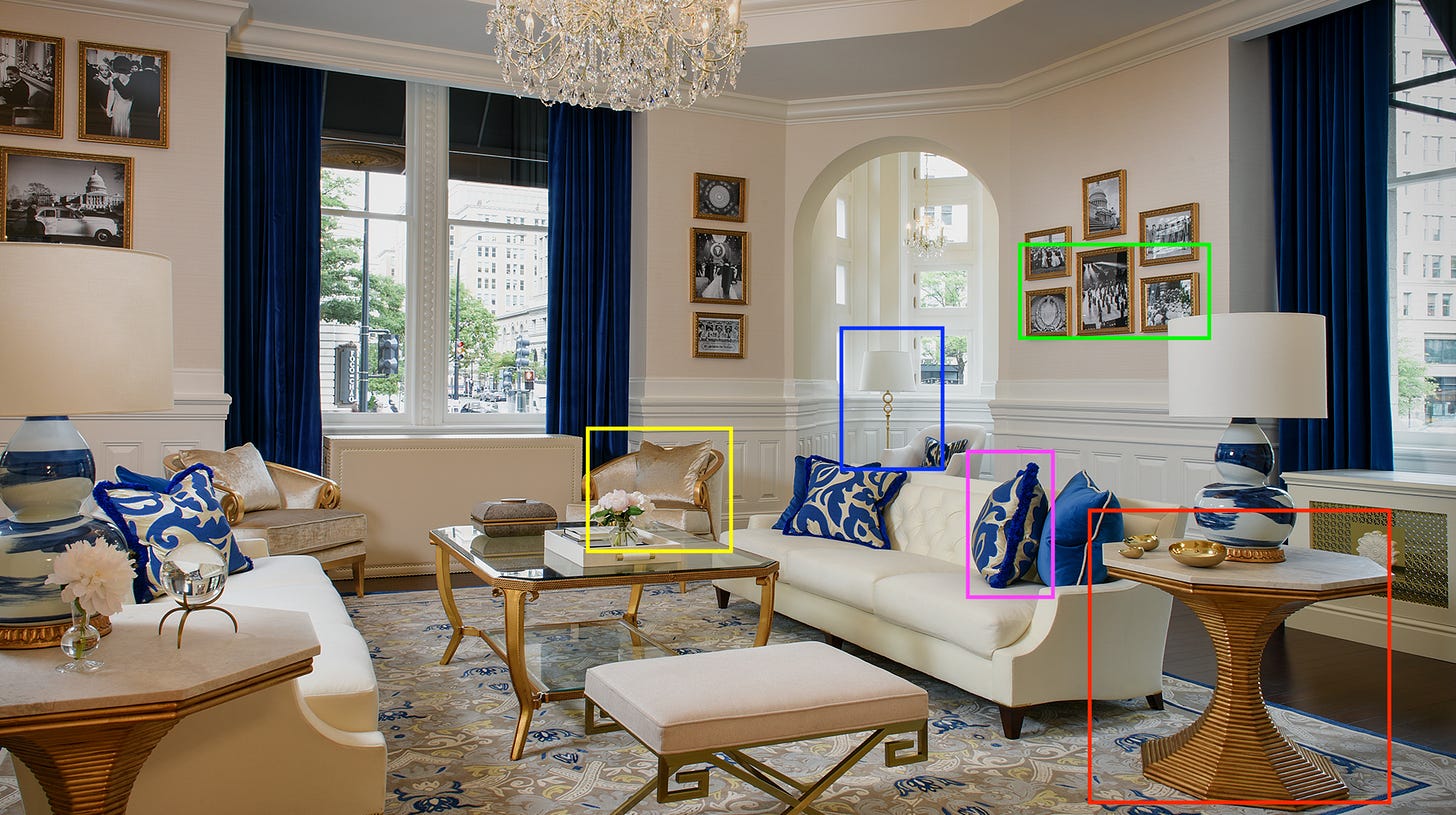 According to the hotel's managing director, Mickael Damelincourt, in a 2019 interview (different times!), a night in the hotel's presidential suite, which is smaller than the Trump Townhouse, started at $17,500.
Conservative activist Owens has been a long-time loyal customer of the president's businesses, both while in Turning Point USA's leadership and individually. Trump Winery hosted her wedding in October 2019, while that spring her engagement party was held at the Trump Hotel D.C. (the latter according to Cockburn for Spectator USA).
In the wake of the killing of George Floyd, on June 4 Owens was one of seven Black activists invited to discuss race relations with Vice President Mike Pence in his office. (On Twitter, Owens had been critical of Floyd.)
Meanwhile the founder of his eponymous school that "make[s] exceptional video content that advances Judeo-Christian values," Denis Prager was at the Trump Hotel D.C. the evening before he testified to the Senate in July 2019 about how social-media companies suppress conservative voices.
The Prager University Foundation received a loan of $350,000 to $1 million from the Paycheck Protection Program, which can be converted into a government grant, according to information the Treasury Department released on Monday.
---
Companies with Trump Org ties received COVID-19 relief from the U.S. government
On Monday, the Treasury Department released data about some of the companies to have received loans that can convert into grants via the Paycheck Protection Program. Here are recipients with connections to the Trump Organization:
Sushi Nakazawa's Trump Hotel D.C. location: $150,000–$300,000

Triomphe Restaurant Corp., owner of Jean-Georges in Trump Central Park: $2 million–$5 million

Vital Pharmaceuticals, the company behind Bang Energy drink [H/T Karl Evers-Hillstrom of Open Secrets]. Vital's CEO, Jack Owoc, was at Mar-a-Lago for Kimberly Guilfoyle's 2019 birthday party where he was photographed with Don Jr.: $5 million–$10 million

"Dozens of tenants of Trump's real estate company," reported Jonathan O'Connell, Aaron Gregg, Steven Rich, Anu Narayanswamy, and Peter Whoriskey for The Washington Post

"Albert Hazzouri, a dentist frequently spotted at Mar-a-Lago": $150,000–$300,000, reported Jack Gillum, Isaac Arnsdorf, Jake Pearson and Mike Spies for ProPublica

The Kushner family-owned Observer Holdings LLC as well as two of the family's hotels, reported Lachlan Markay, Sam Brodey, William Bredderman, and Jackie Kucinch for The Daily Beast
---
Subscribe to 1100 Pennsylvania: Stay informed, support this reporting, and help restaurant workers in need
During the COVID-19 pandemic, 1100 Pennsylvania is donating 25 percent of all subscription revenue to the Restaurant Workers Relief Program.
The Lee Initiative, founded by James Beard Award winner Edward Lee, and Maker's Mark's Restaurant Workers Relief Program have "turned restaurants across the country into relief centers with local chefs for any restaurant worker who has been laid off or has had a significant reduction in hours and/or pay." It offers help for those in need of food and supplies, packing hundreds of to-go meals a night. Now in 19 cities across the country, the program has served more than 150,000 meals.
You can learn more about The Lee Initiative and donate too at leeinitiative.org.
Paid subscriptions are 1100 Pennsylvania's sole source of revenue—no ads, no grants. Just $5 a month or $50 a year. Support this reporting, ensure it continues, and now help restaurant workers and their families who need your assistance.
---
Notable sightings
A glimpse of the foreign officials, government employees, politicians, lobbyists, and the like who patronize or appear at Trump businesses. Most people shown here have reasons to want to influence the Trump administration, rely on its good graces for their livelihoods, or should be providing oversight. Additionally, high-profile guests serve as draws for paying customers.
The MyPillow Guy, Mike Lindell—a GOP and Trump donor, Fox News advertiser, Rose Garden speaker, Oval Office visitor, and government contractor—posted a new photo from one of his regular haunts.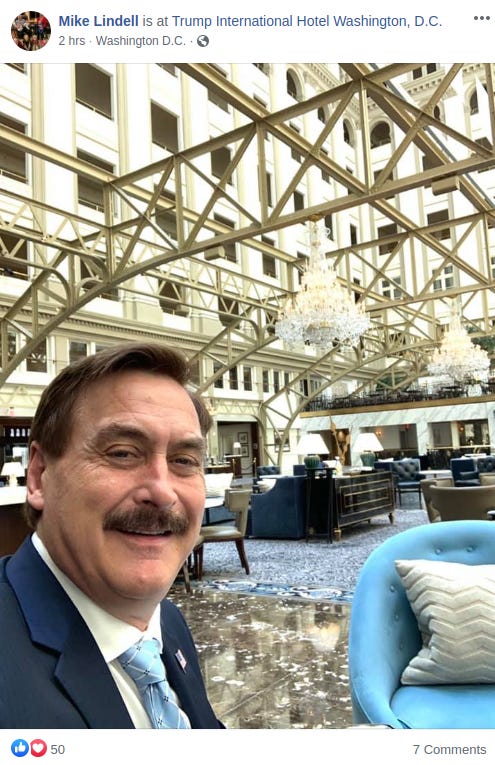 On July 4, Kevin Longacre, a government contractor for Booz Allen, and Camille Sheehan, a communications manager at industry group the Auto Care Association, wed at the president's hotel. While COVID-19 apparently forced them to cull the guest list from 100 guests to 48, it appears social distancing was not required.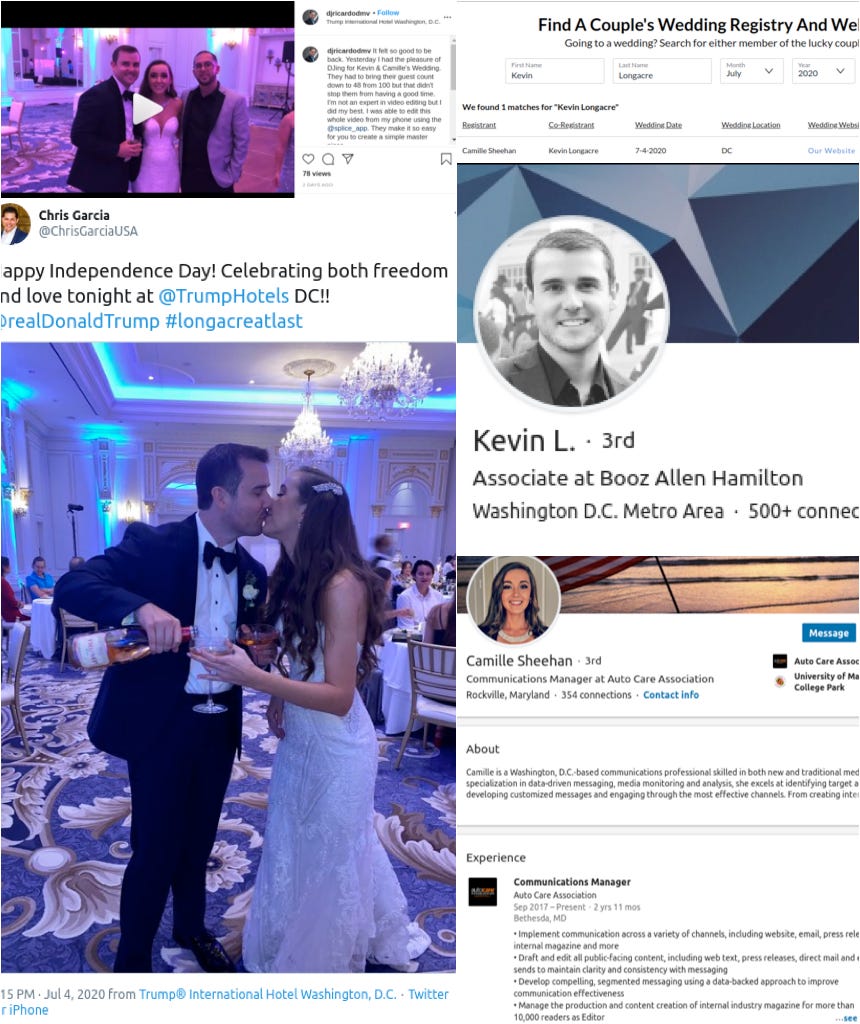 ---
Other Trump Organization news
---
Reference section
Links to rundowns of developments in the House's investigations and lawsuits, reference sheets for some of 1100 Pennsylvania's previous reporting, and articles that provide the background on why all of this matters. The date published or last updated is in parentheses.
Trackers
Notable hotel customers
Summaries
Upcoming key dates
Sept. 23, 2019—House Judiciary Committee hearing "Presidential corruption: Emoluments and profiting off the presidency" (postponed, not yet rescheduled)

July 9, 2020—Supreme Court decision due on Trump's appeal of earlier rulings requiring his financial institutions to comply with subpoenas from House Financial Services, Intelligence, and Oversight

July 8, 2020—Deadline for the Departments of State and Homeland Security to respond to The Washington Post's lawsuit alleging the departments have failed to share records responsive to Freedom of Information Act requests seeking information on government spending at Trump properties

Aug. 10, 2020—Scheduling conference before D.C. Superior Court in D.C. attorney general's lawsuit alleging improperly spent nonprofit funds by the Trump Hotel D.C. and Trump's inaugural committee

Oct. 29, 2020—Mediation session in at least a one-time Trump appointee in the Commerce Department's lawsuit against the Trump Hotel D.C., alleging a shard of glass from a sabered bottle of champagne left a gash in her chin
---
Thanks for reading! If you like what you've read, tell someone. If you've been forwarded this newsletter, subscribe at 1100pennsylvania.substack.com. Questions? Read our FAQ. Tips or feedback? Contact Zach Everson at 1100Pennsylvania@protonmail.com (it'll be encrypted if you also use a ProtonMail account, which is free) or via Signal (secure), SMS, or mobile at 202.804.2744.