Discover more from 1100 Pennsylvania
"The undisputed expert on the D.C. Trump Hotel" – David Fahrenthold of the Washington Post
Over 3,000 subscribers
Hotel's revenue from Army ball exceeded $26,000
Army's Old Guard committed to paying Trump Hotel D.C. at least $26,000, just for food and beverage, per contract released through FOIA
The commander-in-chief's D.C. hotel received more than $26,000 for hosting an Army battalion's annual ball last winter, according to a contract the Army recently released in response to a Freedom of Information Act request 1100 Pennsylvania filed. Ticket sales and fundraisers paid for the event, not government funds, according to an Army spokesperson.
The Army's 3rd U.S. infantry regiment's fourth battalion, nicknamed The Old Guard, threw its warrior battalion ball at the Trump Hotel D.C. on Feb. 7, 2019 as 1100 Pennsylvania reported at the time. In November 2018, a representative for the battalion signed a contract with the hotel, committing to "a Food and Beverage minimum revenue of $26,000." That figure does not include numerous other costs the ball would have incurred, including valet parking (the only option at the hotel), a banquet event charge, at least four bartenders and two coat-check attendants, menu cards, and a service charge. Additionally, at least six more guests attended the ball than the 350 the contract stipulated.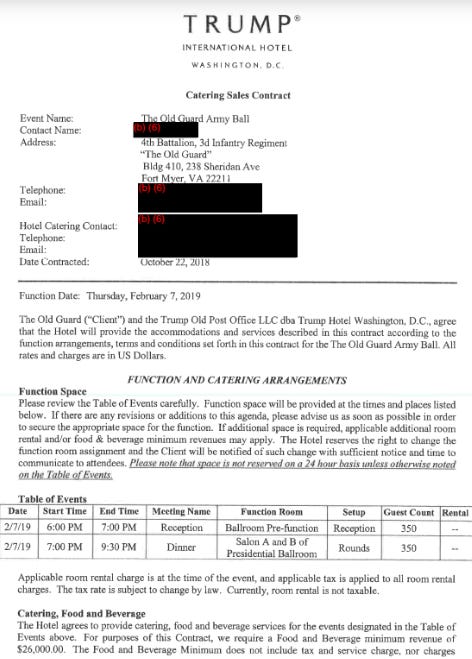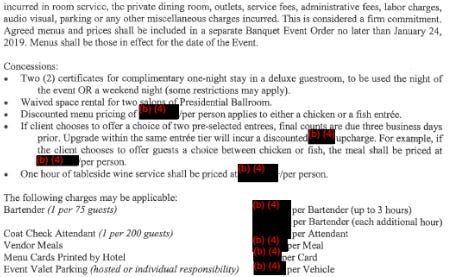 According to an estimate the Trump Hotel D.C. had provided the battalion in September 2018 (also released via FOIA), its service charge is 24 percent of the food and beverage subtotal—which would bring the president's hotel an additional $6,240 on top of the $26,000 minimum revenue.

President Trump, of course, still owns the hotel and receives revenue from it—meaning money from soldiers in the U.S. Army reached the top of the military's chain of command.
As for the actual amount the hotel received for hosting the Army battalion, Paul V. DeAgostino, a senior counsel at the Office of the Administrative Assistant to the Secretary of the Army, wrote that a reasonable search for receipts for the event "failed to yield responsive records." 1100 Pennsylvania had requested that information via FOIA and has appealed that response (along with the redactions pertaining to the hotel's charges).
Two professional event planners who reviewed the contract for 1100 Pennsylvania said the costs sounded competitive. According to the contract, the ball included a one-hour reception and 2.5-hour dinner with a guest count of 350.
In February, the director of communications for the 3rd U.S. Infantry Regiment, Maj. Stephen Von Jett said taxpayer money was not used to pay for the event.
"There were no government funds spent, no appropriated funds spent on this," Von Jett said. "It was funded through ticket sales and fundraisers that some of the soldiers did internally, down at the company level." Von Jett said 356 tickets were sold, which, per the event's invite, cost $80 each (a total of $28,480).
Yet Eli Lee of government watchdog Citizens for Responsibility and Ethics in Washington, which also received the contract via its own FOIA request, noted that government money may have been used for the deposits:
The contract shows that two initial deposits were paid by the regiment to the hotel prior to January 9, the day that ticket sales for the event began. So apparently the battalion put up government funds for the event before being reimbursed via ticket sales and private fundraisers.
Soldiers attending the ball ranged from battalion's commander at the time, LTC Jeffery Burroughs, to its most-junior members, Von Jett said. According to Burroughs, as conveyed through Von Jett, the battalion selected the Trump Hotel D.C. for the venue because it was "the nicest one that they looked at" and had a competitive price. The hotel's initial estimate to hold the ball was $48,790, comprising a three-course plated meal for 500, rental of the presidential ballroom, seven bartenders working three hours each, taxes, and service charges.
Nicknamed The Old Guard, the Army's 3rd U.S. infantry regiment's fourth battalion "conducts memorial affairs to honor our fallen comrades, and ceremonies and special events to represent the Army," per its website. It's best known for guarding the Tomb of the Unknown Soldier at Arlington National Cemetery. The fourth battalion is headquartered at Fort Myer in Arlington, Virginia.
Sen. Tom Cotton (R–AR) was the ball's guest speaker.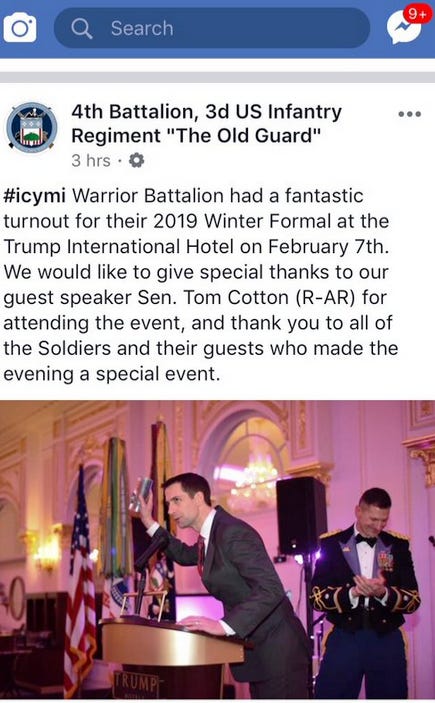 ---
Political appointees celebrated themselves at their patron's hotel with a non-profit funded in part by a pro-Trump dark money group
On Nov. 21, political appointees of President Donald Trump gathered in the Trump Hotel D.C.'s presidential ballroom to connect and celebrate their "continued dedication and service," according to an invite obtained by 1100 Pennsylvania. The cocktail reception's host, a non-profit funded at least in part by a dark money group and the Republican National Committee, has not replied to inquiries asking who paid for this event.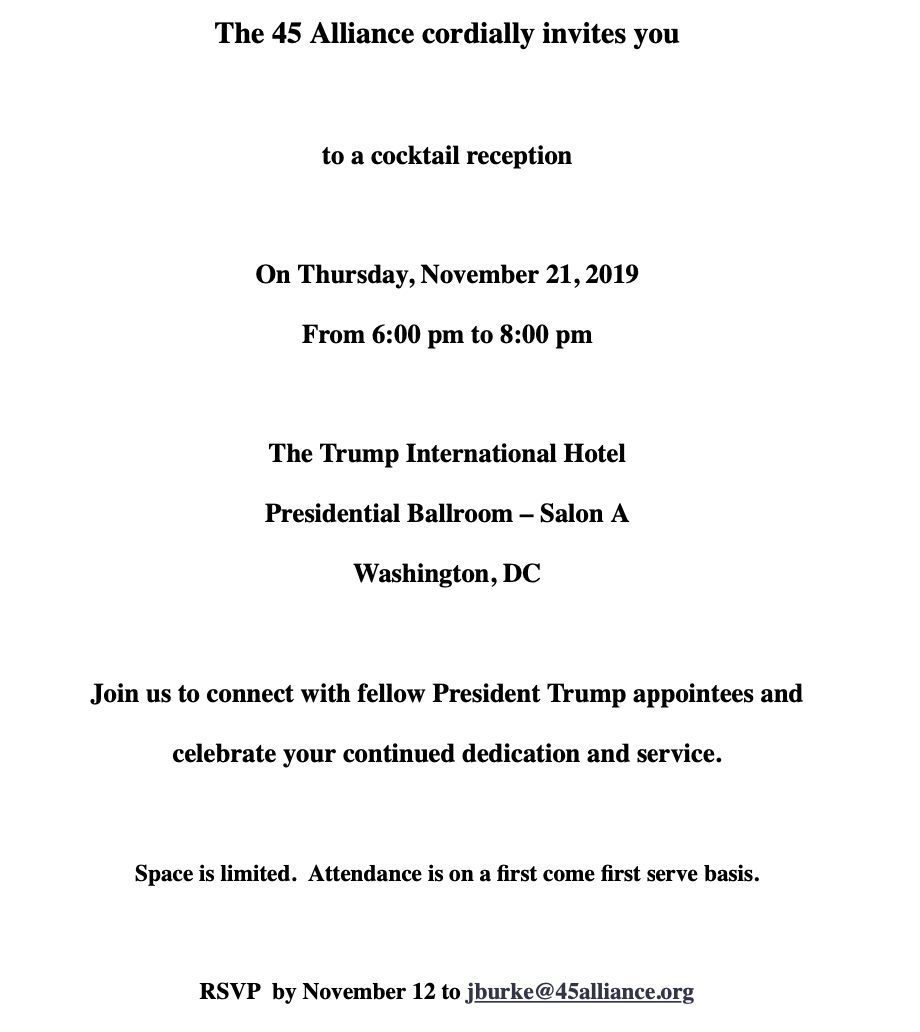 According to the invite, The 45 Alliance—a new non-profit, social-welfare organization "established to support Executive Branch appointees during your public service"—hosted the gathering. The alliance received $150,000 for "issue support" from pro-Trump non-profit America First Policies per the dark money group's tax returns, as Open Secrets' Anna Massoglia reported last month.

And Federal Election Commission filings show that in December 2018, the Republican National Committee donated $75,000 to The 45 Alliance. (It's the only reported disbursement to the alliance in the FEC's data.)

According to its website and incorporation filings, The 45 Alliance's president is Jamie Burke, Trump's director for transition personnel who currently heads her own government-relations firm. One of the alliance's two listed board members is former White House Deputy Chief of Staff and current partner at a consulting group focused on "public policy and government relations," Rick Dearborn. Josh Pitcock, a former chief of staff for Vice President Pence who's now the vice president of government relations for Oracle, is the other board member mentioned.

None of the three leaders of The 45 Alliance replied to inquiries asking about who paid for this cocktail reception and why the Trump Hotel D.C. was chosen to host it.
Also, per a person with knowledge of the event, it was this gathering that HUD Secretary Ben Carson was addressing in a photo 1100 Pennsylvania shared on Nov. 22.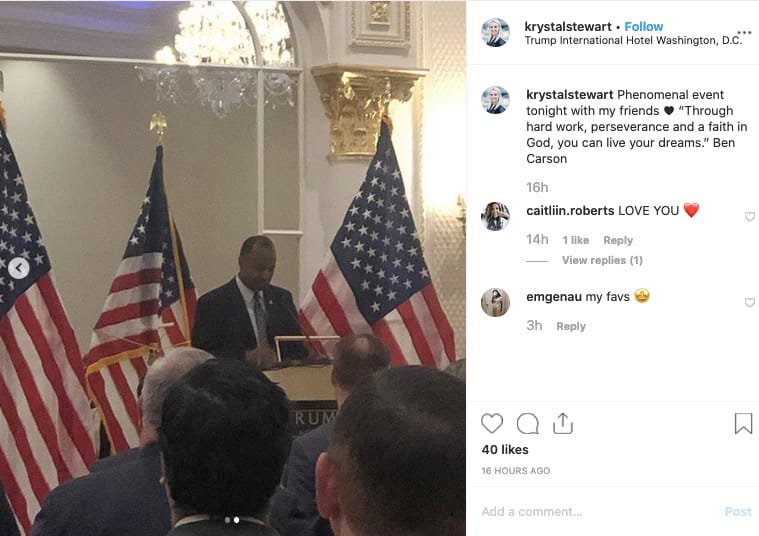 ---
Hyde-Smith became 29th GOP Senator to support president's hotel by spending campaign funds or appearing there
On Nov. 18, Sen. Cindy Hyde-Smith (R–MS) attended a reception at the Trump Hotel D.C. in connection with the Mississippi Farm Bureau Federation. It marked the first time Hyde-Smith has been spotted at the head of the executive branch's D.C. hotel. Now 29 of 53 GOP Senators—55 percent—have supported the Trump Hotel D.C. by appearing or spending campaign funds there.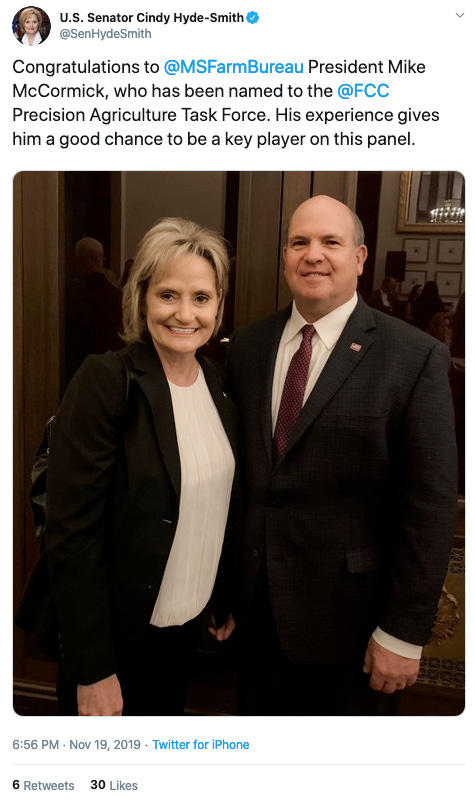 1100 Pennsylvania, which first learned of the event from a tip, was able to verify Hyde-Smith's location as four picture frames, a mirror, and the reflection in that mirror in her photo match that of a promotional picture of the Lincoln Library from the Trump Hotel D.C.'s website.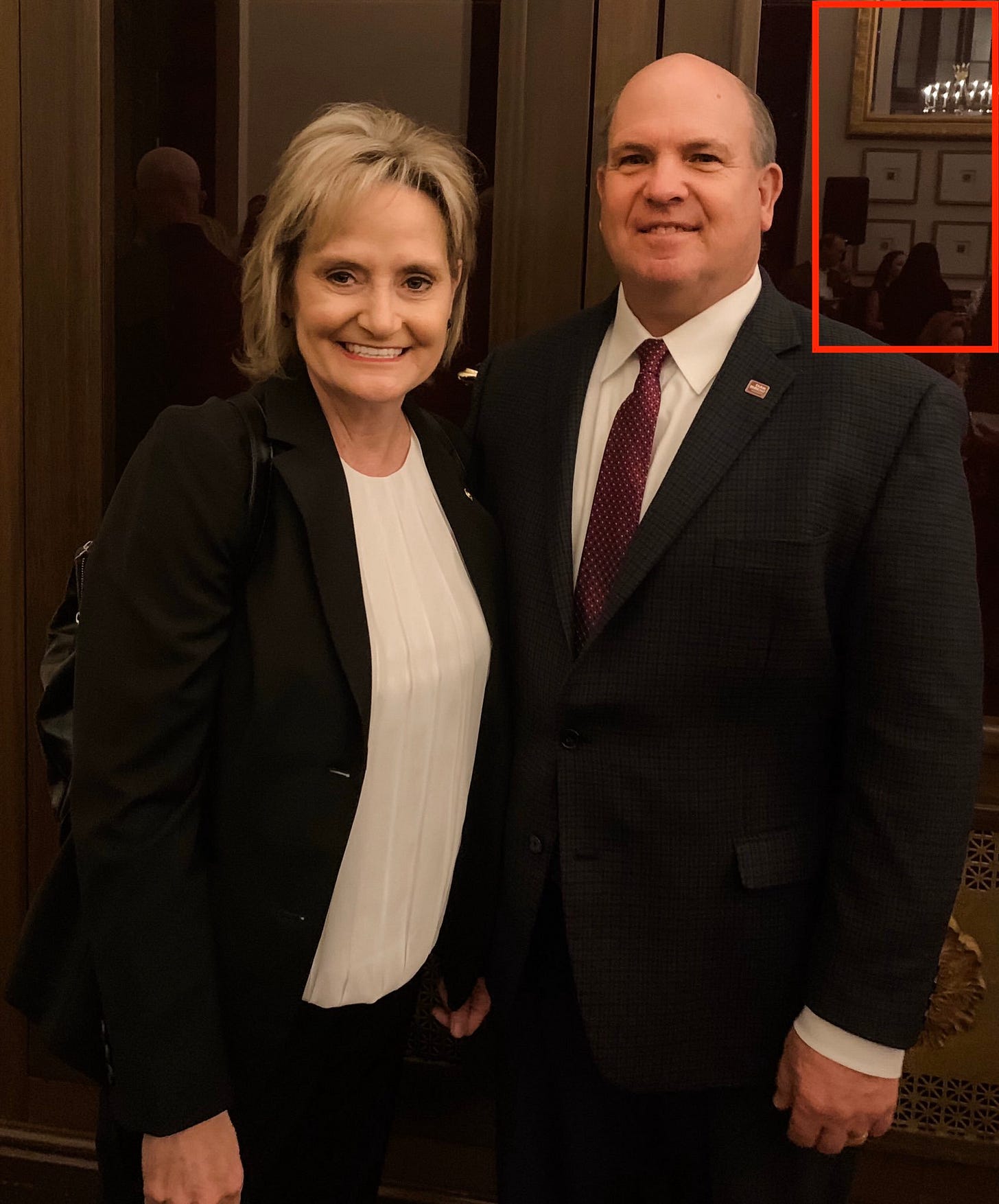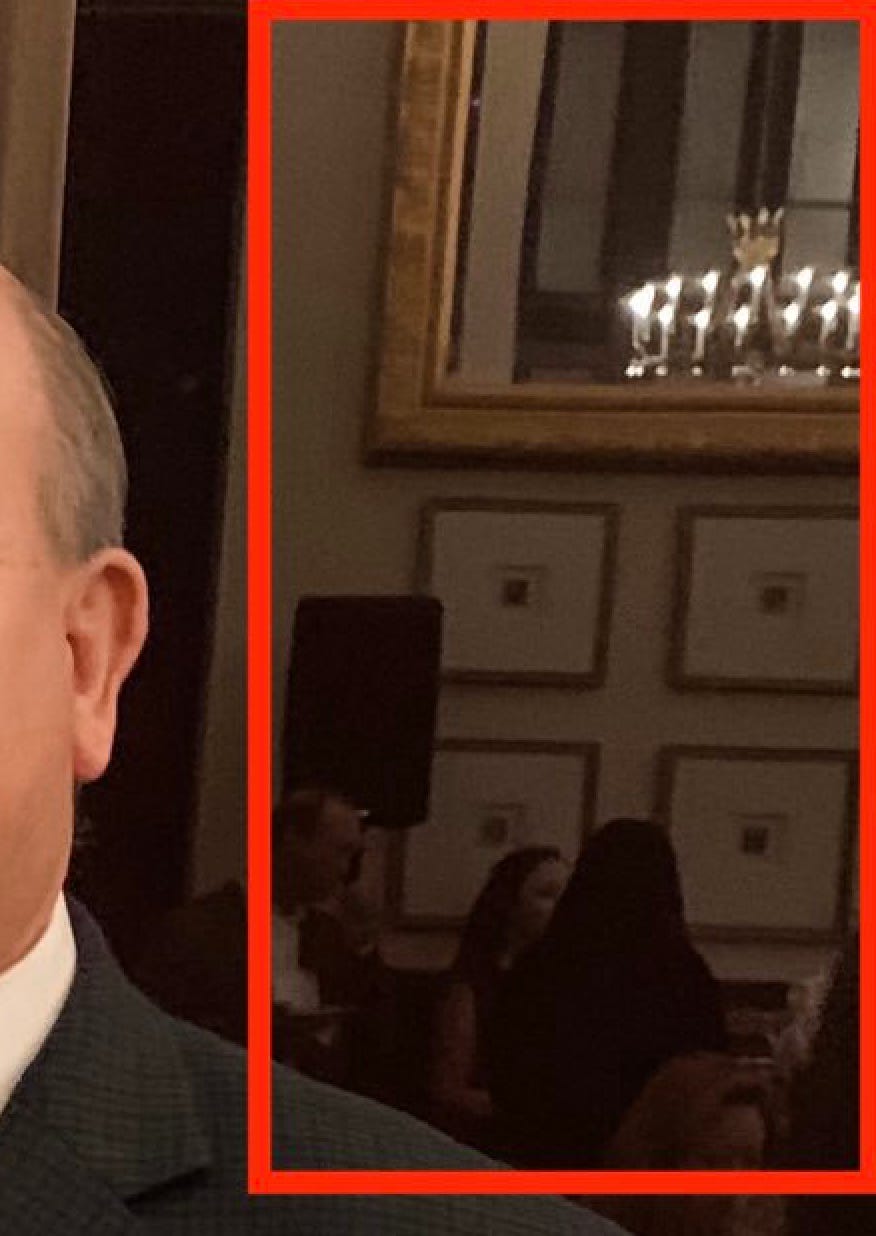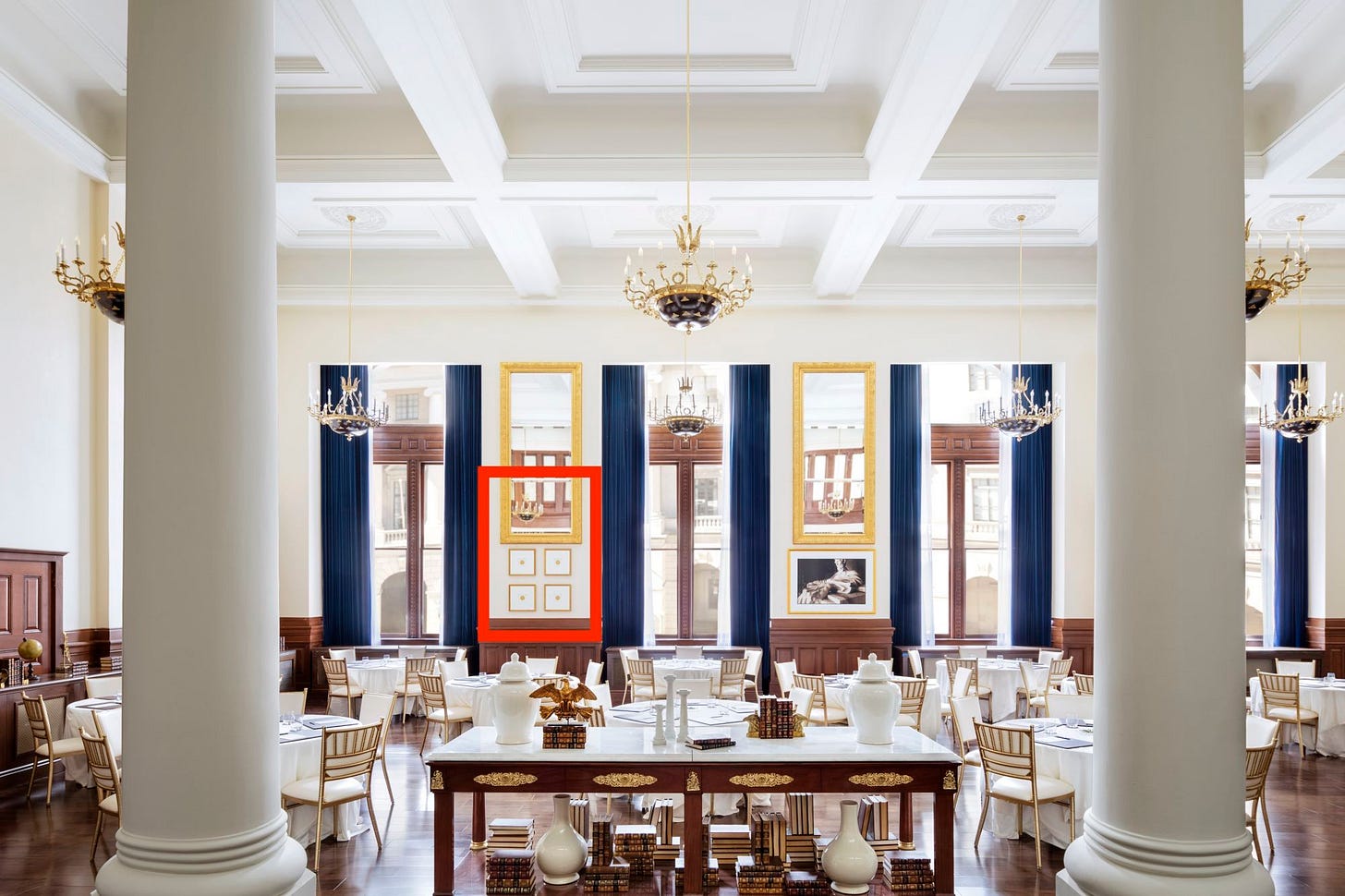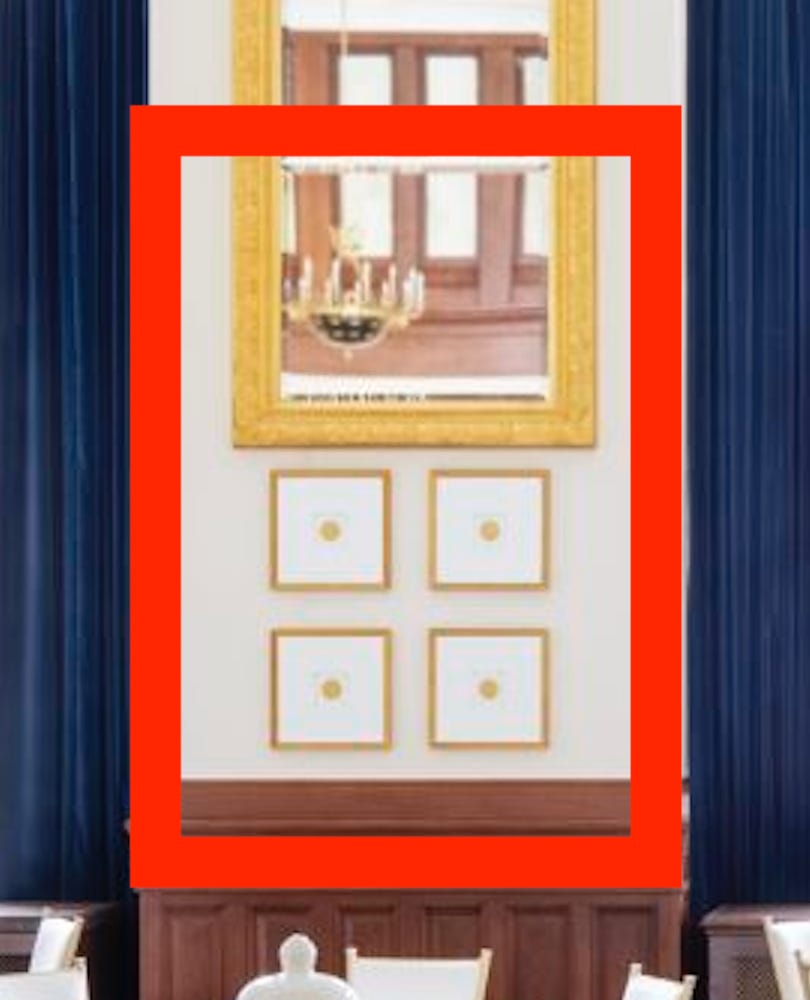 Rep. Steven Palazzo (R-MS), who also attended the event, provided additional proof of its location via a photo he posted to Instagram. A portrait of Abraham Lincoln and the windows over the door in his picture match that of another promotional photo from the hotel's website.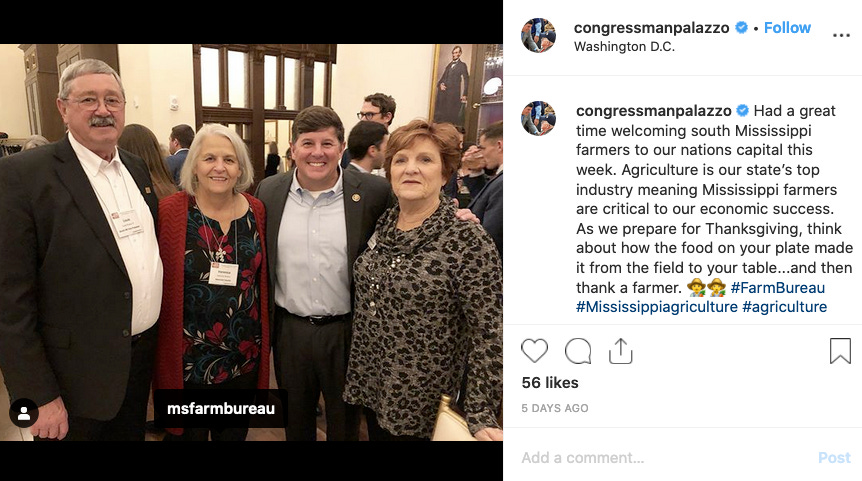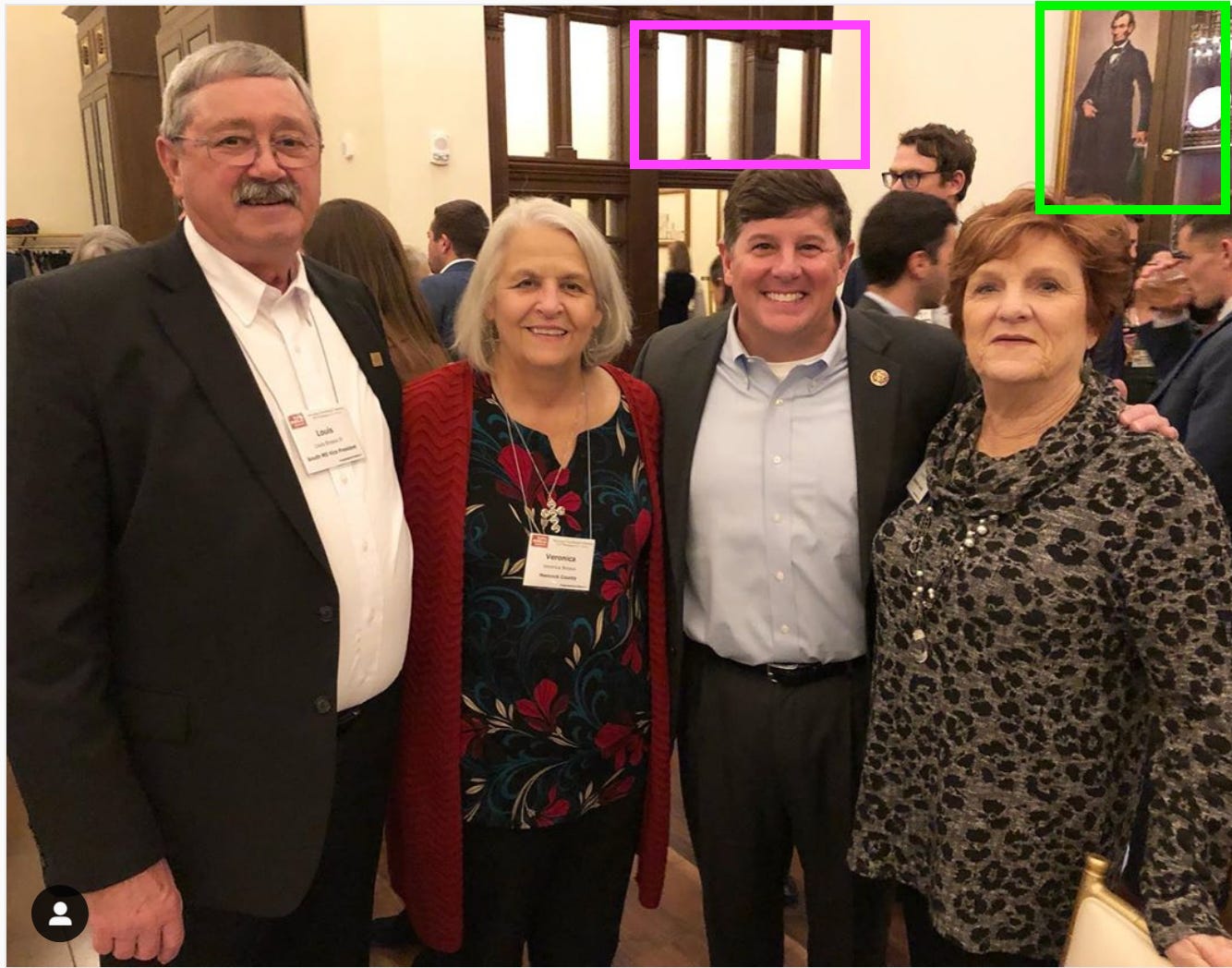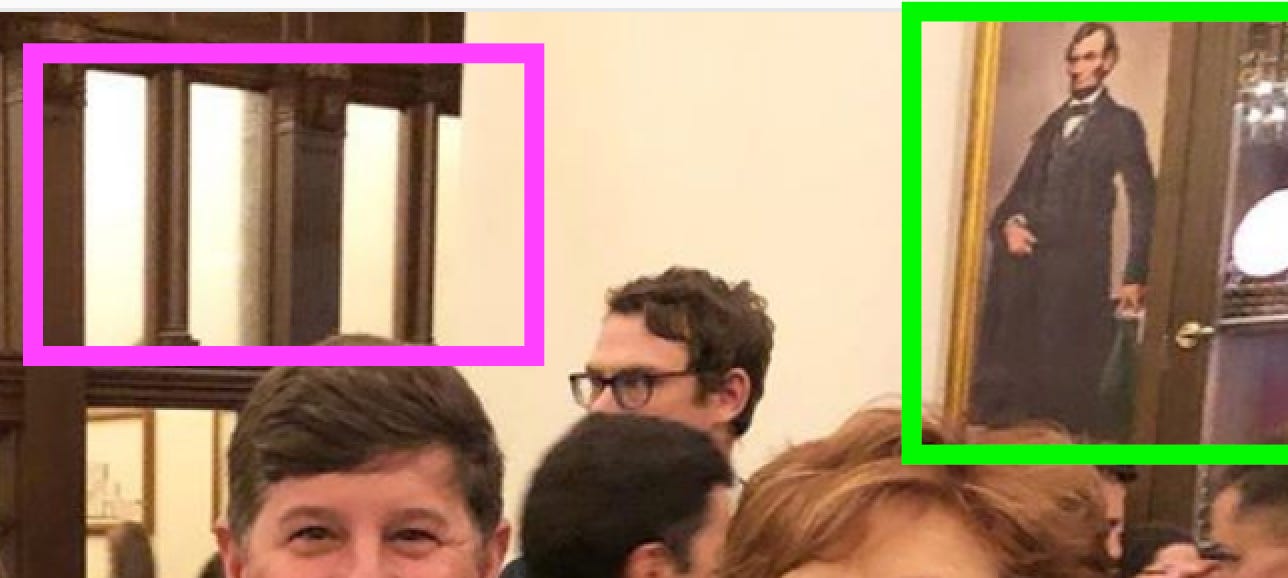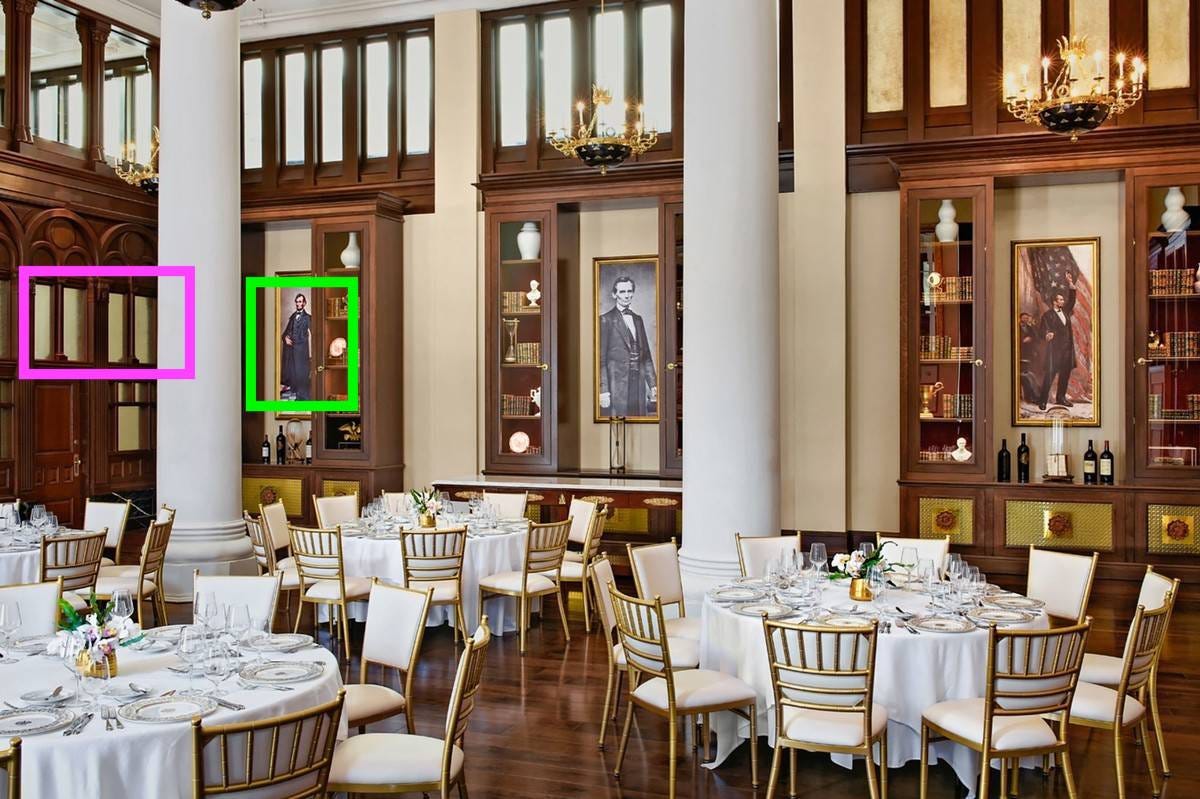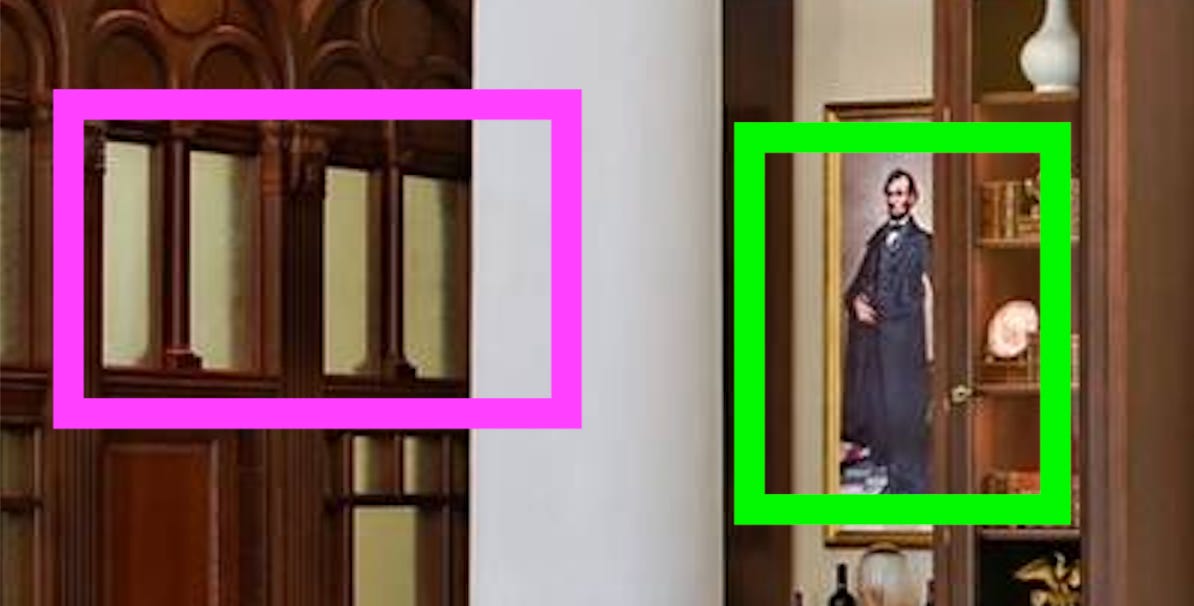 According to the Mississippi Farm Bureau Federation's website, more than 100 farmers from that state visited D.C. Nov. 18–20 for its annual fly-in. The farmers were scheduled to push their cause to three federal agencies, the state's congressional delegation, and representatives from the European Union and the Taiwanese government.
---
Former president of Pakistan Pervez Musharraf visited Trump Dubai
A former president of Pakistan, retired four-star general Pervez Musharraf, made the rounds at the Trump Dubai clubhouse recently. Musharraf, who's been living in exile in Dubai since 2016, is currently on trial in absentia for high treason in his home country.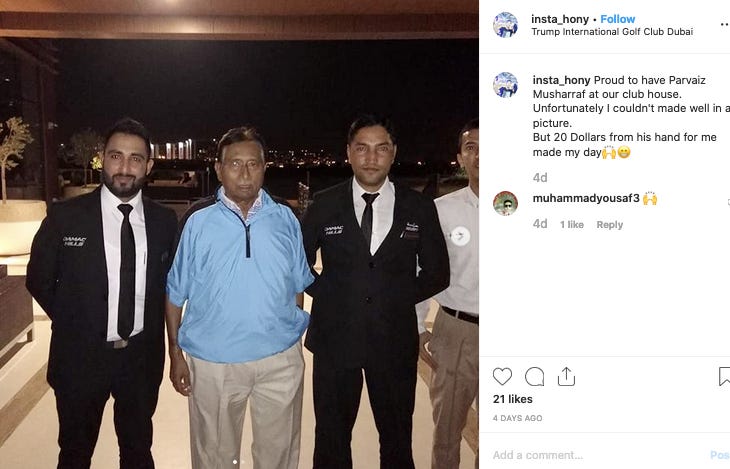 ---
Give your loved ones the gift of graft
Educate your uncle! Inform your Facebook friend! Troll grandpa! 1100 Pennsylvania makes a great holiday gift for anyone who'd appreciate—or benefit from—seeing how President Trump is profiting from his presidency. Just $5/month or $50 a year.
---
Other notable sightings
A glimpse of the foreign officials, government employees, politicians, lobbyists, and the like who patronize or appear at Trump businesses. Most people shown here have reasons to want to influence the Trump administration, rely on its good graces for their livelihoods, or should be providing oversight. Additionally, high-profile guests serve as draws for paying customers.
Sandwiched around a Thanksgiving trip to Afghanistan to visit the troops, Trump spent the break at his Mar-a-Lago resort. He also golfed at his Palm Beach course three times, according to the White House press pool. The U.S. president enjoyed time with both his family and his customers (who included PGA tour player Bryson DeChambeau). Trump golfed Friday with Rush Limbaugh and Jack Nicklaus according to Politico Playbook.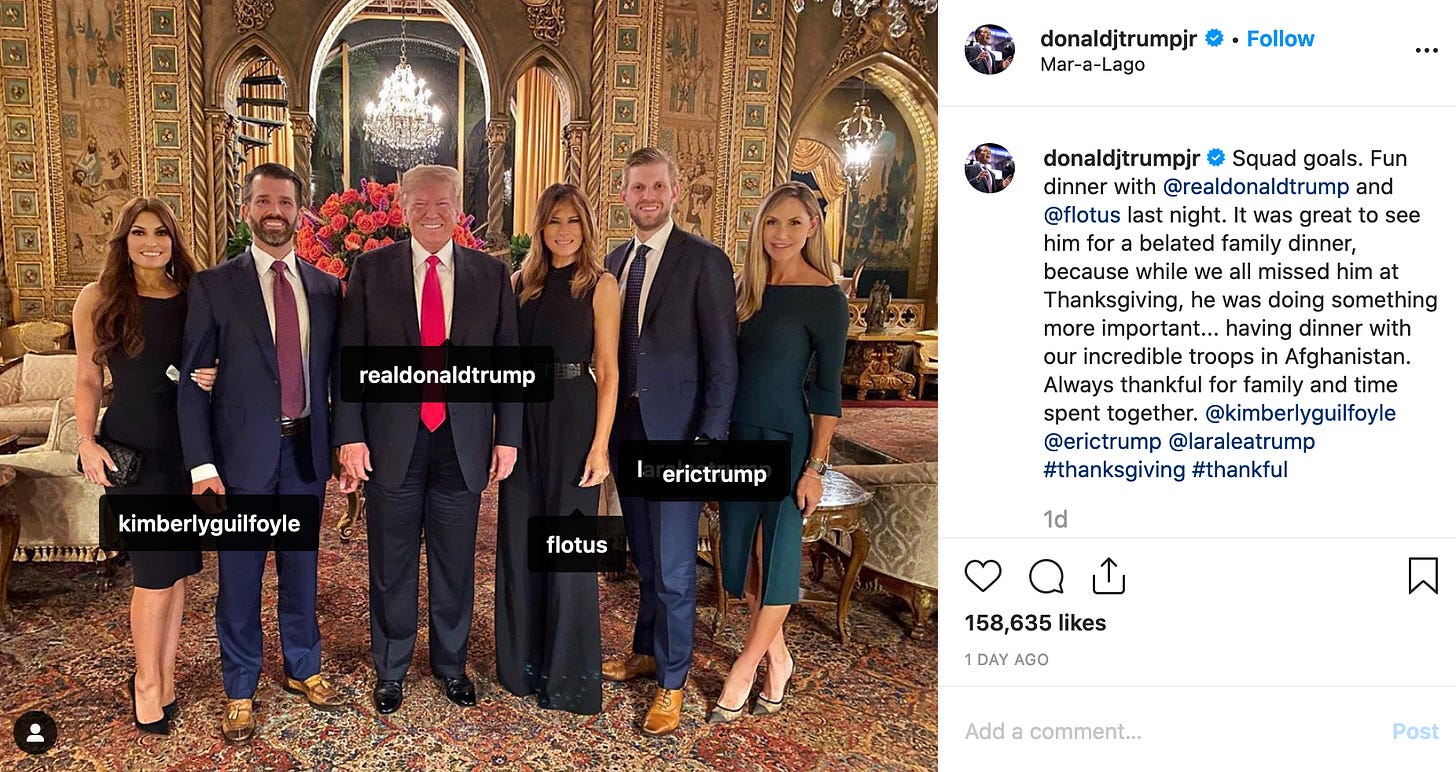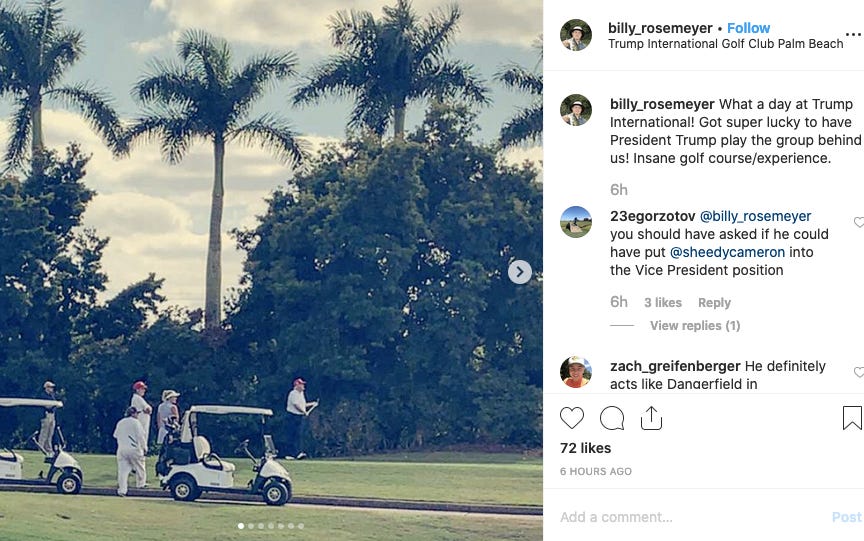 White House senior advisor Jared Kushner attended Fox News's Jeanine Pirro's private book signing at the Trump Hotel D.C. in late November.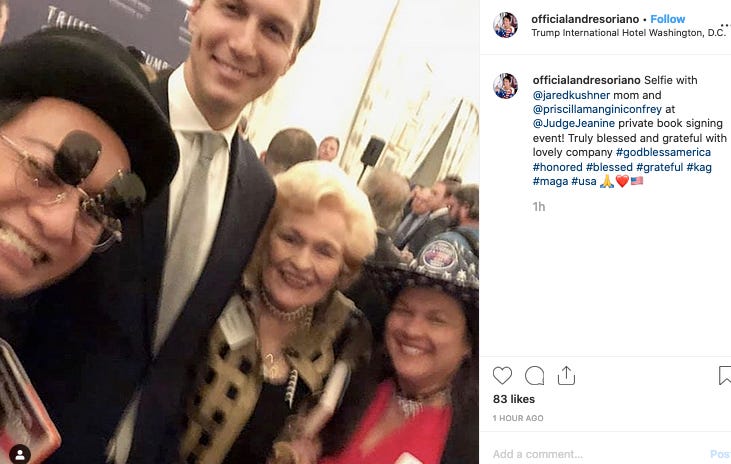 Robert Hyde, a lobbyist running for Congress in Connecticut as a Republican, shared another photo of himself at a Trump business, this time posing with the managing director of the U.S. president's D.C. hotel, Mickael Damelincourt. For more on Hyde, check out "CT congressional candidate in Trump's inner circle—or is he?" by Emily Munson for The Connecticut Post.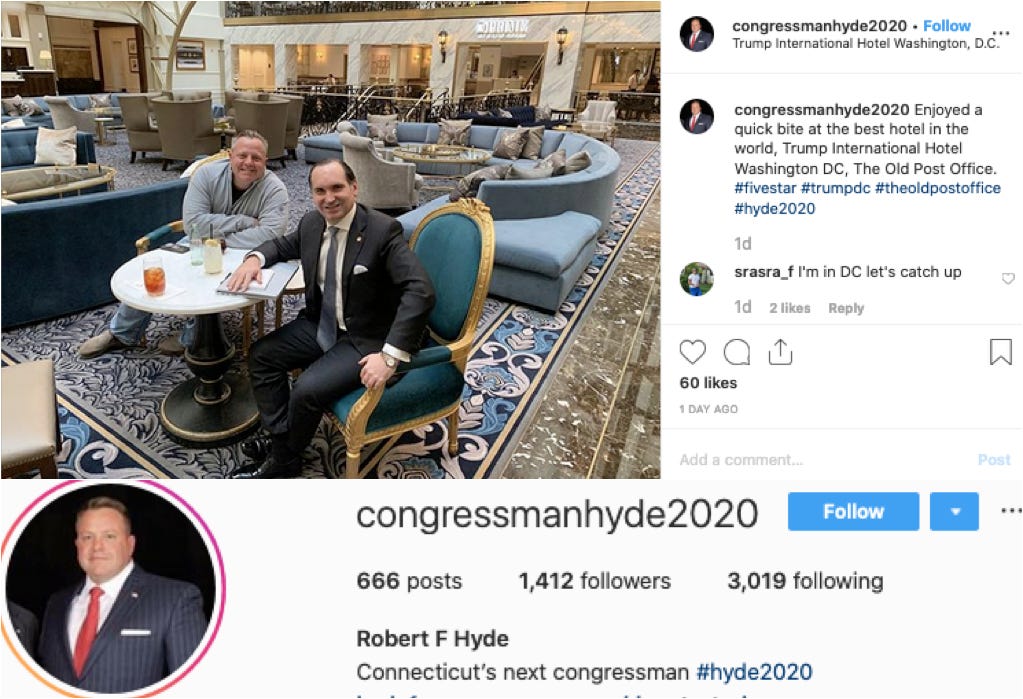 U.S. Marine Greg Aselbekian shared photos of him posing with both his commander-in-chief and the first lady at the former's D.C. hotel.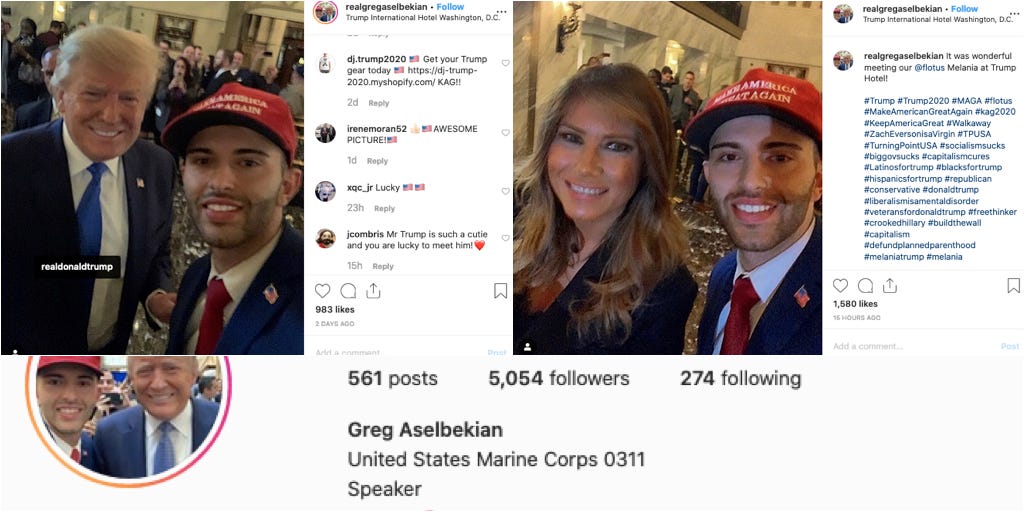 Kazakh banker Timur Issatayev dined at the U.S. president's hotel in May.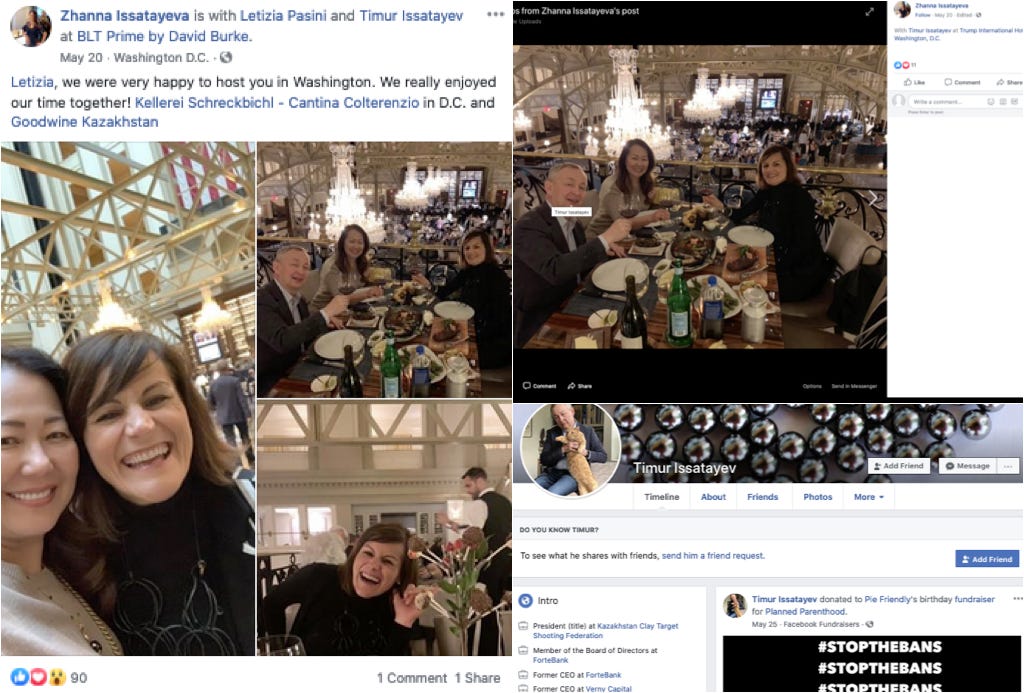 Senior advisor to Donald Trump's reelection campaign Kimberly Guilfoyle and businessman walled off from his father's administration Donald Trump Jr. totally made out at the latter's book signing. The smooch occurred mid-November at the D.C. hotel Don Jr. co-owns with the U.S. president.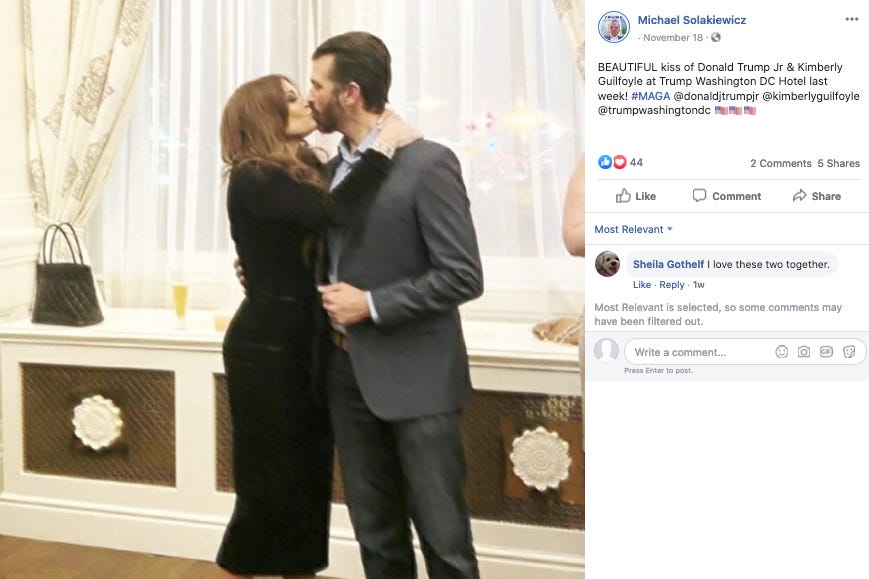 The chief deputy district attorney in Lawrence, Kansas, Dan Dunbar, stayed at the U.S. president's D.C. hotel.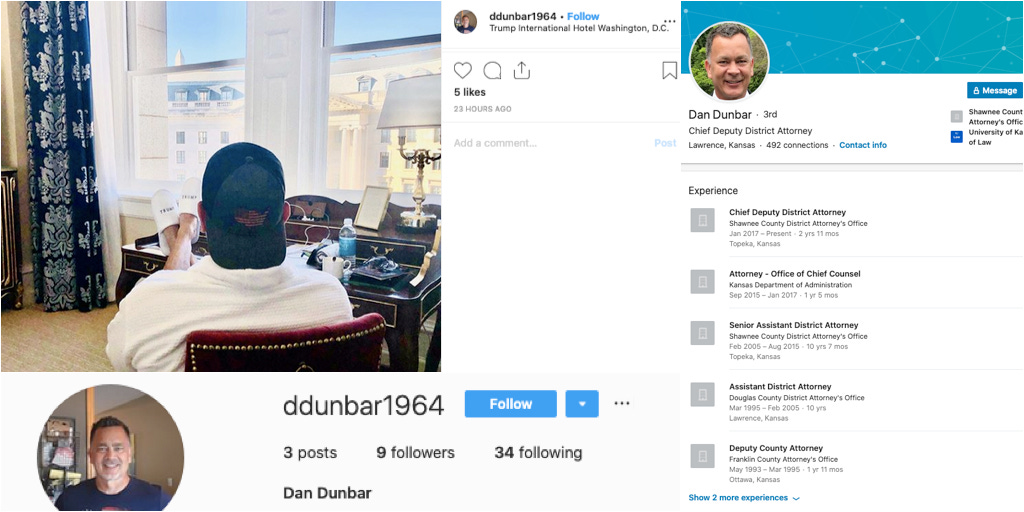 ---
Other Trump Organization news
---
Reference section
Links to rundowns of developments in the House's investigations and lawsuits, reference sheets for some of 1100 Pennsylvania's previous reporting, and articles that provide the background on why all of this matters. The date published or last updated is in parentheses.
Trackers
Notable hotel customers
Summaries
Upcoming key dates
Sept. 23—House Judiciary Committee hearing "Presidential corruption: Emoluments and profiting off the presidency" (postponed, not yet rescheduled)

Nov. 4—House Transportation Committee chair's subpoena deadline seeking documents related to hotel's lease (response came a week late and was deemed insufficient)

Dec. 5—Deadline for Trump to file his appeal to the Supreme Court of lower courts' rulings requiring his accounting firm to turn over his financial records to the House Oversight and Reform Committee

Dec. 7—D.C. Fraternal Order of Police Lodge #1's holiday party at the Trump Hotel D.C.

Dec. 8—Attorney General William Barr's $30,000 private holiday party

Dec. 9—Oral arguments before D.C. Circuit Court of Appeals in Democratic lawmakers emoluments suit

Dec. 12—Oral arguments before full 4th Circuit Court of Appeals in D.C. and Maryland attorneys general's emoluments suit

Jan. 23—Status hearing with D.C. Superior Court in former hotel employees' lawsuit alleging racial discrimination

Jan. 25—Diamond and Silk's "Say yes to LIFE Pro-Life brunch" to benefit their nonprofit, S.I.S.T.A.S. (Stepping into Self Truth Awareness and Success)
---
Thanks for reading! If you like what you've read, tell someone. If you've been forwarded this newsletter, subscribe at 1100pennsylvania.substack.com. Questions? Read our FAQ. Tips or feedback? Contact Zach Everson at 1100Pennsylvania@protonmail.com (it'll be encrypted if you also use a ProtonMail account, which is free) or via Signal (secure), SMS, or mobile at 202.804.2744.