Hyde admits Trump Org patronage bought access to president
Robert Hyde claimed being a Trump customer allowed him to get 'over a dozen pictures' with the president, saving thousands of dollars
On Saturday, GOP Congressional candidate turned impeachment-inquiry figure Robert Hyde admitted that rather than donating to fundraisers to get close to President Donald Trump, Hyde was able to meet the president—and save thousands—by patronizing Trump businesses.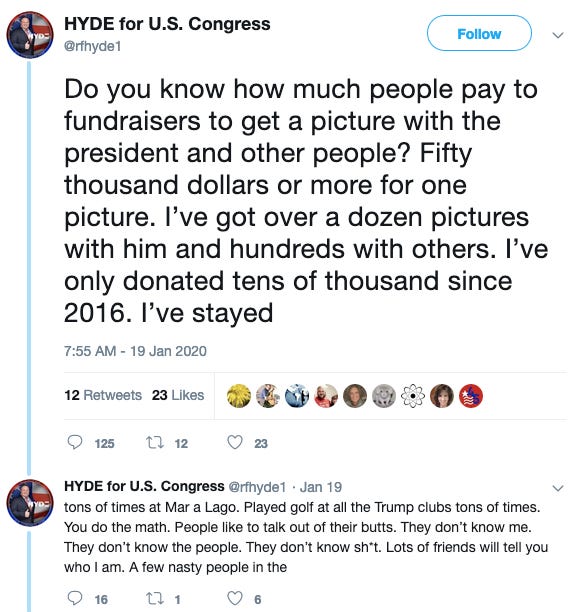 Additionally, while space didn't allow for including all of Robert Hyde's notable Instagram photos in last Wednesday's issue, your correspondent shared several additional pictures of Hyde mingling with GOP notables on Twitter.
---
Disputing Trump campaign's cease and desist over its name, Virginia Women for Trump booked Trump Hotel D.C. to mark president's birthday
A private company that describes itself as "not-for-profit" has reserved the Trump Hotel D.C. again for its annual birthday celebration of the president, ignoring a cease-and-desist letter regarding its name sent by the Trump campaign.
Best-known for hosting the 2018 Tea for Trump at the Trump Hotel D.C. that featured a MAGA-themed fashion show scored to North Korea's national anthem, Virginia Women for Trump has booked the president's hotel on June 14 to observe its namesake's birthday according to the group's founder and president.
"I have already signed the contract with the Trump Hotel," wrote Alice Butler-Short in response to an inquiry from 1100 Pennsylvania. "Mike Lindell (the Pillow Man [CEO of MyPillow]) will be one of our speakers. We will also have Katie Hopkins (the British female Nigel Farage:-). [Economist and one-time Trump pick to be a Federal Reserve governor] Steve Moore will give us an economic update."
An active limited-liability company registered with the commonwealth of Virginia that also claims to be "a not-for-profit" on its event listings, Virginia Women for Trump's reservation of the president's hotel comes at a time when the Trump campaign is contesting the LLC's name. Attorneys representing the campaign have sent Short multiple cease-and-desist letters asking it to stop using the president's image and name, as first reported by Daniel Lippman and Tina Nguyen for Politico.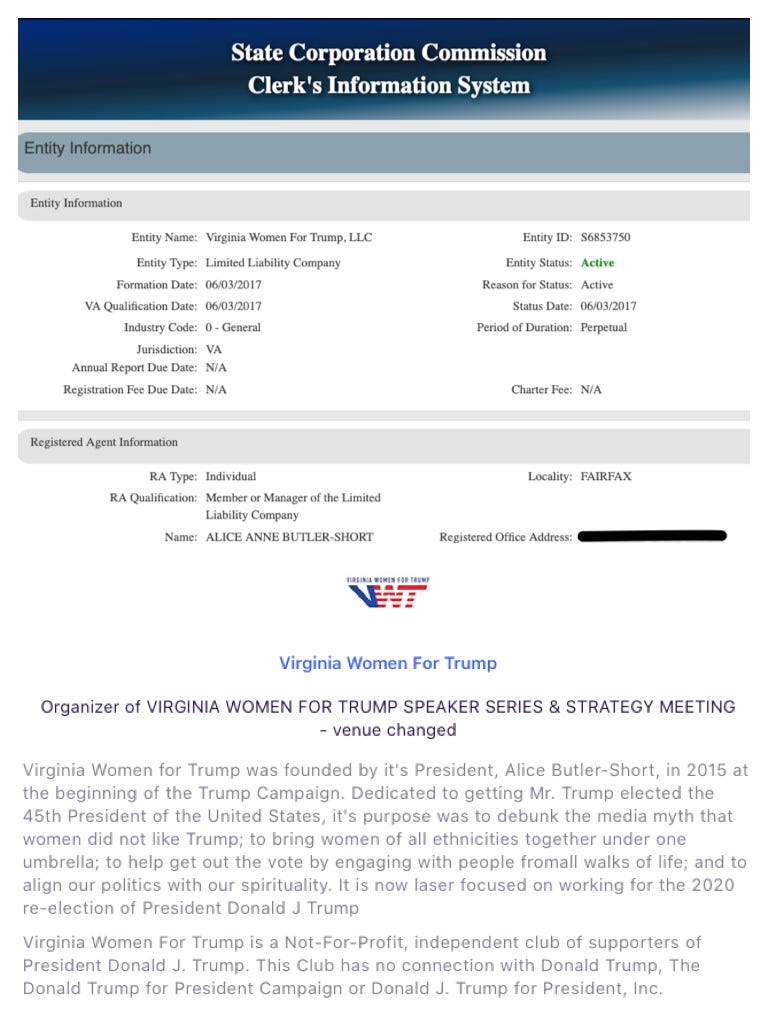 Short, however, told 1100 Pennsylvania a cease and desist does not exist. The Trump campaign disagreed.
From Short [bold added]:
There is no Cease and Desist. The subject heading says Cease and Desist but If you read the letter it "respectfully asks" me to stop using the name. It is not illegal or unethical to use the name and I have had this verified by my attorney and he also confirmed that this "letter" is not a Cease and Desist and they do not use those words in the letter.
Calling the letter part of "harassment" and "a personal vendetta" from "a number of detractors," Short added, "I have asked for an apology from the campaign. I have also asked for an apology for a number of other issues including the fact that a campaign official leaked the letter to Politico before I saw it. I will defend my integrity to the death."
Attesting to Short's disregard of the cease and desist, "Virginia Women for Trump" is advertising an event for later this week (not at a Trump venue).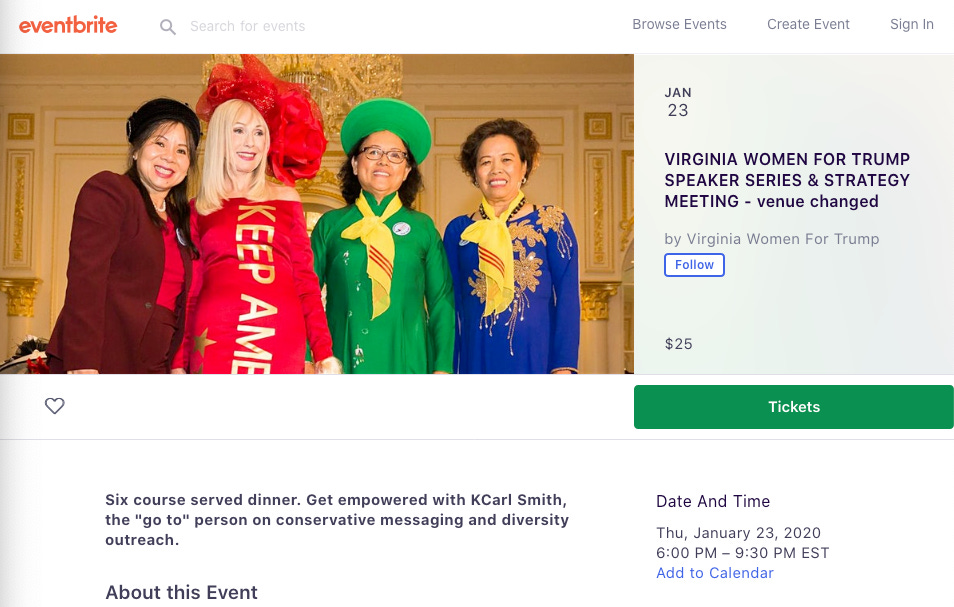 In a statement to 1100 Pennsylvania, the Trump campaign disputed Short's interpretation [bold added]:
The letter the Trump re-election campaign issued to Ms. Butler-Short was a cease-and-desist letter. As the letter plainly said, the campaign wants her to immediately stop misappropriating the President's name for her enterprises, which appear designed to lead supporters to believe they are interacting with or supporting efforts authorized by President Trump. They are not, and her use of the name is both improper and unethical.
The campaign did not answer a question asking whether or not it would take any actions to enforce its cease-and-desist letter.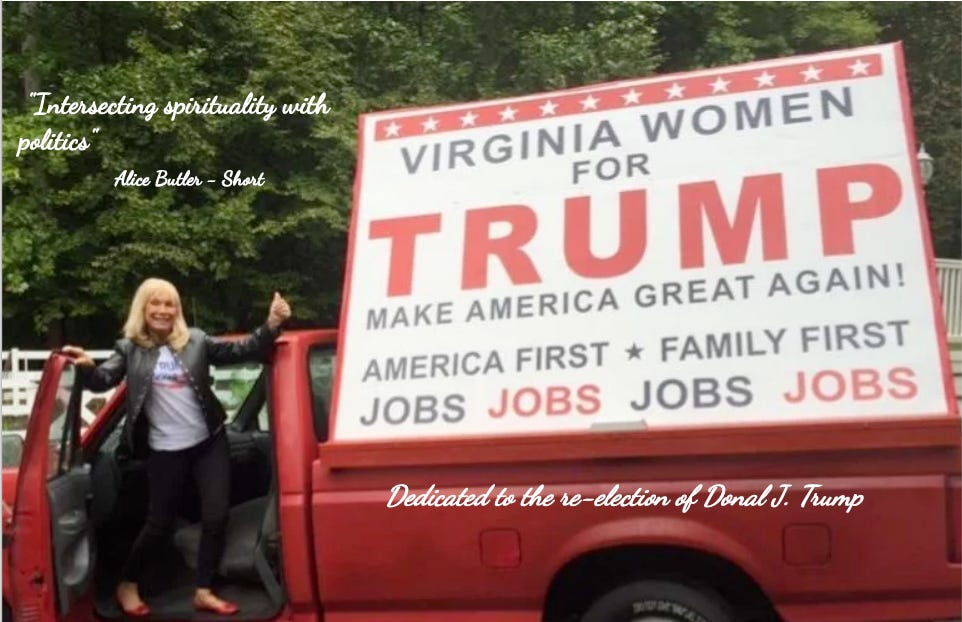 Picture: The Virginia Women for Trump website
---
Navy captain more forthcoming about his Mar-a-Lago visit in an internal email, but questions remain about his interactions with the president
The top officer of a Naval Air Station wrote in an internal email that his daughter invited him to Mar-a-Lago's New Year's Eve party, which was "purely celebratory without political implications or fundraising." Yet a photo posed on Instagram of the event may contradict his statement that President trump did not make any speeches. And other questions remain, including what the Navy captain and the commander-in-chief discussed and if government funds were used.
Capt. Mark "Soho" Sohaney, the commanding officer of Naval Air Station Key West, rang in the new year at Mar-a-Lago, at one point even rubbing shoulders with the commander-in-chief, as 1100 Pennsylvania first reported last week.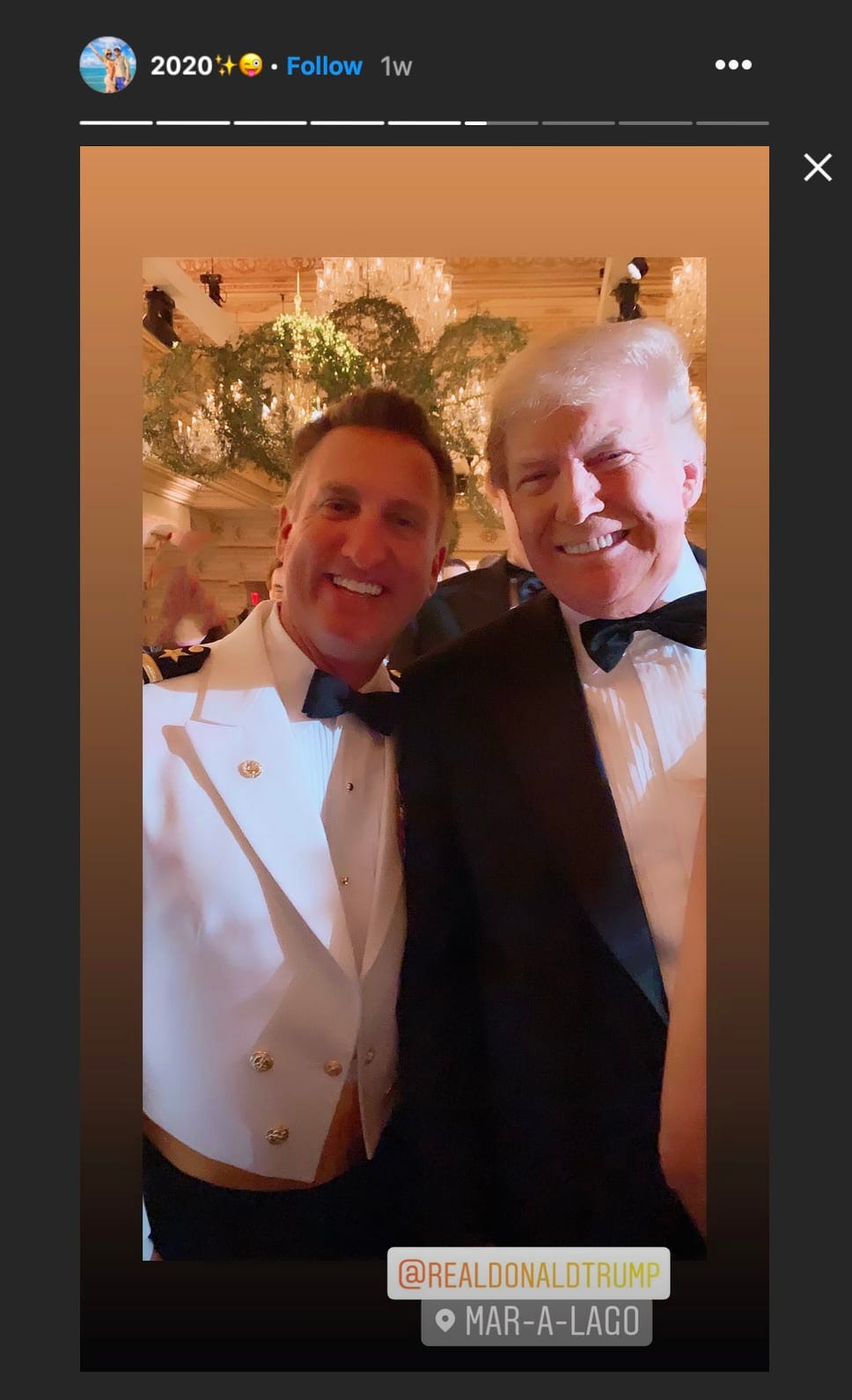 When asked about the nature of Sohaney's visit, NAS Key West's public affairs officer replied to 1100 Pennsylvania [bold added], "Capt. Sohaney attended the Dec. 31 party in a personal capacity as the guest of a member of the club." Sohaney and his spokesperson declined to answer what the captain and the president discussed, if government funds were used, and if other NAS Key West personnel attended the party at the president's private business.
In an email sent to parties whose names were redacted, however, Sohaney provided details that addressed some of 1100 Pennsylvania's unanswered questions. Sohaney wrote the email after his picture was included in 1100 Pennsylvania's intitial roundup of holiday celebrants at Mar-a-Lago, but before the photo of him posing with President Trump was found, which merited a follow-up article. 1100 Pennsylvania received the email via a response to its Freedom of Information Act request.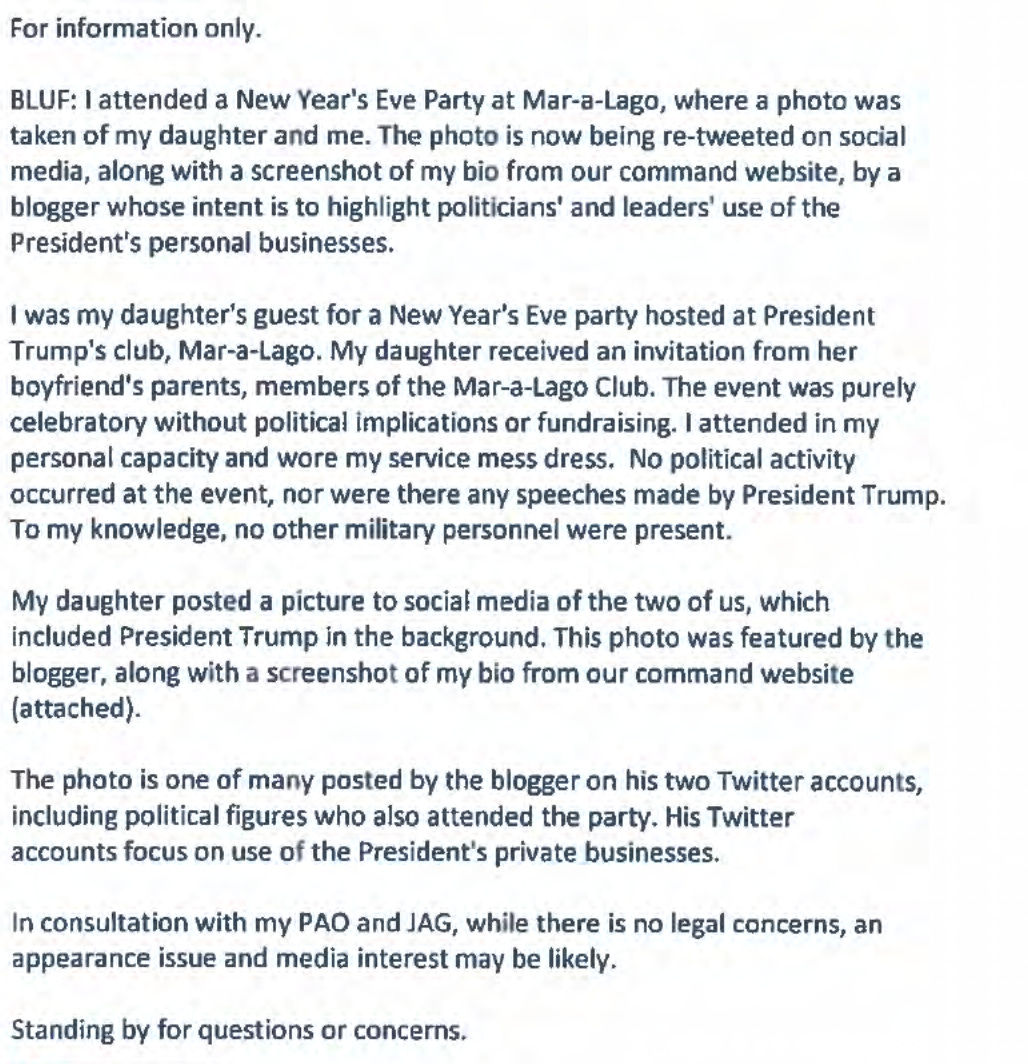 A photo posted by another guest, however, may contradict Sohaney's claim "nor were there any speeches made by President Trump."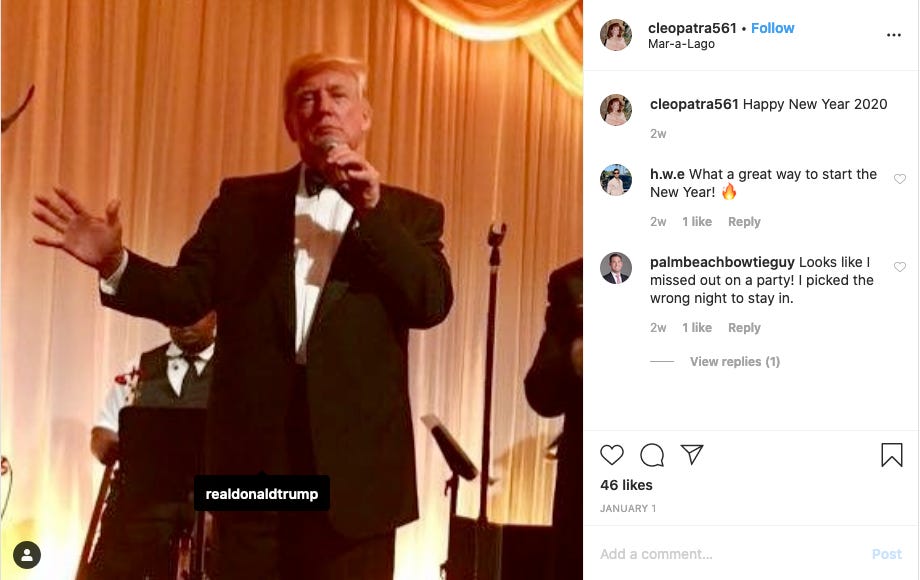 And still unanswered: what did Sohaney and the commander-in-chief discuss, had they met previously at a Trump business, and did Sohaney spend any U.S. government funds at Mar-a-Lago.
At least two emails relevant to the FOIA request were redacted almost in their entirety. 1100 Pennsylvania is appealing that decision.
---
The Lev Parnas, Robert Hyde, and 'breeding ground' 'cesspool' media blitz
On Thursday, your correspondent appeared on MSNBC's "All In with Chris Hayes" to discuss Lev Parnas's description of the Trump Hotel D.C. as "like one big cesspool."
Additionally, over the past few days 1100 Pennsylvania's reporting about Parnas, Robert Hyde, and the hotel in general has been cited in—
Thanks to 1100 Pennsylvania's paid subscribers who support in-depth reporting on who's paying Donald Trump and what they may want from the president, and help bring this information to a much wider audience than just readers of this newsletter.
Paid subscriptions are this publication's sole source of revenue—no ads, no grants, no payments from George Soros (unless he's a subscriber). Support this reporting and help ensure it continues. Just $5 a month or $50 a year.
---
Notable sightings
A glimpse of the foreign officials, government employees, politicians, lobbyists, and the like who patronize or appear at Trump businesses. Most people shown here have reasons to want to influence the Trump administration, rely on its good graces for their livelihoods, or should be providing oversight. Additionally, high-profile guests serve as draws for paying customers.
President Trump addressed the Palm Beach Police & Fire Foundation, his customers, at its annual ball at Mar-a-Lago on Saturday. For details about Trump's appearance, read "Trump talks Soleimani, impeachment as he surprises gala attendees at Mar-a-Lago" by Christine Stapleton for The Palm Beach Post.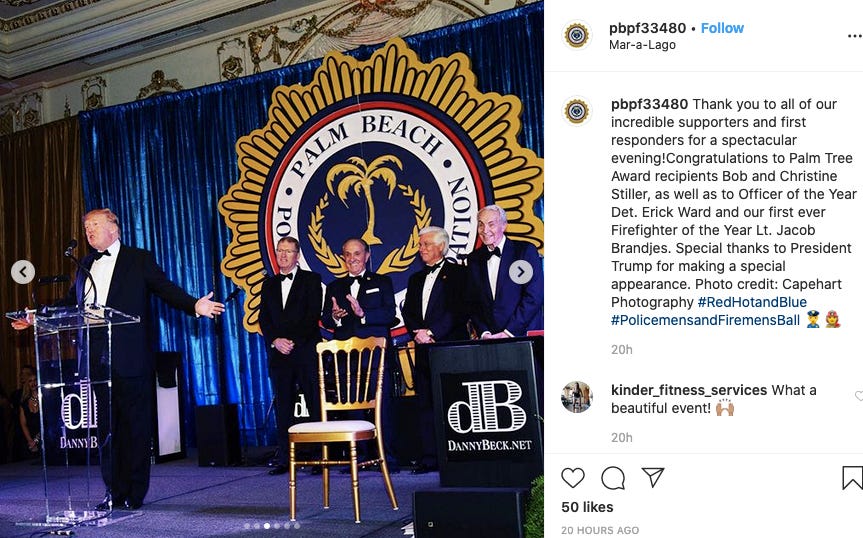 Jack Brewer, an evangelist, former NFL player, and Mar-a-Lago customer, was asked by the president to watch TV with him this weekend.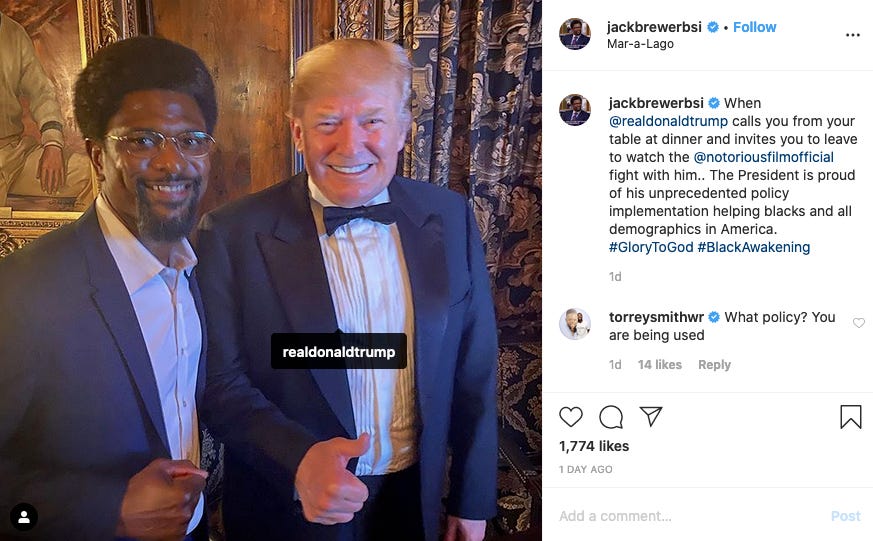 Yet more Mar-a-Lago customers got a thumbs up from the president.
Friday night at the Trump Hotel D.C., your correspondent saw Trump campaign manager Brad Parscale hanging out at a table in the lobby.
---
Other Trump Organization news
---
Reference section
Links to rundowns of developments in the House's investigations and lawsuits, reference sheets for some of 1100 Pennsylvania's previous reporting, and articles that provide the background on why all of this matters. The date published or last updated is in parentheses.
Trackers
Notable hotel customers
Summaries
25 unimpeachable examples of Trump profiting from his hotel: Foreign governments, Trump administration, GOP lawmakers, industry all have called on the Trump Hotel D.C. since its owner became president (Sept. 27, 2019)

"Power tripping in the swamp: How Trump's D.C. hotel swallowed Washington
The MAGA social scene is a movable feast, but its dark heart resides within the Old Post Office Building, where the Trump Org operates under a mercenary charter" by your correspondent for Vanity Fair (October 2019)

"Inside the world's most controversial hotel: The hotel that was expected to take its place among the crown jewels of D.C.'s travel scene has become a magnet for protestors, a West Wing Annex, and—possibly—the center of a constitutional crisis." by your correspondent for Condé Nast Traveler (May 2018)
Upcoming key dates
Sept. 23, 2019—House Judiciary Committee hearing "Presidential corruption: Emoluments and profiting off the presidency" (postponed, not yet rescheduled)

Nov. 4, 2019—House Transportation Committee chair's subpoena deadline seeking documents related to hotel's lease (response came a week late and was deemed insufficient)

Jan. 22, 2020—Initial filings due in House Ways and Means Committee's appeal of decision requiring it to notify Trump if it seeks his New York state tax returns.

Jan. 23, 2020—Trump Organization's deadline to bid for the lease rights to its D.C. hotel.

Jan. 24, 2020—Status hearing with D.C. Superior Court in former hotel employees' lawsuit alleging racial discrimination

Jan. 25, 2020—Diamond and Silk's "Say yes to LIFE Pro-Life brunch" to benefit their nonprofit, S.I.S.T.A.S. (Stepping into Self Truth Awareness and Success)

Jan. 28, 2020—House Transportation Committee's Subcommittee on Economic Development, Public Buildings, and Emergency Management's public hearing with General Services Administration officials regarding the panel's requests for the Trump Hotel D.C.'s financial information.

March 2020—Supreme Court hears Trump's appeal of earlier rulings requiring his financial institutions to comply with subpoenas from House Financial Services, Intelligence, and Oversight Committees and the New York district attorney's office

June 2020—Supreme Court decision due on Trump's appeal of earlier rulings requiring his financial institutions to comply with subpoenas from House Financial Services, Intelligence, and Oversight
---
Thanks for reading! If you like what you've read, tell someone. If you've been forwarded this newsletter, subscribe at 1100pennsylvania.substack.com. Questions? Read our FAQ. Tips or feedback? Contact Zach Everson at 1100Pennsylvania@protonmail.com (it'll be encrypted if you also use a ProtonMail account, which is free) or via Signal (secure), SMS, or mobile at 202.804.2744.