Discover more from 1100 Pennsylvania
"The undisputed expert on the D.C. Trump Hotel" – David Fahrenthold of the Washington Post
Over 3,000 subscribers
IG: GSA failed to consider if hotel's lease violated Constitution
Welcome to 1100 Pennsylvania, a newsletter devoted to President Donald Trump's Trump International Hotel Washington, D.C. (and his other companies). President Trump, of course, still owns his businesses and can profit from them.
If you like what you see, tell someone—and support this work by paying for a subscription. If you've been forwarded this newsletter, subscribe for yourself at zacheverson.substack.com. Questions? Read our FAQ/manifesto. Tips or feedback? Contact me, Zach Everson, securely via email at 1100Pennsylvania@protonmail.com or on Signal at 202.804.2744.
IG: GSA failed to consider if Trump Hotel D.C. lease violated Emoluments Clauses
Yesterday the General Services Administration's inspector general criticized GSA for failing to consider if the Trump Hotel D.C.'s lease was in compliance with the U.S. Constitution after Donald Trump became president. The report recommended GSA conduct a "formal legal review" that considers the foreign and domestic emoluments clauses.
From the report's conclusion:
We found that GSA…recognized that the President's business interest in the OPO [Old Post Office] lease raised issues under the Constitution's Emoluments Clauses that might cause a breach of the lease, but decided not to address those issues in connection with the management of the lease. We also found that OGC [GSA's Office of General Counsel] improperly ignored these Emoluments Clauses, even though the lease itself requires compliance with the laws of the United States, including the Constitution.
The report makes clear that its purpose was not to determine if Trump's election caused him to be in violation of section 37.19 of the lease (which precludes elected officials from having any share of it) or if his interest in the hotel violated the Emoluments Clauses. Rather the IG "sought to determine whether there were any improprieties in GSA's decision-making process regarding these issues."
But yet!
After a six-page analysis of emoluments the IG concludes:
In sum, we found evidence that the term 'emolument' as used historically and today includes the gain from private business activities. As noted above, if emoluments include an official's gains from private business activities, the President's interest in the lease raises potential constitutional issues.
Here's an overview of GSA's decision-making process:
Contracting officer Kevin Terry is the GSA official who decided that the hotel was not in violation of its lease. According to the IG, Terry "was aware of Trump's earlier interest in the presidency but it was not a consideration during lease negotiations [which occurred in 2012–2013] because at the time Terry thought a Trump presidency unlikely." Fair enough.
According to the IG report, after the Trump presidency became definite though, Terry did not consider the Emoluments Clauses' affect on the validity of the lease because "they were not included within the 'four corners of the lease'" and he thought they were an issue for the courts to consider.
As for section 37.19, variations of it were used on previous government leases (for The Willard Hotel and The Hotel Monaco in D.C.). Additionally, "GSA did not consider Section 37.19 a material term of the OPO lease, and it was not discussed during lease negotiations," per the IG report. After Trump's election—and media outlets pointed out that he could now be in violation of the lease [support journalism!]—GSA attorneys started reviewing the lease. Terry, meanwhile "immediately formed an opinion, based on his 'plain reading' of Section 37.19, that there was no breach."
Terry also told that IG that in a meeting with Trump Organization EVPs Donald Trump Jr. and Eric Trump shortly after their father was inaugurated, Terry "pushed hard" for the president to divest the property—not because his ownership (now through a revocable trust from which he can profit) violated the lease, but rather for appearances. "However, Terry stated he did not have a solid position to force a complete divestiture since there was not a breach of the lease," according to the report.
Three weeks later, Terry asked the Trump Organization to provide him with an opinion of whether or not it was in compliance with the lease. Its attorney replied, we good. Terry sought guidance from GSA's attorneys as well. They replied, but it's redacted from the report. On March 23, 2017, Terry told the Trump Org, it was in compliance.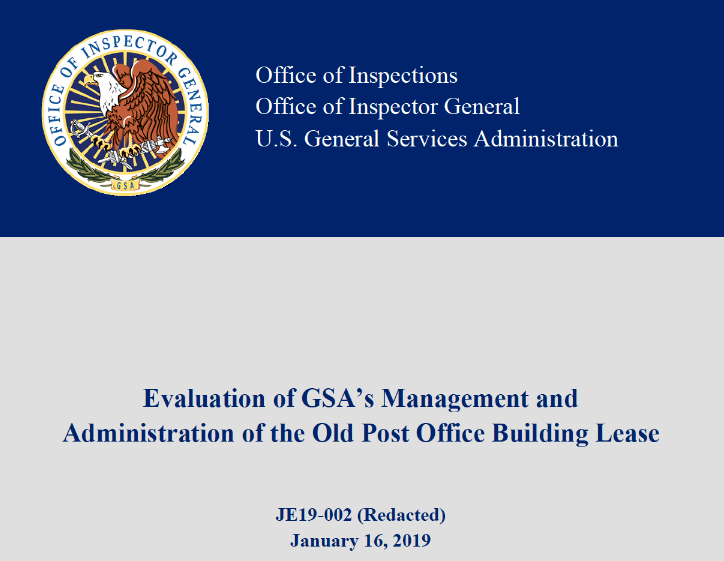 Government officials, watchdogs respond to GSA IG's report
Rep. Elijah E. Cummings (D–MD), the chairman of the House Committee on Oversight and Reform (when in the minority, Democrats on the committee had unsuccessfully sued GSA for its communications about the lease with the Trump transition team):
"President Trump should not have any contracts with the federal government. It is an obvious conflict of interest, and it is why the lease for the Trump Hotel in Washington D.C. explicitly prohibits any federal government official from being a party. This devastating new report from the Inspector General is proof that President Trump should have divested his business interests rather than ignoring the advice of ethics experts. According to this report, GSA's own lawyers recognized that President Trump's interest in the Trump Hotel raised concerns under the Emoluments Clause of the Constitution and under the lease itself, but 'punted rather than addressing them. I have been trying for years to get documents from GSA related to this issue, but they have refused to provide them, preferring instead to litigate the matter. The Trump Hotel is a glaring physical symbol of the Trump Administration's refusal to play by the same rules as everyone else."
Maryland attorney general Brian Frosch, who's suing the president for violating the emoluments clauses: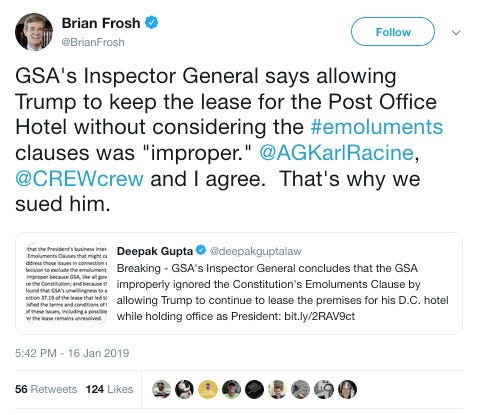 Noah Bookbinder, a former federal prosecutor and the executive director of Citizens for Responsibility and Ethics in Washington (CREW), involved in two emoluments cases against President Trump: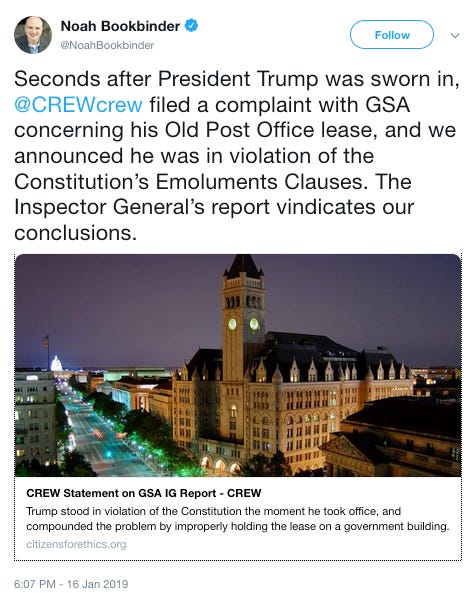 Fordham law professor Jed Shugerman, who filed an amicus brief in CREWs emoluments lawsuit v. President Trump: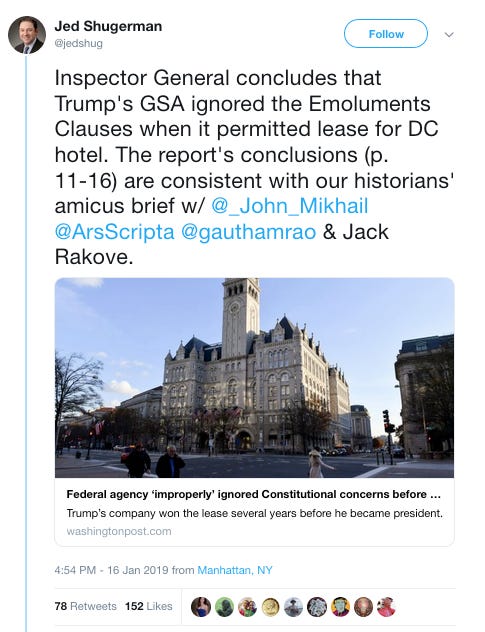 Former director of the Office of Government Ethics, Walter Shaub, shares his role in the process: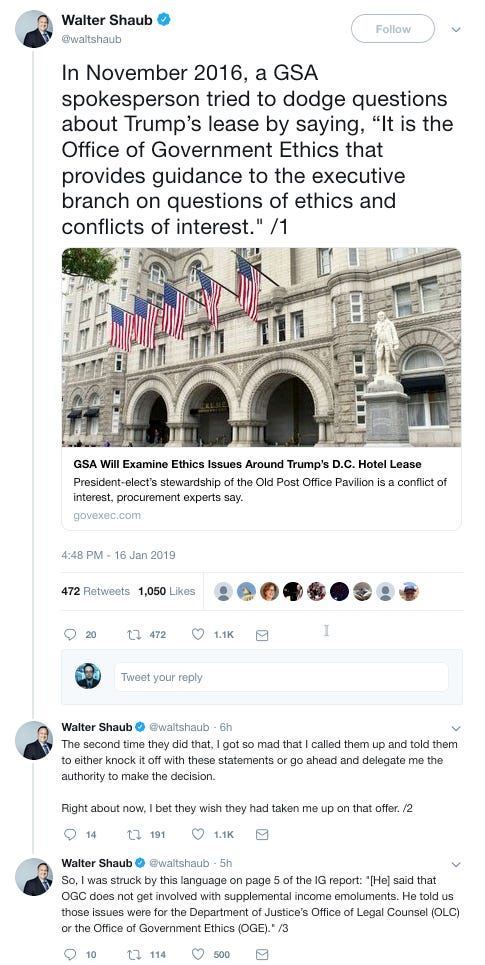 Executive editor of Lawfare, Susan Hennessey: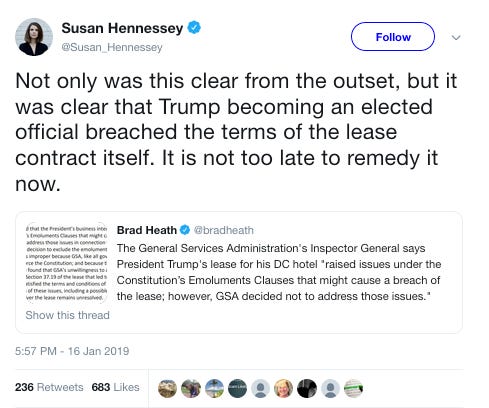 T-Mobile CEO responds to Washington Post article
Yesterday The Washington Post published Jonathan O'Connell and David A. Fahrenthold's scoop, "T-Mobile announced a merger needing Trump administration approval. The next day, 9 executives had reservations at Trump's hotel."
T-Mobile CEO John Legere, one of the aforementioned executives, tweeted this response: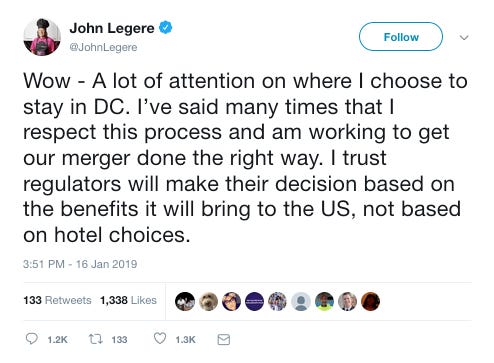 Don Jr. goes out of his way to praise Congressman who goes out of his way to visit Trump properties
Trump Organization EVP and son of the president Donald Trump Jr. yesterday: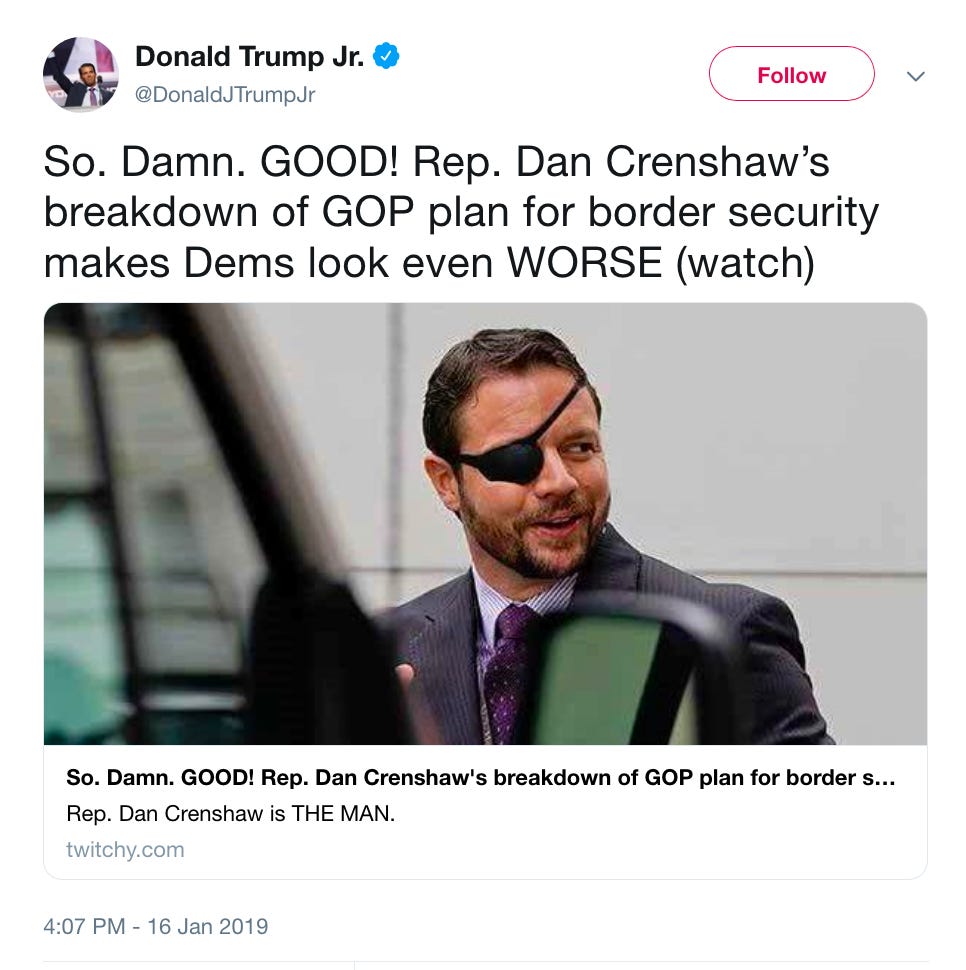 Then Rep.-elect Dan Crenshaw (R–TX) at the Trump Hotel D.C. on Dec. 2: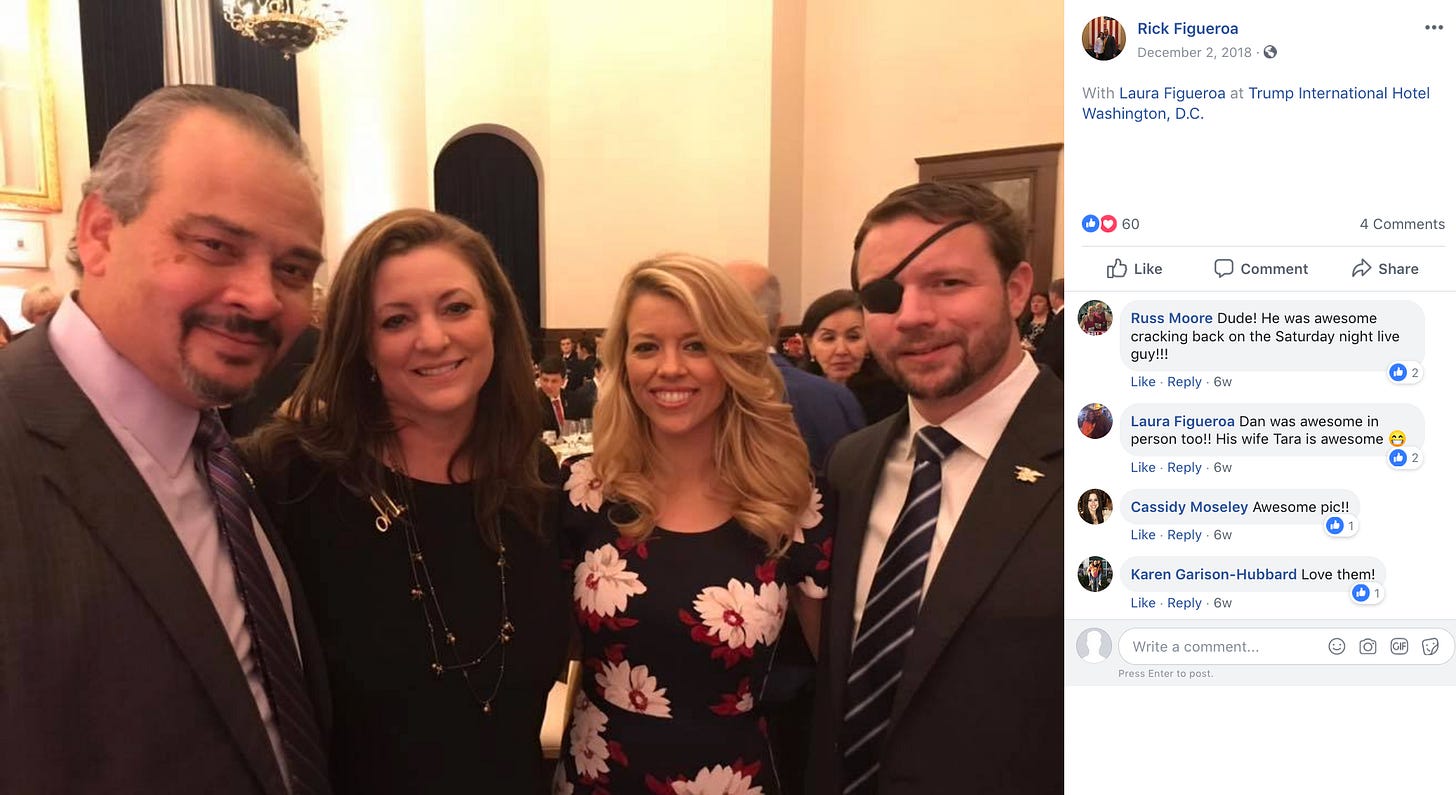 Then Rep. elect Crenshaw at Mar-a-Lago on Dec. 24: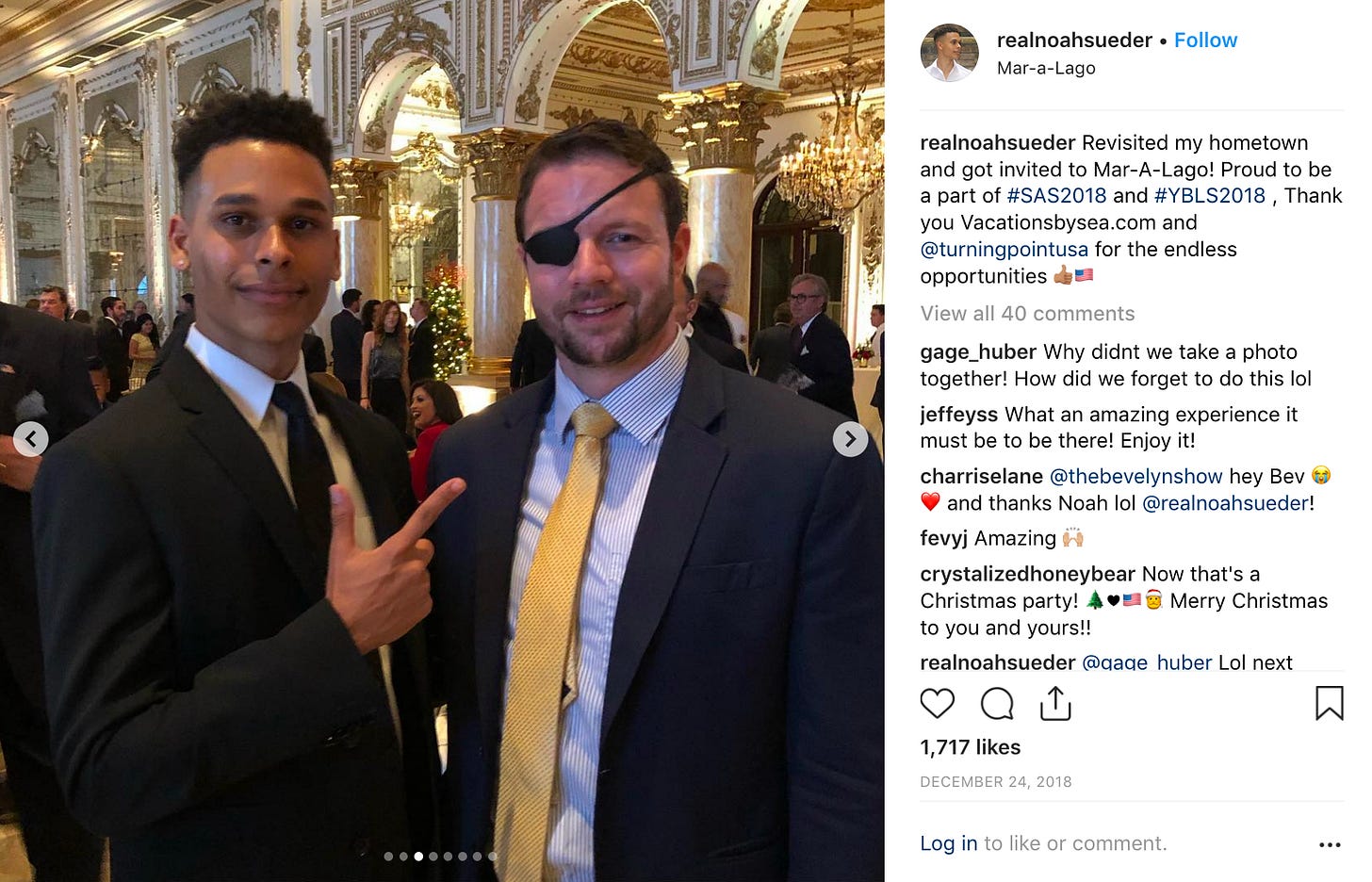 Noteworthy sightings
Yesterday President Trump's personal attorney Rudy Giuliani met with Italian member of parliament and deputy minister for foreign affairs, Guglielmo Picchi. They discussed a potential visit to Florence. (Picchi was scheduled to be on Fox Business's Varney & Co. this morning too.)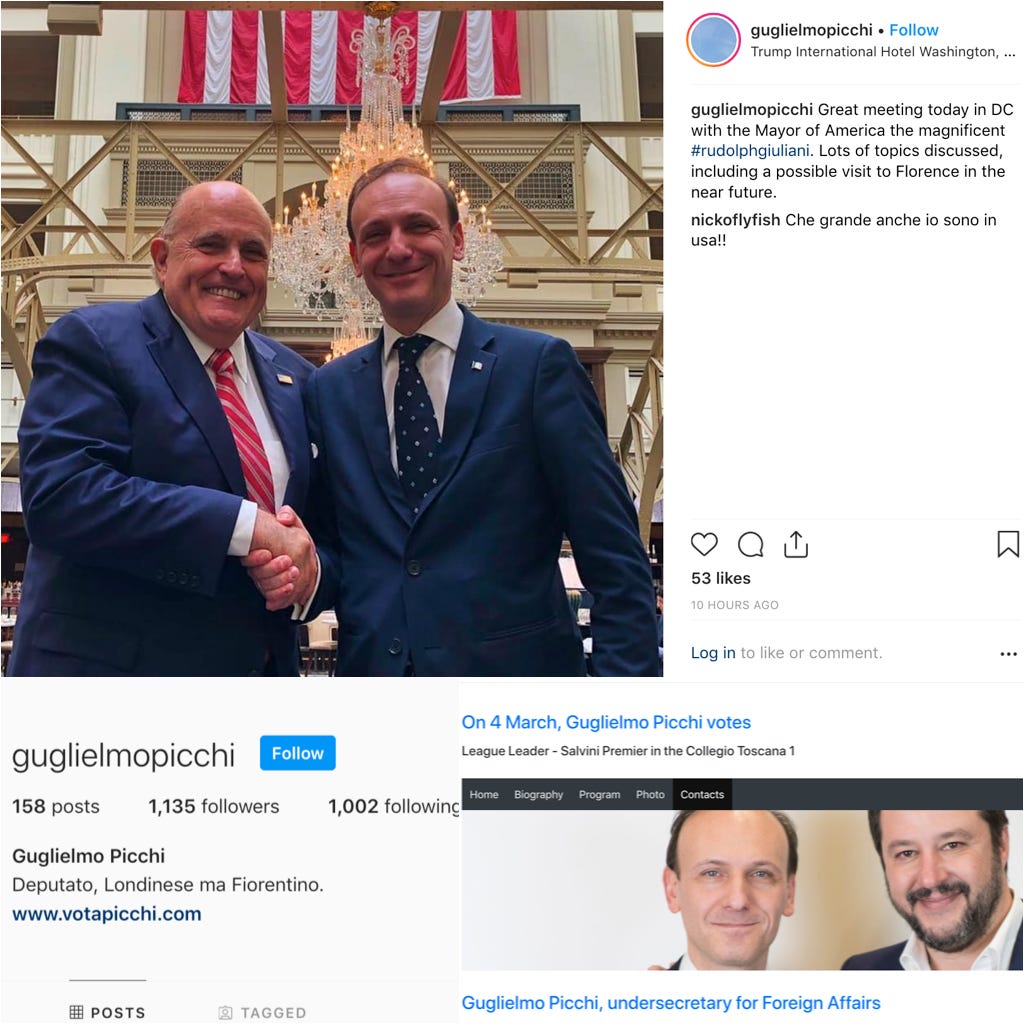 Reps of the pro-wall American Border Foundation are at the hotel, prepping for a press event.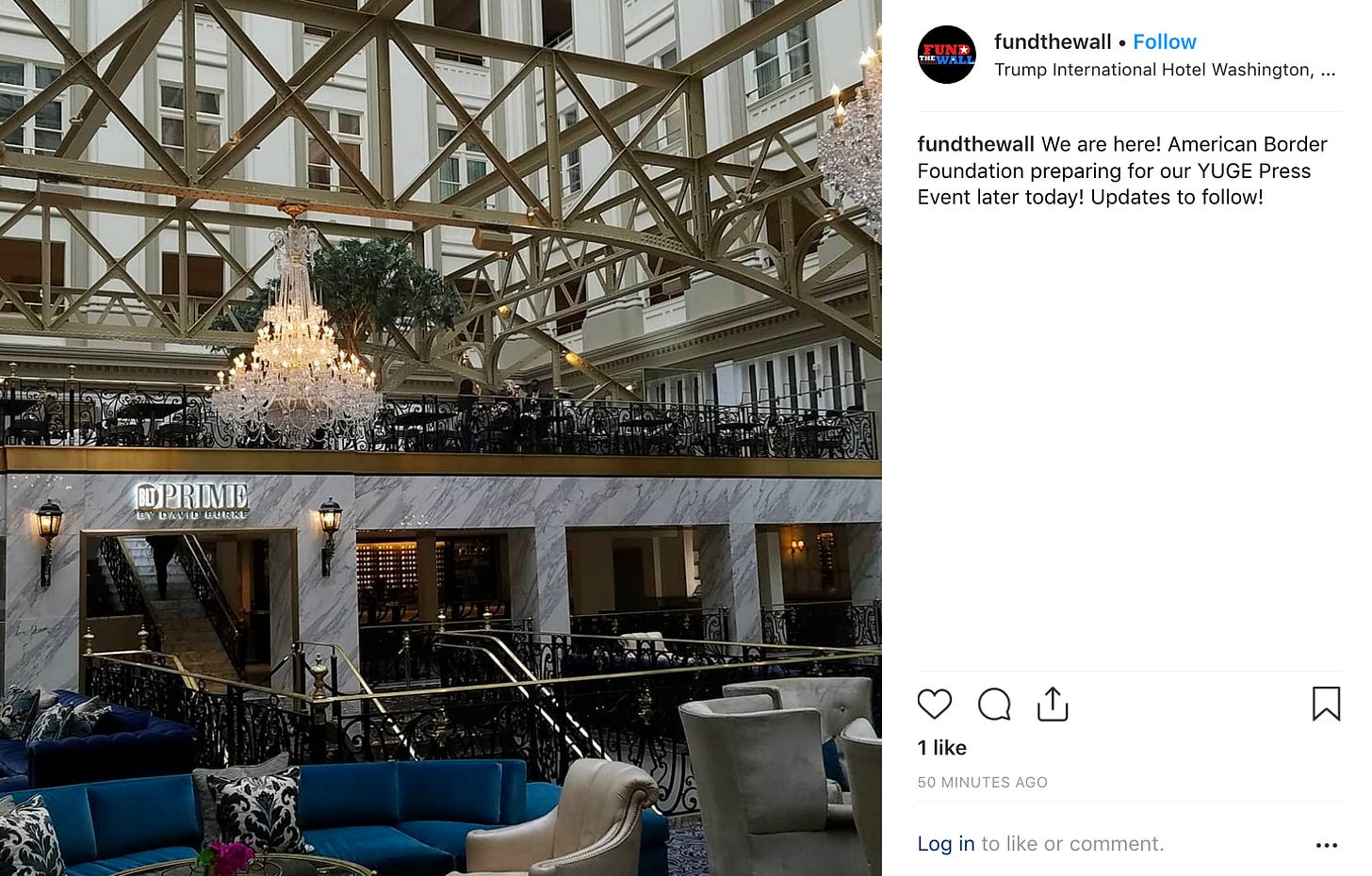 Legal cases, current status (latest change, Jan. 11, 2018)
D.C. and MD attorneys general's emoluments lawsuit (district court docket, appellate court docket)—

Official capacity—On Dec. 20, the 4th U.S. Circuit Court of Appeals ruled it would hear the president's appeal of district court rulings that allowed the case to proceed to discovery, and the appellate court halted discovery in the case. Oral augments on the appeal are tentatively scheduled for March 19–21, although on Dec. 26 the briefing schedule was suspended until further notice after Trump's DoJ attorneys asked for a stay because of the federal government shutdown. (Discovery had started Dec. 3 and was scheduled to run through Aug. 2, 2019, with the AGs already having issued 38 subpoenas, including to the Trump Organization; the U.S. Departments of Agriculture, Commerce, Defense, and Treasury and the GSA; and the state of Maine.)

Individual capacity—On Dec. 14, Trump's personal attorneys appealed the denial of their motion to dismiss the case, also to the 4th U.S. Circuit Court of Appeals. On Dec. 19, the AGs replied to Trump's motion for a stay pending that appeal by voluntarily dismissing the claims against Trump in his "individual capacity to allow the claims against President Trump in his official capacity to move forward expeditiously." (The AGs only brought suit against Trump in his individual capacity after the judge suggested they do so.) Trump's personal attorneys, on Dec. 21, opposed the motion to dismiss at the district level, saying the appeals court now has jurisdiction and accusing the AGs of "gamesmanship."

196 Democratic senators and representatives' emoluments lawsuit—On Sept. 28 judge Emmet G. Sullivan ruled that the legislators have standing to sue. Trump's Justice Department attorneys filed an interlocutory appeal on Oct. 22.

CREW et. al's emoluments lawsuit—In February, CREW appealed its suit being dismissed for lack of standing to the 2nd U.S. Circuit Court of Appeals. Oral arguments on that motion were held on Oct. 30.

Cork's unfair competition lawsuit—Judge Richard J. Leon dismissed the case on Nov. 26, writing "Cork has failed to state a claim for unfair competition under D.C. law." On Dec. 10, Cork's attorneys filed a notice of appeal and on Jan. 10 they submitted a statement of issues to be raised. The next steps, which don't yet have a timeline, include a briefing schedule being set and both sides filing appellate briefs.

Employees' class-action suit alleging racial discrimination—A status hearing on arbitration is scheduled for Jan. 25, 2019.
Health inspections, current status (latest change, Aug. 10, 2018)
❌Hotel: five violations on May 7, 2018; two were corrected on site

❌BLT Prime and Benjamin Bar: nine violations on Aug. 10, 2018

❌Sushi Nakazawa: two violations on Aug. 10, 2018

✔️Banquet kitchen: no violations on Aug. 10, 2018

❌Pastry kitchen: two violations on Aug. 10, 2018

✔️Gift shop: no violations on May 7, 2018

❌Employee kitchen and in-room dining: five violations on Aug. 10, 2018; two were corrected on site
Other Trump Organization news
"The Trump Organization requested and received at least 192 visas for foreign workers in 2018, according to Department of Labor data. That number appears to be the highest for the company going back to at least 2008 and likely much earlier, based on public records." By Cameron Joseph for Talking Points Memo.

"When the Trump Organization sold a Manhattan penthouse in February 2017, the transaction immediately sparked controversy since the buyer, a woman named Angela Chen, runs a business peddling access to Chinese officials and allegedly has ties to Chinese military intelligence. If her goal was to cozy up to the Trumps, she appears to have gotten even closer than previously believed: It turns out the penthouse Chen purchased was not simply a random unit that Trump's company retained when he developed the building, but the former personal residence of Jared Kushner and Ivanka Trump." By Chase Peterson-Withorn for Forbes.

Former Trump Organization fixer Michael Cohen has regrets (here's The Wall Street Journal article to which he's referring).
One thing that has nothing to do with Trump's businesses (I think, tough to tell sometimes!)
"Facebook's '10 Year Challenge' Is Just a Harmless Meme—Right?" By Kate O'Neill for Wired.
Thanks for reading. If you like what you saw, tell someone—and support this work by paying for a subscription. If you've been forwarded this newsletter, subscribe for yourself at zacheverson.substack.com. Questions? Read our FAQ/manifesto. Tips or feedback? Contact me, Zach Everson, securely via email at 1100Pennsylvania@protonmail.com or on Signal at 202.804.2744.