Discover more from 1100 Pennsylvania
"The undisputed expert on the D.C. Trump Hotel" – David Fahrenthold of the Washington Post
Over 3,000 subscribers
Intuit product training held at Doral
The company, which spends millions lobbying the U.S. government, is also facing scrutiny over its treatment of consumers
With Intuit under investigation for deceptive business practices, a certification class for one of its products took place at Trump National Doral.
Neither the financial-software firm nor two attendees, one of whom identified herself as an Intuit-certified independent advisor, have replied to inquiries asking who selected the venue, who paid Doral, or why the president's business was chosen to host the event.
This morning, Two Sisters Bookkeeping and another training attendee posted photos on Instagram of a sign promoting an Intuit "QuickBooks online advanced certification prep training and exam," geotagged to Trump National Doral.
Intuit reportedly has spent millions lobbying the U.S. government to keep the IRS from launching its own tax-filing service.
Also, a recent series of articles from ProPublica has highlighted concerns about Intuit's practices regarding its tax-preparation software, TurboTax. From "New York regulator launches investigation into TurboTax maker Intuit and H&R Block" by Justin Elliott:
ProPublica has detailed how the companies had a deliberate strategy to steer customers away from the free product and into paid versions in deceptive ways. The companies hid their free offerings from Google, and Intuit lied to some customers who sought refunds in the wake of the reporting.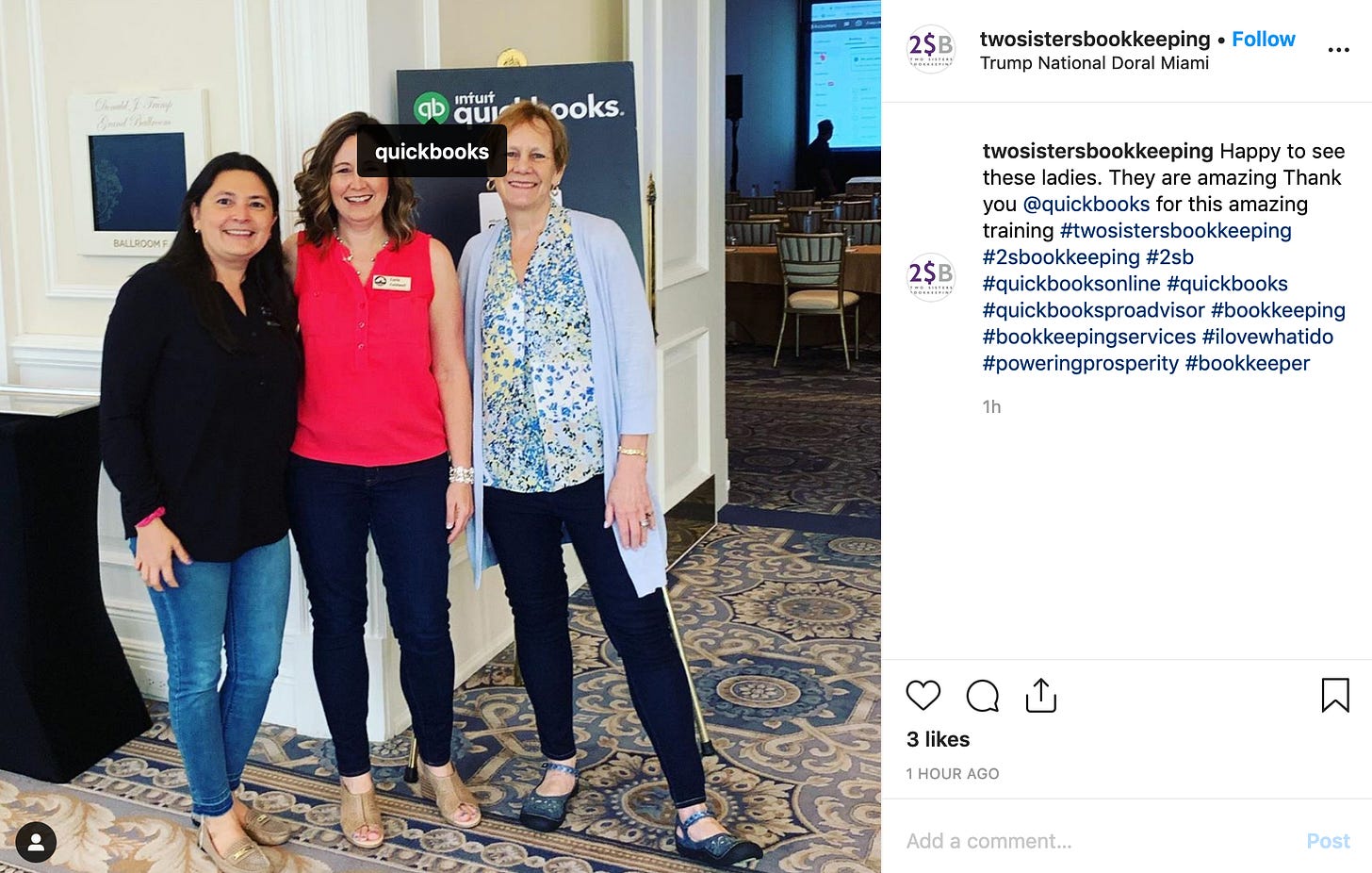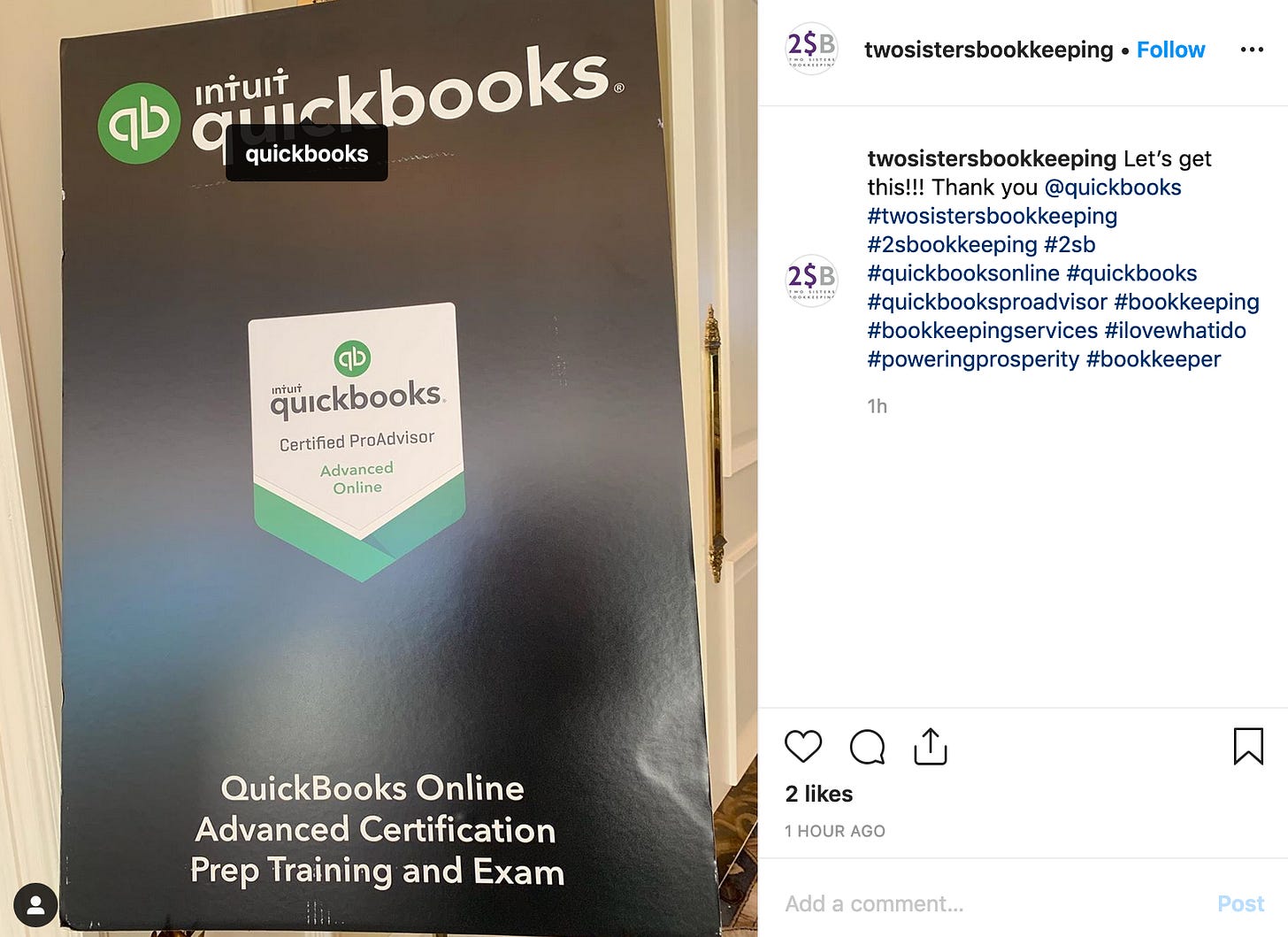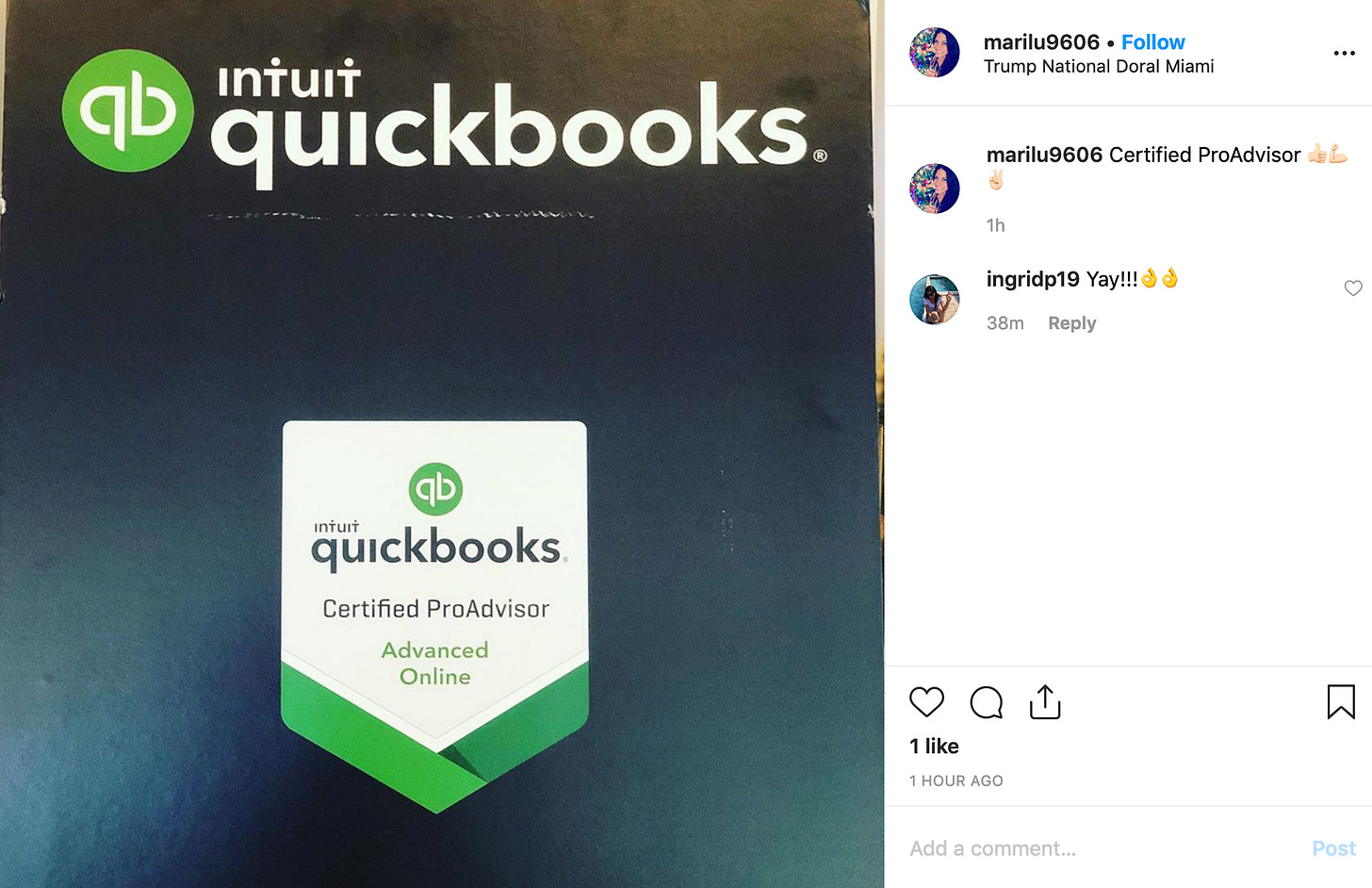 ---
Report: Judge skeptical of Trump's request to quash House subpoenas for financial records
From "Judge grills Trump attorney in subpoena case" by Andrew Desiderio and Kyle Cheney for Politico:
Amit Mehta, a U.S. District Court judge in Washington, indicated that he would have trouble ruling that Congress' goal in accessing the president's [financial] records was unconstitutional—as Trump's lawyers have argued—and he underscored that he believes Congress has a significant "informing function" that doesn't necessarily require an explicit legislative purpose to justify an investigation involving the president…

If Mehta ultimately rules that the House Oversight and Reform Committee's subpoena—seeking eight years of Trump's financial records from the accounting firm Mazars USA—is valid, it would mark a significant victory for House Democrats mounting a slew of inquiries about the president's financial dealings, each of which have been challenged by Trump.
Mehta reportedly plans to rule on the case in a few days.
---
Support 1100 Pennsylvania: never-redacted reporting on President Trump's D.C. hotel
We now know most of what's in the Mueller report. It's time to focus on what happens inside the Trump Hotel D.C. and the president's other businesses. Original, in-depth reporting, of course, takes time. But it's making an impact—and you can help. If you're not an 1100 Pennsylvania member, please become one. Memberships are this newsletter's sole source of revenue. Select the red "Subscribe now" button and become a member by paying just $5 a month or $50 a year. Thank you.
---
Political supporters return tonight to patronize the president's business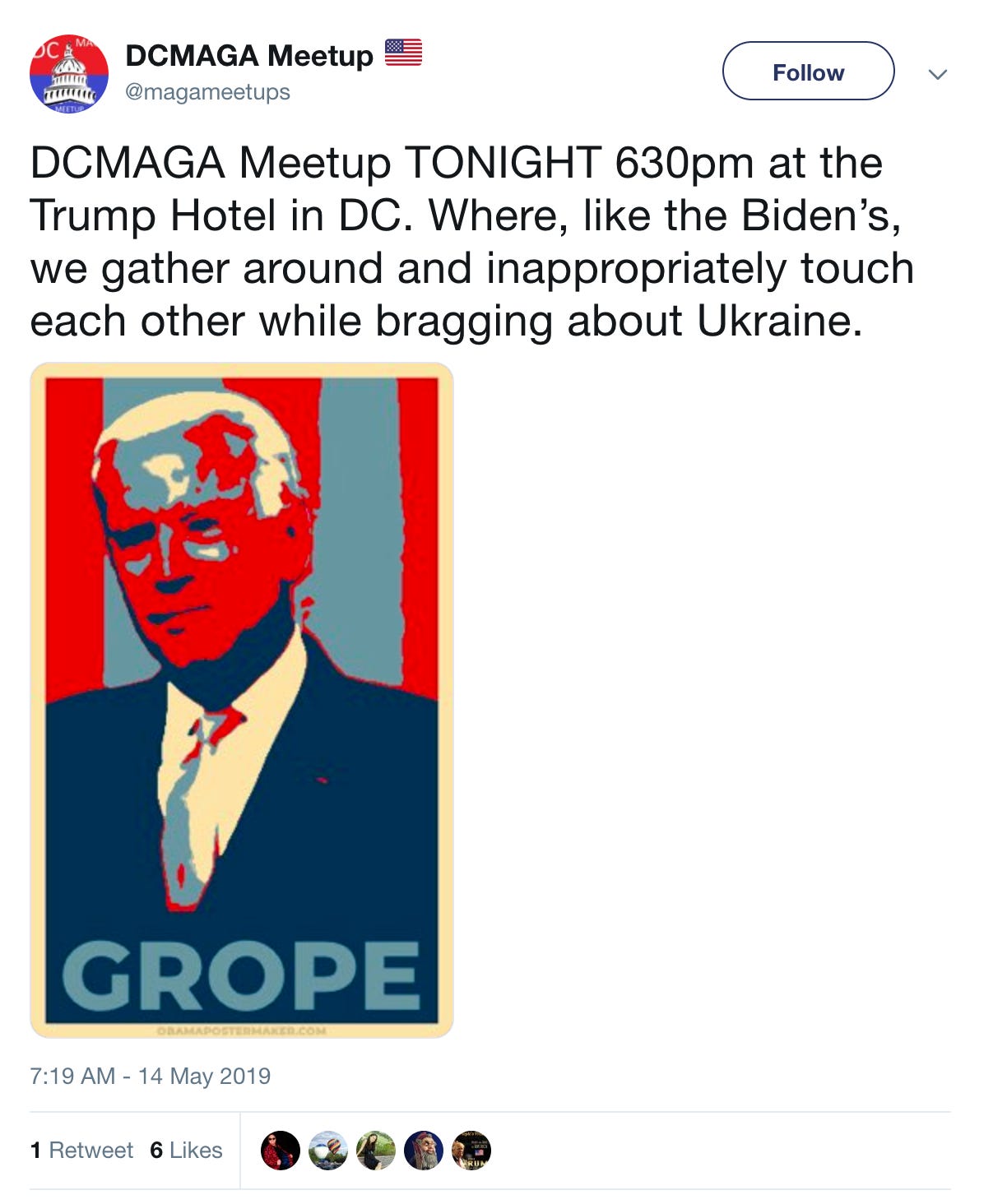 ---
Notable sightings
Likely Trump campaign bundler Michael B. Alfaro was struck by the luck of owning a Mike Pence-autographed Trump Victory Finance Committee badge.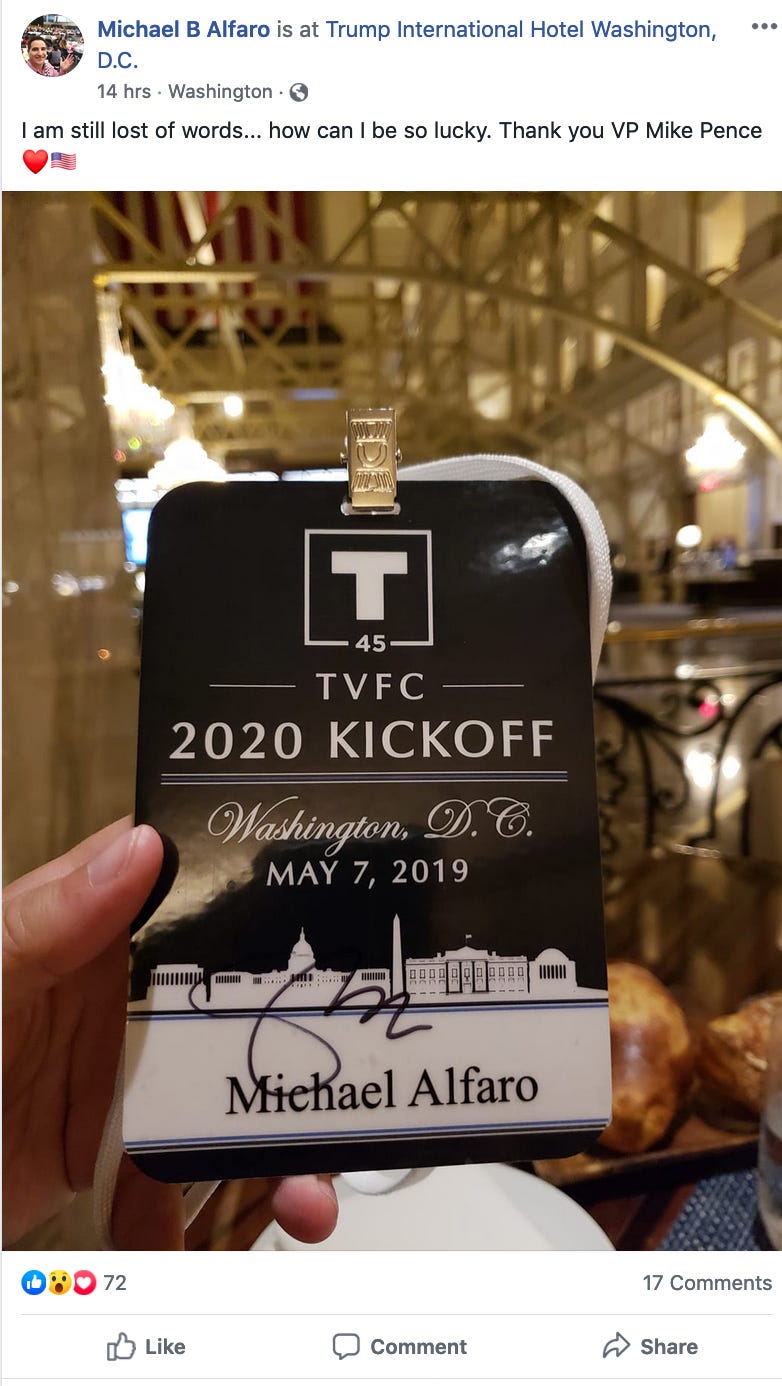 A district director for Rep. Jim Banks (R–IN) ,Tinisha Weigelt, had a great evening.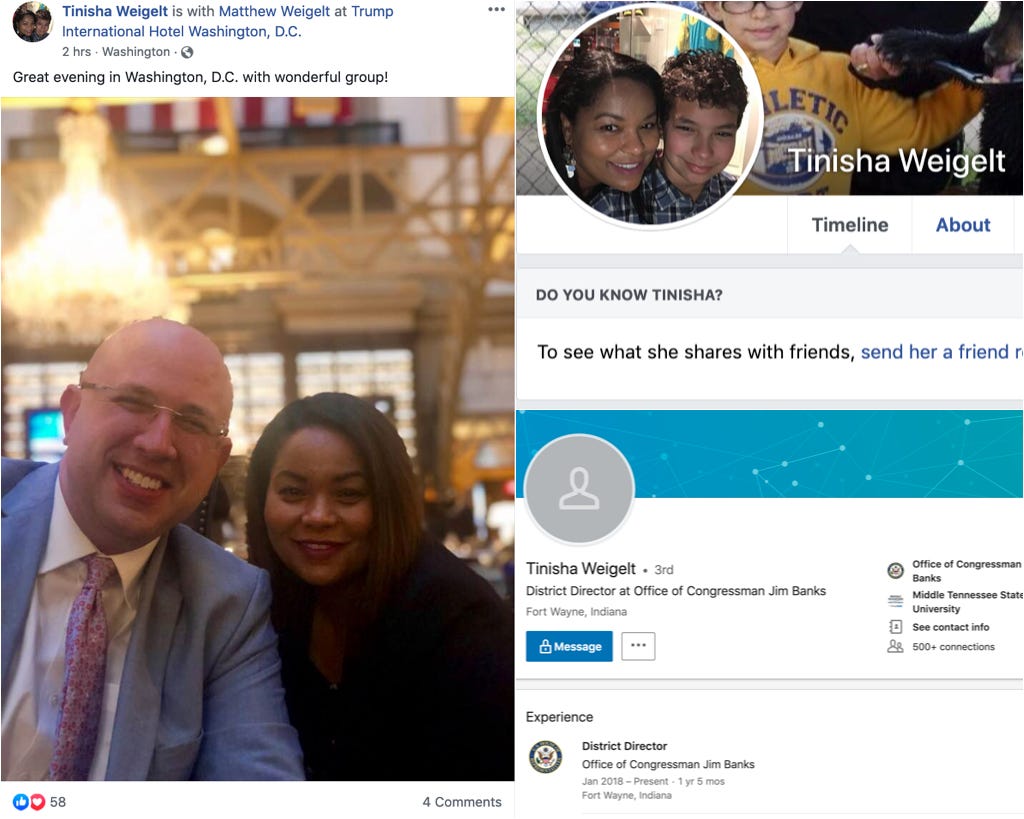 A former Trump political appointee at the Department of Health and Human Services who now heads a PR firm, Gavin J. Smith, enjoyed a lit birthday. (Last fall Smith falsely accused Anderson Cooper of exaggerating a live shot from a hurricane.)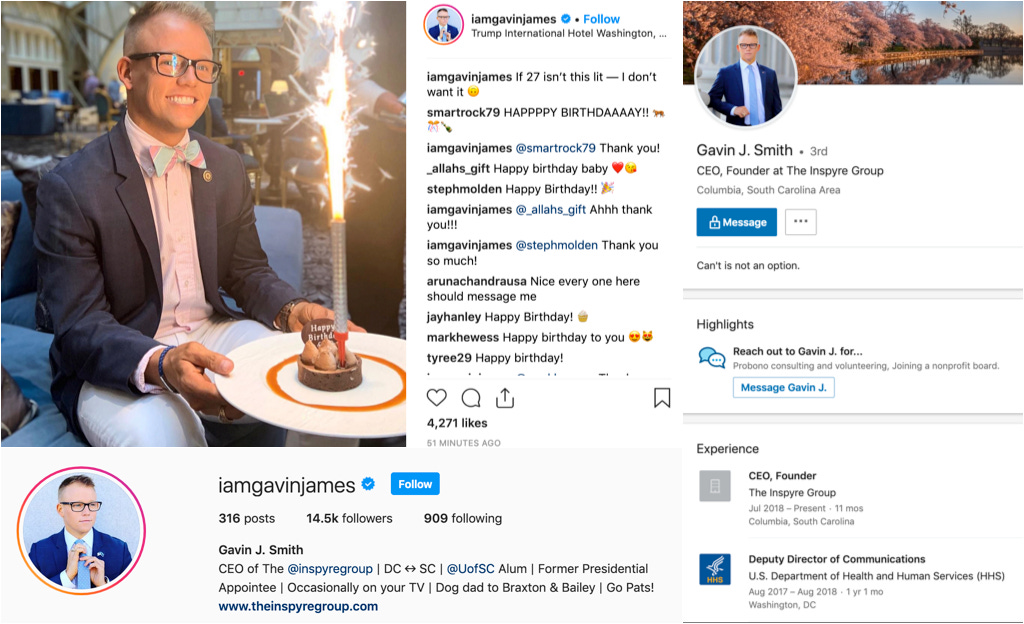 There's "never a dull moment" at the president's D.C. hotel for Stephanie Myers. She's on the Trump campaign's National Diversity Coalition—and she's also a contractor for the Department of Defense.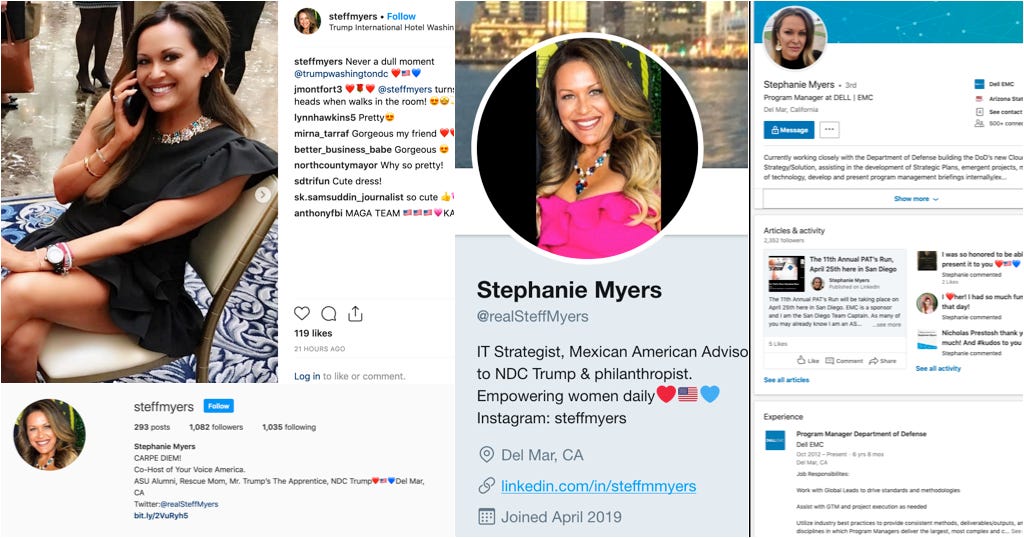 PGA golf professional Tom Coxon shared a photo of fine art from Trump Turnberry.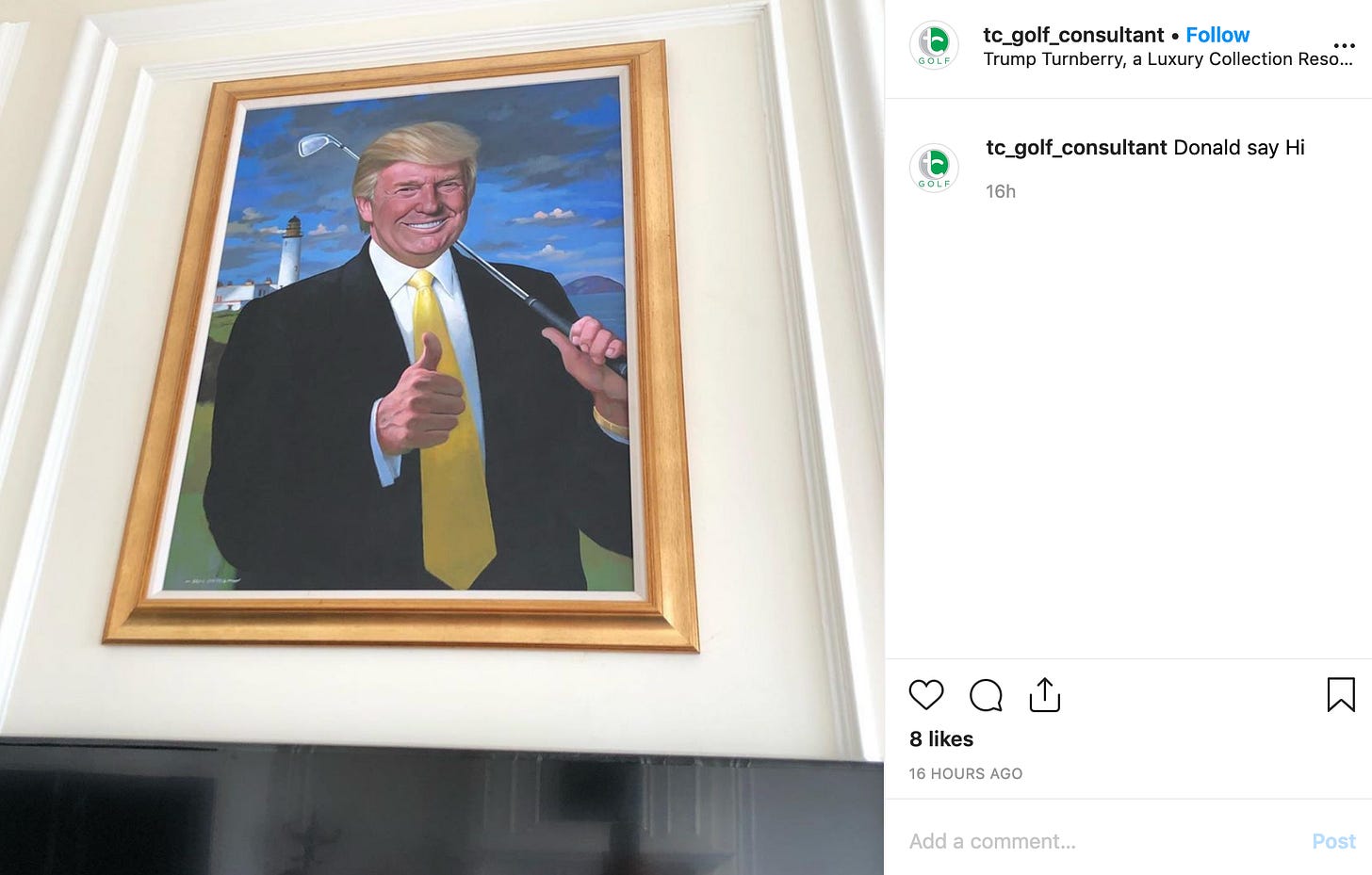 ---
Other Trump Organization news
---
House investigations, current status (latest change, May 14, 2019)
---
President Trump chose not to divest; Americans need to know who's paying him
Unlike his predecessors, Donald Trump did not divest his businesses upon becoming U.S. president. Think that may be a problem? Become an 1100 Pennsylvania member, and support reporting on who's spending money at the president's businesses—and what they may be getting in return. Memberships are this newsletter's sole source of revenue. Select the red "Subscribe now" button and become a member by paying just $5 a month or $50 a year. Thank you.
---
Legal cases, current status (latest change, May 8, 2019)
D.C. and MD attorneys general's emoluments lawsuit (district court docket, appellate court docket)—

Official capacity—On Dec. 20, 2018, the 4th U.S. Circuit Court of Appeals ruled it would hear the president's appeal of district court rulings that allowed the case to proceed to discovery, and the appellate court halted discovery in the case. Discovery had started Dec. 3 and was scheduled to run through Aug. 2, 2019, with the AGs having subpoenaed the Trump Organization, including its Scottish golf courses; the U.S. Departments of Agriculture, Commerce, Defense, and Treasury and the GSA; and the state of Maine. Oral arguments on the appeal occurred on March 19; by all accounts the three-judge panel (all Republican appointees, including one who was a selection of President Trump's) were skeptical of the AGs' case. D.C. AG Karl Racine pledged to take the case to the U.S. Supreme Court if necessary.

Individual capacity—On Dec. 14, Trump's personal attorneys appealed the denial of their motion to dismiss the case, also to the 4th U.S. Circuit Court of Appeals. On Dec. 19, the AGs replied to Trump's motion for a stay pending that appeal by voluntarily dismissing the claims against Trump in his "individual capacity to allow the claims against President Trump in his official capacity to move forward expeditiously." (The AGs only brought suit against Trump in his individual capacity after the judge suggested they do so.) Trump's personal attorneys, on Dec. 21, opposed the motion to dismiss at the district level, saying the appeals court now has jurisdiction and accusing the AGs of "gamesmanship."

Democratic senators and representatives' emoluments lawsuit—On Sept. 28, Judge Emmet G. Sullivan ruled that the legislators have standing to sue. Trump's Justice Department attorneys filed an interlocutory appeal on Oct. 22. On Jan. 30, 2019, the plaintiffs' filed a notice of supplemental authority, notifying the court of the GSA inspector general's report that criticized GSA for failing to consider if the Trump Hotel D.C.'s lease was in compliance with the Constitution after Trump became president. Two days later, the president's attorneys argued that the IG's conclusion was not inconsistent with Trump's argument, but that the judge should ignore that report anyway because the IG has no expertise in interpreting or applying the foreign emoluments clause. On April 30, Sullivan denied Trump's motion to dismiss the suit. The president's attorneys have a supplemental brief due on May 28.

CREW et. al's emoluments lawsuit—In February 2018, CREW appealed its suit being dismissed for lack of standing to the 2nd U.S. Circuit Court of Appeals. Oral arguments on that motion were held on Oct. 30.

Cork's unfair competition lawsuit—Judge Richard J. Leon dismissed the case on Nov. 26, 2018, writing "Cork has failed to state a claim for unfair competition under D.C. law." On Dec. 10, Cork's attorneys filed a notice of appeal and on Jan. 10, 2019 they submitted a statement of issues to be raised. A briefing schedule was set on March 5 with Cork's brief due on April 15, the president's brief due on May 15, and Cork's reply to the president's brief due on June 5. On April 11, however, Cork's attorneys requested a 30-day extension, to which Trump's attorneys consented—as did the court the following day.

Employees' class-action suit alleging racial discrimination—Two of the three plaintiffs did not appear at a status hearing on Jan. 25, 2019; their cases were moved to arbitration. Via email, their attorney, A.J. Dhali, said his clients did not appear at the hearing because their case already had been moved to arbitration last year. The next status hearing is scheduled for Oct. 4.
---
Health inspections, current status (latest change, Aug. 10, 2018)
❌Hotel: five violations on May 7, 2018; two were corrected on site

❌BLT Prime and Benjamin Bar: nine violations on Aug. 10, 2018

❌Sushi Nakazawa: two violations on Aug. 10, 2018

✔️Banquet kitchen: no violations on Aug. 10, 2018

❌Pastry kitchen: two violations on Aug. 10, 2018

✔️Gift shop: no violations on May 7, 2018

❌Employee kitchen and in-room dining: five violations on Aug. 10, 2018; two were corrected on site
---
Is the Trump Organization selling merchandise that depicts the White House? (latest change, March 21, 2019)
Yes.
---
One thing that (probably) has nothing to do with Trump's businesses
"Ben-Gurion's bombshell: 'We've caught Eichmann'" by Matti Friedman for The Times of Israel
---
Thanks for reading. If you like what you saw, tell someone—and support this work by becoming a member. If you've been forwarded this newsletter, subscribe for yourself at zacheverson.substack.com. Questions? Read our FAQ/manifesto. Tips or feedback? Contact me, Zach Everson, securely via email at 1100Pennsylvania@protonmail.com or on Signal at 202.804.2744.