Discover more from 1100 Pennsylvania
"The undisputed expert on the D.C. Trump Hotel" – David Fahrenthold of the Washington Post
Over 3,000 subscribers
Is the spa scrubbing Ivanka?
Is Ivanka's name now getting scrubbed from the spa?
An Instagram account for the spa at the Trump Hotel D.C.—without the "by Ivanka Trump" part of its name—has turned up.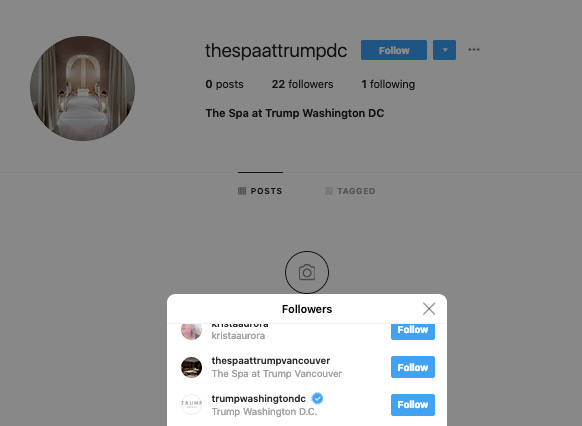 While the hotel's managing director, Mickael Damelincourt, and spokespeople for both the Trump Organization and its D.C. hotel have not replied to emails asking to verify the Instagram account's authenticity—and if it means the spa will be rebranded without Ivanka—the hotel's verified Instagram account follows this profile.
This finding is just the latest bit of Instagram weirdness involving the D.C. hotel's spa. In December, an account bearing the complete name, The Spa by Ivanka Trump (@thespabyivankatrumpdc ), made its debut post. The account was then deleted three weeks later.
With Ivanka now down Pennsylvania Avenue in the White House, when the D.C. hotel promotes its spa on social media, it usually avoids using the proper name. On Twitter, for example, it appears to have used the full name just twice. But it does deploy the full name on its website and other marketing collateral.
(Of course, this hotel chain advertises closed properties on its key-card sleeves, so maybe it's just sloppy marketing rather than being duplicitous about a high-ranking U.S. government official's involvement in her wellness parlors.)
Before Ivanka took a leave of absence from the Trump Organization to volunteer in the West Wing, the Trump Hotels in D.C. and Vancouver debuted The Spa by Ivanka Trump. While Ivanka had been involved with spas across many of the company's properties, these two facilities were the first to which her own name was attached. Eventually there were to be at least nine of them. No additional ones have yet opened (see also Scion, American Idea). Ivanka's ownership stake in the D.C. hotel paid her $2.4 million from its opening to June 2017.
The Trump Hotel Vancouver also now has an Instagram account for its spa without the "by Ivanka Trump" part of the facility name. Unlike the D.C. property's profile, this one has posted photos (the earliest one is from December 11, 2018 and actually shows the spa's full name). In general, the Vancouver property makes more-frequent use of "by Ivanka Trump."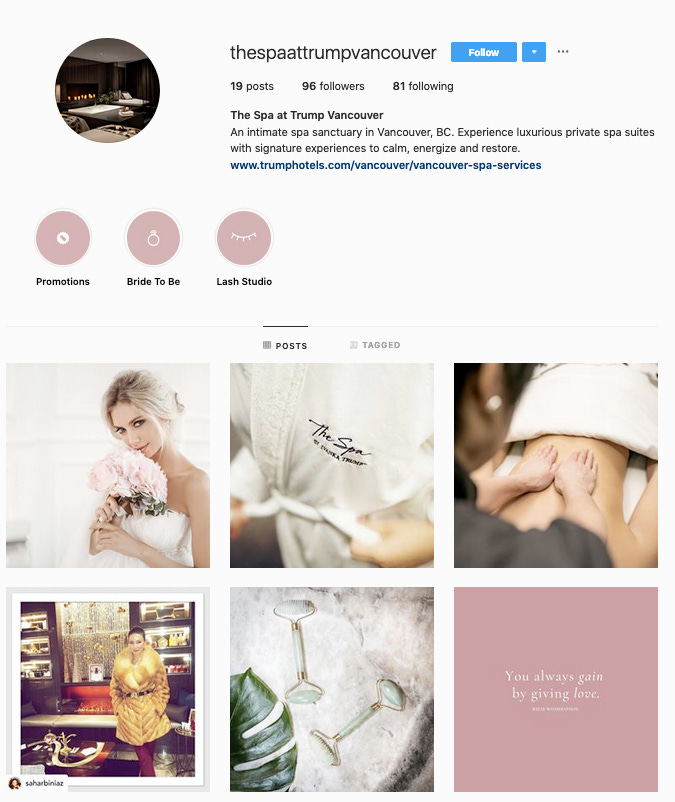 Trump Hotels CEO: Once Trump is out of office, 'we will turn up our international profile significantly'
From "Interview: Eric Danziger, CEO of Trump Hotels" by Steven Bond of Destinations of the World News:
Danzinger: The issue for us is that we voluntarily said will not do a job outside of the United States when he was elected to avoid any wrong impressions. We didn't have to do that and I wish I could turn back the clock because I don't think we got any credit for that. We wanted to do the right thing, so it was just self-imposed. Once that is lifted, in either two or six years, we will turn up our international profile significantly.
Danzinger goes on to discuss the affect Trump's presidency has had on the business's bottom line:
I think for a brief period of time, during the campaign, it was a hit and miss effect…We work very hard on is to try to assure people that there's a major difference between Trump politics and Trump hotels—we are not political. We just run great hotels. So where it affected us that for a brief period of time, people did not differentiate. I'll give you an example—we did lose people staying at the Chicago property for a month but not because they didn't like Trump or the hotel. If there are 2,000 protestors standing in front of your hotel and you're a customer, no matter how much you like the hotel, he'll say, "I'll come next time"…Virtually every one of our hotels is where they always were at or is doing better….The NBA pulled out two and a half years ago, that's true, but they've been replaced by other businesses who have always wanted to get in and couldn't.
Briefing schedule set for Cork's appeal
Yesterday the D.C. Circuit Court of Appeals set the briefing schedule for Cork wine bar's appeal after a district court judge tossed its lawsuit against the Trump Hotel D.C. and President Trump. Judge Richard J. Leon dismissed Cork's suit in November, writing "Cork has failed to state a claim for unfair competition under D.C. law."
Cork's brief is due on April 15, the president's on May 15, and Cork's reply to the president's on June 5. Oral arguments are still to be scheduled.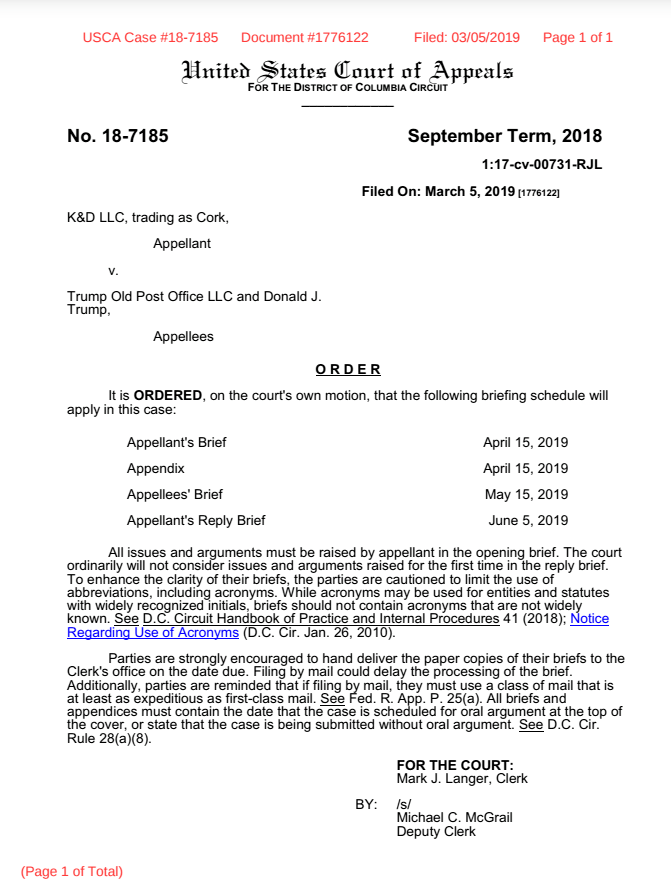 What it looks like when government employees address government contractors at the president's hotel
Here's the view from the stage in a Trump Hotel D.C. ballroom, where government employees spoke before a conference of government contractors in May 2018.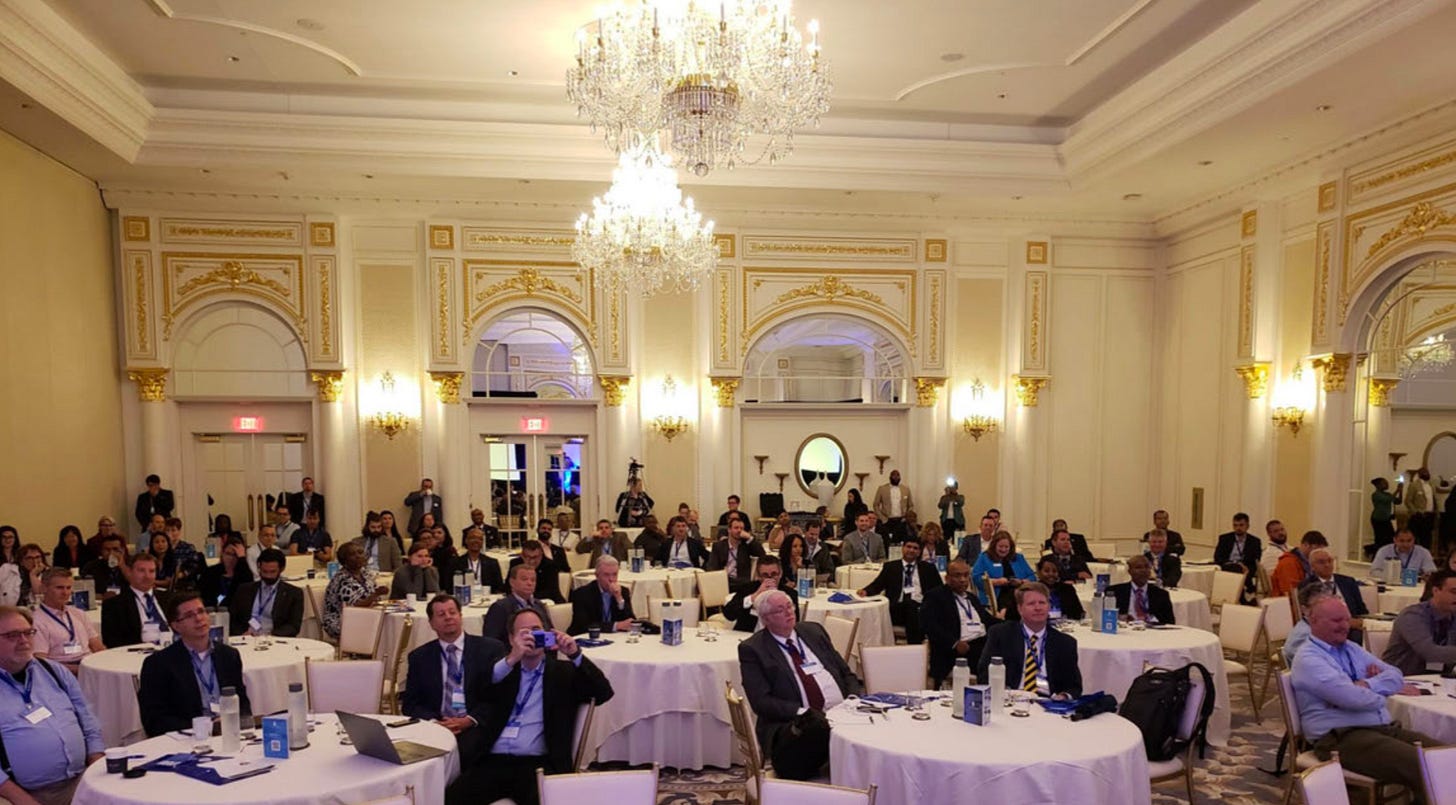 The photo, which apparently was tweeted at the time, was returned in a FOIA request sent to the National Archives and Records Administration last June about its director of records management policy and outreach's participation in the Alfresco Government Summit. (You can read more about that event in "How Trump's D.C. hotel works to help swamp the drain", by me for Fast Company.)
Also of interest: the only email exchange in the FOIA response that mentions the location calls it the Old Post Office Pavilion, rather than the Trump International Hotel.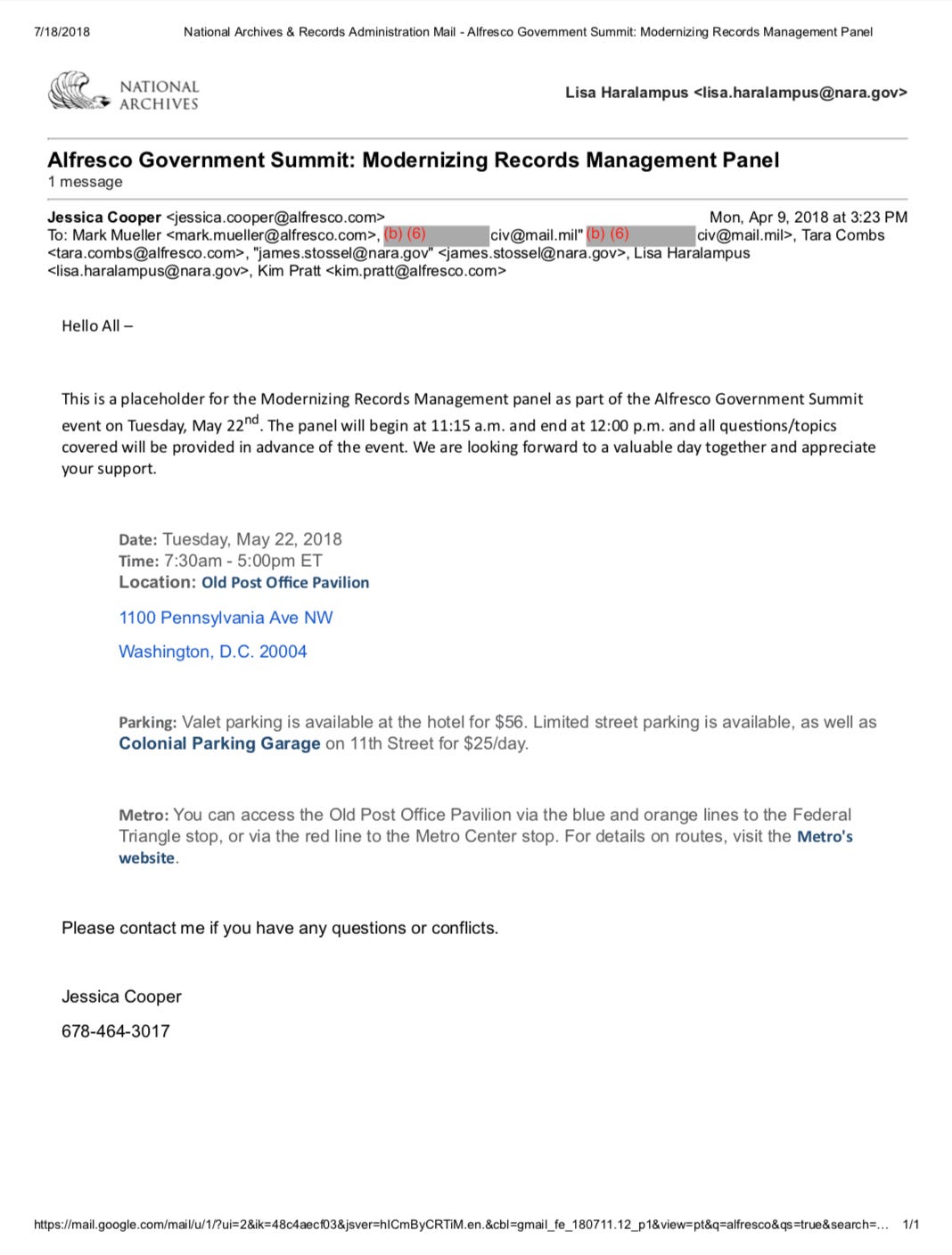 Noteworthy sightings
According to Jacob Wohl (which admittedly is not a good way to start a sentence), he hung out with White House communications director Bill Shine at the Trump Hotel D.C. this weekend, per Stephanie Mencimer for Mother Jones:
The next day, I ran into Wohl in the hotel lobby and asked him about his relationship with Darla Shine. He confirmed that he'd been hanging out not just with Darla, but also with her husband, Bill, at the Turning Point party and then later at the Trump International Hotel for an after-afterparty.
A lobbyist was excited (albeit in a self-loathing kind of way) for the free booze and cute bros at Trump First Tuesday—a "business networking happy hour for government relations professionals and friends"—last night. Apparently he also encountered other lobbyists who believe in the Divine Appointment theory of the 2016 election.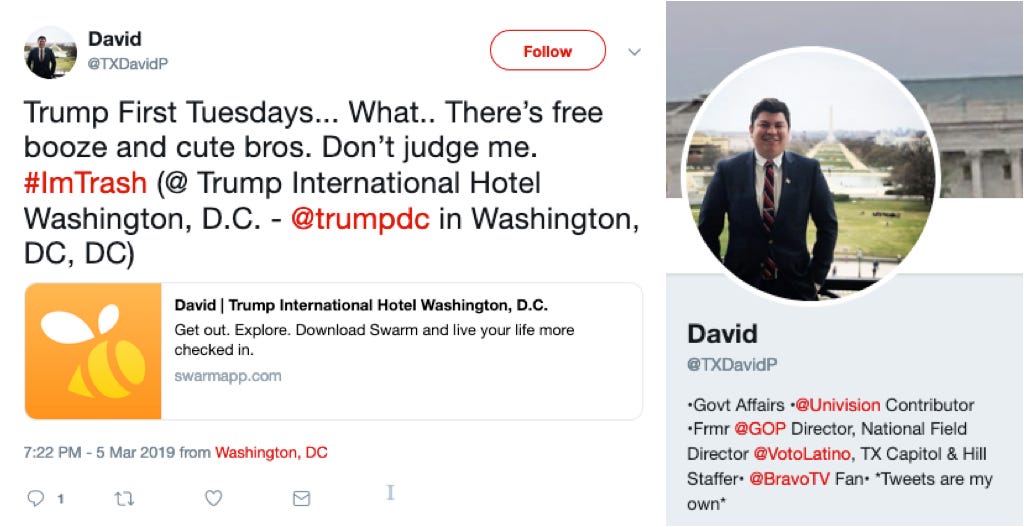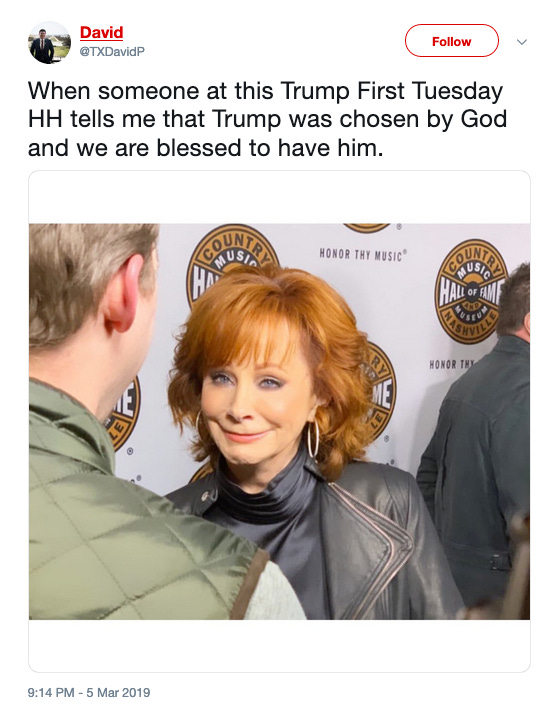 A partner at Barnes & Thornburg who "often work[s] on matters involving the federal government," John Willding, was back in D.C. for Trump First Tuesdays and again stayed at the president's hotel. He calls it the "best hotel on the planet!"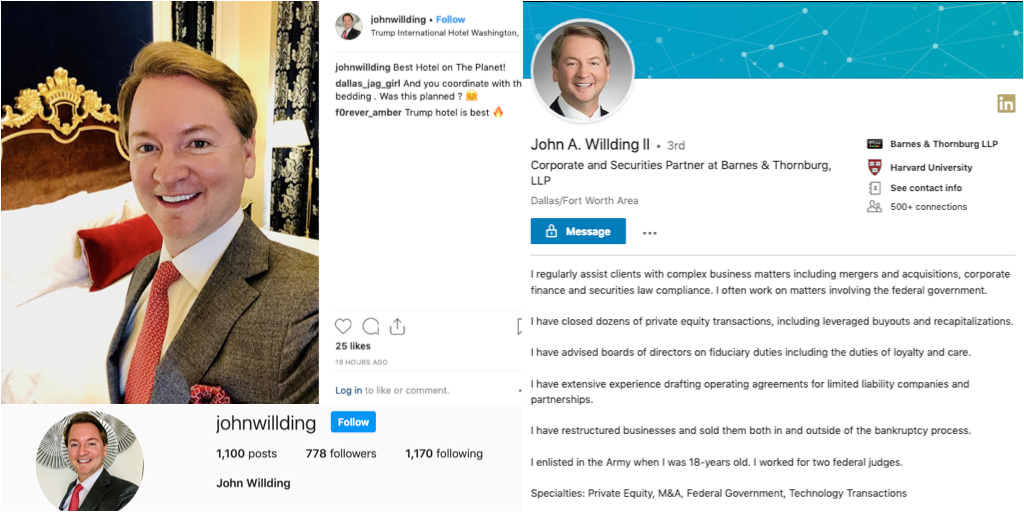 This group of lobbyists, including at least two who advocate for veterans, patronized the president's hotel just hours after President Trump signed an executive order to empower veterans and end veteran suicide.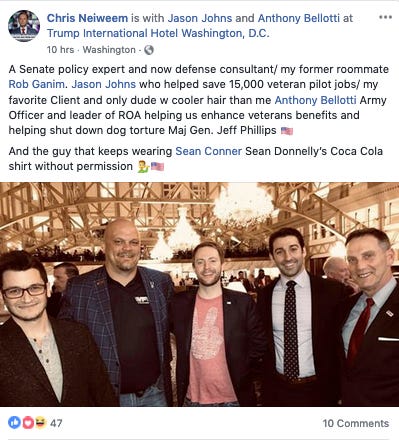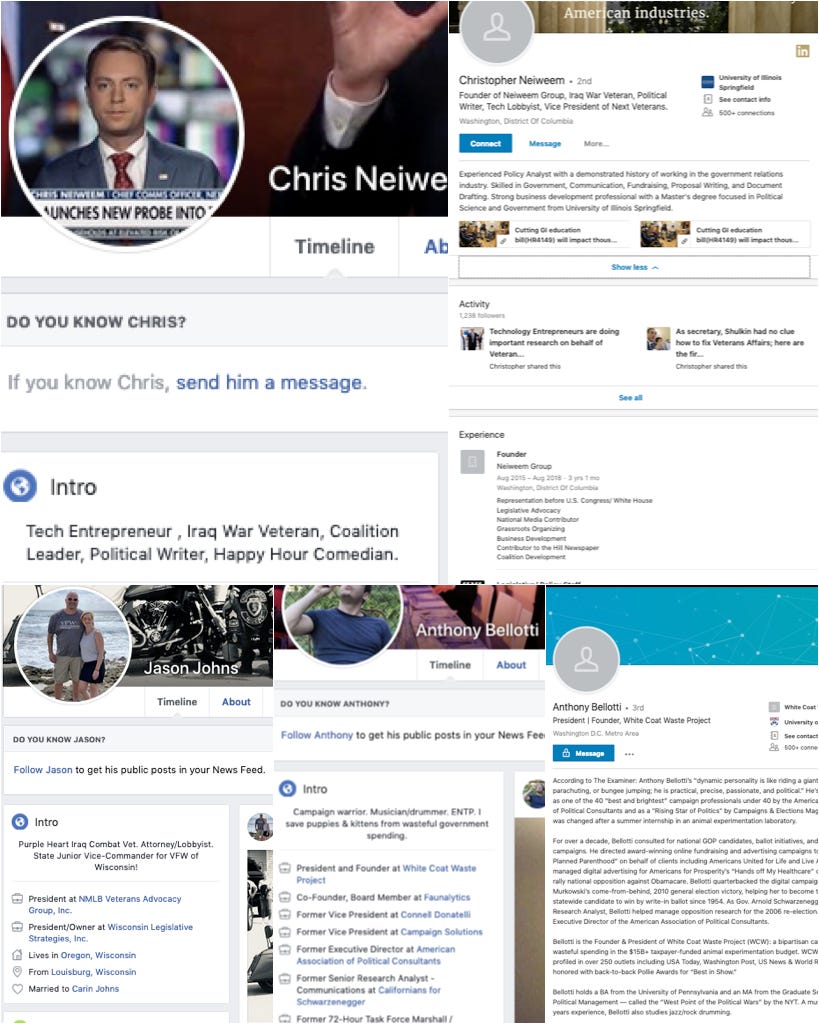 The fashion designer who created the MAGA dress, Andre Soriano, was back at his muse's hotel.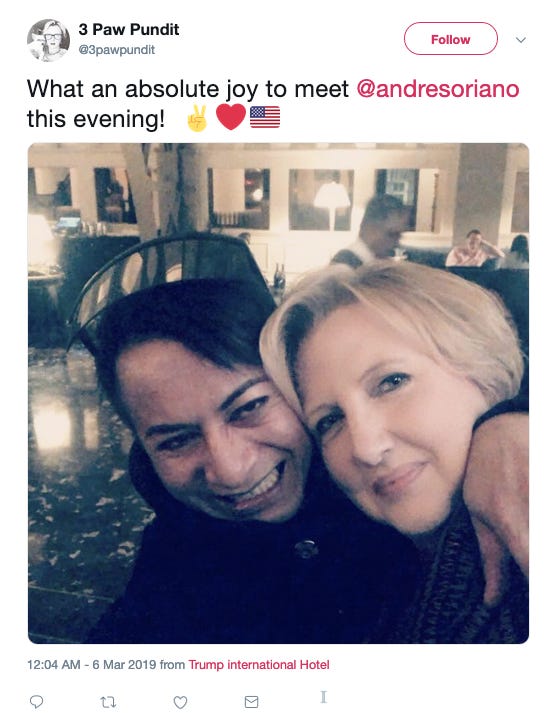 Soriano also struck a pose with Trump 2020 campaign advisory board member Anthony Shaffer.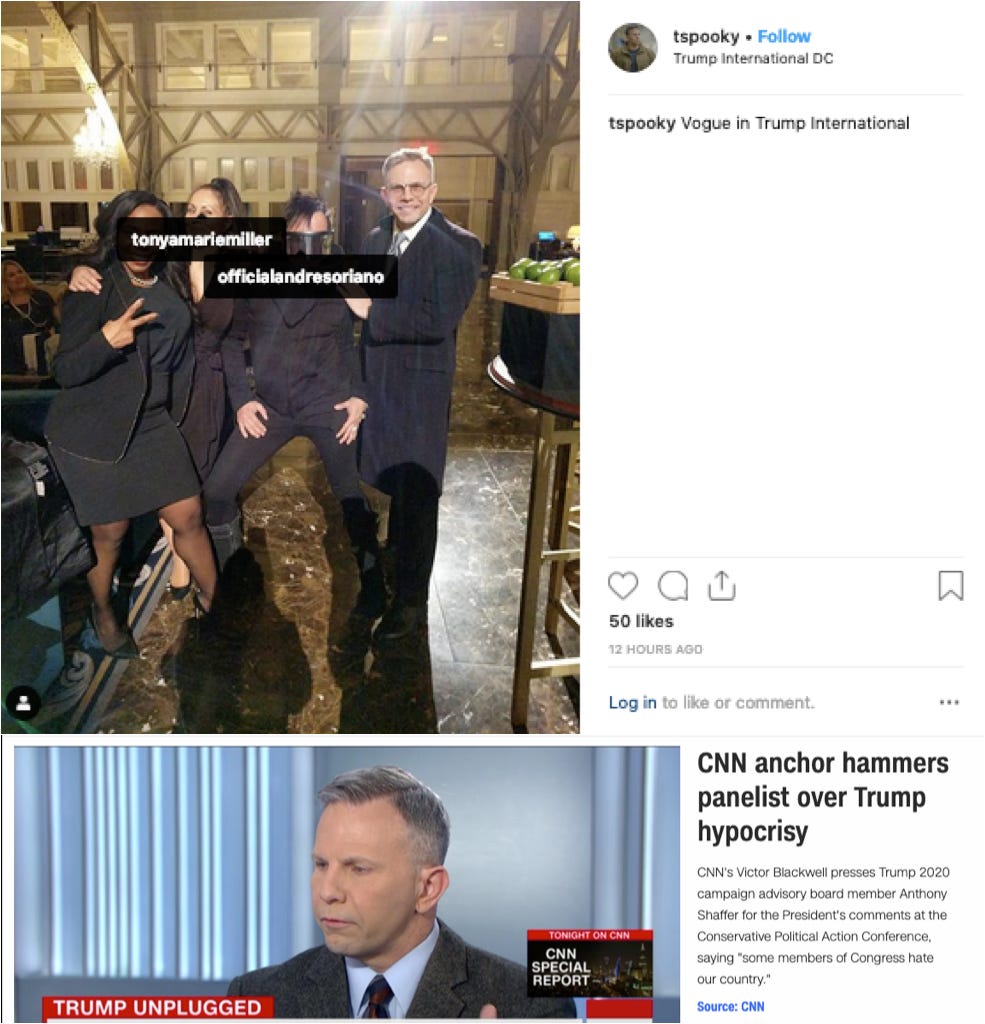 After hosting a live-stream at the Trump Hotel D.C., Middle Eastern Women's Coalition president and hotel regular Rabia Kazan posed in the lobby. The group announced in December 2018 it was endorsing President Trump's re-election bid.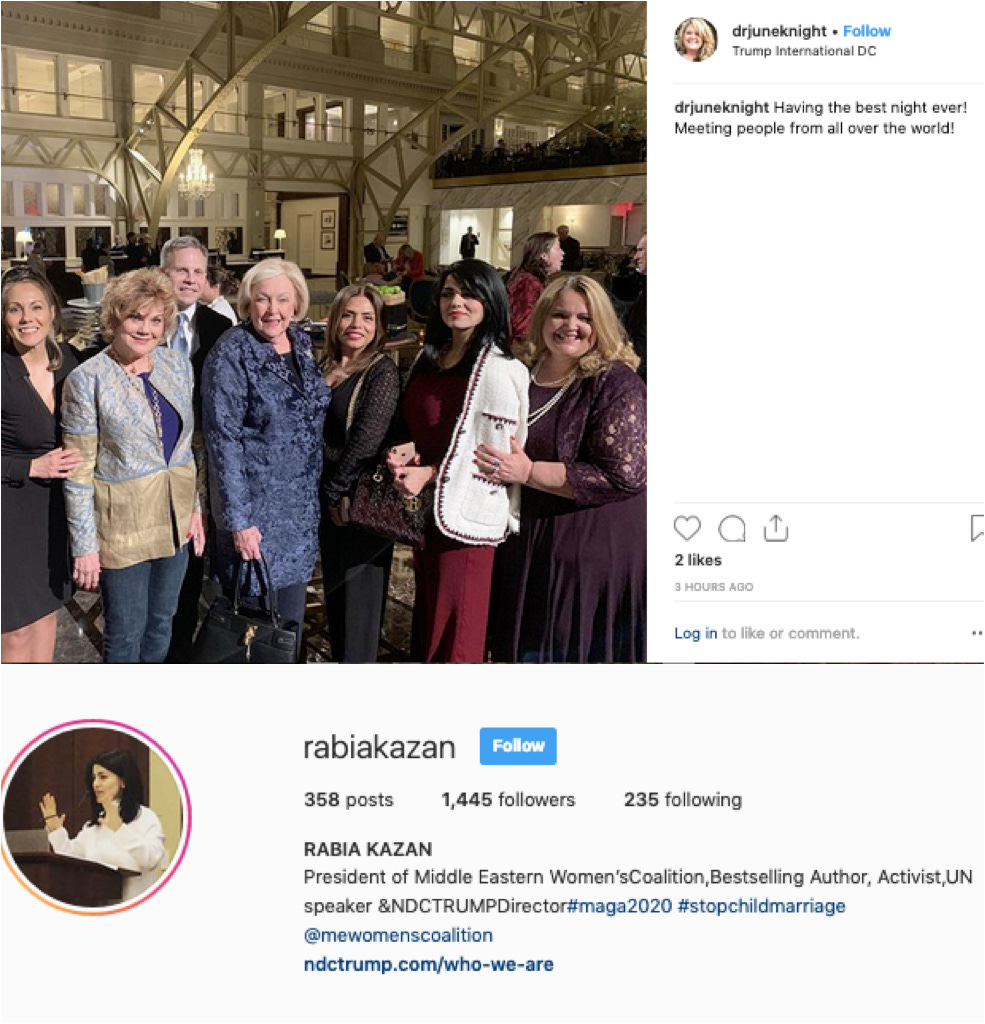 President Trump invited University of California-Berkeley student Hayden Williams, who allegedly was assaulted while recruiting students to join Turning Point USA, on stage with him at CPAC Saturday. Williams appears to have returned the favor and patronized the president's hotel.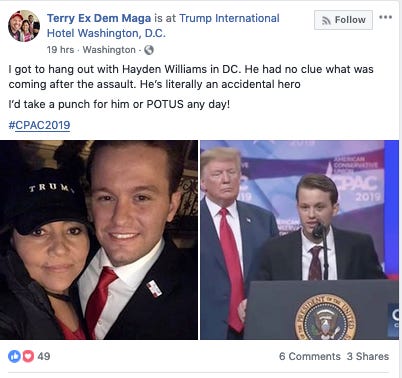 The CEO of the National Diversity Coalition for Trump and a member of Trump's transition team, pastor Darrell Scott, was back at the hotel.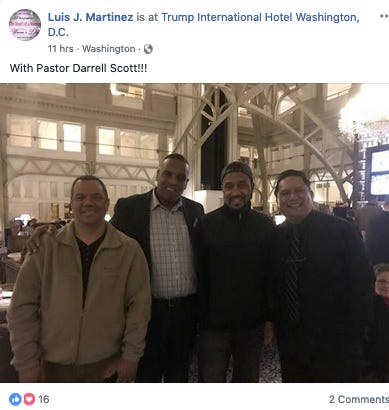 The CEO of Landslyde Digital—which helps candidates "target voters, influence decisions, and win elections"—Chris Beradi, attended Trump First Tuesday. [H/T Marcus Baram of Fast Company)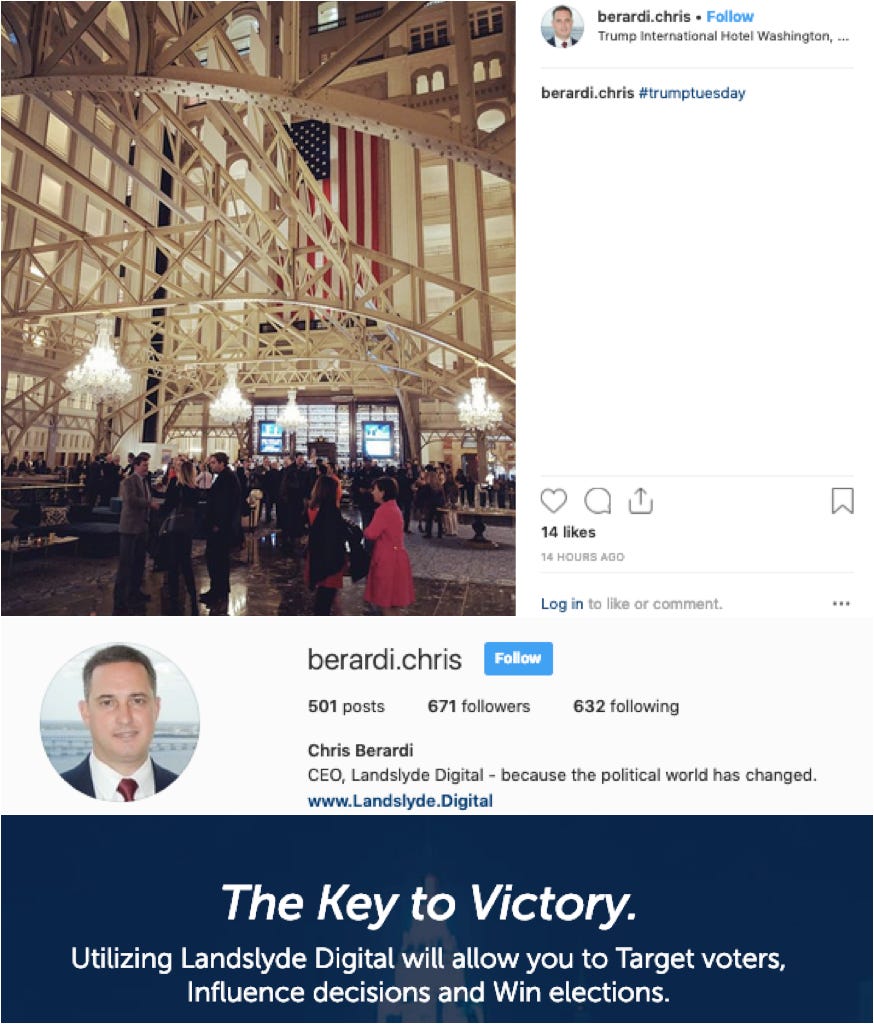 "#lifeintheswamp" for Heritage Foundation intern Rachel Gill meant hanging out at the president's hotel with Heritage colleagues Antonia Passalacqua, Delayne Smith, Peyton Smith, and Elena Ehrlin.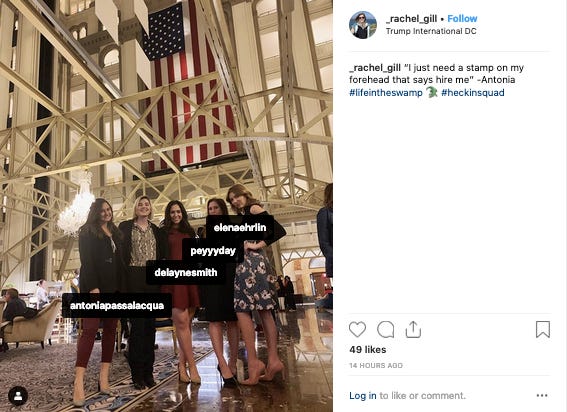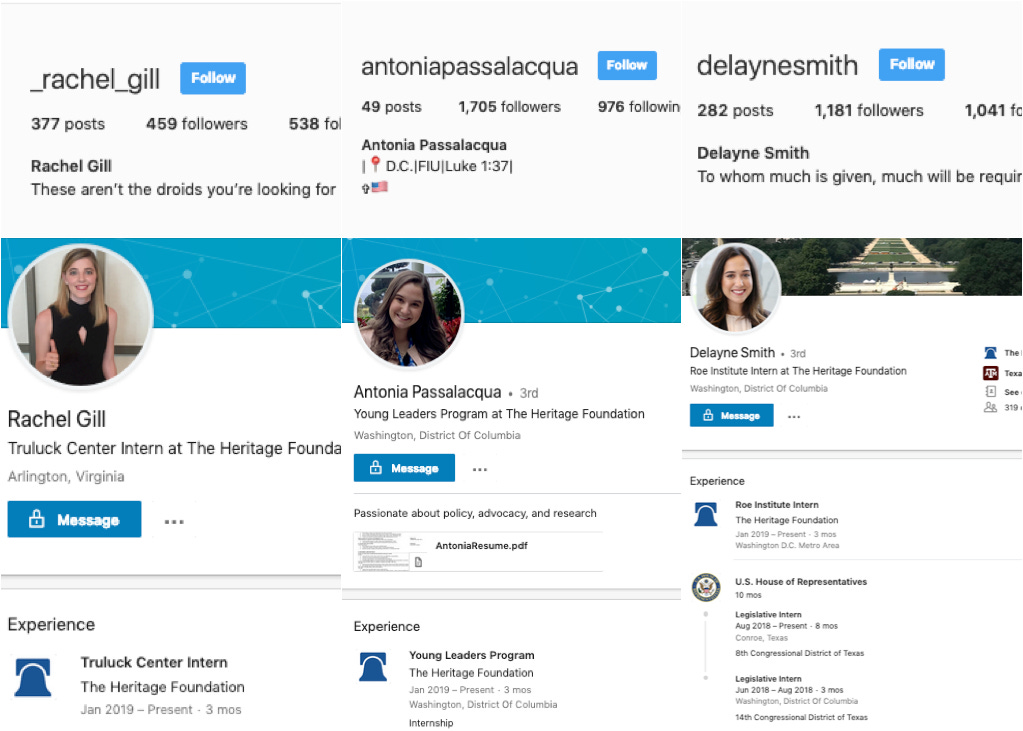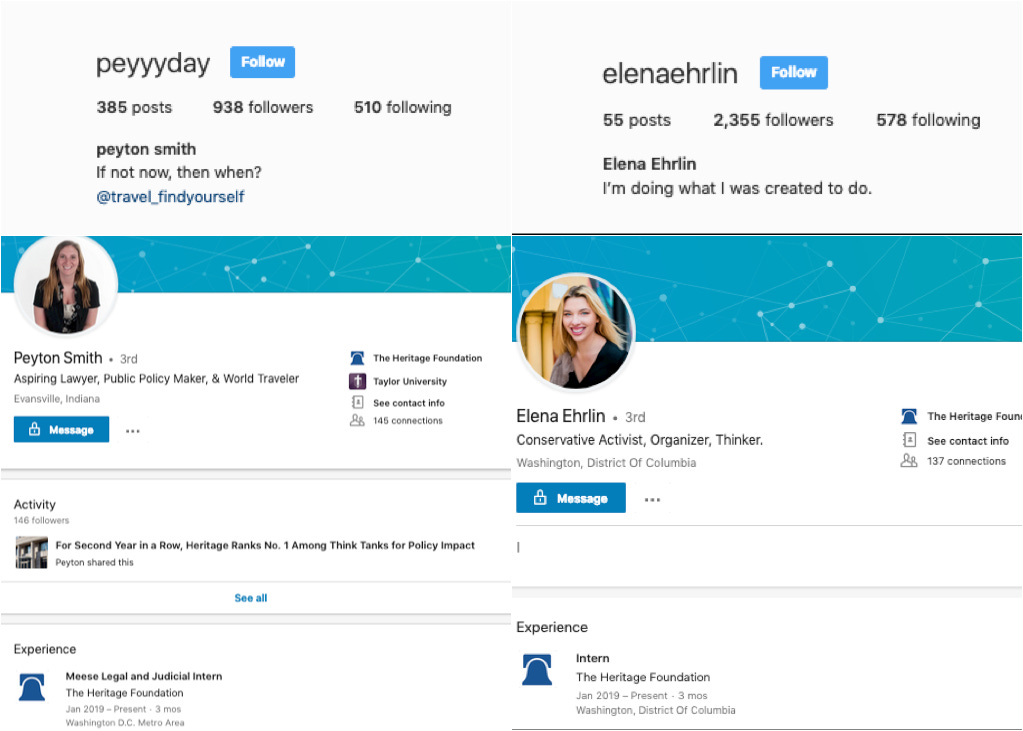 U.S. Marine Greg Aselbekian shared a pic of him wearing the president's campaign slogan at the president's hotel while shaking hands with Nigel Farage post CPAC.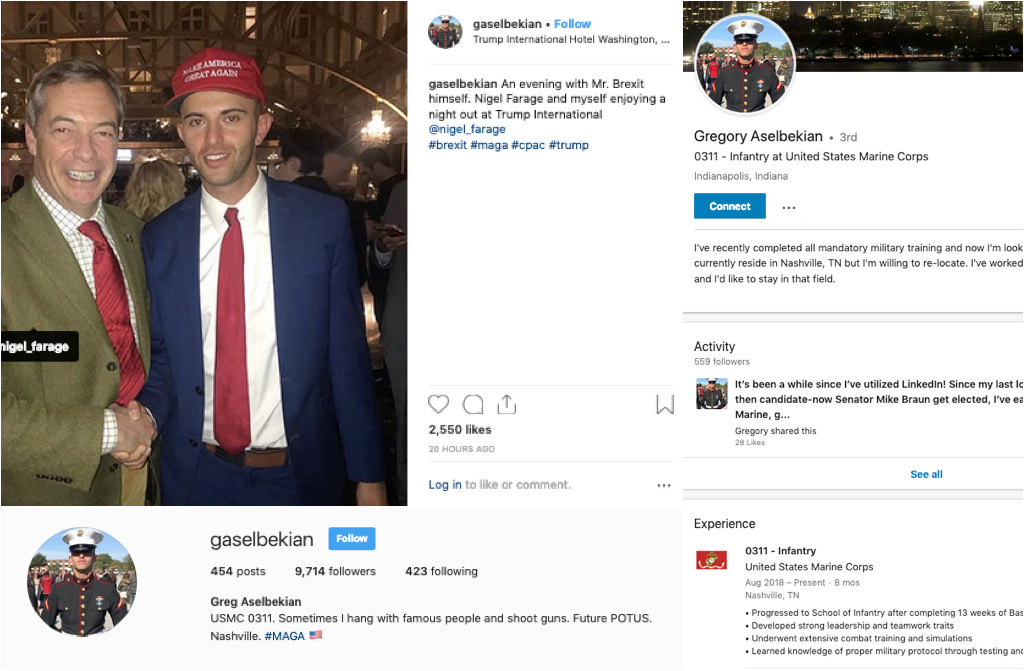 In D.C. to discuss opportunity zones, this entrepreneur stayed at the Trump Hotel D.C. and gave a glowing video tour of her room. (Due to a formatting limitation, please select the link to watch the video.)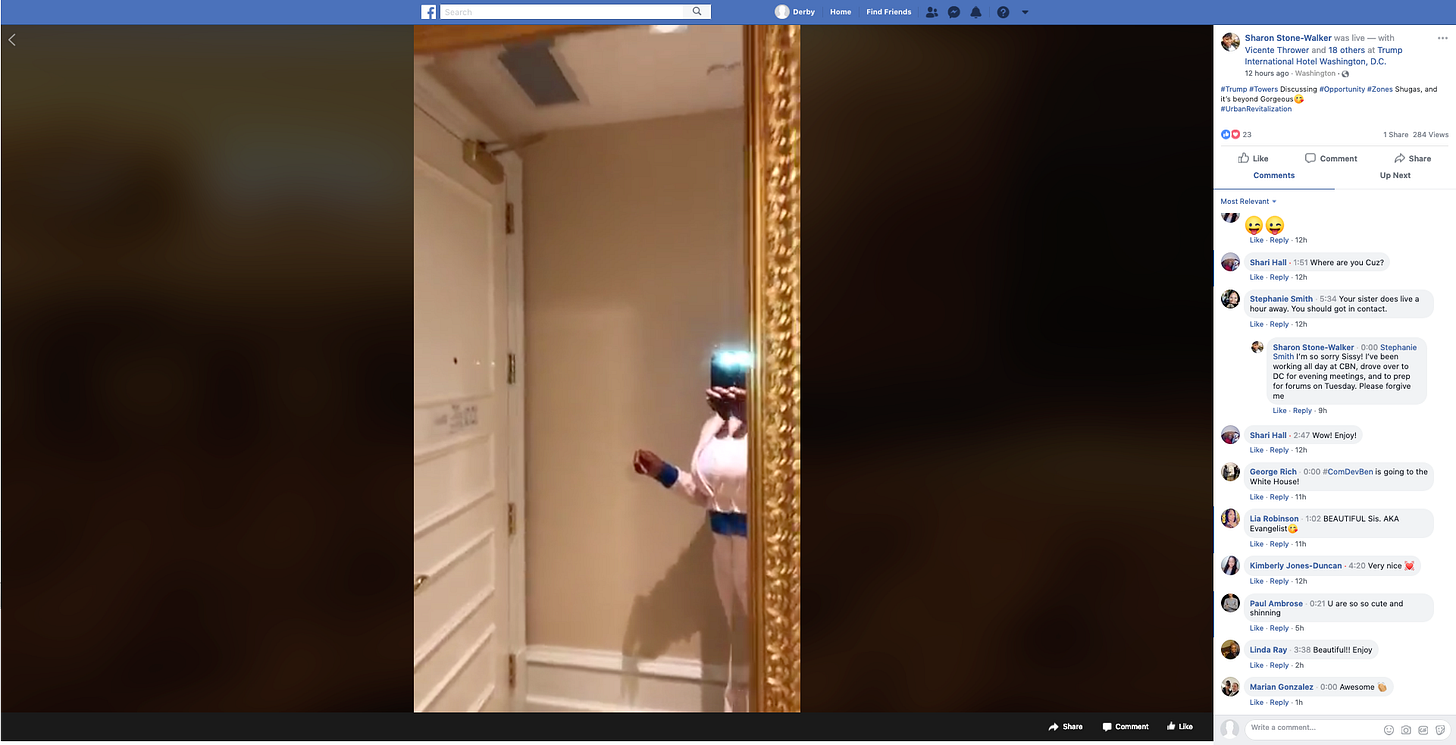 A lobbying intern for Invariant, Hannah Taylor, and a legislative assistant for Rep. Brian Mast (R–FL), Sarah Miller, drank at BLT Prime.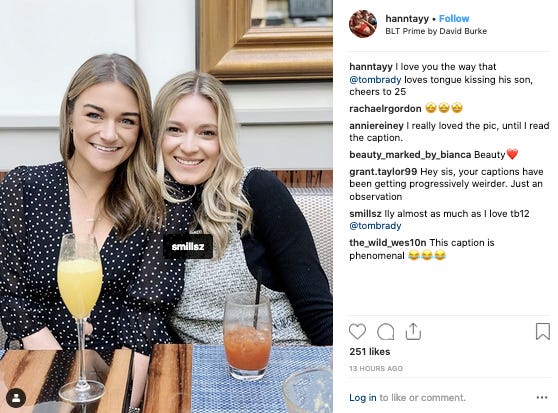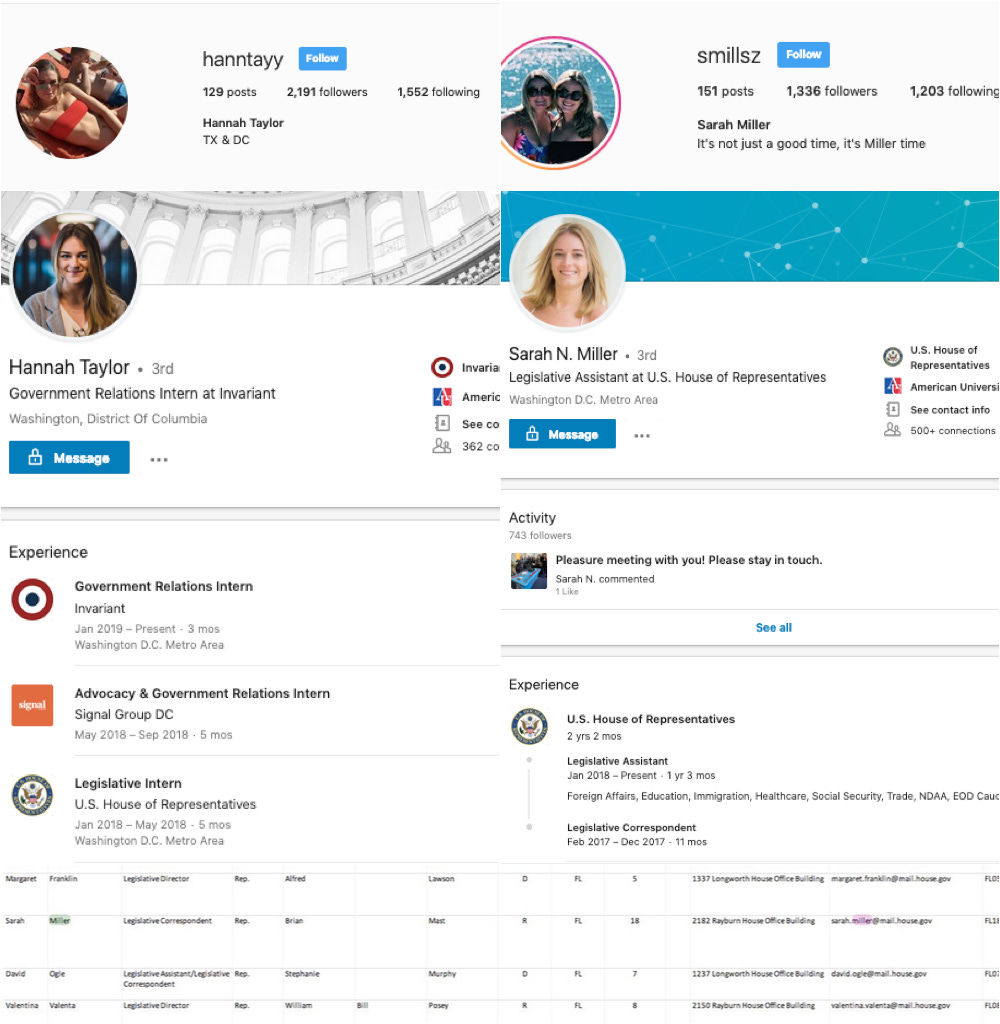 CBS News's interview with R. Kelly took place at the Trump Tower Chicago, where he maintains a residence.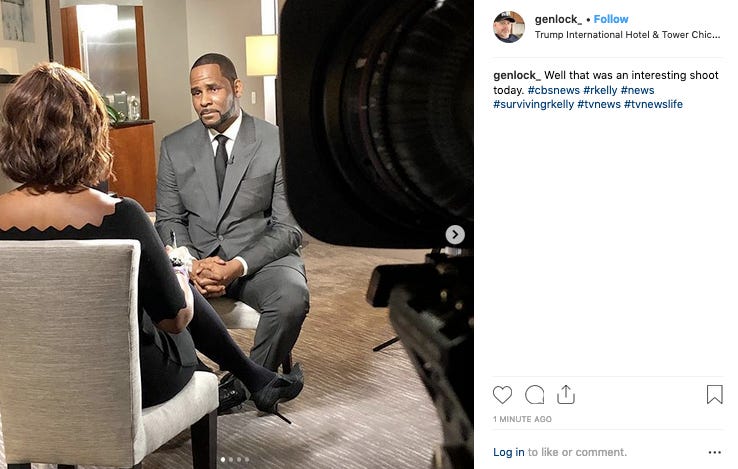 Other Trump Organization news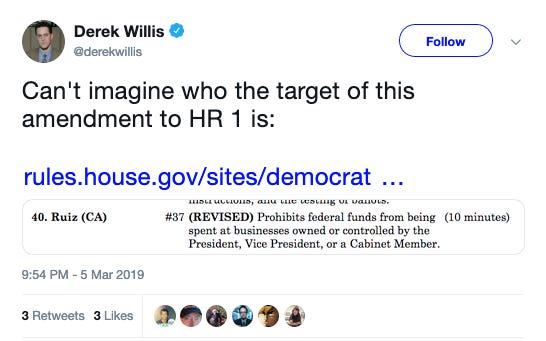 House investigations, current status (latest changes, March 5, 2019)
Legal cases, current status (latest change, March 6, 2019)
D.C. and MD attorneys general's emoluments lawsuit (district court docket, appellate court docket)—

Official capacity—On Dec. 20, 2018, the 4th U.S. Circuit Court of Appeals ruled it would hear the president's appeal of district court rulings that allowed the case to proceed to discovery, and the appellate court halted discovery in the case. Discovery had started Dec. 3 and was scheduled to run through Aug. 2, 2019, with the AGs having subpoenaed the Trump Organization, including its Scottish golf courses; the U.S. Departments of Agriculture, Commerce, Defense, and Treasury and the GSA; and the state of Maine. Oral arguments on the appeal are scheduled for March 19. The AGs filed their brief opposing the president's appeal on Feb. 6, stating, "The President is not entitled to an order requiring the district court to certify for interlocutory review its denial of his motion to dismiss. No court has ever issued such relief." Trump's DOJ attorneys replied on Feb. 21: "Plaintiffs fundamentally err, substantively and procedurally."

Individual capacity—On Dec. 14, Trump's personal attorneys appealed the denial of their motion to dismiss the case, also to the 4th U.S. Circuit Court of Appeals. On Dec. 19, the AGs replied to Trump's motion for a stay pending that appeal by voluntarily dismissing the claims against Trump in his "individual capacity to allow the claims against President Trump in his official capacity to move forward expeditiously." (The AGs only brought suit against Trump in his individual capacity after the judge suggested they do so.) Trump's personal attorneys, on Dec. 21, opposed the motion to dismiss at the district level, saying the appeals court now has jurisdiction and accusing the AGs of "gamesmanship."

196 Democratic senators and representatives' emoluments lawsuit—On Sept. 28, Judge Emmet G. Sullivan ruled that the legislators have standing to sue. Trump's Justice Department attorneys filed an interlocutory appeal on Oct. 22. On Jan. 30, 2019, the plaintiffs' filed a notice of supplemental authority, notifying the court of the GSA inspector general's report that criticized GSA for failing to consider if the Trump Hotel D.C.'s lease was in compliance with the Constitution after Donald Trump became president. Two days later, the president's attorneys argued that the IG's conclusion was not inconsistent with Trump's argument, but that the judge should ignore that report anyway because the IG has no expertise in interpreting or applying the foreign emoluments clause.

CREW et. al's emoluments lawsuit—In February 2018, CREW appealed its suit being dismissed for lack of standing to the 2nd U.S. Circuit Court of Appeals. Oral arguments on that motion were held on Oct. 30.

UPDATED Cork's unfair competition lawsuit—Judge Richard J. Leon dismissed the case on Nov. 26, 2018, writing "Cork has failed to state a claim for unfair competition under D.C. law." On Dec. 10, Cork's attorneys filed a notice of appeal and on Jan. 10, 2019 they submitted a statement of issues to be raised. A briefing schedule was set on March 5 with Cork's brief due on April 15, the president's brief due on May 15, and Cork's reply to the president's brief due on June 5.

Employees' class-action suit alleging racial discrimination—Two of the three plaintiffs did not appear at a status hearing on Jan. 25, 2019; their cases were moved to arbitration. Via email, their attorney, A.J. Dhali, said his clients did not appear at the hearing because their case already had been moved to arbitration last year. The next status hearing is scheduled for Oct. 4.
Health inspections, current status (latest change, Aug. 10, 2018)
❌Hotel: five violations on May 7, 2018; two were corrected on site

❌BLT Prime and Benjamin Bar: nine violations on Aug. 10, 2018

❌Sushi Nakazawa: two violations on Aug. 10, 2018

✔️Banquet kitchen: no violations on Aug. 10, 2018

❌Pastry kitchen: two violations on Aug. 10, 2018

✔️Gift shop: no violations on May 7, 2018

❌Employee kitchen and in-room dining: five violations on Aug. 10, 2018; two were corrected on site
One thing that has nothing to do with Trump's businesses (I think, tough to tell sometimes!)
Trump Org event planner turned HUD region 2 administrator Lynne Patton dropped an f-bomb on her official government Twitter account a few weeks ago.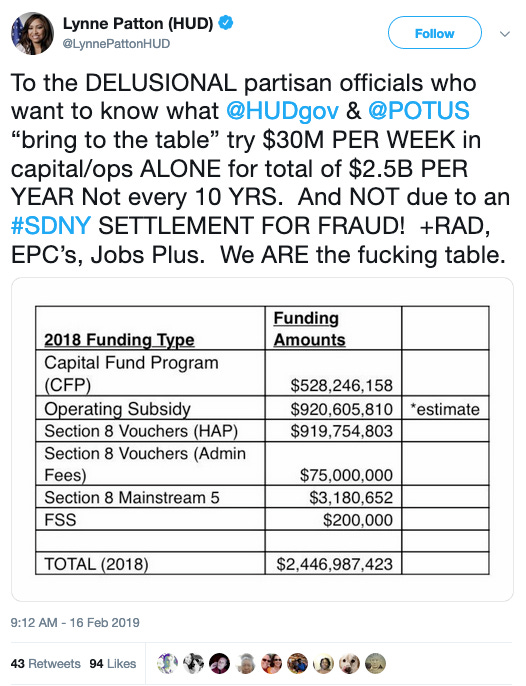 Thanks for reading. If you like what you see, tell someone—and support this work by becoming a paying member ($5/month or $50/year). If you've been forwarded this newsletter, subscribe for yourself at zacheverson.substack.com. Questions? Read our FAQ/manifesto. Tips or feedback? Contact me, Zach Everson, securely via email at 1100Pennsylvania@protonmail.com or on Signal at 202.804.2744.