Discover more from 1100 Pennsylvania
"The undisputed expert on the D.C. Trump Hotel" – David Fahrenthold of the Washington Post
Over 3,000 subscribers
Japan's PM visited his fifth Trump business
Trump, Abe golfed together at their third different Trump course
On Saturday, President Trump hosted Japan's prime minister Shinzo Abe at Trump National Golf Club, Washington, D.C. in Sterling, Virginia. It was the third different Trump course for the duo, who previously hit the links together at Trump International Golf Club, West Palm Beach in April 2018 and at Trump National Golf Club, Jupiter (Florida) in February 2017.
In total, Abe now has met with Trump at five different Trump businesses. In addition to the golf clubs, in September 2018 Abe saw Trump at Trump Tower in New York City and in April 2018 he visited Mar-a-Lago. (During that meeting, Abe and other guests at the president's private club witnessed firsthand the U.S. response to a North Korean ballistic missile test.)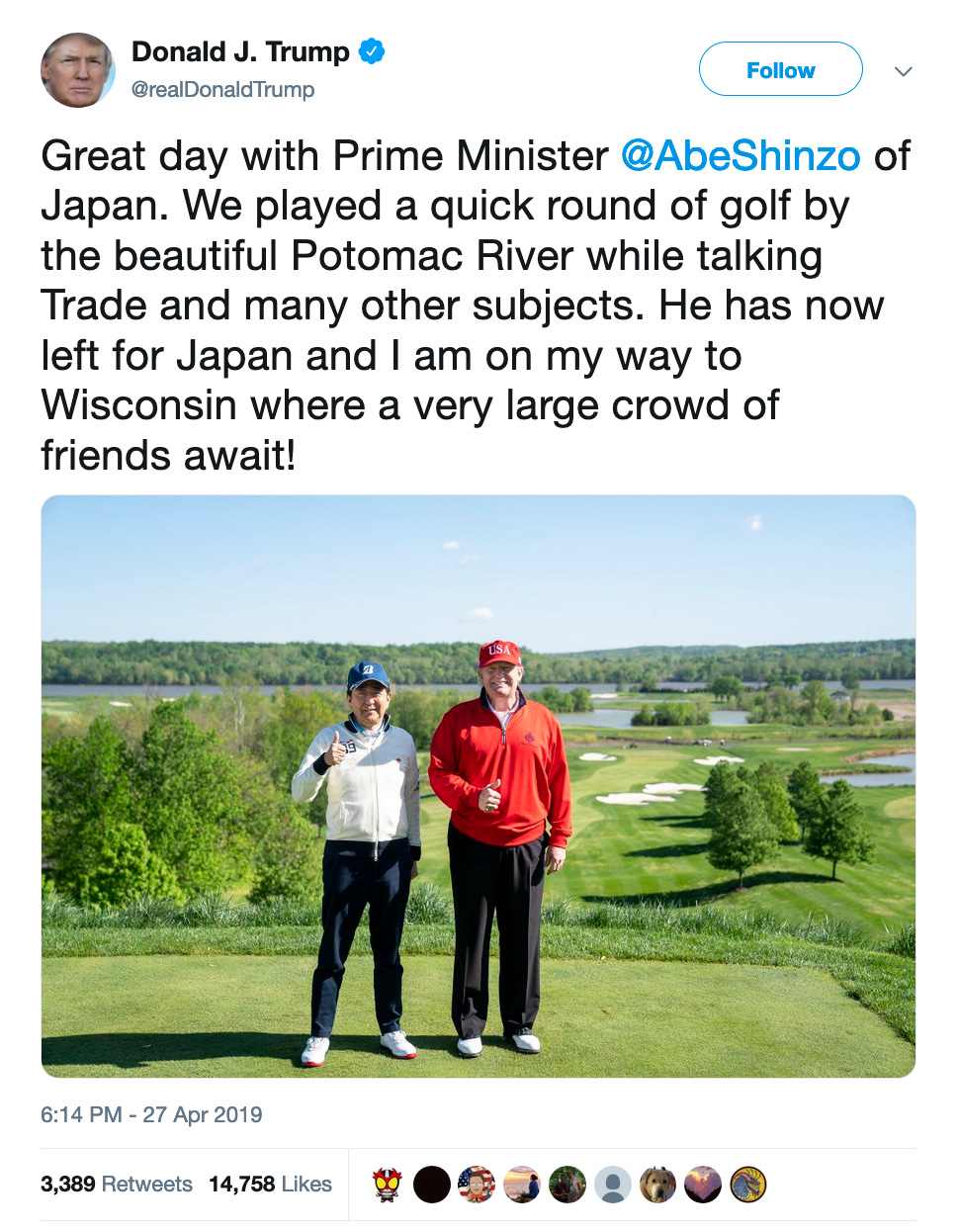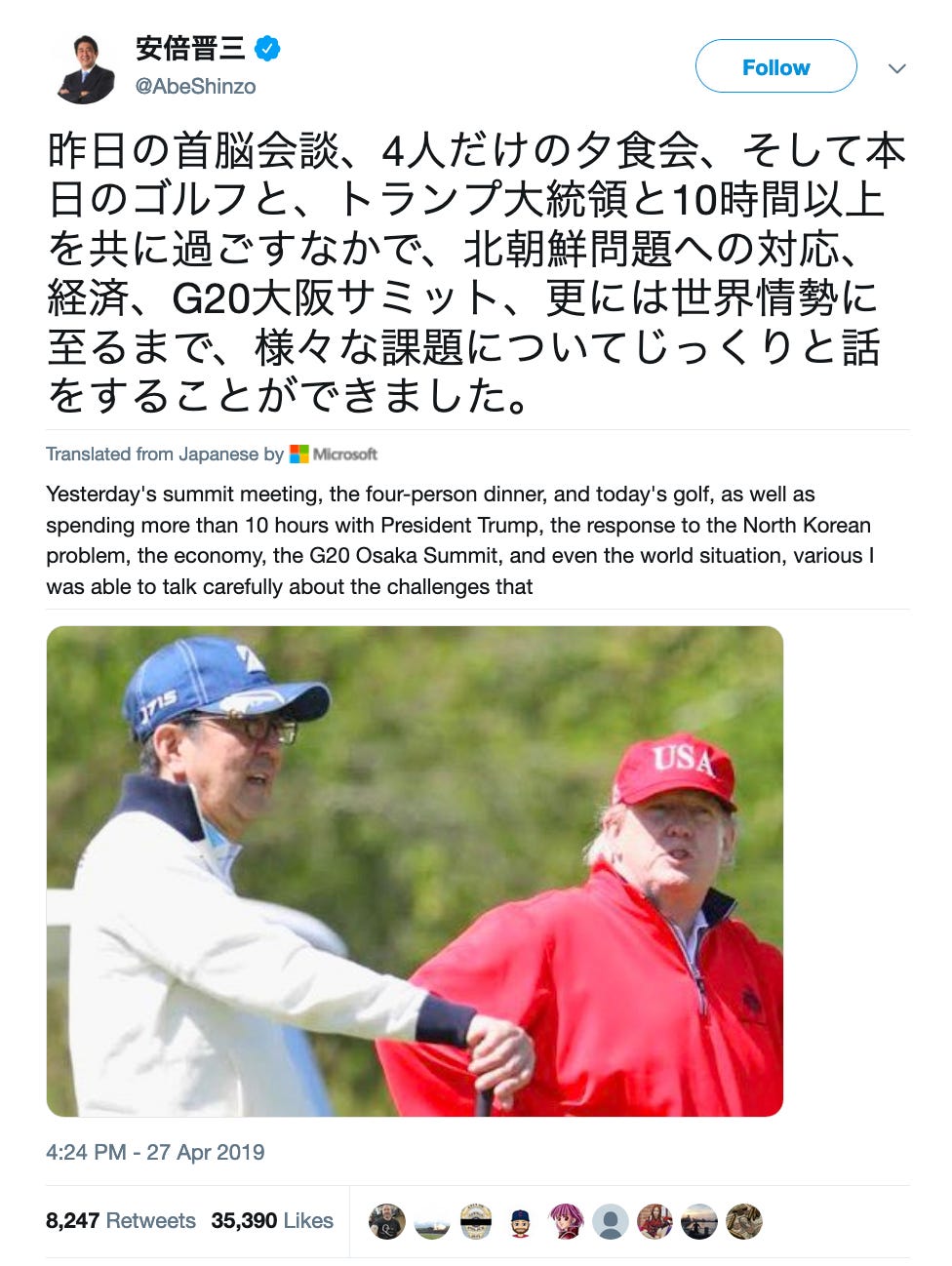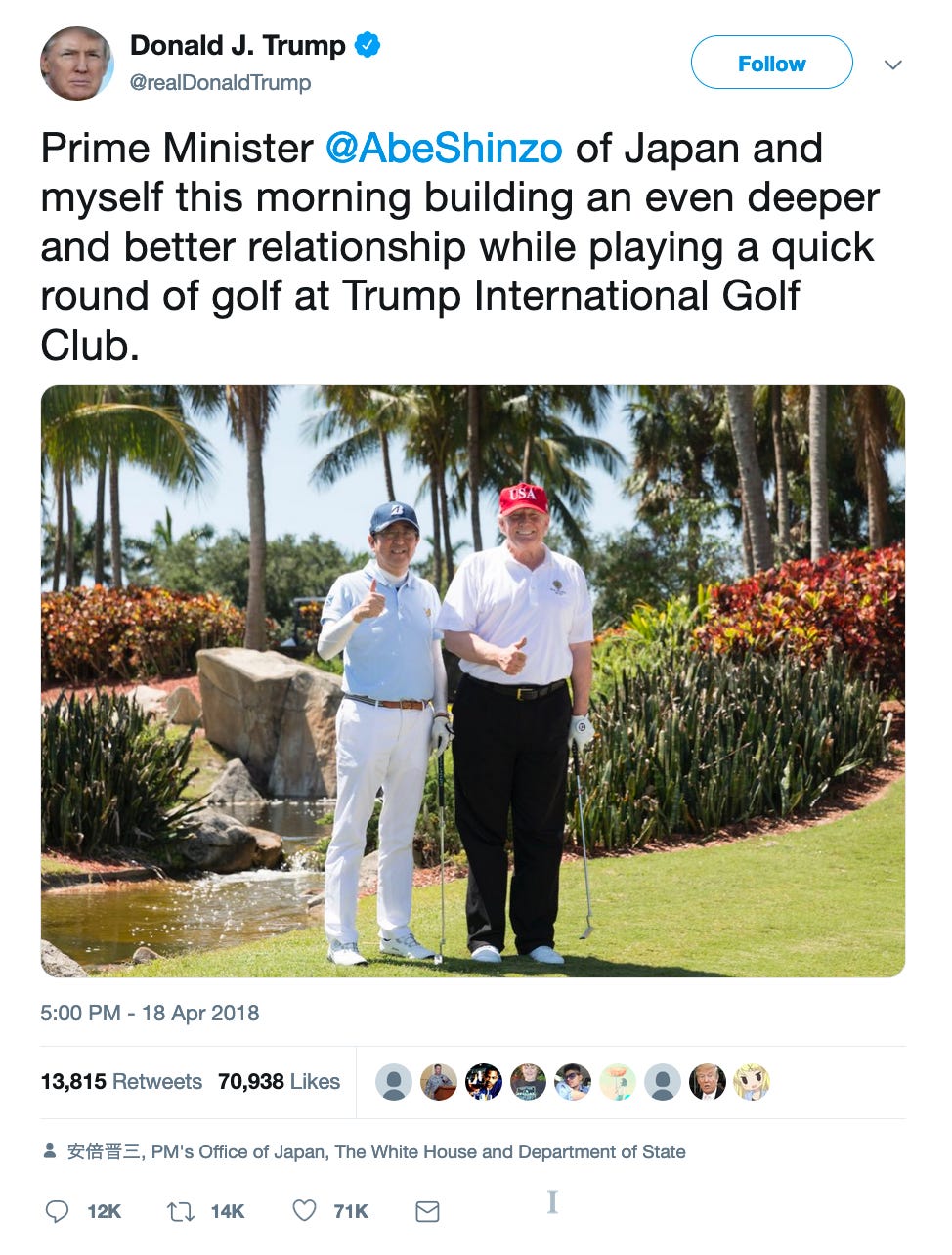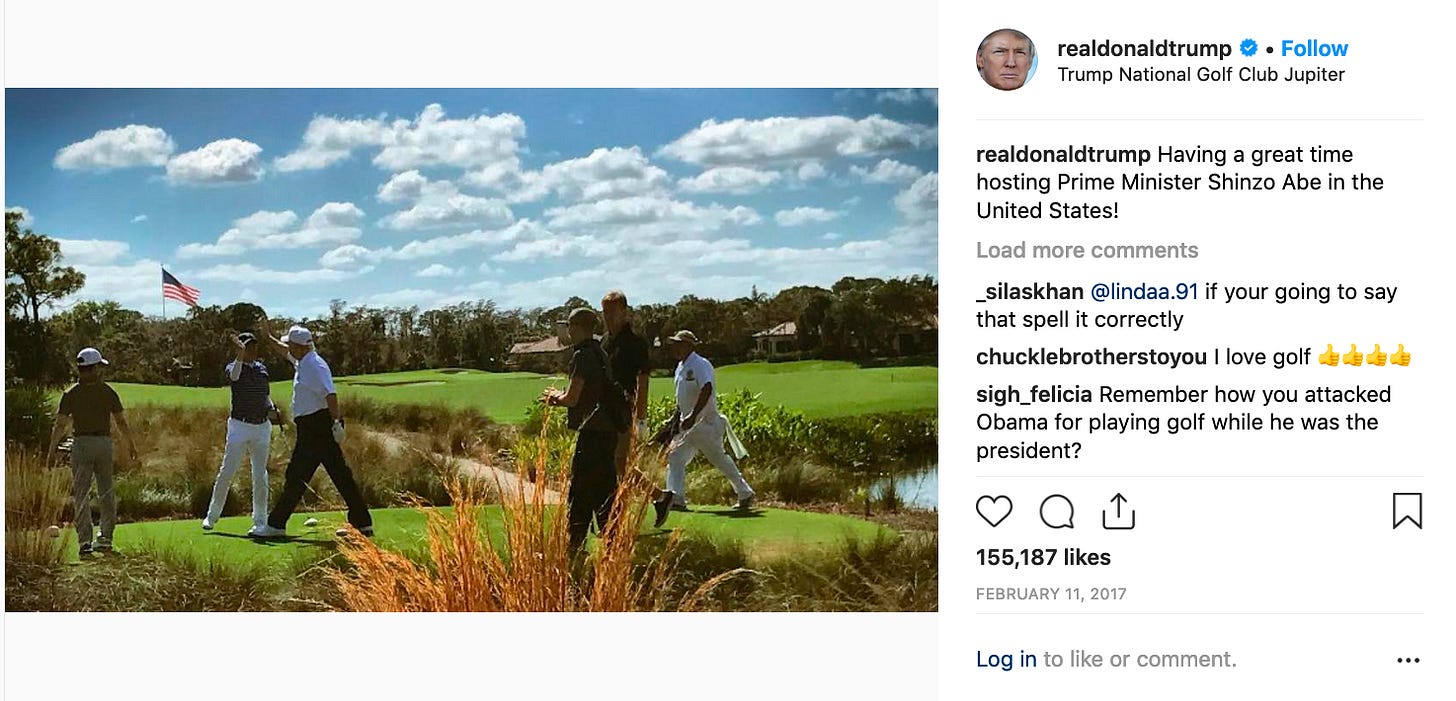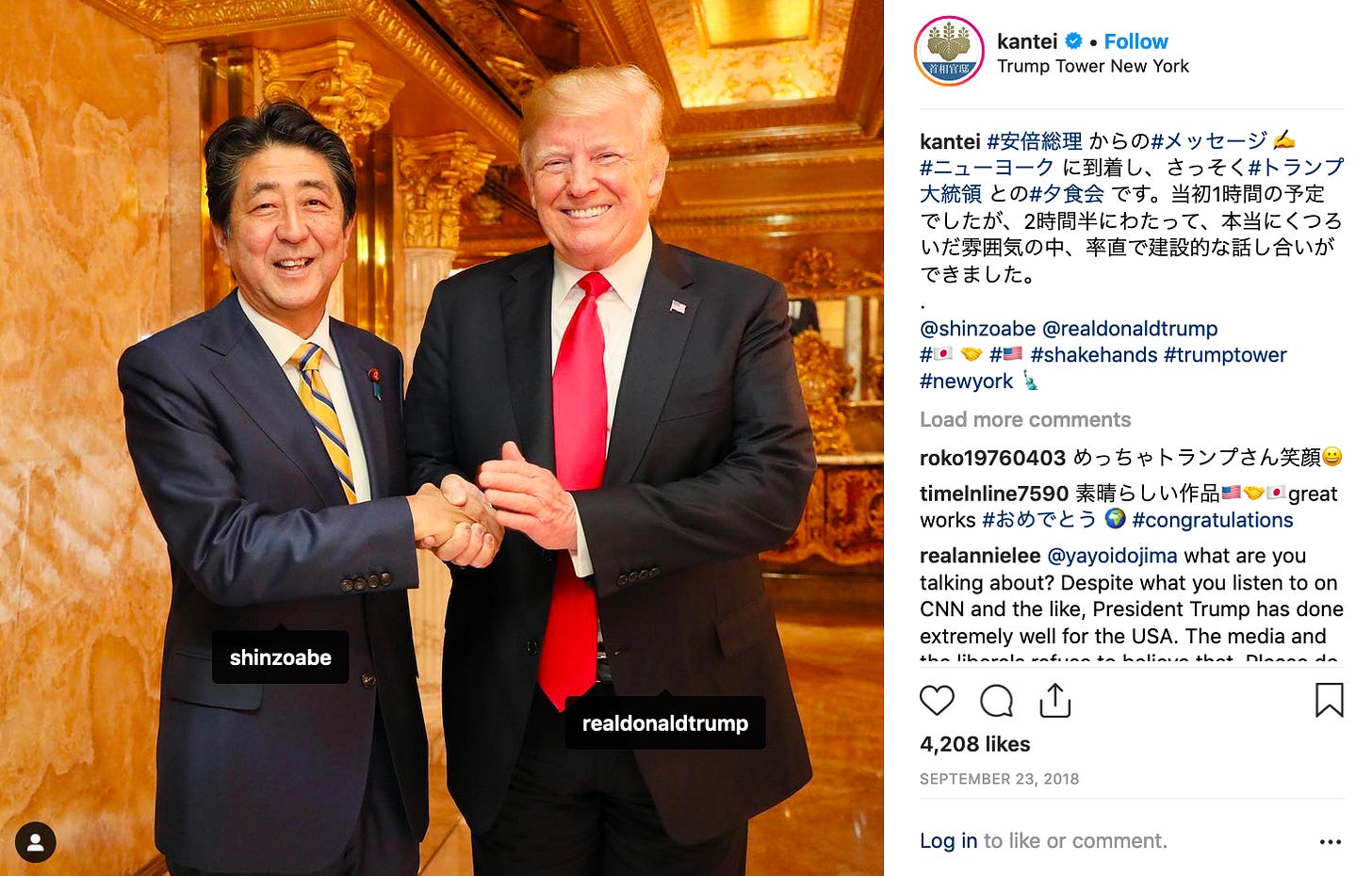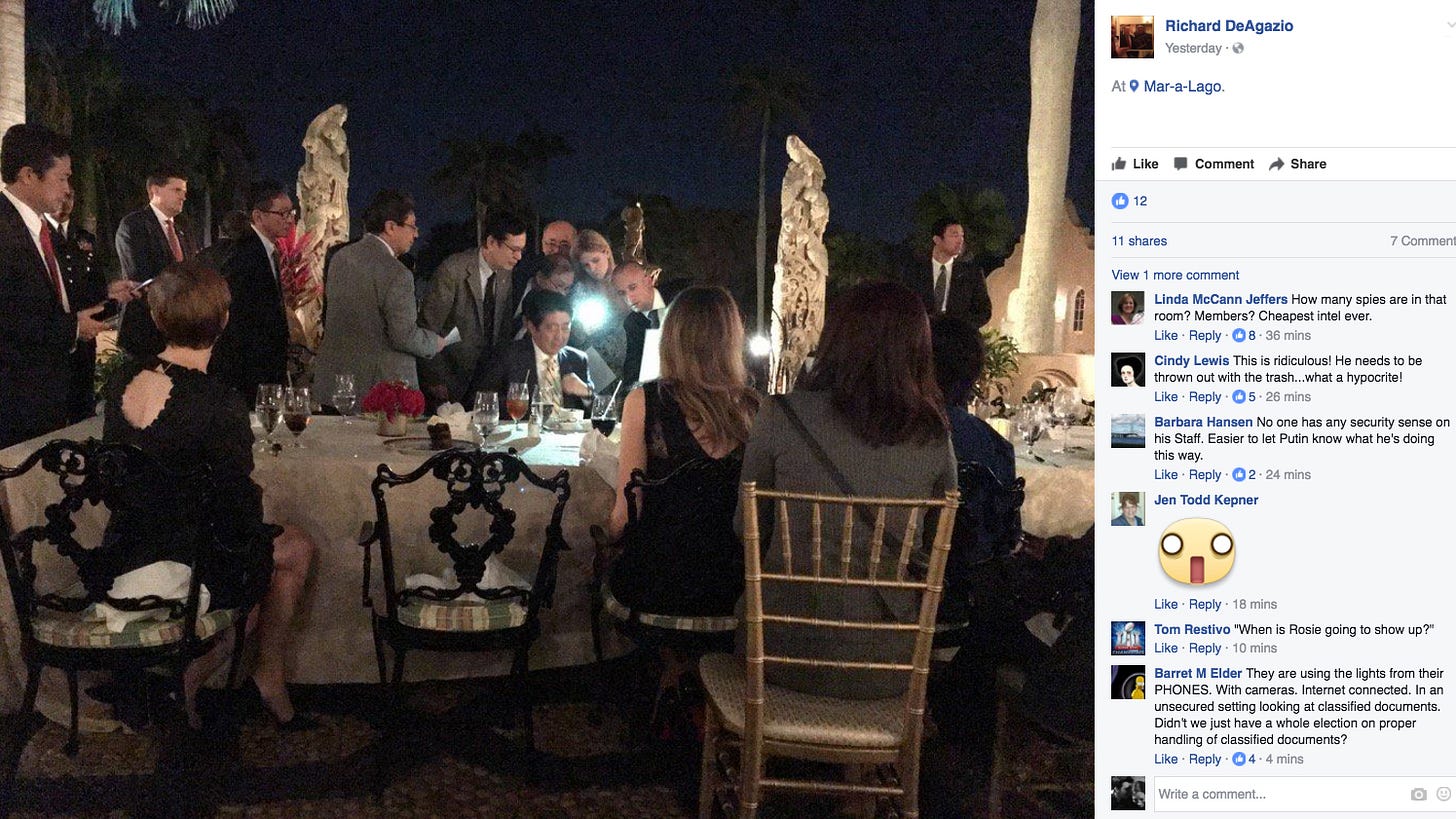 ---
With a firearms' exporters conference scheduled at his D.C. hotel this summer, Trump announces U.S. withdrawal from Arms Trade Treaty
From "Trump reverses U.S. course on Arms Trade Treaty during speech at NRA in Indianapolis" by Ginger Rough and Deirdre Shesgreen for USA Today:
President Donald Trump said Friday that he would pull out of the Arms Trade Treaty, a global 2014 pact designed to regulate the sale of conventional weapons, from guns to battle tanks…

Critics accused Trump of pandering the gun lobby with the move, while supporters said it would free the U.S. from unnecessary constraints on its domestic arms industry.
As 1100 Pennsylvania reported earlier this month, the Firearms and Ammunition Import/Export Roundtable will host its annual Firearms Import/Export Conference July 30–Aug. 1 at the Trump Hotel D.C.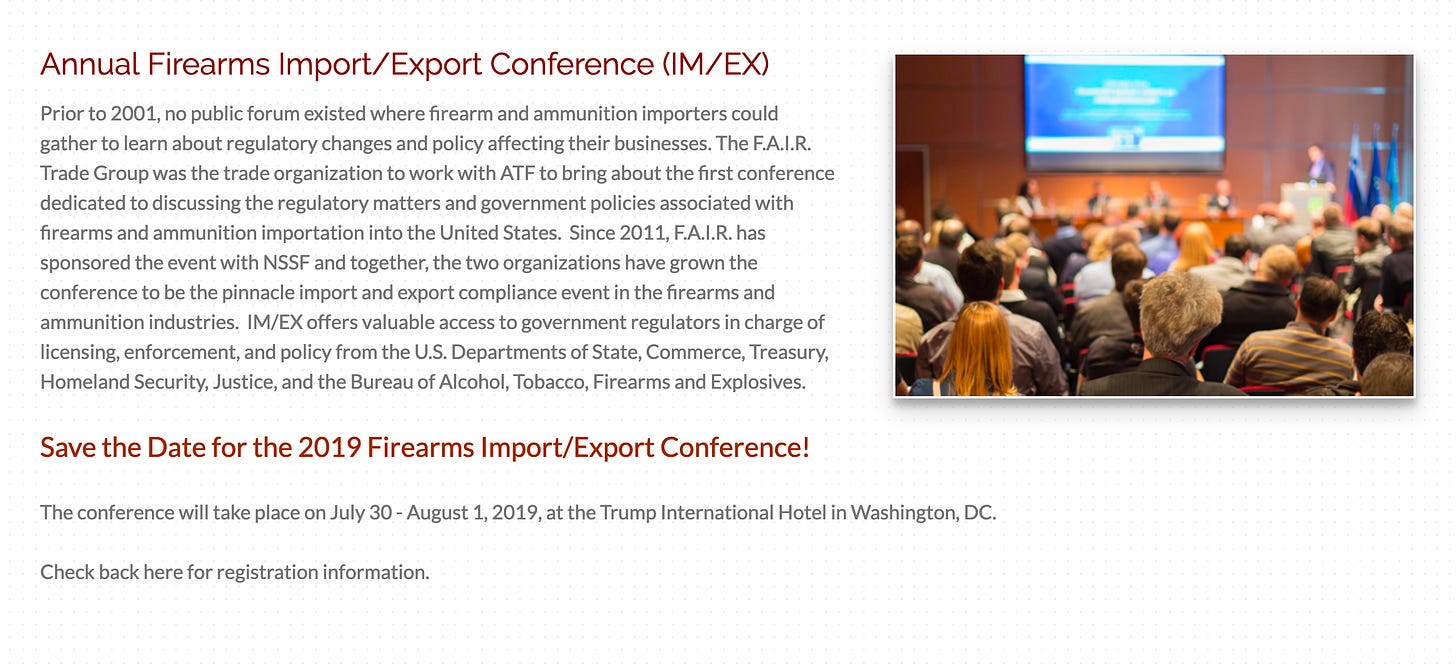 ---
Support 1100 Pennsylvania: never-redacted reporting on President Trump's D.C. hotel
We now know most of what's in the Mueller report. It's time to focus on what happens inside the Trump Hotel D.C. and the president's other businesses. Original, in-depth reporting, of course, takes time. But it's making an impact—and you can help. If you're not an 1100 Pennsylvania member, please become one. Memberships are this newsletter's sole source of revenue. Select the red "Subscribe now" button and become a member by paying just $5 a month or $50 a year. Thank you.
---
Report: Secret Service to visit Ireland this week in advance of Trump staying, golfing at Doonbeg
From "U.S. President Donald Trump set for Ireland visit as Secret Service arrange security" by John Lee for Extra.ie:
American Secret Service agents will arrive in Co. Clare this week to arrange security for a visit by Donald Trump a month later, Extra.ie can exclusively reveal.

President Trump is expected to arrive at Shannon Airport on June 6 or 7 and stay at his hotel in Doonbeg, according to tentative arrangements revealed to Extra.ie last night. He will be in France for the 75th anniversary of D-Day on June 6 and is expected here on a brief stopover, to stay at his hotel and play golf there.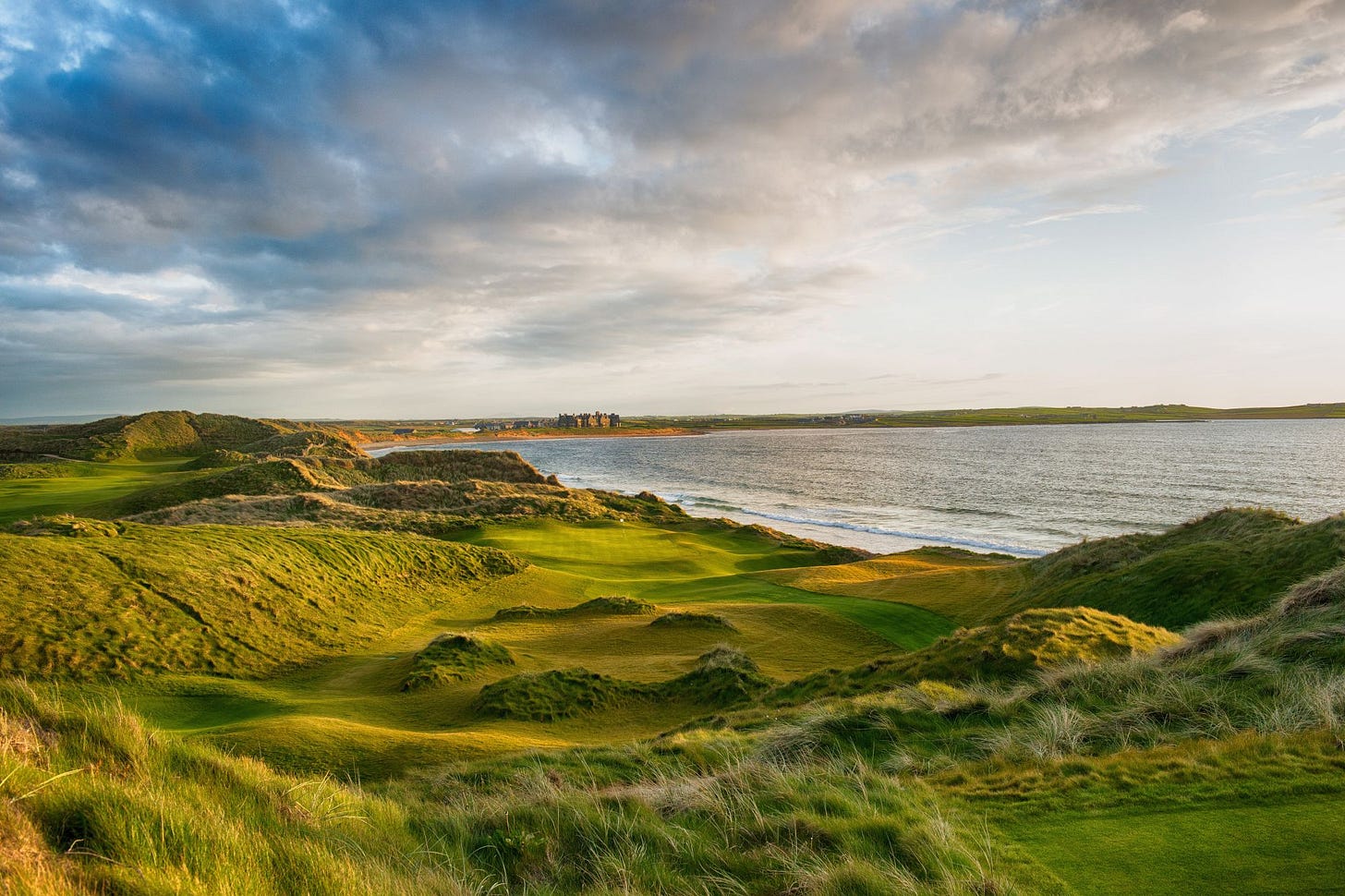 ---
Pro-veterans group celebrated war documentary at commander-in-chief's hotel
The Academy of U.S. Veterans hosted a reception for war correspondents to celebrate the documentary Mosul at the Trump Hotel D.C. on Saturday. Among those who attended were Emmy winner and Academy Award nominee Shohreh Aghdashloo; Huffington Post writer Alex Mohajer; One America News Network political correspondent Neil McCabe; and the movie's director and producer, Daniel Gabriel.
The academy's mission is to "support, promote and recognize Veterans Service Organizations, Veteran Programs and Veteran Owned Businesses nationwide...all on the red carpet." A representative from the academy has not replied to an inquiry asking why it chose to hold the event at the president's hotel and how much it paid to do so.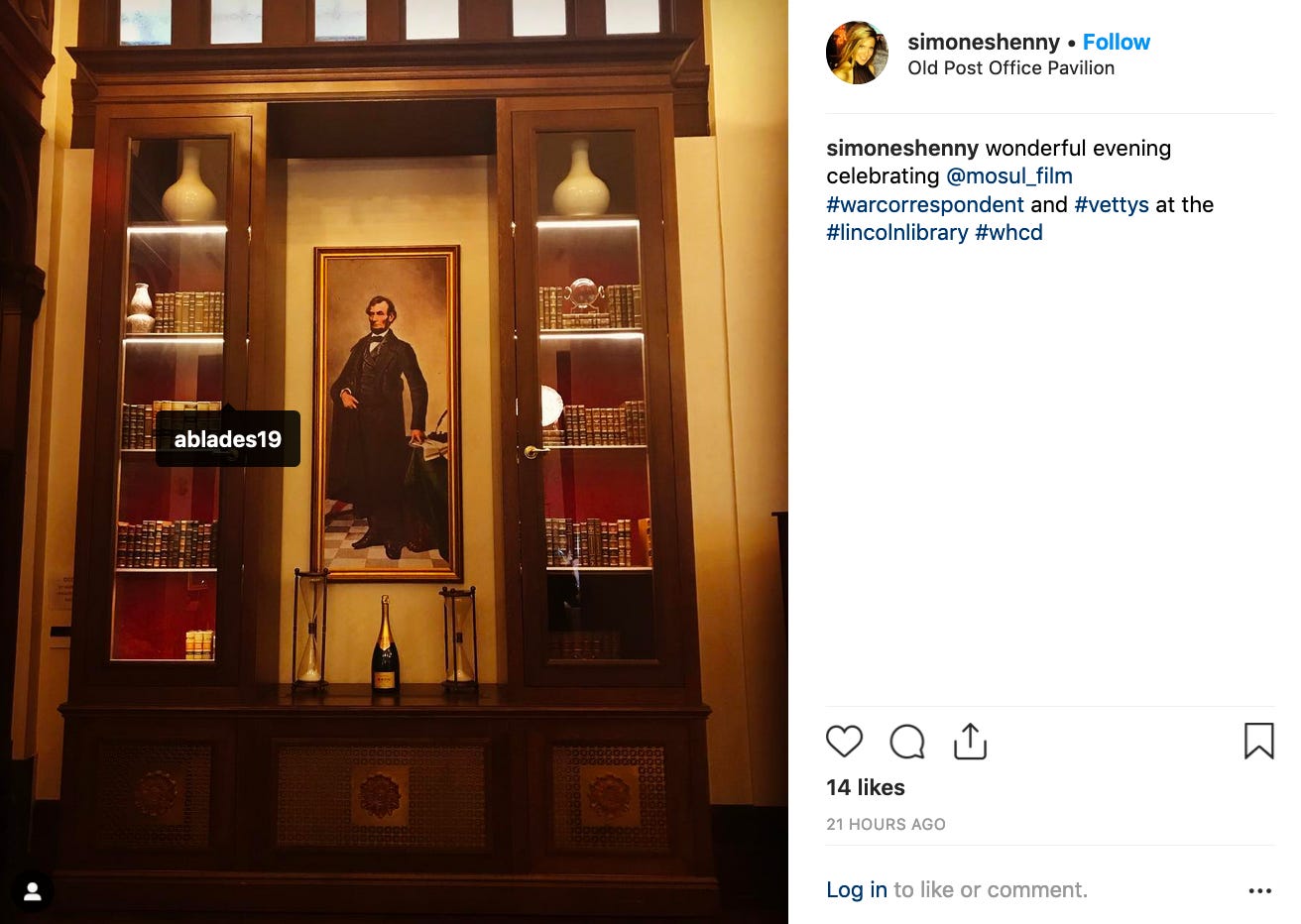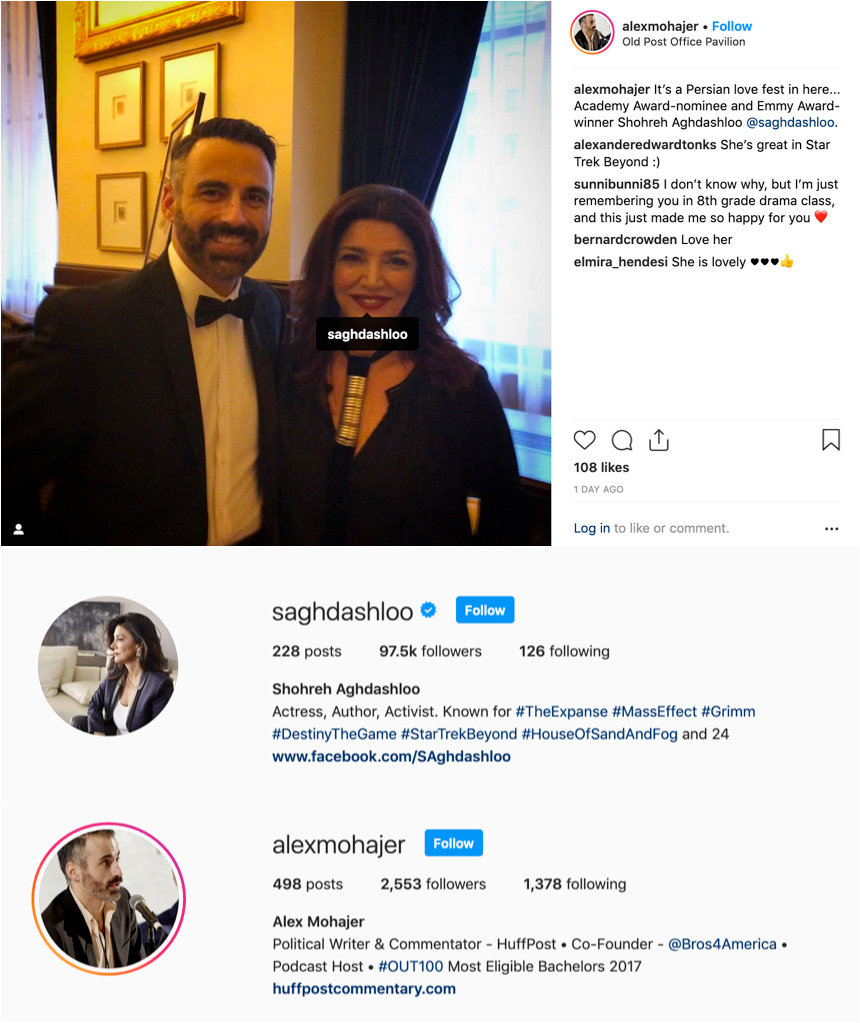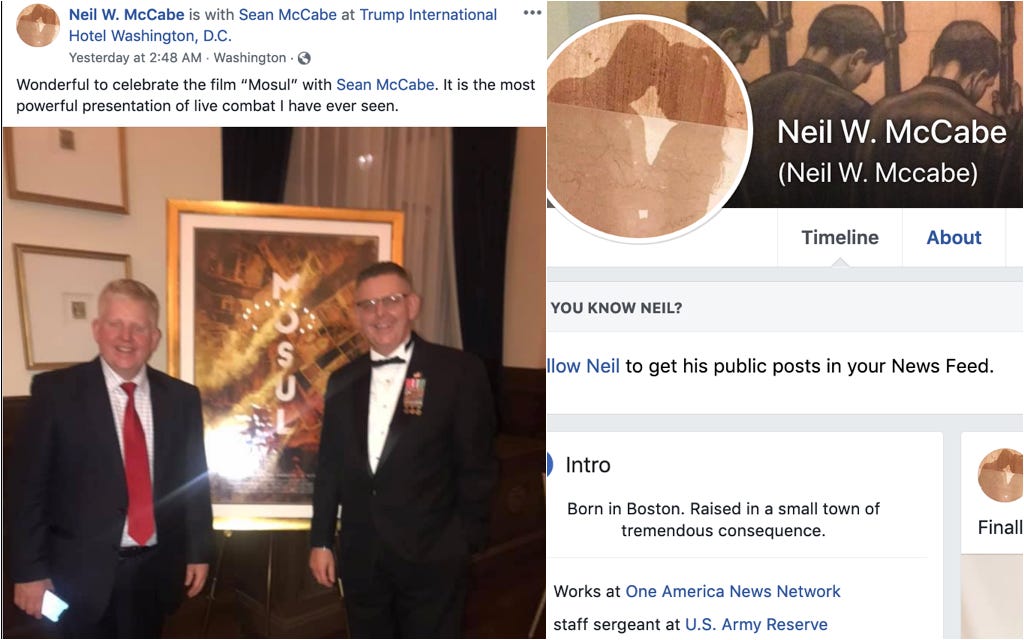 ---
Notable sightings
On Sunday, President Trump golfed with Sen. Lindsay Graham (R–SC) at Trump National Golf Club, Washington, D.C. in Sterling, Virginia, per the White House press pool. A guest at the president's business got a photo of Trump.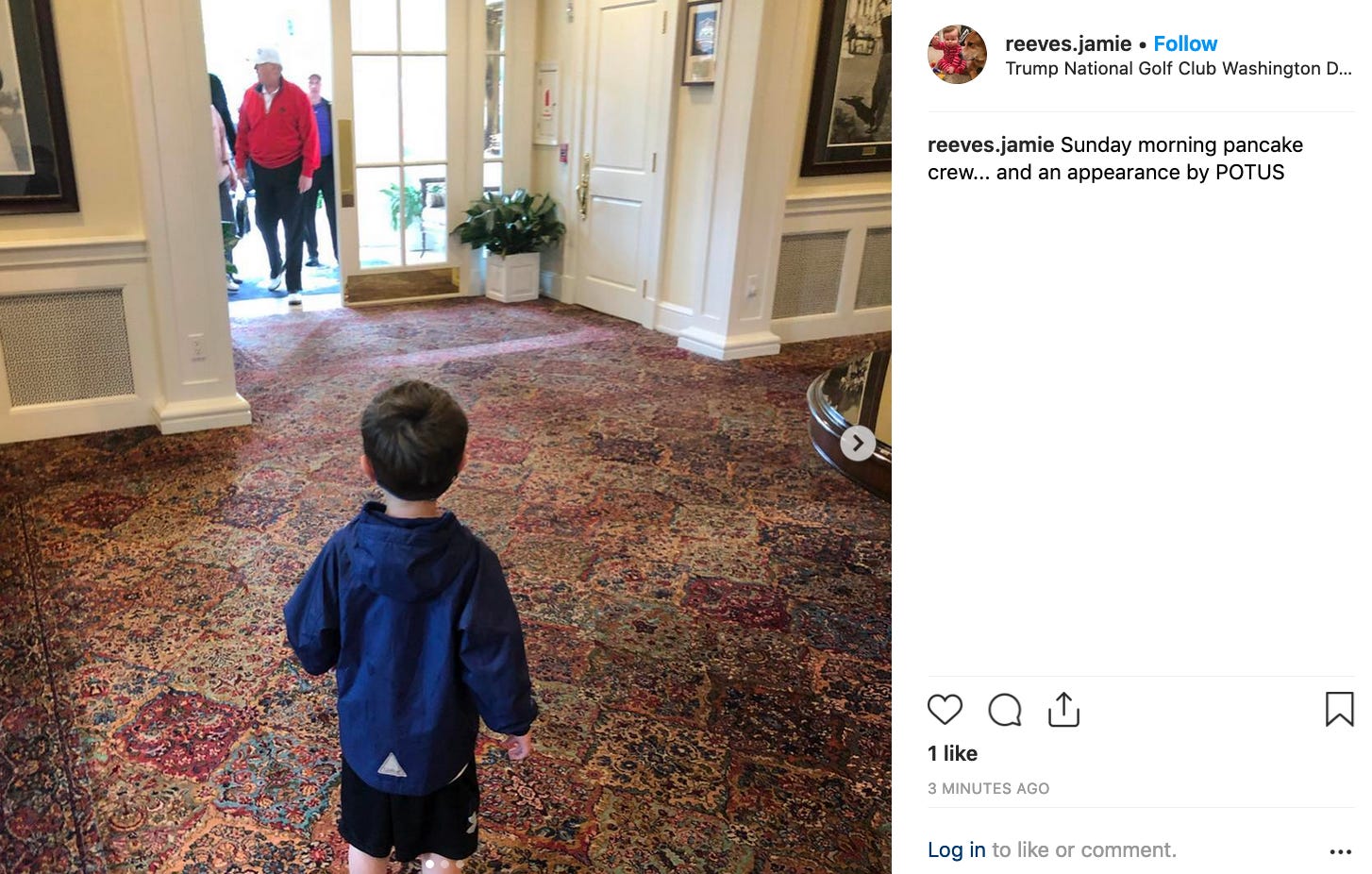 Rudy.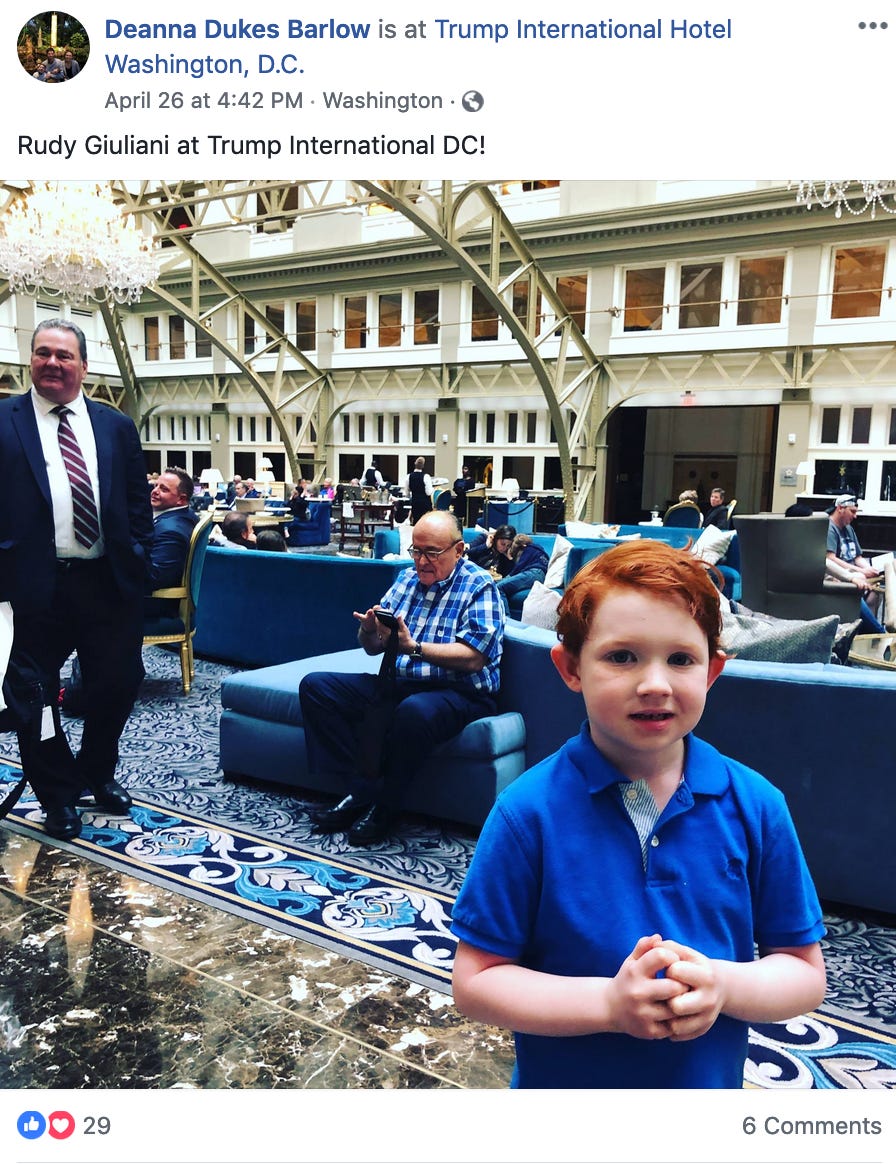 Rudy.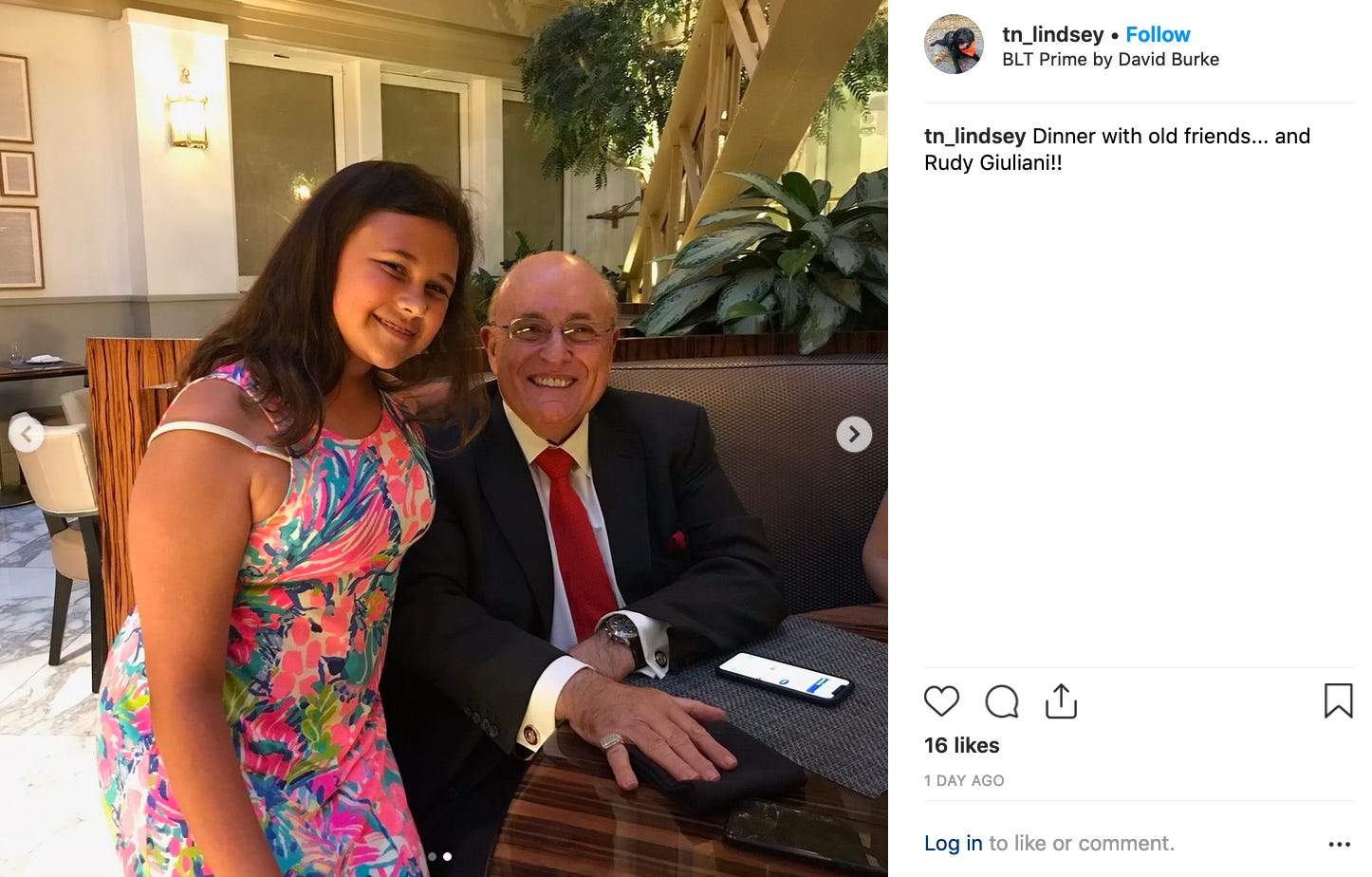 Rudy.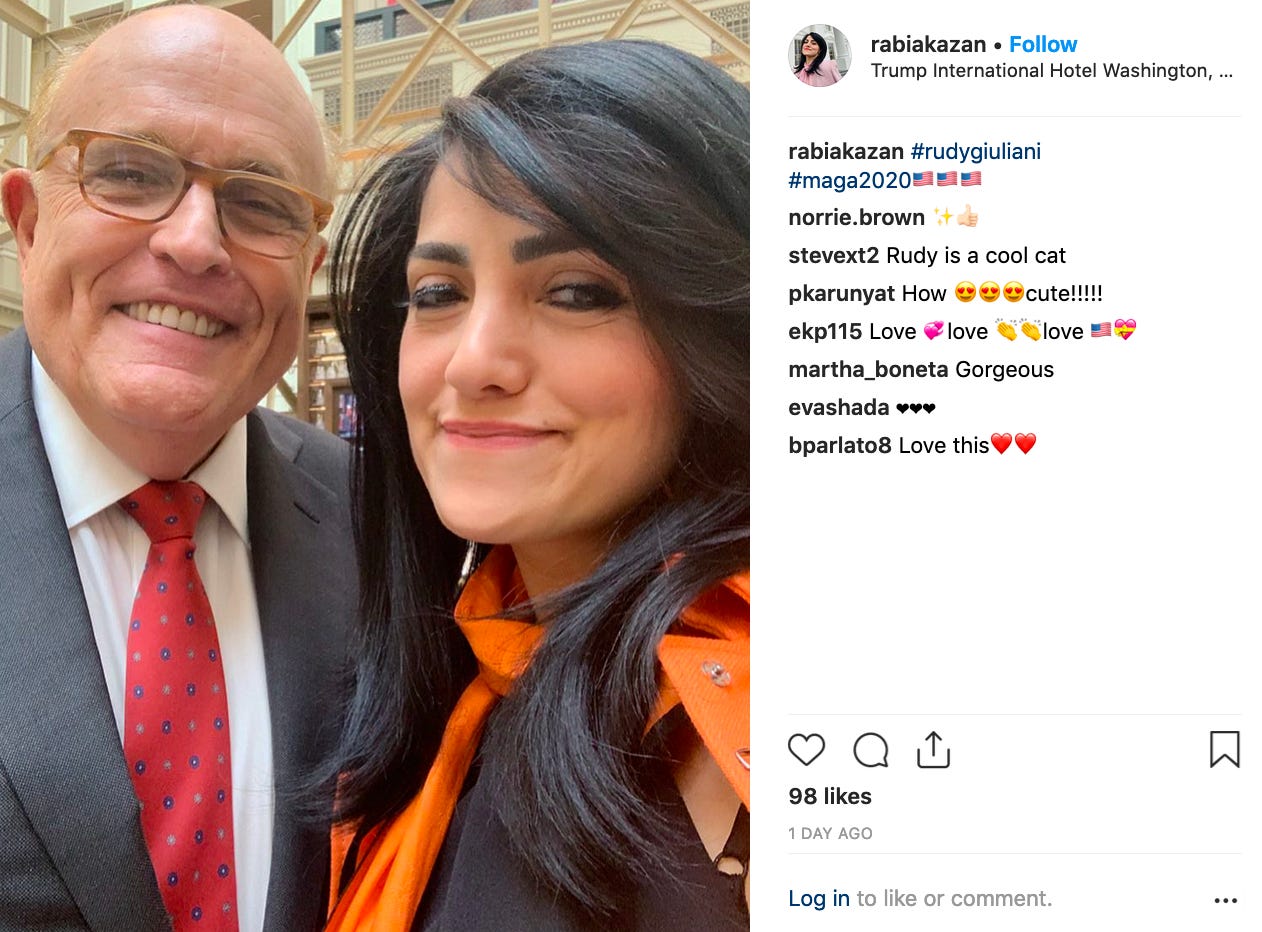 It was "peace, unity, and love" for Trump hotel regulars Ximena Barreto, a former Trump political appointee in the Department of Health and Human Services who resigned after CNN and Media Matters reported she'd "spread conspiracies and made anti-Muslim comments," and Rabia Kazan, the president of the pro-Trump Middle Eastern Women's Coalition and a director of the National Diversity Coalition for Trump.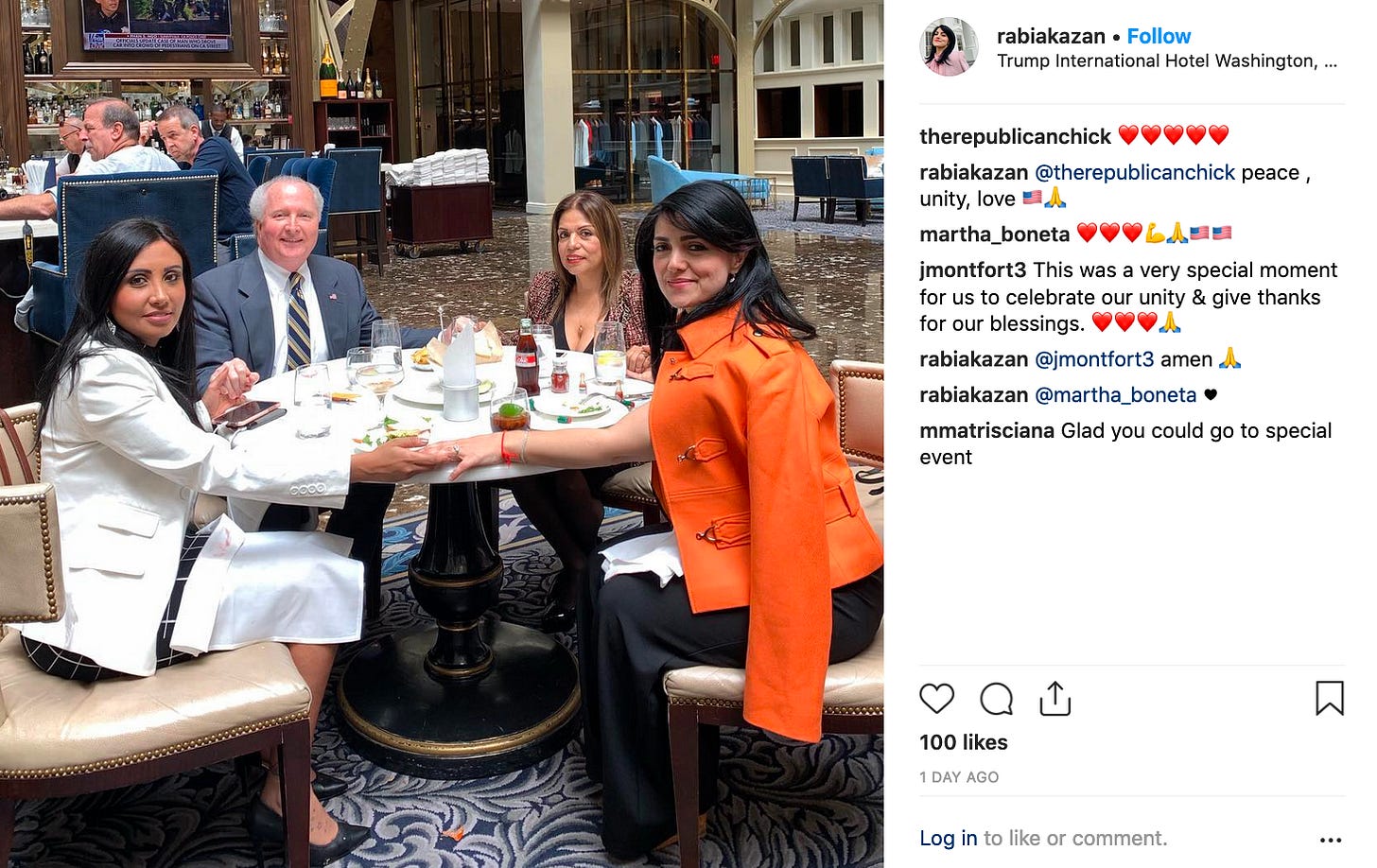 A senior policy counsel for Rep. Vern Buchanan (R–FL), Ashley Rose, celebrated her birthday at a hotel owned by the head of the executive branch.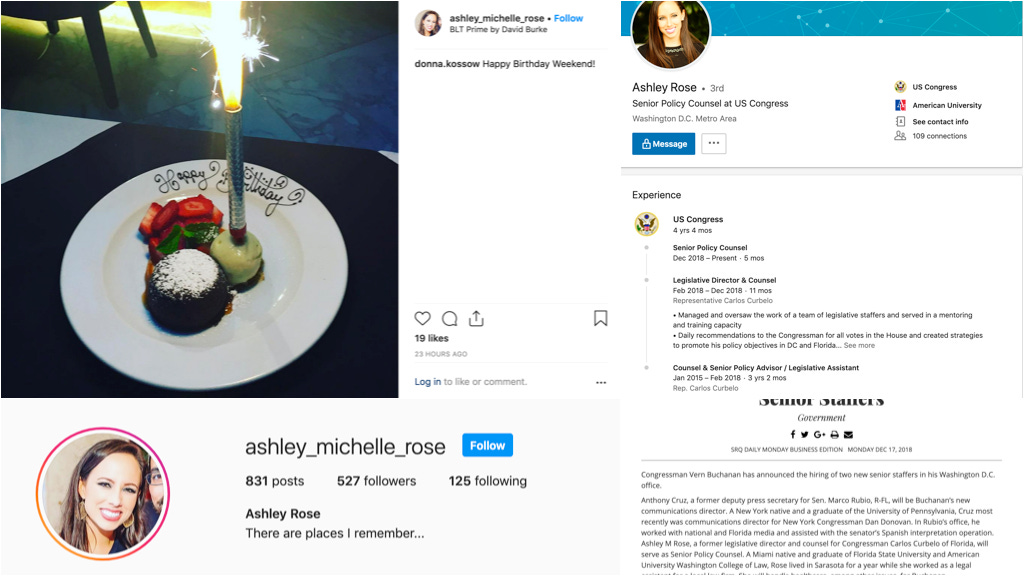 A first sergeant in the U.S. Army ostensibly had a beer at the commander-in-chief's hotel.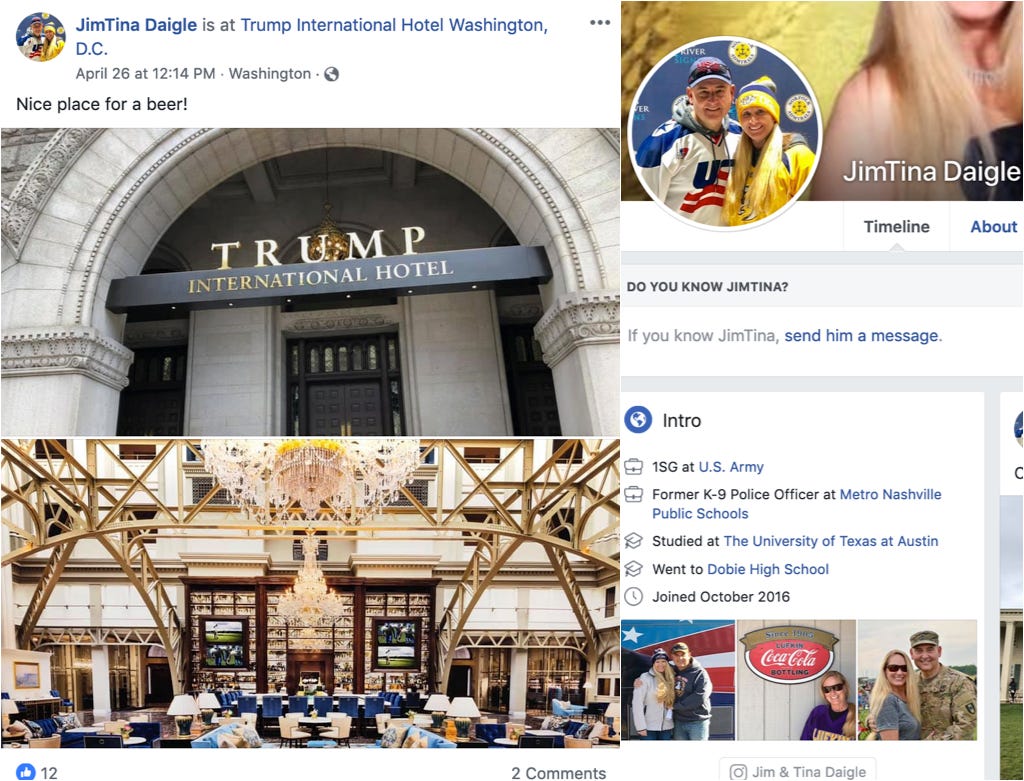 Andrew Barnyak, an engineer at the Consumer Financial Protection Bureau, had drinks.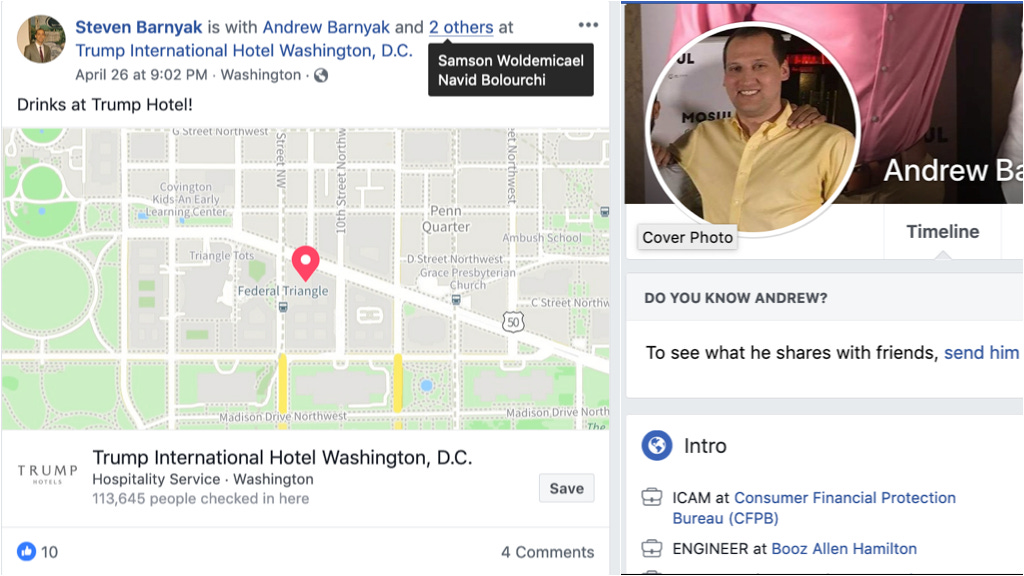 Washington Post national correspondent Annie Gowen reflected in the lobby.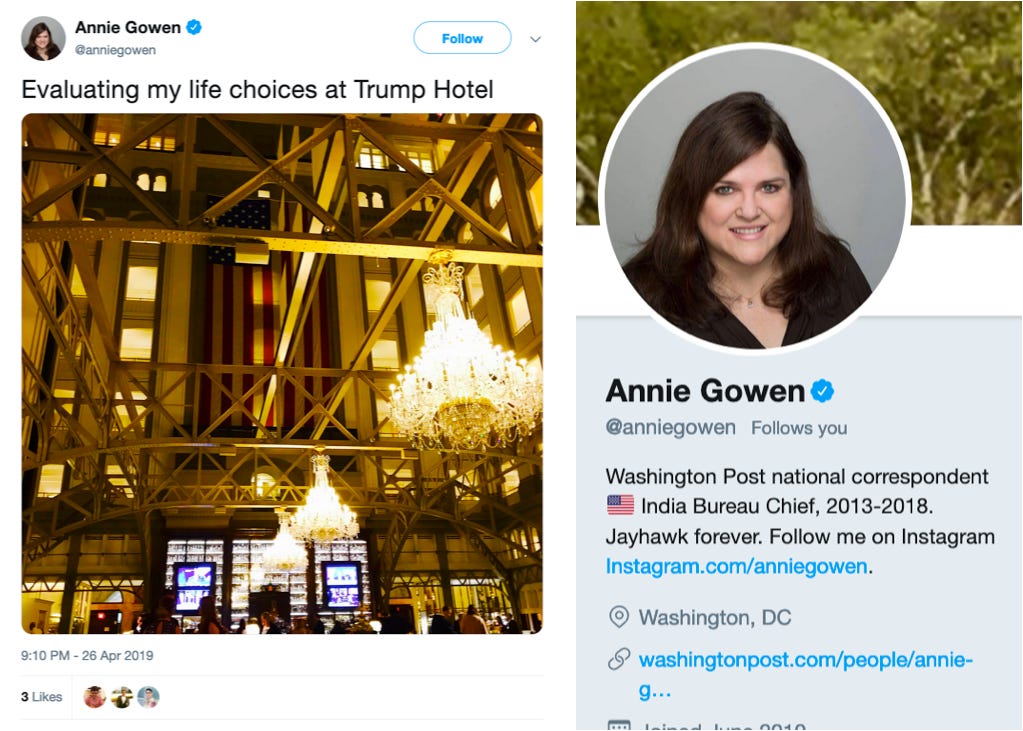 According to the hotel's executive chef, Oliver Beckert, a group ordered at least 98 surf and turfs.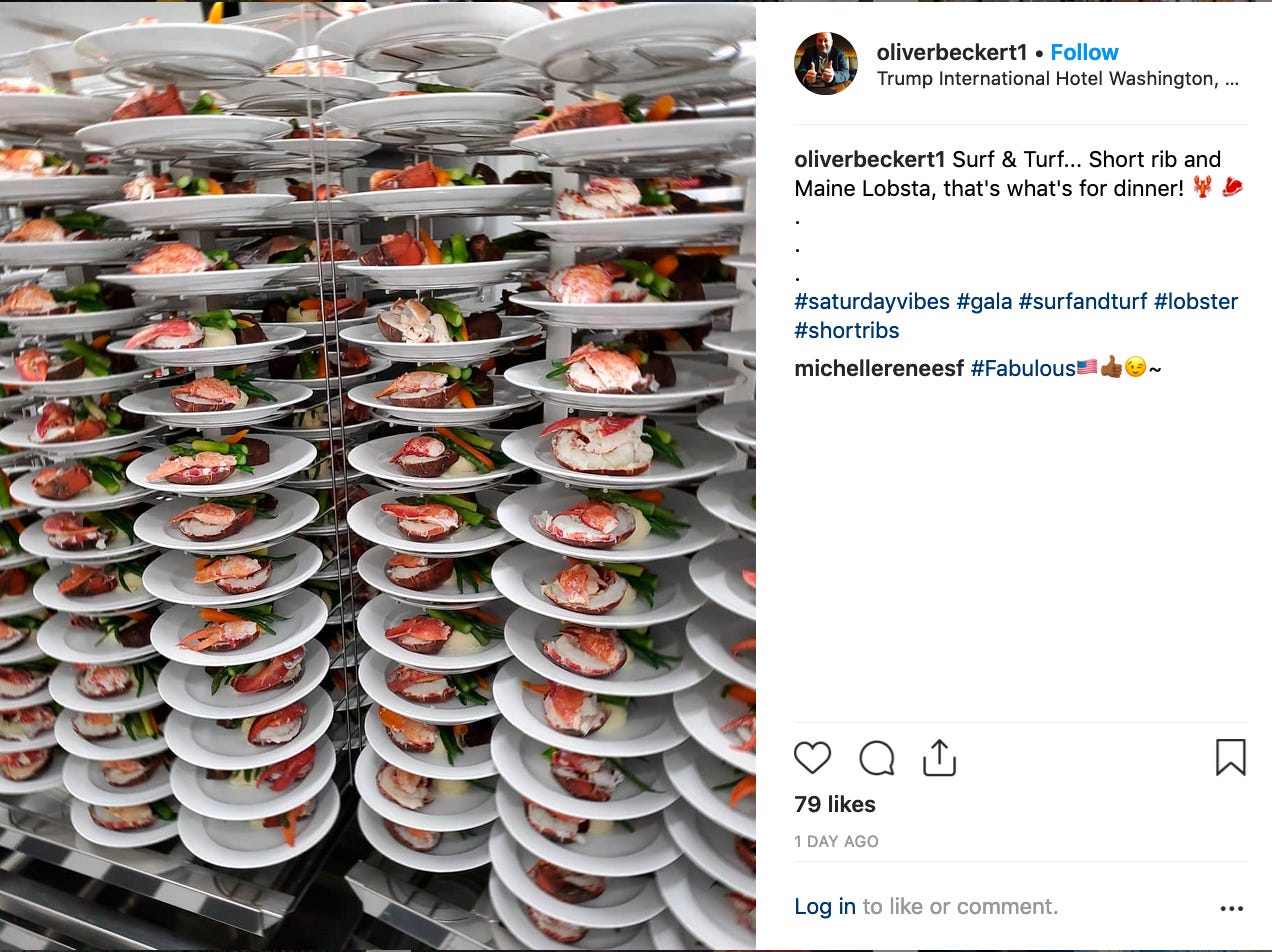 The Trump Hotel Chicago was the setting for another adult video, this time featuring award-winning performers 19Honeysuckle (you're on your own for the link). As 1100 Pennsylvania previously reported, in January, Candie Cane released a video of herself urinating on the carpet there (you're on your own for the link for that one too). Anecdotally, more boudoir-and-up photo shoots take place at the Trump Hotel Chicago than at any of the president's other properties.
---
Other Trump Organization news
---
House investigations, current status (latest changes, April 24, 2019)
---
President Trump chose not to divest; Americans need to know who's paying him
Unlike his predecessors, Donald Trump did not divest his businesses upon becoming U.S. president. Think that may be a problem? Become an 1100 Pennsylvania member, and support reporting on who's spending money at the president's businesses—and what they may be getting in return. Memberships are this newsletter's sole source of revenue. Select the red "Subscribe now" button and become a member by paying just $5 a month or $50 a year. Thank you.
---
Legal cases, current status (latest change, April 22, 2019)
D.C. and MD attorneys general's emoluments lawsuit (district court docket, appellate court docket)—

Official capacity—On Dec. 20, 2018, the 4th U.S. Circuit Court of Appeals ruled it would hear the president's appeal of district court rulings that allowed the case to proceed to discovery, and the appellate court halted discovery in the case. Discovery had started Dec. 3 and was scheduled to run through Aug. 2, 2019, with the AGs having subpoenaed the Trump Organization, including its Scottish golf courses; the U.S. Departments of Agriculture, Commerce, Defense, and Treasury and the GSA; and the state of Maine. Oral arguments on the appeal occurred on March 19; by all accounts the three-judge panel (all Republican appointees, including one who was a selection of President Trump's) were skeptical of the AGs' case. D.C. AG Karl Racine pledged to take the case to the U.S. Supreme Court if necessary.

Individual capacity—On Dec. 14, Trump's personal attorneys appealed the denial of their motion to dismiss the case, also to the 4th U.S. Circuit Court of Appeals. On Dec. 19, the AGs replied to Trump's motion for a stay pending that appeal by voluntarily dismissing the claims against Trump in his "individual capacity to allow the claims against President Trump in his official capacity to move forward expeditiously." (The AGs only brought suit against Trump in his individual capacity after the judge suggested they do so.) Trump's personal attorneys, on Dec. 21, opposed the motion to dismiss at the district level, saying the appeals court now has jurisdiction and accusing the AGs of "gamesmanship."

Democratic senators and representatives' emoluments lawsuit—On Sept. 28, Judge Emmet G. Sullivan ruled that the legislators have standing to sue. Trump's Justice Department attorneys filed an interlocutory appeal on Oct. 22. On Jan. 30, 2019, the plaintiffs' filed a notice of supplemental authority, notifying the court of the GSA inspector general's report that criticized GSA for failing to consider if the Trump Hotel D.C.'s lease was in compliance with the Constitution after Trump became president. Two days later, the president's attorneys argued that the IG's conclusion was not inconsistent with Trump's argument, but that the judge should ignore that report anyway because the IG has no expertise in interpreting or applying the foreign emoluments clause.

CREW et. al's emoluments lawsuit—In February 2018, CREW appealed its suit being dismissed for lack of standing to the 2nd U.S. Circuit Court of Appeals. Oral arguments on that motion were held on Oct. 30.

Cork's unfair competition lawsuit—Judge Richard J. Leon dismissed the case on Nov. 26, 2018, writing "Cork has failed to state a claim for unfair competition under D.C. law." On Dec. 10, Cork's attorneys filed a notice of appeal and on Jan. 10, 2019 they submitted a statement of issues to be raised. A briefing schedule was set on March 5 with Cork's brief due on April 15, the president's brief due on May 15, and Cork's reply to the president's brief due on June 5. On April 11, however, Cork's attorneys requested a 30-day extension, to which Trump's attorneys consented—as did the court the following day.

Employees' class-action suit alleging racial discrimination—Two of the three plaintiffs did not appear at a status hearing on Jan. 25, 2019; their cases were moved to arbitration. Via email, their attorney, A.J. Dhali, said his clients did not appear at the hearing because their case already had been moved to arbitration last year. The next status hearing is scheduled for Oct. 4.
---
Health inspections, current status (latest change, Aug. 10, 2018)
❌Hotel: five violations on May 7, 2018; two were corrected on site

❌BLT Prime and Benjamin Bar: nine violations on Aug. 10, 2018

❌Sushi Nakazawa: two violations on Aug. 10, 2018

✔️Banquet kitchen: no violations on Aug. 10, 2018

❌Pastry kitchen: two violations on Aug. 10, 2018

✔️Gift shop: no violations on May 7, 2018

❌Employee kitchen and in-room dining: five violations on Aug. 10, 2018; two were corrected on site
---
Is the Trump Organization selling merchandise that depicts the White House? (latest change, March 21, 2019)
Yes.
---
One thing that (probably) has nothing to do with Trump's businesses
"The roots of Trumpian agitprop" by Todd Gitlin for The New York Review of Books
---
Thanks for reading. If you like what you saw, tell someone—and support this work by becoming a member. If you've been forwarded this newsletter, subscribe for yourself at zacheverson.substack.com. Questions? Read our FAQ/manifesto. Tips or feedback? Contact me, Zach Everson, securely via email at 1100Pennsylvania@protonmail.com or on Signal at 202.804.2744.