Discover more from 1100 Pennsylvania
"The undisputed expert on the D.C. Trump Hotel" – David Fahrenthold of the Washington Post
Over 3,000 subscribers
Judiciary makes it seven
Judiciary becomes the seventh House committee to investigate Trump's businesses
A seventh House committee is now investigating aspects of President Donald Trump's businesses. On Monday, the House Judiciary committee "served document requests to 81 agencies, entities, and individuals believed to have information relevant to the investigation," according to a statement by the panel.
Among the individuals the committee is requesting documents from
Additionally, the committee served document requests to the Donald J. Trump revocable trust, the Trump Organization, and the nonprofit Trump Foundation.
According to the committee's statement, one of the investigation's main areas is "public corruption, including potential violations of the emoluments clauses of the U.S. Constitution, conspiracy to violate federal campaign and financial reporting laws, and other criminal misuses of official positions for personal gain."
"He seems to have violated the emoluments clause in a lot of different ways and that's one of the things we should be investigating under —under abuses—under abuses of power," Judiciary chair Rep. Jerry Nadler (D–NY) said yesterday to host George Stephanopoulos on ABC News's This Week.
The judiciary committee joins the Financial Services; Foreign Affairs; Intelligence; Oversight and Reform; Transportation and Infrastructure subcommittee on Economic Development, Public Buildings, and Emergency Management; and Ways and Means subcommittee on Oversight. The current status of all of the investigations is, as always, towards the end of today's 1100 Pennsylvania.
May 1, 2018 was an interesting day in the president's hotel's lobby
None of these sightings are new—and no evidence was found that these people interacted—but Instagram posts from May 1, 2018 yielded an interesting trio of Trump World notables hanging out in the lobby: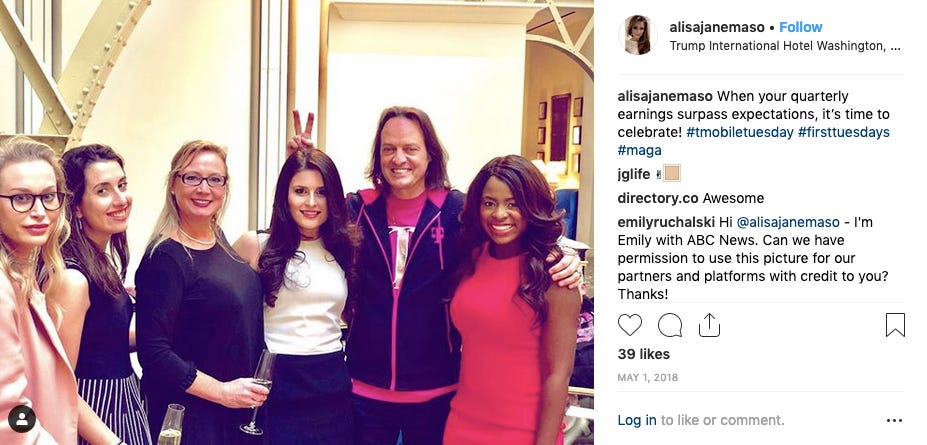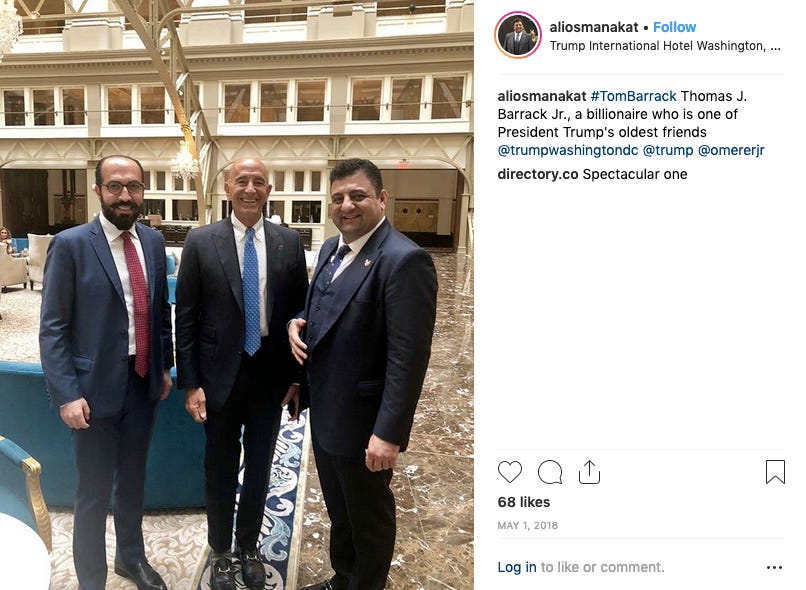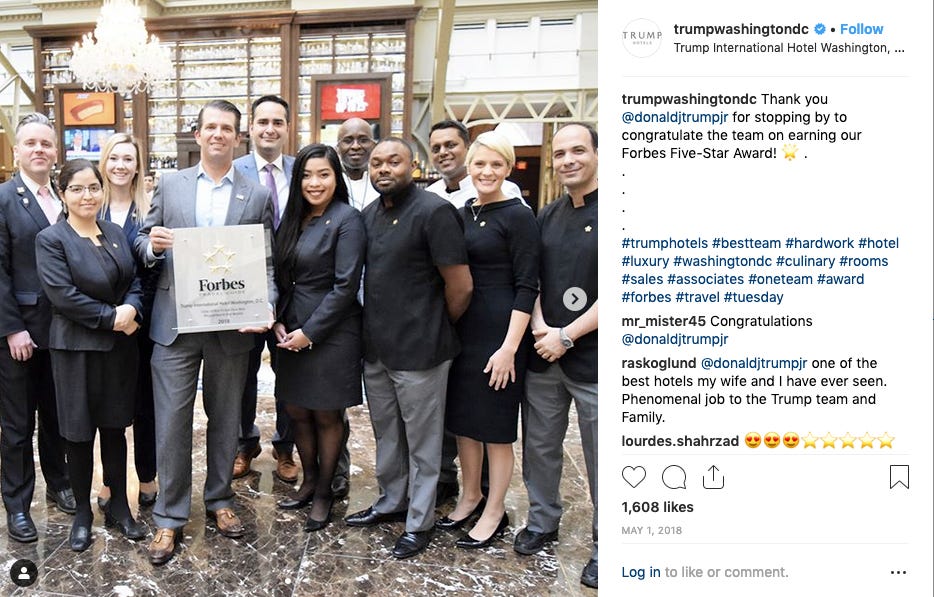 President Trump plugged one of his golf courses
Saturday morning, President Trump promoted one of his Scottish golf courses on Twitter, arguing that his ownership of a club on foreign soil is good for the nation. Last week a court in Scotland ruled that the U.S. president's business had to pay the Scottish government's legal bills from a dispute he initiated over wind turbines.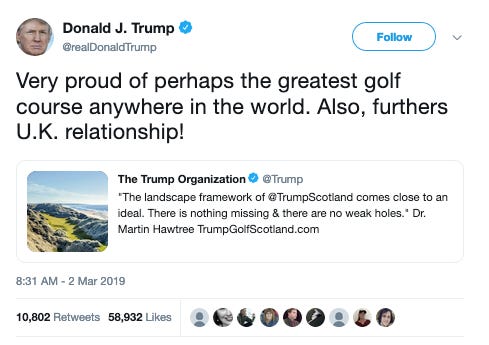 Kuwait invited a third congressman suing Trump over emoluments to the Trump Hotel D.C.
Rep. Ted Lieu (D–CA) is at least the third congressman Kuwait invited to its national day celebration last week at the Trump Hotel D.C. who's also a plaintiff in an emoluments lawsuit v. President Trump. All three lawmakers declined the invitation. (Rep. Marcy Kaptur (D–OH) and Rep. Steve Cohen (D–TN) were the other two.)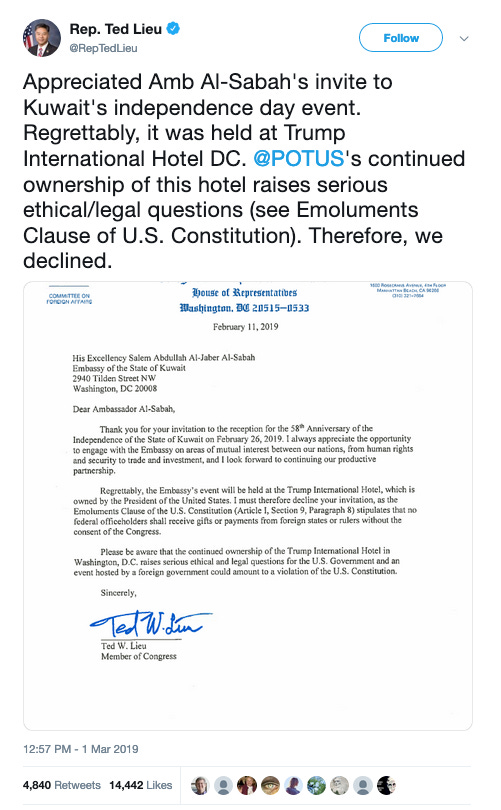 Noteworthy sightings
An economist at Zimbabwe's ministry of finance, Patrick Tuluzawu, posed behind the Trump Hotels logo.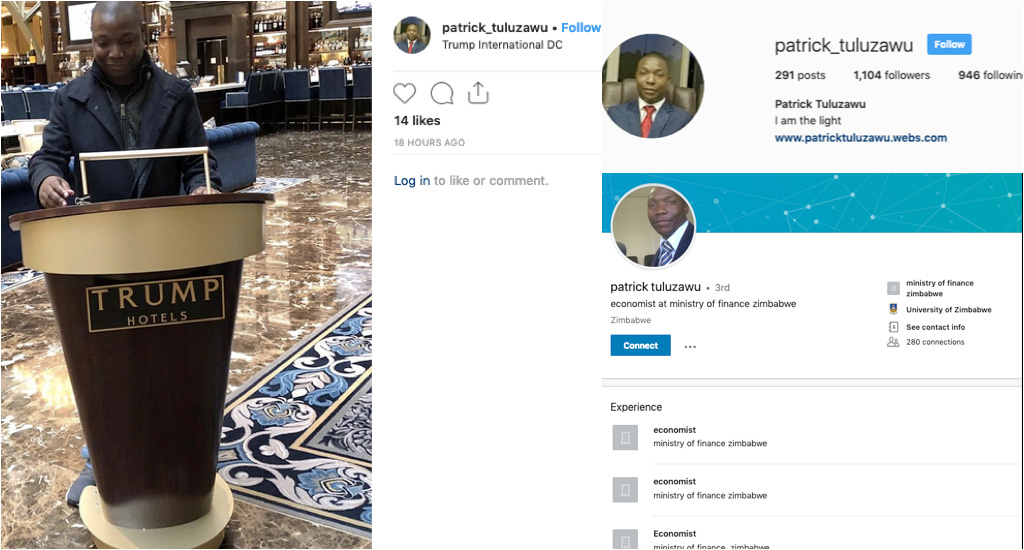 Policy advisor for the pro-Trump nonprofit America First Policies, Martha Boneta, visited with Trump Org EVP/first son/great American, Donald Trump Jr. on Friday.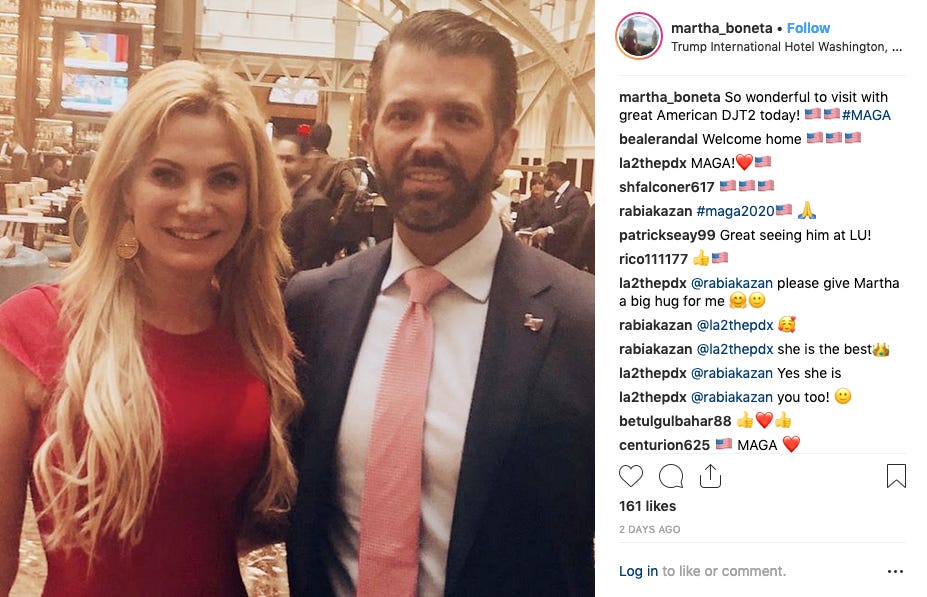 A chief petty officer in the U.S. Navy, Brad Davis, celebrated his wife's birthday at the commander-in-chief's hotel.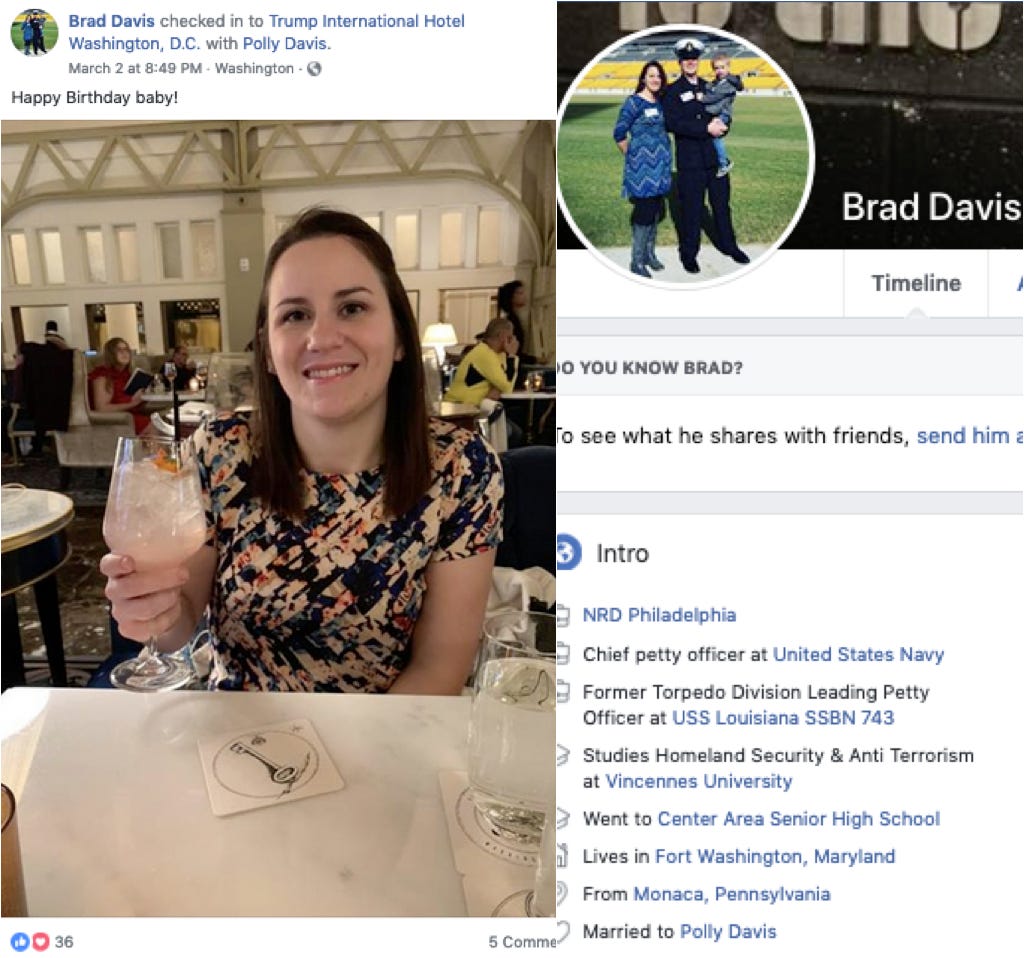 A midshipman at the U.S. Naval Academy, Ethan Hardt, also was at the commander-in-chief's hotel post CPAC.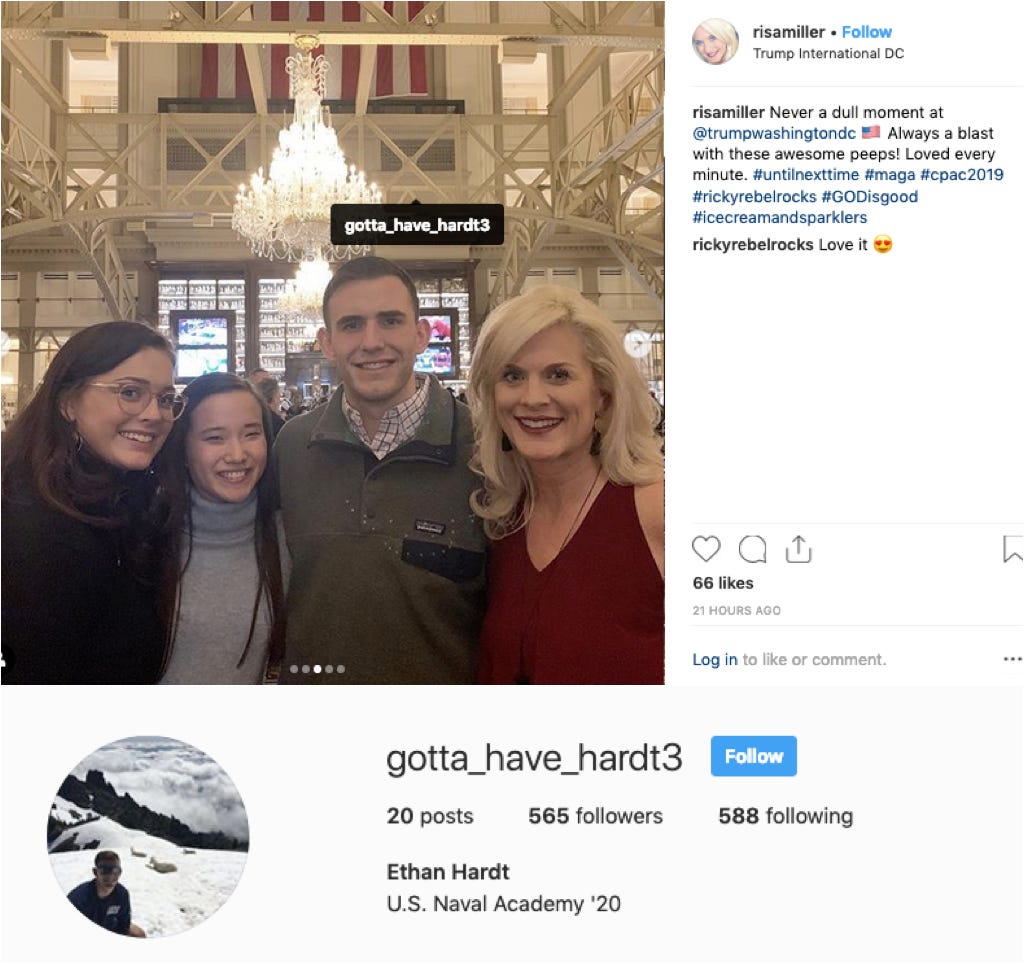 After CPAC, U.S. Army recruiter Kevin Brown drank a beer at the commander-in-chief's hotel and posed with Turning Point USA's director of high school outreach and pro-gun advocate, Kyle Kashuv; Turning Point's director of urban engagement, Brandon Tatum; and conservative YouTuber Austen "Fleccas" Fletcher.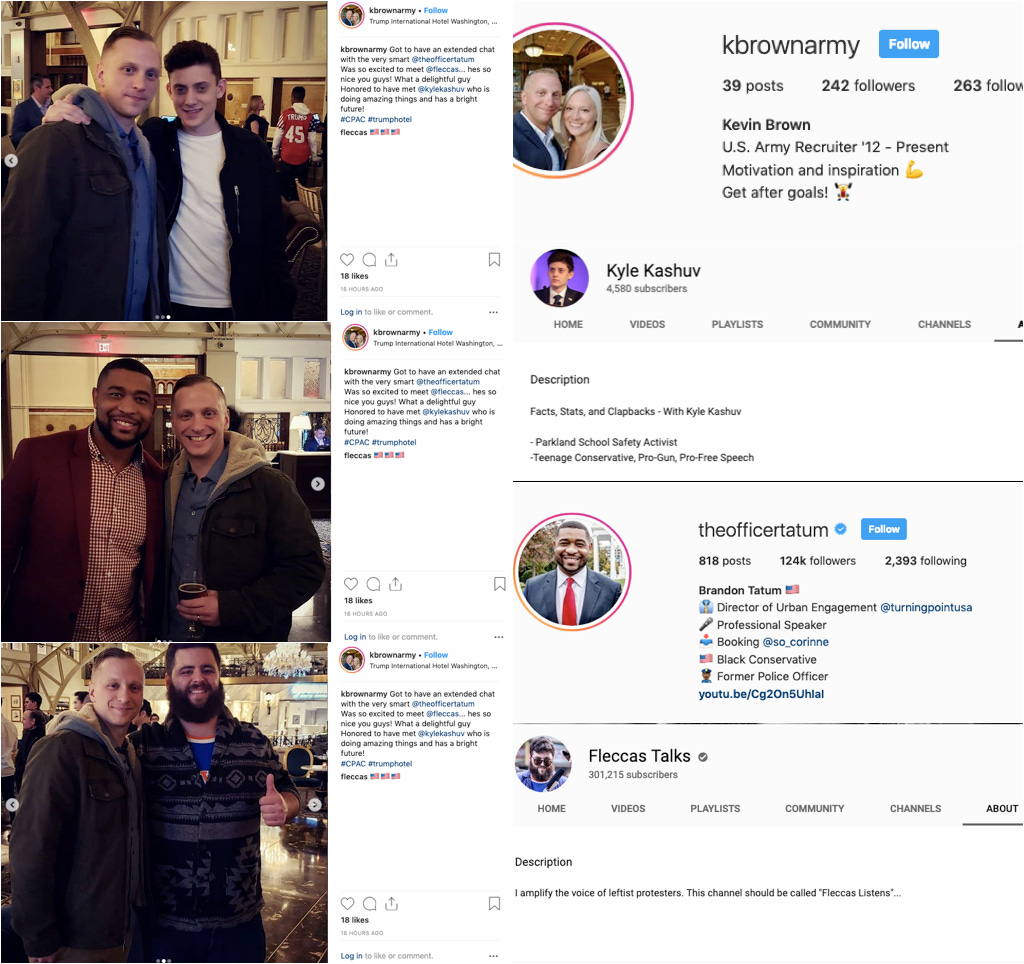 U.S. Army reserve technology specialist Morgan Kombarow was at the commander-in-chief's hotel where he declared alt-right media personality Mike Cernovich a good person. Cernovich promoted pizzagate.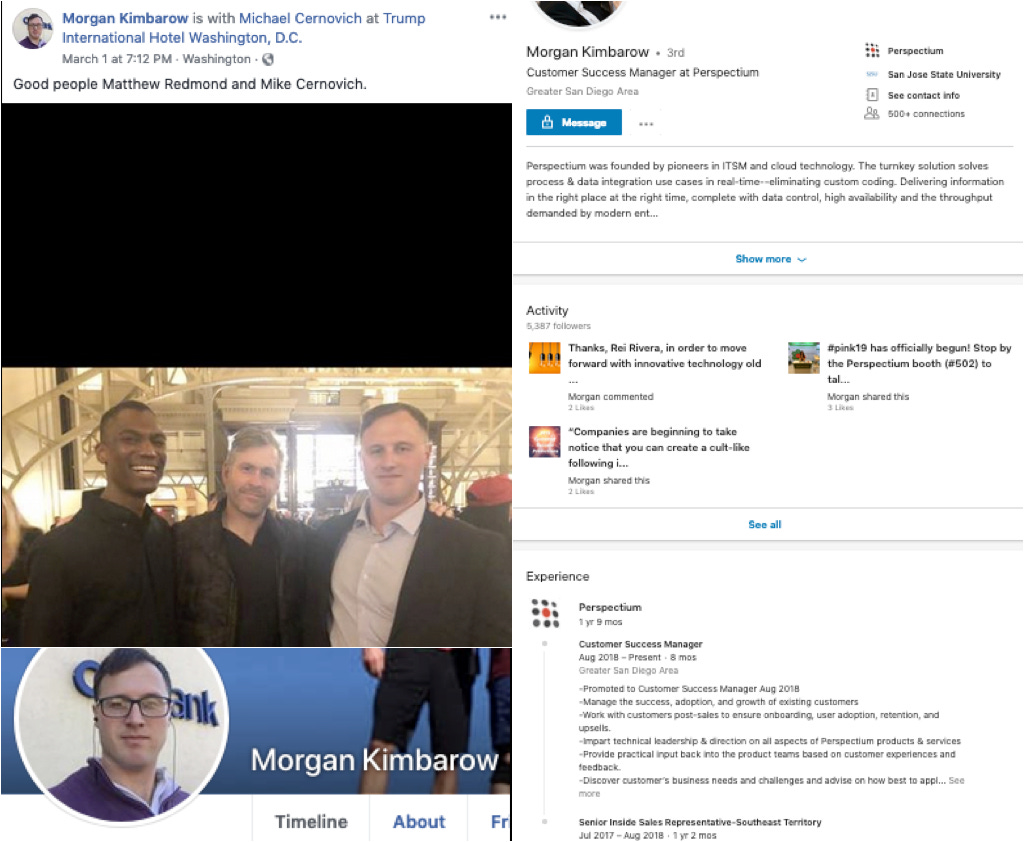 Minnesota GOP congressional district 3 vice chair and Minnesota RNC Trump national delegate, Sheri Auclair, tipped $45 at the Trump Hotel D.C. because its owner is the 45h president of the United States.
Infowars contributor Paul Joseph Watson, Blaze TV's Eric Bolling, and the unsuccessful GOP candidate for Maxine Waters' congressional seat, Omar Navarro, were among the "many diverse beautiful and intelligent people at CPAC" singer Ricky Rebel met. CPAC was at the Gaylord National Resorts; the encounters showed here occurred at the Trump Hotel D.C., 10.8 miles away.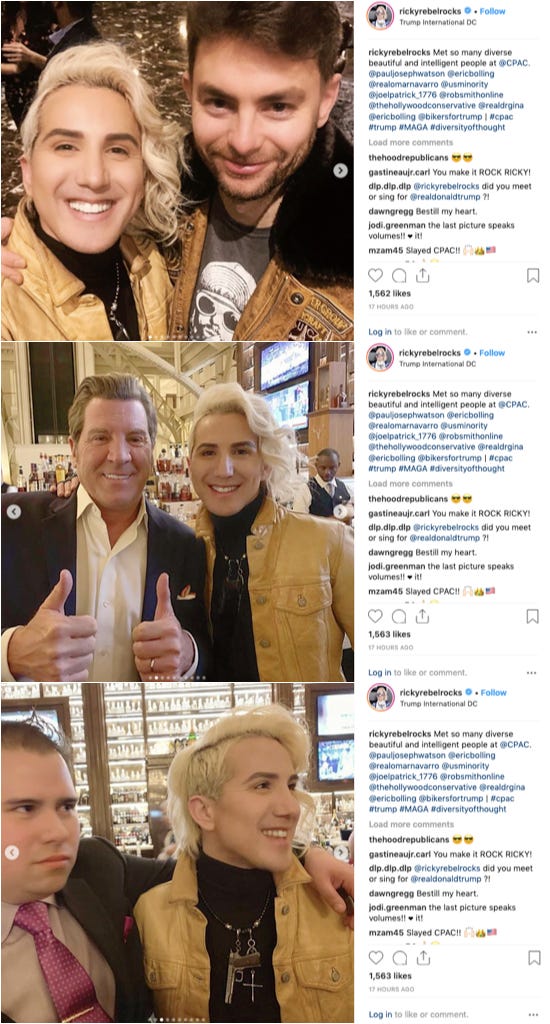 The director of urban engagement at Turning Point USA, Brandon Tatum, was another great person at the Trump Hotel D.C. Trump properties are popular venues for Turning Point events and for members to just hang out…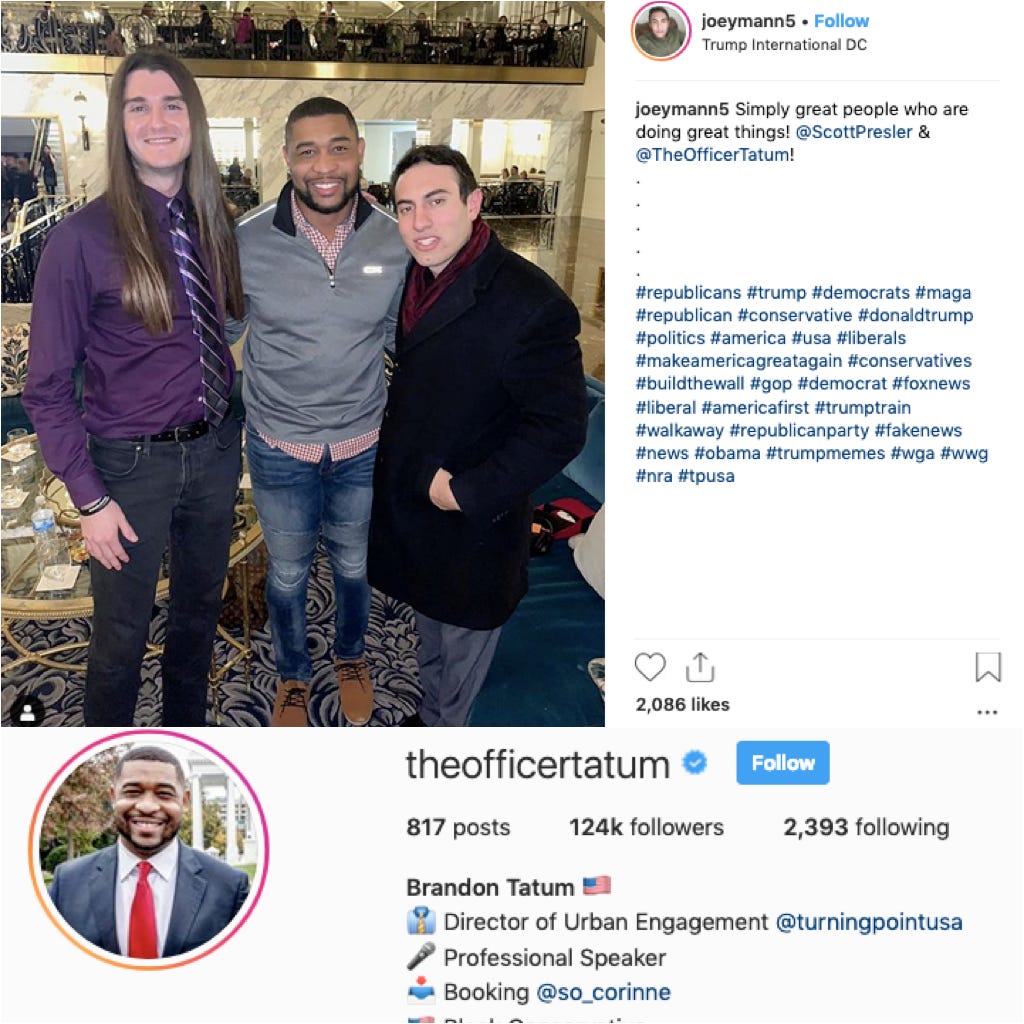 …for example, at least three of these "conservative kids out and about" are involved with Turning Point USA on their campuses…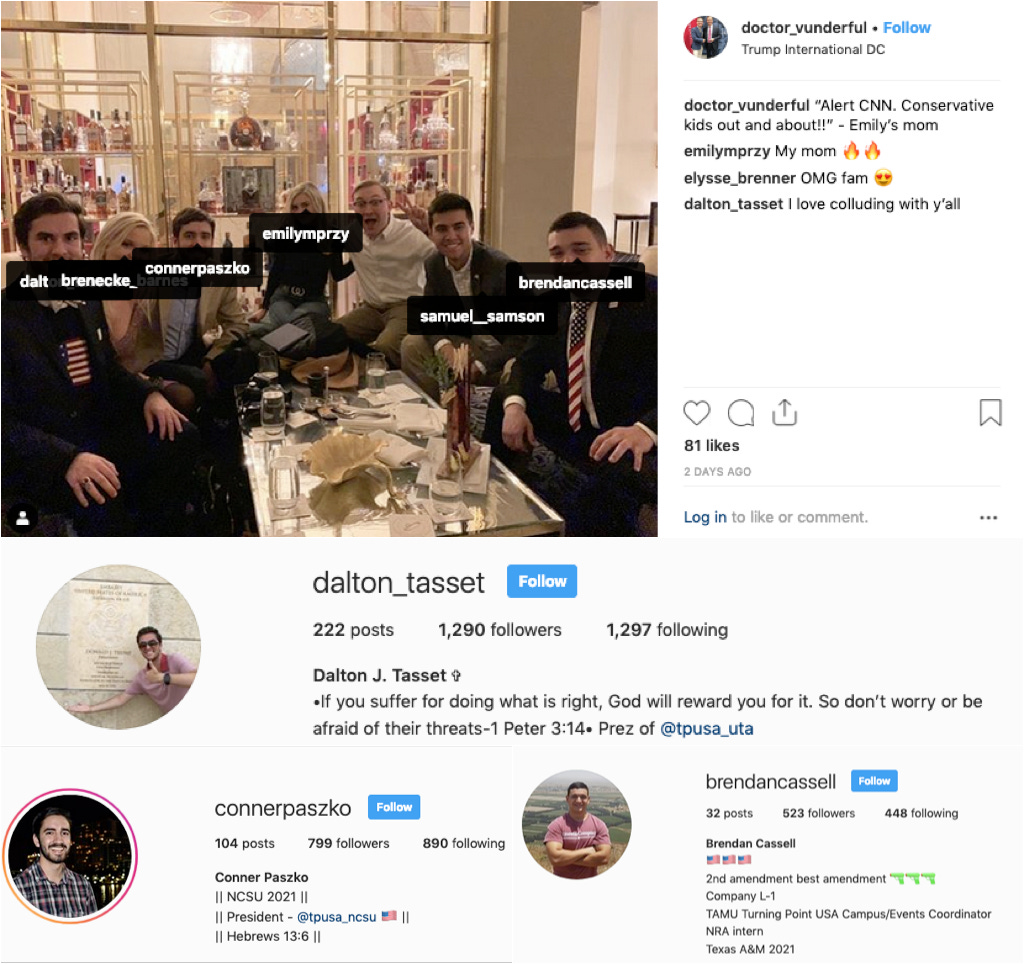 …and Turning Point USA's director of communications Candace Owens recently held her engagement party at the president's hotel, according to Cockburn for Spectator USA [h/t @mrspanstreppon]

A public affairs intern who lobbies in the Minnesota legislature and also is the vice chair metro for the state College Republicans and vice chair of the College Republicans at the University of Minnesota, Megan Olson, felt patriotic at the U.S. president's hotel.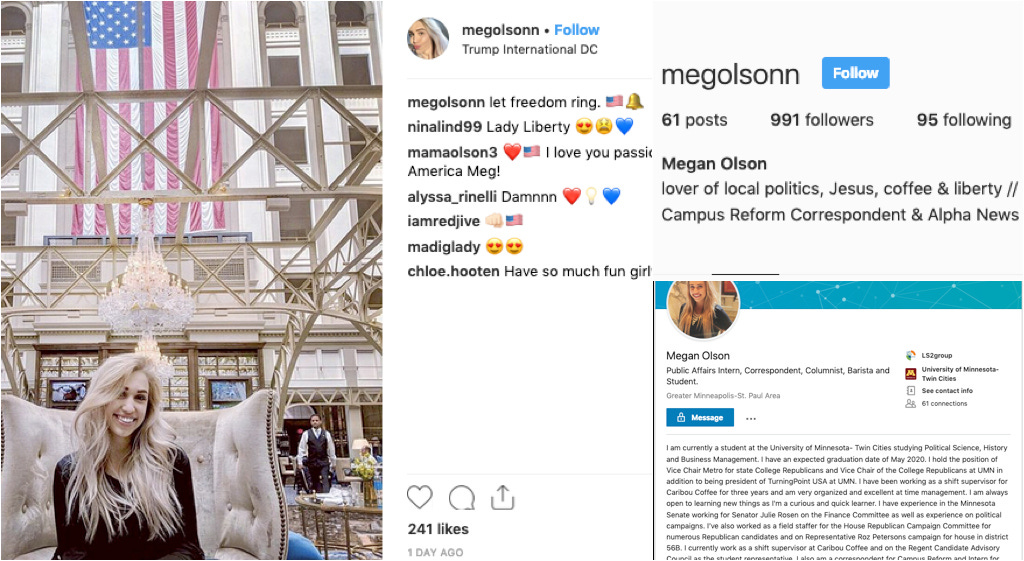 A "California State Surrogate for Donald J. Trump at President-Elect Donald J. Trump Inc," Shirley Husar, spent time at the Trump Hotel D.C. post CPAC.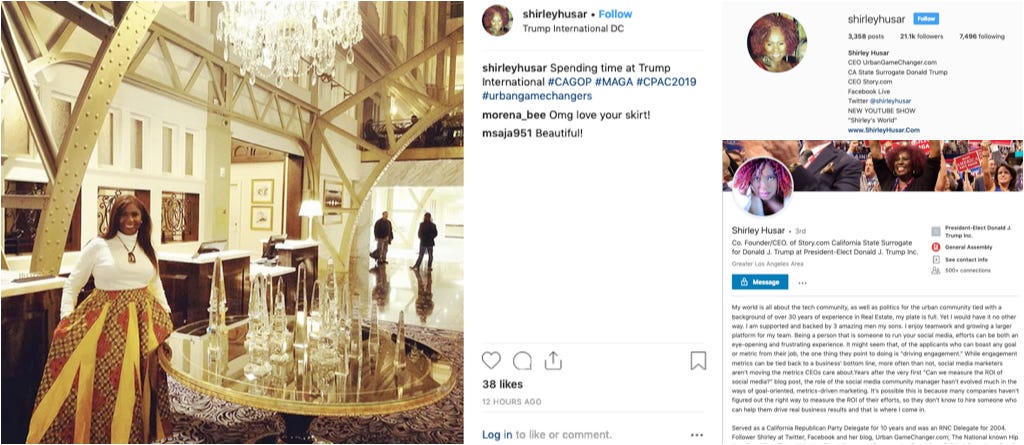 The president of lobbying firm the Da Vinci Group, Mark Smith, a Trump Hotel D.C. regular, had "another wonderful night with loved ones," inducing Ally Hibben who apparently works at both the House of Representatives and, wait for it, Turning Point USA.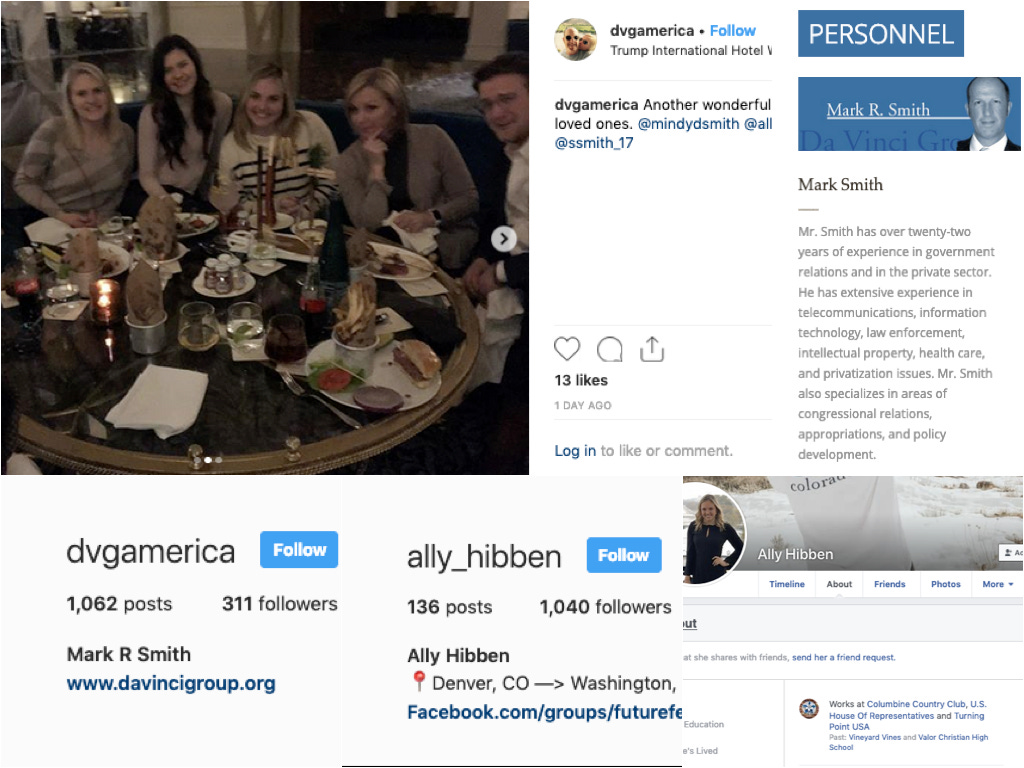 In sum, political consultant and lobbyist David Spady just found it "very Trump at the Trump hotel tonight."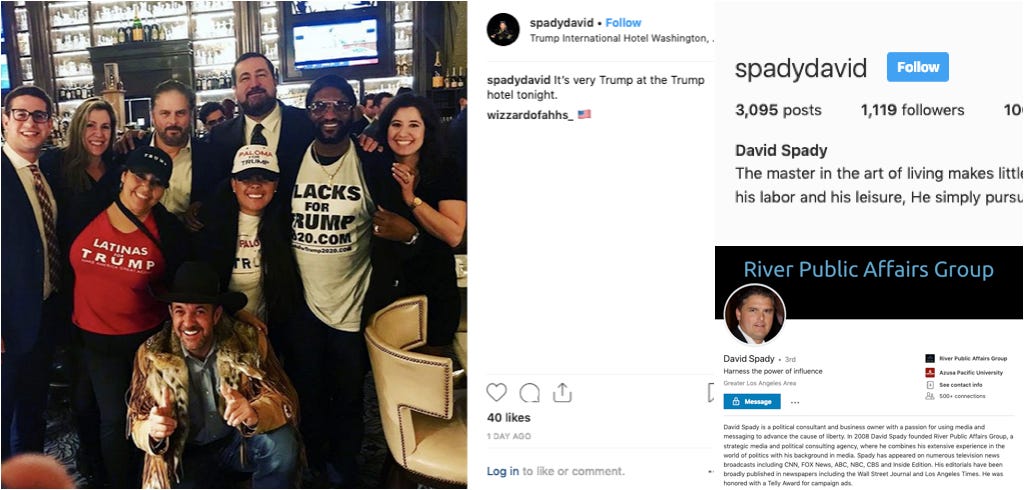 Other Trump Organization news
House investigations, current status (latest changes, March 4, 2019)
Legal cases, current status (latest change, Feb. 22, 2019)
D.C. and MD attorneys general's emoluments lawsuit (district court docket, appellate court docket)—

Official capacity—On Dec. 20, 2018, the 4th U.S. Circuit Court of Appeals ruled it would hear the president's appeal of district court rulings that allowed the case to proceed to discovery, and the appellate court halted discovery in the case. Discovery had started Dec. 3 and was scheduled to run through Aug. 2, 2019, with the AGs having subpoenaed the Trump Organization, including its Scottish golf courses; the U.S. Departments of Agriculture, Commerce, Defense, and Treasury and the GSA; and the state of Maine. Oral arguments on the appeal are scheduled for March 19. The AGs filed their brief opposing the president's appeal on Feb. 6, stating, "The President is not entitled to an order requiring the district court to certify for interlocutory review its denial of his motion to dismiss. No court has ever issued such relief." Trump's DOJ attorneys replied on Feb. 21: "Plaintiffs fundamentally err, substantively and procedurally."

Individual capacity—On Dec. 14, Trump's personal attorneys appealed the denial of their motion to dismiss the case, also to the 4th U.S. Circuit Court of Appeals. On Dec. 19, the AGs replied to Trump's motion for a stay pending that appeal by voluntarily dismissing the claims against Trump in his "individual capacity to allow the claims against President Trump in his official capacity to move forward expeditiously." (The AGs only brought suit against Trump in his individual capacity after the judge suggested they do so.) Trump's personal attorneys, on Dec. 21, opposed the motion to dismiss at the district level, saying the appeals court now has jurisdiction and accusing the AGs of "gamesmanship."

196 Democratic senators and representatives' emoluments lawsuit—On Sept. 28, Judge Emmet G. Sullivan ruled that the legislators have standing to sue. Trump's Justice Department attorneys filed an interlocutory appeal on Oct. 22. On Jan. 30, 2019, the plaintiffs' filed a notice of supplemental authority, notifying the court of the GSA inspector general's report that criticized GSA for failing to consider if the Trump Hotel D.C.'s lease was in compliance with the Constitution after Donald Trump became president. Two days later, the president's attorneys argued that the IG's conclusion was not inconsistent with Trump's argument, but that the judge should ignore that report anyway because the IG has no expertise in interpreting or applying the foreign emoluments clause.

CREW et. al's emoluments lawsuit—In February 2018, CREW appealed its suit being dismissed for lack of standing to the 2nd U.S. Circuit Court of Appeals. Oral arguments on that motion were held on Oct. 30.

Cork's unfair competition lawsuit—Judge Richard J. Leon dismissed the case on Nov. 26, 2018, writing "Cork has failed to state a claim for unfair competition under D.C. law." On Dec. 10, Cork's attorneys filed a notice of appeal and on Jan. 10, 2019 they submitted a statement of issues to be raised. The next steps, which don't yet have a timeline, include setting a briefing schedule and both sides filing appellate briefs.

Employees' class-action suit alleging racial discrimination—Two of the three plaintiffs did not appear at a status hearing on Jan. 25, 2019; their cases were moved to arbitration. Via email, their attorney, A.J. Dhali, said his clients did not appear at the hearing because their case already had been moved to arbitration last year. The next status hearing is scheduled for Oct. 4.
Health inspections, current status (latest change, Aug. 10, 2018)
❌Hotel: five violations on May 7, 2018; two were corrected on site

❌BLT Prime and Benjamin Bar: nine violations on Aug. 10, 2018

❌Sushi Nakazawa: two violations on Aug. 10, 2018

✔️Banquet kitchen: no violations on Aug. 10, 2018

❌Pastry kitchen: two violations on Aug. 10, 2018

✔️Gift shop: no violations on May 7, 2018

❌Employee kitchen and in-room dining: five violations on Aug. 10, 2018; two were corrected on site
One thing that has nothing to do with Trump's businesses (I think, tough to tell sometimes!)
Former White House staffer and now a former Fox News contributor too, Sebastian Gorka agrees with Kimberly Guilfoyle: Donald Trump Jr. has great teeth.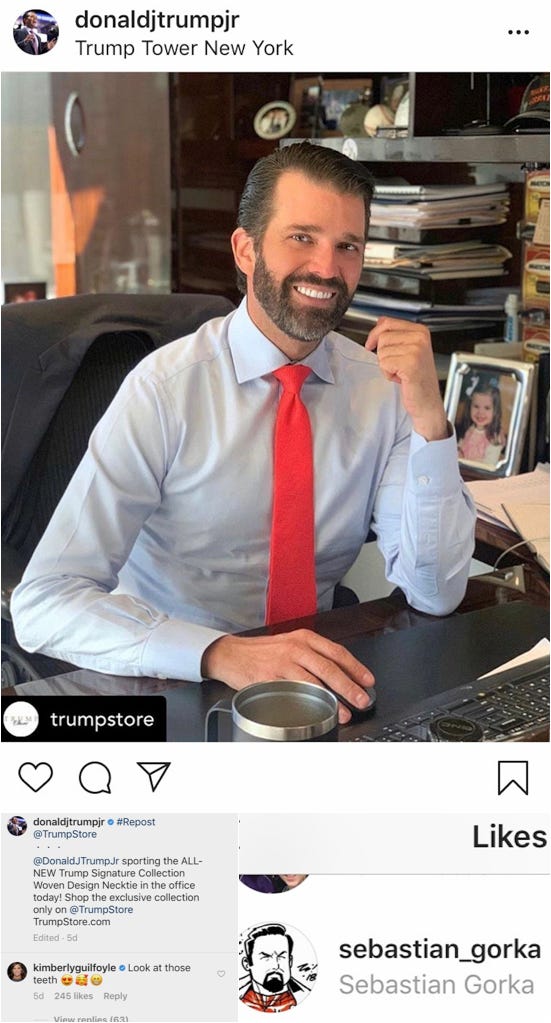 Thanks for reading. If you like what you see, tell someone—and support this work by becoming a paying member ($5/month or $50/year). If you've been forwarded this newsletter, subscribe for yourself at zacheverson.substack.com. Questions? Read our FAQ/manifesto. Tips or feedback? Contact me, Zach Everson, securely via email at 1100Pennsylvania@protonmail.com or on Signal at 202.804.2744.