Discover more from 1100 Pennsylvania
"The undisputed expert on the D.C. Trump Hotel" – David Fahrenthold of the Washington Post
Over 3,000 subscribers
Kuwaiti embassy party confirmed, Trump visits
Welcome to 1100 Pennsylvania, a newsletter devoted to President Donald Trump's Trump International Hotel Washington, D.C. (and his other companies). President Trump, of course, still owns his businesses and can profit from them.
If you like what you see, tell someone—and support this work by paying for a subscription. If you've been forwarded this newsletter, subscribe for yourself at zacheverson.substack.com. Questions? Read our FAQ/manifesto. Tips or feedback? Contact me, Zach Everson, securely via email at 1100Pennsylvania@protonmail.com or on Signal at 202.804.2744.
Guest confirms Kuwaiti embassy independence day party will be at hotel
Yesterday, a person invited to the Kuwaiti embassy in D.C.'s independence day celebration confirmed that the location is in fact at the Trump Hotel D.C. next month. On Sunday, Twitter user @OpWolverines posted a photo of what appeared to be an invite to the reception, which 1100 Pennsylvania reported on later that day. Shortly thereafter, and speaking anonymously because "D.C. is too small of a town," a person invited to the party verified its authenticity to 1100 Pennsylvania.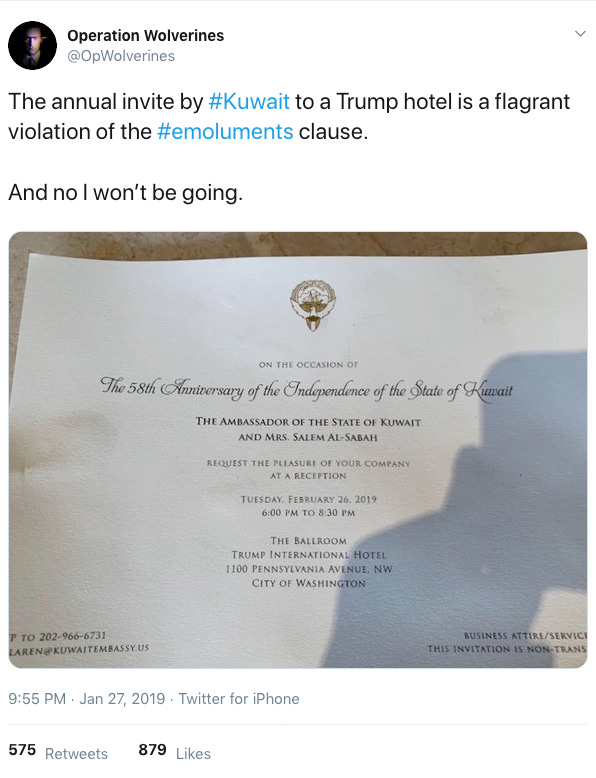 The Kuwaiti embassy has not replied to multiple requests for comment.
2019 will be the third year in a row that Kuwait celebrates its freedom by spending money a hotel owned by the U.S. president. In 2017, Reuters estimated Kuwait's event could cost between $40,000 and $60,000.
Lawsuits filed by the D.C. and Maryland attorneys general, as well as 196 Democratic members of the last Congress cited Kuwait's previous independence day celebrations as examples of President Trump violating the U.S. Constitution's Foreign Emoluments clause. It reads,
No Title of Nobility shall be granted by the United States: And no Person holding any Office of Profit or Trust under them, shall, without the Consent of the Congress, accept of any present, Emolument, Office, or Title, of any kind whatever, from any King, Prince, or foreign State.
From the D.C. and Maryland AGs' suit: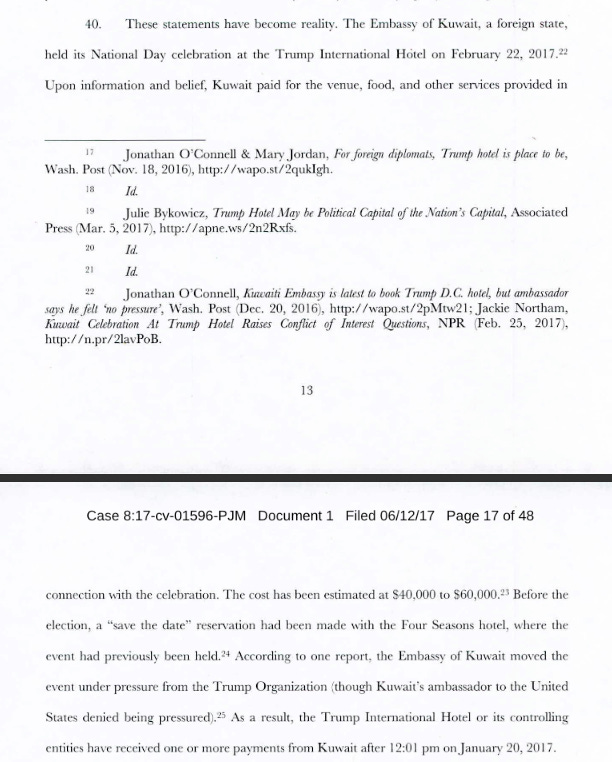 And from the Democratic Senators and Representatives' lawsuit: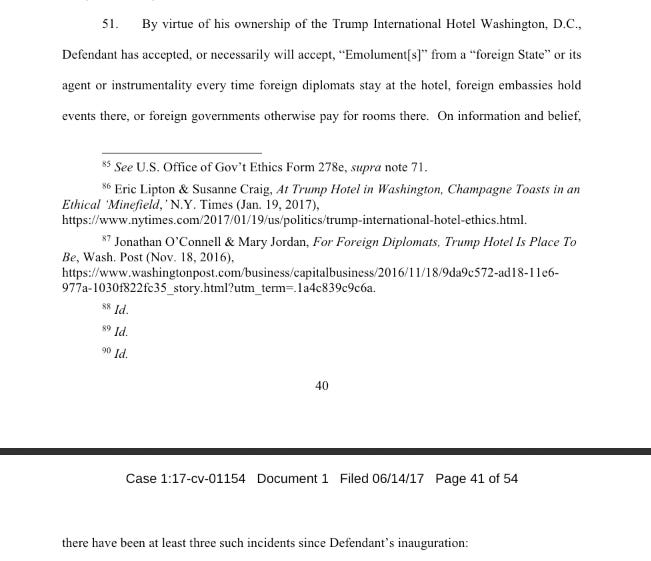 The Kuwaiti embassy's website shows a picture of its ambassador, Sheikh Salem al-Sabah, posing with Treasury Sec. Steve Mnuchin at the 2017 celebration. (Mnuchin was a hotel resident at the time.) And, per the site, "a large number of U.S. senior officials, congress members, academics, business leaders, and public figures as well as diplomats" attended the celebration.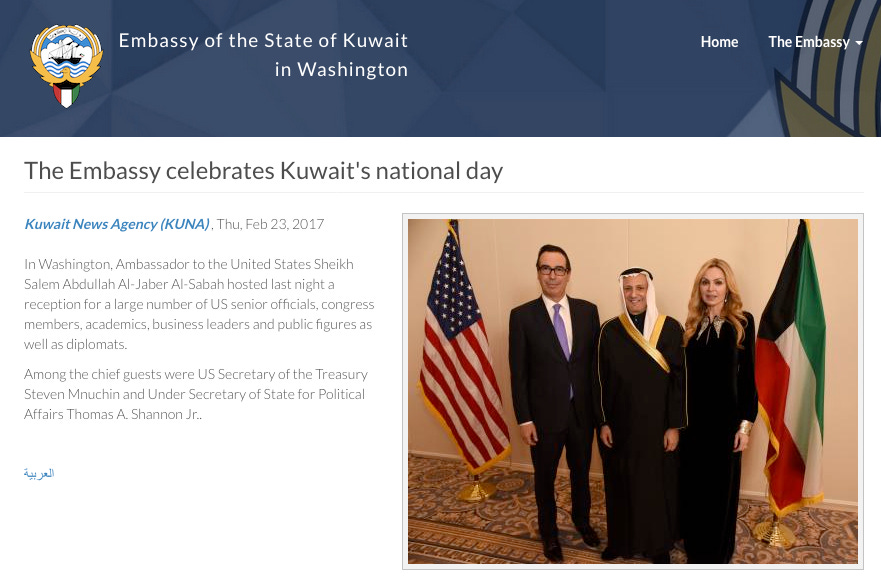 As for 2018, the Kuwaiti embassy points out that Commerce Sec. Wilbur Russ, VA Sec. David Shulkin, and counselor to the president Kellyanne Conway appeared at the event in their boss's hotel. Other guests included Rep. Ed Royce (R–CA) and Saudi Arabia's defense attaché to the United States. And while not spotted at the party, Donald Trump Jr. was seen in his hotel's lobby that evening.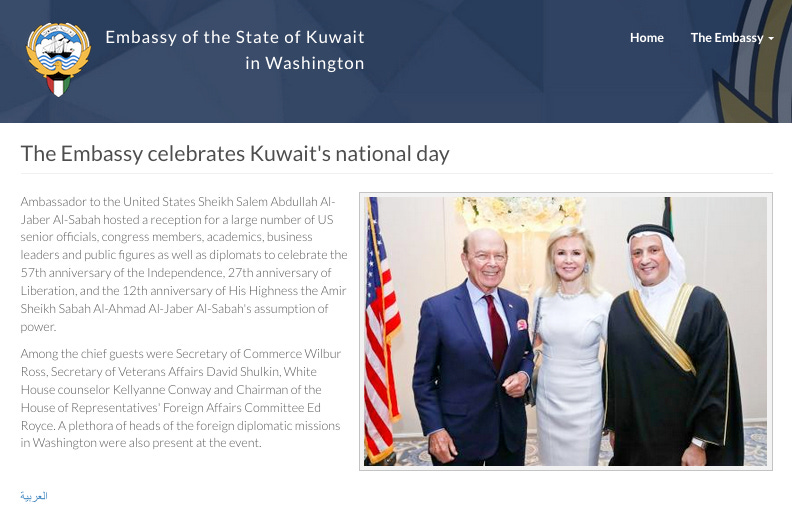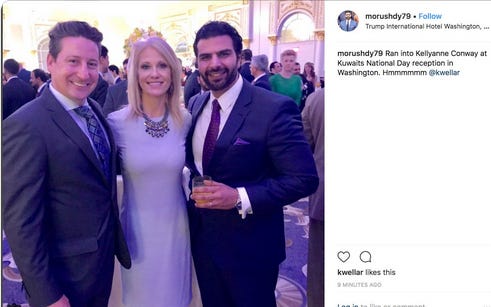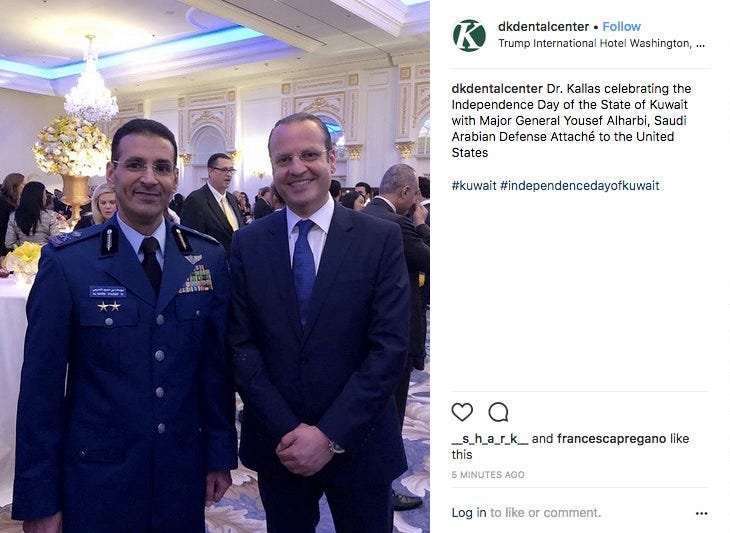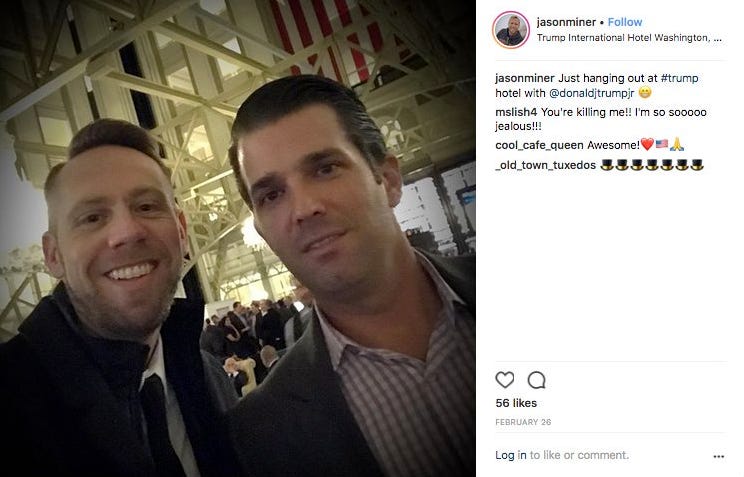 Trump raises funds, dines at his hotel
President Trump called on his Trump Hotel D.C. last night to attend a fundraiser and then dine at BLT Prime. The visit ended a 65-day absence from his properties, the longest such stretch of his term (and possibly of his life going back to around 1983 when he moved into Trump Tower).
According to the White House, Trump attended the MAGA Leadership Summit, a fundraiser hosted by the Vice President Mike Pence-chaired Great America Committee PAC.
Or, to put it another way, the president was at his hotel to appear at a fundraiser his vice president was hosting that benefited their re-election and the Trump Organization.
While leaving the restaurant, Trump reportedly made a foreign-policy proclamation, telling Ilham Ehmed of the Syrian Democratic Council, the political wing of the Kurdish fighters in Syria, "Don't worry, I love the Kurds." [H/T Laura Rozen] (The tweet has been deleted, but a version of it remained in your correspondent's Tweetdeck, hence the narrow formatting.) To make clear, the sourcing here is an unverified report on a since-deleted tweet. But, at the Trump Hotel D.C., it's a conversation that's possible!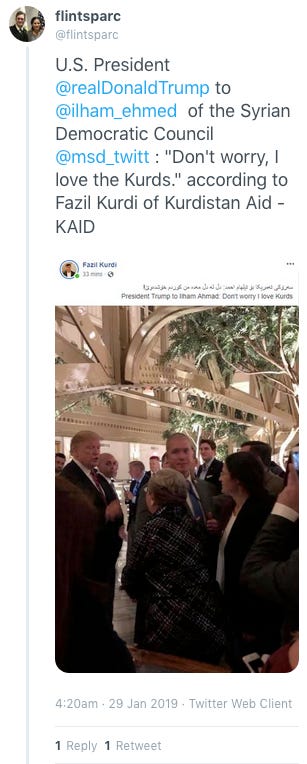 Anyway, Trump dined at BLT Prime with Pence, Mnuchin, and Sen. Lindsey Graham (R–S.C.), according to Nikki Schwab of The New York Post. In November 2017, Trump promised to start eating at D.C. restaurants other than his own. Yet there's no report of him ever having done so in the two-plus years of his term.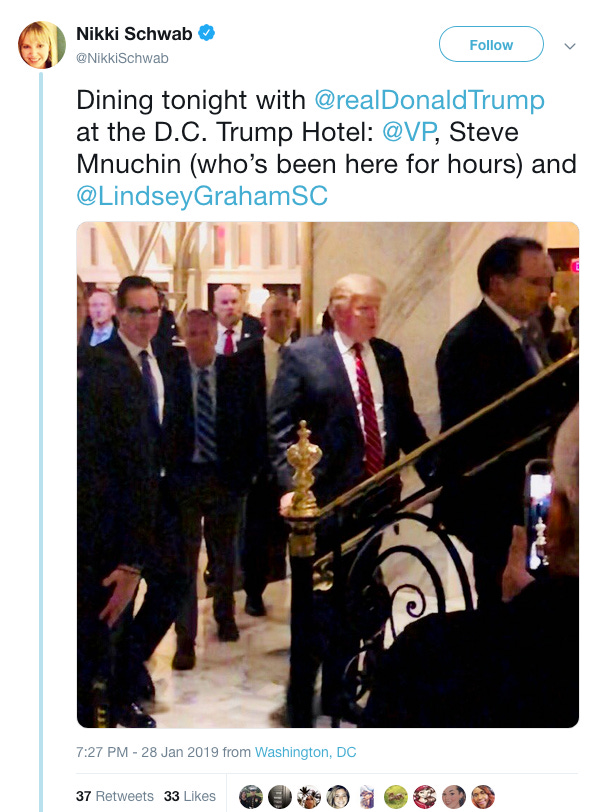 Noted plagiarist turned star journalist for The Daily Caller, Benny Johnson happened to be a few tables over from Trump and noted that Mnuchin's chief of staff, Eli Miller, also ate with the president.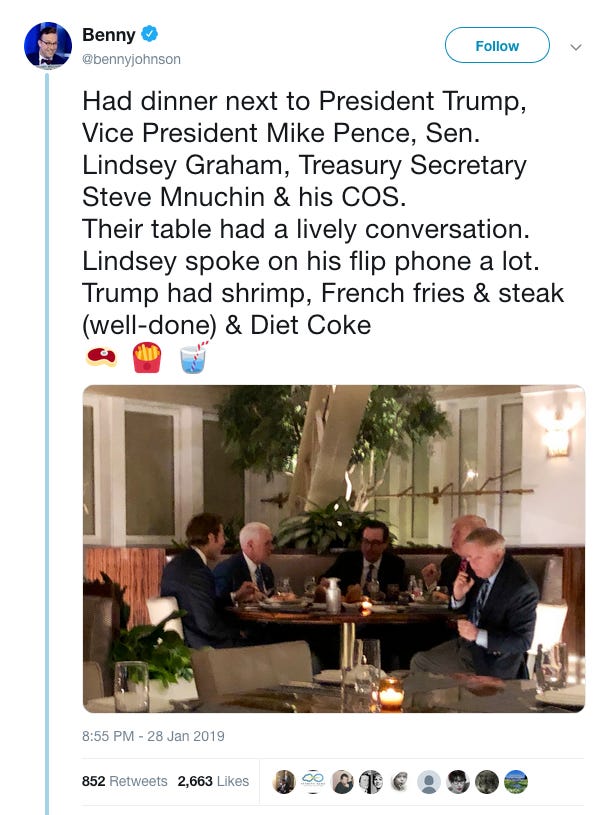 Schwab also reported that Jill Kelley, who was involved in David Petraeus scandal, was dining at the hotel while Trump was present. In Nov. 2017, Kelley supposedly tried to land a spot in the Trump administration by throwing an anniversary celebration for Trump's election at the Trump Hotel D.C., per Elaina Plott, then of The Washingtonian.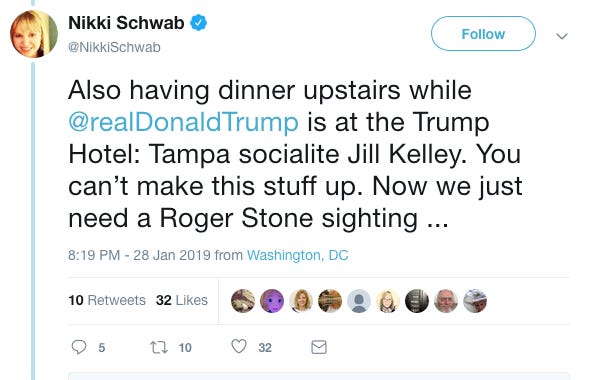 Former Trump 2016 campaign manager Corey Lewandowski was at the hotel again last night too and greeted his former boss as he left the restaurant, according to Schwab.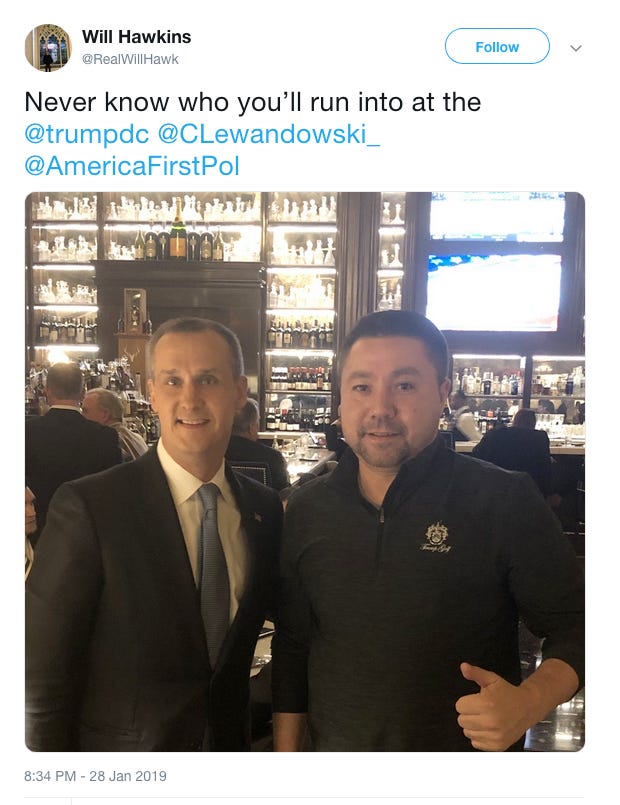 Former Breitbart London editor-in-chief and current ally of Nigel Farage and Steve Bannon, Raheem Kassam, reportedly spoke briefly with Trump, coincidentally about Nigel Farage.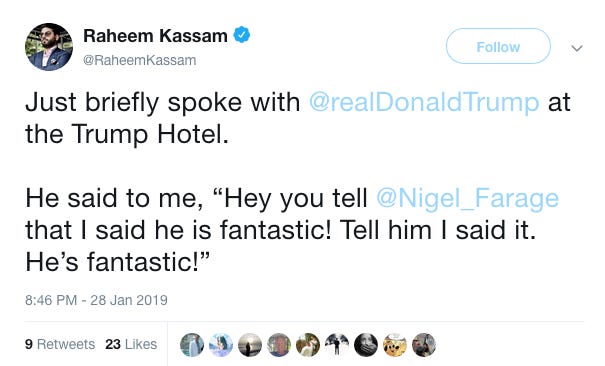 The U.S. president shook hands with his clients (some of whom weren't pro-Kurdish politicians) on the way out and thanked them. [Select the link for the video.]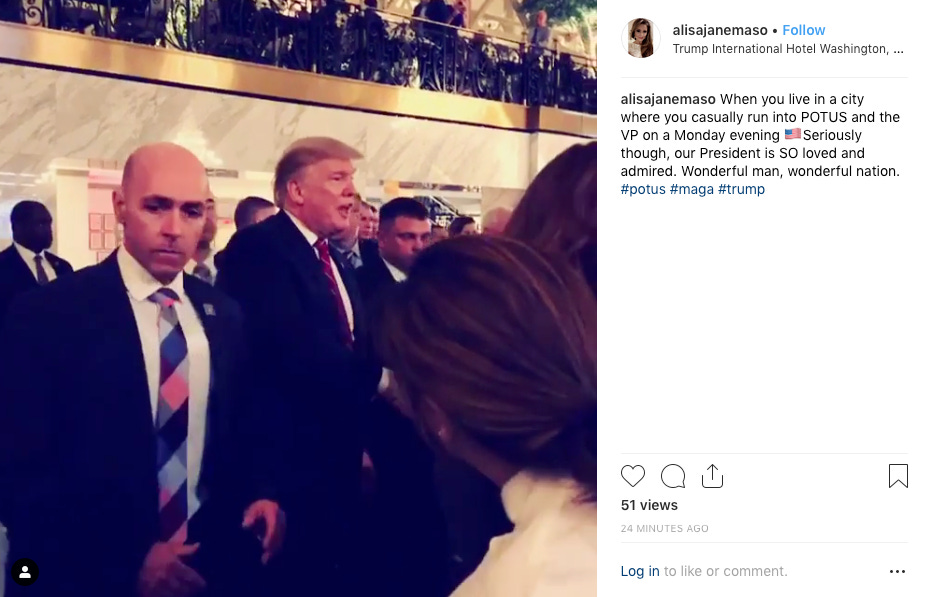 Pence and Graham shared a laugh with Johnson. (A few hundred journalists lost their jobs last week; Johnson was not one of them.)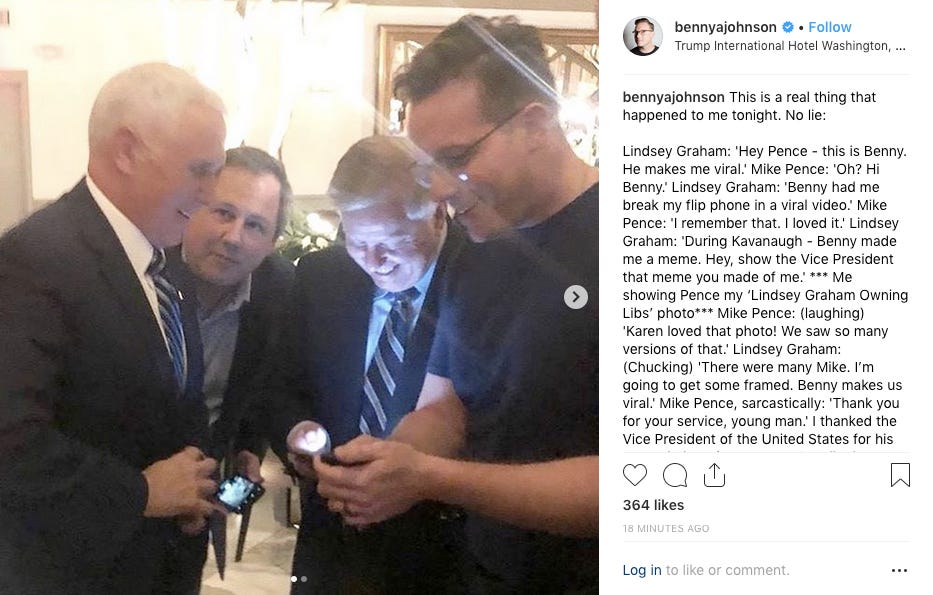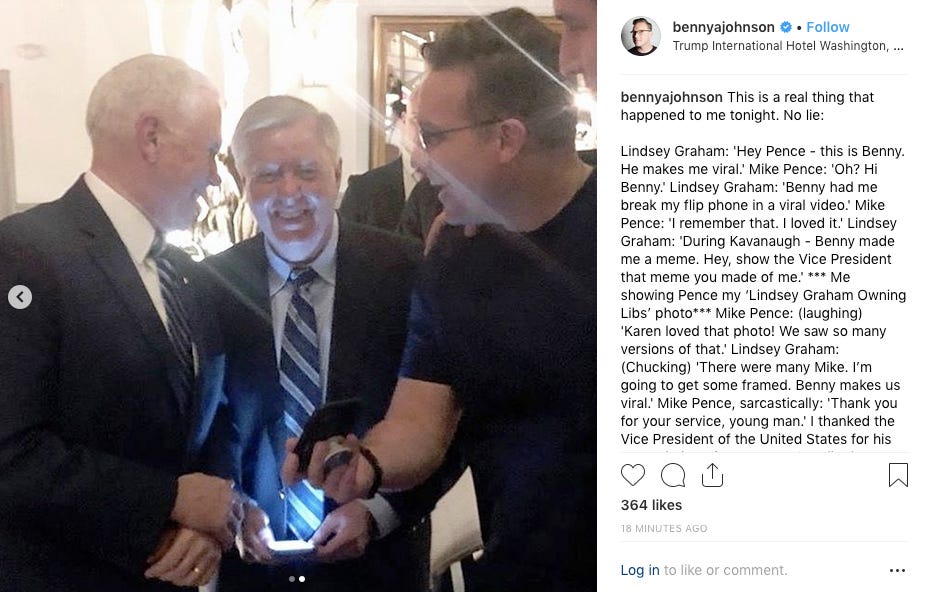 And joining Kassam and Johnson at a table near the president's was Fox News pundit, Trump campaign advisor, and hotel regular Harlan Hill.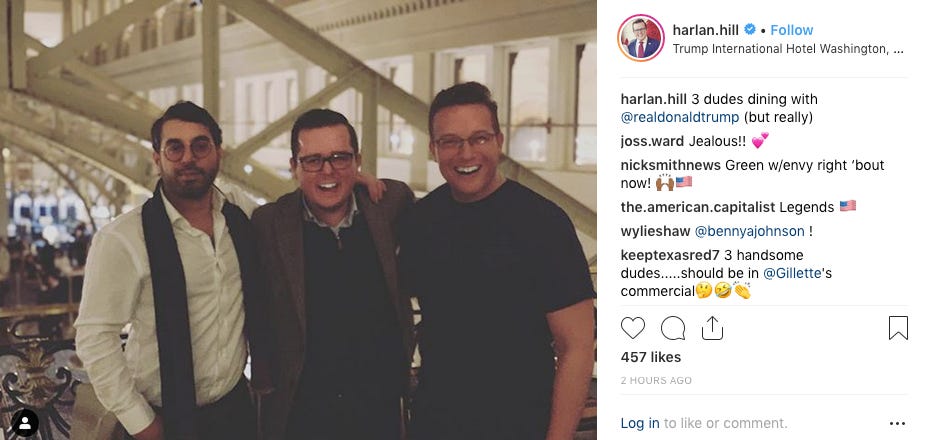 According to press pool reports, the president spent 2.5 hours total at the hotel.
Trump reminds world he's a Starbucks landlord
The Trump Hotel D.C., of course, also has a Starbucks in it.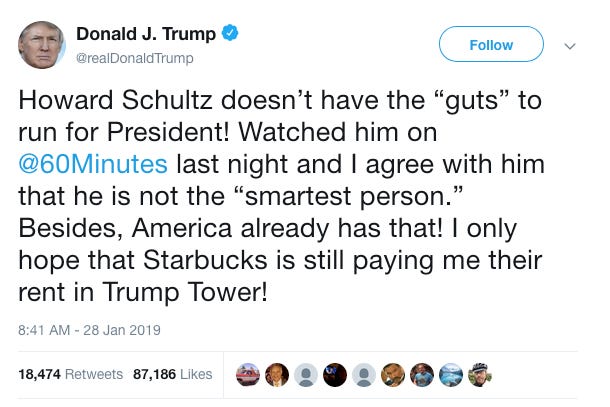 Trump attacks lead plaintiff in emoluments lawsuit
Last night on Twitter, President Trump lashed out at Sen. Richard Blumenthal (D–CT)—the lead plaintiff in the Democratic Senators and Representatives' emoluments suit.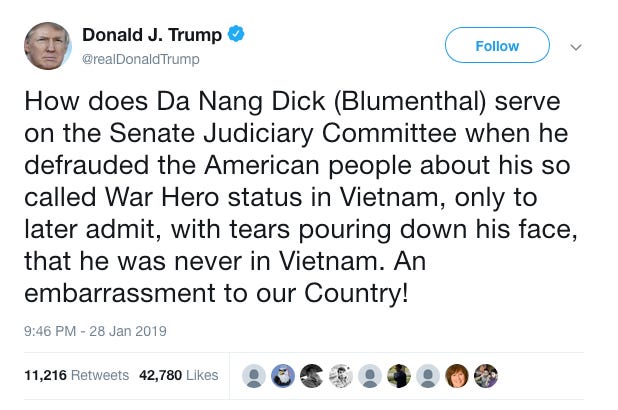 Managing director explains hotel's comp'd room policy for travel writers
Context: it's standard practice for travel writers for many, many publications to request or be offered comp'd rooms. (Editors encourage it, willingly turn a blind eye, or prohibit it but then don't question how their correspondent was able to afford a $20,000 trip to write an article that pays $750.) Not so common: the requirement to already have written about the property.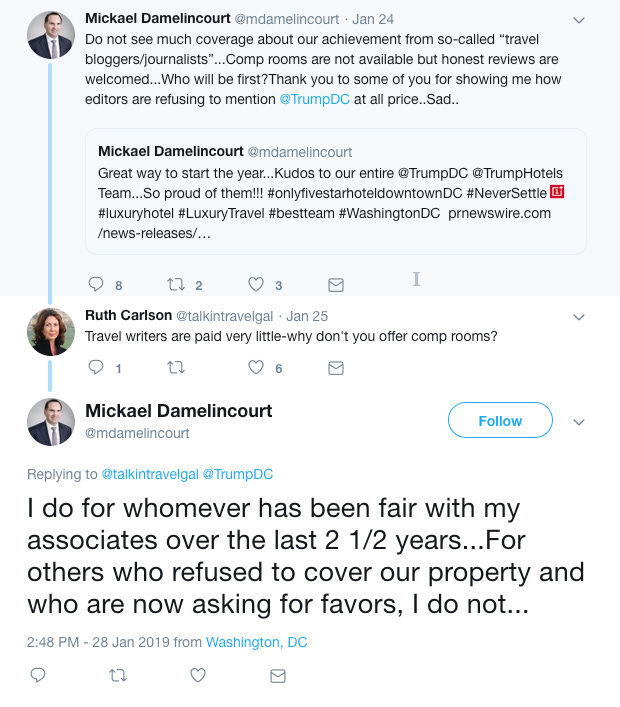 Noteworthy sightings
Active duty Air Force journalist Nicholas Kurtz shared a selfie from the commander-in-chief's rest room.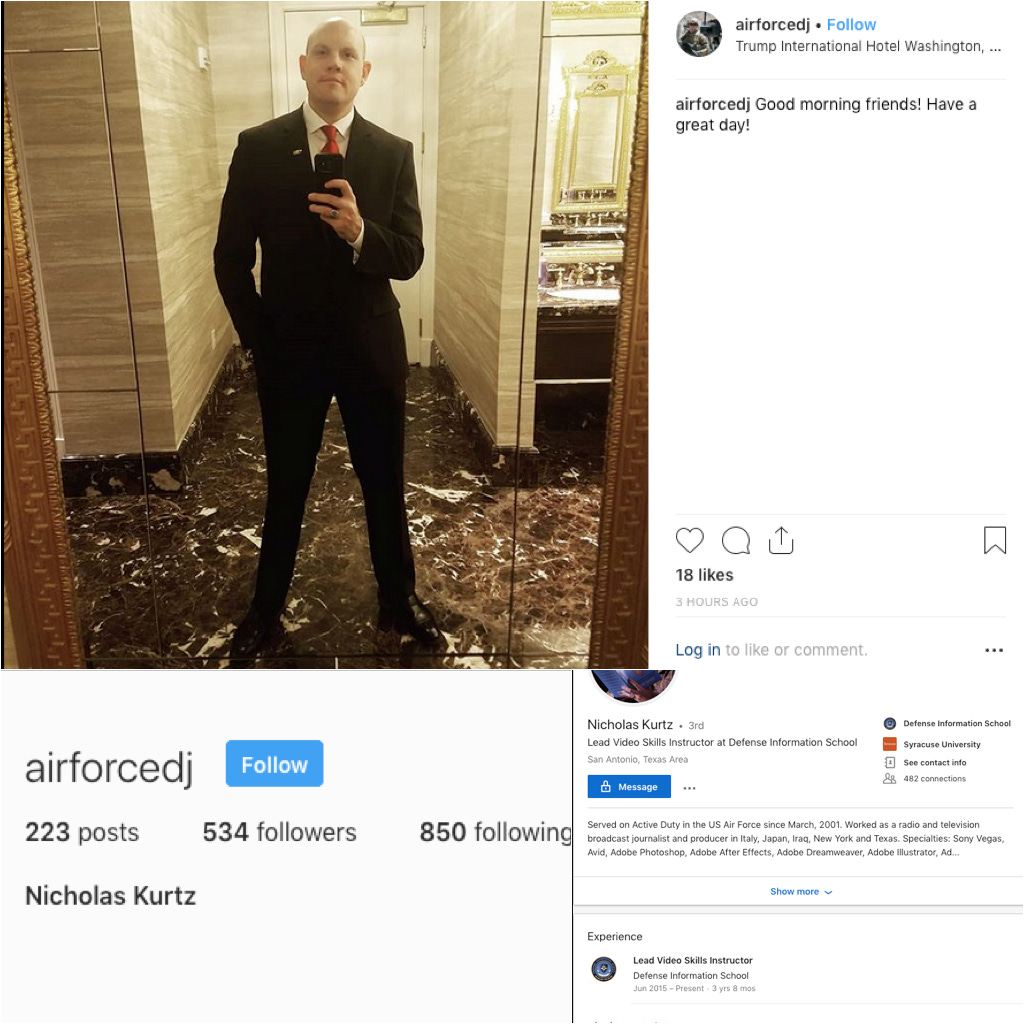 The Save the Storks fundraiser at the hotel earlier this month, which featured a guest appearance by Mike and Karen Pence, reportedly raised almost $2 million for the pro-life charity.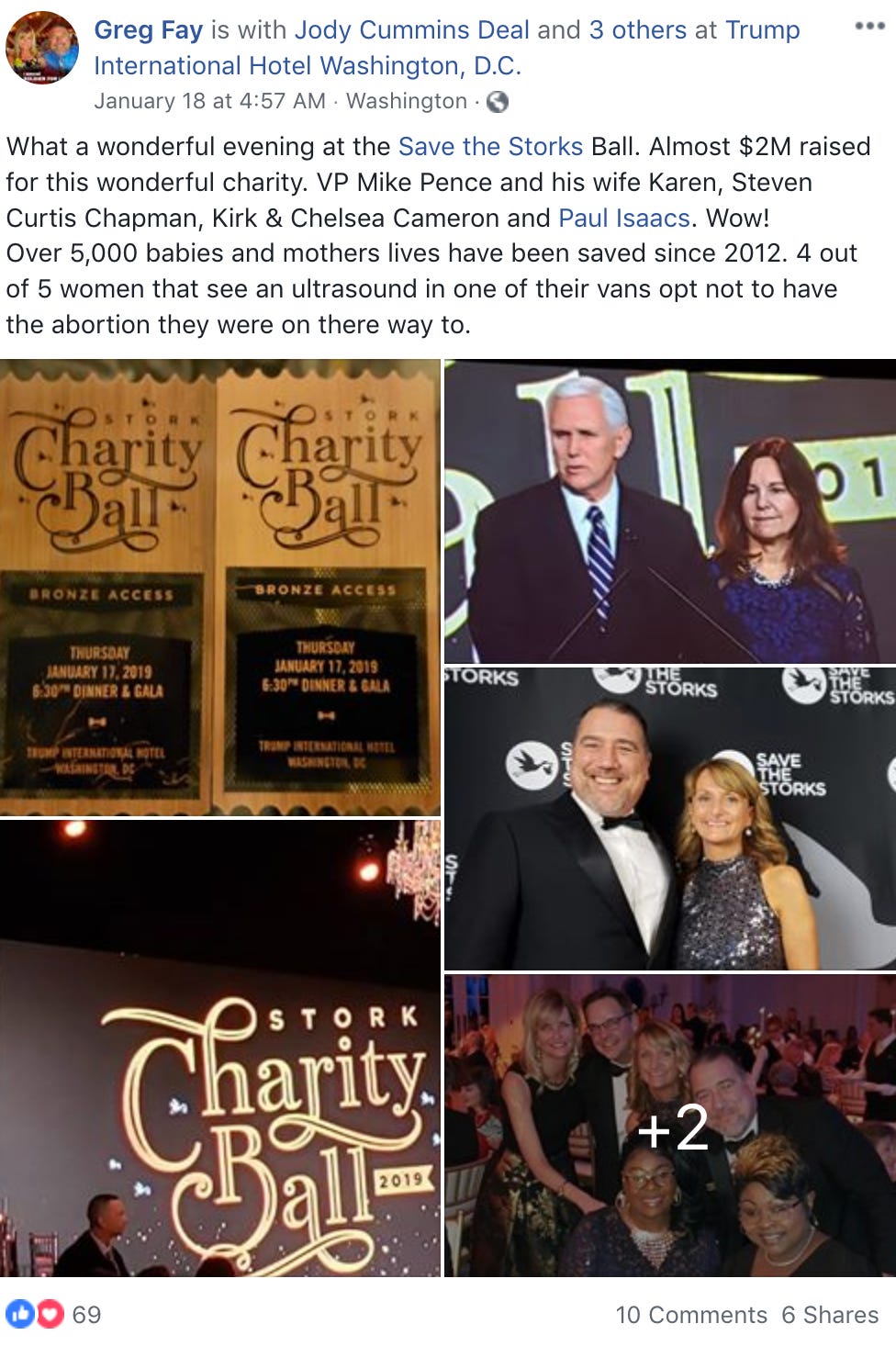 Damelincourt continues to criticize the media for not recognizing the Trump Hotel D.C. (Taking nothing away from the Trump Hotel D.C., which is an excellent property: most Trump Hotel D.C. guests are fans of its owner, likely predisposed to raving about his property, and probably feel motivated to share their thoughts online. It's a sentiment other D.C. hoteliers do not enjoy.) The Washington Times, however, picked up the story.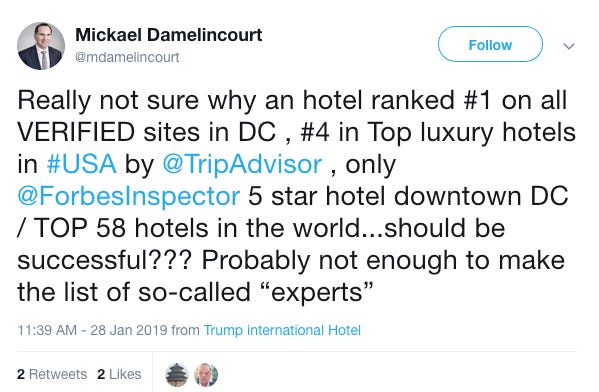 The hotel announced its Super Bowl specials. No word if Patriots-inspired wings involve cannibalism.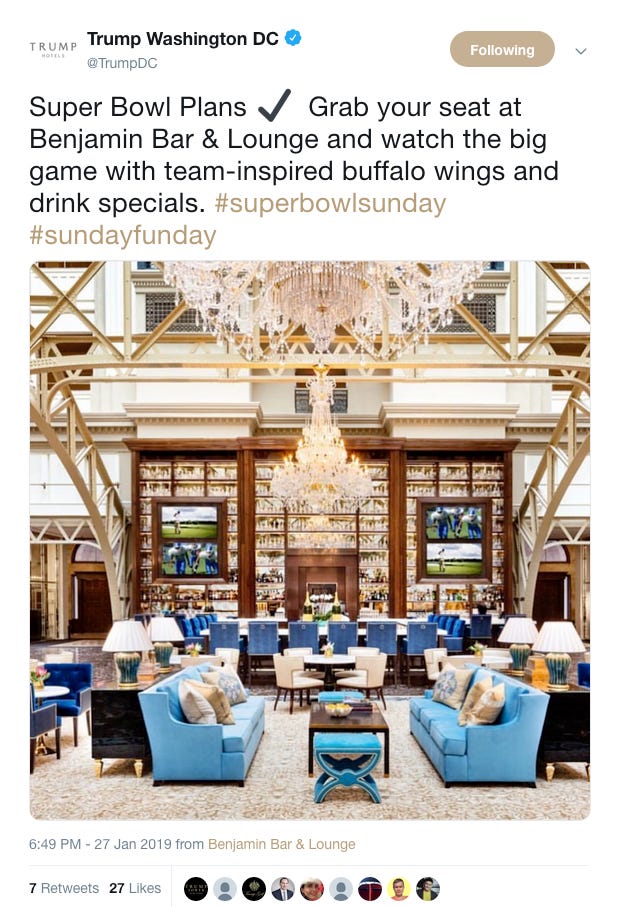 Other Trump Organization news
"The Federal Police launched a transaction that investigates a scheme to pay kickbacks to directors and former directors of BRB, the state bank of Brasilia, in exchange for investments in projects such as the now defunct Trump Hotel in Rio de Janeiro, LSH Lifestyle" by Fábio Fabrini and Catia Seabra for Folha de Sao Paulo (via Google Translate)

"Trump winery is trying to hire 23 more foreign guest workers: Businesses owned by Donald Trump or bearing his name have now sought to hire more than 600 foreign guest workers since he launched his presidential campaign" by Jeremy Singer-Vine, Ken Bensinger, and Jessica Garrison for BuzzFeed News

A banker for the Trump Org landed a nifty new position, noted Fast Company editor Marcus Baram
House investigations, current status (latest change, Jan. 25, 2019)
Financial Services—Sent an inquiry to Deutsche Bank AG on its ties to Trump, according to the bank on Jan. 24.

Foreign Affairs—Chair Elliot Engel (D–NY) "plans to investigate whether President Donald Trump's businesses are driving foreign policy decisions, including whether Trump violated the emoluments clause of the Constitution in the process" per CNN on Jan 23.

Intelligence—Sent an inquiry to Deutsche Bank AG on its ties to Trump, according to the bank on Jan. 24.

Oversight and Reform—Chair Elijah Cummings's (D–MD) staff "has already sent out 51 letters to government officials, the White House, and the Trump Organization asking for documents related to investigations that the committee may launch," according to CBS News on Jan. 13.

Transportation and Infrastructure subcommittee on Economic Development, Public Buildings, and Emergency Management—Chair Dina Titus (D–NV) announced plans to investigate "Donald Trump's attempts to prevent the relocation of the F.B.I headquarters and to profit from his presidency at his D.C. hotel" on Jan. 24.
Legal cases, current status (latest change, Jan. 29, 2019)
D.C. and MD attorneys general's emoluments lawsuit (district court docket, appellate court docket)—

UPDATED Official capacity—On Dec. 20, the 4th U.S. Circuit Court of Appeals ruled it would hear the president's appeal of district court rulings that allowed the case to proceed to discovery, and the appellate court halted discovery in the case. (Discovery had started Dec. 3 and was scheduled to run through Aug. 2, 2019, with the AGs already having issued 38 subpoenas, including to the Trump Organization; the U.S. Departments of Agriculture, Commerce, Defense, and Treasury and the GSA; and the state of Maine.) Oral arguments on the appeal are scheduled for March 19.

Individual capacity—On Dec. 14, Trump's personal attorneys appealed the denial of their motion to dismiss the case, also to the 4th U.S. Circuit Court of Appeals. On Dec. 19, the AGs replied to Trump's motion for a stay pending that appeal by voluntarily dismissing the claims against Trump in his "individual capacity to allow the claims against President Trump in his official capacity to move forward expeditiously." (The AGs only brought suit against Trump in his individual capacity after the judge suggested they do so.) Trump's personal attorneys, on Dec. 21, opposed the motion to dismiss at the district level, saying the appeals court now has jurisdiction and accusing the AGs of "gamesmanship."

196 Democratic senators and representatives' emoluments lawsuit—On Sept. 28 judge Emmet G. Sullivan ruled that the legislators have standing to sue. Trump's Justice Department attorneys filed an interlocutory appeal on Oct. 22.

CREW et. al's emoluments lawsuit—In February, CREW appealed its suit being dismissed for lack of standing to the 2nd U.S. Circuit Court of Appeals. Oral arguments on that motion were held on Oct. 30.

Cork's unfair competition lawsuit—Judge Richard J. Leon dismissed the case on Nov. 26, writing "Cork has failed to state a claim for unfair competition under D.C. law." On Dec. 10, Cork's attorneys filed a notice of appeal and on Jan. 10 they submitted a statement of issues to be raised. The next steps, which don't yet have a timeline, include a briefing schedule being set and both sides filing appellate briefs.

Employees' class-action suit alleging racial discrimination—Two of the three plaintiffs did not appear at a status hearing on Jan. 25; their cases were moved to arbitration. Their attorney, A.J. Dhali, has not responded to an email asking why his clients did not appear. The next status hearing is scheduled for Oct. 4.
Health inspections, current status (latest change, Aug. 10, 2018)
❌Hotel: five violations on May 7, 2018; two were corrected on site

❌BLT Prime and Benjamin Bar: nine violations on Aug. 10, 2018

❌Sushi Nakazawa: two violations on Aug. 10, 2018

✔️Banquet kitchen: no violations on Aug. 10, 2018

❌Pastry kitchen: two violations on Aug. 10, 2018

✔️Gift shop: no violations on May 7, 2018

❌Employee kitchen and in-room dining: five violations on Aug. 10, 2018; two were corrected on site
One thing that has nothing to do with Trump's businesses (I think, tough to tell sometimes!)
From "Facebook moves to block ad transparency tools—including ours" by Jeremy B. Merrill and Ariana Tobin for Pro Publica
A number of organizations, including ProPublica, have developed tools to let the public see exactly how Facebook users are being targeted by advertisers.

Now, Facebook has quietly made changes to its site that stop those efforts.

ProPublica, Mozilla and Who Targets Me have all noticed their tools stopped working this month after Facebook inserted code in its website that blocks them.
Thanks for reading. If you like what you saw, tell someone—and support this work by paying for a subscription. If you've been forwarded this newsletter, subscribe for yourself at zacheverson.substack.com. Questions? Read our FAQ/manifesto. Tips or feedback? Contact me, Zach Everson, securely via email at 1100Pennsylvania@protonmail.com or on Signal at 202.804.2744.