Discover more from 1100 Pennsylvania
"The undisputed expert on the D.C. Trump Hotel" – David Fahrenthold of the Washington Post
Over 3,000 subscribers
Legislators' emoluments suit tossed; Serbian parliamentarian visited Trump's hotel
Three-judge panel unamiously tossed Congressional Democrats' lawsuit
This morning, a three-judge panel on the D.C. Circuit Court of Appeals unanimously ruled that individual legislators do not have standing to sue the president for allegedly violating the Constitution's emoluments clauses.
More than 200 Democratic Senators and Congresspeople filed the suit in June 2017. Two other suits alleging the Trump's businesses violate the Constitution's ban on the president receiving payments from foreign governments are also working their ways through the courts. Both cases also are dealing with whether the plaintiffs have cause to sue.
Today's ruling overturned a September, 2018 decision from U.S. District Court Judge Emmet Sullivan (a Clinton appointee) that the legislators had standing to sue.
Today's decision was from U.S. Circuit Court Judges Karen LeCraft Henderson (a George H.W. Bush appointee), David Tatel (a Clinton appointee), and Thomas Griffith (a George W. Bush appointee).
---
Officials from at least 30 different foreign governments now have visited U.S. president's D.C. hotel after Serbian legislator's appearance
Serbia became the 30th different country to have an official visit the Trump Hotel D.C. after a leader in its legislator posted photos from the lobby to his Instagram account.
The deputy speaker of the National Assembly of the Republic of Serbia, Vladimir Marinkovic, shared three photos tagged to the Trump Hotel D.C. over a three-day span. And a picture posted to the Serbian-American Friendship Congress's Instagram account shows Marinkovic giving a thumbs up with former member of European parliament and leader of the U.K.'s Brexit Party, Nigel Farage. From a bar at the Trump Hotel D.C., Marinkovic considered the president's impeachment acquittal "#goodnews." And it looks like Marinkovic picked up the check for tea at the U.S. president's Pennsylvana Avenue buisiness.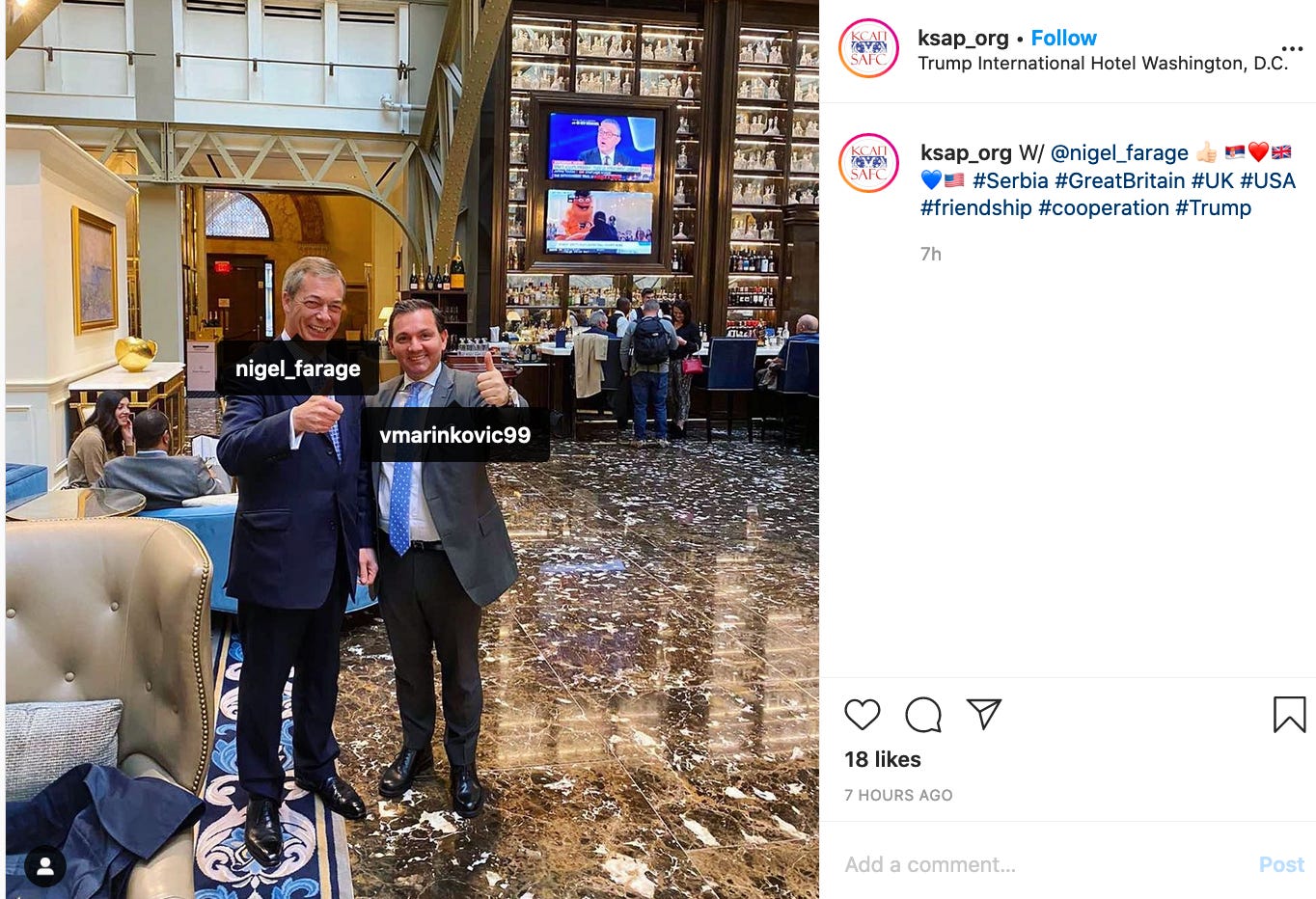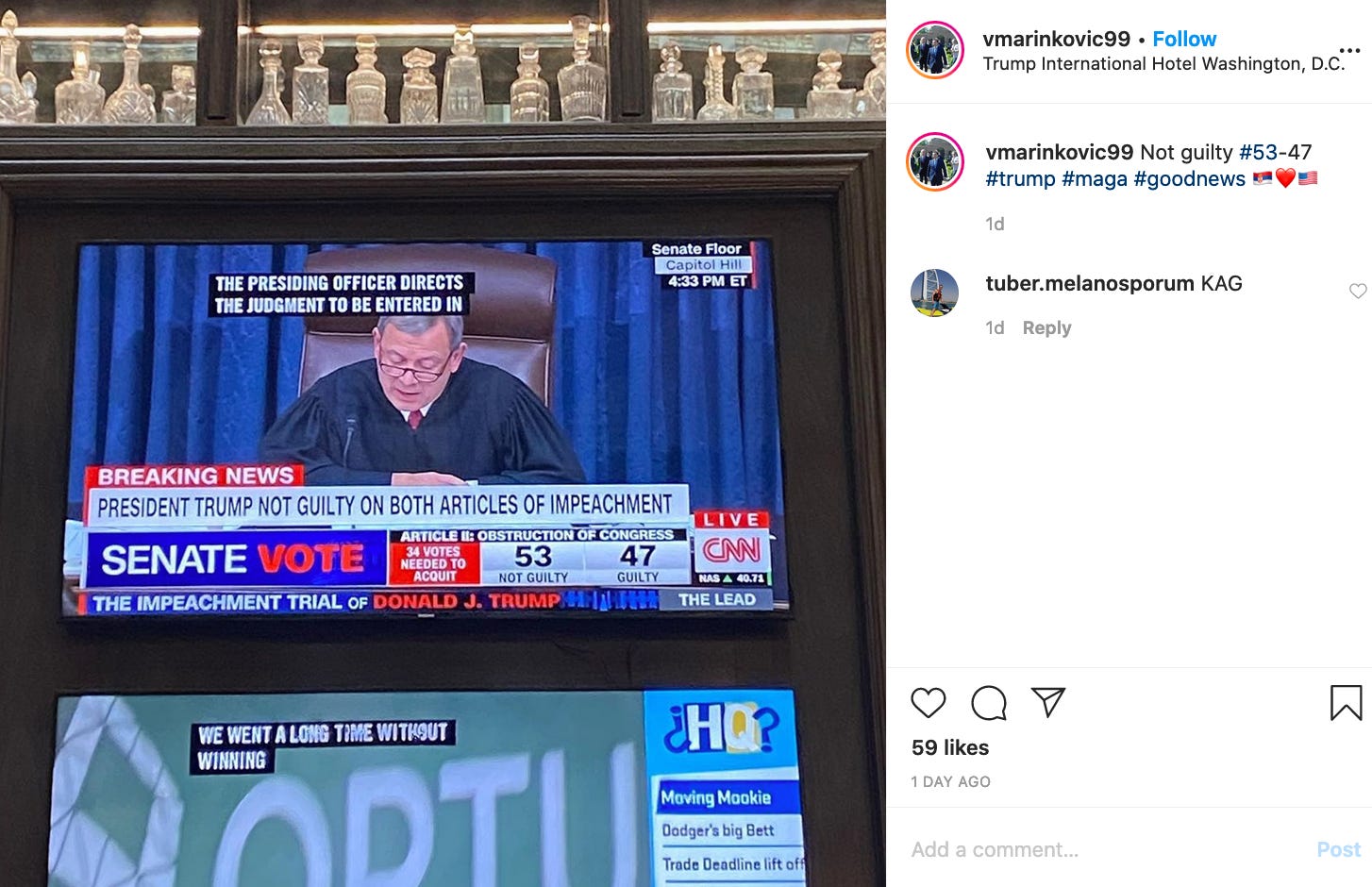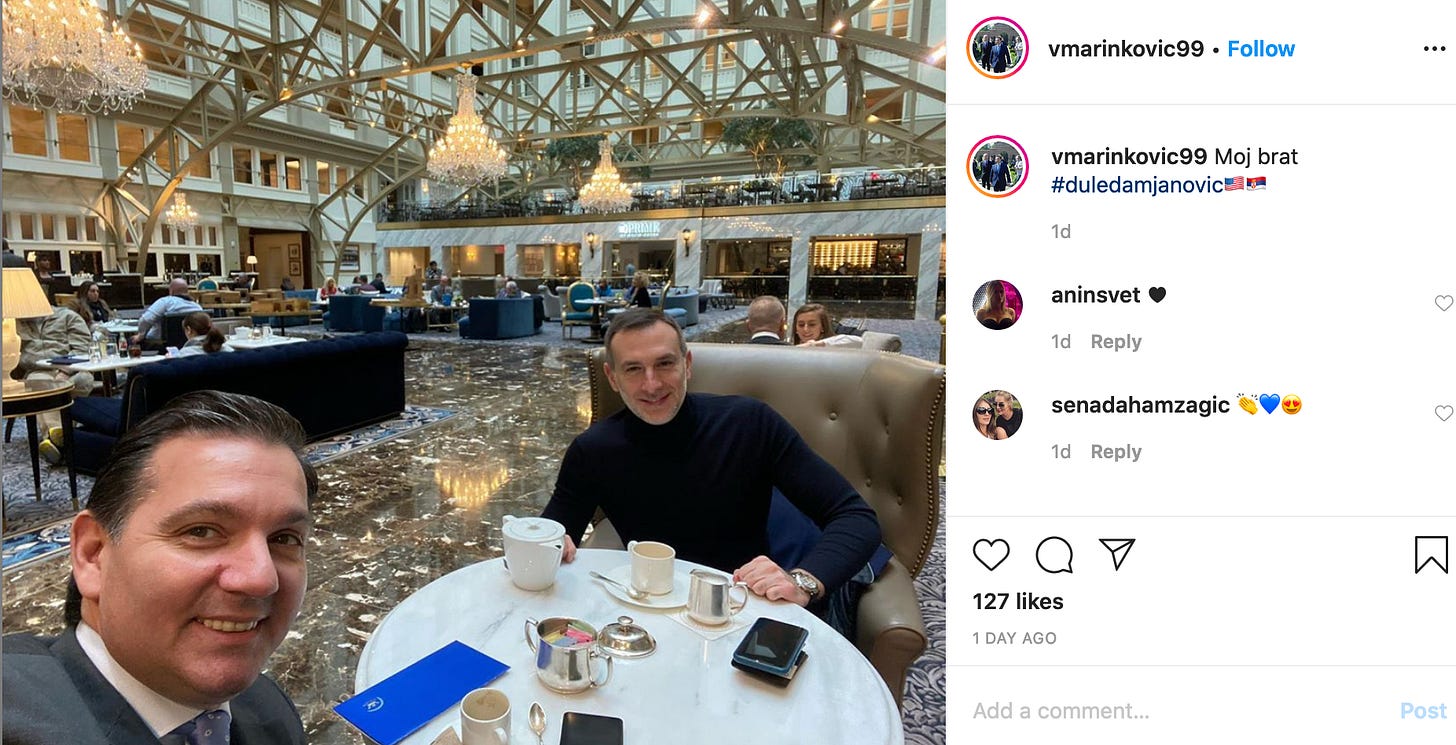 ---
Other notable sightings
A glimpse of the foreign officials, government employees, politicians, lobbyists, and the like who patronize or appear at Trump businesses. Most people shown here have reasons to want to influence the Trump administration, rely on its good graces for their livelihoods, or should be providing oversight. Additionally, high-profile guests serve as draws for paying customers.
Rep. John Ratcliffe (R–TX), posing with senior Trump campaign staffer Katrina Pierson, was spotted for the first time at the Trump Hotel D.C. Ratcliffe's campaign hasn't reported any disbursements at the hotel. As the Congressman sits on the House Intelligence Committee, now at least six of the panel's nine GOP members have supported the president's D.C. hotel.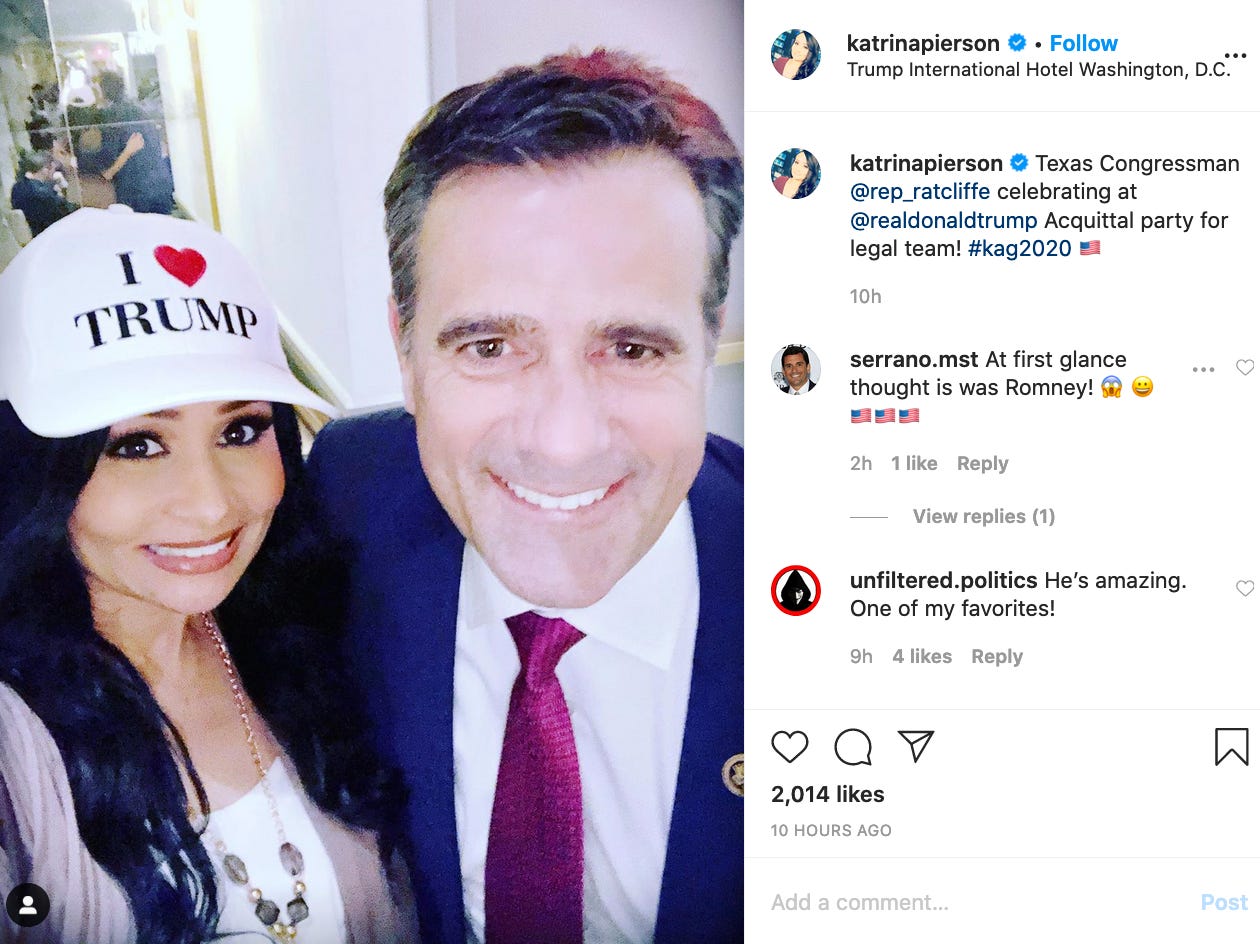 Designer of the MAGA gown Andre Soriano and Rep. Matt Gaetz (R–FL) (who's been photographed often at the Trump Hotel D.C. recently and appears to have gotten out of the president's doghouse)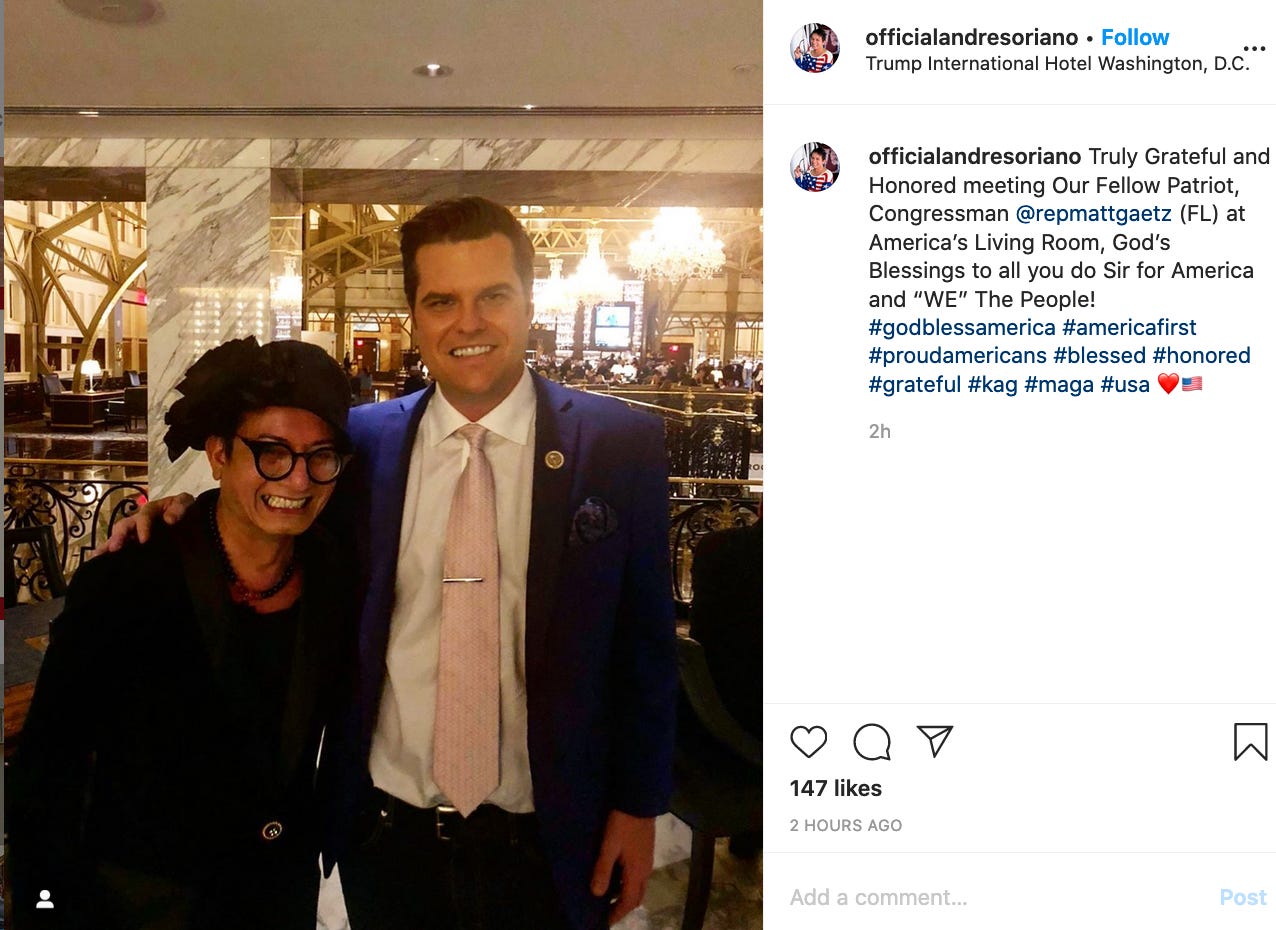 Rep. Lance Gooden (R–TX), who promoted his visit to the president's hotel on Facebook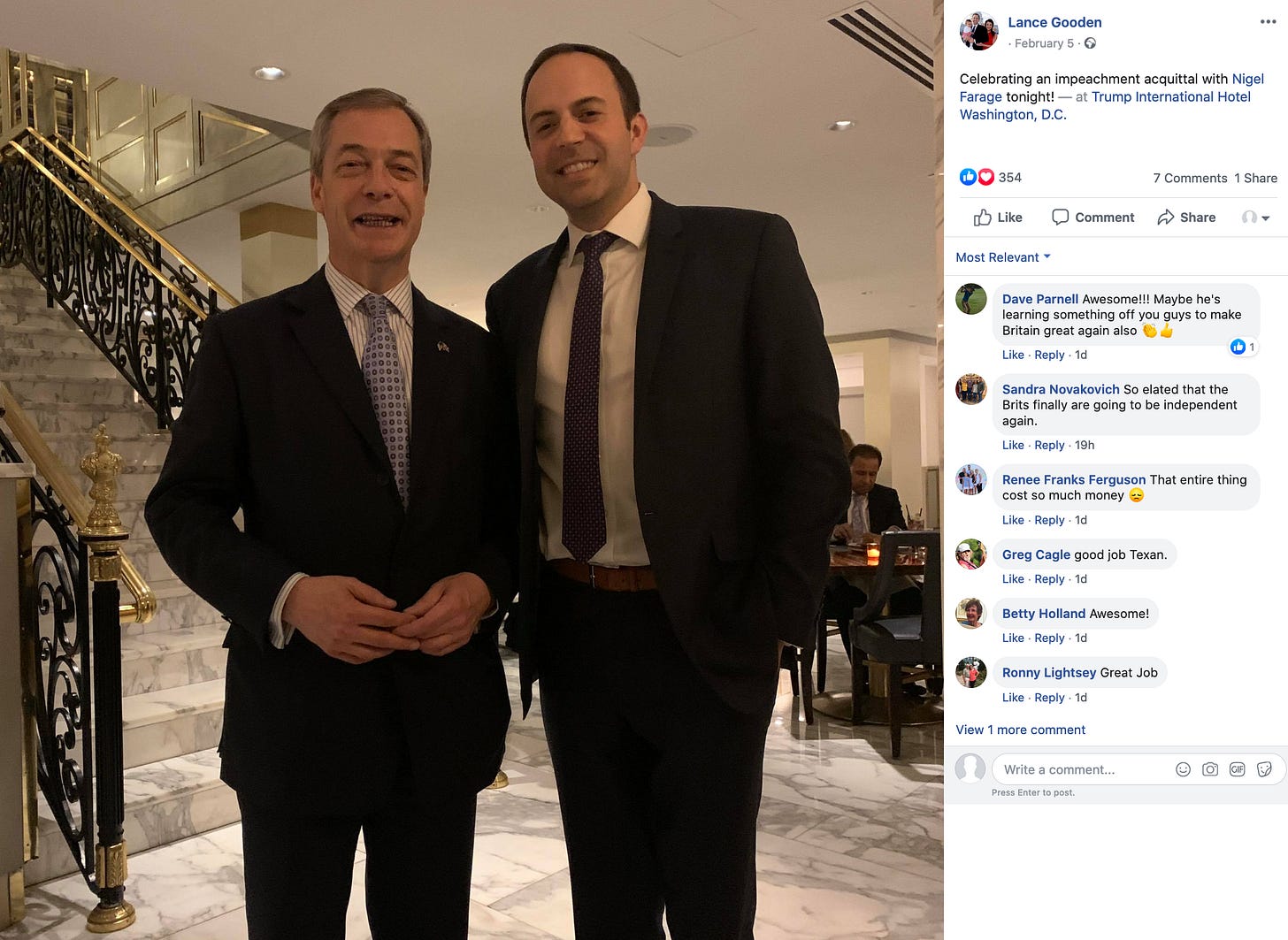 Virginia farmer cum senior advisor to pro-Trump dark-money group America First Policies cum lobbyist for a Kuwaiti firm Martha Boneta, Farage, and chair of Trump Victory Fund and girlfriend of the president's son, Kimberly Guilfoyle.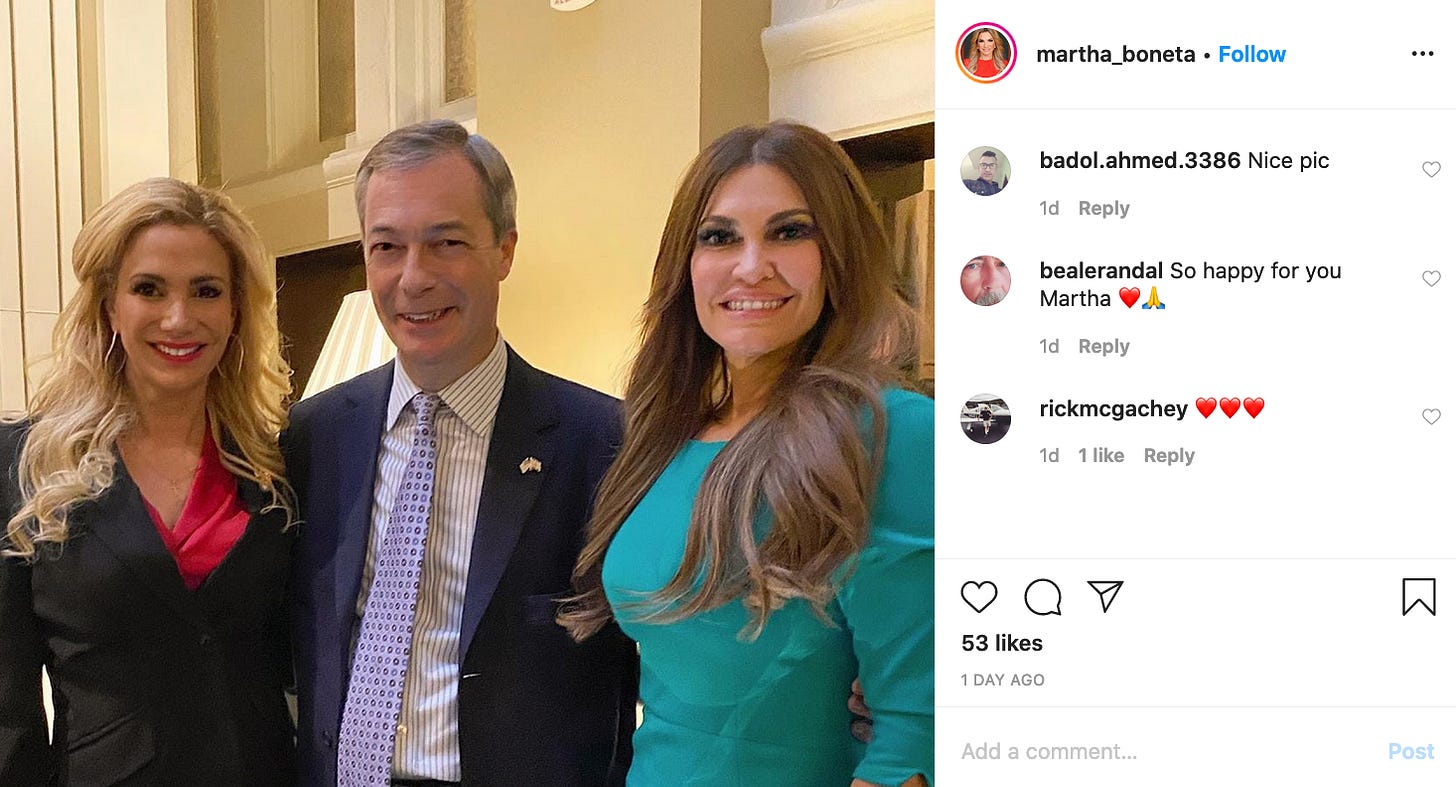 Lobbyist and public affairs executive David Spady of River Public Affairs Group—its listed clients include Americans for Prosperity, the National Gold Mining Corp, and CPAC—and Farage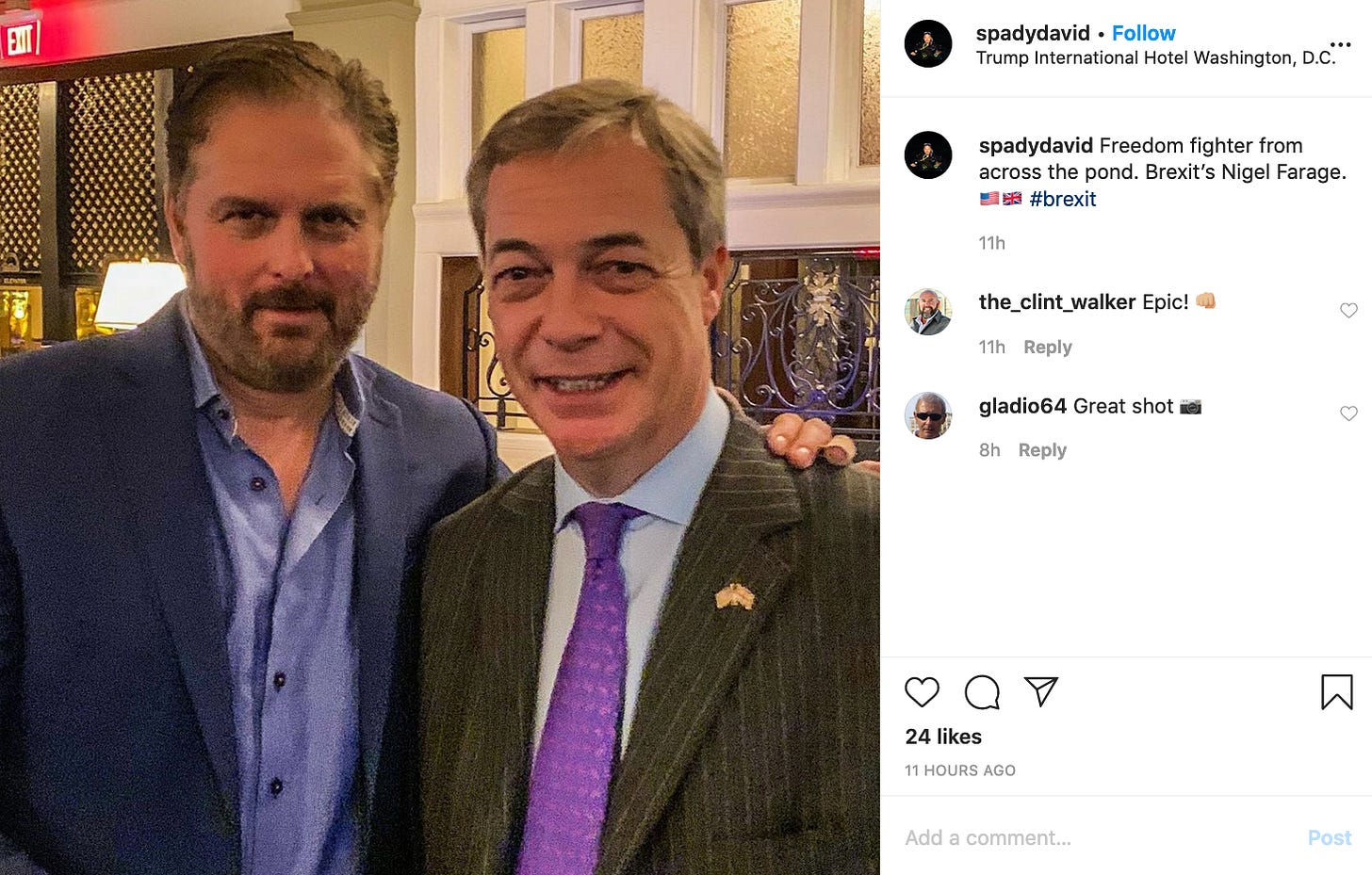 Political consultant and international liaison Jimmy Chue, Trump 2016 campaign manager turned lobbyist Corey Lewandowski, some guy called The Godfather, and the partner of a lobbying firm who organizes the monthly Trump First Tuesdays for lobbyist networking at the hotel, John Willding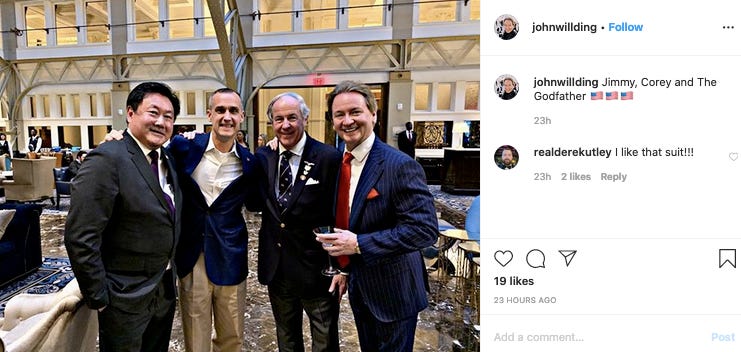 GOP consultant and corporate PR professional Matt Mackowiak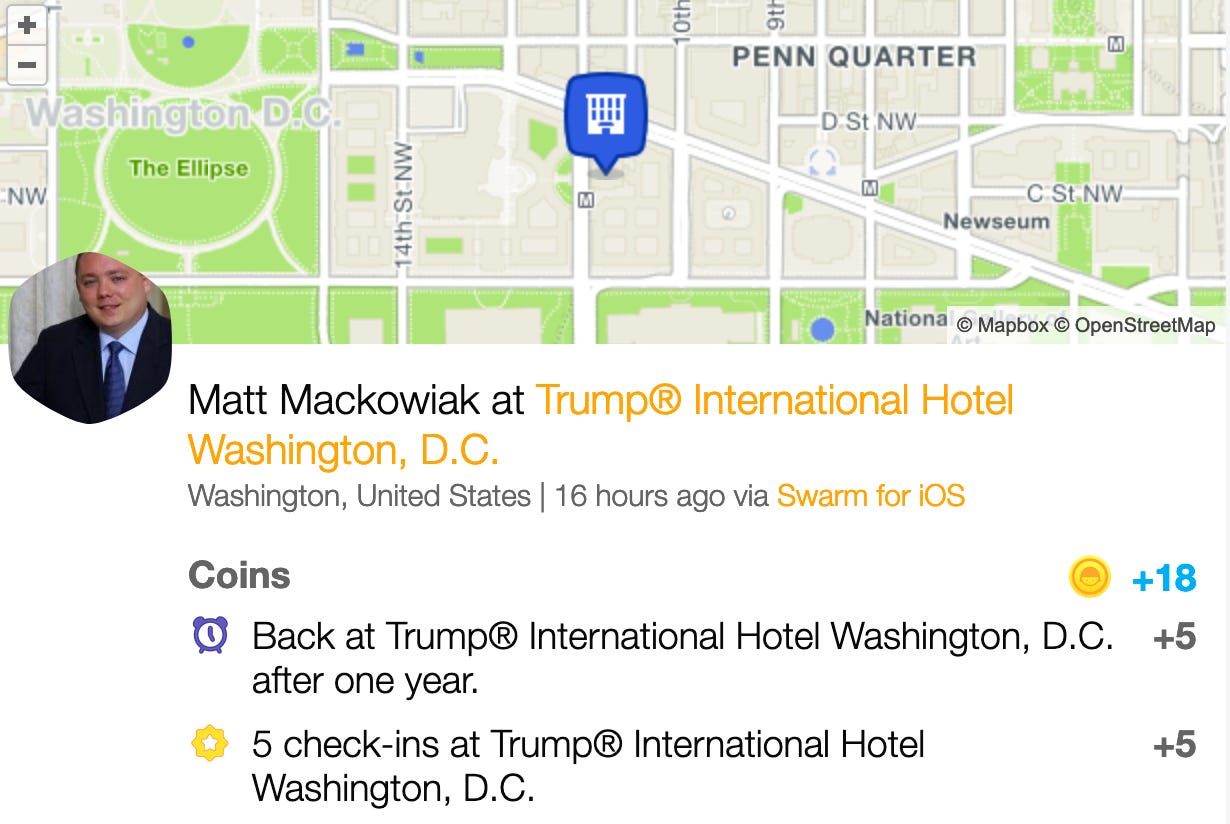 GOP donor, Fox News advertiser, Fox News guest, and Trump property regular, the My Pillow Guy, Mike Lindell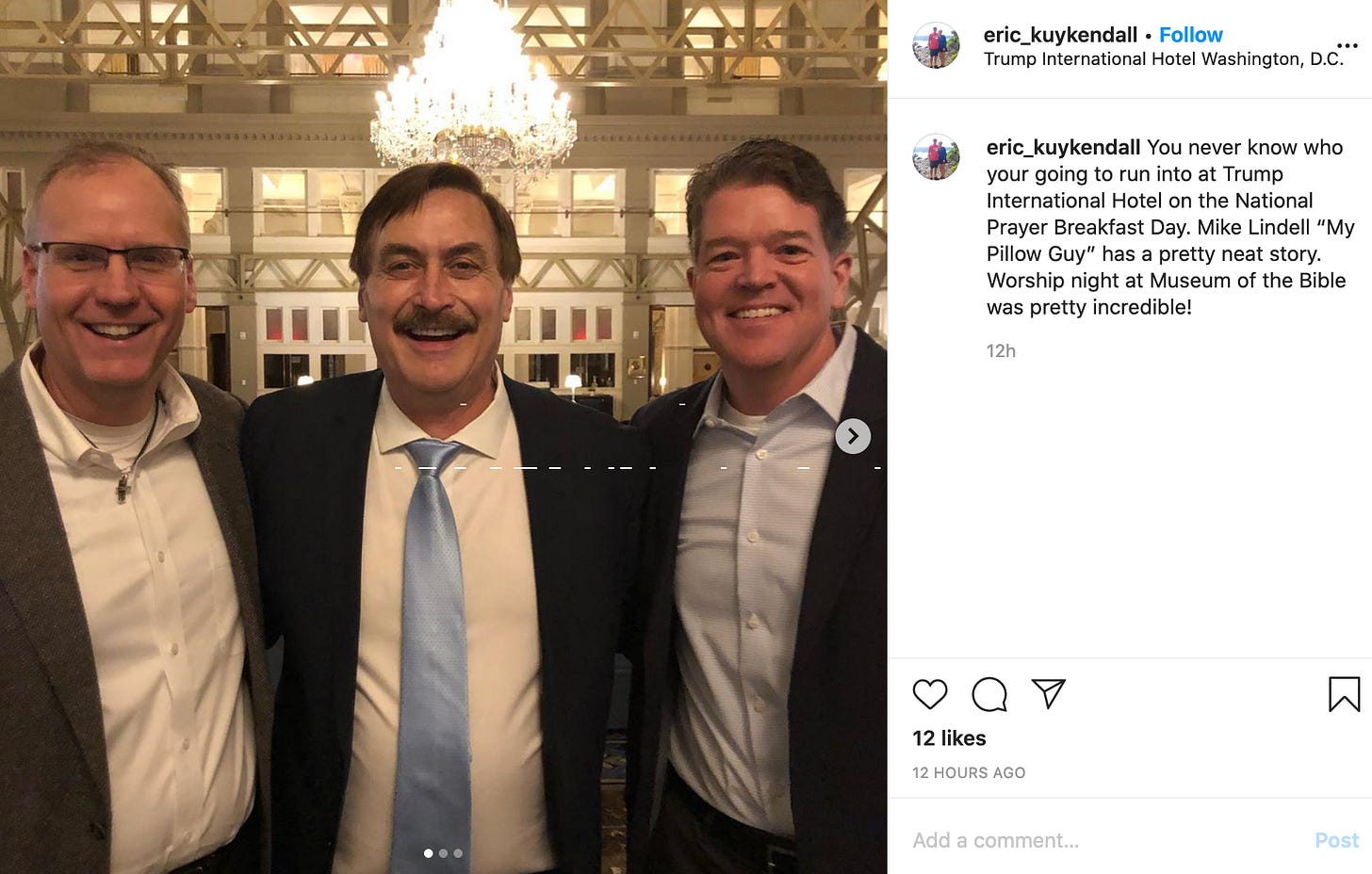 President Trump's attorneys Jenna Ellis, Jay Sekulow, and Pat Cipollone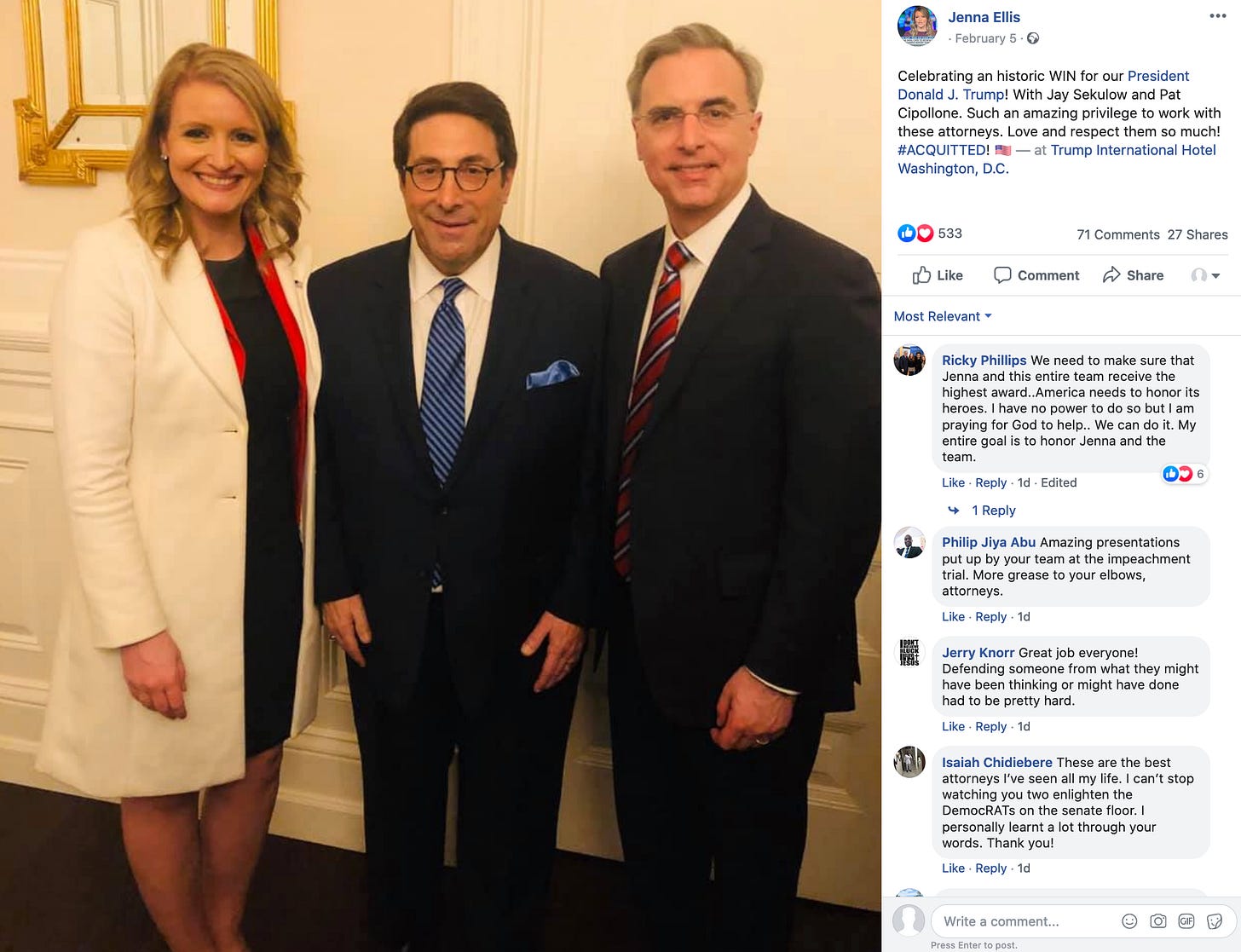 ---
Campaign expenditures
The campaign for Rep. Drew Ferguson (R–GA) spent $133.90 at the head of the executive branch's D.C. hotel for lodging on Nov. 13, 2019. This disbursement was the first his campaign has reported at the Trump Hotel D.C.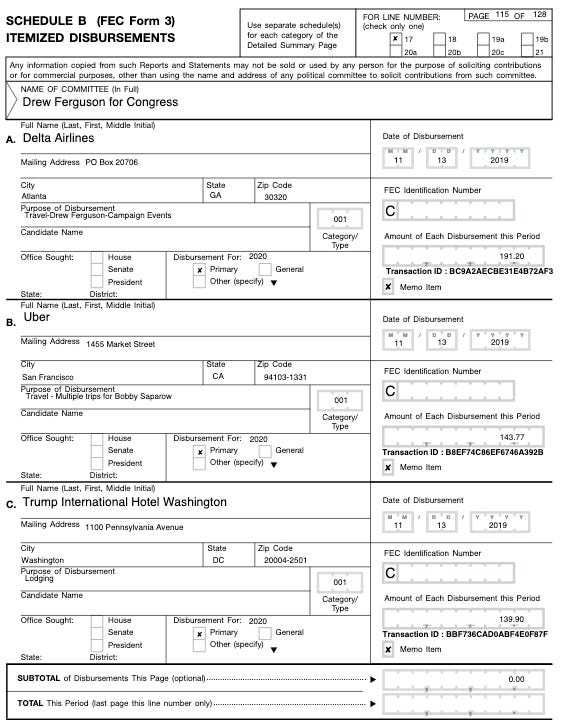 ---
1100 Pennsylvania's reporting reaches millions. Subscribe and ensure it continues.
Your correspondent recently appeared on MSNBC's "All In with Chris Hayes" to share 1100 Pennsylvania's reporting on the Trump Hotel D.C. with a prime time audience.
Additionally, 1100 Pennsylvania's reporting recently was cited by The Atlanta Journal Constitution, The Daily Beast, The Hartford Courant, Inside Edition,The New York Times, The Palm Beach Post, Stern, The Wall Street Journal, The Washington Examiner, The Washington Post, Washingtonian, and Yahoo News.
Thanks to 1100 Pennsylvania's paid subscribers who support in-depth reporting on who's paying Donald Trump and what they may want from the president, and help bring this information to a much wider audience.
Paid subscriptions are this publication's sole source of revenue—no ads, no grants. Support this reporting and help ensure it continues. Just $5 a month or $50 a year.
---
Other Trump Organization news
---
Reference section
Links to rundowns of developments in the House's investigations and lawsuits, reference sheets for some of 1100 Pennsylvania's previous reporting, and articles that provide the background on why all of this matters. The date published or last updated is in parentheses.
Trackers
Notable hotel customers
Summaries
25 unimpeachable examples of Trump profiting from his hotel: Foreign governments, Trump administration, GOP lawmakers, industry all have called on the Trump Hotel D.C. since its owner became president (Sept. 27, 2019)

"Power tripping in the swamp: How Trump's D.C. hotel swallowed Washington
The MAGA social scene is a movable feast, but its dark heart resides within the Old Post Office Building, where the Trump Org operates under a mercenary charter" by your correspondent for Vanity Fair (October 2019)

"Inside the world's most controversial hotel: The hotel that was expected to take its place among the crown jewels of D.C.'s travel scene has become a magnet for protestors, a West Wing Annex, and—possibly—the center of a constitutional crisis." by your correspondent for Condé Nast Traveler (May 2018)
Upcoming key dates
Sept. 23, 2019—House Judiciary Committee hearing "Presidential corruption: Emoluments and profiting off the presidency" (postponed, not yet rescheduled)

Jan. 23, 2020—Trump Organization's deadline to bid for the lease rights to its D.C. hotel.

March 3, 2020—Status hearing with D.C. Superior Court in former hotel employees' lawsuit alleging racial discrimination

March 31, 2020—Supreme Court hears Trump's appeal of earlier rulings requiring his financial institutions to comply with subpoenas from House Financial Services, Intelligence, and Oversight Committees and the New York district attorney's office

June 2020—Supreme Court decision due on Trump's appeal of earlier rulings requiring his financial institutions to comply with subpoenas from House Financial Services, Intelligence, and Oversight
---
Thanks for reading! If you like what you've read, tell someone. If you've been forwarded this newsletter, subscribe at 1100pennsylvania.substack.com. Questions? Read our FAQ. Tips or feedback? Contact Zach Everson at 1100Pennsylvania@protonmail.com (it'll be encrypted if you also use a ProtonMail account, which is free) or via Signal (secure), SMS, or mobile at 202.804.2744.