Discover more from 1100 Pennsylvania
"The undisputed expert on the D.C. Trump Hotel" – David Fahrenthold of the Washington Post
Over 3,000 subscribers
LePage attacked press, pled ignorance, took some blame
Welcome to 1100 Pennsylvania, a newsletter devoted to President Donald Trump's Trump International Hotel Washington, D.C. (and his other companies). President Trump, of course, still owns his businesses and can profit from them.
If you like what you see, tell someone—and support this work by becoming a paying member ($5/month or $50/year). If you've been forwarded this newsletter, subscribe for yourself at zacheverson.substack.com. Questions? Read our FAQ/manifesto. Tips or feedback? Contact me, Zach Everson, securely via email at 1100Pennsylvania@protonmail.com or on Signal at 202.804.2744.
Make sure you read yesterday's 1100 Pennsylvania
Don't let the Presidents Day holiday keep you from reading yesterday's action-packed 1100 Pennsylvania.
LePage attacked press, pled ignorance, took some blame after being caught spending $22,000 of Maine's money at the president's hotel
Despite saying he had not read the article, yesterday former Maine Governor Paul LePage (R) responded to The Portland Press Herald's scoop that he spent at least $22,000 of Maine taxpayers' money at the Trump Hotel D.C.
Among the explanations LePage provided during his weekly Monday appearance on WGAN news radio with Matthew Gagnon and Ken Altshuler:
"I'm sure that the newspapers have it but they haven't published it. We actually went around Washington and we asked many hotels to quote what rates they would give us, and we took the lowest rate."

"I'm not aware of ever paying $1,100 for one night at that hotel. I don't recall ever doing that. Frankly, I will tell you this: we had a corporate rate. And if they published that, like I said earlier, I don't read fiction."

After the radio host confirmed the $1,100 per night charge was, in fact, true: "I don't know what the rate was. Believe me, I would have questioned that had I known. I don't know why it would have been that much. Because we have a rate."

"That's the fiction," LePage said when a host mentioned the implication that Trump may be profiting when people coming to D.C. to meet with him stay at his hotel.

"Incidentally, this is the beauty about it, when the Trump Hotel opened (I think it's rated a four star, not a five star) they gave promotional rates which were some of the best rates in Washington." Two fact checks: It is a five-star hotel and, before its owner was elected president, the hotel did in fact have lower rates (compared to other five-star D.C. hotels).

"If we paid $1,100 for a hotel room in one night, shame on me. Because I wasn't aware of it. And shame on me, because I should have been on top of it."

"I am very cheap with the public's money."
Listen to LePage's full interview on SoundCloud; the segment on his Trump Hotel D.C. stays starts at 8:17.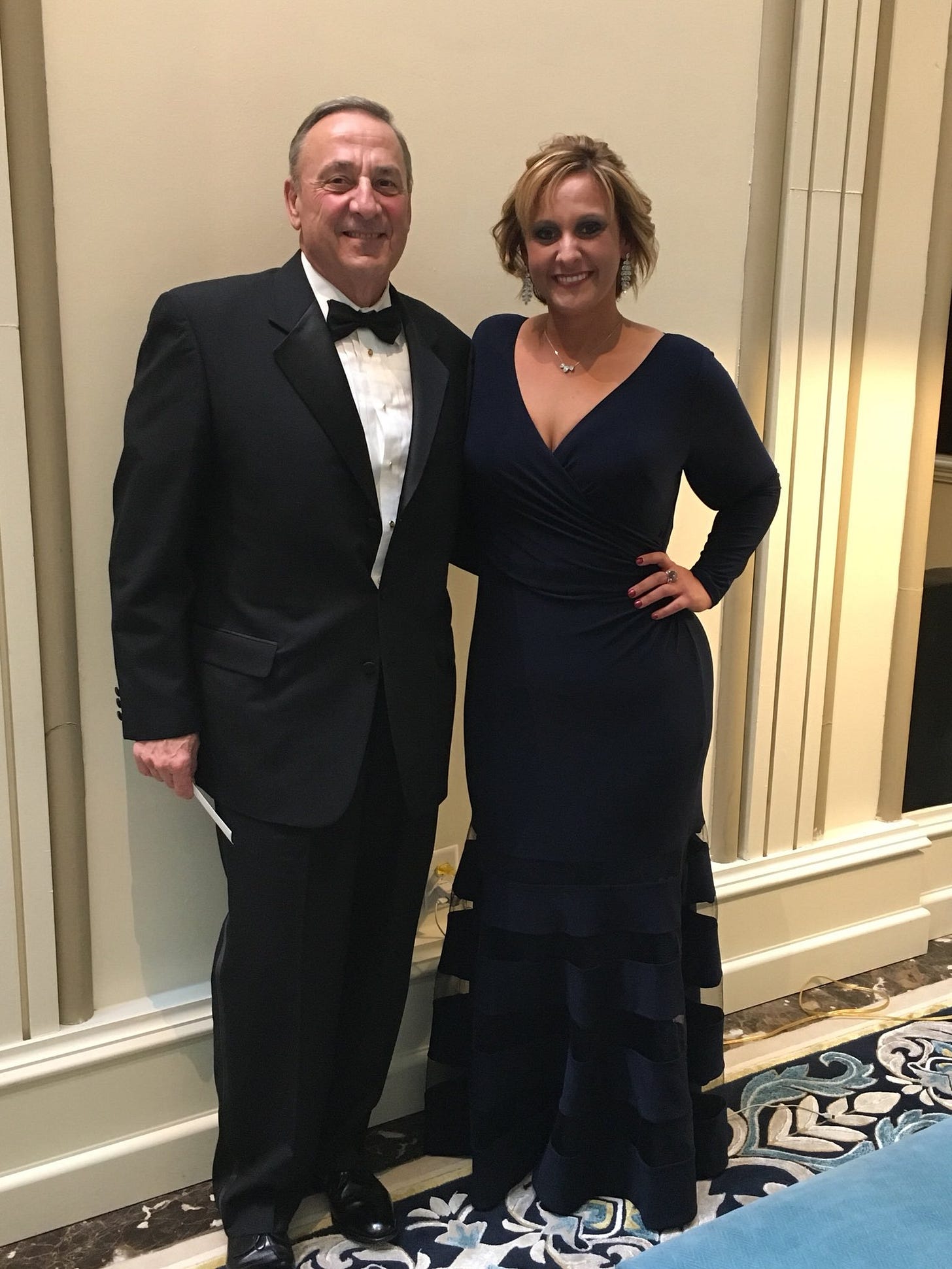 Lobbyist happy hour celebrates one year of monthly meetups
The next Trump First Tuesday, a "business networking happy hour for government relations professionals [lobbyists] and friends" has been scheduled for March 5. It'll mark one year of Trump First Tuesdays; according to the group's Facebook Page, its first event was in March 2018. Trump First Tuesdays has brought lobbyists to the Trump Hotel D.C. every month thereafter, other than July 2018 (when the first Tuesday was the day before the Fourth of July) and January 2019 (when it fell on New Year's Day).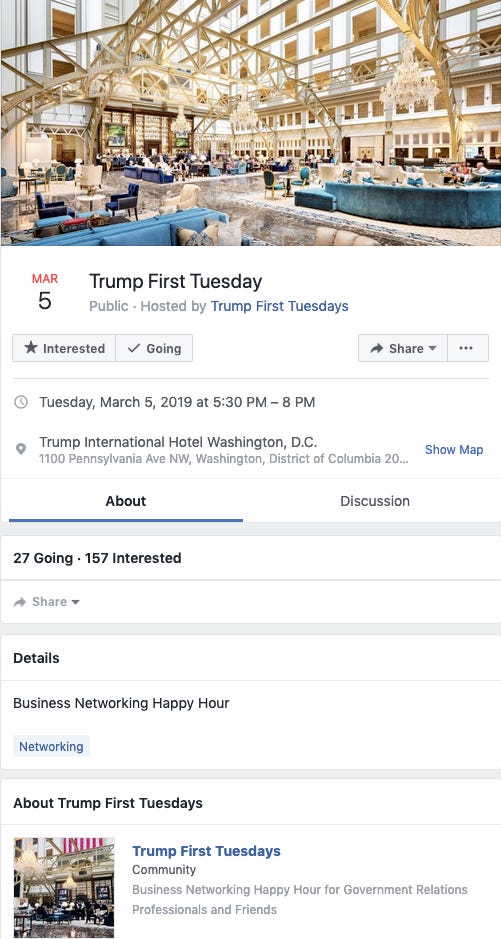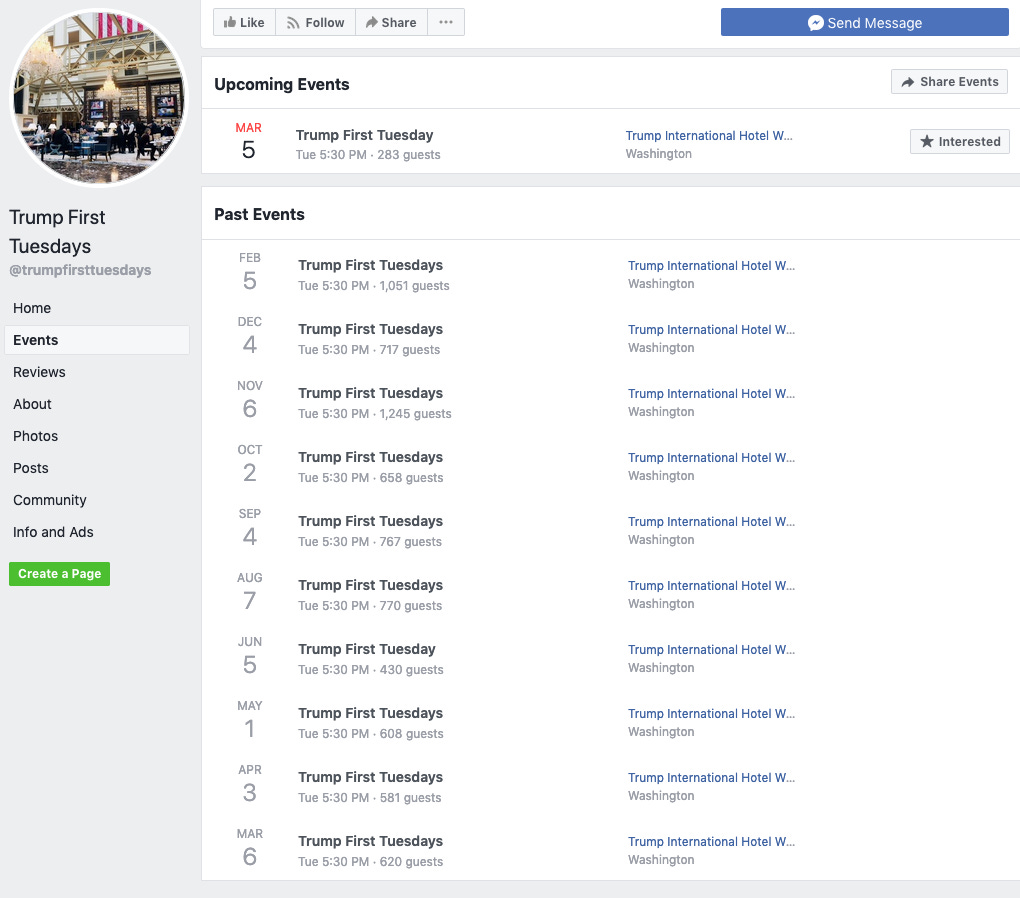 Campaign expenditures
The campaign for Rep. Greg Pence (R–IN) spent another $6,511.53 at the Trump Hotel D.C. in December 2018 for a reception and lodging. The vice president's younger brother's campaign has now spent $30,555.88 at the president's D.C. hotel.
Noteworthy sightings
Over the weekend, the president and first lady dined with her parents (who are naturalized U.S. citizens) at the Trump Palm Beach, two days into our new national emergency.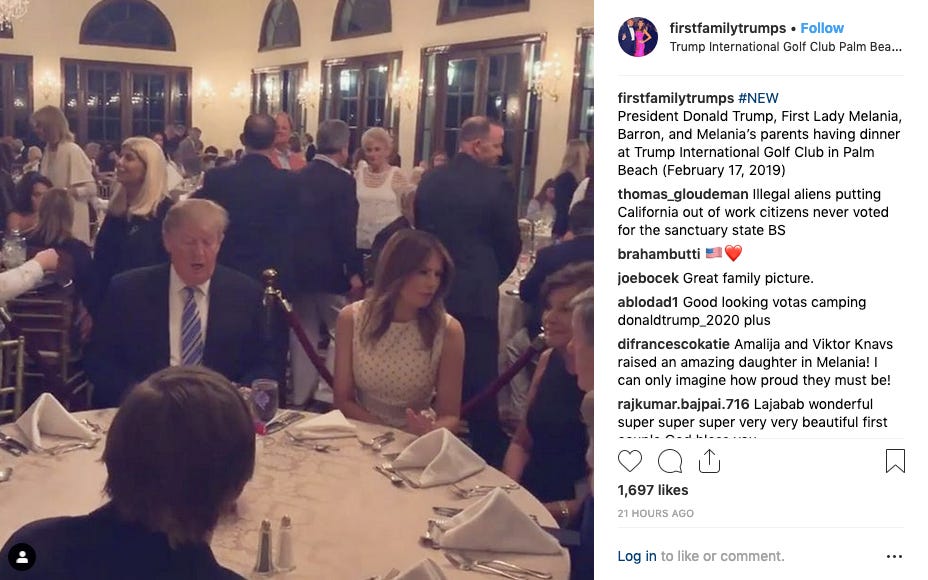 Guests at Trump Palm Beach mingled with the first couple, who can profit from the business. [Due to a formatting limitation, select the link to watch the videos from the first post.]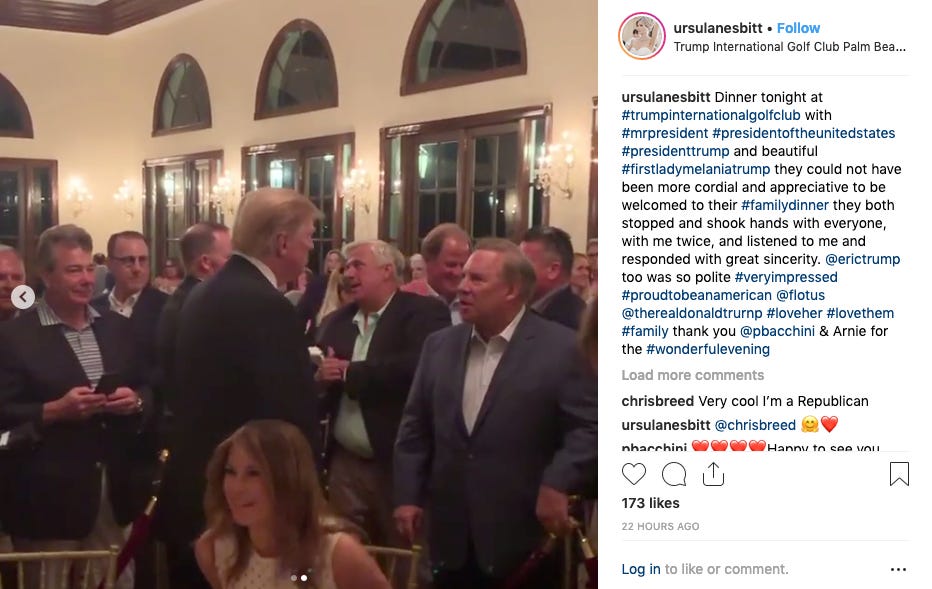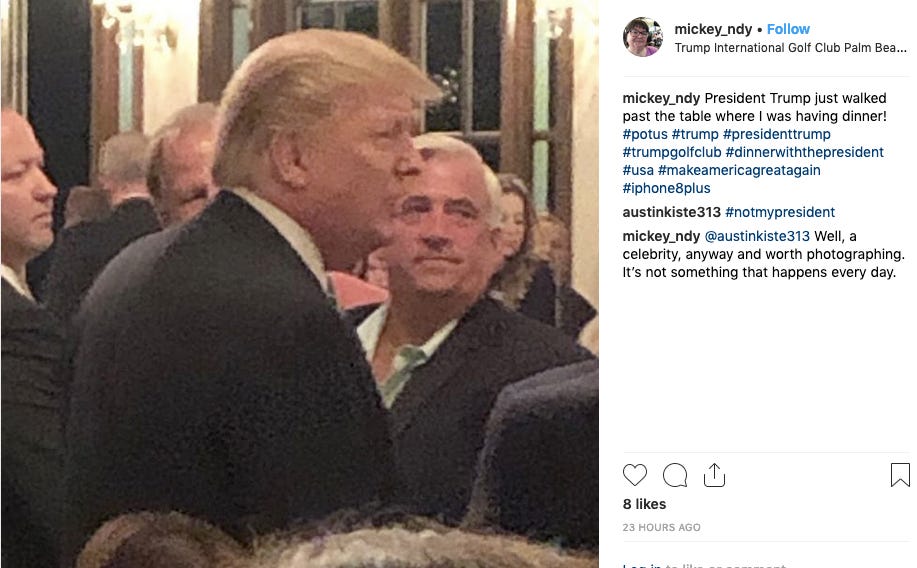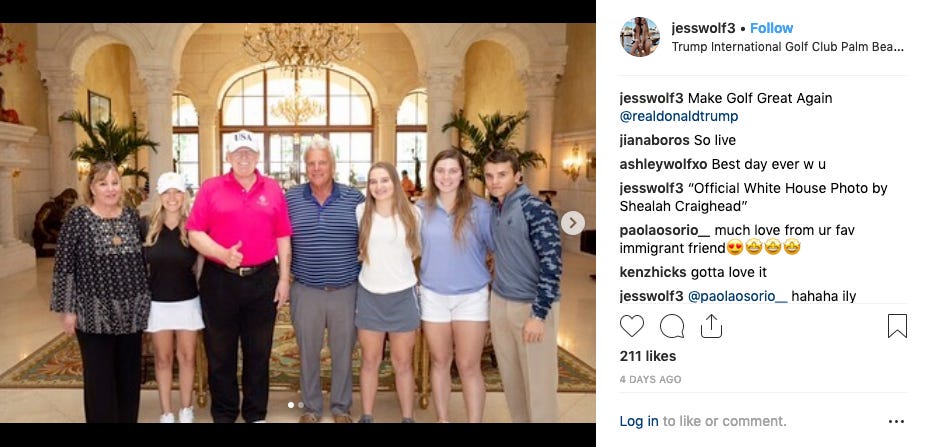 Monday's Political Playbook SPOTTED more Trump administration staffers and a lobbyist at a Trump Organization business:
THE PALM BEACH SCENE … SPOTTED Sunday having dinner at the Trump International Golf Club: Ike and Laurie Perlmutter; Eric and Lara Trump; Chris Ruddy and Kimberly Reed, PRESIDENT DONALD TRUMP'S nominee for the Export-Import Bank; THE PRESIDENT, first lady, Barron and Melania's parents; Mick Mulvaney and his wife; Sarah and Bryan Sanders. … TRUMP chatted with Ruddy and Democratic lobbyist Tom Quinn.
And per the White House press pool, the acting chief of staff/director of the Office of Management and Budget, Mick Mulvaney, appeared to have golfed with the president at the latter's Palm Beach club.
The U.S. president's hotel used a National Park Service property to promote itself.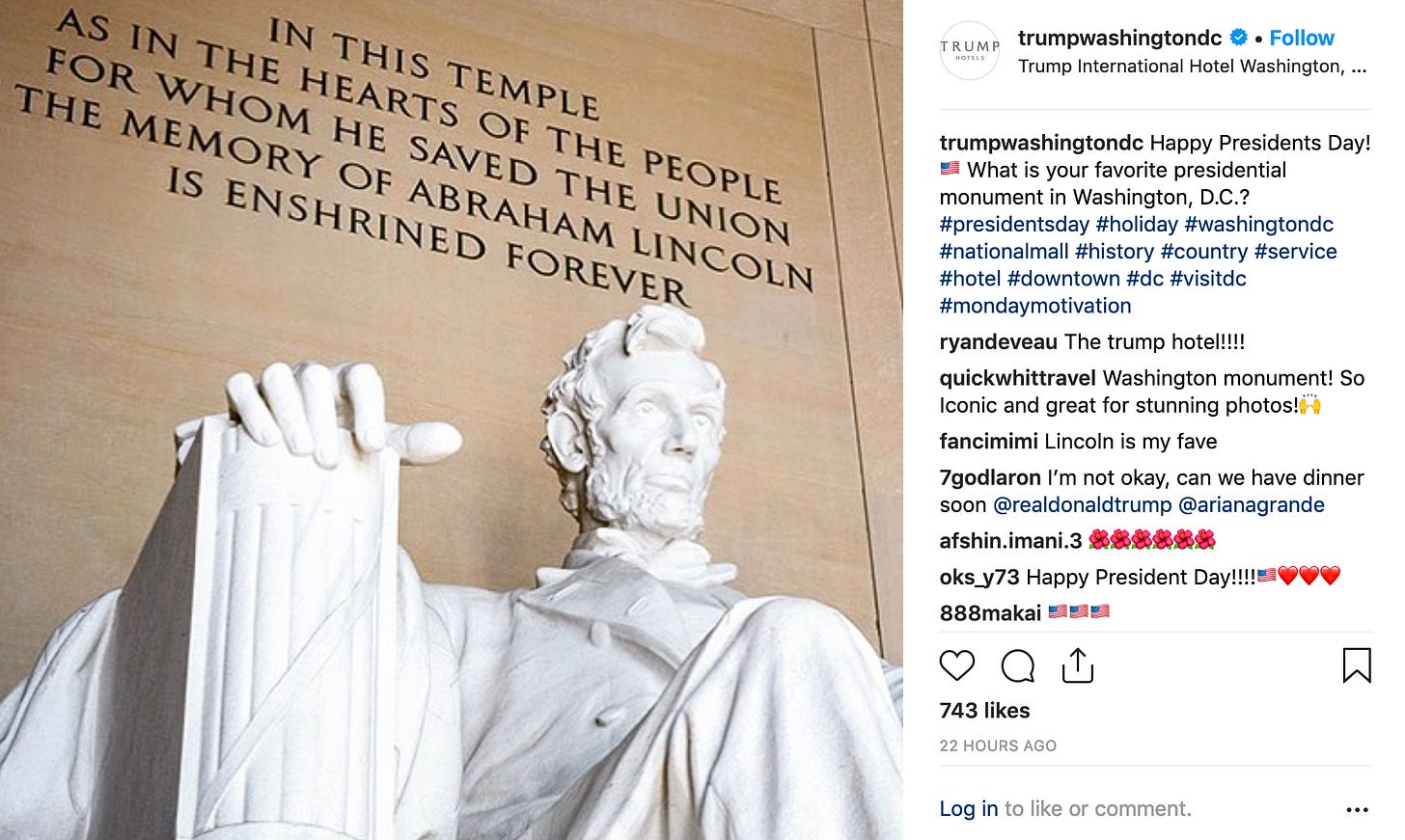 These two Trump supporters showed off one of the Trump Hotel D.C.'s competitive advantages: it's the sole D.C. hotel where customers can pray for the current U.S. president in a hotel he owns and can profit from.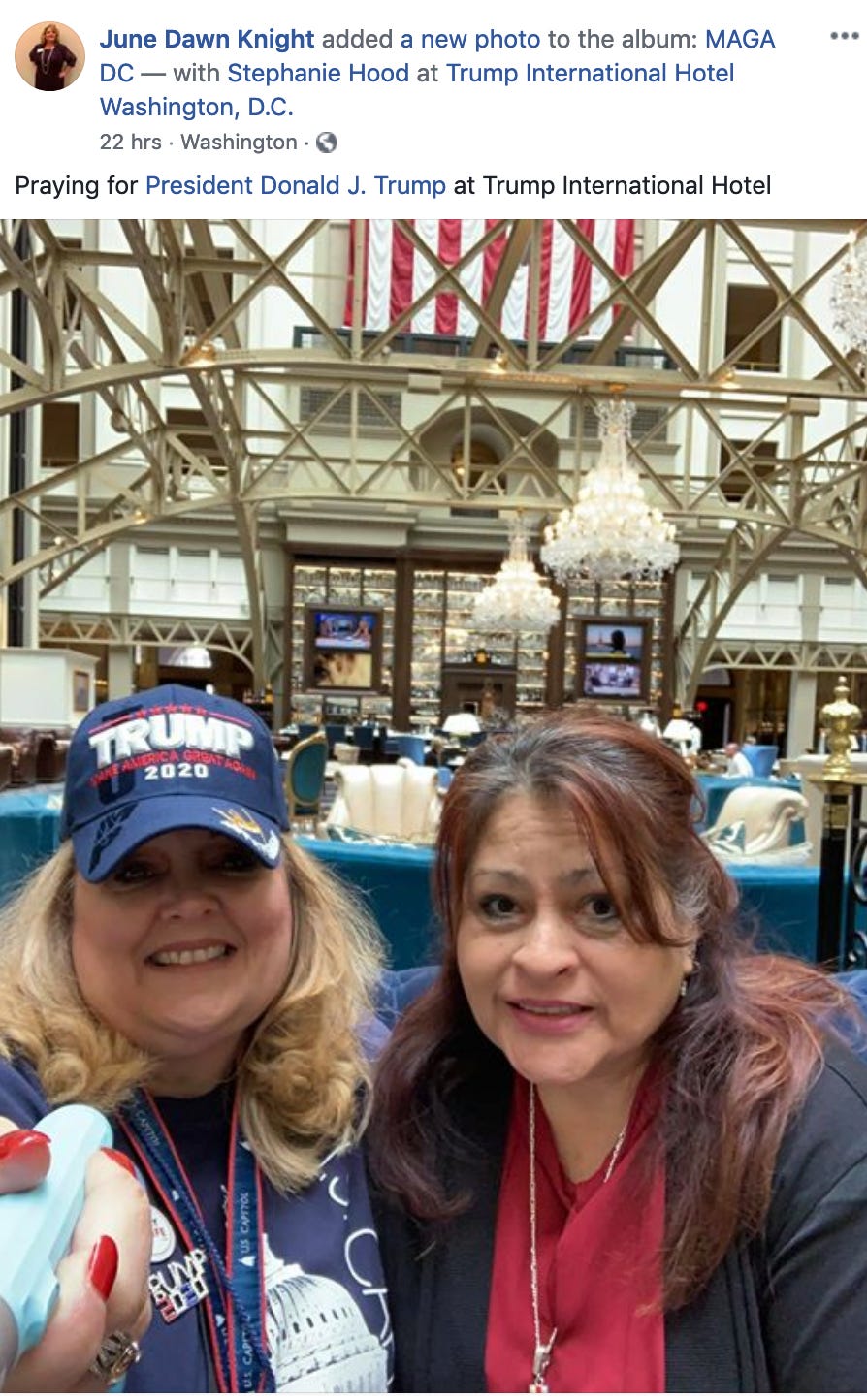 The Trump Hotel D.C.'s director of security, Ernie Wojciech, did not care for skateboarders using the hotel's Pennsylvania Avenue entrance.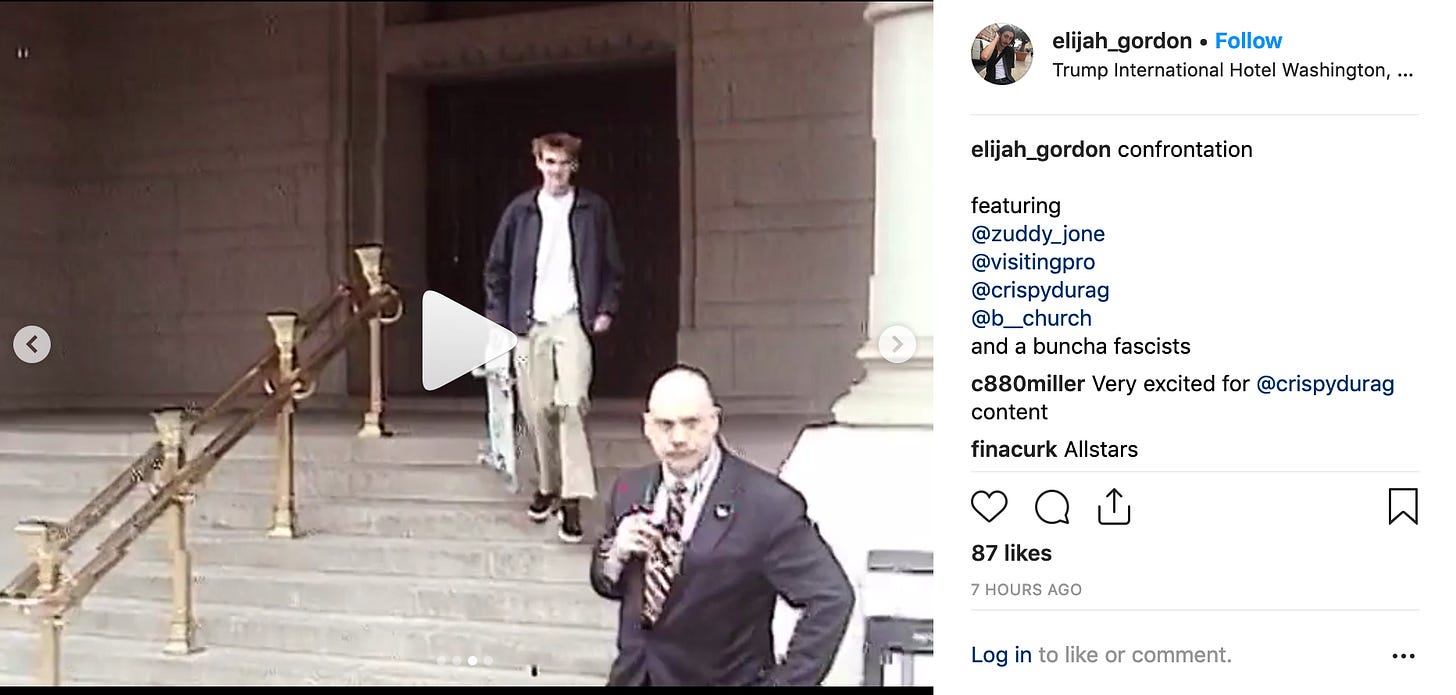 Verified Pornhub amateurs "Ben in Chloe" [sic?] posted a video they claim was shot in a public restroom at the Trump Hotel Las Vegas. No Trump amenities were seen though, so 1100 Pennsylvania was unable to independently verify this claim. If legit, they'd be the third adult performers to promote a video in recent weeks shot at a Trump property, joining Candie Cane and Katrina Blacked.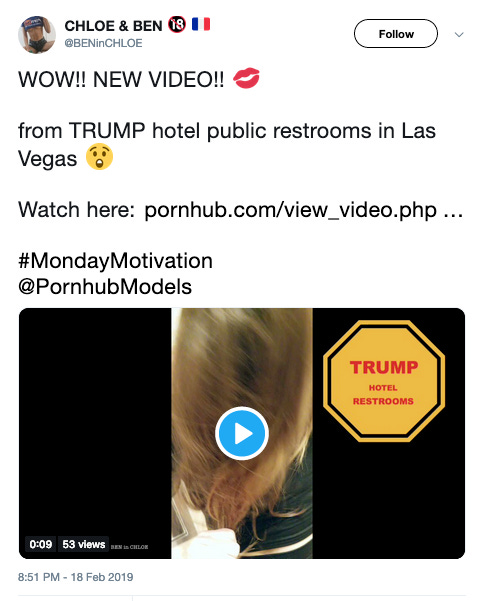 Other Trump Organization news
House investigations, current status (latest change, Feb. 18, 2019)
Legal cases, current status (latest change, Feb. 7, 2019)
D.C. and MD attorneys general's emoluments lawsuit (district court docket, appellate court docket)—

Official capacity—On Dec. 20, the 4th U.S. Circuit Court of Appeals ruled it would hear the president's appeal of district court rulings that allowed the case to proceed to discovery, and the appellate court halted discovery in the case. (Discovery had started Dec. 3 and was scheduled to run through Aug. 2, 2019, with the AGs already having issued subpoenas, including to the Trump Organization, including its Scotish golf courses; the U.S. Departments of Agriculture, Commerce, Defense, and Treasury and the GSA; and the state of Maine. Oral arguments on the appeal are scheduled for March 19. The AGs filed their brief opposing the president's appeal on Feb. 6, stating "The President is not entitled to an order requiring the district court to certify for interlocutory review its denial of his motion to dismiss. No court has ever issued such relief."

Individual capacity—On Dec. 14, Trump's personal attorneys appealed the denial of their motion to dismiss the case, also to the 4th U.S. Circuit Court of Appeals. On Dec. 19, the AGs replied to Trump's motion for a stay pending that appeal by voluntarily dismissing the claims against Trump in his "individual capacity to allow the claims against President Trump in his official capacity to move forward expeditiously." (The AGs only brought suit against Trump in his individual capacity after the judge suggested they do so.) Trump's personal attorneys, on Dec. 21, opposed the motion to dismiss at the district level, saying the appeals court now has jurisdiction and accusing the AGs of "gamesmanship."

196 Democratic senators and representatives' emoluments lawsuit—On Sept. 28 judge Emmet G. Sullivan ruled that the legislators have standing to sue. Trump's Justice Department attorneys filed an interlocutory appeal on Oct. 22. And on Jan. 30, 2019 the plaintiffs' filed a notice of supplemental authority, notifying the court of the GSA inspector general's report that criticized GSA for failing to consider if the Trump Hotel D.C.'s lease was in compliance with the U.S. Constitution after Donald Trump became president. Two days later, the president's attorneys argued that the IG's conclusion was not inconsistent with Trump's argument, but that the judge should ignore that report anyway because the IG has no expertise in interpreting or applying the foreign emoluments clause.

CREW et. al's emoluments lawsuit—In February, CREW appealed its suit being dismissed for lack of standing to the 2nd U.S. Circuit Court of Appeals. Oral arguments on that motion were held on Oct. 30.

Cork's unfair competition lawsuit—Judge Richard J. Leon dismissed the case on Nov. 26, writing "Cork has failed to state a claim for unfair competition under D.C. law." On Dec. 10, Cork's attorneys filed a notice of appeal and on Jan. 10 they submitted a statement of issues to be raised. The next steps, which don't yet have a timeline, include a briefing schedule being set and both sides filing appellate briefs.

Employees' class-action suit alleging racial discrimination—Two of the three plaintiffs did not appear at a status hearing on Jan. 25; their cases were moved to arbitration. Via email, their attorney, A.J. Dhali, said his clients did not appear at the hearing because their case already had been moved to arbitration last year. The next status hearing is scheduled for Oct. 4.
Health inspections, current status (latest change, Aug. 10, 2018)
❌Hotel: five violations on May 7, 2018; two were corrected on site

❌BLT Prime and Benjamin Bar: nine violations on Aug. 10, 2018

❌Sushi Nakazawa: two violations on Aug. 10, 2018

✔️Banquet kitchen: no violations on Aug. 10, 2018

❌Pastry kitchen: two violations on Aug. 10, 2018

✔️Gift shop: no violations on May 7, 2018

❌Employee kitchen and in-room dining: five violations on Aug. 10, 2018; two were corrected on site
One thing that has nothing to do with Trump's businesses (I think, tough to tell sometimes!)
"Religious liberty for some: Why did the Supreme Court deny a Muslim's plea for an imam at his execution?" by The Economist
Thanks for reading. If you like what you see, tell someone—and support this work by becoming a paying member ($5/month or $50/year). If you've been forwarded this newsletter, subscribe for yourself at zacheverson.substack.com. Questions? Read our FAQ/manifesto. Tips or feedback? Contact me, Zach Everson, securely via email at 1100Pennsylvania@protonmail.com or on Signal at 202.804.2744.