Discover more from 1100 Pennsylvania
"The undisputed expert on the D.C. Trump Hotel" – David Fahrenthold of the Washington Post
Over 3,000 subscribers
Looking to sway FDA, aestheticians book president's hotel
Facing 'major obstacles' government action could remedy, aestheticians gather at Trump Hotel D.C.
Confronted with issues that government action could address, more than 100 aesthetic industry leaders gathered at the Trump Hotel D.C. on March 2 for The Aesthetic Forum.
In a video promoting the event, the forum's founder, Micheal Moretti, listed five "major obstacles" his industry faces: FDA action, counterfeit products, countries that deny import access, excessive mergers and acquisitions, and beefs between types of providers over regulatory access to markets.
So, yeah, all issues the hotel's owner has some sway over.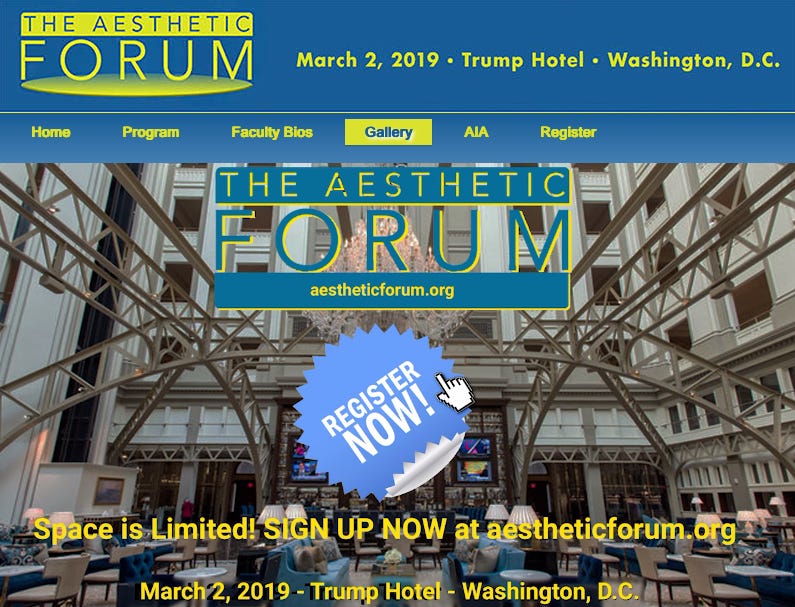 Moretti did not immediately respond to an inquiry asking if the Trump Hotel D.C. was booked in an effort to influence the Trump administration.
Registration at the door for the forum cost $995.
The Aesthetic Forum occurred while the American Academy of Dermatology's annual meeting was was taking place at D.C.'s Water E. Washington Conference Center. The Trump Hotel D.C. was an official hotel for the meeting, and social media posts show attendees staying and dining at the hotel.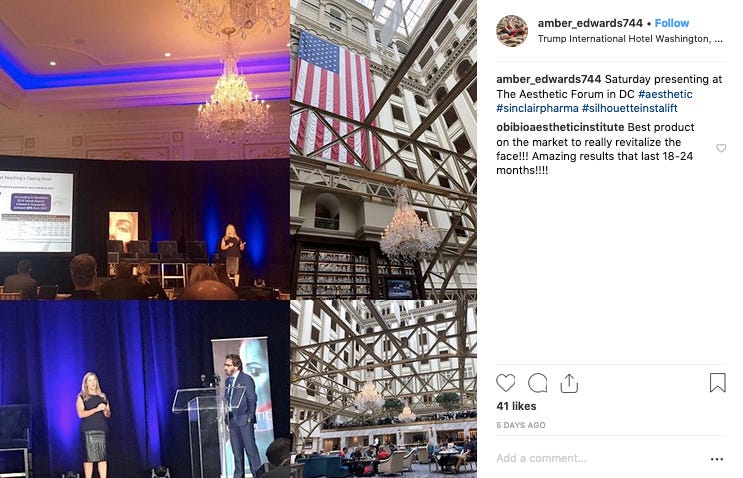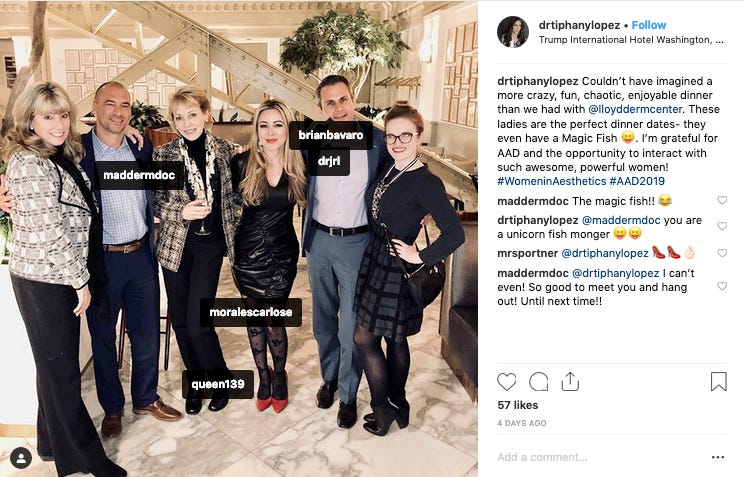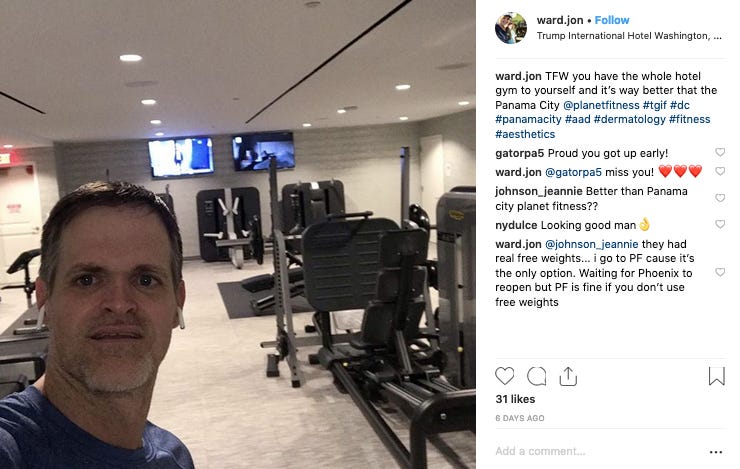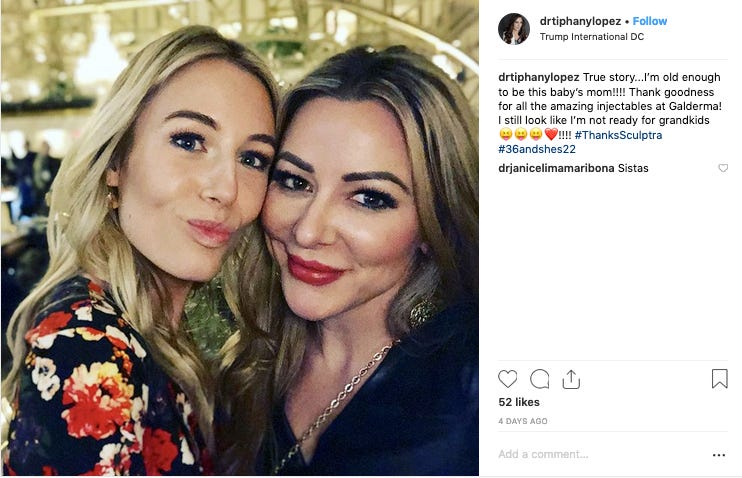 Christian non-profit holding golf tournament at Trump Charlotte
Trump Charlotte is hosting the inaugural Premier Golf Classic May 19–20. It benefits the Premier Foundation, "an international Christian non-profit organization committed to being a voice for the disadvantaged." Reps from the Premier Foundation have not replied to an inquiry about their reasons for holding the event at one of the president's golf courses.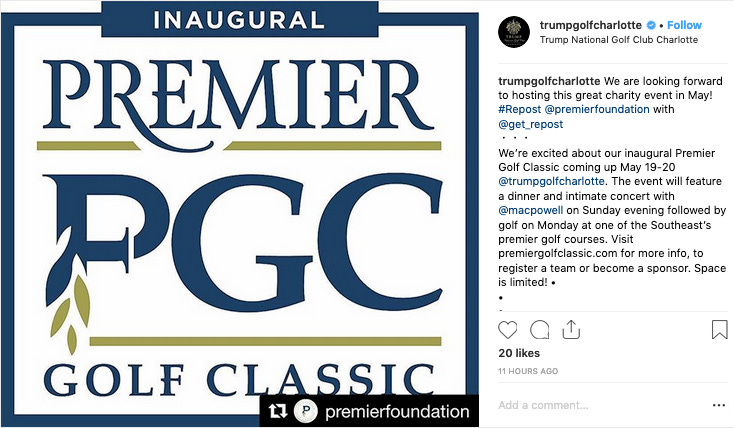 Hotel announces Easter 2019 brunch plans; let's relive Easter 2018
Yesterday the Trump Hotel D.C. announced its Easter brunch plans: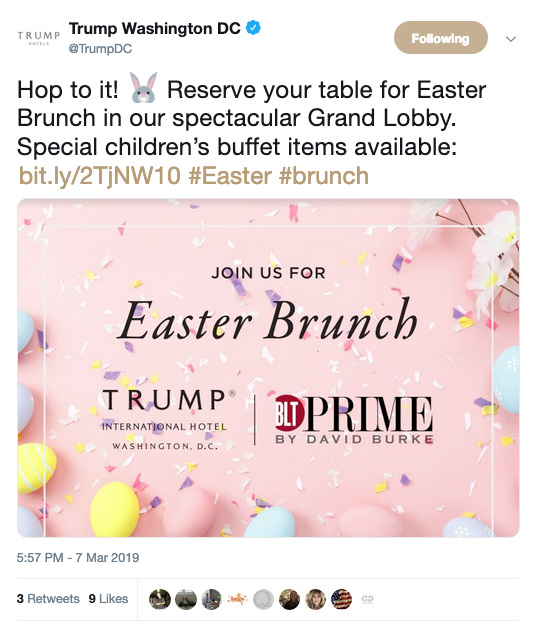 Let's recap Easter 2018 at the Trump Hotel D.C.:
On Good Friday, it served little bunnies with bow ties that evoked Karen McDougal more than the Easter bunny.

BLT Prime's chef previewed the meal. On Fox & Friends. To the daughter of President Trump's ambassador to Russia.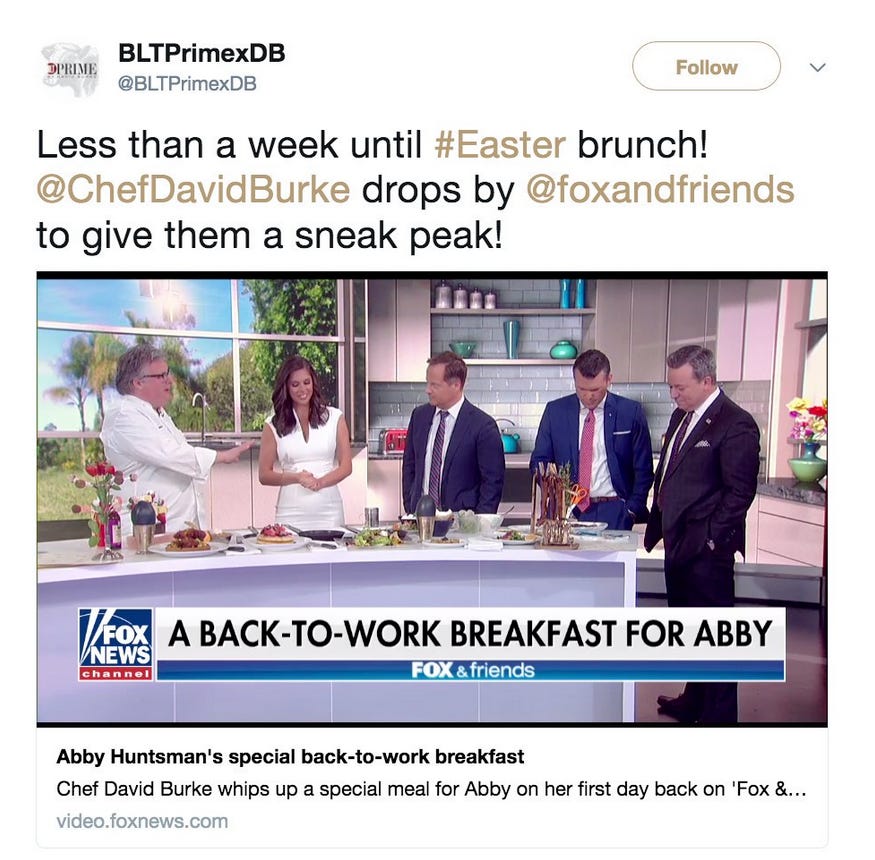 Noteworthy sightings
Just caught this tweet from Jan. 26, 2019, showing White House communications director and deputy chief of staff Bill Shine with his wife Darla and now-national policy analyst for Gray Television Greta Van Susteren enjoying cocktails at Shine's boss's hotel.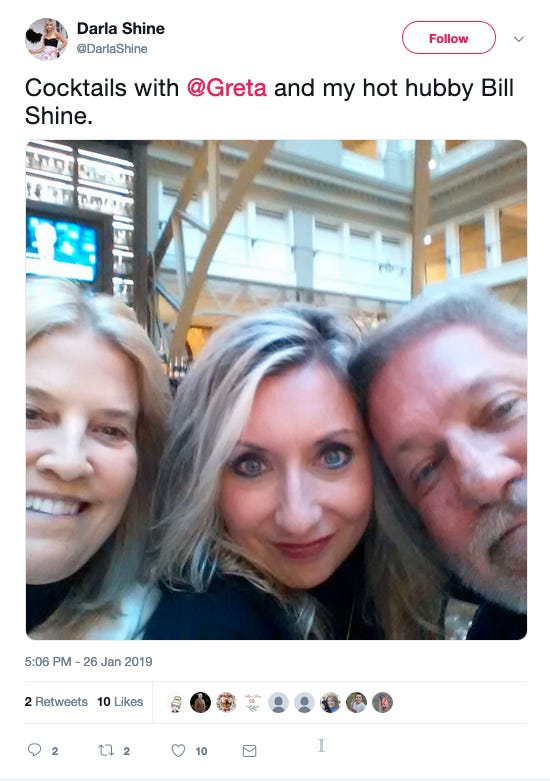 Charismatic Christian preacher Rodney Howard-Browne met with a group of D.C.-area pastors in the Trump Hotel D.C's lobby yesterday (he dined at the hotel in July 2018 too).
In July 2017, Howard-Browne visited the White House, where he lay hands on President Trump to "avert a 'planned attack' that Luciferian forces were concocting to remove the president from office, which Howard-Browne said he had learned about from a member of Congress" (per Kyle Mantyla of Right Wing Watch). Howard-Browne also has said, "They sacrifice children at the highest levels in Hollywood."
Anyway, Howard-Browne was back at the White House yesterday too, to share his thoughts on Israel.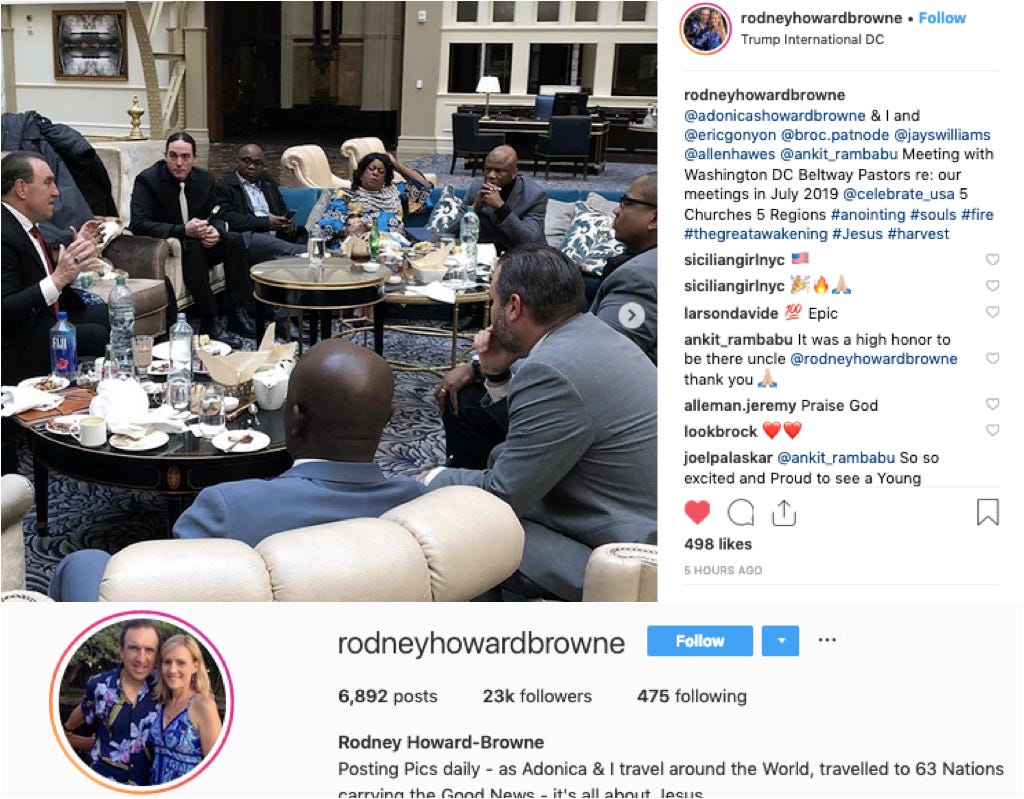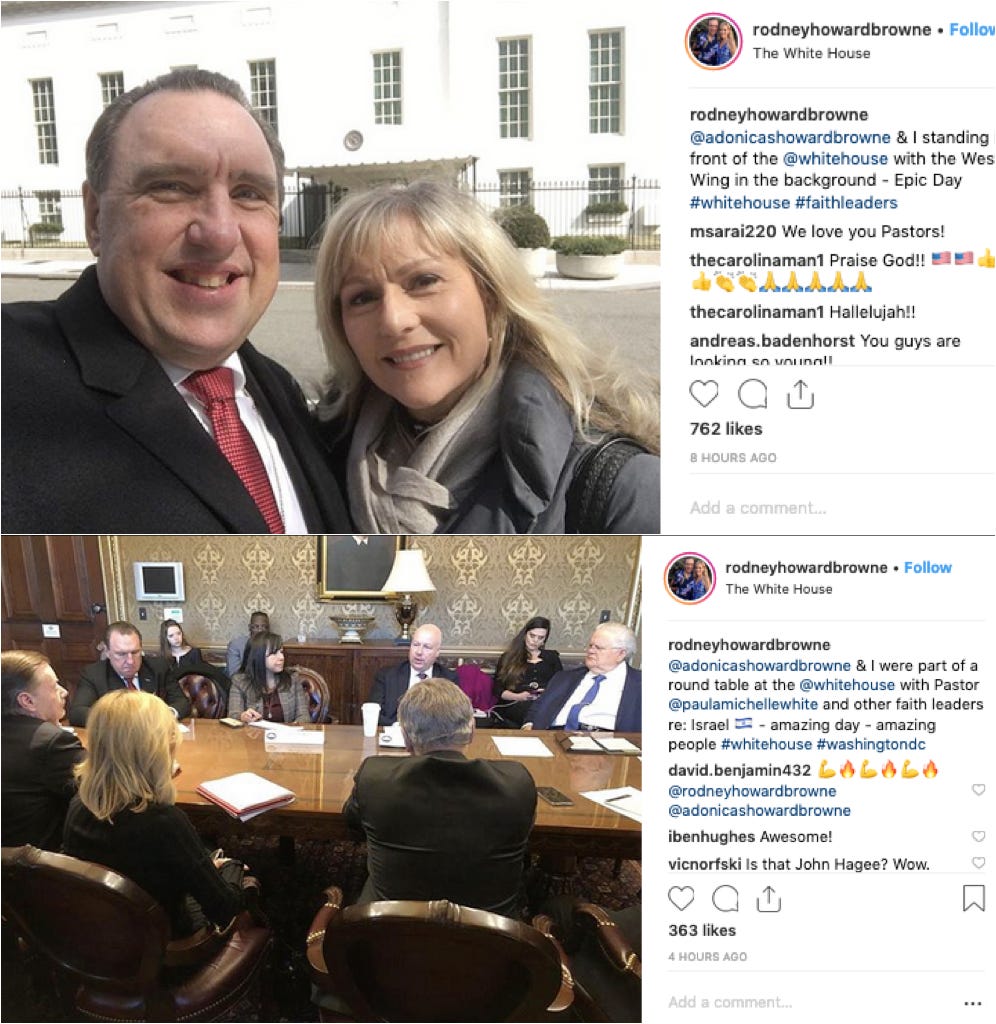 Politico Playbook spotted Connie Mack, Rick Wiley, and Phil Hardy at the Trump Hotel. It's likely referring, respectively, to the former GOP rep from Florida, who's now a lobbyist; the former RNC political director, who's now a lobbyist; and the former chief of staff for Rep. Raúl Labrador (R–ID), who's now a lobbyist.

The vice president of D.C. Military Tours, Thomas Schultz, met with a client at the Trump Hotel D.C. His client told him, "every Tuesday is 'Trump Tuesday' happy hour. A who's who of conservative Washington shows."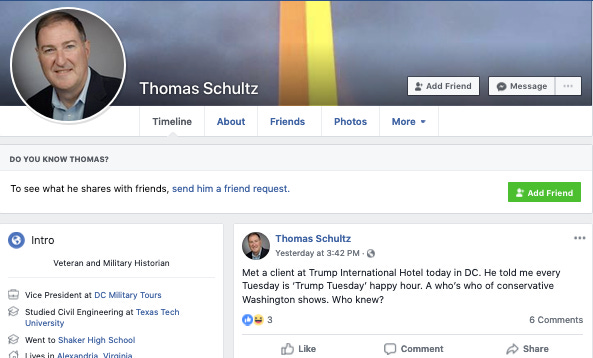 The president of lobbying firm the Da Vinci Group, Mark Smith, a Trump Hotel D.C. regular was back. This time he was with the Missouri Pharmacy Association's CEO, Ron Fitzwater.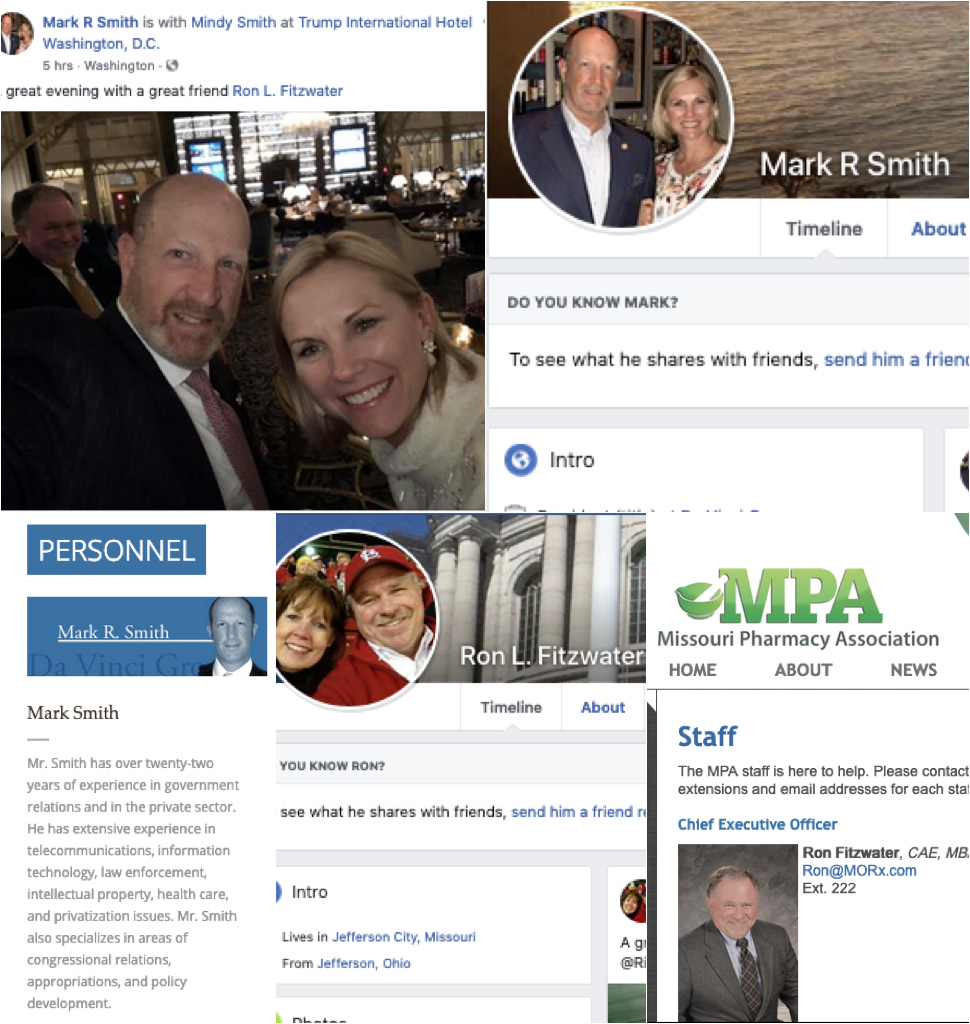 The son of HUD Secretary Ben Carson, Ben Carson Jr., was back at his dad's boss's hotel.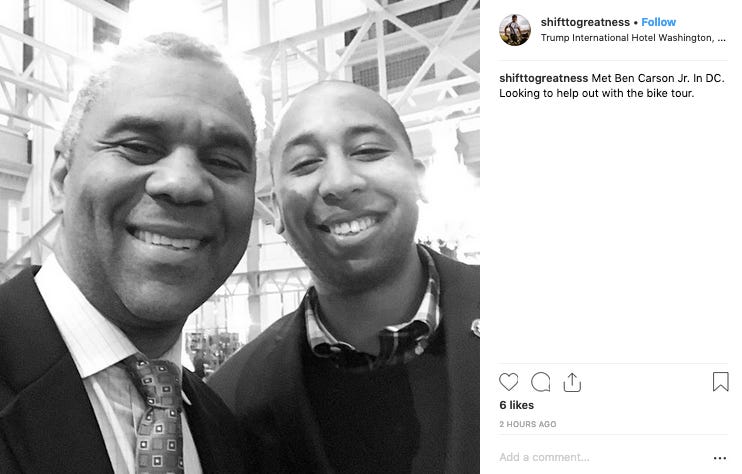 Nicholas J. Petromelis declared, "The candied bacon at @TrumpDC is one of life's greatest treasures!" And he made sure to let the U.S. president and a White House advisor know his thoughts. Petromelis is an associate at The Herald Group, a public affairs firm that Cambridge Analytica hired to promote the NRA's voter registration drive.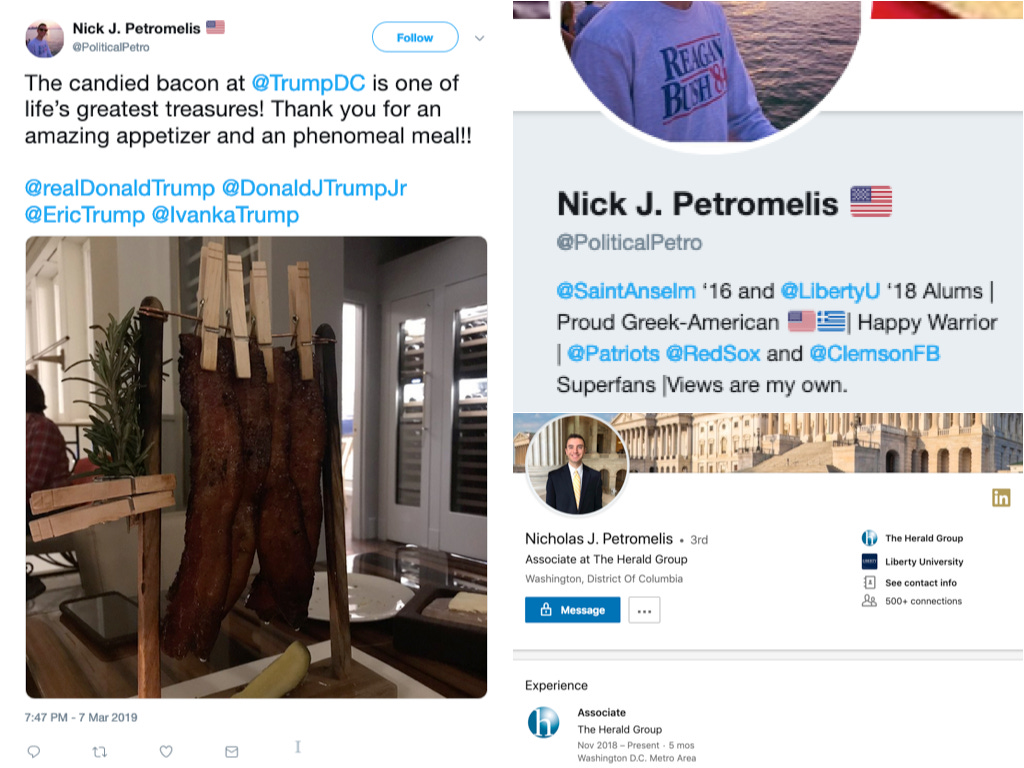 Mickael Damelincourt, the Trump Hotel D.C.'s managing director, got a jump start on his spring cleaning and quoted The Wolf of Wall Street in the process. Damelincourt really wanted to get this message out too; he posted it on Instagram, LinkedIn, and Twitter.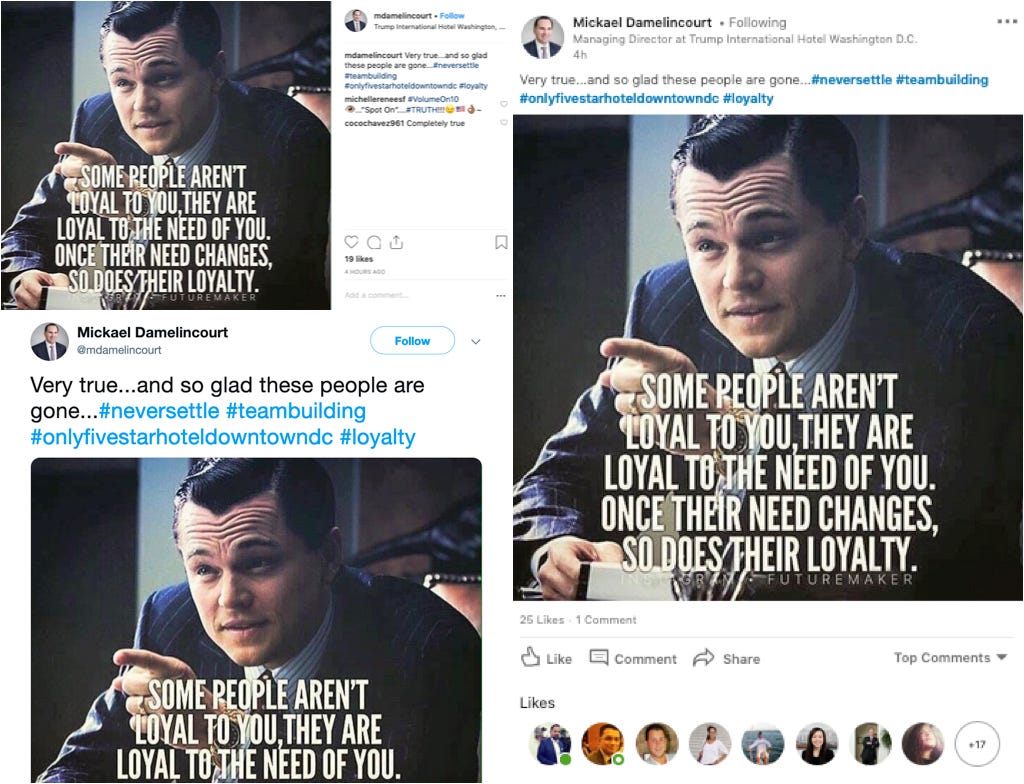 Other Trump Organization news
House investigations, current status (latest changes, March 6, 2019)
Legal cases, current status (latest change, March 6, 2019)
D.C. and MD attorneys general's emoluments lawsuit (district court docket, appellate court docket)—

Official capacity—On Dec. 20, 2018, the 4th U.S. Circuit Court of Appeals ruled it would hear the president's appeal of district court rulings that allowed the case to proceed to discovery, and the appellate court halted discovery in the case. Discovery had started Dec. 3 and was scheduled to run through Aug. 2, 2019, with the AGs having subpoenaed the Trump Organization, including its Scottish golf courses; the U.S. Departments of Agriculture, Commerce, Defense, and Treasury and the GSA; and the state of Maine. Oral arguments on the appeal are scheduled for March 19. The AGs filed their brief opposing the president's appeal on Feb. 6, stating, "The President is not entitled to an order requiring the district court to certify for interlocutory review its denial of his motion to dismiss. No court has ever issued such relief." Trump's DOJ attorneys replied on Feb. 21: "Plaintiffs fundamentally err, substantively and procedurally."

Individual capacity—On Dec. 14, Trump's personal attorneys appealed the denial of their motion to dismiss the case, also to the 4th U.S. Circuit Court of Appeals. On Dec. 19, the AGs replied to Trump's motion for a stay pending that appeal by voluntarily dismissing the claims against Trump in his "individual capacity to allow the claims against President Trump in his official capacity to move forward expeditiously." (The AGs only brought suit against Trump in his individual capacity after the judge suggested they do so.) Trump's personal attorneys, on Dec. 21, opposed the motion to dismiss at the district level, saying the appeals court now has jurisdiction and accusing the AGs of "gamesmanship."

196 Democratic senators and representatives' emoluments lawsuit—On Sept. 28, Judge Emmet G. Sullivan ruled that the legislators have standing to sue. Trump's Justice Department attorneys filed an interlocutory appeal on Oct. 22. On Jan. 30, 2019, the plaintiffs' filed a notice of supplemental authority, notifying the court of the GSA inspector general's report that criticized GSA for failing to consider if the Trump Hotel D.C.'s lease was in compliance with the Constitution after Donald Trump became president. Two days later, the president's attorneys argued that the IG's conclusion was not inconsistent with Trump's argument, but that the judge should ignore that report anyway because the IG has no expertise in interpreting or applying the foreign emoluments clause.

CREW et. al's emoluments lawsuit—In February 2018, CREW appealed its suit being dismissed for lack of standing to the 2nd U.S. Circuit Court of Appeals. Oral arguments on that motion were held on Oct. 30.

Cork's unfair competition lawsuit—Judge Richard J. Leon dismissed the case on Nov. 26, 2018, writing "Cork has failed to state a claim for unfair competition under D.C. law." On Dec. 10, Cork's attorneys filed a notice of appeal and on Jan. 10, 2019 they submitted a statement of issues to be raised. A briefing schedule was set on March 5 with Cork's brief due on April 15, the president's brief due on May 15, and Cork's reply to the president's brief due on June 5.

Employees' class-action suit alleging racial discrimination—Two of the three plaintiffs did not appear at a status hearing on Jan. 25, 2019; their cases were moved to arbitration. Via email, their attorney, A.J. Dhali, said his clients did not appear at the hearing because their case already had been moved to arbitration last year. The next status hearing is scheduled for Oct. 4.
Health inspections, current status (latest change, Aug. 10, 2018)
❌Hotel: five violations on May 7, 2018; two were corrected on site

❌BLT Prime and Benjamin Bar: nine violations on Aug. 10, 2018

❌Sushi Nakazawa: two violations on Aug. 10, 2018

✔️Banquet kitchen: no violations on Aug. 10, 2018

❌Pastry kitchen: two violations on Aug. 10, 2018

✔️Gift shop: no violations on May 7, 2018

❌Employee kitchen and in-room dining: five violations on Aug. 10, 2018; two were corrected on site
Corrections
The March 7 and March 1 issues of 1100 Pennsylvania described Pete Sessions (R–TX) as if he were a current member of Congress. Sessions, in fact, lost his reelection bid in November. The online versions of the newsletters have been updated. We regret the error.

Due to the unexplained impulse to tinker at the last second with a headline that was probably good enough, the header for yesterday's top story was a god damn mess. It should have read, "Saudi lobbyist who booked 500 rooms—at a cost of $270,000—for U.S. veterans returned to the hotel." We regret the error.
One thing that has nothing to do with Trump's businesses (I think, tough to tell sometimes!)
From "Mark Zuckerberg's plans to capitalize on Facebook's failures" by Sue Halpern for The New Yorker:
Facebook's private groups have already been used to incite genocide and other acts of violence, suppress voter turnout, and disseminate misinformation. Its pivot to privacy will not only give such activities more space to operate behind the relative shelter of a digital wall but will also relieve Facebook from the responsibility of policing them
Thanks for reading. If you like what you see, tell someone—and support this work by becoming a paying member ($5/month or $50/year). If you've been forwarded this newsletter, subscribe for yourself at zacheverson.substack.com. Questions? Read our FAQ/manifesto. Tips or feedback? Contact me, Zach Everson, securely via email at 1100Pennsylvania@protonmail.com or on Signal at 202.804.2744.