Maine taxpayers ponied up $22,000
Welcome to 1100 Pennsylvania, a newsletter devoted to President Donald Trump's Trump International Hotel Washington, D.C. (and his other companies). President Trump, of course, still owns his businesses and can profit from them.
If you like what you see, tell someone—and support this work by becoming a paying member ($5/month or $50/year). If you've been forwarded this newsletter, subscribe for yourself at zacheverson.substack.com. Questions? Read our FAQ/manifesto. Tips or feedback? Contact me, Zach Everson, securely via email at 1100Pennsylvania@protonmail.com or on Signal at 202.804.2744.
LePage and staff spent at least $22,000 of Maine taxpayers' money at U.S. president's hotel
From "Maine paid for 40 rooms at Trump hotel for LePage, staff" by Scott Thistle and Kevin Miller for The Portland Press Herald:
Former Gov. Paul LePage and his staff members paid for more than 40 rooms at Washington, D.C.'s Trump International Hotel during a two-year period, spending at least $22,000 in Maine taxpayer money at a business owned by the president's family.

Documents recently obtained by the Portland Press Herald/Maine Sunday Telegram show that the LePage administration paid anywhere from $362 to more than $1,100 a night for rooms at the luxury hotel during trips to meet with President Trump or his inner circle, attend White House events or talk to members of Congress. Receipts from those dozen trips also show the Republican governor or his administration spending hundreds of dollars on filet mignon or other expensive menu items at the restaurant in the Trump hotel. Those expenditures are likely to draw additional scrutiny from attorneys who have cited LePage's previously disclosed stays at the D.C. hotel in a federal lawsuit alleging the president is improperly profiting from the business.
Not only have attorneys cited LePage's stays, but so too has a judge: In March 2018, U.S. District Judge Peter Messitte mentioned one of LePage's stints at the Trump Hotel D.C. when granting the D.C. and Maryland attorneys general standing to sue the president for violating the Constitution's domestic emoluments clause:
In addition, at least one State—the State of Maine—patronized the Hotel when its Governor, Paul LePage, visited Washington to discuss official business with the Federal Government, including discussions with the President. Pls.' Opp'n. at 8, ECF No. 46. Indeed, on one of those trips, the President and Governor LePage appeared together at a news conference at which the President signed an executive order to review orders of the prior administration that established national monuments within the National Park Service, which could apply to a park and national monument in Maine, which President Obama had established over LePage's objections in 2016.
Via social media, your correspondent discovered two other LePage visits to the hotel back when they happened in 2018:
Here he posed with a lobbyist for the RV industry and the associate director for strategic initiatives at the Council for a Strong America, a law-enforcement nonprofit, on Feb. 7, 2018.
Inaugural committee's financial records subpoenaed by New Jersey attorney general
From "NJ attorney general subpoenas Trump's inaugural committee" by Jim Mustian for the Associated Press:
President Donald Trump's inaugural committee received a sweeping request for financial records this week from prosecutors in New Jersey, the second subpoena the group has received in as many weeks as its fundraising and spending draws mounting scrutiny.

The committee said Friday that it is in contact with the New Jersey Attorney General's Office, which issued the request for documents on Monday as part of a civil inquiry into how the committee raised and spent $107 million on inaugural events.
Among that spending drawing scrutiny: $1.5 million at the Trump Hotel D.C., including $175,000 per day for event space.
Group lobbying for increase in visas that benefit Trump Org spotted again at Trump Hotel D.C.
This weekend marked the one-year anniversary of the 2018 Seasonal Employment Alliance H-2B fly-in, during which a group in D.C. to lobby for an increase in visas for temporary foreign workers—which the Trump Org relies on—got a sweet rate at the Trump Hotel D.C.
While searches to see if the group returned on the same weekend in 2019 yielded no results, it turns out the Seasonal Employment Alliance did hold a follow-up fly-in back in July 2018. And, yep, members were again at the Trump Hotel D.C., along with Rep. Matt Gaetz (R–FL).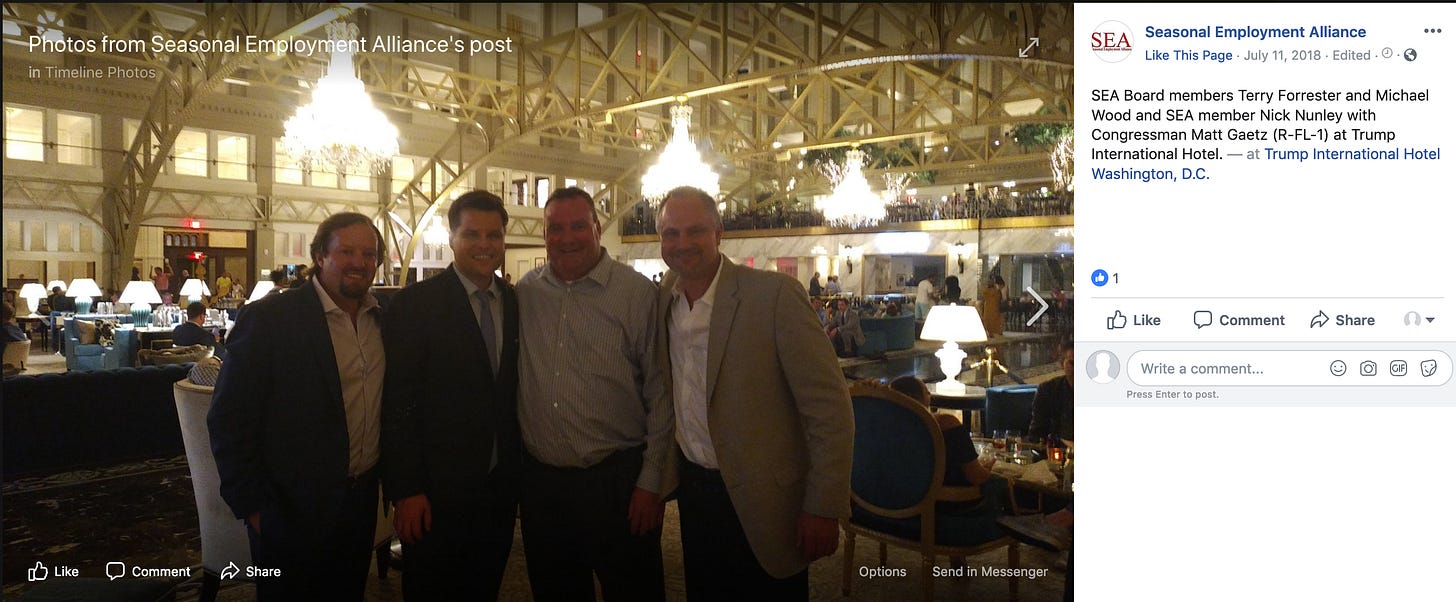 Campaign expenditures
On New Year's Eve, both the Wyoming and Texas Republican parties spent money at Trump properties. It was $562.11 on lodging for Wyoming at the Trump Hotel D.C. and $708.51 on travel for Texas at Doral.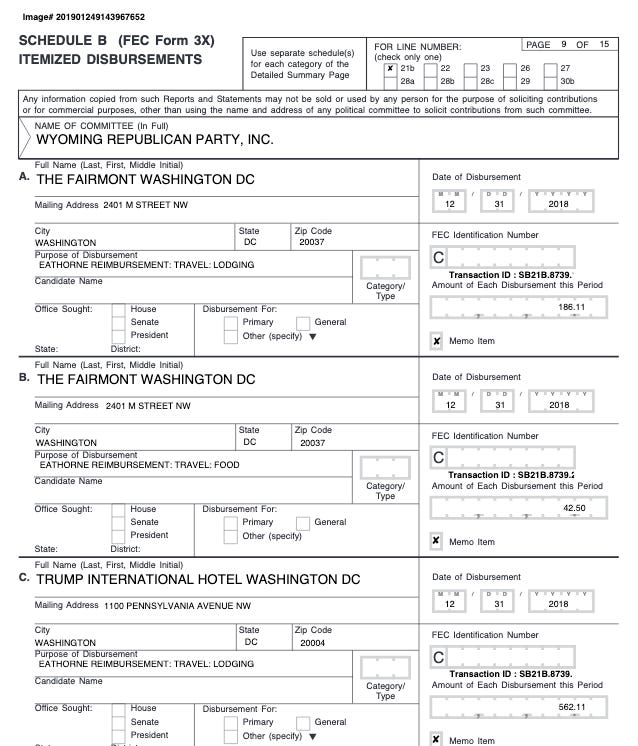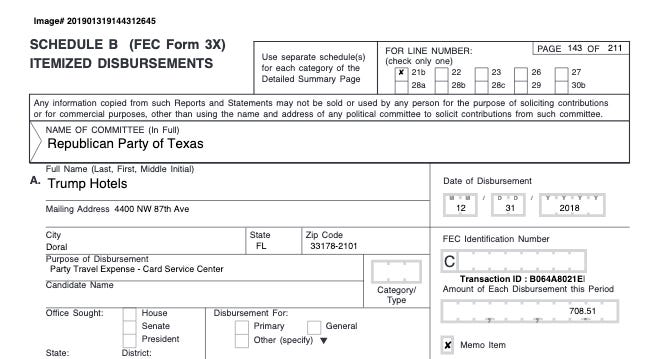 The campaign for Sen. Jim Inhofe (R–OK) spent $75.80 at the Trump Hotel D.C. for food and beverage on Dec. 13, 2018.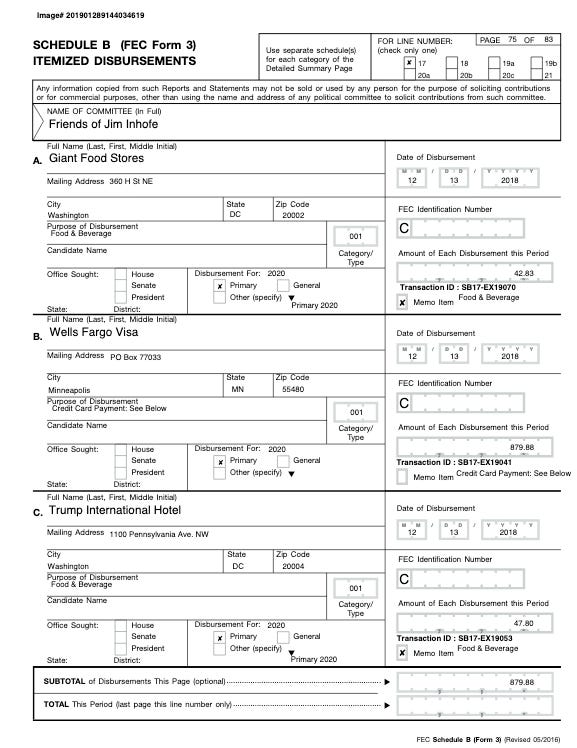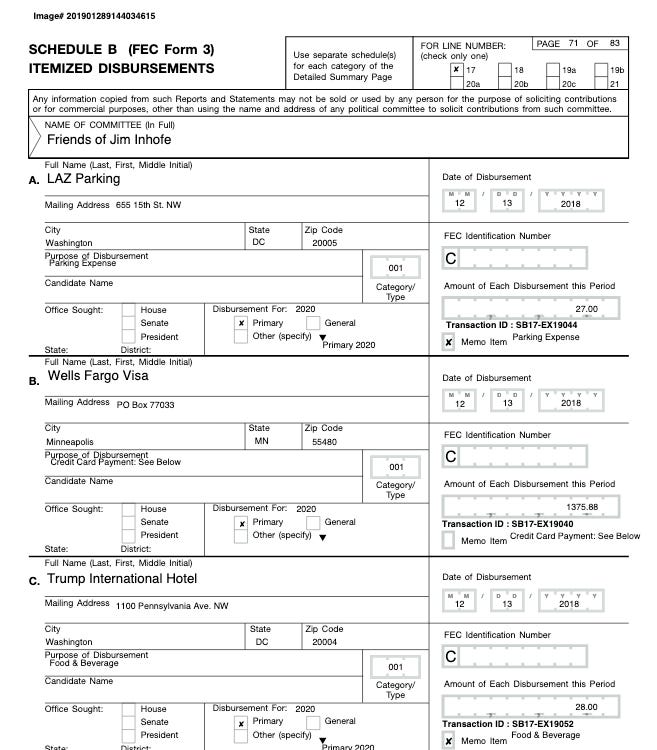 Noteworthy sightings
J.D. Durkin of Cheddar shared a photo of the president pulling up to an omelette bar at his Palm Beach golf club:
Sunday's Politico Playbook spotted Trump admin staffers, a Trump Org alum, and other notables at Mar-a-Lago:
SPOTTED dining at a Mar-a-Lago last night: President Trump and the First Lady; Bill Belichick; Sarah Huckabee Sanders and her husband Bryan; Commerce Secretary Wilbur Ross and Hilary Ross; U.S. ambassador to South Africa nominee Lana Marks; Lois Pope; Nick Owens; Anthony Pratt; and Keith Schiller.
The press pool reported yet more Trump administration staffers at Mar-a-Lago:
This afternoon, President Trump will meet with members of his trade team and receive an update on the ongoing talks with China. Ambassador Lighthizer, Secretary Ross, Mick Mulvaney, and Peter Navarro will join the President in person at Mar-a-Lago.
The pool also saw Eric Trump at Mar-a-Lago on Sunday.
And Fox News's Gina Loudon spent the weekend in Mar-a-Lago's Ivanka suite. Ivanka is an advisor to the U.S. president, who owns Mar-a-Lago.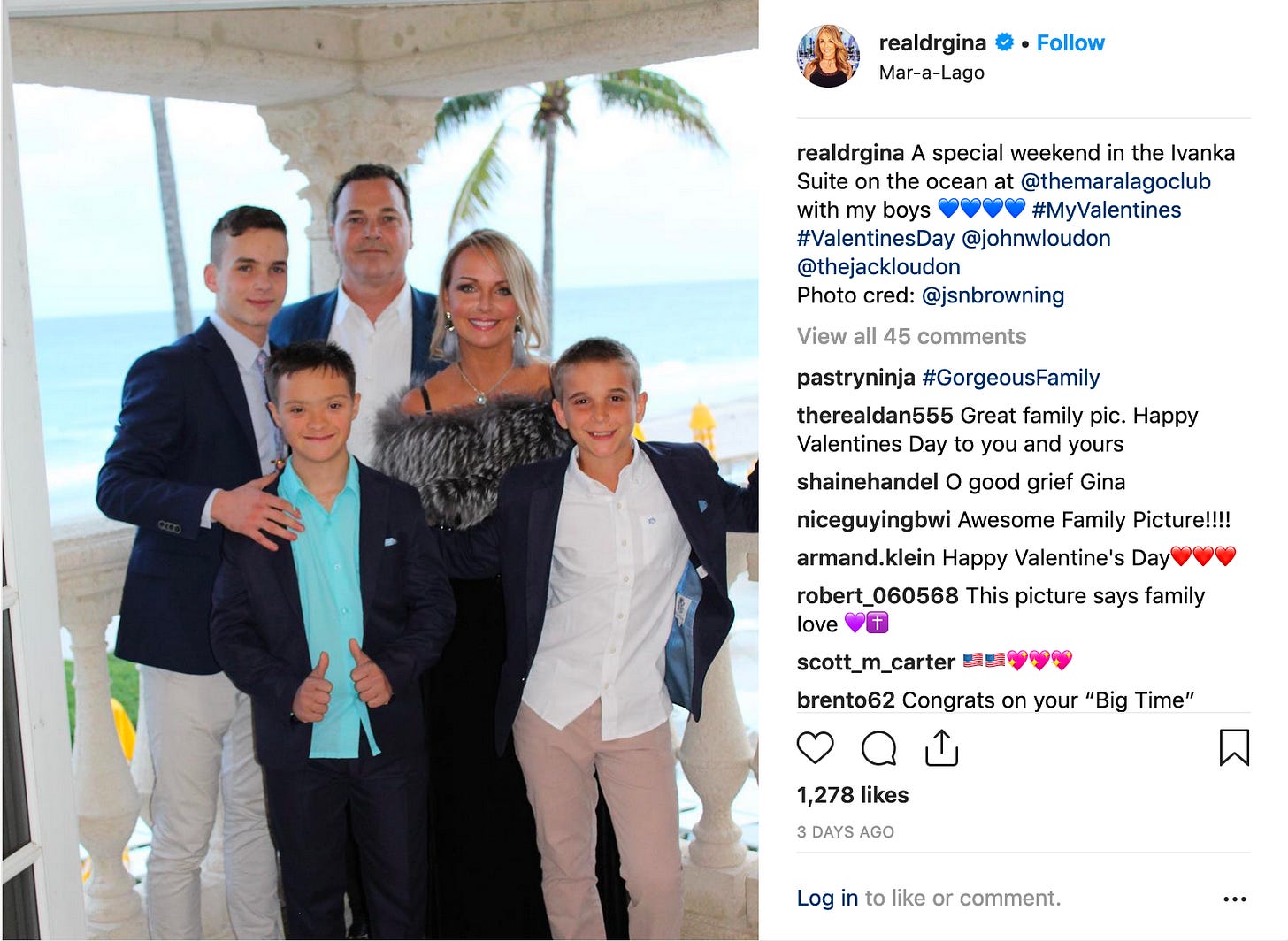 Former Breitbart London editor-in-chief and current associate of Nigel Farage and Steve Bannon, Raheem Kassam, and Fox News pundit and Trump campaign advisor Harlan Hill stood at the D.C. hotel in front of The Hill Live's Jessica Grose; White House staffer turned One America News Network correspondent, Gabrielle Cuccia; and a special assistant at the office of the Secretary of Defense for Policy (a political appointee of the president/innkeeper's), Alexandra Seymour.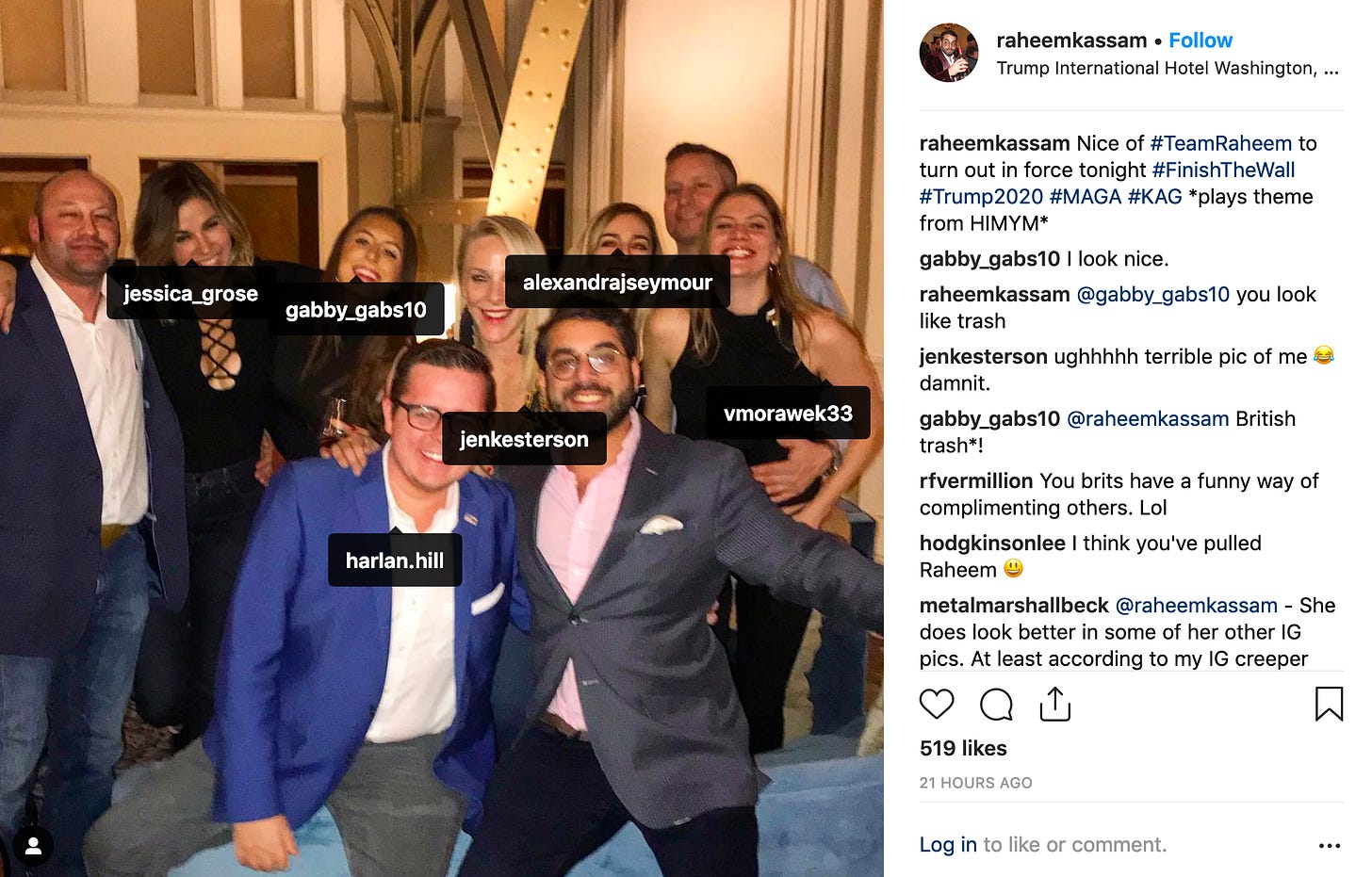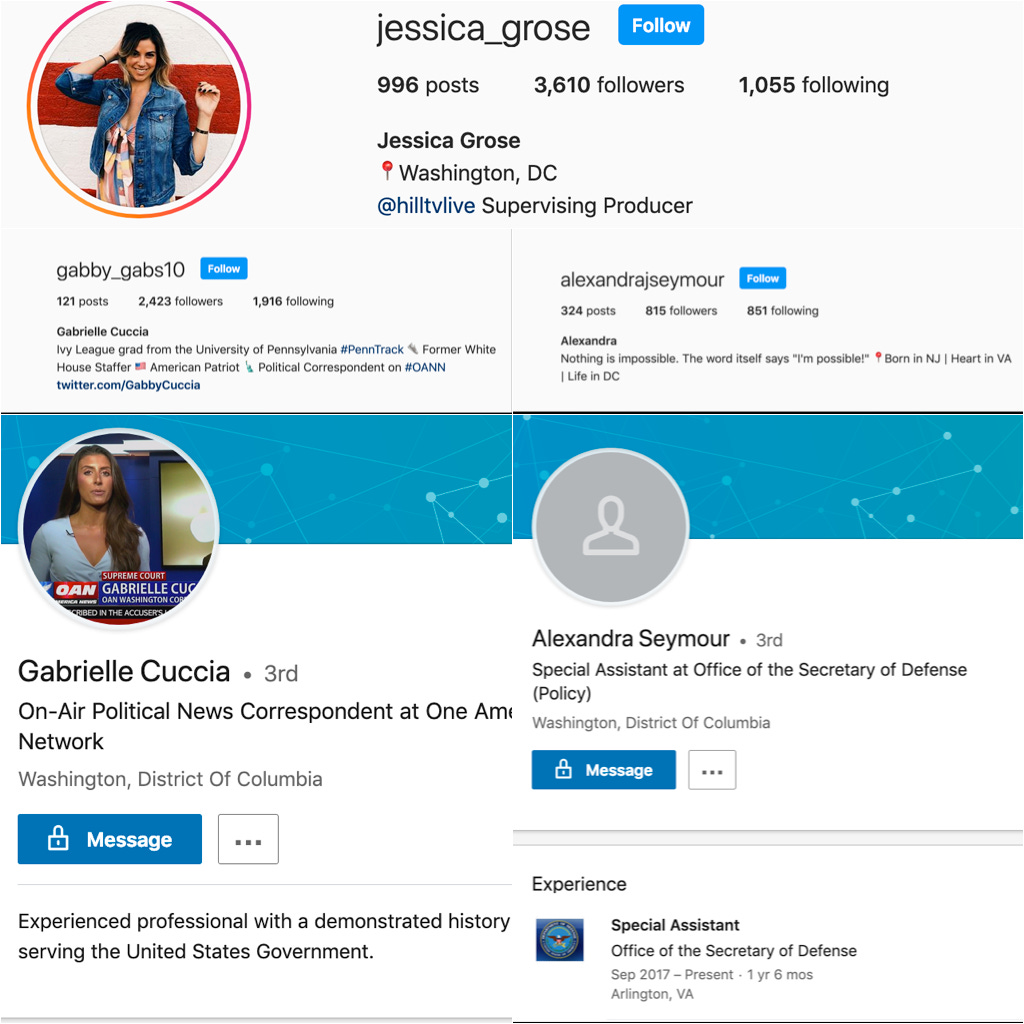 A trial attorney in the Department of Justice's national courts section (at least as of November), Kara Westercamp was back at the Trump Hotel D.C. She was not happy when FOIA requests were submitted to see if she spent government funds or was conducting official business on a previous visit. (One request is being appealed after the DOJ said Westercamp does not maintain a calendar; a FOIA for a subsequent visit is still outstanding.) Also, it appears Westercamp's LinkedIn profile is no longer publicly available.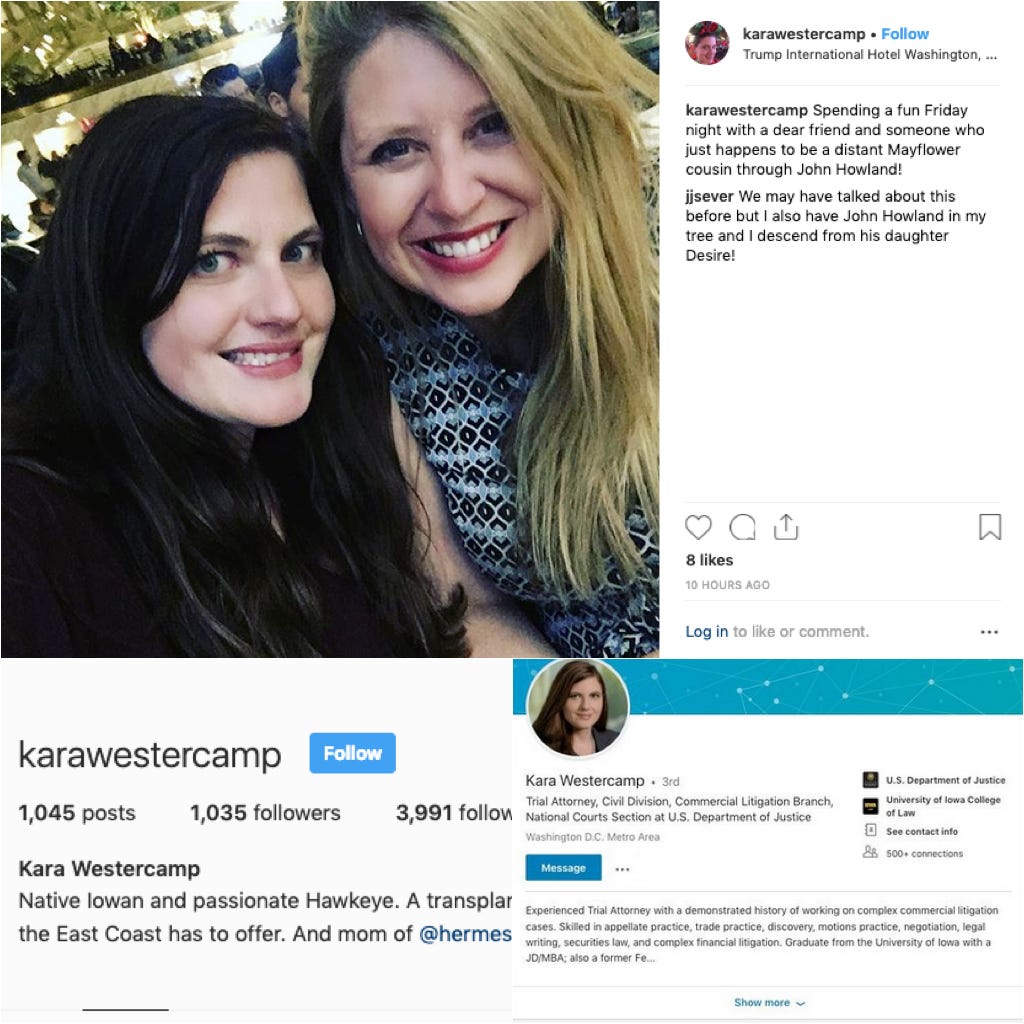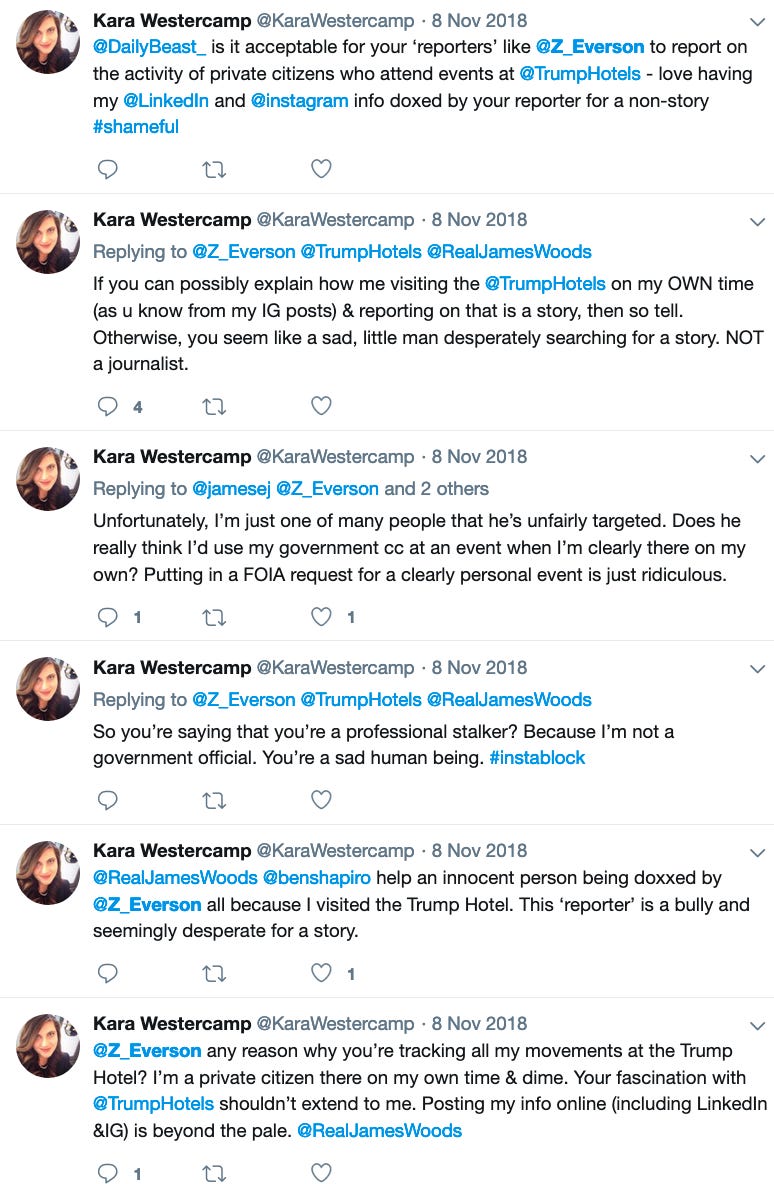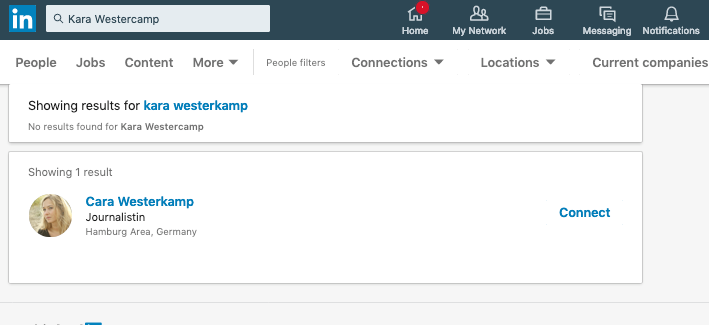 A legislative assistant with the American Legion, Lindsay Dearing, shared video of her bubbly.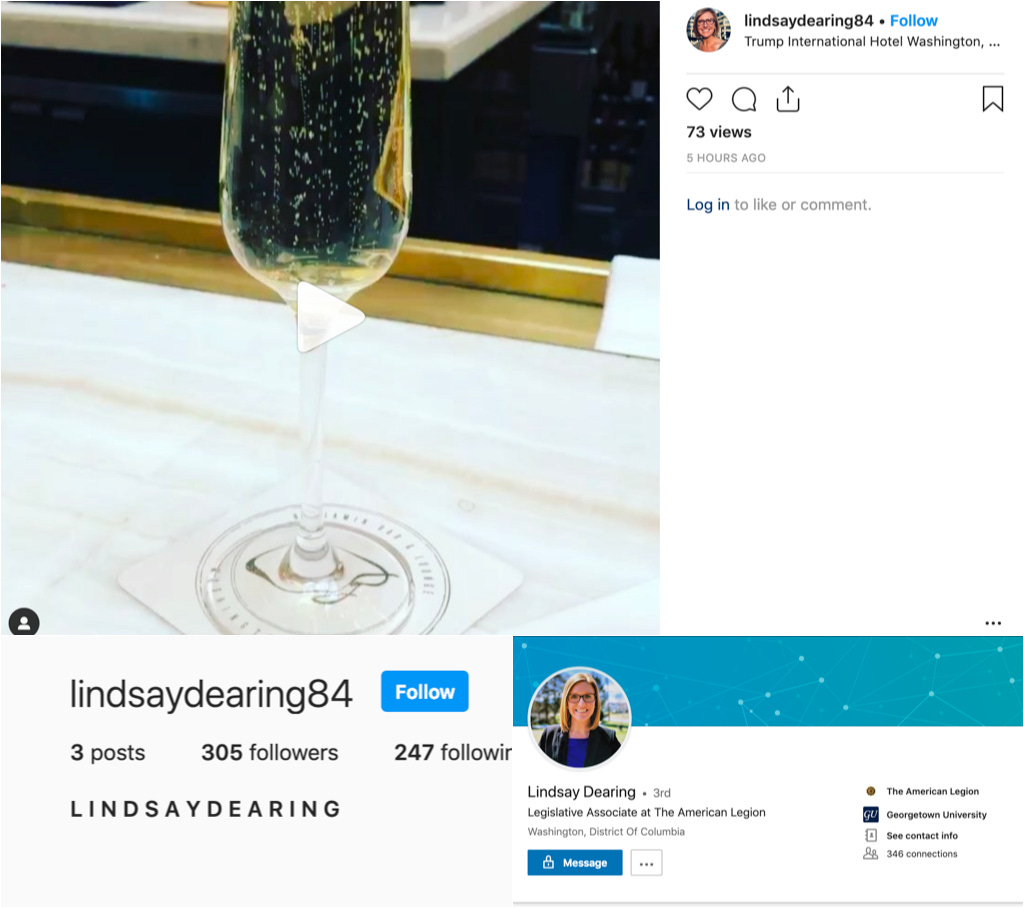 Other Trump Organization news
House investigations, current status (latest change, Feb. 18, 2019)
Legal cases, current status (latest change, Feb. 7, 2019)
D.C. and MD attorneys general's emoluments lawsuit (district court docket, appellate court docket)—

Official capacity—On Dec. 20, the 4th U.S. Circuit Court of Appeals ruled it would hear the president's appeal of district court rulings that allowed the case to proceed to discovery, and the appellate court halted discovery in the case. (Discovery had started Dec. 3 and was scheduled to run through Aug. 2, 2019, with the AGs already having issued subpoenas, including to the Trump Organization, including its Scotish golf courses; the U.S. Departments of Agriculture, Commerce, Defense, and Treasury and the GSA; and the state of Maine. Oral arguments on the appeal are scheduled for March 19. The AGs filed their brief opposing the president's appeal on Feb. 6, stating "The President is not entitled to an order requiring the district court to certify for interlocutory review its denial of his motion to dismiss. No court has ever issued such relief."

Individual capacity—On Dec. 14, Trump's personal attorneys appealed the denial of their motion to dismiss the case, also to the 4th U.S. Circuit Court of Appeals. On Dec. 19, the AGs replied to Trump's motion for a stay pending that appeal by voluntarily dismissing the claims against Trump in his "individual capacity to allow the claims against President Trump in his official capacity to move forward expeditiously." (The AGs only brought suit against Trump in his individual capacity after the judge suggested they do so.) Trump's personal attorneys, on Dec. 21, opposed the motion to dismiss at the district level, saying the appeals court now has jurisdiction and accusing the AGs of "gamesmanship."

196 Democratic senators and representatives' emoluments lawsuit—On Sept. 28 judge Emmet G. Sullivan ruled that the legislators have standing to sue. Trump's Justice Department attorneys filed an interlocutory appeal on Oct. 22. And on Jan. 30, 2019 the plaintiffs' filed a notice of supplemental authority, notifying the court of the GSA inspector general's report that criticized GSA for failing to consider if the Trump Hotel D.C.'s lease was in compliance with the U.S. Constitution after Donald Trump became president. Two days later, the president's attorneys argued that the IG's conclusion was not inconsistent with Trump's argument, but that the judge should ignore that report anyway because the IG has no expertise in interpreting or applying the foreign emoluments clause.

CREW et. al's emoluments lawsuit—In February, CREW appealed its suit being dismissed for lack of standing to the 2nd U.S. Circuit Court of Appeals. Oral arguments on that motion were held on Oct. 30.

Cork's unfair competition lawsuit—Judge Richard J. Leon dismissed the case on Nov. 26, writing "Cork has failed to state a claim for unfair competition under D.C. law." On Dec. 10, Cork's attorneys filed a notice of appeal and on Jan. 10 they submitted a statement of issues to be raised. The next steps, which don't yet have a timeline, include a briefing schedule being set and both sides filing appellate briefs.

Employees' class-action suit alleging racial discrimination—Two of the three plaintiffs did not appear at a status hearing on Jan. 25; their cases were moved to arbitration. Via email, their attorney, A.J. Dhali, said his clients did not appear at the hearing because their case already had been moved to arbitration last year. The next status hearing is scheduled for Oct. 4.
Health inspections, current status (latest change, Aug. 10, 2018)
❌Hotel: five violations on May 7, 2018; two were corrected on site

❌BLT Prime and Benjamin Bar: nine violations on Aug. 10, 2018

❌Sushi Nakazawa: two violations on Aug. 10, 2018

✔️Banquet kitchen: no violations on Aug. 10, 2018

❌Pastry kitchen: two violations on Aug. 10, 2018

✔️Gift shop: no violations on May 7, 2018

❌Employee kitchen and in-room dining: five violations on Aug. 10, 2018; two were corrected on site
One thing that has nothing to do with Trump's businesses (I think, tough to tell sometimes!)
"The Business of Being Bob Dylan" by Eli Ellison for Work + Money
Thanks for reading. If you like what you see, tell someone—and support this work by becoming a paying member ($5/month or $50/year). If you've been forwarded this newsletter, subscribe for yourself at zacheverson.substack.com. Questions? Read our FAQ/manifesto. Tips or feedback? Contact me, Zach Everson, securely via email at 1100Pennsylvania@protonmail.com or on Signal at 202.804.2744.