Discover more from 1100 Pennsylvania
"The undisputed expert on the D.C. Trump Hotel" – David Fahrenthold of the Washington Post
Over 3,000 subscribers
Mar-a-Lago regular lands motorcade duty, Air Force One tour
Mar-a-Lago patron enjoys motorcade drive team privileges, private Air Force One tour
While the membership list at Mar-a-Lago is private, Robert Kiger's Facebook and Instagram accounts make it clear he's been a regular at Donald Trump's private club since before its owner was elected president.
And among photos of President Trump addressing a gathering of Republicans, oversized floral arrangements, and dinners with fancy china are pictures and videos showing Kiger serving in the president's motorcade drive team and enjoying a private tour of Air Force One.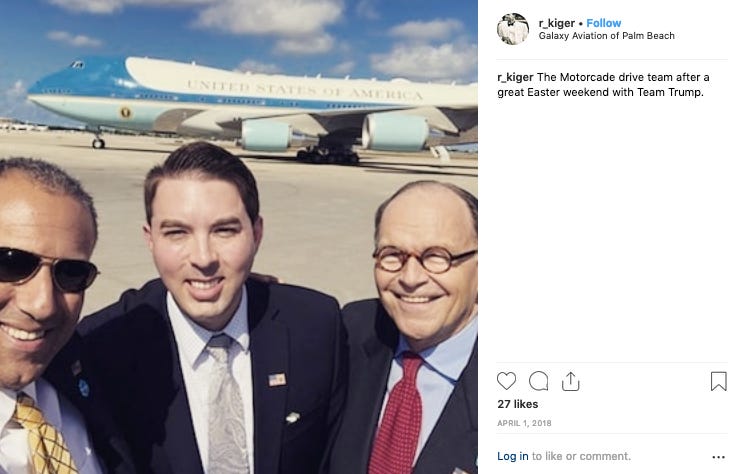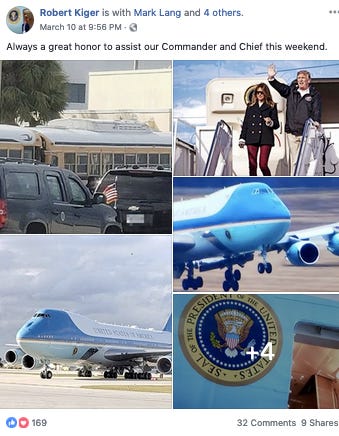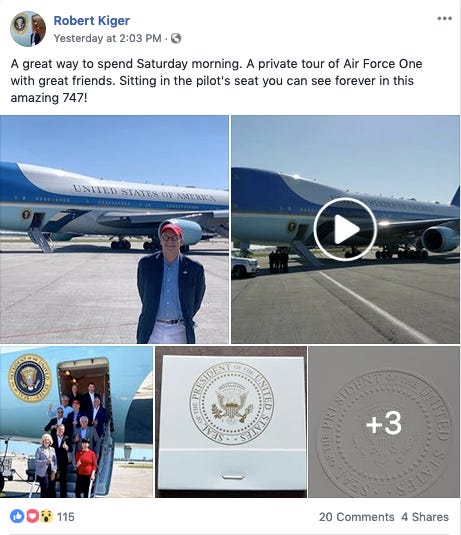 All told, Kiger has shared a couple dozen photos of his extraordinary access, which dates back to at least November 2017. From Kiger's social-media postings, it's not immediately clear what he does as part of the motorcade drive team or why he was selected for it—other than being a regular at Mar-a-Lago, anyway.
A 2014 New York Times article by Michael S. Schmidt described the rationale for relying on volunteer drivers in presidential motorcades:
Volunteers with no special training are a link in the middle of the fastest, and highest-profile, chain of vehicles in the country. They are cheaper than the Secret Service personnel or local police officers who surround them on the road. And their cargo of lowly staff members and reporters is apparently less precious.
Kiger, a businessman who founded the Citizens for Restoring USA super PAC, did not reply to an inquiry asking if he is a member of Mar-a-Lago, what his duties in the president's motorcade entail, and how he came to be involved in the drive team and land an Air Force One tour.
Kiger did call Trump a friend when Colby Itkowitz of The Washington Post interviewed Kiger in 2015 about founding his super PAC. But Kiger admitted the then-presidential candidate likely didn't know who he was—a fact Trump confirmed to Itkowitz.
And while the super PAC landed Kiger media attention when it launched in 2015, according to FEC filings, most of the funds Citizens for Restoring USA has spent since its inception have gone to repay loans from Kiger. At no point has it donated money to a candidate or other committee. And other than to his own PAC, Kiger's only other federal political contributions are $2,500 he donated to the National Republican Congressional Committee back in 2003.
So it appears Kiger's access is another example of the U.S. government affording special privileges to a Trump Organization customer.
Unlike Coastal Concierge Home & Yacht Management, which used one photo showing Kiger and others on the stairs of Air Force One to promote itself (per Anita Kumar for Sunday's Politico Playbook), Kiger's pics seem geared towards accumulating only social capital.
In fact, the sole occasion where Kiger attempted to monetize his access, was when he used a photo of him standing by the presidential limousine on the back cover of his self-published memoir, From Poverty to Polo To Politics: A Life Leading to Trump.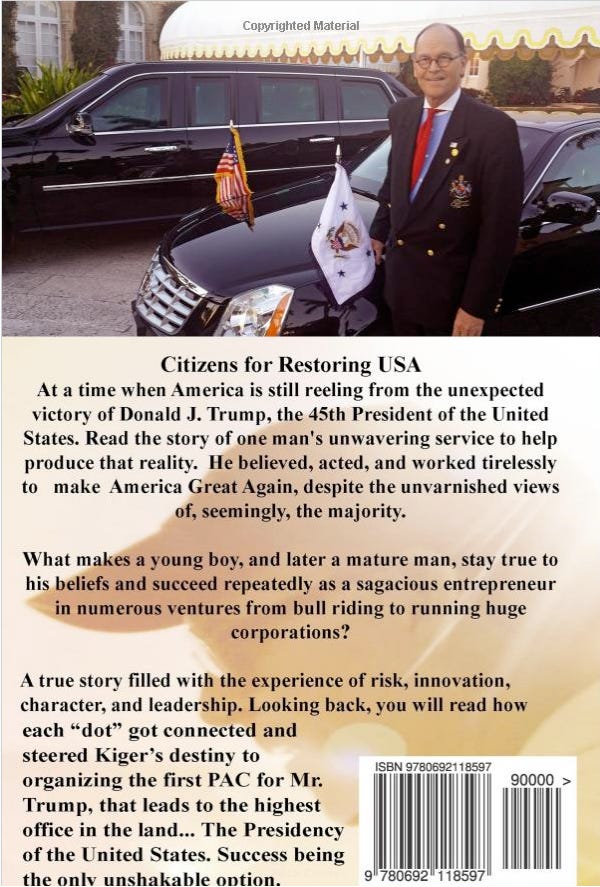 Here's a smattering of other photos from Kiger's Facebook and Instagram accounts that show his role in the president's motorcade, as well as some other access afforded to guests at Mar-a-Lago.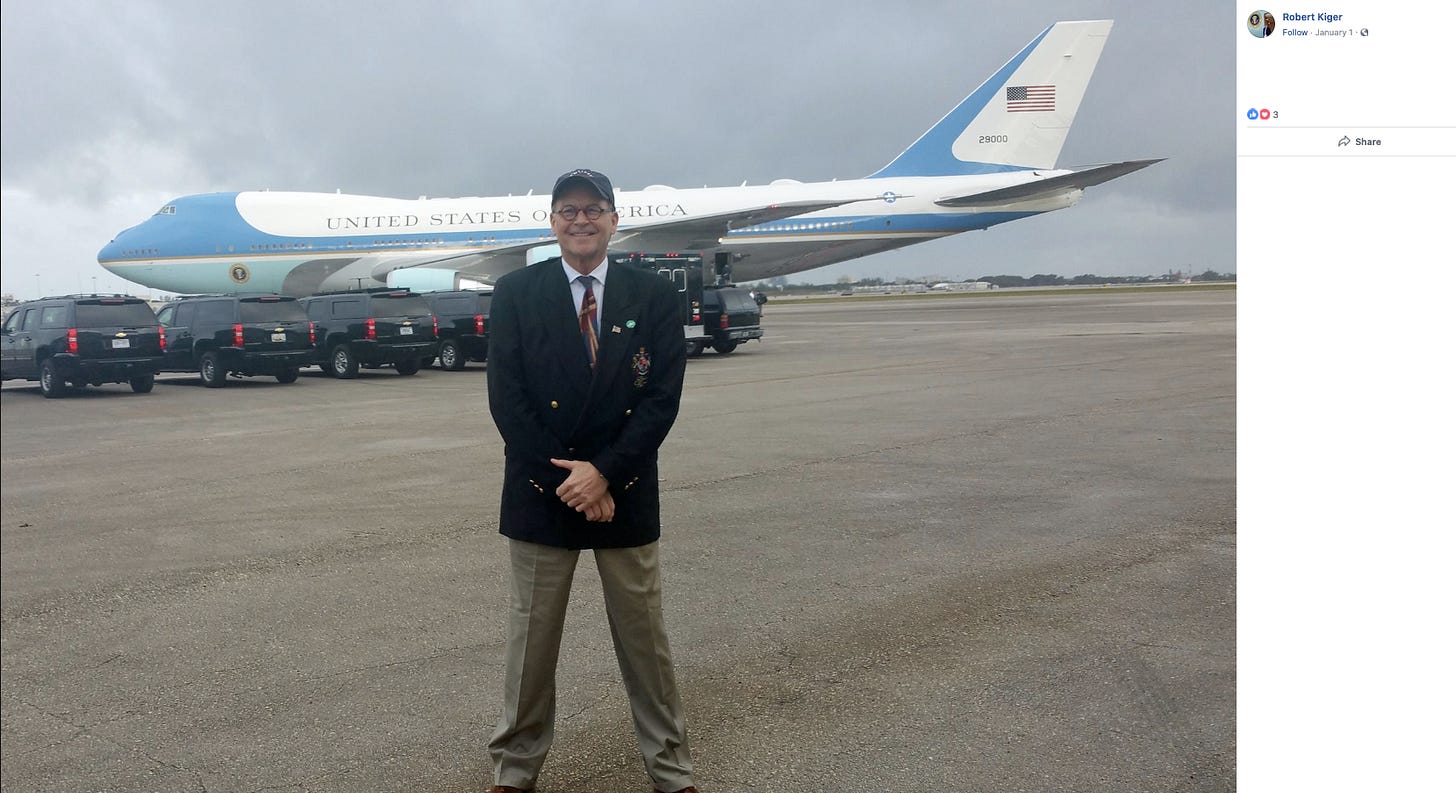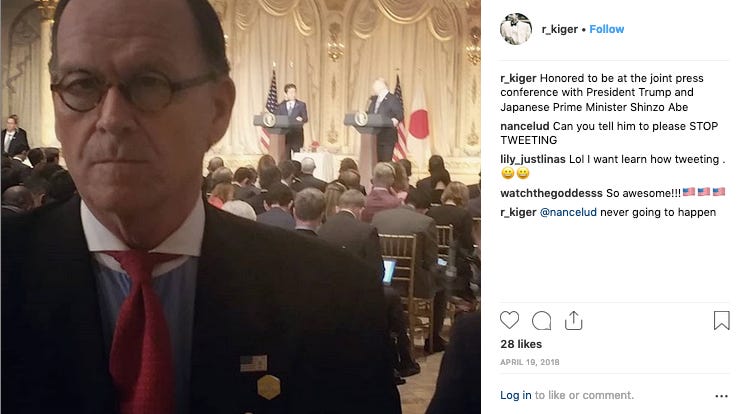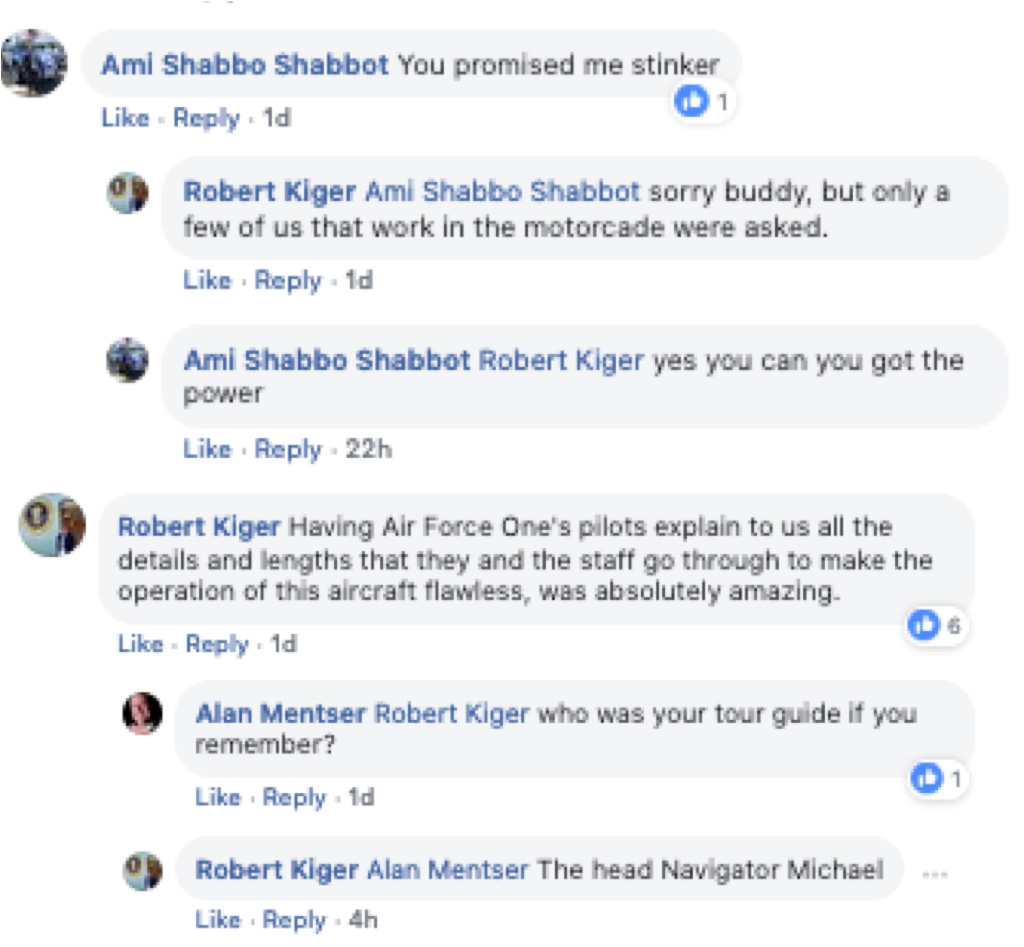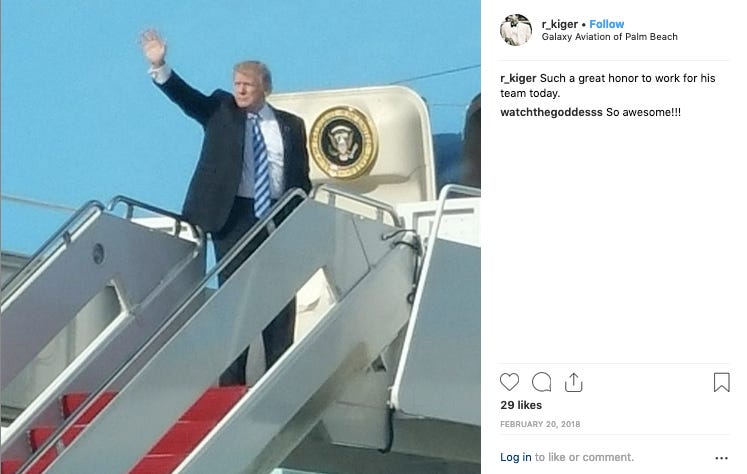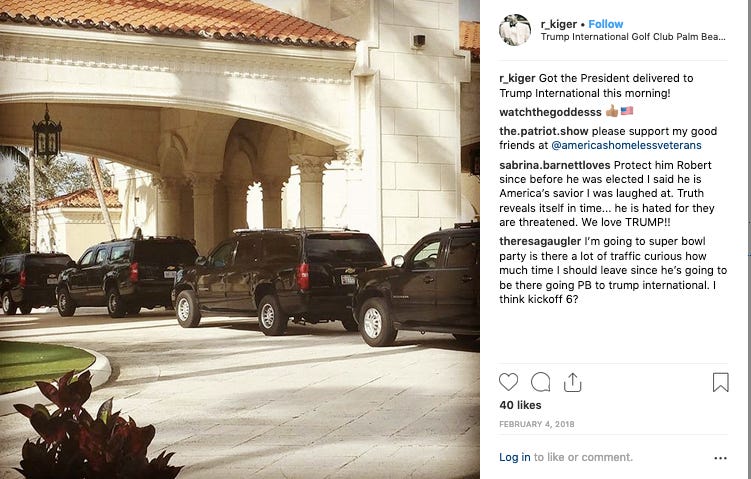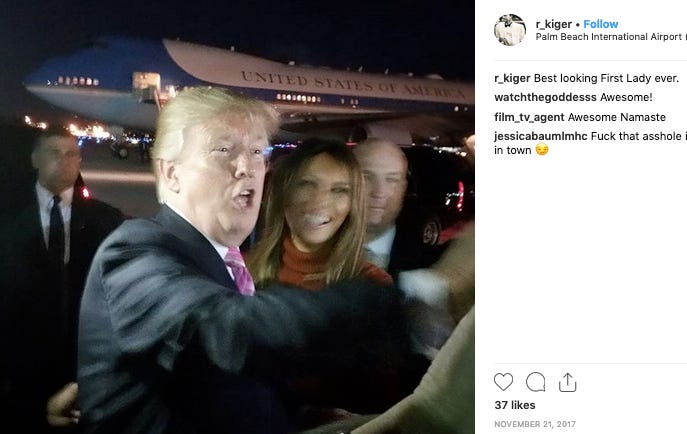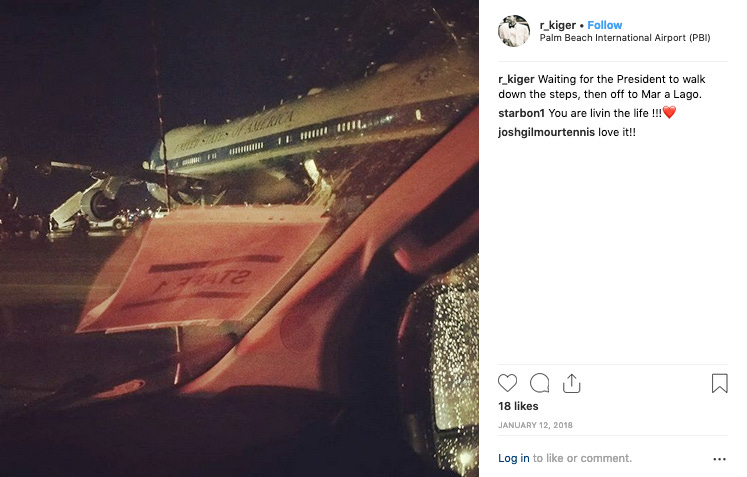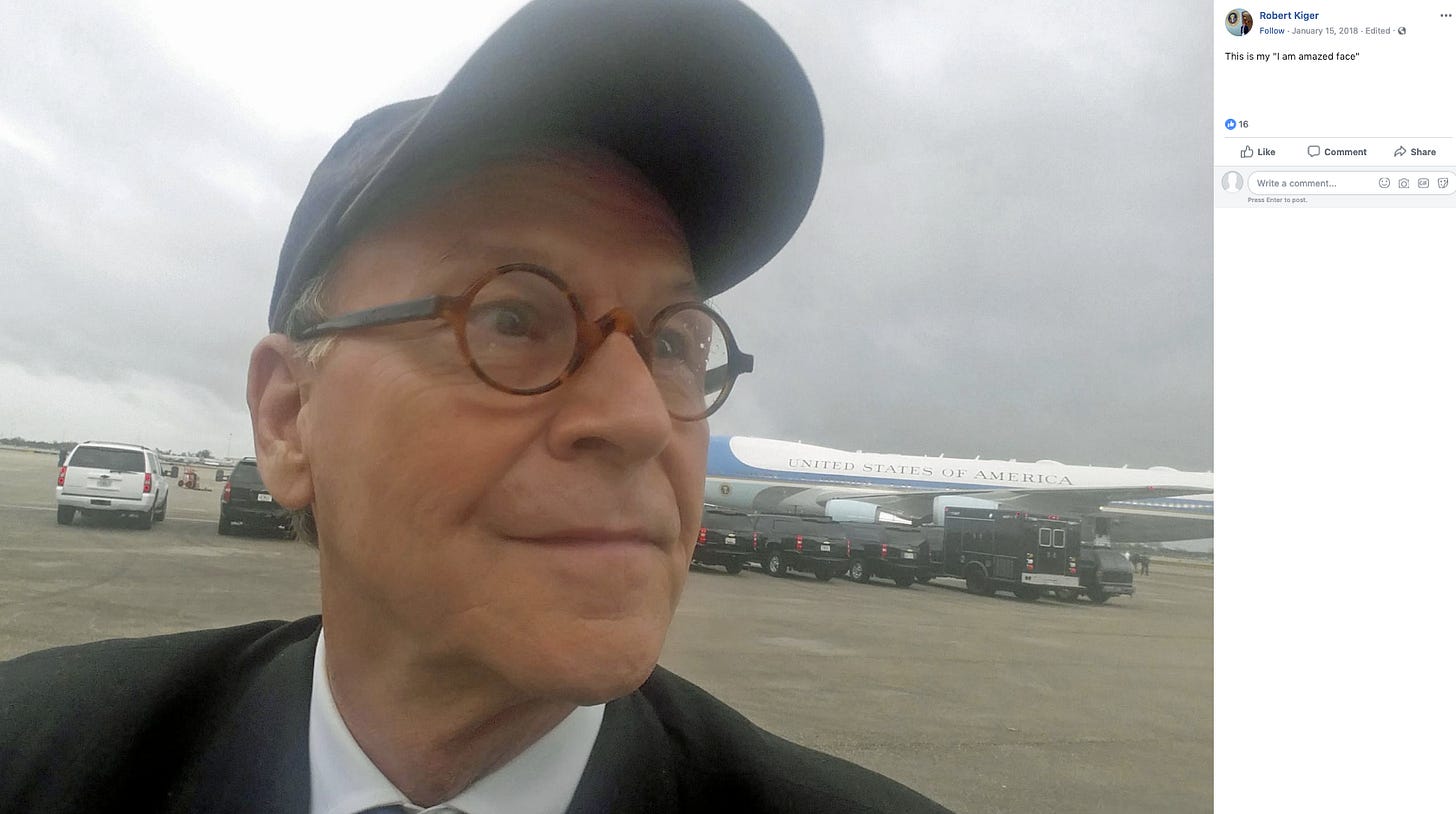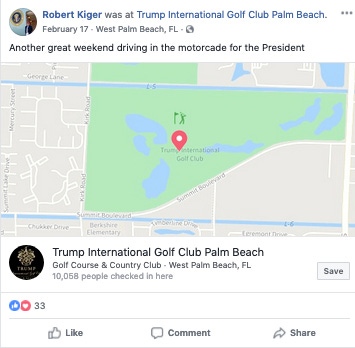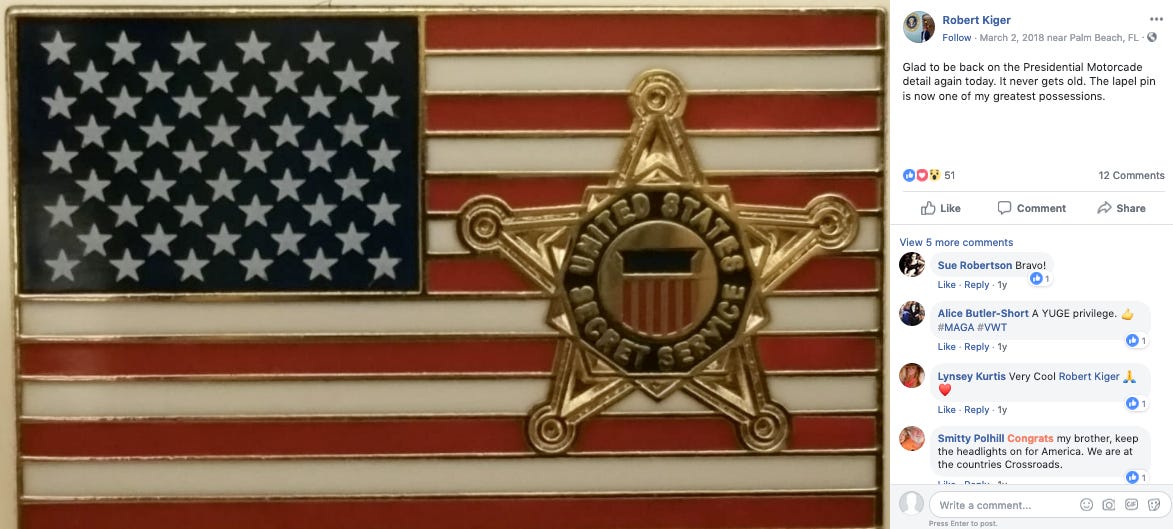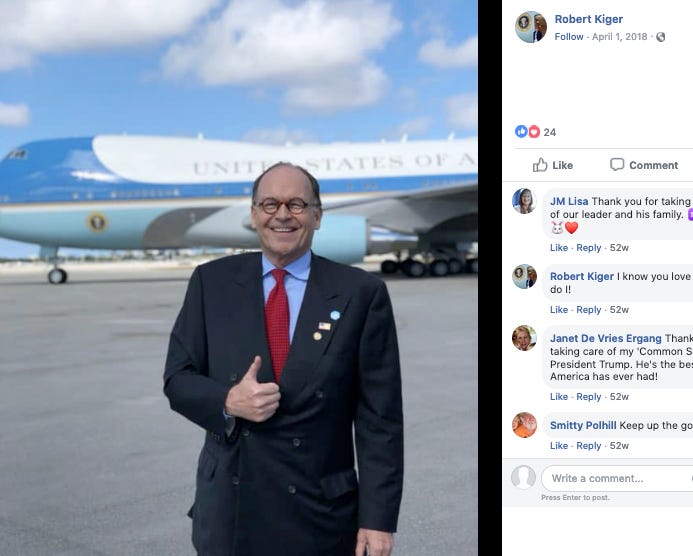 ---
Joe Namath Foundation holding pool party, golf scramble at Trump Jupiter; Bill O'Reilly attending
The Joe Namath Foundation is throwing a two-day fundraiser yesterday and today at Trump National Jupiter. Former Fox News host turned podcaster Bill O'Reilly attended yesterday.
Tickets to the pool party cost $1,000, and Delta airlines and Sketchers are corporate sponsors for the event. Representatives from the foundation have not replied to an inquiry asking why it chose to hold the event at a golf course owned by the president and how much it paid to do so. In 2018, Namath pushed for the Food and Drug Administration to approve hyperbaric oxygen therapy as a treatment for neurological issues, according to Brian Costello of The New York Post.
Per its website, the Joe Namath Foundation "benefits children's charities and neurological research, educational scholarships, and special need-based causes."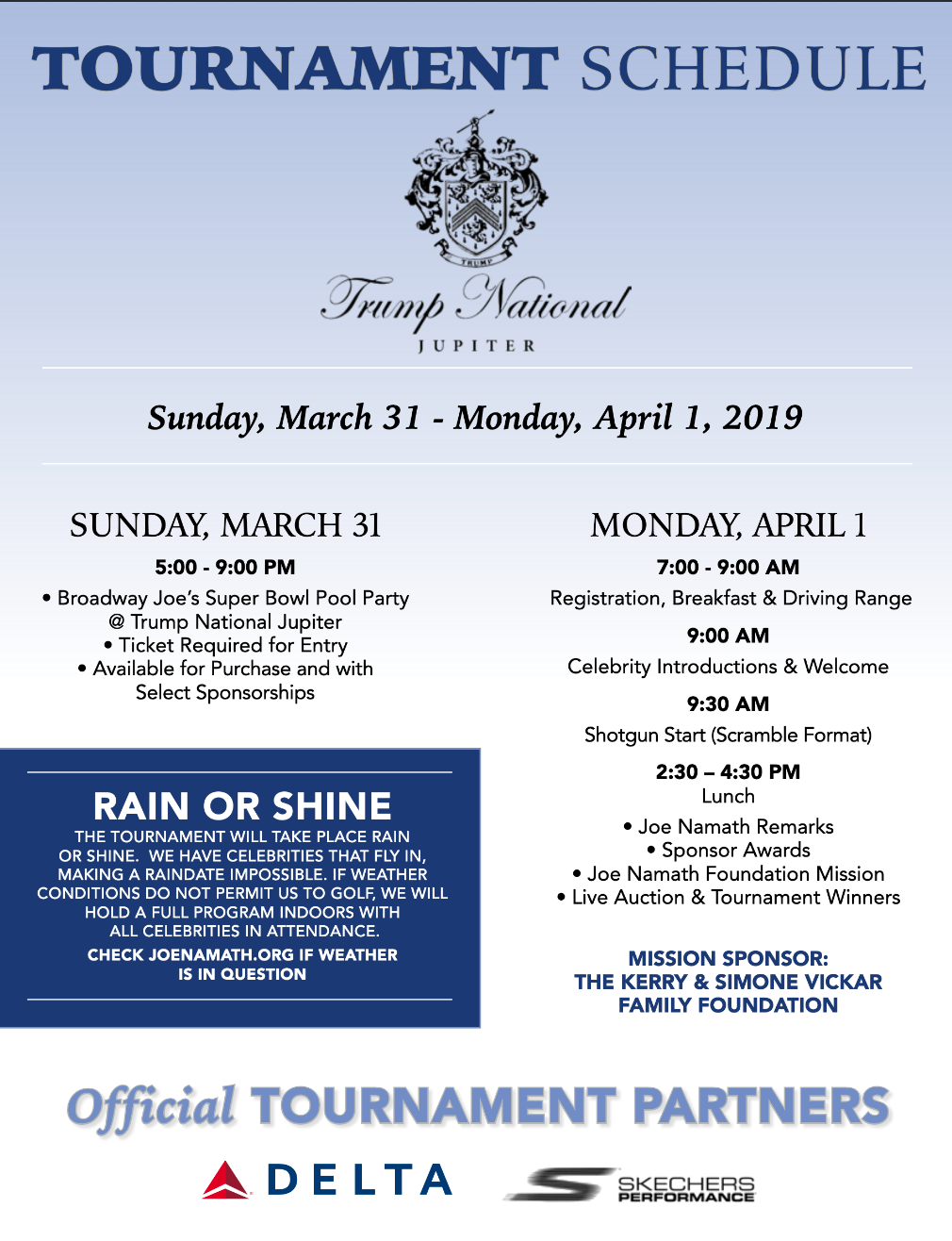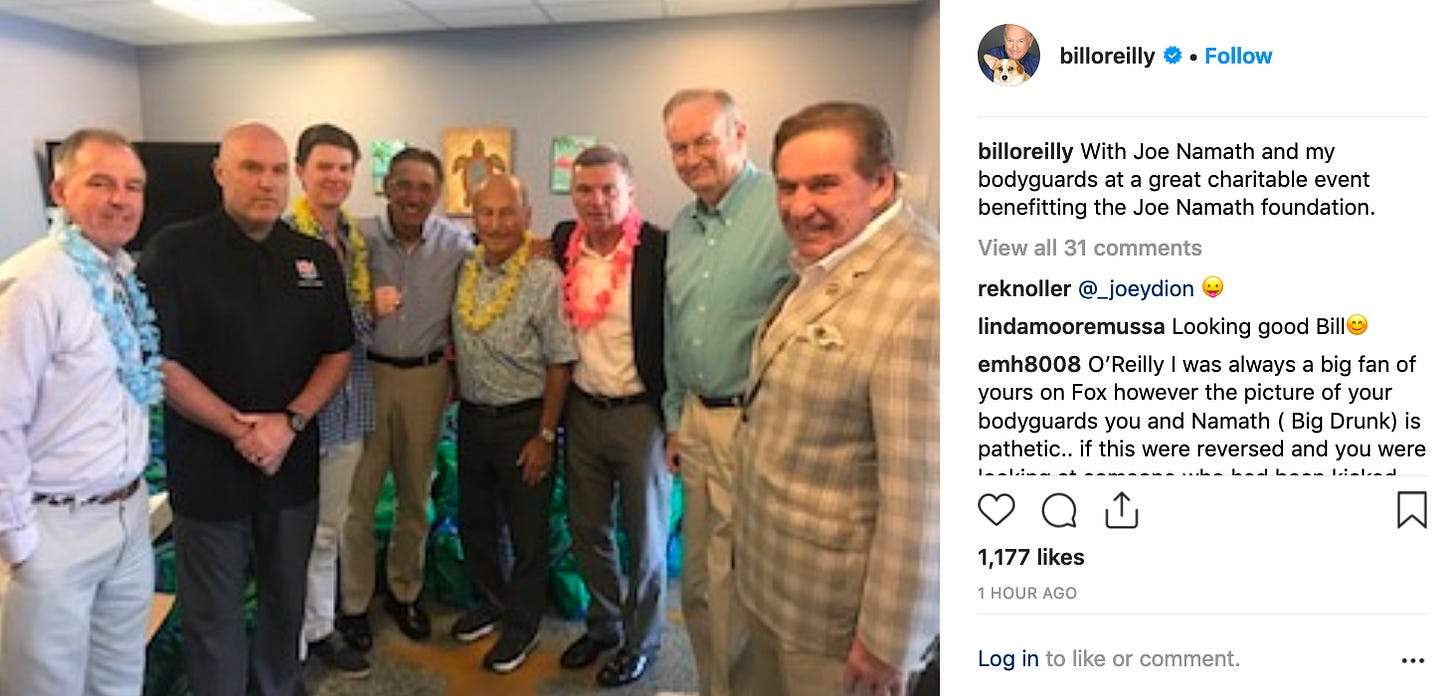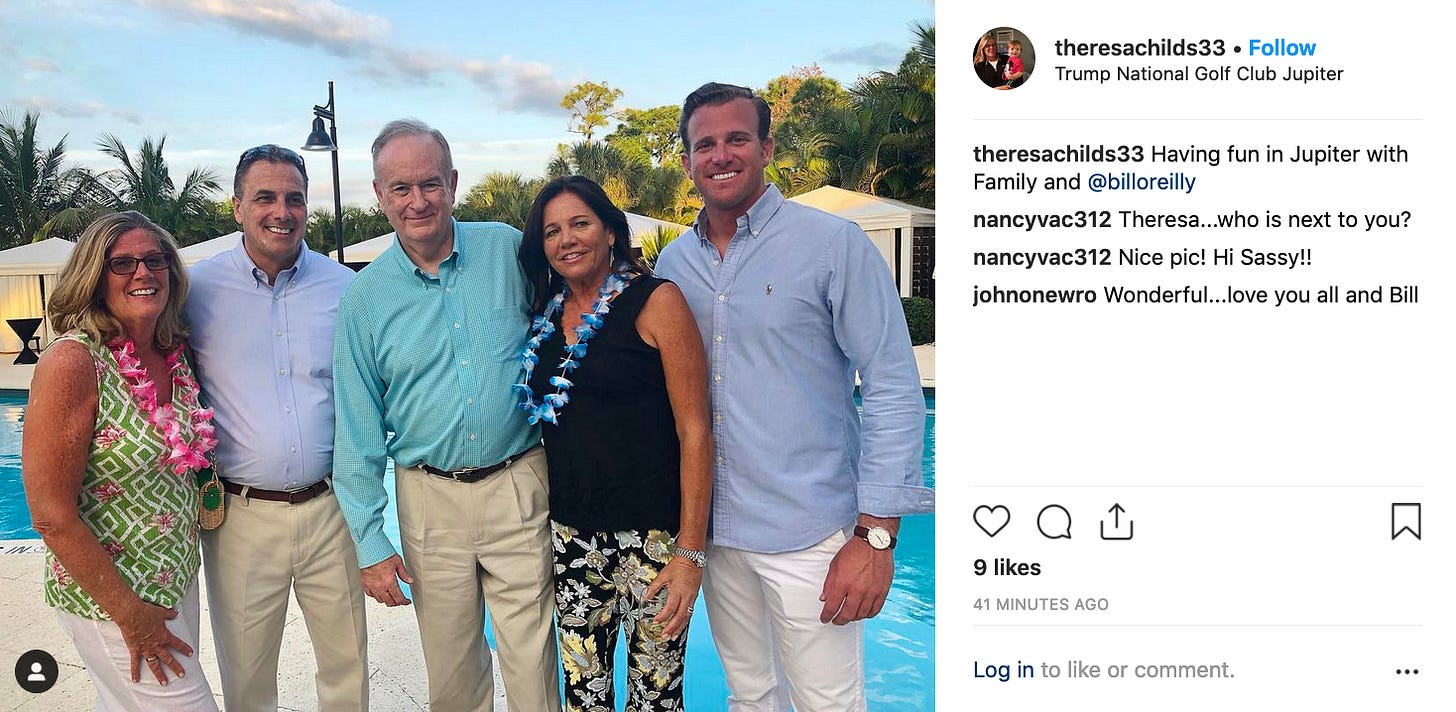 ---
Support this reporting, become a 1100 Pennsylvania member
Reporting on the Trump Hotel D.C. and the president's other businesses takes time. But it's making an impact—and you can help. If you're not an 1100 Pennsylvania member, please become one and help us continue to report on who's spending money at the president's hotel—and what they might be getting in return. Memberships are this newsletter's sole source of income. Select the red "Subscribe now" button and become a member by paying $5 a month or $50 a year. Thank you.
---
Virginia Women for Trump announce third annual Trump birthday party at Trump Hotel D.C.
Virginia Women for Trump is throwing a birthday celebration for President Trump at the Trump Hotel D.C. on June 23. Ticket prices range from $150 for general admission to $10,000 for diamond sponsorships (which come with seats for 10).
A limited number of rooms are available to attendees for $295 per night, which is among the lowest rates seen at the hotel.
Virginia Women for Trump is a privately owned company, not affiliated with the president's campaign. Its founder and president is Alice Butler-Short (pictured at the top of the invite).
While the plans for Virginia Women for Trump's events often are in flux right up until the function starts, it appears this celebration will be more subdued than the Tea for Trump birthday party it threw in 2018. That affair included a model walking the runway while the North Korean national anthem played. The best-known confirmed speakers so far for this year's party are conservative media columnist Katie Hopkins and the My Pillow Guy, Mike Lindell (a major GOP donor, Fox News advertiser, and Trump business patron).
This party will be at least Virginia Women for Trump's eighth function at the president's D.C. hotel. In addition to the Trump birthday parties (which the president has not attended), it's booked the Trump Hotel D.C. previously for a 2020 campaign kickoff that featured a freshly indicted Roger Stone; a private reception and book signing with Anthony Scaramucci; an evening with Louie Gohmert (R–TX); an evening with Brigitte Gabriel, the head of ACT! for America, which the Southern Poverty Law Center has designated as a hate group; an evening with Fox News's Jeanine Pirro; and Black Women Walk.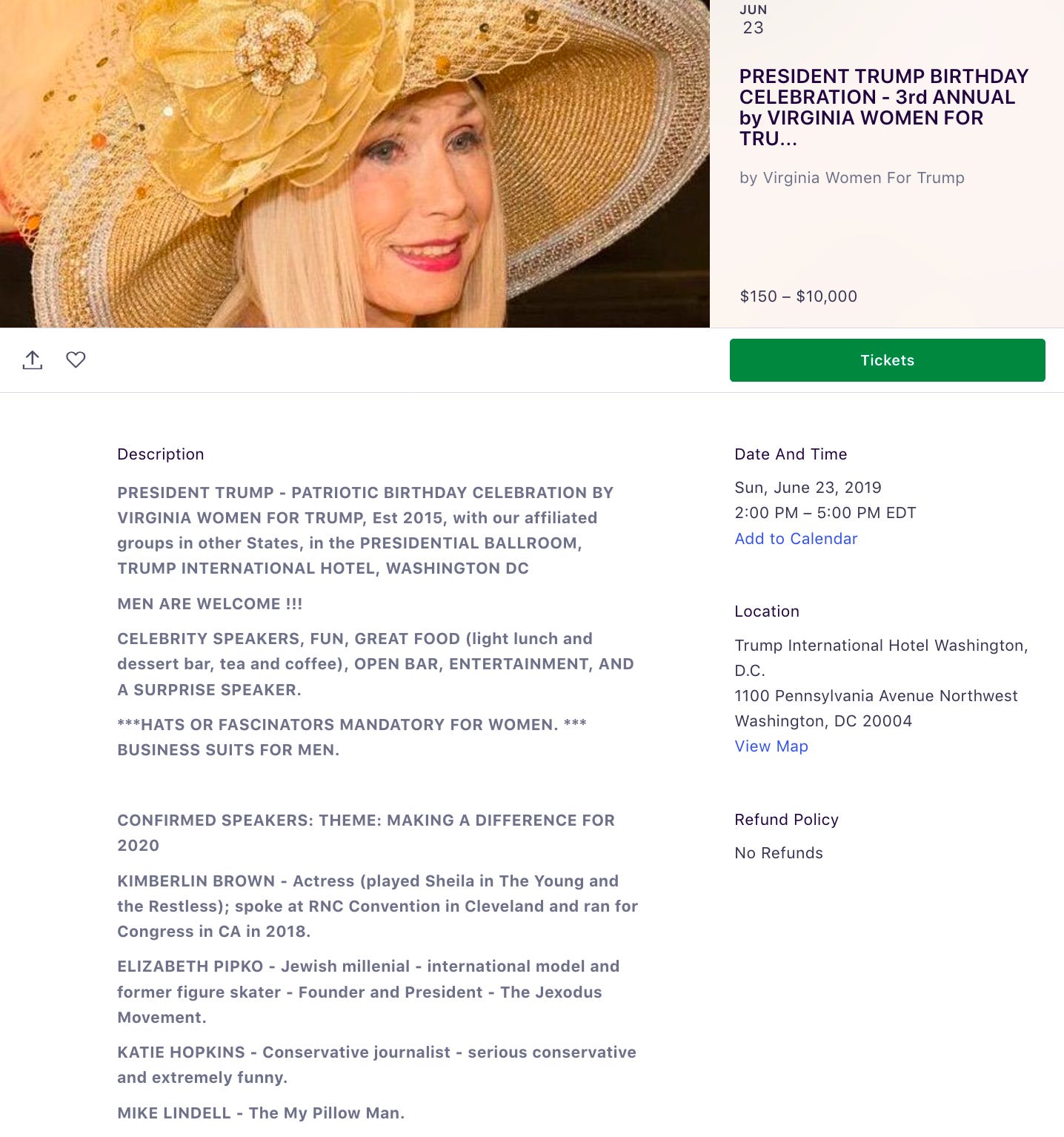 ---
Noteworthy sightings
"We had the honor to have dinner in the same room as our President and First Lady, we were able to shake hands with them to thank them for all they do, actually bought tears to our eyes. Thank you to our dear friends for giving us this opportunity."
– Mar-a-Lago guest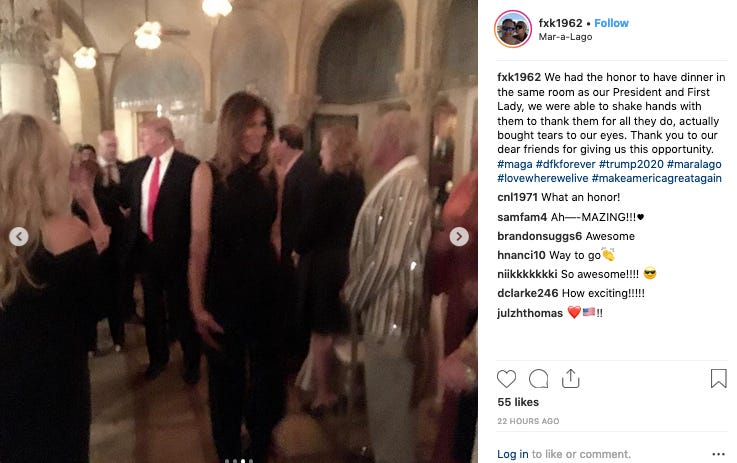 New York-based photographer Adrian Wilson and his glasses got a photo with the president at his private club.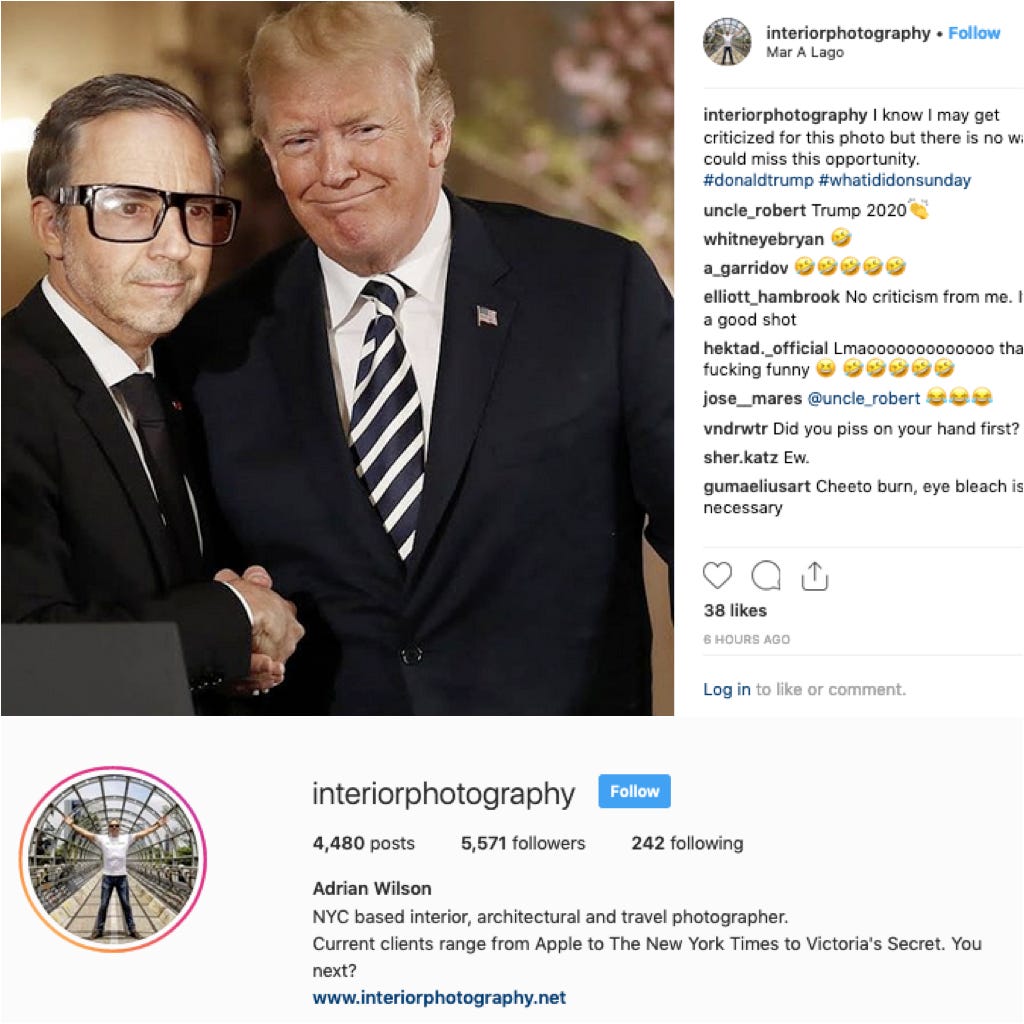 Shortly after announcing she'd be departing Trump's cabinet, Linda McMahon was at Trump's private club (photo by Tom Brenner for The New York Times).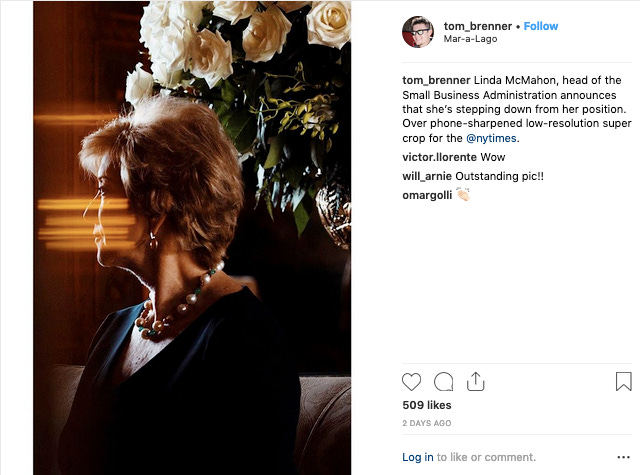 Convicted rapist Mike Tyson, "one of the coolest guys ever!!!," hung out poolside at Mar-a-Lago.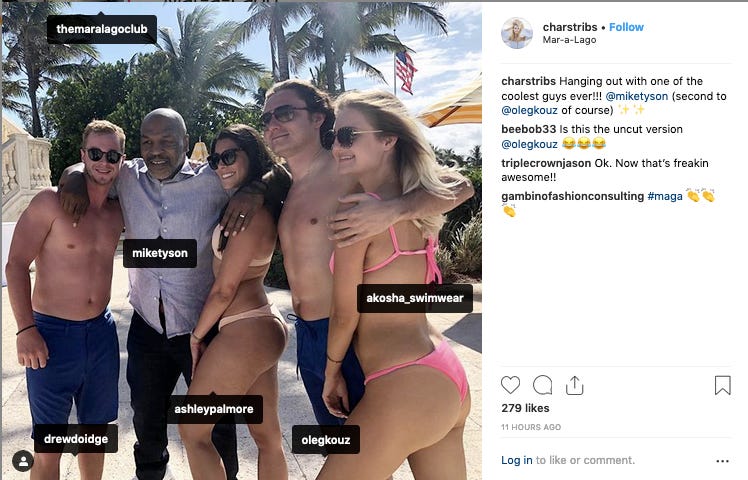 The National Review Institute's discussion with Reihan Salam and Ian Lindquist packed them in at the president's hotel. In February 2016, the National Review published a special issue titled, "Against Trump."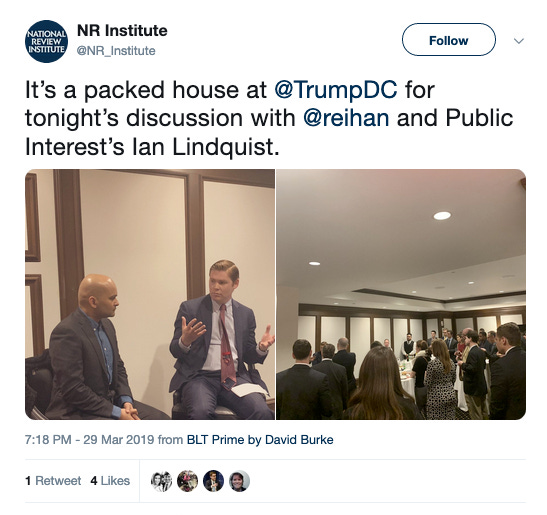 Kara Westercamp attended the National Review Institute's discussion. As of November 2018, Westercamp was a trial attorney at the U.S. Department of Justice. Her LinkedIn profile disappeared after details about her previous visits to the president's hotel were FOIA'd. Also, she did not like being asked if she was at the president's hotel on the taxpayer's dime.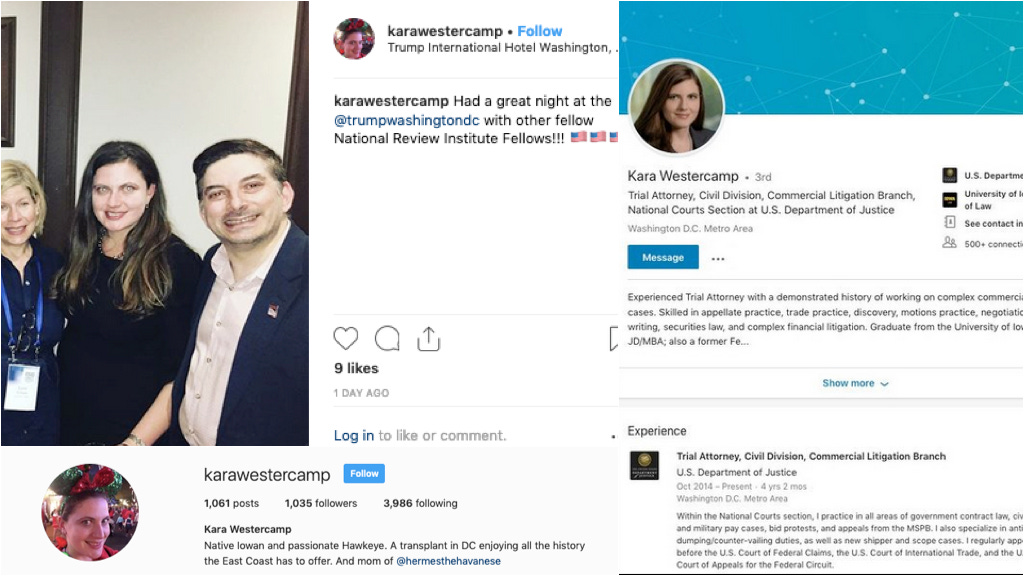 Eric Trump was spotted in the hotel's lobby.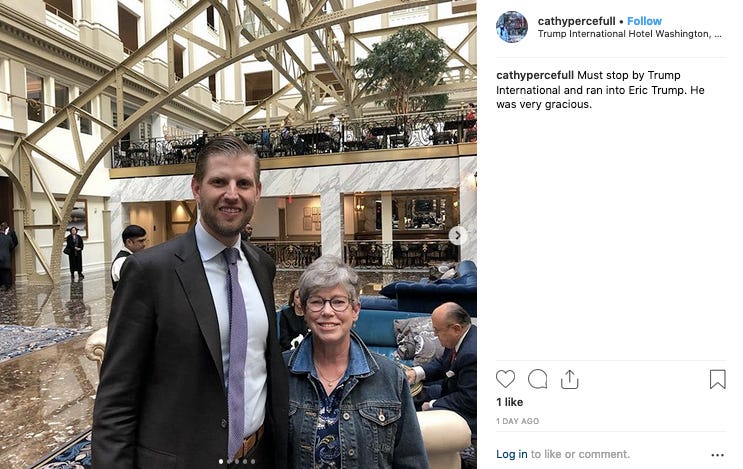 U.S. Naval Academy midshipman Reagan Reitmeier and Republican National Committee intern Nicholas Elliot hung out in a hotel owned by the commander in chief/head of the GOP.
Ximena Barreto, a former Trump political appointee in the Department of Health and Human Services who resigned after CNN and Media Matters reported she'd "spread conspiracies and made anti-Muslim comments," and lobbyist Robert F. Hyde enjoyed Sunday funday at the Trump Hotel D.C.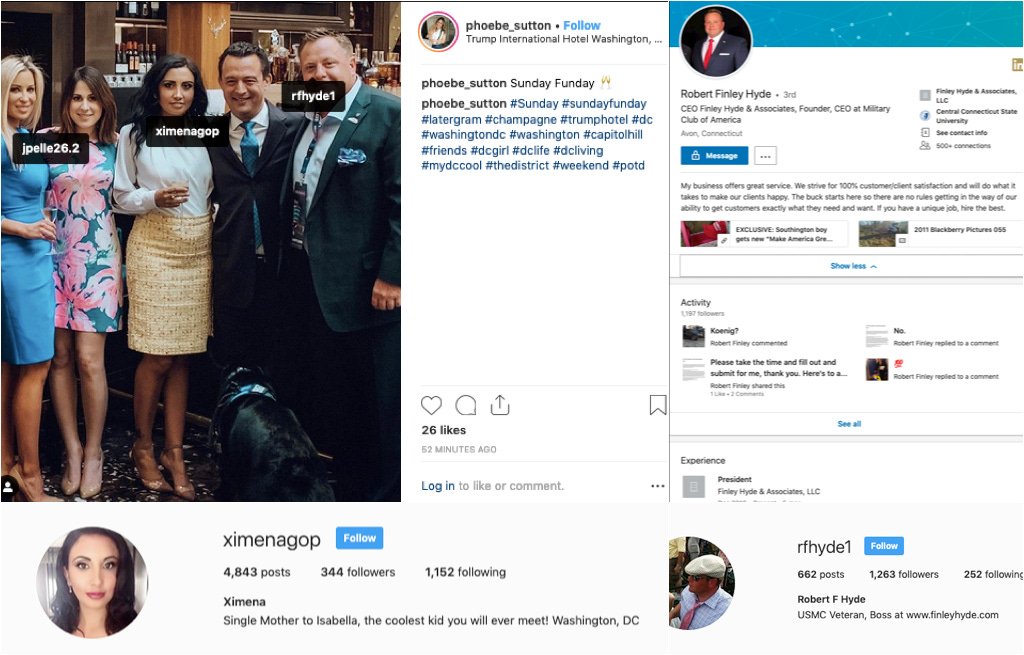 Two of the photos on Hyde's lobbying company page, by the way, show him at the Trump Hotel D.C. (with Rep. Jim Jordan (R–OH) and Florida Gov. Ron DeSantis (R).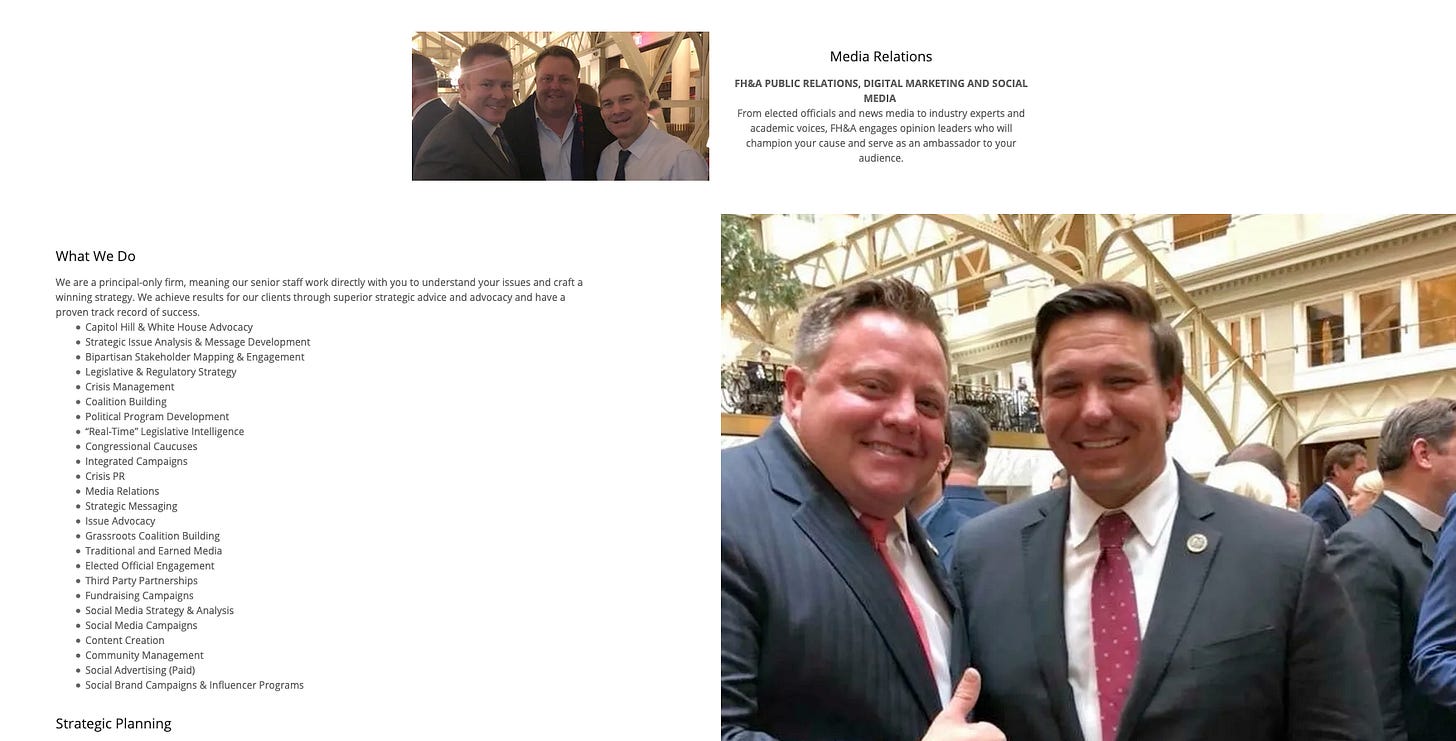 The 16th annual Miami Cancer Meeting ("a three-day course designed for medical oncologists, radiation oncologists, hematologists, radiation oncologists, surgical oncologists, physician assistants (PA), advanced registered nurse practitioners (ARNP), oncology nurses, registered pharmacists, Ph*rm*cy technicians, and radiation therapists") took place Friday through Sunday at Trump National Doral.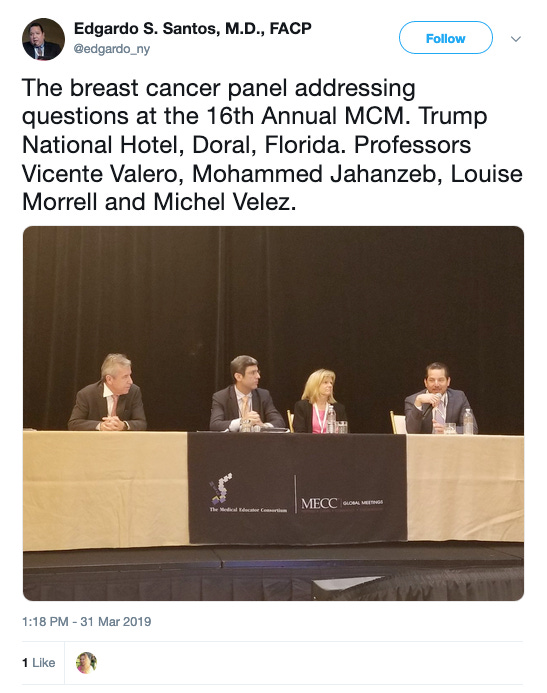 The Autism Society of Hawaii is giving away a one-night stay in a Trump Waikiki suite to its top individual fundraiser.
A special projects coordinator for the nonprofit Economic Alliance Houston Port Region, which "provides professional economic development services on behalf of 17 communities surrounding the 25-mile Houston Ship Channel," Kaitlyn Conner, enjoyed the calm before the storm.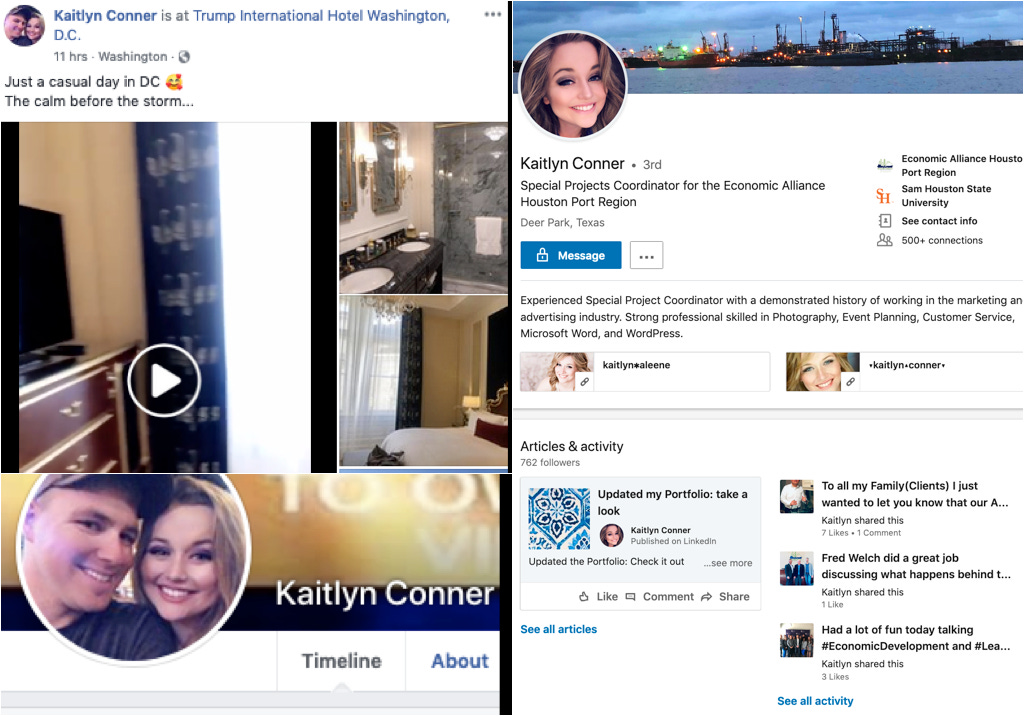 Business at the BLT Prime in the Trump Hotel D.C. was brisk, according to executive chef Bill Williamson….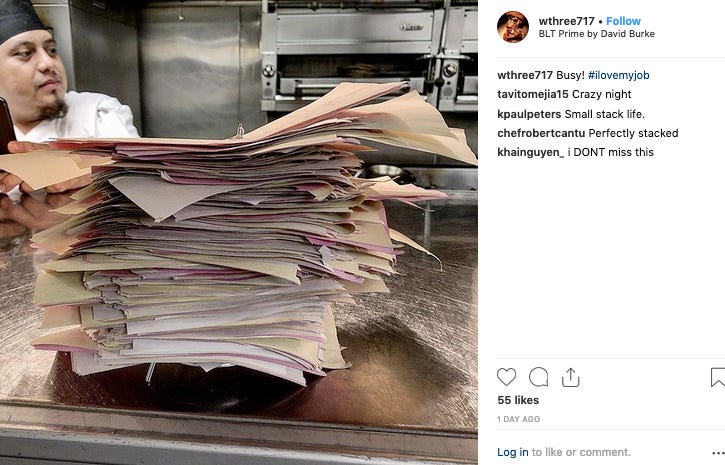 …likewise for the hotel's catering business, which served 600 steak dinners on Saturday per the hotel's executive chef, Oliver Beckert. According to a catering menu from March 2018, a three-course beef dinner costs $105 per person, meaning the president's hotel likely charged at least $63,000 just to feed attendees at this event.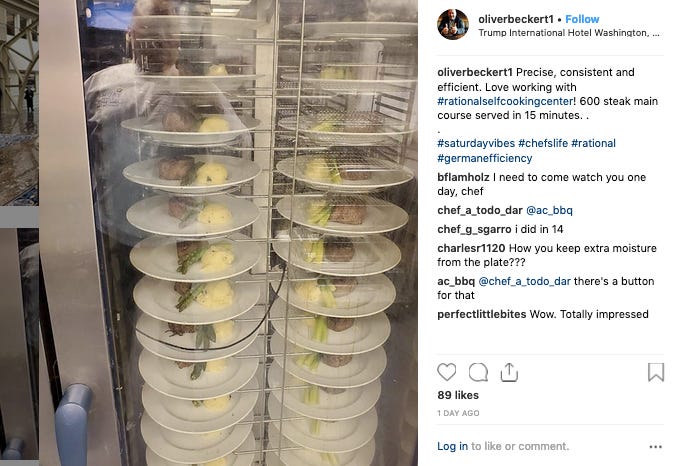 ---
Other Trump Organization news
---
House investigations, current status (latest changes, March 29, 2019)
---
Legal cases, current status (latest change, March 20, 2019)
D.C. and MD attorneys general's emoluments lawsuit (district court docket, appellate court docket)—

Official capacity—On Dec. 20, 2018, the 4th U.S. Circuit Court of Appeals ruled it would hear the president's appeal of district court rulings that allowed the case to proceed to discovery, and the appellate court halted discovery in the case. Discovery had started Dec. 3 and was scheduled to run through Aug. 2, 2019, with the AGs having subpoenaed the Trump Organization, including its Scottish golf courses; the U.S. Departments of Agriculture, Commerce, Defense, and Treasury and the GSA; and the state of Maine. Oral arguments on the appeal occurred on March 19; by all accounts the three-judge panel (all Republican appointees, including one who was a selection of President Trump's) were skeptical of the AGs' case. D.C. AG Karl Racine pledged to take the case to the U.S. Supreme Court if necessary.

Individual capacity—On Dec. 14, Trump's personal attorneys appealed the denial of their motion to dismiss the case, also to the 4th U.S. Circuit Court of Appeals. On Dec. 19, the AGs replied to Trump's motion for a stay pending that appeal by voluntarily dismissing the claims against Trump in his "individual capacity to allow the claims against President Trump in his official capacity to move forward expeditiously." (The AGs only brought suit against Trump in his individual capacity after the judge suggested they do so.) Trump's personal attorneys, on Dec. 21, opposed the motion to dismiss at the district level, saying the appeals court now has jurisdiction and accusing the AGs of "gamesmanship."

Democratic senators and representatives' emoluments lawsuit—On Sept. 28, Judge Emmet G. Sullivan ruled that the legislators have standing to sue. Trump's Justice Department attorneys filed an interlocutory appeal on Oct. 22. On Jan. 30, 2019, the plaintiffs' filed a notice of supplemental authority, notifying the court of the GSA inspector general's report that criticized GSA for failing to consider if the Trump Hotel D.C.'s lease was in compliance with the Constitution after Trump became president. Two days later, the president's attorneys argued that the IG's conclusion was not inconsistent with Trump's argument, but that the judge should ignore that report anyway because the IG has no expertise in interpreting or applying the foreign emoluments clause.

CREW et. al's emoluments lawsuit—In February 2018, CREW appealed its suit being dismissed for lack of standing to the 2nd U.S. Circuit Court of Appeals. Oral arguments on that motion were held on Oct. 30.

Cork's unfair competition lawsuit—Judge Richard J. Leon dismissed the case on Nov. 26, 2018, writing "Cork has failed to state a claim for unfair competition under D.C. law." On Dec. 10, Cork's attorneys filed a notice of appeal and on Jan. 10, 2019 they submitted a statement of issues to be raised. A briefing schedule was set on March 5 with Cork's brief due on April 15, the president's brief due on May 15, and Cork's reply to the president's brief due on June 5.

Employees' class-action suit alleging racial discrimination—Two of the three plaintiffs did not appear at a status hearing on Jan. 25, 2019; their cases were moved to arbitration. Via email, their attorney, A.J. Dhali, said his clients did not appear at the hearing because their case already had been moved to arbitration last year. The next status hearing is scheduled for Oct. 4.
---
Health inspections, current status (latest change, Aug. 10, 2018)
❌Hotel: five violations on May 7, 2018; two were corrected on site

❌BLT Prime and Benjamin Bar: nine violations on Aug. 10, 2018

❌Sushi Nakazawa: two violations on Aug. 10, 2018

✔️Banquet kitchen: no violations on Aug. 10, 2018

❌Pastry kitchen: two violations on Aug. 10, 2018

✔️Gift shop: no violations on May 7, 2018

❌Employee kitchen and in-room dining: five violations on Aug. 10, 2018; two were corrected on site
---
Is the Trump Organization selling merchandise that depicts the White House? (latest change, March 21, 2019)
Yes.
---
One thing that (probably) has nothing to do with Trump's businesses
"The tiger and the tragic trick: Siegfried & Roy's animal handler breaks silence on mauling, alleges cover-up" by Gary Baum for The Hollywood Reporter
---
Thanks for reading. If you like what you see, tell someone—and support this work by becoming a paying member ($5/month or $50/year). If you've been forwarded this newsletter, subscribe for yourself at zacheverson.substack.com. Questions? Read our FAQ/manifesto. Tips or feedback? Contact me, Zach Everson, securely via email at 1100Pennsylvania@protonmail.com or on Signal at 202.804.2744.