Discover more from 1100 Pennsylvania
"The undisputed expert on the D.C. Trump Hotel" – David Fahrenthold of the Washington Post
Over 3,000 subscribers
Matt Gaetz's campaign paid just $216 a night at sold out Trump Hotel during RNC
Campaigns are required to report goods or services purchased at lower than normal charges as contributions. Gaetz's has not reported any such offerings from the Trump Org.
The campaign for a congressional ally of President Donald J. Trump's paid room rates at the Trump Hotel D.C. that appear well below what was available to the general public. When campaigns pay lower than a normal rate for a good or service, the government requires they declare it as a contribution. In this instance, the candidate has not reported receiving any such contributions from the Trump Organization.
In its third-quarter 2020 filing made last week with the Federal Elections Commission, Rep. Matt Gaetz's (R-FL) campaign reported four disbursements to the Trump Hotel D.C. All were incurred for lodging on Aug. 27, 2020—the final day of the Republican National Convention, which was held in D.C. and they ranged from just $216.20 to $261.47 (totaling $976.87).
As of Aug 4., room rates at the Trump Hotel D.C. for Aug. 26 and 27 started at $556 and $636 respectively—more than double what Gaetz's campaign was charged.
And by the week of the convention, the president's hotel was sold out on those dates (with room rates on surrounding days starting at $626).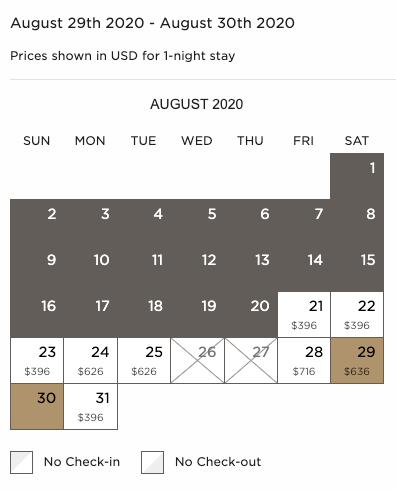 While room rates can fluctuate, they are influenced by a slew of variables, and it's possible the Gaetz campaign made its reservations before the RNC shifted from Charlotte to D.C., $216 a night is among the lowest rates 1100 Pennsylvania has seen at the downtown D.C. five-star hotel.
Per the FEC's regulations, when campaigns pay below the usual charge, they are required to report the difference as contributions:
A gift, subscription, loan (except for a loan made in accordance with 11 CFR 100.82 and 100.83), advance, or deposit of money or anything of value made by any person for the purpose of influencing any election for Federal office is a contribution…

For purposes of this section, the term anything of value includes all in-kind contributions. Unless specifically exempted under 11 CFR part 100, subpart C, the provision of any goods or services without charge or at a charge that is less than the usual and normal charge for such goods or services is a contribution…

If goods or services are provided at less than the usual and normal charge, the amount of the in-kind contribution is the difference between the usual and normal charge for the goods or services at the time of the contribution and the amount charged the political committee.
The Gaetz campaign's latest filing did not report any such largesse from the Trump Organization.
Gaetz's office has not replied to emails and a voice mail (per its outgoing message, staffers are working from home because of COVID-19). Similarly, spokespeople for the Trump Organization have not responded when asked if the company made a contribution to Friends of Matt Gaetz. A photo posted to Instagram on the same date of the campaign's disbursements shows Gaetz at the Trump Hotel D.C.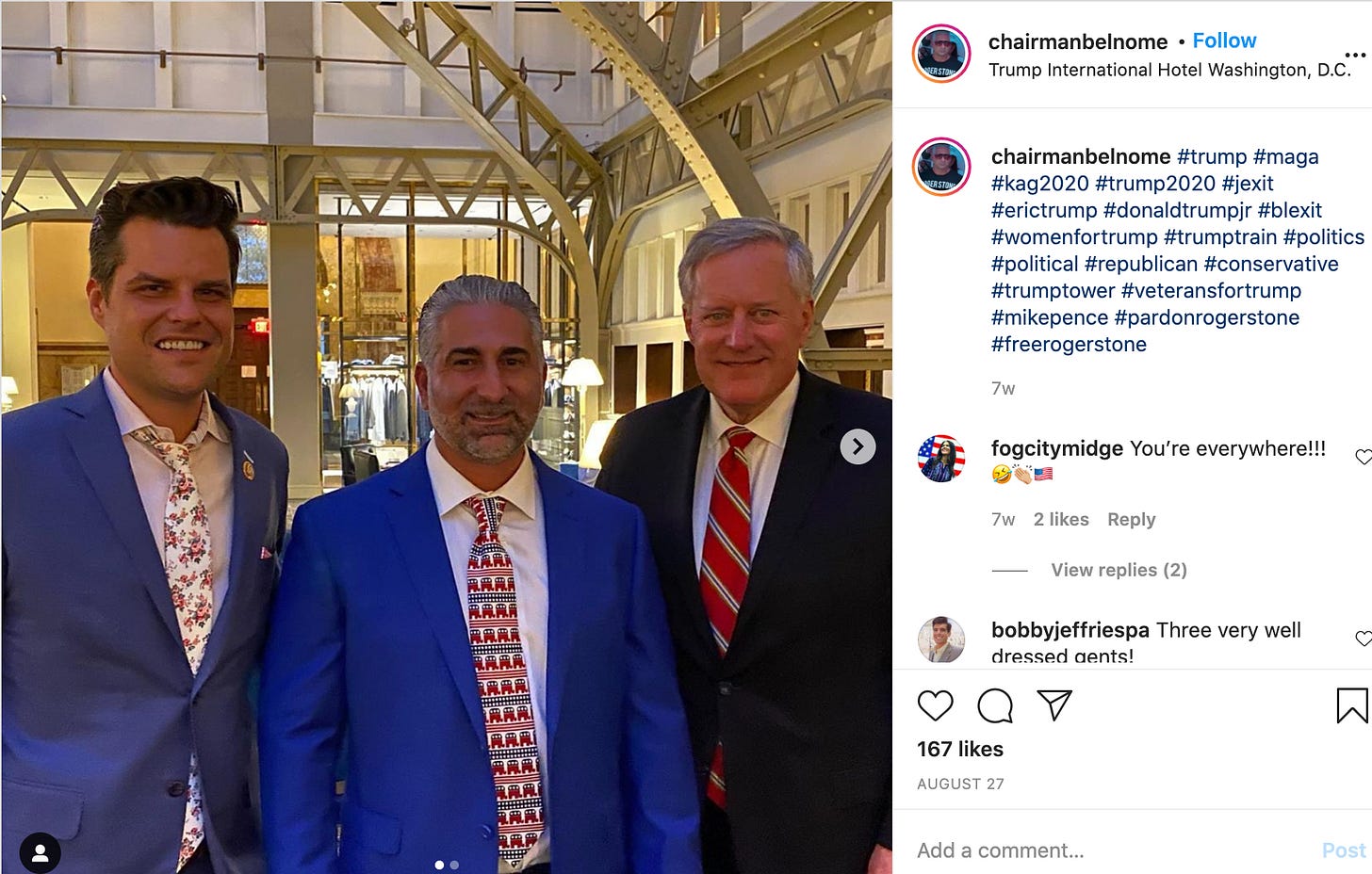 If the campaign is getting better rates than what's available to other people, it could violate campaign finance regulations according to Noah Bookbinder, a former Justice Department prosecutor who's now executive director of Citizens for Responsibility and Ethics in Washington, the government watchdog that first flagged Gaetz's expenses.
"It's one more example of this kind of culture of corruption that has grown up, with anybody who wants to ingratiate themselves with the president sending money his way," Bookbinder told 1100 Pennsylvania
"And here it seems other wrongdoing was layered on top of it," Bookbinder said
Given the low dollar amount in question and the logjam at the FEC, however, Bookbinder thinks an investigation that could lead to any possible consequences for the campaign is unlikely.
Gaetz's campaign now has spent a total of $2,977.87 at the head of the executive branch's D.C. hotel. At a campaign rally on Friday, President Trump repeatedly referred to Gaetz as "Rick Gates."
---
President made his 68th visit to a Trump property since the pandemic's onset
Trump arrived at his Las Vegas hotel early Sunday morning and departed Monday. Per 1100 Pennsylvania's tally, the president now has called on Trump properties 68 times since Chinese officials disclosed an outbreak of flu-like symptoms.
According to Johns Hopkins, COVID-19 has killed 220,095 people in the United States.
---
Support this reporting: Share it
By sharing 1100 Pennsylvania with your readers, social-media followers, co-workers, and friends, you can help this essential reporting reach a larger audience. Thanks!
---
Campaign expenditures
Freedom First PAC, a committee that was converted out of former Rep. Mark Meadows's (R-NC) campaign, spent $393.10 for lodging at the head of the executive branch's D.C. hotel on Sept. 15. The committee now has spent a total of $16,002.59 at the Trump Hotel D.C. In March 2020, Trump made Meadows his chief of staff.

The campaign for Kim Klacik, GOP candidate for U.S. House in Maryland spent $5,997.15 on campaign events and parking in the third quarter of 2020 at the head of the executive branch's D.C. hotel. They are her campaign's first disbursements at the Trump Hotel D.C. Klacik enjoyed a primetime speaking slot during the Republican National Convention and picked up the president's endorsement.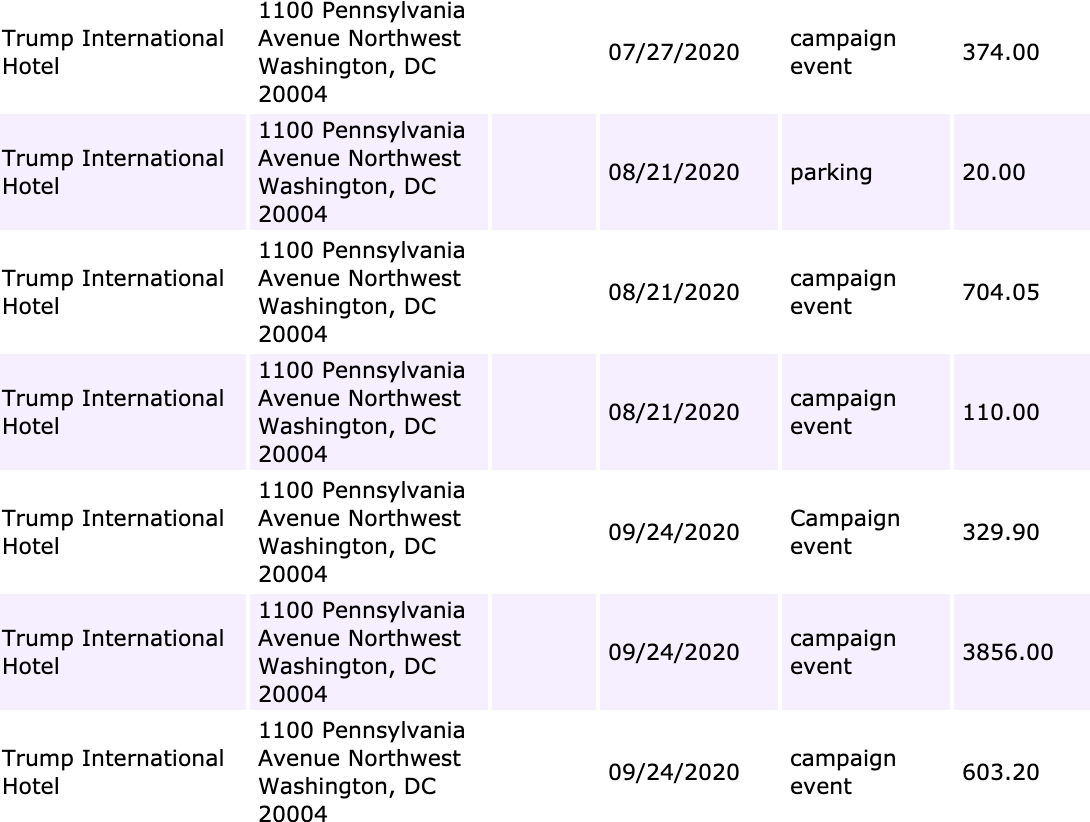 ---
Notable sightings
A glimpse of the foreign officials, government employees, politicians, lobbyists, and the like who patronize or appear at Trump businesses. Most people shown here have reasons to want to influence the Trump administration, rely on its good graces for their livelihoods, or should be providing oversight. Additionally, high-profile guests serve as draws for paying customers.
A new-to-1100-Pennsylvania photo of then-Malaysian prime minister Najib Razak at the Trump Hotel D.C. in 2017 recently surfaced on Instagram. Razak, of course, has since been sentenced to 12 years in prison after being found guilty of abuse of power, money laundering, and criminal breach of trust in the 1MDB scandal. Malaysia is one of 33 foreign countries who've had a government official call on the Trump Hotel D.C.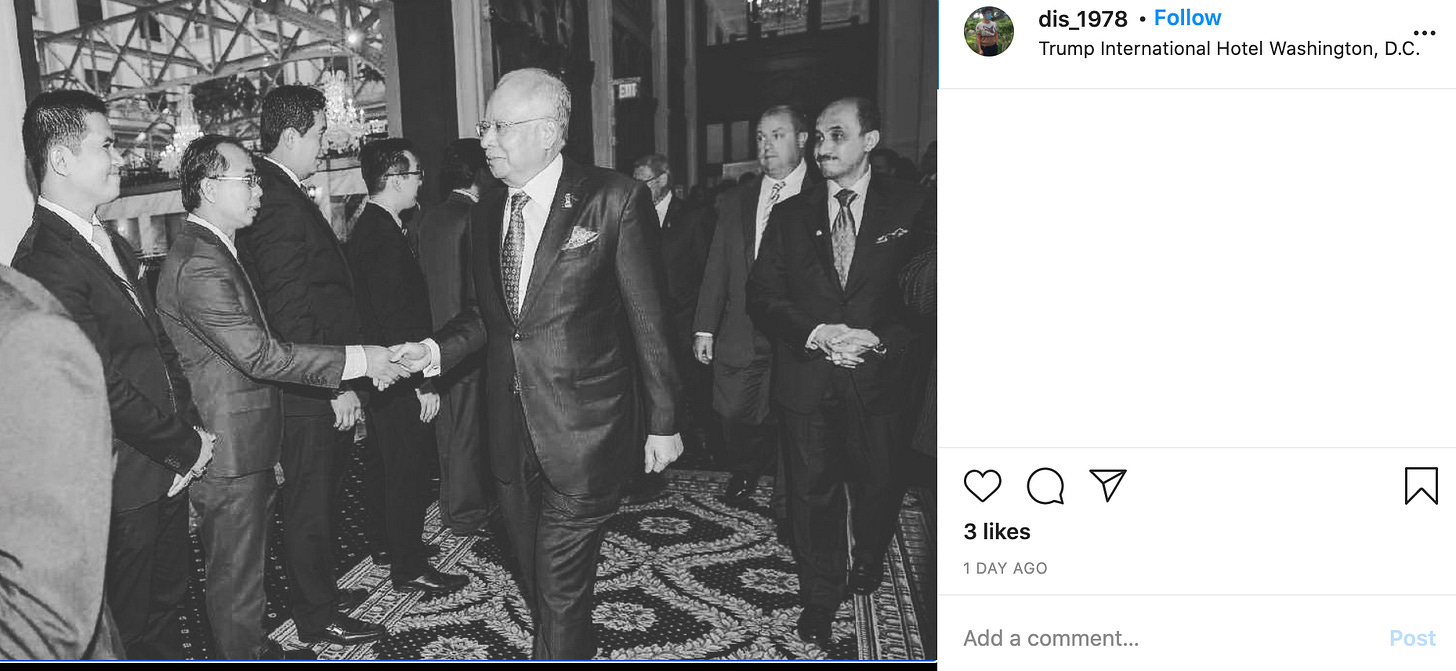 ---
Other Trump Organization news
---
Reference section
Links to rundowns of developments in the House's investigations and lawsuits, reference sheets for some of 1100 Pennsylvania's previous reporting, and articles that provide the background on why all of this matters. The date published or last updated is in parentheses.
Trackers
Notable hotel customers
Summaries
"Stay to play: Inside the sordid history of Trump's D.C. hotel—And why the president's prized property could be headed for a reckoning" by your correspondent for Mother Jones (September 2020)

"Power tripping in the swamp: How Trump's D.C. hotel swallowed Washington
The MAGA social scene is a movable feast, but its dark heart resides within the Old Post Office Building, where the Trump Org operates under a mercenary charter" by your correspondent for Vanity Fair (October 2019)

"Inside the world's most controversial hotel: The hotel that was expected to take its place among the crown jewels of D.C.'s travel scene has become a magnet for protestors, a West Wing Annex, and—possibly—the center of a constitutional crisis." by your correspondent for Condé Nast Traveler (May 2018)
Upcoming key dates
Sept. 23, 2019—House Judiciary Committee hearing "Presidential corruption: Emoluments and profiting off the presidency" (postponed, not yet rescheduled)

Oct. 15, 2020—Deadline for State Department to start turning over documents related to its spending at Trump properties in response to a lawsuit filed by The Washington Post.

Dec. 9, 2020—Deadline for exchanging witness lists in the D.C. attorney general's lawsuit alleging improperly spent nonprofit funds by the Trump Hotel D.C. and Trump's inaugural committee.
---
Thanks for reading! If you like what you've read, tell someone.
If you've been forwarded this newsletter, subscribe at 1100pennsylvania.substack.com to support independent journalists dedicated to who's paying the president.
If you're a paid subscriber and would like to post a comment—or if you would like to view comments from paid subscribers—click the comment button.
Questions? Read our FAQ. Tips or feedback? Contact Zach Everson at 1100Pennsylvania@protonmail.com (it'll be encrypted if you also use a ProtonMail account, which is free) or via Signal (secure), SMS, or mobile at 202.804.2744.